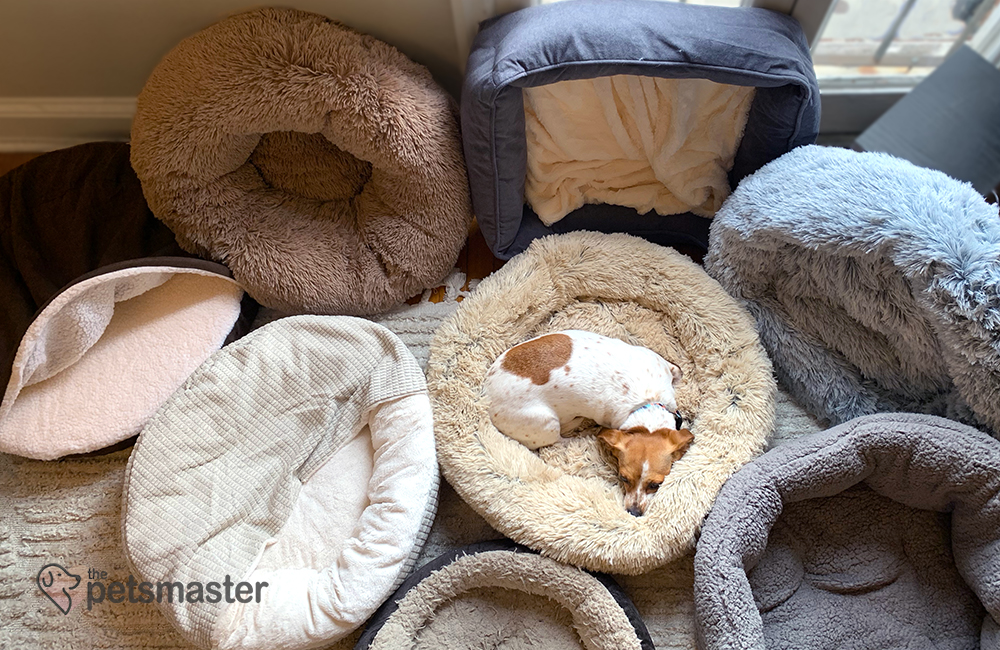 An intensive, hands-on review of the internet's best calming and anti-anxiety beds for dogs
If your dog is anxious, you know it. Your main goal is to soothe them — and yourself — as much as possible. So whether it's to save your dog's health, your own sanity, or your nice couch cushions, a safe, soft, quiet space like an anti-anxiety dog bed is one of the best ways to help your dog feel calm.
We scoured the internet and researched the best beds for calming dogs out there, and then we ordered all of them and rigorously tested them ourselves. Hop below to see our top picks for beds designed to help pups who suffer from reactivity, separation anxiety, aggression, or other behavioral issues. These calming dog beds all help to create a place to decompress safely — the first step to calming an anxious dog down so they can be receptive to training.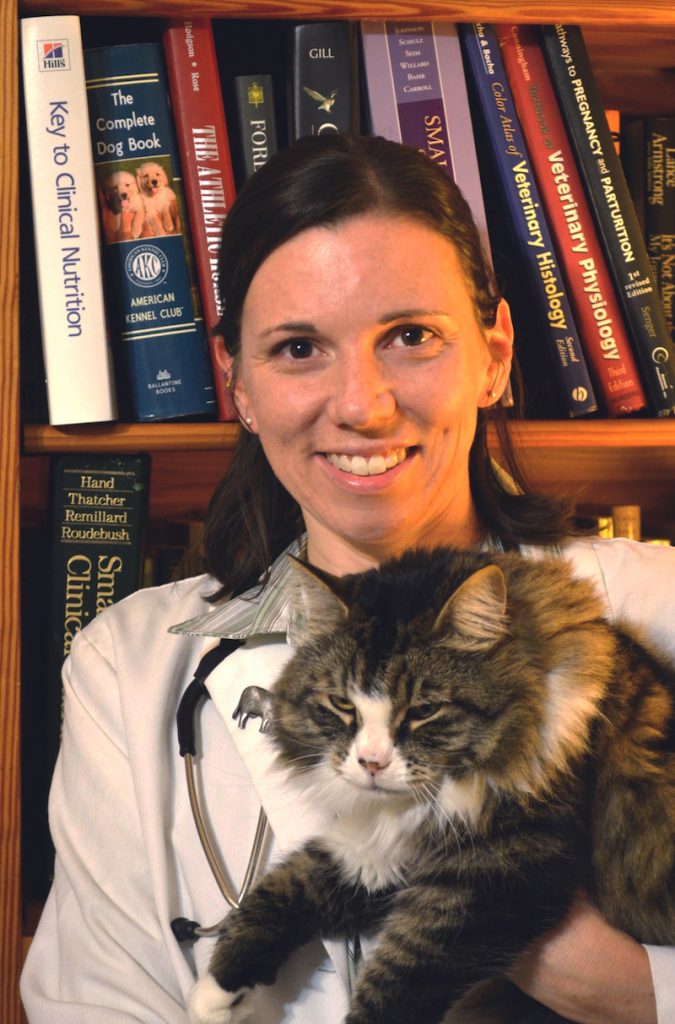 "Anxiety can often be helped by giving a dog their own personal safety zone. This is a place that they know they can count on to have the necessary comforts, such as a supportive bed, water, and their favorite toy."
Dr. Chyrle Bonk, DVM
In this article
Our top picks
How we chose our picks
How do calming dog beds work?
Signs and causes of anxiety in dogs
How ways to soothe an anxious dogs
Other anti-anxiety tools for dogs
---
Our top picks
We did hours of research and selected the top 7 calming dog beds on the market. Then we bought them ourselves, and put them through their pa(w)ces.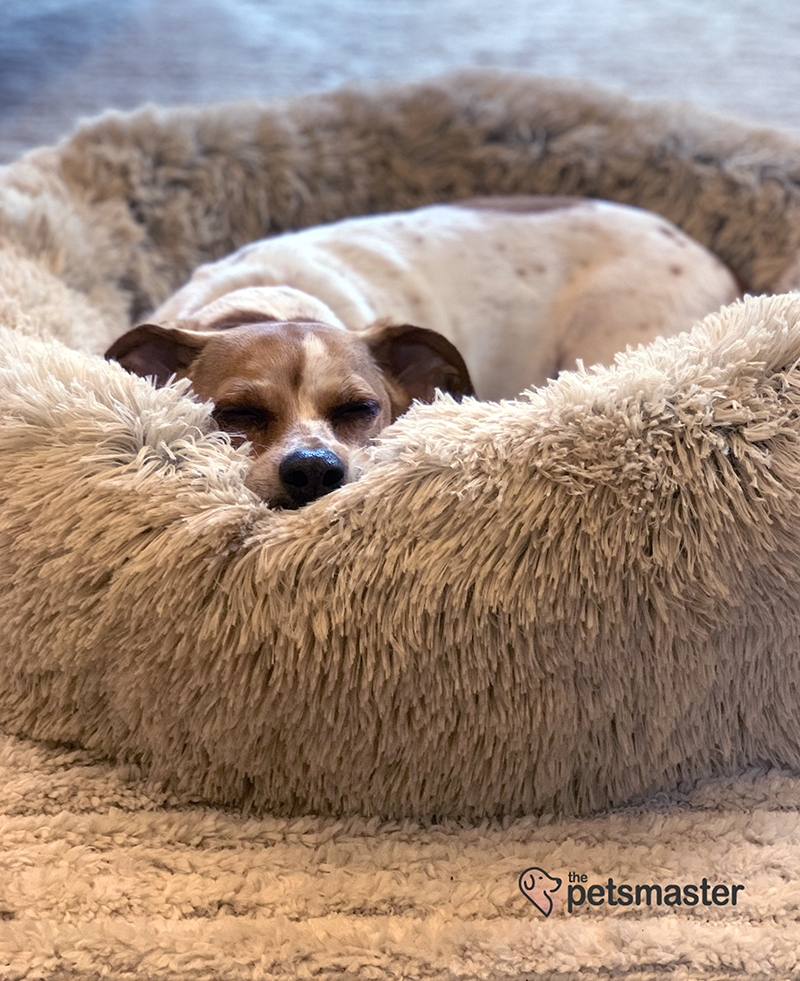 Best Overall
Extremely soft
Quiet material
Easy to wash
Stylish
Size options from tiny to extra large
Affordable
The now-ubiquitous "Best Friends by Sheri" brand is popular for a reason — it's great.
The Original Donut Cuddler comes vacuum-packed in a plastic bag in one single piece, with no assembly required. It fluffs up instantly, and you can immediately feel the high quality of the padding and the fur. Super, super soft. Peanut made himself comfortable straight away.
Its design is the classic circular padded base, fully encircled by a round bolster lip that creates a raised rim. The bolster provides neck and head support, while also giving a calming enclosure for the pup who likes to curl up in a circle.
This is a great winter bed specifically, since the fur fibers trap warmth and enclose your pet more fully than a flat fabric. But take note — if your dog is prone to overheating, be careful with this bed, especially in the summer.
Both the base and the bolster of The Original Donut Cuddler are nicely cushioned, though the base could use a bit more heft. The fabric and fur fibers are vegan and made from pet-safe materials, and the whole thing is fully machine washable, so if a mess happens just toss it in the wash. The material is slightly water-proof, but not crinkly. So, it's still soft and quiet, unlike some of the other beds we tried that sacrifice sound for a more sturdy and water-proof base and connective material. If your pet likes to dig or scratch, this can stand up to a bit of this "fluffing" activity (but not an hour's worth).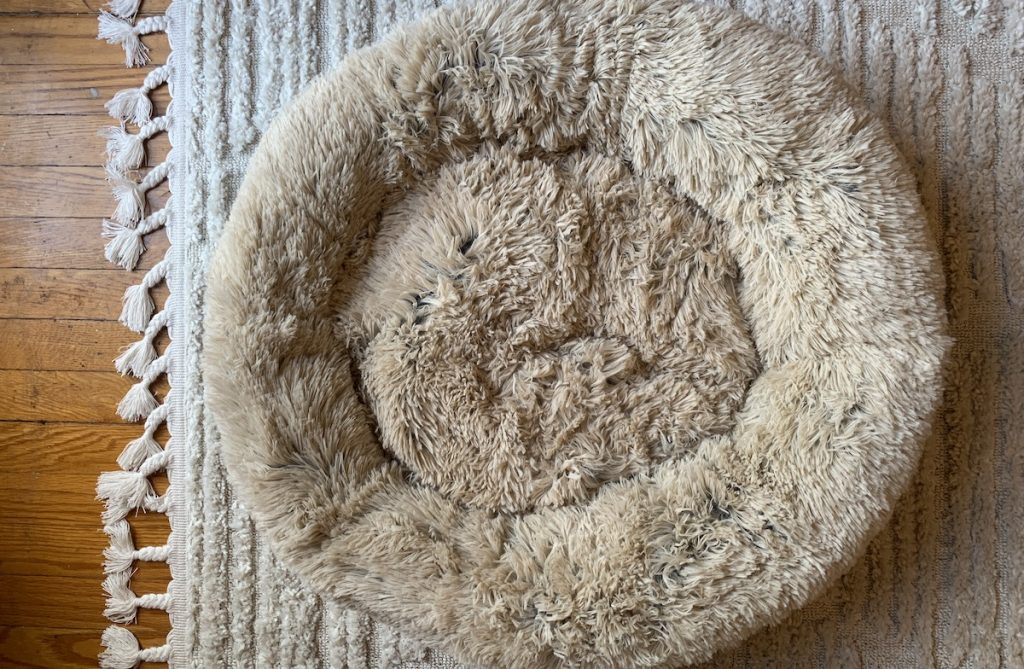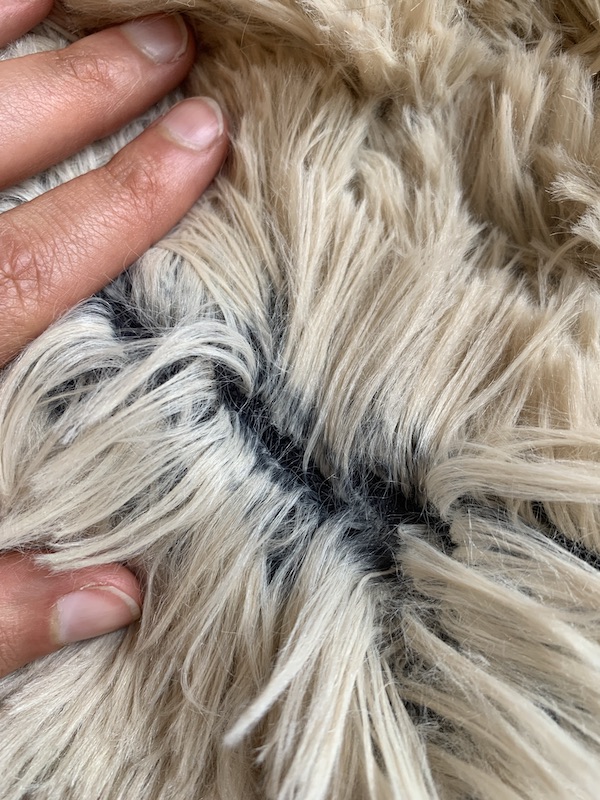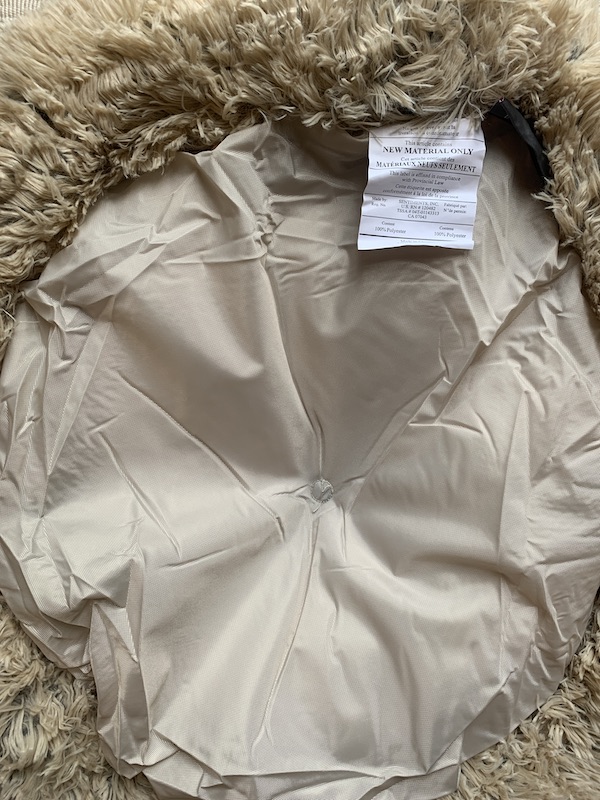 One of the nicest things about The Donut Cuddler is how aesthetically sumptuous (and just downright cute) the bed looks and feels to the touch. The faux shag fur is dirt-resistant and comes with a ton of other classy color options to choose from.
It's important that you get the right size for your pup — this calming dog bed ranges in size from "Yorkie size" of 23 inch diameter (up to 25 lbs) to a "Great Dane and his friends size" of 45 inch diameter (up to 150 lbs). We recommend you weigh your pet before selecting your size.

You can see in the pictures we ordered a "Shag Taupe" color and a 23″ x 23″ size for our Jack Russell/Chihuahua tester Peanut (who is around 16lbs).
The Original Donut Cuddler is also one of the more affordable calming beds that is specially designed for anti-anxiety for pets. While you can easily spend a wad of cash on a calming bed for dogs, this bed does the trick for less of the cost.
Pros
Great Back and Neck Support
Safe, Quality Fabrics
Durable
Machine Washable
Raised Edges for Calming
Self-Warming
Options for dogs small to huge
Affordable
Cons
Best in winter — may be too warm in summer
Center less cushioned than sides
If you have a fur baby of any size, without exact or specific needs, and you're unsure about where to start overall, we highly recommend this calming bed for dogs.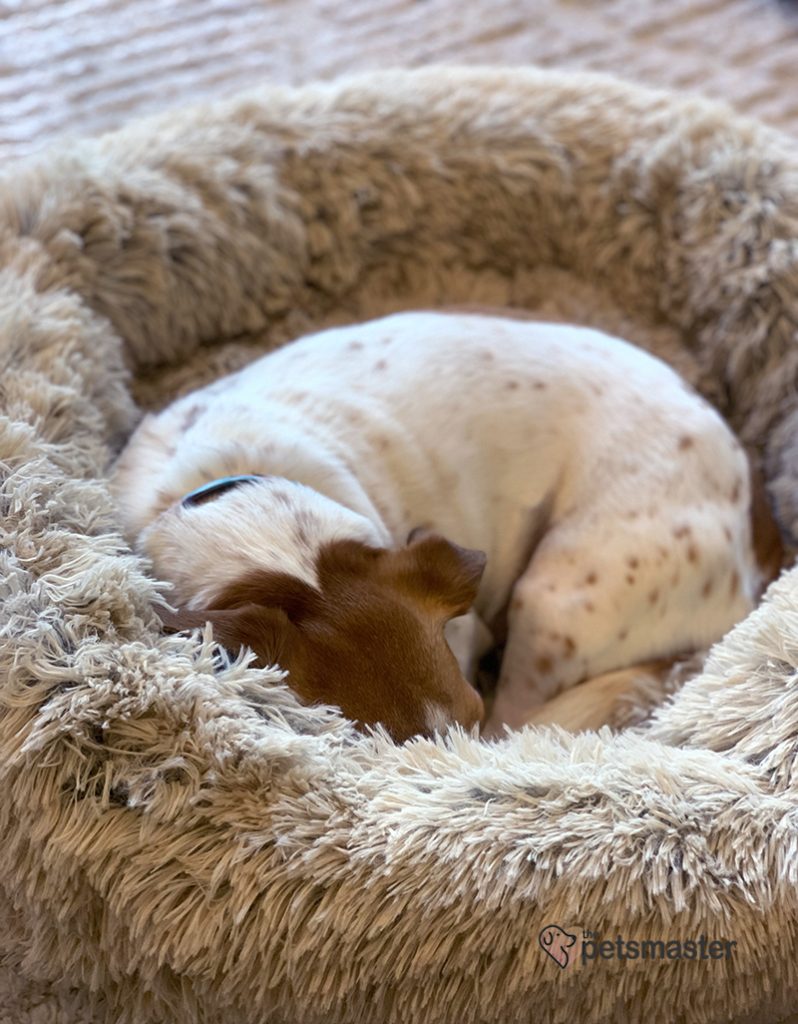 Best Overall Calming Bed for Dogs
Up next — our other top picks!
See what we recommend for reactive dogs, diggers, and more.
---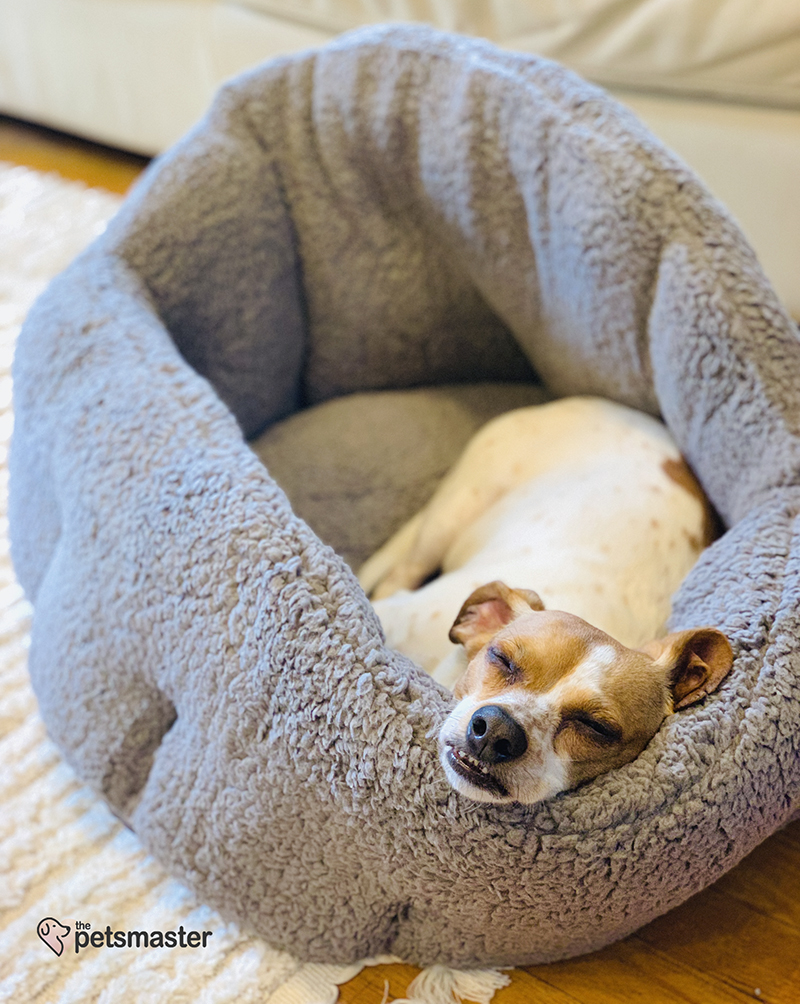 Best for Reactive Dogs
Soft, silent, durable fabric
High-walled design
Machine washable
Water-resistant base
Yes, the runner-up on our list is also a "Best Friends by Sheri" bed. The high quality of the cushioning plus the design of the bowl and raised rim makes this a standout, especially if your dog tends to over-respond to stimuli.
How can a bed make your dog less reactive? By the sheer obvious design of it — the walls are so high that often times your pup won't be able to see out of the bed, once they're in it. Instant calm. Peanut is an aggressive and sometimes-reactive rescue pup, and he instantly loved the sheltering feel of this bed. He gravitated toward it over most of the other beds.
The fabric is a matted sherpa type "fur", and stuffed with virgin AirLOFT fibers — meaning it will last longer than a second-hand fill, which many pet beds use. So, the bed is made of entirely pet-safe materials. The cushioning feels fluffy yet firm, and has stood up to hours and hours of multiple pets trampling all over it.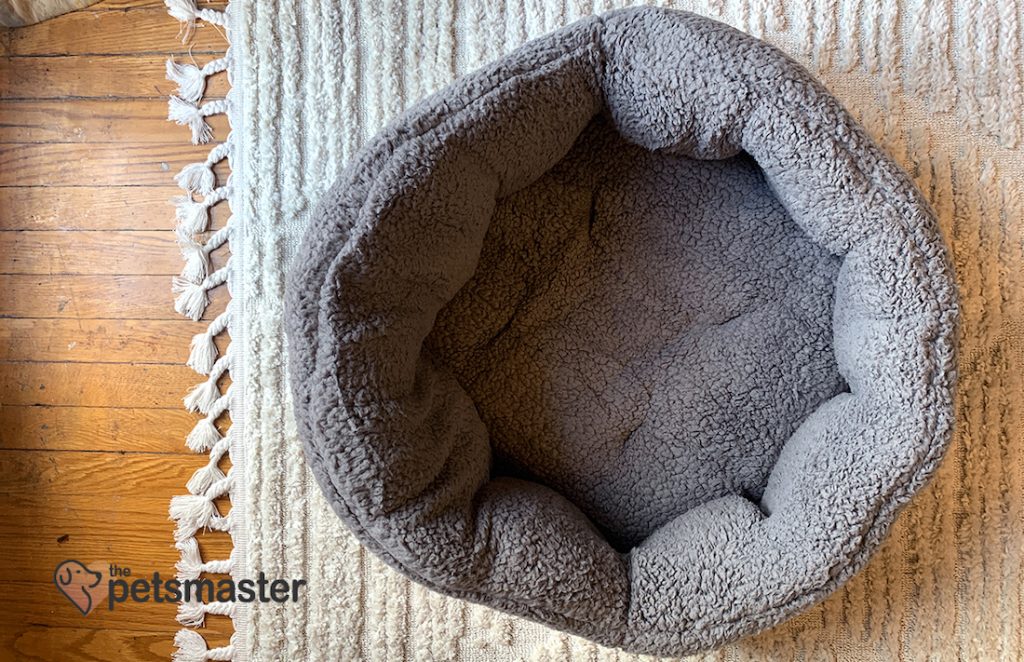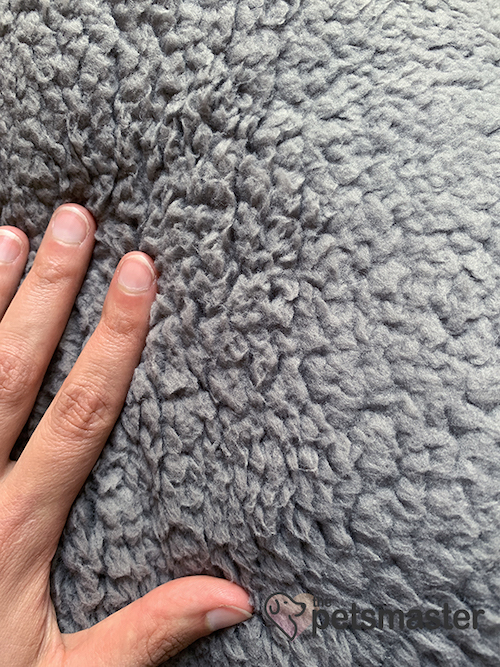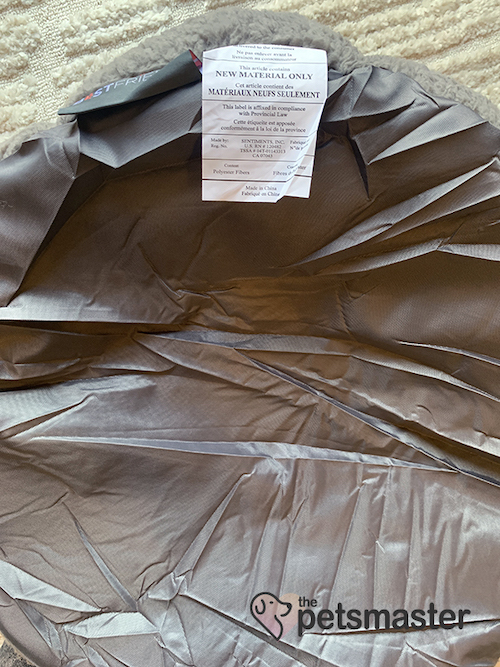 The base is a water-resistant polyester, so your floor will be shielded from accidents. And the whole bed is a single piece that's entirely machine-washable. If your dogs sleeping habits are to hide away in soft fabric, this is the bed for you.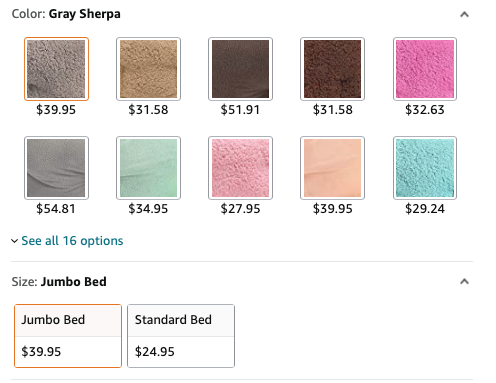 We ordered a "Gray Sherpa" in a Jumbo size for our Jack Russell/Chihuahua tester Peanut (who is around 16lbs). He was swimming in the bowl, so this jumbo size should be good for an up to ~30lb pup. We wouldn't recommend this bed for much larger dogs than this, since the design enforces a curled up position that may not allow anyone bigger enough room.
As is the case with this brand, it is quite affordable for its quality. There are a couple different "finish" options that are pricier, but the sherpa faux fur is our favorite.
Pros
High walls block out distractions
Super soft
Durable fabric
Durable Stuffing
Good for up to 30 lbs
Machine washable
Affordable
Cons
No neck support
No large dog options
If you have a smaller breed who is highly reactive or who likes to hide or be ensconced, we recommend this bed!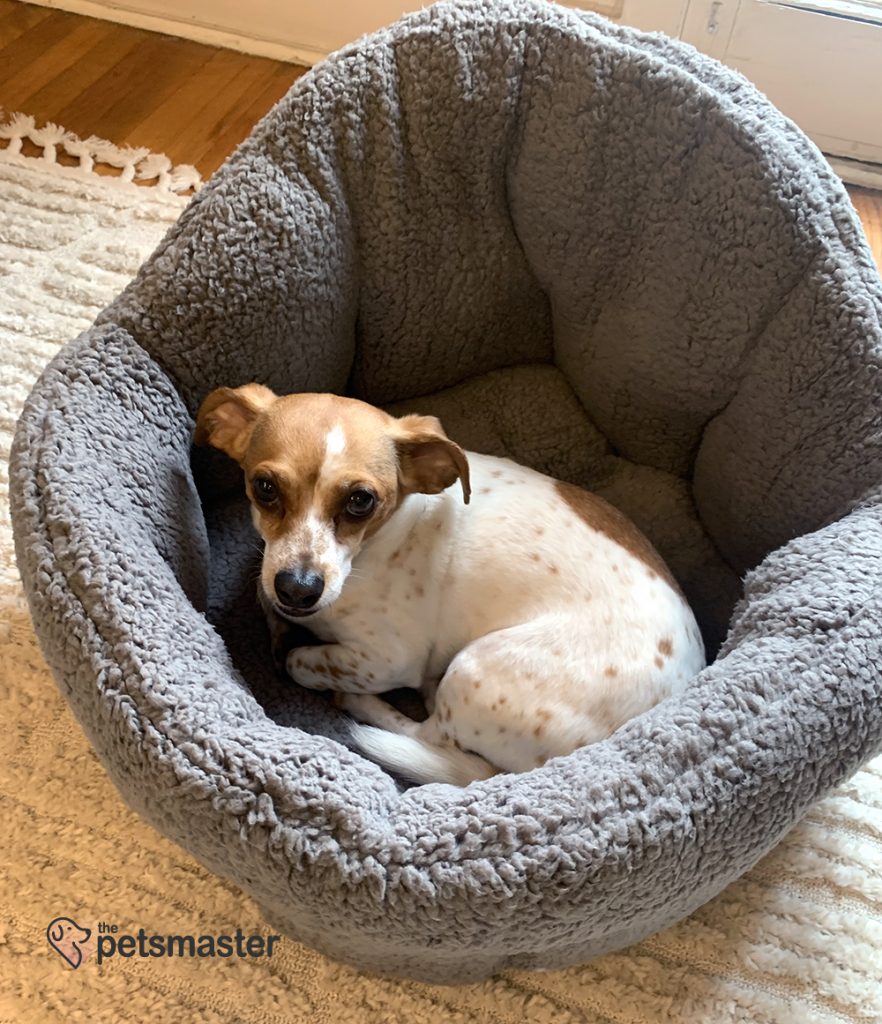 Up next, more top picks.
See what we recommend for burrowers and diggers, older dogs, and more.
---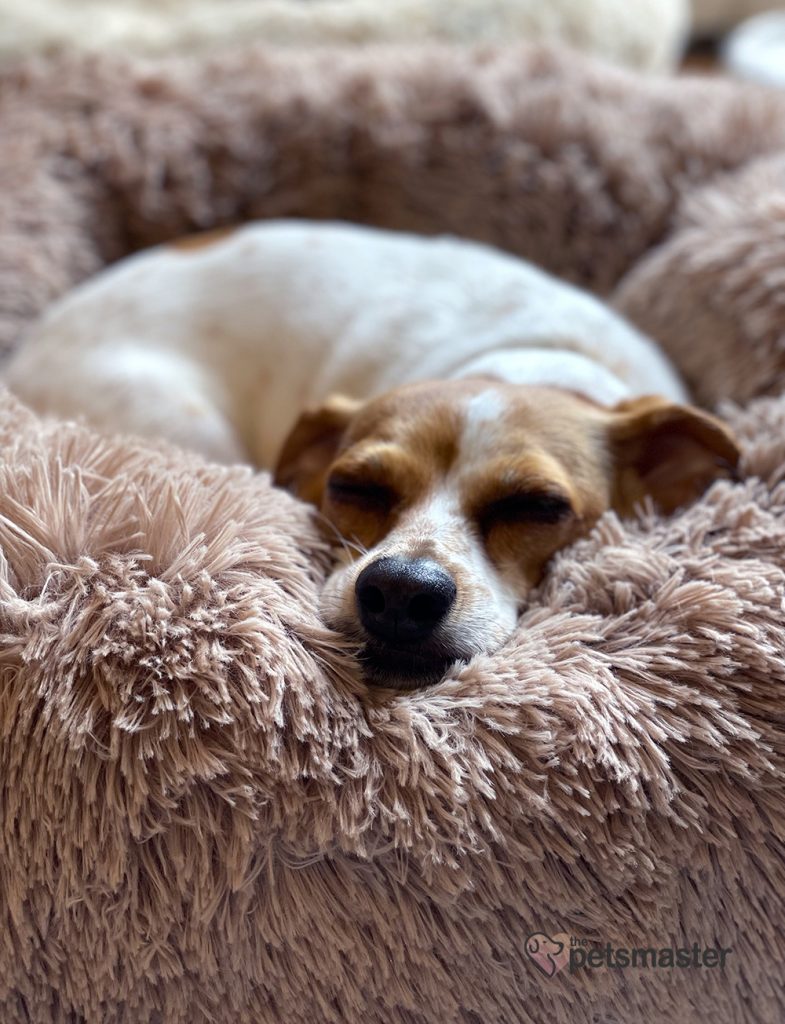 Best Donut Runner-Up
Thick bolster walls
Ensconcing design
Whisper quiet and super-soft fabric
Well constructed and sturdy
Very warm
Luxe, furry, and thickly cushioned is the name of this dog bed's game. Peanut liked the Bedsure for light dozing — it gave him a good view of everything going on the room, with his chin propped up on the edge so he could keep an eye on his cat brothers.
The bolster walls are very thick, making for ample neck support. The construction of this bed is one of the sturdier ones we've seen. There's a ton of padding everywhere and the stitching and seams all hold up very firmly to a lot of digging as well as man-handling.
The material holding the fur fibers is absolutely silent and pliable, and the fur is thick and luxurious and super soft. There's some grippy plastic dots on the base, to keep it from sliding around on wood or tile flooring. Overall, this is one of the better-constructed beds we tried.
Peanut had to lift his back legs pretty high to get into this bed. If your pup is very short legged, not very mobile, or older and arthritic in their leg joints, we don't recommend this bed for them. Climbing in and out of it could be a real production.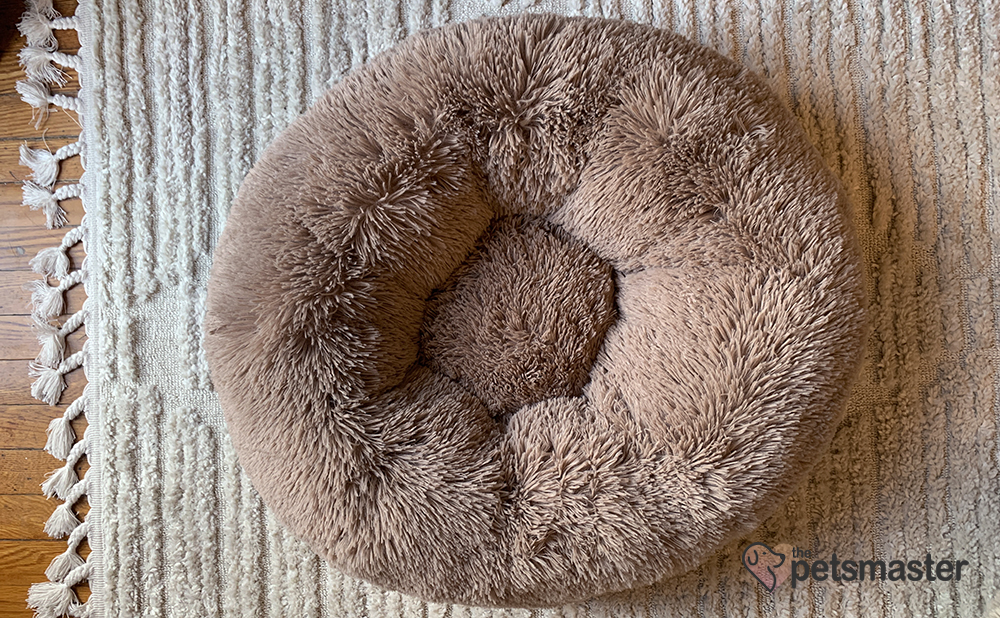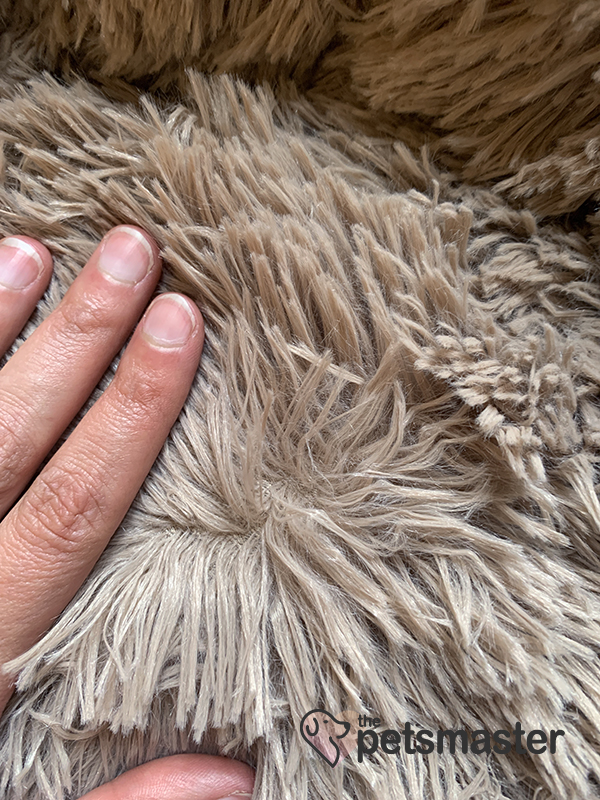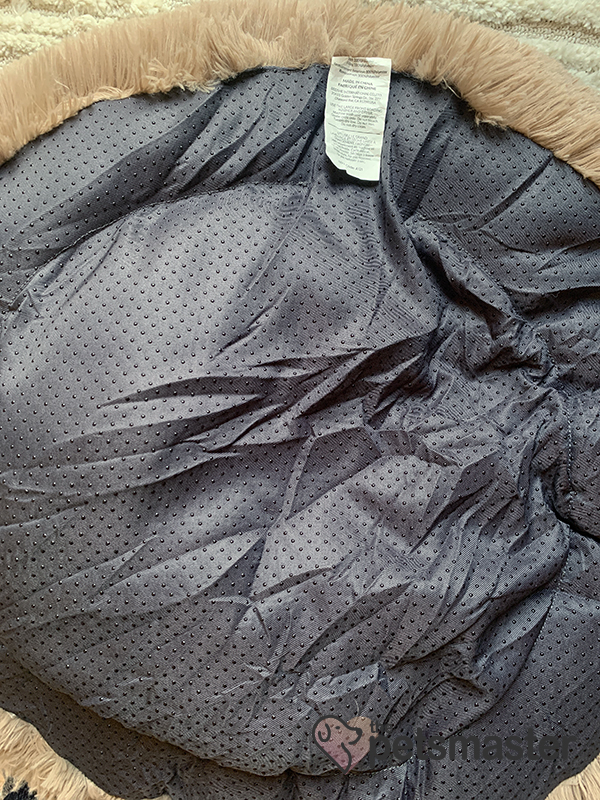 We ordered a size Small in Camel for Peanut, our 16lb tester pup. He only just fit inside: there's only about 14″ of diameter in the center for the Small 23x23″ size, so this size is for small dogs that like enclosure, specifically. When deciding what size to buy, make sure that you go by the interior sleeping area, rather than the full diameter listed.

In fact, our only compunction with this bed is the fact that the sleeping area itself is small, so larger dogs might not fit; because the walls are so thick and padded, when lying in this dog bed they won't get to use the whole of the donut — just the donut hole. Otherwise this is a sturdy, well-made, and very fluffy calming dog bed option.
Pros
Thick and luxurious
Neck support
Very warm for winter
Non-slip
Machine washable
Cons
Not a lot of interior sleeping space
Too warm for hot summer days
If your pup gets cold, prefers curled up sleeping, or lots of neck support, we recommend this bed!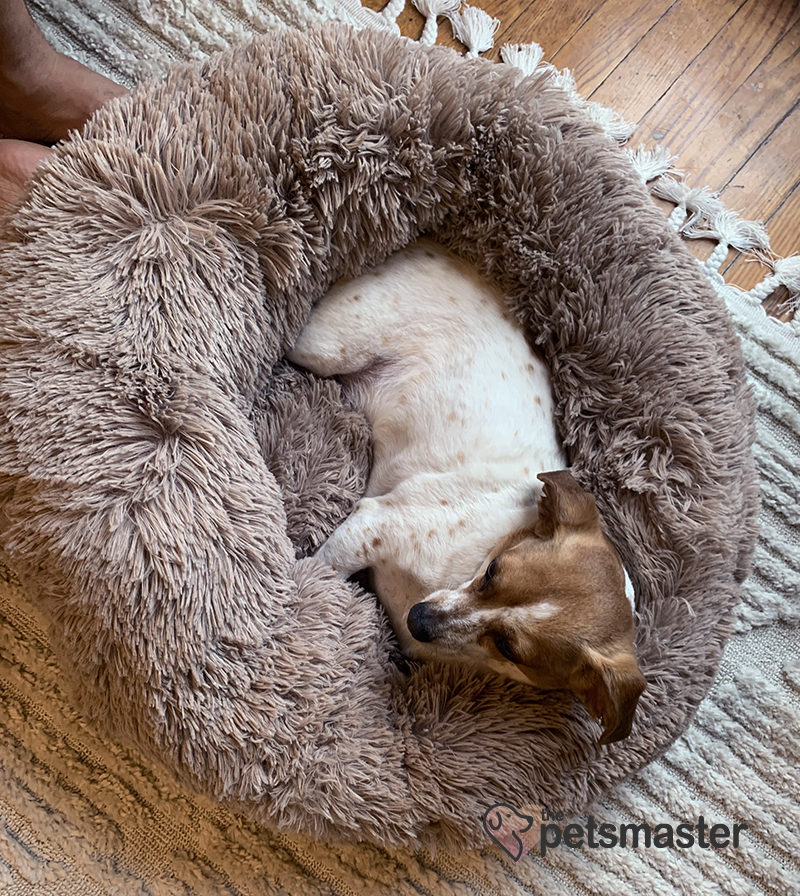 Up next: our top picks for older dogs, dogs who love to dig and scratch, and more.
---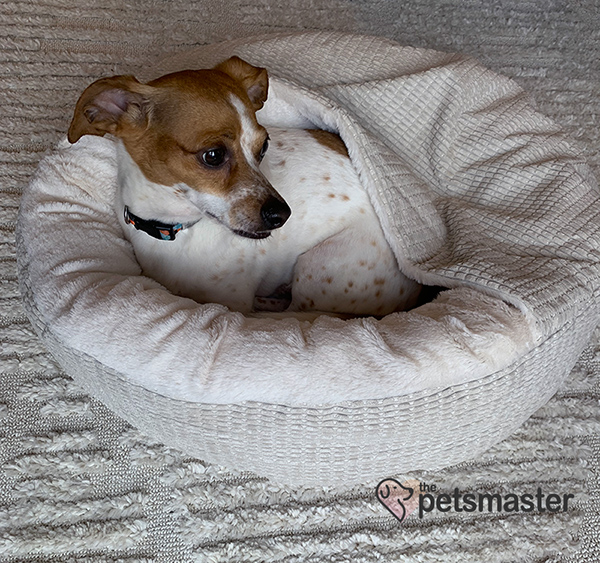 Best for Older Dogs
Firm orthopedic base
Blanket for burrowing
Super soft
Quiet fabric
Machine washable
The Cozy Cuddler Orthopedic bed by – you guessed it! – Best Friends by Shari is absolutely luxurious. The faux-fur of the bed is super soft, making it a great choice for dogs with achy joints. And while we didn't experience any accidents during our tests, the water resistant base is a huge plus in our books.
The added warmth of the attached hood make the Cozy Cuddler a haven for pets prone to cold, especially during winter months. The bolstered sides of the bed give an extra layer of security, being just the right height to get cozy and keep an eye on anything interesting happening in the room. We also like the durability of the corduroy exterior combined with the softness of the blanket overlay interior.
This bed comes in a single piece, so there's no assembly required. When you get the bed out of the box, just fluff it up, air it out, and it's ready to go! And it's a good thing it's ready so fast, because it quickly became a favorite to an unexpected guest – Our cat Brax!
Brax, our cat, preferred the Cozy Cuddler to all other beds, gravitating towards this one as his main selection. We had 8 other beds but Brax only wanted this one!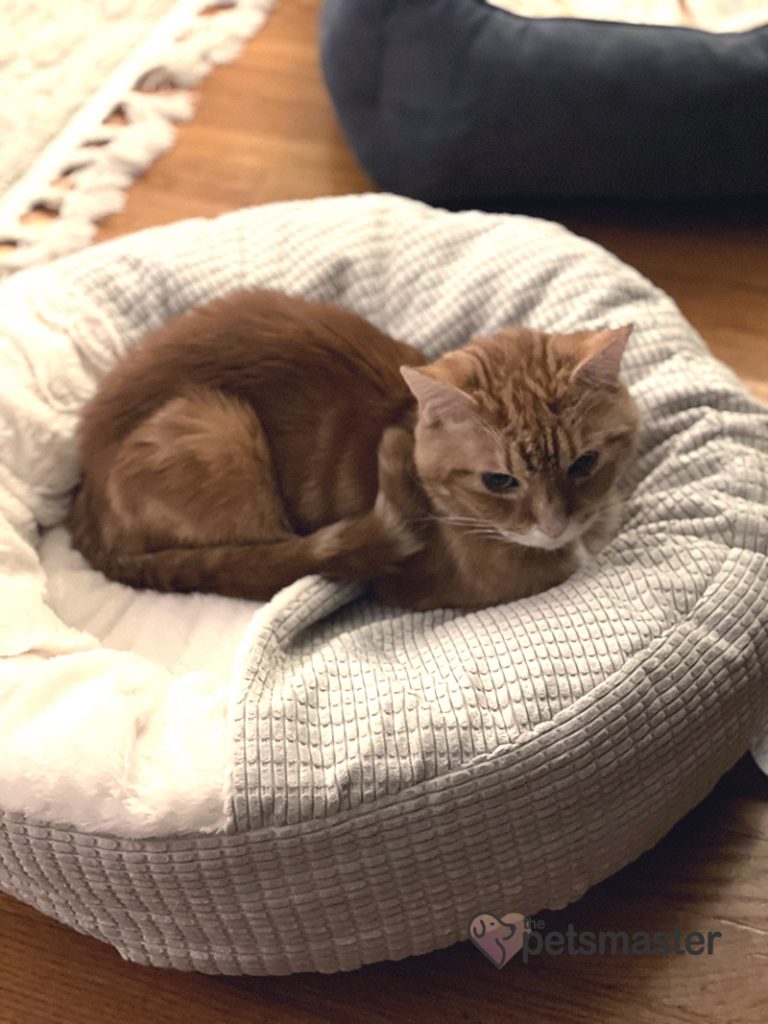 We think this makes the Cozy Cuddler ideal for cats as well as dogs, especially given the flat base, extra soft material, and prime kneading area of the blanket overlay.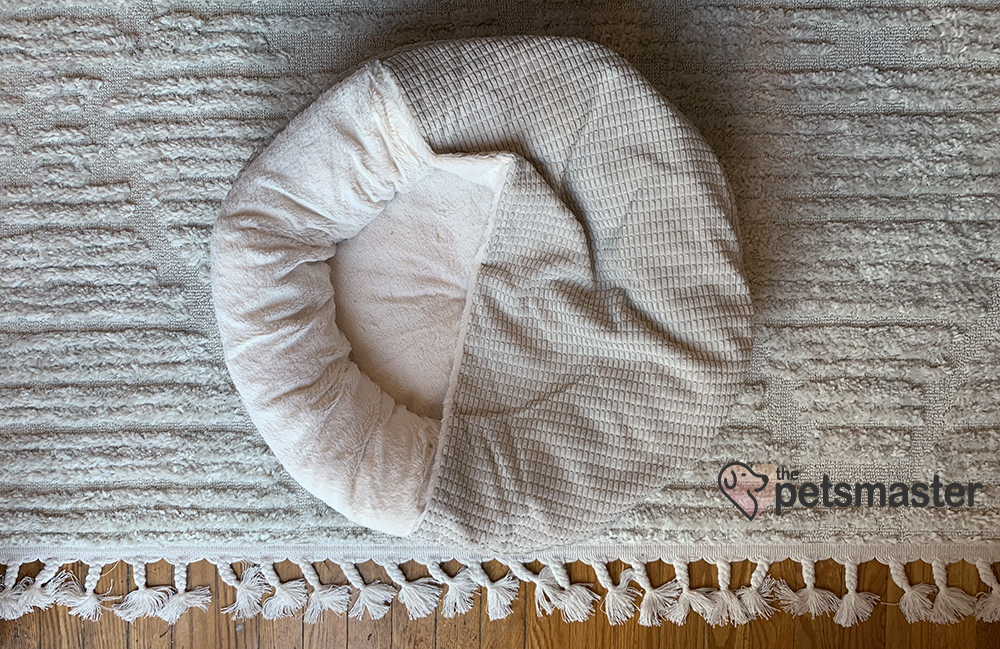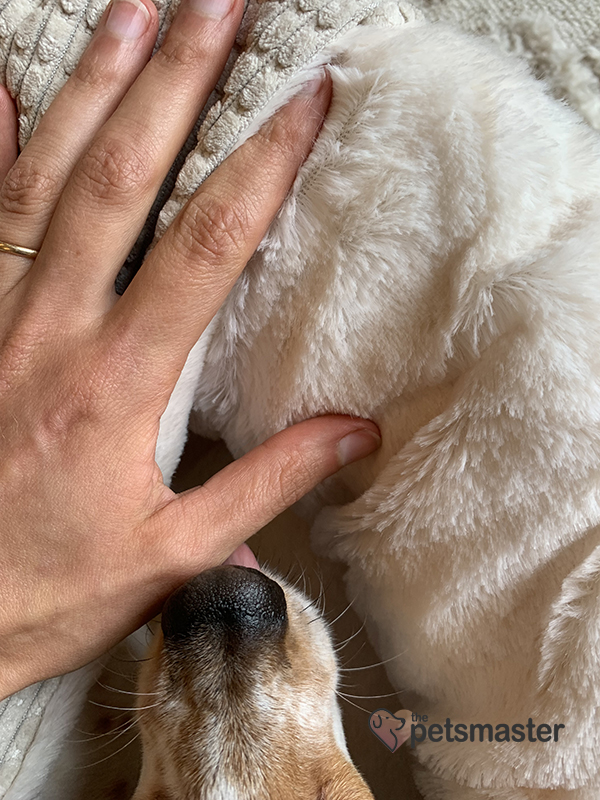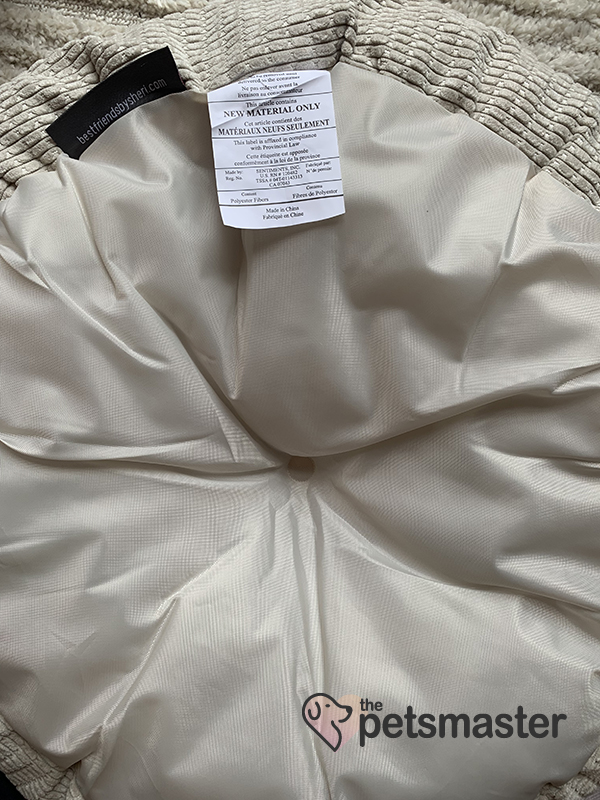 The only issue with the Cozy Cuddler is, while the blanket is good in theory, it is difficult for dogs – or cats – to get under by themselves. The good news is, the cover is soft to lie on top of and makes the perfect place for kneading.
Pros
Waterproof
Machine Washable
Slip Proof Bottom
Soothing Bolsters
Inexpensive
Cons
Hard for pets to get under blanket without help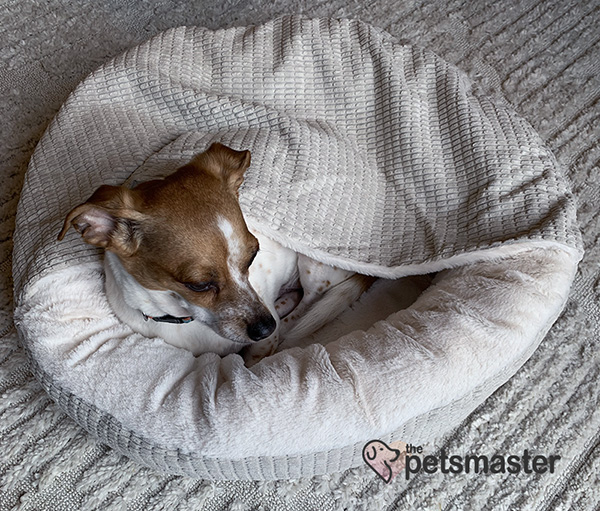 ---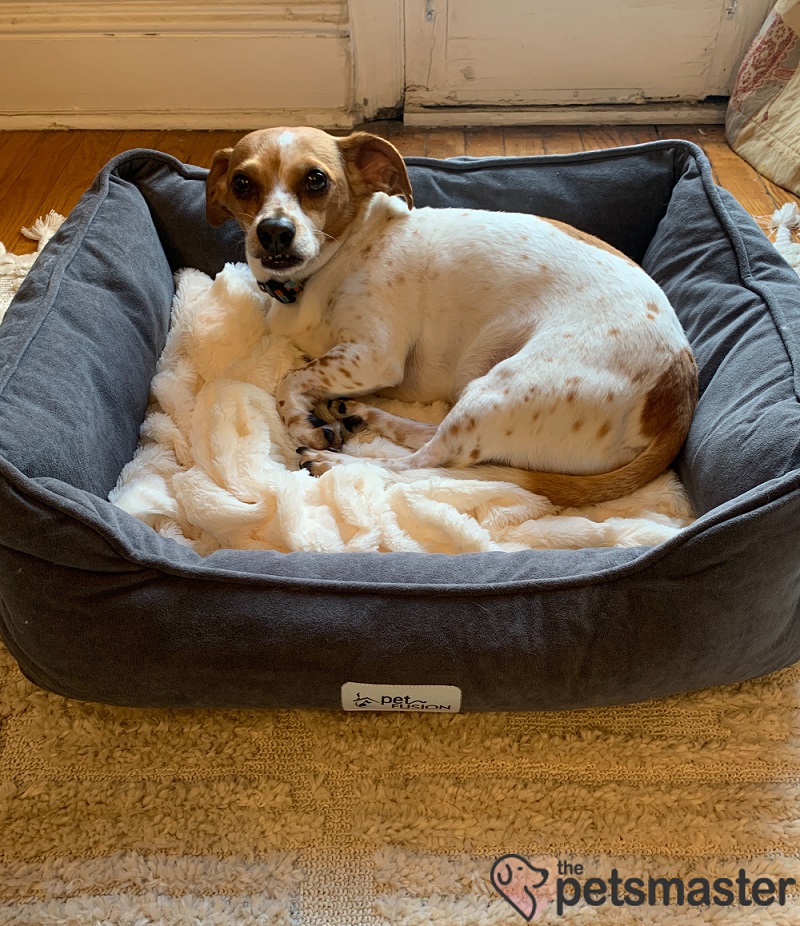 Best for Diggers
Easy to wash
Diggable base blanket
Removeable base
If your dog is an active digger, you'll both love the PetFusion Calming Cuddler bed. Our tester, Peanut, took to the anti-anxiety bed almost immediately. After a few turns and several 'digs' he cozied up in the thick, warm fabric and settled right down.
The sturdiness and boxy build of the PetFusion Cuddler contributes to the calming effect it has on pups. Add the overstuffed raised lip, which is soft but acts as the perfect buffer, and you have a snug, soothing space for your dog. We noticed even though the lip is raised, it was easy for Peanut to get in and out. The loose blanket is both durable and soft, something we see Peanut burrowing in whenever he's feeling anxious.
The PetFusion Calming Cuddler comes in 2 pieces, making it easy to wash, but also easy to reupholster if the need arises. The quality of the stitching is absolutely fantastic. With the durable bolsters, waterproof liner, and easy to wash, tear resistant cover, the Calming Cuddler feels like it could last quite a while.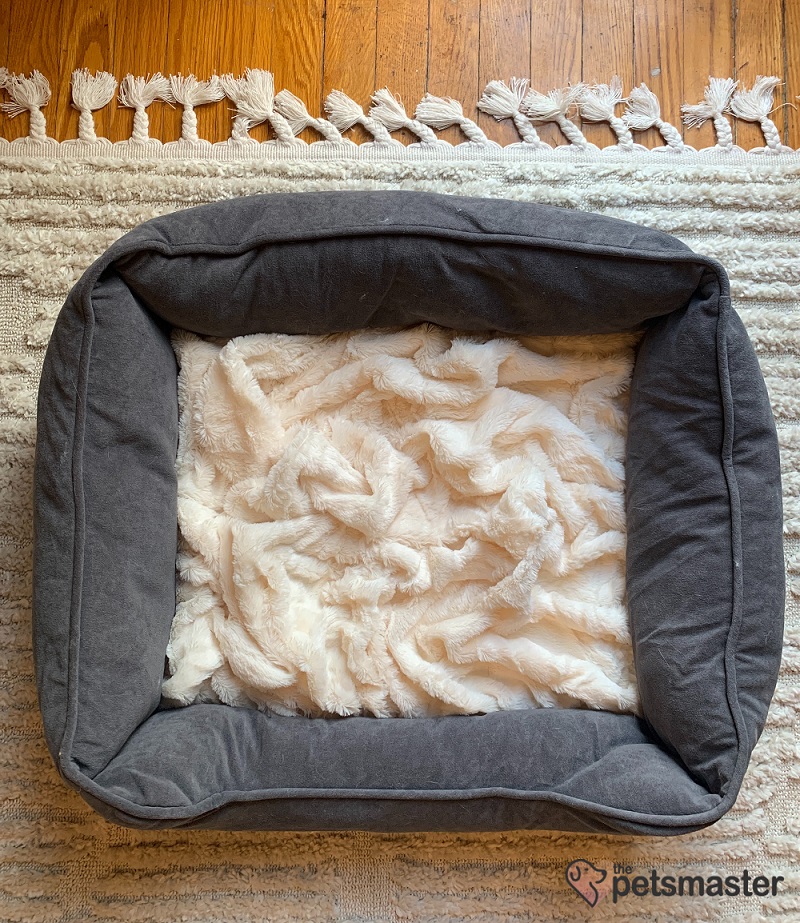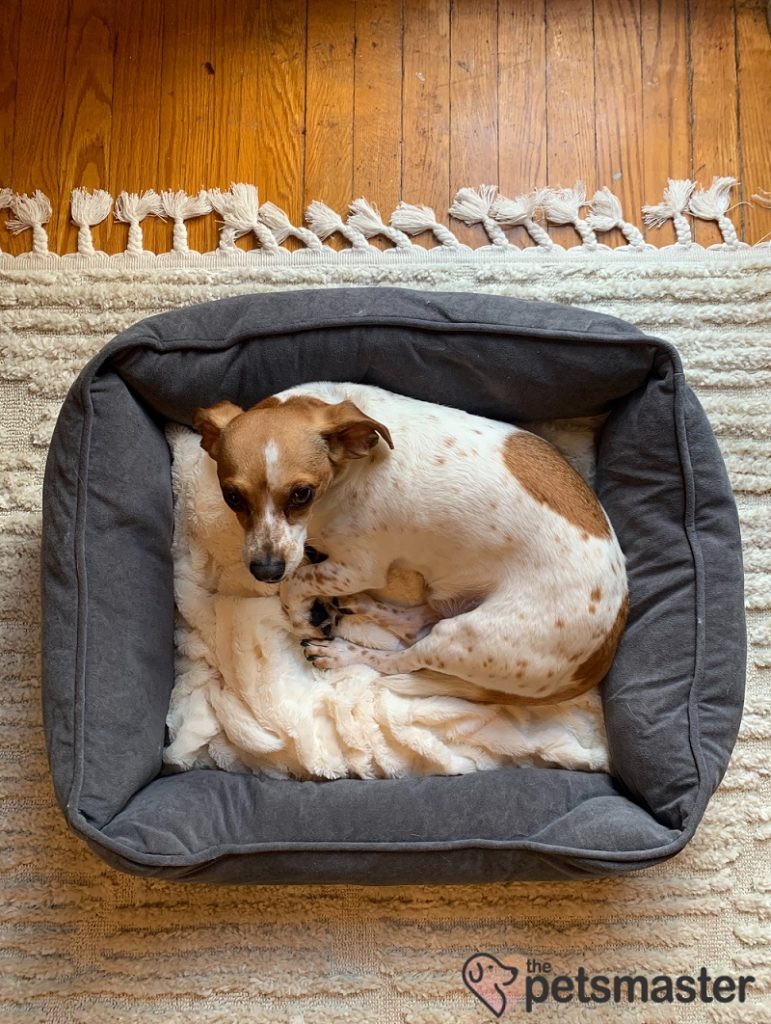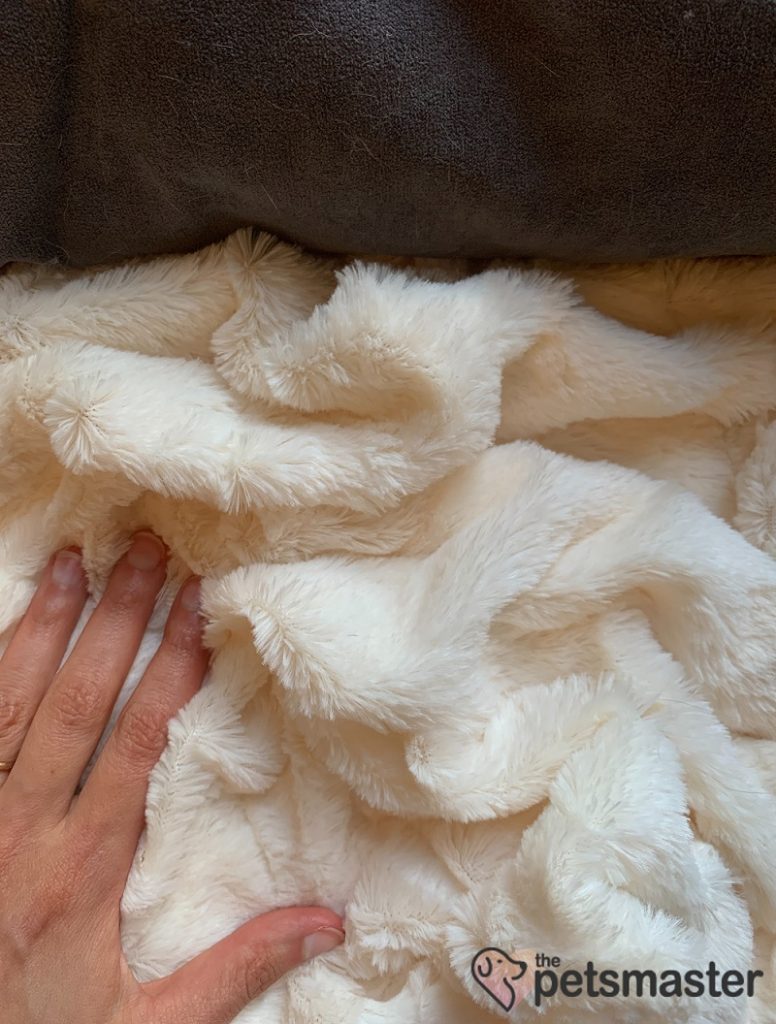 Our only concern with this dog bed is it's a bit heavy and isn't as soft as some of the other options on our list. However, it really serves its purpose for diggers.
Pros
Water resistant
Loose blanket for digging
Machine washable
Memory foam base
Slip-proof bottom
Cons
Not the softest bed
Slightly heavy
A bit more expensive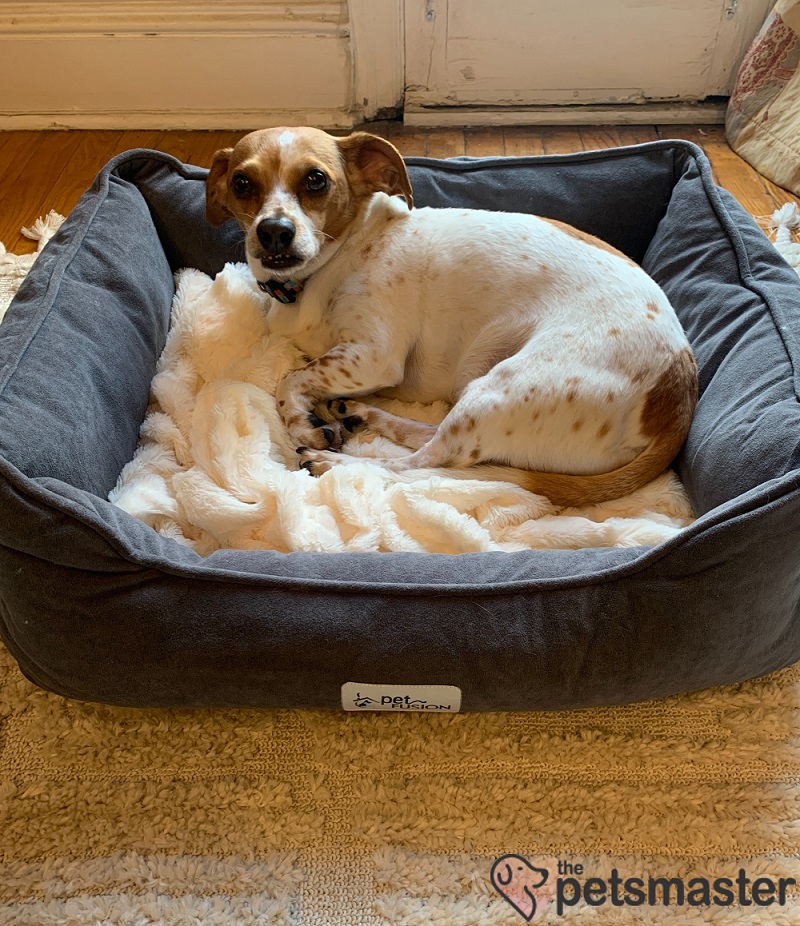 Next up: Most washable and best for scared dogs.
---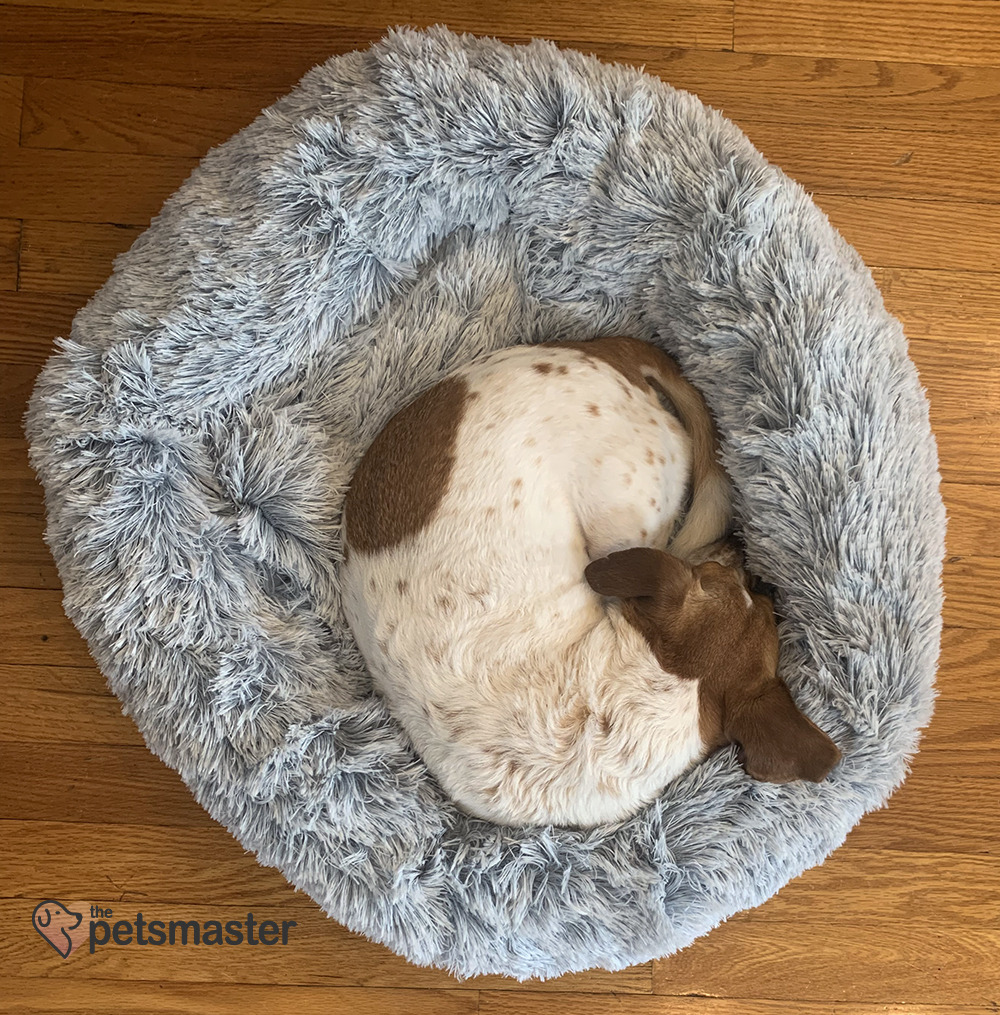 Most Washable
Removable, machine washable cover for faster drying and longer lifteime
Super soft fur
All pets can get a bit messy. Trust us, we know from experience! But if you have a dog or cat that sheds, drools, or pees more than most, you're going to want an easy-to-wash dog bed. The BarkBox Foam Donut Cuddler doesn't just feel extra cozy and soft, it's also super easy to wash.
This donut cuddler has the same basic shape of other donut-shaped dog beds on our list, but is a bit shallower. The bed comes in 4 pieces and includes 2 washable covers, which we appreciate. However, once we stuffed the long, round pillow into the donut and the foam base into the bottom, the sinking feeling typically found in orthopedic dog beds just wasn't there.
The fur of the BarkBox Cuddler was a great balance between soft, fuzzy, and warm without being too hot. Because the memory foam of this dog bed comes in pieces which are then stuffed into the pillow, the bolster wall is less encompassing.
At first glance, the chipped memory foam makes the bed seem less sturdy. But, according to memory foam experts, the pieces compress independently, making it more moldable. For arthritic dogs, this provides a gentle, soft place for them to rest their sore, weary bodies.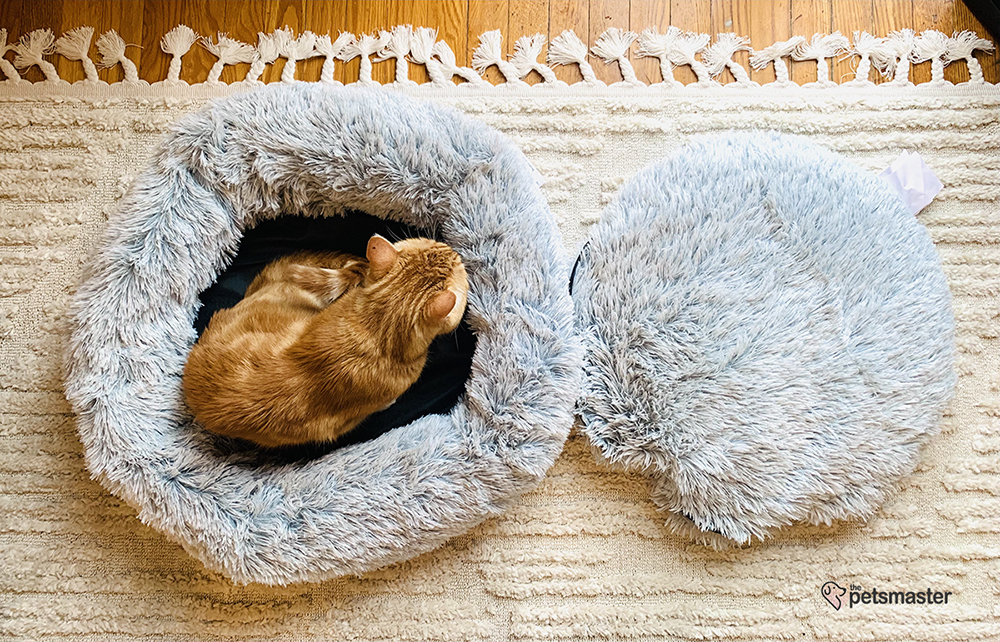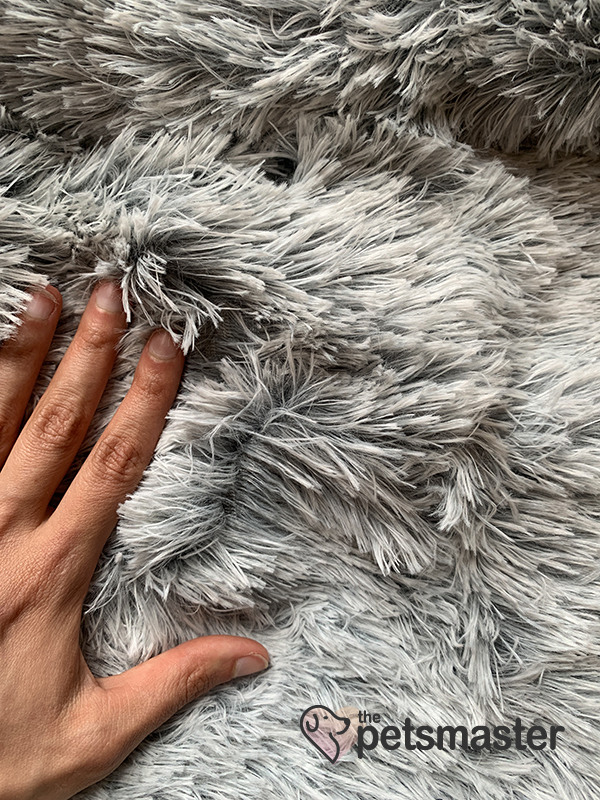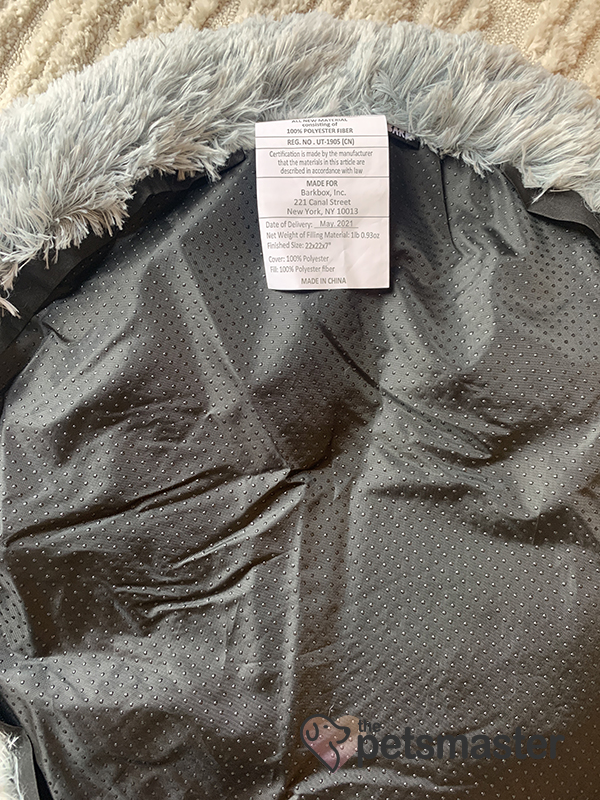 We ordered a Small BarkBox Donut Cuddler in Grey, which was just the right size for Peanut, at 16lbs, and our cat. The Large is 34'x34'x9' and should work for larger breeds, like Labradors or Retrievers.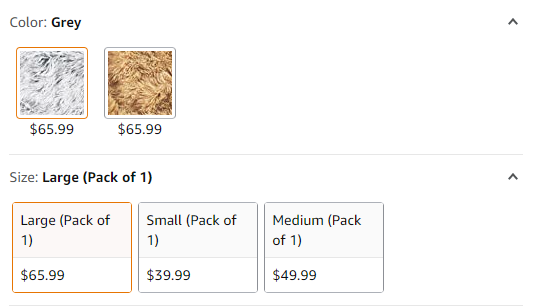 Of all the beds we tried, the BarkBox Cuddler was made of a more crinkly fabric than the others on our list. Unfortunately, this made the bed a bit noisy, which is made more obvious when Bax or Peanut were trying to get comfortable.
Pros
Machine washable
Fuzzy, cozy fur
Not overly warm
Cons
Shallow bed
Crinkly fabric
Slightly noisy
Next up, our last bed: Best for scared dogs.
---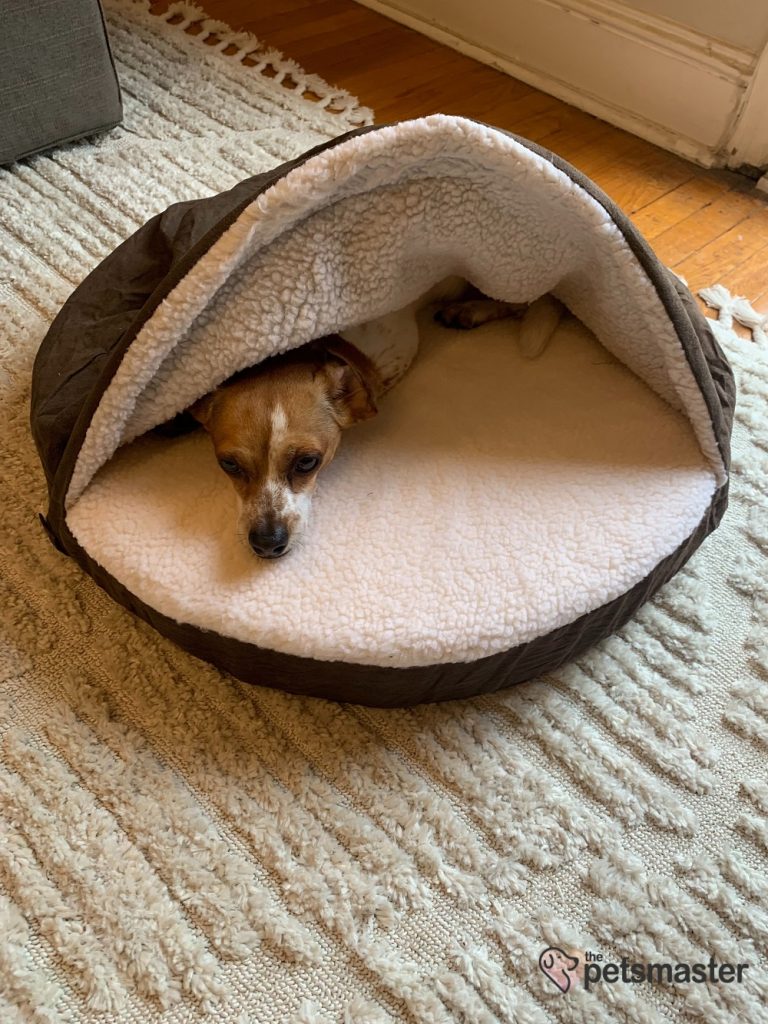 Best for Scared Dogs
Most interesting design
Calming for dogs with anxiety
Hooded design for burrowing
Okay, we'll be the first to admit that this dog bed is a bit weird. We'd never seen a dog bed with a hood before, but we like the idea. The only problem is, unless your dog enjoys going under blankets or covers (or in this case, a hood), you'll need to help your dog to use it properly.
Peanut wasn't quite aware enough of the hood to get under it. Take this with a grain of salt, though. Peanut isn't a naturally 'burrowing' dog and the hood wasn't propped open as much as it could have been. With that in mind, if your dog enjoys hiding under blankets, this might be the anti-anxiety bed for you.
One of the most interesting aspect of the FurHaven cave tent is how many options there are for size, color, and what the company calls 'Snuggery'. Basically, the material within the actual bed base. You can pick between a cooling gel foam, an egg crate orthopedic foam, or a memory foam. Each option will mold around your anxious dog's body, relieving pressure and joint pain.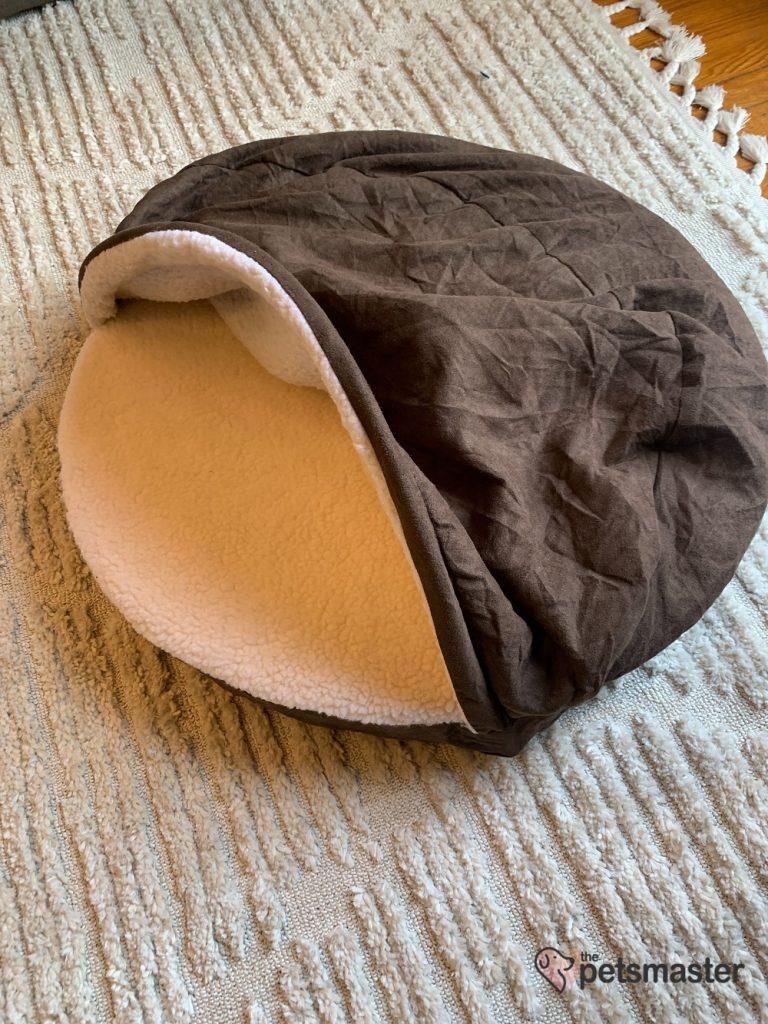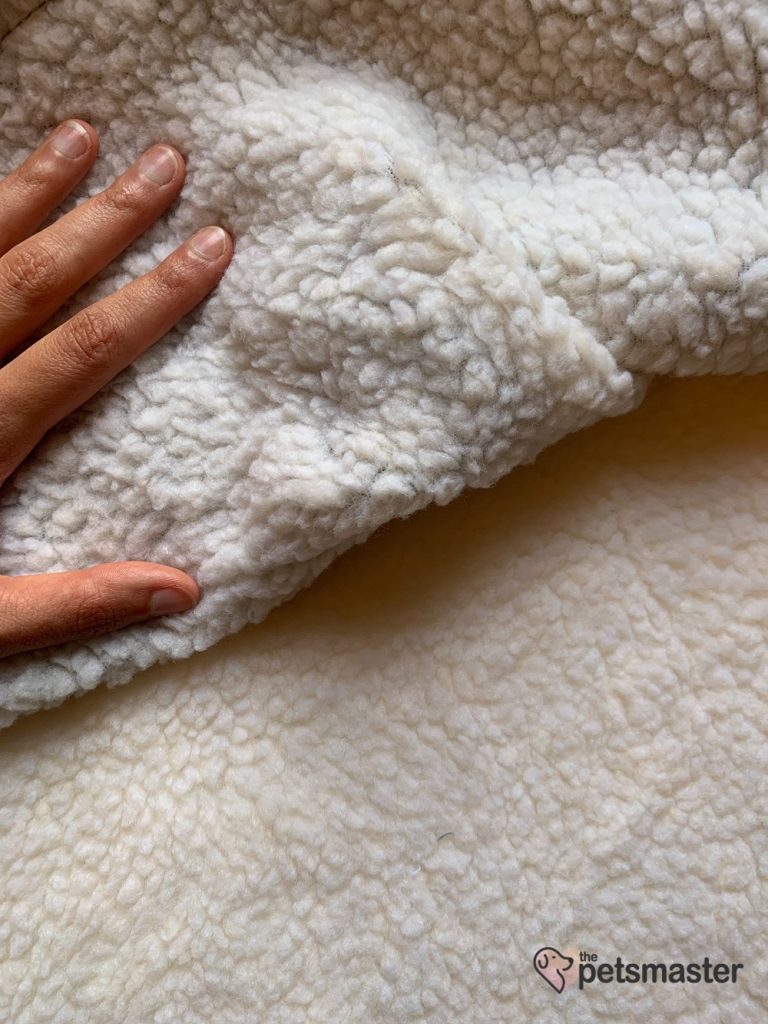 Despite not knowing exactly how to make use of the hood, Peanut still enjoyed curling up on the FurHaven pet bed. The base was firm, he had no trouble getting on or off, despite its odd design, the bed has a great concept.
As we mentioned already, this bed comes with multiple colors, sizes, and bases. We picked the 26 inch in Espresso for our test pup. It was just the right size for him to wiggle around in. The largest size, at 44 inches, would probably work for larger breeds.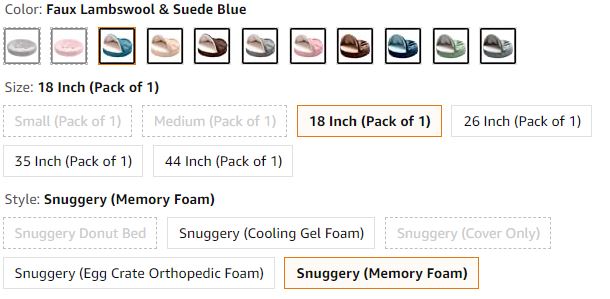 One of the benefits of the FurHaven Pet Bed could also be a problem for some dogs. The flat base makes it easy for dogs of any size or age to get in and out. However, this bed lacks a bolster, which does add an extra sense of security for many dogs.
Pros
Firm, sturdy base
Multiple orthopedic filling options
Easy to get on and off
Cons
Hood can be confusing
No bolster/lip around edge
Pets might need help to use hood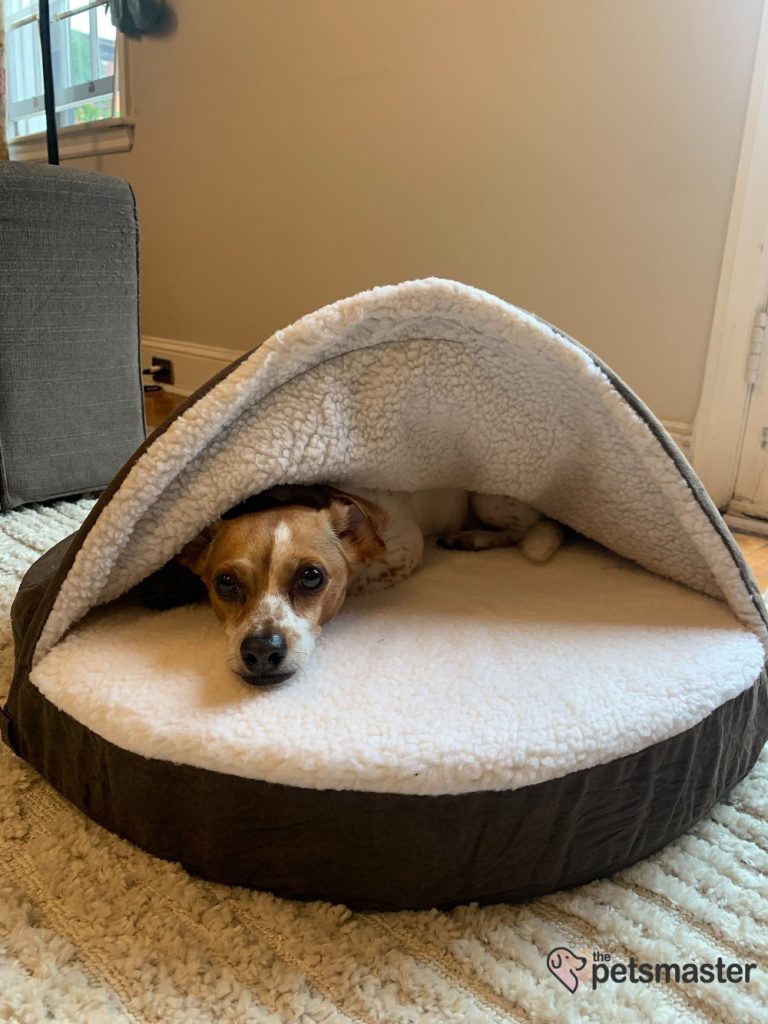 And that's our list of our favorite calming, anti-anxiety dog beds. Now, let's take some time to answer any questions you might have about calming dog beds and how to pick the right one for your pet.
---
How we chose (and what to look for when buying) a calming dog bed
To select which beds to order to try out in the first place, our review process is exhaustive and has multiple steps. In researching the best calming pet beds out there, here's what we did:
Dig through reviews and crowd-sourced ratings on multiple sites
Review the quality history of the companies behind the top selling dog beds
Compare sizing options of dozens of dog beds to determine which sizes work best for different sized dogs
Research the quality and durability of the materials each bed is made of
Compare the structure of different pet beds and what that means for the comfort of your pet
We did hours of research and selected the top 7 beds on the market. So by the time we got to the hands-on testing portion, the beds had already been fully vetted and determined to be top of the line (this is why we ended up liking most of our orders). Once we ordered each and every one of them, we put them through their paces. We assembled each bed, and gave it to our certified tester, Peanut, for full inspection. Each bed spent hours in his lab, being burrowed in, dug up, chewed on, slept on top of, in one case thrown up on, and more.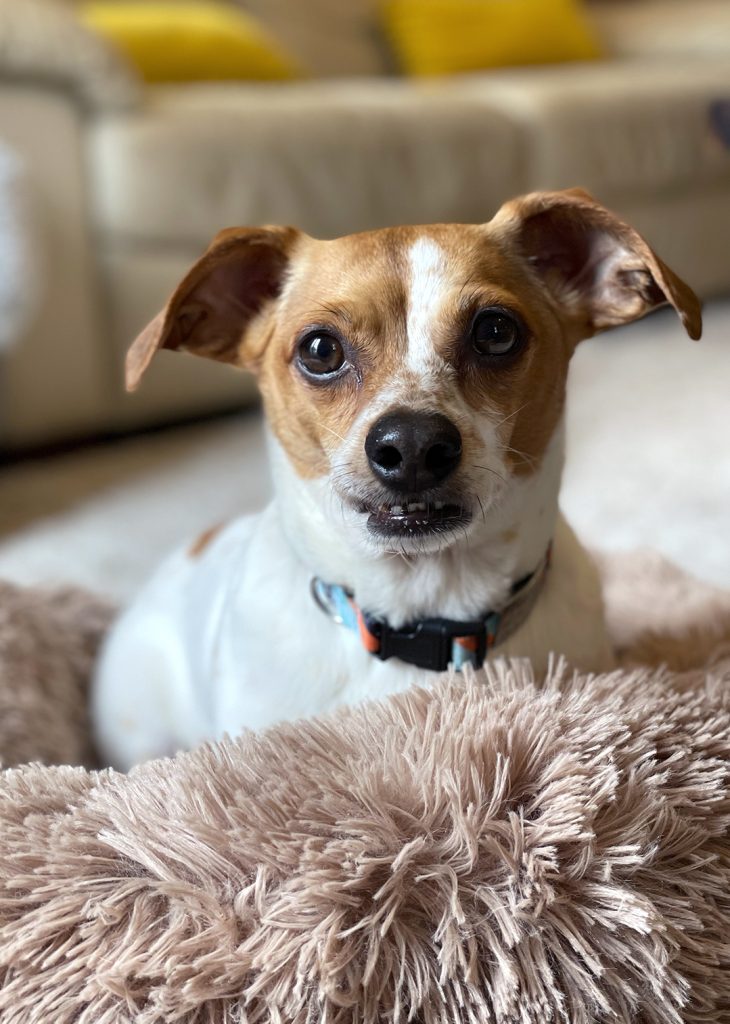 Our cats also tried out some of the beds and gave their reviews, including whether each beds was a good surface for kneading / clawing, licking, scratching, sunspot snoozing, and more (most beds were given the paws-up for all).
We checked each dog bed's durability and sturdiness of construction by tugging and pulling, throwing and kicking (this was a fun day to get out some aggression!) as well as by just giving them to an anxious aggressive dog. Overall this gave us a good idea of the quality of the seams and stitching, as well as the fur and underlying fabric.
We also tested smell and odor (at first as well as over time), stain resistance, and more. Here are the key features we took into account when deciding on our top picks — they'll also help you when it comes to making your purchasing decision.
Size of bed
The first thing you're going to want to look for when buying a calming dog bed is the size. We would never recommend a pet bed that best suites Labradors for Shih Tzu's. The comfort of your dog depends on getting the right sized bed.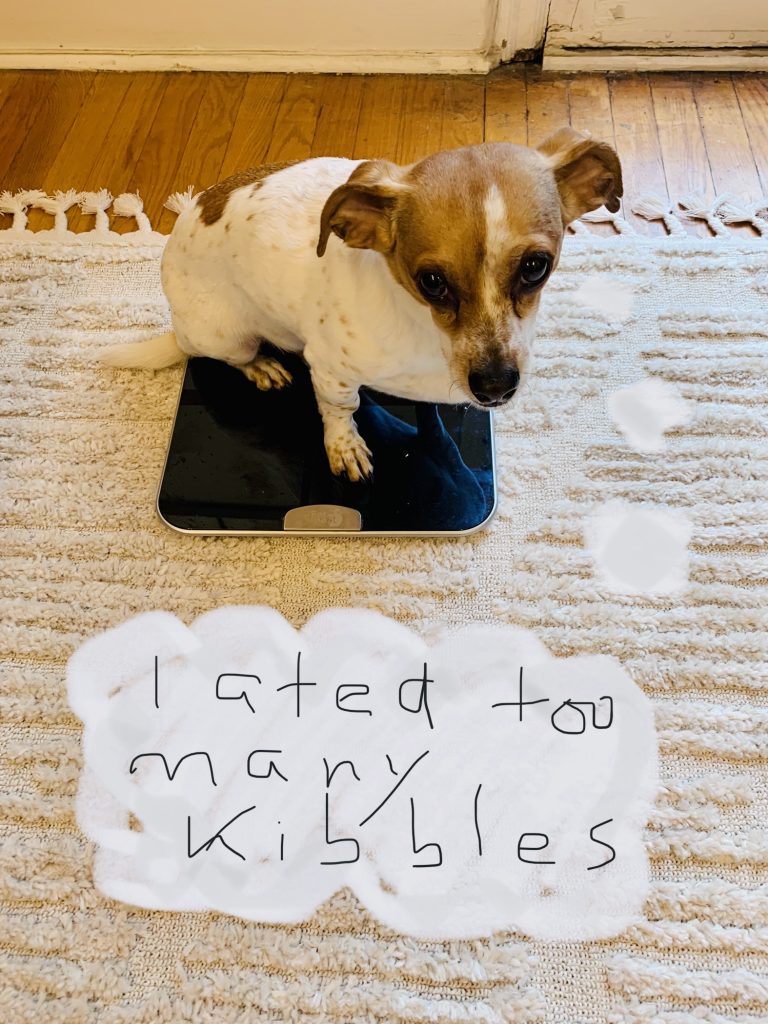 Most dog bed manufacturers will let you know what size of their brand to order by weight limit. To be sure you're getting the size right for your dog, weigh your pup. (If they're too small, or big, or skittish for the scale, you can hold them and weigh the two of you together, then just yourself, then subtract your weight from the total weight — voila, your dog's pounds.)
Ease of cleaning
When it comes to beds for your fur baby, you're going to want to be able to clean that bed well. After all, we all know the pure funk that comes when dogs get extra comfy on a surface.
The best dog beds will come with removable and washing machine safe covers. We've also made sure that the materials under the covers can at least be spot cleaned or left out to air safely. No stinky dog beds here!
Every bed will have different washing instructions, so make sure you read over the washing instructions on your specific calming dog bed to protect the quality of your purchase.
Anxiety-reducing features
There are three specific features we considered when looking at pet beds for anxious dogs. The first is the shape of the bed. Because your dog will feel most secure in a nest-like bed, we opted for choices that include ridges around the edge to enhance a nesting feel.
The second feature we consider is the finish of the dog bed, specifically the material that will be in direct contact with our pups. Dogs feel most comfortable in beds with faux fur finishes. It makes them feel like they're cuddling next to a friend.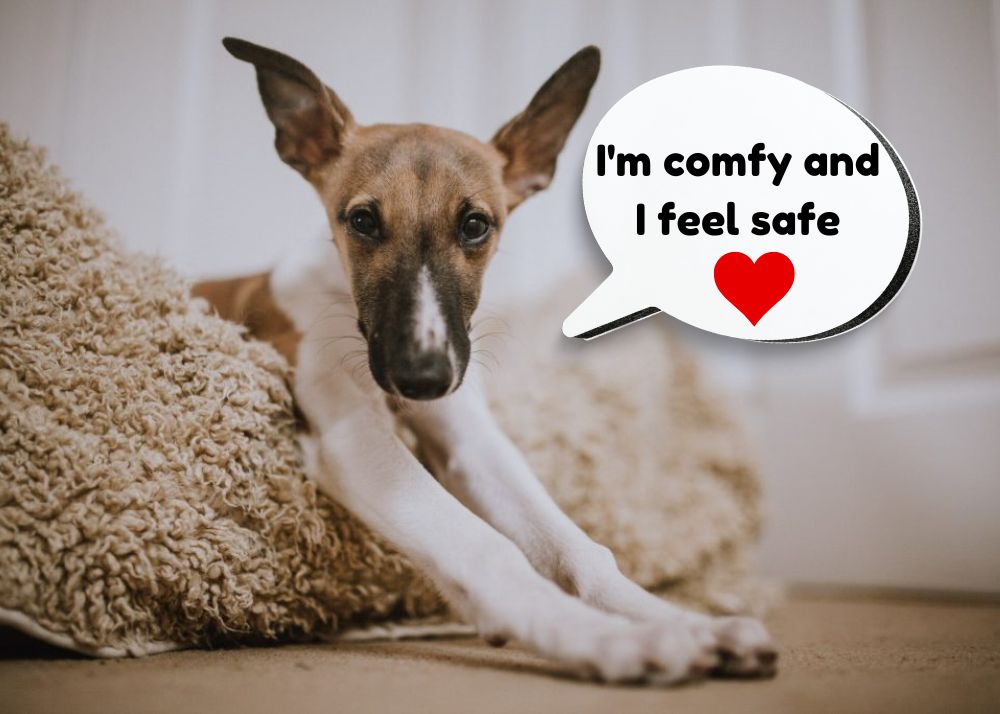 Finally, we make sure the material beneath the bed finish holds heat. Unless your dog runs hot, most dogs enjoy warmth while they sleep. When combined with a faux fur finish, this added warmth factor will make dogs feel extra safe.
Orthopedic features
One of the reasons dog beds are so important is if your dog is otherwise sleeping on the floor, they could be doing damage to their joints. Not to mention, it's just uncomfortable.
When looking at calming dog bed features, you want to make sure the foam support is thick and soft. So, a dog bed that has give and allows your pet to sink into it is ideal. The softness of the foam isn't just comfy, it will protect your dog's joints.
Durability and quality
We know that a dog bed needs to stand up to being scratched, bitten, rolled in, peed on, washed, and peed on again. When it comes to dog beds, you want that balance of soft, comfy fabric with the durability to support your pup for years to come.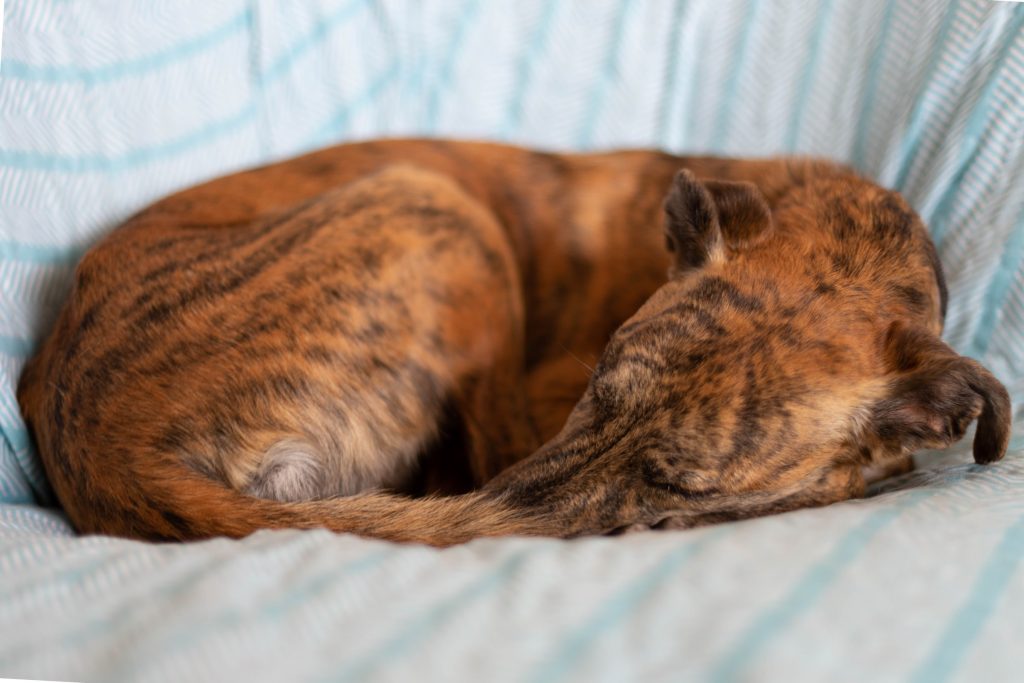 Part of what will help with overall durability of a pet bed is the quality of the materials used. We want to know what the fabrics are made of and if the foam is certified. You don't have to do any research, because we've done it for you.
Price
There has to be a balance between quality and price when it comes to calming dog beds. We all want the best for our dogs, but we still have bills.
When looking at the quality of our top 7 dog beds, we made sure the quality matched the prices, so you know you're getting your money's worth.
---
Can a bed really reduce my dog's anxiety?
Yes. It can seem like a gimmick or an over-extension of a product's promise, but a good bed can be an effective tool in helping dogs to behave less anxiously, especially when used in combination with other interventions. Whether you're hoping to help with separation anxiety or aggressive responses to stimuli, the right bed is your best option for a home base.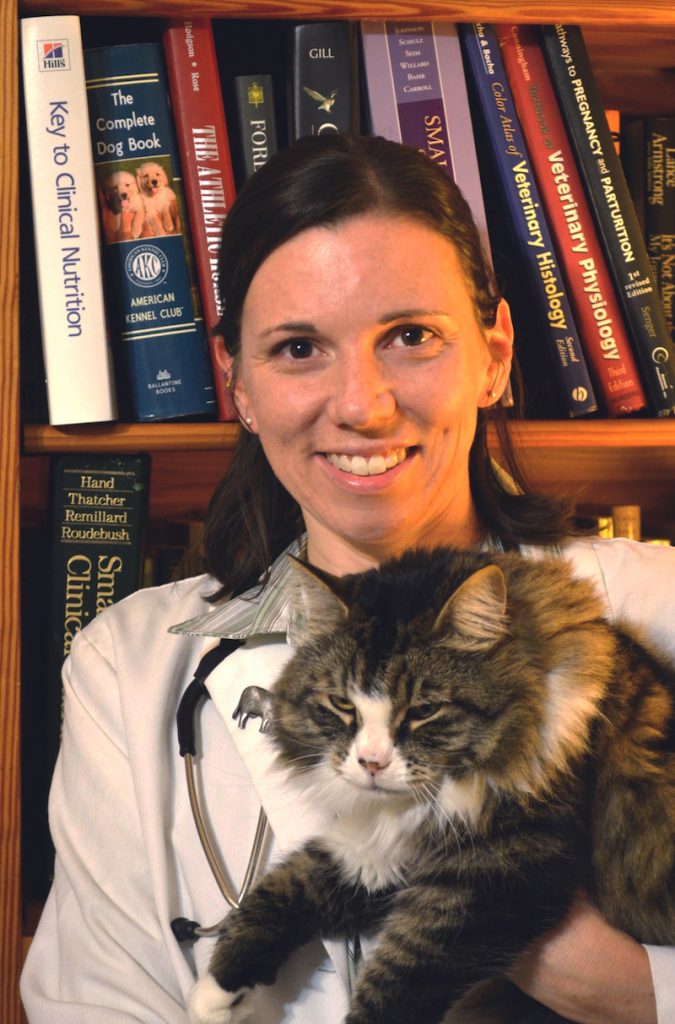 "Getting to the root of a dog's anxiety will go a long way in helping to relieve it. While this may not be possible in every case, pay special attention to when your dog becomes anxious, what makes it worse, and what seems to help."
Dr. Chyrle Bonk, DVM
Ok, so a calming dog bed can help my pup with their anxiety. With so many beds out there, how do I choose what bed is right for my pet?
We spent days scouring the internet to find the best purpose-designed-for-calming dog beds on the market. Then we ordered each and every one, and tested them ourselves. Here's what we found.
How do calming dog beds work?
Calming dog beds work by creating a soothing space for dogs suffering from anxiety.
The foundation of beds designed to help pets relax is to give dogs a sense of security and comfort. The low heat of the foam interiors, which are supposed to mimic body heat, make them feel like they're next to someone. And, most dog beds will be made with extra comfy, super soft foam. The foam lets your dog sink into the bed, so not only do they feel like they're being cuddled, they also get relief from achy joints and muscles.
The raised edges of the beds help dogs feel a secure and safe. And often, the fabrics are made to feel like fur, so they don't feel alone.
It's important to recognize what's triggering your pup's anxiety in order to pick the calming doggy bed that will work best for them. Once you've got a better understanding of the underlying cause of your dog's anxiety, you'll know exactly what to look for in the features of an anti-anxiety dog bed.
---
What are common signs of anxiety in dogs?
If you're unsure whether your dog is stressed or just naughty, you can look for a few key signs. Some common signs of anxiety include:
Excess Barking or Howling
Pacing
Shivering
Escaping the House or Yard
Sitting or Curling Up in a Corner
Excessive Digging
Lack of Appetite
More Accidents in the House
Increased Licking
Increased Chewing
If you notice any or multiple signs of anxiety in your dog, talk to your vet about what steps they recommend for treating this anxiety.
Typically, there are three types of anxiety you'll want to be on the lookout for when it comes to your dog and anxiety: fear, separation, and age.
In the video below, Dr. Greg McDonald goes over a few additional ways you can recognize symptoms of anxiety in your dog.
Fear-based anxiety in dogs
We've all seen this kind of fear in our dogs. It happens anytime there's a big thunderstorm or a firework display nearby. Dogs are scared by loud noises, but also new people, environments, or situations.
While the initial shock is what we pet moms and dads notice most, these moments of fear can result in long-term anxiety.
Separation anxiety in dogs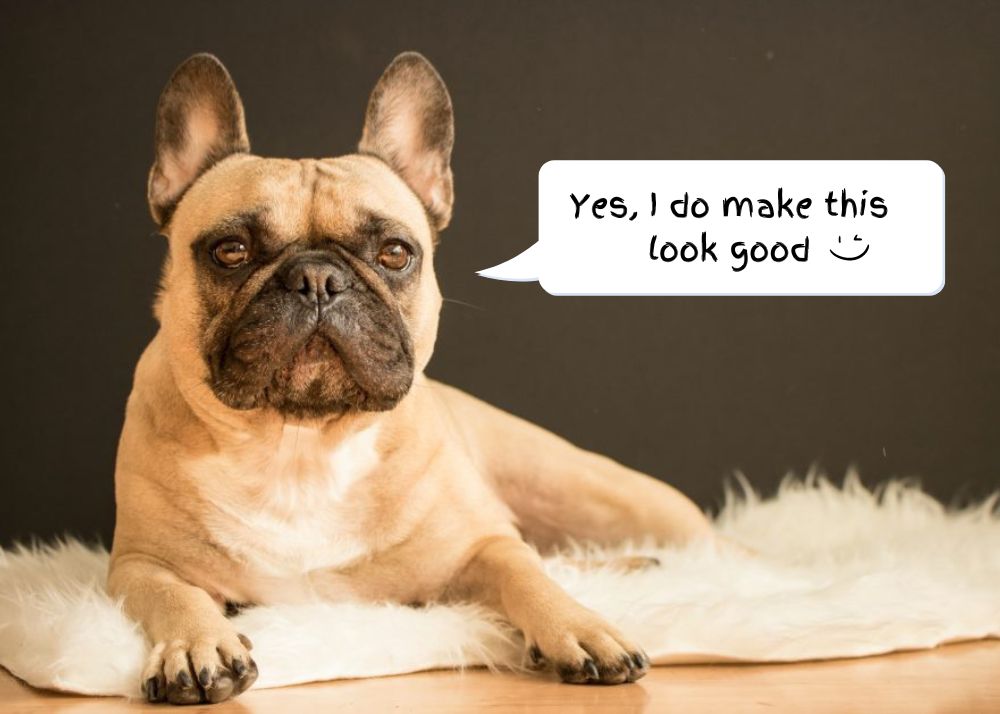 Many dogs need human connection. They hate being away from their families and can get anxiety when it happens on a regular basis. If dogs are experiencing separation anxiety and don't have a safe place to escape to, they'll often show their anxiety by barking or reverting to puppy-ish behavior, like ruining furniture.
Aging dogs and anxiety
Older dogs don't know what's happening to their bodies, which causes a whole different level of anxiety. As eyesight and hearing goes, older dogs are easier to scare. Some can even suffer from declines in memory, perception, and general awareness. Their bodies hurt and their joints ache, which makes finding the right dog bed even more important.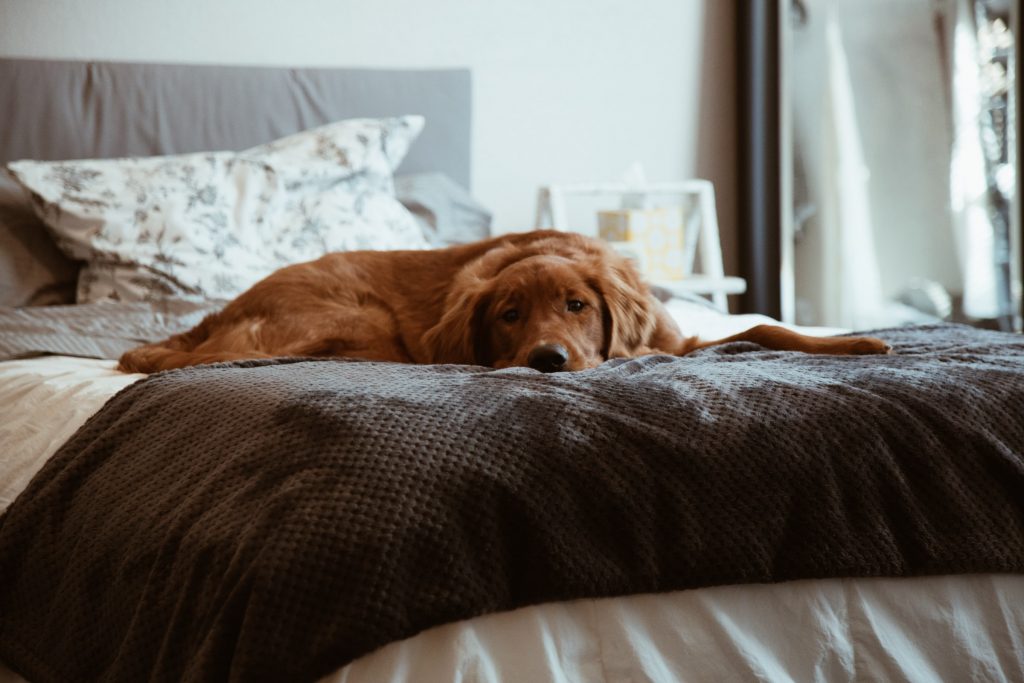 Once you know your dog is anxious and what is causing the anxiety, you'll be able to pick out the perfect bed to ease and calm them.
How do you calm an anxious dog at night?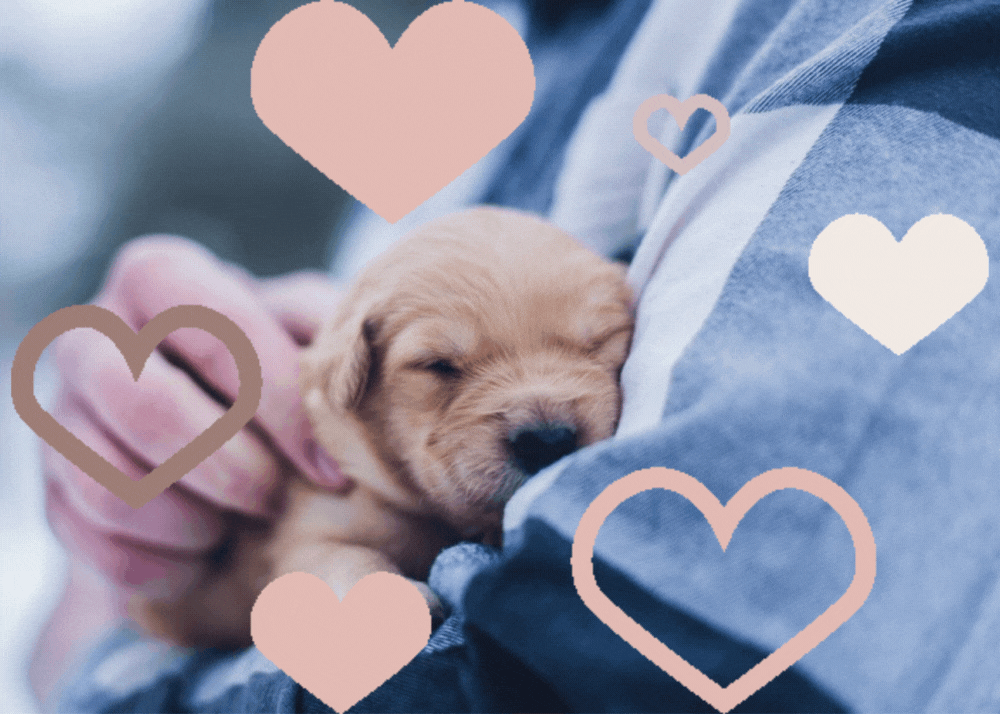 If your pet dog struggles to sleep at night, you can take a few easy steps to help ease bedtime anxiety. The most important part of calming an anxious dog at night is to be consistent. Routine is key to keeping dogs relaxed as they prepare to sleep.
Follow these steps to keep your dog calm at night.
Give a special nighttime snack as a treat
Pull out a cuddly toy that is only used for bed
Provide a t-shirt with your scent
Walk your pup over to their special sleeping area
Spend some time cuddling and talking while they relax in their bed
If you follow this routine, your dog should start being less anxious at night.
---
Other ways to soothe an anxious dog
While studies have found that calming pet beds can have great results in soothing anxious dogs, it might take a little extra work for anxious dogs to feel completely at ease.
If you're looking for a few supplemental ways to soothe your own anxious fur baby, we've put together some of the most recommended methods. Hopefully, when combined with a calming dog bed, these techniques will give you the options you'll need to ease anxiety in your dog.
Remove triggers
If you're aware of an item or situation triggering your dog's anxiety, the simplest way to deal with the issue is to remove the trigger. While we can't control triggers like thunderstorms, whenever possible don't put your dog in a situation that will cause stress.
Paying attention to what's causing the anxiety and removing that trigger could be life-changing for your dog's health.
Exercise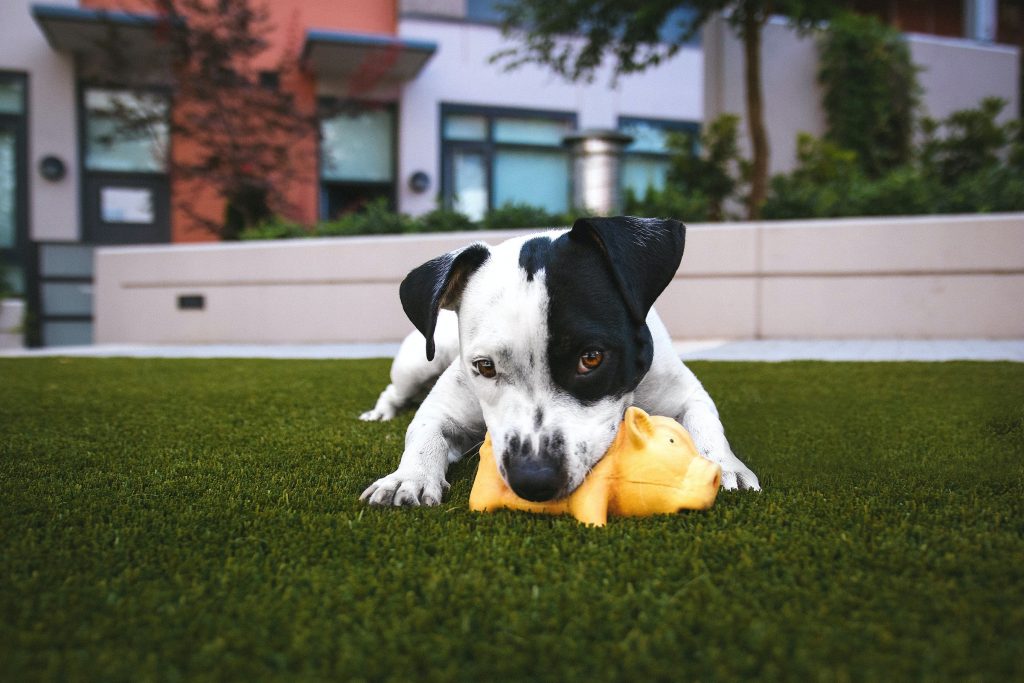 Another great, and easy, way to soothe anxiety in anxious dogs is to exercise more with your pup. Not only is exercising good for both dogs and owners, but the quality time with you will do wonders for your dog's anxiety.
Exercise releases endorphins in dogs, just like it does in humans. This means that every time you go for a run or play catch with your dog, a flood of hormones are making that pup feel happy!
Plus, more exercise tires out dogs, giving them better sleep.
Create a retreat
If a dog feels overwhelmed in their home, whether it's because of all the activity or just when guests come over, it helps to have a place to retreat.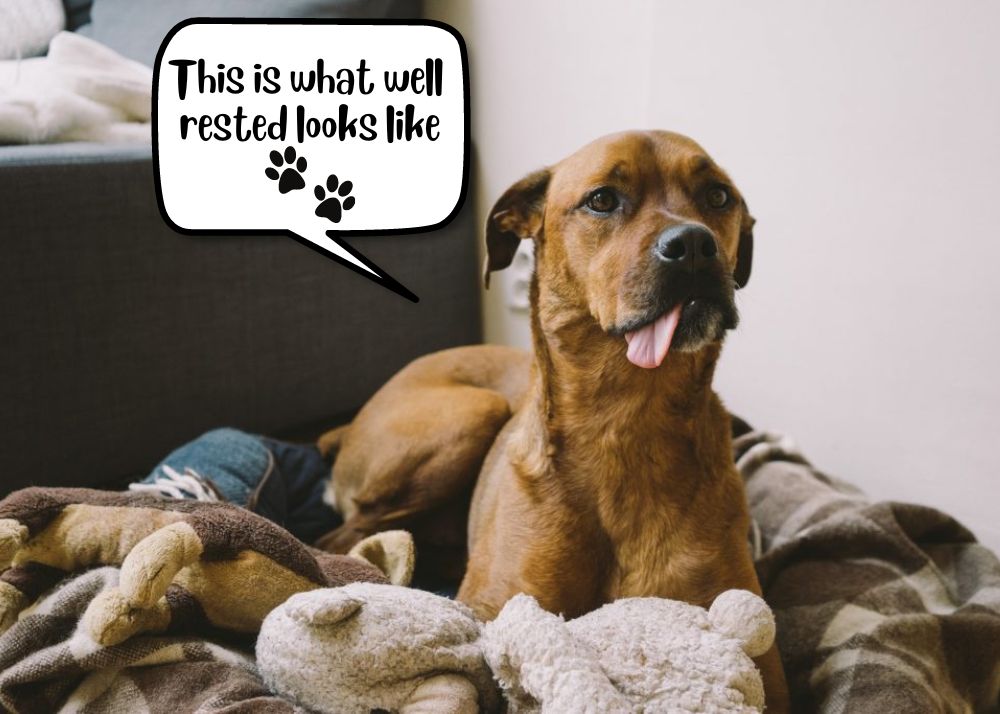 Create a quiet, calming space with all your dog's favorite things and get in the habit of leading your pet there when you notice an increase in stress. Fill the space with your dog's favorite things. Snacks, toys, a sound machine, and, of course, the comfiest of dog beds.
Massage and physical contact
Just like humans, when a dog is stressed, they want a good cuddle from the person they love the most! If you start to see your dog getting anxious, treat it faster by pulling your pup close and giving them a gentle squeeze.
While you're snuggling your pet, ease those sore muscles and joints by giving your dog a light massage. Start in the neck and shoulders, but work on joints as well. Over time, you might find the area your dog holds tension and bring relief by working out those knots.
Listen to music
If your dog struggles with separation anxiety, put on some classical music to help soothe and relax him. For cases where you know there are going to be loud triggers, like fireworks or a particularly loud garbage truck, put that music on early and leave it going.
Not sure what kind of music to play for your pet? Check your favorite music streaming services! Several have playlists created just for pets!
---
Other effective anti-anxiety dog products
In addition to soothing dog beds, there are other products that can be used to treat dogs with anxiety. How well these products will work is completely dependent on your dog and how they deal with stress. But, if you're serious about finding a way to effectively treat your dog's anxiety, consider some of these options.
Dog pheromones
Adaptil Calm On-The-Go Collar is a dog collar that releases calming pheromones to help keep your dog stress-free in high-tension situations. The collar has been found to work to reduce separation anxiety, decrease fear of certain triggers, and improve focus during training bouts.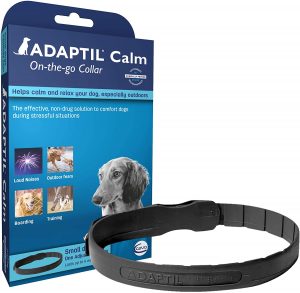 Check out the Adaptil Calm Collar and its verified customer reviews here!
Calming dog jacket
The ThunderShirt Classic Dog Anxiety Jacket works just like swaddling a baby does. The jacket wraps around the dog, providing a gentle pressure that increases the feeling of security in dogs.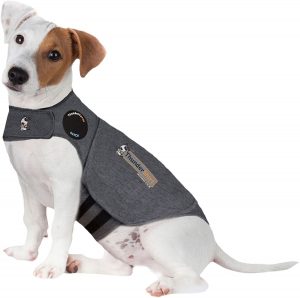 The ThunderShirt has had success treating dogs who experienced anxiety during storms, travel, fireworks, and when their humans were at work.
Check out the ThunderShirt Classic Dog Anxiety Jacket and its verified customer reviews here!
Calming dog blanket
The Canine Coddler is a weighted blanket that was designed to provide a consistent, constant pressure to anxious dogs so they can relax and feel calmer.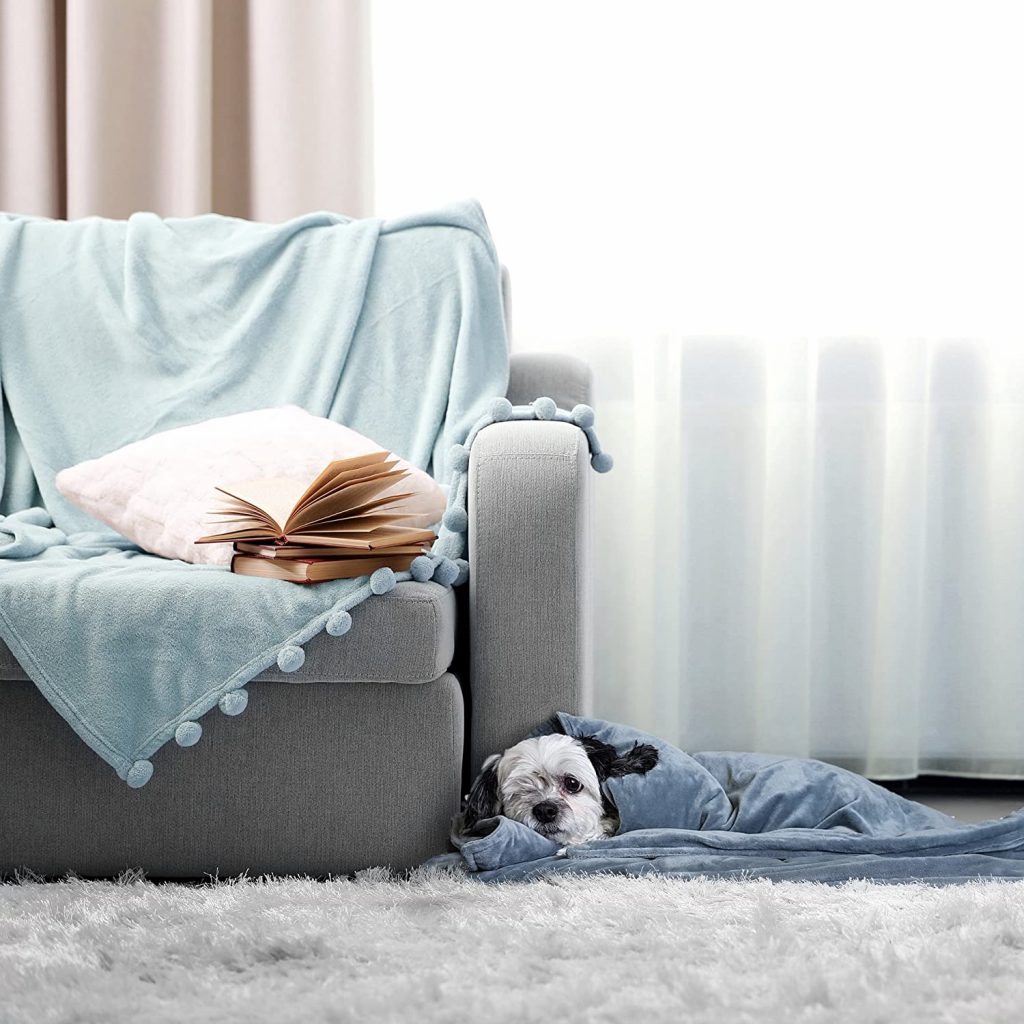 Not only does the Canine Coddler provide a much needed calm for anxious dogs, it also does so with extreme care and caution. The blankets are expertly weighted so your dog is safe at all times. And, thankfully, the cover is removable so it can be washed.
Check out the Canine Coddler and its verified customer reviews here!
Sound machine
Noise is easily one of the biggest triggers for dogs and their anxiety. So it makes sense that one of the best anti-anxiety product for dogs uses noise to counteract those triggers
The Big Red Rooster 6 is a white noise sound machine that works for a variety of situations, but has also become popular with dog owners.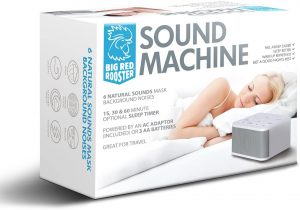 This heavy-duty sound machine comes with six soothing sounds that help mask background sounds, so your pet dog won't have to hear those loud noises that trigger anxiety.
Check out the Big Red Rooster 6 and its verified customer reviews here!
Calming chews
Premium Care is a company that makes the highest quality dog snacks, with one specific caveat: The chews help with dog anxiety!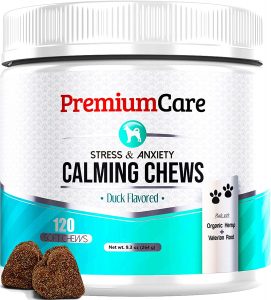 The flavorful little bites are made with natural ingredients and calming supplements that help relieve symptoms of stress, like nervousness or hyperactivity. And, even better, these little snacks are made with no fillers, so they're the perfect natural choice to treat your fur baby's anxiety.
Check out Premium Care's Calming Treats and their verified customer reviews here!
Why trust us
We're a pet care company operating in multiple cities and walking hundreds of dogs every day. We know what people are using at home (and we know what we like to use) to make sure all our pets are happy, safe, and comfy. We've got years of experience and thousands of dog walks and cat visits informing our every article.
Want more information?
Just ask us! Your PetsMaster is here to help. As an Amazon Associate, we earn from qualifying purchases.