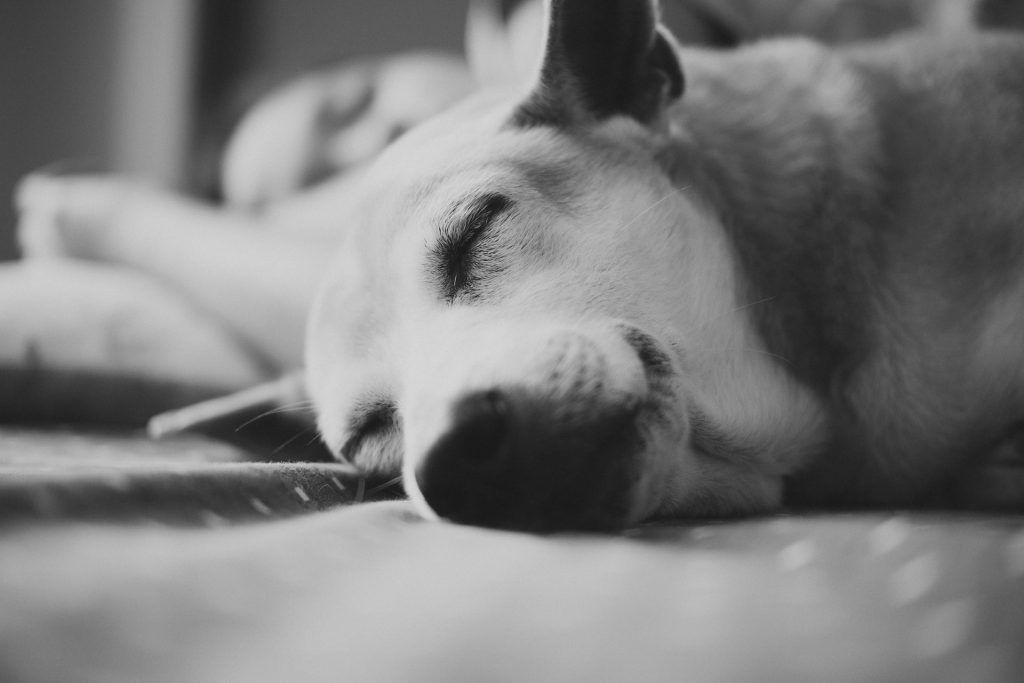 Just like the stresses of life can leave humans anxious, dogs also struggle with anxiety. Unfortunately, it can be difficult for pet owners to pin down what's causing this stress in their dogs and figure out the best ways to treat it. One of the best ways we've found to help our dogs stay calm when dealing with anxiety is by using the best dog bed possible. A calming dog bed serves as a perfect retreat for pets struggling with anxiousness, as long as you get the right one.
How we picked the best ones
Our review process is exhaustive and has multiple steps. In researching the best calming pet beds out there, here's what we do:
Dig through reviews and crowd-sourced ratings on multiple sites
Review the quality history of the companies behind the top selling dog beds
Compare sizing options of dozens of dog beds to determine which sizes work best for different sized dogs
Research the quality and durability of the materials each bed is made of
Compare the structure of different pet beds and what that means for the comfort of your pet
Can a bed really reduce my dog's anxiety?
The number one question you'll have when considering a calming dog bed is if it will even be effective in treating your dog's anxiety.
The short answer is yes! Anti-anxiety dog beds have proven to be very effective in helping dogs overcome their nervousness. Having a place to escape that is designed to ease their anxieties and also sooth their bodies works wonders for on-edge dogs.
However, it's important to recognize what's triggering your pup's anxiety in order to pick the calming doggy bed that will work best for them. Once you've got a better understanding of the underlying cause of your dog's anxiety, you'll know exactly what to look for in the features of a calming dog bed.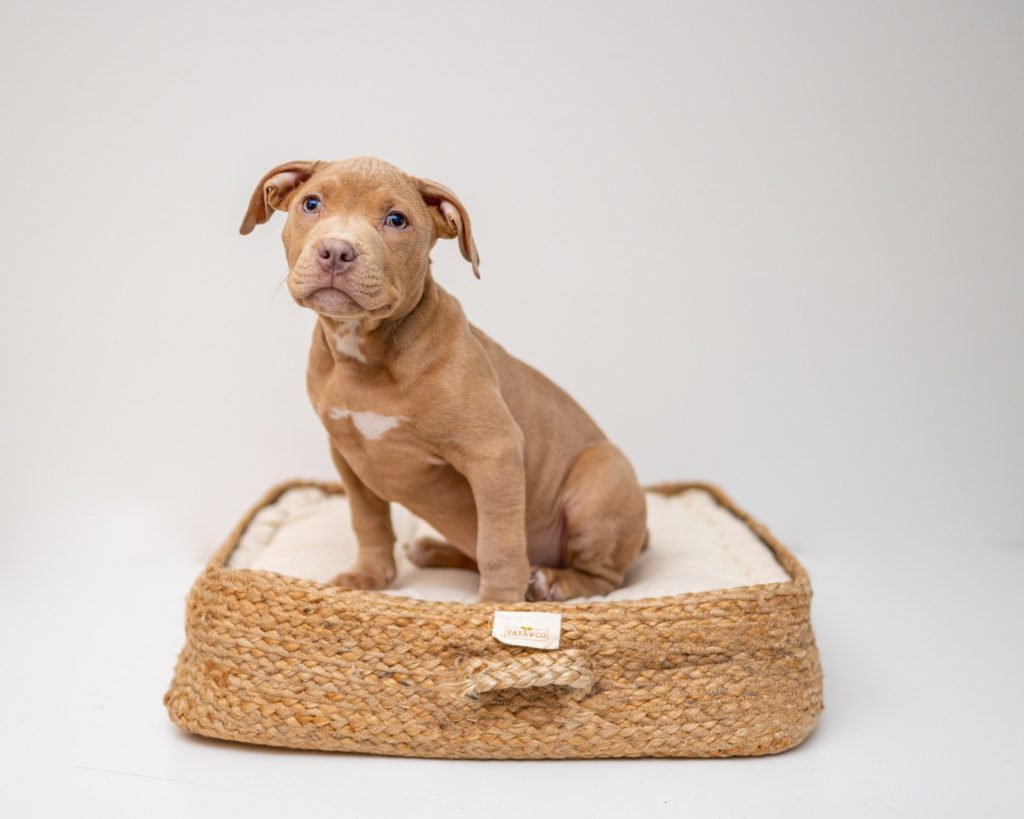 Jump to a section
Our top 5 picks
How does a calming dog beds work?
Signs and causes of anxiety in dogs
How we chose our picks
Ways to soothe anxious dogs
Other products that can help
---
Our top picks
We searched through thousands of reviews on dozens of dog beds to find the 5 we think are the very best.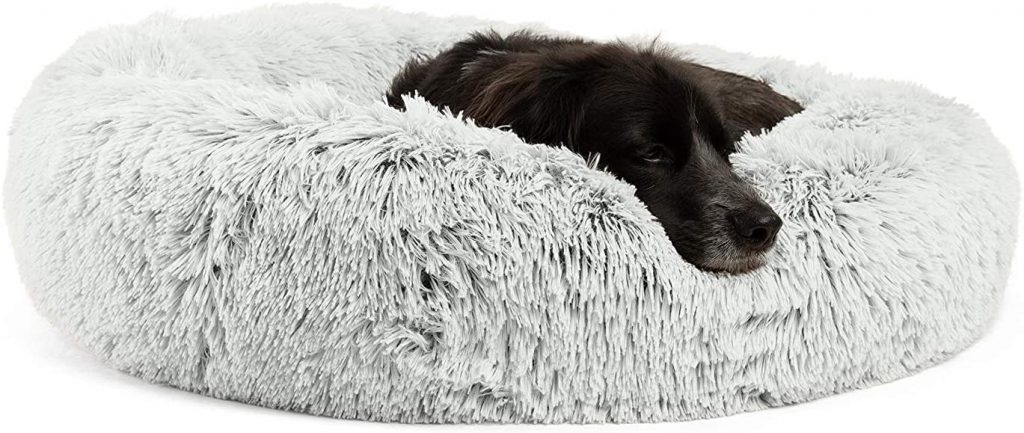 Best Overall
This donut-shaped bed provides the most comfort and security for your dog, is easy to wash, and will last for years.
Every list of top dog beds for 2020 includes Best Friends by Sheri, and with good reason! The bed was designed to support the head, neck, and joints of dogs, specifically those who like to curl up. And you'll be a huge fan of the stylish, neutral colors available for this bed.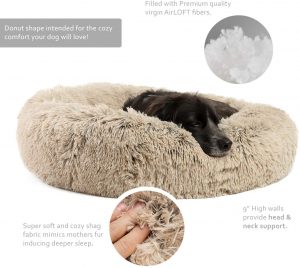 The Best Friends dog bed is made with high-quality, vegan fabrics and fibers, all of which are machine washable. And, just as important to dog parents, the bed is extremely durable, whether your dog is a scratcher or a biter.
Pros
Great Back and Neck Support
Safe, Quality Fabrics
Durable
Machine Washable
Raised Edges for Security
Self-Warming
Inexpensive
Cons
Can Get Overly Warm
Not Odor Resistant
Center Less Cushioned than Sides
---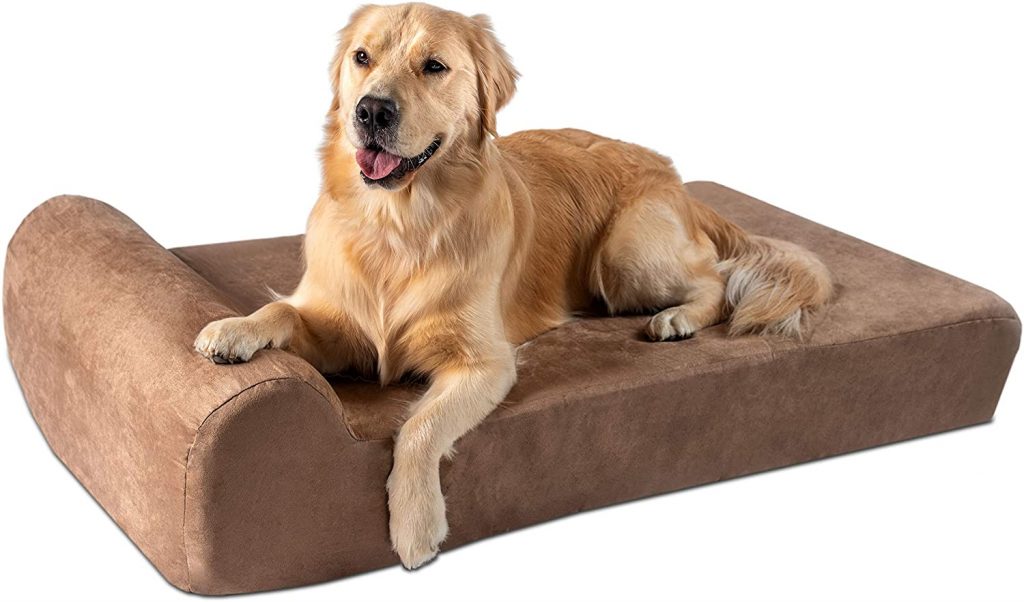 Best for Big Dogs
Heavy-duty construction and open sides make it easier for large dogs to spread out and relax in comfort.
We love our big dogs, but recognize they'll need a little extra support when it comes to their doggie beds. The Big Barker is a handmade, giant dog bed with a headrest that is perfect for the big doggo in your life.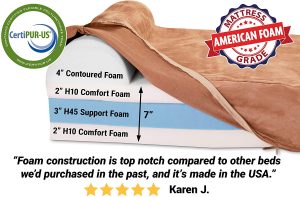 One of the highlights of the Big Barker is this tremendous calming dog bed is clinically proven to help achy dogs. The University of Pennsylvania did a study on the bed and found it greatly improved the mobility of larger dogs.
Pros
Designed for Large Dogs
Includes 11 Inches of Therapeutic Foam
Durable and Supportive
10 Year Warranty
Machine Washable
Clinically Proven
Handmade in the USA
Cons
More Expensive
Only Works for Big Dogs
---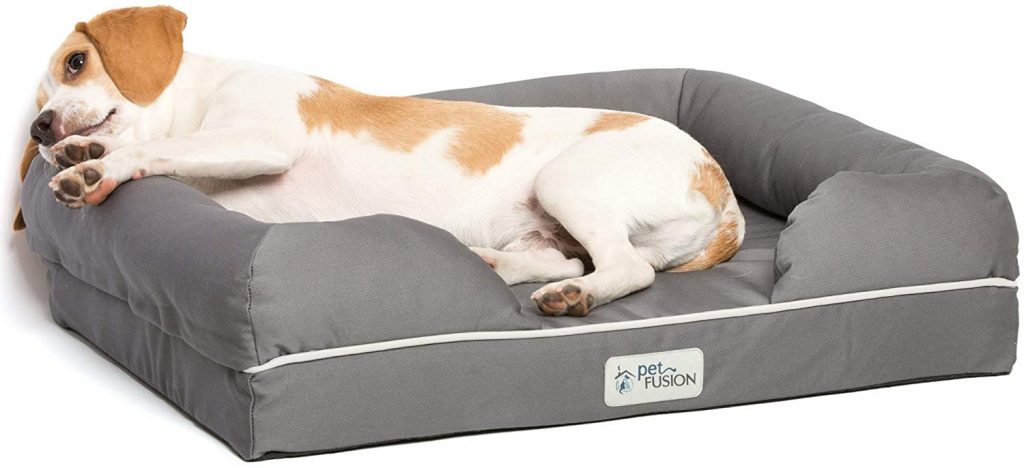 Best for Small Dogs
Easy entry for smaller dogs with the same features we love on larger beds.
While the PetFusion Ultimate dog bed does come in larger sizes, we love this option for our smaller fur-children. The raised ridges of PetFusion Ultimate keep dogs feeling safe and calm, but this bed includes a little 'doorway' making it easier for dogs with little legs to get in and out.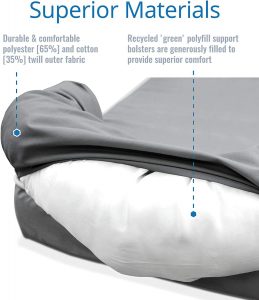 The memory foam in the PetFusion Ultimate adds an extra layer of support for tired, strained joints. And we're a big fan of the certified memory foam, which exceeds USA safety standards. The foam also comes in a waterproof cover, so you get double the protection with this calming dog bed.
Pros
Solid Memory Foam
Includes Waterproof Liner
Bolster Provides Extra Neck Support
Hidden Zippers
Machine Washable
Designed for Small Dogs and Cats
Cons
Bolsters Aren't Washable
Zippers not as Sturdy
---

Best for Older Dogs
Low sides and a more orthopedic foam give your older dog the support they need to rest easy.
Older dogs have very specific needs when it comes to dog beds, especially when aging in dogs is tied to anxiety. The Furhaven Pet offers older dogs a bed that's easy to get onto, but also provides solid support and comfort.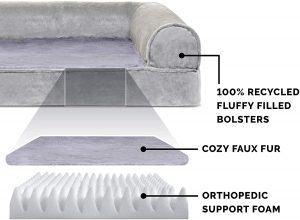 Furhaven is made with egg crate orthopedic foam that cushions specific pressure points, offering support and relief to older dogs. The quilted fabric keeps dogs warm during colder days, but has enough airflow to keep them cool.
Pros
Orthopedic Support Foam
Quilted Fabric
Foam Targets Pressure Points
Provides Back, Neck, Hip, and Joint Support
Machine Washable
Made in the USA
Cons
Not as Durable
Quality of Styles Varies
---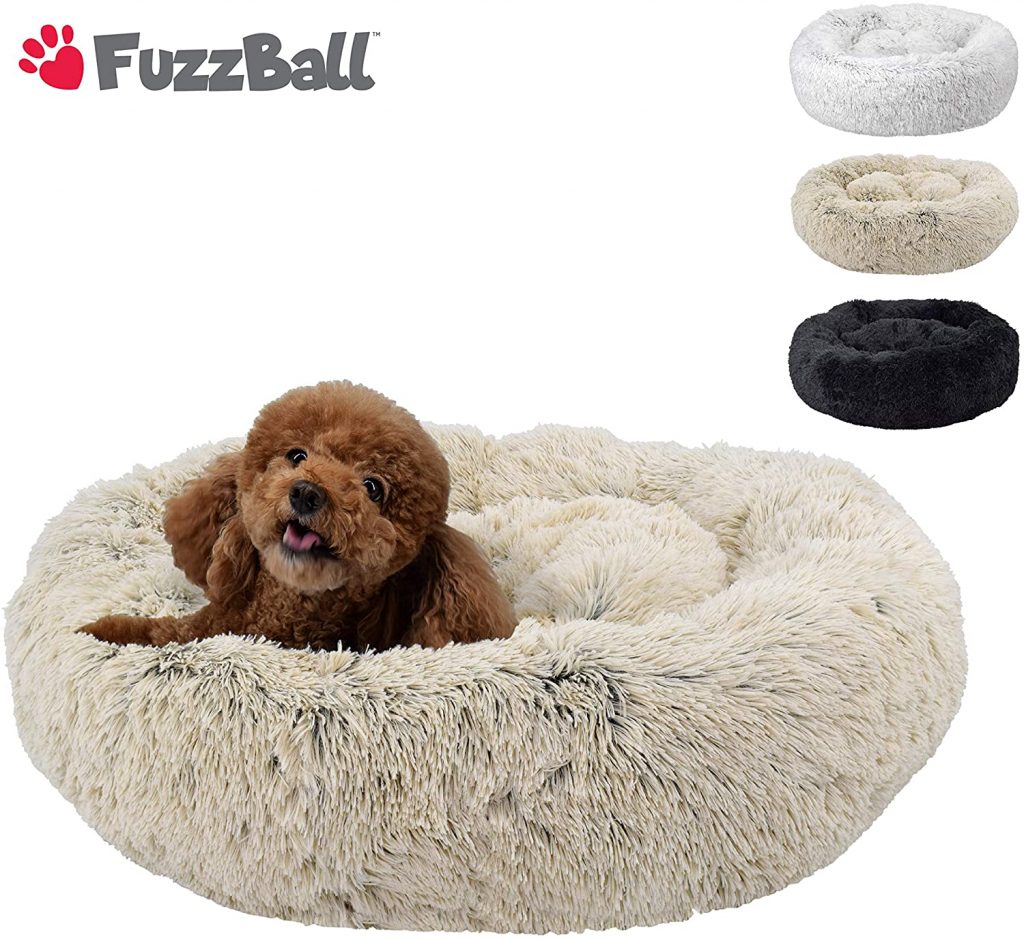 Easiest to Clean
With no covers to remove, this bed is designed to go straight into your washing machine.
Don't get us wrong, every bed on this list is easy to clean. However, there's something very appealing about not having to take any covers off and just tossing an entire bed into the washing machine.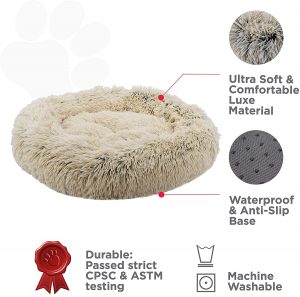 The FuzzBall Fluffy has the same donut shape as the #1 option on our list, as well as a waterproof fabric and silicone bottom to keep the bed from slipping. The bolsters add that much needed neck support and space to cuddle up.
Pros
Waterproof
Machine Washable
Slip Proof Bottom
Soothing Bolsters
Inexpensive
Cons
Only Comes in Small and Medium
---
How do calming dog beds work?
Calming dog beds work by creating a soothing space for dogs suffering from anxiety.
The foundation of beds designed to help pets relax is to give dogs a sense of security and comfort. The low heat of the foam interiors, which are supposed to mimic body heat, make them feel like they're next to someone. And, most dog beds will be made with extra comfy, super soft foam. The foam lets your dog sink into the bed, so not only do they feel like they're being cuddled, they also get relief from achy joints and muscles.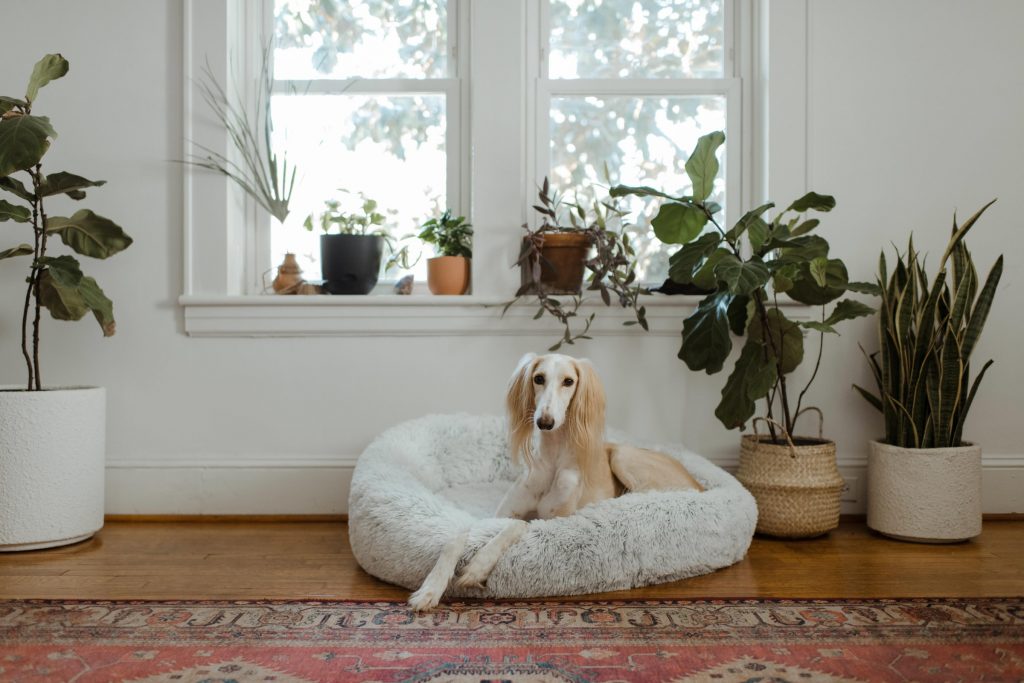 The raised edges of the beds help dogs feel a secure and safe. And often, the fabrics are made to feel like fur, so they don't feel alone.
What are common signs of anxiety in dogs?
If you're unsure whether your dog is stressed or just naughty, you can look for a few key signs. Some common signs of anxiety include:
Excess Barking or Howling
Pacing
Shivering
Escaping the House or Yard
Sitting or Curling Up in a Corner
Excessive Digging
Lack of Appetite
More Accidents in the House
Increased Licking
Increased Chewing
If you notice any or multiple signs of anxiety in your dog, talk to your vet about what steps they recommend for treating this anxiety.
Typically, there are three types of anxiety you'll want to be on the lookout for when it comes to your dog and anxiety: fear, separation, and age.
Fear-based anxiety in dogs
We've all seen this kind of fear in our dogs. It happens anytime there's a big thunderstorm or a firework display nearby. Dogs are scared by loud noises, but also new people, environments, or situations.
While the initial shock is what we pet moms and dads notice most, these moments of fear can result in long-term anxiety.
Separation anxiety in dogs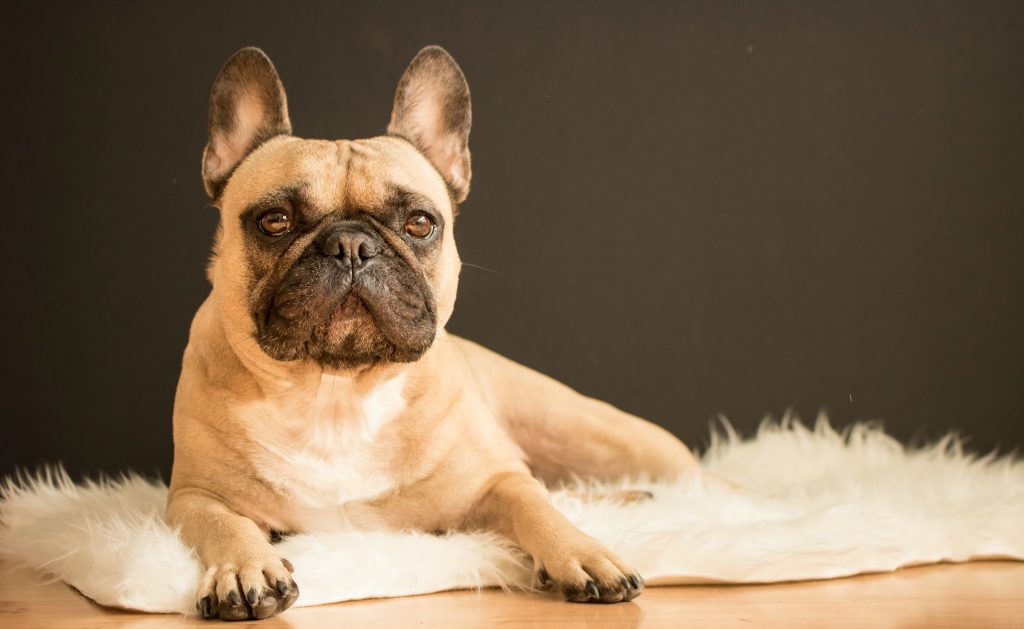 Many dogs need human connection. They hate being away from their families and can get anxiety when it happens on a regular basis. If dogs are experiencing separation anxiety and don't have a safe place to escape to, they'll often show their anxiety by barking or reverting to puppy-ish behavior, like ruining furniture.
Aging dogs and anxiety
Older dogs don't know what's happening to their bodies, which causes a whole different level of anxiety. As eyesight and hearing goes, older dogs are easier to scare. Some can even suffer from declines in memory, perception, and general awareness. Their bodies hurt and their joints ache, which makes finding the right dog bed even more important.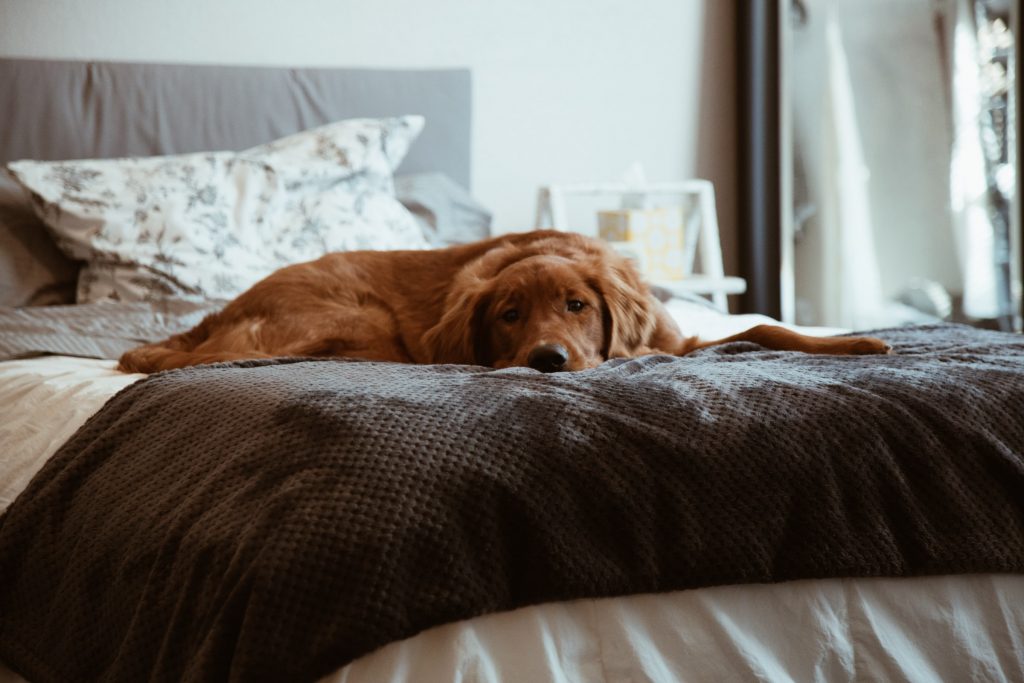 Once you know your dog is anxious and what is causing the anxiety, you'll be able to pick out the perfect bed to ease and calm them.
How do you calm an anxious dog at night?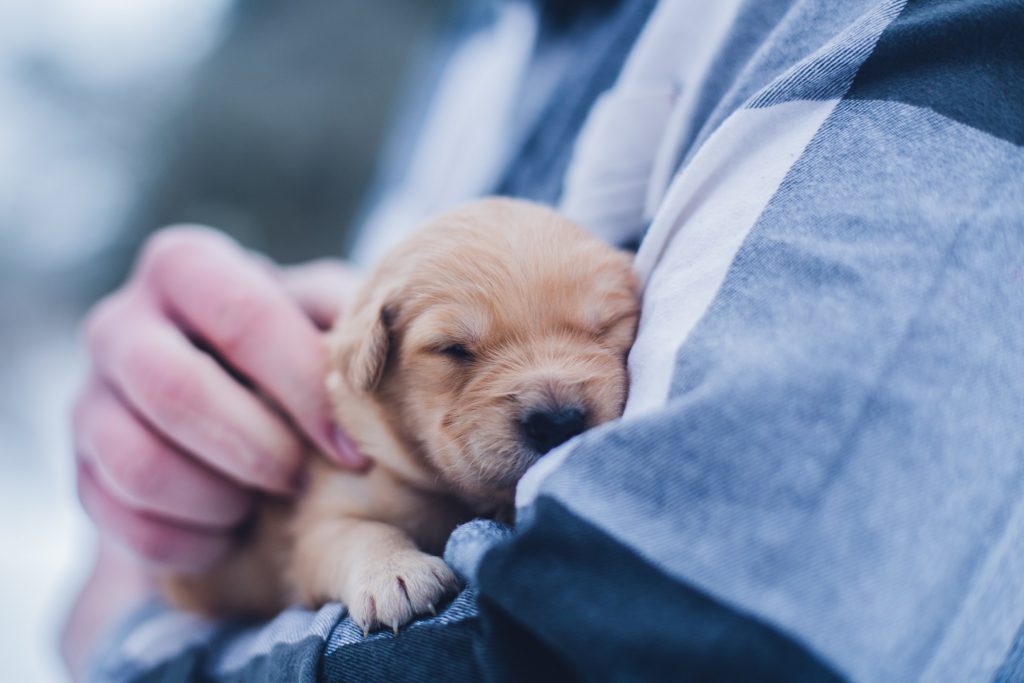 If your pet dog struggles to sleep at night, you can take a few easy steps to help ease bedtime anxiety. The most important part of calming an anxious dog at night is to be consistent. Routine is key to keeping dogs relaxed as they prepare to sleep.
Follow these steps to keep your dog calm at night.
Give a special nighttime snack as a treat
Pull out a cuddly toy that is only used for bed
Provide a t-shirt with your scent
Walk your pup over to their special sleeping area
Spend some time cuddling and talking while they relax in their bed
If you follow this routine, your dog should start being less anxious at night.
How we chose and what to look for when buying a calming dog bed
Because we are our pet dog's biggest fans here at The Pets Master, we made a list of key features we wanted to take into consideration when looking for a calming dog bed. Not only are these key features the foundation for our top picks, they'll also help you when it comes to making your purchasing decision.
To keep things as transparent as possible, we've outlined what we consider the most important features, as well as a brief description of each.
Size of bed
The first thing you're going to want to look for when buying a calming dog bed is the size. We would never recommend a pet bed that best suites Labradors for Shih Tzu's. The comfort of your dog depends on getting the right sized bed.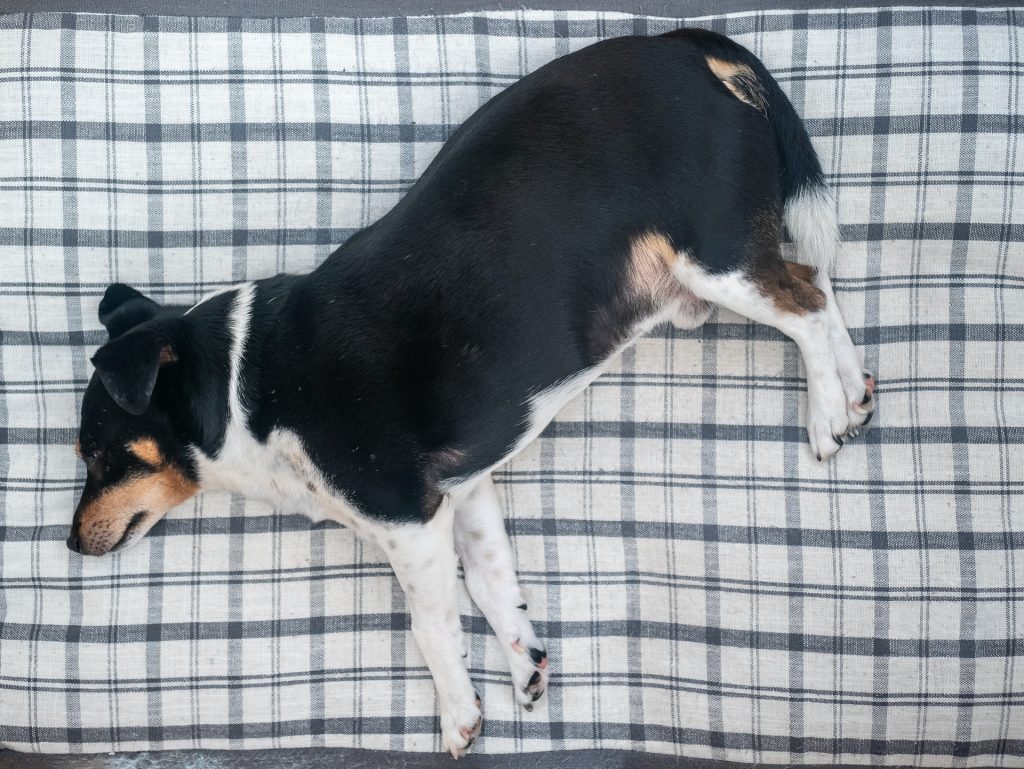 To be sure you're getting the size right for your dog, you're going to want to measure from nose to tail, with a few added inches so there's space to spread out.
In our recommendations for Best Dog Beds for Small and Large dogs, we used this method of measurement to determine which beds best fit our criteria.
Ease of cleaning
When it comes to beds for your fur baby, you're going to want to be able to clean that bed well. After all, we all know the pure funk that comes when dogs get extra comfy on a surface.
The best dog beds will come with removable and washing machine safe covers. We've also made sure that the materials under the covers can at least be spot cleaned or left out to air safely. No stinky dog beds here!
Every bed will have different washing instructions, so make sure you read over the washing instructions on your specific calming dog bed to protect the quality of your purchase.
Anxiety-reducing features
There are three specific features we considered when looking at pet beds for anxious dogs. The first is the shape of the bed. Because your dog will feel most secure in a nest-like bed, we opted for choices that include ridges around the edge to enhance a nesting feel.
The second feature we consider is the finish of the dog bed, specifically the material that will be in direct contact with our pups. Dogs feel most comfortable in beds with faux fur finishes. It makes them feel like they're cuddling next to a friend.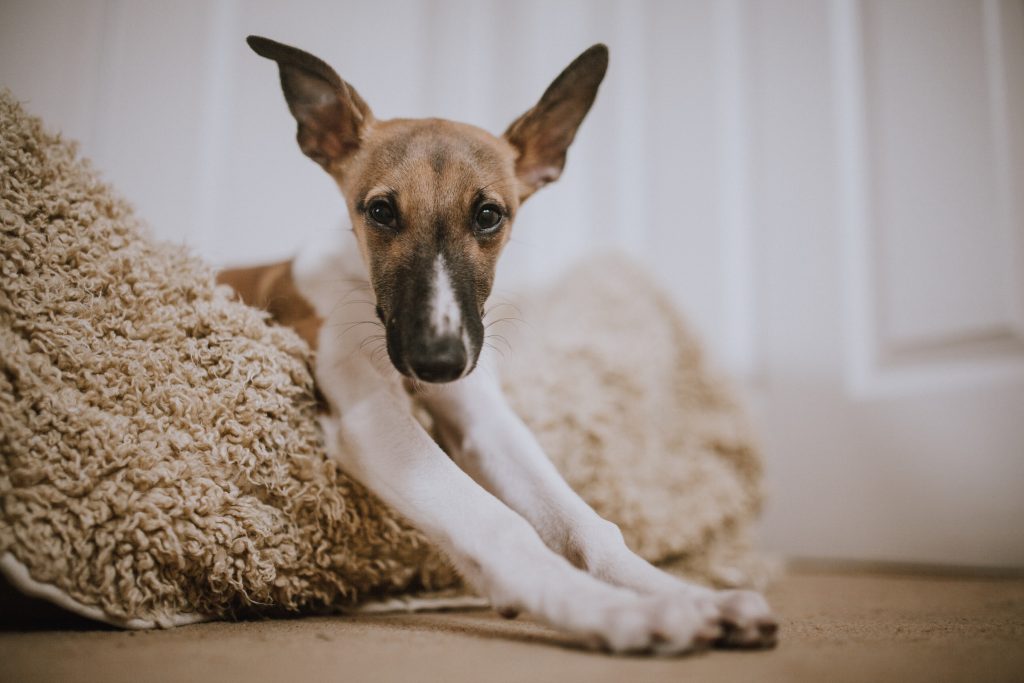 Finally, we make sure the material beneath the bed finish holds heat. Unless your dog runs hot, most dogs enjoy warmth while the sleep. When combined with a faux fur finish, this added warmth factor will make dogs feel extra safe.
Orthopedic features
One of the reasons dog beds are so important is if your dog is otherwise sleeping on the floor, they could be doing damage to their joints. Not to mention, it's just uncomfortable.
When looking at calming dog bed features, you want to make sure the foam support is thick and soft. So, a dog bed that has give and allows your pet to sink into it is ideal. The softness of the foam isn't just comfy, it will protect your dog's joints.
Durability and quality
We know that a dog bed needs to stand up to being scratched, bitten, rolled in, peed on, washed, and peed on again. When it comes to dog beds, you want that balance of soft, comfy fabric with the durability to support your pup for years to come.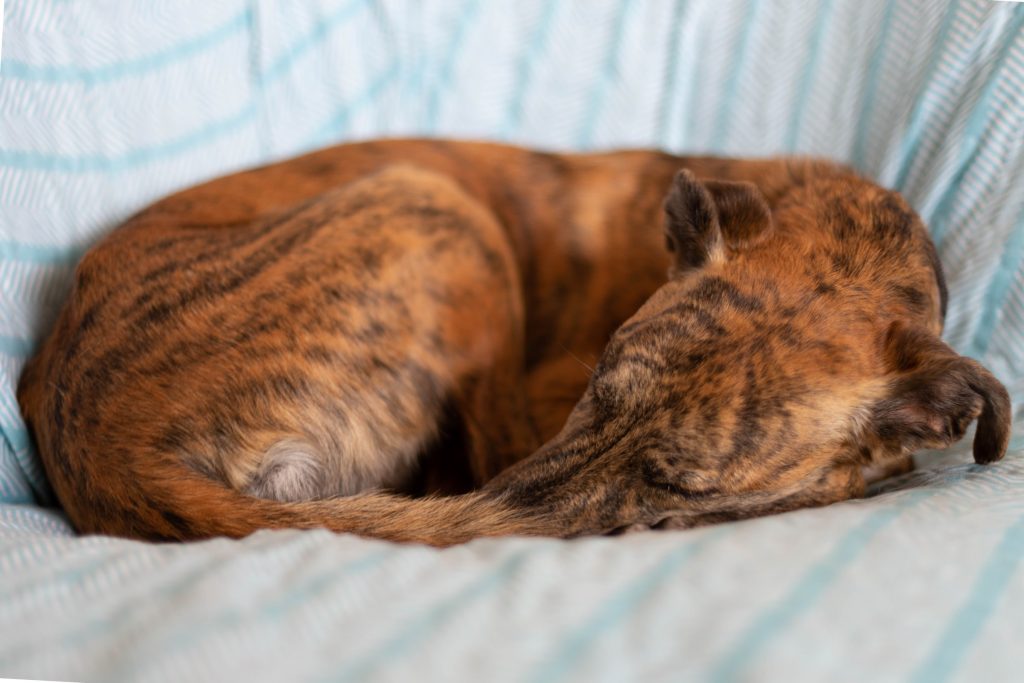 Part of what will help with overall durability of a pet bed is the quality of the materials used. We want to know what the fabrics are made of and if the foam is certified. You don't have to do any research, because we've done it for you.
Price
There has to be a balance between quality and price when it comes to calming dog beds. We all want the best for our dogs, but we still have bills.
When looking at the quality of our top 5 dog beds, we made sure the quality matched the prices, so you know you're getting your money's worth.
Other ways to soothe an anxious dog
While studies have found that calming pet beds can have great results in soothing anxious dogs, it might take a little extra work for anxious dogs to feel completely at ease.
If you're looking for a few supplemental ways to soothe your own anxious fur baby, we've put together some of the most recommended methods. Hopefully, when combined with a calming dog bed, these techniques will give you the options you'll need to ease anxiety in your dog.
Remove triggers
If you're aware of an item or situation triggering your dog's anxiety, the simplest way to deal with the issue is to remove the trigger. While we can't control triggers like thunderstorms, whenever possible don't put your dog in a situation that will cause stress.
Paying attention to what's causing the anxiety and removing that trigger could be life-changing for your dog's health.
Exercise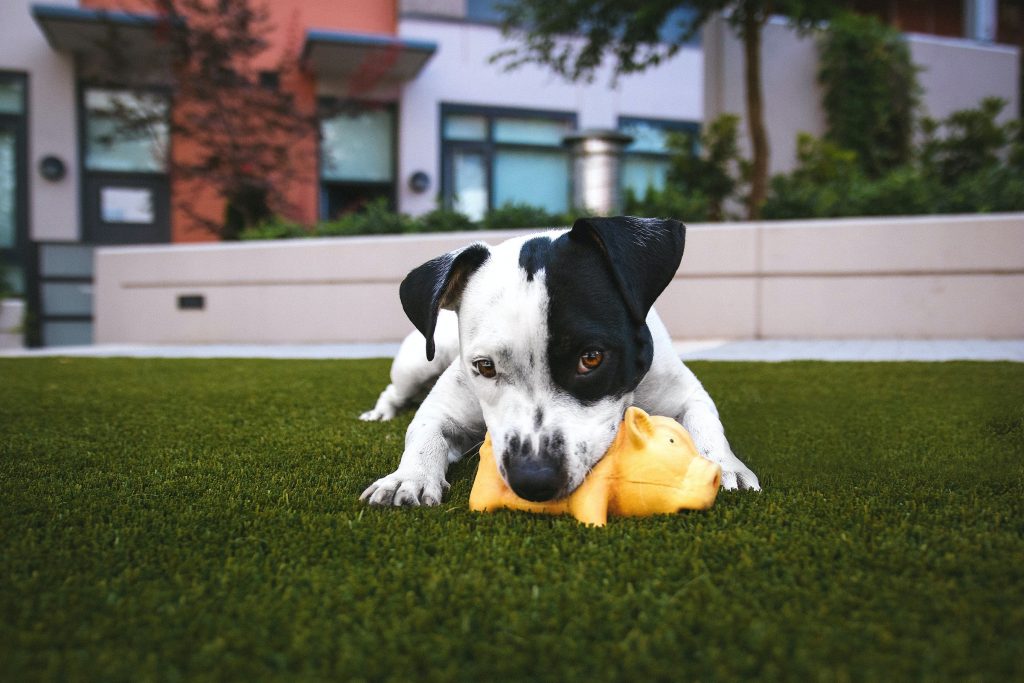 Another great, and easy, way to soothe anxiety in anxious dogs is to exercise more with your pup. Not only is exercising good for both dogs and owners, but the quality time with you will do wonders for your dog's anxiety.
Exercise releases endorphins in dogs, just like it does in humans. This means that every time you go for a run or play catch with your dog, a flood of hormones are making that pup feel happy!
Plus, more exercise tires out dogs, giving them better sleep.
Create a retreat
If a dog feels overwhelmed in their home, whether it's because of all the activity or just when guests come over, it helps to have a place to retreat.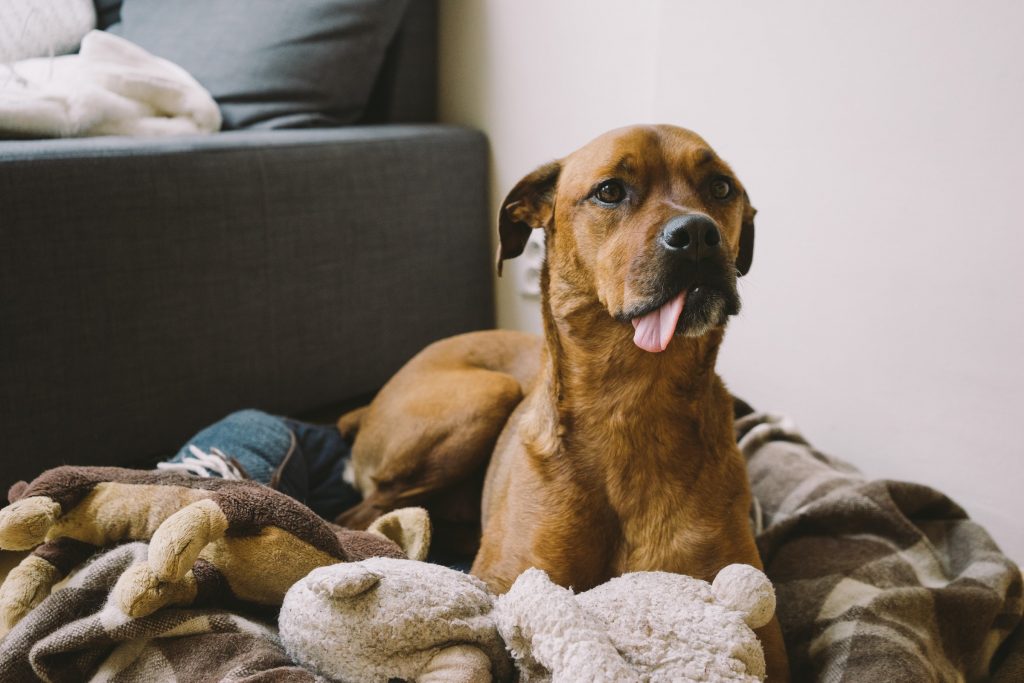 Create a quiet, calming space with all your dog's favorite things and get in the habit of leading your pet there when you notice an increase in stress. Fill the space with your dog's favorite things. Snacks, toys, a sound machine, and, of course, the comfiest of dog beds.
Massage and physical contact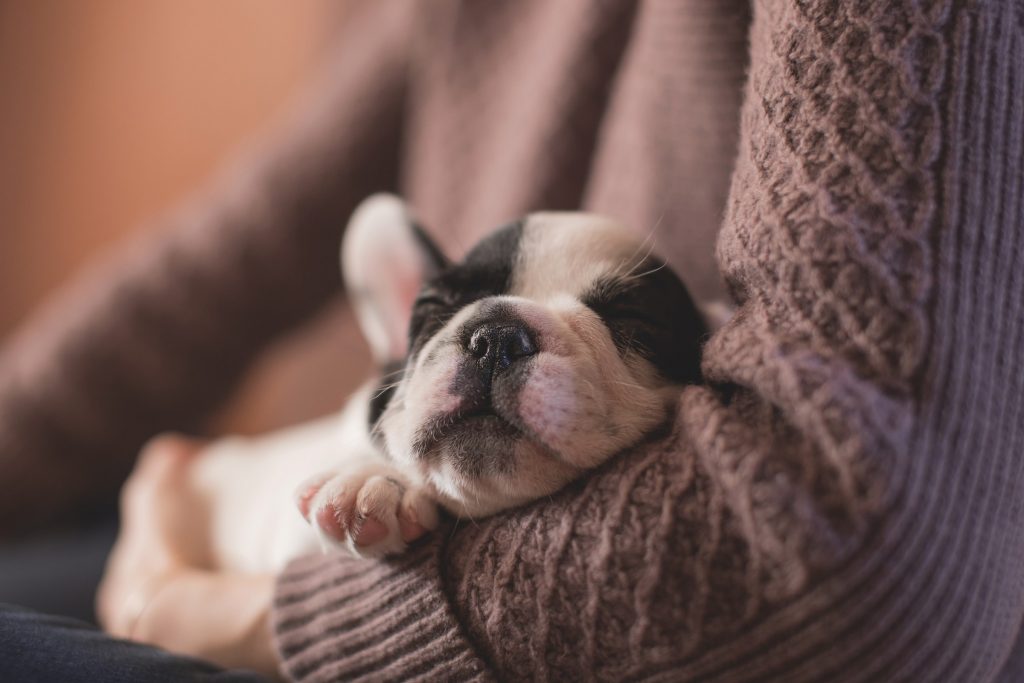 Just like humans, when a dog is stressed, they want a good cuddle from the person they love the most! If you start to see your dog getting anxious, treat it faster by pulling your pup close and giving them a gentle squeeze.
While you're snuggling your pet, ease those sore muscles and joints by giving your dog a light massage. Start in the neck and shoulders, but work on joints as well. Over time, you might find the area your dog holds tension and bring relief by working out those knots.
Listen to music
If your dog struggles with separation anxiety, put on some classical music to help soothe and relax him. For cases where you know there are going to be loud triggers, like fireworks or a particularly loud garbage truck, put that music on early and leave it going.
Not sure what kind of music to play for your pet? Check your favorite music streaming services! Several have playlists created just for pets!
Other effective anti-anxiety dog products
In addition to soothing dog beds, there are other products that can be used to treat dogs with anxiety. How well these products will work is completely dependent on your dog and how they deal with stress. But, if you're serious about finding a way to effectively treat your dog's anxiety, consider some of these options.
Dog pheromones
Adaptil Calm On-The-Go Collar is a dog collar that releases calming pheromones to help keep your dog stress-free in high-tension situations. The collar has been found to work to reduce separation anxiety, decrease fear of certain triggers, and improve focus during training bouts.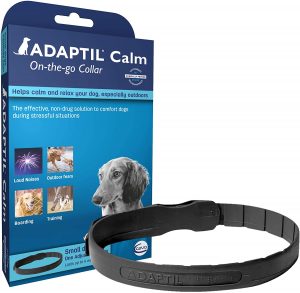 Check out the Adaptil Calm Collar and its verified customer reviews here!
Calming dog jacket
The ThunderShirt Classic Dog Anxiety Jacket works just like swaddling a baby does. The jacket wraps around the dog, providing a gentle pressure that increases the feeling of security in dogs.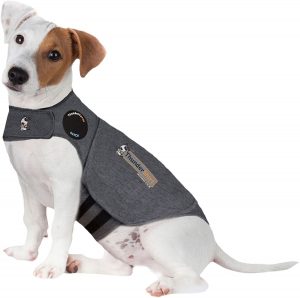 The ThunderShirt has had success treating dogs who experienced anxiety during storms, travel, fireworks, and when their humans were at work.
Check out the ThunderShirt Classic Dog Anxiety Jacket and its verified customer reviews here!
Calming dog blanket
The Canine Coddler is a weighted blanket that was designed to provide a consistent, constant pressure to anxious dogs so they can relax and feel calmer.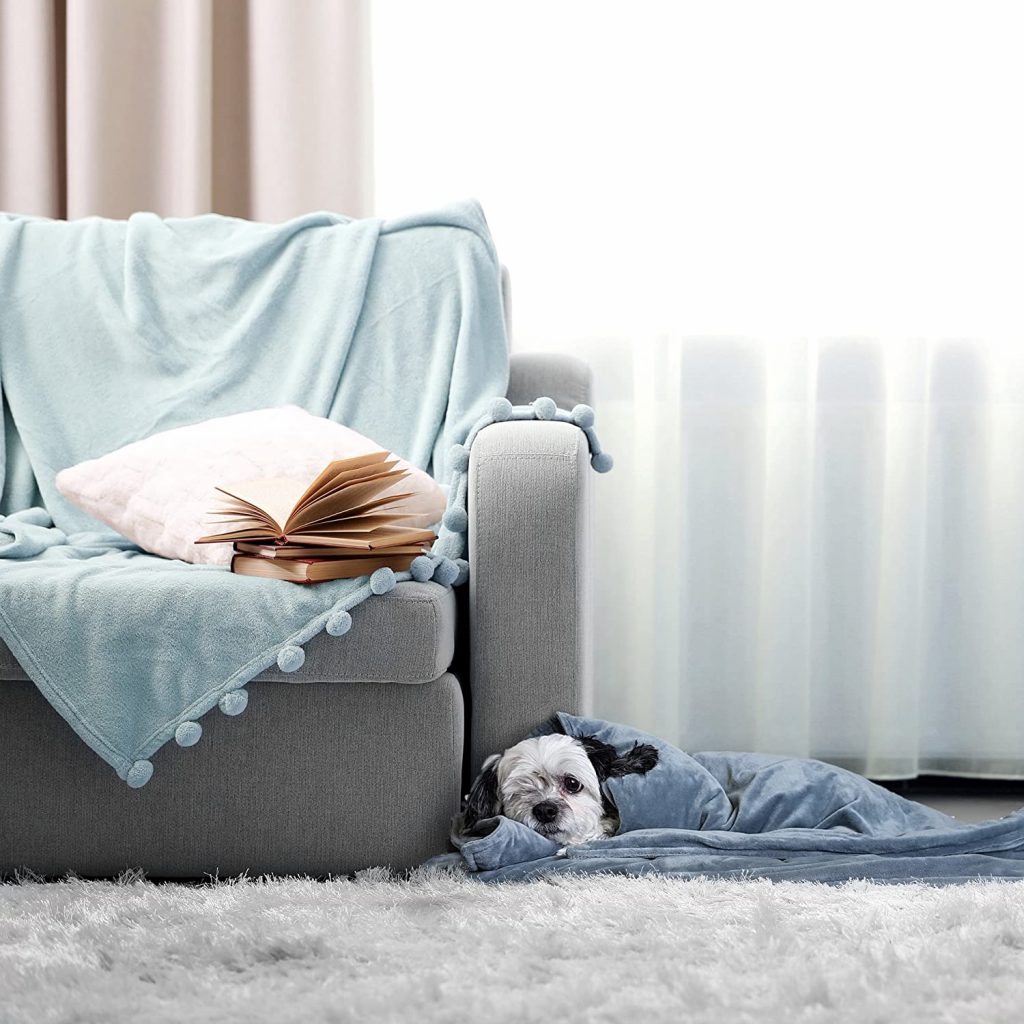 Not only does the Canine Coddler provide a much needed calm for anxious dogs, it also does so with extreme care and caution. The blankets are expertly weighted so your dog is safe at all times. And, thankfully, the cover is removable so it can be washed.
Check out the Canine Coddler and its verified customer reviews here!
Sound machine
Noise is easily one of the biggest triggers for dogs and their anxiety. So it makes sense that one of the best anti-anxiety product for dogs uses noise to counteract those triggers
The Big Red Rooster 6 is a white noise sound machine that works for a variety of situations, but has also become popular with dog owners.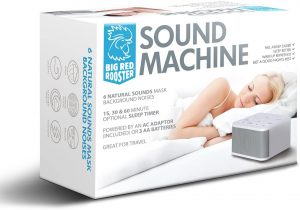 This heavy-duty sound machine comes with six soothing sounds that help mask background sounds, so your pet dog won't have to hear those loud noises that trigger anxiety.
Check out the Big Red Rooster 6 and its verified customer reviews here!
Calming chews
Premium Care is a company that makes the highest quality dog snacks, with one specific caveat: The chews help with dog anxiety!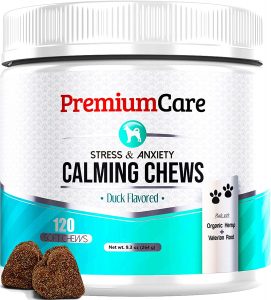 The flavorful little bites are made with natural ingredients and calming supplements that help relieve symptoms of stress, like nervousness or hyperactivity. And, even better, these little snacks are made with no fillers, so they're the perfect natural choice to treat your fur baby's anxiety.
Check out Premium Care's Calming Treats and their verified customer reviews here!
Why trust us
We're a pet care company operating in multiple cities and walking hundreds of dogs every day. We know what people are using at home (and we know what we like to use) to make sure all our pets are happy, safe, and comfy. We've got years of experience and thousands of dog walks and cat visits informing our every article.
Want more information?
Just ask us! Your PetsMaster is here to help. As an Amazon Associate, we earn from qualifying purchases.