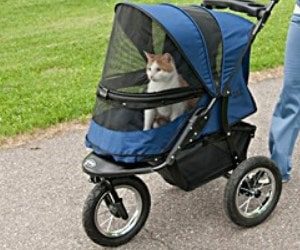 If you have ever attempted placing a harness and leash on a cat, you understand that in most situations, they really dislike it.
When we say dislike, we know that really means claws all over your arm, hissing, and attempting to scar you for life. Maybe your kitty has mobility issues, but they still love getting fresh air and seeing the sights around town.
Regardless of the reason, the use of a cat stroller is a terrific way to take your feline friend, your capricious canine, or any of your small animal friends out for a lovely stroll.
There are currently hundreds of pet stroller products to sort through and choose from. We've tested and researched a multitude of models and brands to save you time and money. Here is a handy list of our favorite models with reviews and a helpful buyer's guide that will streamline the process, so you can easily find the best option for you and your furry friend.
Selecting the Best Cat Strollers in April, 2020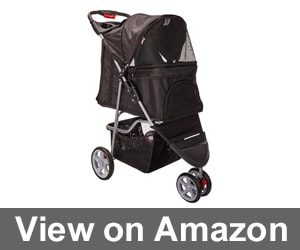 The Paws & Pals 3 Wheeler Elite Jogger Pet Stroller is a terrific choice for families that have a larger cat or multiple pets.
It comes in several fun colors including pink, black, red, blue plaid, and purple.
It's extremely roomy and is crafted from high-quality materials to keep your pets both comfortable and safe.
The Paws & Pals Elite Jogger Stroller features 2 cup holders for your beverages, rear security brakes, mesh screens for ventilation, and a huge undercarriage storage area to store treats, toys, blankets, and more. This model also has a retractable waterproof rain hood to keep your cat dry in inclement weather. You can fold it down easily with one hand which is a wonderful feature when trying to wrangle a pet and a stroller simultaneously.
Pros
Lightweight
Quality materials
Perfect for larger pets or multiple pets
Folds down easily
Available in several colors
Color matching cushion included
Cons
There are some places where the mesh ventilation can separate from the frame, allowing extra sneaky kitties a possible way to try to escape from the stroller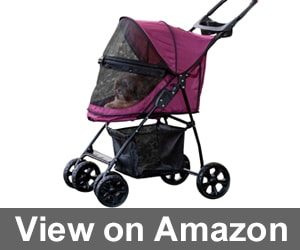 The Pet Gear No-Zip Happy Trails Lite Pet Stroller is made with cats and other escape artist pets in mind.
Rather than utilizing a zippered compartment to house your fuzzy friend, this model uses an easy locking, no zip entry.
It closes thanks to a locking frame to keep animals inside and safe.
The Pet Gear No-Zip Happy Trails Stroller comes in several colors and is extremely lightweight. With specially fitted air ride wheels, your cat will enjoy the scenic stroll without being bumped or jostled around. With a weight capacity of up to 35 pounds, you'll be able to comfortably use this stroller for larger or multiple pets as well.
Pros
Sturdy yet extremely light
Holds pets up to 35 pounds comfortably
Easy one second one handed fold down
No zippers
Keeps pets safe inside
Cons
Does not come with an inside cushion, just a removable liner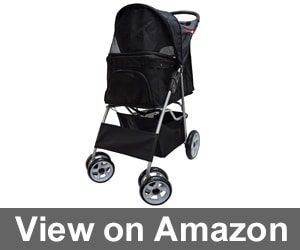 The VIVO Four Wheel Stroller is available in several colors to delight those pickier felines.
The front compartment is roomy and features three separate entry points.
There is also a comfy, padded interior bottom to keep your kitty's rump happy.
The VIVO Four Wheel Stroller is quickly collapsible for easy storage. The wide mesh windows offer optimum viewing while out on an adventure with your pampered pet. It's a perfect pick for medium sized pets as it holds up to 30 pounds safely and soundly.
Pros
Lightweight and durable
Holds pets up to 30 pounds
Three different entry areas
Comfortable interior bottom
Undercarriage basket allows item storage
Dual cup holders
Cons
Front zip is a bit hard to rezip after it has been completely unzipped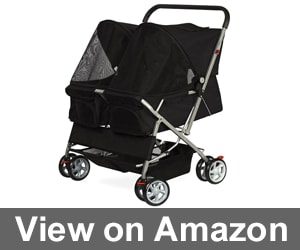 The OxGord Double Pet Stroller comfortably holds an astounding 55 pounds.
This option features two side by side units so that each pet can have their very own space.
This would be perfect for two cats that don't like to be right next to one another or perhaps a family with one cat and one dog.
The OxGord Double Pet Stroller is a large and heavy duty option, yet it's surprisingly lightweight. It also folds down easily for storage or transport. It even has a handy storage basket underneath the pet area where you can safely stow away important items.
Pros
Features two side by side compartments for pets
Holds up to 55 pounds
Heavy duty but still lightweight to make for easy maneuverability
Sturdy and safe
Cons
This model does not have a cup holder for beverages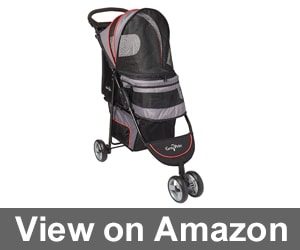 The Gen7Pets Regal Plus Pet Stroller comfortably seats pets up to 25 pounds.
The front wheel swivels easily to allow for a smooth, bump-free ride for your favorite feline friend.
The handle height is set to 38 inches, making it comfortable and easy to use.
The Gen7Pets Regal Plus Pet Stroller is super lightweight and easy to push along sidewalks or uneven terrain. The pet compartment features a super soft and easy to clean angora cushion to make even the finickiest pets feel comfy and happy. There's even a side pouch to store snacks.
Pros
Lightweight and durable
Easy to push thanks to swiveling front wheel
Handle height of 38 inches is great for alleviating back pain
Holds up to 25-pound pets comfortably
Soft, easy to clean angora cushion
Cons
Slightly more expensive than similar models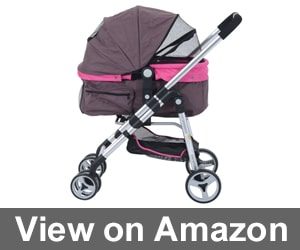 The Pawhut Four Wheel Cat Stroller offers stylish strolling with its pram style design that looks similar to expensive baby stroller models.
It features a removable bassinet.
This option also has a retractable skylight and rain cover for those drizzly morning walks.
The Pawhut Stroller is perfect for pet parents that love to baby their pup or kitty. It includes an undercarriage storage space for essential pet items like leashes and treats. On the downside, its slightly difficult to unfold and the largest viewing panel faces the back of the stroller, where the owner would be walking and pushing the stroller. However, this minus could be considered a plus for pets with separation anxiety issue that are keen on keeping an eye on their human parent.
Pros
Super cute pram baby stroller design
Spacious
Features a skylight and a rain cover hood
Easily transports pets up to 33 pounds
Stylish
Removable bassinet
Perfect for separation anxiety suffering pets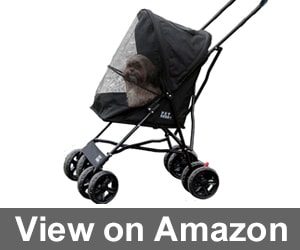 The Pet Gear Ultra Lite Travel Stroller packs a mighty punch in a pint-size package.
This stroller is perfect for small cats or dogs that are up to 15 pounds.
It folds down easily for transport or storage.
The Pet Gear Ultra Lite Travel Stroller is super lightweight and very easy to steer and maneuver. It has a handle height of 38 inches, so you won't be forced to hunch over as you push your fur baby down the street. Best of all, this is one of the most economically priced options we tested. It's as light on your wallet as it is to carry.
Pros
Budget pricing
Super lightweight
Holds pets up to 15 pounds
38-inch handle height
Cons
Best suited for small breed dogs and cats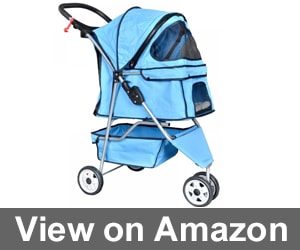 The BestPet 3 Wheels Stroller Travel Folding Carrier System is a lovely choice that is in the budget price range.
It accommodated pets up to 30 pounds.
It's also available in blue or red for those pet parents wanting a splash of color.
The BestPet Stroller System features easy and fast folding. It opens or folds flat in less than 5 seconds. Featuring large, 6-inch wheels, it glides effortlessly over bumps or dips keeping your pet happier and more comfortable.
Pros
Easy to use
Budget price
Folds and opens easily
Comfy for pet
Fits animals up to 30 pounds
Cons
Not as fancy as more expensive options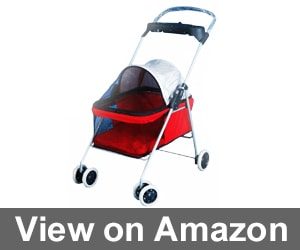 The BestPet Posh Pet Stroller is a cute and inexpensive choice.
You can choose from a wide variety of colors.
This less costly stroller lacks some of the handy features of more expensive options but will save you money.
The BestPet Posh Pet Stroller comfortably seats pets up to 25 pounds. It features a lightweight yet durable frame. It's super smooth to ride in and handles bumps in the sidewalk with relative ease.
Pros
Lightweight, sturdy frame
Multitude of color options
Fits pets up to 25 pounds
Inexpensive
Cons
Lacks features of more expensive models such as a cup holder or an undercarriage basket to hold and store items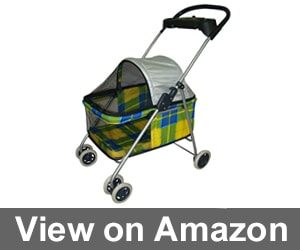 The New BestPet Yellow Plaid Posh Pet Stroller is similar to their Posh Pet Stroller.
However, this model features a cup holder which is perfect for you to take your furry friend out while you enjoy some coffee or tear.
It also is created with a fun, spunky yellow plaid fabric design.
The New BestPet Yellow Plaid Posh Pet Stroller is a lightweight option that won't break the bank. Pets can easily peer outside while they take a comfortable and safe ride. It accommodates animals up to 25 pounds.
Pros
Similar to the Posh Pet Stroller, but has a cup holder
Lightweight frame
Yellow plaid design
Comfy for pet
Great for animals up to 25 pounds
Cons
Somewhat less sturdy than the posh pet design
Lacks an under carriage basket to store essential pet items while out on a walk
Best Cat Strollers – Buyer's Guide
Often referred to and marketed as cat strollers, these devices can be used for many different types of animals and are created to get you and your pet out and about to enjoy the day.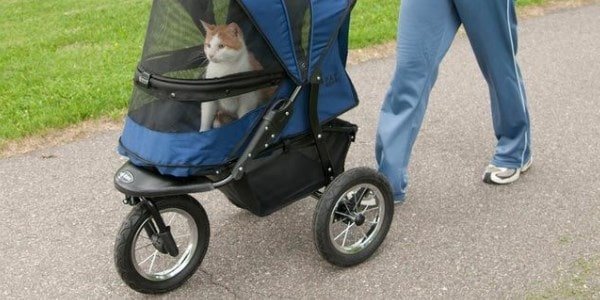 No matter what species your special friend is, you and your animal can get out of the house in no time at all. With so many varieties available with different features and levels of safety specifications, it can be downright annoying to locate the best option for your particular needs.
Who Needs a Cat Stroller?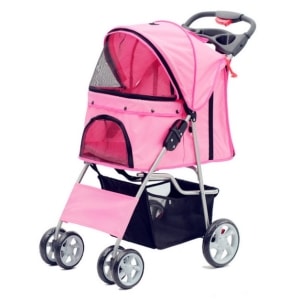 The product name of a cat stroller is somewhat misleading. Reminiscent of a baby stroller, these devices work perfectly for taking almost any pet for a walk.
From kitties to puppies to bunnies to goats, you can easily and safely use a pet stroller to get you and your pet out and about.
Except for a fish, there aren't many species that wouldn't love to go for a ride around the block in a cat stroller.
Additionally, this product is a great solution for older pets or those with mobility issues, for owners that want more exercise, for smaller pets that are unable to walk longer distances, or for animals such as cats that can be nearly impossible to acclimate being on a leash to take a walk.
A pet stroller is also a lovely solution for those owners of smaller breeds of cats and dogs that may worry about taking their pet out near larger or aggressive breeds that could try to hurt their pet.
Key Factor to Consider When Purchasing a Pet Stroller
Let's take a closer look at some of the important consideration to keep in mind as you look for the best cat stroller. Remember to think about you and your pet's specific needs as you assess these features.
Size
Size is almost always a crucial factor when selecting a pet stroller. The stroller needs to be sized properly so that your cat will enjoy sitting in it. A good rule of thumb to follow is to select a model that is wide enough for your pet to stand up and turn around in. Extra space is never an issue, but selecting an item that is far too narrow can make your feline feel anything but fine.
If you are planning on placing more than one cat in the stroller, you'll obviously need a larger model. It's important they have enough room to feel cozy, not suffocated. You can also measure your pet's height to be sure the carriage is tall enough for them to stand up inside.
Handle Height
The height that the stroller's handle extends to is another important feature. Back pain is a serious problem for many people, pet owners included. Selecting a model that has a higher handle height will keep you from needlessly bending or stooping over. The ability to push the stroller while standing perfectly upright will keep back discomfort to a minimum.
Durability
Your cat's new carriage needs to be durable so that it will hold up for many happy outings. You'll want to select a model that is composed of high-quality materials. While it may seem like a better idea to buy a less expensive model made from inferior materials now, it won't be in the long run if you have to replace parts on it that break or buy a new replacement stroller because the cheap one breaks.
The stroller needs to be strong enough to support the weight of your pet or pets. It must be sturdy to glide over bumpy sidewalks or uneven road surfaces without jostling your kitty too much. You also want to ensure it is put together correctly, so you don't run the risk of it falling apart two streets away, resulting in you being forced to drag your pet and your broken stroller home.
Wheel Options
In most cases, you'll be best off selecting an option with air wheels. Air wheels allow the stroller to glide effortlessly over bumps or dips in the road, resulting n a smoother experience for your animal friend. There is also rubber filled wheel options that are great for individuals that want to take their pet with them as they go hiking over choppier terrain.
Weight Limit
Choosing a model that will fully support the weight of your feline companion is also of great importance. It's always better to go with an option that supports more weight than you think you'll need. Planning ahead is a practical solution in terms of how much weight the stroller can comfortably manage. As pets age, they can gain weight. You may also have another pet at some point down the road.
Safety
Keeping your pet safe is one of the most important considerations. Check to ensure that your stroller will keep your pet housed comfortably. Open models may seem inviting but could create an opportunity for your pet to escape or jump out. Many models have a leash seat belt system in place to keep pets inside the stroller and out of harm's way. Make sure the air ventilation system allows for proper breathing and will also keep pesky insects like mosquitos or bees away.
Other Considerations to Ponder
In addition the key items we've covered, here are a few other issues to think about before picking a pet stroller. Most folks will want to select an option that is easy to fold up and store in between uses. You will also want to find an option that's easier to wipe out and clean. Some stroller models feature removable pieces that can be laundered in the washing machine in case your pet has an accident while inside.
Try to choose an option that's comfy for your four-legged buddy. Many brands have super soft cushions to pad your pet's rear end. Aim for one with a cushion that is easy to clean. You can also add in a blanket to keep your pet extra cozy. It's also worthwhile to consider how well your pets get along with one another if you'll be placing them in the stroller together. You can find options with side by side compartments to separate pets which are prone to crankiness or fighting.
In closing, there are so many wonderful strollers available for cats, dogs, rodents, or even chickens. Purchasing a stroller can give you and your fur baby a fun and easy way to spend time together while you get to enjoy the fresh air and get some exercise. Keeping your specific pet's needs in mind will be helpful when assessing the various features available.
While there are a plethora of brands and models to sift through, we are sure you'll find the perfect pet stroller for you and your family. We hope you enjoyed our review of the top cat strollers and our buyer's guide. Don't forget to leave us a comment about your favorite pet stroller.