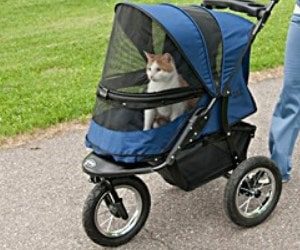 If you're worried about how much stimulation your cat gets, or just need a safe way to bring your cat around in the city, a cat stroller is for you.
Cat strollers offer the assurance your cat won't run away, keep them away from dogs out on walks, and let them take in their surroundings while you push them around.
BEST CHOICE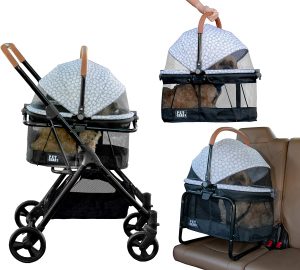 Pet Gear View 360
Best Cat Stroller in Our Rating
Features a removable pet carrier basket
Easy to collapse and store
Compact design works great in small spaces
Selecting the Best Cat Strollers in September, 2023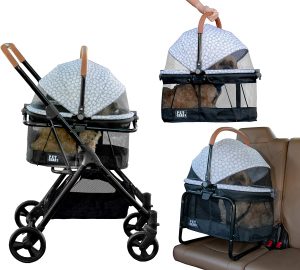 Pet Gear is a top name when it comes to pet strollers and cat strollers in particular. What we like most about the View 360 is that it features a removable section that can function as a booster seat or car carrier.
The carrier, along with the compact design, makes it perfect for using indoors and provides a great option if you ever need to make a trip to the vet and run errands afterwards.
Pros
Versatile as a stroller or pet carrier
Two-sided entry is functional for any situation
Basket underneath for personal items or pet gear
Folds for storage and transport
Extremely durable and easy to clean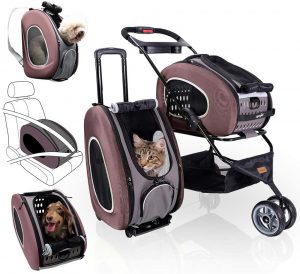 The ibiyaya 5-in-1 pet carrier is designed for the pet owner who needs to be able to take their cat anywhere. In one convenient package you get a stroller, backpack, rolling suitcase carrier, car seat, and a traditional carrier.
While many people won't need all these features, it is great for anyone who's tired of having 2 or 3 different carriers cluttering their home or cat parents that need the flexibility of a carrier that can handle anything.
Pros
Lightweight and compact
Great for those who travel with their cat frequently
'One carrier for all situations' approach works surprisingly well
Cons
Relatively expensive
Features are excessive for many pet owners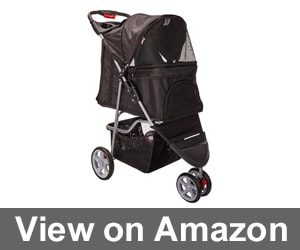 We love 3-wheeled strollers because they're typically much better suited to maneuvering indoors than 4-wheel designs, making them great for apartment dwellers.
You also get the typical benefits of cupholders on the handle and a storage basket below, and the larger carrier gives your cat plenty of viewing space to look around but also room to nap out of view.
Pros
Lightweight design is easy to move and store
3-wheeled design makes it easy to maneuver indoors
Features handle cup holders and storage tray
Cons
No detachable carrier
Large when collapsed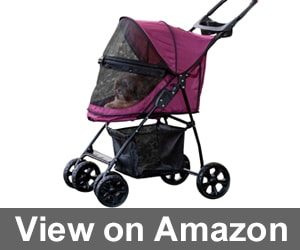 No-zip strollers feature a locking system rather than a zipper, which in many ways makes them fair safer and less likely to be opened by escape-prone cats.
While there's still always the chance you might accidentally forget to lock the carrier, it's easy to use and also makes for quicker closing which we think is handy for cats that try to jump out as soon as you've put them in the carrier.
Pros
Lightframe but made to fit even the largest of cats
Collapses down easily
Locking closure is easier than zip-up strollers
Cons
Lack of removable cushion is harder to clean
Opening doesn't form a perfect seal meaning smaller cats could wriggle out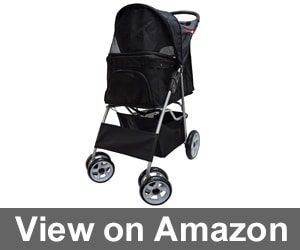 While 4-wheel strollers aren't quite as maneuverable as their 3-wheeled counterparts, they offer a bit more stability.
4-wheel strollers can safely handle a bit more weight and are also good any time you'll need to use them on an uneven surface or uphill.
Pros
Multiple zipper openings
Great storage underneath
Larger basket can fit multiple pets
Cons
Known for some zipper issues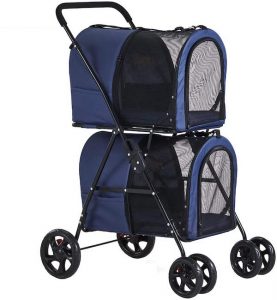 If you need a stroller for multiple cats, many of our picks have enough space for 2 or even 3 comfortably. But if you have pets that just don't get along well, this carrier offers two separate, removable enclosures and can fit 4 smaller cats or 2 small dogs.
We really think something like this is best suited for transporting your cats to their local vet office, given the frame isn't quite as durable for everyday use and doesn't offer many features.
Still, the carriers are removable and frame collapses more compact on its own than other strollers and you still have free-spinning front wheels. Both carriers offer clip-in points and open on either end.
Pros
Offers two roomy carriers for multiple pets
Frame collapses smaller than most strollers
Carriers each feature two 'seatbelts', letting you bring up to 4 cats
Cons
No storage features or cupholders
Frame may not be very durable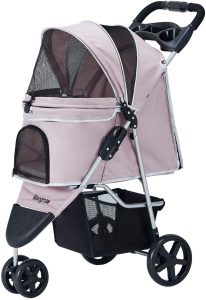 Featuring a very similar design to some of our other top choices, this stroller has a locking closure on the main opening rather than a zipper.
3-wheeled strollers are great and easy to handle with one hand and we like that this offers some of the extra windows on our top budget choice.
Pros
Lightweight and maneuverable
Offers multiple openings
Very durable
Cons
Priced higher than similar designs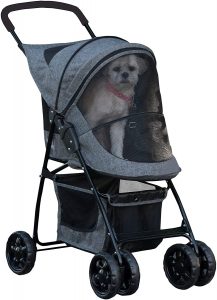 If you want a stroller with a slightly different look we love the gray fabric on the Pet Gear stroller. You also get a much wider front-facing mesh window, giving your pet a better view of where they're headed.
The Happy Trails stroller also has more rugged wheels that work better on dirt paths or uneven park surfaces. The fabric is also a bit more water repellent than other strollers, but we wouldn't consider it waterproof.
Pros
More compact than other strollers
Roomy carrier has room to stand up
Deeper storage basket is more secure
Cons
Lighter frame is less durable than other strollers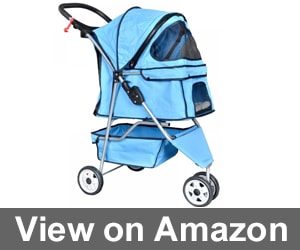 This design is pretty close to some of our other picks, but the price fluctuates frequently. Yiou get all the similar features of our other picks on a lighter-weight frame that still can carry up to 2 cats comfortable
Pros
Easy usage
Budget-friendly
Easy to move and lift without collapsing.
Cons
Price fluctuates frequently and occasionally is more expensive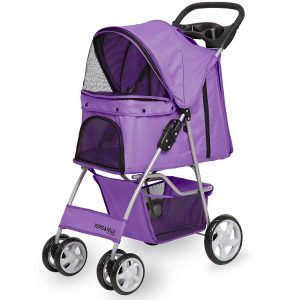 While this is a bit of a copy-cat design of some of our other picks, it tends to be in stock more often.
We don't particularly like the snap-button opening on the main enclosure which is tricky to use, but it's functional and you'll be able to get this stroller at a consistently lower price. Still, that lower price means that the carrier portion isn't quite as well made and may not hold up as well.
Pros
Frequently in-stock at a low price
Available in multiple colors
Similar frame to our other picks
Cons
Budget design has compromises to the carrier that may not hold up
Best Cat Strollers – Buyer's Guide
The best cat strollers aren't usually just for cats, they'll be great for small pets of all kinds, from dogs to rabbits because the basic features you need are all the same. You want a safe, lightweight, and sturdy design to keep your pet secure while you push them around.
Who Needs a Cat Stroller?
A cat stroller isn't very different from a traditional stroller. Their push-from-behind design lets you keep an eye on your pet and keep the stroller moving in the direction you want. They're great for aging pets or cats who may wander off on their own and don't like being on a leash. Pet strollers are also great for pet owners who may not be able to carry their dog or cat in a traditional carrier and whose pet doesn't like being on a leash.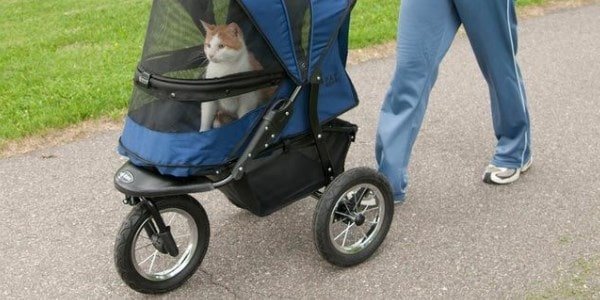 Factor to Consider
Size of the carrier
Most strollers feature a carrier or enclosed basket for your pet. Generally, you want enough space for your pet to turn around while standing up. This is important to help reduce your pet's stress and prevent them from being trapped, but also allows them to change positions and stay comfortable when they're in the stroller for longer. Some strollers also feature detachable carriers which can conveniently double as a travel crate for use in the car.
Handle Height
The best strollers feature handles with adjustable heights. This is essential for long term comfort while pushing it around town but can also be a big help when it comes to collapsing the stroller for storage.
Durability
Pet strollers aren't subject to the same standards as people strollers, so durability can vary wildly between models. Most have aluminum frames and use nylon fabrics to create the carrier portion. Cheaper construction will result in bent frame pieces and torn stitching after even light use, while the best strollers will work just as great as one you'd use for your children.
Wheel
Few pet strollers feature tires, most  have wheels made of a hard rubber or plastic. These will work great for many uses and hold up well, but aren't exactly as smooth as you can get with the select models featuring air-filled tires.
Weight
Many strollers are reasonably lightweight and that is the ideal. You don't want to feel like you're pushing 50 pounds around all day, and lightweight frames are more than heavy-duty enough for a few light cats. Heavier frames though will be able to take more weight and are perfect if you intend to use them infrequently but need one stroller for different pets.
Safety
Besides solid construction, the most important safety features in a cat stroller will be a secure closure and an attached pet leash. Ideally you want the internal lead to be long enough to allow your cat to move around, but short enough that they can't slip out of the stroller. Any opening should be able to be closed tightly just in case you forget to attach the leash.
All in all, pushcarts can help in providing a great deal of comfort to your cat while taking them out to the vet, park, and more. Nevertheless, you need to be mindful of the above factors, before deciding on buying a pushcart.