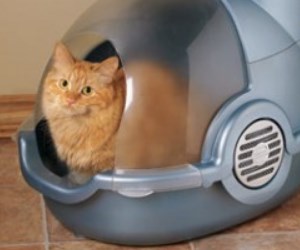 If you have a pet cat, you know how important finding the right litter box is. Kitties are fiercely independent creatures, and they appreciate having a nice litter box to do their business in.
There are so many different models with different features available from boxes that are self-cleaning to others that resemble planters to keep your pet's bathroom on the down low.
We've compiled a list of the top choices in litter boxes as well as a handy-dandy guide to help you sort through the various details of different varieties of box options.
BEST CHOICE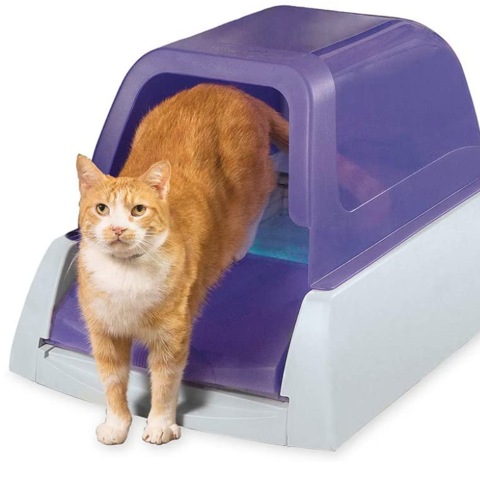 PetSafe ScoopFree Ultra Automatic
Best Litter Boxes for Cat in Our Rating
A closed toilet box for a pet that does not require cleaning for several weeks
Crystal filler perfectly protects the house from unpleasant odors
The box is equipped with a pet health sensor to be able to detect early signs of illness
The filler does not stick to the cat's paws, ensuring cleanliness and comfort
Selecting the Best Litter Boxes for Cats in September, 2023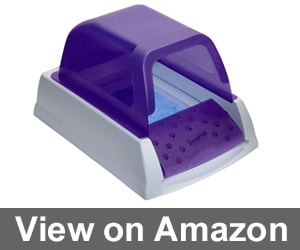 The PetSafe ScoopFree Ultra Self-Cleaning Litter Box combines technology and sanitary standards to provide an amazing litter box design.
It eliminates the hassle of daily scooping and cleaning by doing the dirty work for you.
This item self-cleans for weeks and is up to five times more effective at reducing odors than options utilizing clay or clumping litter.
The PetSafe ScoopFree Ultra Self-Cleaning Litter Box includes a built-in health monitor that tracks your pet's toilet habits. This can aid you in identifying any health maladies faster. You can also decide between regular and lavender scented crystal trays to use with this system.
Pros
Less costly than similar models
Self cleaning
Sanitary
Cuts down on odors
Cons
Replacement trays are costly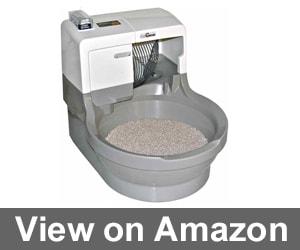 The CatGenie Self Washing Self Flushing Cat Box offers a solution for busy owners.
This litter box connects to a human toilet.
Using an electronic system, it liquifies solids while urine passes through the granules in the box.
The granules are permanent and washable, so they never require changing.
The CatGenie washes and flushes itself based on a timed program that you can set and change to fit you and your cat's schedule. It may take your cat a little time to grow accustomed to this setup. On the negative side, it is very expensive.
Pros
Collects and flushes urine and feces
Cleans itself
Electronic
You won't have to scoop or clean litter
Cons
Very expensive
Doesn't eliminate smells
3. Good Pet Stuff Company : Best for Cat Owners That Don't Want to Look at a Litter Box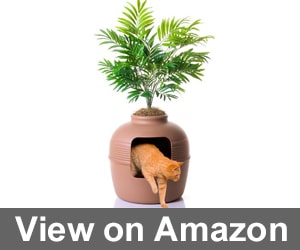 The Hidden Cat Litter Box by the Good Pet Stuff Company looks like a pretty clay pot planter, complete with a plant.
It's incredibly easy to set up and use.
The top portion of the litter box removes easily to allow for scooping and cleaning.
The Good Stuff Pet Company Hidden Cat Litter Box is an excellent solution for pet parents that live in a smaller space such as an apartment, or those that don't want to look at a traditional style of litter box. It works well for small or large cats, as well as multiple cat homes. This litter box is perfect for those who want a visually please yet completely functional model.
Pros
Attractive design looks like a potted green fern
Great for smaller or larger breeds
Easily removable top piece makes cleaning simple
Quick set up
Cons
Some users felt the fern was unrealistic in appearance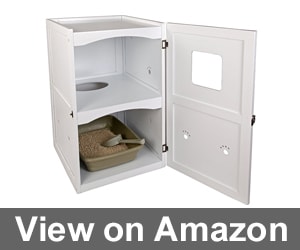 The Petsfit Espresso Double-Decker Pet House Litter Box comes in a gorgeous espresso or a clean white.
This multitasking option works as both a kitty home and a kitty litter box.
Your precious pet will get the best of both worlds with this selection.
The Double-Decker Pet House Litter Box is the perfect size for large cats or multiple cat homes. It's aesthetically pleasing to the eye, and cats really enjoy lounging in and on it. This is another wonderful choice for those who are short on space and want to have both a litter box and housing option.
Pros
Easy to assemble
Attractive
Works as a litter box and a home
Great for bigger cats
Keeps kids and dogs out of litter
Cons
You'll need to purchase a liner or plastic box for the litter box area on the bottom floor since it doesn't arrive with one
Expensive
5. Designer Catbox : Great Option to Hide Litter Box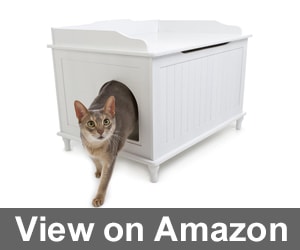 The Designer Catbox Litter Box Enclosure is a beautiful option to hide an unsightly litter box.
It's crafted to house a standard sized litter pan.
This item also features an interior door to assist in cutting down on litter tracking, which can be removed to accommodate larger pans.
The Designer Catbox offers quaint country charm to disguise your kitty's bathroom and cuts down on odors. It's pretty enough to be placed in your living room while hiding its true contents. It's also fairly easy to assemble.
Pros
Attractive design
Lightweight yet sturdy
Encloses standard size litter pan
Easy to assemble
Cons
Floor paneling is not waterproof
Doesn't eliminate odors as well as other models
6. Modkat Litter Box : Best for Modern Design Lovers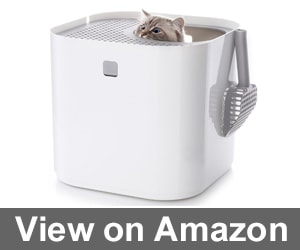 The Modkat Litter Box is a modernly designed option for cat parents that want to save on space without sacrificing on style.
This top entry option is available in a variety of colors.
It utilizes a reusable liner, so it's more environmentally sound than other litter box options.
This offering from Modkat combines sophistication with practicality. Cats seem to like the design, plus it's super easy to assemble and clean. The only downside lies in the fact that extra-large or older cats may have a hard time using this box, so it may not work perfectly for all kitties.
Pros
Dog proof
Less litter tracking throughout the home
Easy to clean
Modern design
Available in a wide range of colors
Cons
Expensive
Might be difficult to use for larger or elderly cats
7. Modkat Flip Litter Box : Best for High Sprayers and Litter Flinging Kitty Cats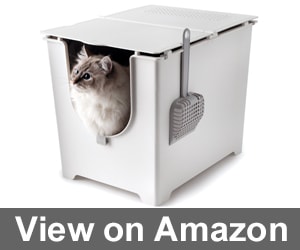 The Modkat Flip Litter Box features an adjustable, flipping lid that makes customizing this choice simple.
For private bathroom using kitties, the bin can be completely covered.
You can also turn it into an open little box design. You can also opt to leave it partially covered, depending on you and your cat's preferences.
The Modkat Flip Litter Box comes with a scoop to make daily cleaning duties fast and simple. This model has a reusable liner that can stay in place for up to 3 months saving you both time and money. The high sided walls on the Modkat are perfect for higher peeing kitties that haven't done well with lower sided models. It's roomy and fits a wide variety of breeds and sizes perfectly.
Pros
Lightweight
Easy to assemble, use, and clean
Adjustable cover
Protected passageway edges prevent litter escaping
High side walls are great for cats that tend to pee higher or fling litter
20 inches long x 15 inches wide x 16.75 inches tall makes this a great option for many different sized cats
Cons
May not be large enough for very large or oversized cats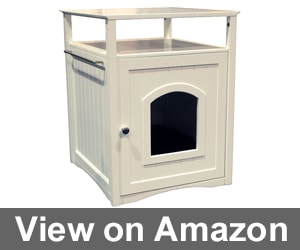 The Merry Products Nightstand Pet House/Cat Litter Box offers a quaint design that looks ready to sit in a beautiful cottage.
It can be used with a plastic litter box or as a pet house for cats or dogs.
It can also double as a nightstand on top with an area for pets underneath.
This is a great choice for owners that view standard litter boxes as an eyesore. This set up will make an attractive statement piece that doubles as a pet home or litter box. If you choose this option, look into investing in a waterproofing mat that will guard against the inside wearing out.
Pros
Attractive
Great for ca litter box, cat sleeping area, or dog house
Can work as a beautiful nightstand
Moderately priced
Cons
Assembly instructions are somewhat confusing
Materials its constructed from aren't waterproof
9. Tidy Cats Breeze : Best for Owners Worried About Smells and Litter Tracking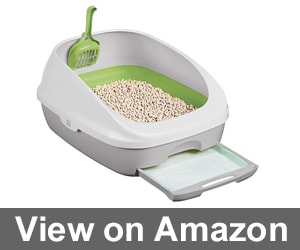 The Tidy Cats Breeze Litter System provides an excellent option for pet parents that are tired of litter being tracked around their home.
It has been specifically crafted to separate urine from solid waste utilizing specially designed litter pellets and pads.
The Breeze litter pellets are dust-free while the Breeze litter pads absorb urine while minimizing odors.
The Tidy Cats Breeze Litter Box System is easy to clean and use. The initial kit is extremely cost effective, making it a smart buy. Conversely, the price to continue to use it gets higher. You will need to purchase the Tidy Cat Breeze Litter Pellets and Pads which cost more than traditional litter in addition to the pads that are necessary for the system to function properly. If litter box smells are a huge concern to you, this system is most likely worth the inflated monthly cost.
Pros
Reduces litter tracking significantly
Easy to assemble and use
Dust-free
Amazing odor reduction
Cons
Requires the use of Tidy Cat Breeze Pellets and Pads which is more expensive than traditional litter
10. Petmate Clean Step : Best for Bigger Kitties and Elderly Cats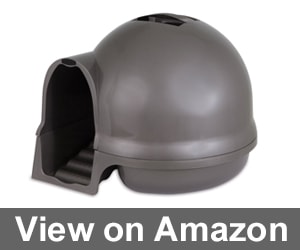 The Petmate Clean Step Litter Dome is reminiscent of an igloo.
It's available in several colors and features a unique step design that allows cats with mobility issues easier access to use the bathroom.
It also helps to cut down on the dreaded litter tracking issue that many litter boxes create.
The Petmate Litter Dome is fifty percent larger than other designs making it roomy enough for the biggest of housecats. A built-in handle at the top of the domed cover allows for easy and fast cleaning and scooping. Additionally, this item incorporates a carbon filter to cut down on litter box smells to keep your home nice and fresh.
Pros
Aesthetically pleasing dome design
Easy to clean
Carbon filter cuts down on smells
Great for large and older cats
Cuts down on litter tracking
Perfect for high sprayers
Cons
Somewhat odd shape inside may pose issues in finding appropriate liners to use
Best Litter Boxes for Cats – Buyer's Guide
Compared to other pets, cats require less upkeep and have a higher level of independence. You won't need to walk them several times a day like a dog for example. One daily chore of owning a cat, however, is ensuring their litter box is clean and fresh.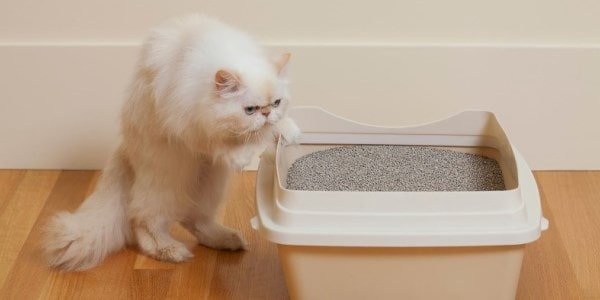 Failing to do so may result in your kitten deciding to claim other areas of your home as their personal potty, which will lead to a messy and smelly conundrum. We've created this buyer's guide to assist you in navigating the important details in selecting the best model of litter box for you and your favorite feline.
How Many Litter Boxes Do You Need?
It's a good idea to have a litter box for each cat in your home, plus one extra. Many cats will refuse to use a litter box that another one has already used. If your house has more than one floor, you should place a box on each level to help make sure your cats don't try to make their own areas to relieve themselves. So, a three-cat home with two floors would probably do best to place two litter boxes on each floor for a total of four boxes.
Different Types of Litter Boxes
There are a wide variety of litter boxes available to suit your kitty. Some of the options you can choose from include:
• Open Top Litter Box: This type of litter box is the traditional model, consisting of a rectangular box. This model is usually the least expensive option with no frills.
• Covered Top Litter Box: Similar to the traditional open top model, this type of litter box adds a cover or hood that gives your kitten privacy and may also cut down on any smells.
• Self-Cleaning Litter Box: While more expensive than other models, this type of litter box cuts down on cleaning time. This is thanks to an electric rake that sifts through the kitty litter and scoops away any clumps.
• Hidden Litter Box: This model goes incognito with a design meant to blend into its surroundings. Popular options include litter boxes made to look like a planter or other furniture so that only you and your cat know it's actually a restroom.
• Sifting Litter Box: This version allows you to and-sift clumps in a manner that's somewhat similar to panning for gold thanks to a secondary box that tucks into the litter box.
Litter Box Sizing
Litter boxes are available in many different sizes. Kittens grow quickly, so selecting a small litter box can create a headache later on as you realize Fluffy has outgrown it and needs a new one. Bigger is usually better when it comes to choosing a litter box.
Choosing to skimp on size now means you increase the odds that you'll wind up with accidents and litter tracked throughout your home. Your pet should have enough room to turn around while they are inside the box fully.
Selecting a model that is one and a half times longer than your pet and that is as wide as the pet's length should offer them the right amount of space needed.
Entrance Height and Style
You can find litter boxes with entryways on the top of the box. This feature can cut down on litter being tracked through the house. It can also be helpful if you have young children or another pet such as a dog, who may try to get into the box.
On the downside, this type of entry may pose a challenge to obese, elderly, or larger kitties. These pets may require a standard side entry or even a lower entry point to ensure they can easily get inside to do their business.
Litter Box Tips and Hints
1. Consider your space.
Think about the area where you'll be placing the litter box. Don't try to cram a larger box into a tiny, hidden corner. The cats won't want to use it and may try to go to the bathroom somewhere else, like a nice rug or in a plant.
2. Clean the box daily.
If the box isn't cleaned on a regular, daily basis, finicky cats may get upset. This can lead to their refusal to use it. This also helps keep any unwanted odors and germs at bay.
3. Switch out an old box for a new one slowly.
If you are upgrading to a new box, place it next to the older one for a few days Let your feline friend get used to the newer box before removing the old one. Otherwise, your pet may refuse to use it altogether.
4. Consider chores like cleaning.
When choosing the best place to put the litter box, think about its upkeep. You want to find a place that is comfortable for your cat. You also want it to be easily accessible for cleaning and maintenance.
Keeping the Litter Box Clean
Litter boxes require daily cleaning to sift out and remove clumps. You'll also need to deep clean it on a regular basis. When doing a deep cleaning, avoid the use of any strongly scented products, like bleach.
The introduction of unsavory smells can send your kitten away to seek out a different place to go potty. To properly clean the litter box, you'll need rubber gloves, hot water, soap, sponges or rags, and some vinegar.
Step 1.
Put on your rubber gloves. Dump any used litter into a trash bag and dispose of it properly.
Step 2.
Add some mild soap to the hot water. Scrub the litter box with the sponge or rag. Use care to ensure any dried feces or litter is completely removed from the box.
Step 3.
Once you have thoroughly cleaned the box, rinse it well with hot water. Make sure you completely rinse any lingering scents of soap away so that your cat will still use the litter box. If the litter box has any lingering scents, you can pour vinegar into the box and allow it to sit for 30 minutes before rinsing. You can also try using baking soda as another natural, odor absorbing trick.
Step 4.
Dry the box either by wiping it out with a dry rag or paper towels. You can also let it air dry. After it's completely dry, refill the litter box with new, fresh kitty litter and replace it in its usual spot.
Choosing the right litter box can be a headache-inducing process. In addition to finding an option that makes your feline friend happy, it must be functional, keep smells and messes at bay, and be easy to clean. Considering your space and needs will make the process much easier, and will result in a happier and cleaner environment for your kitty.
There are many excellent litter box options available. Today's offerings have taken the simple concept of a standard litter pan and incorporated design elements to disguise your cat's bathroom. Other models have made cleaning the litter box easier than ever before. We hope that you enjoyed our litter box reviews and buyers guide. Don't forget to leave us a comment below about your favorite litter box.