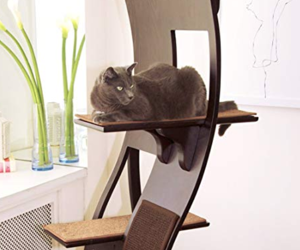 Cats are notoriously private creatures. They are also highly intelligent and require intellectual stimulation. Without a cat tree to provide a scratching area, places to play, and stimulation, your cat may grow bored.
Bored cats love to scratch up and destroy curtains, couches, and more.
Our home has experienced scratched up couches and shredded rugs as a result of a curious kitty that was left without a proper scratching post area.
Finding the best cat tree for you and your pet may seem like an overwhelming task. We have reviewed the top cat trees available on the market. We have also created a
buyer's guide
to explain the important details you won't want to miss. Let's get started!
BEST CHOICE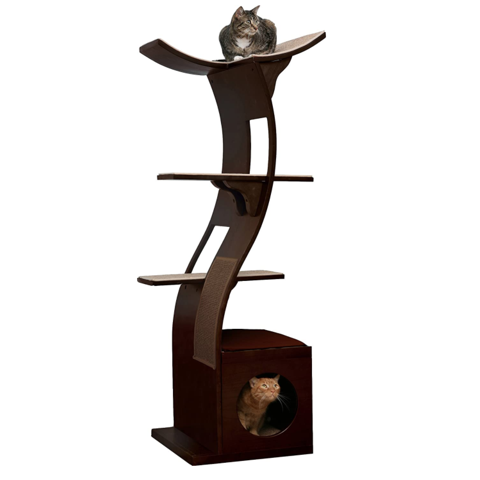 Refined Feline Lotus Cat Tower
Best Cat Tree in Our Rating
Comfortable height and design for any interior of an apartment
Robust design, resistant to any cat movements
Claw Sisal Coil – Your Pet's Favorite Item
Faux suede covers easy to wash and clean from cat hair
Selecting the Best Cat Trees in May, 2023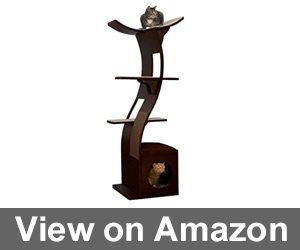 The Refined Feline Lotus Cat Tower blends clean, modern lines with the comfort your cat craves. Our testing team members loved the beautifully simplistic look of the tree and its ability to elevate a cat tree to a beautiful and how it blends effortlessly into your established decor.
The Tower features a sisal pad that is perfectly suited for your cat's scratching activities.
This option is also very tall, standing at 69 inches which will allow your pet to view their surroundings fully.
The Refined Feline Lotus Cat Tower is extremely comfy thanks to soft cushions. The cushions include washable faux suede covers for easy cleaning and maintenance. There is also a fun cubby for kitties to hide in and relax.
Pros
Very tall tower at 69 inches in height, 20 inches in width, and 20 inches deep
Velcro-attached brown Berber carpet
Super soft cushions covered in washable faux suede covers
Clean, modern design is gorgeous
Cons
Expensive
This cat tree does require assembly and tools for assembly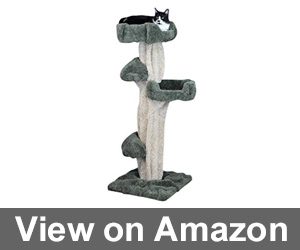 The New Cat Condos Premier Cat Play Tree earned high marks from our testing team for being so easy to assemble. This cat tree includes household grade carpet to keep your cat happy and comfy.
Our team felt that the carpet on this option is also longer lasting than some similarly priced options.
The New Cat Condos Premier Cat Play Tree is constructed from solid wood.
This is a wonderful quality as cat furniture built with solid wood are sturdier and have a longer life span. It also makes this selection a bit heavier to move, but it will be a much more stable playing and resting spot for your kitty.
Pros
Sisal rope is thicker than other versions providing safety and fun
Solid wood construction
Easy to assemble and terrific price point
Very comfortable for cats
Cons
The top area may not be as sturdy for larger cats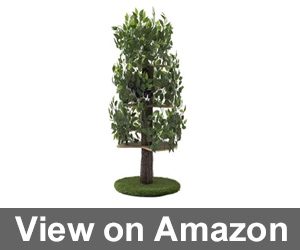 The On2Pets CatHaven Cat Condo is the perfect solution for bigger kitties and their families. While some trees are not up to par when it comes to offering a supportive and safe piece of furniture, the CatHaven Cat Condo can support pets up to 32 pounds, comfortably.
Our testing team members also loved that this tree is extremely easy to piece together, as well.
The On2Pets CatHaven Cat Condo lets your pet jump, scratch, stretch, sleep, and hide to their heart's content.
The tree assembles in just 15 minutes with no special tools needed. We also love the look of the tree as it really looks like a tree with artificial eaves perfect for pouncing on.
Pros
Perfect for larger cats up to 32 pounds
Looks like a real tree
Easy to assemble without any special tools
Three perches to cats to relax
Cons
The tree can feel a tad bit wobbly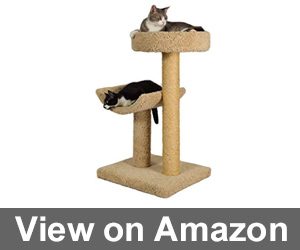 The Molly and Friends Simple Sleeper Cat Scratch Post and Bed fits perfectly into smaller spaces such as an apartment. It stands 37 inches in height and features a base that measures 21 inches by 19 inches, so it really doesn't take up much space at all.
Our testing team members appreciated having an option that take up less room.
The Molly and Friends Simple Sleeper Cat Scratch Post and Bed blends into your current decorating scheme easily thanks to its beige shade.
The sisal rope is all natural and thick to keep cats entertained and safe. This option works wonderfully for all different sizes of kitties from smaller to larger.
Pros
Perfect for smaller homes or apartments
Minimalistic design with shades of beige
Thick and natural sisal rope
Two perches for resting and stretching
Cons
Very busy cats may tear the carpet off quickly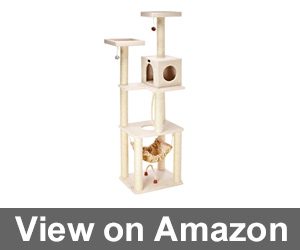 The Aeromark International Amarkat Cat Tree Condo safely accommodates up to 80 pounds, making it an excellent option for homes with several kitties. The cat tree is constructed from pressed wood and is covered with faux fleece.
Our testing team members loved the accessories included that help to keep their pets entertained.
The Aeromark International Amarkat Cat Tree Condo stands at 73 inches allowing cats to perch up high and observe.
The condo has hiding spots, a hammock bed, ropes, and plenty of spots to scratch. Cat's will be happily entertained until it's time for a quick cat nap.
Pros
Very tall at 73 inches in height
Fleece covering is soft and comfy
Perfect for multiple cat homes
Lots of spots to play and rest
Cons
Make sure to follow assembly instructions fully as they can be a tad bit confusing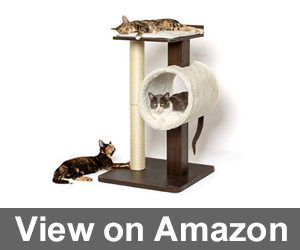 The PetFusion Modern Cat Tree House and Tall Scratching Post features an interactive design that helps keep your cat active. Increased activity can help in lengthening your pet's lifespan, and it can help keep them from scratching or tearing up things that are not cat toys, like curtains for example.
This condo has it all from perches to jump spots to scratching spots to kitty entertainment.
The PetFusion Modern Cat Tree House and Tall Scratching Post has a truncated cubby for kitties that enjoy hiding.
This option also includes catnip to entice shy pets. Our testing team loved the ease of assembly for this cat tree since it is simple and straightforward to set up.
Pros
Terrific price point
Easy to set up
Interactive design keeps cats busy and happy
Easy to clean and maintain
Cons
The removable and washable cushion is a very light shade, and we wish it were darker so that it would not look dirty as quickly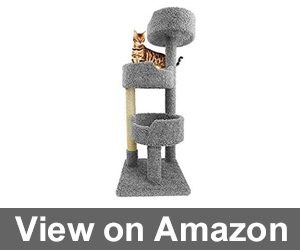 The CozyCatFurniture Cat Tower for Large Cats is crafted in a stylish and comfortable grey carpet. This cat tree has three different bedding areas, making it a smart selection for multiple cat homes.
The cat condo stands at 52 inches so it will fit comfortably in nearly any home.
The CozyCatFurniture Cat Tower for Large Cats includes a scratching post to entertain your kitty while sparing your couch.
The tree also has a fun sisal rope for your pet to play with. Our testing team loved everything about this option giving it the highest marks of the review.
Pros
Awesome price
Beautiful grey coloring
Three separate sleeping areas for multiple or picky cats
Easy to clean and care for
Cons
We loved this option so much that we were hard pressed to find any negative qualities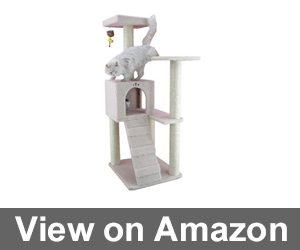 The Armarkat Classic Cat Tree B5301features an accessible ramp from the ground that leads to a special hiding hole. The ramp would be an excellent option for elderly cats that have trouble jumping higher or for smaller kittens.
This tree is extremely easy to assemble, earning high marks from our testing team members.
This Cat Tree offering from Armarkat includes a faux fleece covering to assist in getting your kitty as comfy as can be.
The cat condo would be a lovely choice for a mom kitty and her kittens as well. On the downside, the gorgeous ivory coloring can be a bit hard to keep clean for cats that like to go outside as they come back inside with dirty paws.
Pros
The helpful ramp makes climbing up the cat tree simple for kittens or elderly cats
Very well made and durable
Easy to assemble
Includes necessary assembly tools
Very soft and cozy faux fleece covering
Cons
Ivory shade can be a bit difficult to keep clean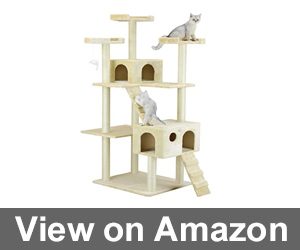 The Go Pet Club 72-Inch Cat Tree is a larger cat condo option at a very attractive price point. The tree stands at 72 inches, and the base of the condo is 50 inches by 26 inches.
Our testing team flipped over the ease of assembly for this option.
The assembly instructions are crystal clear and easy to follow. The Go Pet Club 72-Inch Cat Tree has ten posts and 15 levels.
This option would work wonderfully for multiple cats since there are so many hiding spots. We also love how easy to clean this option is in addition to having plenty of spots to scratch.
Pros
Budget price
Perfect for larger homes with multiple cats
Easy to clean and maintain
A breeze to assemble
Cons
Somewhat less sturdy than we would like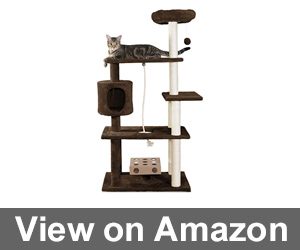 The FurHaven Pet Cat Furniture Tiger Tough Cat Tree is as easy on the eyes as it is on your wallet. This tree features multiple platforms, a perch, and a cute little house condo.
The scratching posts are wrapped with sisal rope to keep kitty cats' content.
The FurHaven Pet Cat Furniture Tiger Tough Cat Tree is perfect for intellectual stimulation as well.
The tree includes a puffy hanging ball, a dangling rope, and an IQ box to keep even the pickiest f cats happy. The covering is super cozy and comfy. Our testing team loved that the tree also comes in several different color choices to match any decor scheme.
Pros
Terrific price point
Perfect for smart cats thanks to lots of activities
Lots of color options
Easy to assemble
Cons
One of the perch's sits at an angle that makes it hard to sit flush next to your wall
Best Cat Tree – Buyer's Guide
Cat lovers understand that cats need to scratch. A cat tree is a terrific way to give kitties a place to scratch, perch, play, nap, and more. Finding the best cat tree for your furry friend may turn into a long and arduous chore, however, as there are thousands of versions available.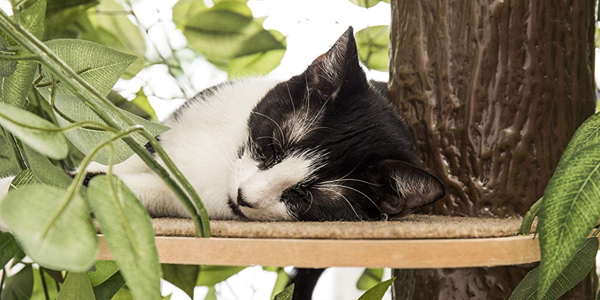 We learned so much helpful information while reviewing the top cat trees. We have compiled this knowledge into a helpful guide to demystify the process. Let's take a closer look at the most important features of cat trees.
Do I really Need to Purchase a Cat Tree?
In a word, yes. Cats need to claw and scratch at things. Providing a cat tree is an easy and cost-effective way to satisfy your kitten's desire to claw and scratch.
Some pet parents may consider declawing their cats as an alternative measure. Declawing is expensive, and it's also extremely painful and stressful for your pet cat. Buying a new cat tree will allow your cat to scratch and play while protecting your furniture.
Material Matters
Cat condos can be crafted from a variety of materials. Here is a closer look at the various materials used as well as a look at the good and bad qualities of each.
Wood:
Wood is a wonderful option for bases and limbs. Wood is very sturdy, so it is an obvious choice for multiple cat homes since it can withstand heavier weights and movement. On the downside, solid wood can be expensive and pressed, or particle board wood is cheaper but not as a durable.
PVC Pipe:
PVC Piping has become a less expensive alternative for limbs and perches of cat condos. PVC can be a great choice, but it is less durable and sturdy than wood. It also may not be strong enough to safely support larger cat breeds.
Carpet:
Carpet is a commonly used material in cat trees. Carpet can be terrific for covering perches or adding a soft area to nap or stretch out on. Berber carpet is durable enough to stand up to heavy use while staying cozy enough to lounger on.
Faux Options:
There are plenty of options that include faux fur or faux suede coverings. We also found that most cats really love to nap on faux fleece covers as well. Selecting faux material covers saves you money and ensures you can machine wash covers and liners when dirty while still keeping your pet perfectly cozy.
What the Heck is Sisal Rope and why Must my Cat Scratch?
By now, you have seen the words "sisal rope" and "scratching" multiple times on our top ten cat tree list. We want to take just a moment to explain what sisal rope is and why it's important. We'll also take a closer peek at why scratching is such an important cat activity.
Scratching is an imperative and essential part of your kitten's health both physically and mentally. Scratching allows your pet to mark her territory due to scent glands in her paws. Scratching also allows your pet to stretch.
Cat trees with scratching posts allow your cat to have an outlet for this completely normal and necessary activity. Make sure that scratching posts are tall and sturdy, so cats can stand on their hind legs to fully reach up. It is also important to be discerning about the covering on the scratching post.
Sisal rope and sisal fabric are amazing for allowing your little friend to scratch to their heart's content. Sisal is biodegradable, strong, tough, and very durable. This option allows cat claws to move through without becoming caught up on fibers which is a common problem with carpet-based scratching posts. Sisal also feels very similar to natural bark which will satisfy your critters most primal urges leaving your couches and curtains unscathed.
What Size Cat Tree Do I Need?
Cat trees can be found in a plethora of sizes and shapes. Think about the area you plan to place the cat condo in. It's helpful to pre-measure the area to have an idea of the size you can accommodate.
If you have only one smaller cat, you can purchase a smaller cat tree. If you have several cats or very large breeds, you'll need to select a larger option with several perches and hiding spots. If your cat is very active, you may want to select an option with lots of activities and toys.
Fancy Features for Fancy Cats
Cats are extremely curious and adventurous animals. That is part of what makes them so charming and fun to have as a pet. The right cat tree will include some fancy and fun extra features to keep your kitty happy.
Tunnels: If your cat enjoys diving into boxes and bags, a tunnel can be very fun. Most felines love to crawl into a den-like space. A cylindrical tunnel can offer a safe place to hide and zoom through.
Scratching Posts: We can't stress enough how important scratching posts are. Trust us; your furniture will thank you.
Toys: Hanging toys such as a dangling rope of a ball can allow your pet hours of entertainment. This feature is important for pet parents that work outside of the home. You can rest easy knowing that your cat is entertained and happy playing for hours on end.
Perches: Perches are platforms that allow cats to jump and leap from one spot to another. This feature can help satisfy your cat's innate need to sit at the top of a tree to survey their surroundings.
Hiding Holes: Many cat tree's include places for your cat to hide or to sleep in. Cat usually like to sleep up off the ground so finding a cat tree with a raised bedroom/hiding hole is a great way to allow them to feel secure while napping.
Hammocks: Some cat trees include a hammock. Many cats love to stretch and lounge on hammocks. A hammock also allows them to easily spy on their human friends from a comfy resting spot.
Ladders or Ramps: A ramp or ladder can be extremely helpful. Older cats may want to jump less especially if they suffer from arthritis. Baby cats can lose their balance easily, so a ladder or ramp is helpful in allowing them to develop balance while allowing them to play, explore, and learn.
Finding the best cat tree for you and your favorite feline doesn't need to be a headache. Keeping the space allotment, needs of your pets, and overall budget in mind will make the process easier. And don't forget to select a cat tree with a heavy-duty scratching post crafted from sisal rope or sial fabric. Without a scratching area, your cat will most likely turn to your furniture for comfort with disastorous results.
We hope you enjoyed our reviews of the top cat trees and our guide to buying the best cat tree for your favorite kitty. Hearing from our readers always brightens up our day. Leave us a line below with your favorite cat tree options below.