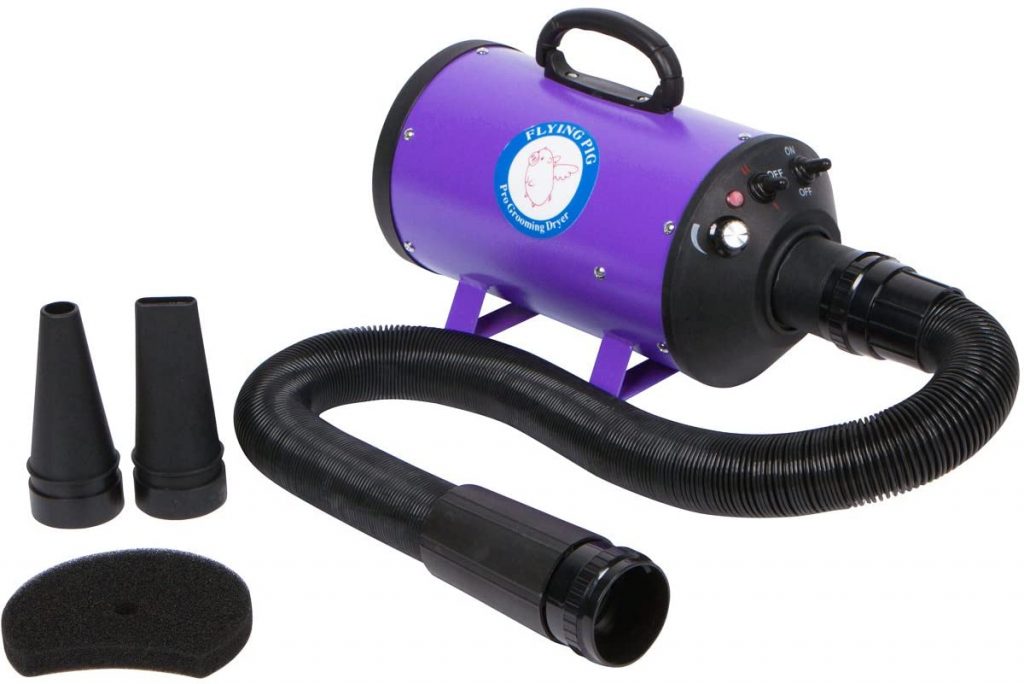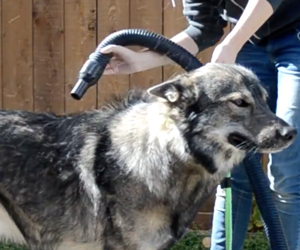 Finding a dog dryer can be exhausting. The overwhelming majority are professional, heavy-duty machines used by groomers and vets.
If you find yourself washing your dog a lot or have a group of dogs to groom, a dog dryer can speed along grooming and bathtime and be a lot less stressful than chasing your wet dog around the house with a towel.
We've gone through and compared all the options out there, from entry level models to the priciest professional tools so you can find the best pick for you.
BEST CHOICE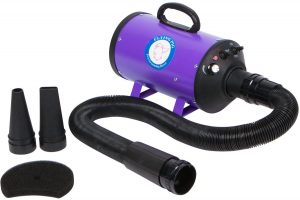 Selecting the Best Dog Dryers in May, 2022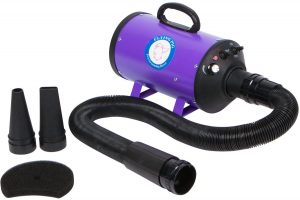 This dryer everything we want in a dog dryer, including a competitive price for professional quality. The 10-foot extension hose is great for working around a grooming table (or large dog) and this model offers a powerful variable speed dryer.
This model also offers three heat settings: none, low, and high, giving you the options any groomer needs for professional jobs. The speed dial is a nice bonus, while most options offer fixed settings, this model allow for small adjustments to dryer speed as needed, perfect for dogs that get nervous with loud noises.
Pros
Variable speed works great
Sturdy construction at a low price
Multiple dryer nozzle attachments
Lightweight and easy to use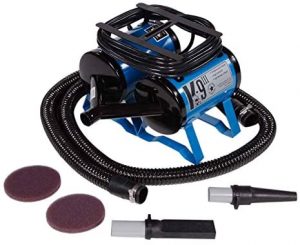 This super-powerful pick is our second favorite professional style dog dryer. Dual motors and air filters help you dry faster at different speeds and temperatures, allowing you to adjust for delicate hair types.
Additional nozzles work well with the dual-motor design, letting you dry even the thickest coats quickly. Professional groomers and vets love this dryer and it reportedly is twice as fast as other popular dryer models.
Pros
Dual motors give you different power and heat options
Additional nozzle attachments
Two year warranty
Cons
Much more expensive
Air gets dangerously hot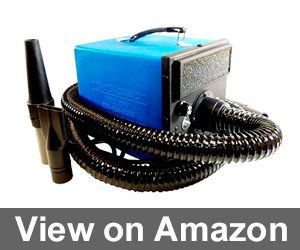 This dryer is a favorite with dog show exhibitors and mobile groomers for its compact size and weight. You'll find it's simple to pull this dryer out of a bag and get it set up for use in no time.
A big plus is that this dryer works quickly at a much quieter level than most competitors. The motor is encased in sound-absorbent foam to keep dogs calm from being presented. Compared to a traditional blow dryer, this model is closer to a fan, perfect for crowded environments and nervous dogs. The Kool Dry has been sold since 1978 with few changes beyond updated electronics and it's easy to see why.
Pros
Extremely quiet compared to any other dryer
Easy to transport
Variable speed motor allows for 200 settings
Professional-grade speed and power
Cons
Pricey for a single-motor dryer
The Shelandy drying blower is a great pick for pet parents looking to get their first dog dryer or anyone looking for a fully featured but budget-friendly option.
This dryer comes with extra attachments you don't get with most brands, a strong motor with variable speeds, and reviews note it lasts for years.
While you don't get quite as much power and variable temperature options, we think this is great for anyone looking to find a quality dryer at less than half the price of any professional level product.
Pros
Great price
4 included attachments (vs the typical 2)
Variable speed dial
Low maintenance
Simple controls
Cons
Lower fan speeds
Single drying temperature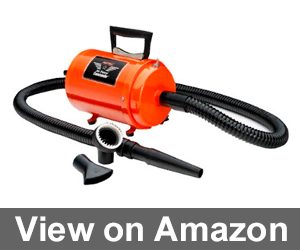 The Metrovac Air Force Commander is one of the most powerful dryers on the market and is great for those dogs with long, heavy coats. Still, all that power is noisy and we find that the Metrovac can make some pets nervous and is a bit excessive when cheaper and quieter options exist.
If you find drying your dog takes forever after washing your dog, this is the option for you. We like that blower is designed to operate horizontally or vertically, letting you maximize space wherever you use it.
The Metrovac Air Force Commander Professional Dog Grooming Pet Dryer sounds like something more airborne but ignore the unwieldy name and you have an impressive piece of equipment.
Pros
Distinctive range of colors
Useful accessories part of the package
Portable and compact
Functional both horizontally and vertically
Reduces drying time
Respected manufacturer
Cons
Powerful motor means much more noise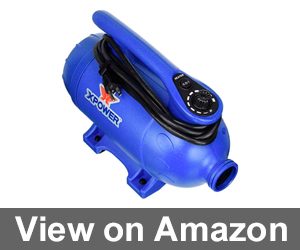 The Xpower isn't the most powerful dryer we reviewed, but we like it's clean looks and variable speed dial. With this model you still get power similar to picks with more powerful motors in compact package.
Where the B-24 shines though is working at a lower temperature range than other dryers. While hotter temperatures sound appealing, you typically can't use high heat settings on shorthaired dogs anyways. This dryer gives you different temperature picks but in a lower range than the standard, working great for dogs with sensitivity to heat.
Pros
Variable air speeds
Lower heat temperatures are great for sensitive pets
Three attachments for different coats
Relatively quiet motor speeds
Designed to work with stands or wall mounts
Cons
Weaker motor than others in this price range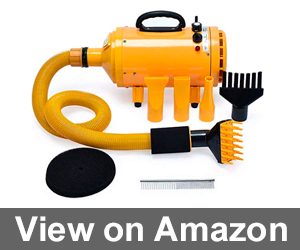 This dryer has great accessories that make life easy for any first-time groomer or dog owner. While not quite as heavy-duty as some professional grade dryers, this still has all the features you're looking for.
Lower heated temperatures make it easy to avoid scalding your dog or yourself, and the motor operates at the same power as many pro dryers in a smaller package.
Pros
Simple controls for first-time groomers
Multiple drying attachments
Quieter motor speeds
Cons
Shorter hose-length can be annoying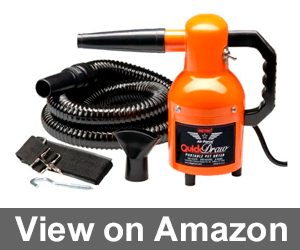 We wanted to like the Metro Quick Draw more, but we found it really only has specific use cases where it'd come in handy, really if you're using it for mobile grooming or bringing along on trips. Functionally, it's closer to a hair dryer than a professional dog blower because of the smaller motor.
This model features a compact housing, comfortable handle, and attachments that can fit directly on the motor. It's ideal for working in a cramped space or to even bring on trips where you expect to need to dry your dog quickly. The dryer even comes with a shoulder strap, letting you move around with the dryer while using combs and brushes. One thing about handheld usage however is that you'll be moving the noisy motor closer to your dog which could startle more nervous pups.
Pros
Can be used with hose or hand-held for small spaces
Very lightweight and simple to use
The smallest and most portable option we've found
Impressive drying time for it's small size
Cons
Hand-held usage brings the noise closer to your dog, not great for nervous pets
Expensive for the size and power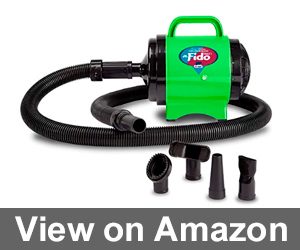 While B-Air isn't known for their dog dryers, they are a US-based brand that manufactures all kinds of 'air-moving' equipment which adds some peace of mind. We liked the B-Air's simple attachments and compact hose size and it's popular with dog trainers as a good model for getting dogs adjusted to dryers.
Most impressive is that this dryer is endorsed by Cesar Millan for home groomers. It comes with 4 attachments and is particularly good at de-shedding a dog's coat. While this model doesn't feature any heated options, we think the B-Air Fido Max 1 is a great choice for drying dogs with sensitive skin.
Pros
Variable air-speeds
Easy maintenance
Endorsed by Cesar Millan
Attachments designed for sensitive skin
Cons
Lack of heated drying limits use
6-foot hose is shorter than we'd like
What to look for when buying a dog dryer
Have you ever wondered how professional groomers give your dog that perfect, fluffed and primped look each time? The secret isn't just practice and skill. A dog dryer makes grooming easier and can help you get that show-ready look.
Why not use a hair dryer?
We've all been there. Your dog is soaking wet and you want to avoid having a furry wet mess running around your house or shaking off water on everything you own. Turning to a hair dryer seems like a quick fix, it works on your hair right? Wrong.
Regular hair dryers run at higher temperatures and have a higher risk of burning your dog or damaging their coat, while not working very well to boot! Dog dryers are specifically designed to be safer and more effective on all different kinds of fur and coat lengths.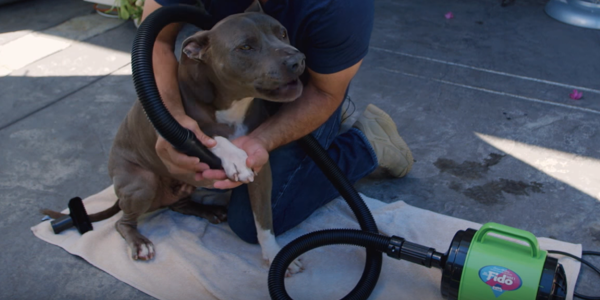 Because all dogs have a coat to protect them, their skin is surprisingly sensitive. A dog's coat keeps them warm, protects from bugs and scrapes, and even prevents skin irritations. Still, a dog's fur needs proper care to work properly and if not dried properly they can get rashes or develop skin issues.
Dogs also tend to be scared of hair dryers for the same reason they're afraid of vacuums: they're loud and the source of the noise moves. Most dog dryers are stationary while you use a long hose to do the drying.
The long hose on most dog dryers lets you get close in to your dog's skin while keeping the source of noise and heat a bit further away, Higher air pressures are more effective at drying longer fur, and specialized attachments can work on different coat types.
Dog dryers can be pricey but are a must for home groomers, vets, and dog show exhibitors. If you have several dogs that need regular grooming you'll also find a dog dryer can save you hours of time each month.
Types of Dog Dryers
Forced-air Dog Dryer
Forced air dryers are the most common type of dog dryers you'll see, used by groomers, veterinarians, and dog show exhibitors. Forced-air dryers use a powerful motor and actually dry primarily by moving large volumes of air quickly. Heaters are almost always integrated with these dryers and speed up the drying process but you're still relying on air pressure, not just the heat of the air, to dry your dog.
Handheld Dog Dryer
These are essentially an animal version of the hair dryers which we use ourselves and, similarly, use hot air. Portable, light and simple to use, they are ideal for small dogs and easy to store. However they face many of the problems that human hair dryers have and have limited pressure and can be too noisy for nervous dogs.
Low Pressure Dog Dryer
Low-pressure dryers blow warm air at a low intensity and are typically hooked to a holder or mounted in a kennel or cage and allow hands-free drying. These are usually large and take a long time to work and are best used by professional groomers working with several dogs at once.
What to makes a good dog dryer
Durability
You will want the dog dryer to last for many years – just like your dog – so it doesn't pay to skimp on the cost by buying something made from inferior materials. Plastic dog dryers will be cheaper, but they lack durability and can be easily damaged. Drying a dog could be viewed by your four-legged friend as a game and the dryer may need to withstand some rough (ruff!) treatment.
Metal dryers will be more durable but are prone to rust and they may amplify the sound of the motor and make the experience an unpleasant one for the dog. Dryers which feature a noise-reduction filter should be considered.
Storage and ease-of-use
The size and shape of a dog dryer varies and if space is an issue then you may want to find a smaller option that's easier to store. While some models are more portable than others, most professional-grade dryers are fairly cumbersome and include a long hose to make drying easier.
Air volume and speed
Dog dryers use lower heat settings than human hair dryers because they rely on air flow to provide drying. Not only is this safer for dogs, but it actually works better on dogs with thick, long coats.
Many dryers offer different speed levels, allowing for gentler speeds to dry sensitive areas like a dog's face, belly, or feet, but higher speeds on longer sections of their coat to dry quickly. The best models will offer a dial that allows for small adjustments of the fan, letting you dial up air volume incrementally to avoid startling your dog and getting just the right air speed for each part of your dog's coat.
Hoses and attachments
The majority of dog dryers use a long hose to safely get air and heat where you need it most on your dog's coat. Longer hoses can be trickier to store, but you want a hose that's at least 6 feet to dry even medium-sized dogs. When working with larger dogs an 8 or 10 foot hose can make a remarkable difference in how easy the job can be. The reason is simple, it's much easier to move yourself than it is to move your dog.
Most dryers also come with hose attachments that make it easier to dry faces, feet, and can help with drying different coat lengths.
Noise
Dogs have hearing capabilities way better than us and the amplification caused by some hair dryers can be quite distressing for them. There isn't a single dryer which will be noiseless, but the discerning dog-owner will try to select a model which nullifies the noise from the motor as much as possible.
Maintenance
Dog dryers are prone to becoming clogged with hair or fur – it's the nature of the beast – so the optimum choice of dryer would be one which has a removable and washable air filter.
Power
Dog dryer manufacturers make extravagant claims about the horsepower capabilities of their products. These are a misnomer since the HP has minimal effect on the machine's performance and a higher HP may even be detrimental by causing over-heating.
We have taken account of variables such as cost, storage space, your dog's temperament, etc. These criteria allied to reviews and tests have allowed us to provide a balanced guide to buying a dog dryer. All feedback is welcome and will be added to the observations arrived at through personal experience or those of other correspondents.
Dog Hair Dryer FAQs
What's better: drying with a towel or naturally?
The coat which is inherent to the dog breed may make usage of a dryer imperative to ensure the animal doesn't remain wet for long. Towel-drying won't guarantee that dryness whereas drying naturally may lead to hypothermia.
This is a greater risk if the dog remains outside for prolonged periods. A combination of prevailing cold temperature allied to a wet coat may result in extreme health problems.