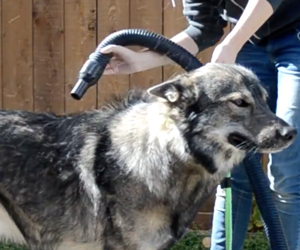 Bathing your dog is a necessary and often frustrating task. Most pups are not a huge fan of getting fresh and clean so just getting them into the tub and washed up can quickly turn into a tiring experience.
After you have managed to wash and rinse comes the dreaded chore of drying off the doggy.
At my home, the second I get my dog out of the bath, the last thing she wants to do is sit politely for me to towel dry her. As a result, I began looking for the best dog dryer to make this task easier for me, and for her.
So, whether you are new to owning a pet or are a seasoned pet groomer, finding the best dog dryer for your needs can be a hassle.
We tested and reviewed ten of the top dog dryers on the market and handcrafted a helpful guide to help you understand the differences and the most important features available.
Selecting the Best Dog Dryers in February, 2020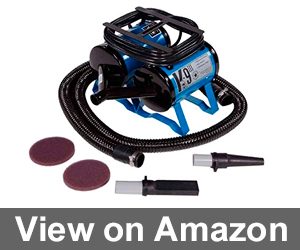 The K-9 III Dog Grooming Dryer is a very powerful model with two separate air flow speeds. The dryer is also portable so it can be moved to various locations. It runs on 110 volts, making it easier to dry very thick coats.
The K-9 III Dog Grooming Dryer has two filters, two motors, and two hose head attachments similar to those you would find on a human hair dryer.
This dryer was a hit with our testing team members with Huskies and Newfoundlands due to its ability to cut standard drying time down by at least half.
One of our testers noted that it only took her 20 minutes to dry her Husky and that it was perfect to help in deshedding her as well.
Pros
110V
10 foot hose with 2 attachments
Two motors and two filters
Perfect for drying and deshedding larger breeds with thick coats
Cons
The dryer is somewhat loud which may make smaller or nervous pups upset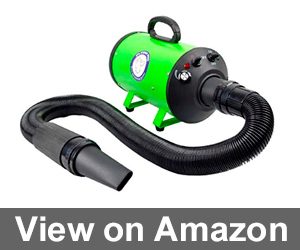 The Flying Pig High-Velocity Pet Stand Grooming Dryer features a large blower which produces a larger stream of air at an extremely low pressure. This option was created by Oster, a leading company in clippers and dryers for pets and people.
To keep your furry friend as safe as possible, the Flying Pig has a dedicated overload switch to stop it from overheating which could injure your pet.
The Flying Pig High-Velocity Pet Stand Grooming Dryer offers variable speeds and heat.
The nozzle can rotate 360 degrees to ensure it can reach any spot. Our testing team loved how easy it is to use and move the Flying Pig.
Pros
Stand style dryer
Variable speed and heat settings perfect for nervous or sensitive pets
Adjustable from 33 inches in height to 51 inches
Durable and sturdy
 Special overheating switch to protect your pet and you
Cons
May not work as well for dogs with very thick coats
3. Metro Master Blaster : Best Luxury Choice for Groomers and Grooming Enthusiasts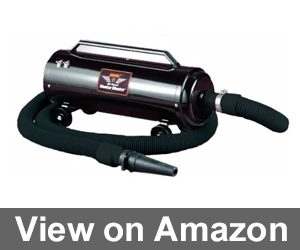 The Metro Master Blaster is expensive, but it is also unbelievably powerful. The top choice of groomers for years, this doggy dryer cuts drying time by up to 75 percent.
This fact can save you a lot of precious time and money.
The Metro Master Blaster is crafted with an all steel body for maximized durability. It has two motors and a ten-foot hose.
Our testing team used this dryer to not only dry dogs, but we learned it has many other uses such as drying your car quickly.
Pros
Extremely high-quality dryer with many applications
Designed with pro groomers in mind
All steel body with 10-foot hose
Cuts drying time by up to 75 percent
Cons
It is expensive but well worth the cost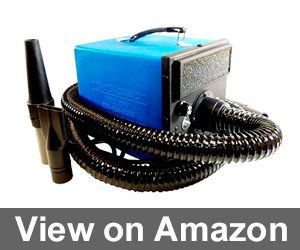 The Chris Christensen Kool Dry Dryer is a wonderful option for individuals that work with show dogs, groomers, and home groomers as well. This dryer features a quiet motor that will keep your pooch's eyes on the Dog Show prize by not disrupting them or making them feel nervous.
The Kool Dry Dryer is also very compact and arrives with a hard case that makes transportation a breeze.
The Chris Christensen Kool Dry Dryer features a hose measuring 8 feet and four inches. This model earned high marks for its nearly silent operation.
Animals that are skittish will certainly appreciate this feature as will neighbors. Our testing team was amazed by how quietly it runs.
Pros
Compact easily transportable design
Hose is 8 feet 4 inches long
200 variable speeds
Extremely quiet
Cons
Expensive but well worth the investment for those individuals in pet related professions
5. Petacare Hand Blower : Perfect for Pet Owners with Homes Without a Lot of Space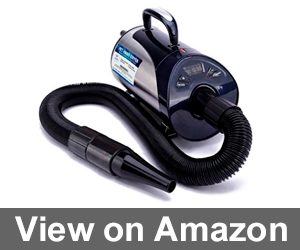 The Petacare Hand Blower is a perfect option for pet owners that are tired of trying to dry their pets with a towel.
This model is extremely compact compared to other versions, which is extremely helpful in smaller houses or an apartment. It is straightforward to use and maintain as well.
This offering from Petacare has three interchangeable attachments which will allow you to customize air flow and direction.
There are also different speed and temperature settings that will keep your dog dry and happy. Our testing team loved how easy this version was to store and how little space it took up.
Pros
Easy to use and maintain
3 attachments
Takes up a trivial amount of storage space making it perfect for apartments and small houses
Durable
Cons
May be a bit loud for nervous pets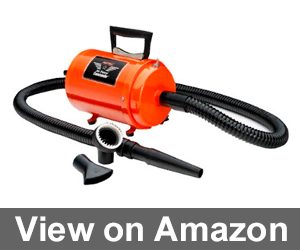 The Metrovac Air Force Commander Professional Dog Grooming Pet Dryer is available in a few fun colors including orange, blue, pink, purple, and bright green to add a dash of fun to bath time. This dryer has a very compact design and is extremely lightweight.
You can use the Metrovac Pet Dryer on the floor or on a table top to maximize comfort for you and your furry best friend.
The Metrovac Air Force Commander Professional Dog Grooming Pet Dryer efficiently dries your dog or cat with the use of a 6-foot hose.
This version includes an air concentrator attachment, a grooming rake, and an air flare tool to keep Fido looking extra fancy. Our testing team loved the bright pop of color and the performance that the Metrovac Pet Dryer offers.
Pros
Available in 5 fun colors
Compact design
Great assortment of attachments included
Portable and lightweight
Cons
The higher speeds may frighten smaller breeds of dogs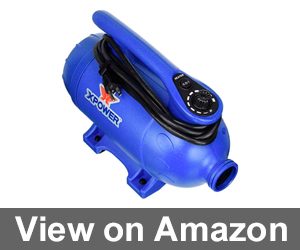 The Xpower Thermal Ace Force Dryer is extremely lightweight and compact making it easier to transport which is a definite plus. It is also very powerful and offers two different speeds.
This model includes a special safety feature that keeps the unit from ever blowing that is above 106 degrees Fahrenheit to keep your pet and their delicate skin safe.
The Xpower Pet Dryer is remarkably inaudible when compared to similar models.
Louder sound levels can be extremely jarring for some pets making this an important feature. Our testing team loved how easy it is to use as well as its affordability compared to other versions.
Pros
Lightweight and compact design
Powerful
2 heat settings and 2 speed settings
Includes 3 nozzle attachments and 3 washable filters
Cons
May have a tendency to tangle longer hair if not used on the lower speed setting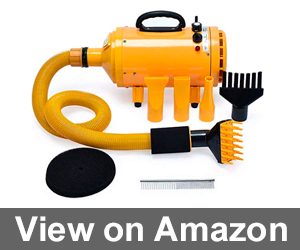 The Free Paws High Power Stepless Pet Grooming Hair Dryer is the perfect choice for those new to grooming their pet. This kit includes everything you need to perfect your pup's posh look.
This dryer also allows you to customize the heat level thanks to an adjustable heat switch. This offering from Free Paws is moderately priced to fit almost any budget.
You will receive five nozzle attachments that allow you to brush your dog as you dry to cut drying time by up to 60 percent.
Our testing team was shocked at how quickly their dog's fur was dried and how comfy the air temperature came out.
Pros
Lightweight design
Includes five individual nozzles, washable filter, grooming comb
Easy to use and maintain
Cons
Meant for home use and will most likely not stand up to the heavy use of a professional grooming salon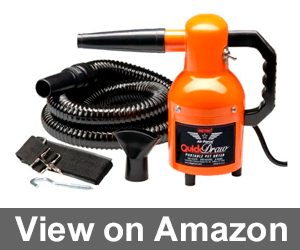 The Metro Quick Draw is an attractive hand-held option. Weighing in at a mere 3 pounds, this dryer is easy to handle for longer drying sessions. It also has a convenient shoulder strap so you can sling it over your shoulder, keeping your hands free for other grooming activities.
The Metro Quick Draw thoroughly impressed our testing team. Not only is it one of the easiest dryers to use, but it also didn't scare or upset our pets.
One tester was able to safely dry her pet Pomeranian that refuses to be near other dryers.
You also have the option to install and hang the dryer using an included mounting hook if carrying the dryer poses an issue.
Pros
Hand-held dryer
Includes two nozzles and mounting hardware
Easy to use and maintain
Great for use at home, pet shows, adoption fairs, grooming salons, and more
Cons
The dryer is only available in orange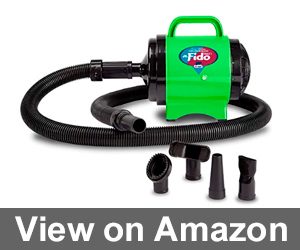 The B-Air Fido Max 1 Dog Dryer has been endorsed by pet expert Cesar Millan. The dryer has two speeds, high and low.
The dryer does not push out hot air which will prevent any damage to your pet's skin or hair.
The B-Air Fido Max 1 Dog Dryer comes with four special nozzles to keep your furry friend looking fancy and fresh.
Our testing team loved this dryer for use on both short and long-haired breeds. It is very simple to set up, use, and best of all, our dogs actually liked having it used on them.
Pros
Perfect for professionals and novices alike
Easy to use and maintain
Two speeds of air flow
Does not blow hot air so you won't worry about burning your pet
Cons
The air sound may frighten younger pups at first, so be sure to let them hear and see it before you begin using it on them
Best Dog Dryer – Buyer's Guide
The number of dog hair dryers currently available for purchase is staggering, to say the least. While looking for the best dog dryer for my pet, I was astounded by the differing attributes, specs, features, and ease of use that varied wildly between models. Simply sorting through the different versions was a huge task.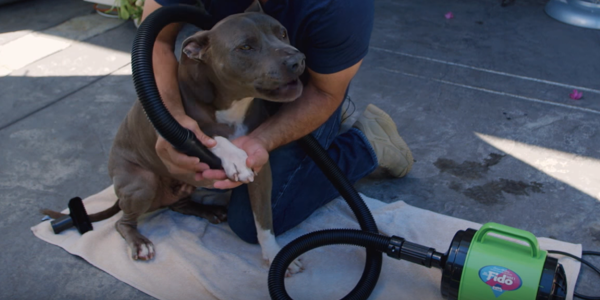 We have compiled this guide to assist you in discovering the differences while demystifying the purchasing process. We will give you an insider's view of the most important features and what you truly need. Let's get started!
Do I Really Need a Dog Dryer?
If you have a pet that requires washing, then a doggy hair dryer can definitely be an important purchase. Towel drying usually leads to a messy floor, possible accidents, and an irritated puppy. A dryer helps you to ensure your pet is dry which will keep them from becoming too cold. This is especially imperative for pets kept outdoors in the cooler months.
Factors to Ponder when Purchasing a Pet Dryer
There are many facts and features to look over when selecting a dog dryer. Having a bit of background information on these features will make finding the best dog dryer for your needs a snap. Let's take a closer look at these crucial factors.
Durability
Read over the materials used in creating the dryer. Choose materials that will withstand heavy use for years to come. Units made from plastic are less expensive, but they may not hold up as well. Conversely, metal dryers are costlier and may rust or make motor sounds louder which can hurt a pooch's sensitive ears.
Storability
Take a few minutes to think about where you will be storing the dryer when it is not in use. Pet dryers are available in a wide array of shapes and sizes, so you will definitely be able to find one that fits in your space. If you are in an apartment, a hand-held version may be best since it won't utilize much room for storing. Some can be mounted to the wall or a stand to add extra space as well.
High Air Flow
As opposed to the hair dryers humans use, doggy hair dryers do not need to push out hot air. Instead, a pet dryer utilizes air pressure to drive water out of their coat. A lack of hot air will keep your fuzzy buddy's hair and skin safe from burns or damage.
Variable Speed
Professional groomers will benefit from having a dryer with multiple air flow speeds. Different breeds of dogs have different coats with specific needs as far as air pressure. If you work with many different animals, you will absolutely need variable speed control. If you have just one breed, you may not want to deal with selecting the right speed. Instead, you can research the best airspeed for your pet's breed and then select a dryer that has just that specific speed of air flow.
Quality Hose
Dog dryers made from low-quality materials can have hoses that crack or break quickly. Try to select a model that features a heavy-duty hose. While it may be slightly more expensive at the time, it will increase the longevity of the dryer, so you won't need to purchase a replacement after a few uses.
Sound Levels
Dogs can become easily upset by strange sounds. The noise produced by a dog dryer can range from very quiet to extremely loud. Unfortunately, no dryer will ever be truly silent. If you have a skittish dog, make sure you choose a model with lower sound levels emitted from the motor.
Ease of Maintenance
After spending time bathing, grooming, and drying your furry friend, the last thing you will want to think about is maintaining your pet dryer. Selecting a model with a washable air filter will help to reduce the amount of maintaining you need to complete. Keeping the air filter and the doggy dryer clean and in proper working order will make it last longer while saving you time and money.
Power
You may see doggy hair dryers claiming they have huge amounts of horsepower. Keep in mind that the horsepower of a dryer has little effect on its performance. Instead, look at the CFM or cubic feet per minute. This measurement will tell you how much force the machine uses to fill up one cubic foot of space with air.
What are the Different Types of Dog Dryers?
Doggy hair dryers come in three basic designs including handheld dog dryers, low-pressure dog dryers, and forced air dog dryers. Let's take a look at the differences in the three different designs.
Handheld Dog Dryer
This version is a small dryer that features a handle. This version is light, easy to move and carry, and is easily transported. Handheld dog dryers are great for folks that are short on space.
Low Pressure Dog Dryer
A low-pressure dryer is most often found attached to a stand or mounted onto the door or a kennel or cage. This version offers hands-free drying. You will still need to check on the pet often when in use.
Forced Air Dog Dryer
A forced air dryer features a handheld hose nozzle. The rest of the unit stays on the floor. Some can be mounted to walls or ceilings.
Frequently Asked Questions Regarding Dog Hair Dryers
Is blow drying my dog's coat better than drying them off with a towel or letting them air dry?
When we towel dry a dog, we don't really get them very dry. Allowing them to air dry keeps them wet even longer. The longer your pup is wet, the bigger risk that they could become cold or even hypothermic.
This is especially dangerous for pets that are kept outside. Not only could they run outside and mix the ground with their wet fur causing a huge mess but with wet fur in winter months they could potentially freeze to death.
Can I just use my hair dryer?
You should never use your hair dryer on your pet. The air is much too hot for their delicate, sensitive skin and coats. Additionally, the air is not expelled with enough force to push the water out of your pet's coat. Rather than risk hurting your pet and not drying them well, it is best to use a dog hair dryer when cleaning and grooming your best furry friend.
Shopping for the best dog dryer for your faithful friend can seem like an arduous chore. There are thousands of dryers on the market, each advertised with a long list of awesome features. Keeping the specific breed or breeds you will be drying, the amount of room you have, your dog's temperament, and your budget in mind is the first step to purchasing the right dog dryer.
We hope that you had fun while reading through our top ten dog dryer reviews and that you gained some helpful hints and tips while checking out our dog dryer buyer's guide. We love to hear from our readers and value your personal insight. Please drop us a comment below with your favorite dryers or any tips for drying your dog.