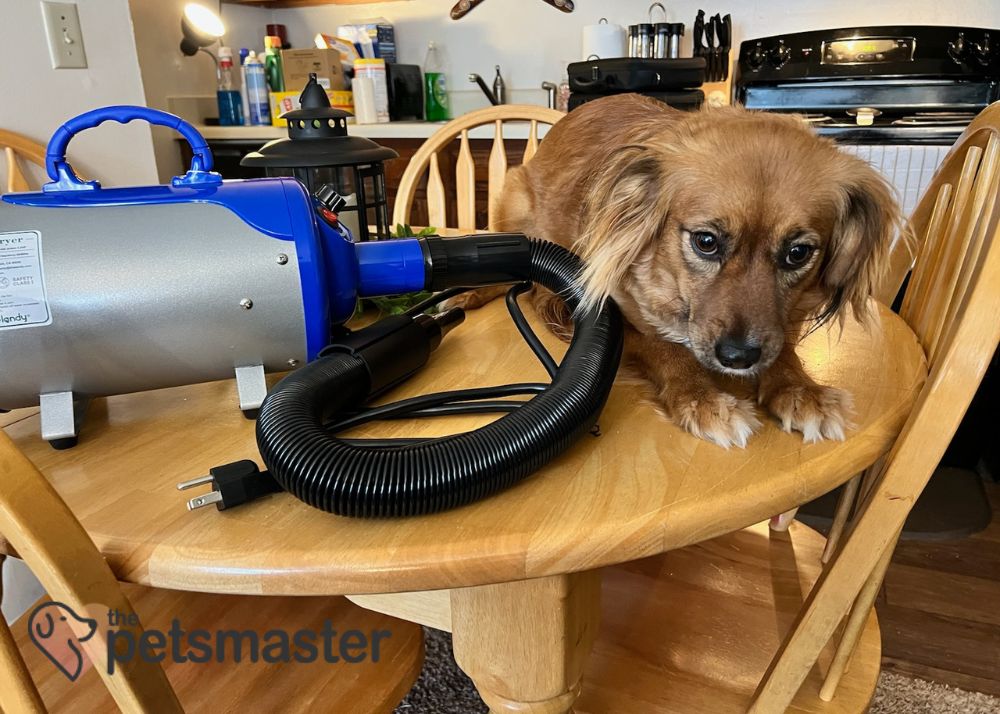 If you're a dog owner, you know keeping your dog healthy and clean is vitally important. While this process includes using the right shampoos, the best brushes, and even quality nail grinders, one item for at-home grooming is often overlooked! The best way to keep your dog's hair and skin healthy is by using a dog hair dryer.
However, not all dog hair dryers are created equal.
In this guide, we will take a look at the benefits of dog hair dryers, why they are important for your dog's health, and the best ones to purchase.
The benefits of dog hair dryer
There are so many reasons to invest in a dog hair dryer for your pup. It's an important part of the grooming process and it can help keep your dog's skin and coat healthy.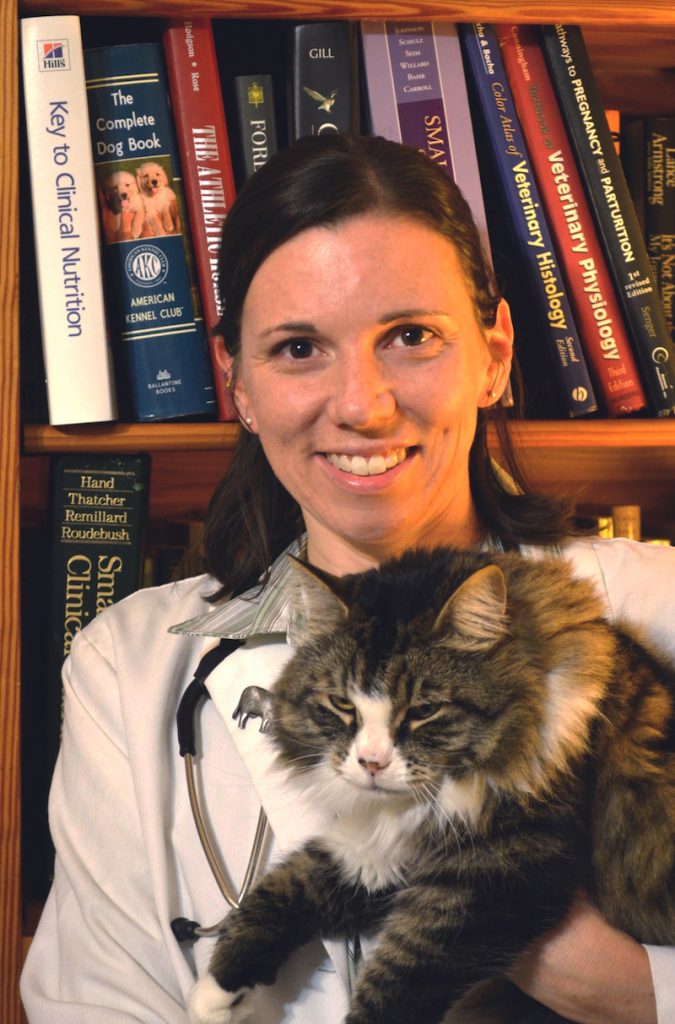 "Washing your dog not only is a way to pamper them but to also keep them clean and healthy. Drying is an important part of that process because wet dog hair can lead to hot spots and skin and ear infections. Not only that, drying a dog after bathing helps ensure that they stay warm and more willing to take a bath the next time."
Dr. Chyrle Bonk, DVM
When you find the right dog hair dryer and learn to use it properly, you'll be removing excess water from your dog's fur. As our vet partner said, when fur is left undried, it can cause irritation, hot spots, and even fungal growth. But with a dryer, not only will the fur detangle and fluff, it will also prevent the smells that come with fungus and damp hair.
Another benefit of a quality dog hair dryer is they quickly warm up your pup after a bath, making them more likely to be open to being washed again. And because dryers work so fast (as you'll see in our review below!), you'll be able to style and fluff your dog's hair in a matter of minutes instead of over several grooming sessions.
Finally, for those with double coated dogs, a few minutes with a dog dryer removes all the loose hair you typically find all over your home after a grooming session. Dog dryers are ideal for removing hair, keeping it from falling out later or becoming matted.
There are many different types and styles of dog hair dryers on the market, so choosing the best one for your needs can be difficult. In this guide, we will break down the different features to look for and help you choose the best dog hair dryer for your furry friend.
Jump to a section
Our top picks
Meet our dog dryer testers
What to look for in a dog dryer
How to use a dog hair dryer
Dog dryers and anxious dogs
FAQs
---
Our top picks
We researched dog hair dryers for hours, picking the top 4 we felt met our criteria. Then, we ordered those dryers and tested them on our 2 volunteer dogs – With varying degrees of success.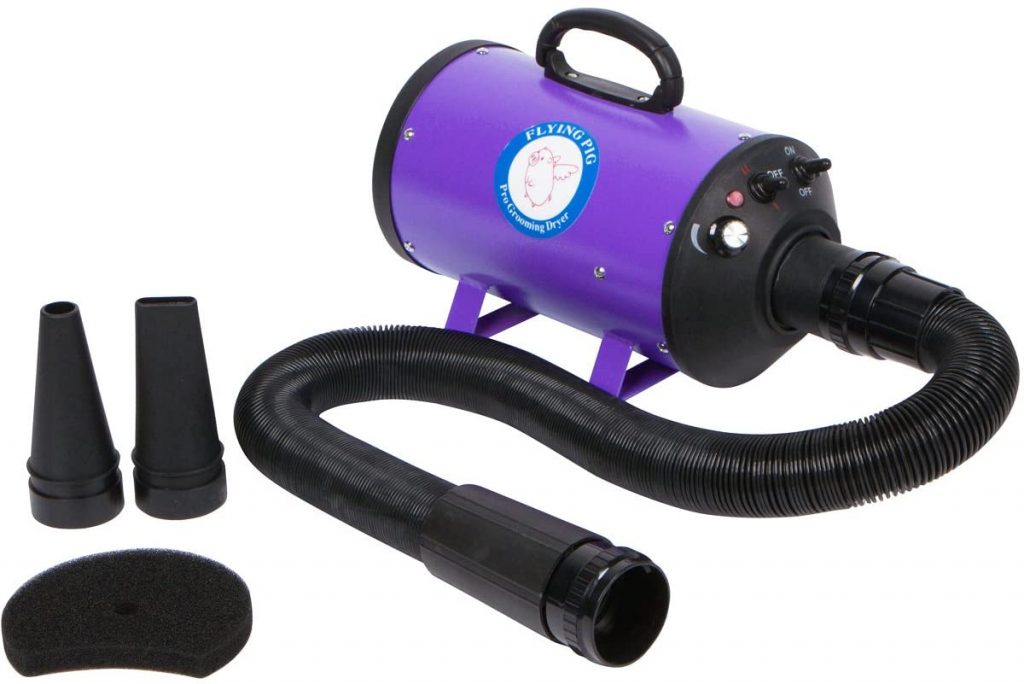 Best Overall
The Flying Pig is the perfect balance between being a powerful, yet quiet, dog dryer at an affordable price.
Our top pick dog hair dryer is the best example of how easy at-home dog grooming can be. The Fly Pig's steel shell is easy to clean and sturdy, without being too heavy. It's also super compact, making it perfect for storing between dog baths. The dryer comes with two nozzles, a replacement filter, and a 10 foot long rubber hose, though it feels slightly longer.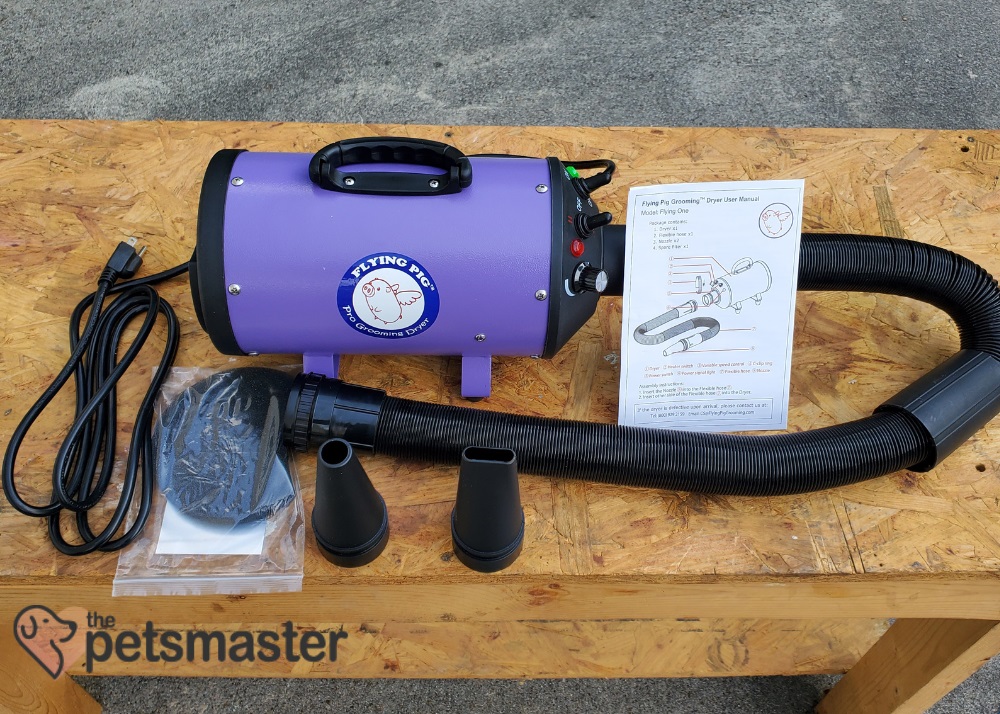 When we picked the Flying Pig out of the box, we could feel the quality of the machine. While the Flying Pig isn't overly heavy, the weight is enough to keep it in place and to create powerful airflow. The hose came unattached, but we were able to get it put together following the included instructions. And while the Flying Pig came with a spare filter, there was one already in place, so once the hose was attached and the unit was plugged in, we were ready to go.
The Flying Pig was very quiet when turned on to its lowest settings. One of the dog parents compared it to a small vacuum cleaner! In fact, when we turned it one, not even our most anxious dog jumped or seemed to notice it, which was not the case with some of the other options on our list.
Because the Flying Pig was so quiet, we were a bit worried the dryer wouldn't be powerful enough to dry Kanzo completely. We had no reason to worry, though! As soon as Kanzo was in place, we used the narrower of the attachments to start drying him and could see it working immediately. Kanzo was unperturbed by the dryer and at one point even followed the nozzle to get more air!
While Kanzo, with his thinner coat, didn't need the Flying Pig at its highest levels, we did try it for a few moments and it dried an entire patch of his coat in seconds. We can only imagine how effective the Flying Pig will be for thicker coated dogs!
Another aspect we appreciated about the Flying Pig is the heating options. The dryer naturally uses the air around it to dry, so we had no need for a heating element (it was 96°F). But the dryer comes with 2 heating levels, giving the option for owners to pick the warmth that works best for them. We could see this coming in handy during colder months or even when using the Flying Pig inside.
On our test day, however, we just appreciated being able to keep the heat off!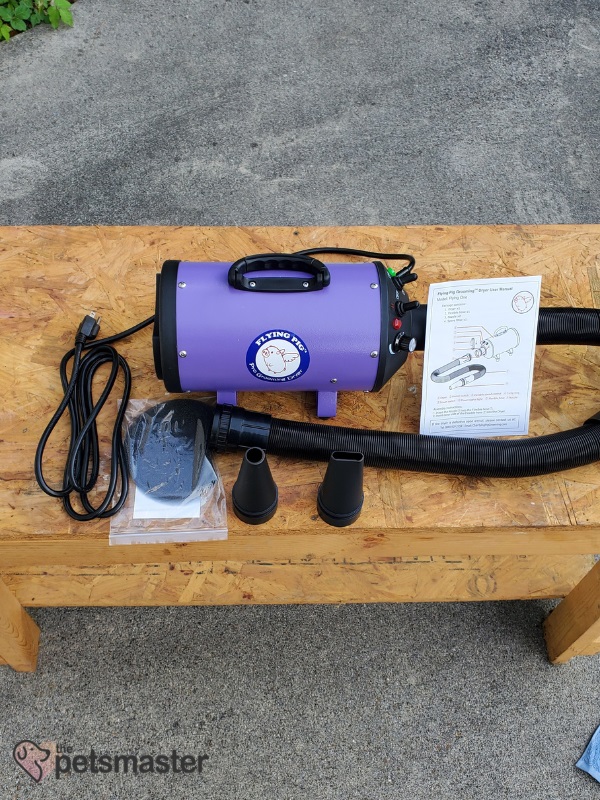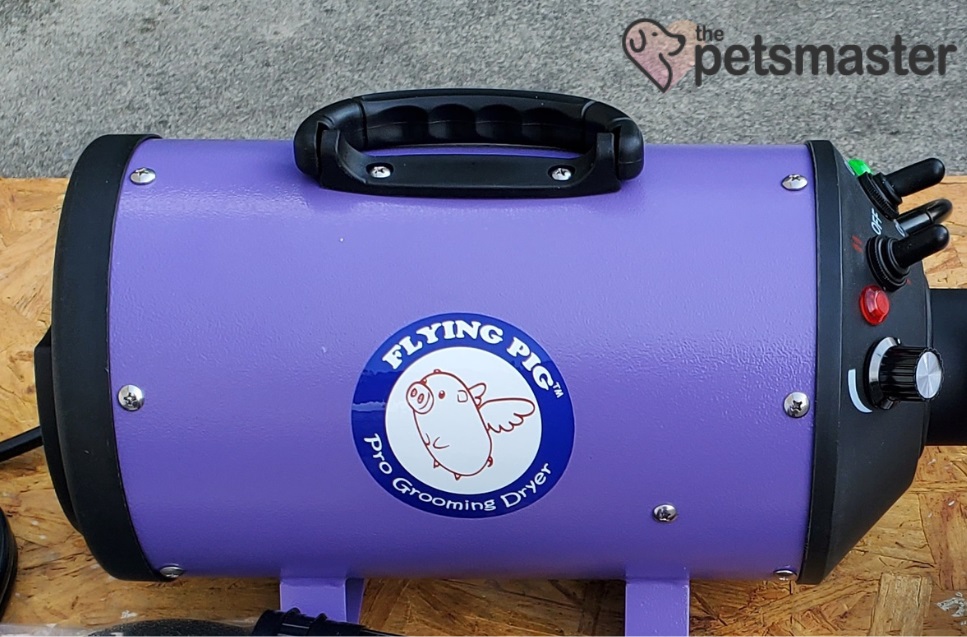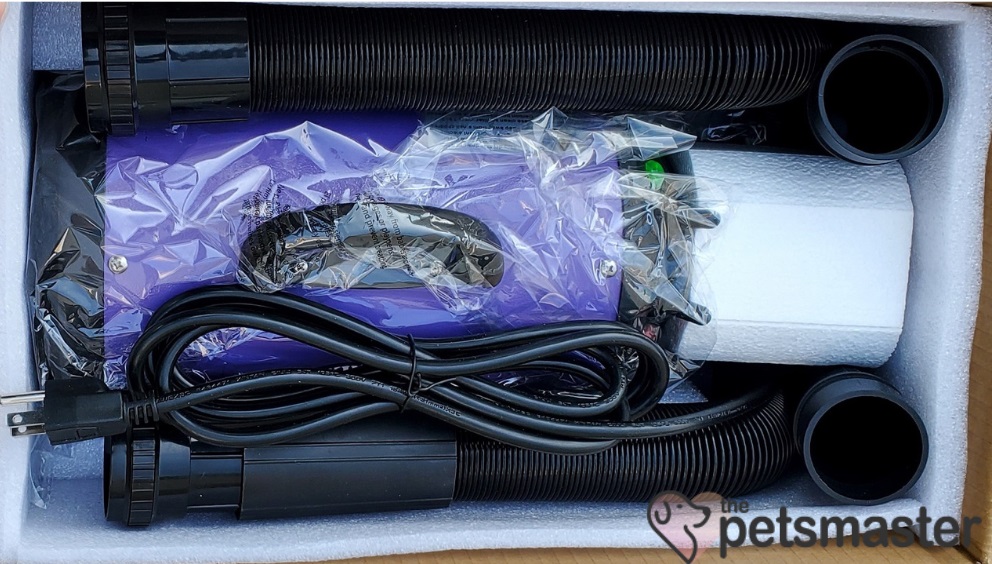 The only hiccup we had with the Flying Pig was getting the hose attached. To be clear, it did not take long, but the dryer does use these clips that take a little bit of aligning. Once we knew how to do it (and actually read the instructions), it was a breeze. However, it's not something most people will know instinctually.
Overall, we couldn't have been more pleased with the Flying Pig. It really is the best dog dryer, especially for at-home grooming, dogs unaccustomed to being dried, and anxious dogs.
Pros
Quiet, yet powerful
Adjustable speed
Two heat options
Compact for storage
Flexible, durable hose
Includes 2 nozzles
Cons
Attaching hose takes a moment
---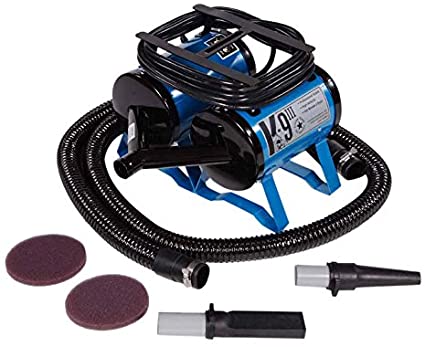 Premium Professional Choice
The K-9 III high velocity dog hair dryer packs a punch with its double motors, perfect for larger dogs and dogs with thicker coats.
For those looking for the highest quality dog hair dryer, similar to those used by professional dog groomers, the K-9 III High Velocity Dryer is the way to go. The dual motor comes with a 10 foot long hose, 2 filters (one for each motor), and 2 nozzles.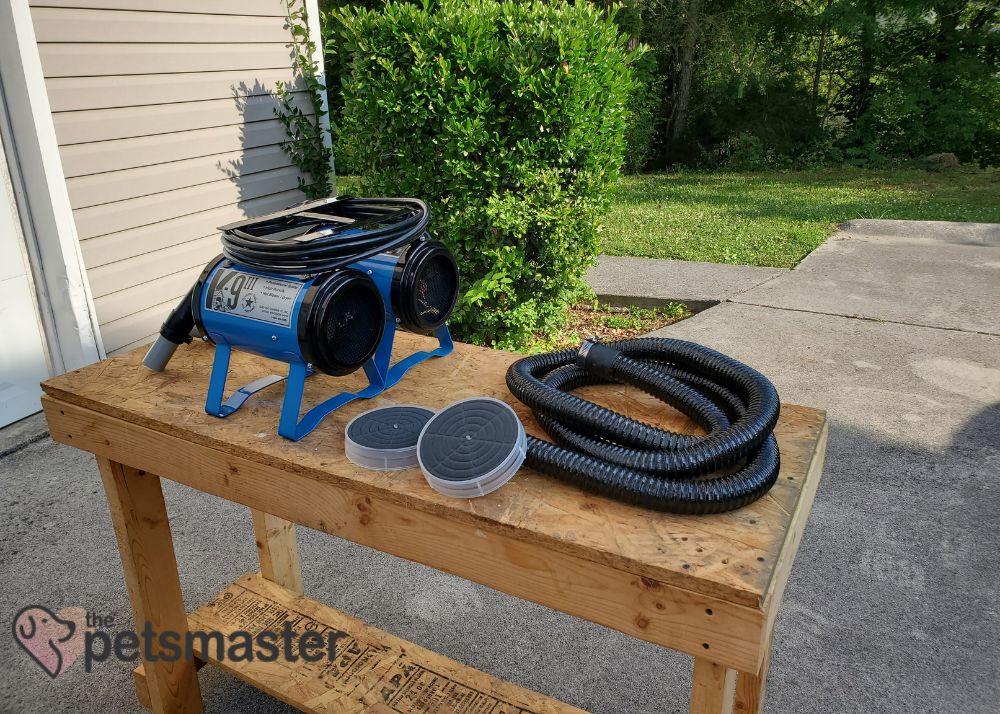 And we couldn't be more pleased with how the K-9 operated.
The very first thing we noticed about the K-9 III dog dryer is it was extremely heavy, a whopping 25lbs without the hose or the attachments! And all that heft serves its purpose. The double-motored dog hair dryer was made to dry thick, double-coated fur on a professional level, something we could tell as soon as we opened the box.
Even though the K-9 is heavy, with the nifty bars at the top of the body, used to roll the power cables, it was very easy to lift out of the box and place on our work bench to get started. The filters snapped on easily – one for each motor. And with a little adjustment, we were able to get the hose on to the motor unit and get one of the blower tips connected.
Because our volunteer dog, Kanzo, is a small Shih Tzu, we opted to use the slot blower tip.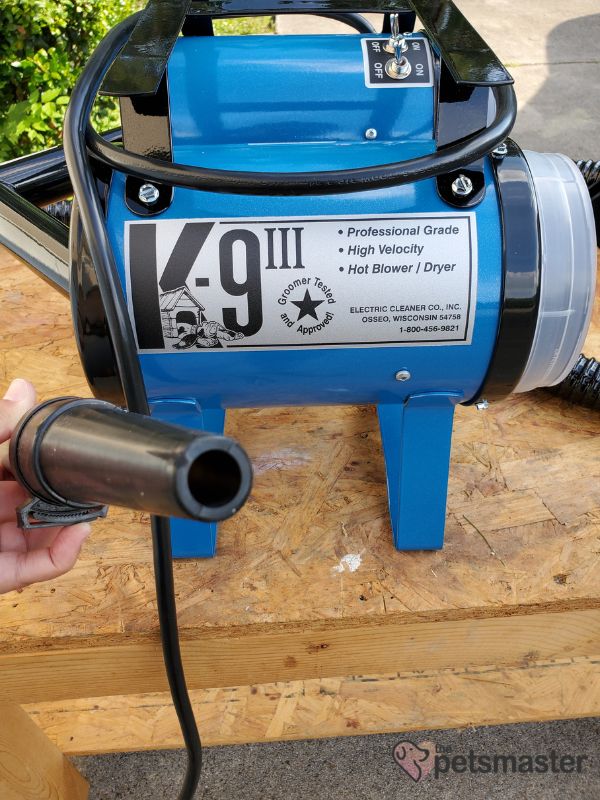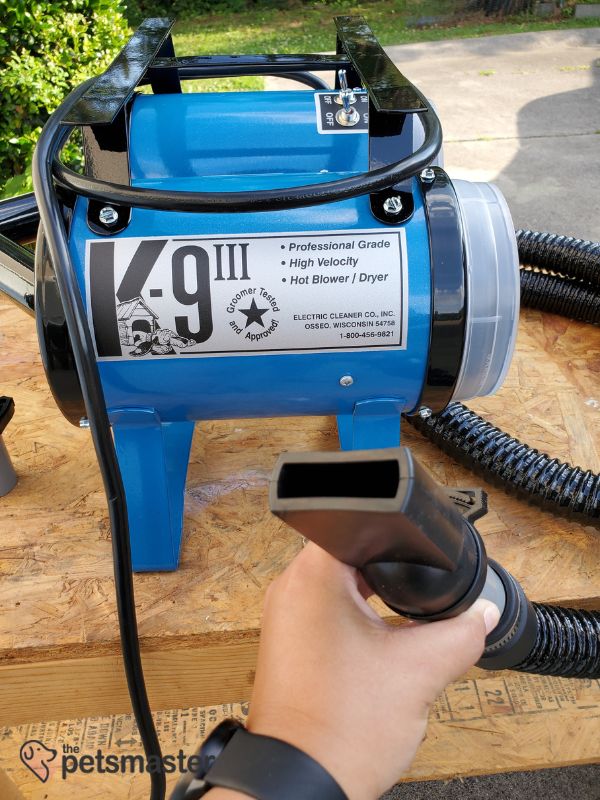 And wow, did the K-9 dry Kanzo. Within seconds, only using one of the motors, the K-9 had completely dried and fluffed Kanzo to perfection. We did try turning the both motors on, but they were too powerful for Kanzo's thinner coat. However, this makes the K-9 ideal for dogs with thicker or longer coats.
While we were all immensely pleased with how well the K-9 worked, there were a few things we noticed that may be an issue for those looking to use this dryer at home.
The first was, unfortunately, there weren't any instructions in the box. The set up was quite simple, but we would have appreciated more information about the unit and its operations.
Secondly, these motors are powerful. The K-9 is a professional, premium choice with all the power to clear excess fur, mats, and to dry fur thoroughly and quickly.
But with all that power comes a lot of noise. The K-9 is extremely loud, a sacrifice for using such a powerful dryer. With that being said, the K-9 is best used by dogs experienced in being blow dried, like Kanzo, because the noise can be scary for more timid dogs.
Finally, there is no speed or heat adjustability on the K-9. While you can opt for using one or both the motors, that's the only speed adjustment available. Plus, the K-9 only blows warm air, so this unit might work best inside or on cool days. And summer days in the South are never cool.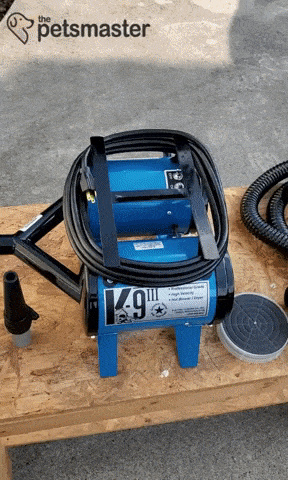 If you want a powerful, professional dog dryer, the K-9 III ticks all the boxes, making it perfect for those with double-coated dogs or multiples.
Pros
Extremely powerful
Easy to set up
Double motor option
Dries quickly
Cons
Only 2 speed options
Blows warm air
Quite loud
---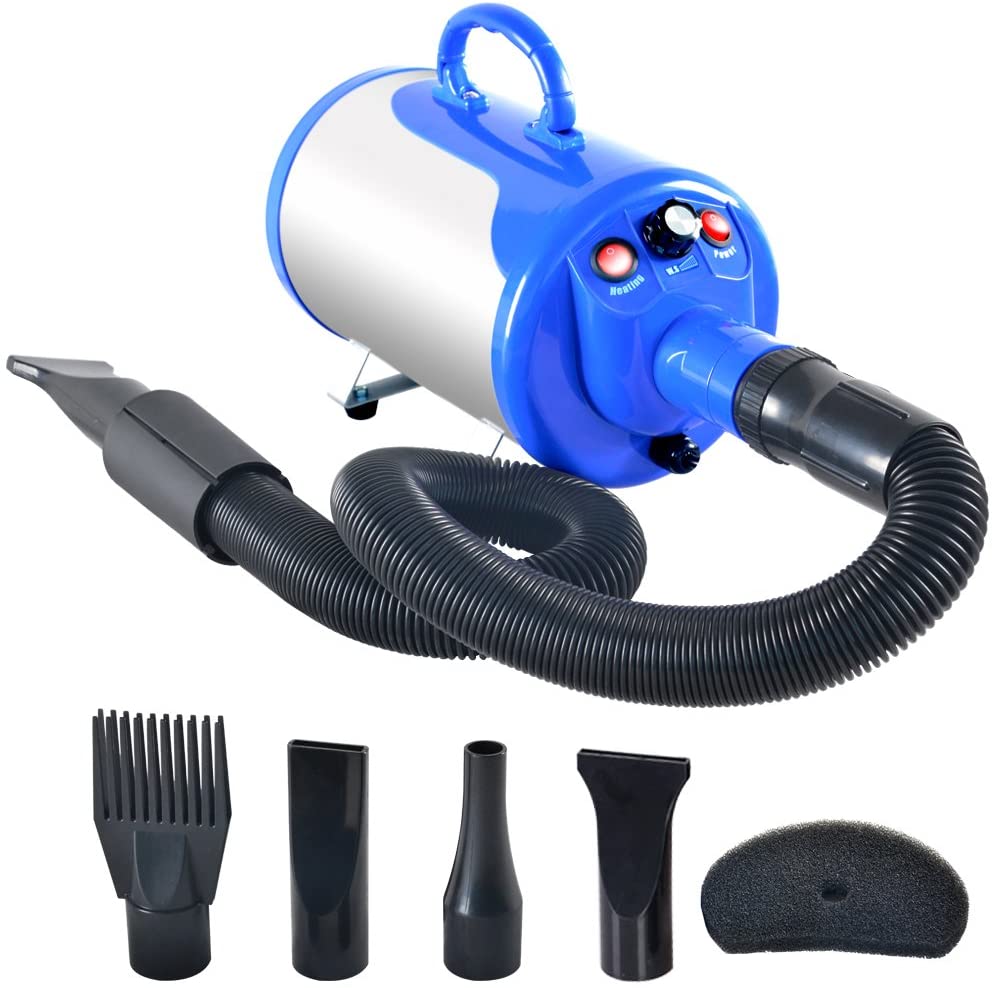 Best on a Budget
The Shelandy is a compact, powerful pet dryer with multiple nozzle options – All at an extremely affordable price!
The Shelandy was the lightest dog dryer we tested out, making it the easiest to maneuver. We were able to unbox it and get the hose attached in under 2 minutes, which is super convenient. The small but mighty pet hair dryer came with a 6 foot long hose, an extra filter, and 4 nozzles.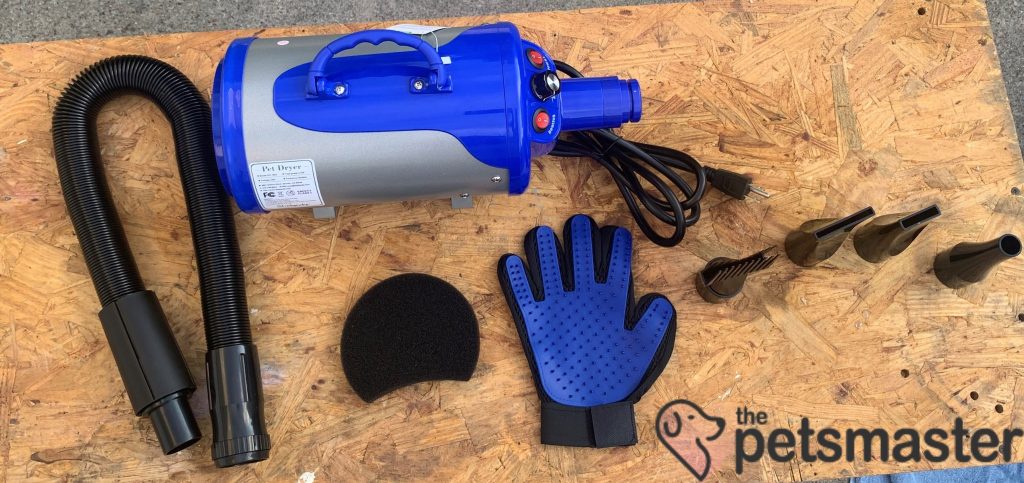 Despite its lighter weight, the Shelandy is still a powerful machine. Thankfully, the dryer has adjustable airflow, so we could start it on a lower level to gauge the dog's reaction to the noise. Like with our top choice, the dogs didn't seem at all fazed by the noise. Once we had the dryer going, we turned it up to its maximum airflow and that's when we realized it was more than capable of doing the job.
We were quite excited to see in addition to its 4 nozzle options, the Shelandy came with a gloved brush.
Even though Minnie wouldn't let us use the dryer on her, she absolutely adored being brushed with the glove. It was the perfect way to calm her down between attempts at using the dryers with her. And since she was wet, the glove worked out the mats.
Another pleasant surprise was the feel of the quality of the Shelandy. When we were considering our budget options, we assumed there would be a bit of a dip in quality. However, despite being smaller and lighter, there weren't many discernable differences between our budget option and the Free Paws.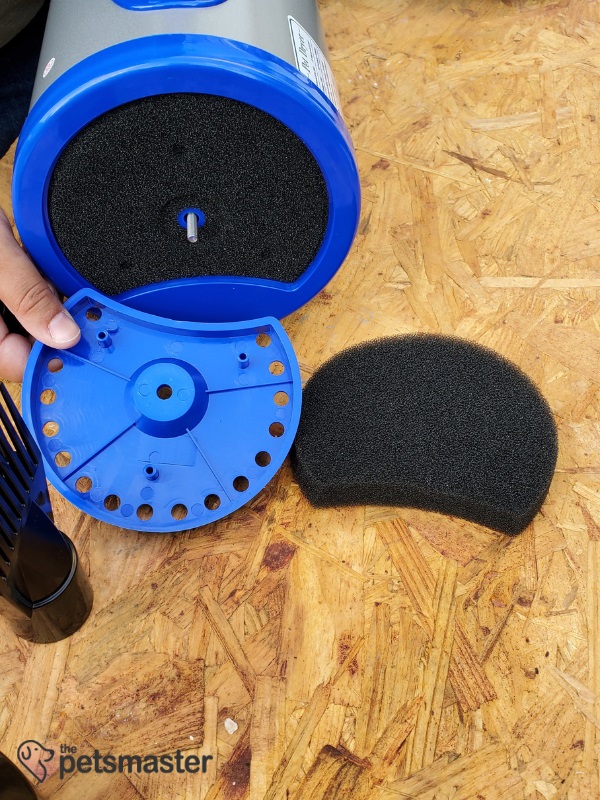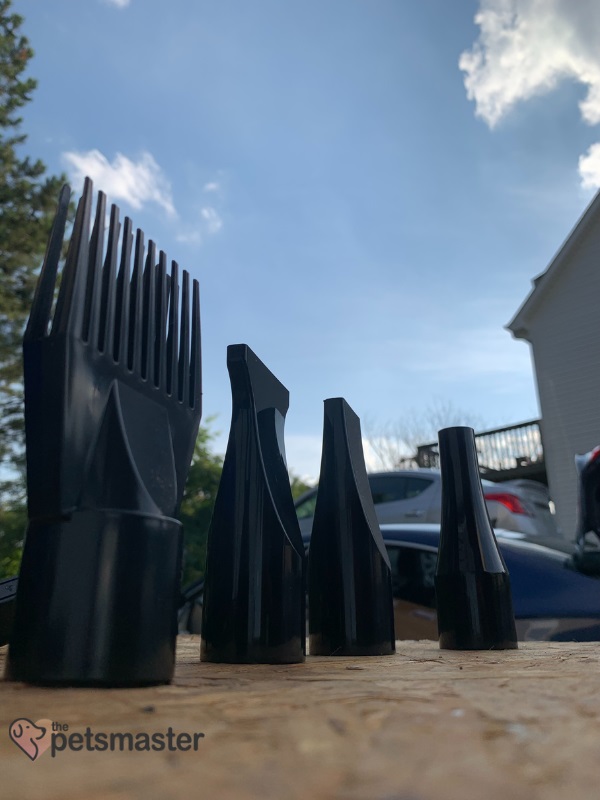 Again, we were doing this on a very hot evening. So, we didn't need to use the heating element available on the Shelandy. However, knowing there's an on/off heat option is a big plus in our book. The Shelandy only comes with one heat option (it's on or off, folks!), but reviewers mentioned it does continue to get hotter when in use. If you do use the heat option when drying your dog, definitely check it throughout the process to make sure it's not getting too hot.
Our biggest complaint with the Shelandy was the hose is definitely the smallest of the bunch. For a smaller dog, it wasn't much of an issue because we were using an extension cord, but we could see how for larger dogs it might be a problem.
Overall, if you're looking for a starter dog dryer to test out or if you only have smaller dogs, you still get great quality with this budget option.
Pros
Inexpensive
Adjustable air flow
Optional heating
Includes 4 nozzles
Cons
Shorter hose length
Heat continues to get hot
---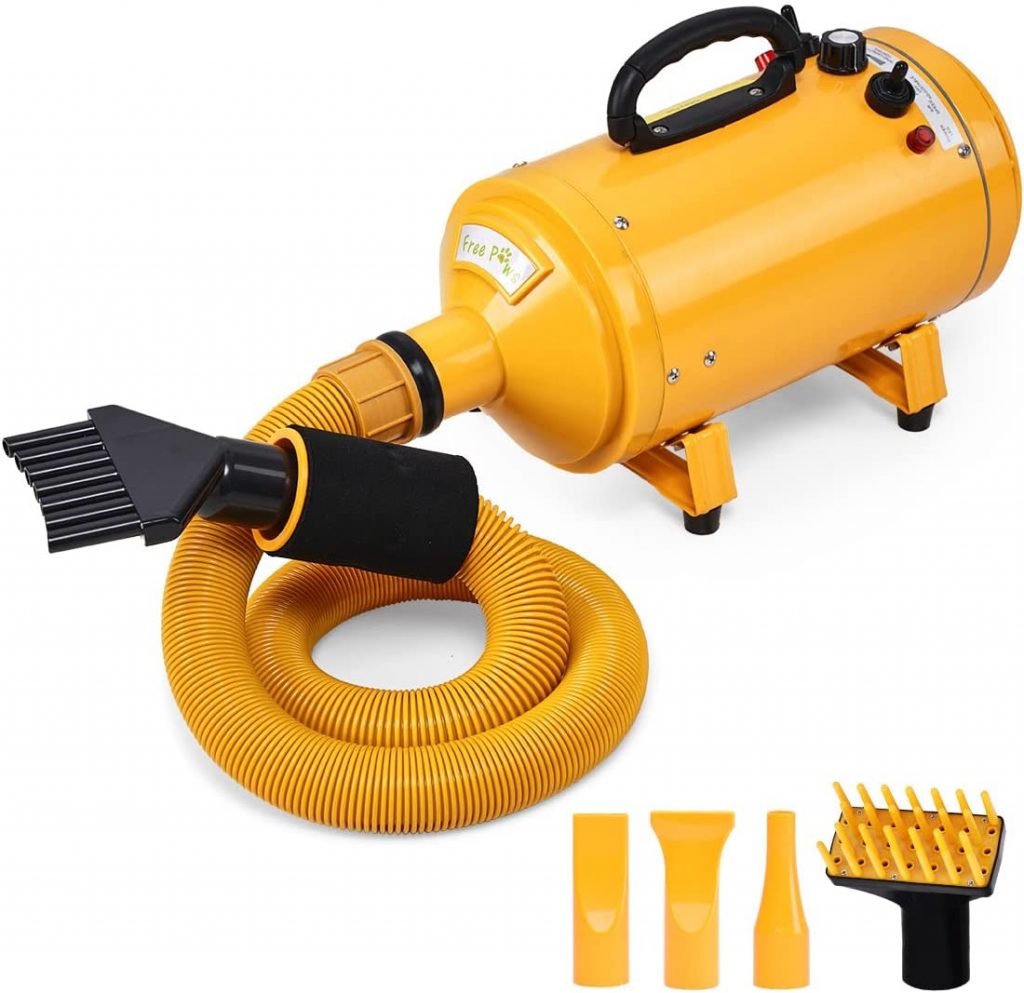 Best for long-hair dog
You'll be able to detangle, brush, and dry your long-hair dog's coat with all the extra accessories that come with the Free Paws dryer.
The Free Paws Dog Dryer caused everyone to gasp when we unboxed it. Some were drawn to the bright color (the yellow really is gorgeous!), but others were drawn to all the extra accessories that come with the dryer. The dog dryer comes with an almost 8ft hose, 5 nozzles, a shower massage glove, and an extra filter.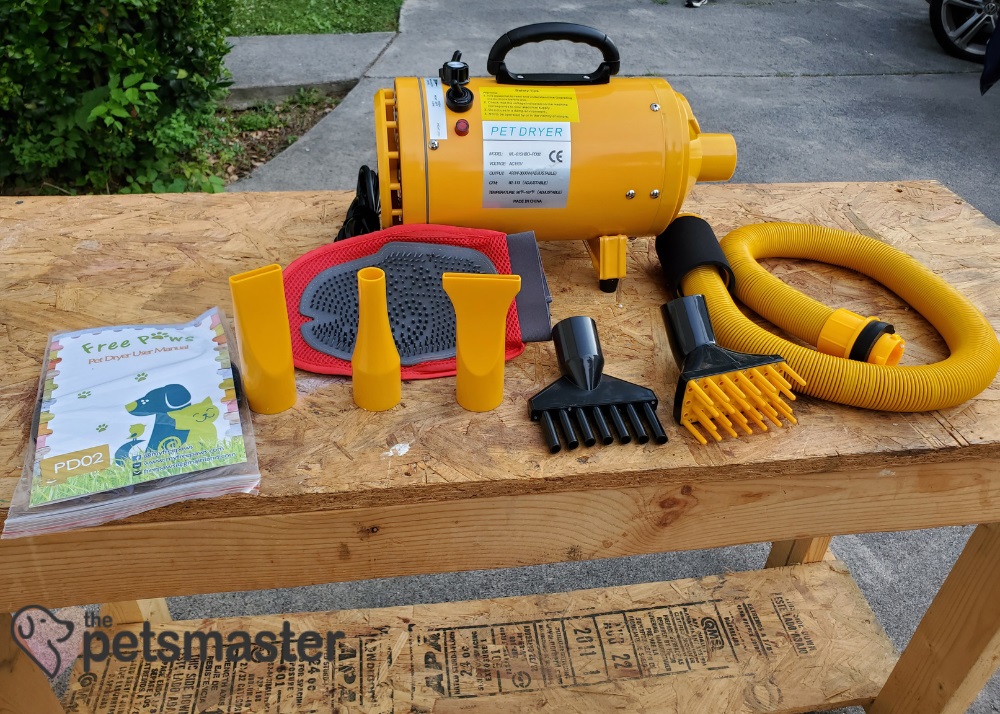 Free Paws does make a big first impression, but its qualities go beyond its bright colors and nozzle options. The body isn't very heavy, weighing slightly more than the Shelandy, and it was very easy to attach the hose. Unlike any other option on our list, Free Paws comes with a padded grip, something that would come in handy for longer drying sessions.
The noise level of Free Paws was comparable to the other smaller options on our list. Once again, the dogs didn't seem to mind when we turned the machine on.
We appreciated the dryer had 2 air speed options: Full and Adjustable. This allowed us to start the dryer on the lowest, adjustable setting and slowly increase the speed once the dogs were accustomed to it.
The heating option for Free Paws also comes with two options: High and Low. While we didn't use heat on the dogs, we could feel a difference in the high and low. Having the heat feature, as well as the option not to use it, is a big win for us.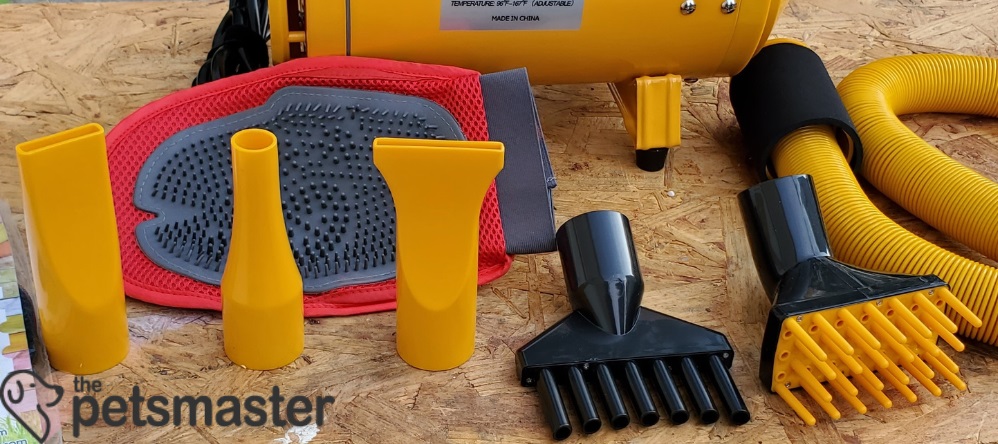 We tried brushing Kanzo with the shower massage glove, but he wasn't the biggest fan. He had already gotten his summer cut, so his hair wasn't very long. However, we can definitely see how this would be beneficial for dogs with longer, thicker hair, especially to really massage in shampoo. The other nozzles, especially the comb and finger nozzles, would be perfect for Kanzo when his hair is longer, since his fur tends to tangle.
This time, we used the narrow nozzle to dry Kanzo and he went from damp to dry and fluffy in under 5 minutes! We kept the air flow to medium, since the highest options seemed a bit extreme for his thinner hair.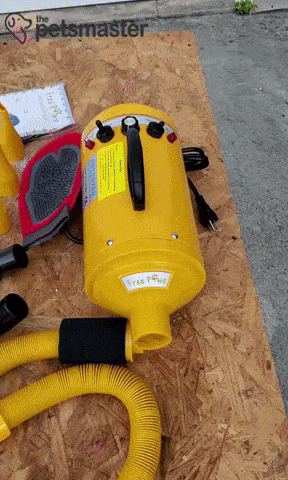 We couldn't find any fault with Free Paws, though if we're being picky, the hose could be a bit longer. It might seem silly, but it did feel like every detail was thought of with this dryer, from the padded grip to a cable wrap.
Pros
Inexpensive
Includes 5 nozzles
Comes with shower massage glove
Padded grip
---
Meet our dog dryer testers
We could not have tested all these dryers and brought you the best recommendations without the help of our dog testers, Kanzo and Minerva (Minnie for short).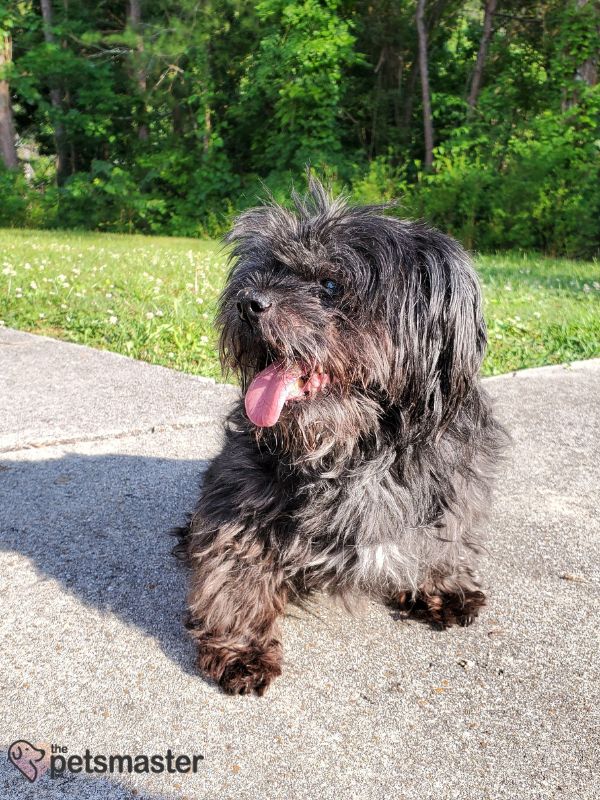 Kanzo is an 11 year old, 10 pound Shih Tzu. He just had bladder stone surgery, so he's a little lighter than normal. But our old man was the perfect tester because he's been blow dried at home for years.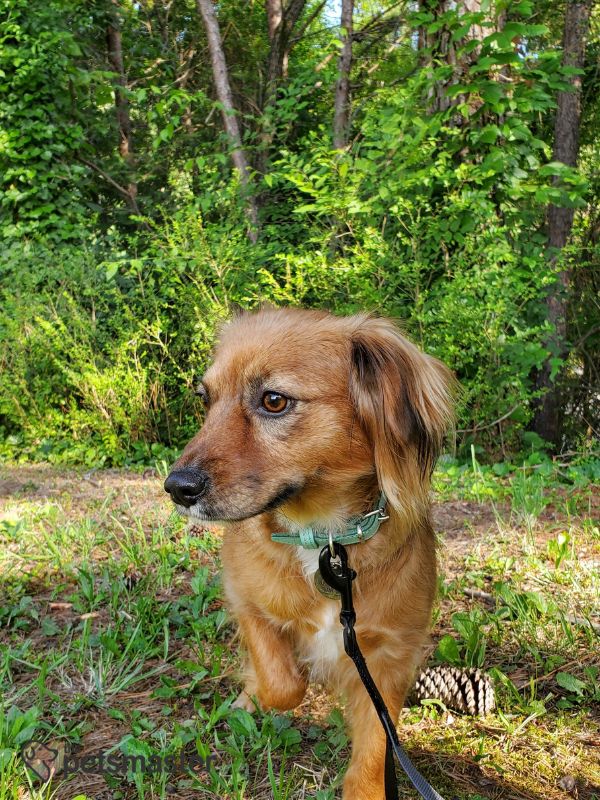 Minerva is a 3 year old rescue. Her owner just found out she's a pit bull, Shih Tzu, chow chow, and German shepherd mix! She has little to no experience with the blow dryer and was quite anxious when our testing started.
More on Minnie's experience, and suggestions on how to help anxious dogs when blow drying them, can be found in the Anxious Dog section below.
---
What to look for in a dog hair dryer
We like to be transparent when it comes to how each of our product options make our list. We hope by sharing our process, you'll not only fully understand what we look for, but be able to make an informed choice for yourself.
With the help of our veterinary partner, we created criteria for what we looked for in our dog hair dryers.
Noise level
It's impossible to get a completely quiet dog dryer, but some are quieter than others. The key is finding the balance between the strength of the dryer and the amount of noise created by the motor. For our list, we looked for powerful dryers, but ones with different power options. The goal is to have the power option, but also the ability for less noise.
Lower noise dog dryers usually work better for anxious animals, though you should still expect a training period before they're completely comfortable with a dryer.
Speed adjustability
The best dog hair dryers will have adjustable speed levels. A Shih Tzu isn't going to need the same dryer strength as a husky. Even more importantly, you won't want to use the same speed to dry a dog's body as you'd use to dry their much more sensitive face area.
A dog dryer with speed adjustability ensures you're using the best air speed for the right dogs, coats, and parts of the body.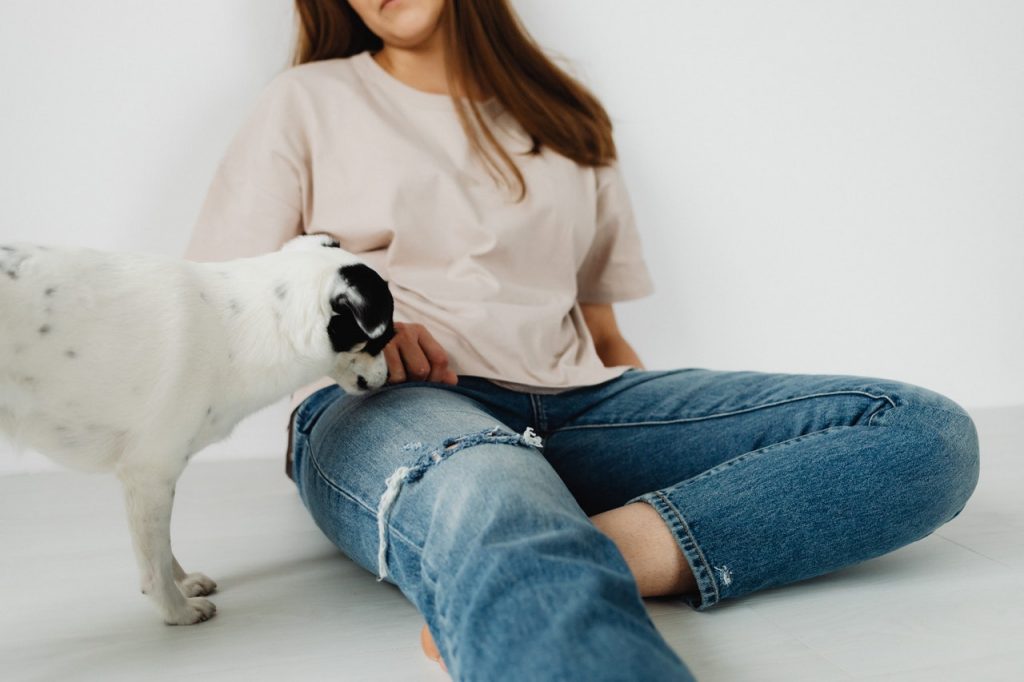 Size and weight
At-home groomers are much more concerned about space than a professional groomer needs to be. In general, larger, heavier dog dryers are more powerful, while smaller ones are lighter and easier to maneuver. However, you don't have to sacrifice power for size.
Typically, bigger dogs require bigger dryers. However, we've opted for compact dog hair dryers that pack a punch when it comes to power. So, while larger hair dryers will cut drying time down, you'll get comparable results with our options, without sacrificing space.
Quality and materials
We picked pet dryers made of the most durable, quality materials. To ensure the longevity of these dog dryers, we wanted the body to be sturdy and easy to wipe down. We also looked at how well the hose expanded, making sure it was flexible and strong.
We also made sure the dryer attachments were made of washable materials. Drying a dog can be hard work, so we looked for dryers that would stand up to long-term use.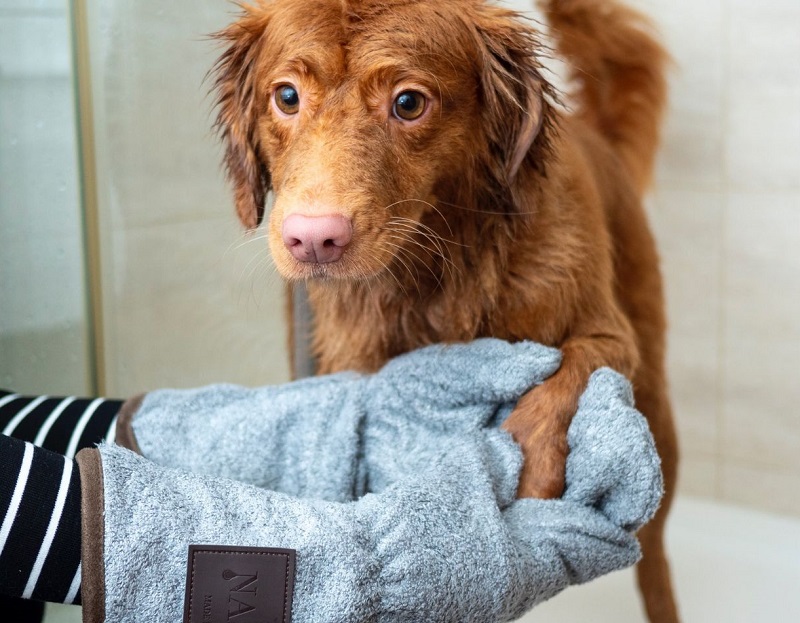 Heating element
The majority of the dog dryers on our list include a heating element. Heated dryers, when used safely, speed up the drying process and make it much more enjoyable for your pup.
Some dog dryers even have multiple heat settings, which can be helpful if you're working with a particularly anxious dog. You can start on the lower setting and work your way up as your dog gets used to the noise and heat.
As an added bonus, for dogs that don't like the coldness of baths, a nice warm blow dry is a great way to reward them at the end of a grooming session. Just be sure to test the temperature on your own skin before using it on your dog to avoid burns.
Attachments
Some dog hair dryers come with attachments that can help to style your dog's fur. These are usually not necessary, but for dogs with thicker or longer hair, the right attachments decrease drying time while working out tangles. All the dog dryers on our list include dryer attachments to make drying your dog a little easier.
---
How to use a dog hair dryer
As is the case with all grooming tools, it's important to know how to use a dog hair dryer to get the best results and keep your dog safe.
Step 1 – Towel dry your dog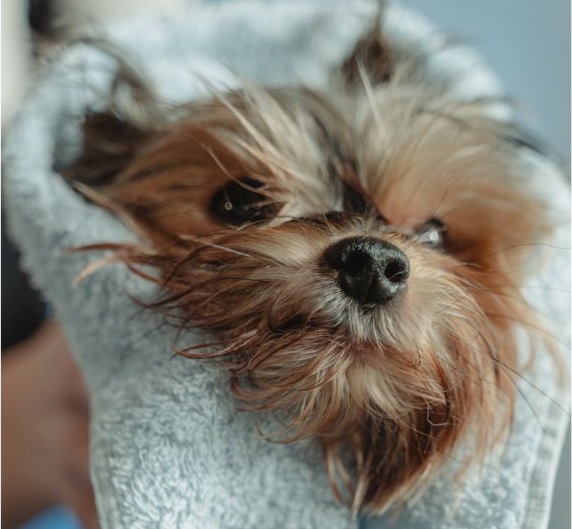 You can blow dry a sopping wet dog, but it will take you a lot longer. Using a dryer for too long can cause your dog to overheat or cause skin irritation.
The best way to make sure you're protecting your dog's skin and decreasing dryer time is to do a thorough towel dry beforehand.
Step 2 – Get in position
We recommend sitting with your pup between your legs and securing them with one arm until they're used to the dryer. Having them close won't just offer a little comfort, it will give you the perfect angle to keep an eye on their fur and skin.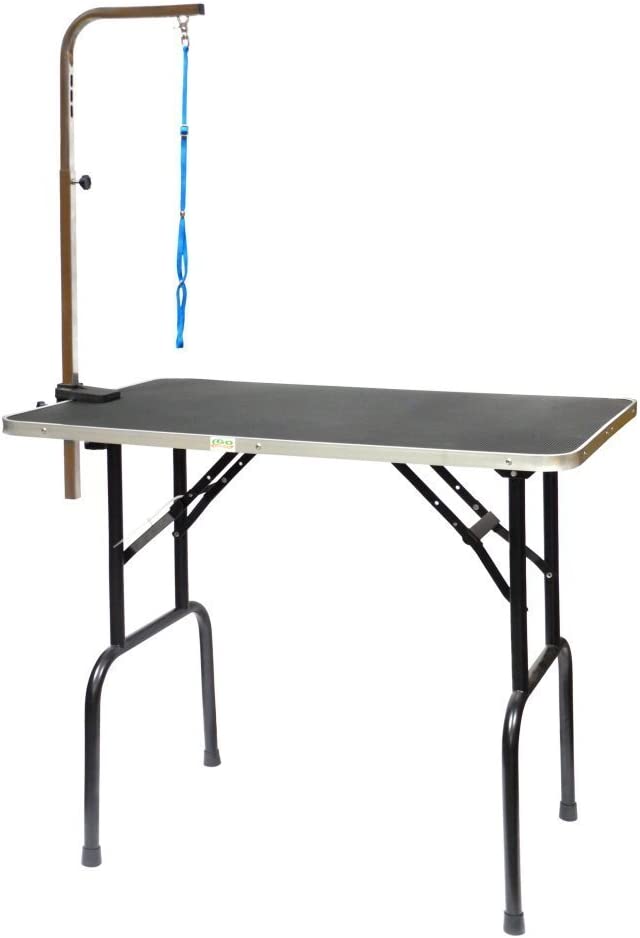 If you groom your dog at home often, have larger dogs, or have multiple dogs, we strongly suggest purchasing a Dog Groom Table to better secure your pup. These can be used indoors or outdoors and fold for easy storing.
Step 3 – Turn dryer on the lowest level
To acclimate your pup to the dryer, even seasoned pros, start the dryer a little ways from your dog and keep it running at the lowest level for a minute or so. This is also a good time to test the heat of the dryer on your own skin. If it's too hot for you, it will be too hot for your dog.
Once your dog seems used to the sound, move the nozzle closer and prepare for drying!
Step 4 – Start drying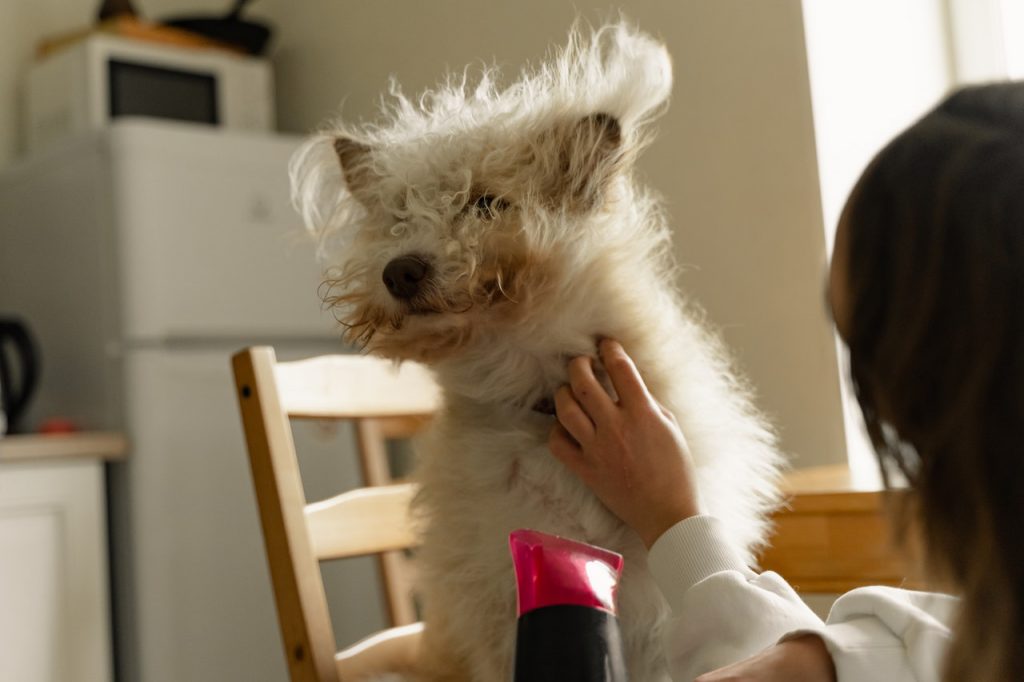 Keeping the nozzle 3 to 6 inches away from your dog's skin, begin the drying process. Move the dryer over each section of body at a steady pace, not keeping it in one place for too long. You don't want to hurt or burn the skin.
If you're using a heated dryer, take time every few moments to turn the heat off and give a blast of cool air. This helps prevent overheating your dog.
Step 5 – Brush out the fur
As your dog's hair gets dryer, use your free hand or a comb nozzle to brush out any mats. While the air of a dryer will fluff and dry a pup's hair, if you want it really smooth and silky, this is the perfect time to brush it out.
Step 6 – Give lots of treats and water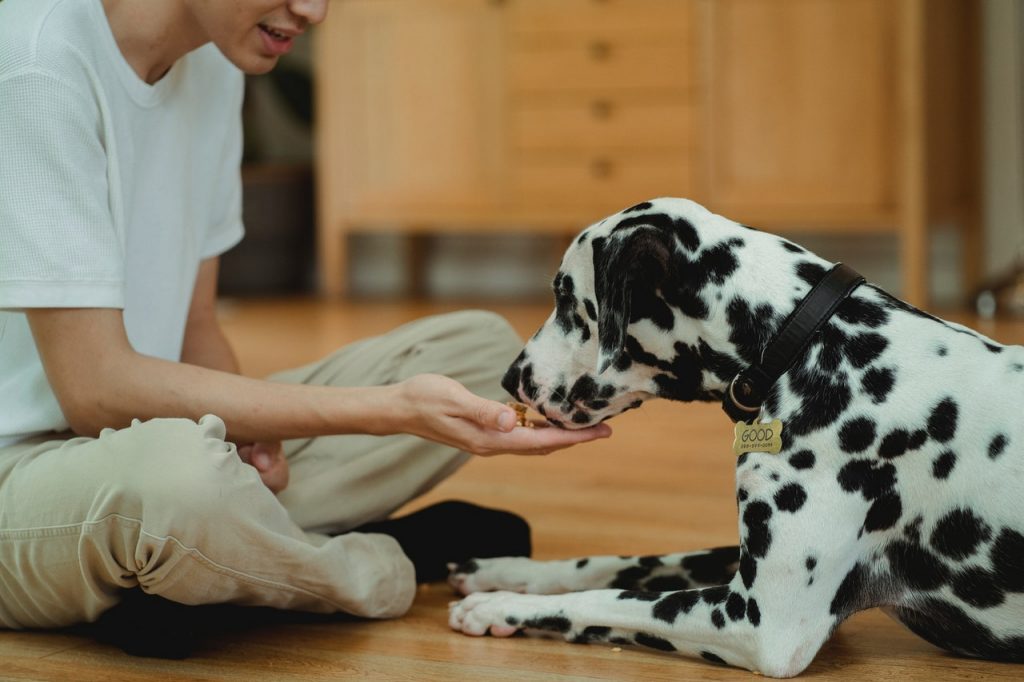 Because Kanzo's hair is so thin, drying him didn't take long at all. However, for longer drying sessions, you'll want to give your dog breaks to drink water. Especially when using the heated options on a dryer, the grooming process can cause dehydration. Plus it's good for both of you to take a break.
We also recommend lots of yummy treats for your dog. You want the grooming process to be something your dog looks forward to, so extra loving and treats is a great way to associate drying with some spoiling.
As is the case with all grooming processes, take your dog's queues during the drying process. If your dog seems anxious or upset, stop and try again later. While there are so many great benefits for using a hair dryer, none of them are worth the well-being of your pet.
---
Dog hair dryers and anxious dogs
We had 2 amazing dog volunteers for our dog drying tests, Kanzo and Minnie. Kanzo is an old man with plenty of drying experience. Minnie, however, is newly rescued and less accustomed to dog dryers.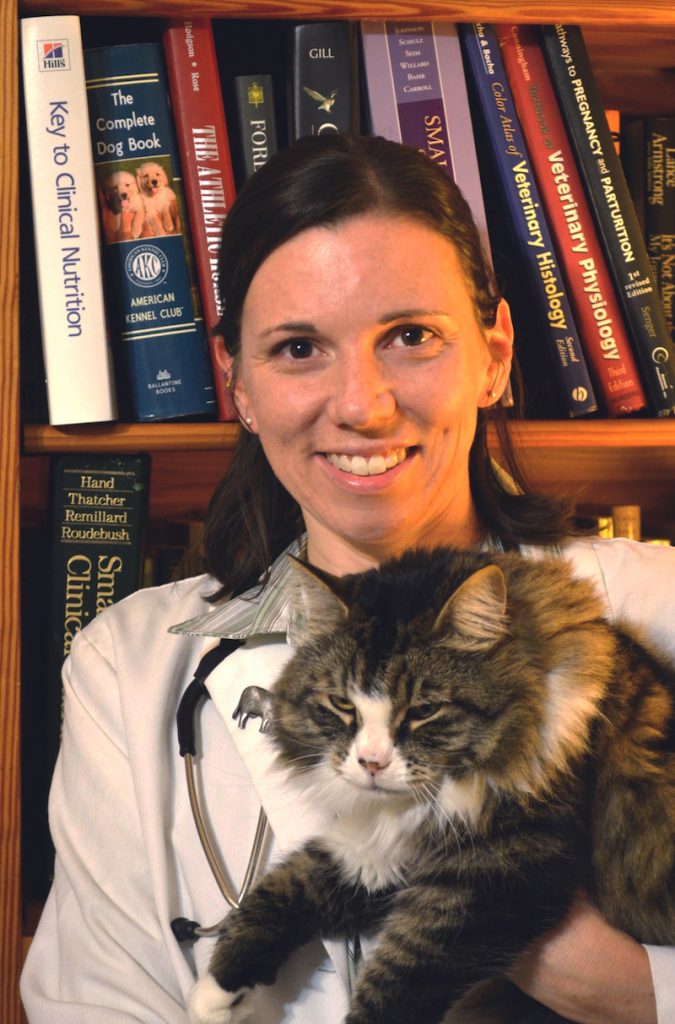 "Dog dryers can be scary for anxious dogs. You can make them more comfortable by keeping drying session's short and offering praise or rewards in between. Don't expect to get an anxious dog completely dry in one sitting. You may have to space it out with potty/play/attention breaks mixed in."
Dr. Chyrle Bonk, DVM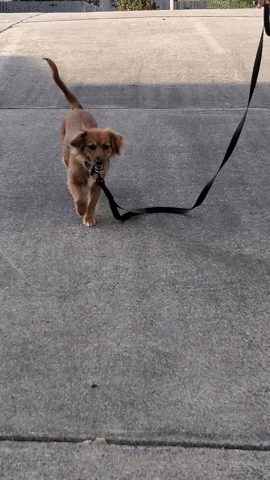 While we ended up not completing Minnie's grooming with a dryer, her experience was a good reminder that different dogs will react differently to the drying process. And if your dog seems anxious at first, don't give up! We're using the below process to get Minnie used to dog hair dryers and you can use it, too!
Desensitize your dog to the sound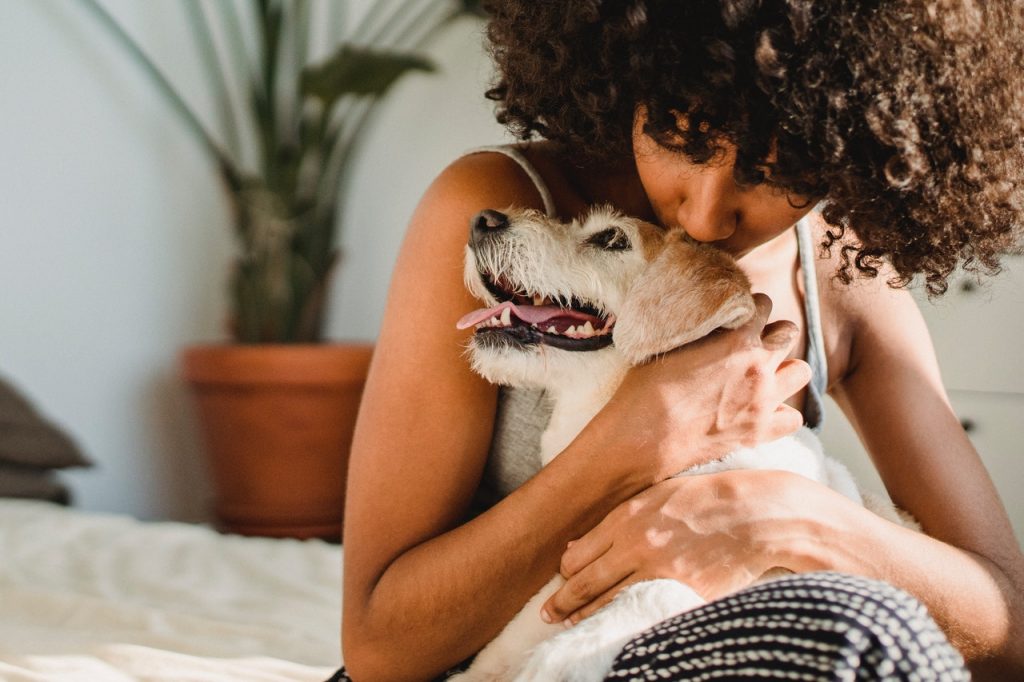 As a rescue, we don't know what experiences Minnie has had or what is triggering her fear of the pet dryer. So her owner's first step will be to desensitize her to the sound of the dryer.
We've recommended, based on research by the professionals, to put the dryer in a separate room and allow it to run for 2-5 minutes a day. The key here is remembering dogs have very sensitive hearing, so sometimes it's the sound that's scary.
This can be the longest part of the process, especially for dogs scared of loud noises. Never push it and never force your dog to get close to the dryer.
Introduce the dryer
Once your dog seems comfortable with the dryer being on in another room, bring the unplugged, turned off dryer into the room with your dog. Allow them to smell it, play with it, and explore the different nozzles.
The goal here is to encourage familiarity.
Turn the dryer on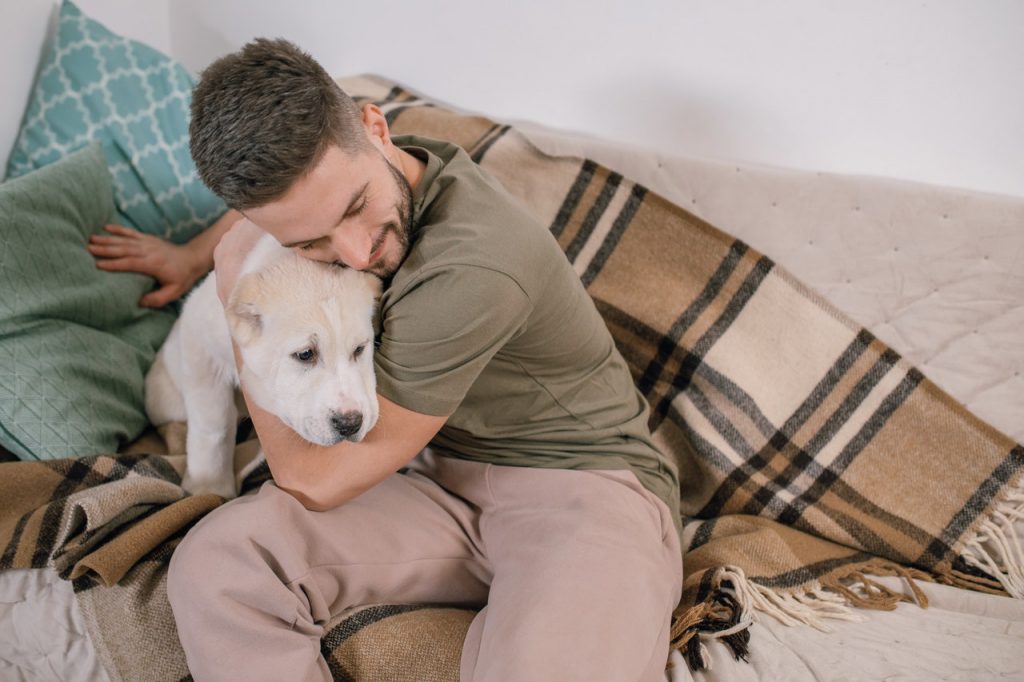 Now your dog knows what the dryer sounds like in another room and how it looks, it's time to turn on the dryer with your dog in the same room.
Keeping the power in its lowest setting and the air at its coolest setting, turn the dryer on, allowing your dog to move away. At this point, just allow the dryer to run for a few minutes.
As your dog becomes more comfortable with the dryer running in the same room, place treats closer and closer to the dryer, giving lots of pets and praise when your dog takes them.
Do a short session
Keeping the dryer on its lowest level and holding your dog as best you can, gently pass the dryer over your dog's body for short bursts. You just want to acclimate your pup to feeling the air on their body.
We recommend doing this when your dog is dry, so you aren't worried about actually accomplishing a drying. It's all about getting your dog used to feeling the air on their body.
And again, after the short bursts of blowing the air on your dog, give a treat and an extra snuggle.
Blow dry your dog
After you've had a few short sessions, it's time to wash and dry your dog! Wash your dog, towel dry them, and then follow the same process you used for your short sessions. If at any point your dog gets anxious and can't calm down, stop and return to the short sessions.
At the moment, Minnie is going through this process with her owner. We'll bring you an update on how the process worked as soon as we can!
---
FAQs
Still have a few questions about dog dryers or their use? Hopefully our FAQs will give you even more insight.
Can you use a human dryer to dry a dog?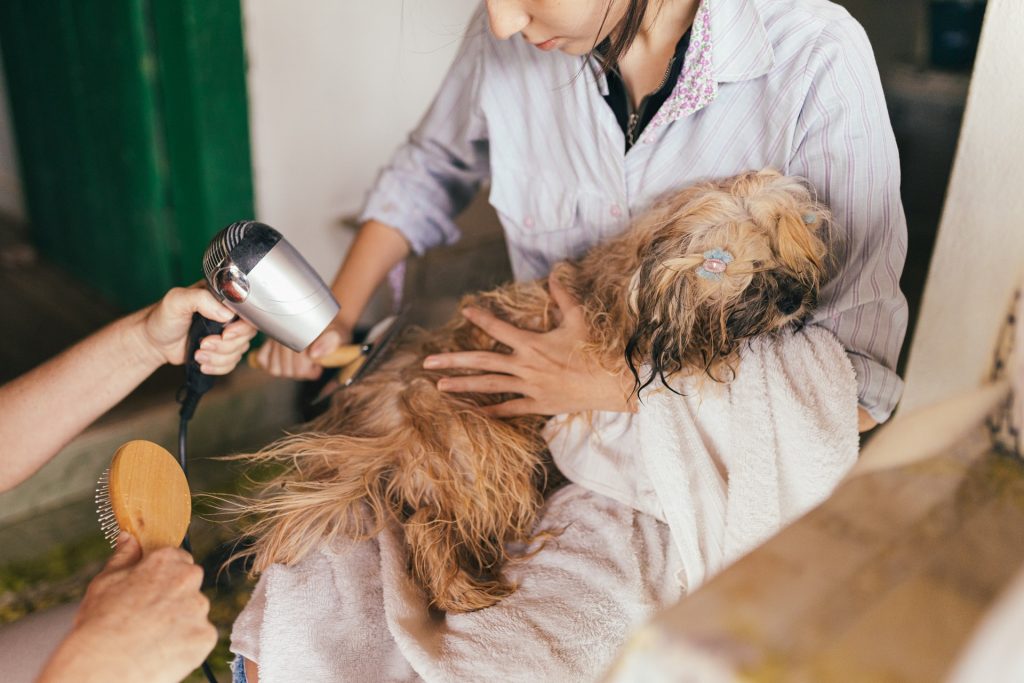 It seems like a no-brainer to just use the hair dryer you have under your bathroom sink to dry off your dog. But we, as well as The Dog People over at Rover, do not recommend using a human dryer to dry your dog.
Human hair dryers get way too hot for dogs. And while heat is fine in a dog hair dryer, because human hair dryers are often weaker than pet dryers, you'd need to use the dryer a lot longer, exposing your dog to high heat for way too long.
Dog hair dryers are created to dry your dog with powerful blasts, making the drying process faster and safer for the skin and hair of your dog.
Can you just let your dog air dry?
Air drying is not safe for dog's skin or hair, especially for those with long or double-coats. Not only will air drying leave a wet, musty dog smell everywhere, it also puts your dog at risk for fungal growth. Fungus both smells bad and causes awful skin problems for dogs.
Plus, air drying increases the likelihood of mats and shedding.
What are the different dog dryer nozzles for?
We love a dog dryer attachment, but they can get a bit overwhelming.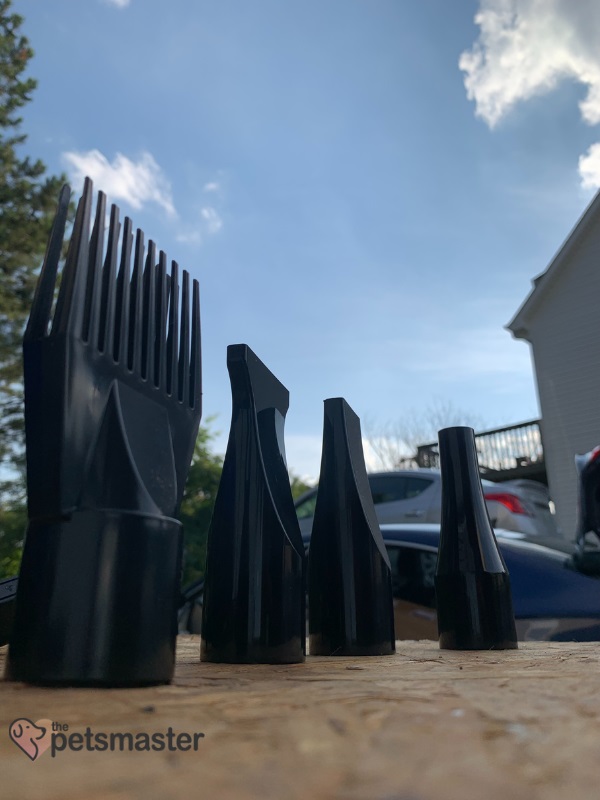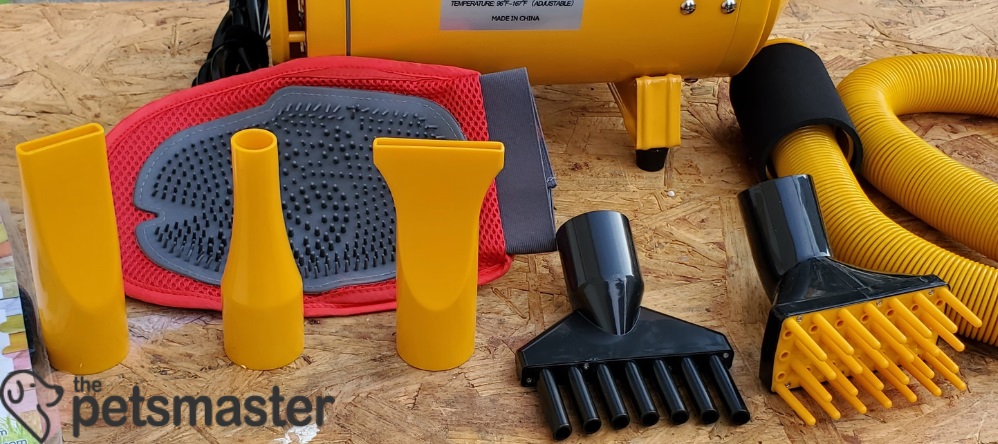 Standard slot nozzle – Best for smaller pets and works to remove water quickly. Decreases matting and also creates the least amount of noise.
Cylindrical nozzle – Works to get deep under thicker coats. Helps remove mats and keeps the air warmer for longer.
Wide slot nozzle – A larger version of the standard flat tip nozzle, works best on larger dogs to blast moisture away so you can focus on the undercoat.
Comb/Finger nozzle – Ideal for dogs with thick or curly coats, this nozzle lets you comb while dispersing air to dry the skin and fur.
We also love a good glove brush, but that's technically not a nozzle attachment.