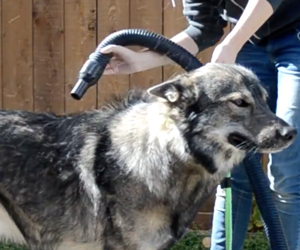 Selecting the best dog dryer can be a fraught experience. The choices available are myriad and often the besotted dog owner is confused by the variety of items and reviews on the market. The discerning purchaser will have specific requirements for their dog and should not be swayed from making the purchase which best meets those.
Anybody who has ever bathed a dog will know how it can turn into chaos. Some dogs relish a bath, others less so but even when your canine companion has had their bath, there remains the drying process.
Dogs will make it clear whether they are happy with your choice of dryer, but you can remove the element of doubt by following our guide to making the optimum selection.
We have also compiled a list of what we deem to be the ten best
dog
dryers available using a set of criteria which matches you and your dog's requirements to the dryers on the market.
BEST CHOICE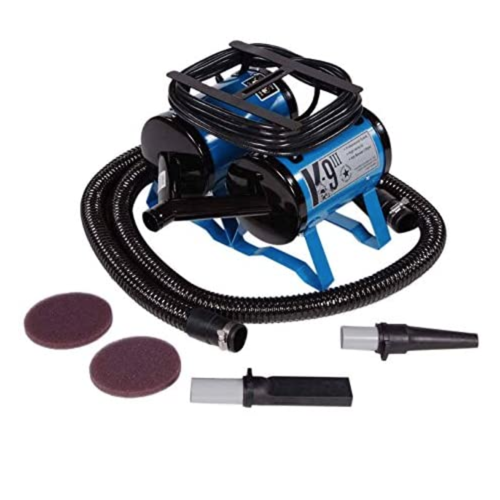 K-9 III Dog Grooming Dryer
Best Dog Dryer in Our Rating
Robust construction
Long cable to allow the dryer to be moved anywhere
Several removable dryers for drying different parts
Optimal size for storage anywhere
Selecting the Best Dog Dryers in November, 2020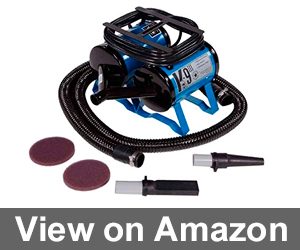 It is extremely powerful and works particularly well when dealing with a luxuriously coated animal. It comes equipped with two motors and is enhanced by also having two air filters with variable speeds.
The lower speed is best suited to more delicate drying process and the higher speed will dry the thickest coat in significantly less time than other brands.
The K-9 III model also presents a choice of nozzles; one square, one round – a help to direct the air flow to precisely where it's needed.
Professional groomers recommend this brand and model and our testers reported drying time for large dogs with dense coats reduced by about half. This model is low-maintenance due to the simplicity of removing the motor brushes for cleaning.
Pros
Powerful but adaptable
Two air flows and two motors
Comes with a choice of two nozzles
Easily maintained
Preferred choice of professional groomers
Lightweight and portable
Particularly suitable for breeds with heavy coats
Available in a range of colors
Two year guarantee
Cons
Motor noise can be unsettling for some dogs
One of the more expensive models of its type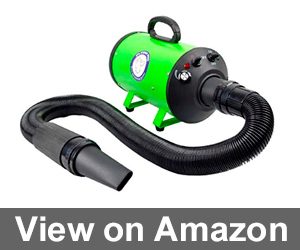 This model encapsulates many of the requirements to successfully dry a dog of any size or temperament in one machine. With its powerful motor and variable air speeds, the heat emitted can also be controlled.
The dryer is mounted on a stand which can rotate 360° and the height from which the air is dispensed adjusted from 33 to 51 inches.
Above all else, safety is integral to the Flying Pig dryer with an overload switch which prevents overheating and ensuring the animal's safety whilst being dried.
The air discharged by the FP is done at low pressure – a relief to dogs who are sensitive to sudden gushes of warm air. For a dryer with a strong release of air, it runs sufficiently quietly to be acceptable to dogs adverse to noise.
Pros
Easily adjusted ensuring dog's comfort
Solidly constructed casing eliminates wear and tear damage
Variable settings compatible with dogs of nervous/sensitive disposition
Inbuilt safety features
Control panel allows adjustable speed and temperature settings
Choice of nozzle for dryer
Mobile
Cons
Only one-year guarantee
Some users encountered problems setting the stand to the desired height
3. Metro Master Blaster: Best Luxury Choice for Groomers and Grooming Enthusiasts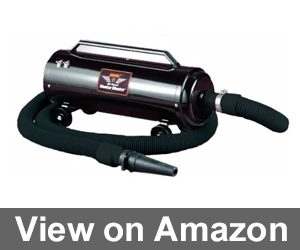 This model comes from the high-end of the dog dryer market, but the ultimate recommendation is that, for years, it's been the choice of so many professional groomers.
It facilitates a quick and efficient dry and many people proffer an estimate that it reduces drying time to 25% of that taken by other brands. In one fell swoop, some of the extra initial outlay is recouped through reduced running costs.
The twin-fans and variable controls accord extra control over the drying process thereby reducing noise emissions considerably.
It is powerful, durable and blasts water off a dog's coat through a non-heated air supply, an additional touch the animal will appreciate.
Pros
Favored by professional groomers
Reduces drying time significantly
Steel composition ensures longevity
Versatile and suitable for dogs of varying size and temperament
Quiet and efficient
Runs economically
Equipped with a range of nozzles
Cons
Expensive
One year guarantee only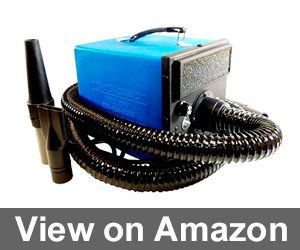 This item represents the preferred choice of professional and home groomers alike being particularly popular with dog show attendees.
Paramount among the reasons for this is the relaxing, soothing tone of its muted motor and sound-absorbent foam within the casing…one doesn't want the animal about to parade before judges to feel agitated.
The compactness of this model further enhances its attraction to show contestants – it won't take up space and the sturdy carrying case keeps it safe.
Versatile (capable of expelling air at any velocity) and with variable speeds, it's a godsend for those last-minute alterations which may land the Best In Show prize.
Pros
Energy-efficient (powerful but economical)
Conducive to transportation
Super-silent
Boasts a remarkable 200 air flow settings
Range of colors available
Cons
Not cheap but should reward the extra outlay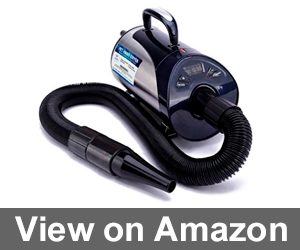 This model is marketed as a no-frills dryer, yet it incorporates features which are lauded as ground-breaking by more high-tech models. It is particularly welcome for dog owners for whom storage space is an issue.
Petacare is a well-established name in this field and all of their expertise and market awareness was utilized in the blueprint for this dryer.
It is easily-operated, economical, low-maintenance with attributes such as variable speed, power and sensitivity: everything your four-legged friend could ask for.
The neat LED screen furnishes the user with information which ensures maximum comfort for the dog.
Pros
Low maintenance
Simple to operate
Sturdy
Interchangeable attachments
Portable and minimal storage required
Environmentally-friendly and economical
Cons
Operational noise may be off-putting for anxious pets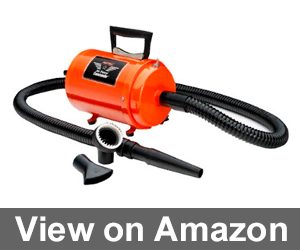 The Metrovac Air Force Commander Professional Dog Grooming Pet Dryer sounds like something more airborne but ignore the unwieldy name and you have an impressive piece of equipment.
It comes into its own when used on double-coated dogs like huskies, German shepherds and other canines possessing luxurious thick hair but is equally adept on short-haired breeds.
Given its usage on larger dogs, the elongated power cord and six-foot hose allow the groomer to circle around the animal coaxing a lustrous sheen from the coat.
What's more, there are a range of bright, eye-catching colors to select from. Portable, efficient and adaptable, it ticks all the boxes.
Pros
Distinctive range of colors
Useful accessories part of the package
Portable and compact
Functional both horizontally and vertically
Reduces drying time
Respected manufacturer
Cons
One year guarantee only
Like other forced air dryers, noisy at higher speed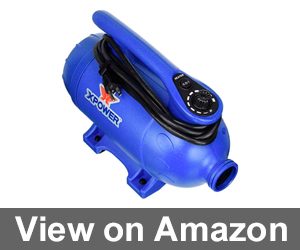 This model is light in weight and boasts a compact design which aids transportation. The specifications incorporate features which maximize the dog's comfort while drying is in process.
Particularly attuned to the heat-sensitivities of dogs, a 2-heat control function ensures that the temperature never becomes excessive.
An unexpectedly quiet motor further enhances the experience for the animal especially those at either end of age scale – puppies and elderly dogs tend to suffer most from stress whilst being groomed. It is also at the affordable end of the dryer price range.
Pros
Lightweight and compact
Variable heat and speed controls
Accessories aplenty…nozzle attachments, washable filters
Quiet despite its latent power
Wall-mountable….extra accessories required
Cons
Prone to matting dog's hair when used on a high setting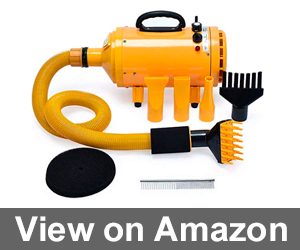 It represents a good first port of call for new dog owners or owners new to dog-grooming. The model isn't pitched at professional groomers but will amaze anyone new to drying dogs by means other than a towel.
That's not to say that it is deficient; merely that the optimum usage is domestic rather than a grooming salon. It adequately dries dogs with fur of all thicknesses and does so with minimum fuss and, crucially, does so quietly.
This dryer also allows customization of heat levels thanks to an adjustable heat switch.
The item is priced to entice owners who may be wary of the process. Once they take the plunge, they will be pleasantly surprised – the package contains five nozzles which satisfy all brushing requirements and do so rapidly.
Pros
Lightweight
Ideal for dog-drying virgins
Easily manageable with all requisite accessories
Quiet – ideal for dogs unused to dryers
Lifetime warranty although a few users report claim problems
Cons
May not meet exalted standards of grooming salons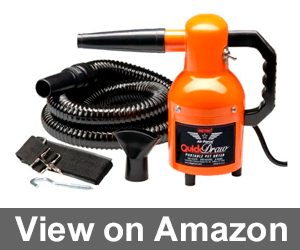 The model is less expensive than comparable models but still delivers when it comes to catering for your dog's drying requirements.
It is remarkably light (3 lbs), consequently will not be a burden during an extended pampering session. Additionally, it comes with a shoulder strap providing further comfort for the user.
For ease of usage, the item ticks all the boxes. During usage, it has received a thumbs up from sensitive breeds. This model has the option of being hung using the accompanying hook should the need arise.
Pros
Hand-held but mounting option available
Low maintenance
Portable
Impressive drying time
Ideal for home usage
Cons
Some users have reported issues over noise levels
Not endorsed by professional groomers/salons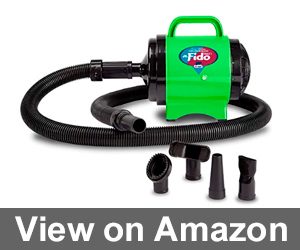 The item comes with some pretty impressive endorsements including pet expert, Cesar Millan. This is a sophisticated machine with the rare capability of massaging as well as de-shedding a dog's coat.
It emits a strong air flow but one devoid of heat – a boon to any dog with sensitive skin.
It is accessorized to the hilt – four special nozzles will cater for any unique grooming requirements.
It is equally adept on short and long-haired dogs and, added bonus, is simple to set up. Approval came from all our testers – newcomers and professional groomers alike.
Pros
Rapturously received by all dog-owners
Endorsed by a canine expert
Low maintenance
Sensitive settings (no hot air)
Adaptable speed flows
Cons
Initially noisy for dogs new to grooming (soon overcome)
A Guide to Dog Dryers
It's fair to say that this is a good time to be a domestic pet. Apart from the obvious – food – there is an abundance of grooming, accessories, behavioral training and general pampering services available for the modern dog.
For this guide, the accessory we're concentrating on is the dog dryers. To some people, a dog dryer would be an accessory too far and their view is that if the dog has been out in the rain or has had a bath, a few seconds with a towel should suffice. But it isn't simply a case of pampering your pooch.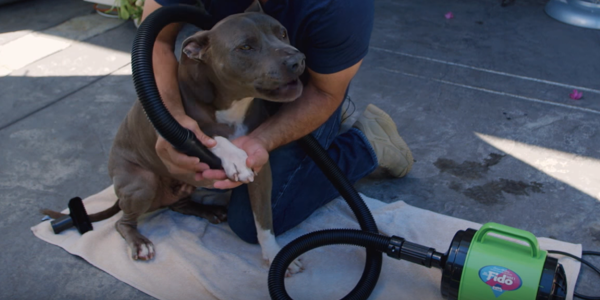 Some dogs are of a disposition that they feel miserable and neglected when wet; for other dogs, it may be the case that their fur requires a proper drying, or it will become matted leading to discomfort for the dog. It can also be damaging to a dog's well-being if they become cold when wet. There are human concerns too if the damp dog just gets a quick once-over with a towel, it could lead to a slippery floor or a discarded towel.
So, a dog dryer may be necessary.
Having decided to make the purchase, you are likely to be amazed by the range of dog dryers available some of which are, quite frankly, rather scary looking. We have put together a guide on what to consider before making a purchase.
Types of Dog Dryers
Handheld Dog Dryer
These are essentially an animal version of the hair dryers which we use ourselves and, similarly, use hot air. Portable, light and simple to use, they are ideal for small dogs and easy to store.
Low Pressure Dog Dryer
Low-pressure dryers blow warm air at a low intensity and are typically hooked to a holder or mounted in a kennel or cage and allow hands-free drying. They will require some sort of surveillance during usage to eliminate the possibility of any accidents.
Forced Air Dog Dryer
Forced air dryers blow cold air through a hand-held nozzle at high speed removing saturation from the dog's coat. The nozzle is attached to a unit which is either free-standing or mounted to a wall or ceiling.
What to consider during the purchase process
Durability
You will want the dog dryer to last for many years – just like your dog – so it doesn't pay to skimp on the cost by buying something made from inferior materials. Plastic dog dryers will be cheaper, but they lack durability and can be easily damaged. Drying a dog could be viewed by your four-legged friend as a game and the dryer may need to withstand some rough (ruff!) treatment.
Metal dryers will be more durable but are prone to rust and they may amplify the sound of the motor and make the experience an unpleasant one for the dog. Dryers which feature a noise-reduction filter should be considered.
Storability
The size and shape of a dog dryer varies and if space is an issue in the home, the buyer will wish to choose a dryer that can be easily stored. A hand-held dryer (about the same size as a human hair dryer) appeals and is suitable for a smaller dog.
High Air Flow
Unlike the hair dryers we use, the dog version eschews using very hot air. A dog's skin is sensitive, and they will suffer burns and discomfort from exposure to a high air temperature. Dog dryers work by using air pressure to expel water from the animal's coat.
Variable Speed
Dryers have variable air flow speeds which can be matched to the specific characteristics and requirements of the hundreds of different dog breeds. For a groomer who tends to many dogs, a dryer with multiple air speeds will be a necessity whereas somebody dealing with just one dog will be able to select the dryer with the precise air flow speed suitable to that breed.
Quality of Hose/Nozzle
The hose (or nozzle) connected to the dryer should be made from solid, durable material lest it fracture or crack. It will cost more but by avoiding the need for a replacement, the outlay will repay itself. It will also benefit the dog because a sub-standard hose may not deliver the required air flow/temperature balance which runs the risk of your four-legged friend catching a cold.
Noise
Dogs have hearing capabilities way better than us and the amplification caused by some hair dryers can be quite distressing for them. There isn't a single dryer which will be noiseless, but the discerning dog-owner will try to select a model which nullifies the noise from the motor as much as possible.
Maintenance
Dog dryers are prone to becoming clogged with hair or fur – it's the nature of the beast – so the optimum choice of dryer would be one which has a removable and washable air filter.
Power
Dog dryer manufacturers make extravagant claims about the horsepower capabilities of their products. These are a misnomer since the HP has minimal effect on the machine's performance and a higher HP may even be detrimental by causing over-heating.
We have taken account of variables such as cost, storage space, your dog's temperament, etc. These criteria allied to reviews and tests have allowed us to provide a balanced guide to buying a dog dryer. All feedback is welcome and will be added to the observations arrived at through personal experience or those of other correspondents.
Dog Hair Dryer FAQs
What's better: drying with a towel or naturally?
The coat which is inherent to the dog breed may make usage of a dryer imperative to ensure the animal doesn't remain wet for long. Towel-drying won't guarantee that dryness whereas drying naturally may lead to hypothermia.
This is a greater risk if the dog remains outside for prolonged periods. A combination of prevailing cold temperature allied to a wet coat may result in extreme health problems.
Is it OK to use my own hair dryer on a dog?
This is inadvisable. Human hair dryers emit air with a temperature which is far too high for dogs. Much of their body is covered in a lush coat but the areas around the head, neck and ears are less furry/hairy and could be damaged by using one's own hair dryer. Additionally, a dog's coat holds water which requires expulsion by air force rather than heat and a powerful low-temperature current is required more than hot air.