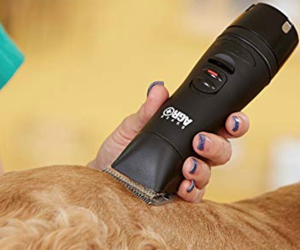 Dogs are our beloved family members, and look up to us like parents. That means, among other things, it's our responsibility to keep them clean and groomed. An important part of staying comfortable and healthy for longer-haired breeds is trimming their fur. Sure, we'd love to take them to the groomer every other week, but let's be honest, this isn't always practical or budget friendly.
So it's essential to trim down your dog's coat, especially for those long haired buds that are prone to tangling, matting, obscured vision, and discomfort. And yes, some of these things can be actively uncomfortable for our friends. Here's how we can help them!
BEST CHOICE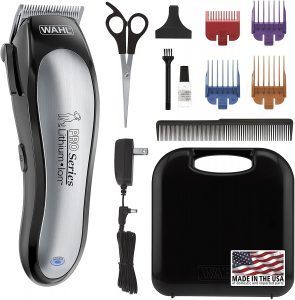 Wahl Pro Series Animal Clippers
Best Overall Choice
– Cordless and rechargeable
– Stays sharp
– Built to last for years
– Quiet for anxious pups
– Pro-quality at a reasonable price
Whether you're a professional groomer or just need to trim your terrier's little eyebrows at home, we've done the extensive research to find the best dog clippers and shavers for you! We know how important it is to keep our furry friends feeling good and looking fresh! And for that, getting a set of good dog clippers is essential.
Selecting the Best Dog Grooming Clippers in September, 2021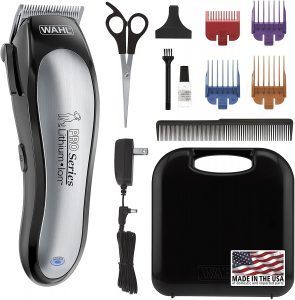 You'll recognize the brand right away, Wahl is one of the top retailers for clippers and shavers in the US. This is one of their best products, with a quiet buzz that won't disturb your pup, a durable, long lasting battery (you can run it for 2 hours straight no problem), that recharges quickly. 
It's got precision self-sharpening, snag free blades that can slice through even thick matted fur. The price point is slightly higher than our runner up, the oneisall option. There's good reason it's pricier, since this is a much more hardy, sturdy clipper for bigger dogs and thicker fur. 
Pros
Keeps power for about 2 hours
Recharges fast
Quiet and non threatening
Super sturdy for thicker fur
Cons
May not be perfect for specific types of undercoats like poodles'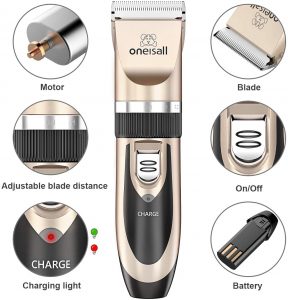 There's a reason this is the top product on Amazon. It's got a built-in, rechargeable lithium-ion battery so you don't need to mess with cords. The stainless steel fixed blade and ceramic moving blade are easy to change, clean, and last for a long time. We especially like the low vibration and ultra quiet design.
With a plethora of detaching guard comb size options, as long as you don't have a, say, heavily matted Newfoundland, you will get good coverage and long lasting benefit from this option.
Pros
It's quiet for more timid pups
Easy to charge
Slim for any size hands
Stainless steel and sturdy construction
Cons
Not the top choice for very thick fur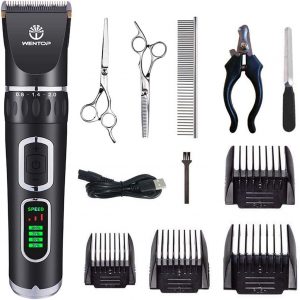 Coming in a little bit cheaper than our last two options, this is a great option for those who want as much quality as they can get, without breaking the bank.
It's also one of the best choices with 3-speed levels for different types of fur. 
With an LED battery display and a USB rechargeable lithium-ion battery that fills up in about 4 hours, it's got the basics for power. You can get good precision with the adjustable blade and optional combs add-ons, as is pretty typical with these clippers. 
Pros
The cheap price
3-speeds are good for different types of fur
Comes with good scissors and nail clippers
Shows you how much charge it has left
Cons
Takes awhile to charge
Can't tackle really thick fur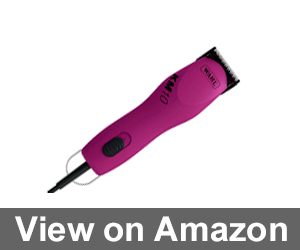 This shaver is one of our top corded picks, because it packs more of a punch. You may lose a little bit of flexibility and arm freedom using it, but it makes up for it with power. It's durable because of brushless motor technology which is a plus to its functionality.
This option is great because it  functions perfectly on thicker fur and depending on the type and state of your pup's fur, you may not even need to do a pre-cut before shaving.
With two super powerful settings (3,000 and 3,700 strokes per minute) you'll get tons of power and torque even in those tougher areas. It's also designed with a rounded front housing which prevents hair clogging.
Pros
Great for coarse fur
Works for hours without stopping
Great choice for professional groomers (but easy to use at home, too)
Cons
You'll need to monitor the temperature of the blades when handling thicker fur
Pricier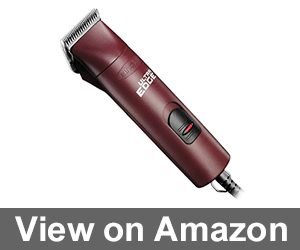 Another corded option, the Andis boasts some of our favorite power regulator controls on the handle. The cable is long enough to not restrict movement, and the sheers have great safety precautions.
It's one of the quietest and lowest vibration tools we've seen, and it's our main rec for more nervous or anxious dogs. Don't scare your nervous pet any more!
This shaver is pretty powerful, but there is a trade-off: many reviewers note that when running for awhile, the blades tend to heat up quite a bit. So take breaks if you opt for this selection and monitor the heat of the tip if it's coming in contact with your pet's fur. 
Pros
It works in low sound mode
Its cable is long about 14 feet
Accompanied by several extra blades
Customers have a choice of color from blue, orange, green, purple, and burgundy
Cons
Its blades keep on overheating while in action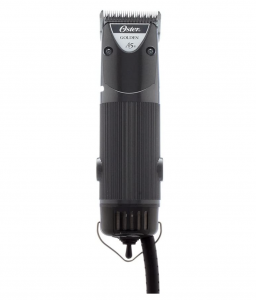 This corded trimmer is a favorite with veterinarians and professional groomers when working with thicker fur. These clippers offer a powerful, high-torque motor that let's you easily shave through matted fur or through long coats quickly. A dual-speed option gives you a high speed for full body shaves quickly, or use the low speed for quieter performance when clipping sensitive areas.
This shaver also will fit any universal guide combs and the blade is cryogenically treated to offer better performance over time.
Pros
Highly durable blade and housing
Cheap and simple to maintain
Two settings for different fur types
Higher speed makes heavy shaving easy
Cons
Cord is less convenient for light use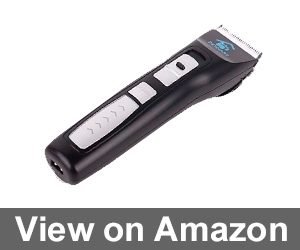 This lightweight option is good for first-time home groomers. It's easy to handle, offers 2 speeds, and can be charged by USB, making it great for occasional use or even for travel.
Best of all, these clippers include everything you need to get started including a comb, scissors, and guide combs along with a handy cleaning brush.
Pros
Lightweight and easy to handle
Quieter speeds for sensitive dogs
Can be charged by USB
Sold with a full trimming kit
Cons
Not as heavy-duty as other clippers
Another wireless shaver that can be charged by USB, this pick is similar to many other budget clippers but comes in at a cheaper price. It also includes many bonus tools for grooming, including multiple guide combs, nail clippers, and a nail file.
Construction is better than many other clippers at this price point, with fewer quality issues than clippers that are cheaper.
Pros
Budget-friendly price
Lightweight for easy hadling
Comes with full grooming set
Cons
Not as durable as other options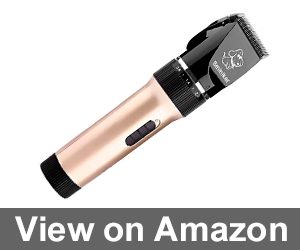 If you are looking to have the option of grooming both your dog and cat with one set of trimmers this is a great option. A full grooming set is included and the blade offers multiple settings that are help groom short-haired pets.
A big plus is that these are quieter than many other clippers too, which is great when trying to groom nervous cats less comfortable with haircuts.
Pros
Quieter shaving speeds
Full grooming kit included
Adjustable blade works great on short-haired pets
Cons
Unsuitable for coarse coats
Our final pick is another cordless trimmer that comes with two blades, making it easy to do touch-up trimming on your dog's ears, nose, feet, and rump. It's also available at a budget price and is easy to clean.
The smaller detail blade might just replace your grooming scissors and also makes it easy to trim sensitive areas on smaller dogs.
Pros
Detail blade is great for delicate areas
"Rinse to clean" waterproof design
Can be used while charging
Cons
Has trouble cutting wavy coats
Lacks power for full-body grooming
What to know before buying clippers
Keeping your dog clean and their coat fresh is an essential part of being a good pet parent, but frequent trips to a groomer can be expensive. Learning to groom your dog yourself can save money while also keeping your dog looking great year-round.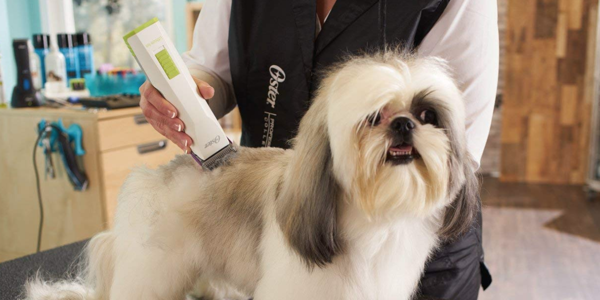 There are many different types of clippers out there; many models are similar in construction but it's difficult to know what will work best for you which is why we here at Petsmasters have gone through dozens of different models and compared brand reputations and user reviews to pick the very best.
Why you need dog-specific clippers
There are a few important reasons to buy clippers designed for pets. First, you should always have a separate set of clippers for your pets and not use the ones you'd use on yourself.
Pet shavers are specifically designed to deal with a dog's delicate coat. A dog's skin is much more sensitive than a human's because they rely on their hair for many of the things our skin does for us. Your dog's coat isn't just fur, each breed's coat helps them manage different temperatures and protects their skin from harm and the best shavers account for this.
Since a dog's skin is so sensitive, you want to use a model that not only is gentle on skin but also resists overheating to avoid causing any burns during longer trimming sessions. Many dog grooming clippers also have specially designed blades that hold up to wear better when cutting a dog's coarser hair.
How we found the best dog grooming clippers
Once you've set out to start grooming your dog yourself you're going to need to find the set that works best for you. We took the time to look at exactly what to consider before buying a shaver.
Speed is the top indicator of performance
All clippers are measured mostly by speed, typically created by a rotary motor that spins a mechanism that moves the blades of the clipper back and forth. That being said, greater speed doesn't always mean better cutting power, but it is a good indicator of the potential battery life and quality of a shaver.
Cordless dog clippers are going to have lower speeds on average to preserve battery life, and typically feature smaller motors so they fit in a compact package. Corded shavers are going to offer stronger motors and higher speeds, but can be bulkier and less comfortable for first-time groomers.
Single-speed clippers are great for beginners because they're simpler to use. The typically slower cutting speed makes you less likely to make mistakes and is also less likely to overheat.
Variable-speed clippers offer typically 2-3 speeds that work for different lengths and types of coats and can be really useful if you have multiple pets to trim or you want to practice more advanced dog hairstyles.
Motor speed, power, and comfort
Stronger and faster motors make a huge difference when trimmer thick or coarse hair. Some long-haired breeds will even have double coats and require special attention to trim properly. Weaker shavers may still work great for some pets, but won't be suitable for long coats.
The standard measurement is rotations per minute (RPM). Professional-grade shavers are going to have high RPM and quality models will account for the noise and vibration of higher speeds. It's best to start out grooming with lower RPM clippers, because high RPM shavers can be uncomfortable to hold for longer periods of time. Higher speeds also take off a lot of hair very quickly, making mistakes more likely when you're just learning how to use clippers. Less noise can also make the whole experience more comfortable for your dog and keep them from getting spooked.
Vibration speed is closely related to RPM and the power of the motor used, but the construction of the shaver is also key in making vibrations comfortable to handle. Professional models have dampening features built-in and will offer ergonomic grips and heat-sinks to compensate for longer usage and high RPM speeds, but quality, cheaper, low-RPM models will also offer similar features that make them comfortable for novice groomers.
Weight and size
Portable shavers have gotten incredibly light compared to traditional corded options and are now the prevailing trend in new designs for everyone except professional groomers. This makes most models now very comfortable for people with smaller hands, arthritis, and those who just don't need to use clippers on a regular basis. The main drawback with lighter models tends to be shorter battery life and weaker motors, but portable models still offer plenty of functionality for home groomers.
Corded models are usually a bit heavier and the cord can make them difficult to use, but they offer much greater cutting power that makes it easy to give multiple haircuts or shave large dogs with thicker and longer coats.
Dog Grooming Tips
We've collected some basic tips to help make it easier to groom your dog. Be sure to research any specific care your dog's coat may need before trimming, not all dogs need haircuts!
Start with giving your dog a bath and then brushing their coat. Be sure to get any tangles out!
Be sure your dog's coat is fully dry before trimming, try giving them a bath the day before to make it easier and less stressful on your dog
Any large mats in your dog's coat should be cut with scissors if possible
Have all your grooming tools together before starting: towels, combs, brush, scissors, and clippers
Carefully let your dog examine the clippers while off and while running to get them comfortable to the noise, consider removing the blades and running it over and near your dog to help them adjust
Use a quieter setting on the trimmer if your dog is anxious while being groomed
Go slowly: it's always better to go over an area twice than accidentally cut too much fur off
Have someone else help hold and calm your dog to prevent sudden movements
Clean and maintain your clippers after each use to keep them sharp for next time
There's a huge number of options on the market now for grooming clippers and finding the best one for your dog can be challenging. Our biggest advice is to research your dog's breed for information on how to properly care for their coat and understand how much work you'll need to do before getting started. With the right clippers in your hand and a little practice, you'll be giving poodle trims and lion cuts before you know it.