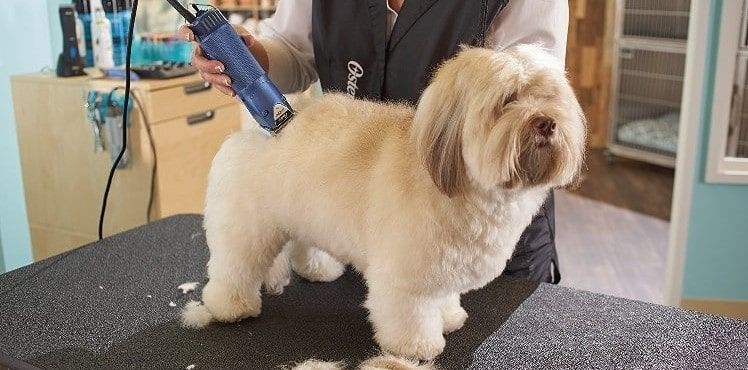 Being able to cut your dog's hair safely at home is a great skill to have, not just to save money, but in case there are times you can't get to the groomers. If there was one thing a global pandemic taught pet parents, it's vital to have the right tools to maintain your dog's grooming at home. We've already discussed the best nail grinders and shampoos to keep your pups clean and healthy. But trimmed nails and clean fur mean very little if that fur is all over the place!
Having the right dog clippers to give your pet's fur a little touch-up between trips to the groomer, or for full at-home cuts, will make your dog so much more comfortable. We've put together a list of the best 8 dog clippers available to take your at-home grooming to the next level.
Is it safe to cut your dog's hair at home?
Yes, with proper guidelines, it is safe to cut your dog's hair at home.
Our veterinary partner offers great insight into why having a pair of clippers for at-home grooming is so important.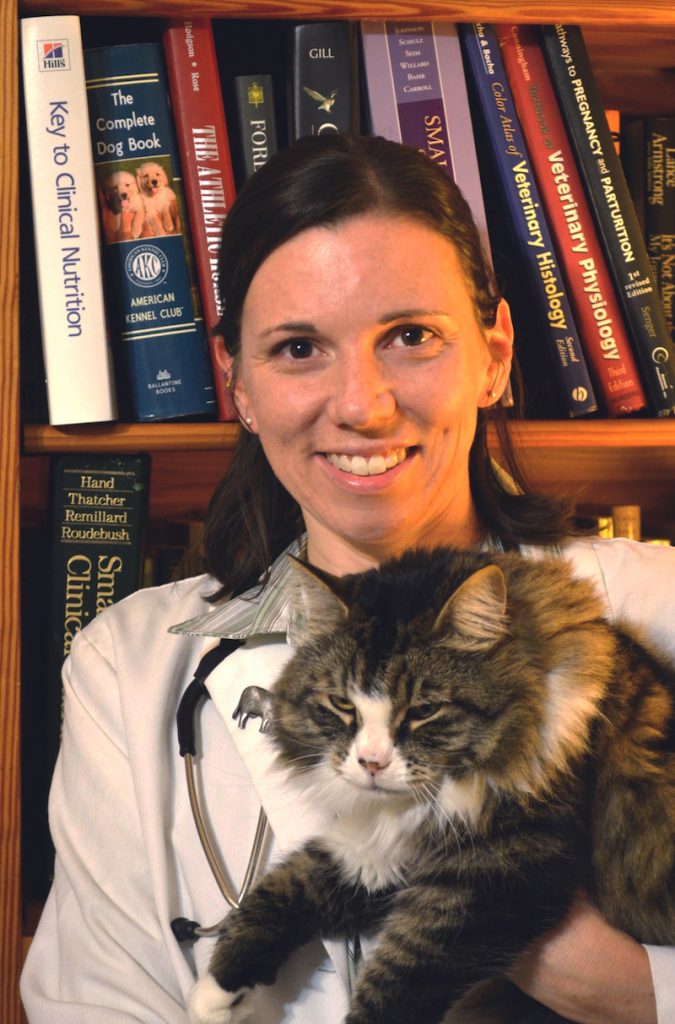 "Grooming your dog is about so much more than just their looks. Long-haired or thick-coated breeds are prone to tangles and mats that can lead to sores and skin infections if they aren't clipped regularly. Having a good set of grooming clippers at home will allow you to do this as needed to keep your pup comfortable and healthy."
Dr. Chyrle Bonk, DVM
We do, however, recommend you speak to a professional groomer before starting at-home cutting. Learning the specific process for cutting your dog's hair will reduce the chances of injury.
Jump to a section
Our top picks
Benefits of regularly cutting your dog's hair
Our process – What we looked for
How to cut your dog's coat at home
Grooming single-coat vs. double-coat dogs
Different grooming styles
FAQs
---
Our top picks
We've researched for hours and read hundreds of reviews to bring you this comprehensive list of dog grooming clippers.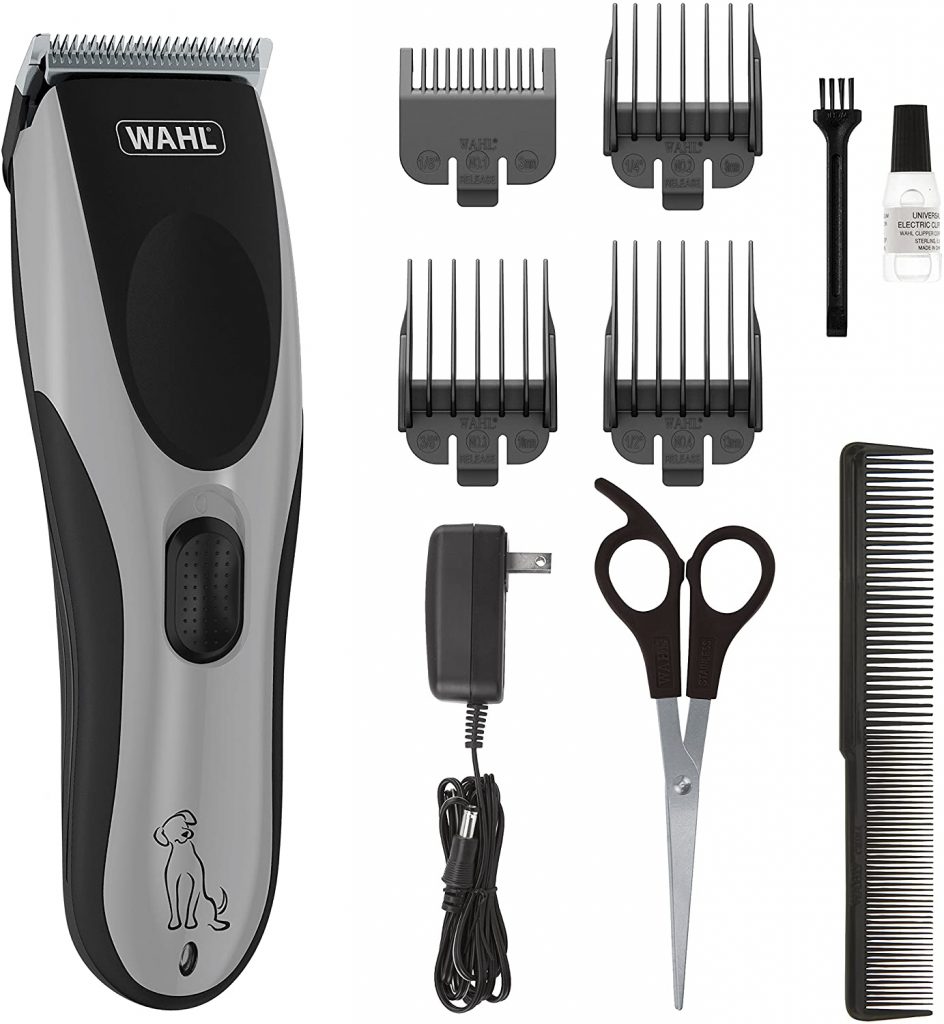 Best Overall
A versatile 10 piece set that works for thicker coats and has low-noise despite being heavy-duty.
The Wahl Easy Pro Pet Rechargeable Cordless Pet Clipper Kit comes with everything you and your dog needs for cutting and trimming fur. The perfect starter pack for the new at-home groomer, Wahl has managed to balance the need for power with less noise output. With these heavy-duty clippers, you can keep even the jumpiest dogs calm while cutting thick to medium coats.
One of the reasons Wahl Easy Pro made our list is its ability to switch between cordless and corded clipper. No more worrying if you've remembered to charge your clippers with Wahl Easy Pro! With a rather quick charge time, about 30 minutes, you can use the cordless clippers to effortlessly move around your dog.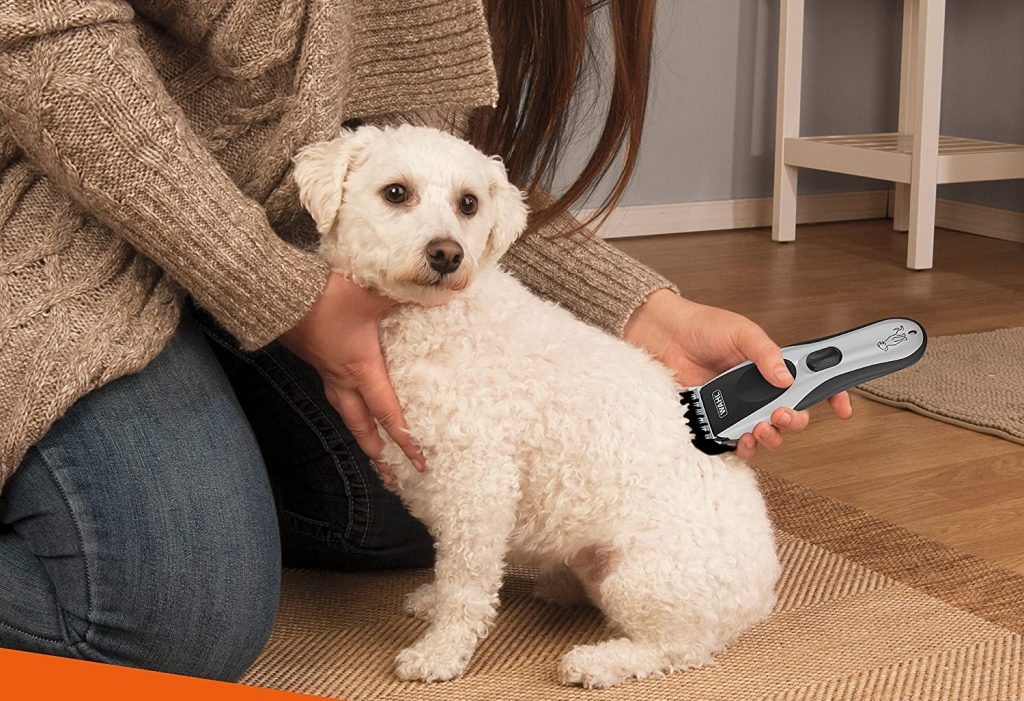 There are 4 guide combs included in the Wahl Easy Pro kit. The different combs are ideal for giving your dog the perfect length cut, while allowing flexibility in length for more sensitive areas. Combining the guide combs with the self-sharpening carbon blades, you can cut through the thickest fur without worrying about cutting too close.
Finally, we're big fans of how easy the Wahl Easy Pro dog clippers are to clean. The detachable blades come off with a press of button, allowing them to be cleaned and disinfected quickly. While you might want to oil the blades after washing, to encourage a smoother move through the fur.
While the charge on the Wahl Easy Pro is usually enough to clip the hair on 1 or 2 dogs, some pet parents complain they don't run the full 2 hours advertised. And you might need to adjust a screw on the side of the clippers to ensure they run as quietly as you'd like.
Pros
Inexpensive
Heavy-duty
Corded or cordless usage
Comes with multiple guide combs
Cons
Battery doesn't last as long as advertised
Some adjustments required to decrease sound
---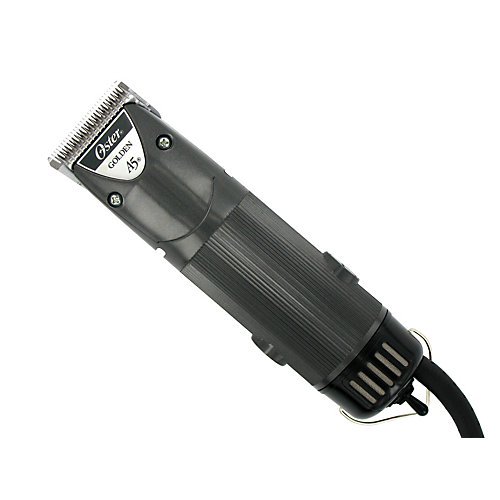 Best for second choice
A bit pricier than our first option, these 2-speed corded clippers offer precision when it comes to trimming your dog's fur.
Designed specifically for dogs with thicker coats, the Oster Golden A5 has long been praised by professionals. The corded dog clipper has 2 different speeds, with low being at 2,100 SPM (Strokes per Minute) and high being 2,700 SPM. The versatility of the 2 speeds allows you to move from the full body of your dog to more sensitive areas with a flick of a switch.
Oster has long been a leader in the dog clipper industry and a huge reason for its reputation is due to its blades. Oster uses cryogenic technology to treat its blades, hardening them for a more precise cut. And with these extra hard blades comes clippers that will last you longer and perform better.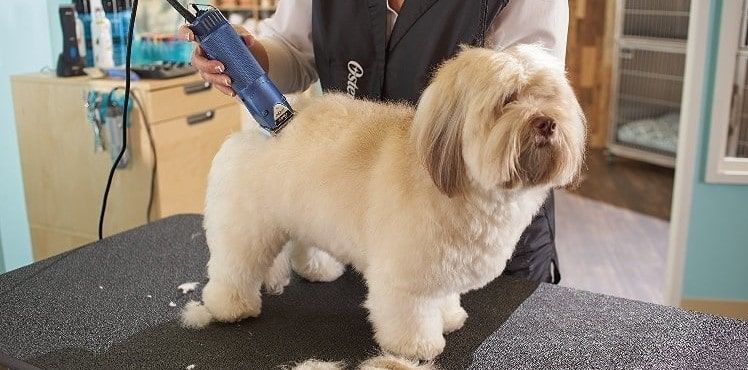 The Oster Golden A5 has a compact, easy to handle body. And Oster has reinforced its powerful motor and durable frame with a chew-proof housing unit. When added to the detachable blade system, which makes for easy cleaning, you truly have a heavy-duty set of dog clippers that will last you years.
Oster sells several guide combs and even offers detailed pet clipping guides, which walk you through which combs to use where on different breeds of dogs. Unfortunately, you'll need to buy these combs separately.
Pros
Extremely powerful motor
2-speed for precision grooming
Easy to handle
Chew-proof
Cons
Expensive
Doesn't include guide combs
---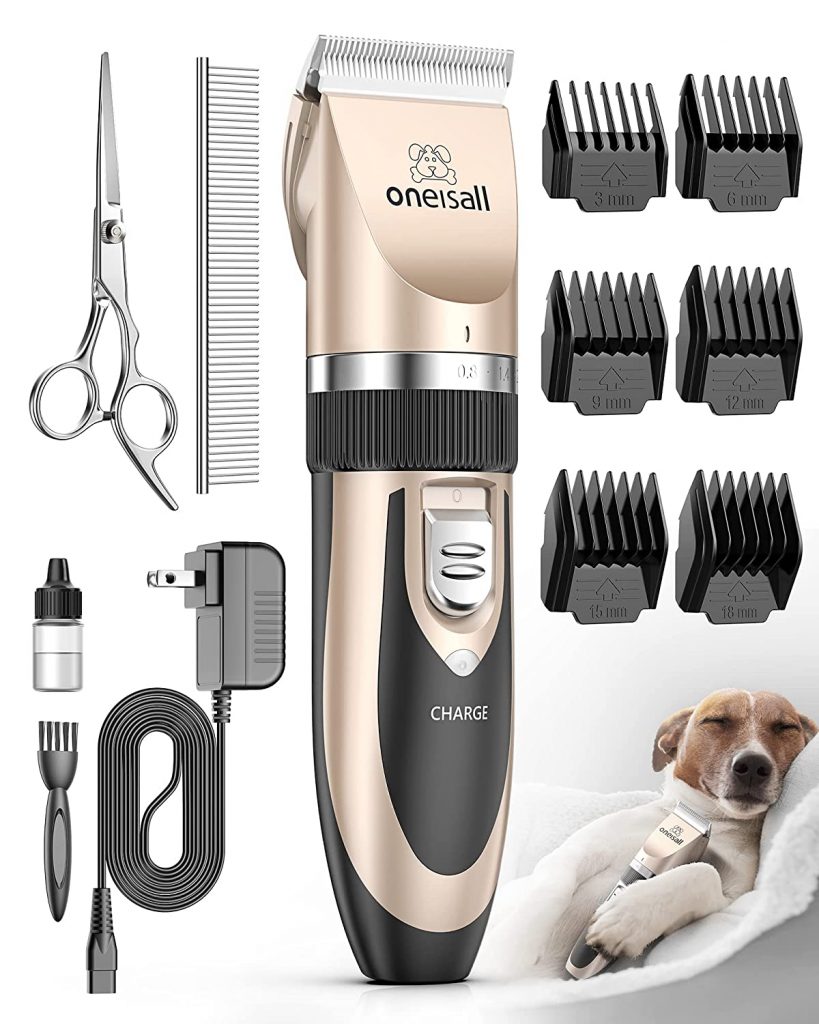 Best for a budget
The perfect dog clippers for beginners, the Oneisall proves quality doesn't always mean expensive.
Not only are these our budget pick, the Oneisall Dog Shaver Clippers are multipurpose, working for both dogs and cats. The inexpensive, quiet dog clippers come with 6 guide combs, ranging from 3mm to 18mm, for that perfect, precise cut. The guides are supported by a stainless steel fixed blade and ceramic moving blade. The combination makes this durable set of clippers easy to move through thick fur.
Despite its powerful motor, the Oneisall Dog Shaver Clipper only produces about 50db of sound, making it one of the quieter options on our list. The motor might get louder when you use these clippers plugged in, but there's also a built-in battery, giving you a cordless option, too.
This kit includes so many tools to make your first at-home grooming experience a success. In addition to the 6 guide guards, Oneisall comes with a steel comb, steel scissors, and oil for the blades. All at a super affordable price.
Pros
Inexpensive
Extremely quiet
Corded or cordless option
Cons
Complaints of comb guards not working
Detachable blade difficult to remove
---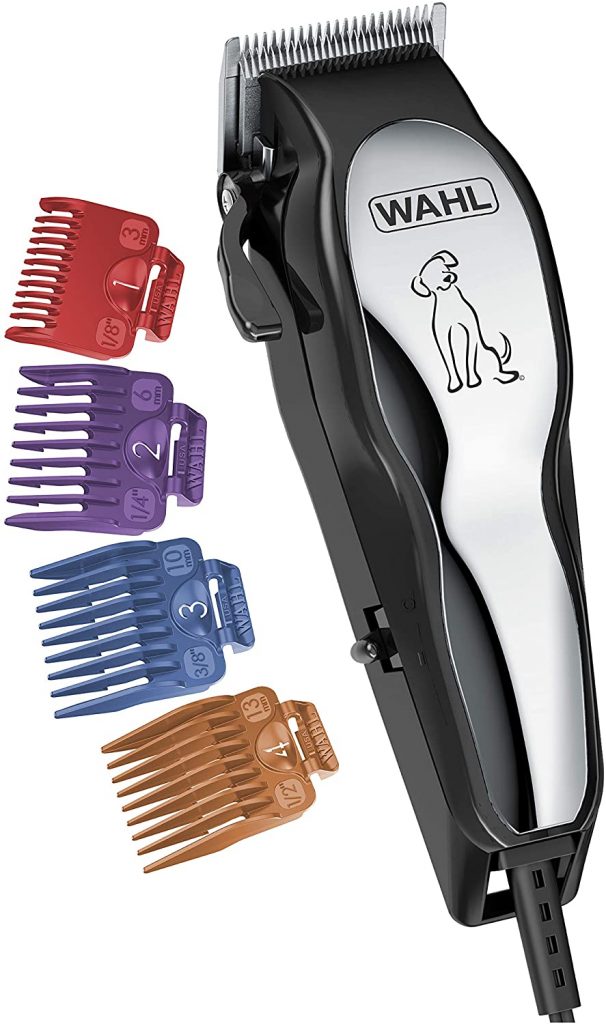 Best for thick coats
With a promise of "no snag pet grooming", even thick coated dogs can now have an at-home grooming experience with Wahl's grooming kit.
The Wahl Clipper Pet-Pro Dog Grooming Kit will cut through almost any type of fur, but was specifically designed for dogs with thicker coats. The self-sharpening precision blades prove once again why Wahl is a leader in pet clippers. The high-carbon, sharp blades provide smooth grooming and when combined with the powerful torque of the clippers, cuts grooming time down.
The Wahl Clipper Pet-Pro is corded, giving it more of a power boost. However, it's still one of the quieter options on our list. The kit comes with 4 guiding combs for different length coats, as well as scissors for more sensitive areas. We're fans of the color coded guide combs, offering an easy visual for which comb will give you just the right length for your dog.
Pros
Designed for thick-coated dogs
Powerful, corded clippers
Color coded guide combs
Cons
Cord may be difficult to manuever
Louder motor
---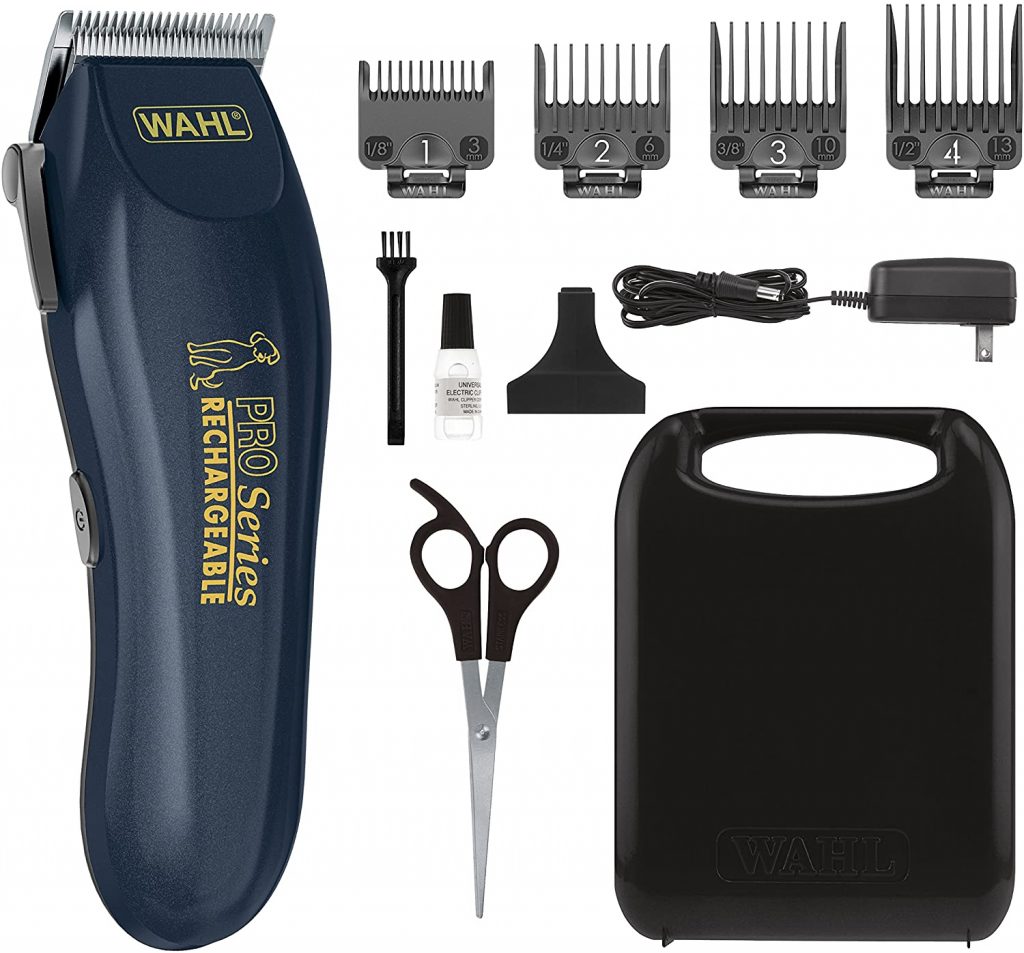 Best for cordless clippers
These clippers boast a whopping 2 hour run time on one battery charge, you'll get through multiple grooming sessions before needing to recharge the Wahl Rechargeable Pet Clippers.
Wahl is at it again with our pick for the best cordless clippers. With a 2 hour run time and a quick-charge option, these clippers are praised for being able to hold a charge for months. Not only do these Wahl Rechargeable clippers make cutting your dog's hair easier than ever, they make it so much easier to maneuver around your pup during grooming sessions.
Wahl dog clippers are celebrated for their blades, which are self-sharpening to cut through even the thickest hair. With this set of clippers, you'll also get 4 guard combs for flexibility in choosing the length best for your dog. And, to keep even the most nervous pups calm, the Wahl Rechargeable has a low noise output.
Pros
Cordless operation
Low noise
Holds a charge for longer
Cons
No battery indicator light
Problems snapping on comb guards
Heavier than other options
---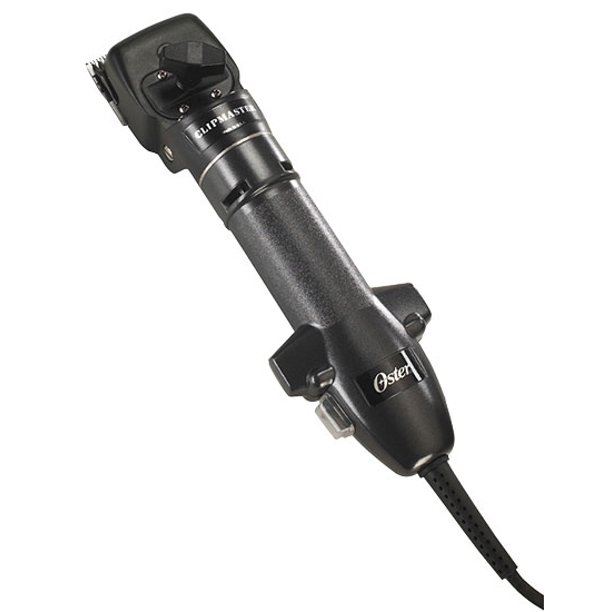 Best splurge option
If you're ready to take your home grooming game to the next level, splurge on these expensive but worth it clippers.
Don't let the price of these dog grooming clippers scare you. If you're serious about grooming your dog at home, the Oster Clipmaster Large Animal Single Speed is the way to go. The heavy-duty clippers are made with titanium blades to smoothly clip through the thickest, toughest fur. These clippers can even be used on cattle!
The corded design of these splurge clippers gives it more power. The pre-oiled blade stays greased for up to 100 hours, giving you peace of mind your clippers will move like butter. Also included with these expensive clippers is a removable storage tray, blade compartments, and intake screen.
Pros
Extremely powerful
Clippers stay oiled
Includes many extra features
Cons
Gets hot faster than other options
Can be loud
Expensive
---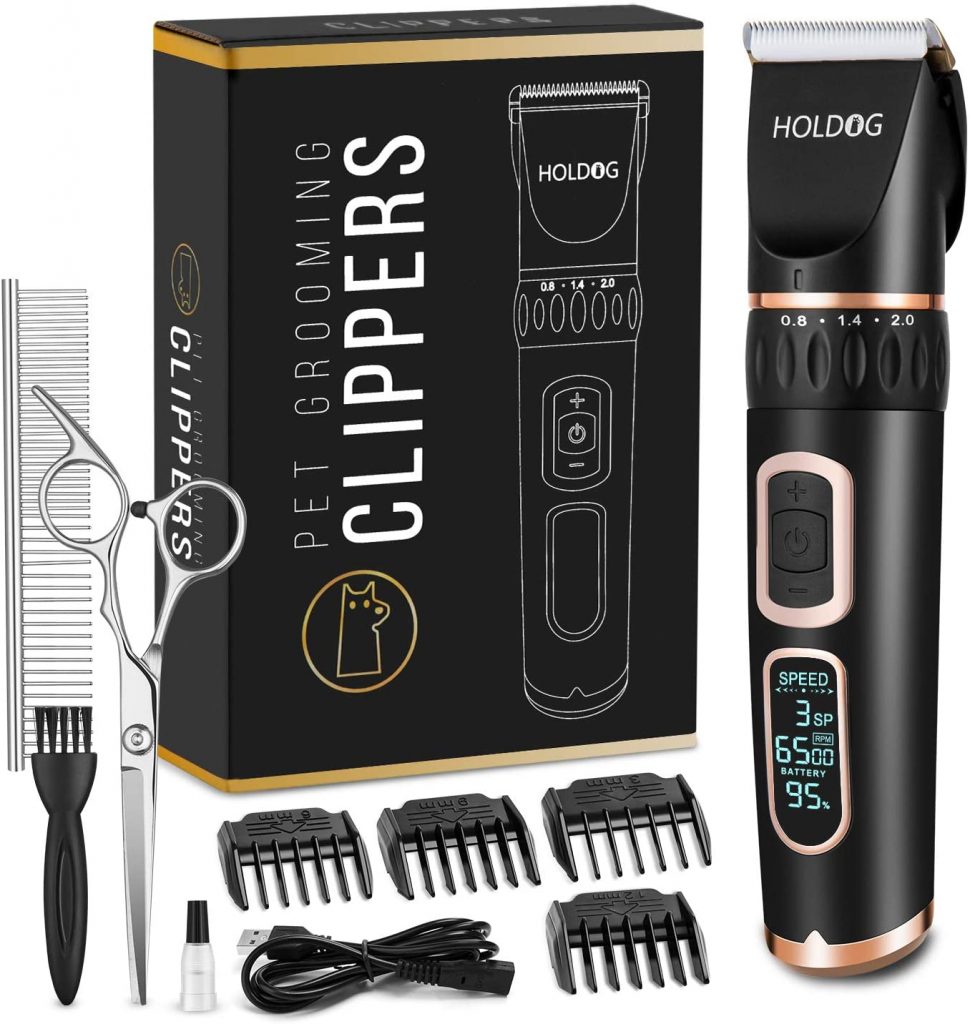 Best multi-speed clippers
A multi-speed set of clippers offers more versatility for cutting the body of your dog, but also around the face and private areas.
Holdog offers a high-powered cordless set of dog clippers with 5 speeds. The varying speeds give at-home groomers the confidence they need to trim different areas of their dog's bodies. The clippers are made with titanium ceramic blades, adding a smooth trimming experience to the power of the motor in the Holdog.
Holdog also offers one of our quieter dog clippers, at only 50db. At the higher speeds, this noise might increase, but at lower levels these clippers work wonderfully for timid or jumpy dogs. Included with the Holdog clippers set are stainless steel scissors for precision cutting, a comb to detangle mats, and 4 adjustment combs.
Pros
Adjustable speeds
Very quiet
Easy to clean blades
Cons
Comb guards are lower quality
Struggles with thicker coats
---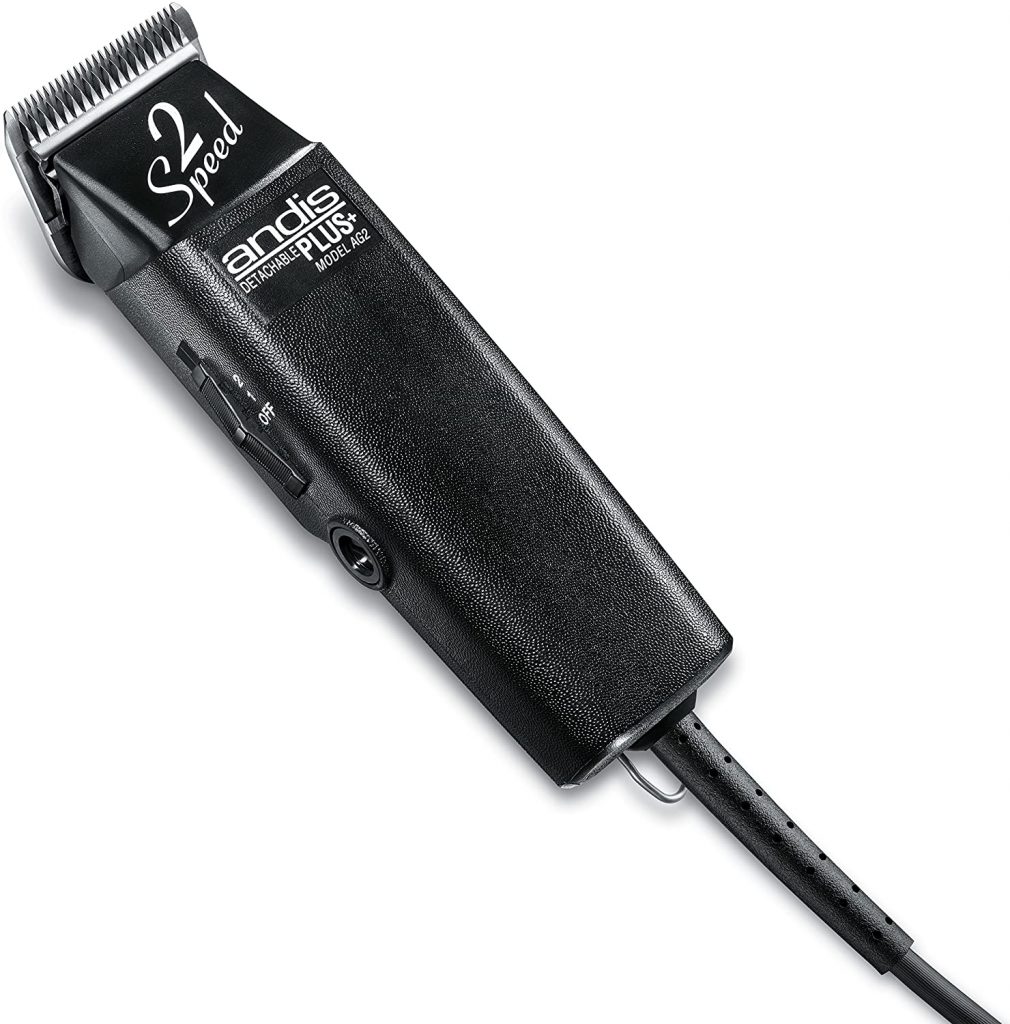 Best for the at-home professional
Andis has been a favorite of professional groomers due to its smooth grooming and cool running temperatures.
Andis creates powerful clippers that work quickly and smoothly. While we don't recommend these clippers for beginners of at-home grooming, if you've been cutting your pets fur for a while, you'll love the power these offer .The clippers may be 1 speed, but that speed is high.
One of the best things about the Andis ProClip Blade Clippers is the cooling design. Because these dog clippers are so powerful, they could potentially produce a lot of heat. However, with a cool-running system, there's no need for a fan. As a result, Andis has eliminated the heat caused by clogged vents and fans.
Pros
Very powerful motor
Fast
Corded for longer grooming session
Stays cool
Cons
Louder than other options
More expensive
Could be dangerous for non-professionals
---
Benefits of regularly cutting your dog's hair
Nothing beats that fresh from the groomers look. The sharp cut, the clean smell, the swagger that makes you think your dog knows how good he looks. But grooming, by the professionals and at home, isn't just about looking or smelling good. There are some fantastic benefits that come with regularly cutting your dog's hair!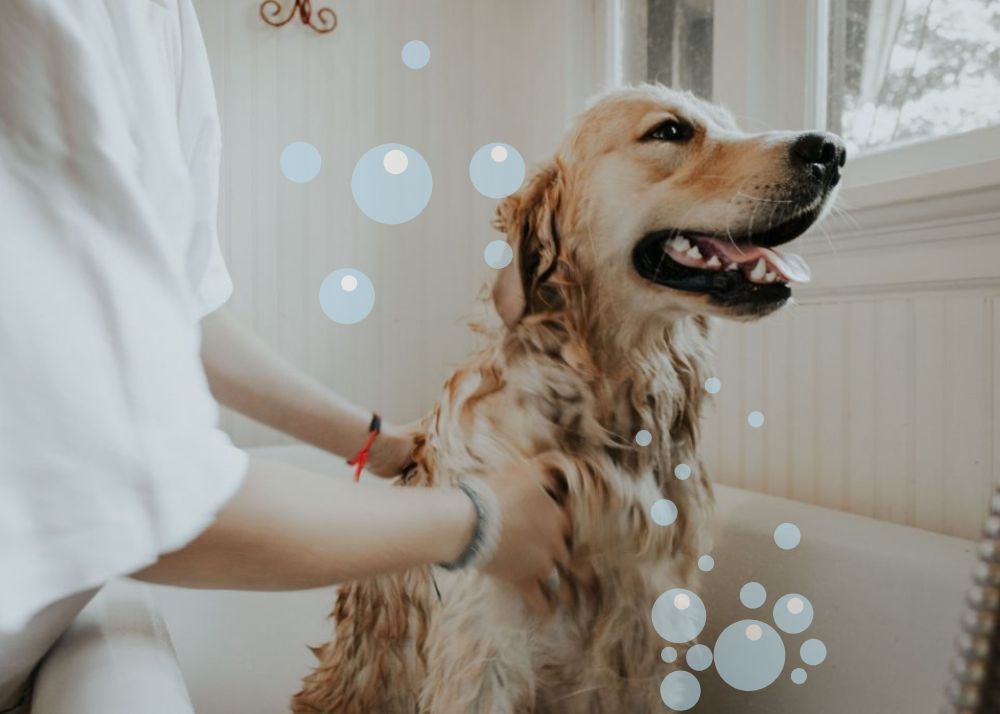 Check for pests
Why does it feel no matter how careful you are, fleas or even ticks will find their way on to your dog? Regularly bathing, drying, brushing, and cutting your dog's hair will give you a chance to check for nasty hanger-on's.
Detangle mats
Regularly cutting your dog's hair gives you the perfect opportunity to remove any tangles or mats in your dog's coat. And those tangles aren't just unsightly, they can be painful! Tangles can pinch the skin and cause your dog stress. Regular trims prevents any tangling discomfort.
Detect skin conditions
Taking the time to wash and groom your dog at home will give you a unique familiarity with their body and skin. Regular grooming is a great time to check for lumps or bumps you might not see when you're just brushing your dog. And with skin conditions, early detection is crucial!
Decrease shedding
While there's no way to completely eliminate shedding, regular baths and trims improve the quality of your dog's fur. A thorough cleaning helps eliminate dead skin, dirt, and dandruff, spreading natural oils throughout the coat. As a result, your dog could shed less with regular baths and cuts.
---
Our process – What we looked for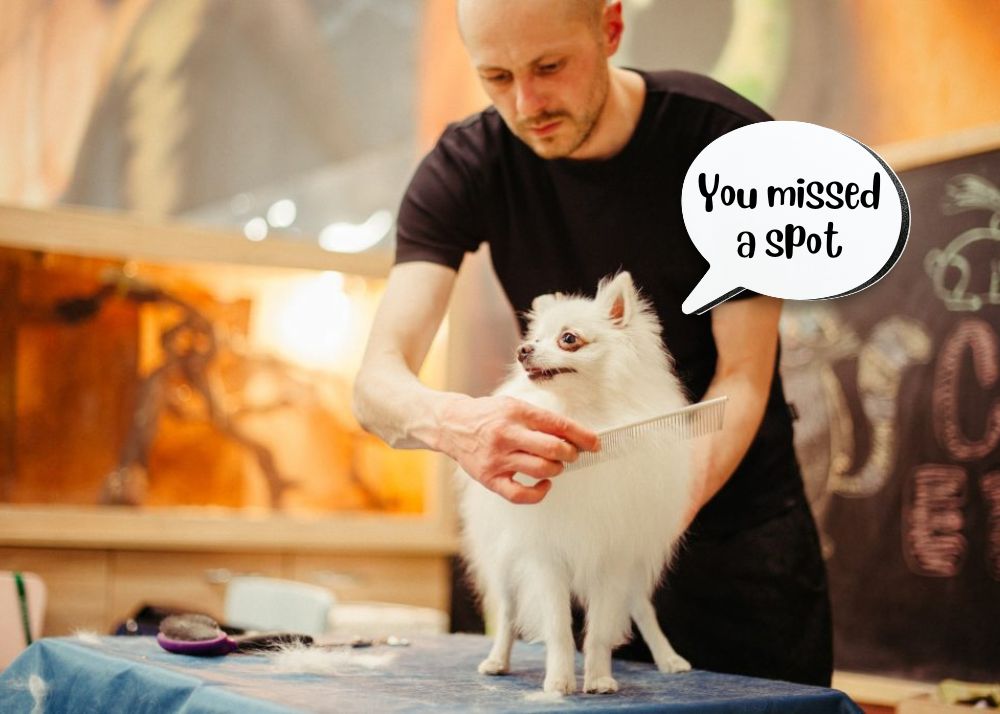 We try to be as transparent as possible when recommending pet products. For each of our product guides, we provide as much insight into our reviewing process as possible. We hope knowing what we looked for in dog clippers will help you make the best choice for you and your dog.
Noise level
We've all experienced a jumpy dog during thunderstorms or fireworks, so it makes sense one of our biggest concerns with dog clippers is their loudness. Most dogs aren't going to let you anywhere near them with a set of noisy clippers! So we looked for clippers with quieter motors.
To help acclimate your dog to grooming clipper noises, check out the best process for introducing home grooming to your dog.
Vibration
Going hand-in-hand with the noise level of dog grooming clippers is the vibration. Even if your dog gets accustomed to the noise of clippers, as soon as those vibrating machines touch their bodies, they're sure to get jumpy! We opted for dog clippers with as little vibration as possible. The less vibration, the better to keep from scaring your dog.
Temperature
After prolonged use, some dog grooming clippers can get hot. Unfortunately, there have been cases of hot grooming clippers causing burns to dog's skin. In our reviewing of dog grooming clippers, we looked for those that addressed this heating issue.
Thankfully, for home grooming, you're not using your clippers as long as you would in a professional setting.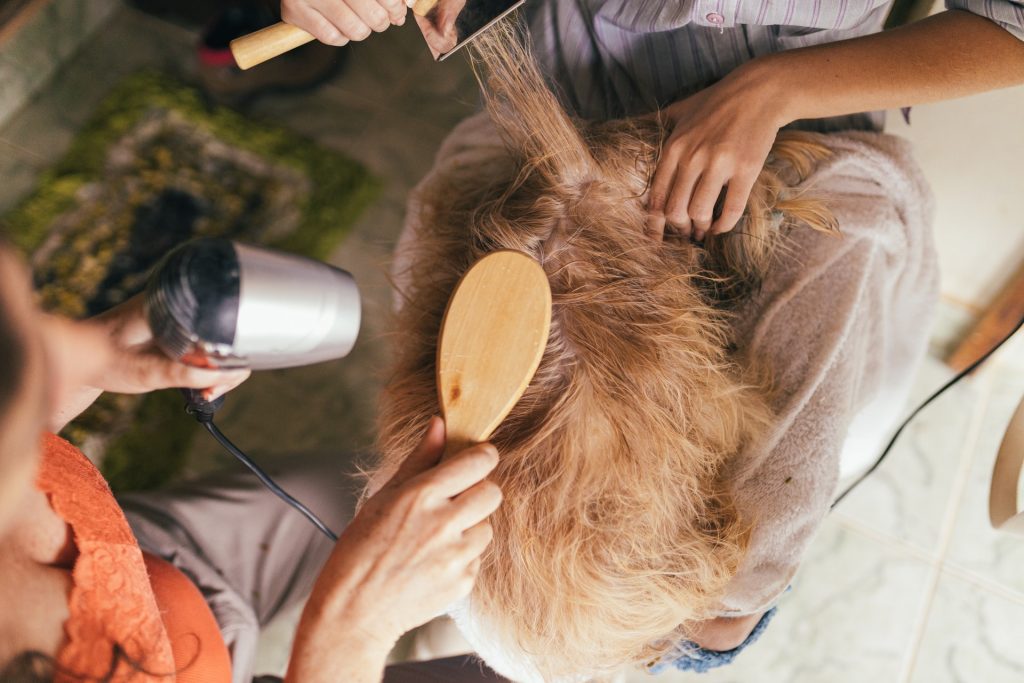 Clipper comb options
All dogs have different fur or hair lengths and needs, so we wanted dog grooming clippers with the capabilities to trim all these variations. Having a clipper with different comb and length options also allow you to work on the face, feet, perianal, and belly areas easier.
Corded vs. cordless
Going corded or cordless will depend on your goals for your dog grooming clippers. If you only plan on using the clippers now and then for a short period of time, a cordless option gives much more flexibility. However, if you have multiple dogs or dogs with extra thick fur, you might want a more powerful, longer lasting corded clipper set.
We've looked at the best options of both corded and cordless dog grooming clippers and offered both in our roundup.
Battery life and charge time
For those opting for cordless dog grooming clippers, we wanted to make sure they would last for the entirety of your grooming process! And just as important, we wanted them to charge quickly and hold that charge.
We read through multiple reviews and specs to make sure the cordless dog grooming clipper options we offered had long-lasting batteries that could be charged quickly.
Blade speed
Finally, we looked for that precarious balance between power and speed to noise and heat. You want a smooth, continuous cut, which means a faster blade speed, or Rotations per Minute (RPM). Sometimes this is also listed as Strokes per Minute (SPM). However, you don't want that speed to be so fast, you're hurting your dog. For those starting out, we looked for both single and multi-speed dog grooming clippers, so you can make the best choice to meet your grooming needs.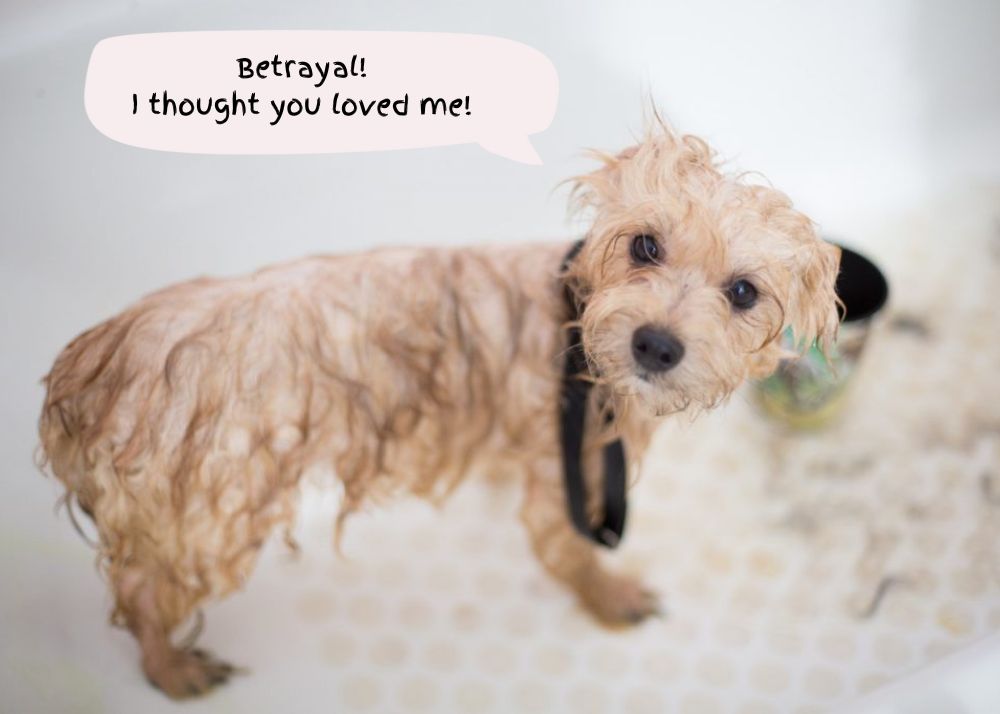 ---
How to cut your dog's coat at home
Before you try cutting your dog's coat at home, it's important to speak with a professional about the best way to groom your dog. Professional groomers, especially one that has worked with your dog before, can provide insight into the best home-grooming practices.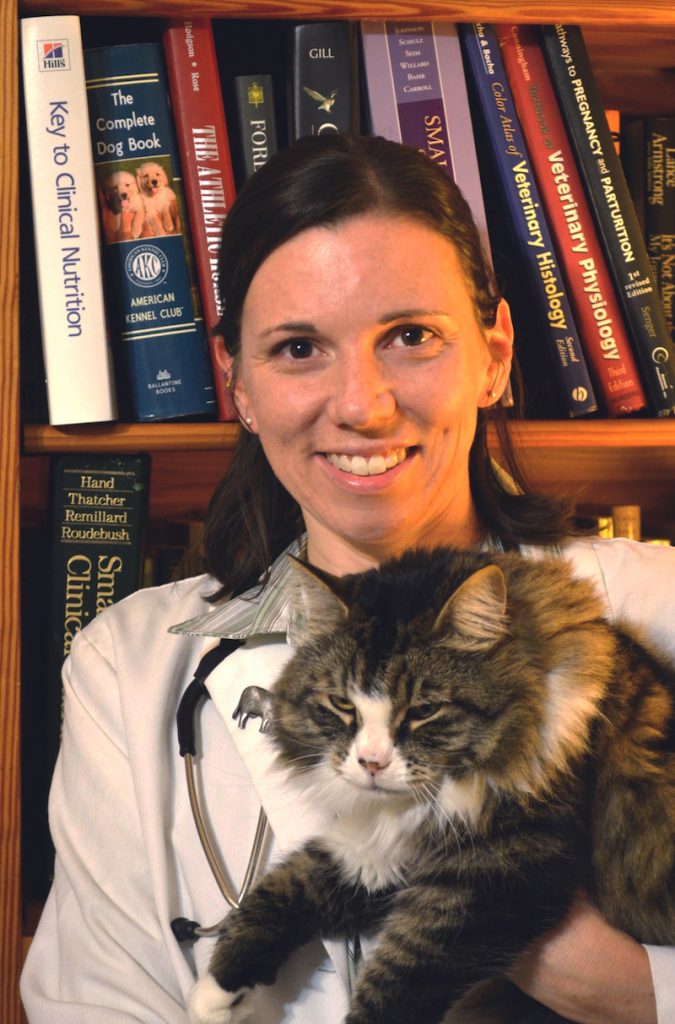 "Safely and comfortably grooming your dog may take some practice. Don't just expect to jump in feet first. Instead, get some practical tips from your veterinarian and groomer and be sure you choose a grooming clipper that is comfortable to use for both you and your dog."
Dr. Chyrle Bonk, DVM
Take some time after speaking to a groomer to find what your dog should look like. The American Kennel Club has fantastic in-depth articles on grooming, as well as breed-specific guides.
Acclimate your dog to clippers
Once you feel more confident about how you're going to groom your dog, take some time to introduce your tools to your pup. More specifically, the clippers.
Even the quietest dog grooming clippers will create some noise and some vibrations. So, taking some time to introduce your dog to your clippers will decrease their fear and discomfort when it's time to actually do the clipping.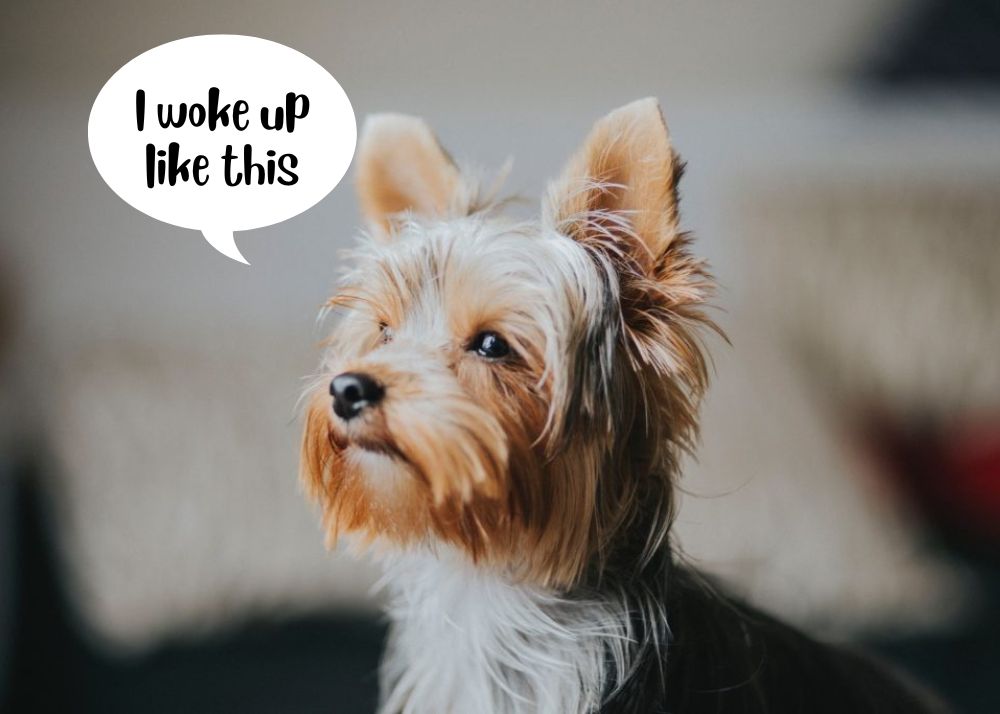 Remember: You don't want a jumpy dog trying to wiggle away while cutting their hair. It could cause a serious injury.
Take your time on this step. Take your dog to the table or area you'll be cutting their hair and turn the clippers on. Once your dog is acclimated to the sound, press the clippers to your dog, with the blades off or covered. This will introduce your dog to the vibrations common in dog clippers.
Start with a trim
Now that your dog is used to the dog clippers, make sure you wash and dry your pup thoroughly. Then, start with a trim. Using your clippers with guard combs set to the right length, work your way down your dog in the direction of their hair growth.
It's important to keep a firm grip on your dog during this process. Keep the clippers flat as you move across the neck, back, and then abdomen. Once done with these main areas, move to the head, legs, and tail. Be slow and methodical as you're clipping. You don't want to move too fast and hurt your dog or accidentally take off more hair than expected.
Touch up with scissors
Keeping the scissors pointed away from your dog, trim long strands on the paw pads and face. Carefully trim the ear flaps, jaw area, and on the side of the face. You can even trim eyebrows, as there is often a lot of excess hair on the face.
And remember, talk to your dog throughout the clipping process. Lots of treats and a calm voice do wonders in keeping pups calm during grooming sessions.
---
The differences in grooming single-coat and double-coat dogs
Dog clippers are a great way to maintain styles, trim short-hair dogs, and do more extreme cuts. However, clippers shouldn't always be your go-to tool for cutting your dog's hair. There are differences in grooming needs between short-hair and long-hair dogs.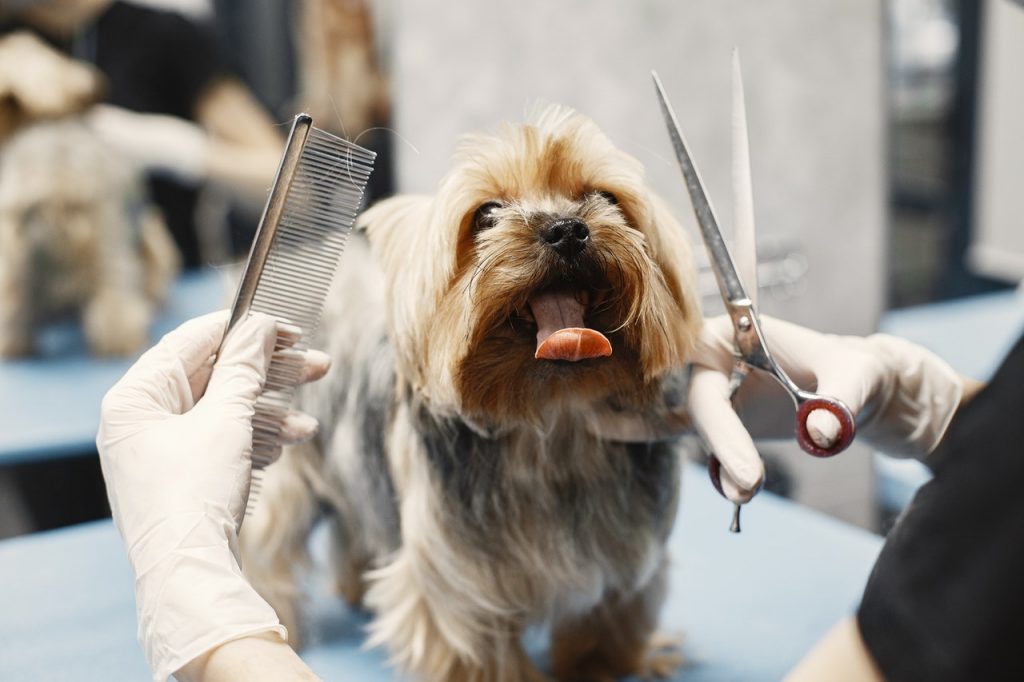 Grooming single-coat dogs
The good news is dog clippers are the perfect option for cutting the hair of your single-coated dog! The guide combs that come with most clipper kits allow you to pick the exact right length for your dog so you can give a consistent, even cut.
Cutting the hair of short-hair dogs with clippers can also reduce shedding throughout the year. However, be extremely careful you don't cut too close to the skin or you risk causing irritation.
Grooming double-coated dogs
For dogs with double coats, like husky's and golden retrievers, you don't want to shave them as low as most clippers allow. Shaving a double-coated dog will prevent their undercoat from ever growing back properly, making them more susceptible to sun damage.
More often than not, double-coated dogs will require scissors for most of their grooming. If the recommended cut style for your breed of dog is to keep the fur longer, you definitely don't want to trim the hair too short. Using scissors for double-coated dogs gives more control over what's being removed, without causing any damage to the undercoat.
---
Different grooming styles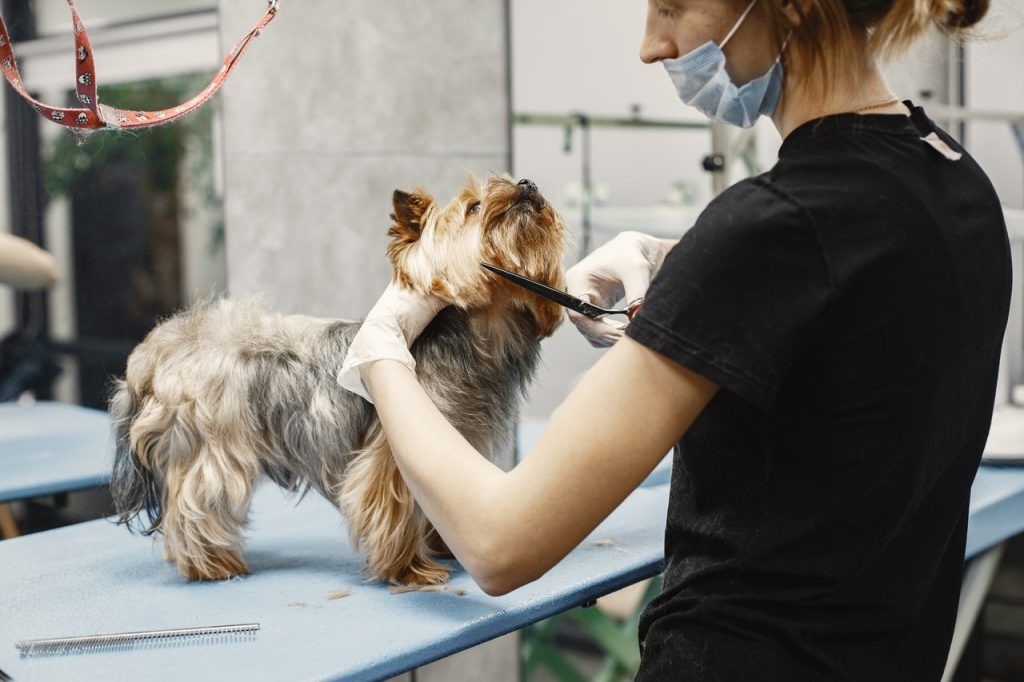 One of the best things about cutting your dog's hair at home is you have much more control over which style you want. While your groomer will have the best insight into which style is best for your dog, there are 4 main grooming options from which you can choose.
Below we break down the 4 clipping options you can decide between for your next at-home grooming session with your pup.
Kennel cut
A quick and simple shave down that is easy to maintain, but still looks natural on your dog. Often leaving about a half inch of hair on the body, these types of cuts are a perfect option for beginner at-home groomers to try.
Teddy bear trim
A slightly more complicated cut, the teddy bear trim leaves a half inch or more of hair on the dog, but is then finished with scissors. The scissors are most often used to cut around the face to give more definition. Teddy bear trims require a bit more maintenance, especially around the face.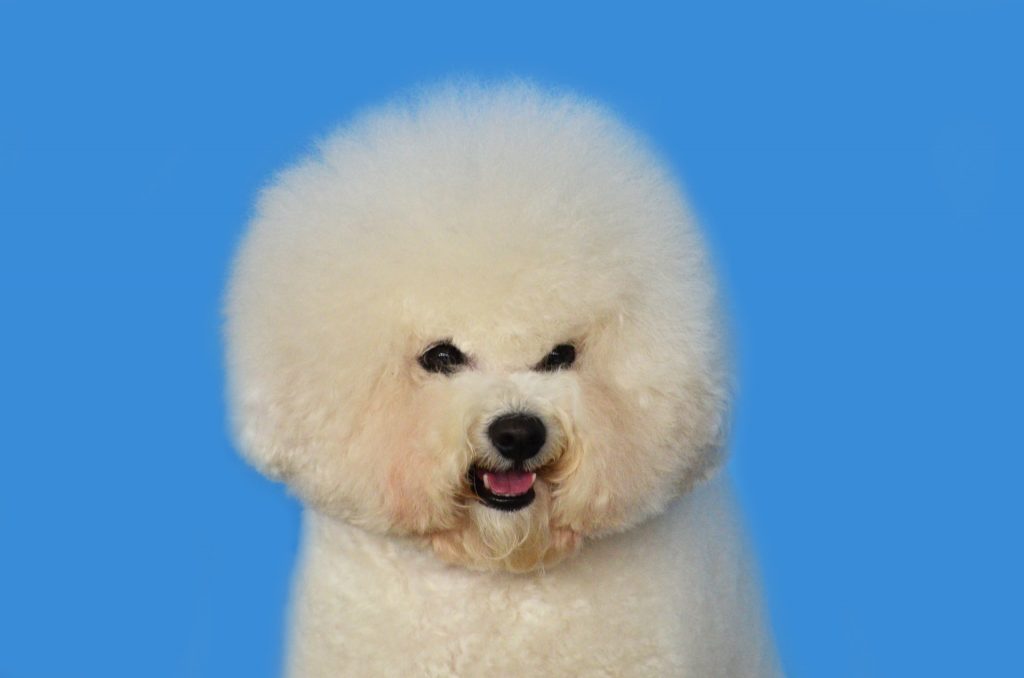 Breed trim
Our recommendation for grooming style, a breed trim follows a set of rules designed specifically for each breed. These, in general, leave a dog's coat in its most natural state. Often, breed trims are a simplified variation of a show trim.
Show trim
Also called a full coat, these aren't recommended for the everyday pet. Following an even more strict set of rules than the breed trim, these specialty cuts follow show dog standards and are extremely difficult to maintain.
---
FAQs
Before we end, let's take a look at some of the most frequently asked questions about dog clippers and at-home dog grooming.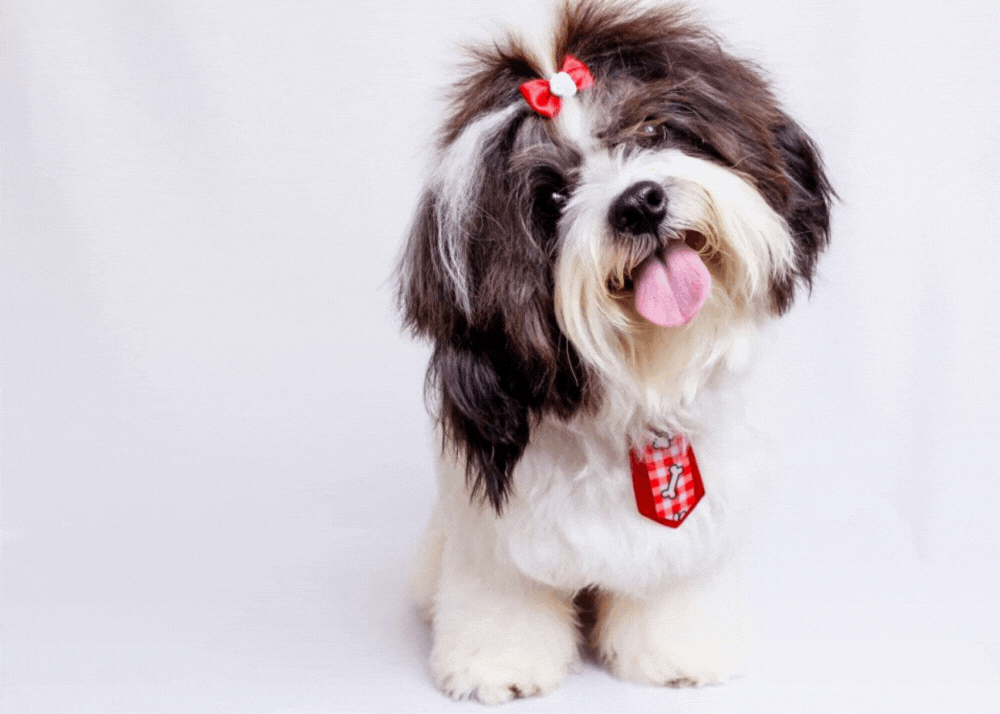 Can I use human hair clippers on my dog?
Because human clippers are made for finer hair and designed to cut closer to the skin, it's important to use dog clippers made specifically for pets. Dog hair is thicker and coarser, requiring thicker, longer blades. The blades on dog clippers are also designed to stay further away from the skin.
Using human clippers on dogs can increase the risk of cutting your pup or even burning them with an overheated motor.
Is it better to cut a dog's hair wet or dry?
The experts agree you should always cut your dog's hair dry. To get the best result from cutting your dog's hair, you'll want clean, dried hair.
How often should I cut my dog's hair?
How often you need to cut or trim your dog's hair will depend on the breed of dog you have, as coat type and length are huge factors in grooming frequency. Some dog's need touch-ups in their grooming every couple weeks, while others can go months without needing their hair cut. Consistent brushing, de-matting, and shampooing of your dog can also decrease the number of times you need to cut your dog's hair.