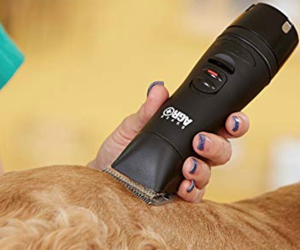 Grooming your dog's coat is an important facet of pet care. Many breeds of canines have fur or hair that left untended, can grow extremely long. The hair can tangle and mat as it grows out resulting in a not only unsightly problem but a rather painful one as well.
Keeping your faithful friend clean and comfortable is a crucial concern for a responsible pet owner.
Taking your faithful friend to the dog grooming salon is a good solution but also an expensive one. As grooming costs continue to soar, deciding to groom your pet yourself can offer a way to save you money while bonding with your dog.
The sheer number of clippers currently on the market is daunting, so we reviewed the top ten dog grooming clippers available and crafted a
helpful guide
to help you find the perfect set for you and your furry friend.
Selecting the Best Dog Grooming Clippers in April, 2020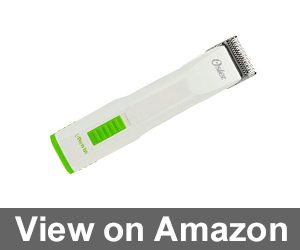 The Oster Volt Cordless Pet Clippers provide a heavy-duty solution for pets with extremely thick or matted hair. This set runs on a Lithium-Ion battery which is detachable and rechargeable.
Thanks to a higher torque system with lower blade speeds, this clipper set will not overheat, keeping your dog free from burns or any discomfort while grooming.
The Oster Volt is cordless making it perfect for use on animals that stay outdoors. You can easily use the clippers on dogs, cats, livestock, or horses.
Our testing team experienced awesome success when using the Oster to remove matting on dogs and horses earning it high marks as a smart purchase.
Pros
Cordless system with a Lithium Ion battery
Runs up to two hours on one charge
Battery is detachable
Perfect for larger breeds with thick coats, matting, or for livestock
Cons
The Oster Volt is a tad bit loud which may startle some pets, so we recommend acclimating them to the sound slowly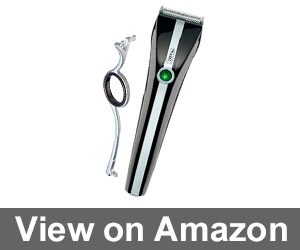 The Wahl Motion Animal Lithium Ion Clipper includes everything you will need to pamper and pretty you puppy pals. The clipper provides constant speed control to allow constant torque to help you power through tough mats or especially thick hair.
The clippers feature a 5 in 1 system that allows the blade to switch between the #9, #10, #15, #30, and #40 sizes.
The Wahl Motion Animal Lithium Ion Clipper includes six attachment comb guides for customized cutting, charger and charging stand, storage case, cleaning brush, blade oil, and an instructional guide.
Our testing team loved that everything is included and that the clippers are extremely easy to use while providing excellent grooming results.
Pros
Cordless option with a Lithium Ion rechargeable battery
Perfect for cats, dogs, horses, and livestock
Runs for up to 90 minutes on one charge
Includes everything you need to groom your pet
Easy to use
Cons
Storage case is a bit flimsy, so you may want to purchase a more durable storage case to protect your kit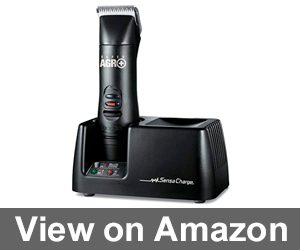 The Andis Pet Super AGR+ Clipper is specifically designed for heavy-duty use. The clippers will run for around one hour on a full charge.
The recharge time for this option is a little under an hour.
This offering from Andis has a detachable blade and will work with the Oster A-5 blade as well. Our testing team liked that this system includes a charging stand, blade oil, and a durable case.
The shorter running time makes these a great back up option for busy groomers or for detailing delicate areas such as paws.
Pros
Includes blade oil, charging stand, and case
Recharges in less than an hour
Easy to use
Great for use as a second set
Cons
Takes almost as long to charge as its running time, so this would be used best as a back-up option when other more powerful clippers are recharging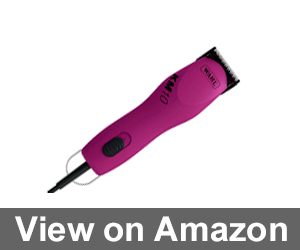 The Wahl Professional Animal KM10 2-Speed Clipper is a terrific corded option. The clippers are extremely durable while featuring brushless motor technology.
This set is ideal for grooming pets with thick coats, double coats, matting, or for summer time shave downs.
The Wahl Professional Animal KM10 2-Speed Clipper arrives with clippers, a size #10 detachable blade set, oil for the blades, a brush for cleaning, and an instructional guide.
Our testing team loved using these clippers. They work amazingly well for summer shavings of Pomeranians, who can be difficult to groom due to their double coat.
Pros
Comes in a kit that is perfect for beginners or those with more experience
Available in purple or blue
Corded clipper
Great for dogs, cats, horses, and more
Cons
Blades tend to get hot with heavy use, so go slowly and often check to be sure that they are not too hot for your pet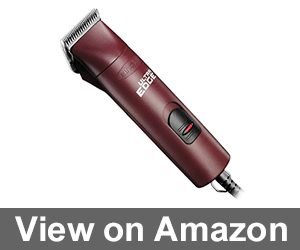 The Andis UltraEdge Super 2-Speed Detachable Blade Clipper is a corded clipper with both high and low-speed settings.
The clippers are very quiet which would make them a lovely solution for dogs that get frightened by the sounds emitted.
This offering from Andis has a 14-foot cord to allow you to work around your animal without becoming hopelessly tangled up.
On the downside, the blade has a tendency to get pretty hot. Our testing team highly suggests grabbing a can of cooling blade cleaner which will help reduce friction while acting as a coolant.
Pros
Very quiet
Several color options including orange, green, blue, burgundy, and purple
14-foot long cord
Size #10 blades
Cons
Blades may tend to overheat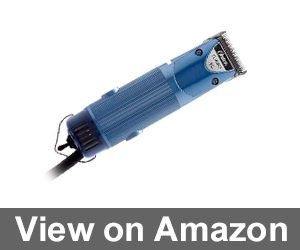 The Oster A5 Turbo Two Speed Animal Grooming Clipper offers efficiency, speed, and ease of use all at a terrific price point. With the superior performance from a heavy-duty motor you will feel confident tackling even the thickest coats of fur.
This Oster offering also has two speeds to help you power through tough mats or gently trim sensitive areas.
The Oster Turbo has been crafted with cryogenic technology to extend its life while increasing performance capabilities.
Our testing team tried out the Oster Turbo both at home and in a professional grooming capacity. The Oster Turbo is both easy to use and maintain which made our testers very happy. The blades did not overheat with heavy use making them a smart buy for pet owners and grooming pros alike.
Pros
Available in black or blue
Extremely easy to use and maintain
Cuts through hair quickly yet gently
Arrives with detachable size #10 blade, blade oil, clipper grease, cleaning brush, as well as extra carbon brush replacements
Cons
Corded option, so the cord may annoy some users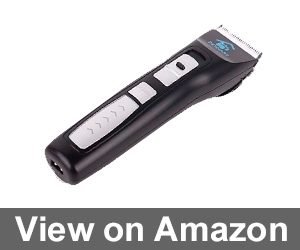 The PetDIARY Dog Hair Clippers are an affordable option with everything you will need to start grooming your pets at home. You will receive cordless rechargeable clippers, scissors, thinning shears, guide combs, and a cleaning brush.
This version is charged by the use of an ordinary USB cable which is nice because you won't need to worry about damaging or losing the charger.
The PETDIARY Dog Hair Clippers are a great set for novice users.
These clippers are much lighter and smaller than others, making them a great option for anyone with mobility issues. Our testing team loved how quiet the clippers are during use.
Pros
Lightweight and compact design
USB charger
Quiet
Includes full grooming kit
Cons
May not work as well on very thick or coarse coats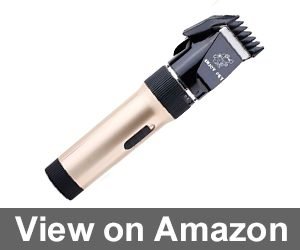 The ENJOY PET Professional Pet Hair Grooming Kit features a cordless Lithium Ion battery with an estimated run time of seven hours. This budget choice includes everything you'll need to groom your furry friend properly.
You will get clippers, comb, scissors, guide combs, chargers, and cleaning brush.
This offering from ENJOY PET is extremely quiet. Nervous pets will not be upset by the sound or the vibrations.
Our testing team could not believe how long the clippers ran on a single charge making it one of our favorite choices.
Pros
Very lightweight and compact
Includes everything needed for home grooming
Easy to use and maintain
Budget price
Cons
May not work as well on very coats of thick coats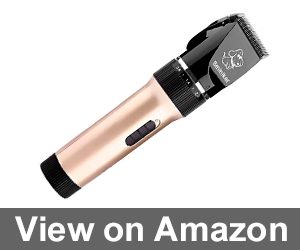 The Sminiker Low Noise Rechargeable Cordless Cat and Dog Clippers are a terrific budget pick. This set is particularly great at removing mats in cats.
One member of our testing team used it to remove mats from her Himalayan cat, who actually seemed to like the grooming process.
This offering from Sminiker arrives with a pet clipper, nail clipper, file for nails, charger, cleaning brush, scissors, comb guides, and a helpful manual.
The clippers work extremely well and are very easy to learn on. Thanks to a low price point, this set was our favorite choice for grooming cats and timid pets at home.
Pros
Great price point
Includes everything you need to groom at home including nail clippers
Easy to use and maintain
Did not upset cats or anxious pets
Cons
Not meant for very thick coats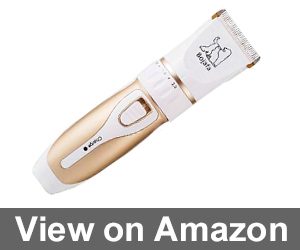 The Bojafa Low Noise Cordless Dog Grooming Clippers are a budget-priced option. The clippers come along with all of the essential items needed to groom your pet at home.
Each charge will allow you around 75 minutes of cutting time.
The Bojafa Clipper Set is extremely quiet. Thanks to this fact, these clippers were not as scary to timid pets.
Our testing team used it on rescue dogs as well, and most seemed completely unfazed by the sound.
Pros
Great new-to-grooming kit
Easy to use and maintain
Very quiet
Cons
Not as strong as other versions
Best Dog Grooming Clipper – Buyer's Guide
Both grooming professionals and DIY-loving pet owners understand how important grooming is. Your dog's hair requires upkeep and maintenance, just like yours. Trips to the groomer can be expensive and extremely stressful for you and your pet. Purchasing a dog grooming clipper set is a terrific way to save money while personally attending to your fuzzy friend's needs.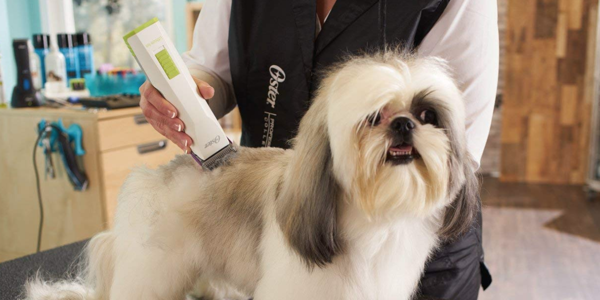 There are so many different types of dog hair clippers with a vast array of specifications and qualities. Finding the best clippers for you and your pup can quickly turn into a nightmare. While researching and reviewing our top dog grooming clippers, we also created this detailed shopping guide to demystify the world of clippers. Let's get started!
Do I Really Need to Use Dog Clippers?
As with any big purchase, when deciding on the best dog grooming clipper to select, you may wonder if you truly need the pet version. Many households have a perfectly good pair of human clippers already tucked into their cabinet. You do not want to use human grade clippers on your pet though because they are extremely different than animal clippers.
A canine's skin is much more sensitive and delicate than human skin. The clippers used on them must be able to trim hair while protecting the skin. They are also much more sensitive to heat, so the blades must be specifically calibrated to resist high temps.
While you may not mind sharing your clipper with your faithful friend, you may end up suffering as well. Due to the structural differences in dog hair and fur when compared to human hair, it is often much coarser and thicker. This, in turn, could result in dulling the blades to the point where they will no longer work or could severely damage your hair.
Key Considerations
If you are in the market for a new set of dog hair grooming clippers there are a few items that will allow you to sort through the clippers that will be a welcome addition to your grooming arsenal. These considerations will also allow you to understand which dog grooming sets you should steer clear of. Let's take a closer look at these crucial factors.
What's Your Speed?
A key performance factor for all clippers, both for humans and pets, is the rotary speed per minute. The rotary speed per minute is what will allow the clippers to glide easily through the fur like a hot knife through butter. Most dog grooming clippers fall into one of two categories: single speed dog grooming clippers or variable dog grooming clippers.
Single Speed Dog Grooming Clippers
Single speed dog grooming clippers are easier to learn on which makes them great for novices. This version heats up slower, so there is less risk of burning yourself or your pet.
Variable Speed Dog Grooming Clippers
Variable speed dog grooming clippers offer advanced dog grooming enthusiasts and professionals a much greater level of versatility. Variable speeds allow for great customization which will result in a more professional looking result.
Motor Speed and Power's Effect on Performance
For breed with very thick coats, double coats, or other animals such as cows, horses, llamas, or alpacas, the motor will need to be both fast and strong. Shearing through coarse hair or matting will require the clipper to cut smoothly. If they aren't powerful enough, you will not be able to cut through the thicker, denser areas.
When grooming animals with these types of coats paying attention to the rotations per minute, RPM, is also imperative. RPM is essentially the number of times the motor makes a full rotation in one minute. Professional grade dog grooming clippers offer a higher level of rpm and speed, but they are also more likely to be louder, vibrate more, and be heavier to wield. If you are new to grooming, try to select a clipper that has the least speed and RPMs needed to provide great results without excessively endangering your dog or yourself.
Good Vibrations
If you are familiar with working with clippers, you understand that the motor speed can cause a lot of vibrations. The more powerful the motor is, the worse it may vibrate. This can be especially troublesome for individuals with carpal tunnel syndrome or arthritis.
A too-powerful motor can cause too much friction, resulting in excessive heat. Heat can burn you or your pet. They can also be very loud which can terrify many animals. Finding the best balance between power and speed will keep both you and Fido safer.
Weight and Size
As technology continues to advance and grow beyond our wildest dreams, clippers also become more advanced and lighter. Many cordless options are lighter and more compact in stature. This is great news for users with carpal tunnel, arthritis, or smaller hands. Conversely, these clippers lack the brute strength and force of their corded counterparts.
Corded clippers have also decreased in size and weight consistently throughout recent years. They are tougher and can tackle harder jobs like severe matting with complete grace and ease. You will be attached by cord, however, and they tend to be louder and heavier.
Canine Hair Cutting Tips
Here are some helpful hints and tricks to make grooming your furry best friend a much more pleasant experience, for both you and them.
Wash and brush your pet first to remove any tangles or clumps that could be difficult to remove later on
Make sure you have all of the proper tools you'll need: Clippers, combs, a slicker brush, and towels
If your pet is anxious around noises, select quieter clippers
Keep clippers sharpened to avoid pulling hair
Go slowly and take your time
Clip in the direction of your pet's hair growth
Hold your pup gently to avoid any sudden movements which result in injuries for both of you
Study up on the specific breed's needs for grooming and coat care
Allow your pet to see and smell the clippers before you try to use them on him or her
Run the clippers with no blades attached and allow your pet to get a feel for what it will be like when you begin grooming their hair, this will help acclimate and relax your pup
While finding the best dog grooming clippers can seem stressful, learning about a few key considerations will have made the process much easier. Keep the specific breed or breeds that you'll be cutting in mind. Understanding their hair's needs will allow you to select the best model.
We hope our review of the best dog grooming clippers helped you find the best version for you and your fur baby and that our guide was educational as well. We love comments as much as our dogs love the mailman! Leave us a comment with your grooming tips or a picture of your pet after their last grooming below.