Outdoor cat houses are the ideal way to give your cat the freedom to explore outside, while also giving them a shelter to stay safe and comfortable. The balance can be a bit tricky, but it's definitely worth the effort in the end! Our veterinarian partner breaks down the need for outdoor cat houses best: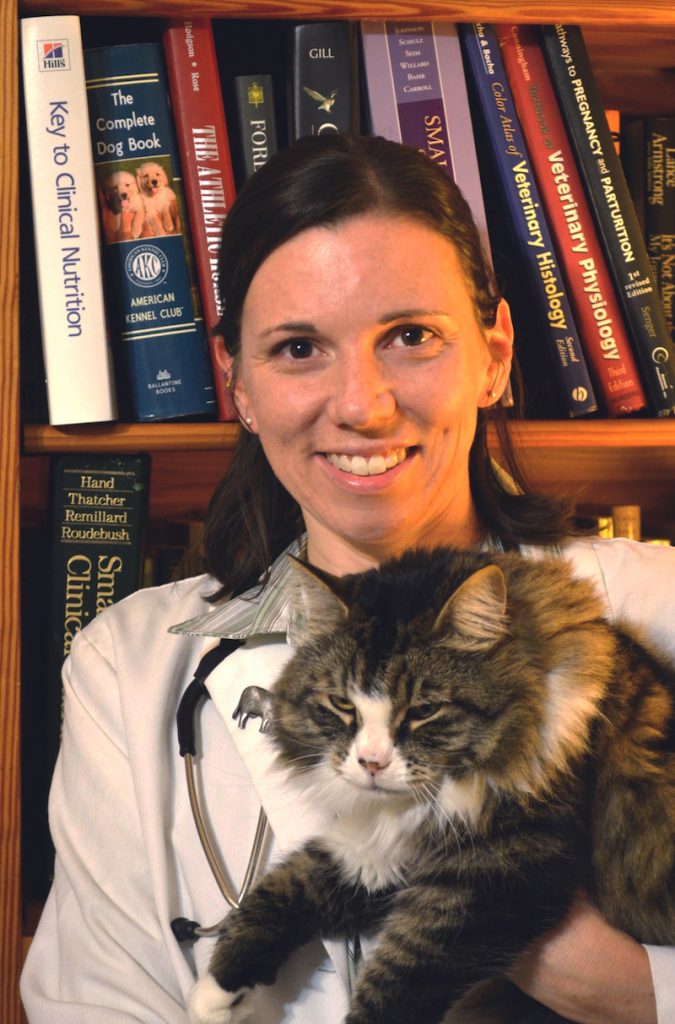 "Most cats are naturally drawn to the outdoors but it's not always the most accommodating space. Making the outdoors more hospitable for your indoor or outdoor cats requires a cat house to provide shelter from the heat or cold and a safe place when they're in need."
Dr. Chyrle Bonk, DVM
We've spent hours researching outdoor cat houses, their more important features, and what pet parents have to say about them.
Where's the best place to put an outdoor cat house?
To make sure your cats, or any feral cats you want to protect, make good use of your outdoor cat house, you want it to be in the right place. For those who don't have porches, usually the ideal location, there are still plenty of options on where to place your outdoor cat house.
If your goal is to encourage your own felines to make use of your brand new cat house, pay attention to where your cat normally likes to rest. Is it under a tree? Right near their outdoor feeding area? By placing an outdoor cat house in the same vicinity your cat is already resting, you're simply supporting their already chosen spot.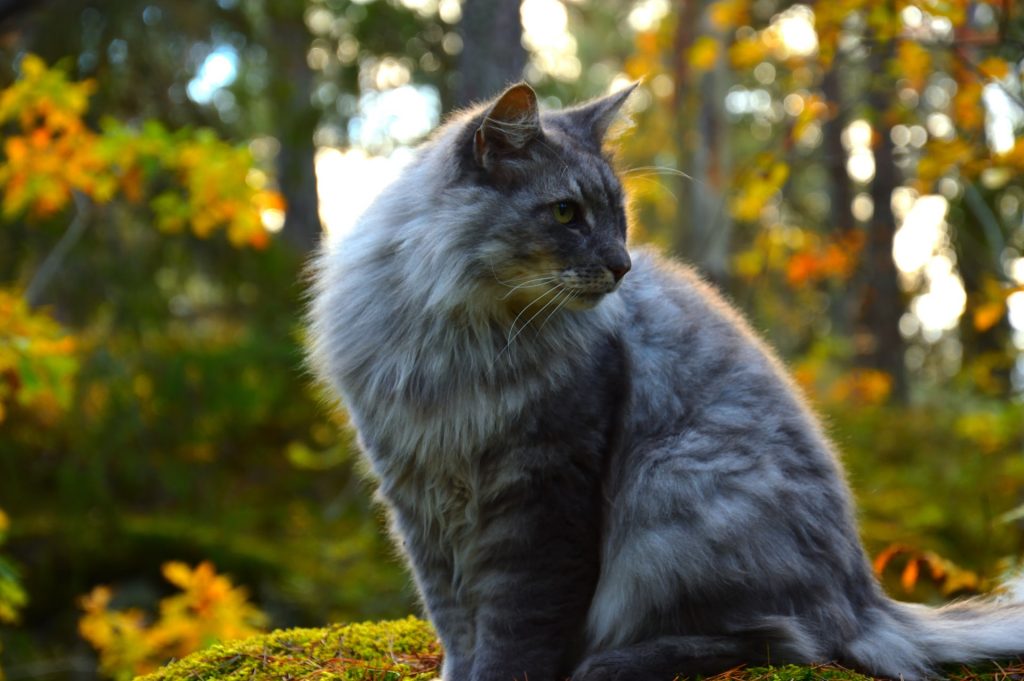 However, if your cat isn't already spending time outside, there are things to keep in mind to make your outdoor cat house more appealing. You always want to make sure your cat house is elevated. Even if your cat can come back inside at will, an elevated cat house will keep water out.
As a general rule, cats don't like being out in the open, so if possible, place the cat house in a tucked away in a corner or covered area of your yard.
Finally, whenever possible, place your outdoor cat house in an area it will get at least some sunshine. We've all seen our cats curl up in the sun and who doesn't enjoy a warm place to sleep? As long as temperatures aren't too hot, placing a cat house in the sun will make it much cozier.
Jump to a section
Our top picks
How we chose
Setting up cat houses for feral cats
FAQs
---
Our top picks
We've managed to narrow our top outdoor cat house picks to the 8 stellar options below. Each have passed the criteria put together by our licensed veterinarian partner.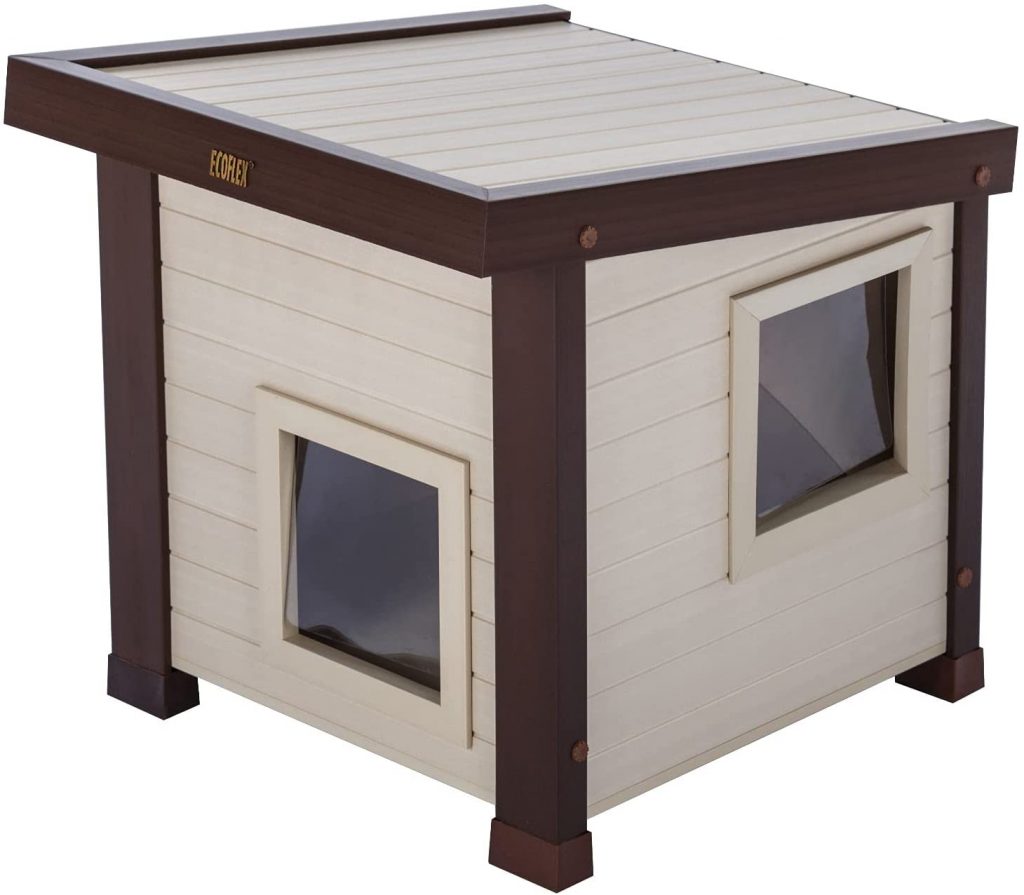 Best Overall
Our favorite outdoor cat house is built off the ground, has a slanted roof to prevent water buildup, and has a second door to give kitties peace of mind.
The ecoFlex Albany Outdoor Cat House hits every point for what we want in an outdoor cat house. Because the exoFlex was specifically designed for feral cats or cats that spend part of their days outdoors, every detail was expertly considered.
The 19.1x21.8x20.2 inch shelter is the ideal size for a larger cat or a couple smaller cats. You can make the space feel smaller and more comfy or more spacious by opting for an outdoor cat bed or a less bulky outdoor blanket.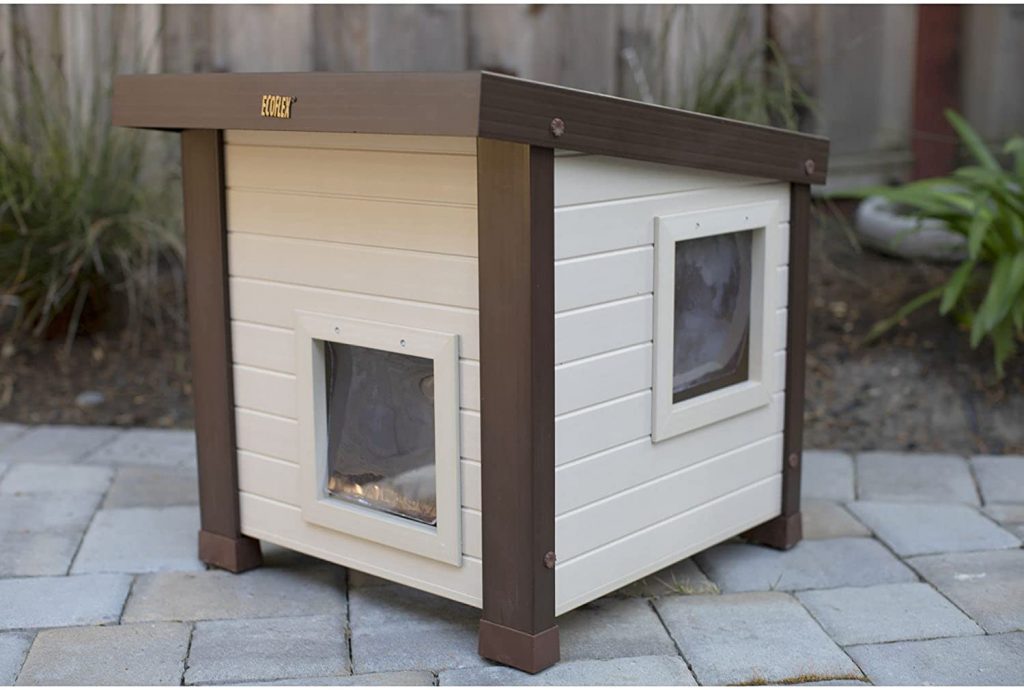 We could not be more pleased with the durability of the ecoFlex cat house. Made from a proprietary mixture of plastic and wood, the shelter is extremely hardy. The 100% non-toxic cat house won't just last you a long time, it won't crack, split, or distort.
Just as important as the longevity of the ecoFlex Albany cat house is its weatherproofing features. The outdoor cat house is raised off the ground to improve ventilation, but also to prevent water from entering. The 2 doors, a front door and an escape door, are covered with flaps to keep the interior temperatures more consistent. And finally, the tilted roof keeps rain and snow from building up.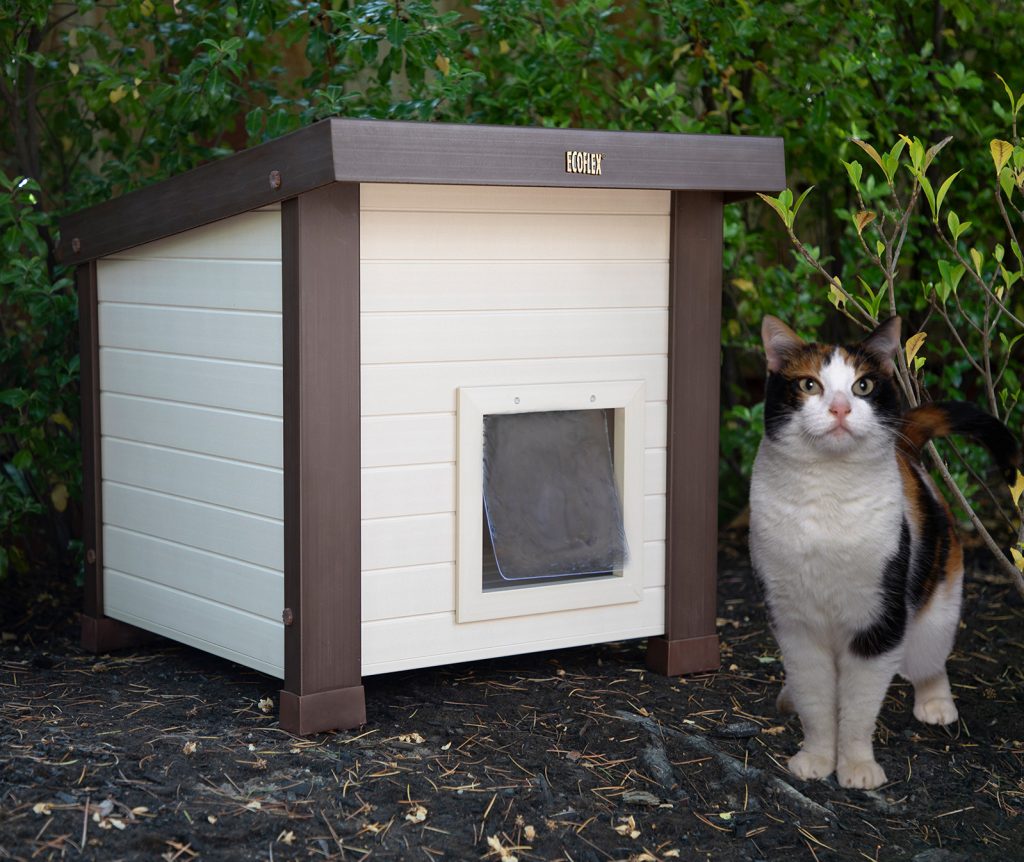 If you don't want to spend more time hunting for an outdoor cat house, this is the one for you. The durable, safe, and affordable cat shelter is such a treasure, easy to clean and even easier to assemble.
Pros
Durable
Sized for a large or multiple smaller cats
Two entrances
Easy to assemble
Cons
Requires a bed or blanket for colder months
---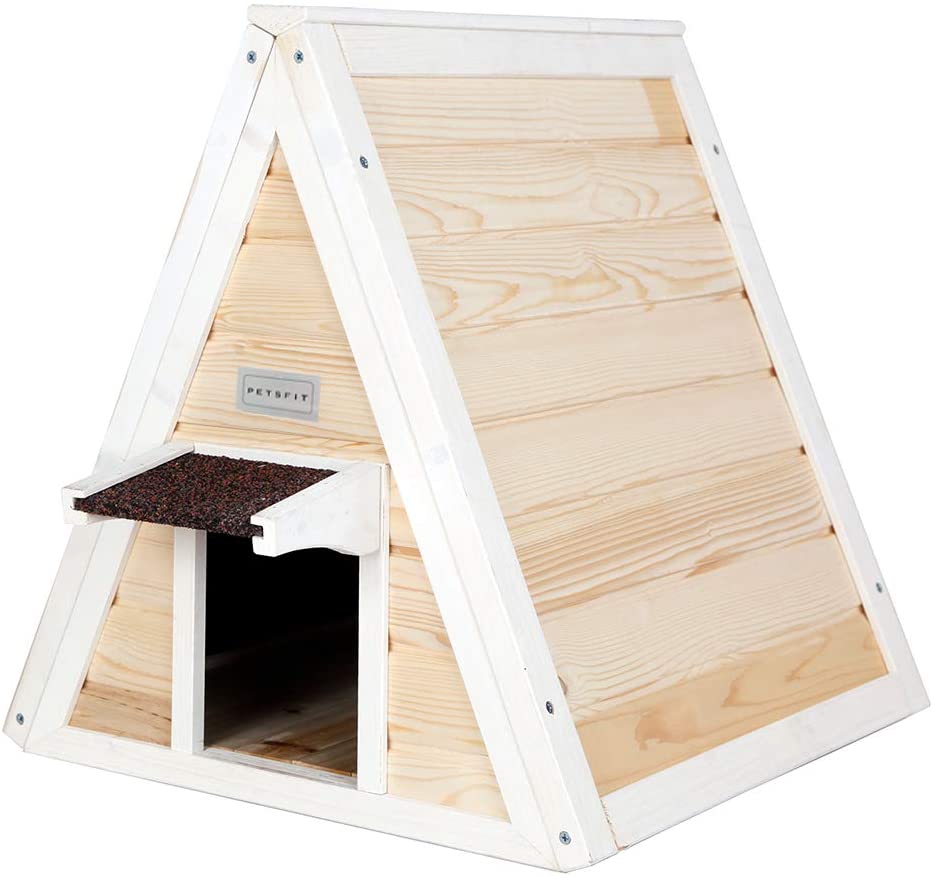 Best for second choice
A close second on our list of favorite outdoor cat houses, the Petsfit Triangle cat house offers a sturdy, durable option for adult cats.
Our runner-up outdoor cat house has almost everything we want for our cat's outdoor shelters. The beautifully designed triangle house is smaller than some of the options on our list. However, the Petsfit Triangle can hold up to 15 pounds, making it just the right size for an adult cat or multiple kittens.
Wood is one of the best materials to build an outdoor cat house with, which is why the Petsfit Triangle is a fast favorite when it comes to durability. The thick Finnish spruce wood panels are covered with a water-based coating to protect the house from extreme weather. In addition to the exterior protection, the interior is lined with rubber.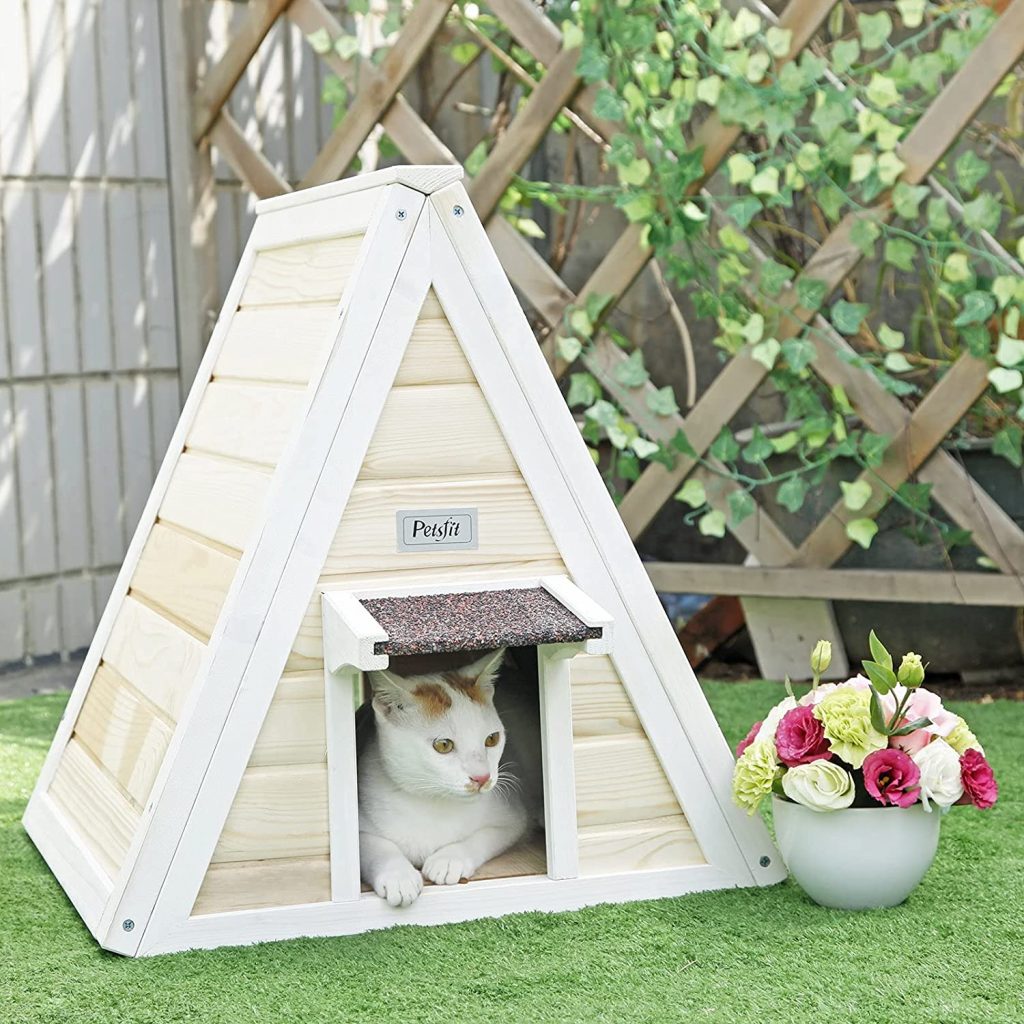 The Petsfit outdoor cat house comes with 2 doors, an open one at the front covered with a small 'porch', and a backdoor protected by a flap for quick escapes. We also really appreciate how simple Petsfit made it to assemble this cat house. For those short on time, you'll love the pre-drilled holes for screws and larger holes for protrusions.
To make cleaning easy, the Petsfit Triangle includes removable floor boards you can slide out, clean, and reassemble. The only reasons this cat shelter didn't make the very top of our list is it isn't elevated. You'll want to make sure you've placed the structure on a sturdy area off the ground to keep rain or predators from getting easy access.
Pros
Made from durable, weatherproof wood
Easy assembly
Two entrances
Rubber insulation
Cons
Smaller structure – Best for 1 cat
Not elevated
---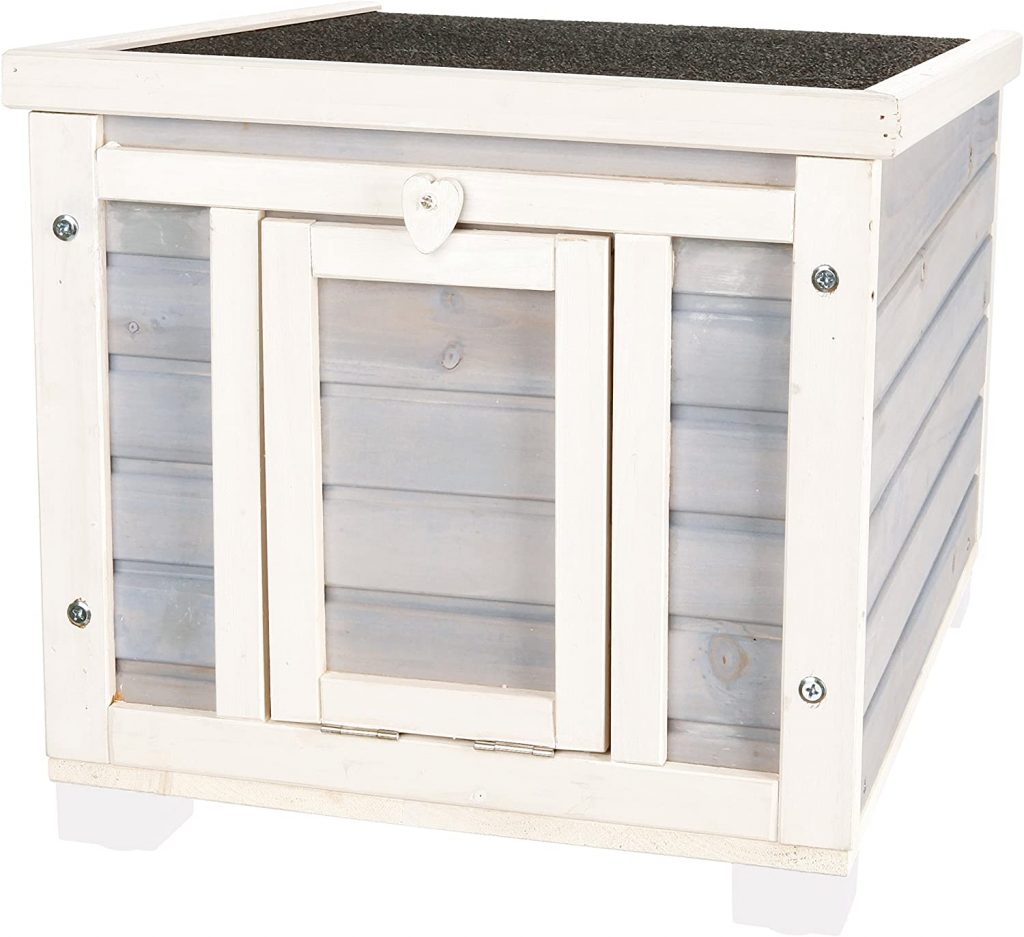 Best on a budget
With the Trixie Natura Pet Home, you can get an affordable cat shelter without sacrificing quality or safety.
Since 1974, Trixie has been making a wide range of products for pets. The history of the company can be seen in the quality of their Natura Pet Home, which was an easy choice for our budget pick. The wooden pet house is raised from the ground, keeping it protected from extreme weather. The roof is made from actual asphalt shingles, giving it a sturdiness difficult to find in some cat houses.
For easy cleaning, the Trixie Natura Pet Home has a hinged roof. You can easily leave the roof open on warmer days and close it when the weather becomes chilly. We're also fans of the quick assembly process, with most reviewers saying it took them less than 20 minutes to get it set up.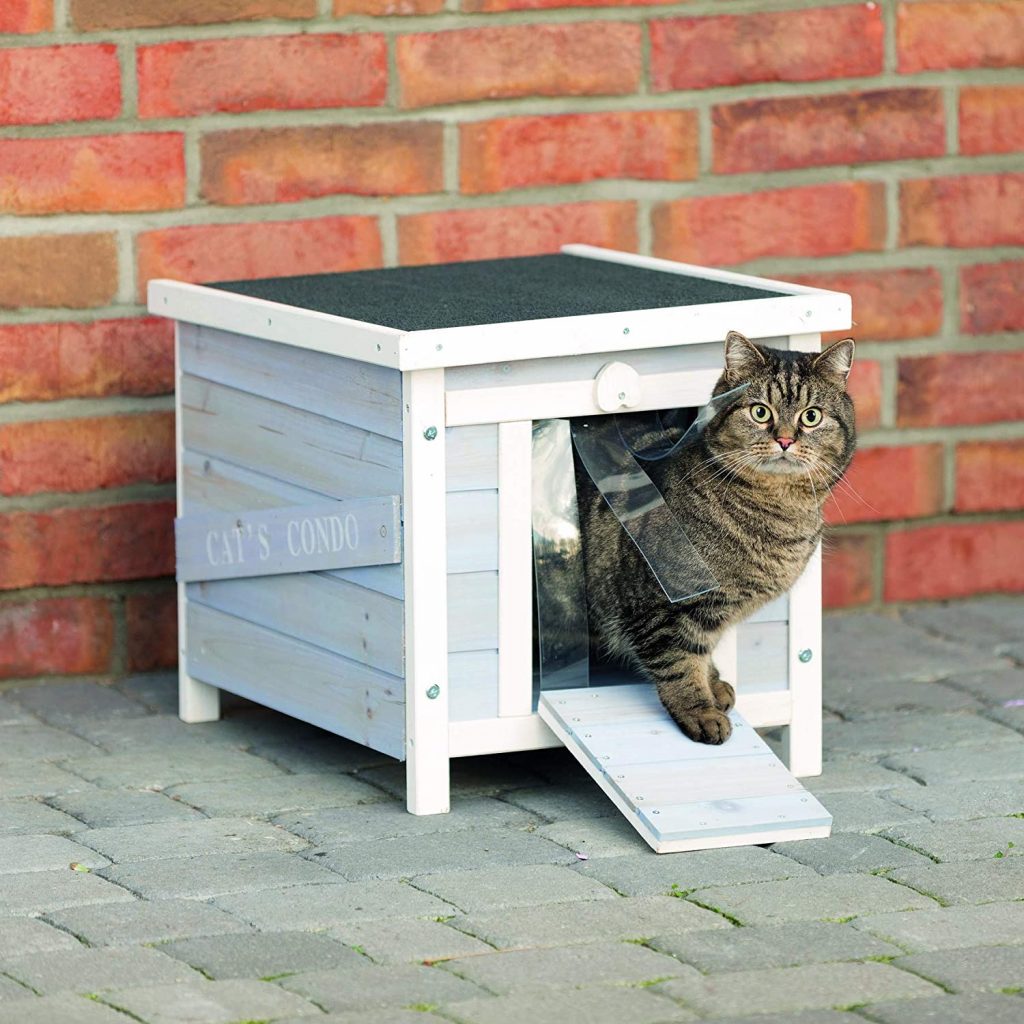 The only thing we wish the Natura included was a second door, specifically for jumpy or nervous cats. While you can for sure leave the top open, especially if it's under another shelter, cats tend to feel more comfortable with a second door.
Pros
Inexpensive
Easy to assemble
Made from pine
Cons
Smaller than some options
Doesn't include a second entrance
---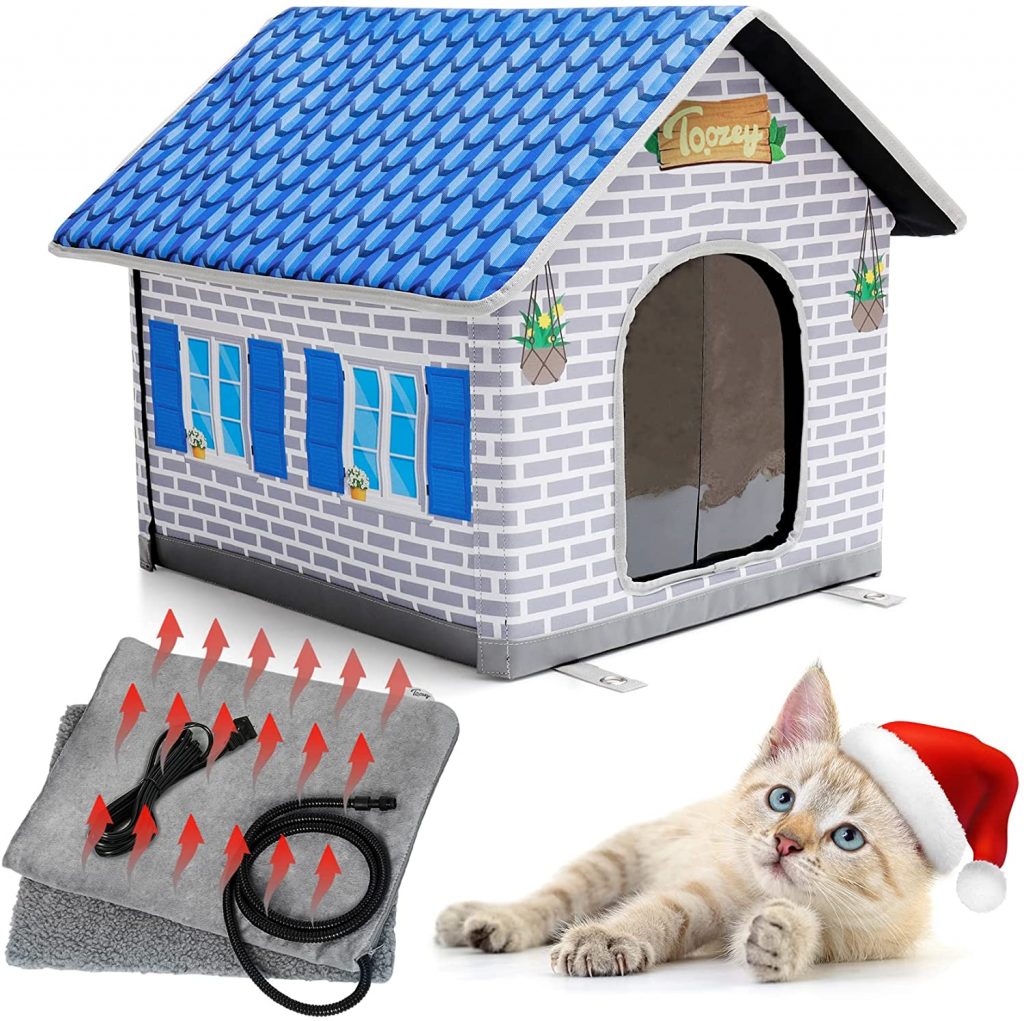 Best for small cats
Small cats will love this cozy little home, with its comfy size and heated bed.
Toozey's heated cat house may look like a toy, but it's our favorite for smaller cats. Because you shouldn't leave kittens or small adults outside alone, anyways, this itty bitty cat shelter is the perfect option for cats just learning their way around outdoors. The hook-and-loop assembled house comes together in minutes, making it simple to get set up and get going. The 2 entrances, each with door flaps, add a feeling of extra security for small cats.
While the Toozey Heated Cat House is weatherproofed and insulated, it is not raised from the ground and is quite light. Because of this, you'll want to place it on a slightly raised surface with at least a little additional shelter. The thermostatic heating pad will keep this house warm, but you shouldn't leave the pad plugged in unsupervised.
Pros
Cozy for small cats
Easy to assemble
Includes heating pad
Two entrances
Cons
Not elevated
Requires supervision when heating pad in use
---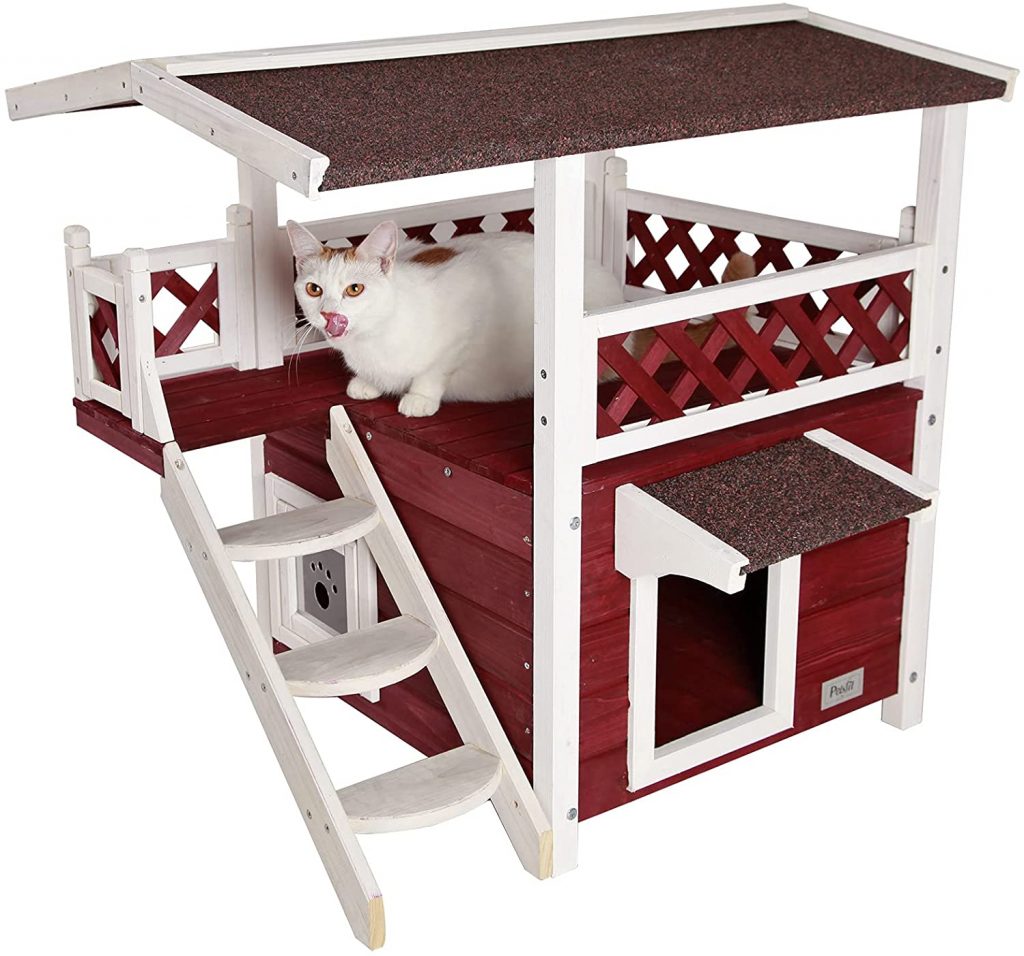 Best for multiple cats
There will be space for all your cats in this large, two-story outdoor cat shelter.
There's a reason Petsfit is on this list so many times: The company has long been making some of the highest-quality pet products. The Petsfit 2-Story Outdoor Shelter is made from real wood, with every board milled so the angles fit together precisely. With the raised floor and fantastic asphalt roof, this cat house will keep your cats safe and comfortable through any season.
One of the reasons we love this expansive shelter is because it offers and outdoor space for cats to lounge in warmer weather – though to be honest, they're sure to lounge on the roof, too! However, the interior, with its 2 entrances, will be just as cozy in colder weather. The outdoor cat house comes with pre-drilled holes, removable bottom boards for easy cleaning, and door coverings to protect cats from extreme weather.
Pros
Large enough for multiple cats
Easy to assemble
Raised floor
Two entrances
Cons
More expensive
A bit bulky
May require additional caulking
---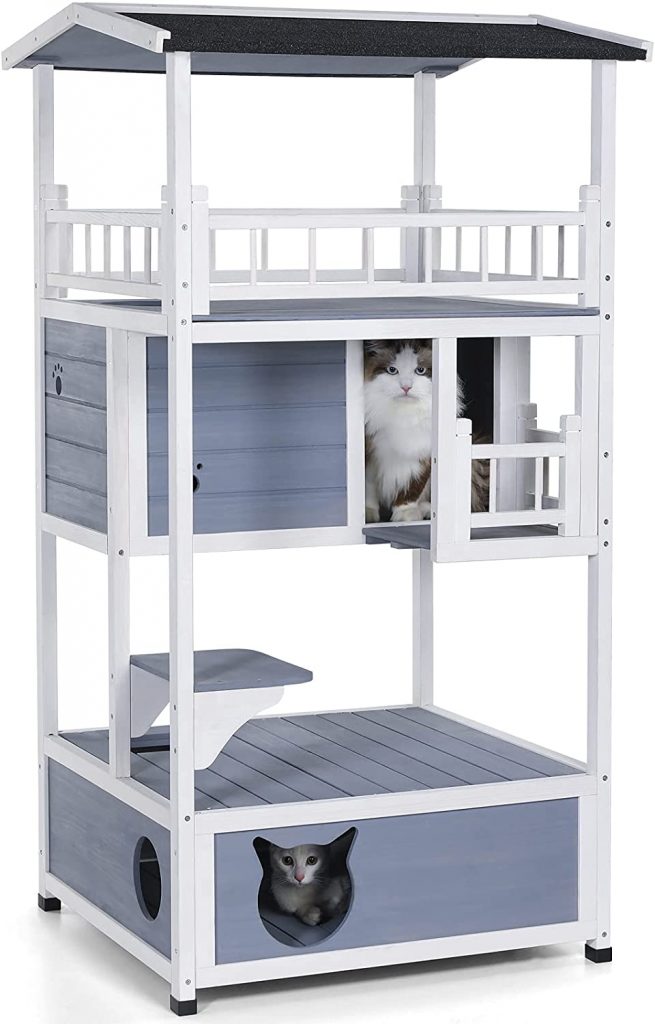 Best for feral cats
With different perch areas, plenty of escape routes, and multiple sheltered areas, even the most timid cats will find a place to relax..
Petsfit has done it again with this fantastical outdoor cat condo! The cat shelter has 4 levels, not including the roof. The building is made with sturdy Finnish spruce and painted with a water-based, non-toxic paint. With 2 different interior spaces, one small and one large, multiple cats will be able to find safety in this shelter during extreme weather.
We're huge fans of the varying spaces in this cat house condo. Different feral cats will be comfortable in different spaces. Petsfit has covered all its bases with this intricately designed, durable cat shelter. With a shelf to place food and water, multiple entrances and escape holes, and pre-drilled holes for easy assembly, you'll truly be the talk meow of the neighborhood with this outdoor cat house.
Pros
Large enough for multiple cats
Varying shelter options
Multiple entrances and exits
Cons
Very expensive
Needs a flat, stable foundation
May require additional weatherproofing
---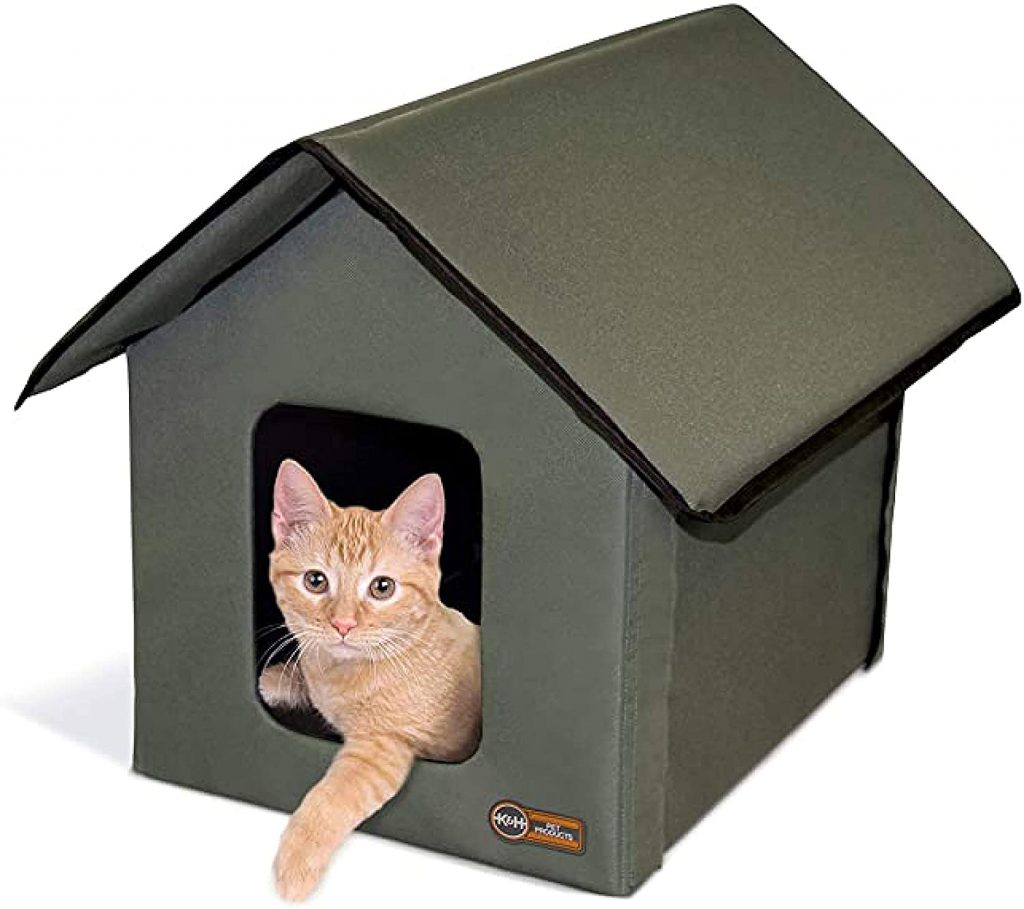 Best portable option
Give your cat peace of mind with this cozy, weather resistant cat house you can fold and take with you anywhere.
Nothing can stress a cat out as much as traveling or moving. If you're worried about an upcoming trip or change, introducing your cat to the K&H Kitty House may provide a sense of security for your fur baby. The foldable cat house can be assembled in moments with hook and loop fasteners and comes heated or unheated.
While we don't recommend setting this cat house in your yard permanently, specifically because it isn't raised, it's an ideal portable option. The comfy house works perfectly on porches, in garages, or even in tents while camping.
Pros
Portable
Cozy for small and medium cats
Two entrances
Cons
More expensive
Won't work as a permanent outdoor cat shelter
---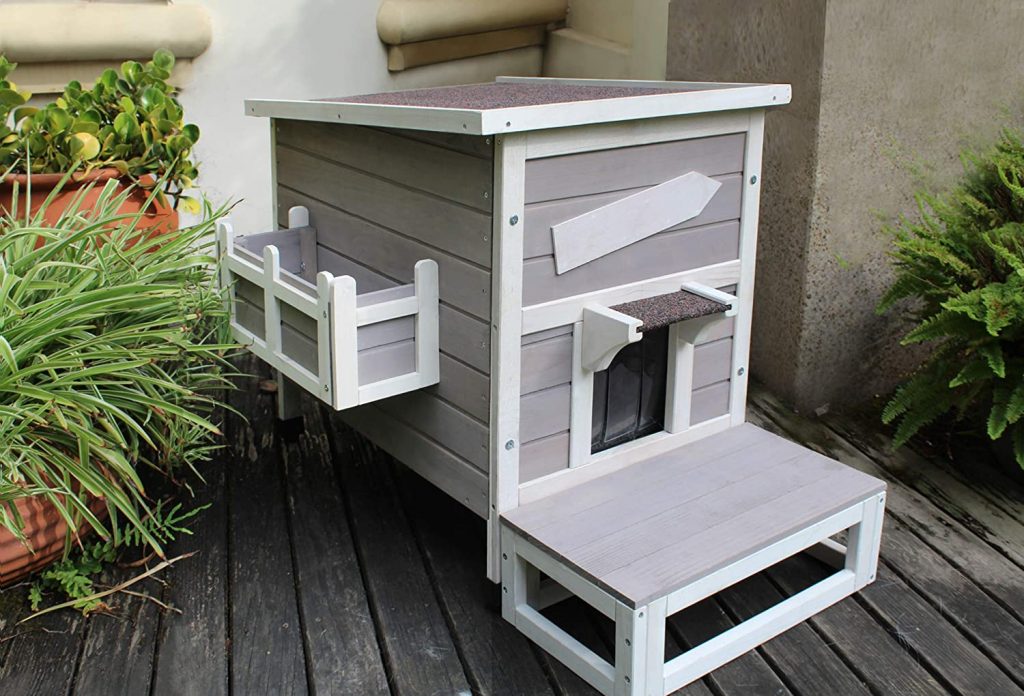 Best up and comer
With its included fleece blanket, space for flowers, and asphalt roof, even our last option on this list is fantastic.
The HiCaptain Outdoor Cat House ticks so many boxes when it comes to the perfect outdoor cat house. The medium-sized shelter can fit 2 to 3 medium sized cats, comes with a fleece mat, and is made from weather resistant fir wood. The raised cat house has 2 doors for quick escapes, but also includes covered peek holes you can use to look inside without sacrificing the warmth of the interior.
The HiCaptain Outdoor Cat House also comes with adjustable legs, a waterproof asphalt roof, and a removable floor to make cleaning easy. We love how easy it is to assemble this cat house, with its pre-drilled holes. The only reason this cat house isn't higher on our list is because it's fairly new and doesn't have as many reviews.
Pros
Raised floor
Asphalt roof
Two entrances
Cons
More expensive
Newer product – fewer reviews
---
How we chose – Picking the best outdoor cat house
The goal of The Pets Master and our veterinary partner is to offer insight into the best pet products to purchase. To do so, we like to share our protocol list features we looked for when picking our recommendations. Below you'll find how we chose the best outdoor cat houses.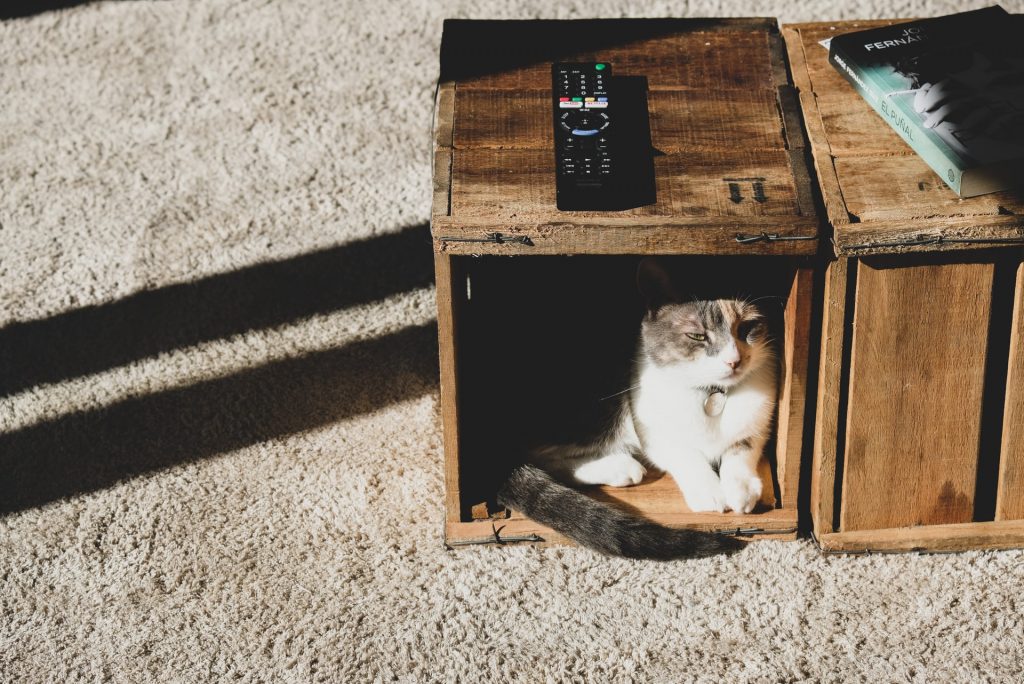 Size
The size of your cat house depends on the size of your cat and if you have multiples cats using the same cat house. While some cats don't mind piling on top of each other, others prefer their own space.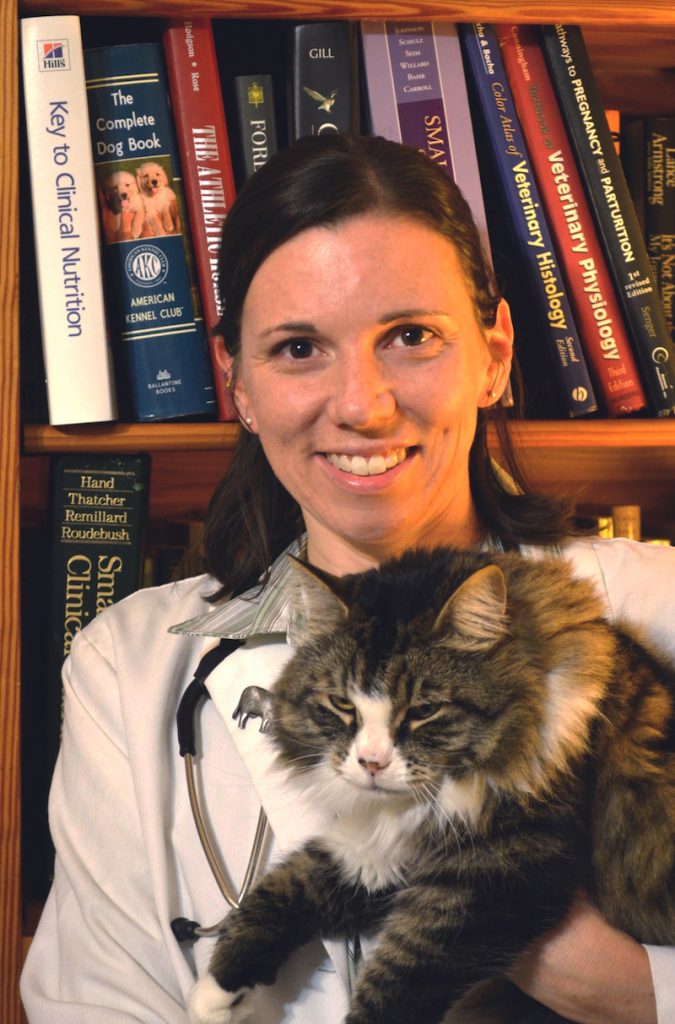 "Cats like places that are cozy and comforting, confined but not too tight. Cats will prefer a cat house that is sized "just right"-large enough to stretch out in but no so big that it feels overwhelming and uninviting. It should also have a door that is big enough to provide easy access but small enough to feel private."
Dr. Chyrle Bonk, DVM
As a general rule, your cat should be able to get in and out of the door and turn around in the house without any problem. We chose cat houses in a variety of sizes so you could make the best choice for you and your cat family.
Durability
This should go without saying, but a cat house needs to stand up to the weather without leaking or coming apart in the wind. When we looked at varying cat houses, we opted for those built of durable, sturdy material.
Our goal in picking the cat houses we did weren't just to give you options that would last a long time, but ones that could stand being in extreme weather for longer lengths of time.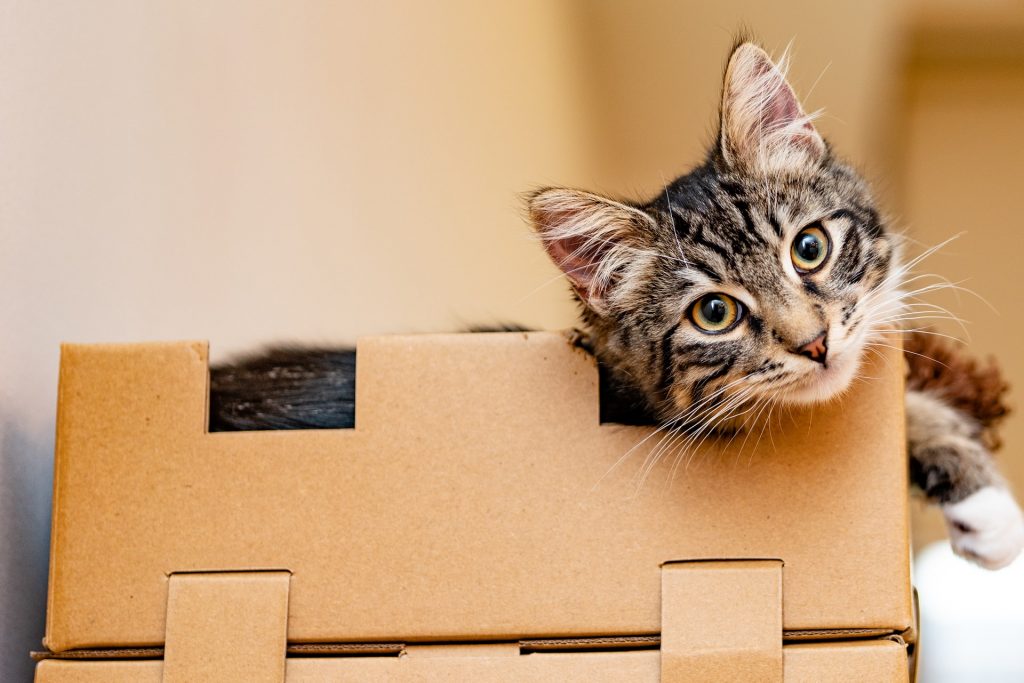 Insulation and weatherproofing
Insulation and weatherproofing kind of go hand-in-hand with durability. You want a house that will stay cool in the summer and warm in the winter. Just as important, you want a cat house weatherproofed enough to stand up to wind, rain, snow, and sun.
Insulation will determine how hot or cool your outdoor cat house gets. We picked several cat houses made from natural insulators, like wood, but also offered some where you could add your own insulation.
And while we recommend keeping your cat shelters under at least a partial covering, just being outside will expose it to varying extreme weathers. So we figured, the more weatherproofed, the better!
Cost
Even though it's a house, you shouldn't need to take out a mortgage for your outdoor cat structure. One of the contributing factors in how we chose our list of outdoor cat houses was how much they cost. Yes, we offered some more expensive options. However, overall, we tried to get you quality without breaking the bank.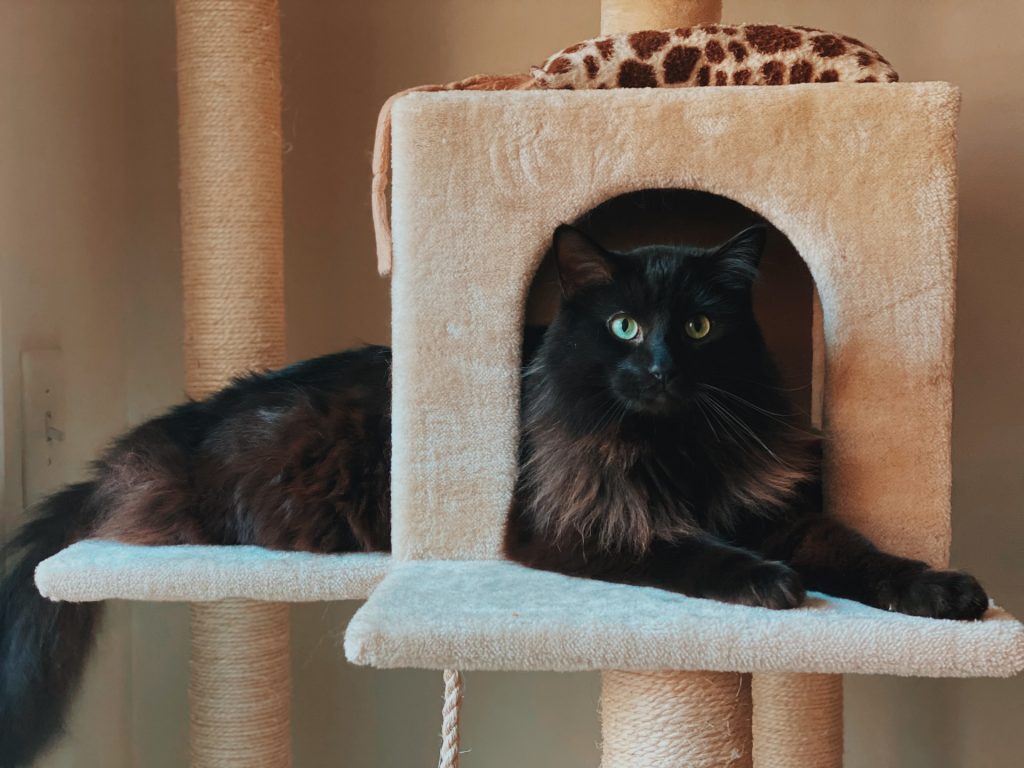 Aesthetic
It doesn't hurt if a cat house as a little curb appeal! Sure, some of the outdoor cat houses on our list are more utilitarian, we tried to include options that wouldn't make your yard an eyesore.
Let us know your favorite 'lewk' in the comments below!
---
Setting up cat houses for feral or community cats
One very popular reasons for purchasing an outdoor cat house isn't just for the comfort of cats with owners, but also feral and community cats. Outdoor shelters are a great way to provide comfort and safety to outdoor cats during extra hot or extra cold seasons.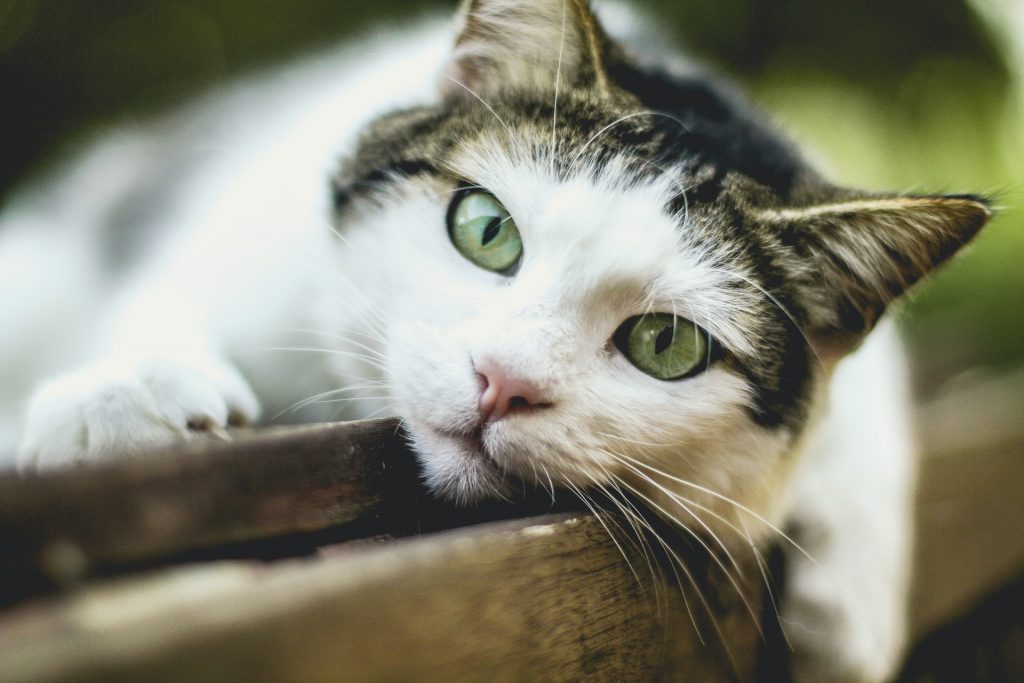 The same qualities you would look for in an outdoor cat shelter for your fur baby are applicable to feral cats. However, there are a few extra precautions you can take if your goal is to care for community cats.
The most important feature in an outdoor shelter for feral cats is a way to keep the cats warm. While you could easily buy a heating pad, blanket, or cat bed for your own cat, you're going to want a material with more longevity for wild cats. The best insulation option for an outdoor shelter for community cats is straw. It provides warmth and repels moisture, while also being much easier to clean. An added bonus: Straw is less likely to grow moldy than blankets.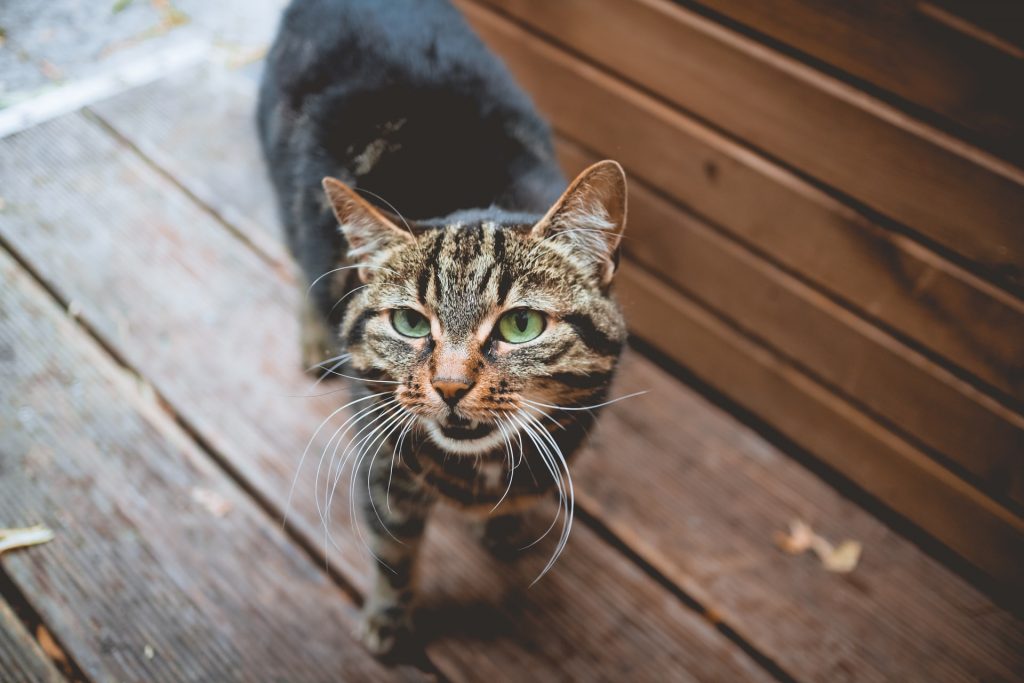 Another factor you'll want to take into consideration when setting up a feral cat house is making sure your structure has 2 doors. Outdoor cats are typically more wary than indoor cats and need the added reassurance that they'll have a way to escape.
Finally, you'll want to place your community cat house in a raised area with a little privacy. Keeping the house off the ground will keep certain predators out and will also prevent the structure from flooding. And placing the cat shelter in a more private area will encourage its use by shy, timid cats that have learned to avoid high-traffic areas.
Check out more ways to support outdoor, feral, and community cats in the video below.
---
FAQs
Have more questions? Below, we've answered some of the most common questions asked about cats and outdoor cat houses.
Do cat houses need 2 doors?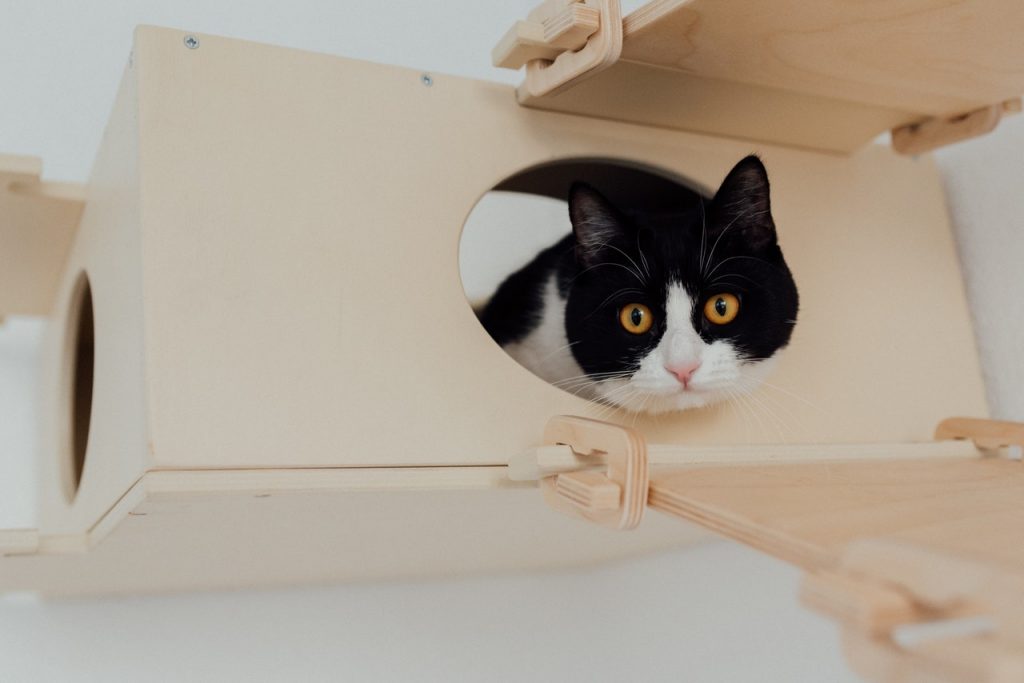 There are multiple purposes 2 doors can serve for car houses. The first is 2 doors can improve circulation in a cat structure, keeping the air cool in the summer. If you have a cat shelter for feral or community cats, having 2 doors can give an added feeling of security to the wild cats. A second door gives outdoor cats a way to escape from predators and keeps them from feeling trapped.
So while 2 doors might not be necessary if you have an outdoor cat house for your 1 cat that likes to spend a few hours outdoor every now and then, they do serve a purpose.
Are cats happier inside or outside?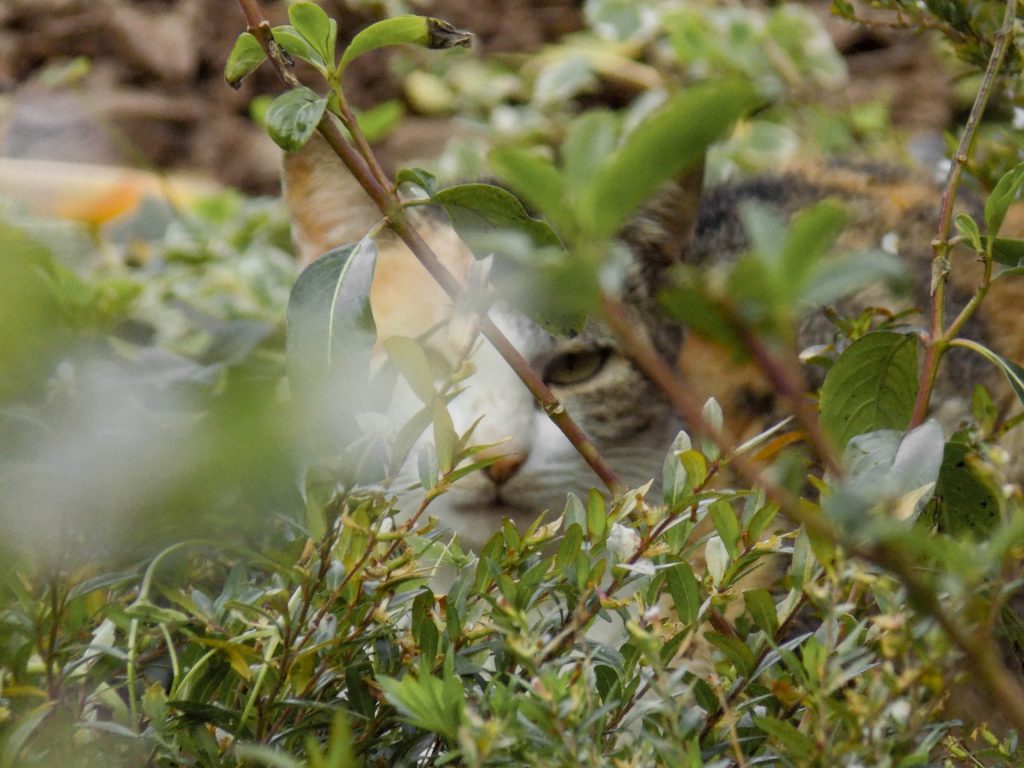 Cats have a very long history of domestication. While their ancestors might have roamed free on the Serengeti, the cats we know today are acclimated to being indoors.
While some time outside can't hurt a cat, studies have recently found feral cats or those allowed to roam outdoors freely have shorter lifespans up to 10-12 years!
Overall, cats can get the same stimulation and happiness indoors as they can outdoors. And there are a lot fewer dangers inside!
Where do stray cats sleep at night?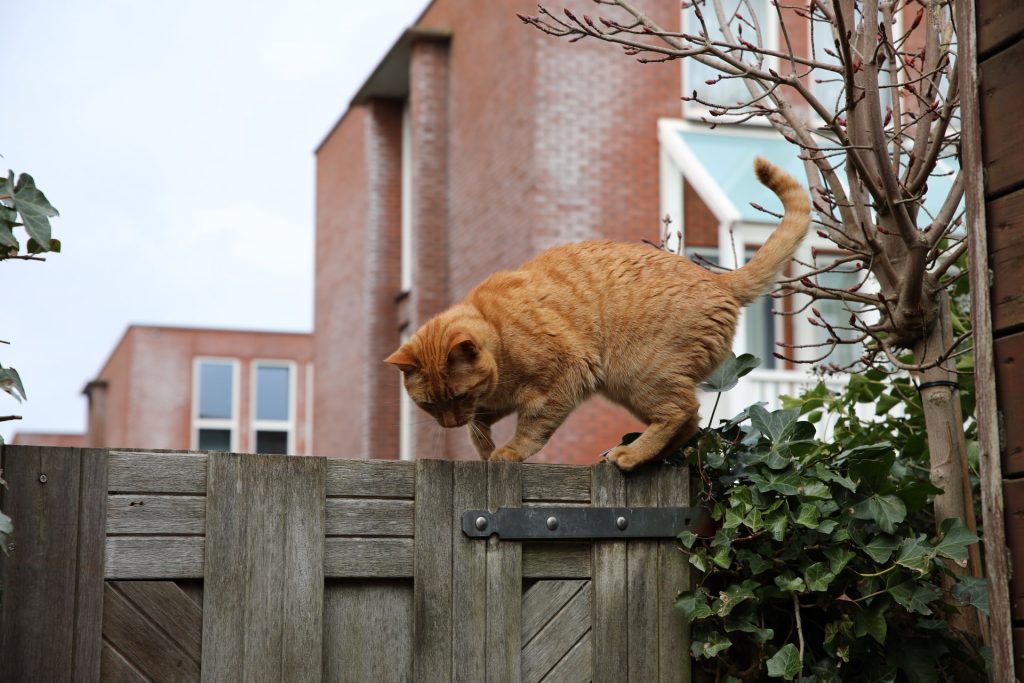 Cats are nocturnal creatures, meaning they tend to spend their nights roaming and hunting. As a result, cats, especially feral cats, are more likely to sleep during the day than at night.
If a cat is sleeping at night, it will probably be in a secluded, warm area that's high off the ground to offer more protection.
Can all cats be allowed outside?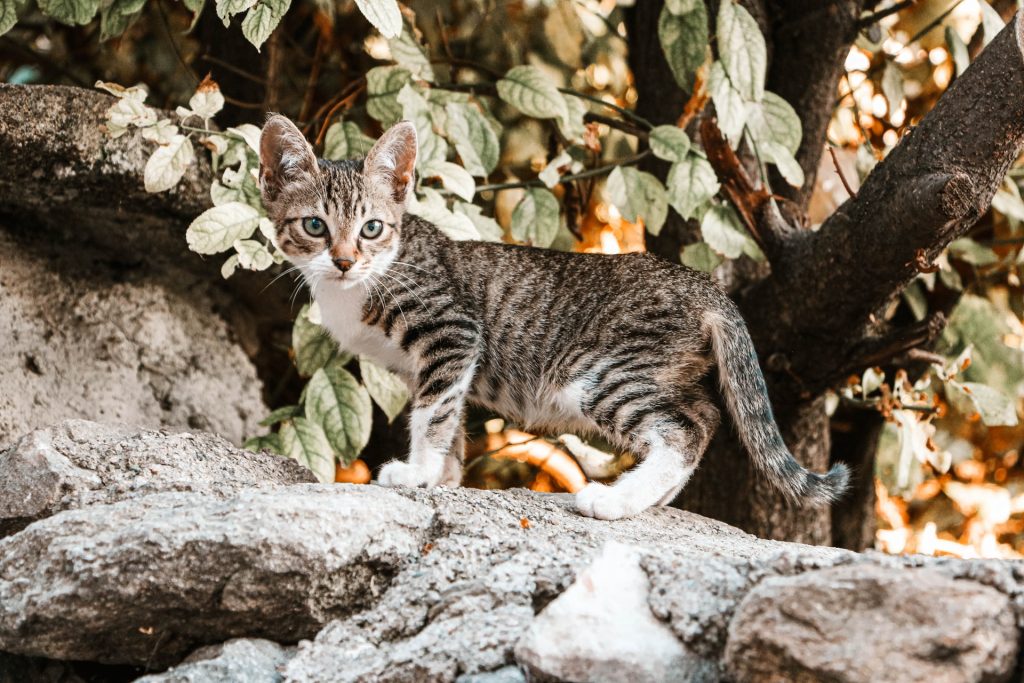 No!
If your cat is declawed, never allow it to be left alone outside. Claws are how cats protect themselves, so if your declawed cat was ever attacked while outside, it would be unable to defend itself.