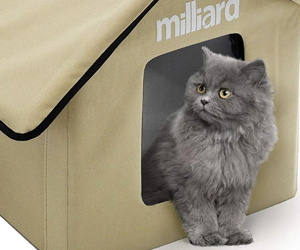 Cats are amazing pets for all kinds of homes, easily adapting to small apartments or country farmhouses. Domestic cats are typically indoor pets, but many love getting outside throughout the year to practice play and hunting behaviors they can't fully express indoors.
Creating a comfy and warm outdoor space for your cat can really improve their happiness year-round, and while you shouldn't force an indoor cat outdoors in extreme weather, an outdoor cat house can become a place they love in hot and cold months.
You can also set up an outdoor cat house to help neighborhood feral cats or your outdoor cat have a place to sleep where they can still feel comfortable while keeping warm.
BEST CHOICE
Petsfit Weatherproof Outdoor Cat Shelter
Best Outdoor Cat House in Our Rating
Great size for any pet
Shingle and wood construction is extremely weatherproof and durable
Design looks good in any yard
Elevated structure keeps water out
Selecting the Best Outdoor Cat Houses in November, 2021
This weatherproof cat house is a favorite for many reasons. First is the wood and shingle construction, keeping rain out while being easy to maintain over the years, making it the best stand-alone outdoor cat house we've looked at.
The size is great for homes with multiple cats or for larger cats that need space to spread out. Some assembly is required, but it's pretty easy. We like the elevated structure for improved weatherproofing, and the elevated step gives your cat a place to lounge on sunny days.
Pros
Durable construction
Great design looks good in any yard
Elevated step and house keep water out
Emergency exit door
We love this humble looking cat house for many reasons: assembly is easy (just velcro the sides together and zip the roof on), the heated version works great in snowy temps, and the side panels are lightly-insulted to trap in heat, all at a great low price.
The only place this cat house falls short is in weather proofing. This is a great shelter if used in a garage, barn, shed, or under a covered porch, but is not designed to be stand-alone. Still, this is an excellent choice if you're looking to add a warm and cozy shelter to an outdoor cat's favorite winter spot, but look to our top pick if you want something more weatherproof.
Pros
Easy assembly
Budget-friendly price
Insulated panels and heating pad are great for cold temps
Hand-washable felt and heating pad
Cons
Not meant to be in direct weather.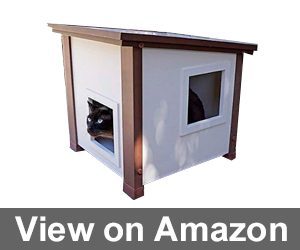 This great looking cat house is made of ecoFLEX plastic, a weather resistant material that should hold up for a very long time. Nothing fades or cracks plastic like UV rays, so we recommend keeping out of direct sunlight to prolong its lifespan.
Assembly is simple, you just screw all the panels together and you'll have a sturdy cat house in no time. Our main concern is that the tiny awning won't keep out rain and snow, and plastic is a terrible insulator in colder climates so for winter use you'll need to add a heating pad or some thermal insulation. Still, the plastic is near waterproof and windproof and is perfect for most seasons.
Pros
Simple and trouble-free assembly
Nearly wind and rain-proof
Simple but attractive design
Cons
Less-suitable for cold weather
Petmate is well known for their quality crates (that you probably already own) and their pet barn is no exception. Features over their typical crate design are small cutouts in the back for ventilation, fully enclosed top and sides, and a covered entry to keep rain and snow out.
The top and bottom are both single pieces that snap together easily for a weatherproof design, great for all seasons. This shelter is not cat specific so it does not have an emergency exit door in the back and the entrance may be larger than some cats prefer. Be sure to get the correct size, as this is sized for cats and dogs.
Pros
Simple assembly and weatherproof design
Well-covered entrance keeps out rain
Comes from a high-quality brand
Cons
Doorway is a bit larger than some cats prefer
No emergency exit
This cat house is a great choice if you're looking for an option to use both outdoors and indoors. We like the raised feet to better keep water out, and the roof is slightly weather-resistant. A heating pad is included for when you use the cat house on the porch in colder months.
Still, fabric cat houses aren't meant to hold up to severe weather and should only be used under cover and we've noticed some quality issues with this pick compared to the K&H Cat Shelter.
Pros
Raised design and 'waterproof' fabrics offer slightly better weather resistance over other fabric houses
Easy to spot clean
Includes a padded heating pad
Cons
No more suitable for direct weather than other cat houses
Quality of the heating pad isn't as good as the K&H shelter
We really like the Petsfit Triangle, the shape is great for keeping rain and snow off, the floor is easily removable for cleaning, and it's got a good-sized awning to cover the entrance. The construction is decent and we expect it will hold up pretty well over the years.
Where it falls short however, is that the house is not raised off the ground in any way. You'll need to use bricks or cinder blocks to keep it off the ground if the cat house is directly exposed to the elements or water will get inside. We'd also recommend a heating pad if you expect to use it in the winter, something that we'd like included for this price.
The nylon canvas of this item not only gives it durability but also protection from light, cold, snow, and/or rain. Be certain that your cat will be dry and warm in it, and that you won't encounter any problem handling it or moving it from one space to another due to the light composition fabrics.
Pros
Sturdy design will hold up to rain and snow
Removable floors make cleaning easy
Simple assembly
Cons
Not elevated off the ground
Not heated
We love the cute cottage look of this cat house, however it's pretty similar to the K&H Outdoor Cat Shelter at a higher price. Still, many will find the look of this option a bit nicer, and the included foam pad is a bit thicker.
Assembly is the same: insulated foam panels velcro and zip together and while the house is slightly weather resistant, it will not stand up to direct rain or snow and works best in an already sheltered area.
Pros
Great for adding warmth to a garage or porch
Included foam pad and heating pad are comfy
Heater has automatic shutoff
Easy set-up
Cons
Not meant for direct weather
Pricier than similar options
When we say small cats, we really mean it (this cat house doubles as a rabbit hutch), but we love some of the features of this house not found in larger sizes.
The door can be 'locked', perfect for keeping wild animals out overnight. The roof lifts up and the floor can be removed for easy cleaning. If you have a smaller kitty, we think this will keep them warm and dry year-round.
Pros
Raised off the ground to keep water out
Removable floor and lifting roof makes it easy to clean
Locking door is great for keeping critters out
Cons
Too small for medium and large cats
Amazon's own brand has their own lineup of pet houses and they're highly functional at a great price. We like the elevated frame, venting mesh along the roof, and canvas-like material that's highly water resistant.
Our issues with it is that it doesn't have a cat-specific design. The doorway is wider than most cats will like, but we think this could be a great place to create a summer space for your kitty in the shade. Think of this as a 3-season shelter for your cat rather than a true 'cat house'.
Pros
The most water-resistant fabric cat house we've found
Doesn't get as hot as other cat houses
Great shelter and shade year-round
Easy to move or pack away
Cons
Large opening
Too lightweight for high winds
Drafty for winter use
What to look for when buying an outdoor cat house
Finding the right outdoor cat house for you and your kitty can be tricky. There's dozens of options, and as demand shifts throughout different seasons it can be hard to find the right option in-stock. We've spent dozens of hours reading thousands reviews, recommendations from experts, and comparing hundreds of products to find the very best options.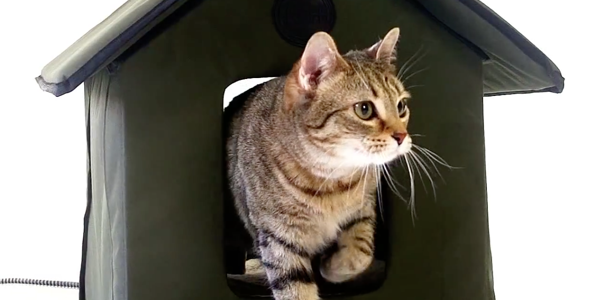 What is an outdoor cat house?
First off, the terminology can get a little confusing here as 'house' runs the gamut of sun shelters, pop up tents, and permanent wooden structures when it comes to cat houses. Generally speaking, you need an outdoor cat house in rain or very cold weather to provide a place for an outdoor cat or friendly neighborhood feral cat to stay warm and comfortable when they're reluctant to go indoors. Still, if your indoor cats love to spend time outdoors a cat house can be a great shelter for them year-round.
That said, we compared cat houses in 3 main categories: insulation, weatherproofing, and construction.
Insulation
Generally insulation is your main priority when comparing cat houses. You want to make the space enticing for your cat, and it doesn't matter much how dry a space is if it's just as freezing as standing out in the snow. Padded fabric panels can provide the most warmth, but you'll want to add blankets to any cat house in cold weather.
Heating pads are the go-to now for adding cheap warmth to any shelter. They're generally very energy-efficient, but you'll need to protect the cables. Many brands are trying to add value by adding heating pads, but you can always buy one to add to an existing cat house.
The K&H Outdoor Heated Pet Bed is our favorite replacement or separate heating pad for using with outdoor cat houses. It's padded, comes in different sizes and there's washable covers available, and K&H has a great reputation with their pet products.
Weatherproofing
Most outdoor cat houses offer some degree of weatherproofing, but it's important to have clear expectations on what's available. If you're truly looking to use a cat house in rainy or snowy conditions, you'll want to keep it in a covered space. Keeping a cat house covered, whether on a porch or in a garage or shed, will greatly prolong the life of your cat house and also offer much better protection for your cat.
With that in mind, there's 3 materials used in construction. Plastic is the most waterproof material and blocks wind, but will age quickly in direct sunlight and is poor at providing insulation in freezing temps by itself and will need a heating pad or plenty of blankets. Plastic cat houses are easy to assemble, but don't always pack down easily if they're only needed part of the year.
Wood and mixed materials can provide high durability, but are vulnerable to rot over time if not kept where they dry and likely will need initial assembly and maintenance over the years to prolong its lifespan. Still, wooden cat houses provide good weatherproofing and can be equally waterproof to plastic if maintained.
Fabric cat houses are the cheapest and can be assembled and disassembled easily but lack the water resistance and durability of other types of houses. Most fabric houses should never be used in direct rain or snow and are vulnerable to damaged from your cat's claws. If you just want to add warmth to a covered porch or garage in the winter however, fabric cat houses are a great option and most come with fitted heating pads.
Construction
When buying a cat house online, all are going to need some assembly before they're ready to use. Soft-sided cat houses usually velcro together and may use zippers for extra security. Plastic and wooden cat houses may snap or fit together and have screws to hold critical pieces in place. Plastic may hold up best over time if cared for, but designs are usually less comfortable than their fabric and wood counterparts.
Assembling your outdoor cat house is just the first step. You'll need to maintain your cat house depending on the material as discussed above, but you'll also need to regularly clean out and refresh your cat house to keep it enticing for your kitty. Having a way to easily disassemble or open up your cat house makes cleaning much easier. Fabric cat houses can absorb moisture, and are usually spot-clean only while wood and plastic cat houses can be hosed down and scrubbed year after year.
Other things to consider
It's important when deciding what cat house to get that you take into account your cat's needs. Do you have multiple cats? Are you trying to create a comfy home for a feral cat to sleep in? These can all help determine exactly what kind of outdoor cat house you need.
Get the right size
While most cat houses are suitable for solo kitties, larger cats may need more space and you'll need to get multiple cat houses or a larger shelter for more than one cat.
To decide if your cats need separate shelters, just judge how your cats already act. If they enjoy sleeping together indoors, then they'll probably be happy sharing one cat house outdoors. If your cats prefer their own space, you're probably better off getting each cat their own outdoor home.
Keep other animals in mind
Most outdoor cat houses have an 'exit door' that only opens outward to provide an emergency exit to prevent your cat from getting trapped. This is especially important if you have raccoons, skunks, or other wild animals that explore your yard as your cat will otherwise get cornered. This is also good when you have multiple cats or a dog for the same reason. A space will feel more secure to your cat if they know they can easily leave it.
Some shelters also have doors that can be 'locked'. While you should never lock your cat in an outdoor cat house, this can be used to secure the house from wild animals that might try to make it their home overnight or if the cat doesn't use their house for long periods of the year.
Conclusion
Buying the best cat house is helpful for both you and your feline in the long run. It provides your cat with enough comfort and safety which will promote healthy living, as well as enough space to shelter kittens if she should give birth. If you travel a lot, you have the choice of a small portable house, so you never have to leave your cat behind.
It's also great to provide stray cats with shelter so in this case, a larger house will be the best fit. If you have a lot of cats and little space, you could opt for houses with more space.
Whatever the case, your cat needs comfort and safety. Choosing a cat-house must be centered on these two things. So put your cat first when making this decision. This is the house where it will live for the rest of its life.