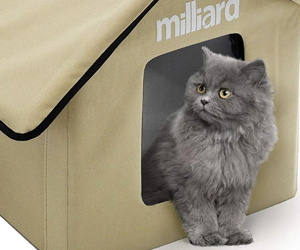 Cat lovers understand that some cats were born to roam. If your kitty is an outdoor pet, they still need to be protected. Snow, rain, wind, scorching days, insects, mold, and larger predators are all hazardous factors to consider for an outside cat.
Cats are also fiercely independent creatures. They often love to nap outside after an afternoon of exploring. Giving your cat their own outdoor home will allow them to remain protected while still asserting their independence and freedom.
While looking for the best outdoor cat houses, I was blown away from the number of options. As a result, I have created a helpful guide to explain what you need and what you don't in an outdoor dwelling for your pet.
I've also narrowed down the staggering list of cat homes by reviewing and testing them to find the top ten best outdoor cat houses so Let's get started!
Selecting the Best Outdoor Cat Houses in April, 2020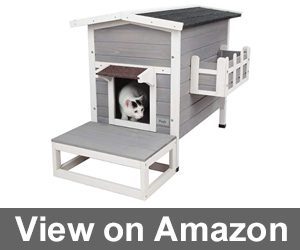 The Petsfit Weatherproof Outdoor Cat Shelter is a perfect option for larger kitties that live outside. The home features a nifty back escape door, so your pet can make a fast getaway in the event of a predator attack. The door even has a removable plastic flap to keep pets warmer.
The Petsfit Weatherproof Outdoor Cat Shelter is extremely simple to assemble.
While the roof is not removable for cleaning the floor is, making cleanup a breeze. Our team of testers loved that this house is built on little feet which elevate it to keep cats comfy and dry.
Pros
Great for larger cats or multiple cat homes
Back escape door with plastic flap
The house's floor is removable for faster and easier cleaning
Off the ground, design protects against pests, weather, and more
Cons
The house does not include any fun toys or scratching posts to entertain busier kitties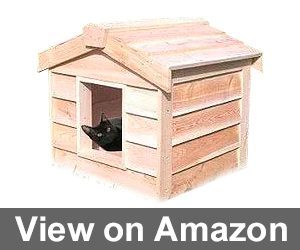 The CozyCatFurniture Waterproof Insulated Cat House is a wonderful choice for kitties living in colder areas. The cat house has Thermal-Ply Insulation which has been placed within the walls, floor, and roof.
This material will ensure that your cat retains warmth in the winter months and will also assist in keeping the air cooler in summer months as well as keeping them dry.
The CozyCatFurniture Waterproof Insulated Cat House is extremely easy to assemble upon delivery. A member of our testing team that usually struggles with assembling items was pleasantly surprised when building this home for her pet.
We would suggest a power screwdriver for faster assembly if you decide on selecting this home for your favorite kitty.
Pros
Super cute design can be painted or decorated however you would like
Cedar construction will resist insects and rot
Thermal-Ply Insulation
Durable and sturdy
Great for smaller cats
Cons
May not fit larger cats as well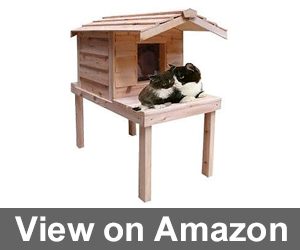 The CozyCatFurniture Waterproof Insulated Cedar Outdoor Cat House is our top pick for areas with a lot of rain or snow. The home is insulated to ward off moisture. This option is lifted off the ground thanks to four wooden post legs.
The house has an adorable porch area for kitties that love to sit and relax in the sunshine.
The CozyCatFurniture Waterproof Insulated Cedar Outdoor Cat House is crafted from the Cedar variety of wood which will help to extend this cat home's life.
It is very straightforward to put together with a power screwdriver. Our testing team loved that the outdoor cat home can be painted and decorated to match any design scheme.
Pros
Waterproof home that sits above the ground
Easy to assemble
Sturdy and durable
Sunning porch
Cons
May not fit larger cats as well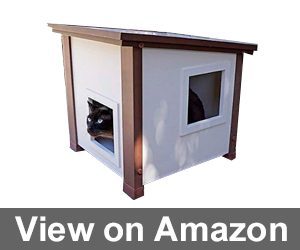 The New Age Pet ecoFLEX Albany Outdoor Feral Cat House is our top budget pick. The cat home will protect your outdoor kitty friends from rain, wind, excessive heat, and snow at a very attractive price.
There are no tools required for assembly, making it one of the easiest items we have built in a very long time.
The New Age Pet Outdoor Feral Cat House features two points of entry. This design spec is an important safety measure to help keep your pet safer.
The home does amazingly well in inclement weather and completely protected one testing team members cat during a recent tropical storm.
Pros
Terrific price
Easy assembly
Very sturdy and durable
Perfect for areas with inclement weather
Cons
Is not the most attractive home, but works wonderfully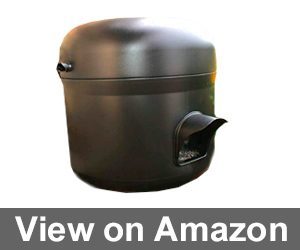 The Kitty Tube Gen 3 Outdoor Cat House is an awesome kitty home for individuals that don't want to look at an ugly pet dwelling.
The home looks similar to a flower planter and will blend in perfectly. This option is insulated to keep your pet dry and happy.
This offering from Kitty Tube fits up to two larger cats making it a lovely choice for multiple outdoor cat homes.
The house includes a washable pet bed to keep cats comfy. The Gen 3 Outdoor Cat House is also guaranteed not to chip, crack, or fade making it an astute purchase.
Pros
Built in system with lifting handles to cool in summer months
Blends in with planters
Easy to clean and maintain
Durable and sturdy
Cons
Door opening may not accommodate very large cats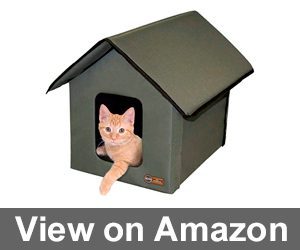 The K & H Outdoor Kitty House is a heated option. This home would be perfect for very cold climates or older kitties that are more sensitive to fluctuations in temperature.
Our testing team was shocked at the ease of which the home can be both assembled and collapsed.
The K&H Pet Products Outdoor Kitty House has a roof that is quickly zipped on or off. This feature came in extremely handy during cleaning.
Our testing team's cats loved the included heating pad, and many spent hours just laying on it and napping.
Pros
Terrific price point
Easy to assemble and collapse
Heated home
Portable and lightweight
Cons
The heating pad cord is only 6 feet long, so you may want to pick up an extension cord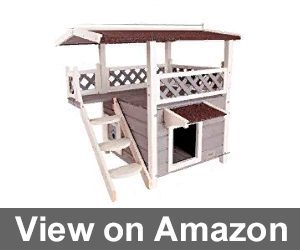 The Petsfit Weatherproof Outdoor Cat Shelter is one of the most aesthetically pleasing options available. It will look lovely in front or backyards or perhaps on your porch.
Active kitties will love playing the optional scratching post while lazy cats will love to sun themselves on the porch.
The Petsfit 2-Story Outdoor Weatherproof Cat House will keep your precious pet safe and dry during wetter weather.
This outdoor cat home can be purchased with a scratching post, or you can select stairs instead. If your cat has mobility issues or isn't into scratching, the stairs may be a better fit.
Pros
Gorgeous design
Sturdy and durable
Select home with a scratching post or with stairs to best suit your pet
Terrific price point
Cons
The scratching post has a tendency to come unattached with extremely heavy use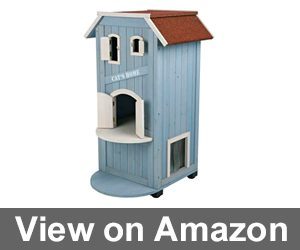 The Trixie Cat Home and Enclosure is a beautiful three story home featuring a weatherproof finish. The home has adorable shutters and peek a boo holes that are reminiscent of a beach home. A raised floor will keep kitties safely away from insects and rot.
This offering from Trixie Cat is a perfect option for multiple cat homes.
There are two doors for entering or leaving as well as one large door on hinges to allow for easier cleaning and maintenance. A slatted plastic flap will keep air circulating without letting in rain or snow.
Pros
Adorable design is very aethetically pleasing
Perfect for multiple cat homes
Off the ground design keeps pests and rot at bay
Can be used indoors or outside
Cons
Smaller doors may pose a problem for larger cats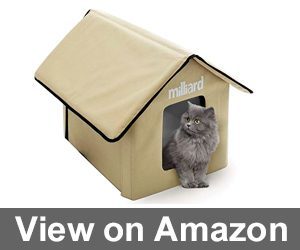 The Milliard Portable Outdoor Pet House for Cats is crafted from a 600-denier nylon fabric. This fabric will help to keep your kitty sitting pretty and dry. The house is very lightweight and easily transported.
This option from Milliard assemble in seconds thanks to its Velcro and zipper. With dual openings, cats will be safer from predators as well.
This option would be a great fit for individuals that often travel with their pet.
Pros
Lightweight option that would be great for travel
Inexpensive
600-Denier Nylon Fabric
Easy to assemble
Cons
House would be best for travel or as a backup home since it is very lightweight and somewhat flimsy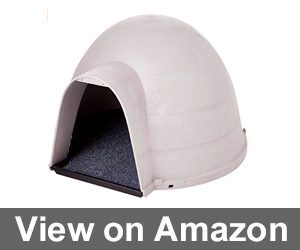 The Petmate Kitty Kat Condo is created from a heavy-duty, non-porous plastic. This outdoor cat home is igloo shaped like an igloo, which will help keep your fluffy friend completely comfy. The house's plastic material will resist mold, fleas, and other pests.
The Petmate Kitty Kat Condo has a carpeted interior floor to help your favorite kitty feel at home immediately.
The house was designed to allow rain and snow to slide off in cooler months while warm air circulates keeping pets cozier. Our testing team members were thrilled with how easy the Kat Condo is to snap together with no tools whatsoever.
Pros
Great for cooler climates with snow or rain
Igloo design keeps pets warmer and dryer during inclement weather
Easy to assemble, no tools required
Carpeted floor
Best Outdoor Cat House – Buyer's Guide
The number of outdoor homes for cats currently available on the market is quite overwhelming. From simple models to fancier options, each cat house has different features and specifications. Picking the best one for you and your furry friend can turn into an unwelcome task, fairly fast.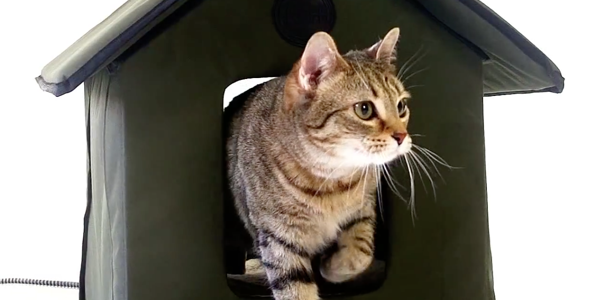 We have compiled this guide to allow you to discover the most important differences within the plethora of cat homes available. We will give you an insider's view of what is a feature that is truly a necessity for your pet and those features that are perhaps not as important to you and your pet. So, stick around as we delve into the world of outdoor cat houses!
Do I Really Need an Outdoor Cat House?
Purchasing an outdoor cat home is a must if you have outdoor cats. If you live in a neighborhood with lots of stray or feral cats, you may also be interested in getting one. As winter draws near, protecting outdoor animals by providing them with a safe, warm, and dry spot is more imperative than ever.
Most kitties will greatly appreciate having a home of their own where they can nap or sun themselves. An outdoor home will also protect your cat. In addition to weather, dangers such as other animals, fleas, insects, and mold can be extremely detrimental to their health. An outdoor home will aid you in avoiding many of these issues.
Key Considerations when Shopping for an Outdoor Cat Condo
Your kitty's new outdoor home should keep them safe from the elements and be easy to clean. Let's take a closer look at these and other important considerations to keep in mind while shopping for a cat home.
Assembly
Depending on your skill level and which tools you have your assembly experience can be amazing or awful. If you aren't as handy with power tools, you may want to go for an option that easily snaps together without the need for any tools. There are also options available that close with zippers or Velcro.
To Heat or Not to Heat
If you reside in an area that receives lots of snow and freezing temperatures, a heated cat home may be the best option. Be sure to check out how much energy the heating element (usually a heating pad) will need to utilize to run properly. You may also want to let your cat get used to the heating pad before placing it in their home since some felines hate them.
Insulation
An insulated outdoor cat condo will provide your feline friend with optimized temperatures within their new home. Insulated walls, floors, and roofs trap warm air inside in the winter months with trapping in cooler air in the summer months. If insulation is important to you, look for cat houses with thicker walls.
Escape Door
Larger predators can be a fearsome foe for outdoor kitties. If one happened to sneak into your pet's home, the results could be catastrophic. An escape door gives your pet a quick exit that will hopefully save their life or prevent injuries.
Sizing
You want to be sure that your cat's new home will be adequately large enough. If it is for more than one cat, a larger option with more than one level is a safe choice. Keep in mind that the larger the house is, the more difficult it may be to keep warm air in during winter. They can also be more difficult to clean.
How to be Sure Your Cat Will Fit
Your kitty's new condo needs be spacious enough to allow the cat to stand up then turn in a 360-degree circle fully. Your fluffy feline should also be able to lay down and fully stretch out. They should also be able to lie down and stretch out comfortably.
Many kitty cats will feel safer and more comfortable in smaller, cozier home. Additionally, a larger home is harder to keep warm and may invite other animals in which could greatly upset your pet.
Material
Think about where you will be placing the new outdoor cat home. If it will be in the backyard, you may want to select an option that is made from wood or plastic with an asphalt roof. These types of materials are more sturdy and offer greater protection than other materials. If the house is meant to sit on a covered porch or in a basement, a fabric crafted option may be more suitable.
Protection from Weather
Your pet's new cat condo needs to be watertight. Watertight or waterproof cat homes should adequately protect them from rain, snow, and condensations. Areas with frequent freezing, snow, or flooding may require a version that in lifted off the ground at least a few inches.
Ease of Cleaning
You will need to clean and maintain your cat's new home periodically. If the home has a bed or cushions, check to make sure that they are washable. You may also want to go with an option with a removable roof or floor to expedite cleaning.
Tips and Tricks for Outdoor Cats
Outdoor living can be very dangerous or even deadly for your cat. In addition to a home placed outside to protect them, there are other safety measures you can take to keep your pet safer. Here are some helpful hints for your outdoor kitty.
Vaccinations
Outdoor felines need special vaccination to reduce the risk of illness. Here are the shots that your kitty will need:
FVRCP Vaccine: The FVRCP Vaccine which is actually three vaccines in one. Your pet will be protected against feline viral rhinotracheitis, calicivirus, and panleukopenia. This vaccine should be given every three years.
Feline Leukemia Vaccine: The feline leukemia vaccine protects your cat from this common form of cat cancer. They will also need to get a booster shot one time during each following year.
Rabies Vaccine: The rabies vaccine which is usually a state requirement for cats and dogs. This is an important vaccine regardless of whether your cat stays indoors or is an outdoor pet. Strictly outdoor cats should have a repeat shot each year.
In addition to vaccinations, you should also provide a collar and tag for your cat. This item is helpful in case they wander too far away from home. A name tag will also be beneficial should your cat be picked up accidentally by animal control.
You will need to maintain and clean the home periodically. Avoid using harsh cleansers or blech. The fumes and smells can not only be dangerous to your pet cat's health but may make them refuse to use the house.
If your fluffy friend seems apprehensive about entering their new home, try placing a favorite toy or blanket inside. You can also use catnip to entice your cat to relax in their new outdoor house. In no time at all, they will love their new home, and you will both sleep easier.
From zippered roofs to wooden cottages fit for a princess, there are a vast array of outdoor kitty condos currently on the market. Understanding your cat's specific needs as well as their interests will be extremely beneficial in selecting an appropriate dwelling. For instance, some kitties will relish having a scratching post in their new home to play with while other's have no desire to play and would rather have a heating pad.
We hope that you learned some valuable new information on choosing the best outdoor cat house for your favorite feline friend. We love to hear back from our readers. Please leave us a comment below with your favorite outside kitty condos or tips for keeping outdoor cats safer.