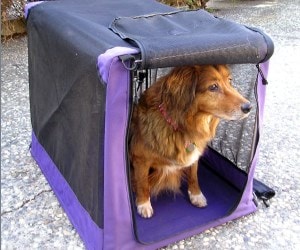 Gone are the days of animals only being welcome at home. Many hotels now allow pets to accompany their families on vacations or business trips.
However, traveling with your fur baby presents a unique set of challenges. From keeping them safe in the car on a road trip or ensuring they have a safe space to relax at night, purchasing a portable, soft-sided travel crate quickly solves many of these conundrums.
If you love to travel, and you also love your pets, a soft crate can simplify the issues related to traveling with them. There is a wide array of options available from simple versions that open with a flick of the wrist similar to a child's play tent to sophisticated luxury models that include safety harnesses and fancy bedding.
We've examined the top brands available and created a top ten list including our favorite choices. We've also included a helpful buyer's guide to help you decide which features are most important for you and your furry family member.
Selecting the Best Dog Travel Crates in April, 2020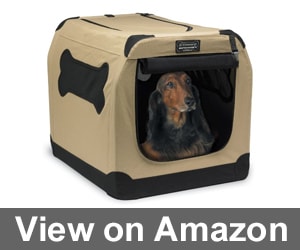 The Petnation Port-A-Crate Indoor/Outdoor Pet Home is perfect for taking your furry friend on a trip or using in your home.
This durable enclosure features a steel frame endoskeleton and is crafted from a heavy-duty tightly woven mesh, providing monumental strength and durability.
Air flows easily through honeycomb mesh windows to keep your pet comfortable.
The Petnation Port-A-Crate has both a front and a top door to allow easier access. It's manufactured with busy pet parents in mind so its extremely easy to set up and break down. Best of all it is easy to clean and maintain, meaning it will last for years and years to come.
Pros
Steel frame endoskeleton
Durable mesh
Easy to set up and break down
Cleans up quickly
Available in several different sizes
Perfect for crate training
Cons
This crate is not a suitable option for aggressive chewers, as they will damage the mesh sides and windows easily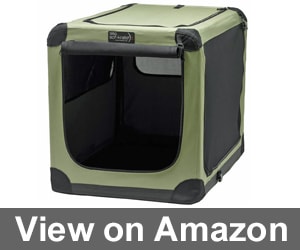 The NOZTONOZ Sof-Krate Indoor/Outdoor Pet Home is a wonderful choice for larger breeds as it accommodates pets up to 70 pounds comfortably.
It is fast to set up and breaks down in seconds.
This option is a terrific choice for people that travel with their pets or want an easy to move crate to use at home.
The NOZTONOZ features a waterproof base making clean up a breeze. After washing the crate, you can let it air dry before using it again. You can even throw the lining into your washing machine.
Pros
Sturdy yet extremely light
Holds pets up to 70 pounds comfortably
sets up and breaks down in seconds
Waterproof base great for crate training
Lining is machine washable
Cons
You'll need to purchase an additional soft mattress or bedding option for the floor since this crates base isn't very comfy to lay on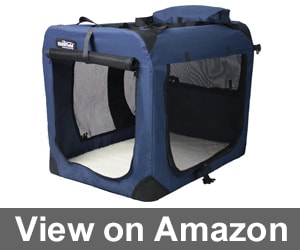 The EliteField 3-Door Folding Soft Dog Crate is available in a wide variety colors to match any mood or color scheme.
It is lightweight, making it a lovely choice for families that often take road trips.
This crate is easily placed on the floorboard, the back seat, or in the cargo area making it perfect for keeping Fifi safe while on the road.
The EliteField Soft Dog Crate features three doors; one on the side, one on the top, and one on the front of the carrier. This model also has two accessory pockets that are wonderful to place toys or other essentials in. Our pet testers love the fleece lined bed provided with the carrier and cozied up in it immediately.
Pros
Durable frame
Lots of color options
Fleece lined bed included
Accessory pockets
Great for road trips
Easy to clean and set up
Cons
May not be a good option for dogs that need to work on potty training as they may want to use the bathroom on the fleece bed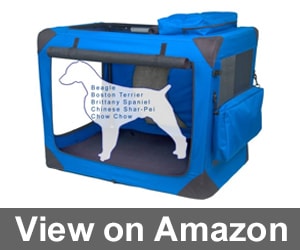 The Pet Gear Generation II Deluxe Portable Soft Crate is spacious enough for larger breeds, yet it folds down almost completely flat for easy storage.
Made from a sturdy steel frame, this carrier also features a 600 denier nylon cover that is both removable and machine washable.
It arrives with a waterproof mat and a fleece pad to keep your fur baby as comfy as can be.
The Pet Gear Generation II Deluxe Portable Soft Crate is extremely accessible with top front, and side entry points. Extra items like leashes, snacks, and toys can be safely stowed in one of the side storage pouches. This item is great for pets up to 70 pounds and works well for travel or home use.
Pros
Folds down for storage
Storage pouches
Waterproof pad and fleece mattress included
Accommodates pets up to 70 pounds
Easy to remove denier nylon cover
Sturdy and durable frame
Cons
Initial set up can be a bit tricky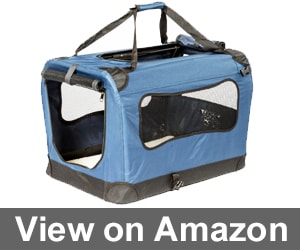 The 2Pet foldable Dog Crate features an innovative full-frontal zipper design, which makes it difficult for your dog to chew it up into pieces.
This sturdy option is crafted from steel tubing and an Oxford 600 denier cover.
Mesh window panels allow your pup to enjoy the sights, sounds, and smells as they relax.
The 2Pet Crate is super lightweight and easy to carry or store. This model also has a terrific top handle that makes it easy to transport your pet or to anchor it safely to the seat in your vehicle. The cover is machine washable making it easy to clean up after any accidents.
Pros
Lightweight and durable
Front zipper design discourages chewing
Top handle for anchoring in car or easier lifting
Accommodates pets up to 50 pounds
Soft Oxford fabric cover
Cons
Does not come with a bed or a mattress pad for animals to lay on while inside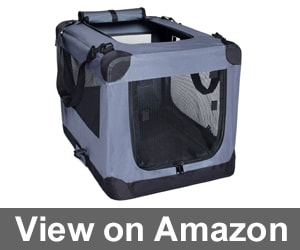 The Arf Pets Dog Soft Crate Kennel for Pet Indoor Home is a lovely option for owners of pets that weigh up to 70 pounds.
It's easy to set up and collapse down.
The Arf Pets crate has three different entry points, making it a versatile choice.
The Arf Pets Soft Crate is an excellent choice for pet parents that need a soft crate option for crate training. The cover is by far the easiest to remove that we researched. When your puppy has an accident, you can remove the cover quickly and throw it in with the wash, making it super easy to care for while housetraining.
Pros
Cover is super easy to remove and clean
Perfect for use during housetraining
Easy to set up and collapse
Comfy for pet
Cons
Only available in a muted blue color which may show signs of wear more easily than darker colors
The K&H Manufacturing Classy Go Soft Crate is a terrific option for budget-conscious pet families.
This model is super simple to assemble, and it folds down quickly.
It also comes with a handy storage bag to keep it out of the way when not in use.
The K&H Manufacturing Classy Go Soft Crate is a wonderful choice for use during trips or at home. It is sturdy without being heavy or cumbersome. Featuring a removal pad with a machine washable cover, it will be a lovely and comfy crate for any special animals in your life.
Pros
Durable
Lightweight
Simply fold it open, then swing the tension rod to pop it into place
Folds down and fits neatly into included storage bag
Removable pad with a machine washable cover included
Mesh windows on all four sides
Pull safe zipper lock discourages chewing and escaping
Cons
Best for smaller to medium breeds, not big enough for larger breeds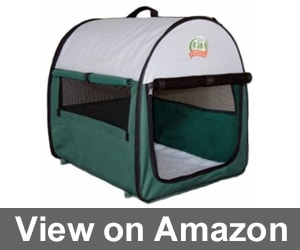 The Go Pet Club Soft Pet Crate is a great option for individuals that want a travel crate but aren't looking to spend a lot of money.
This option is a basic model, with one entry point and a domed style ceiling.
It includes a sheepskin mat and a carrying case as well.
The Go Pet Club Soft Pet Crate is inexpensively priced, offering a great last-minute travel solution. Best of all, dogs like this option. The included mat is very comfortable for your fur baby to curl up on and nap. It's also easy to clean in case of any accidents.
Pros
Budget pricing
Super lightweight
Includes a comfy sheepskin mat
Domed celling
Cons
No frills option without some of the fun extra features of other models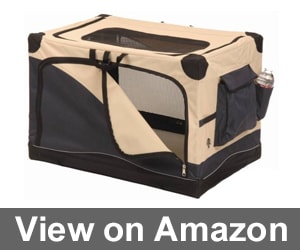 The Precision Pet Soft Side Pet Crate is an extremely accessible option, with four separate entry points.
It's water resistant to keep Fluffy or Fido dry and comfortable in case of any rain.
Additionally, the hygienic floor resists odors in case of any accidents and it is super easy to clean.
The Precision Pet Crate is the perfect choice for anyone that loves to rough it on a camping trip while bring their pet along to join in on the fun. It includes ground stakes to secure it to the ground, just like a tent. We love that this option makes camping trips easier so you and your pet can enjoy spending time together without worrying about their crate becoming wet or moldy.
Pros
Easy to set up and includes ground stakes to secure it
Durable
Water and weather resistant
Four entry points
Awesome choice for outdoor loving folks
Cons
You will need to purchase a mattress or bed for your dog to lay on inside the crate as one isn't included with this item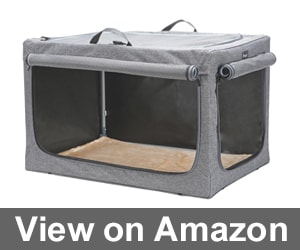 The Petsfit Indoor/Outdoor Soft Portable and Foldable Travel Pet features three mesh sides on the top, front, and side door to ensure your pet stays cool and properly ventilated.
It also arrives with a machine washable, soft fleece pad that is super cozy for dogs to nap on.
This option is best suited for medium-sized breeds that stand up to 23 inches tall.
The Petsfit Soft Crate is lightweight and sturdy. It can be used as an enclosed crate, or the top can be unzipped to allow an open area for your pup to relax in. We love the versatility of this item and your pet will as well.
Pros
Lightweight, sturdy frame
Versatile since roof can be unzipped
Great for medium-sized breeds
Includes a soft fleece pad that's machine washable
Cons
Not the best option for dogs that enjoy chewing things up or pets that are escape artists
Best Dog Travel Crates – Buyer's Guide
As pets become more like family members, it has become more common to bring them with on trips rather than leaving them at home or boarding them. The quality of soft travel crates has improved steadily in recent years. As a result, the market has been inundated with a vast array of crates from basic models to those that have tons of exciting features.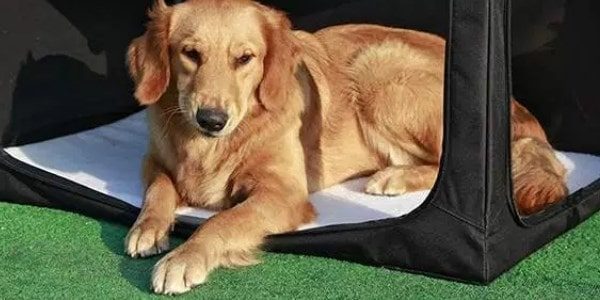 Sorting through the many different types of crates can be frustrating and confusing. We've done the groundwork for you by researching the ins and outs of the most popular styles of crates currently available. We created this handy guide to assist you in finding the best option for you and your furry friend.
What is a travel crate for dogs?
Travel crates are soft sided. They usually are extremely easy and fast to set up and break down. They are also usually constructed from a metal frame that can fold up and mesh or fabric linings. This makes for easier cleaning and allows your pet to receive fresh air while inside.
Why do you need a travel crate?
Since so many animals are now crate trained, it makes perfect sense to select a lighter, soft-sided, more manageable model for use while traveling with your fuzzy buddy. These crates are versatile, lightweight, and comfortable. A travel crate is perfect for any family that travels often or is always on the go.
Soft crates are a wonderful option for some dogs, but may not be the best idea for every pet. So, how can you choose whether to purchase one? There are a few key rules to keep in mind.
• How often will you be using the carrier? If it gets a lot of use, you may want to select a more durable model that maximizes comfort while traveling
• Is your dog or cat especially aggressive? A soft-sided travel crate might not be the best idea if Fluffy loves the claw at fabrics or if Bingo loves to chew on anything and everything. Soft carriers aren't as well suited to these pets and won't last very long when subjected to lots of scratching and chewing.
• Does your pet have anxiety? Some pets use their crate as a safe space when they are scared or feeling anxious. These animals may prefer a travel option that includes a nice, soft mattress pad to curl up on.
• What type of traveling will it be used for? Airlines have specific requirements and guidelines t follow for flying pets. Road trippers may have different needs such as a way to properly and safely secure the carrier in the cargo area or the seat of the car.
Pro's of purchasing a Travel Crate
• A comfortable way to travel: Many pooches adore their soft sided crate because they are extremely comfortable to lounge in.
• Less stressful for owners: The purchase of a travel carrier allows you to take your pets more places with you while reducing worries of their safety and comfort.
• Less stressful for pets: Many soft crates have sides that allow your pet to watch the world as they drive past and offer a great solution for not wanting to drag a heavier, more cumbersome version crafted from metal or plastic. Your pet can feel safe in their carrier while enjoying traveling.
• Stops pet accidents: A travel crate is also excellent for those instances where your pet can't make it to the next rest stop. Animals have smaller bladders and can't understand you when you tell them the nest rest area is in 15 minutes. A crate is easy to clean when your pet has a potty accident while traveling.
Key Considerations in Selecting the Right Travel Crate
• Size: You need to pick an option that is large enough for your pet to stand up and turn around while in the crate. If you have a puppy, you may want to go with a larger model so it will accommodate them as they grow into their adult size.
• Material: Look for items constructed from a lightweight yet durable frame material such as aluminum or steel. Both options are light enough to make carrying and set up simple. These durable metals will also be able to hold up to the wear and tear exerted on a travel carrier. You'll also need to make special considerations for pets that like to chew.
• Bedding: Some versions arrive with a soft bed pad or mattress. Others do not so you will need to purchase one separately if your pet likes to lay on softer bedding.
• Cleaning: Many choices have a removable liner that can quickly slip off the frame and thrown into the washing machine with your other laundry. Some require the use of a sponge and gentle cleansing products. Be sure to carefully read through the product descriptions to ensure that any cleaning needs will fit in with your current routines.
• Cost: Cost is always a factor, as you should select a mo0del that is affordable yet not cheaply made.
• Comfort: Your pet needs to be comfortable and enjoy being in their new travel crate.
Choosing the Right Size for Your Furry Friend
Regardless of whether your new travel carrier is for a dog, cat, or any other animal friend, you want to be certain they will fit in it nicely so that they can be comfy and cozy rather than crowded and miserable. Measuring your pet is easy when you follow these simple steps.
1. Measure your pet from the tip of the nose to the end of their tail, if they have one. Add an additional two to four inches to this number to ensure maximized comfort.
2. When examining the options for width, keep in mind that your animal will need to be able to turn around in the crate.
3. Measure the height from the ground up to the tip of your pet's head or ears so that they can stand up as needed while inside. When in doubt it's better to go up a size larger instead of selecting a too small option that will leave Fido cramped and squished.
Some crates have a specified weight limit, so remember to consider that number as well. You can quickly weigh your pet by standing on a scale while holding them. Then weigh yourself separately, subtracting that number from the first. You'll be left with your pet's weight.
Keeping your specific needs, preferences, and details about your pet's size in mind while looking at different options is an easy way to be sure you'll pick the perfect travel crate for your dog. There are so many wonderful options, and you are sure to find a soft sided crate that keeps your furry companion happier and safer. Please leave us a comment below with your favorite travel crate options or a fun story about traveling with your pet.