A pet offers you unconditional love day in and day out. They are members of our family, like little, furry kids that we treat with love and kindness. If your dog, cat, or other creature has mobility issues, it can be heartbreaking to see them struggle to live life to the fullest.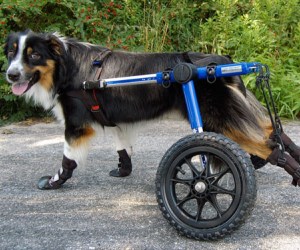 From walks to hiking, to a simple bathroom break, the loss of a pet's ability to run, play, or even walk can be hard for both them and you as their pet parent. Lifting your furry child can be difficult with large breeds and even dangerous for you and them.
Dropping an already injured pet can make health issues worse, but you still need to help them to go outside and live their life. Dog wheelchairs are a terrific option to allow your animal buddy to still participate in and enjoy all of the activities you love doing together.
Although they are referred to and marketed as dog wheelchairs, these devices can help many different pets from dogs to cats to rabbits or even guinea pigs. Regardless of their species, your fuzzy friend can be up and mobile in no time.
There are many options available, so we've taken the guesswork out by reviewing ten popular options, and we have included a guide to help you understand the important features and facts of wheelchairs for dogs and other pets.
Selecting the Best Dog Wheelchairs in February, 2020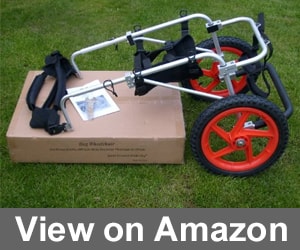 The Best Friend Mobility Dog Wheelchair is made with larger breeds in mind.
This model was designed and tested by an orthopedic surgeon specializing in canine mobility issues.
It fits most animals that measure between 20 and 26 inches from the floor to the top of the back at the hindquarters when standing.
The cart boasts a lightweight, adjustable up to 5 inches in height and 3 inches in length.

| SIZING CHART | |
| --- | --- |
| 2XS | 8 - 11" |
| XS | 9 - 14" |
| S | 14 - 17" |
| M | 16 - 20" |
| L | 20 - 26" |
| XL | 23 - 29" |
The Best Friend Dog Wheelchair arrives with two 14-inch all-terrain wheels, making it a rugged option for those who want to allow their dog the freedom to continue outdoor activities despite mobility issues. Both the front and rear harnesses on this model are super comfortable for your pet thanks to a neoprene construction and a fixed padded seat. Your pup can still easily go to the bathroom and its perfect for any pet with neurological problems, dysplasia, arthritis, back injuries, and many other back limb issues.
Pros
Easy to assemble and use
Lightweight yet sturdy frame
Adjustable
Comfy for pet
Dog can still easily relieve themselves while in the chair
Cons
Assembly instructions are somewhat confusing
May not work as well for very large or heavy breeds such as a Mastiff or a Newfoundland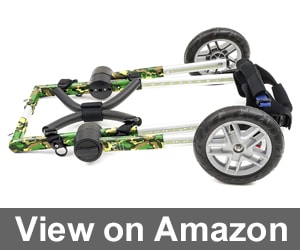 This offering from Walkin' Wheels is crafted for medium-sized breeds with legs measuring 8 to 9 inches and weighing 26 to 50 pounds.
The design was thoughtfully created by veterinarians specializing in mobility issues plaguing canines.
It's fully adjustable to customize it to your pet's specific measurements and to maximize comfort.

| For Medium Dogs 26-50 lbs. | |
| --- | --- |
| Size | FOF |
| 1 | 8 - 9" |
| 2 | 10 - 13" |
| 3 | 14 - 15" |
| 4 | 16 - 18" |
| For Medium Dogs 51-69 lbs. | |
| --- | --- |
| Size | FOF |
| 5 | 14 - 16" |
| 6 | 17 - 20" |
| 7 | 21 - 22" |
The Walkin' Wheels Chair for Medium Dogs is as cute as it is functional. It comes with a choice of three different color designs: blue, pink, or camo. Your pet will be able to answer the call of nature and get exercise while looking fashionable and feeling safe.
Pros
Lightweight and durable
Three different color options
Easy for dogs to use
Adjustable
Comfortable and safe
Dog can use bathroom while in the chair
Cons
Assembly instructions are a bit difficult to follow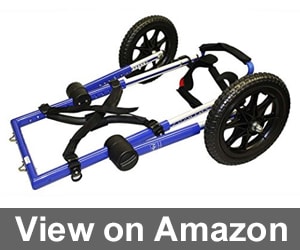 Walkin' Wheels brought out the big guns for the big doggies with this selection.
It's specifically made for larger dogs that are 70 to 180 pounds, with leg lengths ranging from 17 to 20 inches.
It is offered in three color options including camo, pin, and blue.

| For Large Dogs 70-180 lbs. | |
| --- | --- |
| Size | FOF |
| 1 | 14 - 16" |
| 2 | 17 - 20" |
| 3 | 21 - 22" |
| 4 | 23 - 25" |
| 5 | 26 - 30" |
The Walkin' Wheels for Large Dogs is super durable and lightweight to ensure your pal can get plenty of use out of it. It's also incredibly easy to adjust thanks to push-button settings. This model is perfect for your bigger sized friend and works for many large breeds like pit bulls, Dobermans, and German shepherds.
Pros
Lightweight yet tough
Easy to train dogs on
Supportive for larger breeds
Adjustable by push button
Soft harness
Dog can use bathroom while in this cart
Cons
Expensive
Somewhat difficult first-time assembly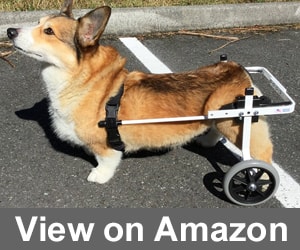 The K9 Carts Rear Support Wheelchair is sized for pets that measure 13 to 19 inches from shoulder to the base of the tail, 6 to 8 inches wide from shoulder to shoulder, and that stand 10 to 15 inches tall from the hip to the floor.
This option is an excellent choice for corgis and other breeds that weigh 26 to 35 lbs.
It was veterinarian designed, built, and tested by creators with over 50 years of experience in aiding dogs with mobility problems.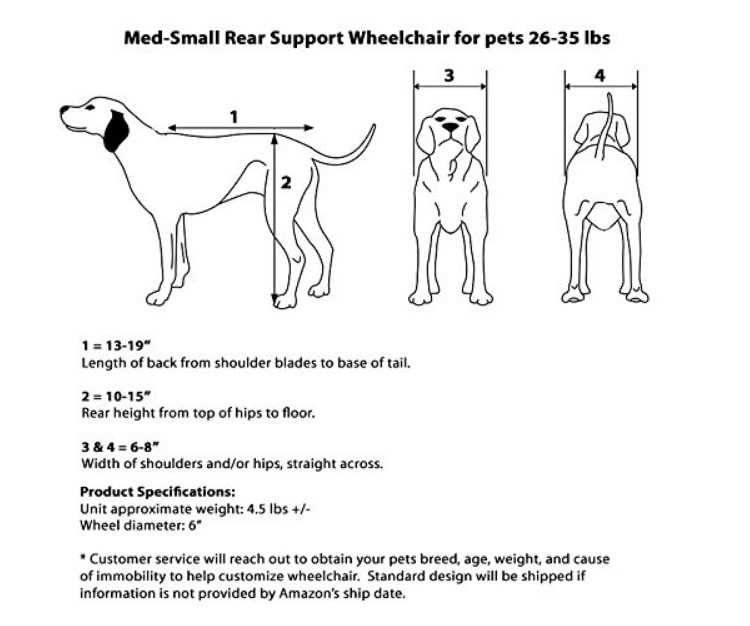 The K9 Carts Rear Support Wheelchair is the lightest model available on the market. It is comfortable for your furry friend yet rugged enough for outdoor use. Best of all it makes outside bathroom visits a breeze.
Pros
Sturdy yet extremely light
Great for medium sized breeds such as corgis
Comfortable design
Adjustable
Dog can still use bathroom while inside
Cons
Back portion of the wheelchair has frame posts that can sometimes get caught on furniture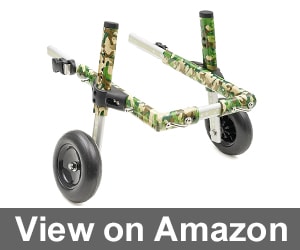 Another great option from Walkin' Wheels, this wheelchair is made for small breed dogs weighing 11 to 17 pounds with legs that are 3 to 6 inches long.
Breeds such as dachshunds and Pekingese will fit perfectly.
It's extremely durable for outdoor use.

| For Small Dogs 11-17 lbs. | |
| --- | --- |
| Size | FOF |
| 1 | 3 - 6" |
| 2 | 7 - 8" |
| 3 | 9 - 13" |
| For Small Dogs 18-25 lbs. | |
| --- | --- |
| Size | FOF |
| 4 | 6 - 8" |
| 5 | 9 - 11" |
| 6 | 12 - 15" |
The Walkin' Wheels Small Dog Wheelchair is also available in pink, blue, and camo print. It's easy for dogs to learn to use. It is fully adjustable to maximize comfort and safety.
Pros
Durable, lightweight frame
Three color options
Great choice for pets with rear limb paralysis
Fully adjustable with push buttons
Keeps pets comfy
Dogs can still easily relieve themselves while in the chair
Cons
Instruction manual is a bit hard to follow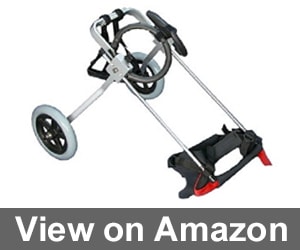 The Best Friend Mobility Extra Small Dog Wheelchair was crafted for pups and other animals that have hips which measure 9 to 14 inches in height.
It's lightweight frame and polyurethane wheels ensure your furry friend can cover a variety of ground types.
The frame is non-corrosive for rainy days.

| SIZING CHART | |
| --- | --- |
| 2XS | 8 - 11" |
| XS | 9 - 14" |
| S | 14 - 17" |
| M | 16 - 20" |
| L | 20 - 26" |
| XL | 23 - 29" |
The Best Friend Mobility Extra Small Dog Wheelchair is unique in its ability to aid with front weakness as well as rear weakness. It's tough enough for outdoor adventures, yet the harness is soft enough to provide comfort and happiness for your little friend. The specifications and features of this model make it a trusted option for many people with great reason.
Pros
Lightweight and tough
Easy to assemble and use
Front and rear limb support options
Adjustable
Comfortable padding
Dog can use bathroom while in chair
Cons
Can be a bit tough to adjust the first few times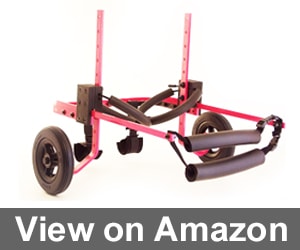 The Pets and Wheels Dog Wheelchair is a wonderful option made in the United States.
It comes in a wide variety of colors including pink, blue, red, green, purple, silver, and gold.
It's crafted from lightweight non-rusting aluminum to allow your pet to have easier maneuverability.
This model fits pets that are in the 20 to 45-pound range. It can be adjusted for your pet's height and width. The harness and leg pads are designed to keep your pet comfy and safe.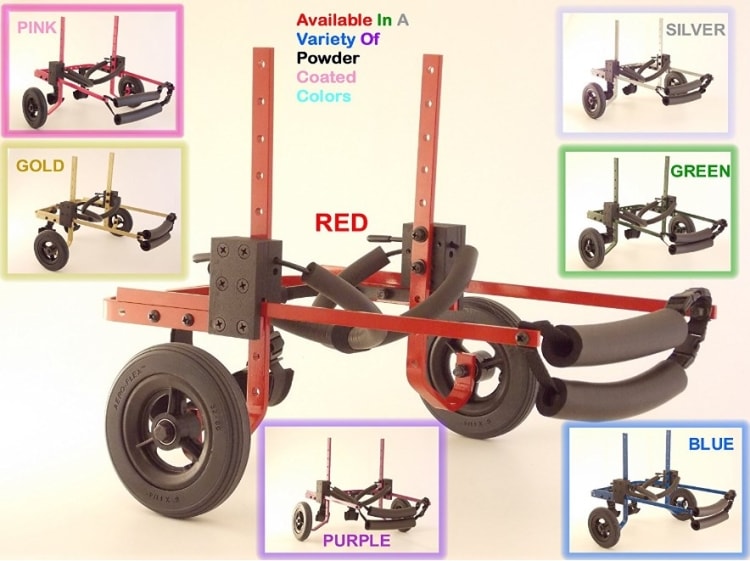 Pros
Lightweight non-rust aluminum
Quality construction
Lots of different color options
Adjustable
Comfortable design for animals
Dog can still easily relieve themselves while using it
Cons
Hind frame poles may get caught on things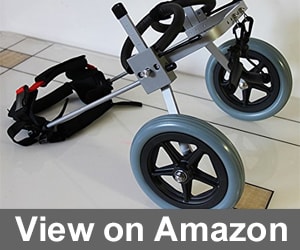 The Newlife Mobility Adjustable Dog Wheelchair aids dogs and other animals in the 40 to 60-pound range with a height of 16 to 20 inches.
It's an economical option.
This model features push-button adjustments making it easy to ascertain your pet's comfort while using.
The Newlife Mobility Adjustable Dog Wheelchair features a soft harness to help secure your pup. In addition, the cart has stirrups that help hold the back legs up in case they do not have use of their back limbs. This feature is terrific for keeping limbs out of the way while allowing your pet to roam around.
Pros
Budget option for pets that have paralyzed back limbs or no use of their back legs
Lightweight yet sturdy frame
Adjustable by push button
Comfy for pet
Pets can use bathroom while in this cart
Cons
May not be constructed as well as some other models
Assembly and use instructions are somewhat confusing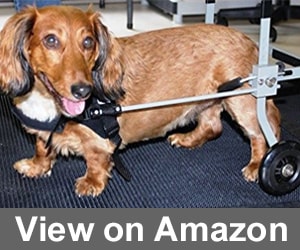 The Huggiecart is an affordable option for smaller doggies in the 9 to 18-pound range.
Dogs do well learning to use it.
A lightweight aluminum frame is easy for small breeds to maneuver.
The Huggiecart is a great option for budget-conscious owners. Its neoprene chest harness and leg stirrups are comfortable and keep your pet happy. The manufacturer is also well known for great customer service.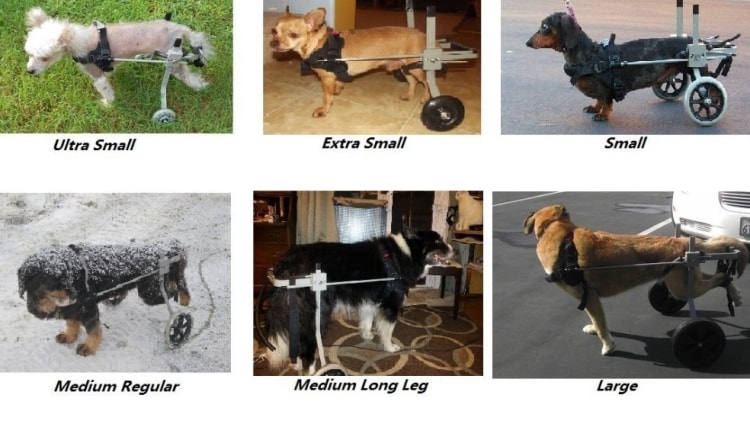 Pros
Lightweight aluminum frame great little dogs
Easy to use
Affordable
Adjustable
Neoprene harness is nice and soft
Perfect for outside bathroom breaks
Cons
Assembly instructions are somewhat confusing
Screws tend to loosen over time and with use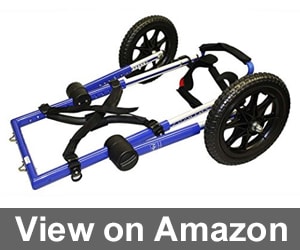 The Walkin' Wheels Extra Small Dog Wheelchair lends a helping hand to toy size breeds like Pomeranians and Chihuahuas, as well as small cats, bunnies, and other little critters.
This veterinarian approved model fits pets that are 6 to 8 inches long with hind legs that are 2 to 5 inches.
It is lightweight and sturdy, so you and your pet can go outside and have fun together.

| For Pets 2-10 lbs. | | |
| --- | --- | --- |
| Size | FOF | Length |
| 1 | 2 - 5" | 6 - 8" |
| 2 | 6 - 8" | 9 - 12" |
| 3 | 9 - 12" | 11 - 14" |
The Walkin' Wheels Extra Small Dog Wheelchair assists animals that have rear limb weakness or paralysis, as well as hip dysplasia and a multitude of other issues. Your pup can still easily relieve themselves while in the chair, making it perfect for potty time in the yard. It also folds down flat for easy transport and storage.
Pros
Lightweight
Easy to assemble and use
Perfect for toy size pups and other small animals
Folds flat
Comfortable and fully adjustable
Dog can use bathroom while in the cart without making a mess
Cons
This specific extra small size does not have an optional attachment for pets with front limb weakness
Best Dog Wheelchairs – Buyer's Guide
With so many options available, choosing the right dog wheelchair can be a frustrating task for a difficult situation.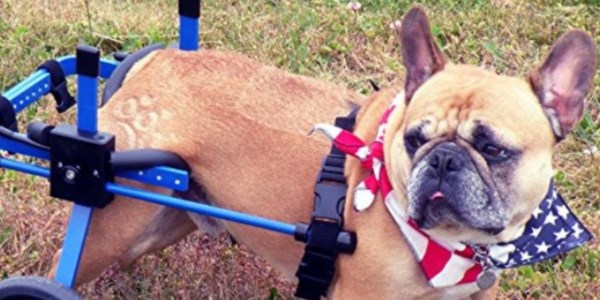 With that in mind, we've researched the ins and outs of mobility assistance for injured or disabled pets.
So, keep reading as we explain the important considerations and details in finding the right chair for your furry family member.
Who Should Buy a Dog Wheelchair?
The term "dog wheelchair" is a bit of a misnomer. These mobility assistive devices can be used for many different kinds of animals. With that in mind, you can find suitable models for dogs, cats, rabbits, goats, and even miniature horses. You simply need to keep your animal's measurements and needs in mind.
There are many situations in which a wheelchair can help your pet. Dogs and other animals can lose the ability to walk normally due to normal aging processes, a disease, an accident, an amputation, and many other issues. As some pets grow older, they begin to experience arthritis that makes playing, walking, or even going outside to potty a long, drawn-out, difficult task.
The use of an assistive mobility device crafted especially with their bodies and needs in mind can give your furry friend a new lease on life while ensuring they are safe, comfortable, and above all, happy.
Key Considerations
The Size of Your Pet's Limbs
Just like your pet, wheelchairs vary in size. The weight of the animal, the length of their legs, and the height of their hips and shoulders are all key factors. After measuring your friend, keep the numbers handy for easy reference and follow the standard rule of thumb to measure twice, purchase once to avoid sizing mishaps.
Cost and Quality
You can't put a price on the love of a pet, but you will need to examine your budget to see what wheelchair you can afford. Luckily, there are plenty of options for every size bank account. Just make sure a less expensive model still is comfortable and safe. You want your pup to enjoy their new cart and not feel uncomfortable or become inured at the cost of saving a few dollars. Selecting a higher quality model will ensure it lasts a long time and keeps your pet safe and healthy.
Composition
The materials your wheelchair is composed of will have a direct effect on its durability and performance. You want to choose a model that is lightweight for your pet's ease of use. The cart must also be able to withstand heavy use and outside elements like dirt, sun, mud, or rain.
Measuring Your Pet
You'll need to make a note of your pet's shoulder and hip height and width, the length of their legs, their weight, and their body length. Choosing the correctly sized option will ensure they are comfortable. You can use a soft measuring tape, and either measure them while they lay down or ask a friend for help in holding them up in a standing position.
Tips for Purchasing the Perfect Wheelchair for Your Pet
Here are some handy hints to make the selection process easier and to help you in using your new purchase.
• Some models have only rear support for the back legs. Others have a design that offers support for the front legs. There are also specially manufactured models that offer full support for animals that experience weakness or have no use of both their front and back limbs. Thinking carefully about your pet's diagnosis and prognosis will help in determining what style of wheelchair is best suited to their needs.
• If your dog has weakness in the front legs, choose a full support option for maximized mobility.
• Some options of pet wheelchair carts offer customization. There are also a wide variety of accessories that can be added to help your pet get the most out of their new device. These accessories might include a specialty harness fitted with lambswool for cold weather or a sun shade for summer days.
• Other animals can benefit from wheelchairs including horses, rodents, cats, and others.
• The size and material of the wheels will dictate if the cart can be used while on uneven terrain like for hiking.
• Ensure that you choose the right size for your pet. There are hundreds of styles and sizes to suit all breeds, weights, mobility issues, and body types.
• Handheld options, such as a sling, are best for navigating steps or stairs.
• Your pet can learn to use their new wheelchair at any age. So, old or young a cart can be a perfect aid in assisting your pet with their day to day activities.
• Special wheels can be purchased that work well in the sand for dogs that love the beach or winterized options for snow-loving pooches. Just make sure they are compatible with the wheelchair's frame and attachment portions.
• You may want to invest in an extra harness or two in case of messes.
• Aim for an easy to clean option.
Safety Tips for Dog Wheelchairs
Safety is of the utmost importance for choosing and using a wheelchair designed for your pooch. Let's look at some crucial safety tips and tricks.
• Check the harness carefully to be certain your pet is in a natural and proper position while in their new wheelchair. Make any necessary adjustments if their positioning in unnatural as it can lead to pain and irritation.
• Keep other pets and kids away from the wheelchair to keep it from being damaged.
• While these are mobility devices to allow your pet to walk easier, you should never leave your animal in it for very long periods of time or when you are not directly supervising them. Leaving them alone in the cart could result in injuries.
• Some devices can be prone to get caught up on tables or bushes. Always oversee your pup to make sure they are fine.
• Smaller pets might be able to lean forward and find a comfy position to sleep in for a while in their cart. However, you should not let them sleep in it or stay in it for long periods of time as this can increase the risk of pressure sores or injury.
• When you are at home with your pet, and they are content to rest or lay down, take them out of the cart so they can have a break. Generally, your dog will want to come out of the wheelchair after being outside in it during a restroom break or playing session.
In closing, dog wheelchairs are helpful for many different types of animals and their activities. A mobility issue is no reason for a pet to be unhappy or feel left out of their usual routine. A wheel chair can help many different health disparities like arthritis, neurological problems, back issues, and much more.
The purchase of a wheelchair specifically designed for your pooch may also help in achieving a higher level of health. An animal wheelchair allows them to get exercise and remain active, which also aids in ensuring their bowels and bladders function properly. It can also lift a sad pet's spirits and keep them feeling like a loved family member. We hope you have enjoyed our dog wheelchair reviews and buyer's guide. Please leave us a comment below with your thoughts and tips.