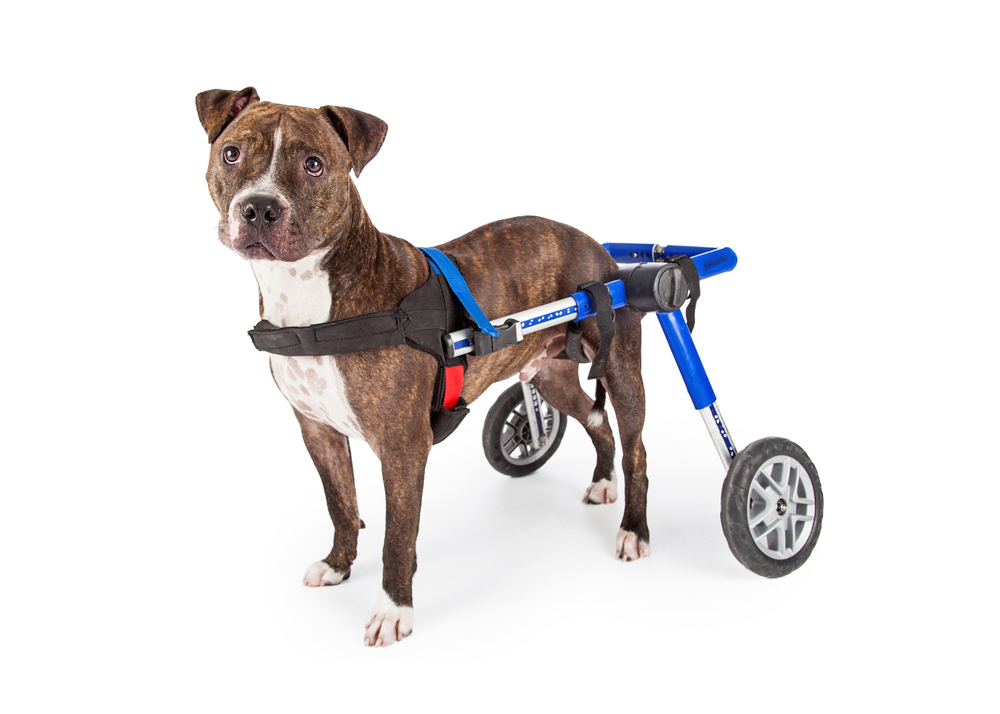 Pets are our best friends and will always be there to keep you company, especially when you are alone. You love to see them lively and comfortable around you.
Unfortunately, not all dogs have working, strong legs. It can feel terrible seeing your pup struggle with mobility troubles. Their discomfort breaks your heart and you strongly want to help them. When they are going through these difficult challenges, you want to relieve them of their misery and pain by lifting them up.
Thankfully, just like we humans may need a wheelchair to get around, there are wheelchair for dogs! These mobility devices can be a great option if your dog struggles to move freely or without pain.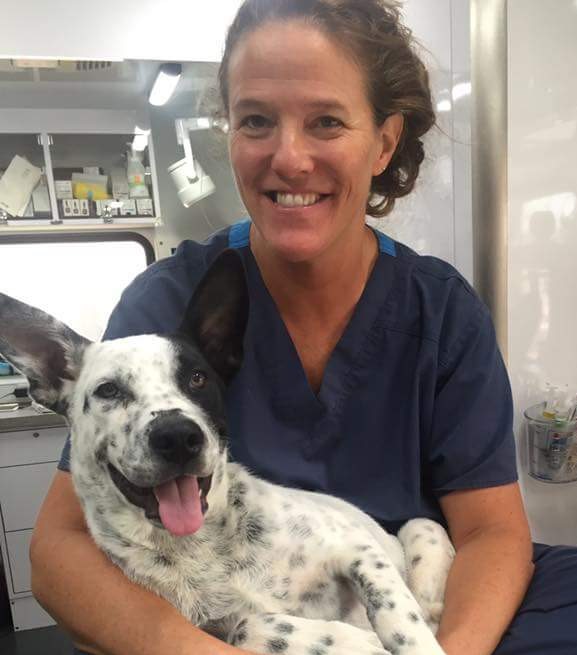 "When recovering from a serious injury, a wheelchair can be a helpful therapeutic tool. A wheelchair can help support some of your dog's weight, letting them build muscle more slowly and provide much needed balance if they've suffered a leg injury and are having trouble moving around. A wheelchair also can help your dog get the exercise they're craving and make it easier to keep them resting during longer convalescences."
Dr. Michele King, DVM
We've saved you the headache of going through hundreds of products by reviewing the top 8 best dog wheelchairs – for both small and large dogs. We also included a guide that highlights different features of each option and can also help you make the best decision depending on your preference.
Why a dog wheelchair is right for you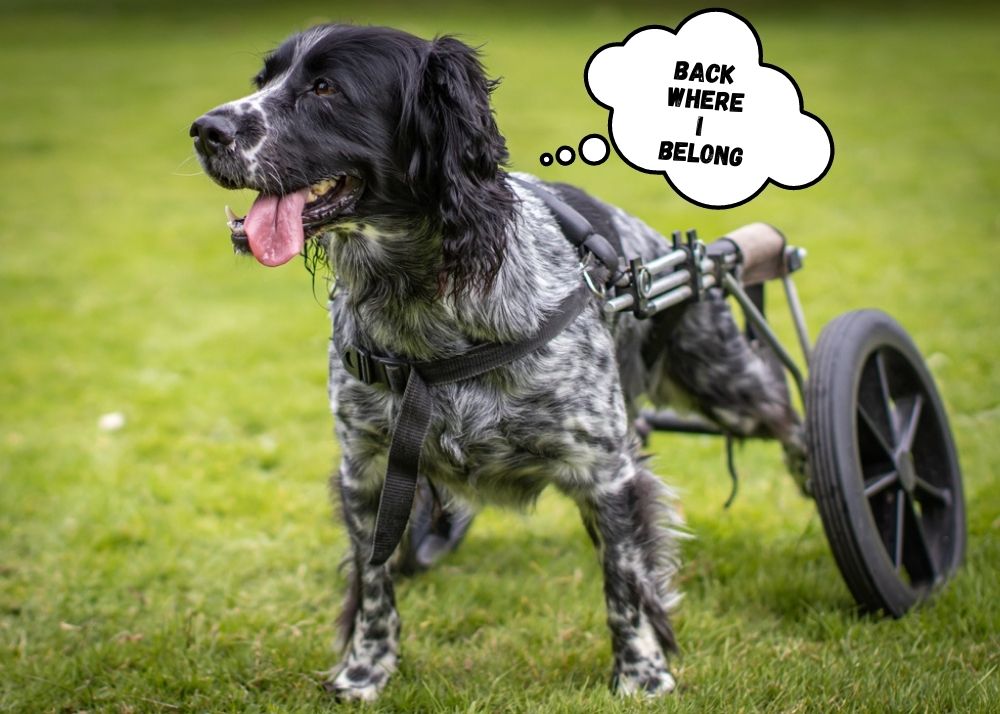 While dog wheelchairs are growing in popularity, many dog owners might not know a wheelchair is the best choice for their pet. Dog wheelchairs are designed with a singular purpose: To give your dog the ability to move freely again.
What makes dog wheelchairs such a fantastic option, and why they might be right for you, is they support dogs with a wide range of mobility issues. If your dog struggles walking, tires quickly, or seems to be in pain, a wheelchair provides just the right amount of support and stability.
Dog wheelchairs can help your dog with:
Arthritic pain
Paralysis
Hip Dysplasia
Surgery/procedure recovery
Injury
Also, dog wheelchairs are ideal for older dogs who might need a little extra help with their balance. A dog wheelchair is right for you if your pup needs support with mobility or stability.
Jump to section
Our top picks
Best wheelchair for large dogs
Best wheelchair for small dogs
What is the purpose of a dog wheelchair?
Can you build your own dog wheelchair?
Our complete review methodology
Safety tips for dog wheelchairs
---
Our top picks
We looked at dozens (and dozens!) of dog wheelchairs, and if you have an averaged sized dogs with no specific needs (see more specific options, below), this is the dog wheelchair for you: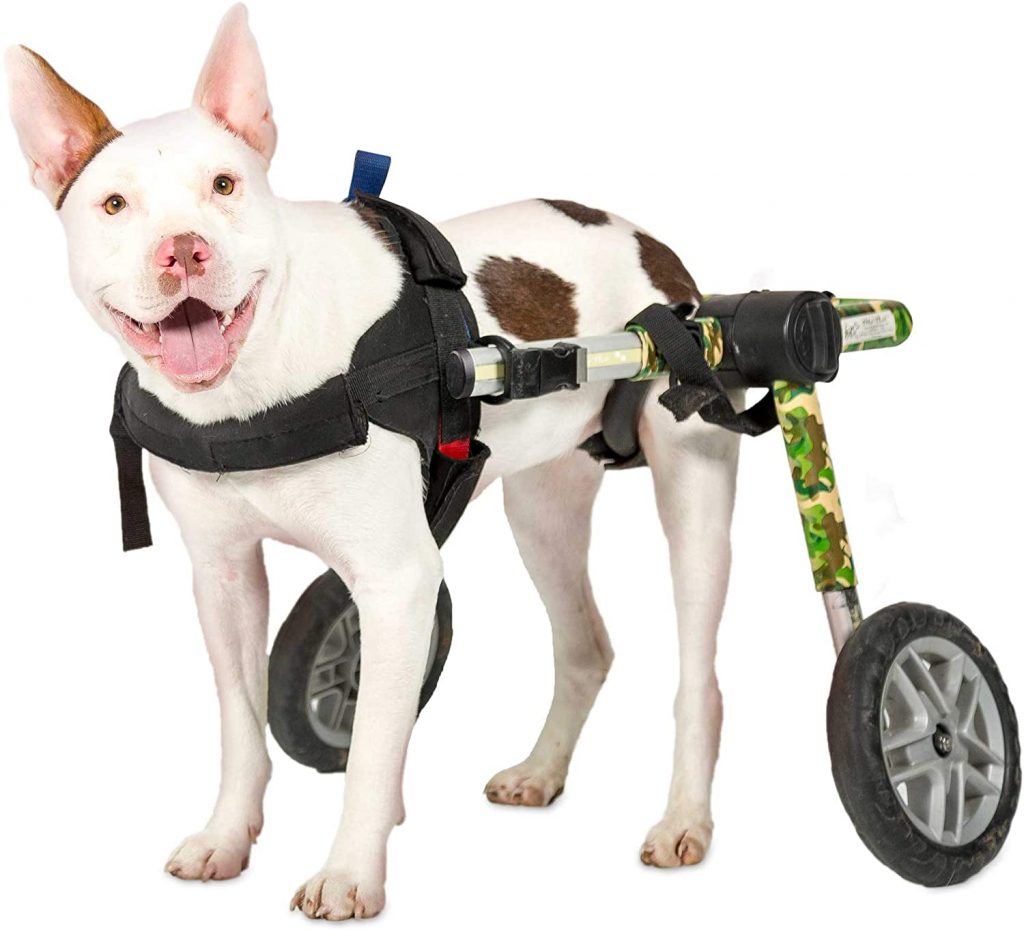 Best for most dogs
Adjustable so it fits most mid-sized dogs perfectly, this is our top overall pick for a few reasons: it folds flat for storage, is made of the exact right materials, and is vet-tested and approved.
Walkin' Pets was the first company to manufacture adjustable wheelchairs for pets and their expertise shines through. Their wheelchairs are available in the widest range of sizes to fit all dog breeds. Each model is grouped by weight and Walkin' Pets offers a variety of sizing options based on the length of your dog's legs for each model. Final adjustments can be made to the height, length, and width of the wheelchair to find the perfect fit for your dog.
We loved that the Walkin' Pets can fold flat for storage or transport without any disassembly and all parts are safe to wash, including the wheels. This model also has great durability for all kinds of terrain and all parts are waterproof.
Pros
Available in plenty of size and fit options
Backed by one of the top manufacturers of dog wheelchairs
Easy to collapse and store
Cons
Price is almost as high as a custom-fitted chair
---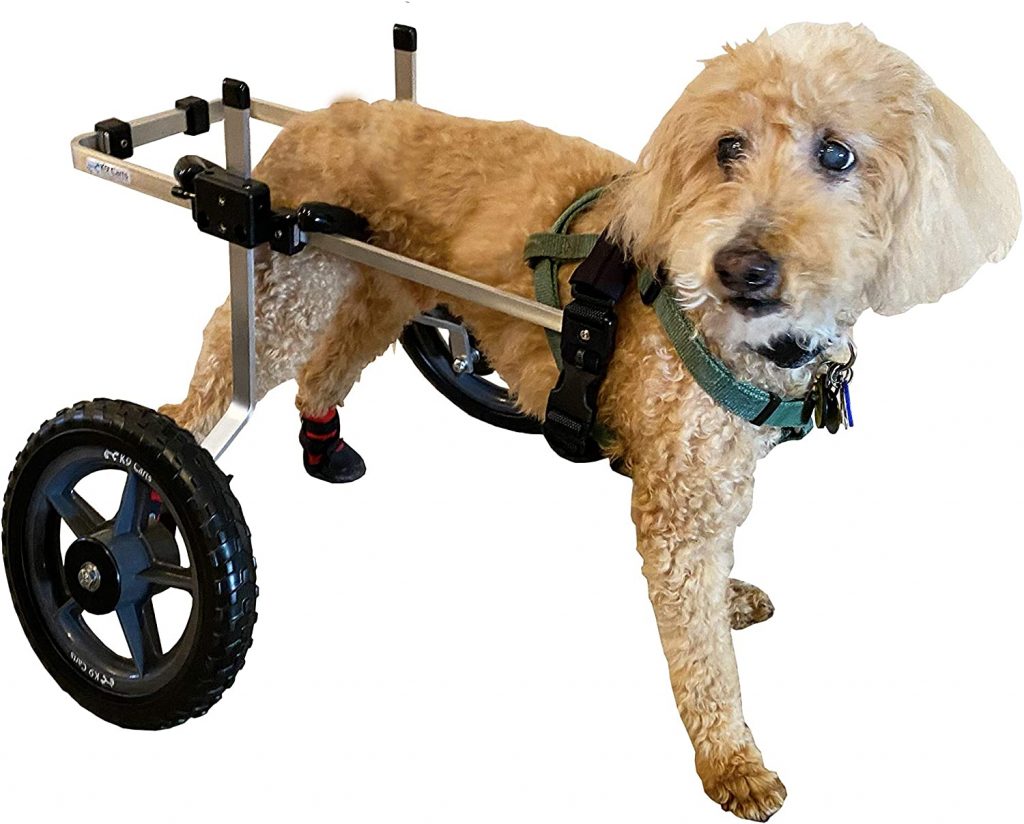 Best custom-fit choice
Made in the USA and fitted based on your pet's measurements, this is your best choice if other wheelchairs just haven't worked but it's pricier and we'd really only recommend it for dogs who'll need a wheelchair indefinitely.
Custom-fitted wheelchairs used to be something you had to order through your vet but now you can easily find them online. We loved the light design of the K9 Carts Rear-Leg wheelchair and think it'd be great for any dog using a wheelchair long term. The only reason they aren't our top recommendation is that you'll need to take accurate measurements, something you might want to leave to an expert who's fitted wheelchairs before like your veterinarian.
K9 Carts has been manufacturing pet wheelchairs for over 50 years and is one of the top names in the business. Where they really stand apart is that each wheelchair is built based on your pet's measurements, providing the exact level of support and comfort your dog needs. K9 Carts is also great about answering questions and collecting all the details they need to make sure your dog's wheelchair is sized correctly.
Pros
Multiple sizes to fit any dog and custom fitted before final adjustments
Made in the USA
Very lightweight compared to cheaper options
Cons
Requires you to take exact measurements
Pricier than most other wheelchairs
---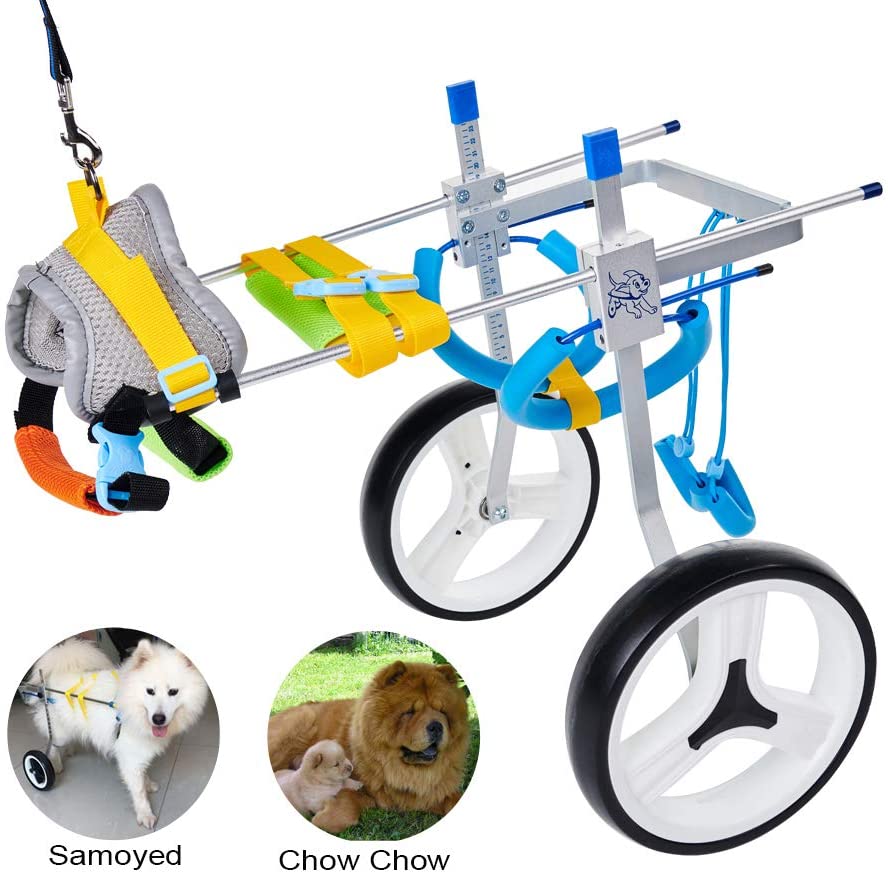 An all-around budget pick
This model comes in sizes for any dog and is a great budget choice, but weighs a bit more because of the stainless steel construction.
Unlike our other picks, the HiHydro wheelchair is made of stainless steel. Although stainless steel sounds like a better material, it's actually less ideal for a wheelchair. While it can make a wheelchair more durable, it does add more weight and any gains in durability will be relatively minor and any wheelchair is only as strong as its weakest piece.
We have doubts about how the wheels, harness, and leg straps will hold up, even if the steel frame seems like it could be more durable than our other picks.
Pros
Stainless steel parts are more durable and less prone to bending
Budget-friendly price
Plenty of sizing options
Cons
Heavier than aluminum wheelchairs
Manufacturer isn't as well known as other picks
---
Best picks for larger dogs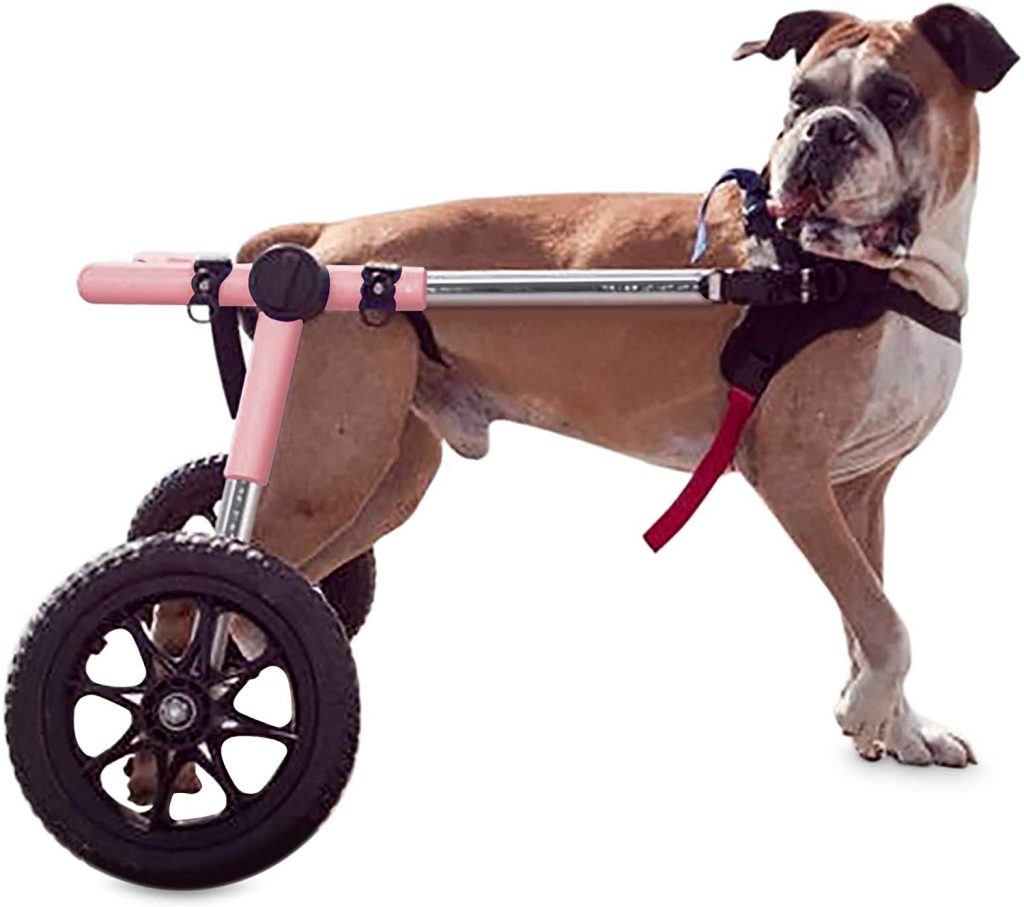 Best for big dogs
Our favorite model sized up to fit even the biggest dogs, this model offers high durability and better support that heavier dogs need.
Larger dogs have different needs than smaller dogs besides just a bigger chair. Heavier dogs carry their weight in different places, walk differently, and need more support for their larger back. Thankfully, Walkin' Wheels has a great scaled up pick for even the biggest pups, featuring heftier wheels and a sturdier frame that offers relieves more spinal pressure on larger dogs.
For heavier dogs who aren't quite this large, check out this mid-range pick for 50-69 pound dogs. This is perfect for dogs who need either a higher or sturdier frame and don't quite fit into either the 'large' or 'medium' categories and is especially good for taller athletic breeds who are fairly light for their size.
Pros
Lightweight and adjustable
Extremely durable
Easy to fold flat
Cons
Sizing can get difficult in higher weight ranges
---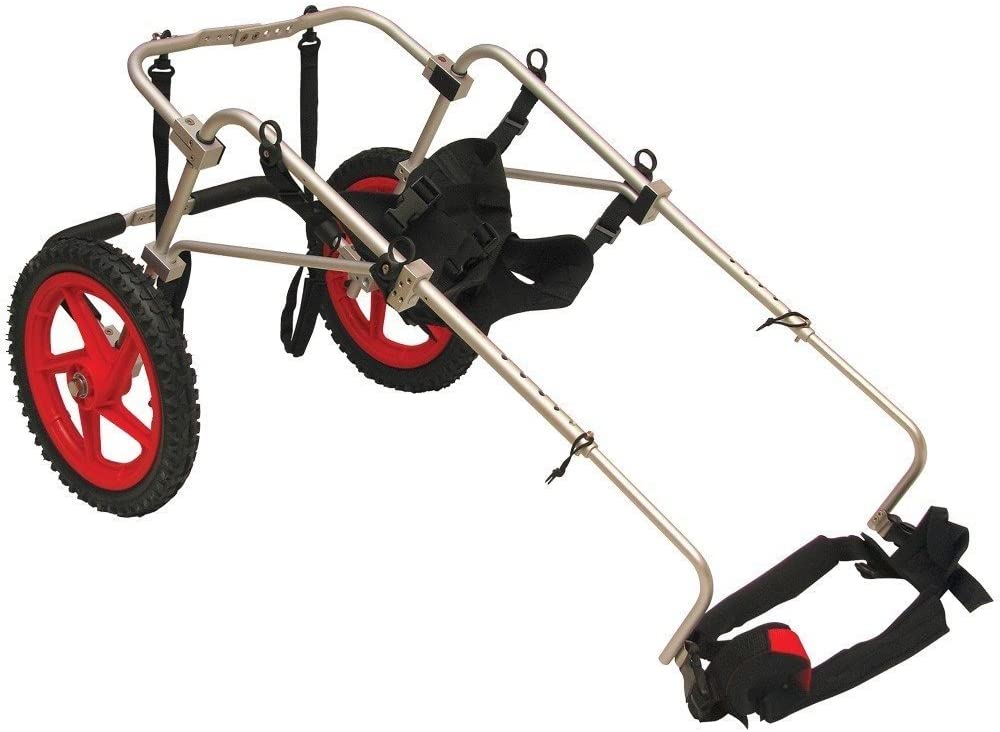 Best budget choice for big dogs
At around half the cost of our last pick, this is a really good option for the price. With a lightweight adjustable aluminum frame and galvanized hardware (only 2 bolts required), this model won't rust. It's also got deluxe neoprene front and rear harness for complete comfort — proven by testing by a K9 Orthopedic surgeon.
We like the price and easy assembly of our next pick, but we have long term concerns over how it will hold up to use by larger dogs. The aluminum tubing is much thinner than our preferred pick, but we think this is okay if you just need a wheelchair while your dog is recovering from an injury or surgery and don't expect to put it to heavy use.
Pros
Lightweight
Simple to assemble
It can be folded flat
Can be adjusted easily
Cons
Frame seems a bit light for large dogs
---
Best picks for small dogs
Here are our top picks for chairs for smaller breeds like Dachshunds, pugs, and Frenchies.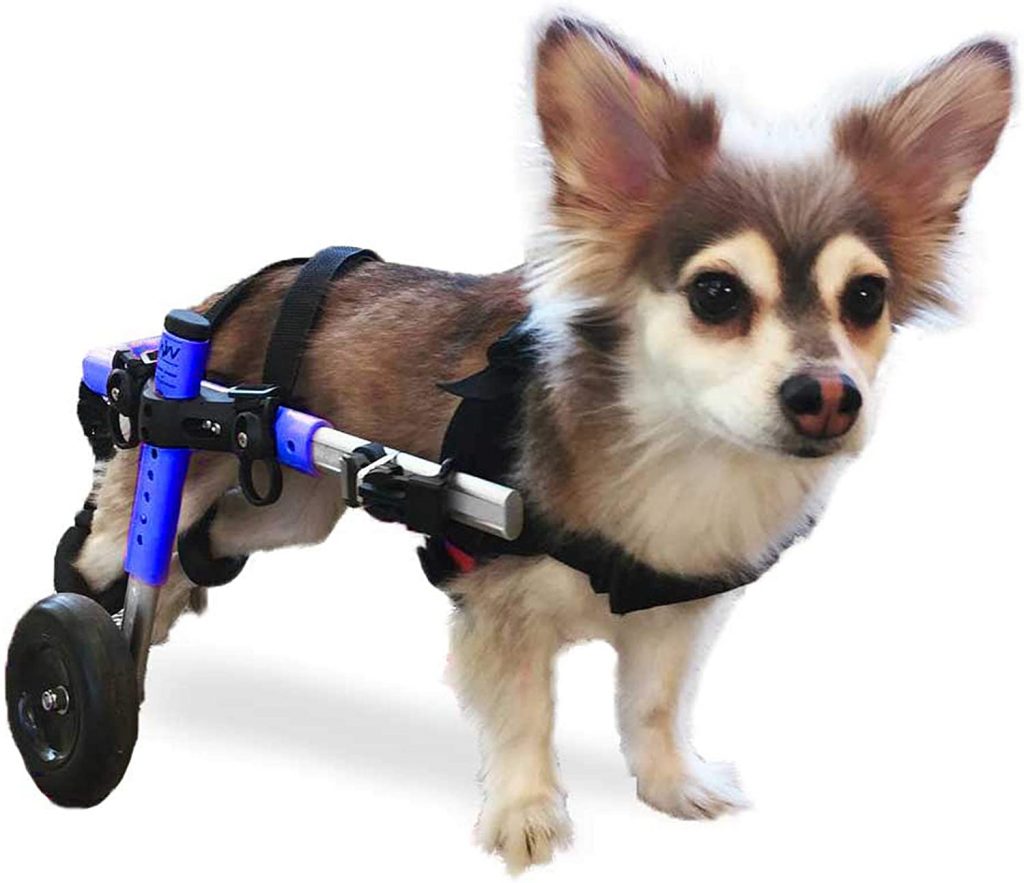 Best budget pick for small dogs
From the same maker of our top pick for large dogs and our favorite overall, this has many of the same advantages but is simply scaled down for smaller dogs.
Our pick for small dogs should cover most breeds but is specifically meant for dogs 11-25 pounds. It's available in the same sub-models for varying leg heights and weights so you can dial in the perfect fit for your dog. If your dog is less than 10 pounds you'll want to consider the Walkin' Wheels for toy breeds model instead.
Pros
Great sizing and adjustments to fit any dog
Lightweight construction make it easy for small dogs to use
Cons
Price is similar to larger wheelchair models
---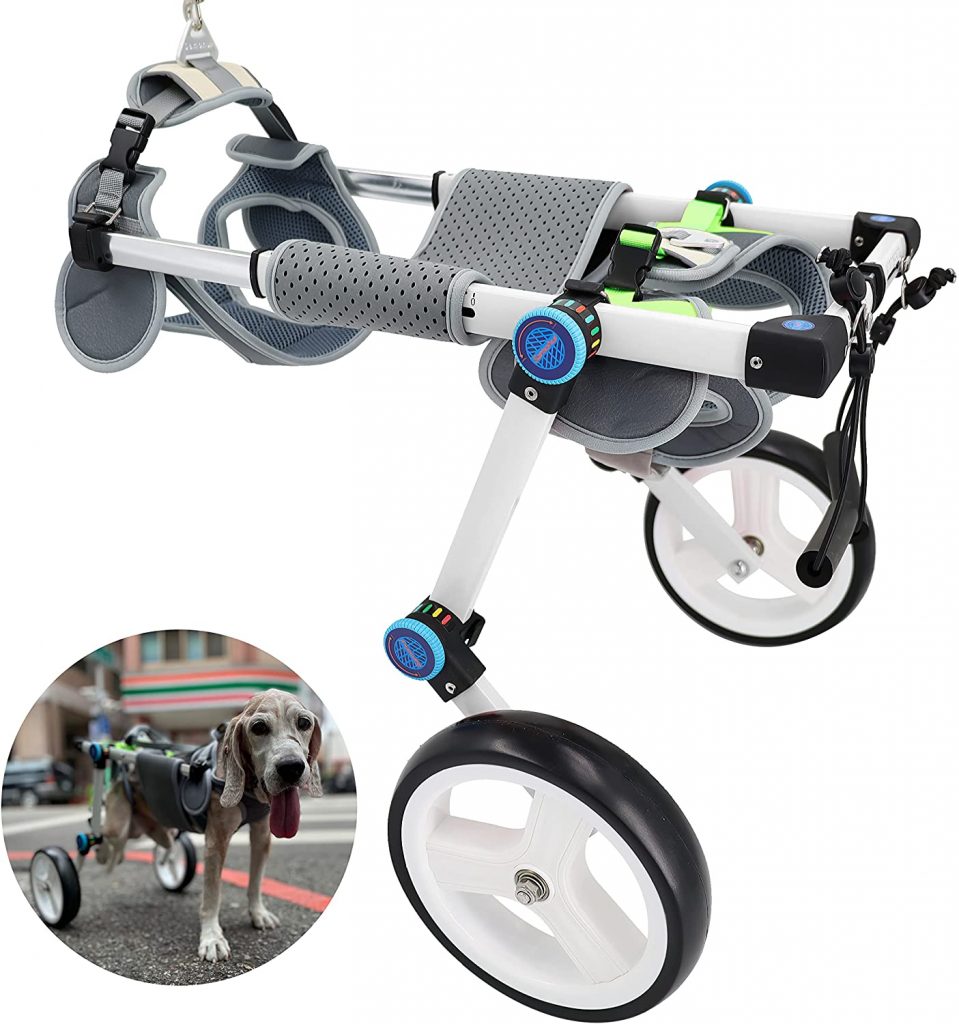 Best budget choice for small dogs
A bit cheaper, this fully adjustable wheelchair fits most smaller dogs between 6-45 pounds.
While not quite as durable as our top pick, this wheelchair offers most of the same benefits. While most manufacturers offer pre-fitted wheelchairs that fit a narrow range of height and weight, this model is meant to fit a wider range of dogs. Taking the fully adjustable approach means you're less likely to have sizing issues as long as your dog is within the height and hip range for this wheelchair.
Pros
Budget-friendly price
Fully adjustable to fit a range of dogs
Veterinarian approved
Lightweight for smaller dogs
Cons
One-size-fits-all approach may not work for all dogs
---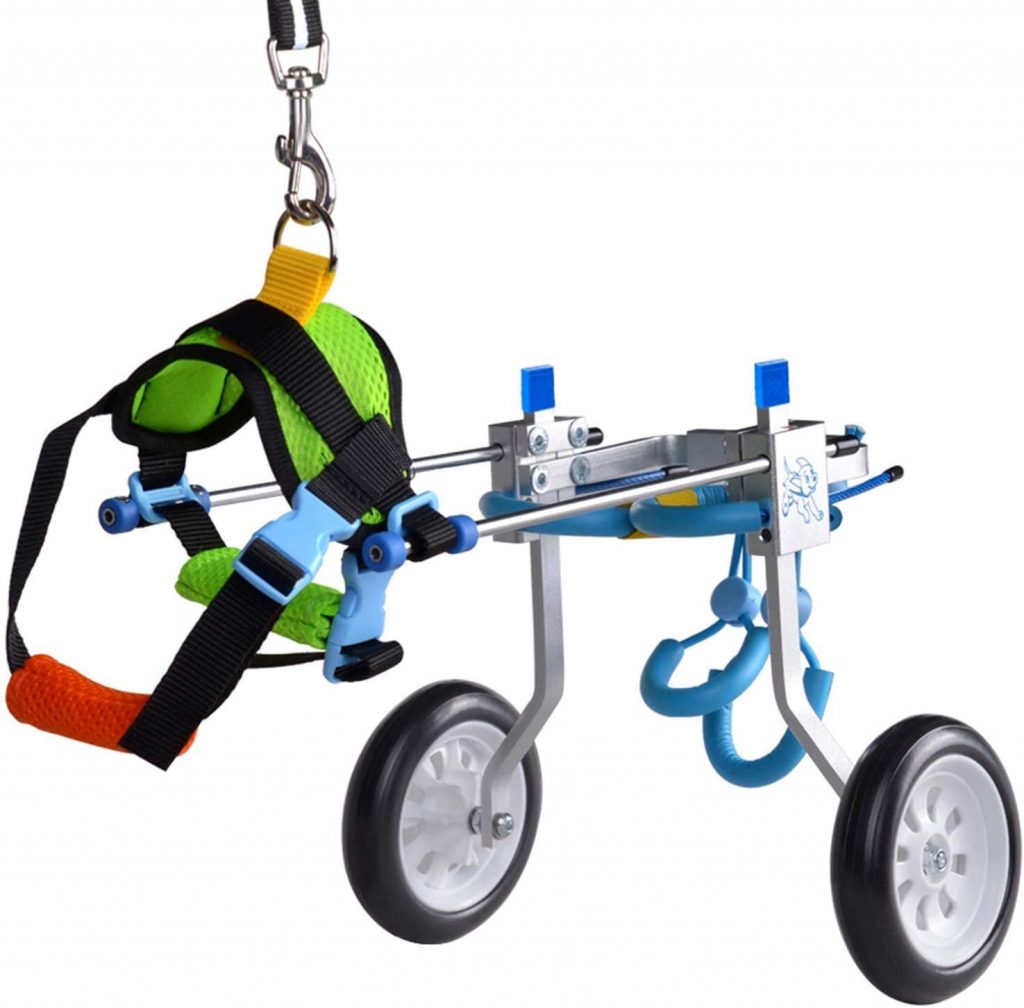 Best for long-bodied dogs
This model is made for breeds like Corgis, Dacshunds, and Basset Hounds to accomodate their longer bodies and shorter legs and provide the right level of support.
While a traditional dog wheelchair might work, most short-legged breeds will need something with a more precise fit. This model also includes additional support straps needed to help relieve stress on long-bodied dogs. However, one expert noted that for most dog wheelchairs, it's possible to adjust a medium-sized chair of any brand to fit long-bodied breeds.
Pros
Offers specific adjustments for long-bodied dog breeds
Easy assembly goes together or breaks down quickly
Budget-friendly price
Cons
Difficult to make initial adjustments
---
What is the purpose of a dog wheelchair?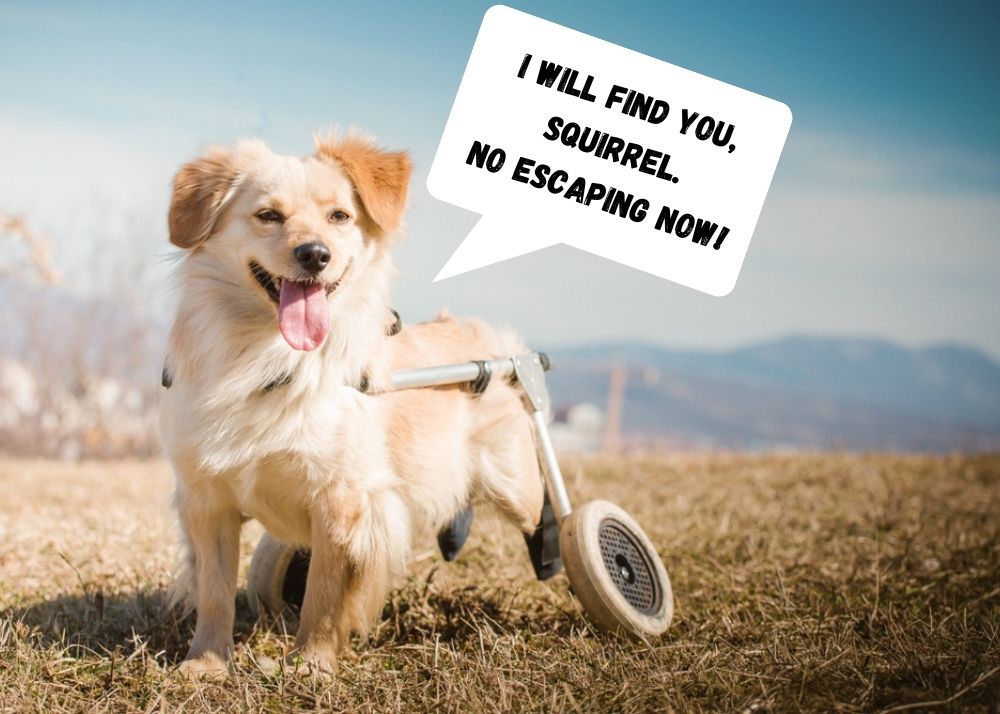 The main purpose of a dog wheelchair is to give a hurt, injured pup their mobility back. However, using a wheelchair can also prevent your dog from hurting itself further by trying to move while injured.
If you're interested in finding out if a wheelchair is the best option for your dog, the first step is to visit your vet.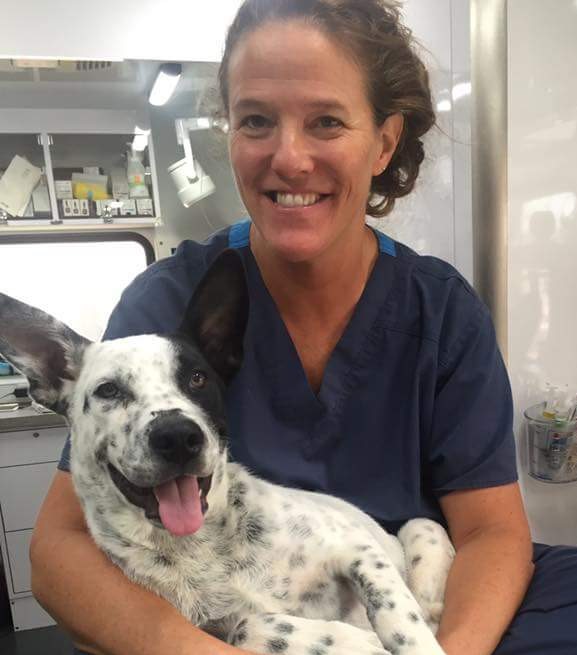 "It's always safest to have a veterinarian evaluate your dog's health first – a wheelchair may not be the best solution for your dog and could make some conditions worse. Generally, dog wheelchairs require your dog to be fit and healthy besides their mobility issue. This is because it takes quite a bit of effort for your dog to move themselves in the wheelchair and the wheelchair will only help take weight off your dog's rear legs. It's important to recognize that a wheelchair will only help if used in conjunction with everything else recommended by your vet."
Dr. Michele King, DVM
Wheelchairs help paralyzed dogs regain mobility
For some pups with complete mobility loss in their rear legs, a wheelchair can be the perfect fit to help them live normally. Simply having their rear legs off the ground and their weight supported will let your dog compensate with their front legs and in many cases they can be just as fast as they would be on all four paws.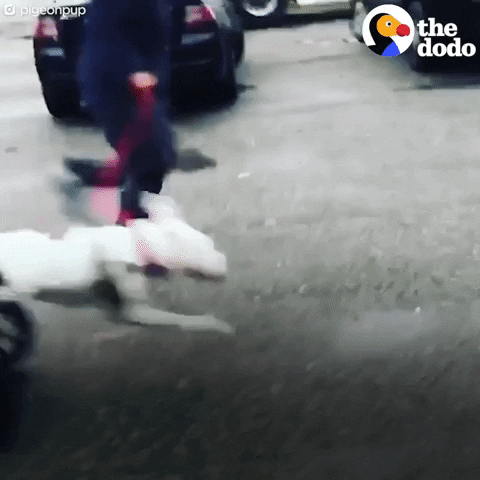 While your dog can't use a wheelchair 24/7, it can be the key to getting them out on walks, wander around the house or yard, and just generally feel like a dog. In cases where your dog will be using a wheelchair indefinitely, we highly recommend going with our custom fit pick to ensure long-term comfort.
Using wheels can help with hip dysplasia and muscular dystrophy
Wheels can greatly reduce the stress movement puts on your dog and help them recover lost mobility and exercise more frequently by providing support for balance and walking.
If your dog is in the earlier stages of dealing with rear hip dysplasia or muscular dystrophy, a wheelchair can go a long way in relieving some of the stress that moving around puts on your dog. It's important however, to recognize that a wheelchair will only help if used in conjunction with everything else recommended by your vet.
Wheelchairs can also prevent further injury and using a dog wheelchair correctly can extend your dog's mobility and help slow any further damage to their joints.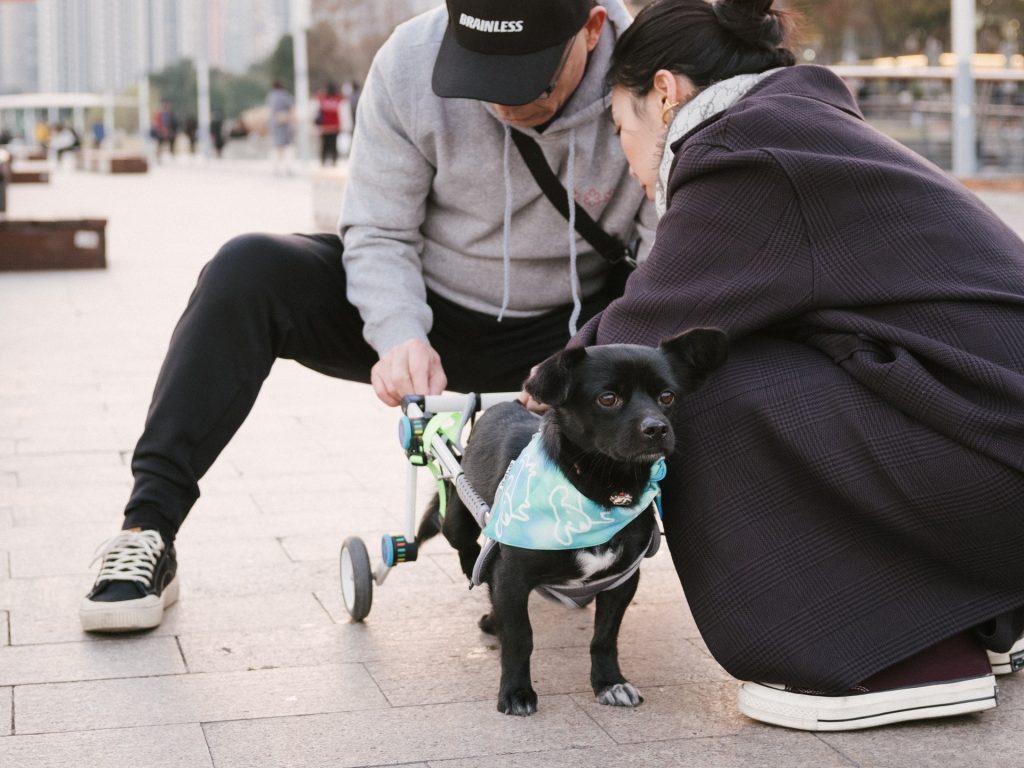 A wheelchair can help your dog recover better from an injury
If your dog has recently had surgery or an injury that affects their ability to walk, you'll usually want to give them as much complete rest as possible until they've healed to prevent further injury. Dogs aren't always great at sitting still, but they also aren't great at knowing their limits so you'll have to be as careful as possible and follow any recommendations by your vet if you want them to heal quickly.
Moving too much too early or putting additional stress on their body by teaching them to use a wheelchair can put their recovery in jeopardy and require even more bedrest, so it's best to take things slow.
For longer recovery times though, a wheelchair can be an essential therapeutic tool. A wheelchair can help support some of your dog's weight, letting them build muscle more slowly and provide much needed balance if they've suffered a leg injury and are having trouble moving around. A wheelchair also can help your dog get the exercise they're craving and make it easier to keep them resting during longer convalescences.
---
Can you build your own dog wheelchair? Should you?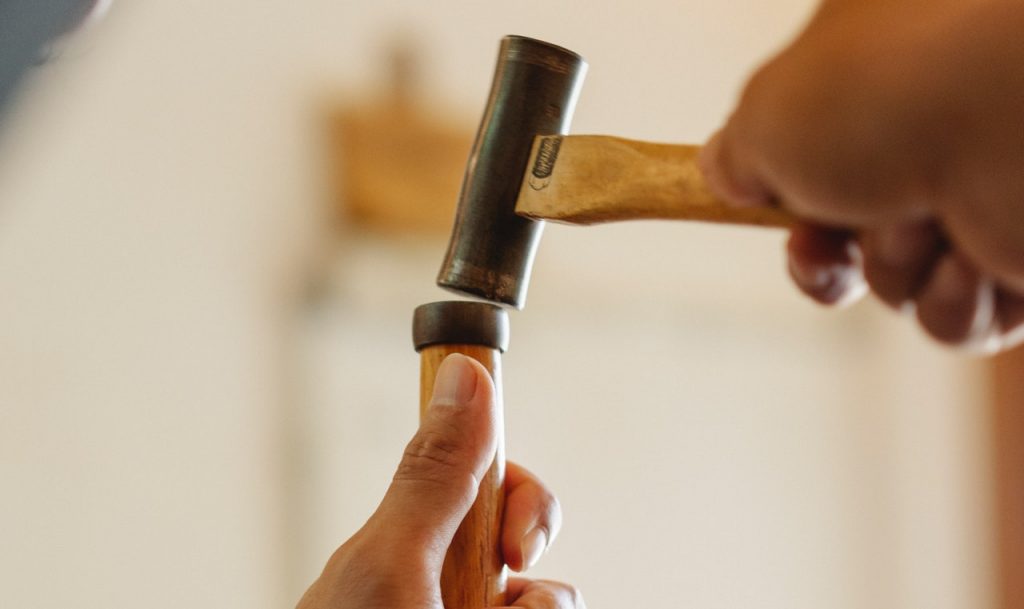 Dog wheelchairs look surprisingly simple. They're basically just a frame with two wheels and a harness and although it may be tempting to try to build one yourself, we don't recommend it. While some folks may have the tools and talent needed to build a functional wheelchair, we think most people should leave it to the experts.
Most importantly, you want your dog's wheelchair to be safe. On a good wheelchair everything from the geometry of the frame and size of the wheels to the padding on the harness is designed to prevent breaking and prevent injury. Furthermore, all of our picks have been evaluated by veterinarians to work as advertised and to provide a proper level of support. Besides just the structure itself, you need to be able to make adjustments to any wheelchair for your dog's needs and comfort, something much harder to do if you choose to build a wheelchair yourself.
---
Our complete review methodology
There are dozens and dozens of models of wheelchairs for your dog available right now and not all of them are built equally, no matter how similar the designs are.
We combed through the most popular picks out there and compared reviews, expert recommendations, and veterinarian endorsements to find the best and safest models. We further pared down our list by comparing prices, features, and brand reputations before settling on the wheelchairs we would feel comfortable having our own dogs use.
Three Top Things To Know Before Buying A Wheelchair
Any dog wheelchair you buy should be veterinarian designed, approved, and recommended.
Look for the lightest wheelchair that can safely support your dog's weight.
Solid construction is key. While you want a wheelchair to be easy to assemble, a sturdy design will keep your pet comfortable and safe for years to come.
Price
Dog wheelchairs are a pricey item. While budget models exist, we wouldn't recommend any budget model for long-term or lifetime users purely because any wheelchair is only as good as it's weakest piece. We compared different frame types, assembly instructions, wheel sizes, and construction materials to determine what we think is the safest and most durable design of wheelchair and we'd stand by our top picks.
Type
It's also important to remember while a wheelchair might work well for one dog, it might not work for another.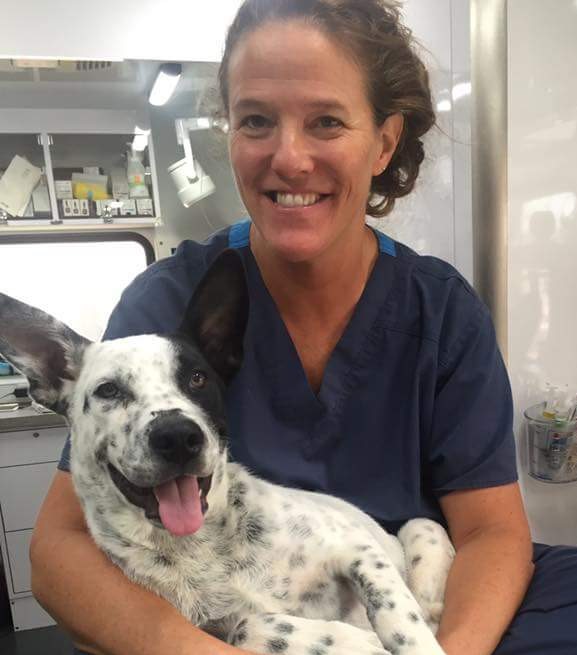 "Different dogs need different wheelchairs. Larger dogs have different needs than smaller dogs besides just a bigger chair. Heavier dogs carry their weight in different places, walk differently, and need more support for their larger back. Long dogs with short legs will need something with a more precise fit. It is important that your dog not spend too much time in the wheelchair, and frequent breaks are recommended. Some dogs will adjust quickly, while others may never get used to the wheelchair. Patience and kindness is key."
Dr. Michele King, DVM
Because of the varying needs of different dogs, we tried to offer a wide variety of options, especially for different sized dogs.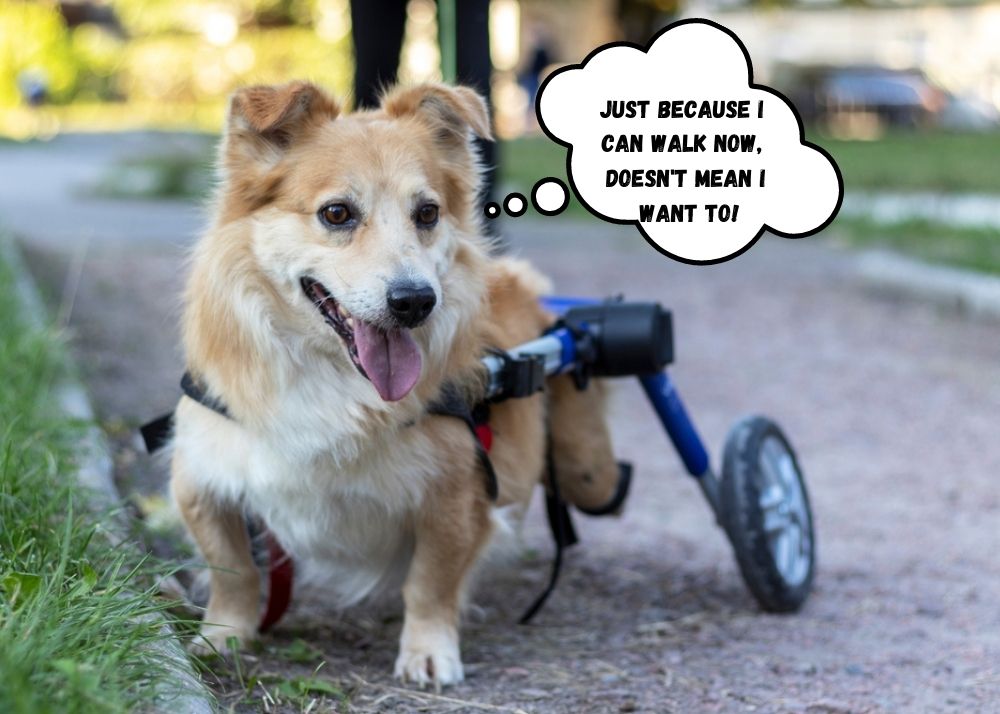 Price
Budget wheelchairs may compromise on durability, but they can still be a great tool for short-term use like helping your dog recover from an injury or surgery or to test if a wheelchair would help your dog before committing to a pricier model.
Convenience
Our top picks in each category are collapsible, allowing you to store them when not in use and easy to bring along in the car. We also looked for all models to be washable and easy to clean after prolonged use. While we wanted to make sure each of our picks used quality, hard rubber wheels to hold up to different terrain we also looked at how these wheels are attached to the frame.
Quality
We paid special attention to any weaknesses such as flimsy screws, uncomfortable harnesses, and any places we thought the wheelchairs might break and ruled out options we didn't think were safe.
---
Safety tips for dog wheelchairs
It's important to take extra care while your dog is in their wheelchair, especially when they first learn how to use it. Take extra time to ensure that your dog's wheelchair is adjusted correctly and that there's no hazards the wheelchair can get stuck on.
Check harness to ensure your pup is in a natural position while in the wheelchair with their rear body slightly lifted above normal to reduce weight on rear legs.
If your dog can't use their rear legs at all, use the included leg slings
Stay near your pet at all times while they're in their wheelchair. The back wheels especially can catch on bushes, furniture, and doorways
Don't let your pet stay in the cart for long periods. Allow them take a break and lay down to rest when possible.
Learn the best way to put on a dog wheelchair from a veterinarian in the video below.