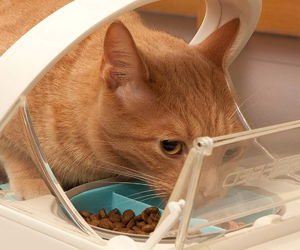 An automatic cat feeder allows you to program feedings in advance for your pet. This tool is so helpful for working pet parents or if you have an unexpected emergency that keeps you away from home during dinner time.
The pet feeding system can also be used to dogs, chickens, and many other animals.
With the sheer number of automatic pet feeders entering the market on a daily basis, finding the best automatic cat feeder can be downright difficult.
We tested the top ten automatic pet feeders and rated them on the most important points. We have also crafted a helpful
buyer's guide
to delve deeper into which features are necessary and which are overkill. Let's get started!
BEST CHOICE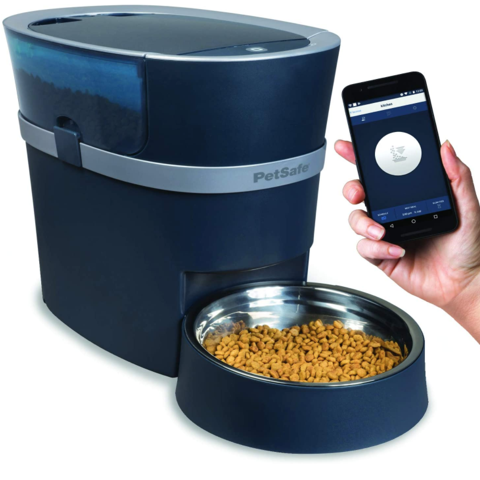 PetSafe Smart Feed Automatic Cat Feeder
Best Automatic Cat Feeder in Our Rating
The feeder is equipped with portion control sensors, you can adjust the amount of your pet food
If the house hasn't Wi-Fi, the device works on batteries
A special app for your smartphone will help you create an individual nutrition program for your pet
The feeder is protected from mechanical impact and curiosity of shaggy paws
Selecting the Best Automatic Cat Feeders in September, 2023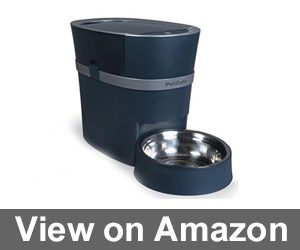 The PetSafe Smart Feed Automatic Dog and Cat Feeder allows you to have total control of feeding time. You can program feedings on a schedule by downloading and using the PetSafe Smart Feed Automatic Dog and Cat Feeder app which runs on both iPhones and Android phones as well as other devices such as an iPad.
Our testing team members were thrilled to be able to program feeding schedules while at work, running errands, or anywhere as long as they had access to their phone.
In addition to pre-programmed meal times, the PetSafe Smart Feed Automatic Dog and Cat Feeder's easy to use app allows pet parents to select the "Feed Now" function. Your pet will receive a personalized portion of their favorite food.
You can tailor portion sizes from 1/8 of a cup up to 4 cups. There is also a slow feed function that slowly dispenses your pet's dinner over a 15-minute time period to help cats and dogs slow down while eating to prevent upset tummies or choking.
Pros
Super straightforward to install, program, and use thanks to an easy to navigate app that works on iPhones, Android, and other smart tech devices
Includes a backup battery in case of a power outage
Allows you to customize portion sizes or slow feeding modes
Simple to set up and clean
Cons
Expensive but the fact that it works autonomously even after a power outage makes up for the cost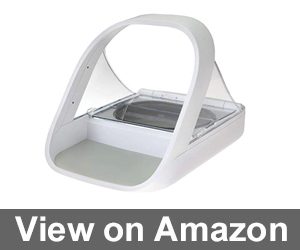 The SureFlap Official SureFeed Microchip Pet Feeder offers a helpful solution for multiple cat homes. One cat is often likely to be a food stealer which can make feeding time a stressful event rather than nice and relaxing.
The SureFlap SureFeed takes the stress out of eating for your favorite felines. The automatic feeding system holds up to 13.5 ounces of dry or wet pet food.
The lid of the feeder forms a tight seal with a neoprene lip when closed to maintain your pet's food to keep it as fresh as possible.
The feeder opens based on microchipping and works by scanning your pet's unique microchip so that it only opens for the correct cat and then closes back up when they move away.
Pros
Scans your kitty's microchip to gain access
Stops other pets from stealing food
Extremely simple to install, program, and use with just one button programming
Holds up to 13.5 ounces of dry or wet food
Cons
Only opens for a pet based on their microchip, so your pet must be microchipped in order for it to open so that they can eat their food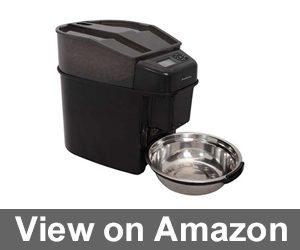 The PetSafe Healthy Pet Simply Feed Automatic Cat and Dog Feeder holds an astounding 24 cups of dry pet food. The feeding system also includes a stainless-steel bowl that accommodates up to 5 cups of pet food.
Our testing team loved having a feeder that works well for bigger dogs as well as their cats to use on overnight trips or in case of an emergency.
The PetSafe Healthy Pet Simply Feed Automatic Cat and Dog Feeder Can be pre-programmed to your kitty or pup's schedule.
You can select up to 12 separate feeding times in addition to an immediate feed mode or a pause feed mode to temporarily halt feedings. Meals can be delivered in differing increments from 1/8 of a cup to 4 cups to tailor the feeding experience to your pet's needs.
Pros
Extremely large food capacity
Customized feeding times and tailored portion sizes
Pet proof dispenser keeps pets from dipping into their next meal early
Easy to program and clean
Runs on 4 D-cell alkaline batteries or a power adapter is available for purchase separately
Cons
This was one of our favorite automatic feeding options with no downsides to speak of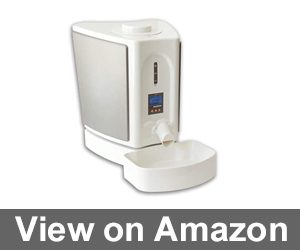 The Pet Feedster USA PF-10 CAT Pet Feedster Automated Pet Feeder earned top marks from our testing team this week! This option features a meal confirmation that lets you know that your pet has been fed. The system also has taken precautions against jamming as well as ants to keep food fresh and pest-free.
The Pet Feedster USA PF-10 CAT Pet Feedster Automated Pet Feeder includes a backup battery in case of power outages to ensure your favorite feline has a full belly.
You are able to program the feeding system to dispense anywhere between a single teaspoon of kibble up to 6 cups of dry food.
The system is powered by an adapter and also includes a backup battery that runs of six D-cell batteries. Overall, we love using Pet Feedster and we are sure you will too.
Pros
Highest level of customization available
Back up battery system in case of power failure
Very versatile and easy to program
Easy to clean and maintain
Cons
The Pet Feedster Automated Pet Feeder was our hands down favorite option with no bad qualities to mention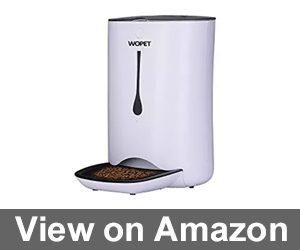 The WOpet 7L Automatic Pet Feeder Food Dispenser is a lovely option that combines beauty and function. The feeder can be programmed to provide nutrition to pets up to four times each day. Each meal can be personalized to your pet's pallet by providing between 2 teaspoons and 4.5 cups at one time.
The WOpet 7L Automatic Pet Feeder Food Dispenser understands how much we love our cats and dogs. You can record a special message for your furry kiddos to get your pups and kitties excited for meal time.
You can easily store up to 20 cups of pet kibble in the feeding system in its super-sized storage compartment making it an attractive and smart purchase.
Pros
Very attractive design will not detract from your current decor
Holds up to 20 cups of pet food
Allows you to record a message for your pet to listen to at feeding times
Great price point
Cons
The instruction manual is a tad bit confusing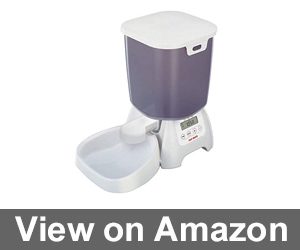 The Cat Mate C3000 Automatic Dry Food Pet Feeder allows users to set up three daily meals for your cat. Our testing team loved using this feeder for kittens. The feeder can dispense just a tablespoon of food at one time, making it perfect for kittens.
The Cat Mate C3000 Automatic Dry Food Pet Feeder is dishwasher safe making it a terrific choice for busy pet parents. On the downside, this feeding system makes louder noises than some of the others we tested.
The noises were extremely upsetting to some of our testing team member's pets. If your pet is scared by loud noises, we recommend selecting a different version from our reviews this week.
Additionally, if the unit loses power even for just a moment you will need to reprogram it entirely which was a deal breaker for several of our testing team members.
Pros
Easy to clean in the dishwasher
Durable and sturdy
Easy to use and program
Can dispense smaller amounts making it great for kittens and puppies
Cons
Loud noises at feeding times may be a deal breaker for pets that are frightened by sounds
If the feeding system loses power- even for just a few seconds, you will need to reprogram it entirely before using again which is pretty annoying, to be honest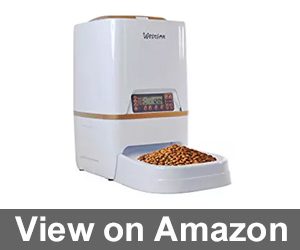 The WESTLINK 6L Automatic Pet Feeder Food Dispenser holds an impressive 6 liters of food. You can program the feeding system to deliver meals to your fur babies up to 4 times daily.
Each meal has the propensity to deliver between one and thirty-nine portions with each portion measuring between 10 to 12 grams.
The WESTLINK 6L Automatic Pet Feeder Food Dispenser includes a speaker and microphone that you can sue to record a fun message for your pets.
Our testing team members loved being able to say hi or let their pet know it was meal time in their own words. This feature is helpful for pets that suffer from separation anxiety as well.
Pros
Inexpensive price point• Holds 6 liters of food that can be dished out up to four times daily
Built in speaker and microphone allows you to give your cat or dog a sweet message to listen to at dinner time
An excellent option for pet parents on a budget with anxious pets
Cons
We love using this pet feeder and have no bad qualities to list other than you may need to measure your pet's kibble since the size can't be larger than 1 cm by 1 cm as they may get stuck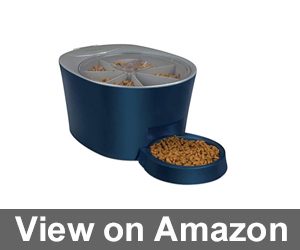 The PetSafe Six Meal Automatic Pet Feeder understands that cats are by their very nature extremely curious creatures. The lid and food dispenser of the PetSafe Feeder is pet proof.
It will prevent your cat or pup from breaking into the lid to gain access to extra kibble.
The PetSafe Six Meal Automatic Pet Feeder was an absolute hit with our testing team members with destructive pets.
While other versions can be easy for a bored pet to get into, this one truly is curious cat proof. It is also extremely easy to program and clean. Both the removable bowl and carousel are entirely dish washer safe to make cleaning a breeze.
Pros
Keeps curious kitties out with a pet proof lid
Easy to set up and use
Moderate price point
Built in digital clock is easy to read
Runs on four D-cell batteries
Cons
We wish that the feeder would run longer on a set of batteries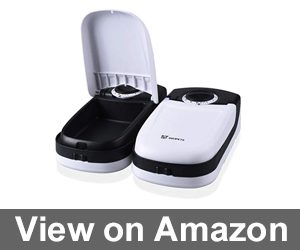 The WOpet Automatic Pet Feeder with Ice Pack offers a way to safely feed wet food to cats without worrying about spoilage. This option from WOpet includes an ice pack that keeps wet food fresh.
Just place the ice pack in the appropriate area and set the timer for your pet to receive their meal.
The WOpet Automatic Pet Feeder with Ice Pack has two separate food housing areas, so you can plan for two meals.
The feeding system is able to be pried open by highly motivated cats and dogs on the downside. One member of our testing team also noticed that the included ice packs did not actually keep the wet food that fresh.
Pros
Good option for pets that like wet food
Works on a timer system• Includes ice pack to keep wet food fresh
Two-in-one bowl system
Cons
Curious cats and dogs can break into the feeding system quite easily
The included ice packs aren't that effective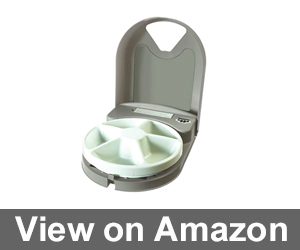 The PetSafe 5-Meal Pet Feeder makes heading to work easier since you will be sure that your cat will be fed and happy when you return.
The feeding system dispenses up to four pre-portioned meals daily.
Each tray slot in the feeding system holds up to one cup of dry pet food so that you can control portion sizes.
The PetSafe 5-Meal Pet Feeder has a very easy to read screen. The built-in digital clock and LCD display feature large numbers that take the guesswork away from feeding times. It's also simple to clean and can also hold semi-wet food for picky pets.
Pros
Easiest digital LCD screen to read and use
Holds dry or semi-wet food for cats or dogs• Up to four meals dispensed daily
Easy to maintain and clean
Moderate price point
Cons
Runs on batteries but we wish it included a USB cable or traditional power adapter
Best Automatic Cat Feeder – Buyer's Guide
Any pet owner can tell you that feeding time is an important time for any pet. An automatic pet feeding system takes the guesswork out of ensuring your cat receives the correct amount of food. The feeder will store and dispense your pet's kibble on a pre-programmed schedule that you have set so that your pet can eat even when you are not home.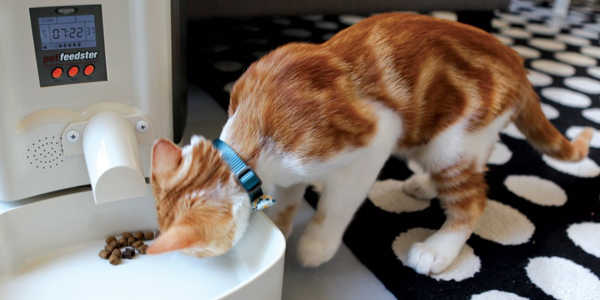 With so many versions of automatic pet feeders available, finding the right one for you and your pet's needs can be an arduous task. As a result, we tested the top ten automatic cat feeders and learned a ton of helpful information. We want to pass this knowledge to you, so you can pick the best option. Let's get started!
Why Do I Need an Automatic Pet Feeding System?
Having a pet cat is an extremely rewarding and loving experience. Part of owning a pet is that you must ensure they have access to fresh water and food. Cats can get quite upset if their feeding schedule is disrupted. Unfortunately, we all face certain situations that can make feeding the cat difficult.
Maybe you were held up at work. Or perhaps you have had a family emergency that has required you to leave your cat home alone. An automatic feeder will keep your feline's belly full even when you aren't home.
Additionally, if your feline or canine buddies are early risers, an automatic feeder can deliver their breakfast, allowing you to catch some extra shut eye. This option is also great for pet parents who work overnight shifts or even for those that work long shifts such as nurses. We also love using an automatic feeder for pets that have weight problems since each meal is perfectly portioned.
Key Considerations for an Automatic Pet Feeding System
Let's take a closer look at the most important features and considerations for an automatic feeder for your cat or dog.
Capacity
Capacity is a top priority in finding the best feeder for you and your fuzzy friends. If you have multiple cats, select a feeder that holds extra portions. You will also need to think about whether you want to use dry kibble, semi-wet food, or wet food. Wet food can be difficult to use as it needs to be kept cool to stay fresh.
Selective or Microchip Feeders
A selective feeder relies on the identification of your pet's microchip. When the correct chip is read, the feeder delivers the portion of food. This is a perfect solution for pets on a special diet or that are shy eaters and need to eat away from the other pets.
Voice Recording
Some automatic pet feeding systems include voice recording capabilities. This feature allows you to record a message for your et that will be played at feeding times. We love this idea for pets with separation anxiety.
The purchase and use of an automatic cat or dog feeding system can be extremely helpful. An automatic feeder can dispense meals when you are at work. They are also extremely handy in case of a last minute overnight trip or if you are stuck at work past dinner time.
We hope that you enjoyed reading our top ten automatic pet feeding system reviews and that our shopping guide was helpful as well! We love hearing back from our loyal readers. Don't forget to drop us a quick line below with your top automatic pet feeding systems and any tips for using them.