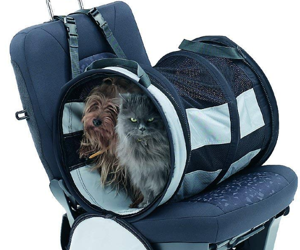 Our pets are a huge part of our lives. For many, they are like children to their pet parents.
Your cat is an important family member and therefore, may need to travel with you on a trip, or maybe you want them to feel safer while you are en route to the vet.
Purchasing a new carrier for your feline friend is a wonderful way to keep your pet safe and sound during traveling.
Taking your pet on a trip is already stressful so finding the right carrier can help calm and comfort your cat.
While they may be apprehensive at first of entering and riding inside of a carrier, many cats enjoy hiding inside them to nap or play inside of them as well. Finding the best carrier for your pretty kitty doesn't need to be a hassle. We have reviewed the top cat carriers and crafted a
buyer's guide
to aid you in demystifying the purchasing process. Let's get started!
BEST CHOICE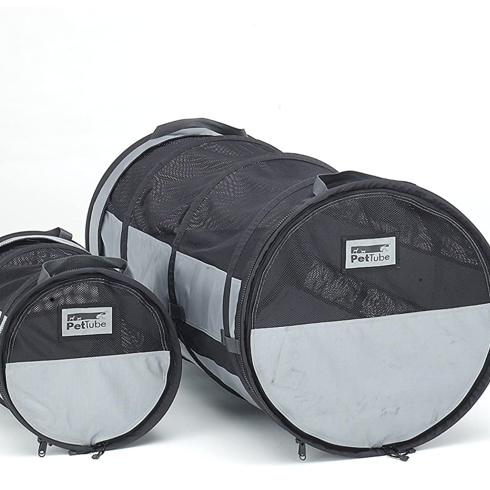 Petego Pet Tube Kennel
Best Cat Carrier in Our Rating
The Tube is easy to pack and transport in any kind of vehicle
The item is equipped with convenient mounts for the rear seat of the car
2 product sizes for any pet
Universal design and comfortable conditions for your pet inside the Tube
Selecting the Best Cat Carriers in November, 2023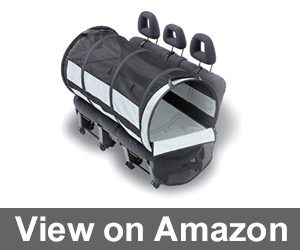 The Petego Pet Tube Kennel is a lovely option for pet parents that need to take their cat on a car trip. As the name suggests, the Pet Tube Kennel is a cylindrically shaped tube. The carrier is adjustable, so it can be made smaller or larger as needed.
The tube attaches easily, so it stays safely secured to the backseat area of your car, truck, or SUV.
The Petego Pet Tube Kennel features a double claw proof lining to prevent tears.
Our testing team loved using this carrier for vet trips, and it made long drives for vacations much easier on both our pets and us. We do recommend lining the tub with training pads in case if any accidents.
Pros
Adjustable to a smaller and a larger size
Secures to standard car seats
Vented for air to pass freely
Easy to use and folds up flat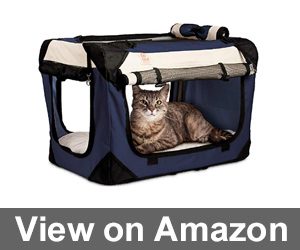 The PetLuv Soothing Happy Cat Pet Carrier and Travel Crate earned top marks from our testing team members. The carrier is soft sided, and the windows have been crafted from tear-resistant rubber mesh which will prevent any scratching or clawing accidents.
The carrier is very roomy with plenty of space for your cat to stretch out.
The PetLuv Soothing Happy Cat Pet Carrier and Travel Crate made our pet parents and cats feel extremely safe.
The carrier attaches to the seat thanks to adjustable seatbelt loops and has reinforced seams to keep your kitty safe and comfy. Your cat is sure to love the included bed with is washable and very cozy.
Pros
Soft sided carrier is perfect for trips
Several color options
Easy to attach to car seat
Very comfortable for cats
Cons
This cat carrier was a huge hit with our testing team and we were hard pressed to find any negative qualities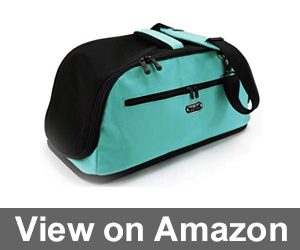 The Sleepypod Air In-Cabin Pet Carrier makes air travel with your favorite kitty a breeze. The carrier compresses from 22 inches in length to 16 inches. It also folds down flat for simplified storage.
The Sleepypod Air In-Cabin Pet Carrier meets TSA travel requirements for carry-on luggage.
This option is available in several lovely colors and has a trolley pocket to make catching your flight easier.
Our testing team loved how soft the inside of the carrier is as well as the super soft passed shoulder strap.
Pros
Meets travel requirements
Several different color choices available
Comfortable to carry
Easy to clean and maintain
Cons
Expensive but well worth the price tag due to its wonderful features and construction quality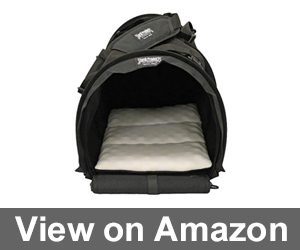 The Sturdi Products Flexible Pet Carrier is the heaviest duty, moist durable cat carrier we had the privilege of testing. The carrier is constructed with a very strong 600-Denier polyester fabric which will provide both strength and comfort.
The carrier includes privacy flaps for cranky or shy kitties as well.
The Sturdi Products Flexible Pet Carrier is a terrific option for car travel as it quickly attaches to seatbelts.
You will also receive zipper security clips which assist in attaching the carrier for maximized safety and durability. Best of all, the tough material keeps your cat from shredding or destroying the inside of the carrier which is helpful for cats that hate to be in a carrier.
Pros
Heavy-duty 600-Denier polyester fabric
Very durable and lightweight
Safely attaches to car seat
Perfect for nervous cats
Cons
May not fit under some airline seats so be sure to double check measurements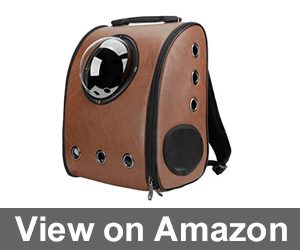 The Texsens Innovative Traveler Bubble Backpack is a backpack style carrier for your cat. This carrier has a fun bubble window that allows your cat to sneak a peek at their surroundings anytime they feel inclined to do so.
Our testing team enjoyed using the carrier, and the comments we got from family and friends were wonderful.
The Texsens Innovative Traveler Bubble Backpack fits animals up to ten pounds in weight. Our testing team noticed that pets seem to either really love looking out the bubble window or they absolutely hate it and are scared.
If you have an adventurous and curious cat or small dog, then this backpack carrier is a fun and interesting solution.
Pros
Allows your cat to see the world through a cute window
Several color options
Comfortable to wear and carry
Its fun seeing a cat peeking out through the bubble window
Cons
Not meant for pets over 10 pounds
Some pets are terrified of the bubble window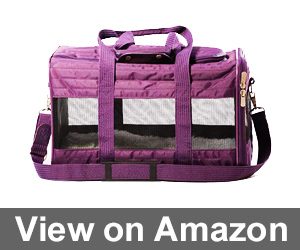 The Deluxe Pet Carrier by Sherpa is a high-end selection to keep your cat sitting in the lap of luxury. It is a tad bit pricier than some other options, but it also features the softest lining available.
Our testing team loved using this choice for picky cats that place comfort as their highest priority.
The Deluxe Pet Carrier by Sherpa features a patented wire spring frame.
Pets can enter from the top or the side which is a nice feature for stubborn cats. The bag is airline approved and has extra storage for treats, leashes, and other cat travel essentials.
Pros
Lots of storage space for pet items
Mesh windows for adequate ventilation
Fits under airplane seats easily thanks to its spring wire frame
Easy to clean and maintain
Cons
The bag was one of our favorites cat carrier selections with no bad qualities to mention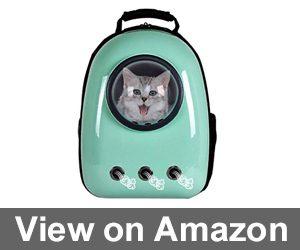 The Giantex Astronaut Pet Space Capsule Backpack is ready to take you and your cat on any intergalactic travels you may have in mind. Our testing team really enjoyed using this backpack carrier if for no other reason than the hilarious looks and comments we received while using it.
The backpack has a little window for your cat to peek out of which is absolutely adorable.
The Giantex Astronaut Pet Space Capsule Backpack features both a transparent window and a mesh one to help keep your cat happy.
The bag is available in several fun shades. This is a fun bag for the price and is sure to help you and your favorite feline friend stand out in a crowd.
Pros
Great price
Breathable carrier with a transparent window
Perfect for smaller pets
Fun to use and easy to care for
Cons
Not meant for larger pets
Some pets hated being inside of it and became afraid or aggressive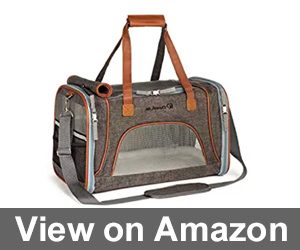 The Mr. Peanut's Airline Approved Soft-Sided Pet Carrier is easy on your wallet while being perfect for your pet.
The bag is comfortable and meets the stringent requirements for airworthy pet carriers. The bed includes a plush faux fleece padding that is very cozy and great for calming nervous cats.
The Mr. Peanut's Airline Approved Soft-Sided Pet Carrier comfortably houses pets up to 15 pounds in weight.
It is extremely durable and water-resistant. This option is very simple to clean and maintain as well making it one of our favorite options.
Pros
Airline approved for carrying pets during flights
Very well made and durable
Easy to clean and maintain
Compartments for pet's essential items, food, medications, or toys
Very soft and cozy faux fleece padding
Cons
Will not accommodate larger pets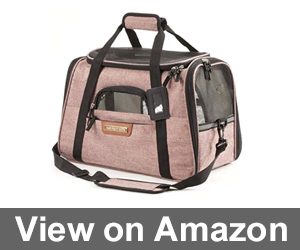 The Pet Travel Carrier by Pawfect Pets fits easily under airline seats. This carrier can comfortably hold cats or dogs up to ten inches tall and 17 inches in length.
The bag is available in several colors and is created from reinforced fabric to prevent tears or rips.
The Pet Travel Carrier by Pawfect Pets features three access points. Pets may enter or exit through each end or on the side.
Our testing team loved the durability of this option especially with a cat that loves to scratch and shred things.
Pros
Terrific price point
Perfect for cats that love to scratch
Very durable
Easy to clean and care for
Cons
Due to the sizing, it is meant for smaller cats or dogs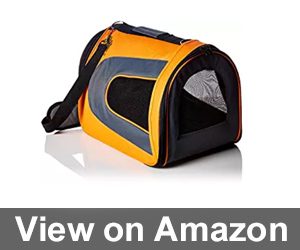 The Pet Magasin Luxury Soft-Sided Pet Carrier is airline approved and measures at 18 inches in height and 11 in length, so it will be perfect for flying with smaller pets.
The bag holds its shape well when the end sections are zipper closed. The bag folds down flatly for saving space.
The Pet Magasin Luxury Soft-Sided Pet Carrier weighs a mere 2 pounds, making it a wonderful choice for individuals dealing with pain or mobility concerns.
The carrier has padding in its interior to maximize your pet's comfort while traveling. The bag can be tossed into your washing machine, making clean up a snap.
Pros
Terrific price point
Perfect for smaller pets
Very durable and super light at just two pounds
Easy to clean and care for
Cons
Due to the sizing, it is meant for smaller cats or dogs and will not work for larger pets
Best Cat Carrier – Buyer's Guide
Finding the right carrier for your favorite feline may seem like a harder task than herding cats. There are thousands of cat carriers currently available for sale in a plethora of shapes and sizes, each claiming to be the best. With so many choices, locating the best one for you and your cat can turn into a headache rather fast.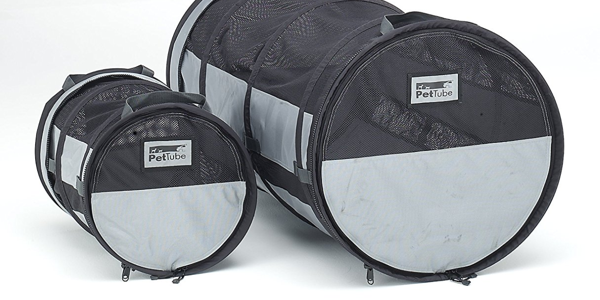 While testing out the top carriers, we learned a ton of helpful information about cat carriers. We would like to pass that information on to you to assist you in making an informed choice. Let's look at the most important considerations for finding the right cat carrier.
Do I Need a Carrier for my Cat?
If you are planning to take your cat out into the world, a carrier is supremely helpful. Cats aren't very fond of traveling in most cases. The use of a quality pet carrier can make trips safer for you and your cat.
A durable and cozy cat carrier is a must-have if you will be flying the friendly skies with your kitty in tow. Many carriers fit under airline seats or are able to be attached to your car's seats to make trips easier and less stressful. A carrier can also assist in keeping your pet from bolting off when you stop for gas and can keep your pet safer from the risk of injury in case of an accident making a cat carrier an essential item to keep in your current pet care arsenal.
Key Considerations
There are many important features that can make traveling with your pet safer and more pleasant. Let's get a better understanding of what specifications are necessary and which are overkill.
Size: Sizing is always an important consideration. If you have a smaller carrier but a large cat, your cat will not be comfy or may not even fit. Always measure your pet first, and then keep the measurements in mind. A helpful rule of thumb to remember lies in selecting an option that your pet can stand up and turn around in. This will ensure their comfort and their safety.
Security: You want your cat to feel secure in the carrier. You also want it to be secure, so they will not be able to escape it easily. Look for mesh panels to ventilate that also zip into place to prevent your pet from getting out of the carrier. Hard-sided options may allow your pet to feel more secure, but they can be more difficult to travel with, and they could potentially take up more room.
Nutrition: If you are simply traveling ten minutes to a vet check-up, then you may not need to be concerned with food and water. If you are embarking on a long trip, you will definitely need a way to keep your cat full and hydrated. Some carriers provide food and water containers, and some do not. Don't forget to plan ahead.
Handles: Carting your cat around can get cumbersome quickly. Look for pet carriers with ergonomic handles, padded handles, or adjustable shoulder straps. Some options may even have trolley wheels to allow for simplified transport. Making sure that you select a carrier that will be easy and comfortable to carry will help you to avoid dropping your pet or causing yourself unnecessary back or shoulder pain.
Ventilation: A pet carrier needs to be adequately ventilated to allow air to move through the carrier. This is also important during the summer months. In hotter weather, adequate ventilation will keep your kitty cooler and avoid overheating.
Entry and Exit Points: Some of our testing team members mentioned that wrangling a cat into a pet carrier could be an Olympic sport. As a result, selecting a cat carrier with easy access points is of the utmost importance. We like using carriers with multiple access points for difficult cats.
Care and Maintenance: Cats can easily have an accident while in their carrier. This is especially true on longer trips. To expedite cleaning, you can tuck some puppy training pads on the bottom base. You should also select a carrier that can be washed in the washing machine or that breaks down quickly for easier cleaning.
The Different Styles of Cat Carriers
Next, let's take a peek at the different types of pet carriers available for you and your cat.
Backpack Style Carriers:
Backpack style carriers are worn like a backpack. This is a great option for individuals with back pain or mobility concerns. This version is usually thinner, so they may not be the best option for larger cat breeds.
Airline Approved Animal Carriers:
Cat carriers that have been airline approved to take the guesswork out of flying with your kitty. They have been constructed to fit as a carry-on item. These bags usually squeeze under the seat in front of you thanks to a special wore frame that can collapse down slightly without hurting or annoying your pet.
Soft Side Carriers:
Soft side pet carriers are terrific for traveling. Rather than having hard or rigid sides, the carriers are made from fabric. The bag may have a frame that helps keep its shape. This version is great since it usually folds down flat for storage and is a good idea for anyone short of storage space.
Rolling Carriers:
A rolling carrier is similar to luggage that has trolley wheels. They are easily pulled as you walk. Some cats hate being wheeled around so it may take a while for them to get used to being inside of it and moving around.
What if I have Two Cats? Can I Use One Large Cat Carrier?
If you own multiple cats you may be tempted to purchase one larger carrier. While this may seem like a more economically sound and feasible plan, we will caution you against it. Cats are very territorial. They can grow upset when put into new situations such as traveling.
If you place more than one cat together in one carrier, you could end up with a cat fight. Even the sweetest kitties can have a bad day, especially after a visit to the vet. Placing each cat in its own carrier will prevent fighting and aggression.
Cat carriers are made in every imaginable style and shade. They are a very helpful tool for keeping your cat safe and calm during travel. Finding the best cat carrier for you and your pet is simple when keeping your needs, sizing, and budget at the forefront of your mind.
We hope you learned some new and helpful information today about selecting the best cat carrier for you and your fluffy friend. Hearing back from our loyal readers is the highlight of our day! Drop us a quick note below with your thoughts on the best cat carriers and any travel tips for our feline friends.