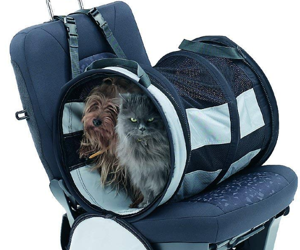 Our pets are a huge part of our lives. For many, they are like children to their pet parents. Your cat is an important family member and therefore, may need to travel with you on a trip, or maybe you want them to feel safer while you are en route to the vet.
Purchasing a new carrier for your feline friend is a wonderful way to keep your pet safe and sound during traveling.
Taking your pet on a trip is already stressful so finding the right carrier can help calm and comfort your cat.
While they may be apprehensive at first of entering and riding inside of a carrier, many cats enjoy hiding inside them to nap or play inside of them as well. Finding the best carrier for your pretty kitty doesn't need to be a hassle. We have reviewed the top cat carriers and crafted a
buyer's guide
to aid you in demystifying the purchasing process. Let's get started!
Selecting the Best Cat Carriers in March, 2019