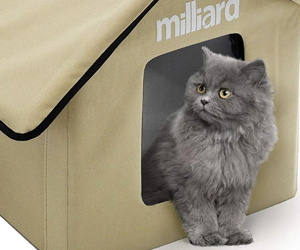 Cat lovers understand that some cats were born to roam. If your kitty is an outdoor pet, they still need to be protected. Snow, rain, wind, scorching days, insects, mold, and larger predators are all hazardous factors to consider for an outside cat.
Cats are also fiercely independent creatures. They often love to nap outside after an afternoon of exploring. Giving your cat their own outdoor home will allow them to remain protected while still asserting their independence and freedom.
While looking for the best outdoor cat houses, I was blown away from the number of options. As a result, I have created a helpful guide to explain what you need and what you don't in an outdoor dwelling for your pet.
I've also narrowed down the staggering list of cat homes by reviewing and testing them to find the top ten best outdoor cat houses so Let's get started!
Selecting the Best Outdoor Cat Houses in January, 2019
[Read more…] about Best Outdoor Cat Houses 2019 – Buyer's Guide