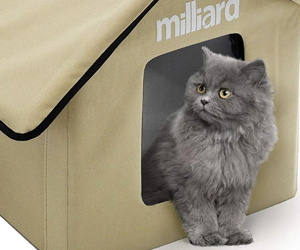 Cats are amazing pets for all kinds of homes, easily adapting to small apartments or country farmhouses. Domestic cats are typically indoor pets, but many love getting outside throughout the year to practice play and hunting behaviors they can't fully express indoors.
Creating a comfy and warm outdoor space for your cat can really improve their happiness year-round, and while you shouldn't force an indoor cat outdoors in extreme weather, an outdoor cat house can become a place they love in hot and cold months.
You can also set up an outdoor cat house to help neighborhood feral cats or your outdoor cat have a place to sleep where they can still feel comfortable while keeping warm.
BEST CHOICE
Petsfit Weatherproof Outdoor Cat Shelter
Best Outdoor Cat House in Our Rating
Great size for any pet
Shingle and wood construction is extremely weatherproof and durable
Design looks good in any yard
Elevated structure keeps water out
Selecting the Best Outdoor Cat Houses in November, 2020
[Read more…] about Best Outdoor Cat Houses 2020 – Buyer's Guide