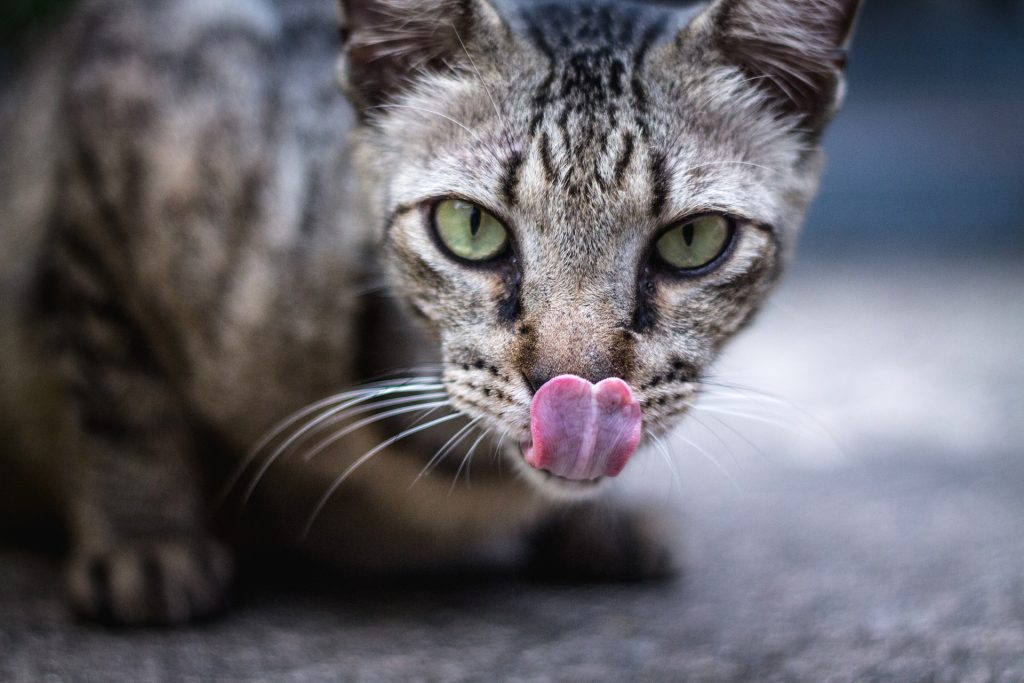 Dehydration isn't just a human thing. Cats, with their water aversion already firmly in place, often struggle to get enough water. For worried pet parents, knowing how to get your cat to drink water is a common and frustrating situation.
Even if you have a water bowl out for your cat, there's a strong likelihood your pet is still dehydrated. Often, cat bowls are too low, making it difficult to bend and drink. Plus, as the bowl sits there, dirt and dust particles begin to gather in the water, which is a big no-no for choosy cats. The longer that water sits there, the dirtier and warmer it gets.
Cat water fountains keep water moving, clean, and cool. As a result, your cat is more likely to drink enough! And since most fountains are higher and have a larger capacity, your cat could be drinking more and be more comfortable with a cat water fountain.
Plus, cat water fountains are so much more beautiful than plain water bowls.
Check out our list of the best ceramic cat water fountains and upgrade your living space, while combating feline dehydration!
Jump to a section
Overall best product
How we picked our favorites
Fountain vs. Bowl
What products to avoid
---
Our top picks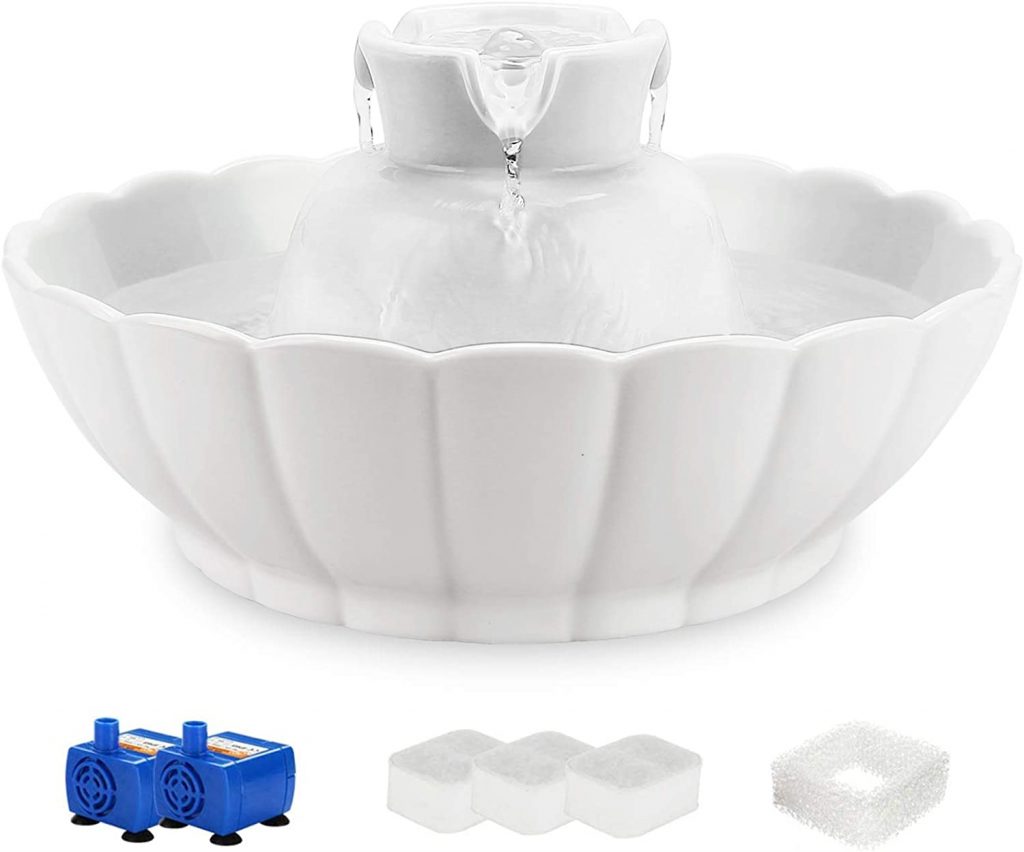 Best Overall
Our favorite ceramic cat water fountain keeps water cool, clean, and moving so your cat stays hydrated.
The iPettie Tritone ceramic pet drinking fountain checks all the boxes for us when it comes to the perfect water fountain. The ceramic body of the fountain makes it durable and easy to clean. But most importantly, the ceramic keeps the fountain clean.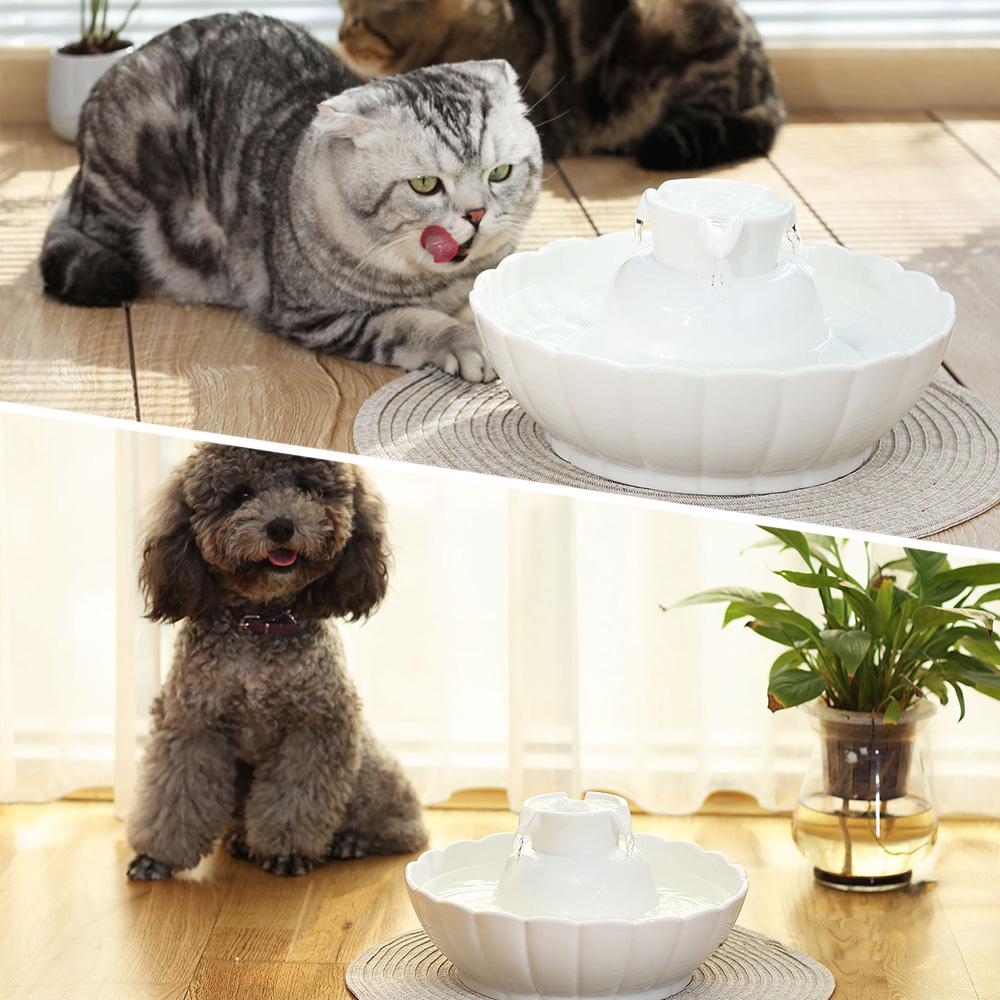 The iPettie Tritone comes with a dual filtration system, so you can rest easy knowing your cat is getting the cleanest water possible. The extra-large bowl holds up to 2.1 liters of water so your cat won't run out during the day and you don't have to worry about refills.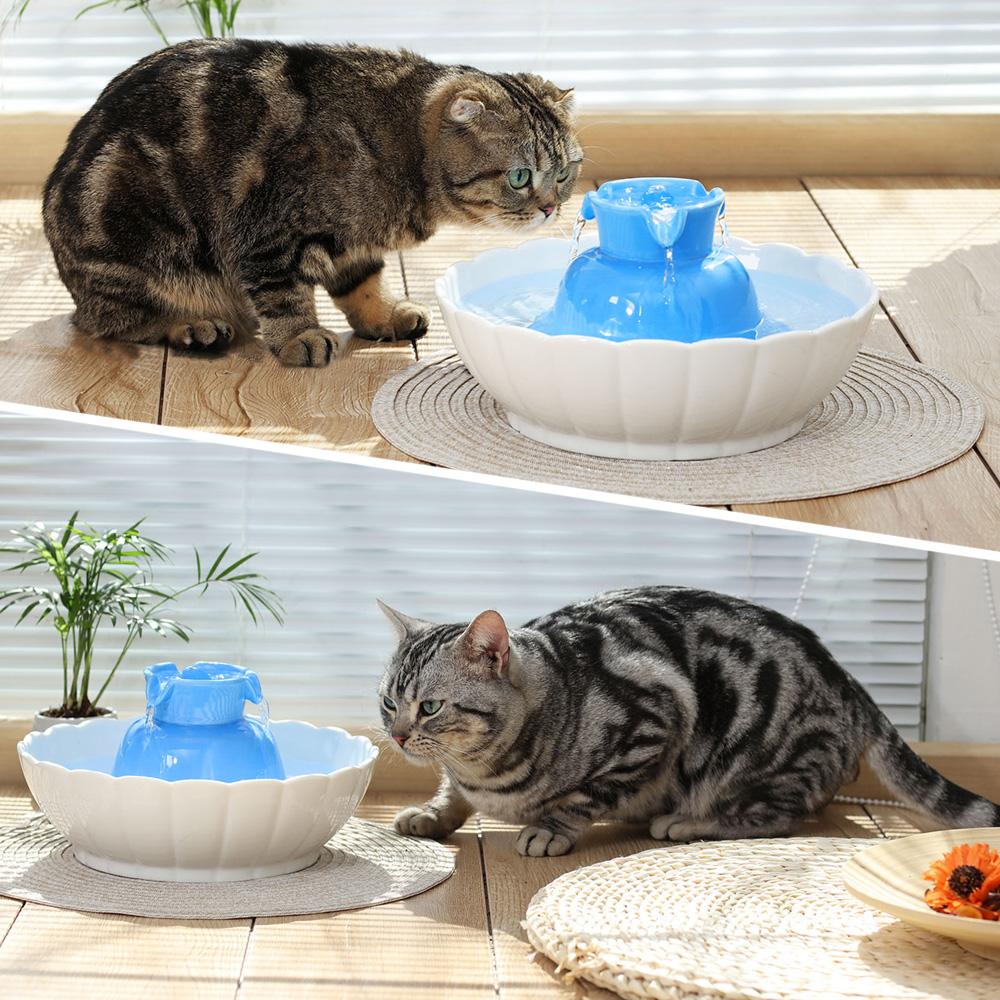 Finally, our favorite cat water fountain runs quietly, with a low-consumption pump. All you'll hear during the day is the gentle sound of water flowing.
Pros
Large capacity
Dual filtration
Quiet pump
Classy design
Cons
Will burn out if water goes below MIN mark
---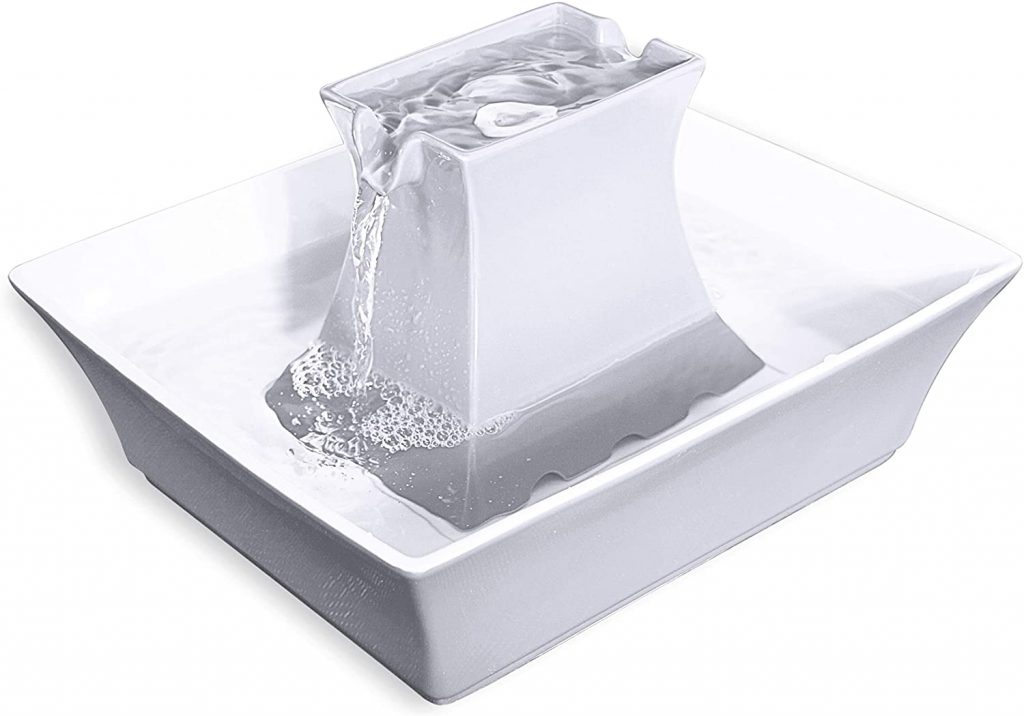 Runner-up
With a large water capacity and gorgeous design, you'll see why we had to include this fountain on our list.
The PetSafe Drinkwell Pagoda has been a favorite among cat owners for years, and with good reason. The sturdy ceramic body is absolutely stunning, adding just the right amount of class to your living space. Plus, the dual falling streams and carbon filters oxygenate and refresh the water, keeping all 70 ounces of the fountain cool.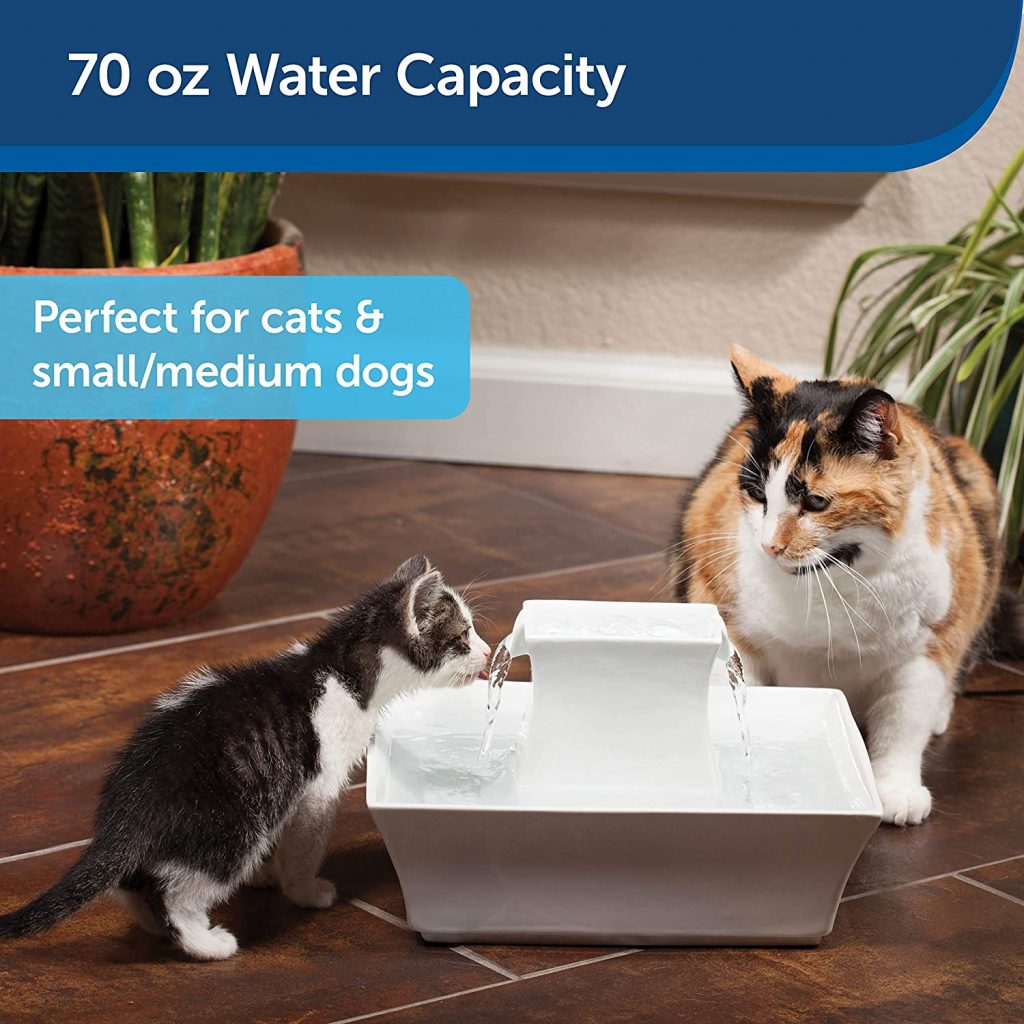 The quiet motor of the fountain keeps the focus on the calming sound of running water. And because the PetSafe Drinkwell Pagoda has 2 levels, aging or arthritic cats don't have to bend over too far to drink. The body of the dish is also dishwasher safe!
Pros
Large water capacity
Carbon water filters
Quiet, low voltage motor
Cons
Some reports of water flow problems
---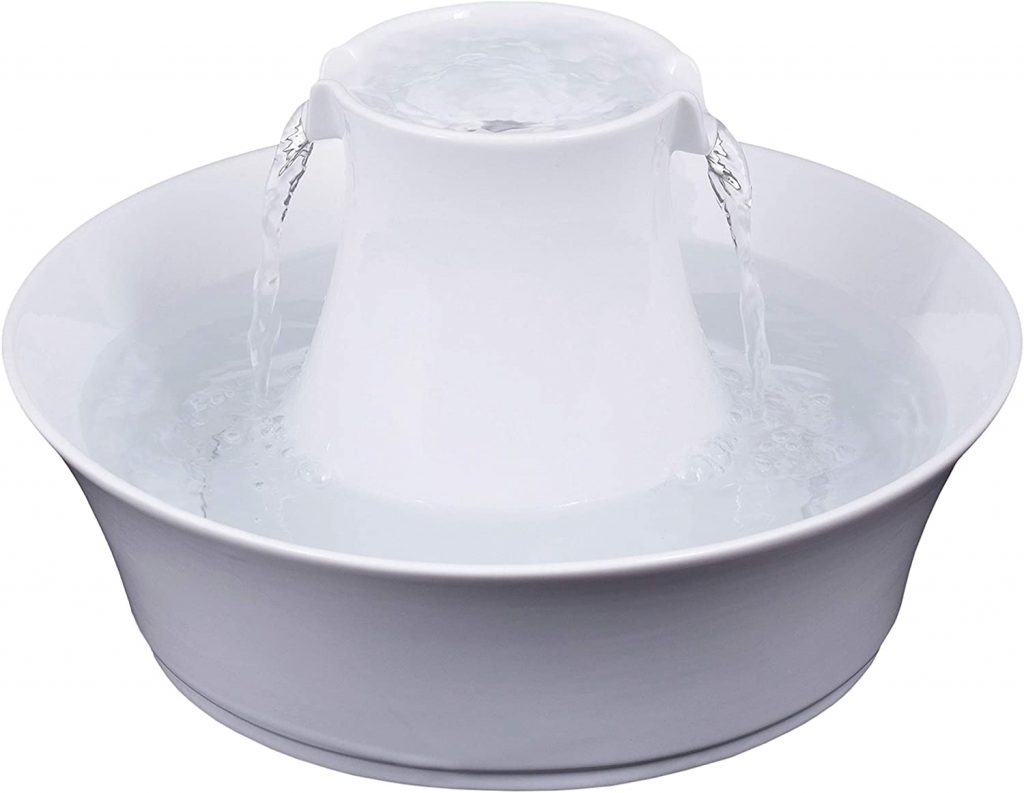 No, you're not seeing double. This brand is such quality, we had to use it twice!
The 70 ounce, ceramic PetSafe Drinkwell Avalon is the perfect fountain for cats or other small pets. Like our runner-up, the Avalon has two falling water streams, which oxygenate the water and keep it cool. The carbon filters included with the fountain help fight dirt, bacteria, fungus, and even bad odors.
While you will need to hand clean the pump, the rest of the PetSafe Drinkwell Avalon is dishwasher safe.
Pros
Large water capacity
Carbon filters
Dishwasher safe
Cons
Includes a few plastic parts
Some complaints of water flow power
---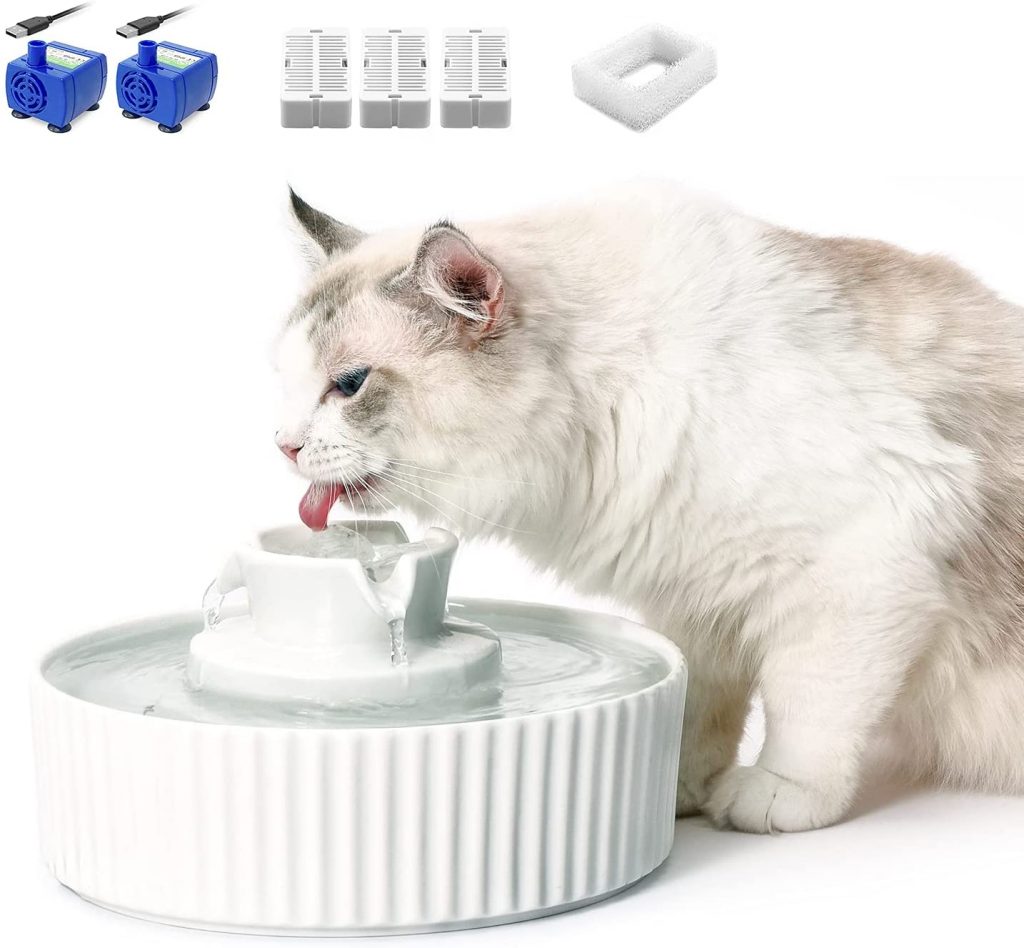 A large, sturdy cat water fountain that's perfect for beginners.
The Cepheus stands out from other options on this list because of its submersible pump. Keeping the pump under water means there's less noise for you to worry about, just the quiet stream of water. The large ceramic bowl means you don't have to change out the water as often, but can still rest assured the water is clean and fresh.
The Cepheus uses activated charcoal in its triple filtration system.
Pros
Triple filtration system
Durable
Quiet motor
Cons
Must be cleaned regularly
Some complaints of leaks
---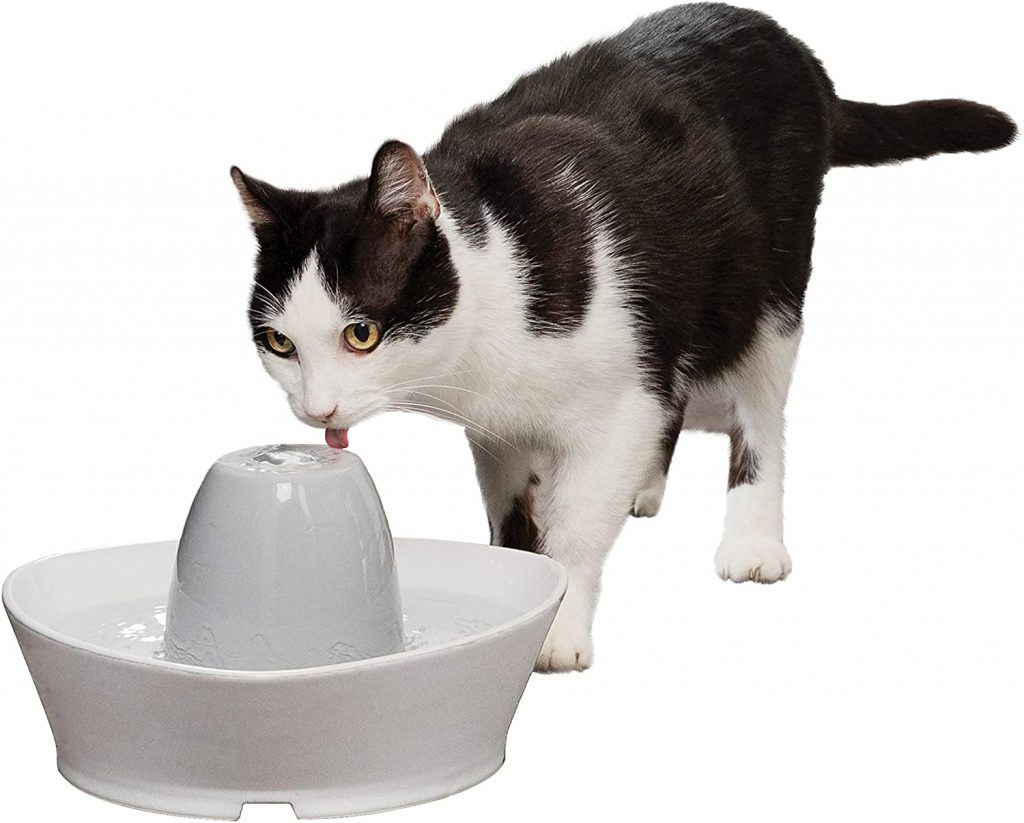 A smaller bowl with a quieter pump, this fountain is perfect for jumpy cats.
For those with more timid cats, the PetSafe Creekside is the perfect option. The cat water fountain has a slightly smaller capacity, at 60 ounces, so you will need to refill it more often.
However, with a smaller bowl comes a smaller pump, which means less noise. With its dual filtration system and 360-degree tower for easy drinking, this is an amazing choice for any jumpy cat.
Pros
Quiet pump
Dishwasher safe
Cons
Smaller capacity
Complaints of wrong color being sent
---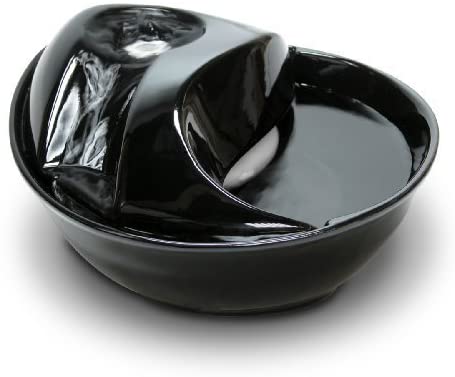 An absolutely gorgeous choice for smaller cats.
The Pioneer Pet Raindrop water fountain for cat is definitely a smaller option, holding on 60 ounces, but it's also absolutely stunning. The raindrop shaped ceramic bowl is clean and modern, making it ideal for those wanting their cat water fountains to add to their living space. The fountain uses a replaceable charcoal filter and is dishwasher safe.
Pros
Modern design
Dishwasher safe
---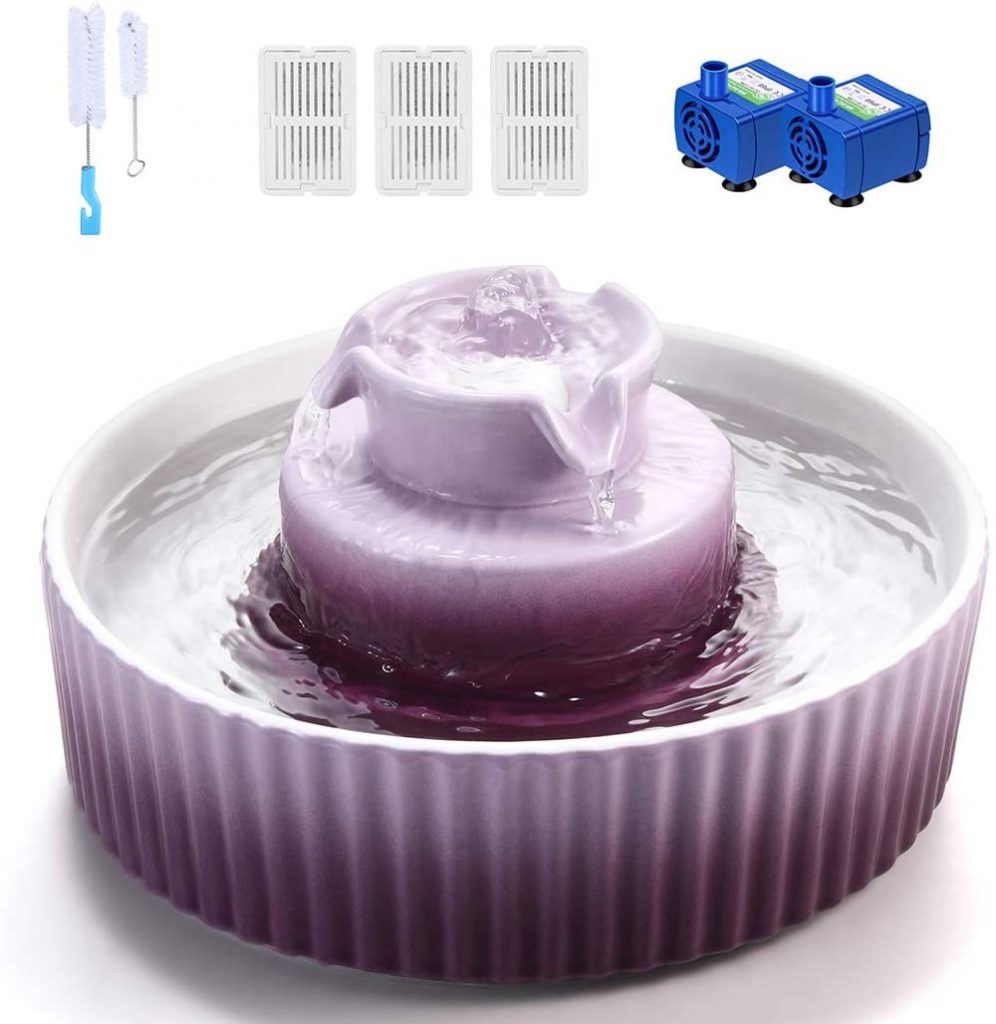 Add a little color and flare to your cat's new hydration habits.
With 3 different water stream sources, the Cupcake is an extremely quiet and durable cat water fountain. The brightly colored fountain is easy to assemble and has a triple layer filtration system. Because the fountain is made at extremely high heat, it is scratch resistant, making it much more durable than some options on this list.
Pros
Durable
Scratch resistant
Triple filtration system
Cons
Confusing instructions
Very heavy, so had to clean
---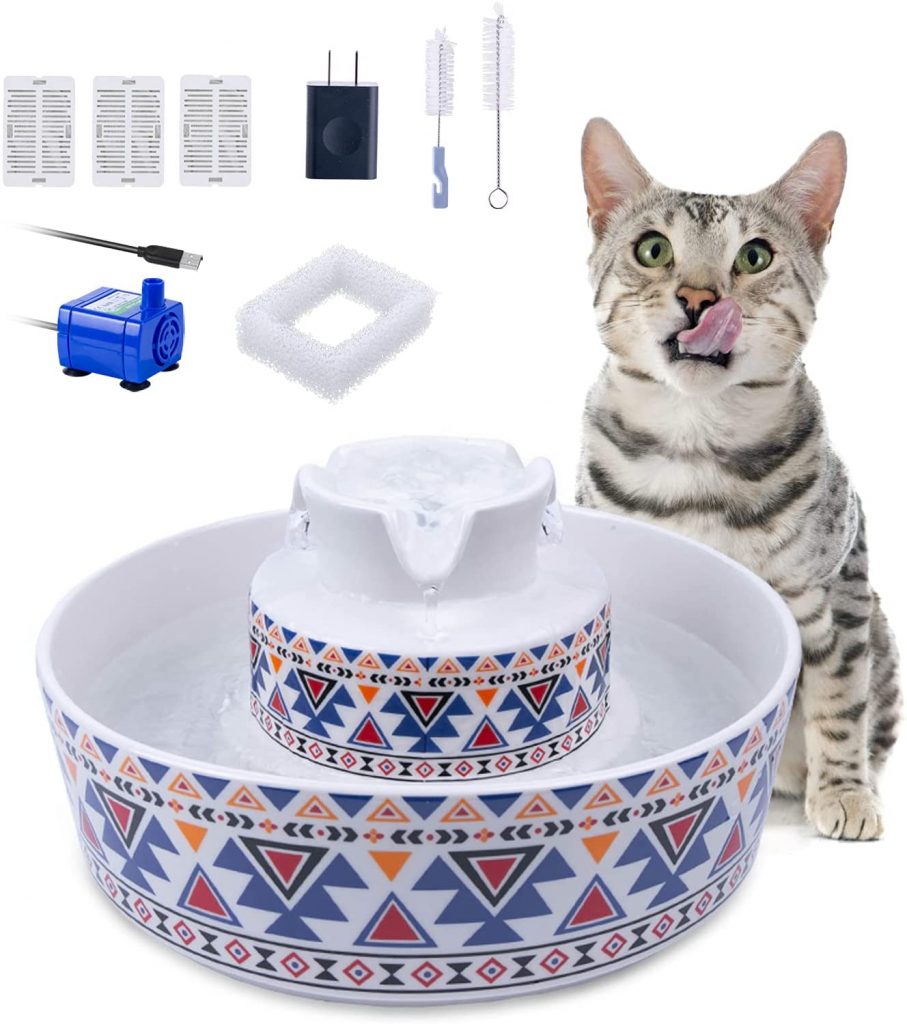 We love the design of this large, stunning cat water fountain.
The Chomiest drinking fountain is huge, holding 2.1 liters of water, making it simple to fill and forget. What we love about the Chomiest is it comes with an automatic power-off system to turn off automatically when the water levels get low. This prevents the pump burning out.
The Chomiest runs very quietly, at less than 40 decibels, and includes a carbon water filtration system. You'll love this easy-to-clean bowl which looks more like a piece of art.
Pros
Beautiful design
Auto-off
Large bowl capacity
---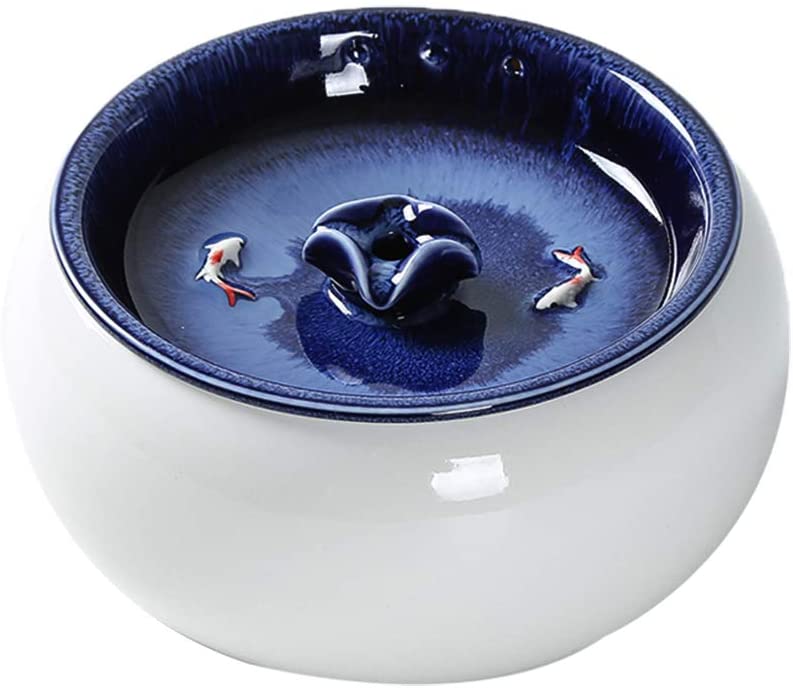 Another gorgeous cat water fountain option with a quiet motor and thorough filtration system.
The Zest Ceramic water fountain is a work of art. The smaller fountain includes a 4 channel filtration system which keeps impurities and bacteria out of the bowl. The constant flowing water is powered by an almost silent pump, which can be adjusted in power to change the amount of water flow.
This cat water fountain also includes 10 filter replacement packs, the largest of any on this list.
Pros
4 channel filtration system
Extremely quiet pump
Manual flow adjustment
Cons
Smaller capacity
Bowl area is narrow
---
How we chose – What to look for in a water fountain
We keep very strict standards here at The Pets Master. We also try to be as transparent as possible on why we picked the products on our list.
You only want the best for your pet and our goal is to help you. And we believe the criteria that help us chose are the same things you should look for in your cat water fountains.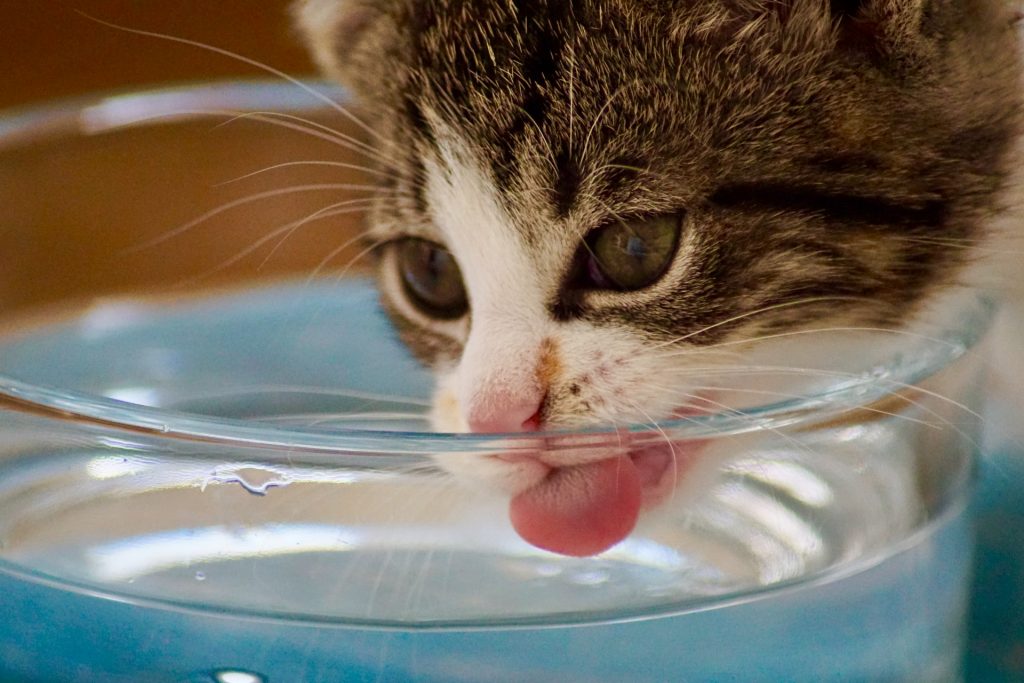 Filter management
We looked at how easy it is to change out the filter and how often you'll need to change the filters. More importantly, we looked at the quality of the filter and how well users reported they worked.
Maintenance and cleaning
Going hand-in-hand with changing out the filter is how much additional cleaning is required to maintain the water fountain. Ceramic water fountains are typically easier to clean than plastic, but the additional components can make it more difficult.
Assembly ease
When you get your cat water fountain, you want to get it going as soon as possible! We made sure the options on our list required minimal assembly so you could get the fountain out and running in minutes.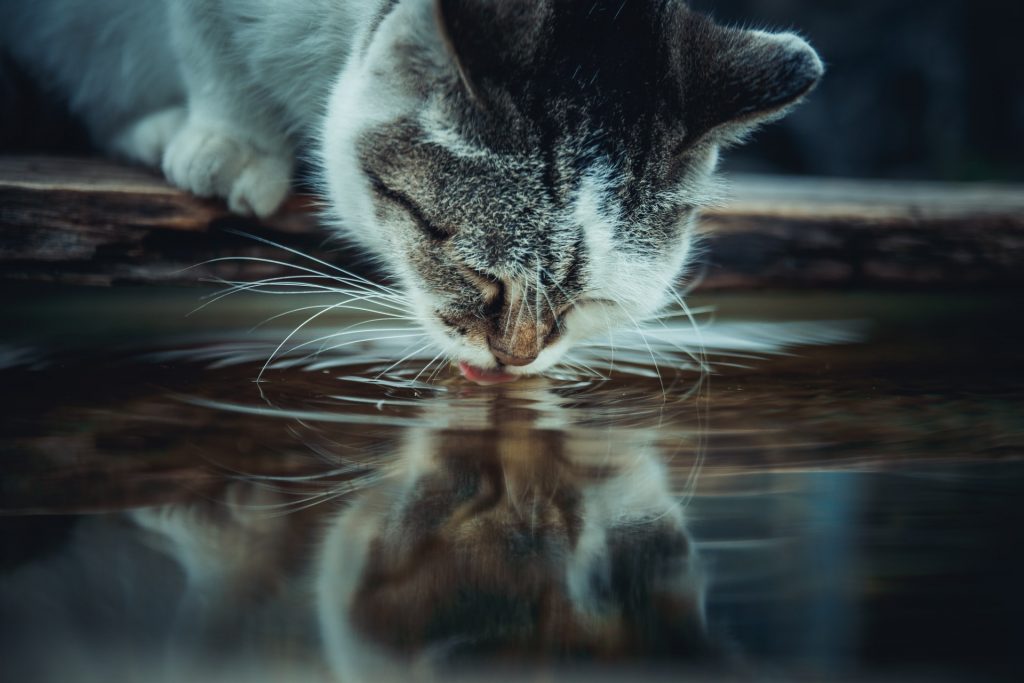 Volume and refilling
The whole point of a cat water fountain is for your cat to have access to more water, which is why we made sure the volume of water each fountain could hold was substantial. The larger the fountain the less refilling you have to worry about.
Sound
We also made sure these fountains didn't run loudly, which could scare away jumpier cats.
Design aesthetic
Finally, we wanted to make sure the cat water fountains on our list would truly upgrade your living space. No unsightly cat bowls here, just classy, beautifully designed water fountains for your cat.
---
Why a fountain and not just a bowl?
A water fountain for a cat may seem a bit over the top at first, but when you consider all the extra benefits that come with a fountain, you'll start to understand the hype.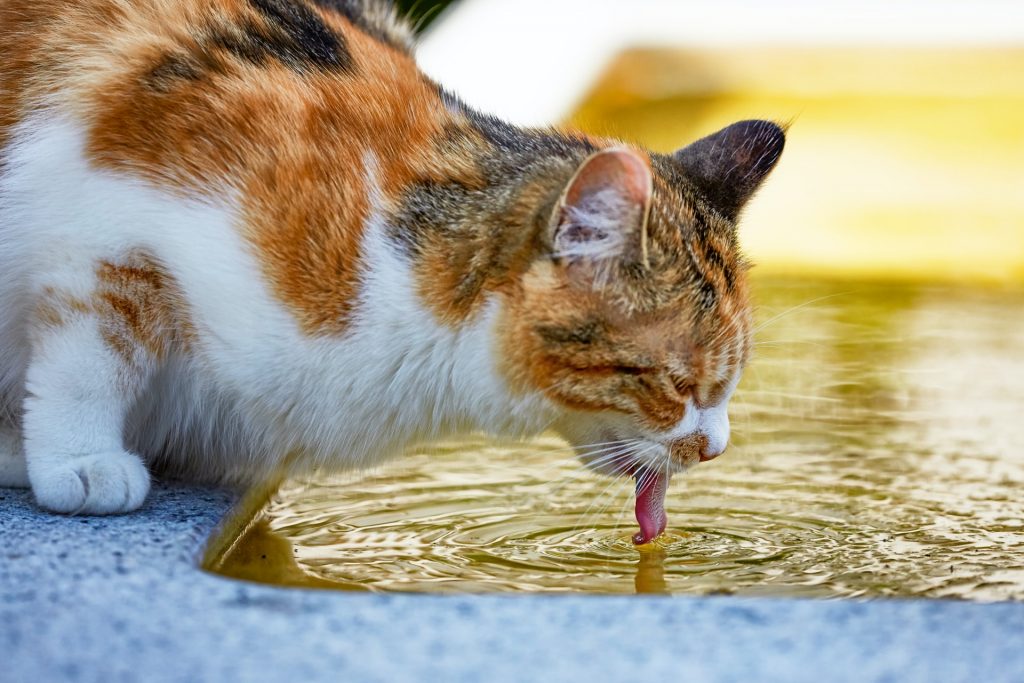 Running water
The majority of cats don't drink enough water, which could cause dehydration, especially if they eat dry food. Running water is much more appealing to cats, so having a running fountain will get your cat drinking more and staying hydrated.
Cooler temperature
Water moving through a fountain is a couple degrees cooler than water sitting in a bowl. While it may not seem like a drastic difference, cool water is much more refreshing and encourages cats to drink more.
Improved circulation and filtration
Most cat water fountains, at least the ones on this list, include a filtration system. As the water moves through this filter, any bacteria or fungus that might have built up gets filtered out. The result is cooler, cleaner water.
Increased capacity
Cat water fountains are often larger than a regular water bowl. This means, there is more water available for a longer period of time. If your cats are home alone all day, having more water could improve their overall hydration levels.
And those are some of our favorite reasons to switch from a water bowl to a water fountain.
---
What products and things to avoid
While we're big fans of cat water fountains in general, there are a few features we would suggest avoiding.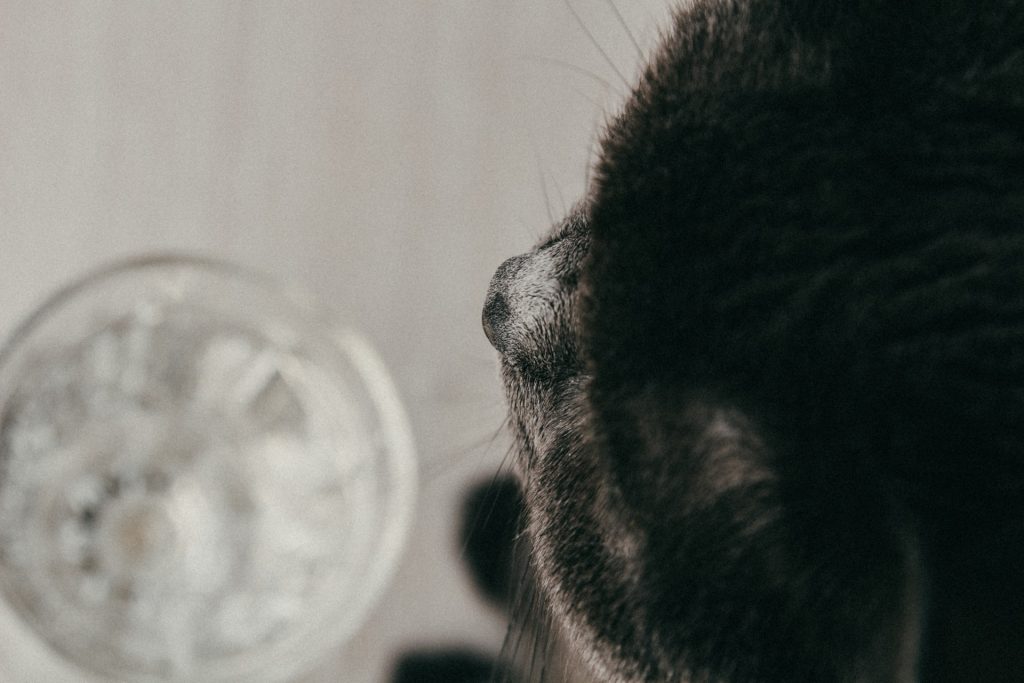 Plastic
We strongly recommend purchasing a ceramic cat water fountain. However, if you can't buy ceramic, opt for stainless steel. The worst material for a water fountain is plastic. Not only does plastic change the taste of water, but if it's not of the highest quality, it can break down and leave toxins in the water.
No filter
Always pick a water fountain with a filter. These systems cleanse the fountain from impurities, like bacteria or fungus, which could grow in the bowl otherwise.
We hope you've found the perfect ceramic cat water fountain for you and your furry friend!