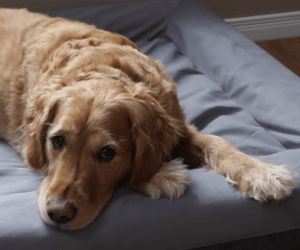 Just like us, dogs need a comfortable bed to sleep, cuddle and relax away from their worries. Getting the right bed for your pup can help them sleep better and even reduce aches and pains as they age.
While there are plenty of pet beds out there, there can be huge differences in the quality between beds and tons of sizing options. Too large and your dog may not feel safe on their bed. Too small and they won't be able to change positions and stretch out to get comfortable.
We've done the work for you of picking out our favorite ten dog beds sure to work for all shapes and sizes of pup.
BEST CHOICE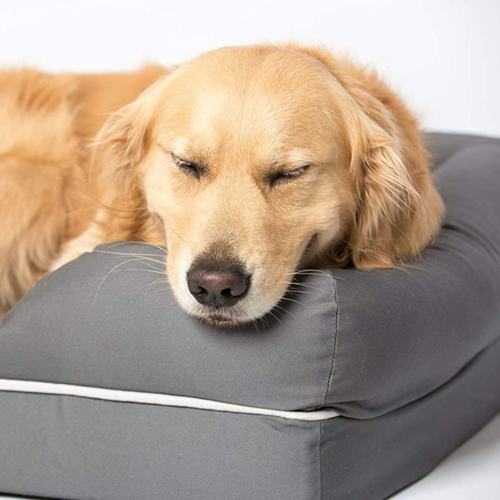 PetFusion Ultimate Dog Bed
Best Dog Bed in Our Rating
Water-resistant eco-friendly fabric cover can be removed and washed
Dense foam padding to keep it comfortable
Raised sides are ergonomic and keep your pet feeling safe
Selecting the Best Dog Beds in September, 2023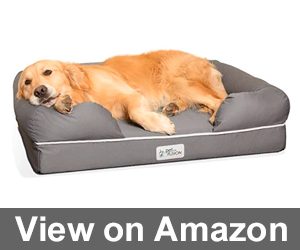 The PetFusion Ultimate comes in the shape most experts agree is perfect for your dog. The cushion is made of a mix of recycled polyfill and memory foam which provides support and warmth.
The water-resistant liner helps keep the bed clean but is also easy to remove and wash (which you should do regularly)
The raised sides are a must to help your dog get comfortable. They provide a combination of back and head support that let your dog adjust their position on the bed and also help your dog feel protected.
Pros
Best design for most dogs
Orthopedic shape adds comfort
Available in multiple sizes and colors
Cons
Pricier than most options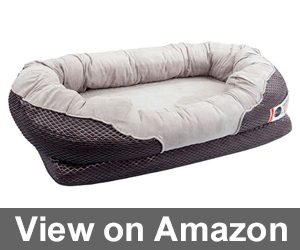 For larger dogs, you'll be needing something with more support and beefier padding to keep them comfortable.
The overstuffed side cushions still provide support, but have more give so they don't get in the way when your dog is trying to get comfortable. It also features an anti-slip mat along the bottom so the bed doesn't slide on smooth floors.
The base is also solid memory foam with cotton padding on top, which holds up better to heavier dogs than shredded foam filling.
Key Product Features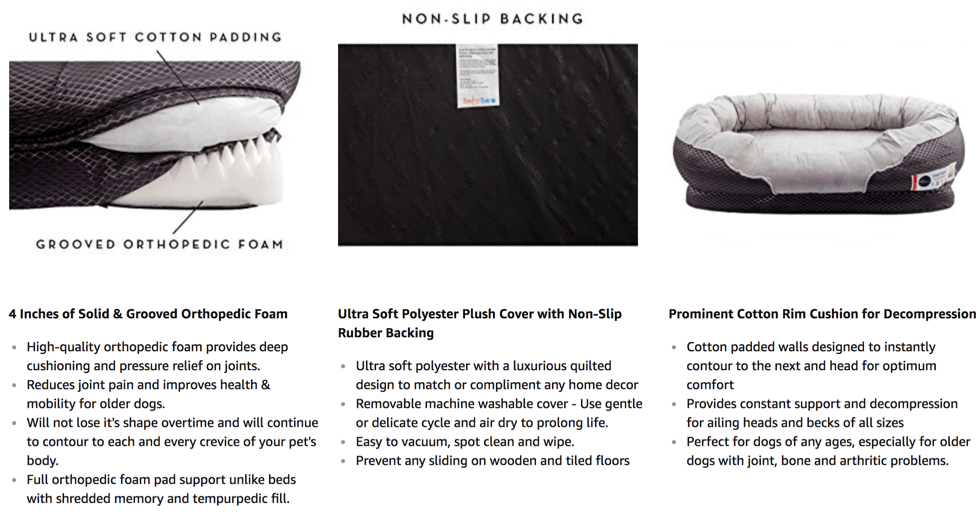 Pros
Rated for dogs up to 100 pounds
Perfect combination of give and support
Reasonably priced for a large bed
Cons
Some larger dogs prefer to lay on their sides and may not like the raised edges of this bed, for them we'd recommend our next pick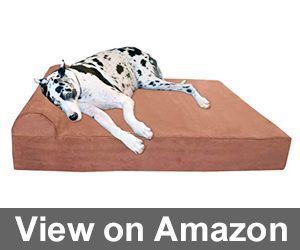 If you have a truly big dog, like a Great Dane or Newfoundland, you know most 'large' dog beds aren't nearly big enough.
The Big Barker is specifically designed for large and giant breeds weighing over 100 pounds. The single raised edge provides a lot of support, while the open sides help big dogs stretch their legs.
This is one of the best dog beds you could ever buy and will last a lifetime. The only reason it isn't our top pick for larger dogs is that it's very large and very expensive.
Pros
Top notch quality
Sized dogs who won't fit on other beds
Heavier foam provides more support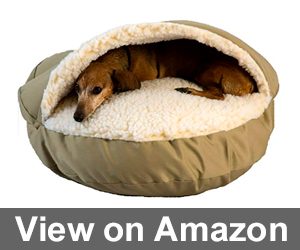 This dog bed offers a soft and fluffy sherpa lining, sure to keep your dog warm. Best of all though is the cave-like fixed blanket that helps dogs with natural burrowing instincts feel secure.
Best of all, the cover is machine washable so you can easily keep the sherpa lining clean.
Pros
Sherpa lining is extra cozy
Cave opening allows for anxiety-reducing burrowing
Cons
May be too warm for some pups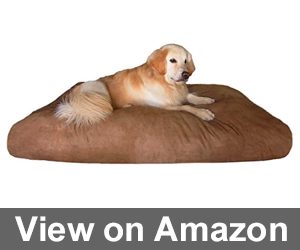 If you're looking for a cheaper alternative to our top pick for large dogs, this overstuffed dog pillow is a great option.
The main reason that it's cheaper is that it's made up of shredded memory foam. While it may not last quite as long as our top pick, you can still get years of use and it has the support larger dogs need.
This bed also has dual slip covers, with the outer cover being washable and the inner liner being highly water resistant to keep any messes from seeping into the foam.
Pros
Easy to clean
Much cheaper than other 'jumbo' beds
Gives larger dogs proper support
Cons
Shredded foam won't hold up well over time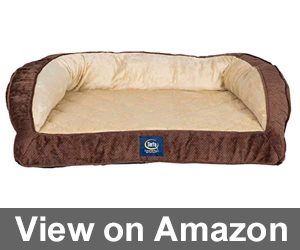 We like the 3-sided approach of the Serta pet bed because it offers an easy entry for smaller dogs and elderly dogs who need to avoid jumping onto their bed.
The foam is the same quality used in Serta mattresses, so it's a step up from what you'll typically get with a pet bed.
The sides offer orthopedic comfort for older dogs and we like that this bed comes in compact sizes.
Pros
Easy-entry offers ergonomic sides
High-quality cushioning
Great price
Cons
Frequent stock issues on different sizes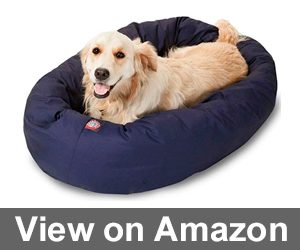 A great option for dogs that love to curl up is a 'donut' or 'bagel bed', basically a rounded bed with a deep divot in the center.
While they're somewhat similar to a bed with raised sides, the rounded shape is comforting to dogs who like to curl into a ball and the center is plush but soft so your dog will sink in more. This design is also extremely durable and will hold up to heavy use.
Pros
Great looking and durable design
Water resistant
Washable without removing covers
Affordable in price
Cons
Not suitable for dogs who like to stretch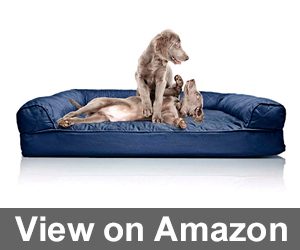 Furhaven is an extremely popular maker of pet beds because they're reasonably priced and very well built. They offer a range of choices somewhere between budget cushions and luxury beds.
Furhaven uses orthopedic foam for the base and shredded foam in the bolsters of this bed to provide great comfort for dogs of all ages and sizes.
Pros
Cover can be removed and laudnered
Higher quality foam than most
Wide range of colors and patterns
Reasonable price
Cons
Bolsters can wear over time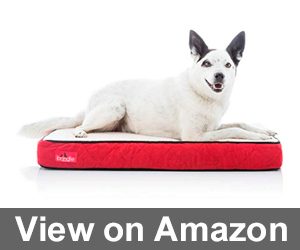 What we like most about this pet bed is it's compact size. While it doesn't offer quite as much padding for heavier dogs, it's perfect for use in a crate or even on top of furniture or in the car.
At only 2 inches thick, we think it's best suited to smaller dogs but it's still great as a 'travel' cushion to add a designated spot for your dog anywhere you go.
Pros
Perfect for crates and travel
Great for smaller breeds
Easy to wash and clean
Cons
Thin padding may wear quickly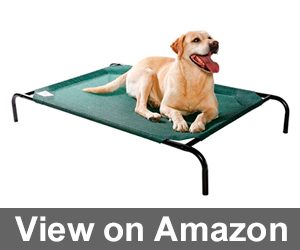 An elevated pet bed is a lightweight and durable option that's perfect to use outside or in summer months. They're nearly indestructible with regular use, are hard to chew, and easy to clean. We love them for pets who tend to be destructive to their beds and use them indoors ourselves.
The elevated platform provides a light and springy surface that's comfortable for your pup, while also allowing airflow underneath when it's hot to keep your dog cool. Some dogs prefer having the warmth of a traditional bed, but many love elevated beds too and you can always add a cushion or blanket for cooler months.
Pros
Perfect for use outside, great for use inside
Fabric and frame are built to last
Very budget friendly
Easy to clean
Cons
Doesn't provide any warmth
No orthopedic padding
Buyer's guide
When you're in search of a cushion for your pups, below are some of the things you need to consider.
Does My Pups Need a Bed?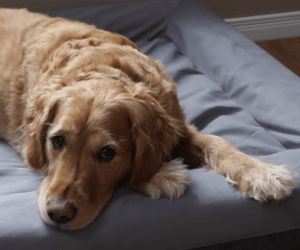 We think all dogs deserve a comfy place to rest, but dogs actually need a bed to recover from exercise and ward off problems as they age.
Pet beds are also proven reducers of anxiety, giving your dog a place that feels like their's to rest and relax.
How to pick right bed?
Size
It's important to find the right size bed for your dog so they can get the right level of comfort. Smaller dogs will feel uncomfortable on larger beds, while large dogs won't be able to spread out on smaller beds. Pick a bed that's roughly 1.5 times the size of your dog, many manufacturers have handy sizing charts based on weight. Your dog should be able to just about completely stretch out in any direction.
Sleeping Pattern
Pick a bed that matches the way your dog likes to sleep. Typically a flat bed with 1 or more raised sides will work for most dogs. Still, we like fully enclosed beds for anxious pups as they'll help your dog feel more secure.
Price
Thankfully, high quality beds are available on any budget, but typically the more you spend the longer a bed will last. Look to how your dog uses their bed to determine how much to spend. If your dog likes to chew their bed, even a $200 deluxe model won't hold up for long.
Forms of dog bed
Donut and Bolster
As the name implies, this is a round shaped pet bed that often provides walls besides like a cushion for your dog to crutch its neck and head while sleeping on it. Plus, they are often adjustable and can be raised above the ground level. Ultimately, they inculcate in the mind of your dog a sense of calmness and security. They are quintessential for small pups.
Orthopaedic Pattern
Again, as the name implies, this kind of pet cushion provides crutch to aging dogs who obviously have pain related issues like arthritis or any form of discomforts in their body. This is possible because they offer an additional layer of crutch that could sometimes help in treating the condition over time. The best part is that it is quintessential for both small and massive dogs.
Pillow Cushion
This is a quintessential cushion for dogs who stretch a lot while having a nap. As the name implies, it is cushion-like, which makes it appear like a combination of a cushion and pillow in one body. So, if your dog stretches a lot while sleeping, this is where it should be sleeping.
Heated
This cushion helps in treating dogs with arthritis, using its heated blanket feature. From past remarks, it helps in curing a dog's arthritis over time. It is also quintessential for smaller dogs especially during winter, since they may find it hard to regulate themselves.
Cot
This is a quintessential bed for dogs that love staying outside because of its elevated feature. Thus, it can help your dog rest pleasurably outside, without coming in contact with mud or dirt.
How to maintain your dog's new sleeping bed?
Washing
It's key to follow the manufacturer's instructions on washing but you should set a regular schedule based on how clean your pet is. If your dog stays indoors their bed will need less frequent washing than a dog that runs through the yard all day. We do recommend the 'sniff test' to avoid overwashing their bed.
Vacuuming
Vacuuming your dog's bed between washes can help keep the dust and dog fur from piling up to much. Surprisingly, dogs are also susceptible to allergies and skin conditions caused by dust and trying to keep their bed clean can greatly help.
Sun Drying
The sun has remarkable cleaning power. Letting your dog's bed sit outside will let UV rays clean and reduce any bacterial buildup. Fresh air and a warm day also can help refresh the foam and restore loft to the bed.
Frequently asked questions
Q: How Long Does an Average Dog cushion last?
Many cushions will last a minimum of a year, with higher quality beds lasting for as long as 5 years. It really just depends though on how your dog uses their bed. If they have a tendency to scratch and tear, there's a good chance the bed will show wear quickly. If you have a heavier pup, foam will start to break down and you'll be left with a dog-shaped divot. Regular (but not too frequent) laundering and plumping can help keep a dog bed and cover lasting longer.
Q: What's the main priority when choosing a pet bed?
The biggest factor is to take into account the type of comfort your dog needs. Just like people, all dogs prefer a different level of cushion, firmness, and sleeping position. If your dog sprawls out you'll want something mostly flat with nothing in the way, if your dog curls up you'll want a bed with bolsters around 2 or 3 sides. If you dog is older they'll need a bed that's easy to get in and out of.