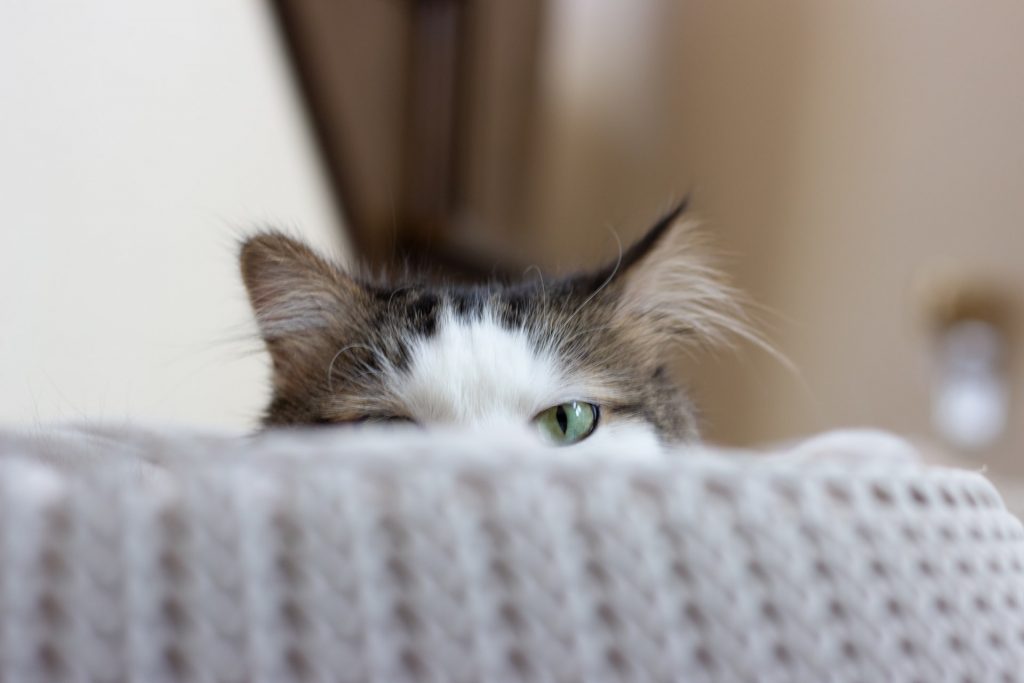 There's a reason those mid-afternoon rests are called 'cat naps'. There's nothing a cat loves more than curling up and getting a good nap, which is why it's so important to find the best cat bed possible. And because your cat could spend 15 to 20 hours sleeping on this bed, we wanted to give you the best of the best options.
Today we'll look at 6 of the most luxurious cat swing beds available, all offering the comfiest place for your cat to nap while keeping your living space classy.
Do cats prefer swinging beds?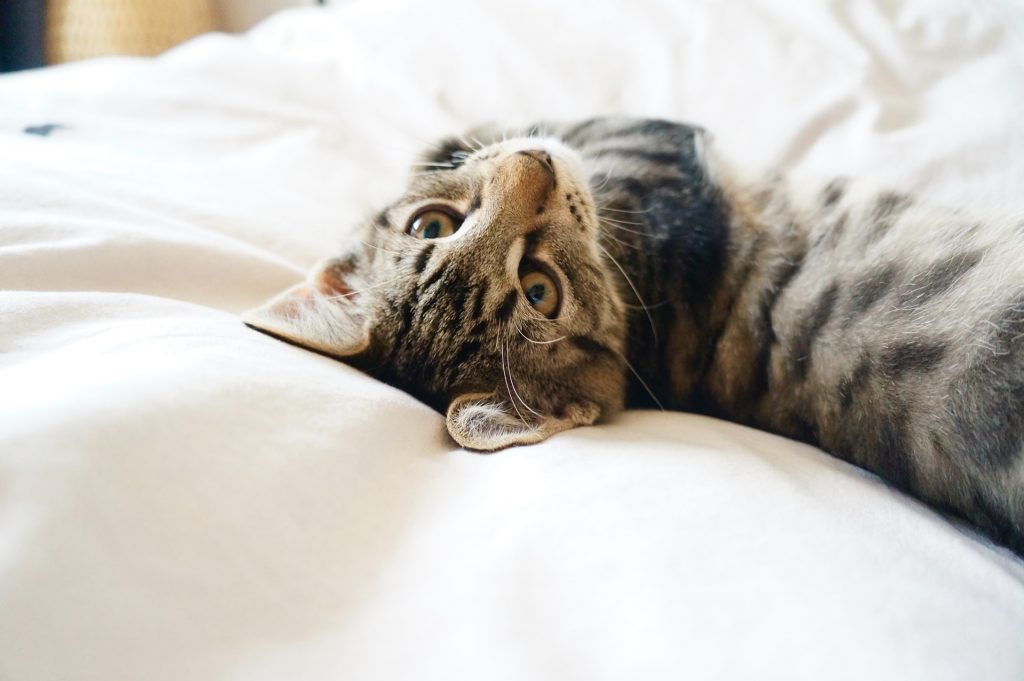 Every cat is different, so what bed your cat will prefer is going to be different. However, as a general rule, cats enjoy being off the ground and warm, whether this is from being in the sun or surrounded by warm blankets.
Cat swing beds, also called cat hammocks, meet the basic and very general needs of where cats enjoy to sleep. Plus, they're absolutely adorable, making the perfect statement for the proud cat parent.
Jump to a section
Our top picks
Benefits of cat swing beds
How we picked
FAQs
---
Our top picks
Through meticulous research, we've narrowed our list of the best cat swing beds to the 6 options below. Leave a comment letting us know your favorite!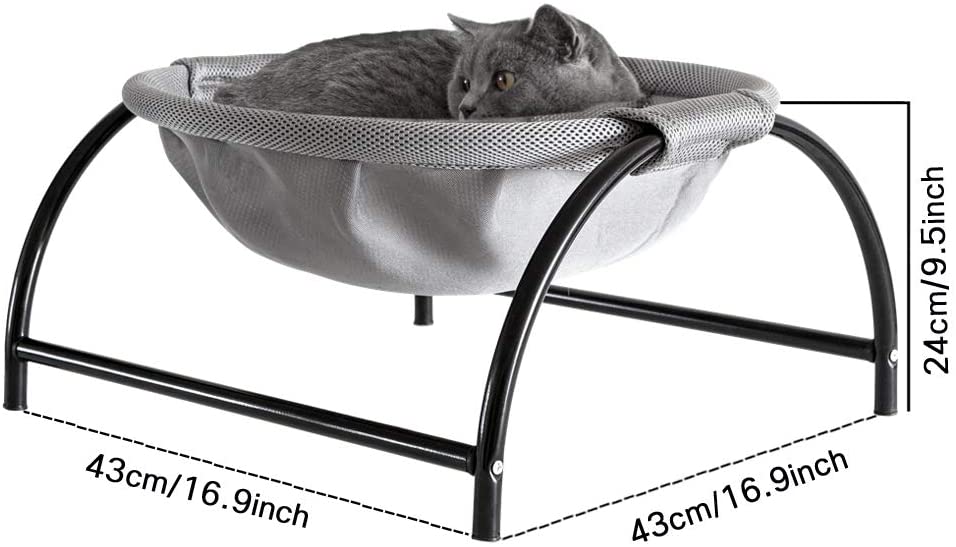 Best Overall
Our first choice offers stability and comfort with its metal frame, rounded edges, and cooling fabric.
Definitely more of a hammock than a swing bed, our number one pick for this list hits all our must-haves when it comes to a cat bed. The main frame of the cat hammock is made with a brushed metal, offering support for even the largest cats.
The actual material of the hanging nest in the Junspow Cat Hammock is made with a breathable, washable fabric. The 42x45x23 centimeter 'bowl' is the perfect nesting size for cats of varying sizes. And while the hammock works well on its own, you can easily add a smaller bed to create more cushion. Washing the nest does require taking the legs off, but it's easy to assemble.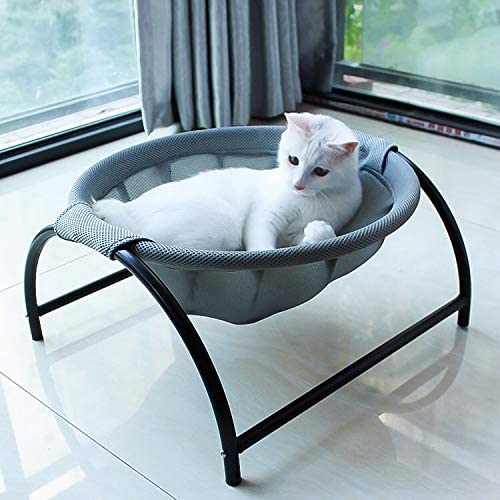 The Junspow Cat Bed Hammock has just enough give for your cat to sink into. The small holes in the fabric allow air to flow through and around the bed, making it an ideal outdoor cat swing bed. With a few extra blankets, you can keep your cat warm in the winter without sacrificing the comfort of the overall bed.
The wideset frame of this cat hammock works best on carpet, to prevent slipping, but can also be used outside or on tile. The feet might scratch wooden floors, depending on how your cat enters and exits the bed.
Pros
Sturdy
Inexpensive
Machine washable
Easy to move
---

Best for second choice
This boho-inspired cat swing bed offers stability and comfort with its sturdy mounting system and comfy cushion.
Laddawan has crafted this gorgeous macramé hanging cat bed with everything your cat could ever want. The braided and hand-woven rope wrap around the cat bed frame, breaking into 4 spiral columns for improved support. The entire bed is further stabilized by a load-bearing top ring which is attached to an additionally braided hook. Once you've installed this luxurious cat bed, it won't be going anywhere!
The strength of the Laddawan cat swing bed is enhanced by the thick, comfortable cushion included with the purchase. The 17.7" diameter thick cushion is the perfect little nesting area for your cat. While some reviewers complained the cushion sank too deeply into the frame of the bed, this can easily be solved by adding towels or an additional towel to the bottom.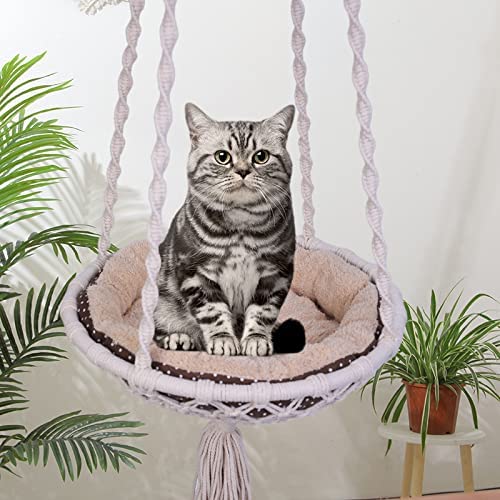 Where the Laddawan Macrame Cat Bed truly shines is in its aesthetic. The beautiful intricacy of the bed make it look like a decoration for your home. Your cat may need a little time to get used to the movement and height of this bed, but it's truly worth the effort in the end.
Note: The bed does not come with the installation hardware. We recommend purchasing a hanging plant hook for a secure, steady installation of this bed.
Pros
Strong, fortified design
Load-bearing top ring
Aesthetically pleasing
Includes cushion
Cons
May need additional cushioning
Does not come with installation hardware
---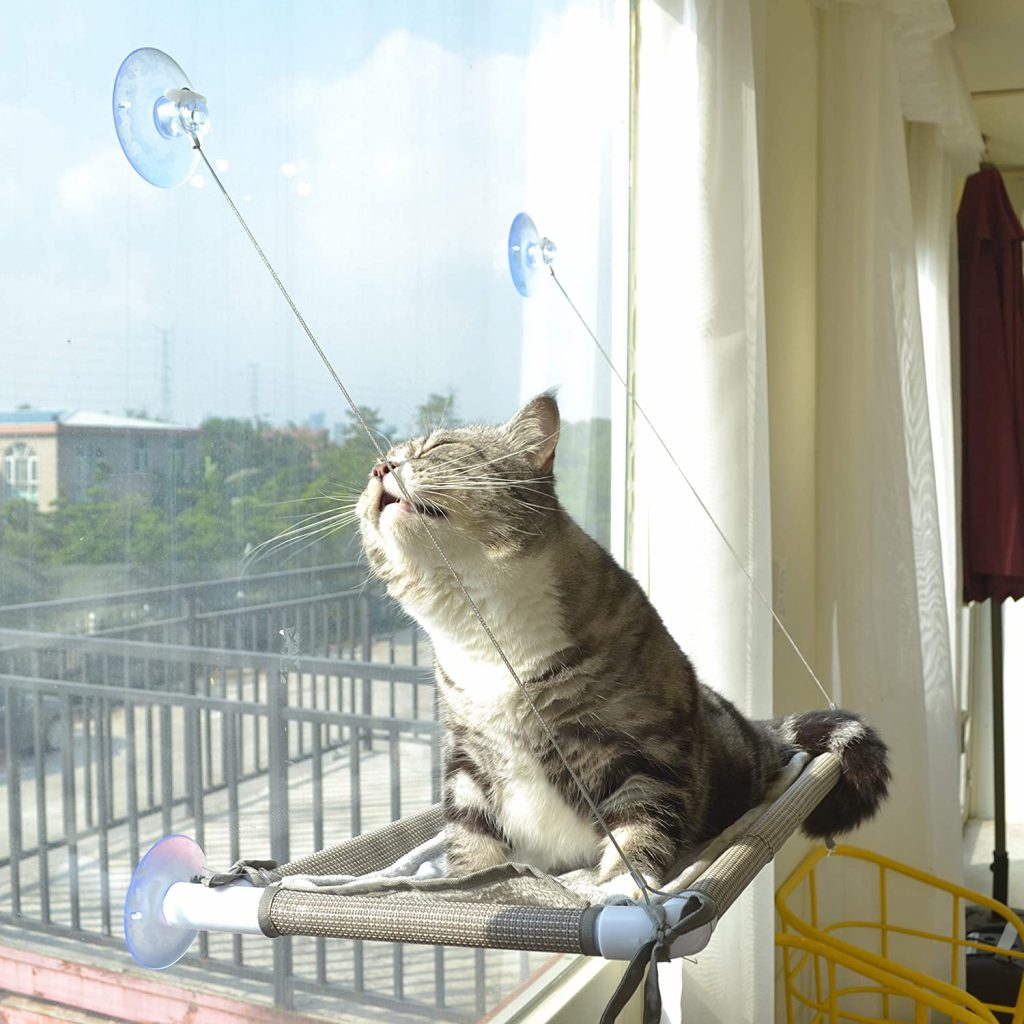 Best on a budget
The perfect hanging cat bed for the felines that enjoy sunning throughout the day.
The Pefuny hanging bed gives cats the opportunity to do what they love most: Sun bathe. The powerful suction cups and thick wire ropes hold the light frame in place, keeping it stable and steady. The hollow, piped design of the frame includes discreet clip slots to add extra security to the bed. With all these elements combined, the Pefuny Cat Window Perch can hold up to 40 pounds!
In addition to the stability of this luxurious cat bed, the weaved, plastic-coated bed itself is both flexible and sturdy. Offering just a little give, the bed holds weight easily while also being comfortable. You'll truly appreciate how simple it is to clean this bed base!
We're especially big fans of the warm, fleece blanket included with your purchase of this budget cat hammock bed. The extra comfort will only entice your fur baby more!
Pros
Inexpensive
Holds 40 pounds
Easy to clean
Includes fleece blanket
Cons
Requires window space
Suction cups sensitive to temperature changes – Especially with singled-paned windows
---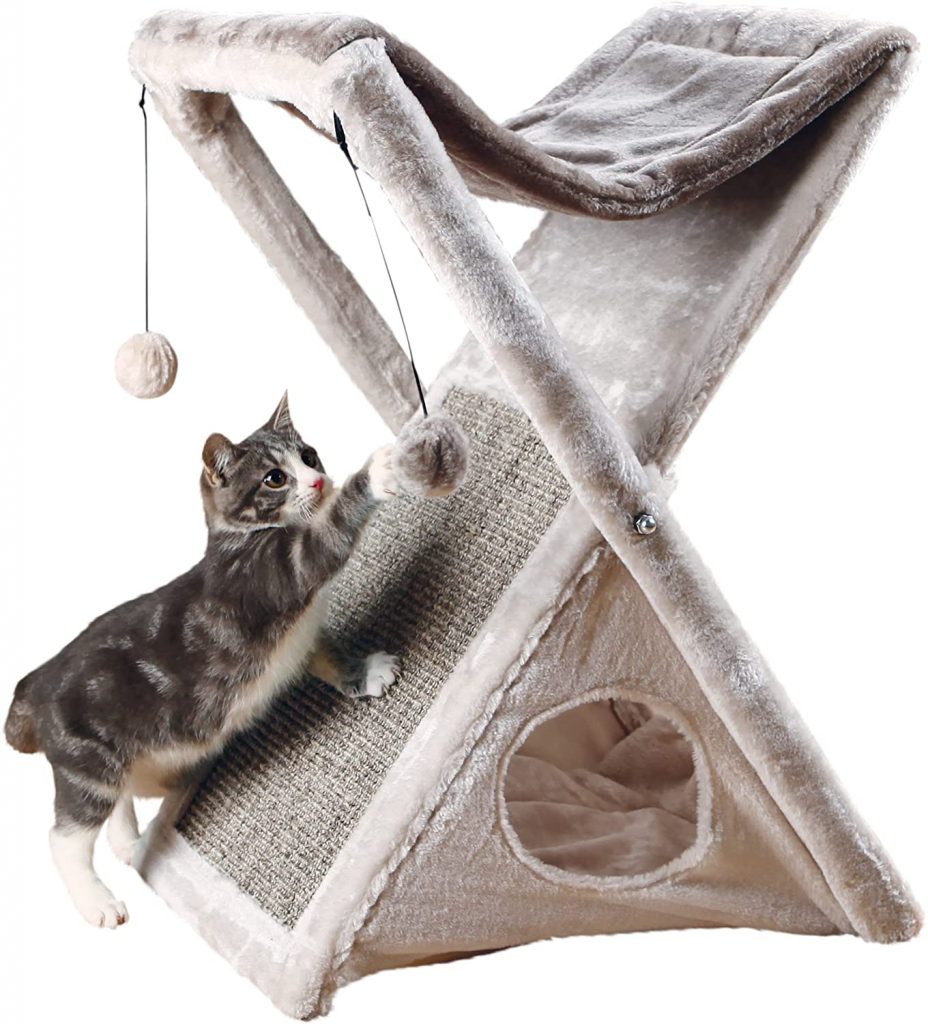 Best all-in-one choice
Not sure which type of bed to get for your cat? Our all-in-one option offers a traditional cat bed as well as a hammock bed!
If you're unsure of how your cat will react to a cat swing or hammock bed, our all-in-one option is the perfect solution! The foldable tent-style bed comes with a lower, cozy sleeping area with plush blankets. However, at the top of this gorgeous cat fort is an additional swing cat bed. The hammock is also made with a thick, plush fabric to both support and comfort your cat.
The Trixie Miguel Cat Hammock isn't all about sleeping, either. We love that this two-fold cat bed comes with dangling pompoms and a scratching surface. The tower is ideal for entertaining your fur baby and then serving as the perfect napping spot.
The cushion of this foldable cat hammock is machine washable, so clean up is simple.
Pros
Includes traditional and hammock bed
Has scratch pad and toy
Easy to fold and put away
Cons
A little more expensive
Could slip on wood floor
Gray version more stable than brown
---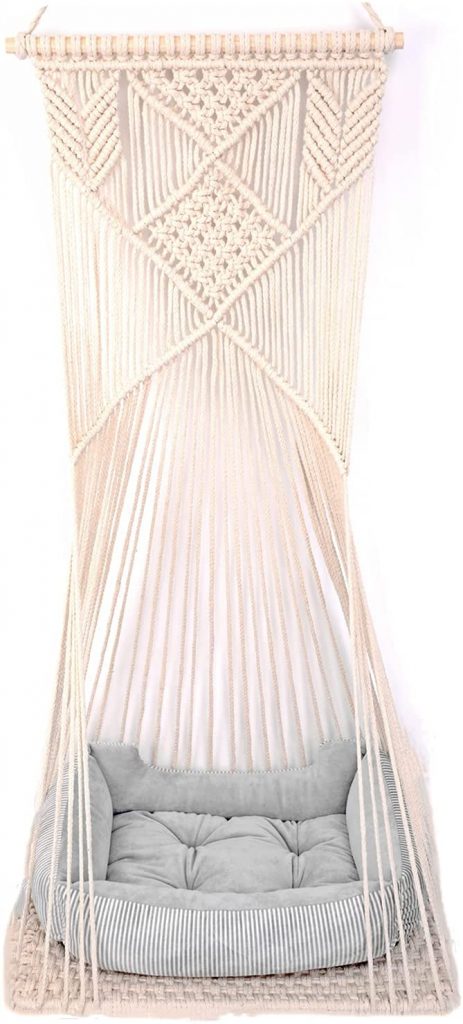 Best for the diva
This macramé hammock combines stability with a beautiful, luxurious design..
The Doralus cat swing bed has effortlessly combined a sturdy, heavy-duty design with the elegance and sophistication of macramé. The beautifully detailed cat swing bed uses powerful cotton twine to create gorgeous designs, which add stability to the bed itself. With the addition of the bottom board, you can rest assured your cats can nap safely on this swing.
In addition to the gorgeous design of this macramé swing bed, Doralus includes a washable cat cushion for even more comfort. The adjustable length of the swing bed make it easy to customize to your specific needs and space.
Pros
Beautifully designed
Stabilized with weaved cotton twine
Cons
Requires purchasing installation hardware
Complaints of it swinging too easily
---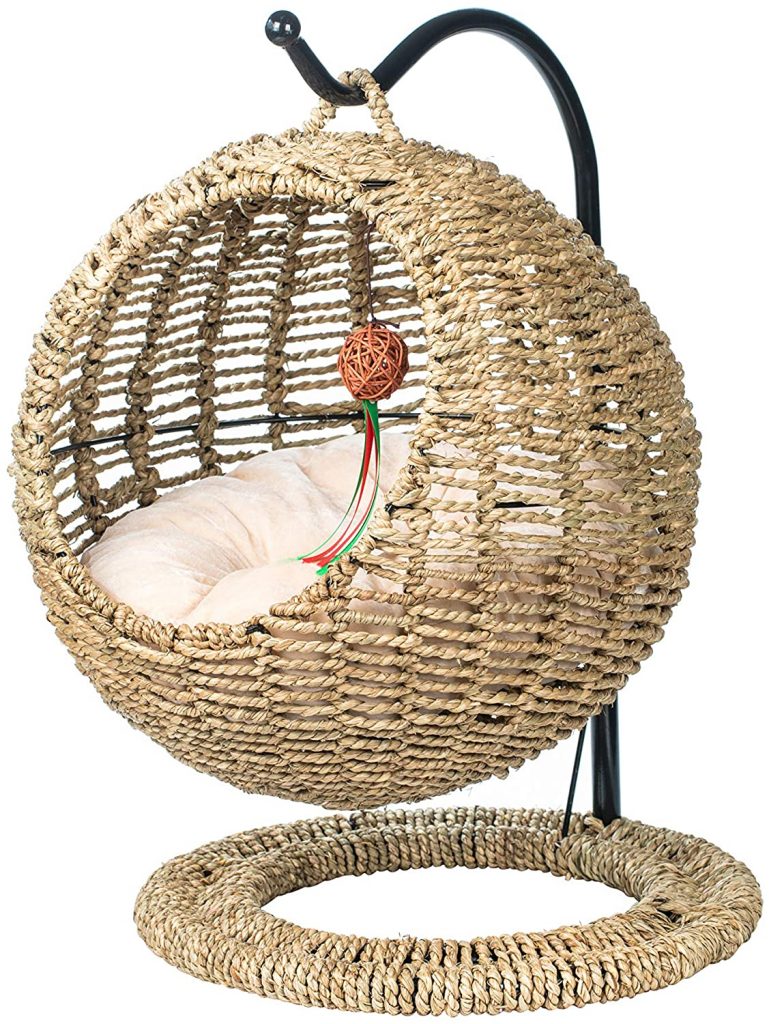 Best for small cats
This hanging cat swing bed requires no assembly and offers a perch even the smallest cats can reach.
If your cat is smaller, it may be difficult to use some of the other swing bed options on this list. However, you don't have to sacrifice just because of your cat's size! The stunning YoSpot Wicker Cat Swing Bed can sit on the floor, but still offers a roosting spot for your cat. The hand-woven wicker of this cat swing bed is both sturdy and gorgeous, making it a seamless addition to your décor.
We love that YoSpot has kept smaller cats and kittens in mind in the design of this cat swing bed. The company has effortlessly blended the best of every other bed on our list without taking the bed too far from the ground. Plus, the bed comes with a machine-washable cushion, making this bed stable and comfy. Our favorite things!
Pros
Perfect for small cats
Beautiful aesthetic
Includes cat cushion
Cons
More expensive
Cats may grow out of it quickly
---
Benefits of cat swing beds
Have you ever seen a picture of a lion, panther, or even a cheetah in the wild, hanging from a branch while taking a nap? As natural-born predators, these large cats enjoy the security of a solid branch while also being able to take in their surroundings.
As the ancestors of these great cats, our little house cats still carry a natural desire to sleep up high, but with a sturdy base. This is just one of the reasons why cat swing beds, or cat hammocks, are such a great option for cats. Even cat swing beds slightly lower to the ground offer a perch that is so attractive to the inner hunter in our fur babies.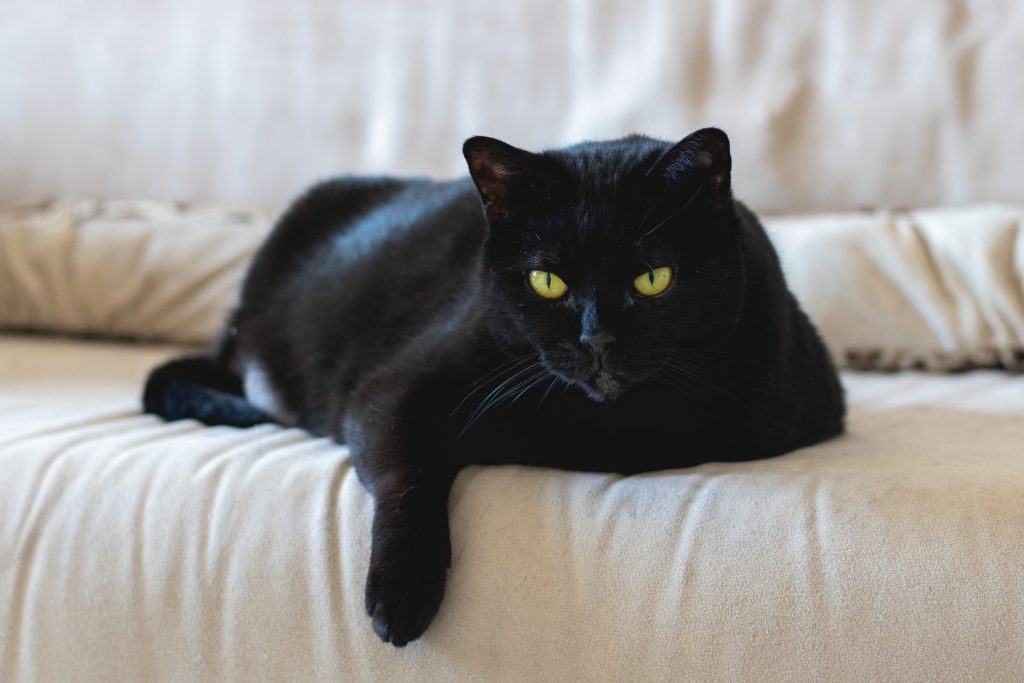 Cat swing beds and hammocks are also made with much more breathable fabrics than regular cat beds. Even when a cat bed or nest is added to a swing bed, the airflow below the bed keeps cats cooler throughout the warmer parts of the day.
Another great benefit of cat swing beds is they offer a much better aesthetic than the more common cat bed. Instead of just throwing a bed in a corner or under a table, cat hammocks and swing beds can hang from windows or the ceiling. Many have a bohemian vibe perfect for modern décor styles.
Finally, cat swing beds will keep your cat off your couch, bed, or clean laundry. We all know cats go where they want, but having a cozy, sturdy place to nap will hopefully keep your cat where it belongs. Most of the time.
---
How we chose
In order for you to make the best choice when purchasing your luxurious cat swing bed, it's important to know how we curated the list above. To make your choice easier and for transparency, here are the core features we looked for in our cat swing beds.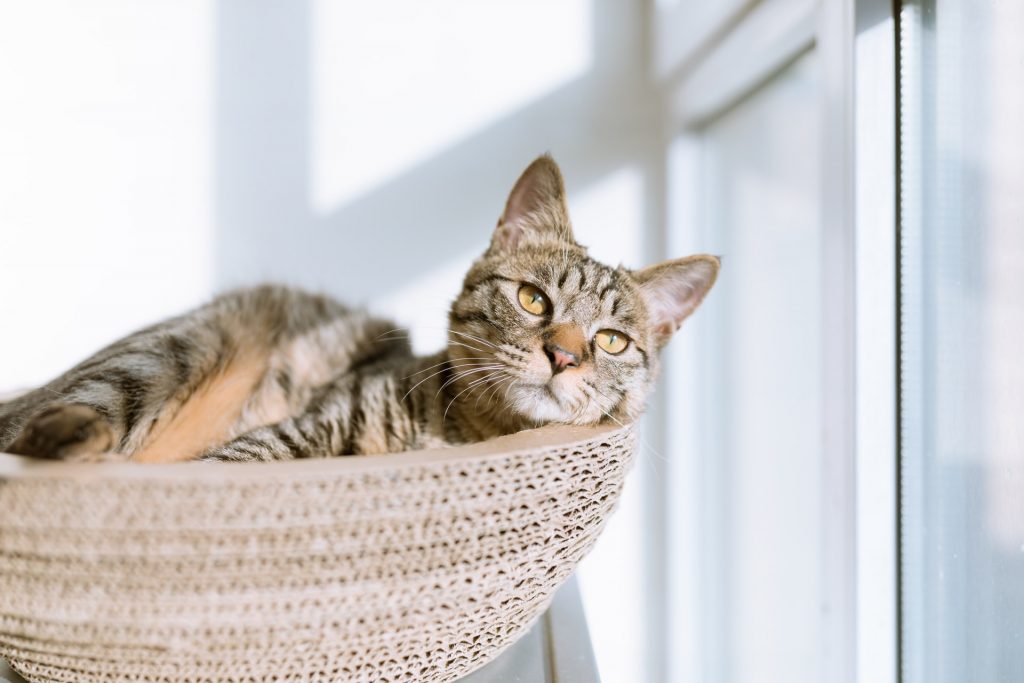 Stability
The most important thing about a cat bed, specifically a swing bed, is its stability. If your cat is spending several hours a day sleeping in the bed, it needs to be sturdy.
We picked cat swing beds made to last. By choosing options with strong materials, for both the attachments and the actual beds, we felt assured in the stability of the cat swing beds on our list.
Material
Going hand-in-hand with stability, we looked for cat swing beds made with safe, sturdy materials. From the breathability to the durability, we wanted the material of these cat swing beds to be of the best quality.
We also made sure the materials were safe and non-toxic. Again, if your cat is going to be spending extended lengths of time in these beds, the material needs to be as safe and as comfortable as possible.
Comfort
As a pet parent, you're going to be concerned about the safety and durability of your luxurious cat swing bed. Your cat, however, only cares if the bed is comfortable!
To best meet the needs of the actual pets using these beds, we made sure the nesting areas of each swing bed either came super comfy or could be made so with little effort. We all know the pickiness of cats. Hopefully our research made it more likely your fur baby would be comfortable.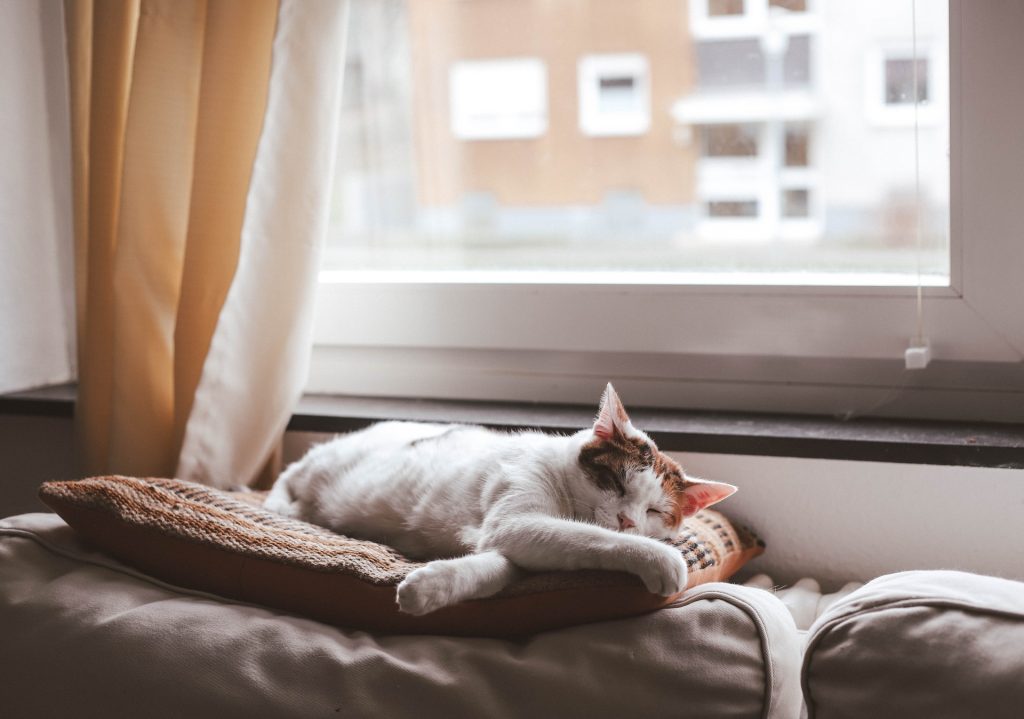 Size
With any pet bed, you want to make sure you're getting the right size. Too small and your cat will feel smooshed. Too big and that comforting feeling is lost.
For this list of cat hammocks and swing beds, we picked a variety of size options, so you could pick the best one for your cat.
Small suggestion: If you have multiple cats that like to sleep together, always opt for a bigger size!
Reviews
Pet parents, especially cat pet parents, know what their fur babies like and need. While we spent hours researching fabrics, materials, and safety, we also wanted to know what other cat owners thought of these beds.
Every cat bed on our list has at least 4.5 star reviews by other cat parents at the time of this writing. Those ratings speak to the quality and comfort of these beds by actual cat owners.
Aesthetic
Getting something comfy for your cat doesn't mean it has to throw off your décor aesthetic. We tried to pick options that would look good in a variety of spaces, giving you options for your specific needs.
---
FAQs
Still have questions? We took some of the top frequently asked questions about cat swing beds and cats in general to give you further insight into picking the best bed for your cat.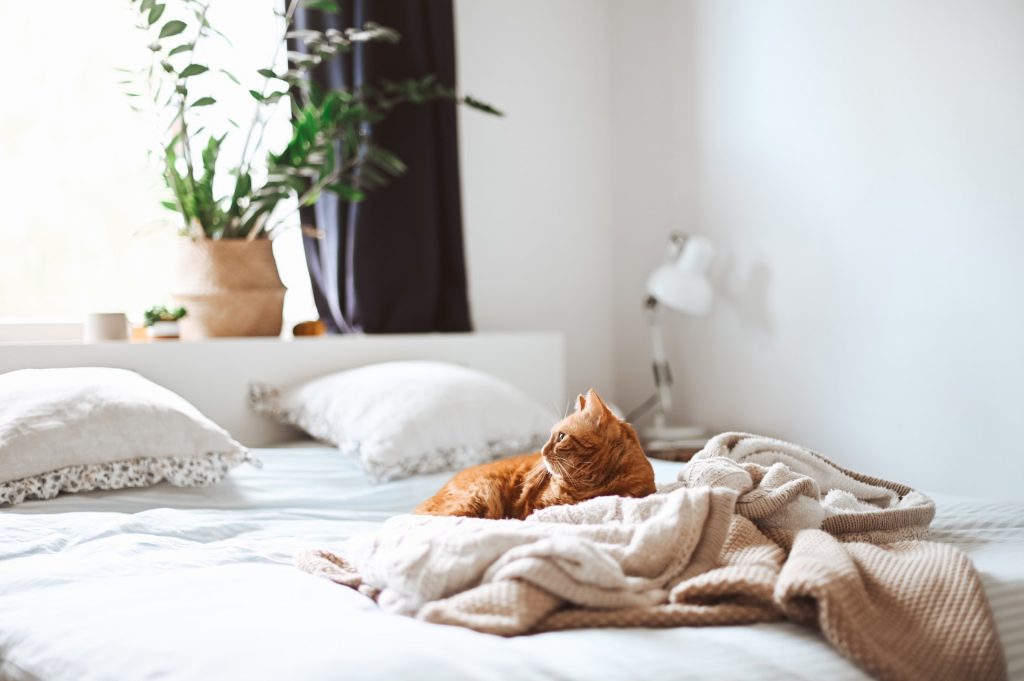 How should I pick a cat swing bed for my cat?
The best way to pick any cat bed, whether a regular or hammock bed, is to look where your cat already rests.
Does your cat tend to curl up on the floor? Look for a bed with a flat bottom.
Constantly finding your cat curled up in blankets or your freshly cleaned laundry? Opt for a bed with higher edges and an extra thick, warm bottom.
Your cat will let you know what type of bed it wants, you just have to watch for a little bit!
Why do cats sleep so much?
The short answer to why cats sleep so much is because they're night prowlers! Cats are more active between sundown and sunrise, sleeping during the day as a way to recover.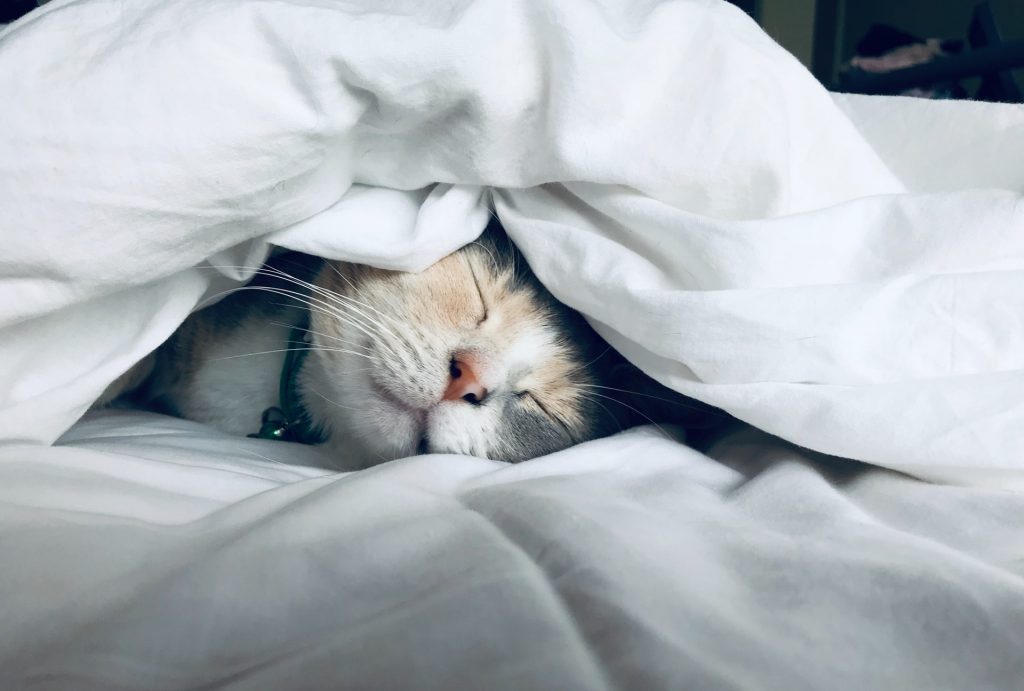 Still, cats tend to sleep an average of 15 hours a day, with kittens and older cats often sleeping a full 20 hours a day! Some of this is because, as predators, even when cats seem to be asleep, they're actually just dozing. On average, every 10 minutes a cat sleeps deeply is balanced with about 50 minutes of dozing in and out of wakefulness.
Cats like to stay alert to their surroundings!
Do cats prefer smaller beds?
While each cat is different, the average cat will want a bed with enough space to stretch out, but small enough to still feel secure.