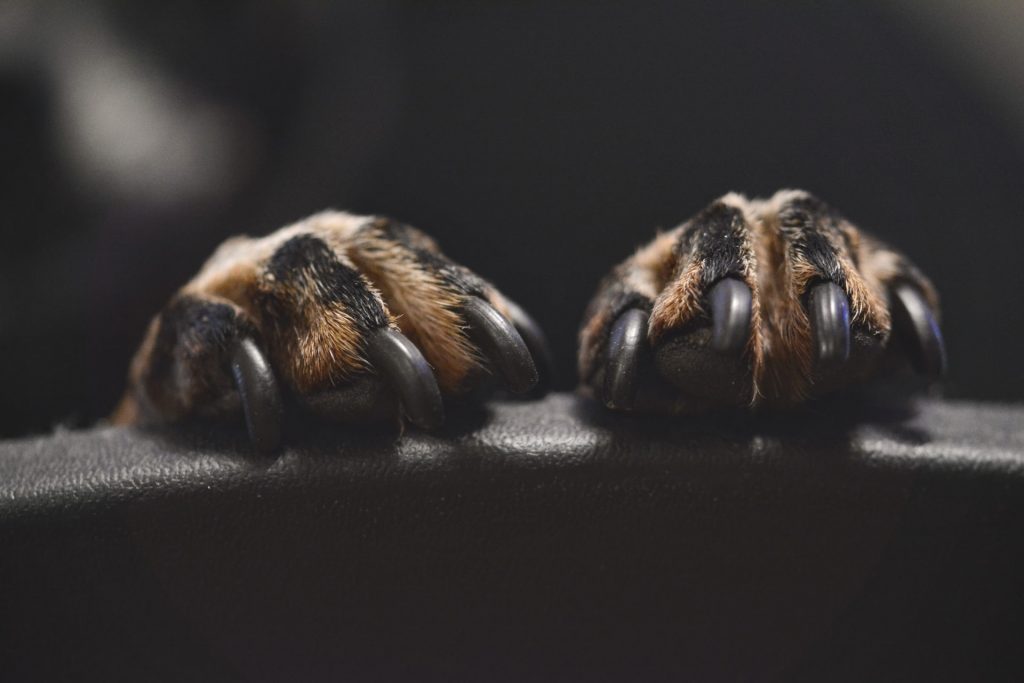 If you've heard your dog's nails clacking across the floor, it might be time to do a nail trimming. But what is the best instrument to properly get a pup's nails looking short and smooth?
At The Pets Master, we think nail grinders are the best way to file down overly long or rough dog nails. Nail grinders are easy to use, give you more control over how quickly and short you cut, and are much easier to maneuver than nail clippers.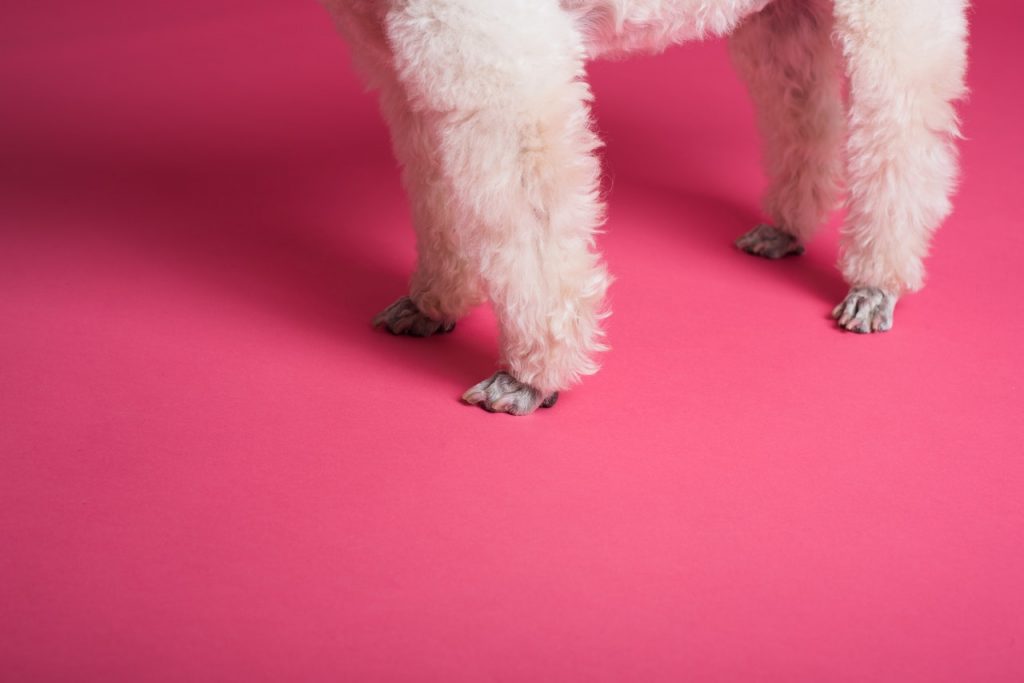 We're big fans of how rounded and smooth our dog's nails are after using a nail grinder, keeping them from catching on clothes or furniture. We especially recommend nail grinders for those scared of cutting to the quick of their dog's nails. No should have to endure those sad, scared yelps.
So, to help you find the best nail grinder for your needs, we've put together this extensive list of our favorites, as well as answers to the most common FAQs.
Jump to a section
How we pick – What to look for in a grinder
Why a nail grinder instead of clippers?
Will this tool be stressful for my dog?
How often should nails be trimmed?
---
Our top picks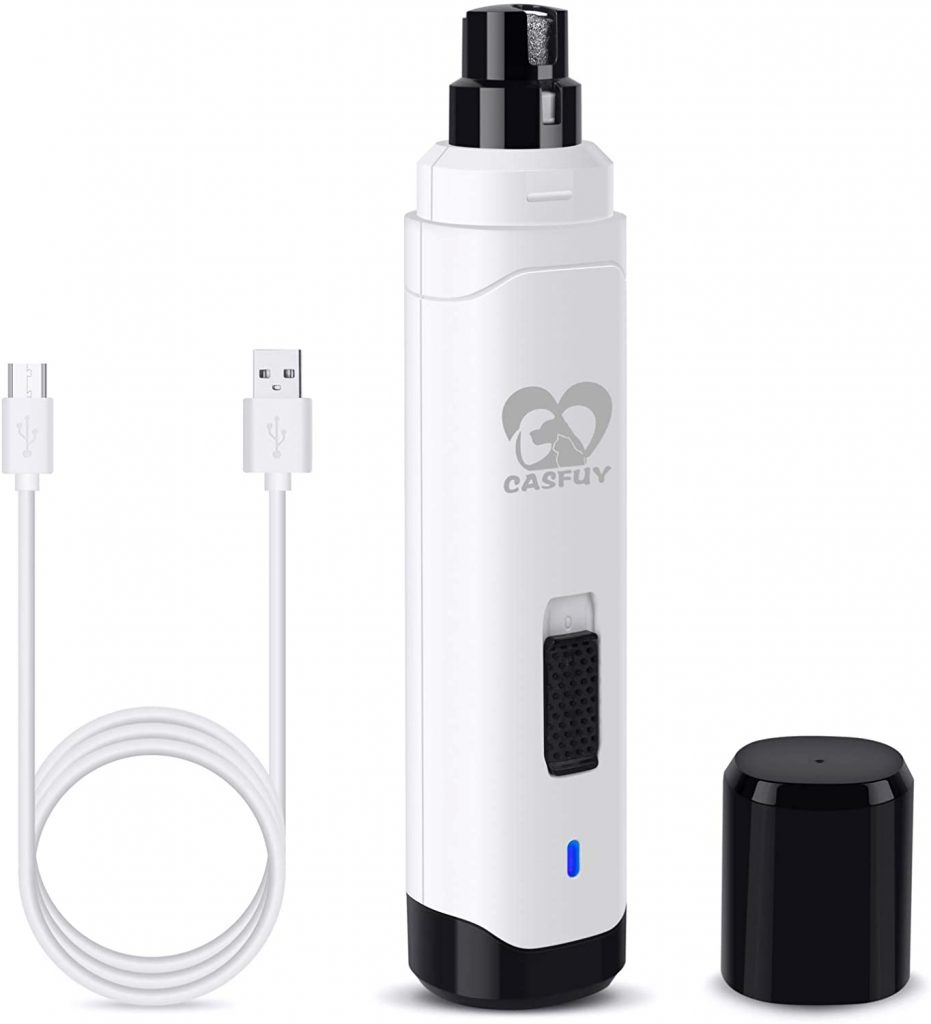 Best Overall
The Casfuy checks all the boxes on our list of features for the best dog nail grinder.
Casfuy Dog Nail Grinder uses a diamond drum bit grinder to safely and effectively file away your dog's claws. The easy-to-handle machine comes with 3 different grinding ports, each designed for different pet sizes. And the protective sleeve prevents filing the nails too close to the quick.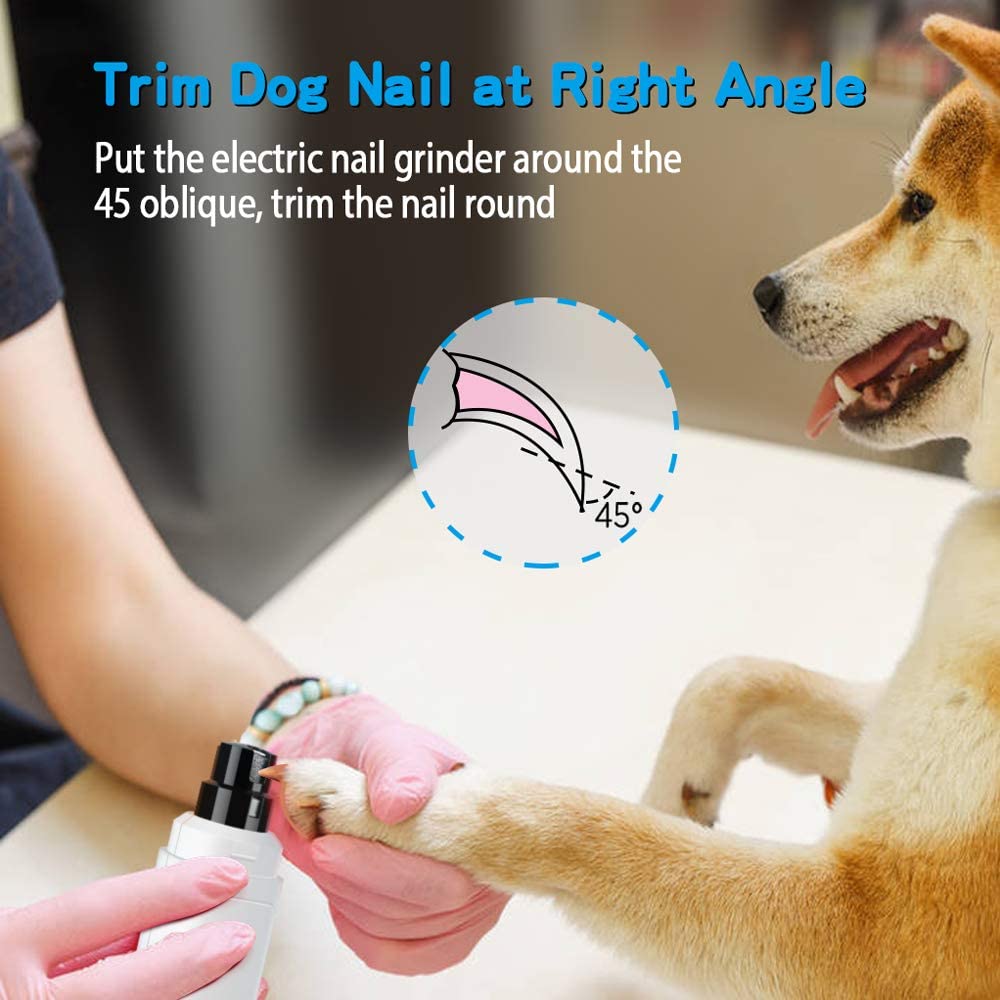 Added to the different port sizes are the two varying speeds available with the Casfuy. The differing speeds give you the control you need to safely file away nails. Despite the higher speed option, this versatile nail grinder is very quiet. For dogs with fears of unknown sounds, the Casfuy is a wonderful, quiet option with minimal vibration.
Finally, the Casfuy Nail Grinder is cordless and keeps a 2 hour charge, giving you plenty of time to work on all paws. The shape of the grinder allows it to sit easily in left or right hands and is extremely lightweight. It's no wonder the Casfuy is a favorite of so many dog owners.
Pros
Quiet motor
Works for varying dog sizes
Easy to hold
Comes with warranty
Cons
May take longer for large dogs
---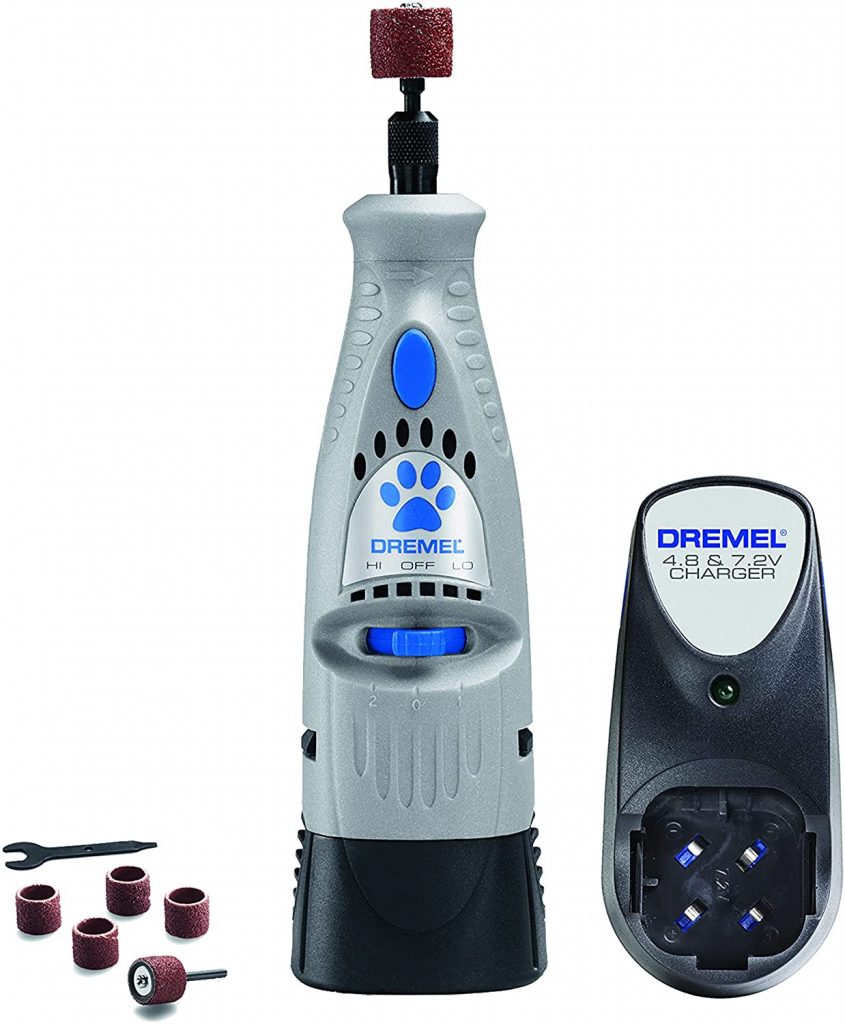 Best for second choice
A solid second choice with most of the features of our number 1 option.
Dremel has created a powerful handheld, cordless nail grooming tool. The grinder offers 2 rotation speeds, making it great for the different stages of filing. It also comes with several sanding drums, so you'll have a variety to choose from for your specific needs.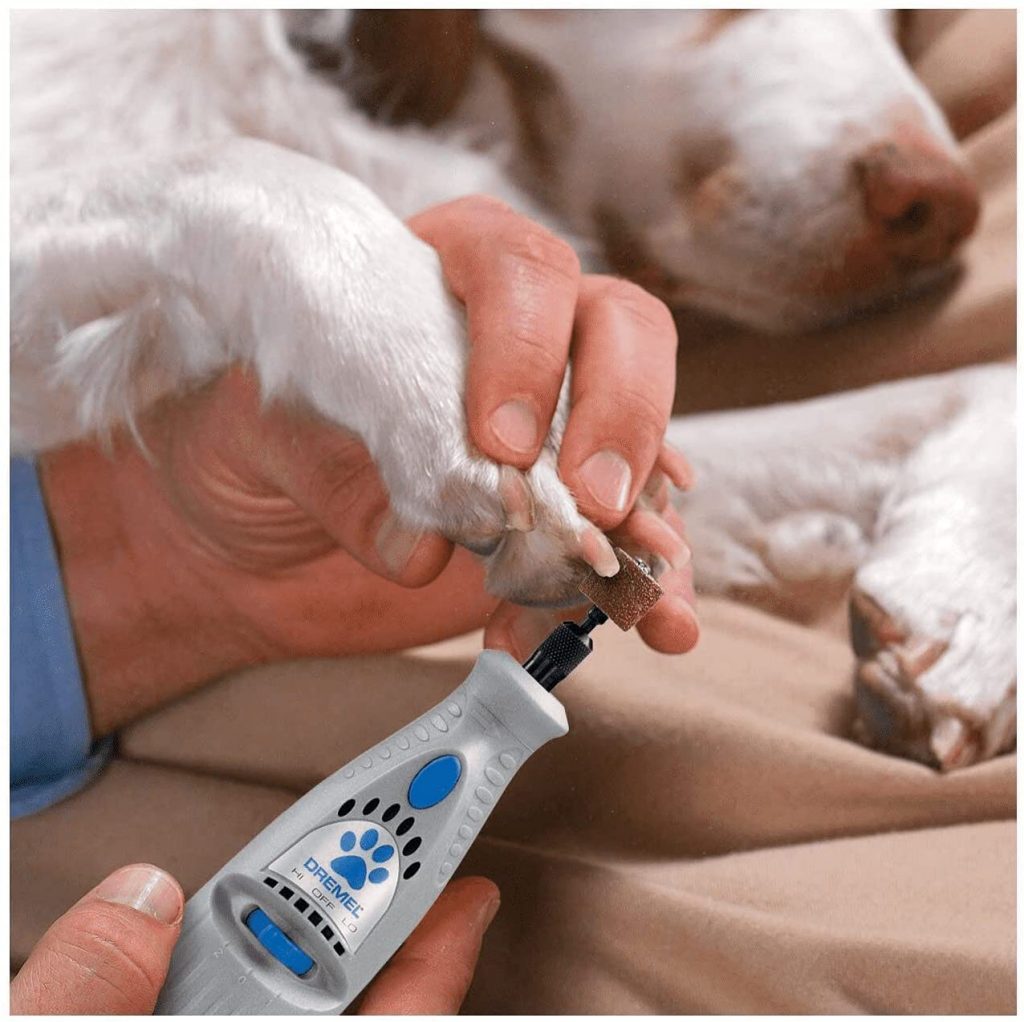 We're huge fans of the lightweight machine and appreciate its long battery charge. The Dremel 7300-PT also comes with a warranty to give you peace of mind with your purchase. The only downside to this particular dog nail grinder is it's a bit bulky and the motor can get loud at its faster speeds. We would also prefer it to have safety guards for smaller dogs.
Pros
Powerful motor
Multiple sanding drums
Cordless
---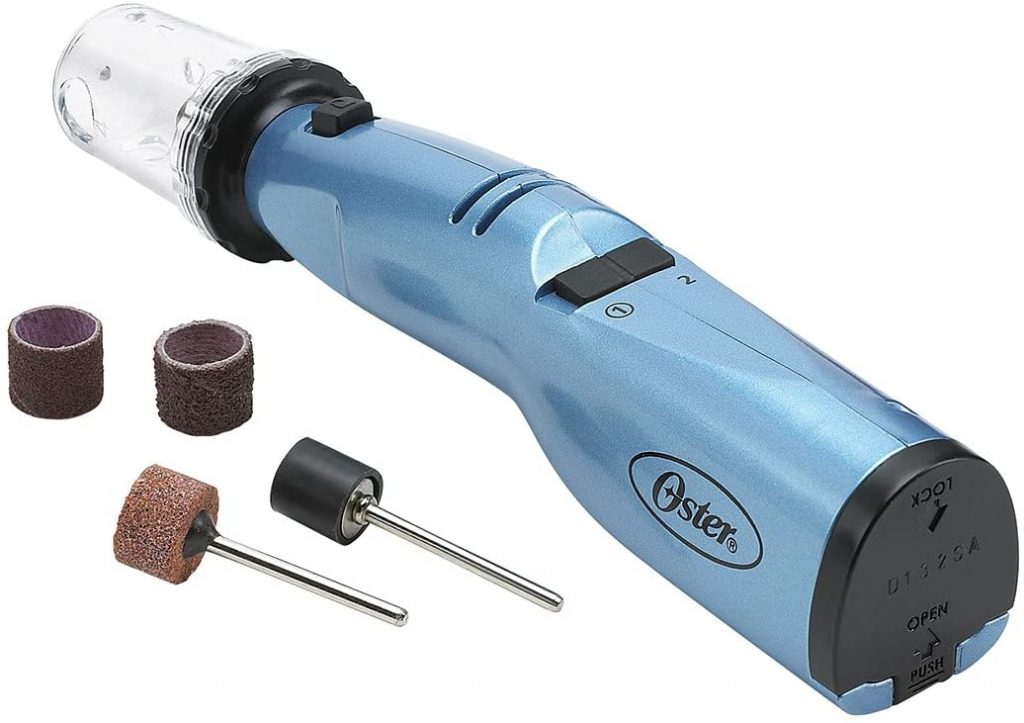 Best for small dogs
Perfect for smaller paws, this dog nail grinder is quiet and gentle.
The Oster Gentle Paws Nail Grinder is the ideal tool to file down your small dog or cats claws. The grinder comes with multiple stone sanding drums, a fine band for polishing and 2 coarser ones for actual filing. And to keep your pets little paws safe, it also comes with an adjustable safety guard.
The Oster grinder is cordless and powered by batteries, so you don't have to worry about charging times. And pet parents have raved about how long the batteries last, with some using it weekly for 6 months! The tool is lightweight, but still packs a punch with its two speeds.
Pros
Specifically for small dogs
Powerful motor
Includes safety guard
Cons
Loud on highest power
Won't work on thicker nails
---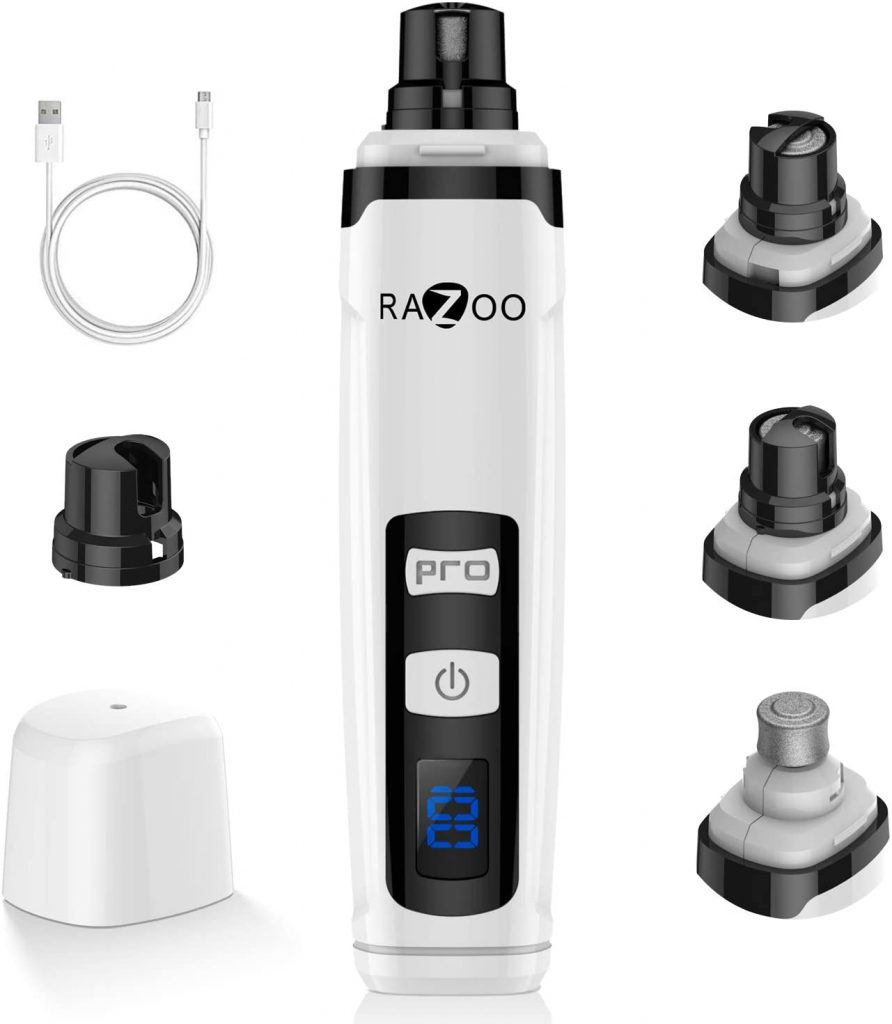 Best for big dogs
A tough nail grinder for dogs with larger, thicker nails.
The Razoo is a quiet, but powerful nail grinder designed to keep your pet's nails short and polished. The nail grinder has two running speeds. Use the highest speed to trim the worst of the nails and the slower one for precision and polishing. The rechargeable, cordless machine comes with a safety guard for added protection.
The Razoo fits in both left and right hands and is very quiet with minimal vibration, perfect for first-time users of dog nail grinders.
Pros
Quiet motor
Long-lasting charge
Powerful for thicker nails
Cons
Can require more time for thicker nails
Some complaints of heat
---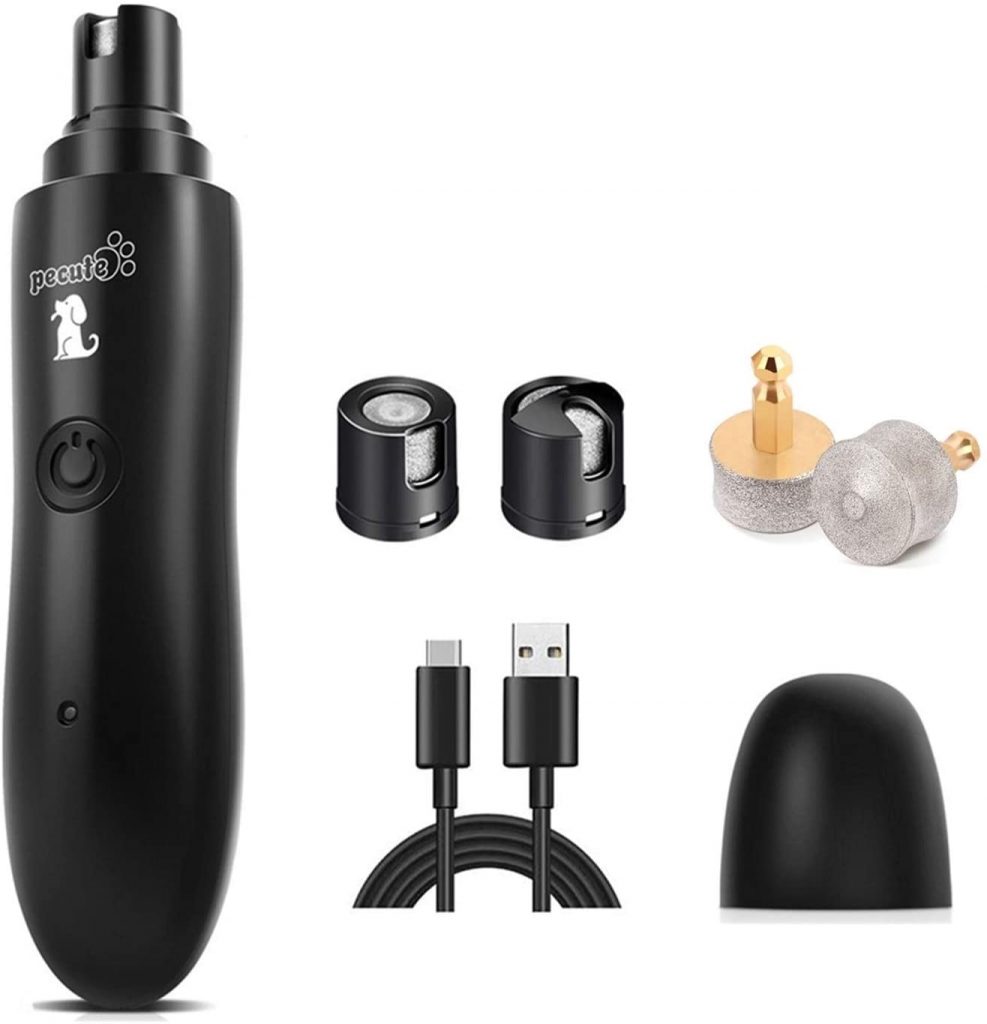 Best for jumpy dogs
If you're dogs scare easily, try this extra quiet dog nail grinder.
The Pecute dog nail grinder is smaller than many of the options on our list, making it the perfect option to introduce jumpy dogs to the machines. The compact grinder is cordless and comes with 2 sanding drums with safety guards. The 2 speeds make controlling the filing process so much easier, especially for easily scared dogs.
Most importantly, the Pecute is ultra-quiet, at less than 50 decibels. The quieter engine and minimal vibration make this a must-have nail grinder.
Pros
Super quiet
14 hour charge
Easy to maneuver
Cons
May not work with thicker nails
Dulls quickly
---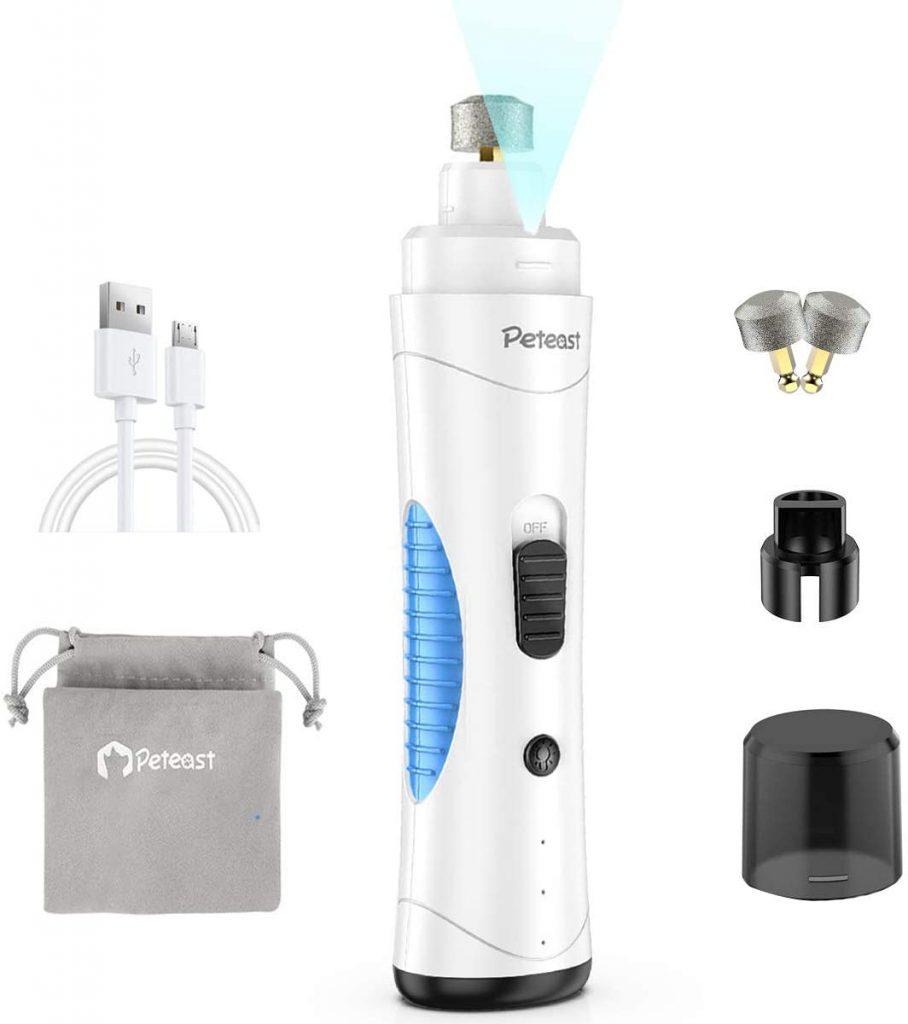 Best for multiple dogs
If you have multiple dogs of varying sizes, this dog nail grinder is the perfect multipurpose option.
The Peteast dog nail grinder is a cordless, quiet dog nail grinder that will work for big and small dogs alike. The powerful motor, with 2 speeds and 3 grinding ports, allows you to switch from dog to dog, getting a beautiful filed nail each time. The Peteast also includes a light to better see and has a 10 hour charge.
Pros
Works for varying dog sizes
No-slip grip
Safety cap
Cons
Louder at higher speed
Some complaints sanders aren't course enough
---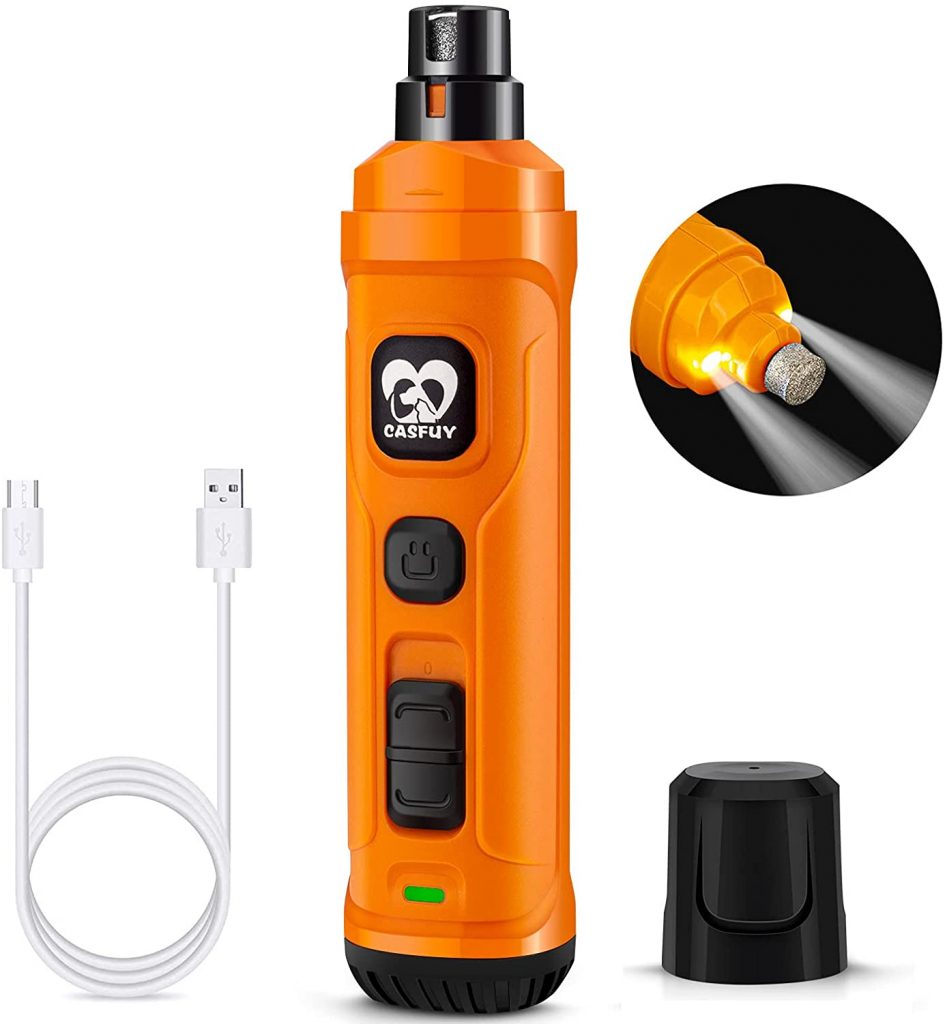 Best with a light
See exactly what you're doing with this nail grinder with an intense LED light.
You've already seen the Casfuy on this list and that's because this brand makes the best pet nail grinders on the market. The Casfuy with LED Light is ideal if you want to have a clearer view of your dog's nails as you work. The powerful, cordless grinder still comes with all the benefits of our favorite choice, with the added benefit of the LED light.
Pros
2 LED lights
Powerful motor
Low noise
---
How we pick – What to look for in a nail grinder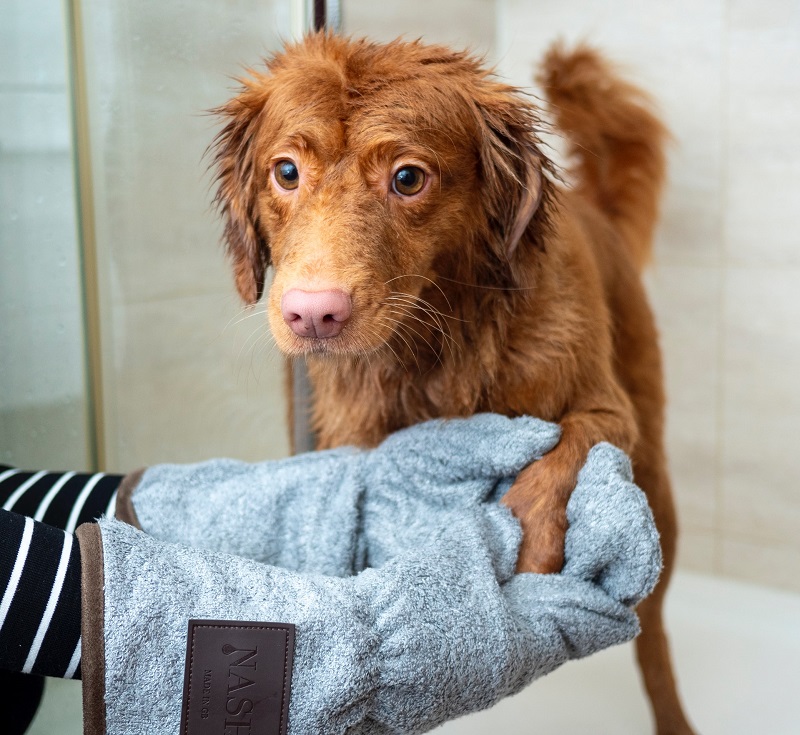 At The Pets Master, we want to be transparent in our rating process. We pick the items on our list with very specific criteria in mind. Not only does this criteria help keep the quality of our recommendations high, they also make finding a nail grinder easier for you.
These are some of the key things we keep in mind when picking our top dog nail grinders.
Power source
Cordless dog nail grinders are much easier to manage, making moving around your dog less of a task. While corded options are perfect for groomers who might need to use them for hours at a time, a cordless nail grinder is perfect for at home use.
Maneuverability
We picked dog nail grinders that can be held in either hand and easily maneuvered. Because using a nail grinder is already going to take focus, we opted for those that sat in the hand without too much strain.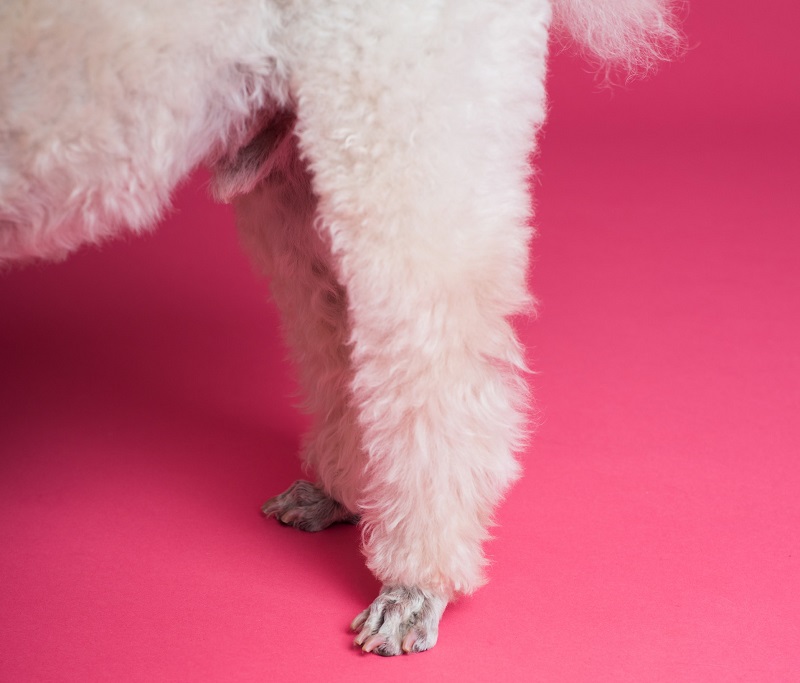 Rotation Speed
When looking for a nail grinder, you'll want to make sure the rotation speed is adjustable. We picked dog nail grinders with adjustable rotation speeds, making it easier to work with different nail thicknesses.
Weight
Heavier nail grinders are often more powerful, but hard to hold. We picked a variety of dog nail grinders of varying weights so you could pick whether you wanted a stronger motor in a heavier body or a lighter option with less power.
Noise
We know our pups can get jumpy at strange noises, which is why it was important for us to pick quieter nail grinders.
---
Why a nail grinder instead of clippers?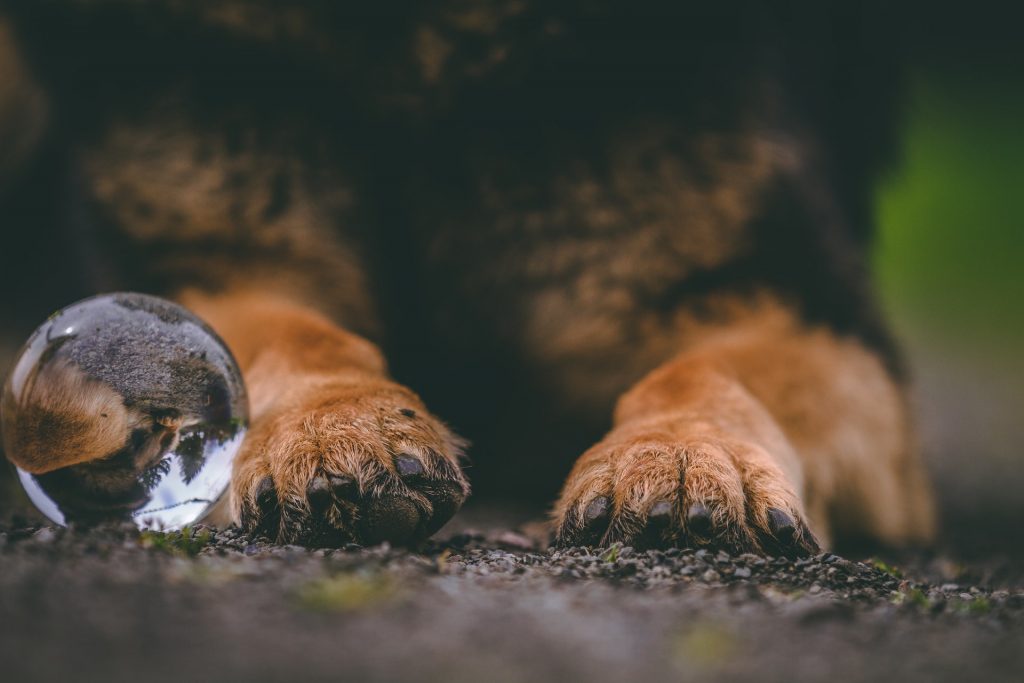 The biggest reason to get a nail grinder instead of nail clippers is clippers can cut off too much nail too fast. Because clippers are so sharp, without proper care, they can cut to the quick of your dog's nails. This can lead to pain, bleeding, and even infection.
Nail grinders file away excess growth in a more deliberate way. While it's still possible to file away too much nail with a grinder, it takes a lot longer and your pup will usually let you know when you're getting close.
Nail grinders provide more control over the nail trimming process than nail clippers, which can be brutal and painful.
Another reason to pick a nail grinder over clippers is grinders file nails to a rounded tip, while clippers leave sharp edges. It is possible to clip and then file down, but filing really does give a better finish.
---
Will this tool be stressful for my dog?
Most groomers agree using a grinder is a less stressful experience for dogs. Because clippers can very easily take off too much nail, causing pain and bleeding, they can traumatize dogs. Filing with an electric nail grinder gradually works away the nail, which can be a much more pleasant experience for dogs.
However, it's important to note that dog nail grinders do make noise and vibrate. To best make sure your dog is comfortable around a nail grinder, you should gradually introduce the machine. Give your pup time to adjust to the noise and take your time filing the first few attempts you make.
Follow your dog's prompts and adjust accordingly.
---
How often should my dog's nails be trimmed?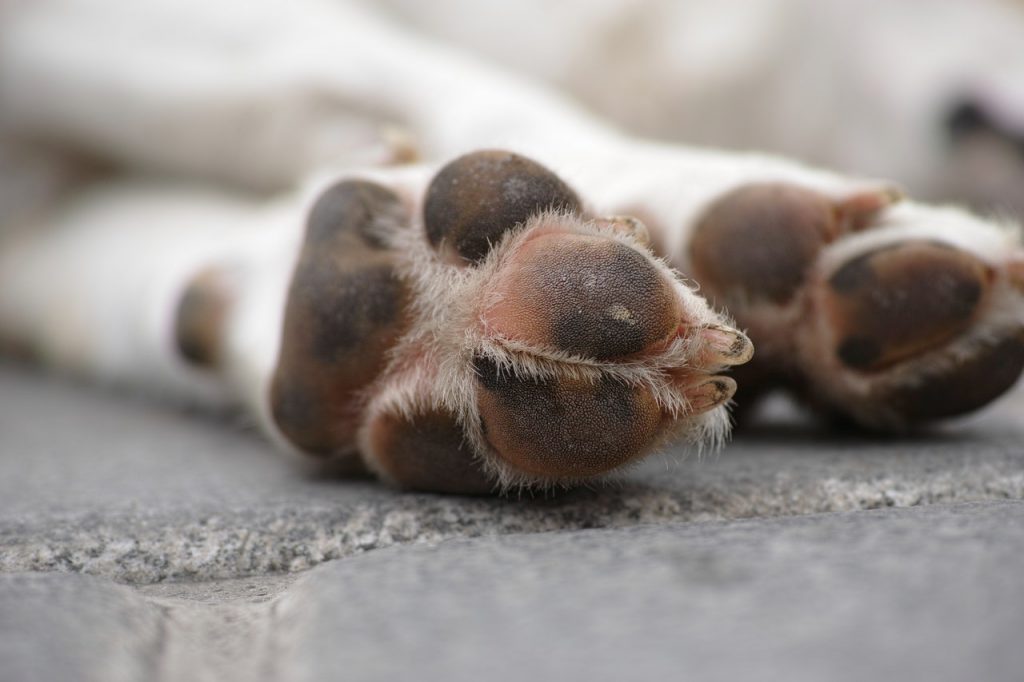 In general, you want to grind down your dog's nails every other week. However, if your dog's nails grow slower, just listen for that very distinctive sound of nails clacking on the floor. Your dog's nails should never touch the floor.