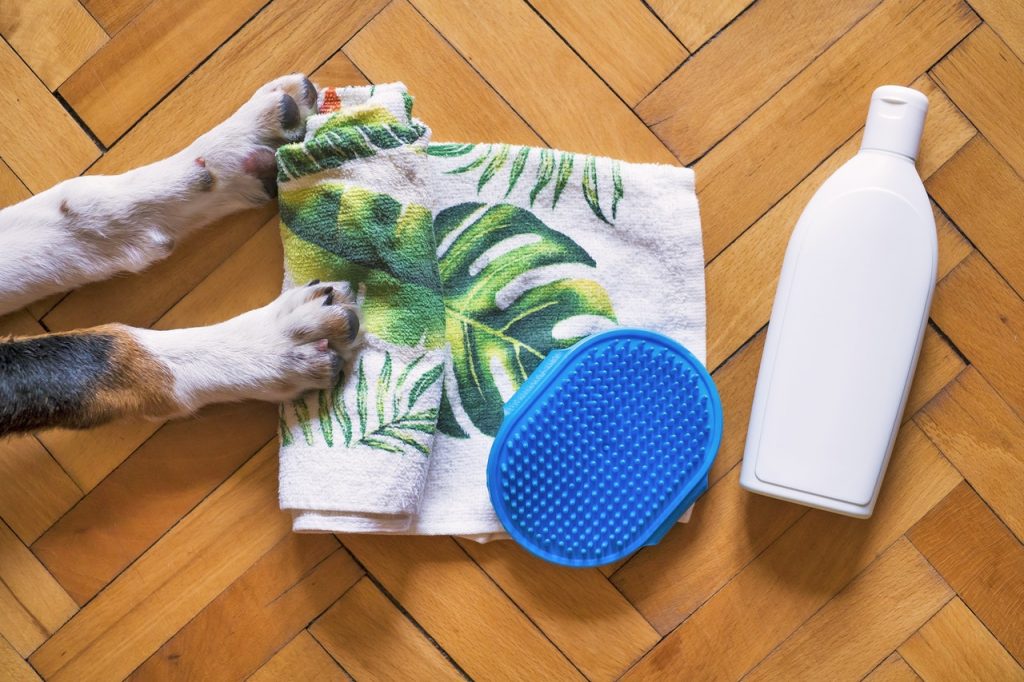 No one likes the smell of musky or wet dog. And we especially hate when that smell starts sticking to our furniture and clothes. We know it's not our dog's fault, but why did they have to roll in that mud or jump into that pond?
To combat the worst smelling dog in your life, we've put together a list of the best smelling dog shampoos available.
Can I really make my dog smell better?
Yes, you can!
And you'd be surprised at how easy it is to keep your dog smelling fresh for longer, without increasing how often you bathe them.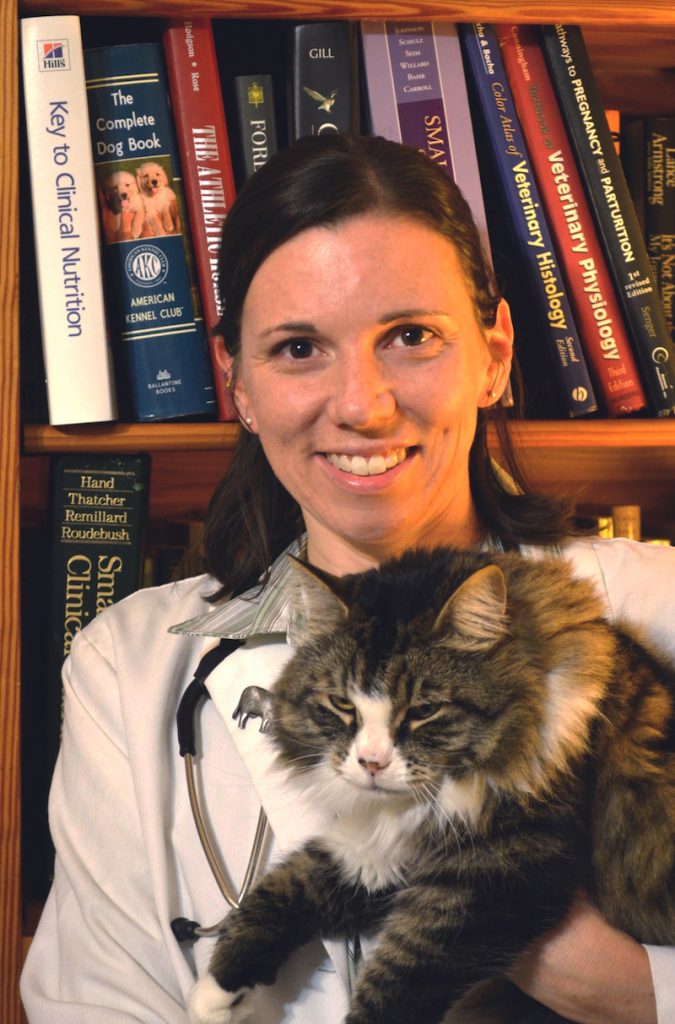 "Most dogs shouldn't be bathed more often than once a month. More frequent baths can cause skin issues and itching. In between baths, use a waterless shampoo, dog cleaning wipes, or pet colognes to clean them up and give them a fresher scent."
Dr. Chyrle Bonk, DVM
There are several ways you can keep your dog smelling fresh and clean for longer. To learn more details on how, check out the How do groomers make dogs smell so good section below.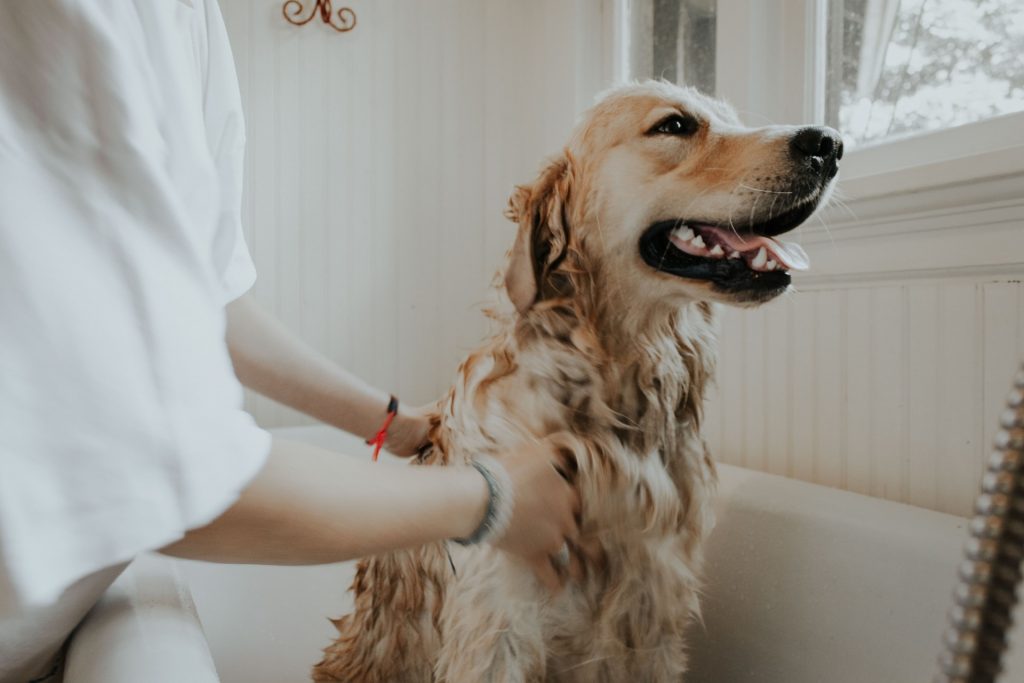 How long will the good smell last?
How long a dog smells good completely depends on their fur, skin, and what products are being used. Often, if you're washing, conditioning, and drying your dog properly, they can stay smelling fresh for 10-14 days.
This doesn't, of course, take into consideration running through mud or rolling in that indiscernible green goop at the park.
If you want to keep your dog smelling fresh for longer, consider grooming wipes or a waterless shampoo to use between more comprehensive baths.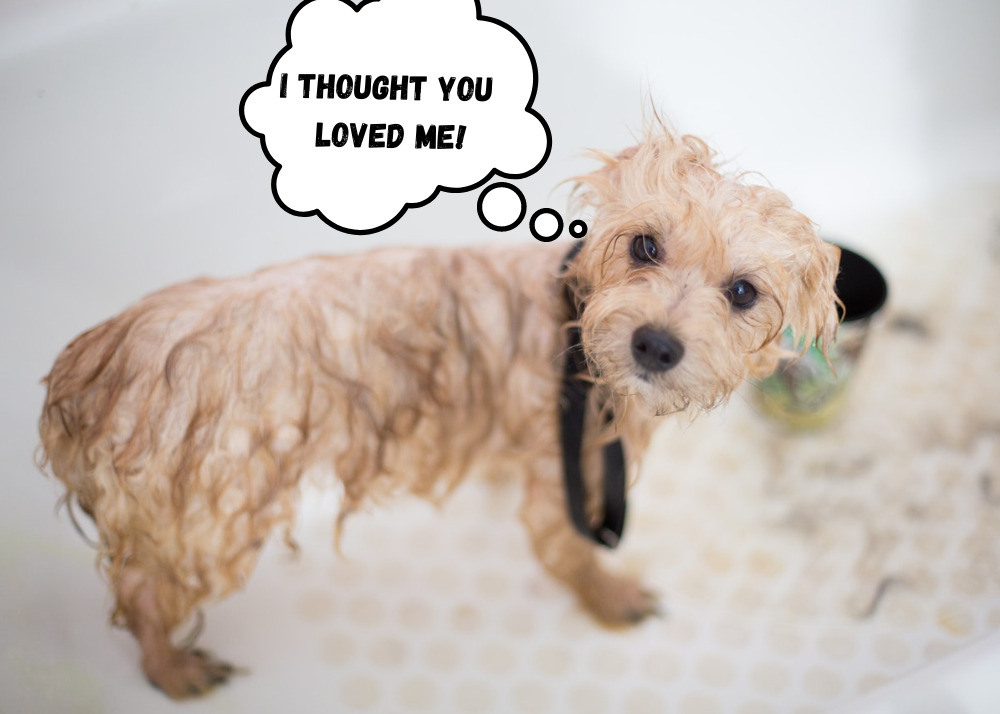 Jump to a section
Our top picks
Our process for choosing
The secret to how groomers make dogs smell so good
How do I avoid that "wet dog" smell?
Does a dog need a conditioner?
---
Our top picks
Get your fur baby smelling clean and fresh with our favorite shampoos that smell oh-so-good!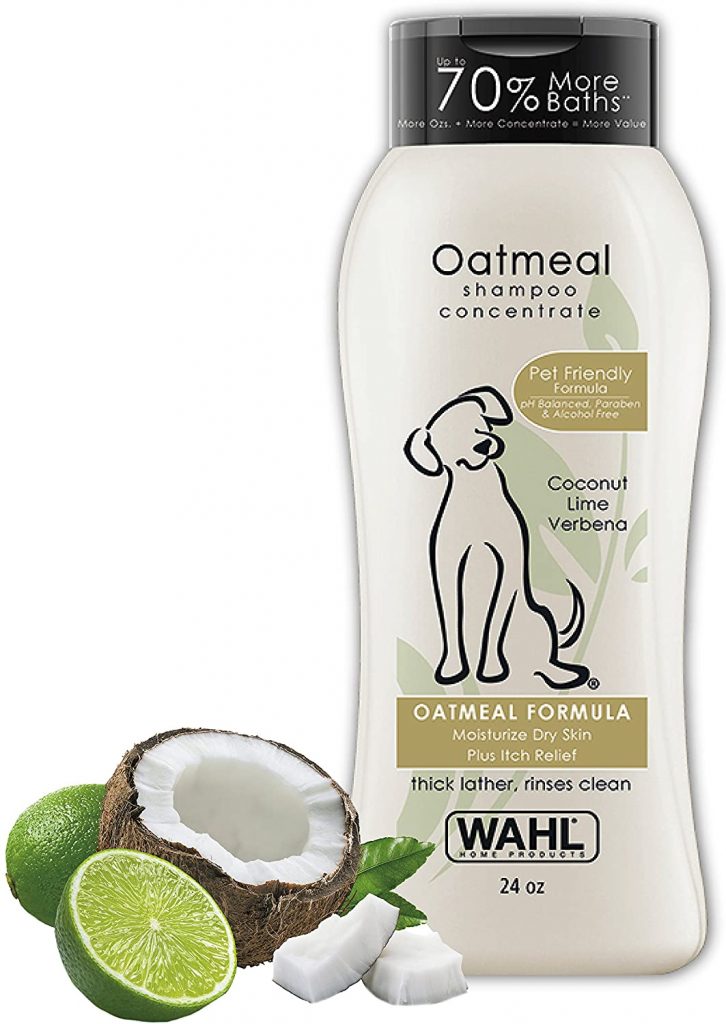 Best Overall
Our favorite shampoo for a deep clean and fresh smell
Our number one choice for the best smelling shampoo is Wahl Dry Skin and Itch Relief Pet Shampoo. The alcohol-free, paraben-free shampoo is made with oatmeal, making it pH balanced and gentle on your dog's skin. The superb formula in this shampoo makes it a favorite with pet owners and has a reputation for being intensely moisturizing.
Wahl's shampoo isn't just completely natural and moisturizing, it also smells fantastic. Because the shampoo is concentrated, you only need a little bit to get clean, refreshing coconut, lime, and verbena smell. Even better, the shampoo also comes in a lavender chamomile scent!
What makes Wahl's even more spectacular is it combines a great smell with a deep clean. The concentrated formula creates a rich, thick lather that will get to the roots of your pups fur, cleansing and moisturizing. And with the thicker lather, you'll be able to rinse the shampoo out faster than your regular pet shampoos.
We love Wahl's Dry Skin and Itch Relief Shampoo for so many reasons, but what makes it better than the other options on this list is its history for being using by groomers and vets for over 50 years. Its stellar history combined with its all natural ingredients, scent, and cleaning power make this an easy favorite.
Pros
100% natural ingredients
Moisturizes skin
Anti-itch
Concentrated formula
Deep cleans
Allergy-friendly
Cons
Some reviewers complain of shedding post-use
---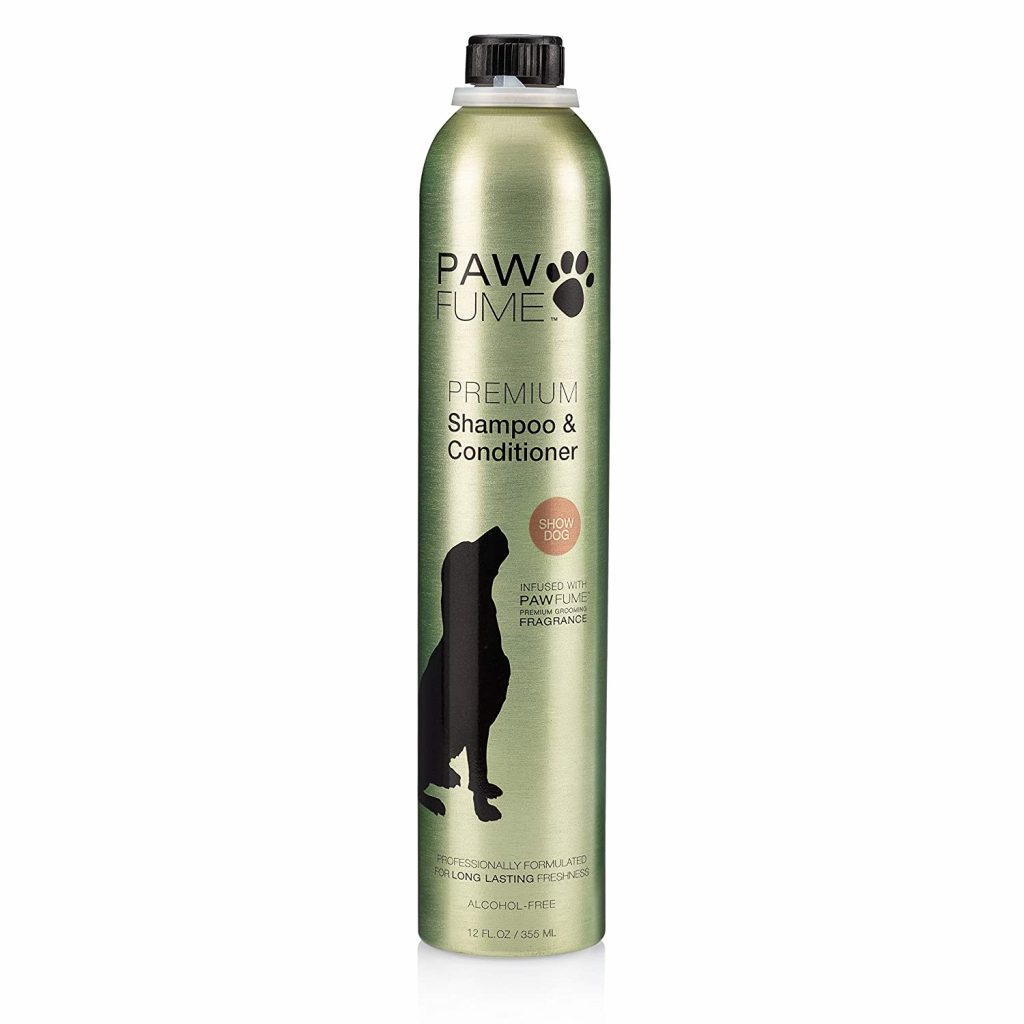 Also great
Pawfume guarantees its fresh smell, making it a fantastic runner-up
Pet parents cannot stop praising Pawfume for its amazing smell, and with good reason! The professional shampoo and conditioner combo includes a perfume, which leaves your dog smelling clean and fresh longer. In fact, Pawfume promises a freshness that is 5 times longer than its competitors!
Of course, the smell of Pawfume is only half the reason the shampoo is our runner-up. The pH balanced shampoo and conditioner is hypoallergenic and comes with only the best ingredients. Every product by Pawfume is alcohol, sulfate, and paraben-free, with a cruelty promise. The thought and dedication to their product can be seen in what ingredients Pawfume uses, but also what ingredients it leaves out.
Pawfume isn't just about keeping your dog's hair smelling good, it's also about a truly deep clean. The natural botanical ingredients in Pawfume provide a penetrating clean, keeping your dog's skin free of buildup, too. And since fur health starts at the roots, the more you use Pawfume, the healthier, brighter, and fresher your dog will become.
While we're fans of Pawfume Premium Shampoo and Conditioner as is, the return policy of the company has also won us over. If you're unhappy with your purchase, you can return the unused portion and receive a full refund, no questions asked.
Pros
Long lasting, fresh smell
Shampoo and conditioner combined
Detangles
---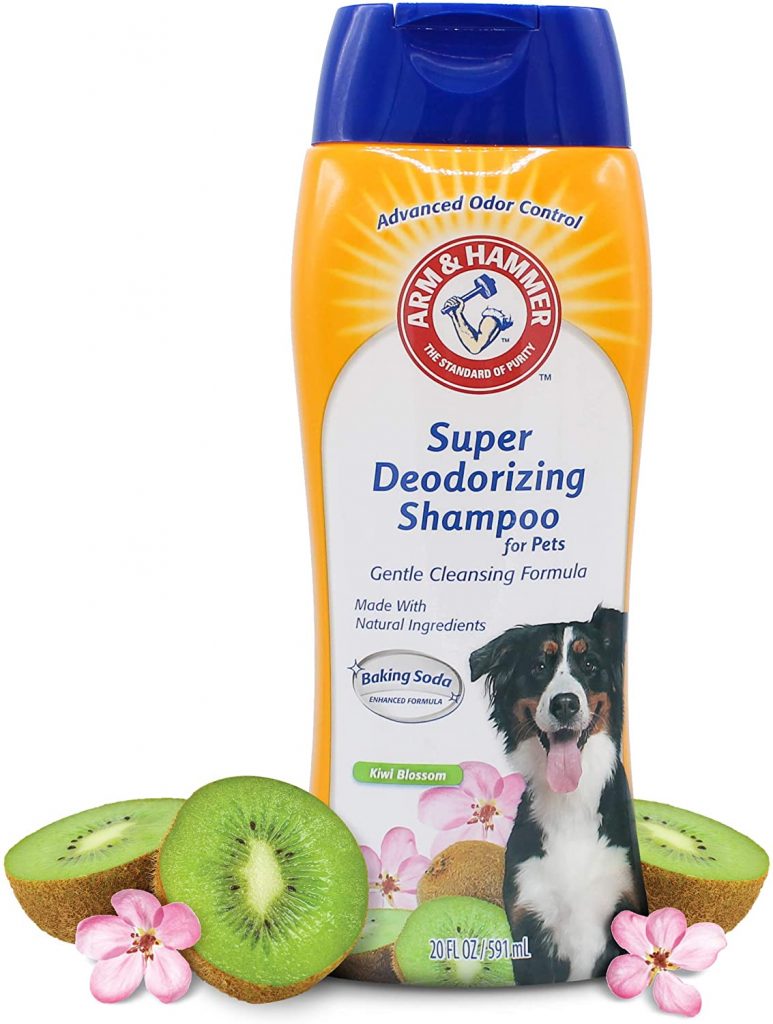 Best on a Budget
Less money and great quality are the perfect combination
Arm & Hammer has been a juggernaut in the cleaning industry for over a century, so it makes sense their dog shampoo would be a favorite. As with most Arm & Hammer products, the foundational ingredient of this shampoo is baking soda, naturally and gently combating smelly puppies.
To keep your dog smelling clean for days, Arm & Hammer has infused its baking soda particles with rose, white tea, and kiwi. As the baking soda breaks down it creates a thick lather to clean your dog's skin and fur. The result is a beautifully smelling dog that will shed less.
Pros
Natural ingredients
Free of SLS and parabens
Naturally combats odor
Inexpensive
Cons
Can dry out skin
Scent may be too light for some
---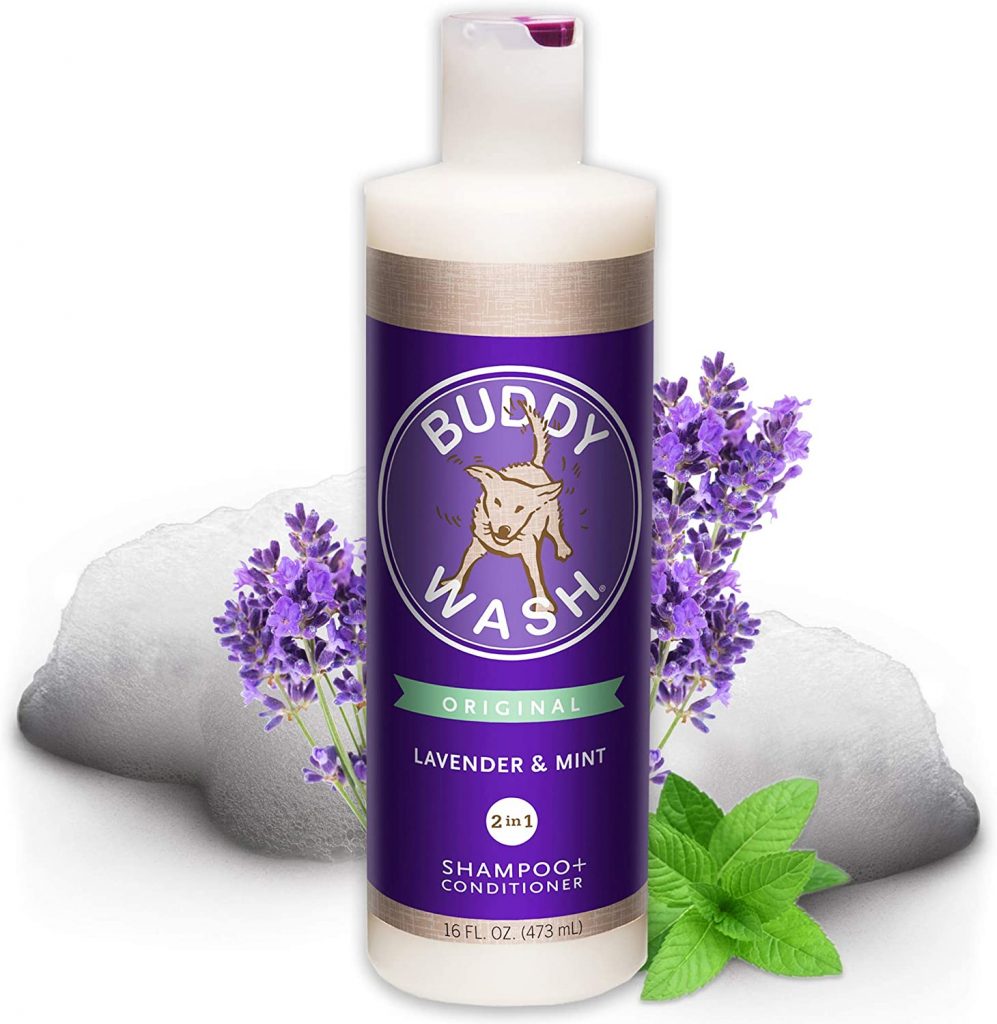 Best for short hair dogs
A shampoo that smells light and natural, but also keeps skin healthy? Yes, please!
Buddy Wash Dog Shampoo and Conditioner is a two-in-one cleanser that uses botanical extracts and essential oils to clean and refresh fur while also soothing your dog's skin. The soap-free shampoo creates a rich lather for a deep clean, but rinses out easily. And the best part is with natural ingredients like lavender, mint, sage, green tea, and chamomile, you don't have to worry about what you're exposing your dog to.
Because Buddy Wash is made with soothing natural ingredients, you can actually use it as frequently as needed. The gentle, invigorating shampoo is perfect for short haired dogs because the vitamin E included in the shampoo keeps the skin moisturized and soft.
Pros
Strong scent from botanical sources
Safe for puppies
Uses natural oils to moisturize
Cons
Some don't like the smell
No medium size – small (12oz) or large (gallon) only
---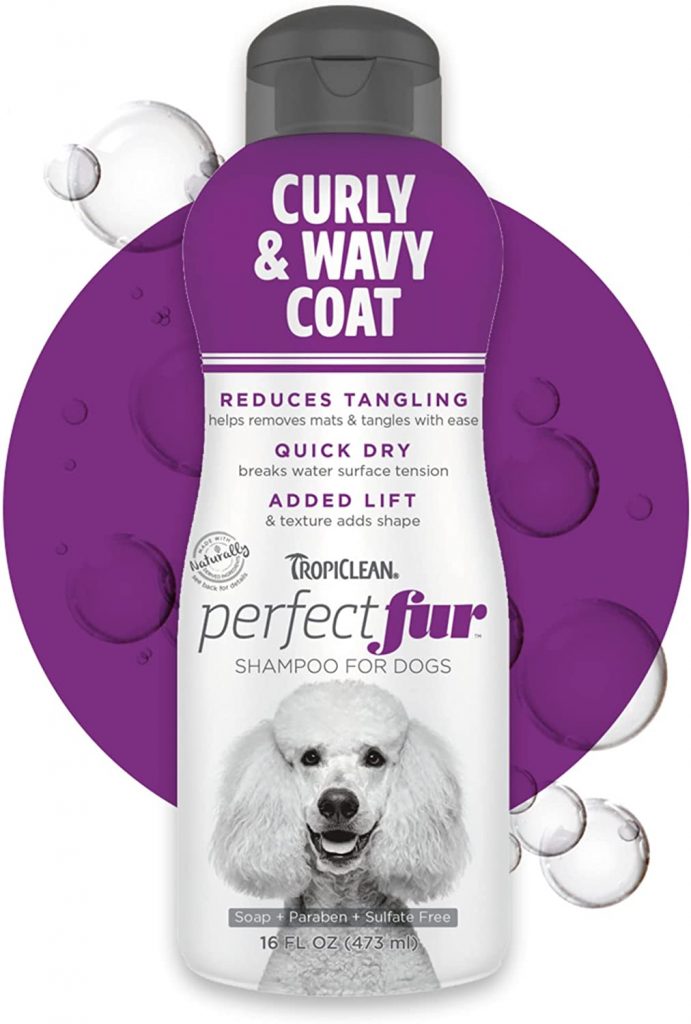 Best for long hair dogs
Keep your long-haired dogs locks silky and smooth with this favorite shampoo.
Dogs with long fur just have different shampoo needs than those with short fur. TropiClean PerfectFur has created a shampoo specifically for long fur dogs. The shampoo smooths out the follicles of the fur as it lathers, making it easy to detangle mats. As the natural ingredients in TropiClean PerfectFur break through the oils and dirt in your dog's fur, it lifts the fur and leaves coats looking thick, smooth, and shiny.
Pros
Smooths fur
Moisturizes skin
Breaks water surface tension
Cons
Some complain smell is too strong
---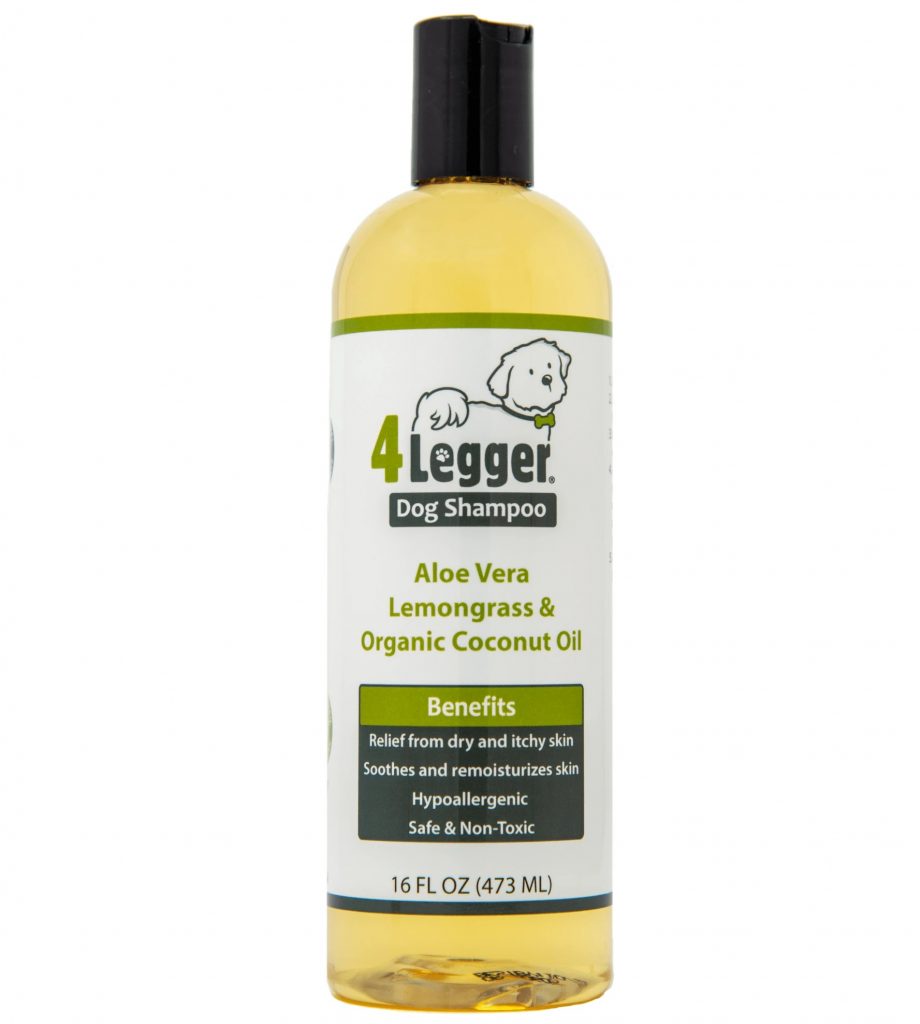 Best natural option
Keep your pup clean while also protecting the environment.
For those who want only the most natural ingredients for their dogs, 4-Legger Organic Dog Shampoo offers an effective and safe option. The shampoo contains absolutely no artificial ingredients and uses lemongrass as its main cleanser. The wonderful smell of the lemongrass combines with aloe vera to keep your doggos skin clean and moisturized.
Because of the pure ingredients in 4-Legger Shampoo, the product can be used on puppies and has even been used by a human or two!
Pros
Powered by natural ingredients
Lemongrass for smell and deep cleansing
Gentle on skin
Concentrated formula
Cons
Not tear-free
Can leave sticky residue
---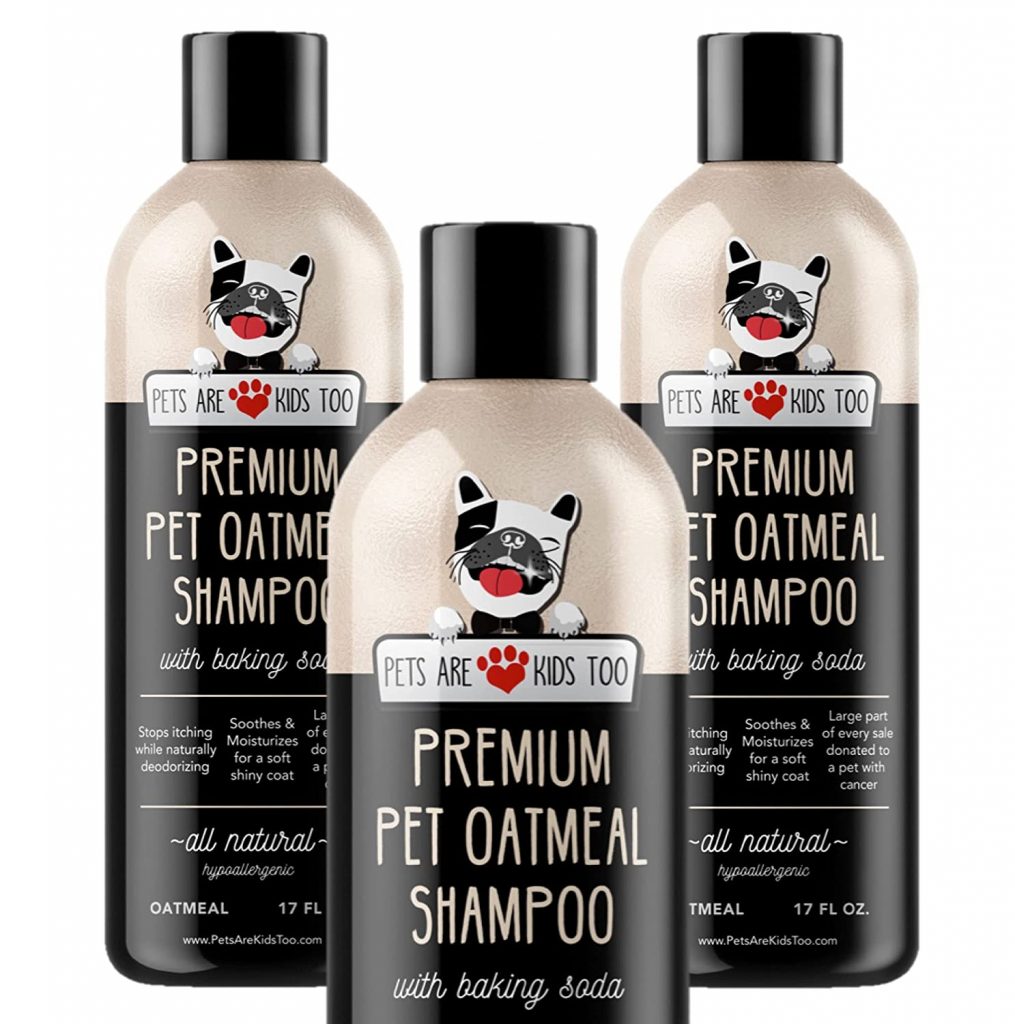 Best for sensitive skin
Fight the itch with this soothing oatmeal-based shampoo.
No one likes to see their fur baby in pain from scratching their dry and itchy skin too much. For dog owners who want to eliminate the itch, but without any harsh ingredients, Pets Are Kids Too is the perfect solution. The oatmeal-based shampoo includes baking soda, aloe vera, and coconut, all anti-itch ingredients. More importantly the ingredients are gentle on the skin, leaving the skin soothed and your dog's coat smelling fresh.
Pros
Oatmeal soothes skin instantly
Vet formulated
No harmful chemicals
Cons
Complaints of bad reviews being removed
Might not work for more extreme itching problems
---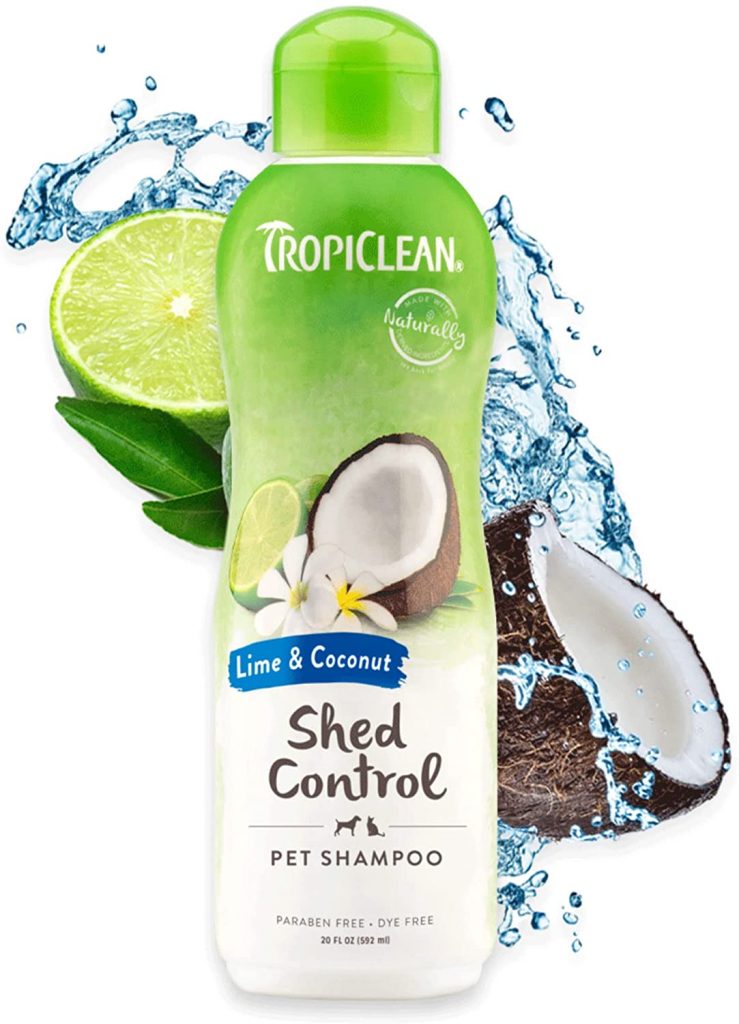 Best to stop shedding
Get that fur under control with our favorite choice to stop shedding.
TropiClean Shed Control Shampoo will help you fight your dog's dank smell and stop them from over-shedding. The shampoo works at the skin level and actually exfoliates away dry skin while also deeply moisturizing. As a result, shedding is stopped at the source. As an added bonus, the shampoo is scented with real coconut and lime, so your pup will smell fantastic and stop covering your couch in fur!
Pros
Decreases shedding
Fresh, tropical scent
Free of harmful chemicals
Cons
Has caused allergic reactions
Can cause dandruff
Smell can be overpowering for some
---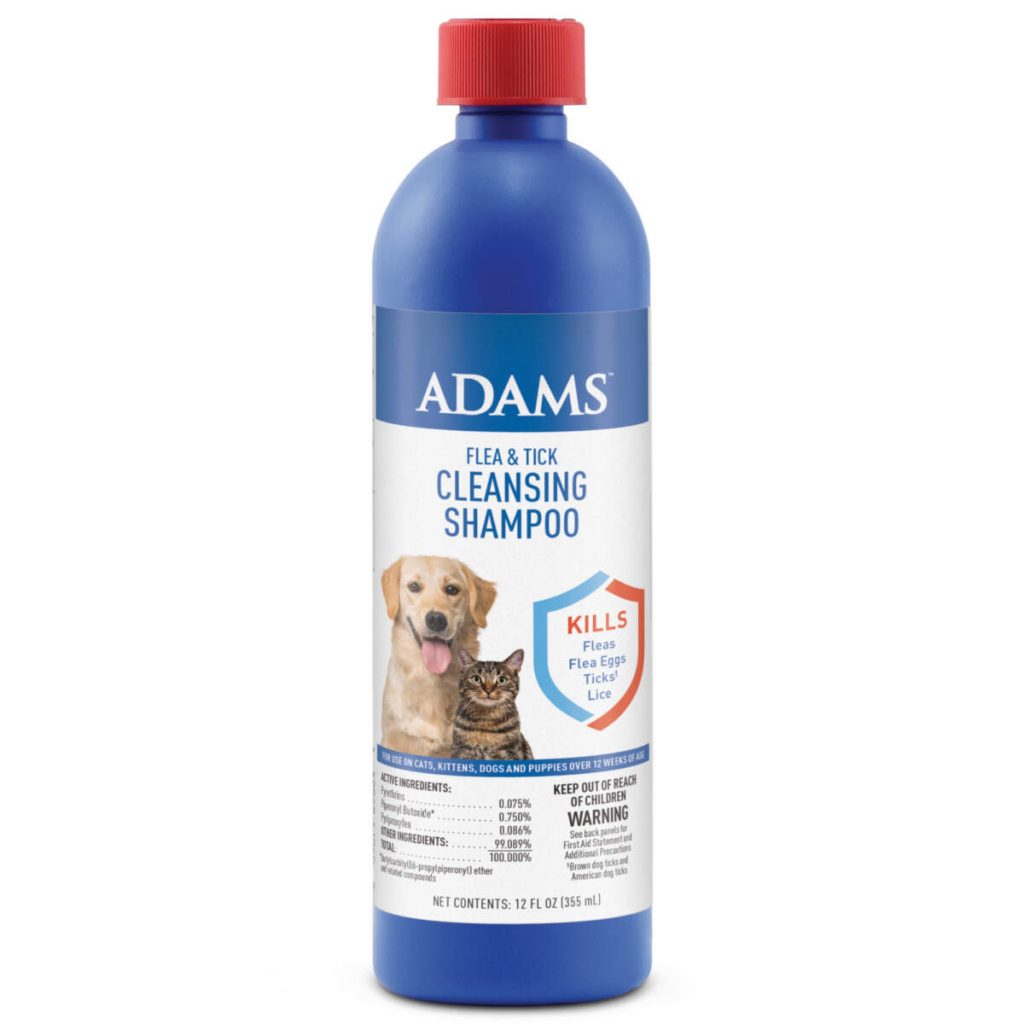 Best for fighting fleas
Protect your pup from fleas for up to 28 days with our favorite flea and tick cleansing shampoo.
Adams Flea and Tick Cleansing shampoo packs a triple punch. First, the shampoo kills fleas and prevents more infestations for up to 28 days. Second, the oatmeal, coconut, and aloe vera in the shampoo helps deeply moisturize your dog's skin and coat. And finally, this shampoo smells fantastic, leaving your pup with a light coconut smell.
Pros
Kills fleas and ticks
Prevents re-infestation for 28 days
Soothes skin
Smells fresh
Cons
Must be used very carefully around cats
May need to be used multiple times to break flea cycle
---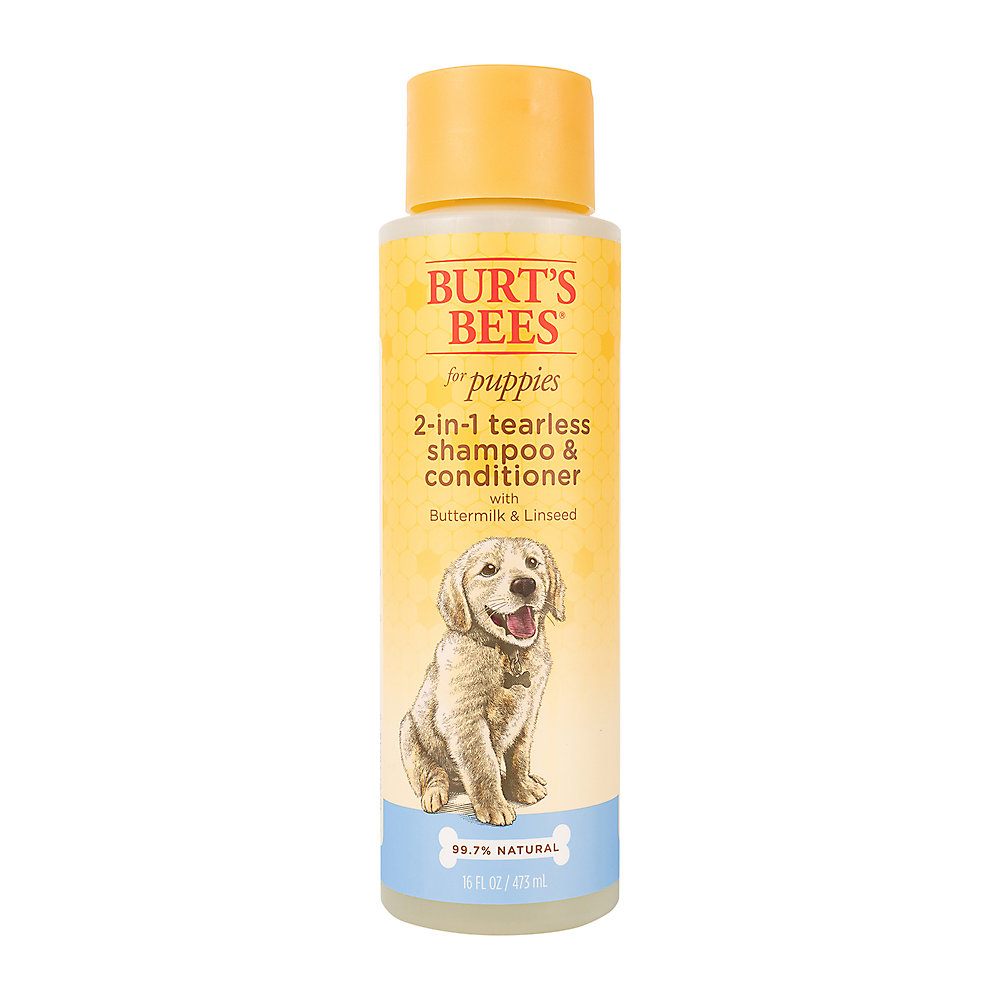 Best for puppies
An already trusted brand, Burt's Bees has crafted a safe shampoo for puppies.
Burt's Bees has made a name for itself with all-natural skin care products. Now, you can get the same level of care and attention to details in a shampoo perfect for your puppy. Burt's Bees uses buttermilk to nourish your dog's skin and linseed oil to keep it moisturized. As a result, your puppy will have a beautifully shiny coat and you'll feel confident you've used the best ingredients.
Plus, Burt's Bees scents its shampoo with lavender, leaving a light, natural smell that will last for days.
Pros
Natural ingredients
Soothing buttermilk and linseed oil
Tearless
Cons
Scent is light
Can take time to create lather
---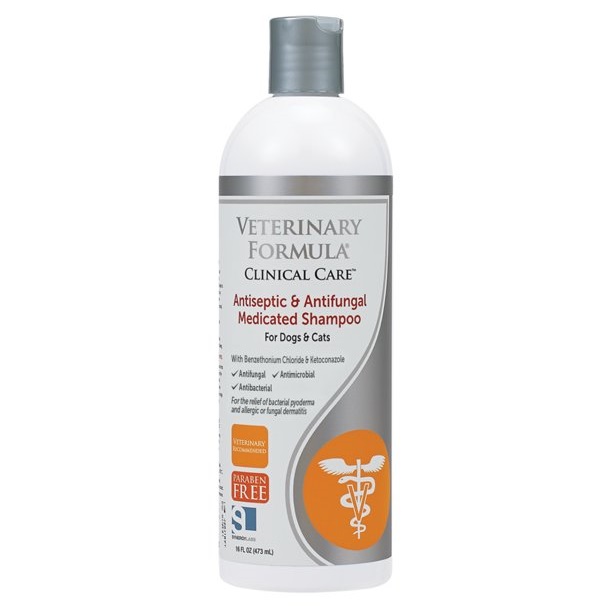 Best medicated shampoo
Combat those pesky fungal and bacterial problems with our favorite medicated shampoo.
Sometimes your fur baby will need just a little extra support from their shampoo. Veterinary Formula Clinical Care Shampoo is scientifically formulated to fight multiple skin and hair issues. The medicated shampoo treats bacterial and fungal infections, as well as hair loss, itching, and rashes.
A favorite amongst vets, the shampoo uses lanolin and aloe vera to sooth your dog's skin during treatment. And pet parents are thrilled that despite being a medicated shampoo, it leaves a clean, fresh smell.
Pros
Combats multiple infections
Soothes damaged skin
Smells fresh, not like medicine
Cons
Can't be licked
Doesn't help ringworm
Can take up to 2 weeks to work
---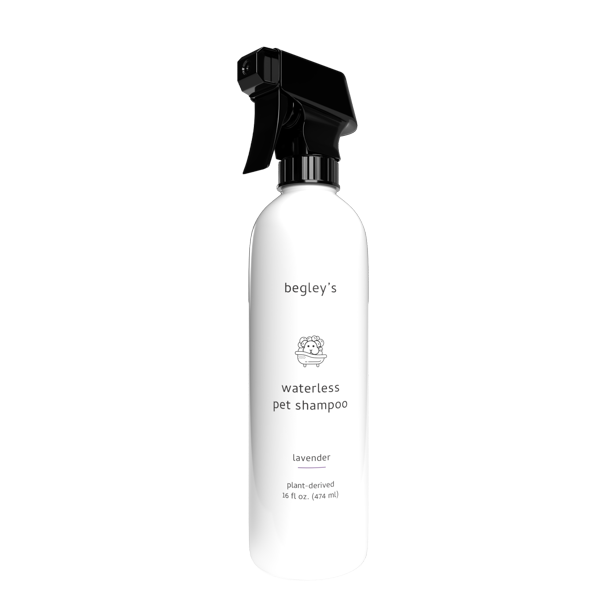 Best waterless option
Sometimes you just don't have the time to give a full bath.
For those times your pup just needs a quick spot clean, grab Begley's Natural Waterless Shampoo. The natural spray is free of harsh chemicals and has the most amazing fresh lavender smell. The easy-to-use waterless shampoo can be used to keep your dog smelling good between baths, but also cleans areas that can't wait.
Make sure to check out the other scents available. All are fantastic!
Pros
Deodorizes smelly fur
Keeps coat shiny
Can be used as face wash
Cons
Bottles can break
Some find the smell weak
---
Our Process – How we chose
We kept it very simple when it came to choosing the best smelling dog shampoos. For every product we came across, we asked the following questions:
What are the ingredients?
What do other pet parents say about this product?
How long does the smell last?
What additional benefits are there to this shampoo?
Would I use this on my dog?
By keeping our focus one the factors above, we were able to narrow down our focus and pick the best of the best dog shampoos.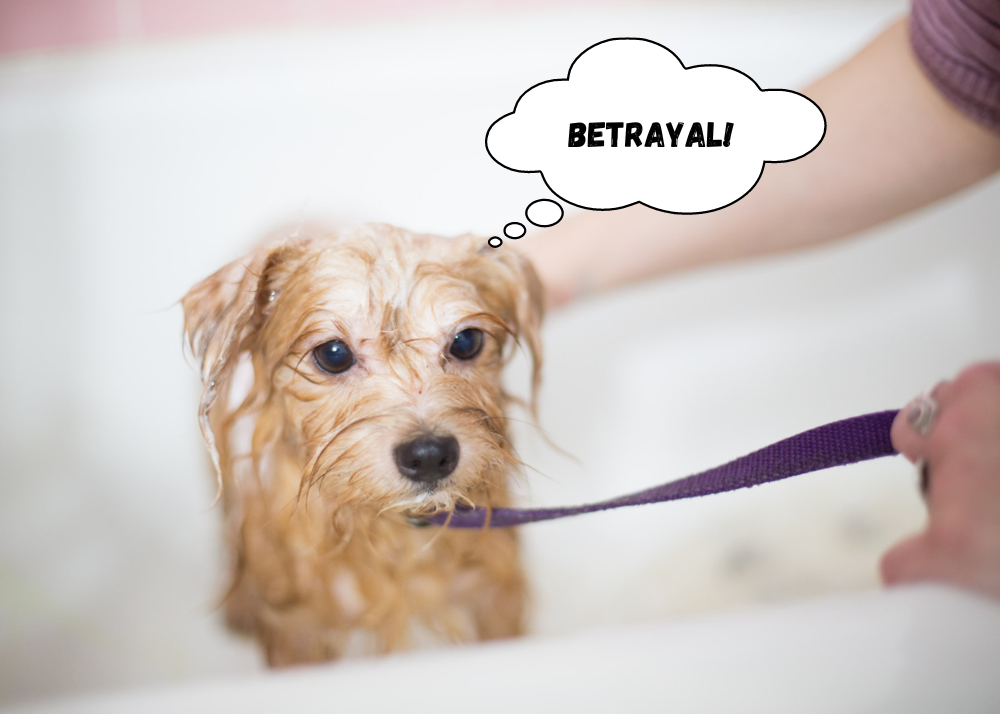 ---
The secret to how groomers make dogs smell so good
Groomers have several secrets to make your dog smell so amazing after a visit. First, they do a thorough hosing down with warm water, making sure every inch of your pup is both wet and cleaned. Then, they'll use a cleansing shampoo, possibly even washing twice if your dog is extra dirty.
The first secret for groomers is they then condition your pups fur. Because shampooing can stripe away important oils, it's important to replace that moisture. Leaving the conditioner in for a few minutes won't just keep your dog's coat smooth and shiny, it will keep pups smelling fresh.
Finally, after drying your dog, your groomer probably uses a pet-safe cologne or perfume. Just like on humans, perfumes leave a lingering clean smell.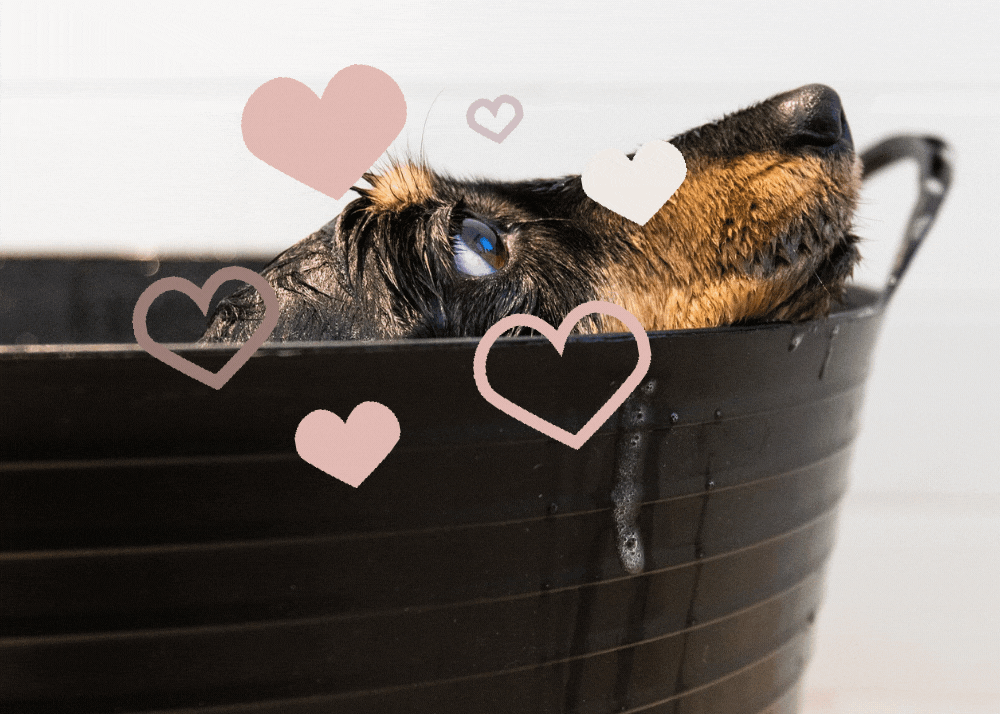 ---
How do I avoid that "wet dog" smell?
While this may seem like an easy answer, to avoid a wet smelling dog, you need to dry your dog. To be more specific, you need to dry your dog as soon as you notice any wetness.
And remember, drool counts as wet!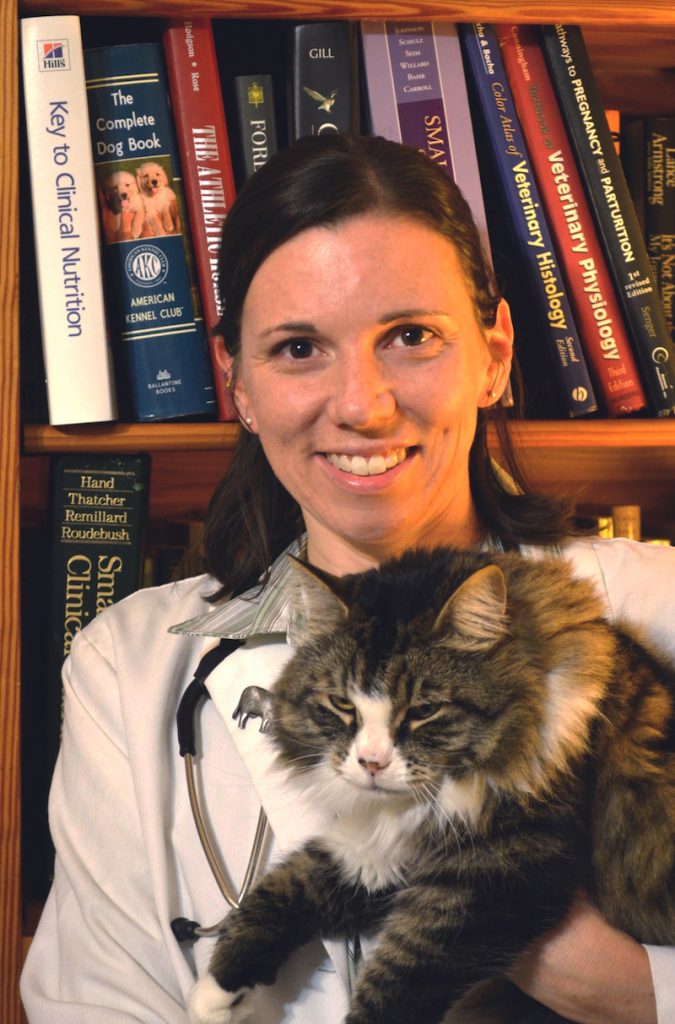 "That familiar dog smell comes from a combination of bacteria and yeast that live on a dog's skin and sebum, a natural skin oil on dogs. When you mix this with a little moisture, say from drool, playing outside, or vigorously drinking, you get a musky odor that can linger on your dog and in your home. Regular bathing and grooming are the best ways to prevent this normal but still unpleasant doggie odor."
Dr. Chyrle Bonk, DVM
Pay special attention to armpits and folds in the skin, as these secret areas are just magnets for moisture buildup.
For sensitive areas, grooming wipes or rubbing alcohol on a rag or Q-Tip can quickly eliminate strong odors, even the dreaded wet dog smell.
If you're still noticing a wet dog smell, consider purchasing a Dog Dryer to ensure complete dryness.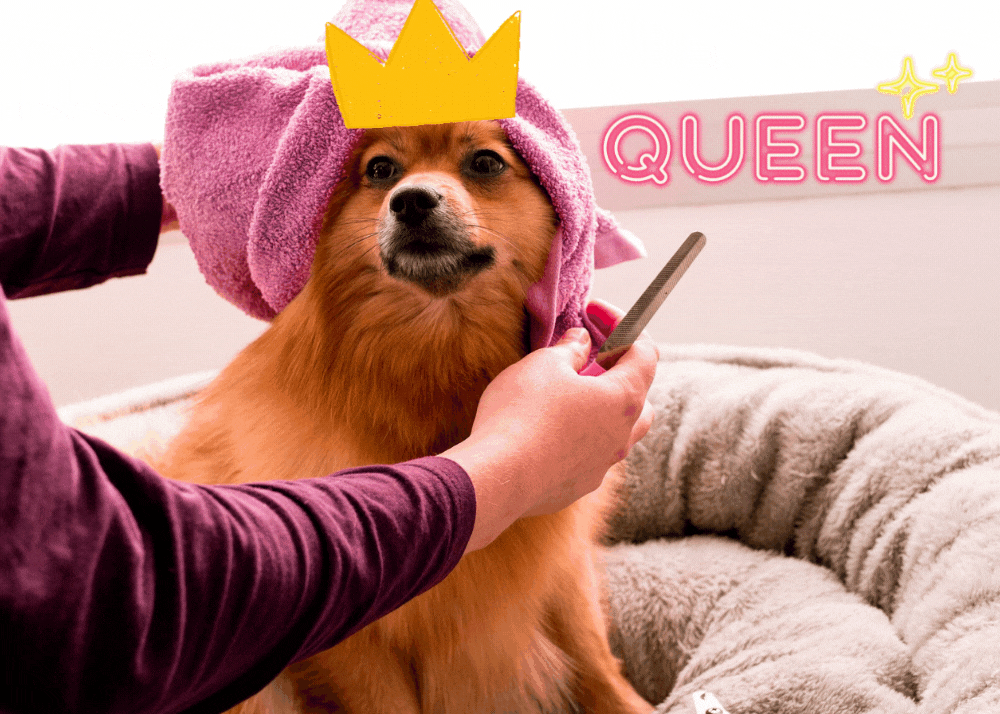 ---
Does a dog need a conditioner?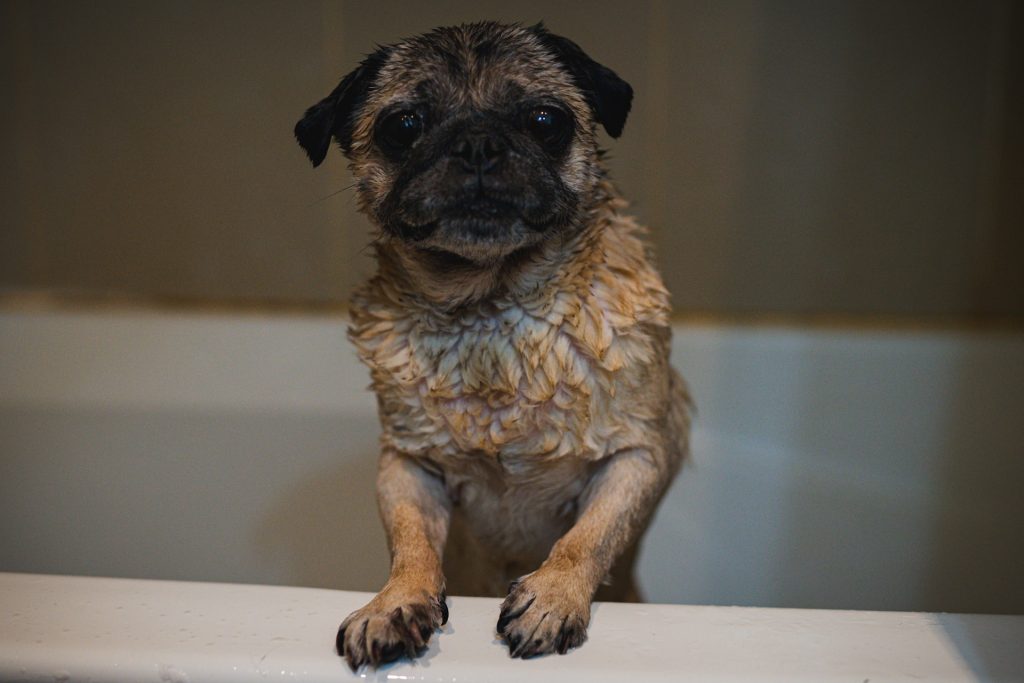 The short answer is yes!
Just like shampoo strips human hair of moisture, dog shampoos leave fur dry and more prone to tangling and holding on to musky smells. Conditioning your dog will add moisture to their fur, but also sooth and soften skin.
Dogs with long hair will benefit much more from conditioning, but if you wash your dog frequently, you should also consider adding conditioner to your bath routine.