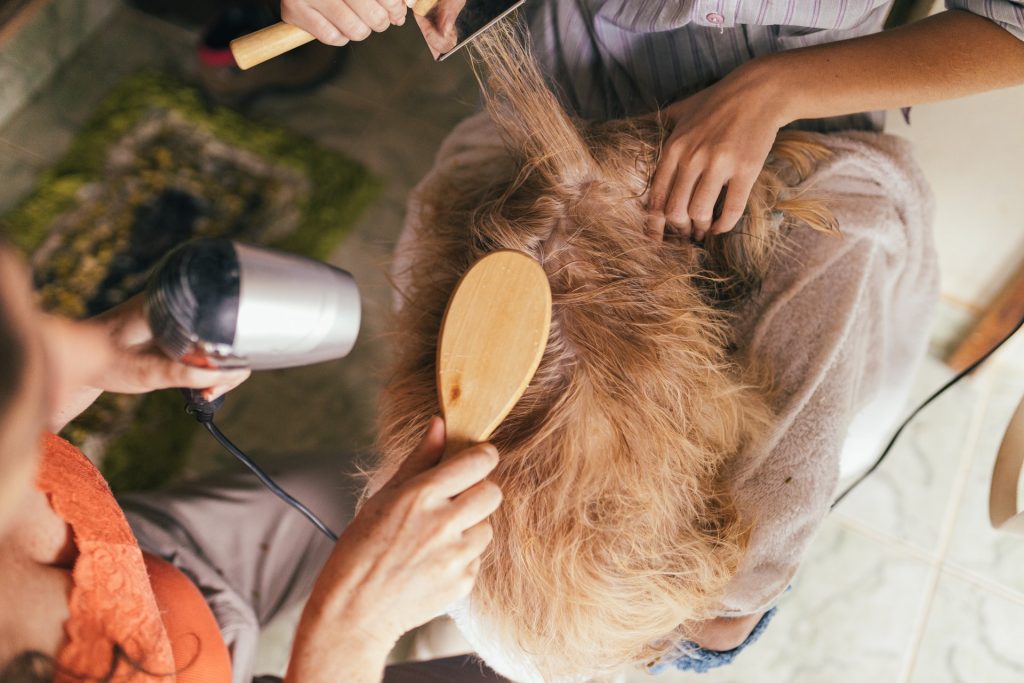 Short-hair dogs have very specific needs when it comes to their brushes. With their short hair, they might not need detangling brushes with long bristles, but they do need loose hair, debris, and dander to be brushed from their coat. Finding the right brush for your short-hair dog will help with a shiny coat and healthy skin.
Why brushing your short-hair dog is better for healthy skin and shiny coats
As a pet parent, you probably know better than most that different dogs have different needs. This is true for different breeds, dogs of different sizes, and, in the case of brushes, different hair or fur.
Short-hair dogs may not need their hair detangled, but they still need to be brushed regularly. You might have noticed, your short-hair dog sheds. A lot. One of the best ways to decrease how much your short-hair dog sheds is to brush away all that loose hair. In the process of brushing a short-hair dog, you'll also spread the oils their skin naturally produces, giving your dog a shiny, healthy coat. Brushing a short-hair dog also improves overall skin health. Think of brushing a short-hair dog as being almost like a massage. Brushing draws blood to the surface of the skin, stimulating blood circulation. A weekly brush session (or two!) with your short-hair dog can increase their skin health!
Quick links
Top pick
How we picked
Best brushing technique
How often should you brush your short-haired dog?
Synthetic vs. natural brush bristles
---
Our top picks
We've put together some of the best brushes for short-haired dogs. These brushes will keep your dog's skin healthy, decrease shedding, and keep their coat looking healthy.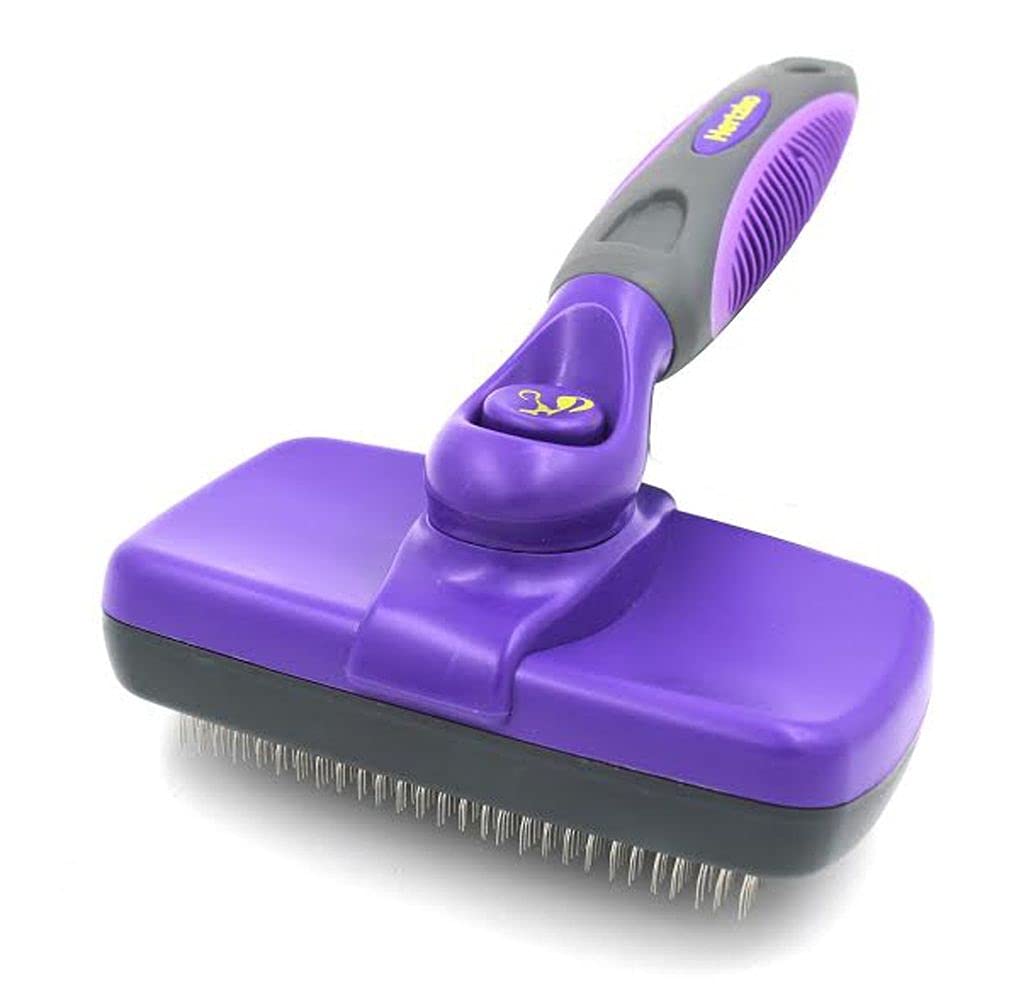 Best Overall
Our favorite short-hair dog brush ticks all our boxes, making it our go-to for our own short-haired dogs.
The Hertzko Slicker Brush works great for most pets with varying hair lengths. But, where this brush really shines is for short-hair dogs. The slicker brush gently and painlessly loosens and removes hair and releases trapped dirt and dander. The result is a clean dog with shiny fur and healthy skin!
The bristles of the Hertzko brush are fine and at an angle, making it easy to brush the fur without worrying about scratches. The durable, strong bristles are also fully retractable, keeping the brush bristles straight when being stored. However, what we love most about the retractable bristles is it makes for a super easy clean. Just wipe away hair and dander and you're good to go!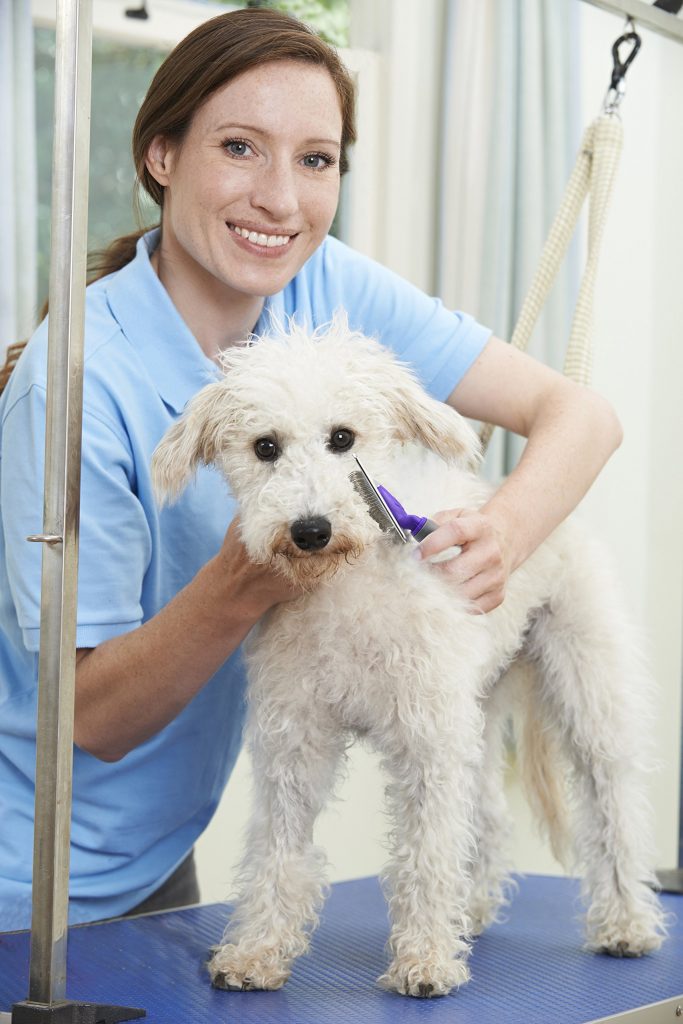 Brushes for short-hair dogs need to be comfortable for users, too, which is why we're big fans of the Hertzko. The anti-slip, comfort grip of the Hertzko keep your wrist and hand positioned well to prevent any aching or cramps. With our top pick brush, you'll actually enjoy grooming your dog!
Pros
Easy to use
Retractable bristles for cleaning
Easy storage
Supports healthy hair and skin
---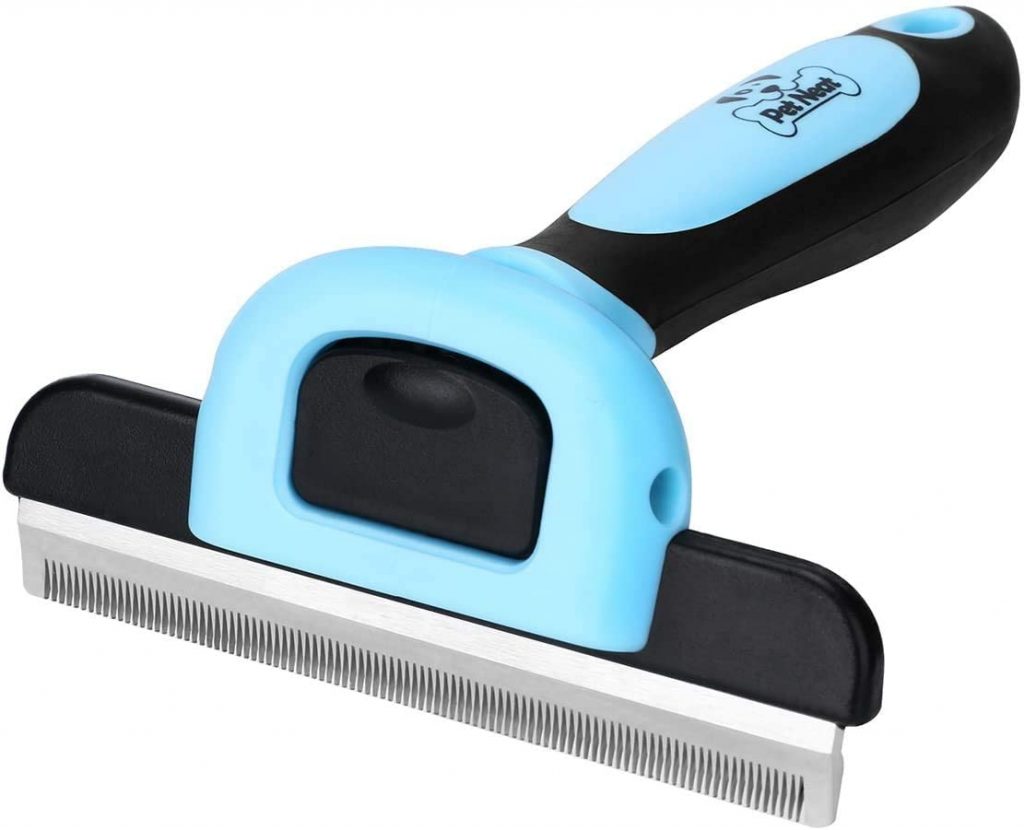 Runner-up
Our runner-up is a light, easy to use de-shedding tool that's absolutely perfect for your short-hair dog.
The Pet Neat de-shedding grooming comb is made of stainless steel and is an ideal tool for removing loose hair and dead skin from your dog's coat. The durable comb is gentle against the skin, but still works to clear away any dander or hair that would normally be shed throughout your home. Short-hair dog parents can't rave enough about this brush!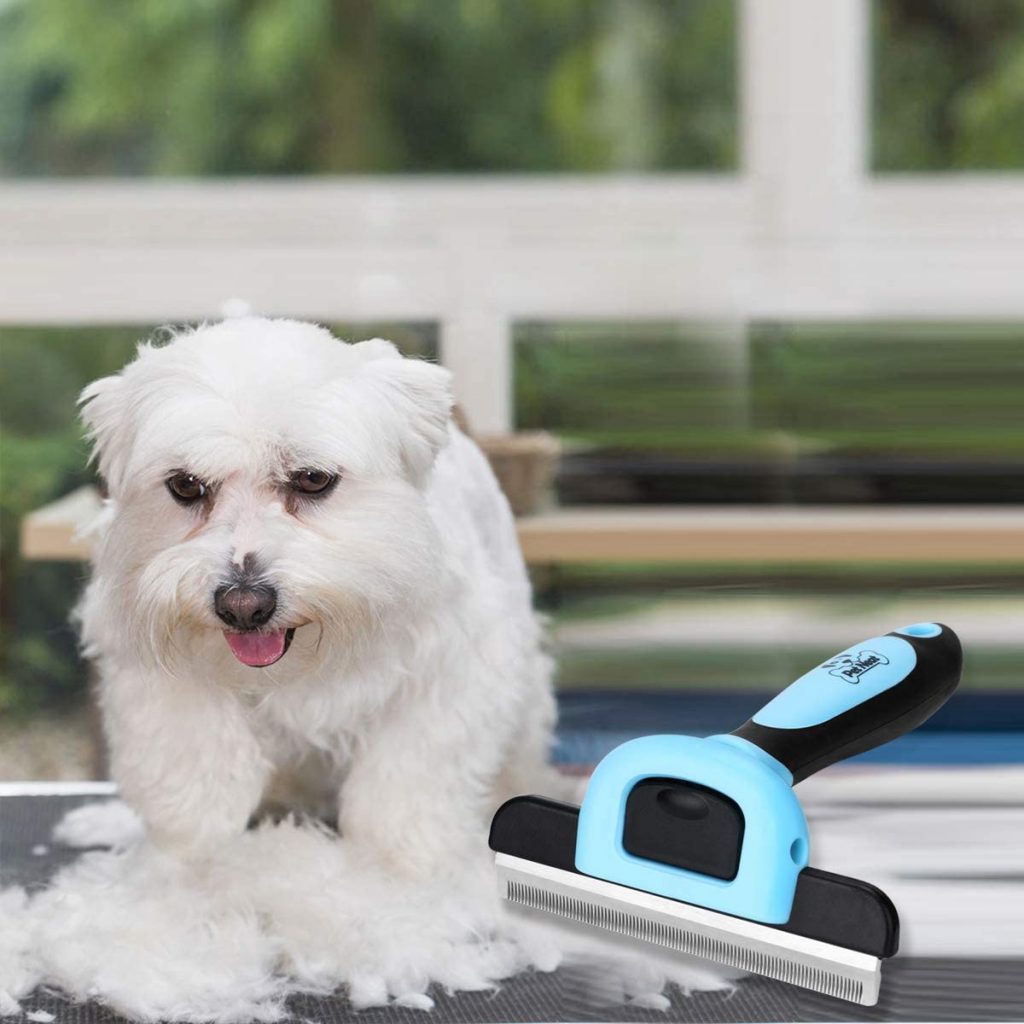 The handle of the Pet Neat Grooming Brush is rubber and anti-slip, so you don't have to worry about an aching wrist or any accidents while grooming particularly wiggly fur babies. What we love about this particular comb is with a quick press of a button, you can remove the comb and wipe it off easily. We're all about keeping our dog brushes clean here.
While the narrow, 4 inch comb teeth won't penetrate thicker coats, the Pet Neat Grooming Brush is an ideal option for wiry, short-hair pups.
Pros
Anti-slip handle
Easy-to-clean comb
Brushes away loose hair and dander
Cons
Won't work with long hair
Only comes in one color
---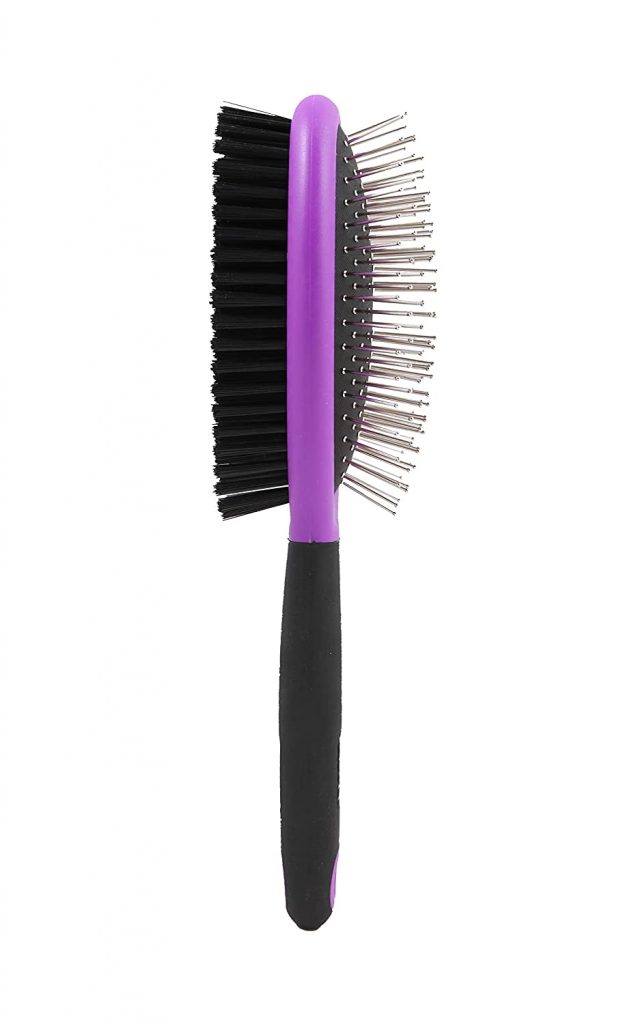 Best for short, curly hair
Get the best of both worlds with this combination nylon and stainless steel brush + comb!
The Hartz Groomers Brush is a 2-in-1 detangling brush that has all our favorite features. The brush has steel pins with rounded tips for more general removing of loose hair detangling and short, curly fur. Then on the other side of the brush we have nylon bristles which remove dandruff and debris, distributing natural oils. The result is a shiny coat and healthy skin.
In addition to a great combo brush, the Hartz has an ergonomic handle. However, our one disappointment with the brush is it is rather hard to clean.
Pros
Includes steel pins and nylon brush
Distributes natural oils for healthy skin
Cons
Hard to clean
Complaints of steel pin side breaking
---

Best with natural bristle
Want to keep things natural for your pup? Look no further than this fantastic all-natural bristle brush!
For a safer, more natural brushing solution for your short-hair dog, the Burt's Bees grooming tool is an absolutely awesome option. The pins with rounded heads detangle and remove dirt and debris. Turn the brush over and the soft, bamboo bristles distribute natural oils for shine while removing loose, shedding hair. You'll end up with a happy, healthy dog with a beautifully shiny coat.
Unfortunately, the Burt's Bees 2-in-1 brush is quite hard to clean and does not have a very comfortable handle.
Pros
Natural fibers
Double-sided for multi-use
Made with gentle bamboo bristles
Cons
Hard, uncomfortable handle
Bristle brush difficult to clean
---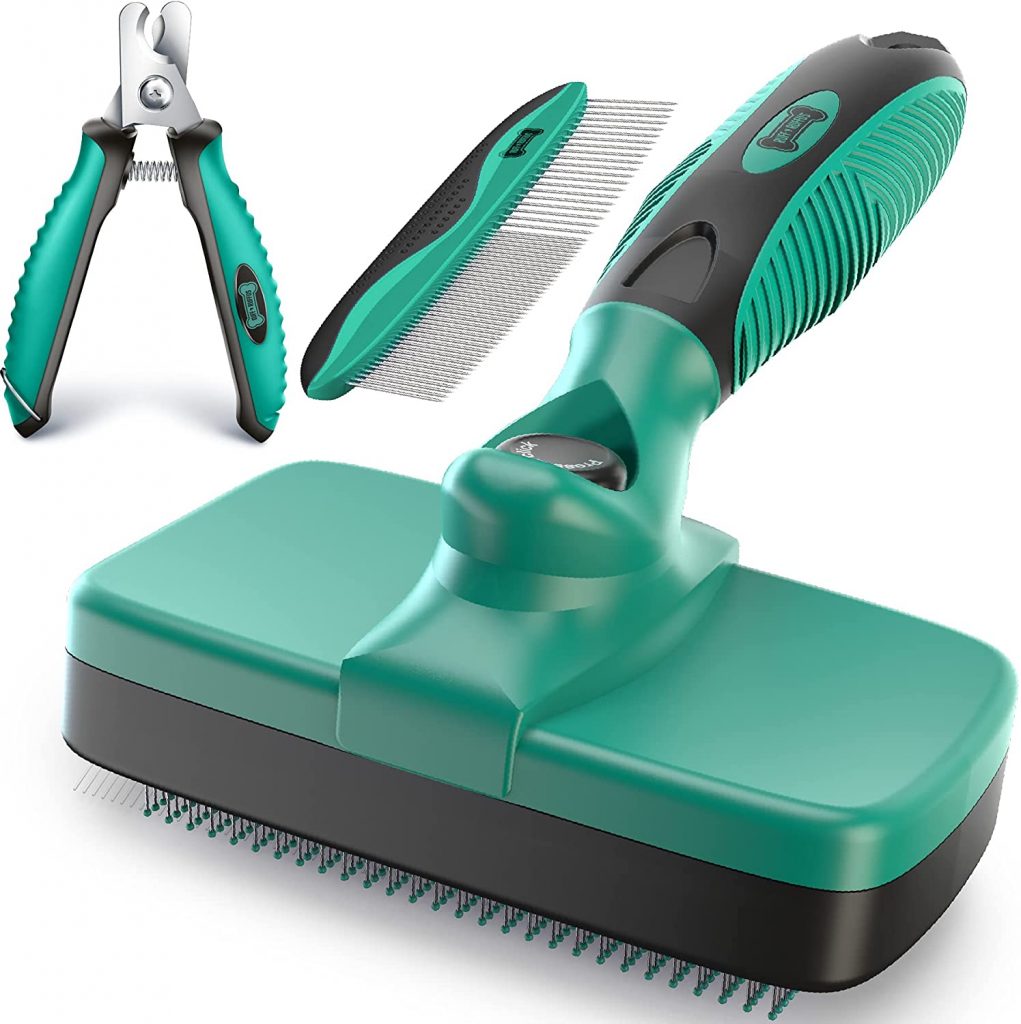 Best combination set
You get so much from this quality set, allowing you to groom every inch of your sweet fur baby.
The Ruff'N'Ruffus Self-Cleaning Slicker Brush is such a deal! The set comes with the brush, an added comb for extra gnarly tangles (we're looking at you, tail!), and free pet nail clippers. While the entire set is wonderful, the slicker brush won us over for gently detangling short hair, while loosening dander and unshed hair. The bristles retract, making it safe to store and easy to clean.
Overall, an amazing set for all your dog's needs!
Pros
Includes 3 tools
Retractable bristles
Plastic tipped bristles
Cons
Can tug on hair
Teeth of bristles very fine
Bristles can get stuck
---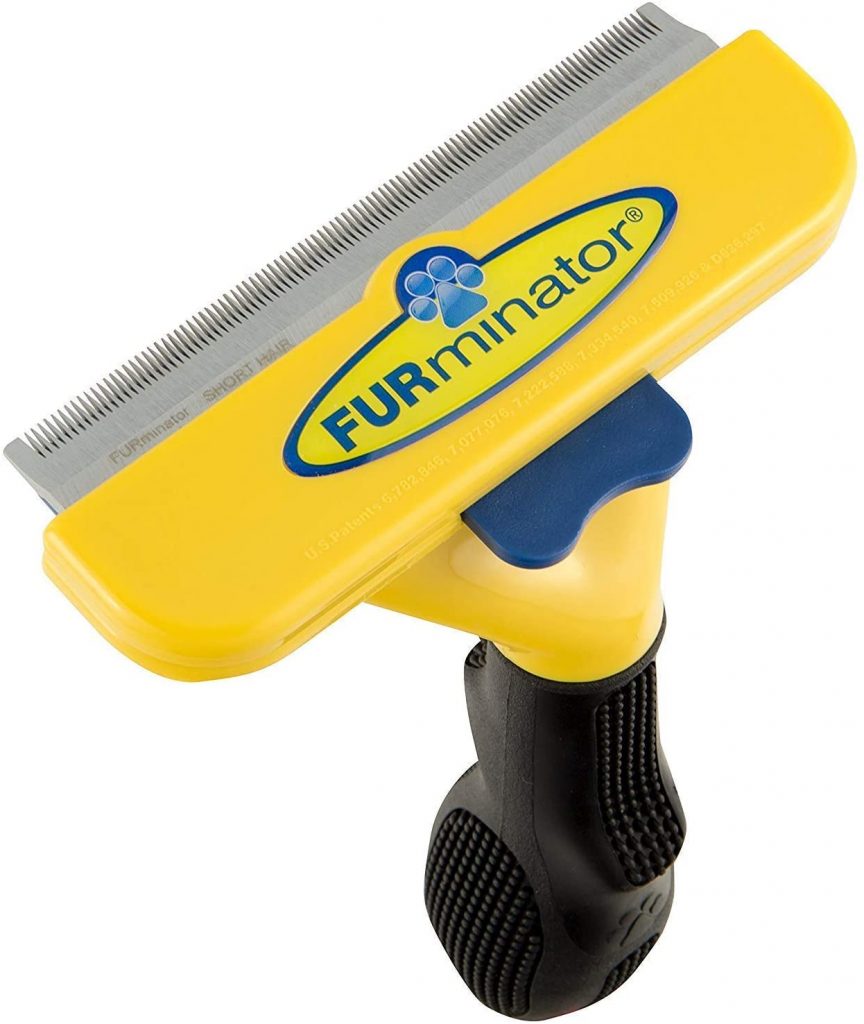 Best to reduce shedding
A fantastic slicker brush that claims to reduce shedding up to 95%! We like those numbers!
One of the original slicker brushes for dogs, the FURminator was specifically designed for short-hair dogs, just make sure you pick that option while checking out! The stainless steel bristles gently reach into the coat of your dog to remove loosened hair and distribute natural oils. The non-abrasive comb will have your pup begging for more time being pampered and brushed!
The FURminator also has a fantastic rubber, ergonomic handle, making it easy to use during long grooming sessions. We just wish there was an easier way to clean off the bristles.
Pros
Removes loose hair
Reduces shedding
Designed specifically for short-hair dogs
Cons
Difficult to clean
Cover breaks easily
Takes time to work properly
---
How we picked – What to look for in a brush for short-hair dogs
To keep our list process as unambiguous as possible, and so you know what to look for when shopping for a brush, we like to share our review process. We looked for 4 specific qualities when picking out our favorite brushes: Type of brush, type of bristle, handle support, and ease of cleaning.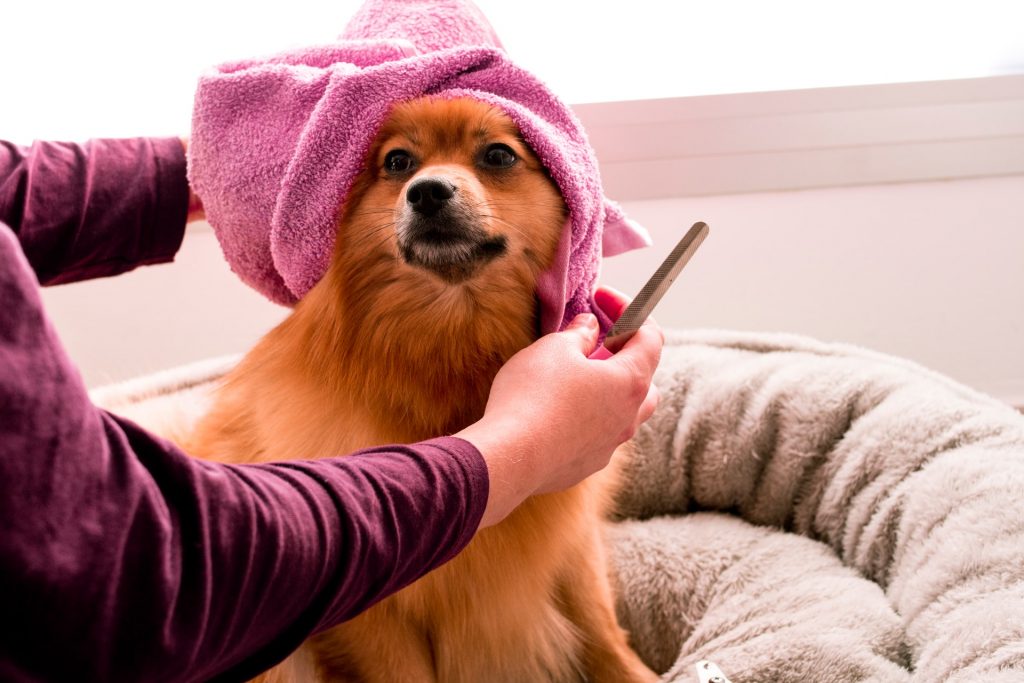 Type of brush
We looked at 3 types of brushes for our list. The first, a slicker brush, is great for any kind of coat, but is especially useful for removing loose fur. Slicker brushes have rows of wire pins to help clear away all that hair.
The second brush you'll see on our list is a bristle brush, which is the most common. These brushes are best for short, wiry coats and help spread oil produced by the skin. Bristle brushes are great for removing dandruff and leaving the coat nice and shiny.
Finally, we look at de-shedding combs. Looking almost exactly like human comb. But, these brushes remove loose hair and debris very efficiently, making them ideal for flat and short-hair dogs.
Type of bristle
Going hand-in-hand with the type of brush, we also paid close attention to the bristles on these brushes. Did the wire pins in our slicker brushes have rounded tips? Were the bristle brushes made with natural, safe ingredients? And, most importantly, would these bristles stand up to regular use?
We considered all these questions when picking out our top brushes for short-hair dogs.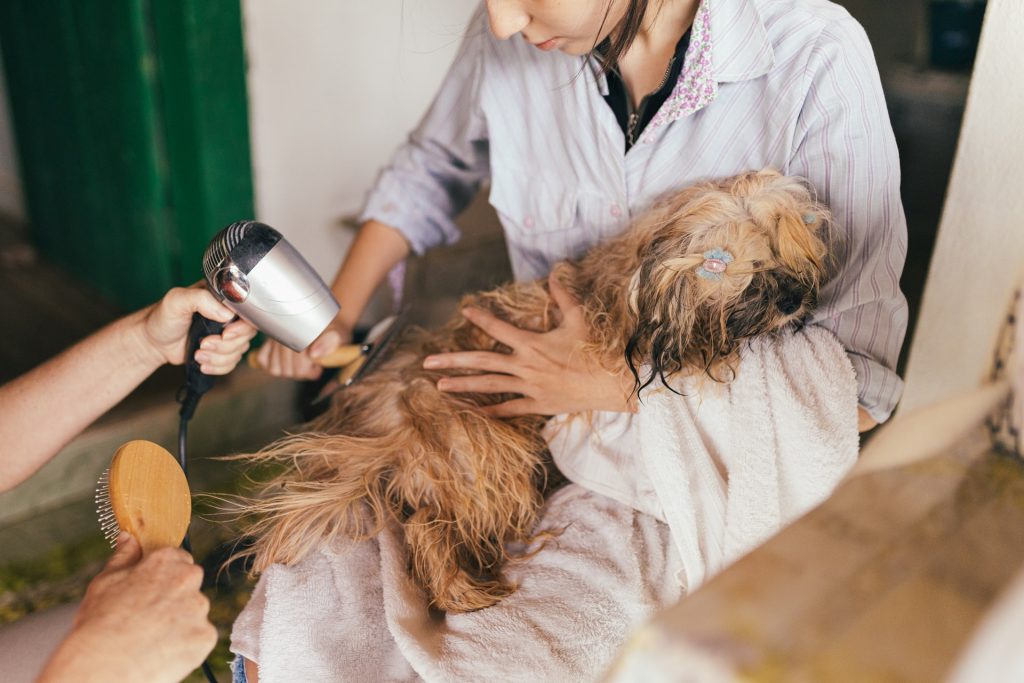 Handle support
When looking at short-hair dog brushes, we also took into consideration the ease of use for you, the pet parent. If you have a large dog and grooming takes a long time, you don't want to be holding an uncomfortable, heavy brush.
As much as possible, we tried to pick dog brushes with rubber or ergonomic handles, giving you a better grip during grooming.
Cleaning
After cleaning your dog, we know you're left with a pretty big mess. To make things as easy as possible, we tried to focus on self-cleaning brushes. While not every brush is a snap to clean, we found plenty of options.
---
The best technique for brushing dogs with short hair
We recommend following the American Kennel Club's instructions for brushing a short-hair dog.
First brush the coat in the opposite direction of hair growth, to pull dead hair out, then brush in the direction of hair growth to remove it. Repeat this process a few times to get out all the hair and to distribute the natural oils from the skin all over the coat.

American Kennel Club
Of course, the final decision on how to brush your dog will depend on – your dog.
---
How often should you brush your short-haired dog?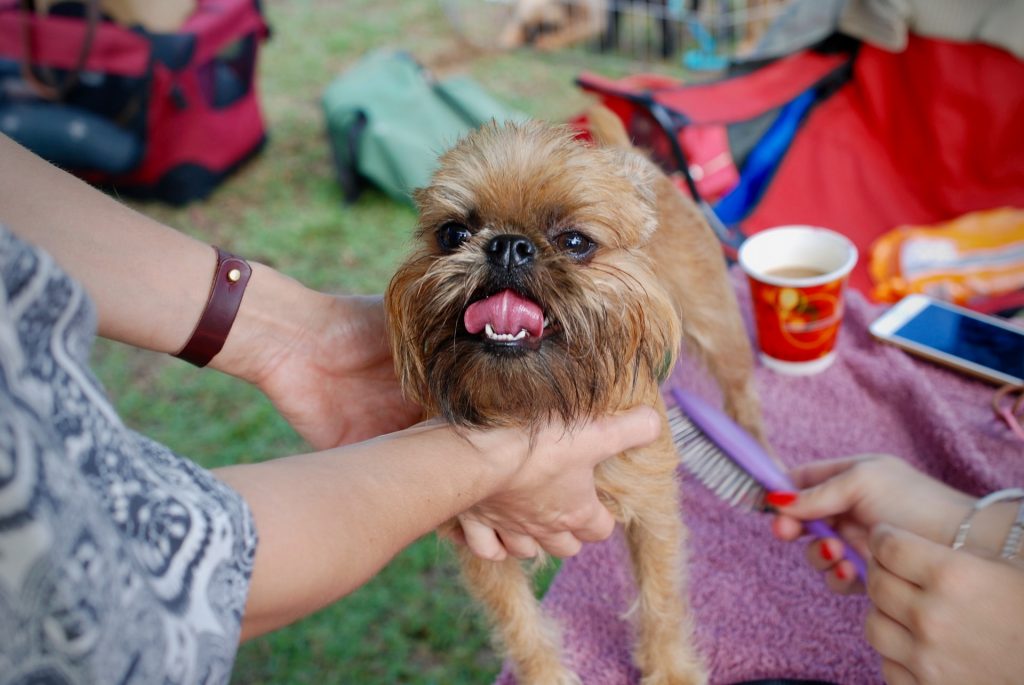 The American Kennel Club recommends brushing your dog at least once a week. However, that being said, the more often you brush your dog, the less shedding you'll have to deal with. If you have the time, commit to brushing your short-hair dog several times a week or even daily. A daily brush will really keep loose hair and dandruff from building up and stimulate blood circulation.
---
Synthetic vs. natural brush bristles
We know you want the best for your dog, which means deciding on the best tools for your pup. Pet owners often wonder if they should use synthetic or natural brush bristles to groom their dogs.
The truth is, natural brush bristles are going to be easier on your dog's skin. The bristles are softer and gentler, so you can groom your dog knowing you're not causing any damage.
However, sometimes natural brushes are too soft and just don't get the job done. If your dog has course, dense, or short hair, you might want to consider a synthetic bristle, like some of the stainless steel options on our list. While you'll definitely need to be careful when brushing, these synthetic bristles are much more durable and do a great job removing dead skin and loose hair.
So, while both types of bristles have their pros and cons, they are both safe. Your choice should be completely dependent on what your specific dog needs.