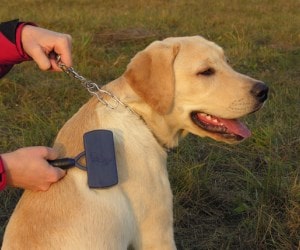 Grooming is a really important part of being a pet owner. Sooner or later, any pet with more than the shortest of hair is going to need a thorough combing to clean and freshen their coat.
Inevitably shedding, tangles, and mats make grooming difficult and it's important to prevent matting through regular combing and haircuts. However, if you do run into a mat while combing your dog there's tools to help. We've gone through and compared all of the best dematting tools out there, with a special focus on combs, to help you be a responsible pet owner.
BEST CHOICE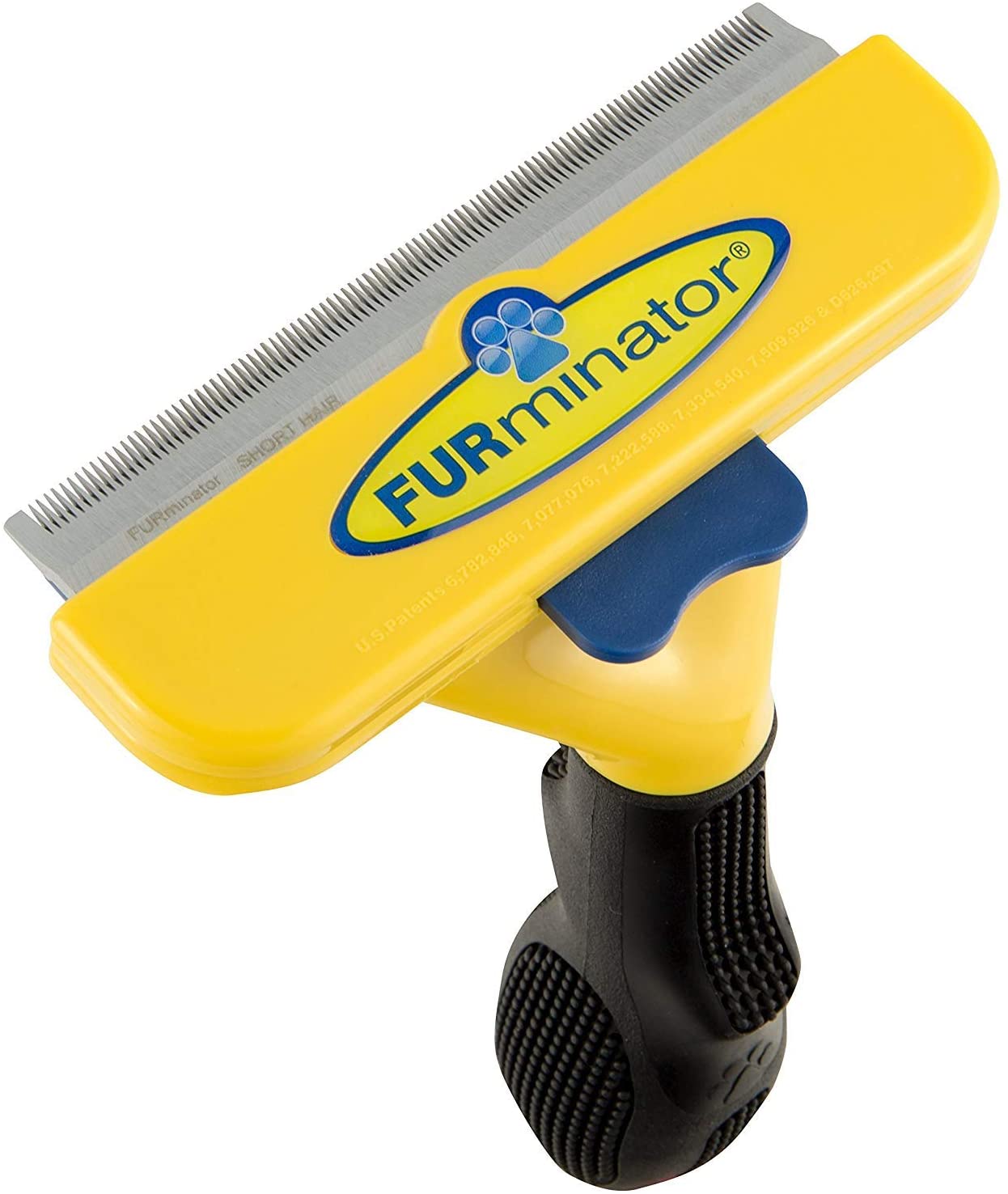 FURminator Dematting Tool
Best Dog Dematting Tool
Wider comb covers more area quickly
Excels at deshedding and preventing mats
Buttom-press to remove hair
Available in sizes for large and small dogs
Selecting the Best Dog Dematting Tools in November, 2023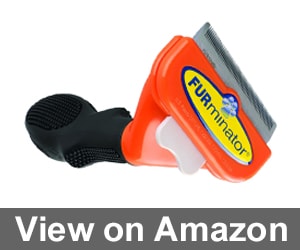 The FURminator deshedding tool is the top name for gently and easily removing excess fur from dogs. It comes in long hair and short hair variants and has a large, comfortable grip for ease of use.
The FURminator's rounded teeth are gentle on your dog's skin and prevent accidental injury while teasing out loose hair easily. While not designed for dematting, this tool can greatly help in preventing mats in all dogs. One caveat however is that the FURminator is mostly available in sizes best suited for medium to large dogs.
Pros
Reduces shedding by up to 90 percent
Greatly reduces risk of matting in all coat types
Gentle if used directly on skin
Removes smaller mats with ease
FURjector button quickly removes built up hair from the brush
Cons
Not effective for larger mats
Oversized for small dogs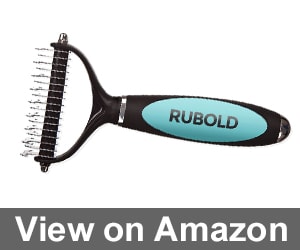 The Rubold dematting tool is excellent for removing mats from any dogs with straight hair. The extra-wide rake makes covering your pet's entire coat easy, and the teeth are rounded more than other brans for safety.
Wide-tooth rakes like this one are perfect for straight-haired dogs with longer coats and easily reach their undercoat, removing tangles where mats are most likely to start.
Pros
Extra-wide rake is great for larger dogs
Wider teeth excels at brushing long coats
Designed to remove excess hair from undercoats
Dual-head design makes it easier to use
Cons
Wide teeth are less suitable for curly-haired breeds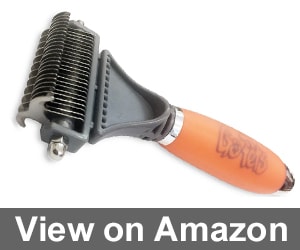 The GoPets Dematting comb was our favorite dematting tool and the most versatile we reviewed.
The rotating head let's you move the comb comfortably through your pet's coat, while the two rake sizes means there's no need to buy a second dematting comb.
The wide comb is great for longer coats and teasing loose larger mats, while the narrow comb helps brush curlier coats and prevent matting. The higher number of teeth also work more quickly to help when grooming larger dogs.
Pros
Easy and comfortable to use
Desheds and demats quicker than other brushes
Dual sided design eliminates the need for other tools
Works just as well on cats
Cons
Design is less effect for short-haired breeds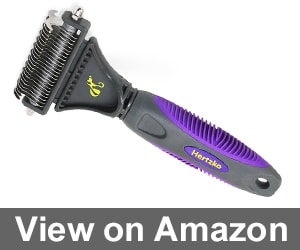 While the Hertzko dematting comb is designed to work on cats and dogs, many owners find it excels at removing extra cat hair.
The secret is that the Hertzko features slight sharper, more condensed blades that works better on the extra fine hairs of cats. While you'll have no issues using this on your dog, we think it's really especially great for owners looking to deshed their cats as well with the same brush.
Pros
Dual-sided design provides two brushes in one
Excels at deshedding and dematting finer coats
Sharper, but still rounded teeth are more effective
Cons
Not as effective on pets with thicker hairs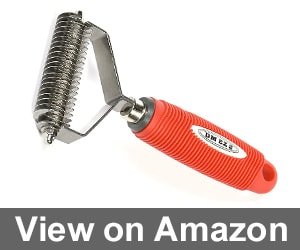 This dematting tool features specially designed teeth to reach your pet's undercoat for deshedding and removing mats.
Pet owners find it particularly great when it comes to dematting larger long-haired breeds like Huskies, Chows, and Samoyeds. The tool reaches the undercoat effectively while leaving a pet's top coat unharmed, helping you brush them to fluffy prefection.
Pros
Highly durable and lightweight design
Undercoat-specific teeth
Great choice for larger breeds
Works well on medium to long coats
Cons
May not work as well on shorter coats and pets without an undercoat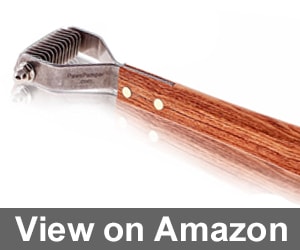 If you only need a tool for occasionally removing mats, the PawsPamper Undercoat Rake is great. The teeth gently separate mats will avoiding healthy hair and the size of the rake is perfect for targeting mats specifically.
This rake isn't as large as other picks, so we don't recommend it for deshedding compared to some larger and more versatile options, but it's still a great choice if you need a dematting tool for a few problem areas on your dog or cat.
Pros
Works easily on small to medium areas
Teases mats gently and easily
Rounded teeth are safe on short-haired pets
Works great on pets with undercoats
Cons
Narrow head isn't great for deshedding
7. Pet Grooming Tool : Best wider rake for large breeds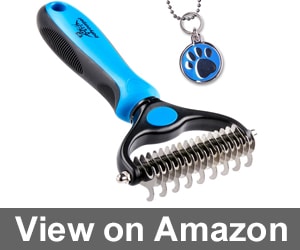 The Pet Grooming tool is a great double-sided rake that covers more surface area than most others. While the teeth aren't quite as narrow for fine coats, we think the side of the head will make quick work of even the largest dog's coats.
Deshedding is a breeze with undercoat-designed teeth that easily remove excess hair while the wider side can easily tease out mats.
Pros
Larger rake head speeds up brushing larger breeds
Dual-sided design provides two brushes in one
Cons
A bit oversized for smaller breeds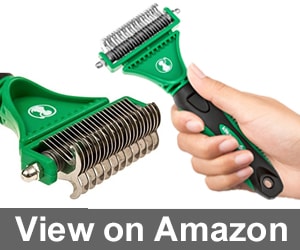 This dematting comb is perfect for use with smaller dogs. The more narrow teeth excel at removing smaller mats and working with the finer coats that small breeds typically have.
It features more teeth than standard dematting tools which work great on all hair lengths of smaller breeds and prevent future matting. It's important to note that while the finer teeth work well on smaller breeds and thin coats, they're not as suited to coarse coats.
Pros
Lightweight, ergonomic handle
Easy to use when working on smaller mats and tangles
Great for smaller breeds and cats
Gently removes mats and tangles
Cons
Smaller size may not be as suited for larger breeds
May not work well on medium to larger sized mats and tangles
For knots that just won't just won't come out, you'll need to use a mat remover. Mat removers differ from dematting tools in that they're primarily designed to 'cut' through knots rather than tease them apart.
Mat removers require a bit more extra care than dematting tools, as the wrong movement can cut off too much hair or hurt your dog. Still, mat removers are much safer than using scissors and will leave more fur in place after removing the mat.
To use a mat remover, hold your dog in place and gently brush through the mat, it will take several passes to remove all the mats. Once you feel the mat is mostly removed, you should be able to use a comb or dematting tool to untangle the remaining hair.
Pros
Safer than using a knife or scissors on stubborn knots
Painless on heavy matting
More effective than other dematting tools
Cons
Removes hair rather than untangles knots
This longtooth dematting comb is great for breeds with long, dense coats that frequently mat. The longer teeth are 'sharper', meaning they better tease mats and feature waves designed to help catch dead hairs when deshedding.
The main reason we don't recommend more longtooth combs is that they're really quite specific and you'll usually need a regular dematting too when working on an undercoat or next to your pet's skin. But for dogs with very long hair, look no further.
Pros
Perfect for pets with extra-long coats
Desheds and dematts
Gentle on longer hair
Cons
Not suitable for medium and short-haired breeds
How to choose the best dematting tool
Being able to safely and gently remove mats is an important part of being a pet owner. While many dematting tools are similar, the best tools have specially designed teeth and the right size rake for your dog.
Deshedding goes hand-in-hand with dematting and can really help prevent mats in high-shedding breeds but for some coats different tools are required and it's easy to give up if the first tool you try doesn't work out.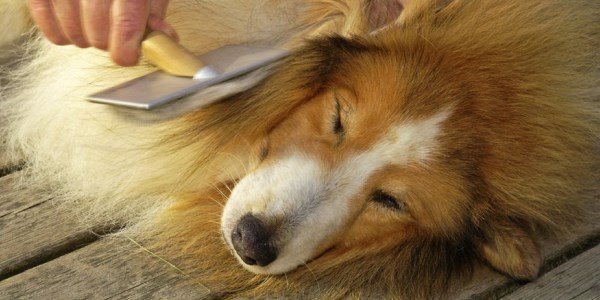 We'v gone through to try and demystify the world of dog grooming and coat care and give you all the tips you need for finding the right tools for your pet.
What is matting?
Matting refers to dense, tangled spots in your dog's fur. All dogs constantly shed hair. If they aren't brushed or groomed frequently, the hair can tangle and become embedded into large masses. These masses are called mats.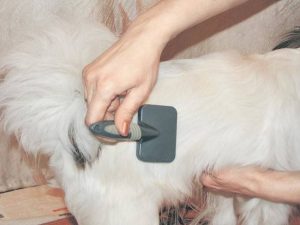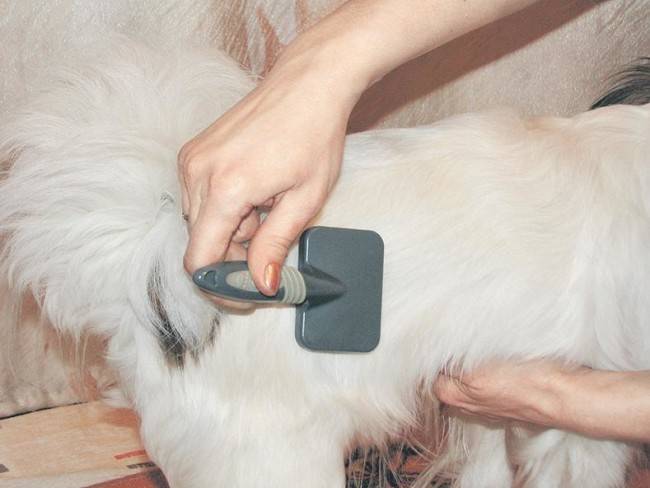 As your pet goes about its daily activities, their movements combined with static electricity, pettings, and shedding can create serious matting. As the mats form, your dog may feel irritated causing them to chew on or lick the mat, which makes the problem even worse.
If you fail to prevent and detangle mats early, you'll end up needing to use scissors to cut them out or worse- shave their entire coat.
Do I really need to incorporate dematting in my home grooming?
Mats becomes extremely difficult over time. They can also be extremely painful for your pet and can even result in bruising as it pulls away from the sensitive skin. Even worse, matting can harbor and hide injuries or parasites within your dog's fur and lead to worse skin conditions.
Some mats can be brushed out or picked out by hand. However, this is usually impossible to do without causing your dog a large amount of pain and anxiety. The last thing we want to do as a pet parent is cause of faithful friend further harm or pain. Using a specialized dematting tool can make this process simpler and pain-free.
What about shedding?
Shedding occurs naturally in all animals with hair or fur, even humans. Both short-haired and long-haired dog and cat breeds shed.
For many breeds, such as Pomeranians, the long hair is combined with a shorter, rougher undercoat. This type of coat provides cooling in the summer and warmth in winter for your pup.
It is important to consistently brush out or deshed their coats to remove dead hair from both the long and overcoats. This will keep your pet at the right temperature year-round and will result in a healthier, happier pup.
Can I avoid shedding?
Many breeds of dogs experience heavy shedding during spring as they lose their thicker winter coat to transition to a lighter summer coat. After the summer once again, they have heavier shedding for the incoming winter coat. As a result, there is no way to reduce or avoid the shedding process. You can use deshedding and dematting tools to aid the process and lessen the chances of hair getting everywhere from your clothes to your car.
What tools can I use to help matting and shedding?
The answer to this common question depends on your pet's breed and fur coat. Thinking about the length of your pet's hair in addition to how much they shed can help you decide which tool is the most appropriate. There are a wide variety of tools with different characteristics and techniques for use:
• Rake design: Rake design tools usually have a rubber grip on one end and metal fingers on the other. The metal fingers comb through the hair in a picking motion to remove dead hair and mats. This process can be time-consuming, but if done properly is the safest and easiest way to remove mats.
• Blade models: Blade models are similar to rake models, but they have a sharp blade that helps cut through mats to remove them easily, rather than 'untangling' them. You'll need to be careful using these, but they're safer than using scissors for removing stubborn mats.
• Grooming brushes: You can brush your pet's hair daily to cut down on shedding and matting. Using a dematting or deshedding tool designed to remove excess hair can really help over a traditional brush.
The right tool is dependent on the breed and size of your pet. Dog's with long, curly hair such as the Poodle and Shih Tzu require a tool that won't pull unnecessarily on their curls which could be very painful for your pet. Make sure to carefully read deshedding and dematting tool descriptions to ensure they are for your specific animal's hair type, length, and breed to avoid any issues.
How Dematting and Deshedding Tools Work
The tool works by lifting the fine, undercoat hair or the mat while you brush through the hair. A deshedder removes the dead, loosened hair. A dematter removes the thickened, matted portions. There are many products that do both jobs of dematting and deshedding at the same time. You can also find double sided choices. These models typically have one side that assists you in deshedding your pets undercoat and another side that works to remove tangles and mated masses.
Are These Tools Really Worth Buying?
If you own a pet with fur or hair, then the answer is yes. Cats and dog shed a lot. The use of a deshedding tool can help you to curb shedding almost entirely. This means you will brush out the excess hair rather than it hanging around your home, sticking to your clothing, or traveling to your car or work. A deshedding tool will also help your furry friend's coat to be healthier, shinier, and much more manageable.
A dematting tool is essential for pets that are prone to tangles and mats. If these issues aren't dealt with consistently in a prompt manner, the mats will get worse. This could lead to unnecessary pain for your pet, ticks or other parasites, or having to make an expensive trip to the groomer to have your pup completely shaved down. These issues can be stopped with the use of a specialized grooming tool.
How Often Should You Use a Dematting Tool?
Incorporating these tools of the trade into your weekly or even daily grooming sessions will allow you to keep shedding and matting fully at bay. Consistent use can also aid in cutting down on any allergies you may experience from your furry friend. Your pet will also grow accustomed to grooming faster if you aim for daily or weekly sessions.
The Long and Short of It
Dematting and deshedding tools are great for long and short haired breeds. There are versions that work well for each No matter what their hair length, all pets should be groomed to avoid excess shedding and mats.
How to Use a Dematting Tool
Using a grooming tool to help with deshedding, detangling, and dematting your fuzzy buddy's hair is easy. Start by examining their fur to see if there are any visible areas of matting. You may want to pretreat these spots with detangling solution or some cornstarch. For deeper tangles, you may need to start with working through the tangles using your fingers to help break them down a bit. Next, gently brush your dog with your dematting tool following the manufacturer's directions. Work slowly and gently, especially if your pup is young or new to grooming.
You may need to stop periodically to remove excess hair from the tool. Be sure to place the hair in a bag or the trash, so you don't make a mess. After you've worked out the mats and noticed no more undercoat is coming out, you can finish by giving your pet a good scratch and praising their good behavior. Consistency is key to getting your pet to sit politely during grooming and for reducing shedding and mats.
In conclusion, the right dematting tool can be an amazing addition to your pet grooming arsenal. There many different brands and options available that will suit every variety of pet breeds and needs. Thinking about your animal's hair length and breed can be helpful since pets with curly hair will need a wider toothed option than one with finer, silkier hair.
Grooming your pet and keeping matting and shedding down can be an easy and even fun experience with the right tool. Many of the options currently available actually feel wonderful on your pet's hair and skin as you comb them. This makes the grooming process easier and faster than ever before. We hope you enjoyed our dematting tool reviews and buyer's guide. Please leave us a comment with your favorite tips and tricks for removing mats and excess pet hair.