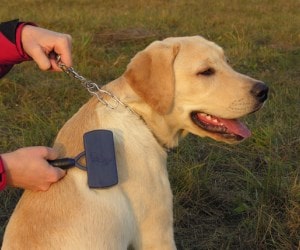 Pets provide us with unconditional love. They are a part of our family, so their care is important.
Grooming is an essential part of owning a dog or cat, but it can lead to unhappy pups and frustrated pet parents.
Shedding, tangles, and mats in our animal's hair can be a cumbersome bother to deal with.
Thankfully, there are many wonderful options for dematting and deshedding tools out on the pet product market. We will be taking a close look at the top options available for pet owners, and we've included a helpful guide to aid you in choosing the best model for your needs.
BEST CHOICE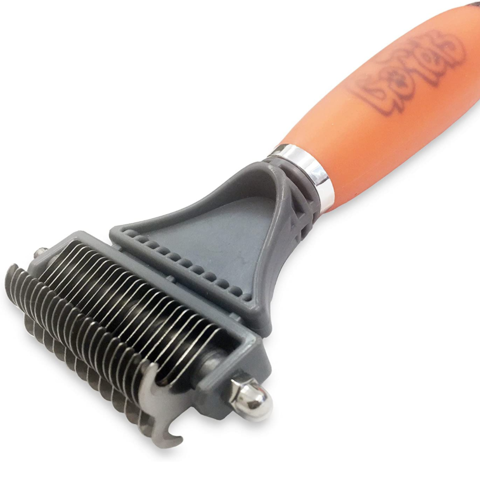 GoPets Dematting Comb
Best Dog Dematting Tool in Our Rating
Different types of teeth for different densities of your pet's coat
Convenient handle that rotates 360 degrees
A comb can remove excess hair or fluff it
Manufacturer's Warranty
Selecting the Best Dog Dematting Tools in November, 2020
1. FURminator deShedding : Best All-Around Tool for Preventing Shedding and Matting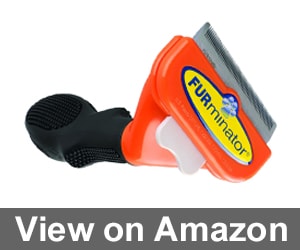 The FURminator deshedding Tool for Dogs is an affordable and convenient option to assist in reducing shedding and matting.
This model has been specifically crafted for dogs that have hair longer than 2 inches, and that weigh 21 to 50 pounds.
The FURminator brand has an extensive line that includes products for almost every furry pet you can imaging needing.
The FURminator is perfect for helping rid your pet of loose hair and smaller mats. It helps to prevent matting in the first place, making it an excellent option to add into your pet's grooming routine. Most dogs enjoy being brushed with it and it's easy to use.
Pros
Effectively reduces shedding by up to 90 percent
Easy to use
Many pets love it
FURjector button quickly removes hair from the brush
Helps prevent mats and remove smaller mats
Great for long-haired breeds that weigh 21 to 50 pounds
Cons
Not as effective on large areas of matting
More of a preventative treatment
2. Rubold Dematting : Best All-Around Tool for Dealing with Shedding and Matting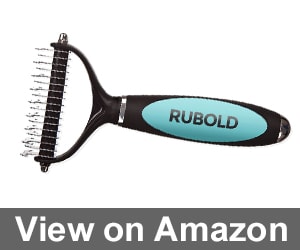 The Rubold Dematting Tool for Dogs is a terrific all-around grooming tool.
It features a rake design with specialized teeth that work on mats, tangles, shedding, and brushes your pet's coat to perfection.
Your pet will feel like they are receiving a massage during use so they will enjoy having it used on them.
The Rubold Dematting Tool works quickly and efficiently on nearly all breeds and sizes. It is terrific at remove dead undercoat hairs and aiding you in gently removing matting and tangles of all sizes. Pet parents of heavy shedders will love how easy this tool will make your life during cat blowing seasons.
Pros
Appropriate for any sized pet from extra small to extra large
Great for heavy shedding breeds like Huskies or Pomeranians
Gently yet effective on mats and tangles
Pets like the way it feels
Affordable
Cons
May not work as well on some curly breeds such as Poodles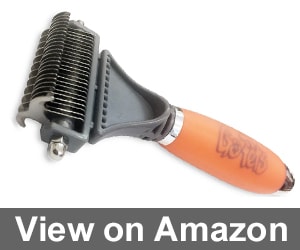 The GoPets Dematting Comb allows you to gently work through mats and tangles at faster speeds.
It's excellent for long-haired breeds and long-haired cats.
This tool will allow you to cut down on lengthy grooming sessions that end in a mad pet and a frustrated owner.
The GoPets Dematting Comb features a double-sided comb design. One side is fitted with 12 teeth to offer a tough solution to mats and tangles. The second side is filled with 23 teeth to assist you in quickly deshedding even the largest breeds of dogs.
Pros
Easy to use
Quickly desheds and demats
Double sided design
Gentle on pet
Great for long haired cats
Cons
Plastic design may not be as long-lasting as similar metal handle models
May not work as well for shorter haired breeds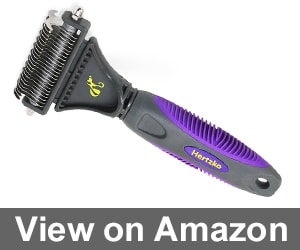 Cats get mats too. The Pet Dematting Comb by Hertzko is a terrific remedy for matted hair in long-haired breed kitties.
It also works well for short hair and long hair dog breeds.
Its compact size makes it a wonderful option to use on smaller animals.
The Pet Dematting Comb by Hertzko features a two-sided design to help you groom your pet faster. It can be used on a wide range of coats and hair types from wired hair to curly hair. Best of all, it removes mats with curved teeth, so your pet won't yelp in pain.
Pros
Double sided design
Great for cats
Easy to use
Removes mats quickly without a lot of tugging
Affordable
Cons
May not be as effective on pets with very fine hair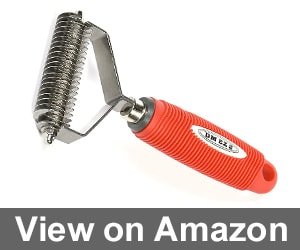 The Easy Pet Grooming Undercoat Rake quickly and efficiently removes dead hair while leaving the top coat in silky, smooth condition.
This tool makes grooming session faster and is helpful removing hair and mats.
It is lightweight and durable so that it will last you a very long time.
The Easy Pet Grooming Tool comes with two training ebooks to assist in training cats and dogs. It's easy to use and gently removed mats and hair without any painful yanking or pulling. Its rugged design makes it perfect for larger breeds such as Huskies, Samoyeds, and Chows.
Pros
Durable, lightweight option
Removes undercoat and mats
Great choice for larger breeds
Works well on medium to long coats
Cons
May not work as well on shorter coats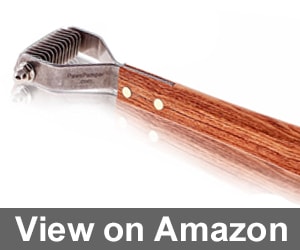 The PawsPamper Undercoat Rake for Dogs features stainless steel blades work perfectly as they slide through your pet's undercoat.
The blades gently separate mats from healthy hair.
The shape of the blades allows the rake to get deeper into the coat and remove the mat minus the painful lifting motion that causes your pet to be in pain.
This heavy-duty choice is great for dogs that consistently experience matting. It will prevent small to medium tangles and mats from getting worse and causing heavy matting of your pet's fur. It's also an excellent tool for keeping the undercoat straight and excess hair free to prevent matting in the first place.
Pros
Stainless steel blade design
Easily removes small to medium areas of matting
Helps keep undercoat in tip-top shape
Doesn't hurt pet
Easy to use
Cons
May not work as well on heavily matted fur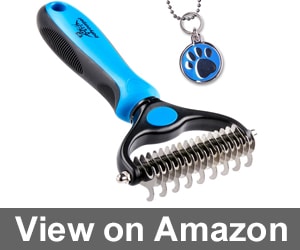 The Pet Grooming Tool by Pat Your Pet is a double-sided undercoat rake.
The 2-in-1 dual head features nine teeth on one side for heavily tangled areas and mats.
The other side has 17 teeth that make it terrific for deshedding and thinning coats.
The Pat Your Pet Tool aids you in grooming sessions without scratching or hurting your pet. It quickly and effectively helps with shedding and smaller mats. It's also excellent for long-haired cats.
Pros
2-in-1 design
Desheds , demats, and detangles
Affordable
Easy to use
Doesn't scratch pet
Cons
May not work as well with curly or short hair breeds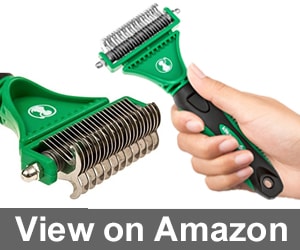 The K9KONNECTION Pet Dematting Comb is fitted with an ergonomic, comfortable to use handle.
It's perfect for smaller mats and will aid you in removing them quickly.
This design is lightweight and durable, so it will work well for years to come.
The Pet Dematting Comb by K9KONNECTION may look intimidating at first glance. Its two sides have plenty of stainless steel teeth to work out the toughest mats gently and safely. Its size makes it a wonderful model for use on smaller breeds and cats.
Pros
Lightweight, ergonomic handle
Easy to use when working on smaller mats and tangles
Great for smaller breeds and cats
Gently removes mats and tangles
Cons
Smaller size may not be as suited for larger breeds
May not work well on medium to larger sized mats and tangles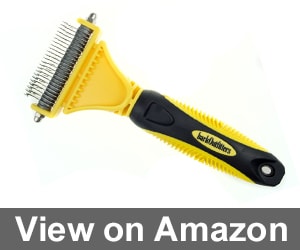 The BarkOutfitters Dematting Tool offers a solution to painful dematting and deshedding sessions.
The two-sided tool features sharp yet safe edges to ensure your pet's mats are removed without hurting their sensitive skin.
It's affordable and extremely easy to use.
The BarkOutfitters Dematting Tool stimulates your pet's skin during use to promote healthy circulation while leaving their coat shinier and stronger. It's an excellent option for removing dead undercoats hairs while keeping mats and tangles at bay. Best of all, pets actually enjoy being groomed with it.
Pros
Painless mat and undercoat removal
Quality construction
Works well on medium and long-haired breeds
Comfortable thumb rest makes it easy to use during longer sessions
Cons
May not work as well on shorter hair or curly hair breeds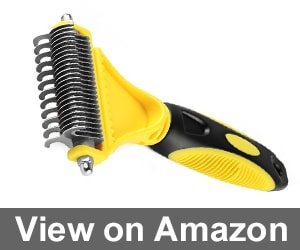 The Rosmax Dematting Tool for Dogs is an excellent budget option.
This tool has two sides, one for deshedding and one for dematting.
It gently removes dead hair and mats without injuring your precious pup.
The Rosmax is great for breeds like Shelties and Aussies. It's also optimal for cats and other long-haired animals. This tool will have your pet looking fancy in no time.
Pros
Budget option for pets that have undercoats and matting
Easy to use
Two-sided option with a dematting side and a deshedding side
Great for medium to long-haired breeds of dogs and cats
Gentle and effective
Cons
May not work as well on curly hair or short haired breeds
Best Dog Dematting Tools – Buyer's Guide
With so many different items marketed toward dematting and deshedding your pet, it can be difficult to find the best one. There are many terms and techniques associated with pet grooming, causing shoppers to become confused and frustrated.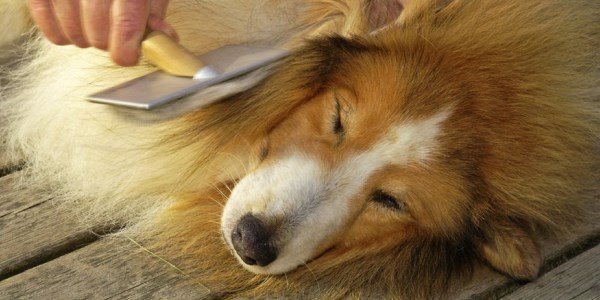 We've lightened your workload by demystifying the world of dematting and deshedding by creating a buyer's guide that will give you the important details necessary to find the best products for you and your furry friend.
What is matting?
Matting refers to dense, tangled spots in your dog's fur. All dogs constantly shed hair. If they aren't brushed or groomed frequently, the hair can tangle and become embedded into large masses. These masses are called mats.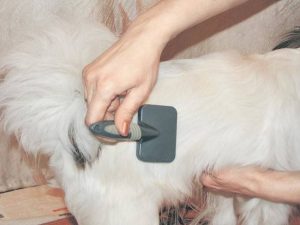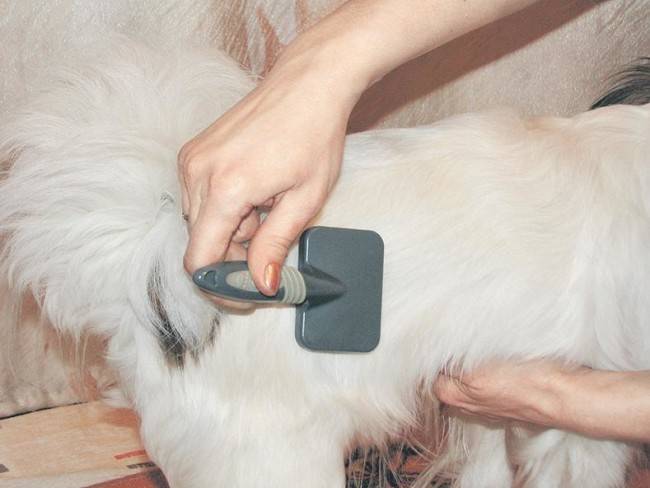 As your pet goes about its daily activities, their movements combined with static electricity, pettings, and shedding can create serious matting. As the mats form, your dog may feel irritated causing them to chew on or lick the mat, which makes the problem even worse.
Some groomers will recommend a complete shaving of your pet to remove the mats, but you can use tools to help remove the matting instead.
Do I Really Need to Incorporate Dematting Into My Pet's Grooming?
Mats are difficult to remove by hand. They can also be extremely painful for your pet and can even result in bruising as it pulls away from the sensitive skin. Even worse, matting can harbor and hide injuries or parasites within Fluffy's fur. It is crucial that pets are dematted to ensure they stay healthy and injury/pain-free.
Some mats can be brushed out or picked out by hand. However, this is usually impossible to do without causing your dog a decent or large amount of pain and anxiety. The last thing we want to do as a pet parent is cause of faithful friend further harm or pain. Using a specialized dematting tool can make this process simpler and pain-free.
What About Shedding?
Shedding occurs naturally in all animals with hair or fur, even humans. Both short-haired and long-haired dog and cat breeds shed.
For many breeds, such as Pomeranians, the long hair is combined with a shorter, rougher undercoat. This type of coat provides cooling in the summer and warmth in winter for your pup.
It is important to consistently brush out or deshed their coats to remove dead hair from both the long and overcoats. This will keep your pet at the right temperature year-round and will result in a healthier, happier fur baby.
Can I Avoid Shedding?
Many breeds of dogs experience heavy shedding during spring as they lose their thicker winter coat to transition to a lighter summer coat. After the summer once again, they have heavier shedding for the incoming winter coat. As a result, there is no way to reduce or avoid the shedding process. You can use deshedding and dematting tools to aid the process and lessen the chances of hair getting everywhere from your clothes to your car.
What Tools Can I Use to Help Matting and Shedding?
The answer to this common question depends on your pet's breed and fur coat. Thinking about the length of your pet's hair in addition to how much they shed can help you decide which tool is the most appropriate. There are a wide variety of tools with different characteristics and techniques for use.
• Rake design: Rake design tools usually have a rubber grip on one end and metal fingers on the other. The metal fingers comb through the hair in a picking motion to remove dead hair and mats.
• Blade models: Blade models are similar to rake models, but they have a sharp blade that helps cut through mats to remove them easily.
• Grooming brushes: You can brush your pet's hair daily to cut down on shedding and matting.
The right tool is dependent on the breed and size of your pet. Dog's with long, curly hair such as the Poodle and Shih Tzu require a tool that won't pull unnecessarily on their curls which could be very painful for your pet. Make sure to carefully read deshedding and dematting tool descriptions to ensure they are for your specific animal's hair type, length, and breed to avoid any issues.
How Dematting and Deshedding Tools Work
The tool works by lifting the fine, undercoat hair or the mat while you brush through the hair. A deshedder removes the dead, loosened hair. A dematter removes the thickened, matted portions. There are many products that do both jobs of dematting and deshedding at the same time. You can also find double sided choices. These models typically have one side that assists you in deshedding your pets undercoat and another side that works to remove tangles and mated masses.
Are These Tools Really Worth Buying?
If you own a pet with fur or hair, then the answer is yes. Cats and dog shed a lot. The use of a deshedding tool can help you to curb shedding almost entirely. This means you will brush out the excess hair rather than it hanging around your home, sticking to your clothing, or traveling to your car or work. A deshedding tool will also help your furry friend's coat to be healthier, shinier, and much more manageable.
A dematting tool is essential for pets that are prone to tangles and mats. If these issues aren't dealt with consistently in a prompt manner, the mats will get worse. This could lead to unnecessary pain for your pet, ticks or other parasites, or having to make an expensive trip to the groomer to have your pup completely shaved down. These issues can be stopped with the use of a specialized grooming tool.
How Often Should You Use a Dematting Tool?
Incorporating these tools of the trade into your weekly or even daily grooming sessions will allow you to keep shedding and matting fully at bay. Consistent use can also aid in cutting down on any allergies you may experience from your furry friend. Your pet will also grow accustomed to grooming faster if you aim for daily or weekly sessions.
The Long and Short of It
Dematting and deshedding tools are great for long and short haired breeds. There are versions that work well for each No matter what their hair length, all pets should be groomed to avoid excess shedding and mats.
How to Use a Dematting Tool
Using a grooming tool to help with deshedding, detangling, and dematting your fuzzy buddy's hair is easy. Start by examining their fur to see if there are any visible areas of matting. You may want to pretreat these spots with detangling solution or some cornstarch. For deeper tangles, you may need to start with working through the tangles using your fingers to help break them down a bit. Next, gently brush your dog with your dematting tool following the manufacturer's directions. Work slowly and gently, especially if your pup is young or new to grooming.
You may need to stop periodically to remove excess hair from the tool. Be sure to place the hair in a bag or the trash, so you don't make a mess. After you've worked out the mats and noticed no more undercoat is coming out, you can finish by giving your pet a good scratch and praising their good behavior. Consistency is key to getting your pet to sit politely during grooming and for reducing shedding and mats.
In conclusion, the right dematting tool can be an amazing addition to your pet grooming arsenal. There many different brands and options available that will suit every variety of pet breeds and needs. Thinking about your animal's hair length and breed can be helpful since pets with curly hair will need a wider toothed option than one with finer, silkier hair.
Grooming your pet and keeping matting and shedding down can be an easy and even fun experience with the right tool. Many of the options currently available actually feel wonderful on your pet's hair and skin as you comb them. This makes the grooming process easier and faster than ever before. We hope you enjoyed our dematting tool reviews and buyer's guide. Please leave us a comment with your favorite tips and tricks for removing mats and excess pet hair.