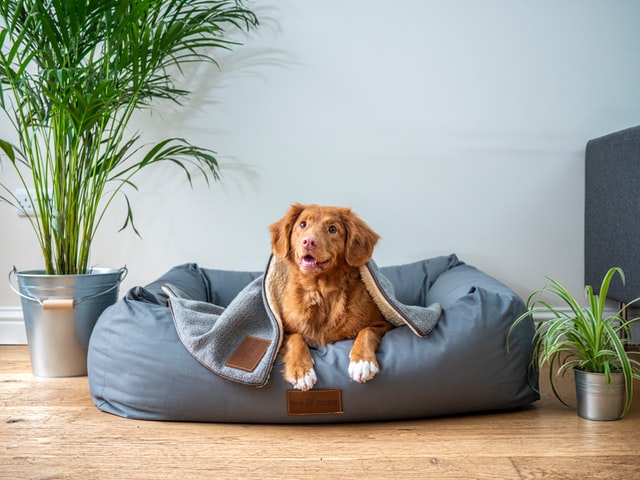 Have you ever put the time and energy into picking out just the right dog bed for your fur baby? You spend hours doing research and looking at reviews. And, no matter what the price (because nothing is too good for our doggos!), you take the plunge and make your purchase.
Only to have your expensive dog bed strewn across your home in little pieces in under an hour?
We've all been there. We've felt the pain of trying to make life more comfortable for our dogs, only to have them thank us with pure destruction.
Thankfully, we've put together a list of some of the best indestructible dog beds on the market. Take your pick of our top 9 dog beds and have complete peace of mind that we've done all the hard work for you.
Is any dog bed indestructible?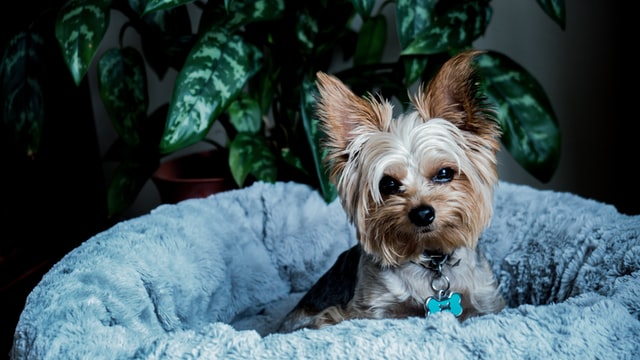 The short answer to whether or not indestructible dog beds exist is: Maybe?
There are dog beds that are extremely difficult to break, though indestructible might not be the right way to describe them.
We're going to be honest, indestructible is a strong word. When we look at dog beds with the primary focus being 'unbreakable', there are a few options. However, like most belongings, these dog beds will still break down over time, whether pillows or cots.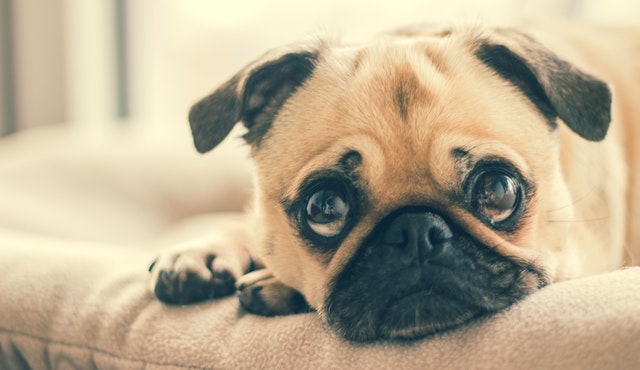 For this article, when looking at indestructible dog beds, we focused on choices that were difficult to chew. By removing this type of wear and tear from the equation, you're left with a list of dog beds that will last a lot longer than your typical dog bed.
And, as you'll see below, some of these indestructible dog beds were designed to really take a beating.
Jump to a section
Our top picks
How we chose
How to keep your dog from chewing their bed
What makes a great dog bed?
---
Editor's top pick
We've done the research, read the articles, scoured the reviews, and from all that, put together this list of 9 indestructible dog beds!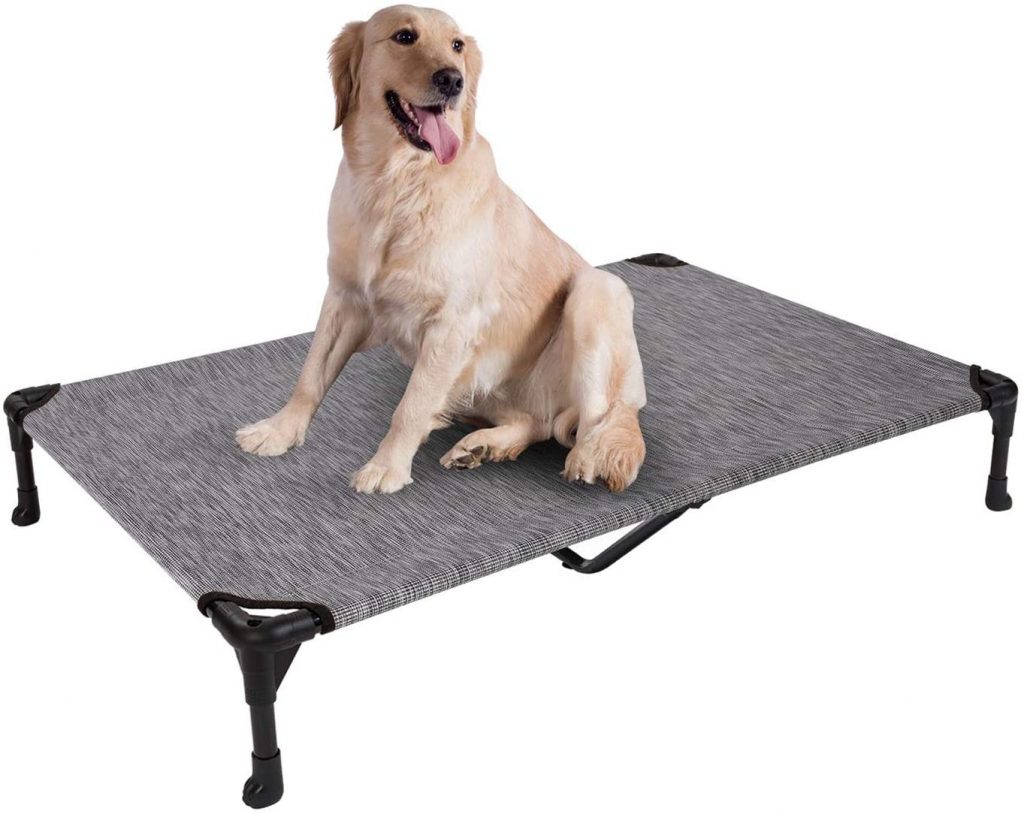 Chew-proof and Durable
If you're looking to save time and skip the rest of this article, grab this indestructible dog bed! It's our favorite.
Veehoo managed to create an indestructible dog bed that is both effective and aesthetically pleasing. And we're here for all of it.
The Veehoo elevated dog bed comes about 9 inches off the floor and is available in sizes small to x-large. The frame of these dog cots are made from powder-coated steel, so you know they can stand up to the weight of bigger dogs. Plus, the dog bed uses Textilene mesh, a fabric made from coating yarn with PVC. The fabric is tough, non-toxic, and extremely durable.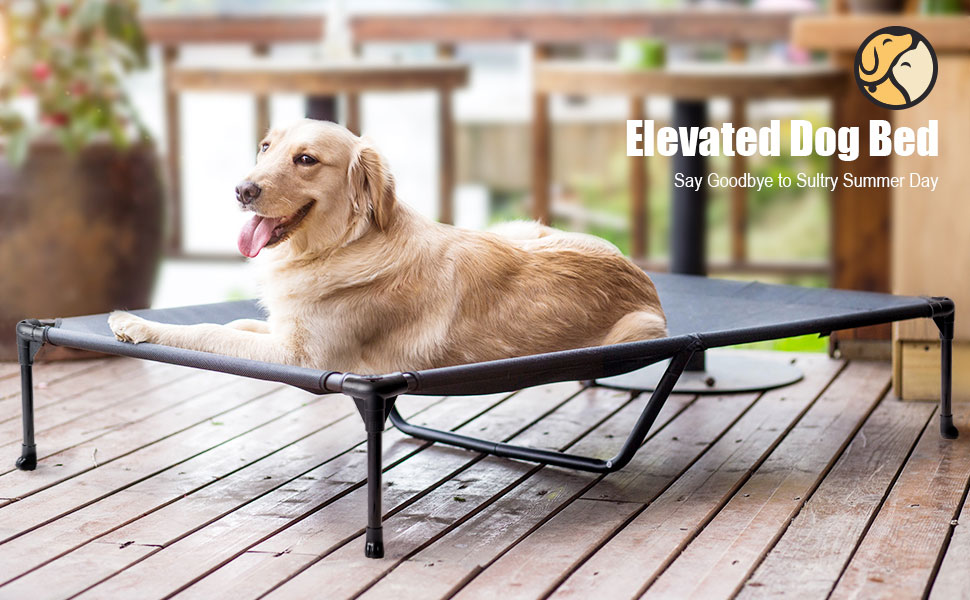 Why do we prefer Veehoo elevated dog cots over every other option on this list? Easy. Dog parents love this bed and can't stop raving about it. Reviewers adore how the bed keeps their dogs cool and that despite being made from durable materials, Veehoo has created an extremely comfortable dog bed. We love how easy it is to assemble, clean, and that it also calms anxious dogs. You just can't go wrong with the Veehoo elevated dog bed.
Pros
Easy to clean
Simple assembly
Modern design
Ventilated
Anti-scratch
Cons
Joints wiggle if picked up
---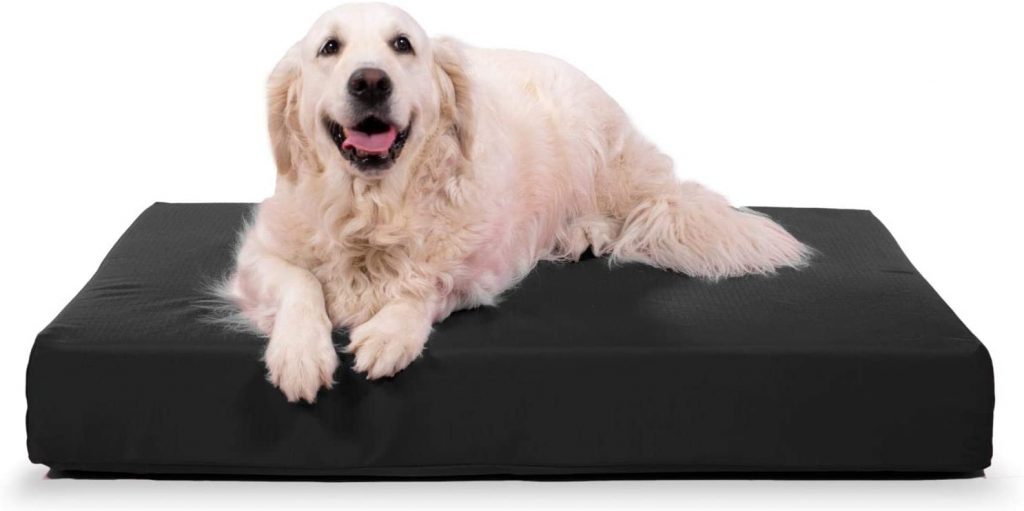 Also great
A pillow styled bed offering comfort and durability for even the roughest dogs.
K9 Ballistics has done something we're ridiculously hyped about. They've made a long-lasting, rip-proof fabric that is still very comfy for your fur baby. When you combine this rip-stop fabric with the dog beds' foam mattress, you get a safe, indestructible dog pillow that is incredibly comfortable.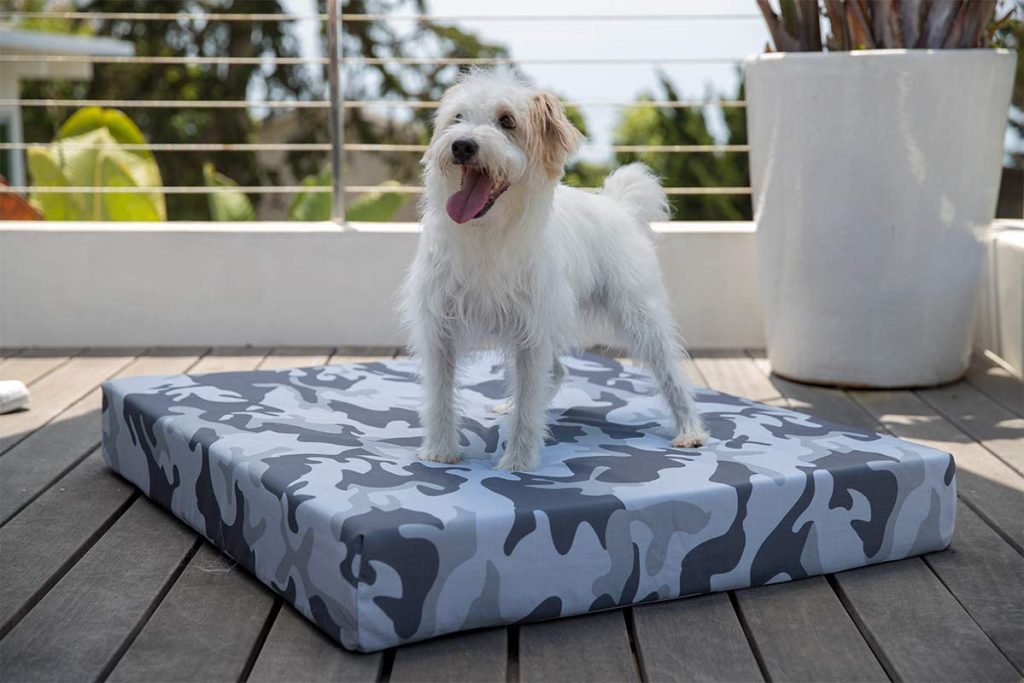 We're not alone in our adoration for the K9 Ballistics Orthopedic dog bed. Proud pet parents rave about the joint support the bed provides for larger and older dogs. And with its no zipper, no seam policy, K9 Ballistics has crafted a dog bed your dog won't be able to destroy.
The K9 Ballistics Tough Orthopedic dog bed comes in sizes small to giant, so you can find just the right fit for your dog. And the 120 day warranty that comes with your purchase makes buying your K9 Ballistics bed risk-free!
Pros
Rip-proof
Foam mattress
Machine washable
120 day warranty
---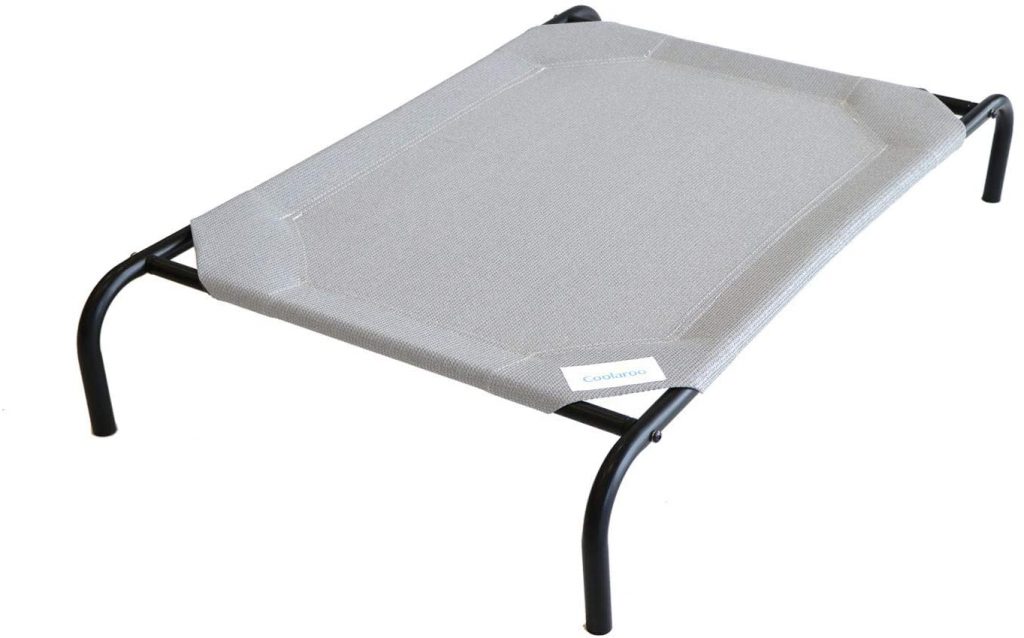 Cheap, but durable
Spending less doesn't mean sacrificing quality with this Coolaroo dog cot.
You've probably noticed by now that when it comes to indestructible dog beds, dog cots are a strong favorite. The Original Elevated Pet Bed by Coolaroo is a perfect example of why even an inexpensive cot-style dog bed is so effective.
Coolaroo created a solid, breathable dog cot that will keep your dog off the ground, but still have enough give in the sling to stay comfortable. The non-toxic fabric holds up to 100 pounds, depending on which of the three sizes you pick, and reduces pressure on dog's knees and hips. Plus, for such an affordable dog bed option, the Coolaroo is super easy to assemble and clean.
Pros
Inexpensive
Easy to clean
Simple assembly
---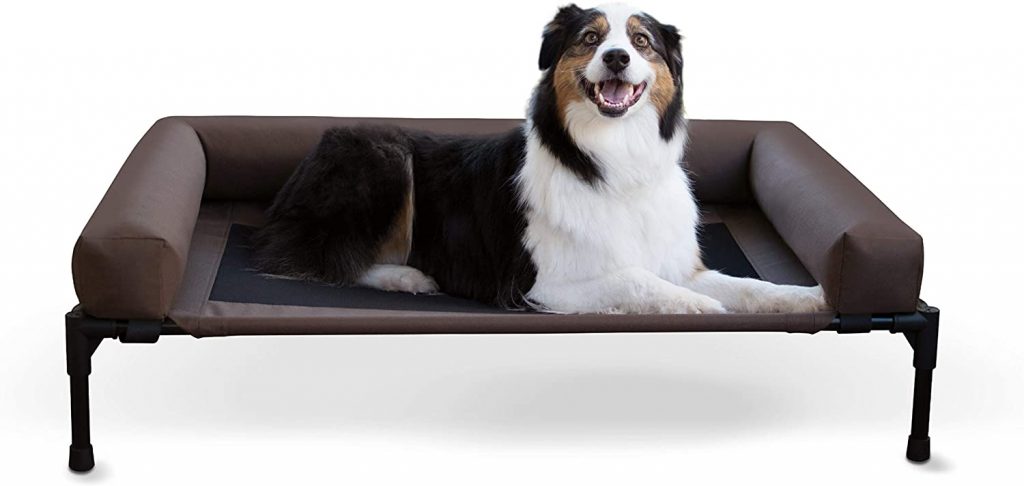 A cot-styled dog bed that includes the comfort and security of durable bolsters.
The K&H Original Bolster Pet Cot combines the comfort of a pillow dog bed with the sturdiness of a cot dog bed.
The end result?
An extremely durable and cozy dog bed that is pretty darn close to indestructible. The K&H bolster bed is made with nylon fabric, which gives the cot a hammock feel. The nylon is also waterproof and mold and mildew resistant. And, while being almost impossible to destroy is most important, we're also big fans that you can throw the cover in the wash to keep it clean and stink-free.
Pros
Fluffy bolster for added comfort
Non-skid feet
Machine washable
Cons
Pad may need replacing once a year
Bolster can open in washing machine
Only comes in three sizes
---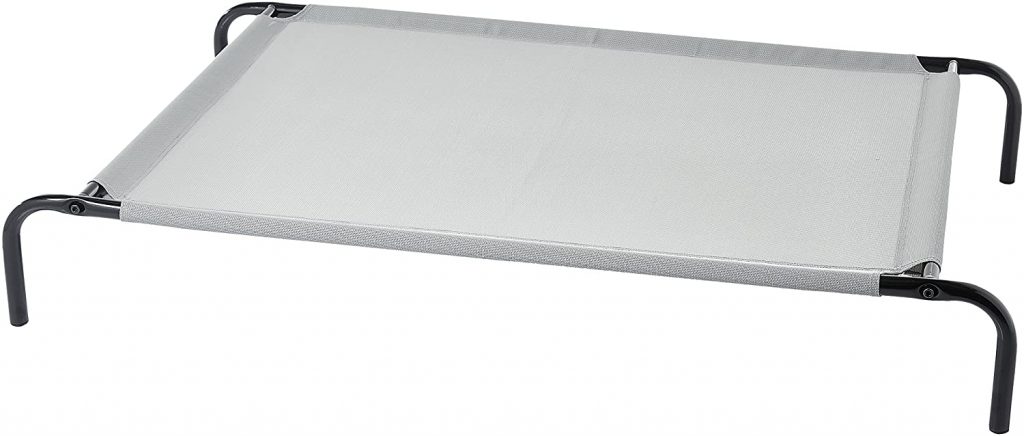 Amazon has stepped up their game with this comfy-but-tough indestructible dog bed.
We know! We're as shocked as you are to see an AmazonBasics product on this list! But, the pet parents have spoken and there are some real qualities to the Amazon elevated pet bed.
Similar to our #1 choice, the AmazonBasics mesh is created using PVC. The material has proven to be non-toxic and extremely durable, making it the perfect fabric for pet products. The elevated cot is 7 inches off the ground, so there's plenty of space for dogs to sink into their indestructible beds.
And finally, the AmazonBasics Cooling Elevated Pet Bed, which comes in 5 sizes, is easy to wash and assemble!
Pros
Breathable, durable fabric
One year warranty
Compact for travel
Cons
Reports of breaking
Some had difficulty assembling
---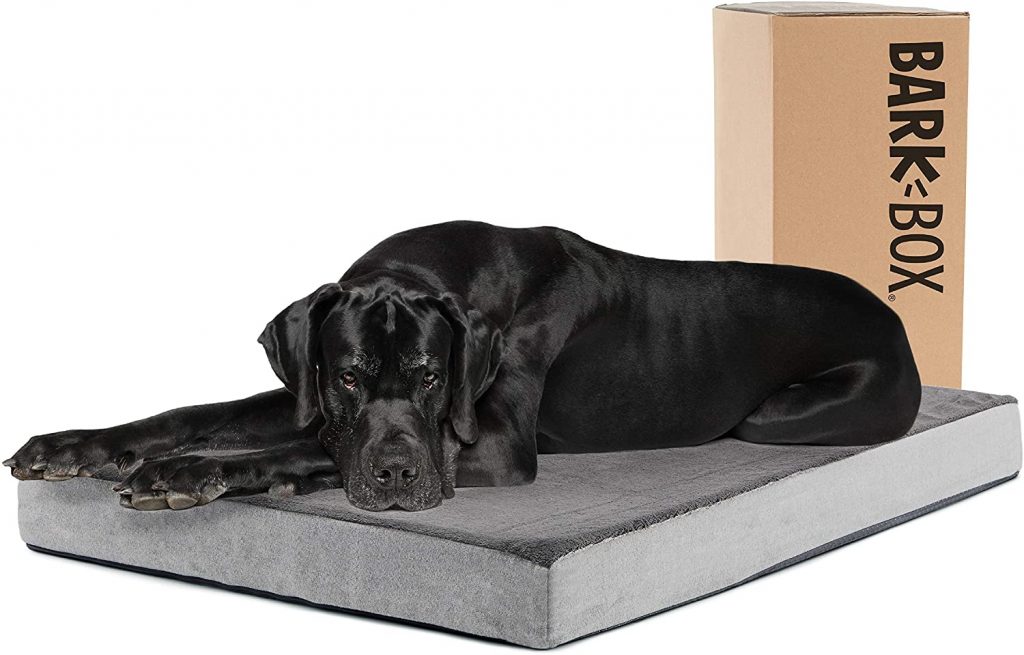 Barkbox is already praised for their foam pet beds, but they've stepped it up with their durable platform dog bed.
We'll be the first to admit the Barkbox Memory Foam Platform Dog Bed isn't completely indestructible. However, this heavy-duty dog mattress can really take a beating.
First, the memory foam platform bed by Barkbox comes with a water resistant inner cover, which is then reinforced by another water resistant cover. All of this works to protect the lush, thick memory foam that will keep your dog calm and supported.
Thanks to the two layers of durable, strong fabric, we'll call this bed indestructible-adjacent. Honestly, it's just a great bed, especially for older dogs with achy joints.
Pros
Made with actual memory foam
Protected by 2 water-resistant covers
Includes free toy
Cons
Complaints of thin foam
Sized small
---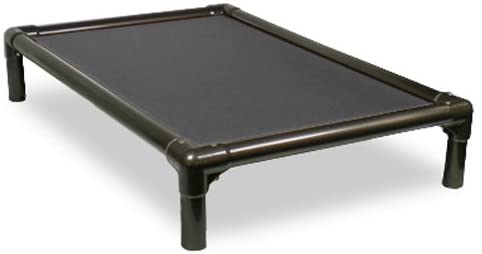 Made with some of the toughest materials, Kuranda managed to make a dependable dog bed for the heaviest chewers.
Let's just get the hard part out of the way: the Kuranda Dog Bed isn't the most beautiful option on this list. There. We said it.
However, if you've been blessed with a particularly rambunctious fur baby and need something truly heavy-duty, look no further than Kuranda. The elevated dog bed was crafted with difficult pups in mind, from its PVC frame to it Cordura fabric. Cordura is a nylon based fabric that is as durable as canvas, but more breathable.
So, don't let the ruggedness of the Kuranda deter you. It's a powerful dog bed that comes in five sizes and will withstand even the most exuberant dog.
Pros
Heavy duty design
Tough materials
Cons
Not aesthetically pleasing
Can't hold larger dogs
---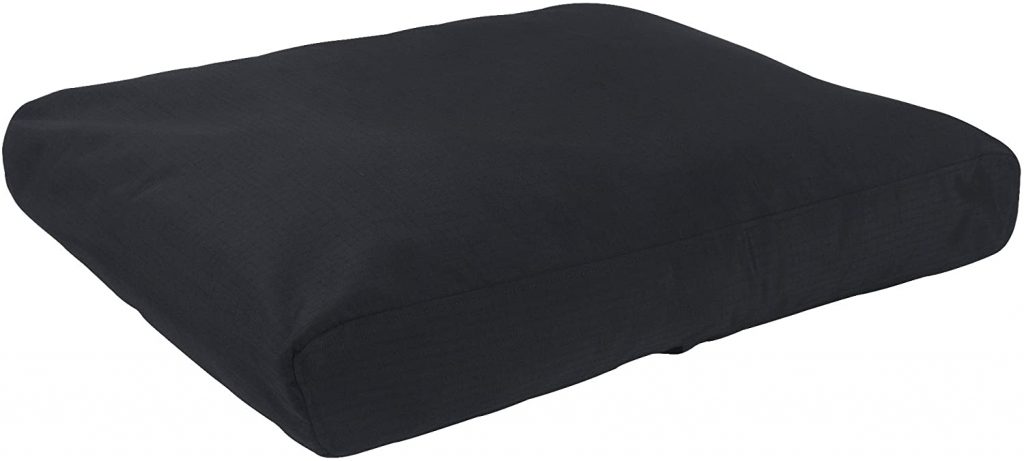 K9 Ballistic literally designs its beds for dogs that like to play rough.
There's a reason we include so many K9 Ballistics products on our list and it's because they make some of the best indestructible dog beds on the market. The Nesting Dog Bed is no different. The shredded foam in this nesting dog bed is perfect for burrowing and digging in, but it's covered with a scratch resistant fabric for protection.
Ideal for nervous dogs, you'll love the durability and comfort of these nesting beds.
Pros
Rip-stop fabric
Water resistant
Easy to clean
120 day warranty
Cons
Not designed for puppies
More expensive
---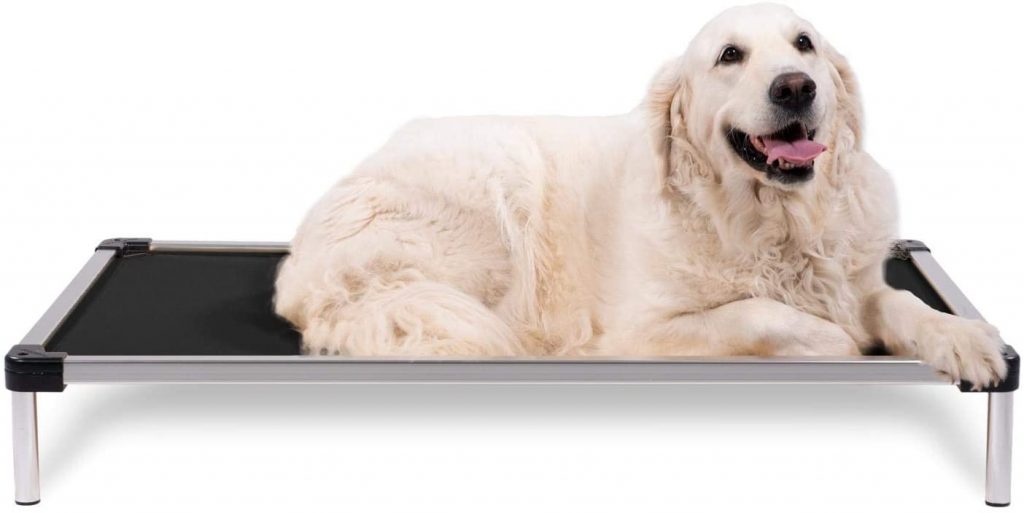 Another K9 Ballistics product that combines super tough materials with comfort for rambunctious dogs.
The K9 Ballistics Chew Proof Elevated Dog Bed uses an aluminum frame to create a lightweight, but strong, dog bed. This indestructible dog bed uses a ballistic fiber for the actual sling of the bed, so it can stand up to scratching and digging, but also give enough to create a comfortable dip for your pet dog.
While the K9 Ballistics Elevated Bed is more expensive than some options on our list, we appreciate their warranty makes purchasing a bed practically risk-free!
Pros
Arrives assembled
Easy to clean
Designed to fit crates
120 day warranty
Cons
Even K9 Ballistics admits the bed sling can be chewed
---
How we chose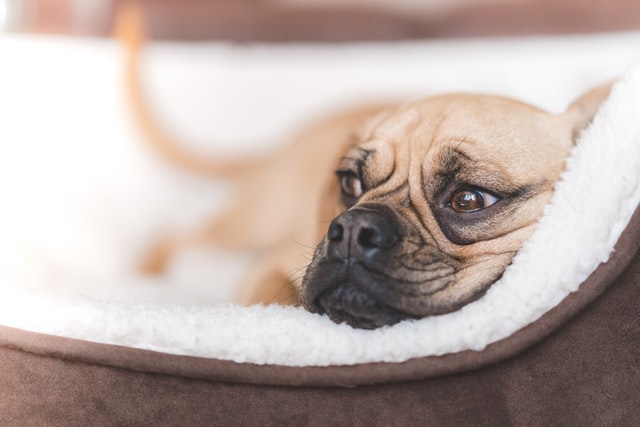 As we mentioned in our "Is any dog bed indestructible" section, even the toughest, most durable dog bed can be worn down with time.
So, going into this article, we decided to focus on dog beds that were so well-made, they could withstand some serious wear and tear. With that goal in mind, there were a few key aspects we took into consideration.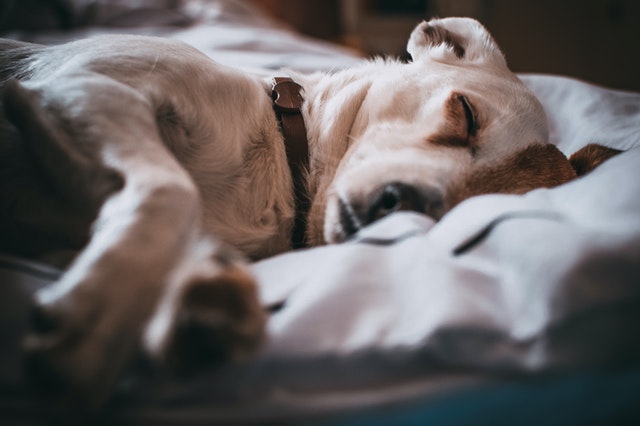 The first area we focused on was the type of materials used to make these dog beds. Often, this was a two-fold point of consideration. We needed to think about the frame and the fabric that made the sling in the frame. For frames, we wanted materials that were strong, but lightweight, like aluminum or steel. These materials needed to be able to repel even the strongest chewers.
For the material for the slings, we wanted dense, reinforced fibers that were durable, but also had some give to make them comfortable. You'll find a range of examples in our list from nylon and texteline. These are tough, strong, non-toxic fabrics that can withstand wear and tear. And, typically, they're also easy to clean.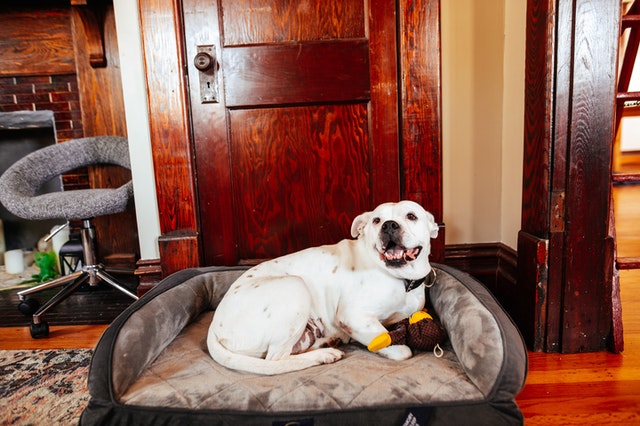 The second area we focused on when choosing our indestructible dog beds was the size availability. Similar to collars and harnesses, the size of the bed you pick for your dog is extremely important. Too small a bed and your dog will feel uncomfortable and cramped. Too big a bed and your dog could become anxious, something we'll discuss more below.
The indestructible dog beds on our list come in a variety of sizes, so you can pick the right size for your pup.
Finally, we looked at the cost of these dog beds in relation to their quality. We're the first to say that cost doesn't determine whether something is well-made. However, if we're asking you to spend money on something, we want to make sure it is worth the cost.
---
How to keep your dog from chewing their bed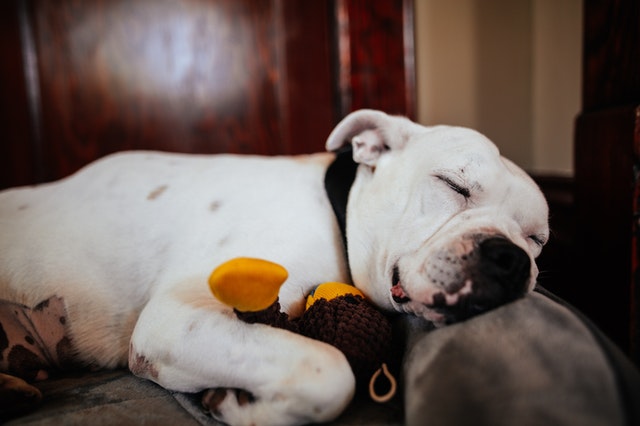 An easy way to prevent your dog from destroying their bed is to keep them from chewing it to bits. Easier said than done, of course, but it's a good goal to have.
There are several steps you can take to help keep your dog from chewing their bed, though having a solid dog bed is always the first step.
Exercise
One of the top reasons dogs will start chewing on their beds is because they need to redirect their energy. Increase the lengths and frequencies of your dog's walks to get them tired. Hopefully they'll be too tired to chew up their beds!
Distractions
Sometimes called redirection training, giving your dog something else to chew on, like an Indestructible Toy, is another way to keep them from chewing their bed. The general idea is if they're going to chew, they might as well chew on something made to be chewed.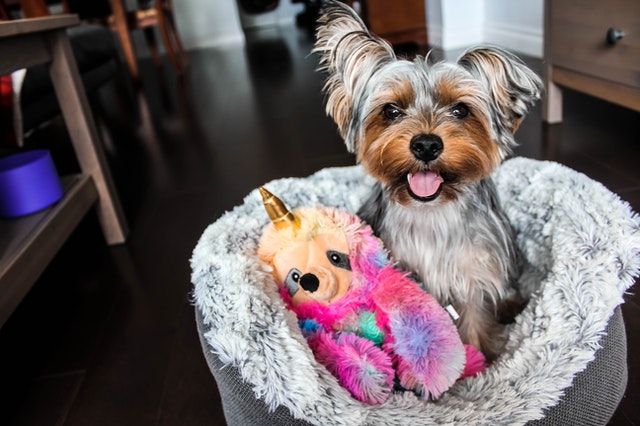 Comfort
Anxiety can also be a huge contributing factor to unwanted chewing behavior in dogs. They might be nervous about certain sounds or just scared when you're away. One way to help comfort your anxious dog is to create a little oasis for them. Give them a shirt that smells like you, tuck them into their bed, and remove any triggers to help calm them down.
Food
Finally, it's important to monitor how much your dog is eating, but it's also important to feed them at the right time. If your dog gets hungry midday and can't wait for dinner, it might start chewing as a way to curb the cravings.
If you think your dog might be getting hungry during the day, talk to your vet about increasing their meal sizes and adjusting what times they eat.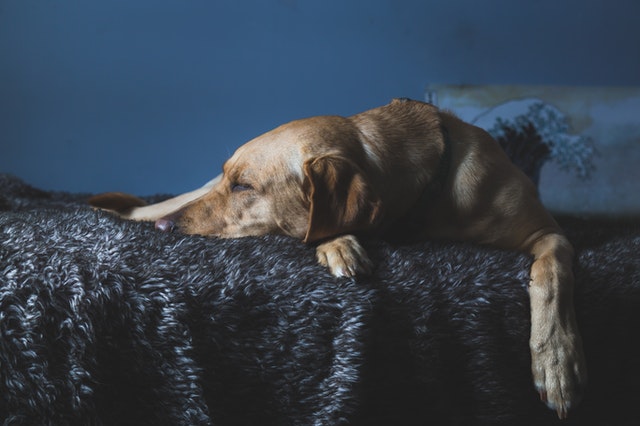 By making a few adjustments, you should be able to pinpoint what is causing your dog to chew and, hopefully, decrease how often that chewing happens on their bed! You can also find more about why dogs tend to chew at the American Kennel Club.
---
What makes a great dog bed?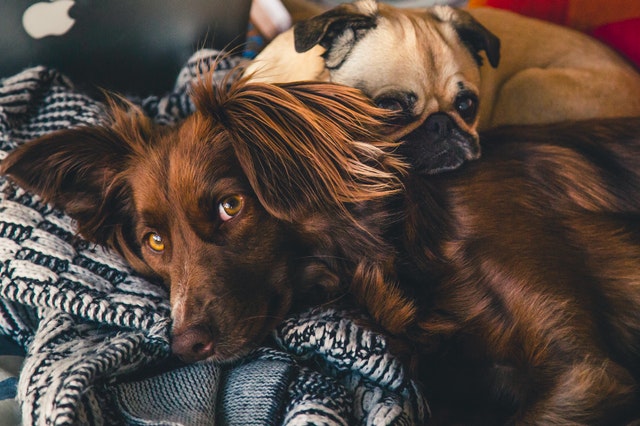 We've already gone over what we looked at when choosing our indestructible dog beds, but there are some other factors that go into great dog beds.
Of course, the durability of your dog bed materials are super important, but you also want them to be comfortable for your doggo. A great dog bed will be strong, but will also be able to be combined with cushions or blankets to make a cozy little nest.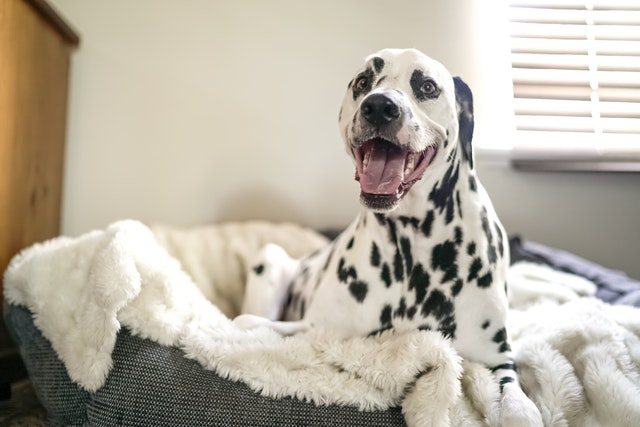 We're big fans of foam here at The PetMaster. Foam is a great way to sooth the aches and pains in your dog's joints, while also allowing some give in the cushioning. Some of our favorite dog beds are made of sturdy materials at the base, but include foam bolsters around the edges to give an extra measure of comfort.
You can even add the Barkbox Memory Foam Platform Dog Bed to one of the indestructible cots we've listed to create the perfect combination of comfort and durability.