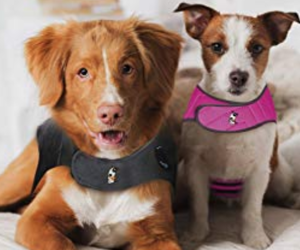 From a visit to the vet to a loud thunderstorm, there are many occasions that can be stressful and scary to your dog. When dogs experience fear and anxiety, it can create a dangerous situation for both your pet and you.
Veterinarians can prescribe medication to ease the symptoms of anxiety, but the meds can have plenty of unsavory side effects.
The purchase and use of a dog anxiety vest is an excellent method of easing a stressed-out pooch.
There are currently hundreds of different pet anxiety shirts available for your pup which can make finding the best
dog
anxiety coat seem stressful enough to give you a panic attack. Fear not! We've tested and reviewed the top ten dog anxiety vests and crafted a helpful
buyer's guide
to make the process as easy and calm as can be. Let's get started!
BEST CHOICE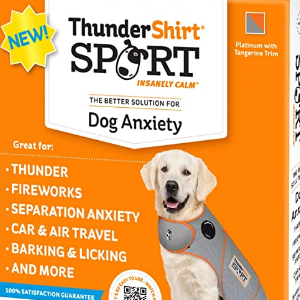 ThunderShirt Sport Dog Anxiety Jacket
Best Dog Anxiety Vest in Our Rating
Many sizes for any breed of your pet
Reliable fixation, repeating the shape of the body
The product is recommended by many veterinarians, excellent reputation
Manufacturer's Warranty
Selecting the Best Dog Anxiety Vests in November, 2023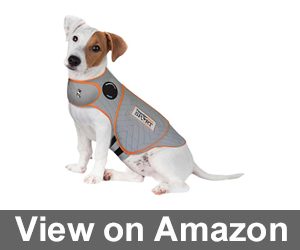 The ThunderShirt Sport Dog Anxiety Jacket is an excellent option from one of the most well-known anxiety vest creators. The ThunderShirt utilizes a comforting and gentle-pressure approach to squelch anxiety and stress in your furry friend.
Our testing team found the ThunderShirt to be an effective solution for many situations including fireworks, visits to the vet, and even during thunderstorms.
The ThunderShirt Sport Dog Anxiety Jacket is backed by the science of Dr. Temple Grandin as well as other behavioral scientists.
The calming coat is available in both pink and platinum shades to suit the taste of any pup. The vest can be purchased in a plethora of sizes from a very small version to fit the under seven-pound dogs on up to those weighing over 100 pounds.
Pros
Patented design
Available in pink or platinum
In sizes that accommodate nearly every size
Offers gentle, calming pressure to ease anxiety and fear
Cons
The Velcro closure may wear off with excessive or aggressive washing, so be sure to strictly follow all cleaning instructions
2. Surgi Snuggly Dog Cone : Best for Use After Surgery or to Keep Wounds Clean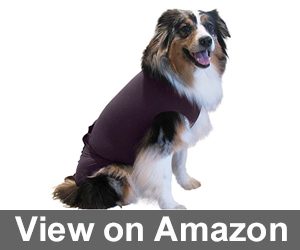 The Surgi Snuggly Dog Cone has a name that is a bit of a misnomer as it is, in fact, a vest rather than a cone. Our testing team had great success in using this option as a way to calm dogs down after surgery while also helping to keep them from licking wounds.
The Surgi Snuggly Dog Cone allows your furry friend to relax and recoup from surgery in style. We love this option as an alternative to every pup's nightmare; the cone of shame.
This awesome option was designed and created by veterinarians with American made fabrics and materials so you can feel confident in putting it on your pet.
Pros
Created by veterinarians to replace the cone of shame
Scientifically proven to reduce the level of stress in dog's after surgery
Extremely well-priced
Available in multiple sizes and colors to suit any pup's sensibilities
Cons
We love using this anxiety vest and found no negative aspects to mention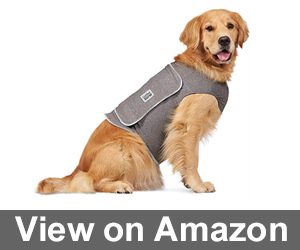 The Comfort Zone Calming Vest for Large Dogs is a terrific choice for larger breeds of canines such as golden retrievers or Labradors. This option is sized to fit chests measuring from 29 inches for the large size, up to 38 inches for the extra-large size.
The fabric is gentle and effective at calming pressure while also being incredibly light feeling and breathable.
For this reasoning, our testing team enjoyed having this version to use during the warmer spring and summer months.
The Comfort Zone Calming Vest for Large Dogs relies on complete comfort compression technology. The coat will provide your faithful friend with a consistent, gentle pressure that feels similar to the swaddling of a baby. Our testing team appreciated the excellent construction of the vest and its super secure Velcro enclosures.
Pros
Wonderful choice for bigger breeds
Breathable fabric
Extremely well-made and durable
Very secure
Fits chests from 29 inches to 38 inches
Cons
This was one of our favorite pet anxiety vest options for larger dogs with no downsides to speak of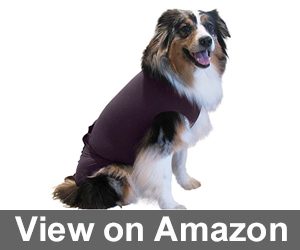 The Mellow Shirt Dog Anxiety Calming Wrap works in a way similar to wrapping a newborn infant. The shirt swaddles your pup with a gentle, lightweight pressure that is soothing to your dog's frazzled nerves.
Our testing team loved how easy it is to put the Mellow Shirt on our pets and how well it works to comfort and calm them down.
The Mellow Shirt Dog Anxiety Calming Wrap is crafted from a fabric that is lightweight and very breathable.
Additionally, the Mellow Shirt is machine washable for added convenience. The shirt utilizes hook and loop fasteners that make placing it on and adjusting it a breeze.
Pros
Lightweight and breathable fabric
Machine washable
Available in sizes from XXS for the under seven-pound breeds to XL for breeds up to 110 pounds
Lots of fun color options
Cons
Thinner than some other options, so it may work best in warmer months or for thicker coated breeds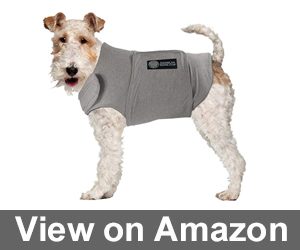 The AKC American Kennel Club Anti-Anxiety and Stress Relief Calming Coat offers a way to perk your pampered pooch up by relieving stress and anxiety. The coat is available in blue, grey, and pink to suit any tastes.
Our testing team members had great success in using the coat when taking their pets to the vet and during fireworks as a way to help them feel safer and more secure.
The AKC American Kennel Club Anti Anxiety and Stress Relief Calming Coat earned high marks from our testing team members that tried the coat during firework events.
The coat kept one of our team member's incredibly skittish Pomeranian feel safe and protected during an especially loud set of fireworks. We were also able to use this option on a cat during a vet trip with excellent results.
Pros
Available in blue, pink, or grey
Made in sizes to fit pets from XS to XL
Easy to put on your pet
Works well during fireworks
Cons
Slightly more expensive than other choices, but lovely option nonetheless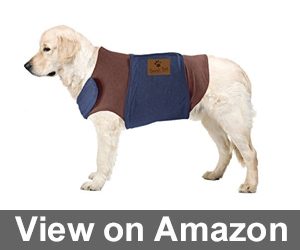 The Emmy's Best Premium Pet Products Two Tone Soft Fabric Jacket is offered in small and medium sizes to accommodate smaller dogs and even cats. The shirt is easy to place on your caring canine.
Our testing team members were thrilled to find an option that helped their rescue dogs feel safer and happier when wearing this coat.
The Emmy's Best Premium Pet Products Two Tone Soft Fabric Jacket features two colors as well as deluxe leather embellishments.
This jacket seems to be a hit among rescue dogs. Since they are often traumatized from their stay at a pound or humane society, the coat helps them to regain a feeling of safety making this a perfect fit.
Pros
Two color option
Deluxe leather embellishments
Rescue dogs love it
Easy to put on
Cons
This option was one of our favorite choices this week with no downsides to mention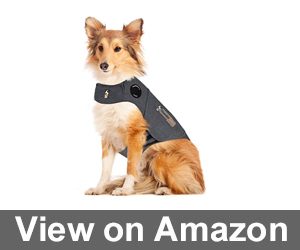 The ThunderShirt Classic Dog Anxiety Jacket is the clear favorite of our testing team members this week. The coat works to relieve symptoms of fear, stress, overexcitement, and anxiety.
The shirt is so effective that it has an over 80 percent success rate for helping millions of pooches and kitties.
The ThunderShirt Classic Dog Anxiety Jacket is backed by science that was based on the studies of Dr. Temple Grandin and other animal behavior specialists.
It's a breeze to put on and machine washable. With the ThunderShirt Classic Dog Anxiety Jacket, you can rest assured that your beloved pet will feel confident, calm, and happy.
Pros
Terrific pricing point
Has helped millions of pets
The original calming coat that most others are based on
Science-backed
Cons
The ThunderShirt Classic Dog Anxiety Jacket is our hands down number one pick with no negative qualities to speak of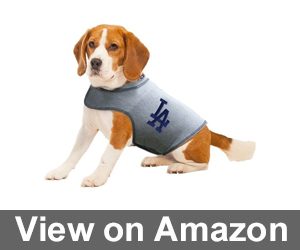 The Thundershirt Dog Anxiety Polo Shirt, Major League Baseball Officially Licensed blends the effectiveness of the original ThunderShirt with America's favorite pastime, baseball! The coat works in the same way as the traditional version by using gentle pressure to alleviate stressful feelings.
Our testing team loved having a coat that reflects our love for our favorite teams while keeping Fido calmer and happier than ever.
The Thundershirt Dog Anxiety Polo Shirt, Major League Baseball Officially Licensed has helped millions of pets stay calm during storms, vet visits, fireworks and more.
The coat has sizing options to fit little dogs under seven pounds up to larger breeds that weigh over 110 pounds. The vest is lightweight and breathable so your dog won't overheat.
Pros
Effective and fun
Lightweight and breathable fabric
Easy to place on a pet
Moderate price point
Cons
Our testing team members wish there was more variety in the available team logos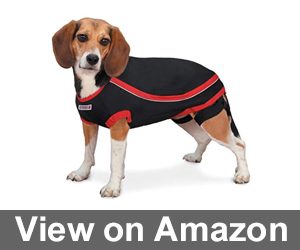 The KONG Anxiety Reducing Pet Shirt is a beautiful budget priced selection that shows you do not need to spend a fortune for real results. The snuggly fitting shirt features a wrap-around design. It's straightforward to apply and remove.
Our testing team was thrilled to find an inexpensive option that is still crafted from high-quality materials.
The KONG Anxiety Reducing Pet Shirt is offered in a plethora of sizes to fit nearly any pooch or cat.
It features flexible Velcro closures which work to keep your pet's shirt on without irritating their sensitive skin or creating pressure ulcers. At this price, you may even want to grab two coats so that one can be worn while the other is in the wash.
Pros
Inexpensive yet effective option
Easy fit sizing
Flexible Velcro prevents sores
Versatile and well-made
Cons
We wish there were more color options since black isn't the best choice for pets that wear the coat outdoors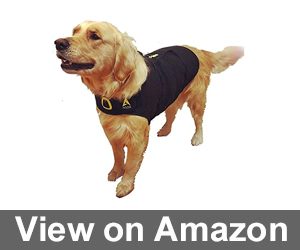 The Agon CozyFur Patent Pending Canine Anti-Anxiety Vest is an entire calming system designed to pamper and calm the most stressed of pets.
The coat can be selected in either black or grey. You will also receive a music player to distract nervous pets from scary sounds.
The Agon CozyFur Patent Pending Canine Anti-Anxiety Vest also includes two essential oil crystals.
One is lavender, and the other crystal is chamomile, both of which supply calming, serene aromatherapy to soothe and comfort your pet's frazzled nerves. Our testing team was leery but found that the Agon CozyFur system was truly helpful for very stressed dogs.
Pros
Includes coat, music player, and essential oil crystals
An entire system to combat canine stress and anxiety• Comfy and easy to put on
Wonderful for extremely stressed dogs
Cons
We love this option from CozyFur with no negative qualities to speak of
The Best Dog Anxiety Vests – Buyer's Guide
A pet anxiety shirt is an excellent way to ease the stress that your dog is experiencing. There are many different versions each claiming to be the very best. Gaining an understanding of the theory and science behind anxiety coats as well as how they work will assist you in discovering the best model for you and your furry friend.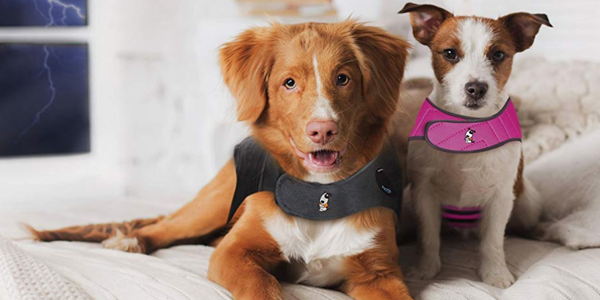 Our testing team learned a ton of helpful information while testing and reviewing the top ten anxiety vests for dogs. We want to share that knowledge with you, our loyal readers and your pet-kids. Let's get started!
What is Canine Anxiety?
Anxiety can occur in not only humans but in our canine and feline friends as well. Stressors such as separation, loud noises, or new places can make your pet feel anxious. Anxiety can be demonstrated by many different behaviors including, but not limited to:
Shaking
Hiding
Growling
Relieving themselves where they shouldn't
Running away
Constant licking
Biting
Destructive behavior such as scratching and chewing
Just like their pet-parents, pets with anxiety require treatment to feel better. You could take a costly trip to the vet for a prescription for medication or try to distract your pet when they seem upset. However, anxiety vests are becoming a more common way to relieve anxious behavior in a cost-effective, comforting way that does not rely on medications or expensive therapeutic treatments.
How Does a Pet Anxiety Shirt Work?
The dog anxiety vest works by allowing your pup to feel safe and secure. The principle is similar to that of swaddling an infant as a way to provide a sort of blanket assisted hug. The reason it works for many pets (and people) lies in the act of compression. Compression is a special and specific sensation allowing your fuzzy friend to feel like they are constantly being held, hugged, and comforted.
When Would a Dog Anxiety Vest Be Helpful?
There are many times to use a pet anxiety wrap. You can use it during thunderstorms or fireworks, while you are at work for a pet with separation anxiety, or anytime they are afraid. The coats are easy to put on and remove making them convenient for any occasion.
Key Considerations for Purchasing a Dog Anxiety Vest
Fitting and Compression. It is imperative to measure your pet properly so that you can buy the right size. A too big shirt will not have enough compression while a too small one could cut off circulation or cause pain. Always double check measurements for accuracy.
Material Matters. Cotton based anxiety shirts are breathable and lightweight. This makes them an excellent option as they will not cause your pet to become too warm in milder months. It is also easy to clean and care for. Velcro closures make customizing size simple while protecting the skin.
Wash Ability. Selecting an option that is machine washable will save you both time and frustration. Pets get into things and get dirty quickly. Throwing the shirt into the washer is much easier than trying to spot clean stains by hand.
A Few Common Questions About Pet Anxiety Vests
How long can my pet wear an anxiety shirt for?
The anti-anxiety wraps are crafted to be worn for extended periods of time. A correctly sized and applied vest will be snug and comfy for your pet, so they will be happy wearing it. If you plan to leave them in the shirt for over two hours during the initial wearing you will need to remove it periodically to check for any areas of irritation.
Why did my cat fall over after I placed the anxiety shirt on?
Our feline friends are not typically used to wearing clothes. Cats have an extremely high degree of sensitivity to tactile stimulus. As a result, they may be overwhelmed and flop over. Do not worry, they are not in pain they are simply adjusting to the new and different tactile sensations.
Conclusion
A dog anxiety vest can help your pet to feel calm and comforted during stressful events or experiences. Finding the best version can be a stressful task with so many options available. Keeping your pet's needs and their measurements in mind will make the process much easier.
We hope you enjoyed reading our top ten dog anxiety vest reviews and that you learned something new from our buyer's guide. Hearing back from our readers always brightens our day. Please drop us a short comment below with your pet anxiety tips and tricks.