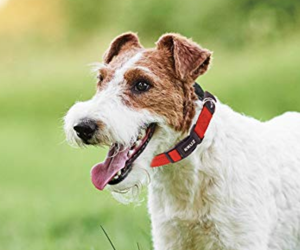 Dogs come in a plethora of breeds, sizes, and attitudes. One thing all canines have in common though is the need for a high-quality collar.
Your furry friend's collar is more than just a dog necklace, it allows you to secure your pet with a leash for walks and can carry their identification tags in case they ever get lost.
Finding a dog collar that is comfortable, long lasting, and aesthetically pleasing can seem like a chore that is less fun than picking up your pup's poopy presents.
We have thoroughly tested and reviewed the top ten dog collars, and we have also crafted a helpful
shopping guide
to demystify the purchasing process so that you can shop confidently. Let's get started!
BEST CHOICE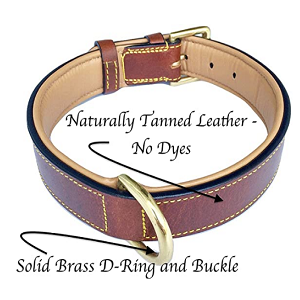 Soft Touch Collars
Best Dog Collar in Our Rating
Many designs and sizes to choose from
Made of genuine leather, will not cause pet irritation
Durable clasp that never opens on its own
Manufacturer's Warranty
Selecting the Best Dog Collars in May, 2023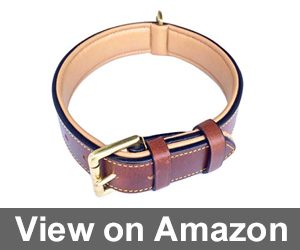 The Soft Touch Collars Luxury Leather Padded Collar combines the luxury feeling of leather with the comfort that your dog craves. The collar is padded to prevent pain or chafing.
Our testing team loved that this offering from Soft Touch Collars looks as lovely as it feels.
The Soft Touch Collars Luxury Leather Padded Collar features a small ring built into the collar to hold your pet's identification tag.
This option has been handcrafted from full grain leather that has been naturally tanned so you won't need to worry about harmful chemicals coming into contact with your dog's sensitive skin. With a lifetime warranty, you can rest assured that this leather collar will last and last.
Pros
Beautiful and naturally tanned leather
Includes a ring for pet ID or rabies tags
Very comfortable and durable
Rings and buckle are made from lacquered brass to prevent rusting
Cons
You may want to pick up some leather oil or mink oil as the leather may get scratched up with normal wear and tear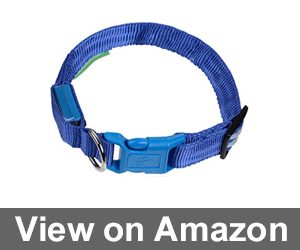 The Illumiseen LED Dog Collar will brighten up both you and your faithful friend's life, literally. Our testing team really enjoyed using a collar that helps with nighttime visibility issues.
If your pet is ever out and about during the darker hours, this collar can truly be a lifesaver.
The Illumiseen LED Dog Collar includes a rechargeable USB battery. Each one-hour charge provides around five hours of illumination.
The light can be customized to slow flashing, quick flashing, or a steady light with a quick click. The light can be turned off when you are back at home to preserve the battery.
Pros
Terrific option for nighttime walking or pets with darker coats of fur
Allows vehicles and others to see your pet from far away which can prevent accidents
Very durable and multiple light settings
Easy to charge, use, and switch settings
Cons
We absolutely love both the idea and the execution behind this collar and were hard pressed to find any negatives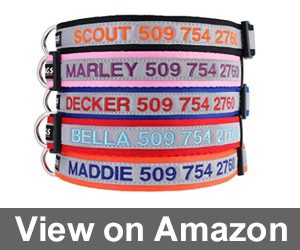 The Reflective Personalized Dog Collar allows both you and your furry buddy to be highly visible to passing vehicles. The collar is reflective and allows you to be seen in both daytime and nighttime conditions.
The collar is also customizable, to allow you to have your dog's name and information embroidered directly on the collar.
The Reflective Personalized Dog Collar was a huge hit among our testing team members that dislike hearing their pet's tags jingle and jangle.
For folks that sleep with their pets, hearing their tags clang together in the middle of the night can be jarring and cause a disruption in your sleep cycle. Each collar can be customized with up to 25 characters in a wide variety of colors.
Pros
Comfortable for pets
Customizable option with up to 25 characters embroidered directly on the collar
Highly reflective to increase visibility
Awesome for folks that sleep with their pets
Cons
This dog collar features a plastic buckle which may have a tendency to break if your dog is a leash puller or extremely active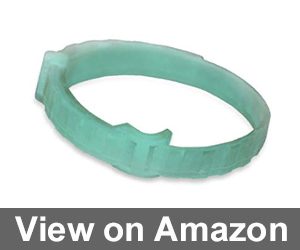 The Sentry Calming Collar for Dogs relies on pheromone technology to create a product for pets experiencing anxiety.
Pheromones are scientifically proven to help lower stress and anxiety in pets. The collar releases calming pheromones for up to thirty days.
The Sentry Calming Collar for Dogs works to stop stress-related behaviors in your dog.
The collars are terrific for use in pets that experience separation anxiety or other issues such as fear during storms, excessive barking, and even fighting between pets. On the downside, each collar only emits pheromones for thirty days, so they will need to be replaced monthly.
Pros
Releases calming pheromones
Terrific idea for nervous and stressed pets
Reduced stress-related behaviors such as shaking and barking in our testing team's pets
The pheromone smell is pleasant and not overpowering
Cons
The collar must be replaced every thirty days for pheromones to work properly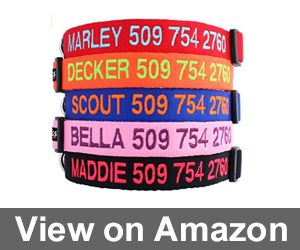 The Personalized Dog Collar by Gotags is made from high-quality nylon webbing for comfort and durability. The collar is personalized with your pup's name and your phone number to eliminate the need for tags.
Our testing team loved the huge assortment of color choices available.
This offering from Gotags is a wonderful dog collar for active pets. The nylon webbing material is breathable, making it a perfect choice for summertime fun with your pet.
It is worth noting, however, that of the five collars we tested, one had the company's tag placed where the personalized words should be. This issue resulted in the name and phone number being partially obscured by the buckle but the lettering is still easily decipherable.
Pros
Includes free personalization of pet's name and phone number or email in case they are lost
Easy to place on your pet and to adjust as well
Lots of fun and bright color options available
Moderate price point
Cons
One of the collars we tested had the manufacturer tag where the pet's name and info should be
The buckle obscured collars with 25 characters of personalization in smaller sizes, but it is still a great collar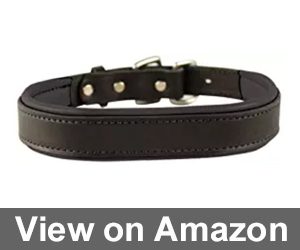 The Perri's Padded Leather Dog Collar was a hit among our testing team members that were hoping for a very well-crafted leather dog collar. Perri's makes the collar in lots of different color combinations, so you are sure to find one that tickles you and your pet's fancy.
The collars are Amish made in the United States and are extremely well made from high-quality materials to create a very durable collar.
The Perri's Padded Leather Dog Collar has extremely soft padding to maximize your pup's comfort.
The padding is created using soft lambskin. The collars are available with brass hardware or stainless steel hardware to attach ID tags as needed.
Pros
Super soft lambskin padding keeps dogs comfy
Lots of different color combinations available
Amish made in the United States
Several different sizes available
Cons
Somewhat expensive but worth the price as it is very well constructed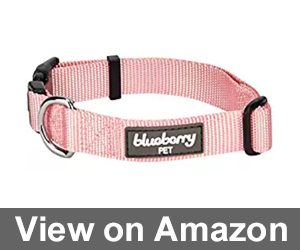 The Blueberry Pet Classic Dog Collar is as easy on the eyes as it is on your wallet. This budget-priced beauty is offered in many different colors including pink, emerald, black, and lots more.
Our testing team noticed that this collar works well with pups that are sensitive to wearing collars as it seems to be more comfortable and less restrictive than similar versions.
The Blueberry Pet Classic Dog Collar is available in different sizes, so you are sure to find one that fits the neck of your pet perfectly.
The collars are created from a lightweight and breathable nylon with an addition of high-density webbing. The webbing lends an extra protective layer to increase the durability of the collar without making it uncomfortable or cumbersome for your pet to wear.
Pros
Wonderful price point
Tons of colors to select from
Breathable and comfy for your pet to wear
Durable and long-lasting
Cons
This budget-priced collar was a hit with no negative aspects to speak of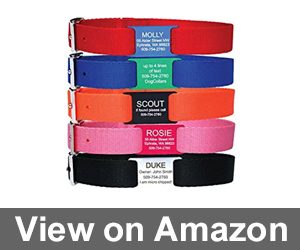 The Gotags Custom Engraved Pet Identification Tag, and Collar features a personalized identification tag that slides on to the actual collar. The GoTags Custom Engraved Pet Identification Tag and Collar Set is available in lots of fun color options for both the collar as well as the tag.
This option also includes a durable and lightweight nylon collar, but you could place the tag on any collar that isn't more than one inch wide.
Our testing team was so excited to test the Gotags Custom Engraved Pet Identification Tag since it slides on easily without the struggle to separate the traditional hanging ring to attach a traditional tag.
The tag is the absolute easiest tag we have ever attached to a collar. The sliding tag would be a wonderful choice for folks with arthritis or mobility concerns that make attaching key ring style tags difficult, painful, or impossible.
Pros
Easiest identification to attach to a collar we've ever seen
Personalized tag is available in lots of color options
Terrific price point
Lightweight
Durable
Cons
We liked this option so much that we were hard pressed to find any negative qualities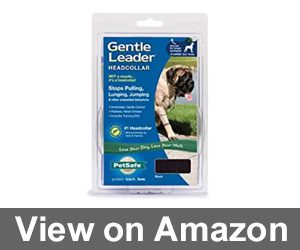 The PetSafe Gentle Leader Collar is the perfect solution for dogs that are new to walking on leashes or that pull constantly.
The collar works to put an end to excessive leash pulling as well as lunging, barking, or jumping. The collar will not cause your pet to choke, and it is not painful at all.
The PetSafe Gentle Leader Collar arrives with fitting instructions, a training DVD, and a training guide.
Our testing team appreciated the thoroughness of the accompanying guide and DVD. This option is helpful for new puppies that are experiencing a difficult time with leash training or older pets that have been adopted from a shelter.
Pros
Terrific price point
Includes a helpful DVD and training guide
Helps to train dogs to walk on a leash
Easy to use
Cons
Some dogs will not grow accustomed to walking on a leash with this tool
One testing team member's dog chewed through the material quite easily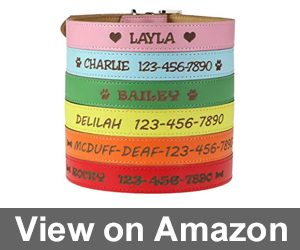 The Custom Catch Personalized Dog Collar is an engraved leather collar. The collar can be personalized with your furry friend's name, your number, email, or other pertinent information.
Our testing team members loved that they could add little designs to the collar including bones, hearts, or paw prints.
The Custom Catch Personalized Dog Collar is available in sizes from extra small to large to fit a plethora of breeds.
You can choose from several bright and cheery color options. Since your pet's name and information is engraved into the leather, you won't need to worry about jangling tags, making this a great choice for light sleepers who let their pets stay with them in bed at night.
Pros
Terrific price point
Perfect for pets that sleep in the bed with you
Durable and stylish
Customized lettering is large and comfortable to read
Cons
Our testing team loved this option so much that we were hard pressed to find any bad qualities
Best Dog Collar – Buyer's Guide
A quick trip to your local big box store will reveal that there are thousands of dog collars available for purchase. As technology continue to advance, new collars are popping up often. With so many features and interesting specifications to select from, finding the best dog collar for your furry friend can quickly become a headache.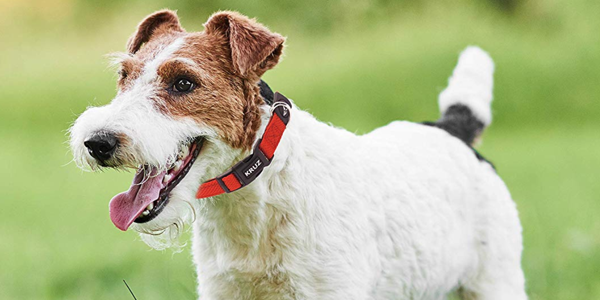 While testing the top ten dog collars, our testing team learned tons of new information, tips, and ticks. As a result, we would love to pass this knowledge on to you, so that you can make an informed decision. Let's get started!
The Different Types of Dog Collars
Dog collars are created in a multitude of colors, shapes, and sizes. There are several distinct categories or types that they fall under. Let's take a sneak peek at the good and bad of each version.
Traditional Dog Collars
Traditional collars are the most commonly used dog collar. They can be crafted from a variety of materials and can be made in almost any color imaginable. This version is a round collar with a buckle to fasten it.
Reflective and LED Dog Collars
If you like to take your faithful buddy on walks at night a reflective or LED collar can be extremely beneficial. Reflective surfaces will shine brightly when headlights are facing them so that drivers can easily see your pet and will steer clear of them and you. LED collars have surged in popularity for their ability to flash brightly or produce a steady light to alert oncoming traffic that you and your pet are out for a walk. This collar version could be the difference between a calm, leisurely walk and a horrible accident.
Outdoor Dog Collars
Collars meant for outdoor use are often waterproof. These collars are perfect for active dogs and families that enjoy activities such as boating, hiking, and more. The collars are typically fashioned from heavier materials that will not fall apart due to rigorous activities.
Elizabethan Dog Collars
An Elizabethan Dog Collar is also referred to as a cone. In our home, it's called the cone of shame. This is the type of collar that pets wear after surgery or an injury to keep the area clean, dry, and away from your pup's tongue.
Material Matters
The material that your dog's new collar is created from is another crucial consideration. Here is a closer examination of commonly used materials in creating dog collars.
Leather
Leather is a traditional and comfortable option for dog collars. Collars crafted from leather are usually more expensive than other materials but are among the longest lasting of collars. You may want to wait until your furry friend is close to their mature adult size before purchasing a leather option, so you won't be wasting money on a collar that is quickly outgrown.
Nylon and Synthetic
Nylon and synthetic materials are another popular set of options. These collars tend to be less expensive when compared to the pricing for leather collars. A nylon collar is also much more flexible than leather which makes it a terrific option for puppies or very active pets. On the downside, some pets do have an allergy to nylon or synthetic fabrics so please exercise caution when placing it on your pet for the first time.
What is the Best Type of Dog Collar Closure Hardware?
The closure hardware of your pet's new collar describes how you connect one end of the collar to another. There are several main versions including quick release, slip on, and buckle.
Quick Release Closures
Quick release collar closures are flattened, and they are usually plastic. The closure "breaks" apart when pulled so it will fall off rather than choke your pet. This closure is great for puppies and very active pets that could accidentally get caught up on things.
Slip On
Slip on collars slide over your pet's head. They often have metal rings or chains. This version is often used for working or outdoor dogs.
Buckle Closures
Buckle closures can be metal or plastic. This option uses a belt buckle type closure. Metal buckles are usually created from brass or stainless steel.
Sizing
Selecting a collar that will fit your pet properly is the most important step in purchasing a new dog collar. There are several ways to measure your pet to ensure a perfect fit. You can use a soft measuring tape, like the kind used in sewing. Lightly place the soft measuring tape along your dog's neck, where the collar will rest. Hold the tape snuggly, but not tight.
Another way to measure your pet is to take a piece of ribbon or yarn and wrap it around your pet's neck. Keep it snug but not too tight. Note where the ribbon ends meet, then ay it flat on a table. You can then use a ruler or construction tape measurer to see how long the length is.
You will want your dog's collar to fit snug around their neck without being so tight it causes chafing or choking. You should be able to fit two fingers under the collar comfortably. If you cannot fit two fingers, it is too tight and must be loosened. If it is too loose, it needs to be tightened, or it could slip off. Remember to measure puppies every two weeks as they grow into their full size.
Finding the best dog collar for you and your furry best friend's needs can seem overwhelming. There are thousands of versions available, each purporting to be the best. Keeping your pet's needs, activity level and safety concerns in mind will make buying a new collar for Fido a much easier and more enjoyable task.
We hope you had fun learning about dog collars with us today. Hearing back from our readers is the best part of our day. Drop us a quick line below with your favorite collar and your best methods for ensuring a perfect fit.