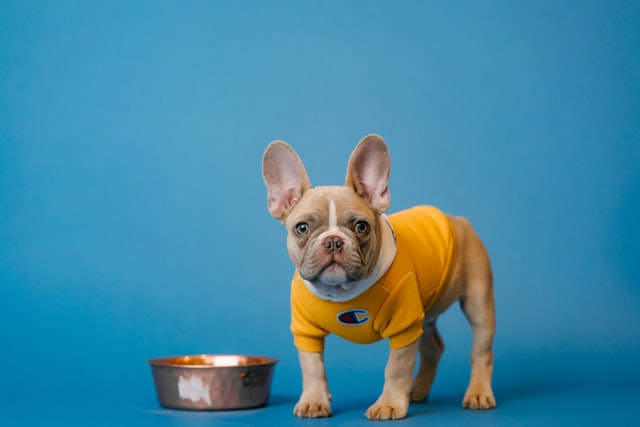 Finding the right equipment for your dog can be a real hassle. And when it comes to dog bowls, the process can be even more exhausting. You want to find a bowl that is safe, meets your dog's specific needs, but also doesn't cost an arm and a leg.
We've searched through dozens of different dog bowls to find the best options for you. We did all the research and gathered our favorites, taking out any guesswork for you.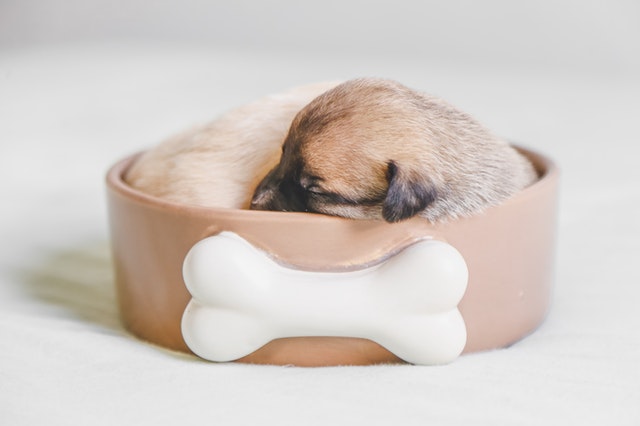 What material is best for dog bowls?
The most common materials for dog bowls are plastic, ceramic, and stainless steel. While there are pros and cons for each option, experts agree the best material for dog bowls is stainless steel.
Stainless steel pet bowls are durable, light, and easy to clean. Because stainless steel bowls aren't porous, they don't release contaminants into your dog's food or water. And, the heavy-duty nature of stainless make it perfect for dishwashers, so clean up is a breeze.
While we looked at options for dog bowls of varying materials, our favorite, and the safest, will always be stainless steel.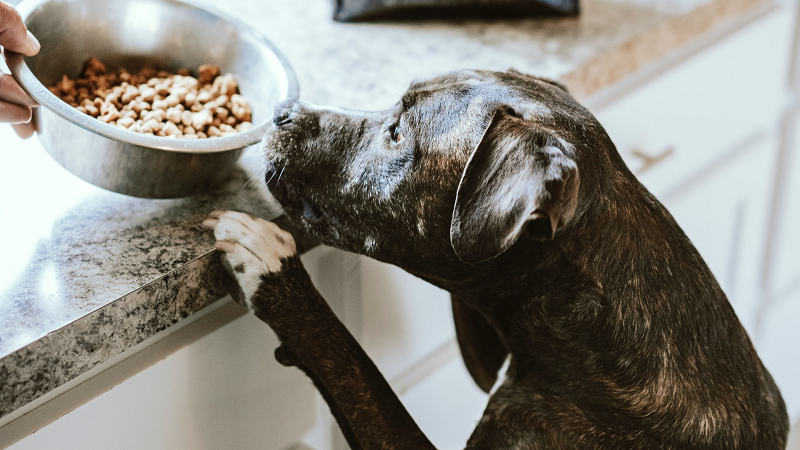 Jump to a section
Should you use a different bowl for food and water?
---
Editor's top picks
After extensive research, we've put together our favorite dog bowls of 2020.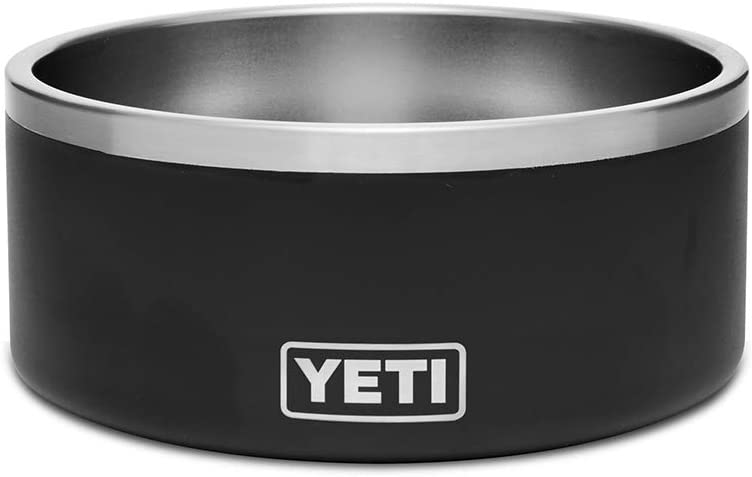 Our Favorite
Short on time? Stop reading and purchase our favorite dog bowl pick!
Yeti is known for having some of the best coolers and drinkware for adventurous, active people. So, it makes sense that when they decided to create a dog bowl, it would be durable and safe.
The eight cup Yeti Boomer is made with a double-walled, non-insulated stainless steel, which is the same quality as Yeti uses in its drinkware for humans. The stainless steel is 18/8, BPA free, puncture and rust resistant, and completely safe for your furry favorites. Because of Yeti's BPA free policy, you can use this bowl for both food and water.
When we say it would be safe for you to drink out of this bowl, we're not kidding!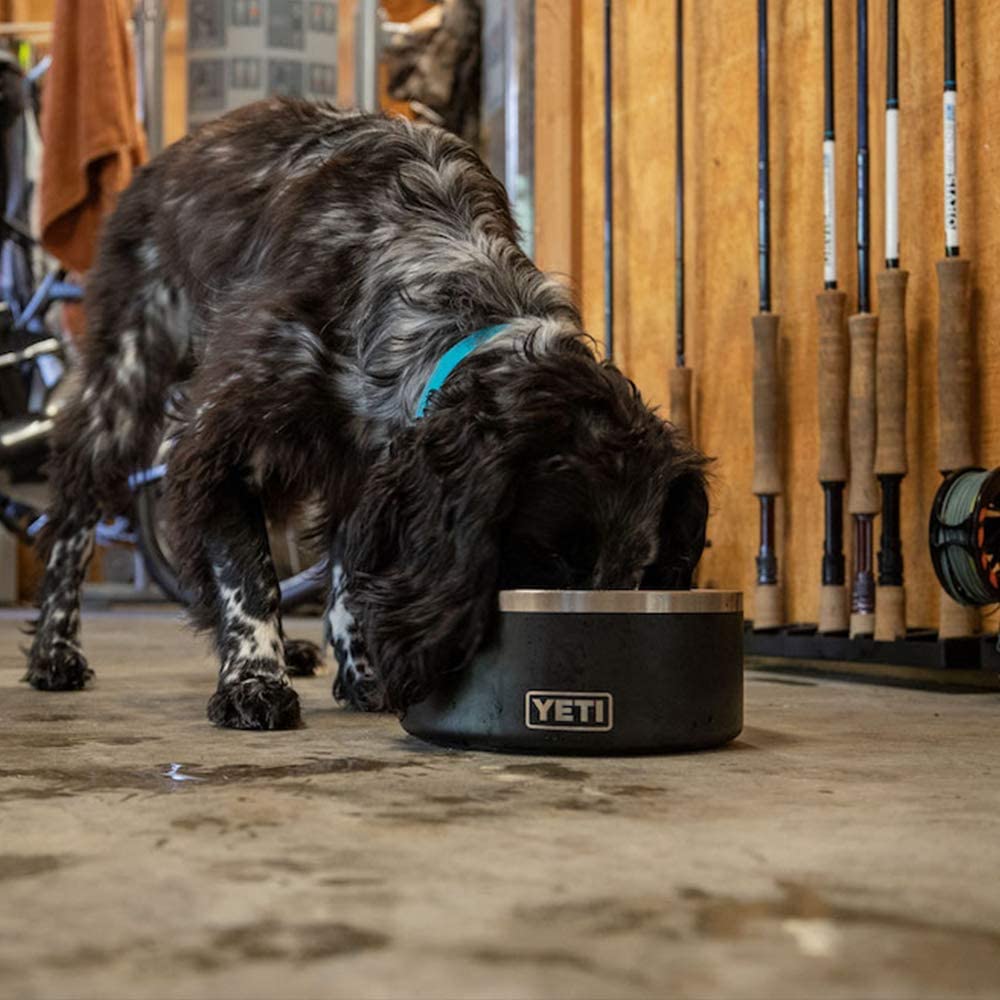 While the Yeti Boomer only comes in one size, it is an eight cup bowl, which gives you plenty of space. We definitely think medium to large dogs would be more comfortable with this bowl, though it could also work for puppers with longer snouts.
The Yeti Boomer is dishwasher safe and is made with a Duracoat color, so the many vibrant color options will last no matter how many times you wash them. More importantly, this means the paint won't chip.
The dog bowl also comes with a Barefoot non-slip ring and is praised by experts and pet parents alike.
Pros
High-quality stainless steel
Durable material
Easy to clean
No-slip bottom
---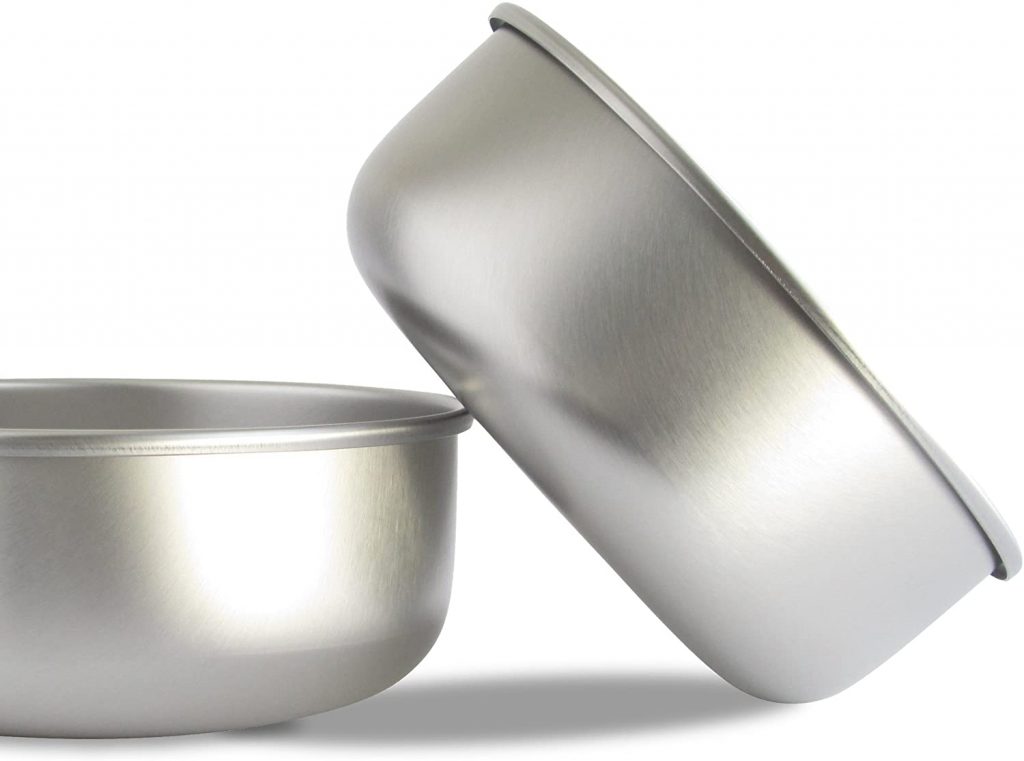 Also Great
Our runner-up dog bowl is a close favorite, making it an awesome alternative if you're looking for an option with a variety of sizes.
We can't get our minds around the quality of the Basis Pet Stainless Steel dog bowl. Basis Pet has a tremendous reputation for putting safety above everything else when it comes to its products. As a result, the company has made some of pet parent's favorite dog bowls.
The Basis Pet dog bowl is made from 18/8 stainless steel, like the Yeti bowl, meaning its human grade stainless steel. But Basis Pet wasn't satisfied with just using the highest quality stainless steel, they also independently tested each product for mercury, lead, and cadmium. As a result, these dog bowls are some of the safest on the market.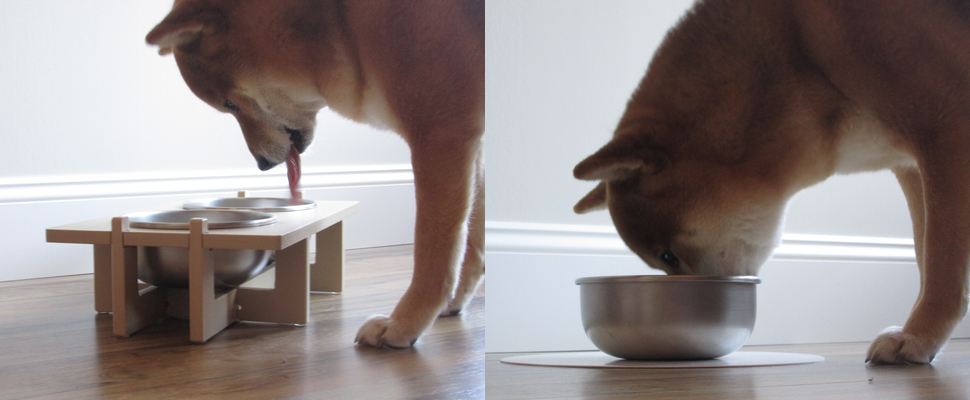 Basis Pet stainless steel dog bowls come in four different sizes, from small to extra-large. As is the case with everything Basis Pet does, they've done the research and determined which bowls work best for what breeds and sizes. With these details, you can figure out exactly what size to get and how much food or water to put in each bowl.
Unfortunately, the Basis Pet dog bowls don't include rubber bottoms, so there's still the worry of them slipping across the floor. However, the company does recommend using their non-skid rubber mat as an alternative to rubber coatings.
Pros
Dishwasher safe
Human grade stainless steel
Comes in four sizes
Made in the USA
Cons
Expensive
No slippage protection
---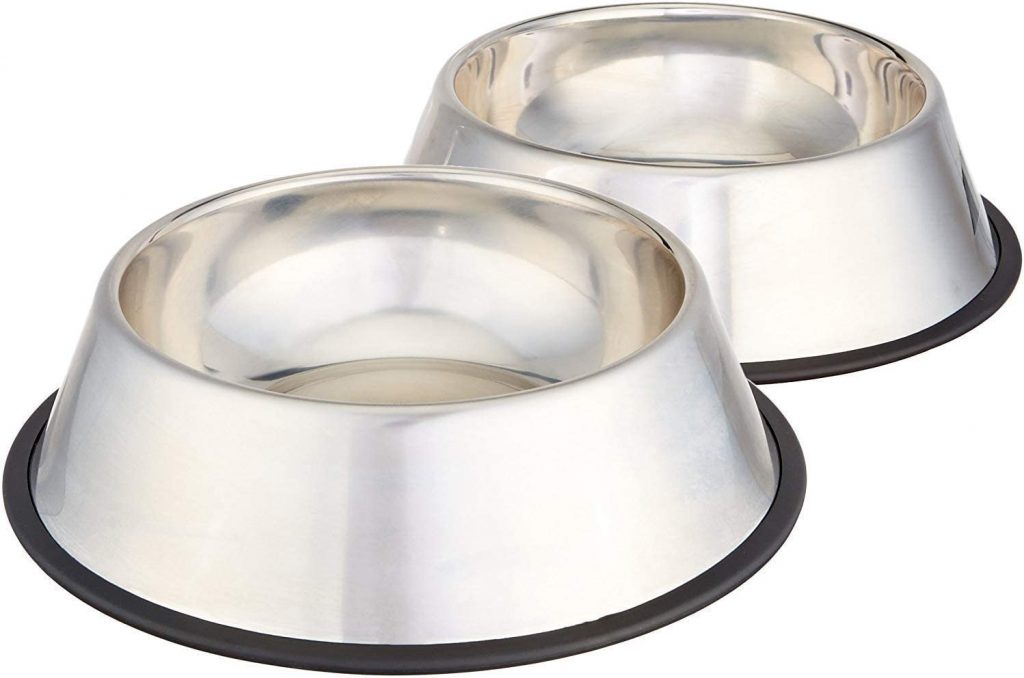 A cheaper stainless bowl
Amazon has created a cost efficient stainless steel dog bowl of a quality that will truly surprise you!
Amazon Basics Stainless Steel dog bowl is a no-frills, classic dog bowl that will meet all your needs without breaking the bank. Coming in one size in sets of one or two, the Amazon Basics dog bowl holds 38 ounces, just the right size for most small or medium dogs.
With the two pack offered by Amazon, you'll get both a food and water bowl, both safe and tough for even the most energetic dogs. The stainless steel bowl are dishwasher safe and rust resistant, with the added bonus of being scratch resistant.
The Amazon Basics Stainless Steel dog bowl comes with a rubber slip resistant base, decreasing the amount of slipping and sliding across the floor. And less slipping means less clean-up for you!
Pros
Inexpensive
Comes in set of two
Rubber slip-resistant base
Cons
Unable to determine stainless steel grade
Only comes in one size
---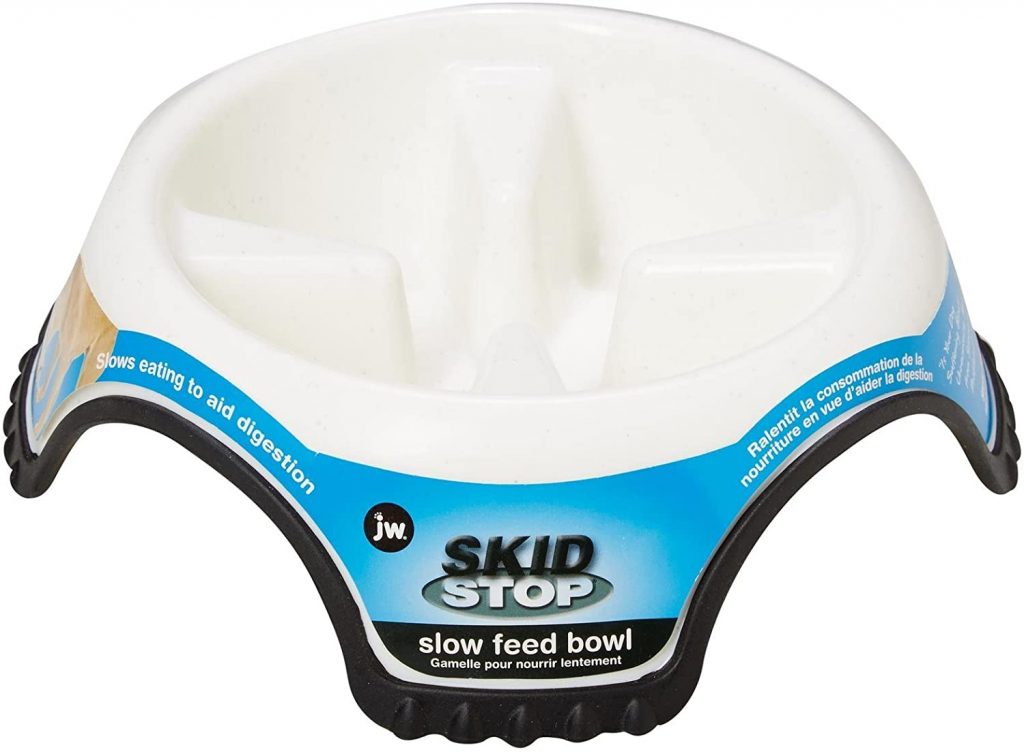 A great plastic bowl
This slow feed dog bowl is an awesome option for those who prefer to use plastic for their bowls.
While we will always prefer stainless steel bowls for our dog bowls, there is a space for well-made, quality plastic options. The HDP JW Skid Stop bowl is a heavy-duty plastic bowl that doesn't just stand up to wear and tear, it also slows excitable dogs down at meal time.
The JW Skid Stop Food and Water bowl is dishwasher safe, a sign that it uses the best quality plastic available. The company also claims the material resists bacteria and rust, two big issues pet parents have with their plastic bowls. Add to that the three sizes, skid stop bottom, and price, and this plastic bowl is easily one of the best on the market.
Pros
Inexpensive
Dishwasher safe
Rubber base
Encourages slower eating
Cons
Doesn't come in small
Prone to scratches and breakage
Can't be used for water
---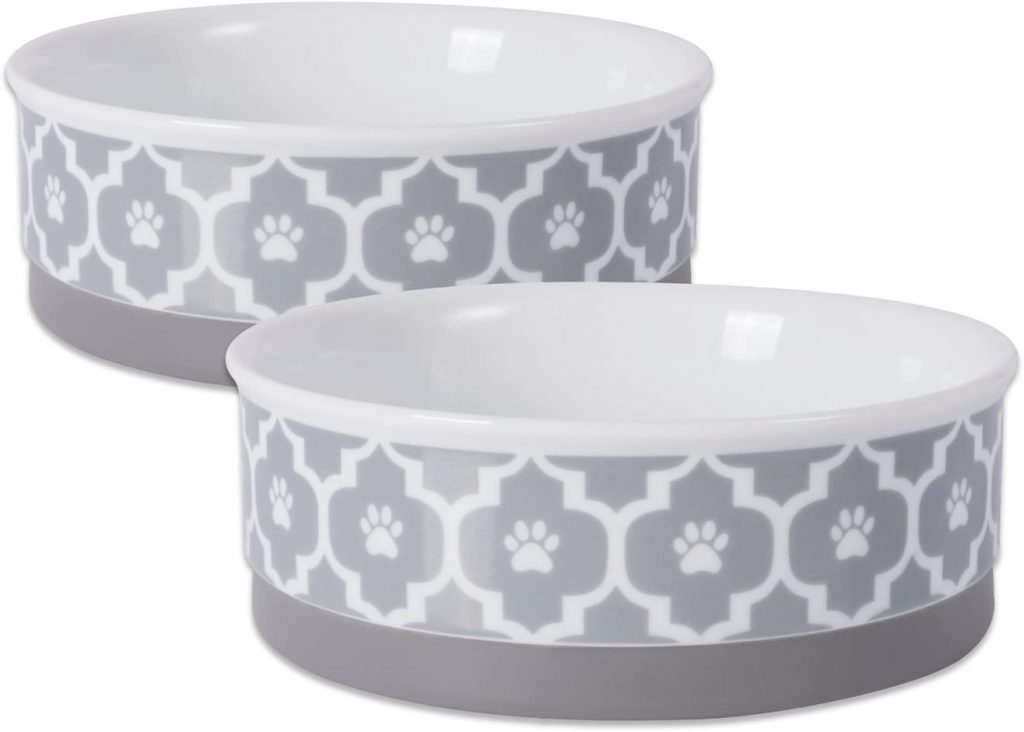 A good-looking ceramic bowl
Take your doggy's style to the next level with these gorgeous, high-quality ceramic bowls.
One of the highlights of Bone Dry's beautiful ceramic dog bowls is how well they'll fit in to your home's décor. Coming in three sizes, two shapes, and four different colors, Bone Dry's dog bowls are made from porcelain ceramic. The sealant on the ceramic bowls mean they're safe, non-porous, and can be used for food or water.
The weight of Bone Dry's bowls really set them apart from other options on this list. The large bowl comes in at 1.5lbs! With that weight and the silicone bottom, even the biggest dogs will struggle to move these lovely bowls.
Pros
FDA food safe
Dishwasher safe
Durable and heavy-duty
Beautifully decorated
Cons
Easily chips
Heavy
Silicone ring comes off
Shallow
---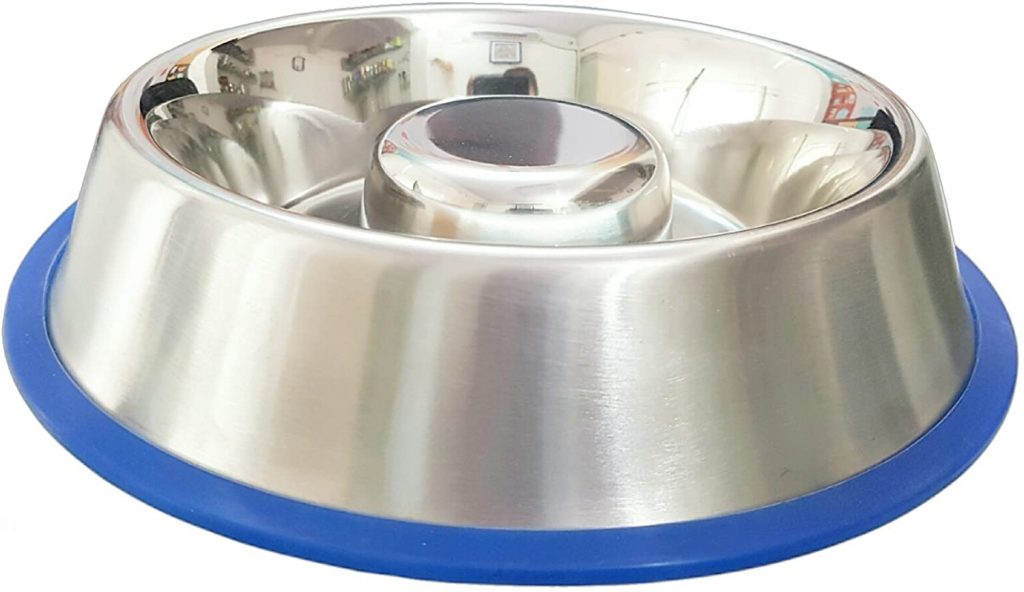 A good-looking ceramic bowl
A bowl made of quality stainless steel that also slows down your dog's eating to improve digestion? Sign us up!
Designed like a Bundt cake pan, the Mr. Peanut Interactive Dog Bowl is a stainless steel version of so many plastic slow feed dog bowls on the market. Created of a food safe stainless steel, this bowl is non-toxic and BPA free. While we're huge fans of the quality material, we also adore that it slows dogs down when it comes to mealtime.
In addition to come in three sizes, Mr. Peanut's Interactive Dog Bowl includes a bonded silicone base, a new addition to the design. Slip proof bottoms are especially important for slow feeder bowls, as dogs tend to move them around while trying to get at the food.
Pros
Food grade stainless steel
Encourages dogs to eat slower
Includes silicone base
Cons
Not ideal for big dogs
Can't be filled all the way
---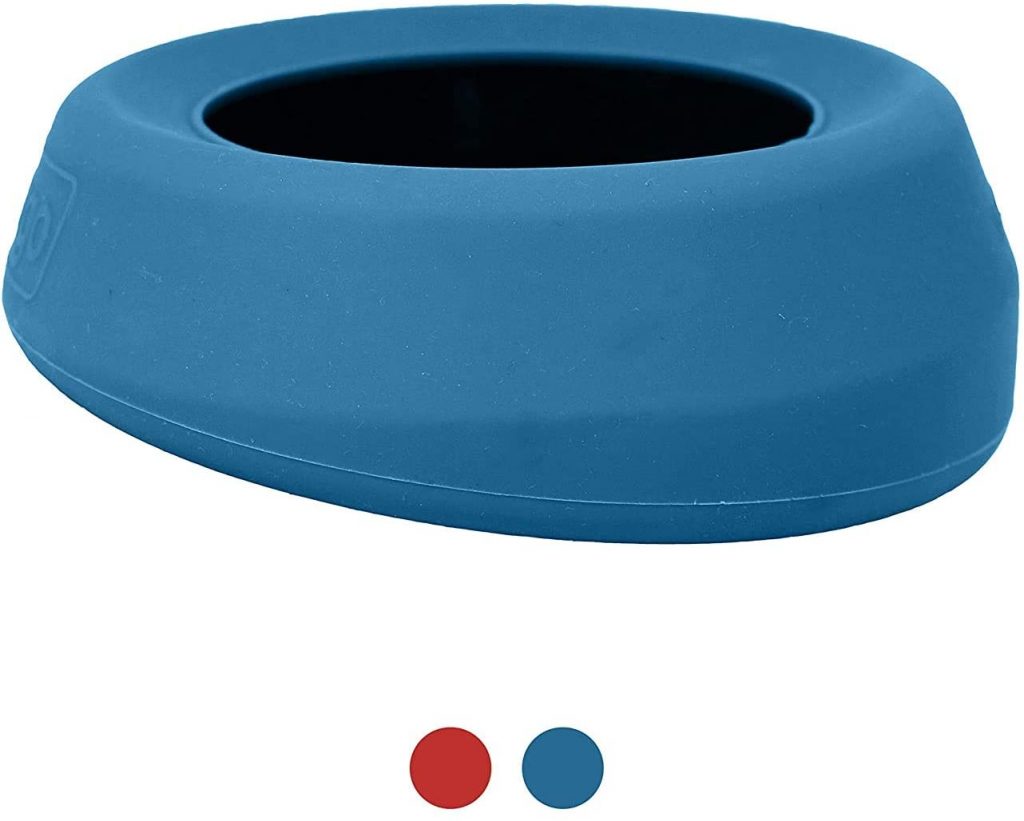 A good travel bowl
Kurgo WOWS us again with their clever no-spill travel bowl, perfect for messy dogs or travel.
Kurgo has been at the head of the pet industry for several years now, creating some of the safest and most innovative products on the market. So it doesn't surprise us that they've created a fantastic travel bowl. The Free Wander bowl by Kurgo has higher sides and a tapered lip to keep food and water where it needs to stay.
The Wander Free is made of food grade silicon, making it both safe and lightweight. Another sign that Kurgo is always thinking ahead is the wedge shaped bottom, which keeps the bowl flat on car seats. And, the silicone body means you can fold the bowl into the smallest pocket or bag when you're done. While the Kurgo Free Wander only comes in one size, we're big fans.
Pros
Made with food grade silicone
BPA and PVC free
Spill-proof
Cons
Only comes in one size
Really only works in cars
---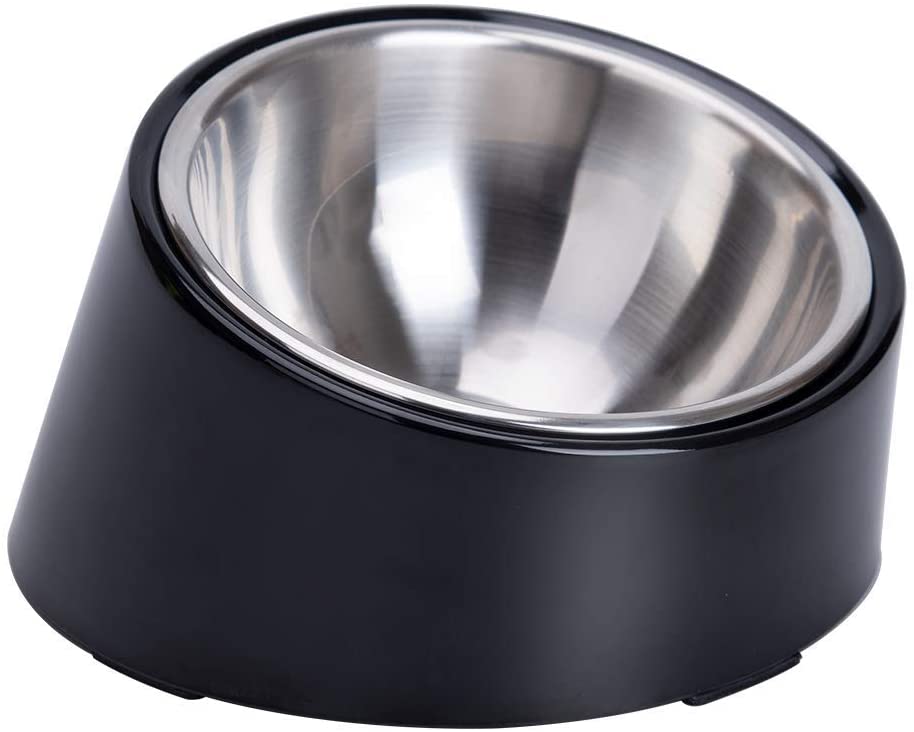 A good tilted bowl
No more having to scrape food back into the center of the bowl with this convenient slanted dog bowl.
Kurgo has been at the head of the pet industry for several years now, creating some of the safest and most innovative products on the market. So it doesn't surprise us that they've created a fantastic travel bowl. The Free Wander bowl by Kurgo has higher sides and a tapered lip to keep food and water where it needs to stay.
The Wander Free is made of food grade silicon, making it both safe and lightweight. Another sign that Kurgo is always thinking ahead is the wedge shaped bottom, which keeps the bowl flat on car seats. And, the silicone body means you can fold the bowl into the smallest pocket or bag when you're done. While the Kurgo Free Wander only comes in one size, we're big fans.
Pros
Keeps all food on the bottom
Both stand and bowl are dishwasher safe
Comes in four sizes
Cons
Sizes work best for smaller dogs
Can't be used as water bowl
---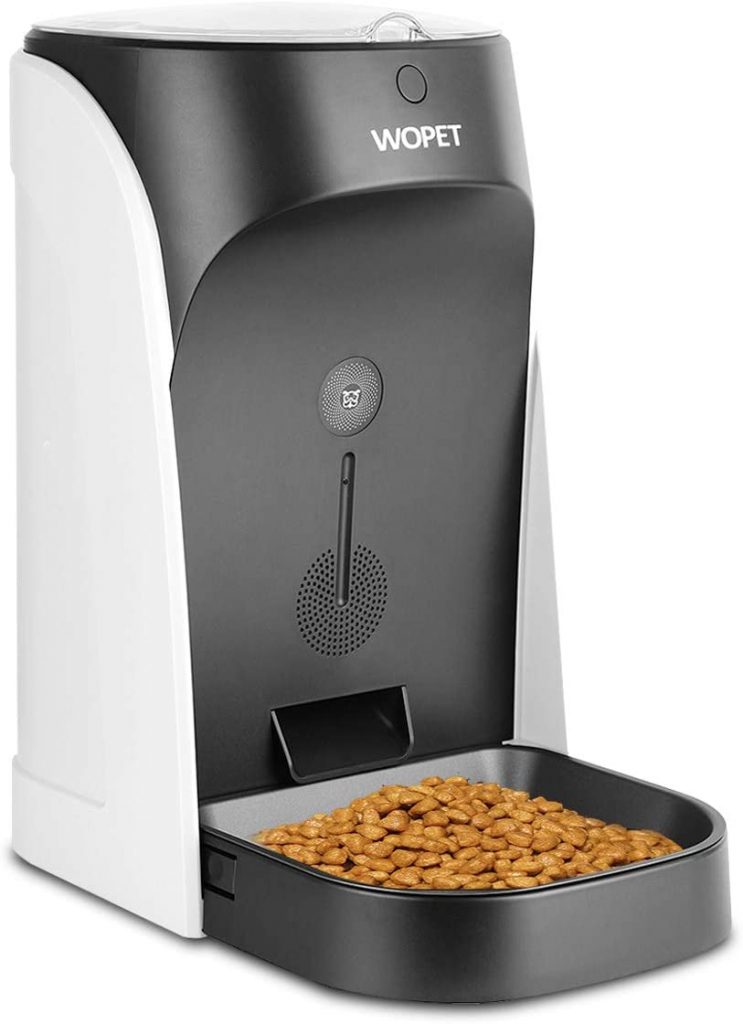 A good dispenser bowl
Keep your doggo fed even when you're away from home with this convenient food dispenser system.
WOpet has created an extremely easy to use automatic pet feeder that releases up to four meals a day. You can determine what portion sizes you want released, as well as when you want them released, so your fur baby gets the right amount of food at the right times. You can also record your voice to call your dog to the bowl when it's time to eat.
The WOpet bowl is made from ABS, a hard version of plastic. While the bowl is plastic, ABS is known for its strength and surface hardness, making it a food grade thermoplastic. While we don't think WOpet would work for larger dogs, it's still a great option for pet parents who have to be out for long periods of time.
Pros
Easy to program
Made with food-safe plastic
Helps with portion control
Cons
Not spill proof
Works best for smaller dogs
Difficult to clean
---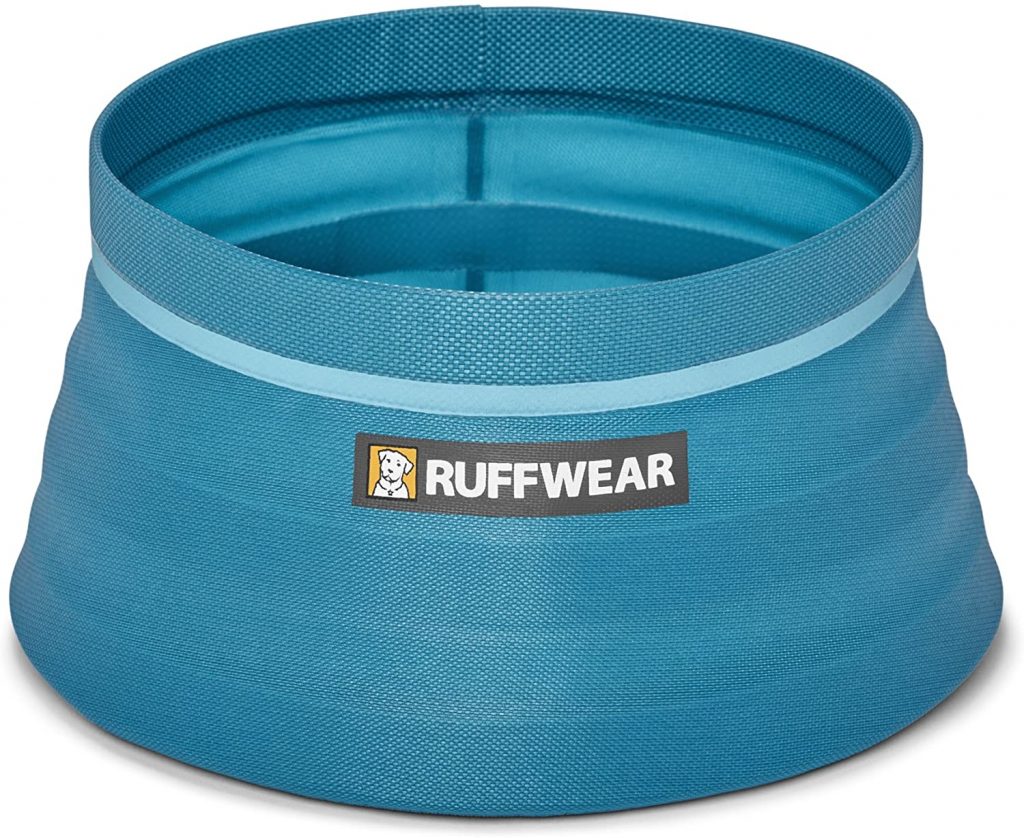 A good bowl for hiking
The Ruffwear Bivy is perfect for adventurers who want a bowl that's easy to pack, unfold, use, and collapse.
Ruffwear has once again blown us away with their ingenuity and attention to detail with this convenient collapsible bowl. The food grade denier nylon is both safe and watertight, making it ideal for both food and water. With such versatility, you'll be able to keep packing to a minimum, but still take your dog on all your adventures. We're especially fond of the hang loop that allows the bowl to be hung from a backpack.
While we couldn't think of a better dish for outdoor adventures, the Bivy does need to be hand washed and air dried, making it one of the most particular bowl on our list.
Pros
Light and collapsible
Watertight fabric
Works for food or water
Cons
Needs to be hand washed
Comes in one size
---
How we chose
We don't want you to take our word that we've picked the best dog bowls of 2020 for you. At PetsMaster, we want to be as transparent as possible, which means giving you full access into why we've made the picks above.
Below, you'll find a detailed look at how we chose our top 10 dog bowls for 2020.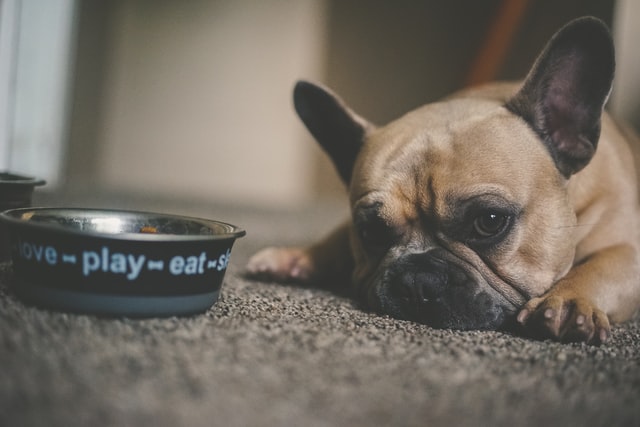 Materials
The biggest factor for how we chose our top 10 dog bowls is the material of those bowls. While we did provide a range of options for those with different needs, we tried to keep the focus on stainless steel.
However, even with the stainless steel options, we had to be picky. Not all stainless steel is created with the same standards of quality, making it tricky to find the best. We made sure the stainless steel dog bowl options on our list were of good quality and made by companies with solid reputations of using real metal.
If we wouldn't eat out of it, we had no interest in putting our dog food in it.
While plastic and ceramic dog bowls aren't the ideal, according to experts, they do have their place. We made sure any plastic options on our list were BPA free and had the reputation of being difficult to chew. For ceramic bowls, we made sure they were as durable as possible.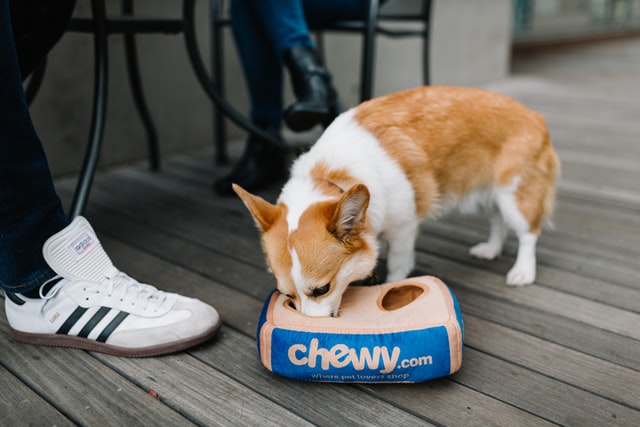 Sizes/Types
One of the things we learned when researching dog bowls was that size really does matter. Obviously, larger dogs need larger bowls, but there are additional considerations that need to be made when it comes to size. For example, if your pet has a longer snout, you'll want a deeper bowl. We made sure the bowls we picked would work for a wide range of dogs and needs.
We also wanted to make sure our list covered a variety of types of bowls. From tilted to collapsible bowls, we wanted to showcase the range of bowls available for dogs. And because each of these types has their pros as well as their cons, we wanted to offer you a variety of the best.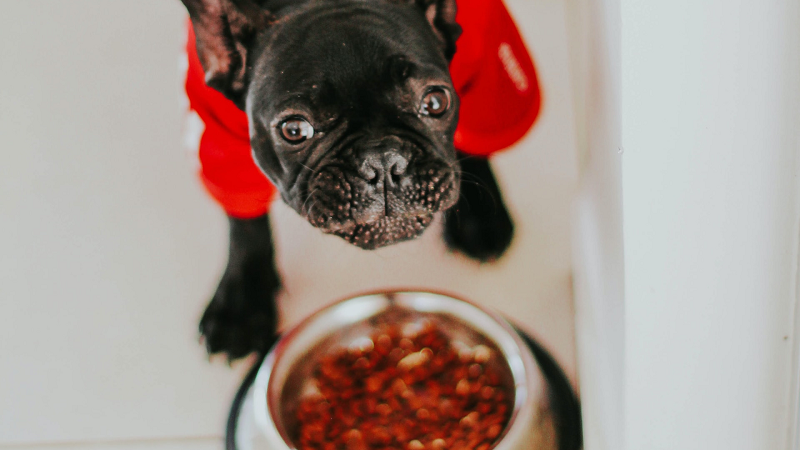 Features
When we looked through dozens of dog bowls in order to find the best, we also considered bonus features that help them stand out.
The biggest extra feature we considered was the ease of cleaning the bowl. You already have enough on your hands. Spending an unnecessary amount of time cleaning out your dog's bowl isn't our idea of a good time. So, we made sure the majority of the options on our list were easy and safe to clean or throw in the dishwasher.
We also look for options that wouldn't slide across the room as your pet ate. Whether this entailed heavier bowls or those with non-slip bases, we wanted your dog bowl to stay where you put it.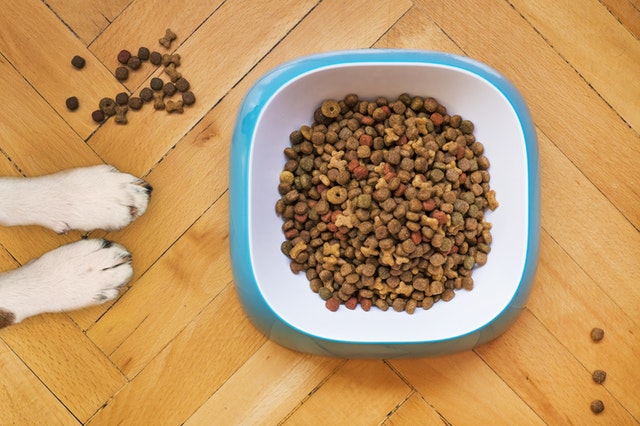 Reviews
Finally, we took a look at reviews from professionals as well as pet owners. Professional reviews get down to the nitty gritty of the benefits of each dog bowl. While these reviews might be more technical and hard to find, they're extremely important for creating a foundation of quality control for our options.
Professional reviewers may know dogs in general, but dog parents know their dogs, which makes their reviews important, too. We scoured pet parent reviews for each bowl on our list, seeing what they love and what they hate.
Look at a wide variety of reviews helped us narrow down the best options for our top dog bowl list.
---
Should you use a different kind of bowl for food and water?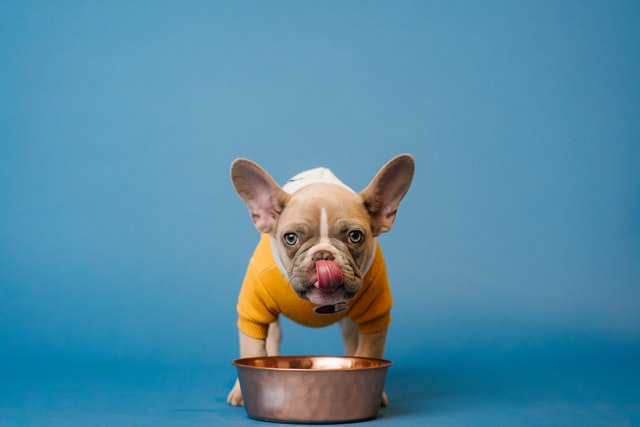 The good news about whether or not you need different bowls for food or water is you don't, if you're using stainless steel. Most pet experts agree that having a stainless steel bowl for food and another one for water is an ideal way to keep your pet safe and healthy.
However, there are a few times this might not work for your specific needs.
If your dog is an overeater and you need a slow feeder bowl, you're probably only going to find plastic options. And if you want a water fountain bowl to keep your dog's water moving and fresh, it will most likely be plastic. In these cases, just keep a close eye on the bowls to make sure they're not wearing or have cuts on them. You don't want any chemicals leaking into your dog's food or water.
---
What about plastic and ceramic bowls?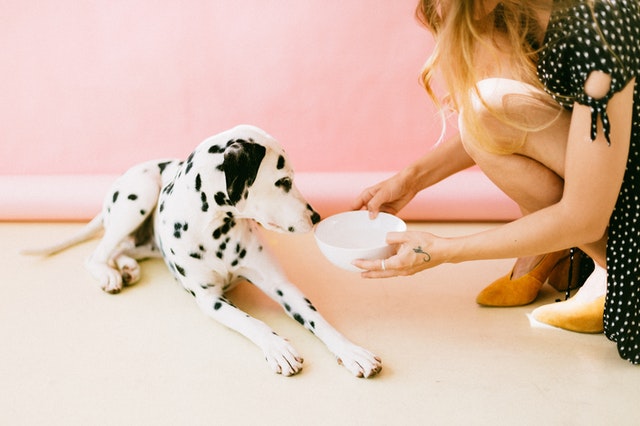 As we mentioned before, while stainless steel is considered the best material for dog bowls, there are benefits to plastic and ceramic options as well.
If you would like an inexpensive dog bowl option, plastic is the way to go. Many plastic dog bowls are durable and made with safer ingredients than you would have found five or ten years ago. However, plastic definitely shows its age over time. And any breaks in the surface of a plastic bowl can cause toxic materials to leech into food or water.
For slow feeders, plastic is the most popular material. And you can find nontoxic options, as long as you're diligent in keeping an eye for scratches or chew marks in the plastic.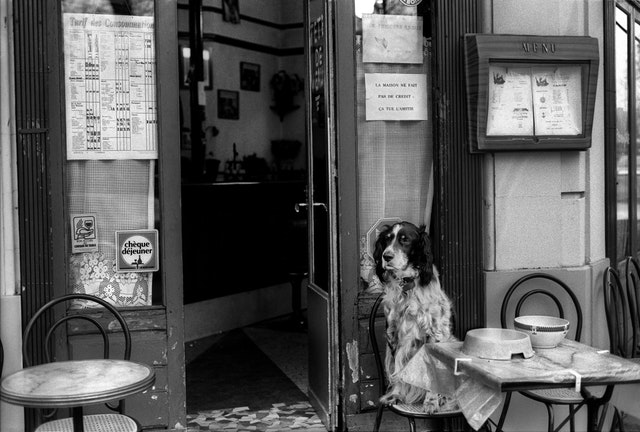 We will say, plastic dog bowls are an option for dog food, but should not be used for water. There's just too great a risk for toxins leaking into the water.
Ceramic bowls are popular because they're often extremely cute and the heavier material makes them difficult to move. Because of the glaze used in ceramic bowls, they aren't porous like plastic, making them safe and easier to clean, especially if they're dishwasher safe.
The big downside to ceramic bowls is they're quite easy to break. They'll break if dropped and can even chip if moved too roughly. And, as with plastic, a chip in a ceramic bowl could become dangerous.
---
Should you elevate your dog's bowl?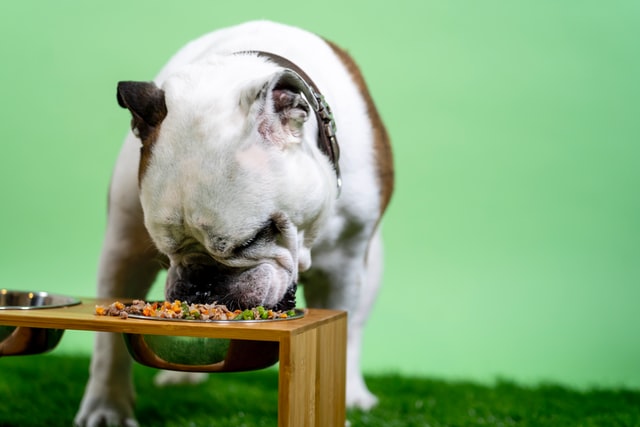 Elevated dog's bowls definitely have their place and are recommended by veterinarians for older and bigger dogs. For larger dogs, as well as geriatric dogs, having a raised dog bowl reduces strain on the hips, shoulders an joints, making eating time less painful.
Some experts believe that eating from an elevated bowl helps improve digestive health for dogs, helping food and water move through the body better.
However, one of the biggest reasons pet parents opt to raise their fur babies dog bowls is to keep things cleaner. A raised dog bowl table can keep bowls in one place and prevent food or water from splashing all over the eating area.
If you're interested in an elevated dog bowl, check out the Dogit Elevated Dog Bowl or the Pet Zone Designer Diner Dog Bowl.