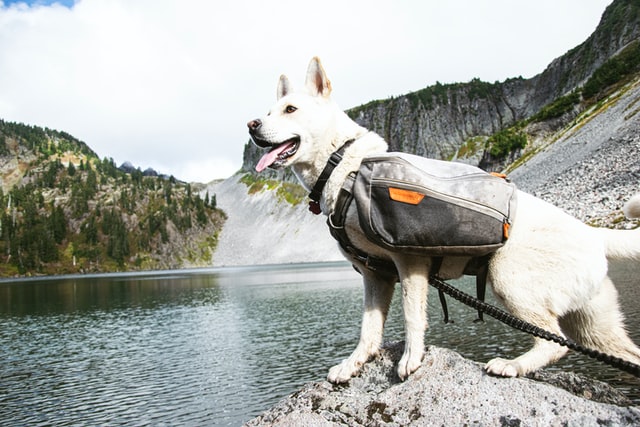 As dog owners we know that no adventure is complete if we can't share it with our pet dogs. We want to take them on all the excursions imaginable! But just like we need special equipment when we go hiking outdoors, our pet dogs also need gear specifically for them.
Dog hiking harnesses are a must for the active canine in your life. We love them and can't wait to share why you should switch from a collar to a harness and our top picks for hiking harnesses for dogs.
Why you should use a harness (and not a collar!) when hiking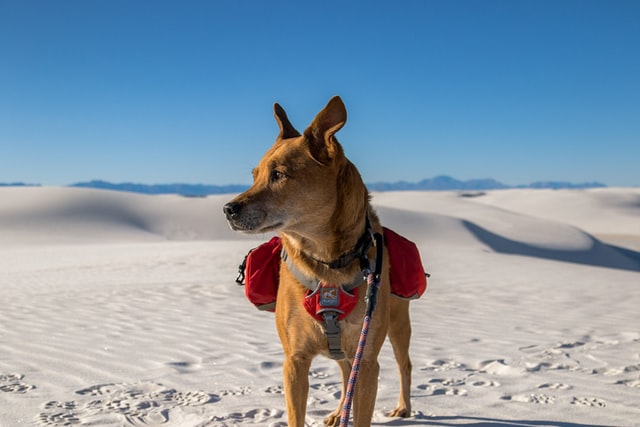 One of the first questions dog owners ask when talking about active dog harnesses is why a regular dog collar won't do the job.
The big difference between a collar and a hiking harness is safety.
Collars are great for short walks, but for extended hikes they can start to add unnecessary pressure to the neck. And if you think your dog gets tangled in things during a walk in the park, imagine how much worse (and scarier) it will be out in the wild.
A hiking harness prevents pressure from building up in the neck and shoulders. Due to their fit and how they're designed, hiking harnesses are less likely to get tangled in undergrowth. Plus, most harnesses have some sort of reflective surface, so you can see your dog in the woods or in low light.
And finally, if you buy a harness with packs, you'll get a little extra help carrying things like extra water, food, treats, poop bags, and collapsible dishes. The American Kennel Club breaks down more details on the differences between a dog harness and a dog collar.
How we picked the best ones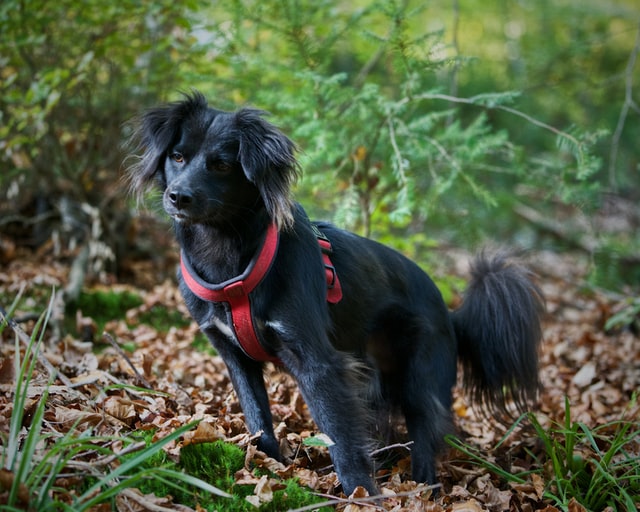 We look at a few very specific things when considering what dog hiking harnesses will make our list. Going through multiple articles, reading user reviews, and checking the validity of each listing, we looked for a few key things:
Durability
Fit
Attachments and Handles
Storage
Safety
Price
Keeping these the focus of our reviews allows us to offer you consistent, quality advice on what the best dog hiking harnesses are available today.
Jump to a section
---
Our top picks
We've taken the guess work out of picking the best hiking harness for you and your dog. Our list of 7 best dog hiking harnesses is the perfect place for you to start your adventures.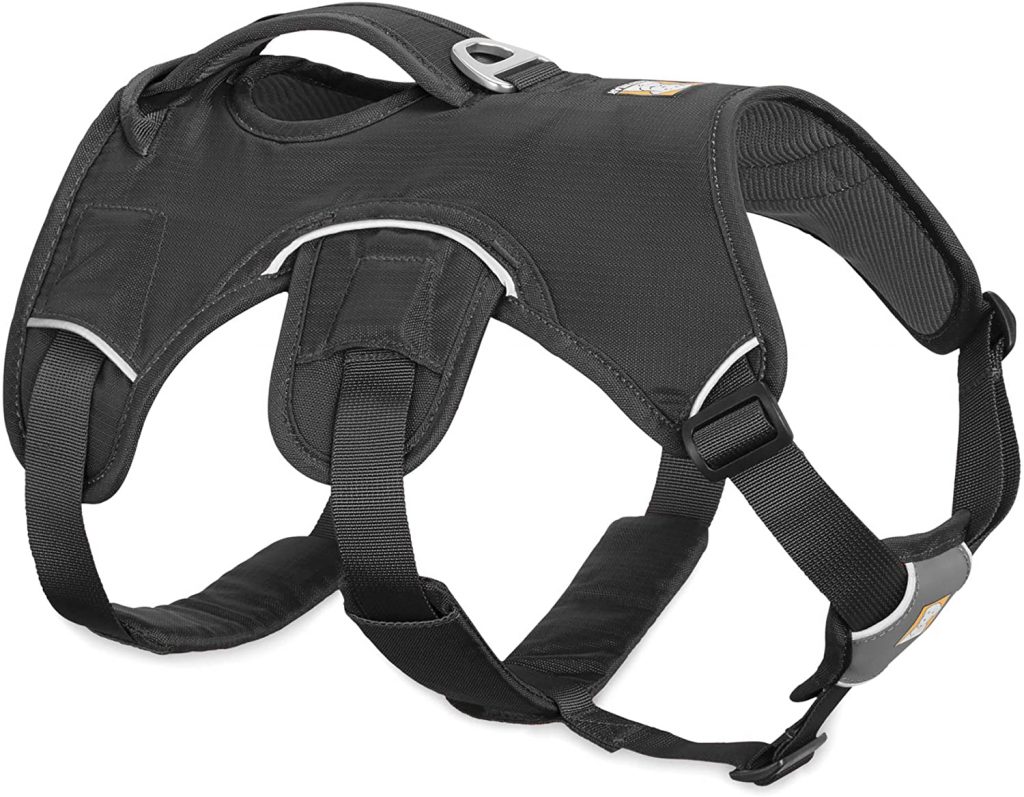 Our Favorite
Short on time? Just purchase our top pick for hiking dog harnesses below!
At the top of our list by leaps and bounds, the Ruffwear Web Master Harness combines all of the most important features we want in a dog harness.
The fabric of the Web Master is durable and comfortable, with enough breathability to keep your pup as cool as possible on your hikes. The harness includes a thin foam layer that adds to its comfort without adding too much extra weight.
The Web Master also comes with a five point adjustment system for the fit. Using this system and our recommended method for checking harness fit, not only will your pet dog be secure, but safe from any rubbing or irritation. The reinforced handle makes it easy for pet owners to lift pets over areas of rough terrain. And we're huge fans of the two leash attachment loops, one of which can also be used as a light loop.
As you know, we're huge fans of safety here at The Pet Masters. So, one of the big things we look for in our harnesses is how they'll keep our fur babies safe. Not only does The Web Master come with a loop for a beacon light, it also has a reflective trim that will keep your dog visible.
While the Ruffwear Web Master comes with such thoughtful design and wonderful features, there isn't any storage on the actual harness. Because we're fans of our doggos carrying at least a few of their own belongings (no freeloaders here!), we do find this to be the biggest downside of this harness.
Pros
Multiple Adjustment Points
---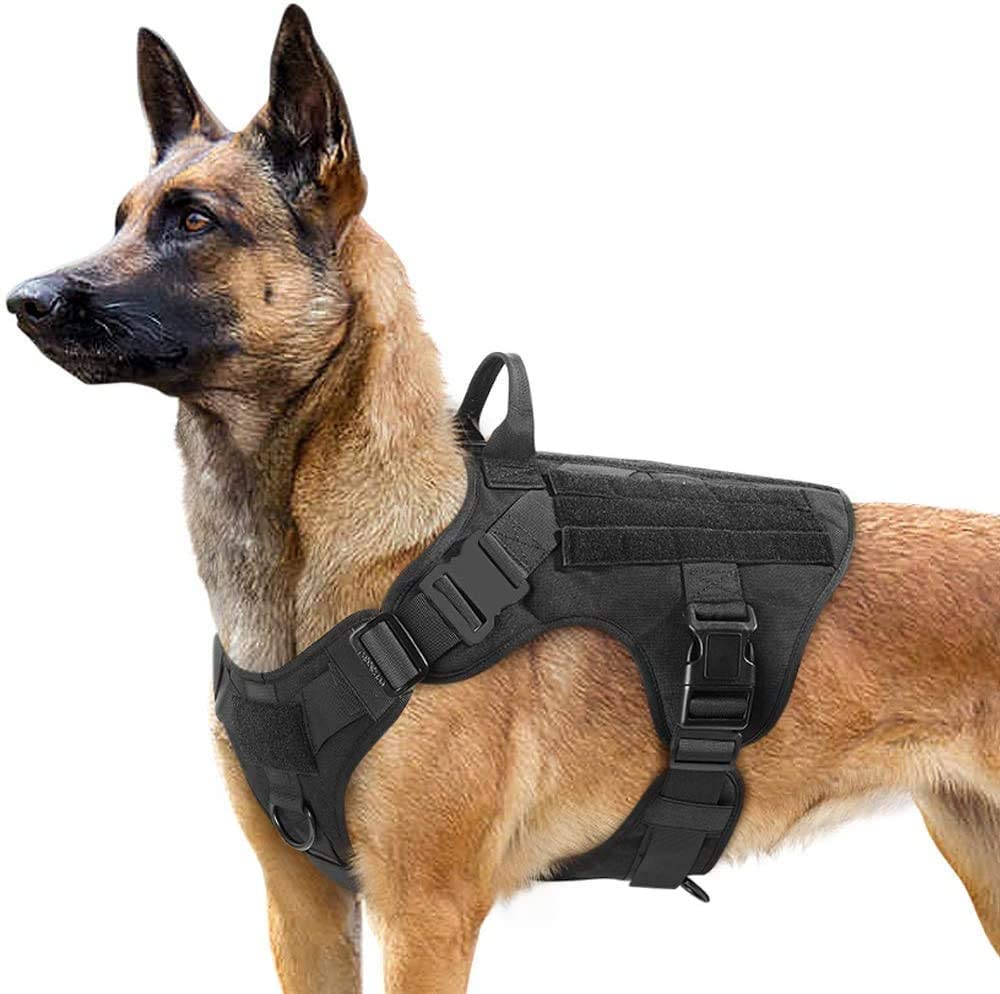 Best for second choice
We're still big fans of this pick and it definitely meets all our standards.
If you're looking for a truly heavy duty dog harness, look no further than the Rabbitgoo Tactical Harness. Made with the nylon for extreme adventures, but still coming with the light padding we prefer in harnesses, this vest can do it all.
The Rabbitgoo comes in three different sizes, from Medium to Large, but also includes straps on the shoulders, chest, and across the belly so you can adjust the harness to the best fit for your dog. Having all this sizing versatility will greatly decrease any harness related irritation.
While the Rabbitgoo Tactical Dog Harness doesn't come with any packs, it does have two Velcro strips on either side for MOLLE systems. You can purchase pouches, saddles, bottles, and equipment to fit on these two panels, designing them to best fit your needs. The harness does include two metal leash attachments, a handle for assisting or lifting you dog, and a really simple to use buckle system for getting the harness on and off.
Overall, we're pretty impressed with our Runner-Up.
Pros
Heavy Duty Material
Versatile Velcro System
Multiple Adjustment Points
Control Handle
Lightweight Padding
Cons
Doesn't Include Storage
No Reflective Material
---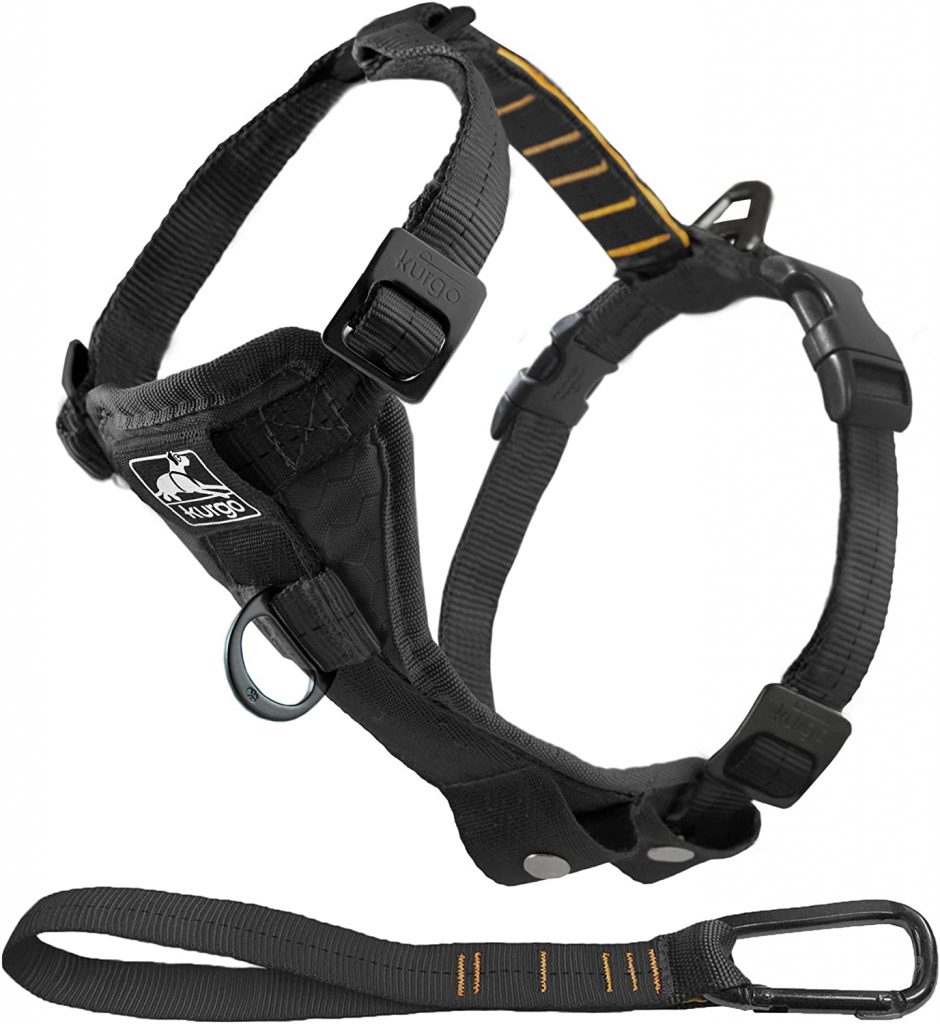 Kurgo Dog Harness
We are fans of this simple, but effective, inexpensive dog harness by Kurgo. The Kurgo Dog Harness is lightweight, easy to get on and off, and has five adjustable points. Combined with the five sizes the Kurgo harness already offers, you'll be able to find just the right size harness and fit for your very unique doggo.
The two attachments we're most excited about when it comes to the Kurgo is its two leash attachments and its seat belt tether. The Kurgo Dog Harness includes a D-Ring for the leash which can be used during training. Once your pup is all trained, you can use the back leash ring for walking and hiking. And the seat belt tether is perfect for keeping your dog from moving around too much during long drives, a safety feature the Center for Pet Safety highly recommends.
Pros
Inexpensive
Variety of Sizes and Adjustments
Includes Seat Belt Tether
Easy to Get On and Off
Two Leash Attachments
Cons
No Storage
Not for Heavy Duty Adventures
---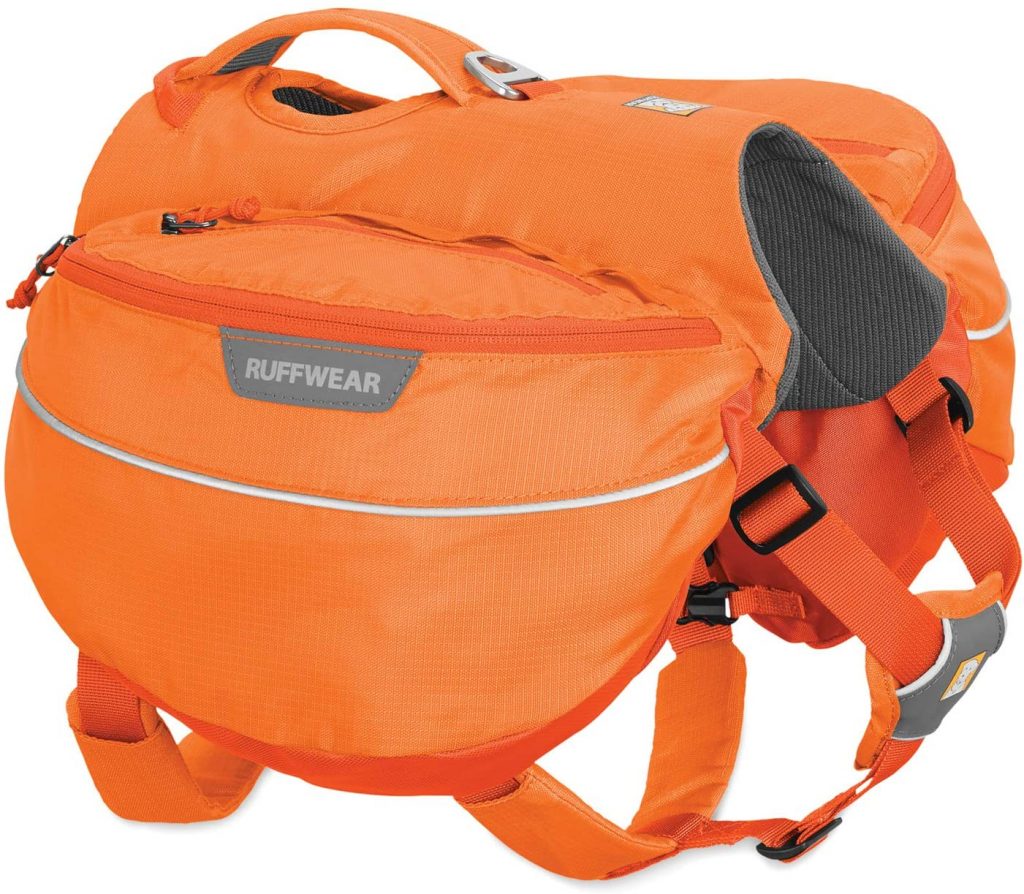 The Ruffwear Approach Dog Pack is a great choice for pet owners wanting a storage hiking harness for their dogs. The comfortable, compact harness works perfectly for bigger dogs able to carry their own supplies for hikes and camping trips.
Like all Ruffwear products, the Approach Dog Pack is made with durable, light materials that still manage to take on heavy duty jobs out in the wild. The lightly padded pack keeps pups comfortable and safe on longer hikes, so you don't have to worry about blisters or exhaustion.
Ruffwear is also praised for its integrated harnesses with five adjustment points. You'll be especially glad for the secure fit the adjustment points allow when you see how much it can carry! Depending on the size of your dog, you should be able to carry collapsible bowls, food, treats, and more in this convenient pack, which can take up to 1.3lbs of weight in its largest size.
Pros
Large Saddlebags
Padded Handle
Reflective Trim
Adjustable Harness
Cons
More Expensive
Works Best with Bigger Dogs
---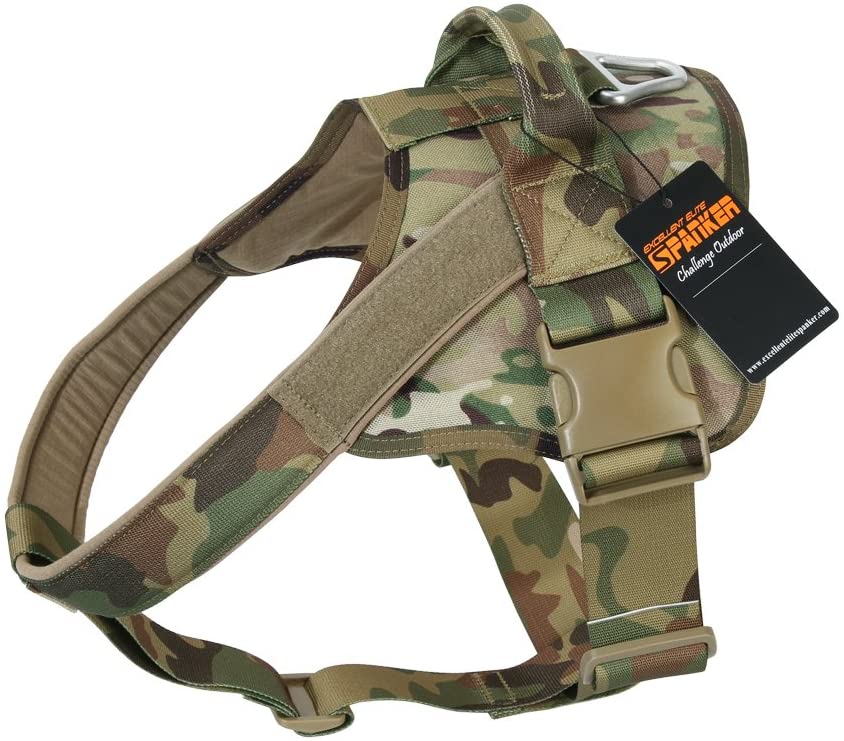 Sometimes you just want a dog harness that goes on easily and does its job. The Excellent Elite Spanker is a tactical dog harness that works perfectly for dogs that are more comfortable off leash. It has none of the frills and whistles you'll find with other options on this list. And that's what makes the Excellent Elite Spanker the perfect minimalist dog harness.
Despite being clean and simple, the Excellent Elite is made of water resistant nylon and includes quick-release buckles to make putting this on your dog easier than ever. With two adjustment straps, an aluminum leash hook, and ID panel, you'll get everything you need with this harness.
Pros
Minimalistic
Easy On and Off Buckles
Water Resistant Fabric
Cons
No Storage
Only 2 Adjustment Points
---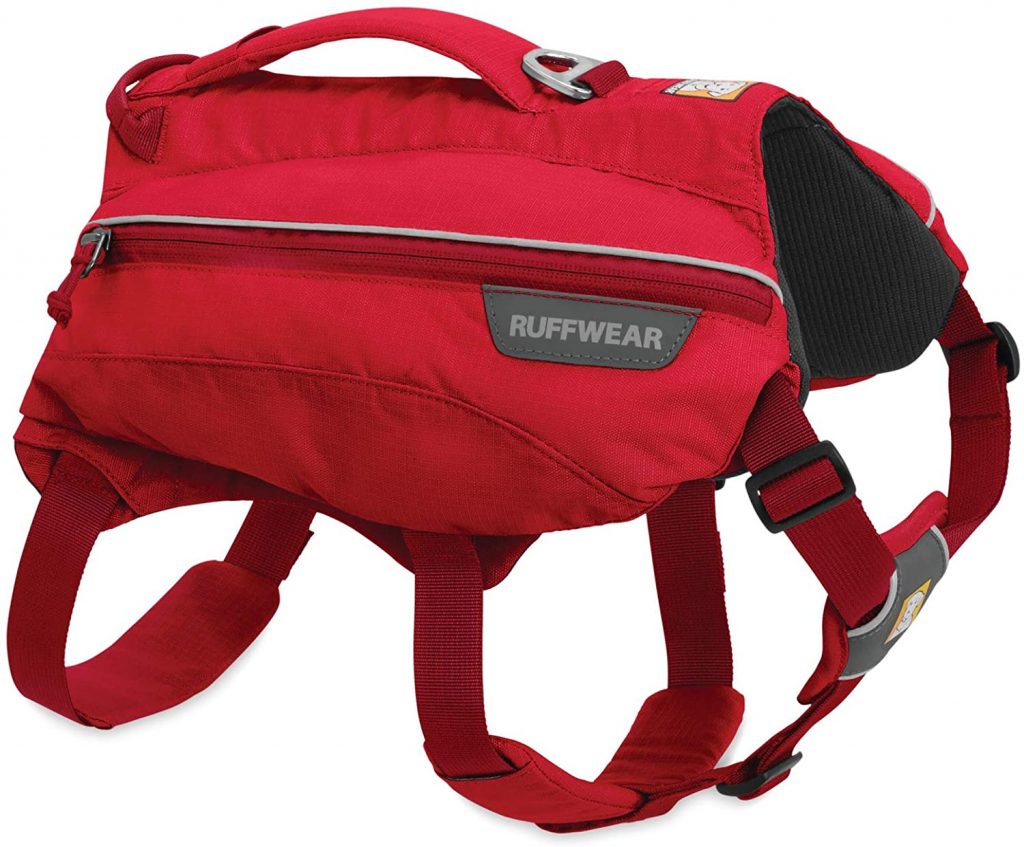 Let's start with the best feature of the Ruffwear Singletrak Dog Pack. Unlike some dog harnesses for hiking, this pack comes with four storage spaces in the side pockets, two large and two small. With this extra space, not only will you be able to store the two hydration bladders that come with this harness, you'll have space for any extras. And because hydration is so important for adventurous dogs, the hydration bladders can each hold 0.6 liters of water.
Just as important of the amount of water Singletrak can hold is how well the weight sits on your dog. With Ruffwear, you'll always get a five point adjustment system, so you can determine just the right fit for your dog. The versatility of these adjustment points ensure weight is distributed and not straining the back and hips.
Pros
Four Pockets
Two Hydration Bladders
Carries 1.2 Liters of Water
Water Resistant Fabric
Cons
More Expensive
Heavy for Smaller Dogs
---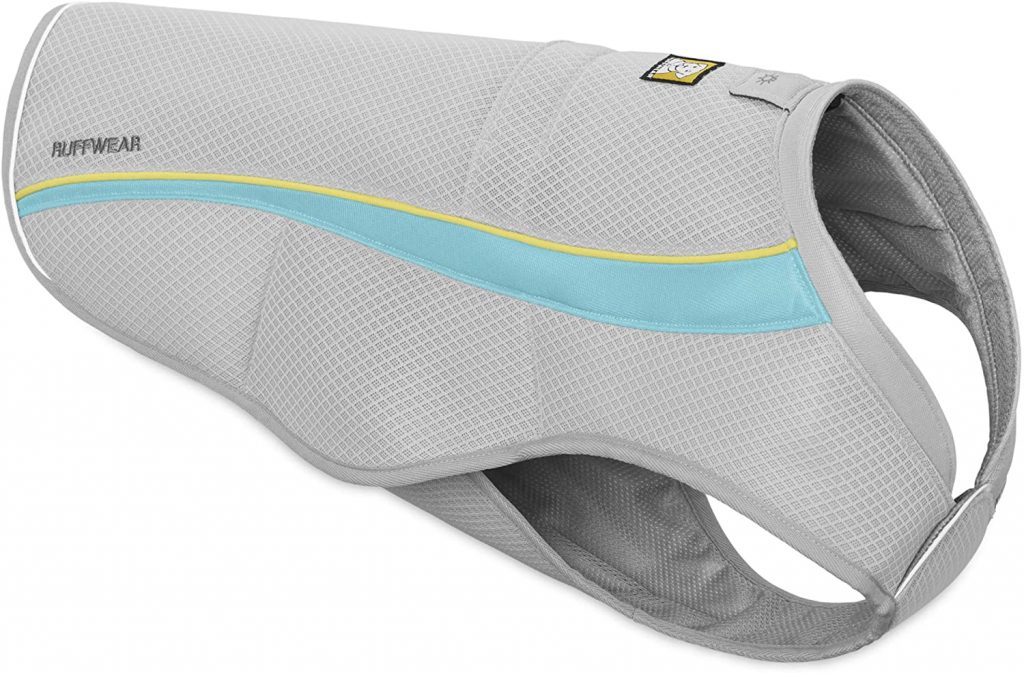 One of the absolute best things about the Ruffwear Evaporative Cooling Vests is its fabric. The vest is made of three layers: One to reflect heat, one to absorb and store water, and one to act as a dry shield. The combination of these three layers makes the Evaporative Cooling Vest both comfortable to wear and extremely efficient.
Because this is a Ruffwear product, it includes all our favorite features. The reflective trim, integrated light loop, and the leash loop. What makes the vest so much more efficient is that you can actually combine it with almost any dog harness, including many of the ones mentioned above. By using the cooling vest with a hiking harness, you'll have even more features for outdoor adventures with your pups.
We're also super appreciative of how easy this vest is to get on and off even the most fidgety dogs. There are two side clips that make the whole process quick and easy. However, we do miss having a grab handle on this, especially for more difficult hikes.
Pros
Three Layer Cooling System
Easy to Clip On
Works with Other Dog Harnesses
Reflective Trim for Visibility
Cons
No Grab Handle
Doesn't Completely Cover Neck
Not as Adjustable as Other Harnesses
---
How to make sure your harness fits right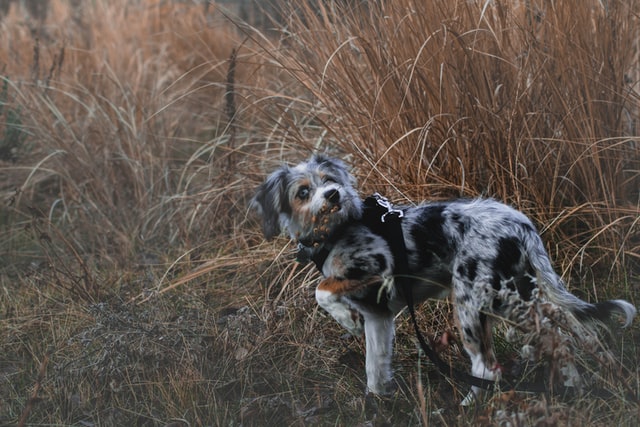 Making sure the harness you're using for your dog fits correctly is sometimes more important than the actual harness. A dog harness that is too loose could slip off when you least expect. And a dog harness that is too tight can cause awful chaffing on your sweet dog.
Before you even purchase a harness, you'll want to collect specific measurements from your dog to ensure the best fit.
Neck – Measure just above your dog's shoulders, at the thickest point.
Chest – Measure at the center of your dog's rib cage, at the widest point of the chest.
Weight – Most harnesses include weight guides, though these are less specific than measurements.
Once you have your harness, there are steps you can take to make sure it fits perfectly, so as not to put too much pressure on any one area of your dog.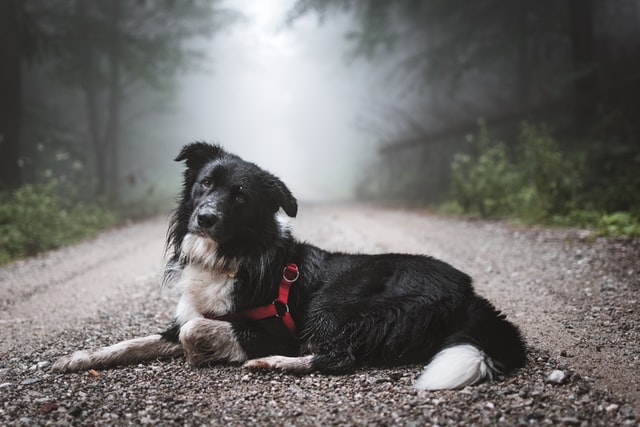 First, place the harness on your dog loosely. You want all the straps to be slack to start.
Next, start to tighten the various straps until they are tighter, but you can still place two fingers between the harness and your dog. As you tighten each strap, double and triple check that you can slide two fingers beneath the harness without trouble. This will ensure the best fit of the harness for your dog.
Even when you've measured and checked the fit of the harness, it might not fit perfectly. Keep an eye out for a few signs your harness is ill-fitting to be the best dog parent possible.
Slipping out of the harness
Fur Loss
Chaffed Skin
Dog stopping walks early
Making sure the harness fits your pup properly and being aware of warning signs will ensure your dog will get the most out of wearing a harness. You can find more details on how to put on and size a dog harness at the American Kennel Club.
---
How we picked – About our selection process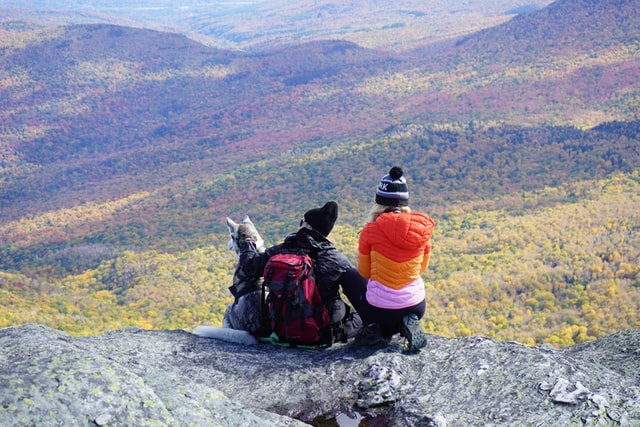 We're real sticklers for research here at The Pets Master, which is why research forms the basis for our selection process.
Not only did we search through user reviews, seeing what pet parents loved or disliked about any given harness, we also based our selections on recommendations offered by the American Kennel Club and Center for Pet Safety.
Some of our foundational reviews were based on the qualifications and details set out by the American Kennel Clubs Best Dog Harnesses reviews. These professional and detailed reviews gave us a working baseline for what we wanted in our selections. And finally, we checked certification sources and safety ratings for the selections we made for our best dog hiking harnesses selections. We wouldn't recommend anything we wouldn't use for our own fur babies, making these reviews personal.
---
How to choose the right hiking harness for you
A hiking harness that works for me and my doggos isn't going to be the same harness that works for you and your pup. This is why it's so important to know how to choose the right harness for you and your specific needs.
Take the following aspects into consideration when picking out a hiking harness.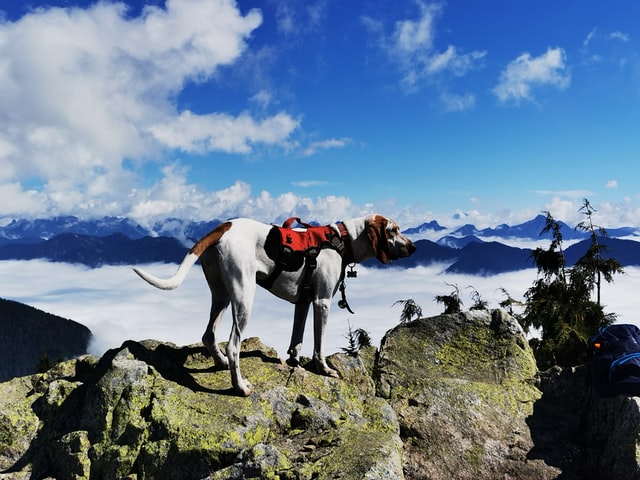 Trail Type – The harder a trail or longer your hike, the more thought you want to put into your harness. Extended hikes tire out dogs, so you'll want a harness with less weight and structure.
Structure – The best hiking harnesses leave the stomach and chest free of structure. This allows for free movement, which is especially important on longer or more difficult hikes.
Packs – Do you want to include hydration packs in your harness? If your dog is able to take the weight, what do you want to include in these packs? Extra water, food, collapsible dishes, and waste bags are great options as long as the weight can be distributed evenly.
Attachments – A front attachment is ideal for dogs who tend to pull away, while a back attachment allows for more freedom for experienced dogs. And grab handles are a must if you plan on lifting your dog over difficult spots.
Coloring – The brighter a harness, the better. You don't want to be out in the woods and lose sight of your fur baby. Reflective linings also work, especially if you plan on hiking into the evening. You can find more information on the American Kennel Club on choosing the right harness for your dog.
---
How to make sure your dog is ready for the trail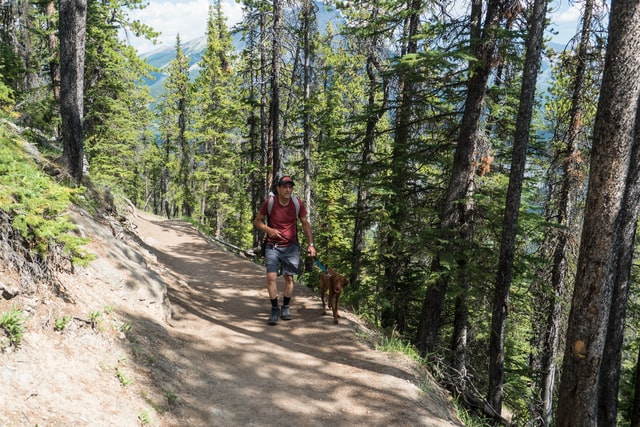 Now that you have a harness and you're ready to hit the great outdoors, you might want to take a few steps to make sure your dog is ready for the trail.
We recommend having as many of these points covered before hitting the trail.
Plan for Hazards (Narrow or Steep Trails, Running Water, etc)
Prepare for Animal or Human Encounters
Have a Clip On Light Available
Check the Reflectiveness of the Harness
Start Hands-Free Leash Training
We also recommend having a system or plan in place for leading your dog with the leash attached to your or your own pack. A little practice beforehand goes a long way when it comes to using hiking harnesses with your dog.
---
Good hiking etiquette for dogs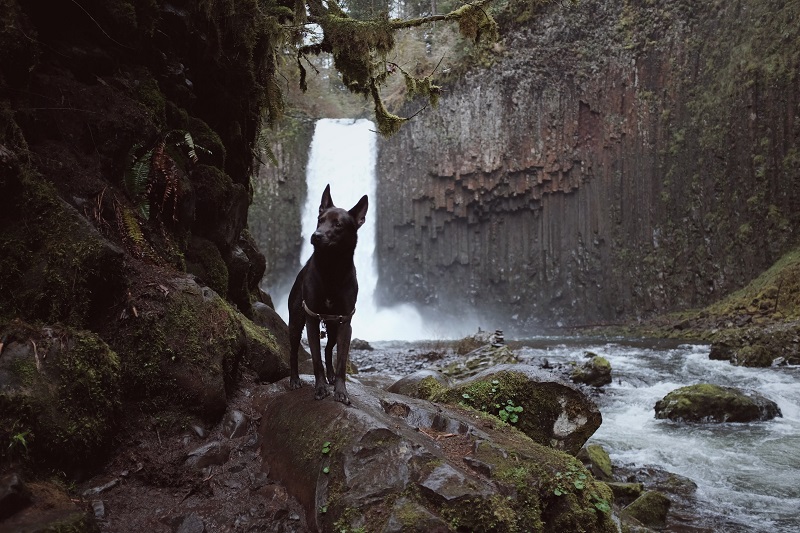 If this is your first time hiking with your dog, there are a few unspoken rules of hiking etiquette you should know before hitting the trail.
Keep Your Dog away from Other Dogs
Stay Leashed on Trails
Remain on Leash in Campgrounds
Opt for a Long Lead instead of Going Off Leash
Be Aware of Where Your Dog Is
Be Able to Control Your Dog around other People or Wildlife
And always, always make sure you know the regulations of the places you're going beforehand. A little prep work will allow you and your dog to have the best hiking experience possible.