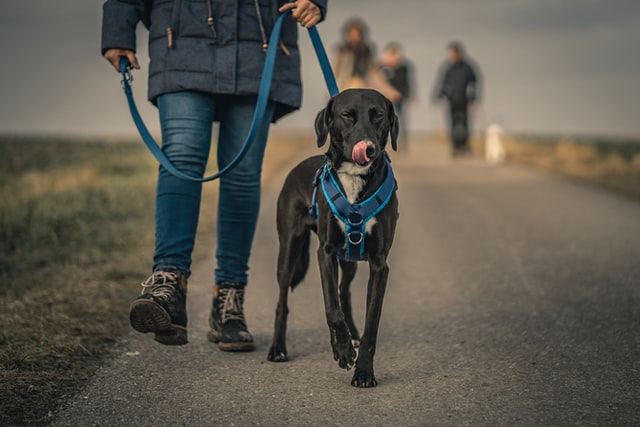 Nothing is scarier than feeling your leash go slack as your dog makes a daring escape and darts away from you.
That sharp moment of fear is one of the worst things that can happen to a pet parent. But it's also something that happens way too often. And it's because our smart little puppers know just what to do to escape their collars.
A harness is a perfect way to decrease the likelihood of your dog escaping the leash. And we've put together a list of our favorite escape proof dog harnesses to give you a starting point as you look for a way to stop your dog Houdini from getting away again.
How do dogs escape a harness?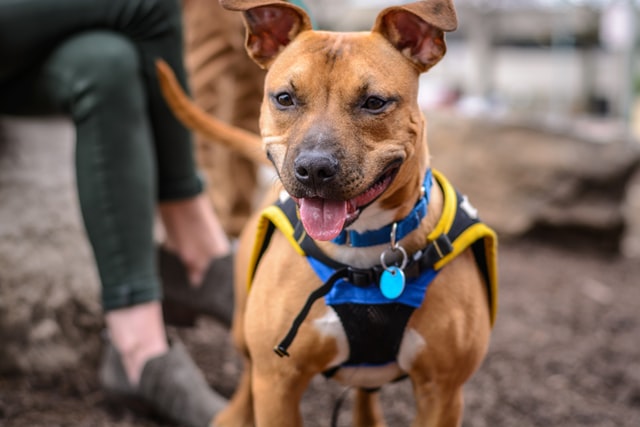 While the answer for how dogs escape harnesses will vary depending on the dog, the main issue comes down to sizing.
Most dogs escape their harnesses because the harnesses don't fit properly. The end result of a poor fitting harness is your dog will be able to back out of the harness and slip it over the shoulders and head.
It's a common misconception with dog owners is that as long as you buy a harness that will generally fit your dog (small, medium, large), you'll be good to go. However, sizing a harness takes a little more effort. You want to measure the chest and shoulders of your dog so you can get just the right fit.
A snug, properly fitting harness will stay in place without irritating the skin of your pet dog.
To learn more about how to make sure your harness fits properly, check out our sizing section below.
Jump to a section
How to make sure your harness fits right
Why you should combine your harness with a collar
---
Our top picks
Our list of best escape proof dog harnesses will give you peace of mind and keep your dog safe on your outdoor adventures.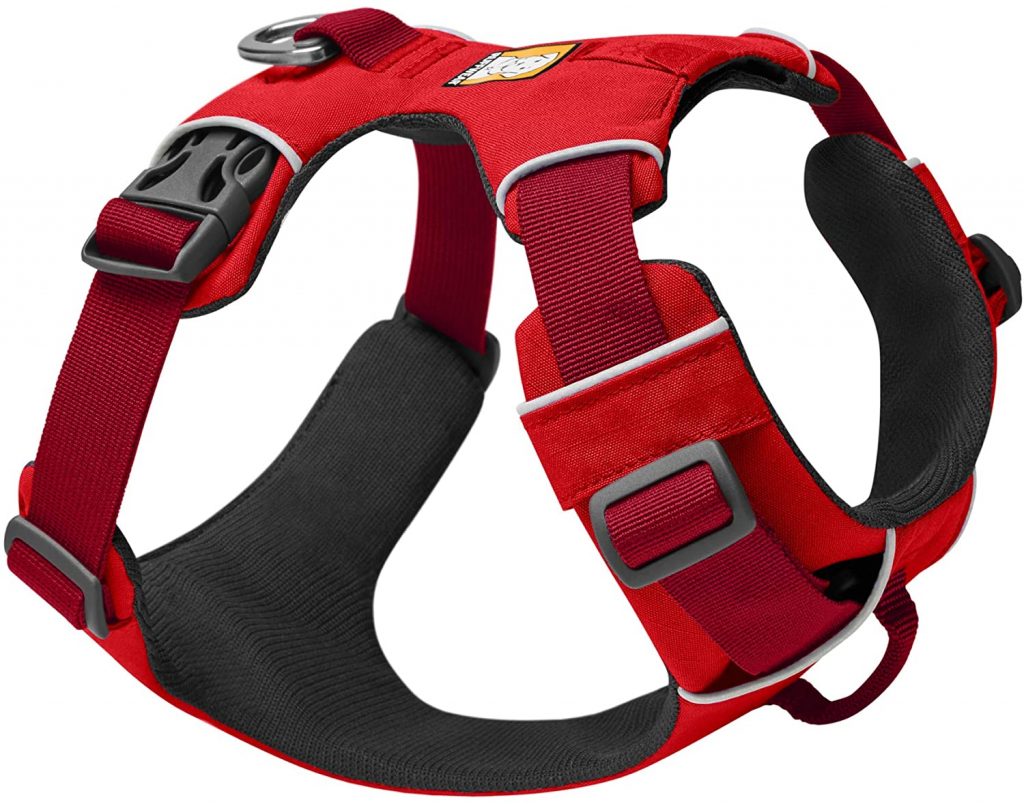 Safest Pick
The Ruffwear Front Range Harness is our absolute favorite option for an escape proof dog harness.
Ruffwear knows how to make products for active dogs, so it's not a surprise to see them at the top of this list. The Front Range Harness is an ideal escape proof option for everyday use: Light and comfortable, but also durable.
Reviewers love the high-quality materials, fit, and adjustability of the straps. The harness has an updated design with a new polyester shell, offering a flexible structure that is still tough on wear. And like all great escape proof harnesses, Ruffwear made this one with a chest strap and two body straps.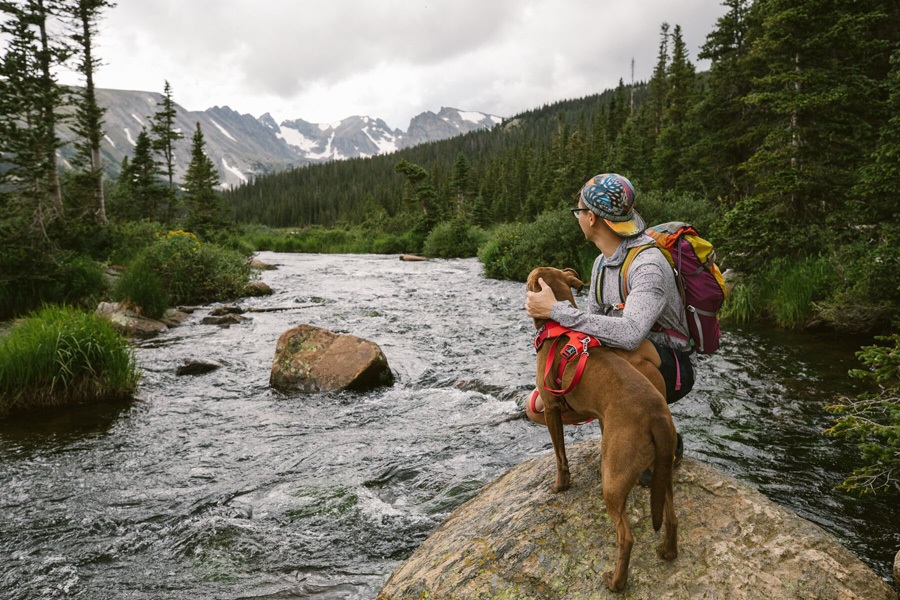 The Front Range Harness also includes two leash attachments, one on the back and one connected to the webbing around the chest. While the lightweight design of the Front Range Harness doesn't allow for a back handle, it does have an ID pocket and light loop. For added safety, the harness has reflective lining for those nighttime walks.
Ruffwear also offers very specific sizing guides, so you know where to measure to find the right fit for your dog.
Pros
Durable, comfortable material
Two leash points
Four point adjustment system
ID pocket and flashlight loop
Easy to clean
---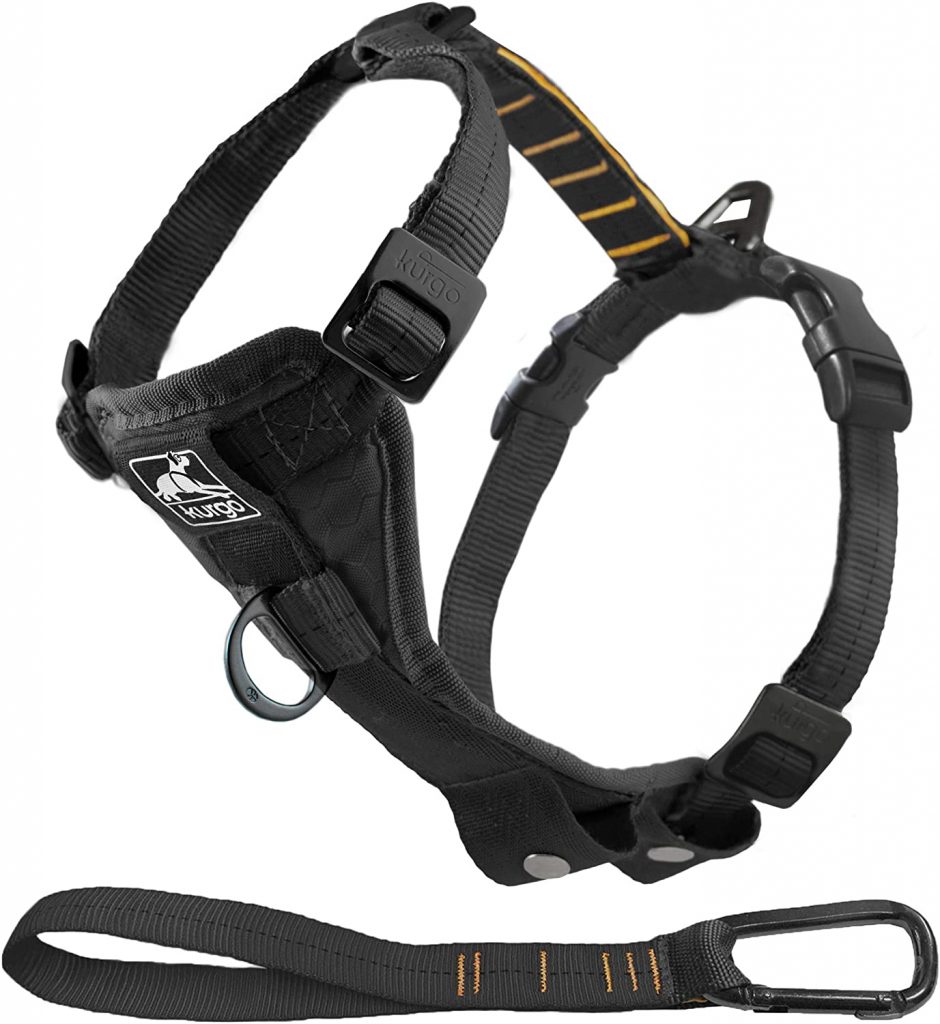 Also Great
Kurgo offers an escape proof dog harness that works great for daily walks and keeps dogs safe in the car.
The Kurgo Tru Fit is all about convenience without sacrificing quality. Despite having a total of five adjustment points, the harness is easy to slip over your dog's head and clip into place. And the quick release buckle makes taking the harness off easier than ever.
The runner up for our favorite escape proof dog harnesses has two leash attachments, one on the back and one on the chest, giving you options for walks and for no-pull training. Of all the included attachments, our favorite is the car restraint. With this extra tether, you can rest assured your pup will be safe, and not a distraction, during car rides.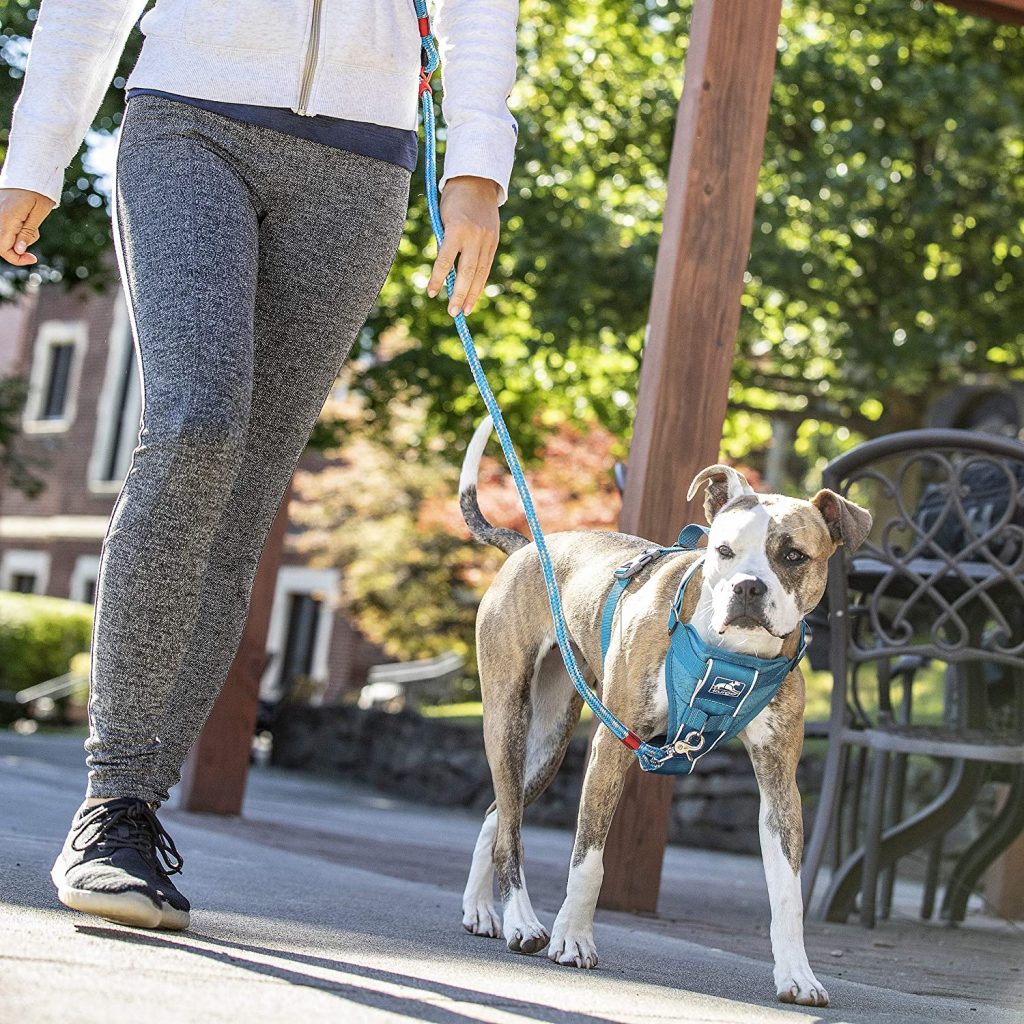 However, we're not a fan of having to decide between crash tested certified buckles or the easy on/off buckles. We can't wait to see Kurgo give an option that includes both!
Pros
Five adjustment points
Two leash attachments
Tether for the car
Detailed sizing guide and instructional videos
---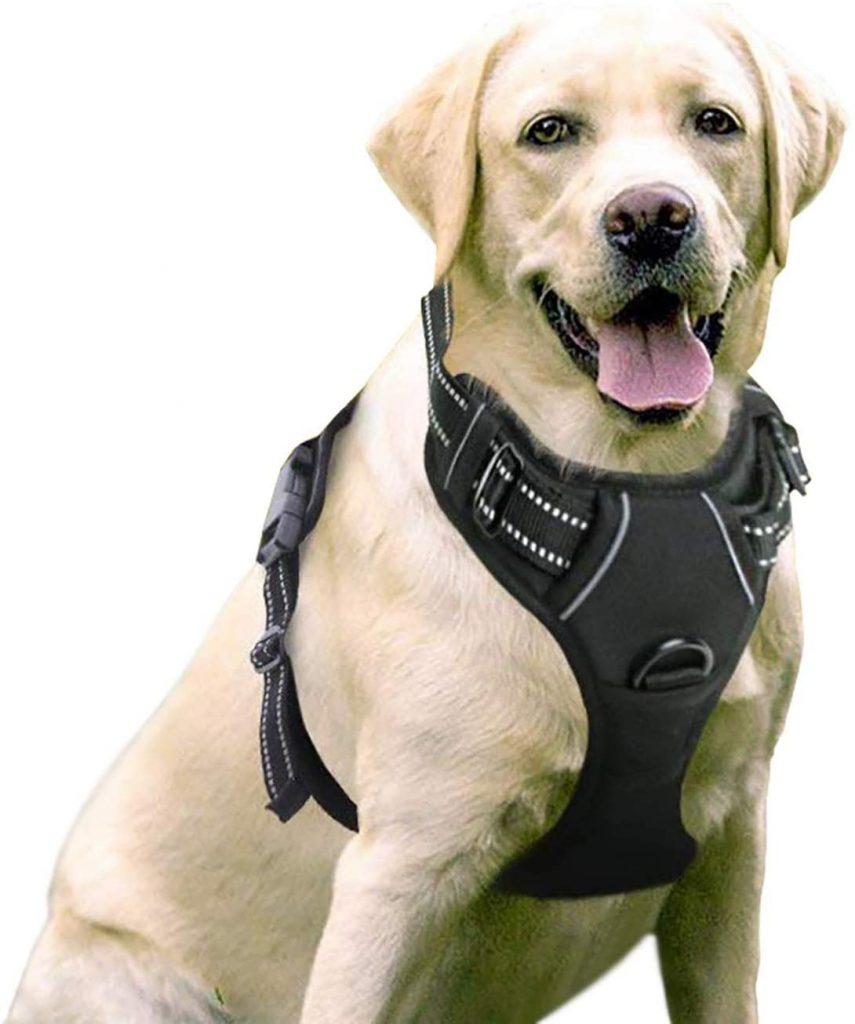 Budget Pick
Rabbitgoo proves that you can get a quality escape proof dog harness for an affordable price.
The Rabbitgoo No-Pull harness includes a thicker chest strap to provide extra comfort and support for wiggly, mischievous dogs. What makes this harness so great is that despite the thicker straps, the padded mesh still allows for breathability.
Of course, Rabbitgoo No-Pull includes two metal leash rings, one for daily walks and one on the chest to promote less pulling. Combining the leash attachments to the four adjustment points and fast release buckles makes our budget choice a fantastic option. And all for less than $20!
Pros
Inexpensive
Breathable mesh harness
Includes top handle
Cons
Adjusting straps can be difficult
---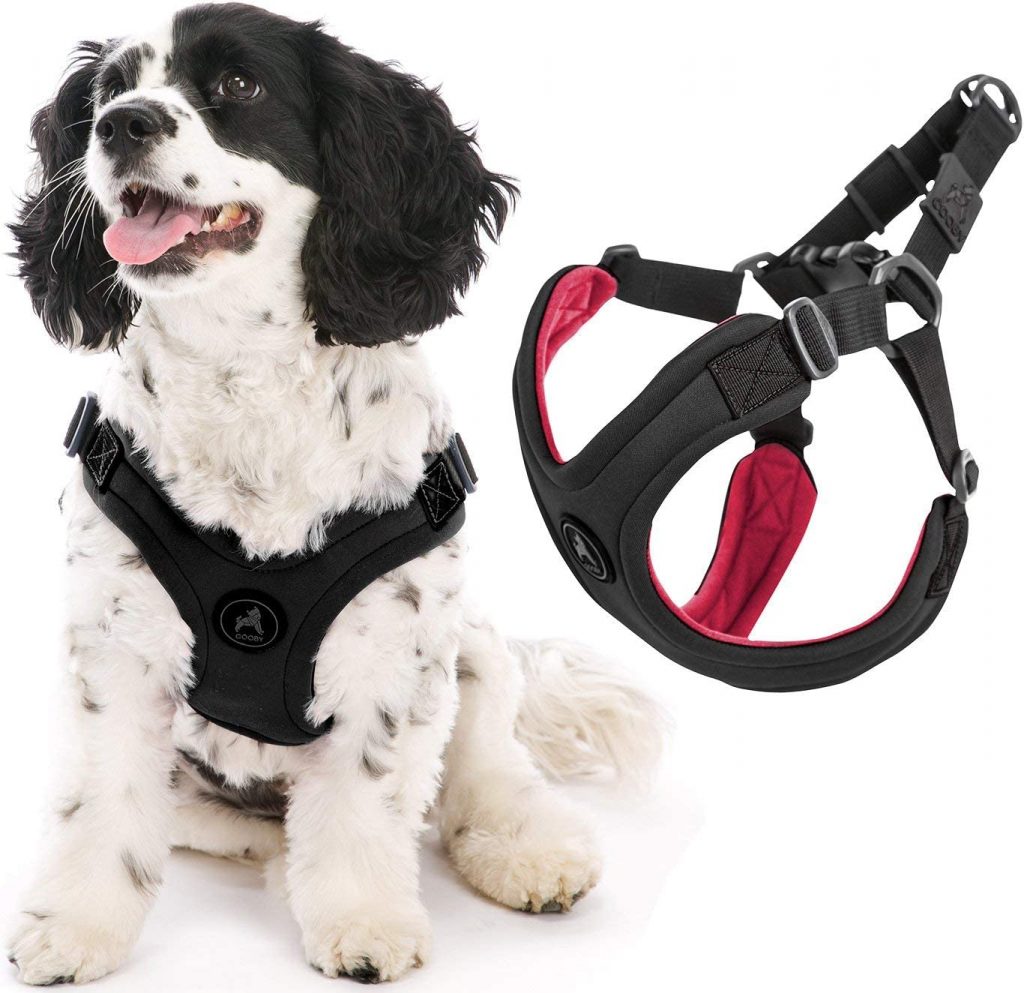 Best for Small Dogs
Size matters when it comes to picking the best no-escape harness for your pups!
While all the harness options on our list will be adjustable to some degree, when it comes to the smallest of our furry friends, we wanted to pick a harness specifically for them. Smaller dogs need harnesses with different functionalities, which is what we love about the Gooby dog harness.
The Escape Free Sport by Gooby is made from neoprene, a durable, breathable fabric, and has a four point adjustment system. One of the best things about the Gooby Escape Free Sport is the harness contracts when a dog tries to back out of the harness, releasing when puppers stop trying to escape. This stops escape attempts in their tracks!
Pros
Neoprene and nylon body for durability
Four point adjustment system
Contracts to prevent escape
Cons
Only works for dogs under 35lbs
Getting the harness sized correctly is difficult
---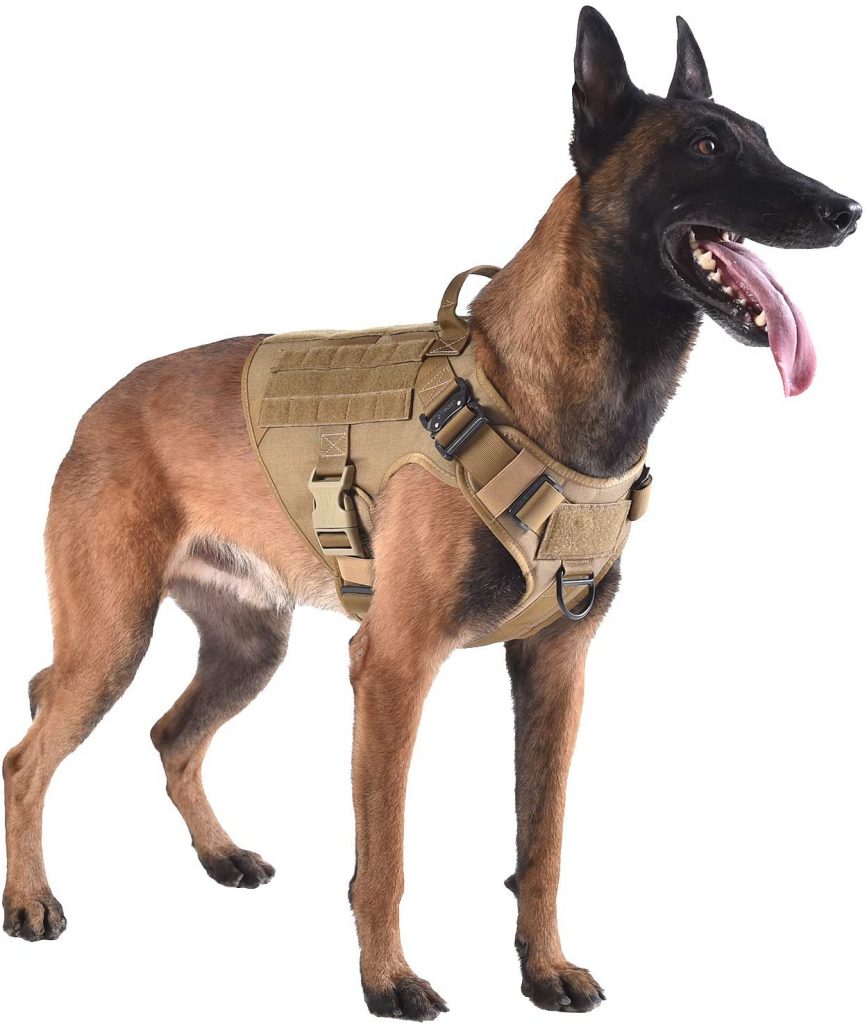 Best for Large Dogs
Extra big dogs need a lot of extra support from their escape proof harnesses, making Icefang's tactical harnesses the perfect choice.
For larger dogs, we didn't just want a harness that was near impossible to escape, we wanted something made to withstand all that extra weight.
The Icefang Tactical Dog Harness was designed for training very large dogs. The harness was made to take a beating, with buckles that can take up to 1,000lbs and solid, tough materials. The harness covers a larger area of the chest, making it almost impossible for a dog to wiggle out of. And, for when you need extra support, the harness includes a top handle for quick grabbing.
We're also big fans of the versatility of Icefang harnesses. They all include MOLLE systems, so if you want to add packs or extras to your dog's harness, you'll have the options.
Pros
Built tough
Two leash hooks
Control handle
Cons
Heavier than other options
Length of harness can be oversized
---
Chai's Choice offers a simple, effective harness for those who want a lighter option for their dogs.
Chai's Choice has made a surprisingly simple escape proof harness of amazing quality. The structure across the back and along the chest are padded, an ergonomic design made possible by using mesh and sponge. While there are only two adjustment points, the harness will still fit snuggle without being too tight.
The Outdoor Adventure harness includes two leash rings, one on the back and one on the chest for training dogs not to pull. Because safety features are always important to us, the reflective lining of Chai's harness and the seat belt attachment stand out as big pros. Plus, the extra support handle at the back is vital for extra rambunctious or injured dogs.
Pros
Simple, lightweight design
Easy strap adjustment
Two leash attachments
Cons
Only two adjustment points
Elastic strapping makes sizing difficult
---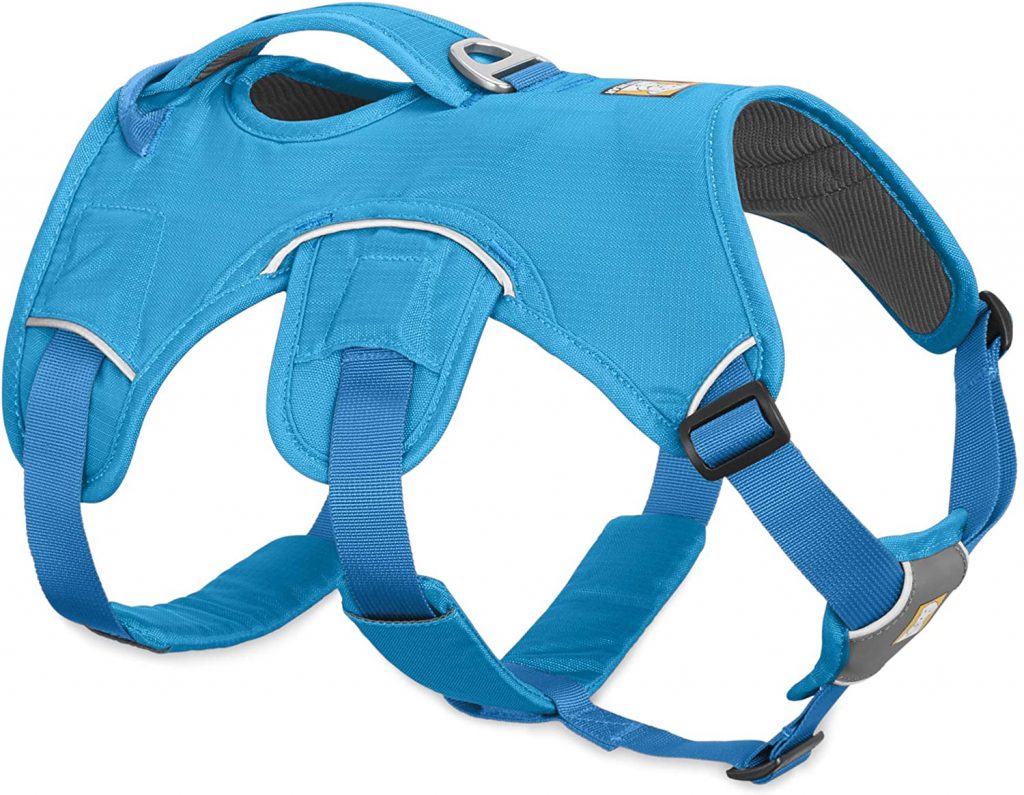 The Web Master is praised amongst dog owners as one of the most efficient escape proof harnesses on the market.
We started with Ruffwear, so it seems appropriate to end here!
The Ruffwear Web Master could easily be anywhere on this list, including as our top or runner up. In fact, Web Master is our top choice for Hiking Harnesses. The harness is made with padded foam thin enough to allow air through, but thick enough to be tough. And Web Master includes an extra strap across the belly to make it even harder for dogs to escape.
As always, we're here for the features. Web Master includes five adjustment points, two leash attachment points, and a reinforced back handle for extra assistance, or control depending on the circumstance. There's light reflective lining along the edges of the harness, though not as much as we'd like.
Our biggest issue with the Ruffwear Web Master is sizing on bigger dogs gets a bit more imprecise, making it not as safe for the Houdini in your life.
Pros
Extra stomach strap
Two leash attachments
Five adjustment points
Durable, breathable material
Cons
Larger sizes imprecise
More expensive
---
How to make sure your harness fits right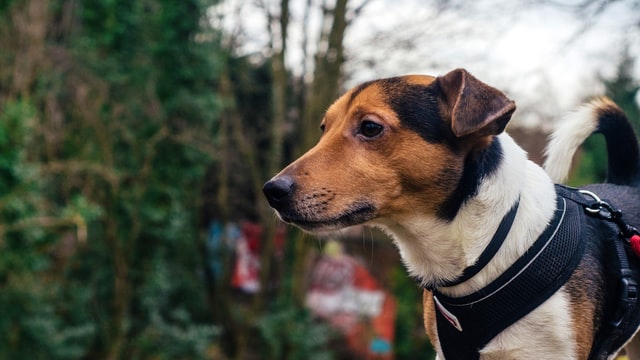 We've come up with a pretty impressive list of escape proof harnesses, but none of that will matter if your harness doesn't fit your dog properly.
The key to making sure your dog won't escape its harness is ensuring you have a proper fit. Thankfully, there are a few quick steps you can follow to make sure your pup will be safe, comfortable, and unable to Houdini out of their harness.
Follow the size guide
First, you'll need to get the measuring guide for the specific harness you want to purchase. We can't stress this enough! Every harness will have a different sizing guide, so it's important to use the one that comes with the harness you want to buy.
Some harnesses will have weight guides, but we recommend harnesses that have actual measurements, as weight guides are broad estimates.
Follow these instructions very carefully, because they will determine how well the harness fits overall.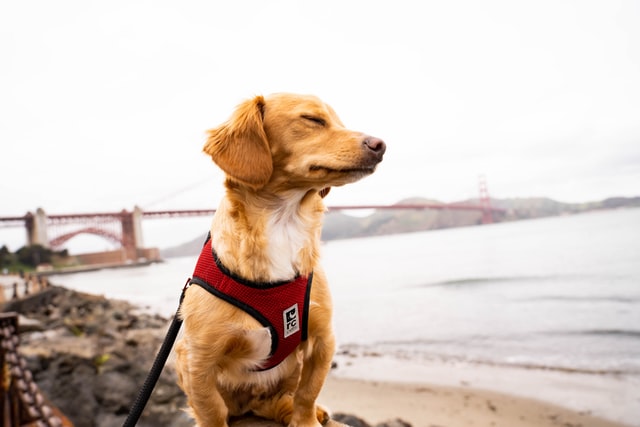 Put harness on standing dog
The second step in making sure your harness fits right is to put the harness on while your dog is standing. We know, it can be hard to wrestle a dog into anything. And the struggle is even worse when there are so many straps and buckles.
But taking the time to put your escape proof harness on while your dog is standing will decrease the likelihood of the need to make adjustments later. You don't want your dog to stand up and find out the harness is too tight or too loose when you're on the go.
Tighten straps and fasten buckles
Here comes the tricky part.
The third step in this process is making sure you've tightened all the straps and fastened all the buckles. Be careful to not catch your dog's skin or hair during this process.
A good rule of thumb for knowing the harness is on just right is to make sure you can put two fingers between the strap and your dog. Any more space and the harness is too loose. Less space and the harness is probably too tight.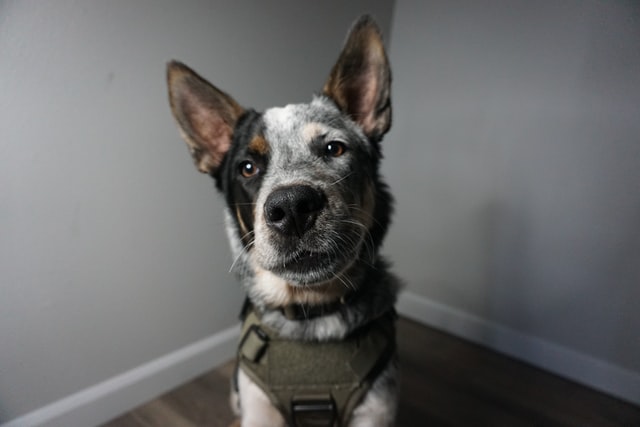 Double-check fit
Finally, for the first few days of wearing the harness, you'll want to keep a close eye on your puppers and any areas the harness touches skin. Even with following all the sizing rules, there can chaffing or soreness, so it's important to double-check the harness still fits properly once your dog is moving.
The materials in escape proof harnesses can relax over time, as well, so make sure you check the fit of the harness every few weeks. Adjust and tighten the harness as needed, always keeping in mind that two finger rule.
---
How we chose
We want to be as transparent as possible at The Pets Master, which is why we always walk you through our choosing process. By letting you know how we've picked out our top escape proof harnesses, we hope to give you a little peace of mind that you're making the right choice for your dog.
There are five main areas we looked at when considering which escape proof harnesses were the best.
Harness design
The whole purpose of an escape proof harness is to protect our dogs, even if it's from themselves, which is why it's the first thing we look for in a harness are safety features. First and foremost, we wanted harnesses with at least one chest strap, to prevent escaping.
We also made sure the harnesses evenly distributed weight across the shoulders and neck, so there would be no strain on your pet dog if they did try to pull away. Because we've had a few escape artists of our own, we made sure the harnesses had soft fabrics or foams, so they wouldn't hurt themselves.
Escape-proof features
We checked that each harness included on our list had very specific features that are known to prevent dogs from escaping. We looked for options that included front and back clip harnesses, because we prefer two leash rings.
For extra security, we also wanted back handles on the harnesses for bigger dogs. And to better support the back and shoulders of our dogs, we paid close attention to the structure of the harnesses.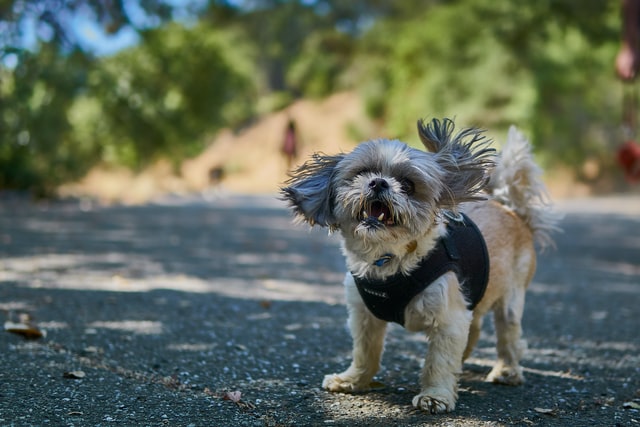 Material quality
Escape proof harnesses are going to spend a lot of time against the fur and skin of our dogs, which is why we wanted to make sure the materials used were of the highest quality. You want harnesses made from breathable, durable fabrics that won't cause irritation.
And for your clips and rings, you want strong, tough materials that can take a bit of a beating.
Bonus features
In addition to the core features we looked at for our escape proof harnesses, we also looked for those little bonus features that make harnesses great. Reflective materials is a specific favorite of ours, mostly because it adds another layer of safety. Harnesses with seat belt tethers are another bonus feature we appreciate.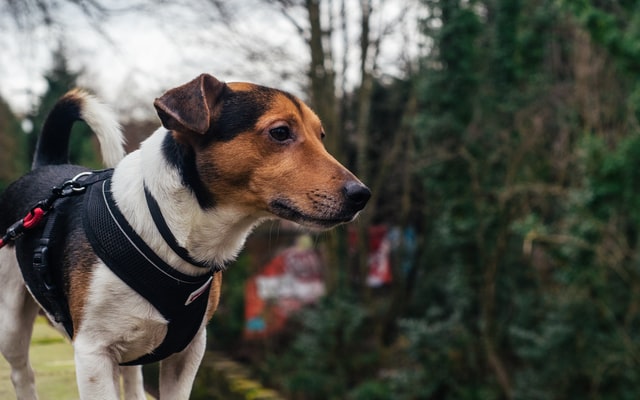 Reviews
And finally, we read through hundreds of reviews, not just from buyers, but from experts. We don't just look for all the positive aspects of these harnesses, but also look into the negative reviews to see what goes wrong even with the best options on our list. The combination of professional reviews and reviews from pet parents who have used these products gives us a clearer understanding of how these harnesses work.
---
Why you should combine your harness with a collar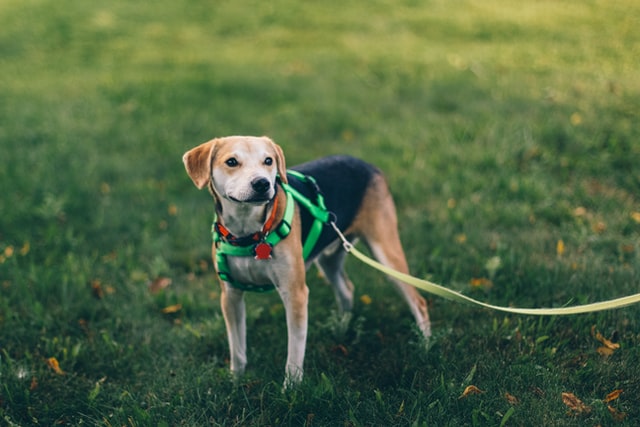 The idea of wearing a collar with a harness might seem a bit redundant, but there are a couple good reasons why you should combine the two.
The biggest reason to keep a collar on your dog's even when they're wearing a harness is for identification purposes. In a study by The American Society for the Prevention of Cruelty to Animals (ASPCA), 15% of lost dogs are found because they were wearing ID or had been chipped.
Some harnesses have space for a nametag, but the best place to keep ID is usually on the collar. And while microchipping is recommended, a name and address tag will shorten the amount of time a dog is away from home because they won't have to go to the clinic to have the chip read.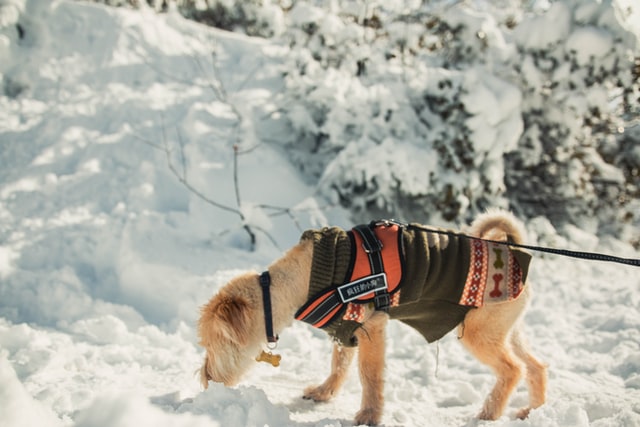 Another great reason for including both a harness and collar in your walk routines is for a backup connection option. Some dogs are great little escape artists and having a leash attached to both the harness and collar will add extra security.
We recommend leashes with extra give, so there's no pressure on the collar unless the harness comes off. However, we never, ever recommend choke chains or prong collars to be used with harnesses, according to recommendations by the Humane Society.
The combination of a harness, to spread distribution of weight evenly across your dog and reduce choking risks, plus a collar to hold identification tags, is the way to go.