Some of the best hikes or trips are those you take with your dog. However, whether it's rough terrain or an overly long hike, you might not always feel comfortable having your dog walk. A safe, sturdy dog backpack carrier is the perfect way to take your dog on adventures with you!
We've put together a list of the best dog backpack carriers and answered some of the questions you might have about what carrier would work best for you.
Are backpack carriers safe and comfortable for dogs?
Yes, backpack carriers can be both safe and comfortable for your dog.
Of course, there are very specific criteria you'll want to keep in mind when purchasing a backpack carrier. However, a well-made dog backpack carrier is a fantastic option for carrying your dog around with you. Up higher, your dog will be able to see more, all while being safe from rough terrain or other animals.
Jump to a section
Our top pick
What to look for in a backpack carrier
Do dogs like being carried in backpacks?
Different styles of dog carriers
---
Our top picks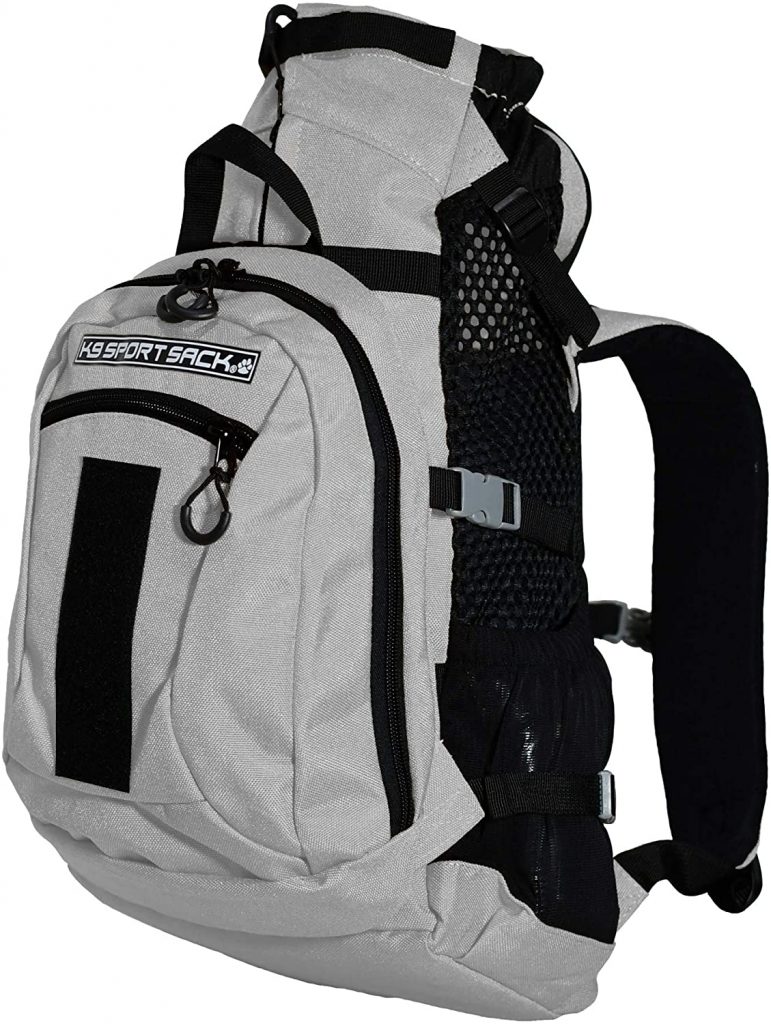 Best Overall
Our top pick has everything you need in a dog backpack carrier for your next adventure.
Designed for dogs under 30 pounds, the K9 Sport Sack Air Plus has so many fantastic features to keep your dog safe and comfortable during long hikes. The backpack includes support for the neck and the shoulders, to keep your pup from straining. And an extra wide base will keep your dog's legs from becoming cramped.
K9 Support Sacks is a company with a long and glowing reputation with pet owners. Part of that reason is because the company pays close attention to the little details. The Sport Sack Air Plus has a breathable, but form-fitting mesh lining to support your dog's back and keep your back cool. With lumbar support and a fur flap to keep zippers away from fur, it's easy to see why this is our favorite.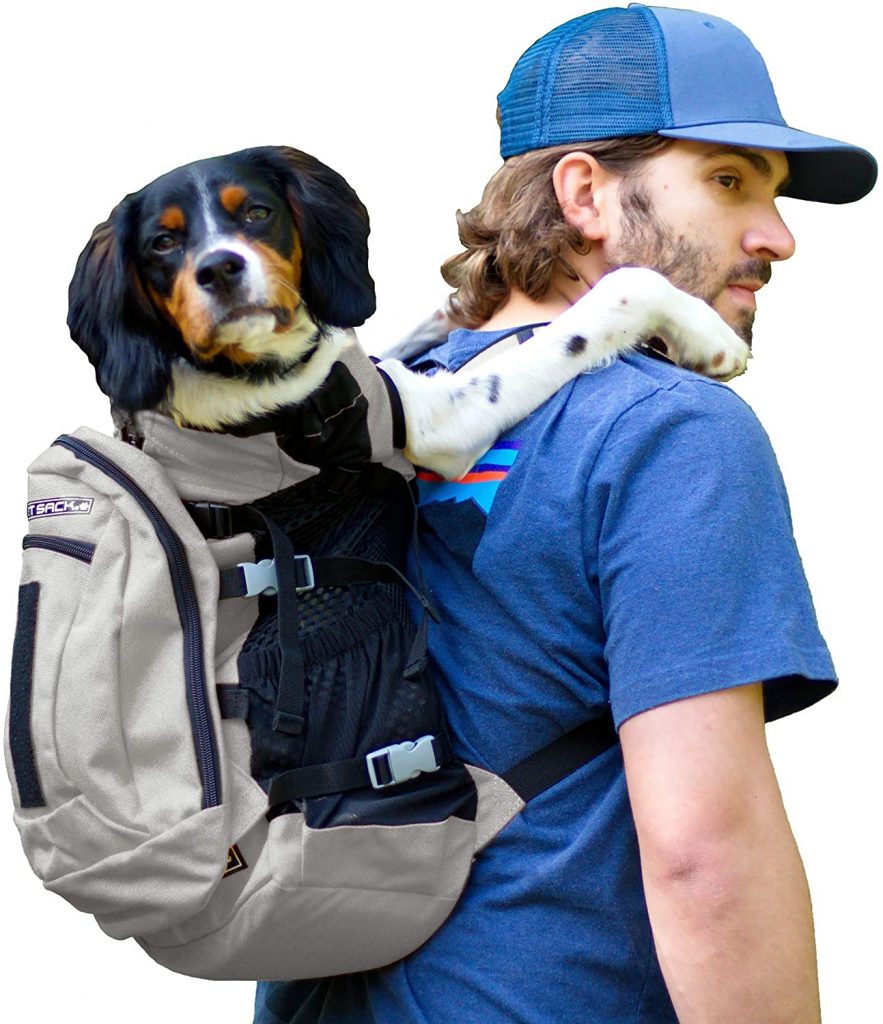 The K9 Sport Sack Air Plus has a very specific measuring system, so you can pick out the exact right size for your dog. You'll feel more relaxed knowing our top pick dog backpack carrier comes with all the features you need for your next adventure.
Pros
Designed for dogs of varying sizes
Back supporting design
60 day guarantee
---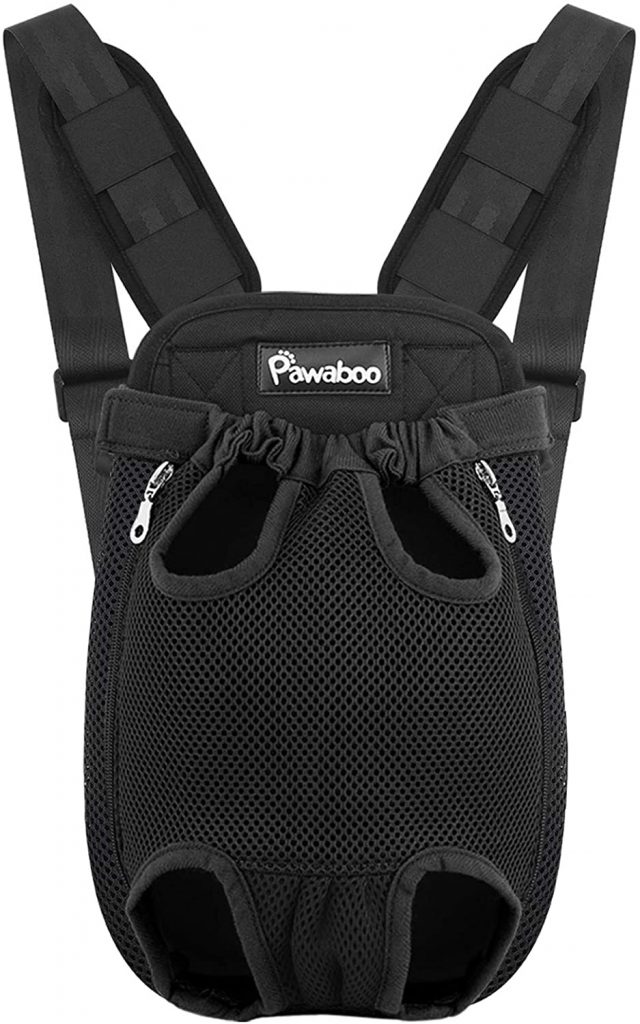 Best for second choice
Keep your dog close to your chest with our second favorite dog backpack choice.
The biggest reason the Pawaboo Pet Carrier made it so high on our list is because the pet backpack can be worn 2 ways: Facing forward or on the back. For dog owners who want to option to switch between the 2 positions, this pack is a definite winner.
Of course, the Pawaboo Pet Carrier comes all the safety and comfort features we love. The quick release buckles, elastic openings, and zippers keep dogs secure. The thick sponge padding keep your shoulders comfortable during long walks. The carrier is made from mesh and polyester, making it entirely machine washable.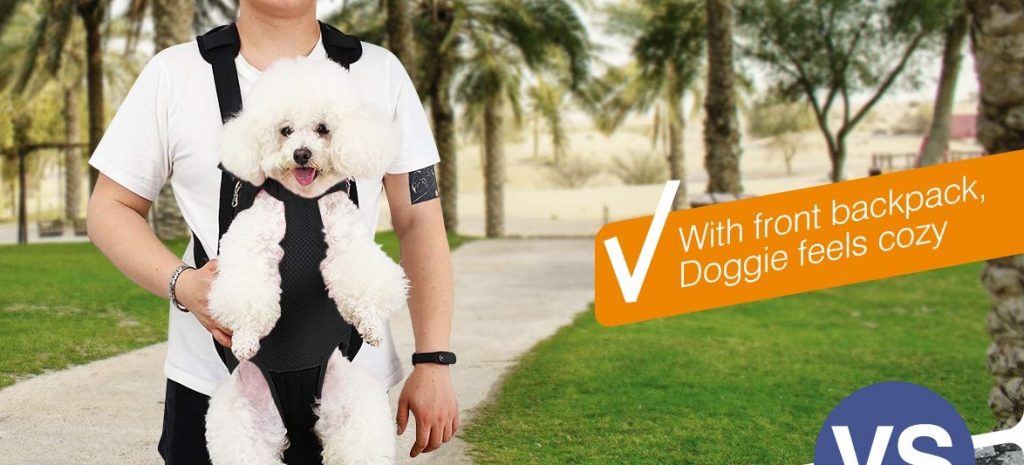 As is the case with every pet carrier, you'll want to measure your dog carefully before using this. The good news is, Pawaboo has detailed instructions on how to measure you pup to get the absolute best fit.
Pros
Machine washable
Two wearing options
Easy in and out
Cons
Works best for smaller dogs
Dogs can get tired in it
---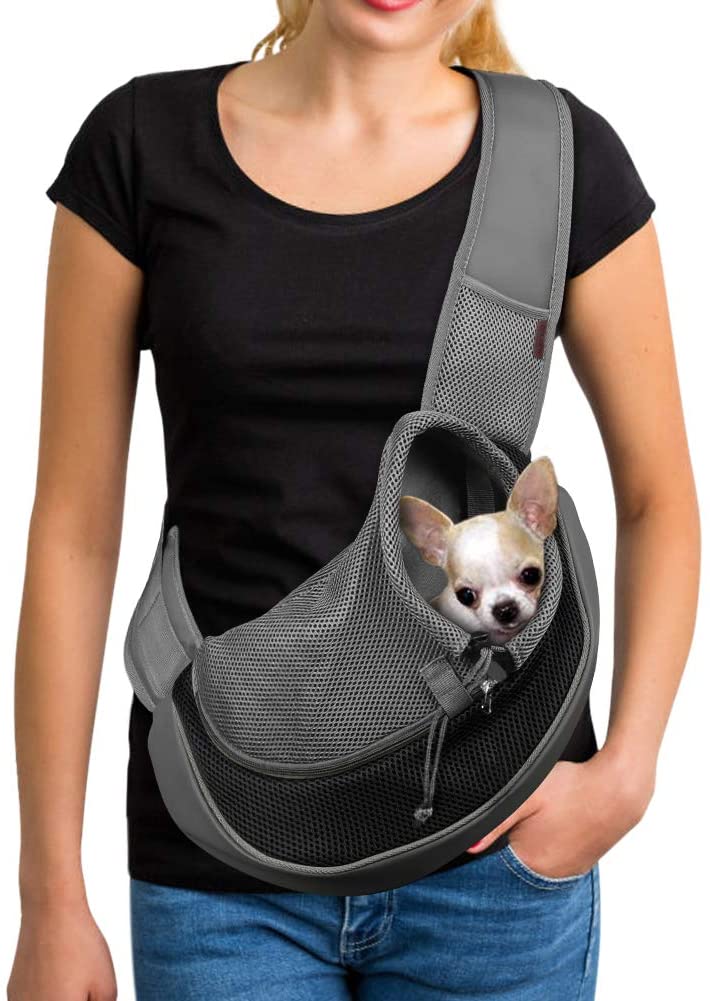 Best for small dogs
A perfect pouch for the smallest of dogs.
Smaller dogs have very specific needs when it comes to backpacks or carriers. Smaller breeds, or even puppies, might need a little extra reassurance when being carried, which is why we love the Yudodo. The pet dog sling allows you to keep your pup close and allows them to recline fully. And the cross body bag with cushioned straps prevents strain on your shoulders.
There are a ton of awesome features with the Yudodo, too. The breathable mesh keeps you and pup cooler while out and about. Our favorite feature, though, is the safety hook which allows you to attach your dog's collar directly to the bag. For anxious dogs prone to jumping, this hook will keep them safe.
Pros
Safety hook
Padded shoulder strap
Includes large pocket
Cons
Head hole is high for some breeds
Complaints of long strap
---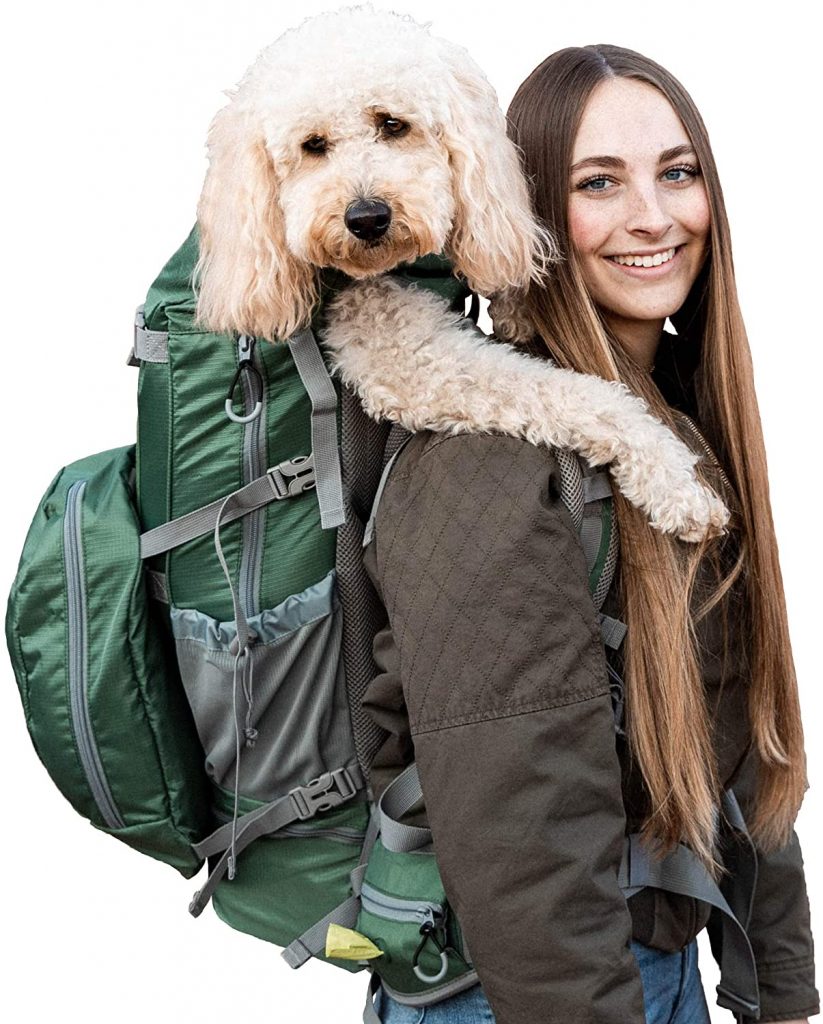 Best for large dogs
No, you're not seeing double. The K9 Sport Sack has made it on our list a second time, just for bigger dogs
The K9 Sport Sack Rover 2 is a large backpack designed for heavy-duty jobs. It's a wonderful option for those with larger breeds and its largest size can take up to 80 pounds. We love that K9 Sport Sack took the different body types of dogs into account when making the Rover 2. If you follow the measurement guide, your dog will be comfortable and supported in this backpack carrier.
What makes the Rover 2 really stand out is its features as a dog carrier and as a backpack. Yes, it has leg openings, weight distribution straps, ventilation panels, and pet lumber straps. But, it also has carabiner safety clips, a removable storage bag, and a strong internal frame, making it perfect for plain backpacking.
Pros
Supports large dogs
Can be used as a backpack
Includes safety features for humans and pets
---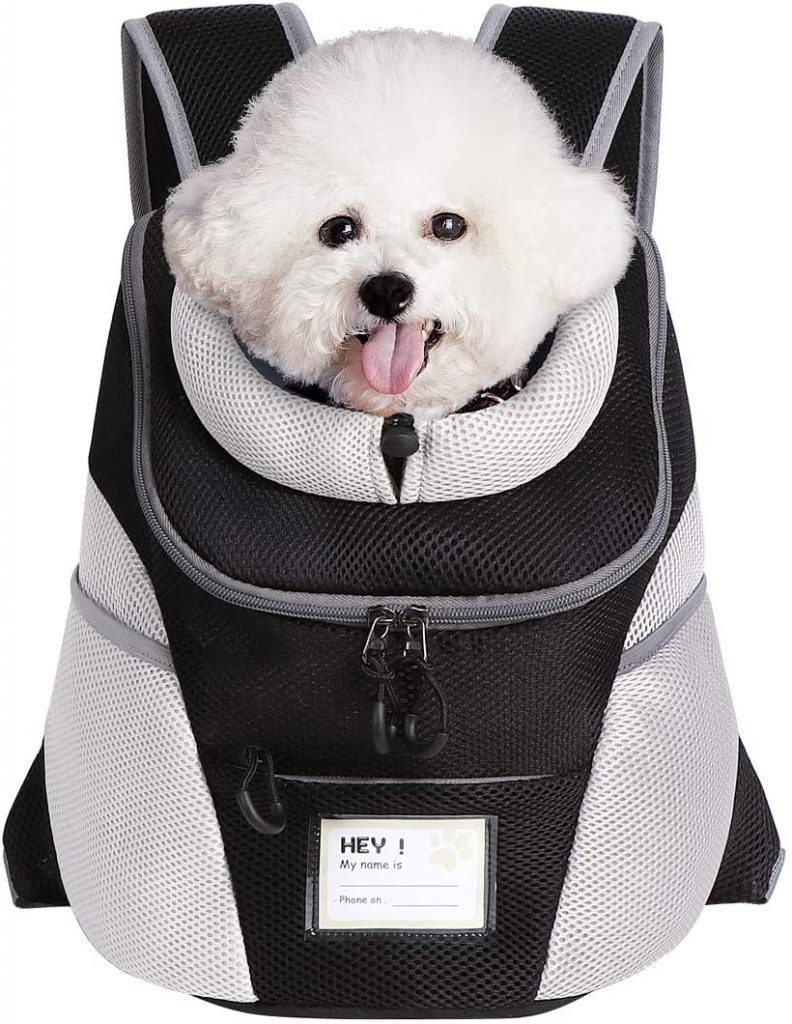 Best budget choice
Catch this backpack while it's on sale and get an amazing carrier for a great price!
Another pack that can be worn on your front or on your back, the Ennefu carrier is a simple, yet safe, pet carrying solution. The pack comes with a built-in security strap to keep nervous pets from escaping. And, we're big fans of the extra storage pockets up front for keys or your phone.
The Ennefu backpack is has a pet compartment completely surrounded by breathable mesh and a thick sponge. This keeps tired joints comfortable and at ease during longer walks. Plus, the durable materials make this carrier completely machine washable.
Pros
Inexpensive
Worn two ways
Spongy support for straps and carrier
Cons
Designed for smaller dogs
Not for rigorous hikes
---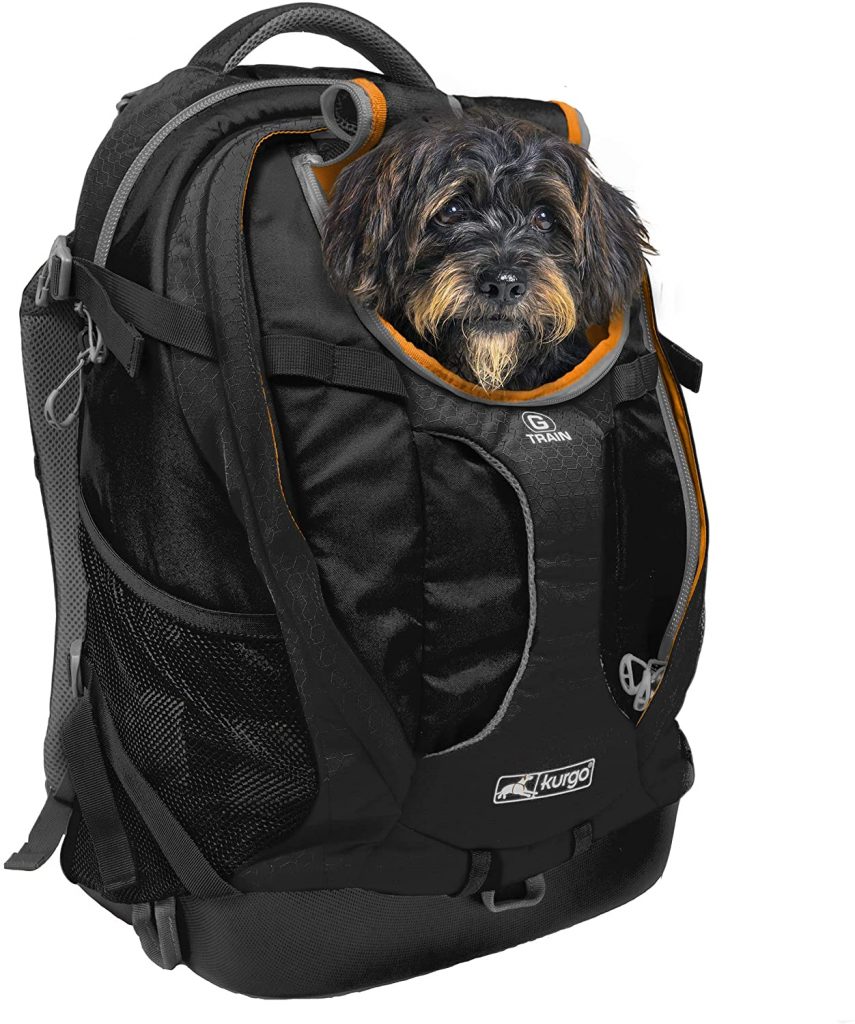 Best for long hikes
We love Kurgo here at The Pets Master, so we had to include their pack on this list.
The Kurgo Dog Carrier is a backpack designed for rigorous hikes and outdoor activities. As a result, the pack is designed to be durable, comfortable, and safe. The carrier is made for dogs up to 25 pounds, but double-check the measurements before making a purchase. Because Kurgo makes heavy-duty products, this carrier has water-resistant fabric, tons of padding for your pup, and plenty of pockets and storage for your needs.
Kurgo takes pet safety very seriously. The dog carrier includes a carabiner clip tether inside the pack to attach a leash or collar. As an added bonus, the Kurgo Dog Carrier Backpack is TSA approved, meaning you can take it on even your longest trips.
Pros
Heavy-duty
Extra storage
Machine washable interior pad
---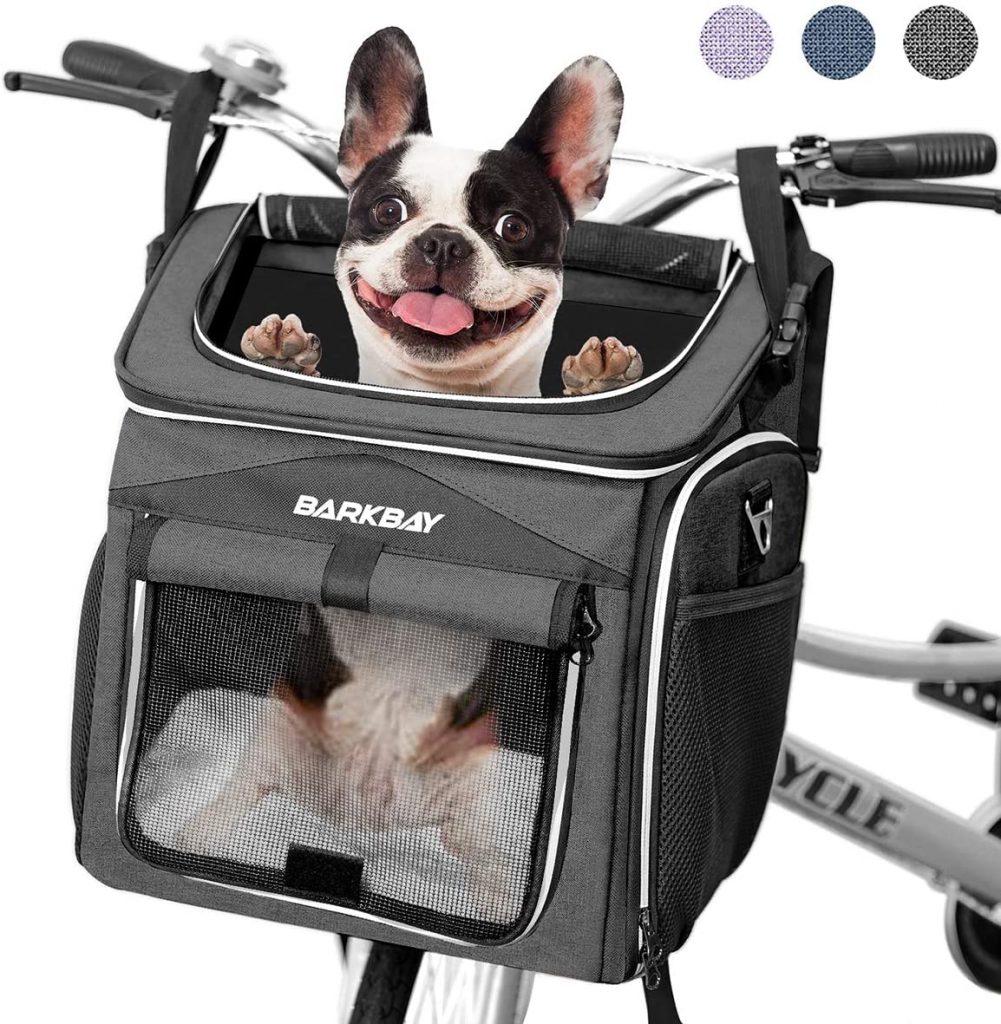 Best for biking
Easy to carry and attach to a bike, this carrier will have you and your dog out enjoying all the bike trails.
The Barkbay is a bicycle carrier, backpack, car seat carrier, and shoulder bag all in one. It's hard to take smaller dogs biking, but the Barkbay solves that problem with a foldable, adjustable handlebar basket. You can attach the Barkbay to almost any bike and even remove the mesh cover to use it as a regular basket. The padded carrier is comfortable and the metal frame makes it extra safe.
The carrier comes with powerful reflective strips for added safety. Plus, you can extend the mesh window to make it a larger rest area for your dog after long trips.
Pros
Durable metal frame
Mesh and padded interior
Can be used as backpack
Cons
Only works for small dogs
Not machine washable
May need additional safety straps
---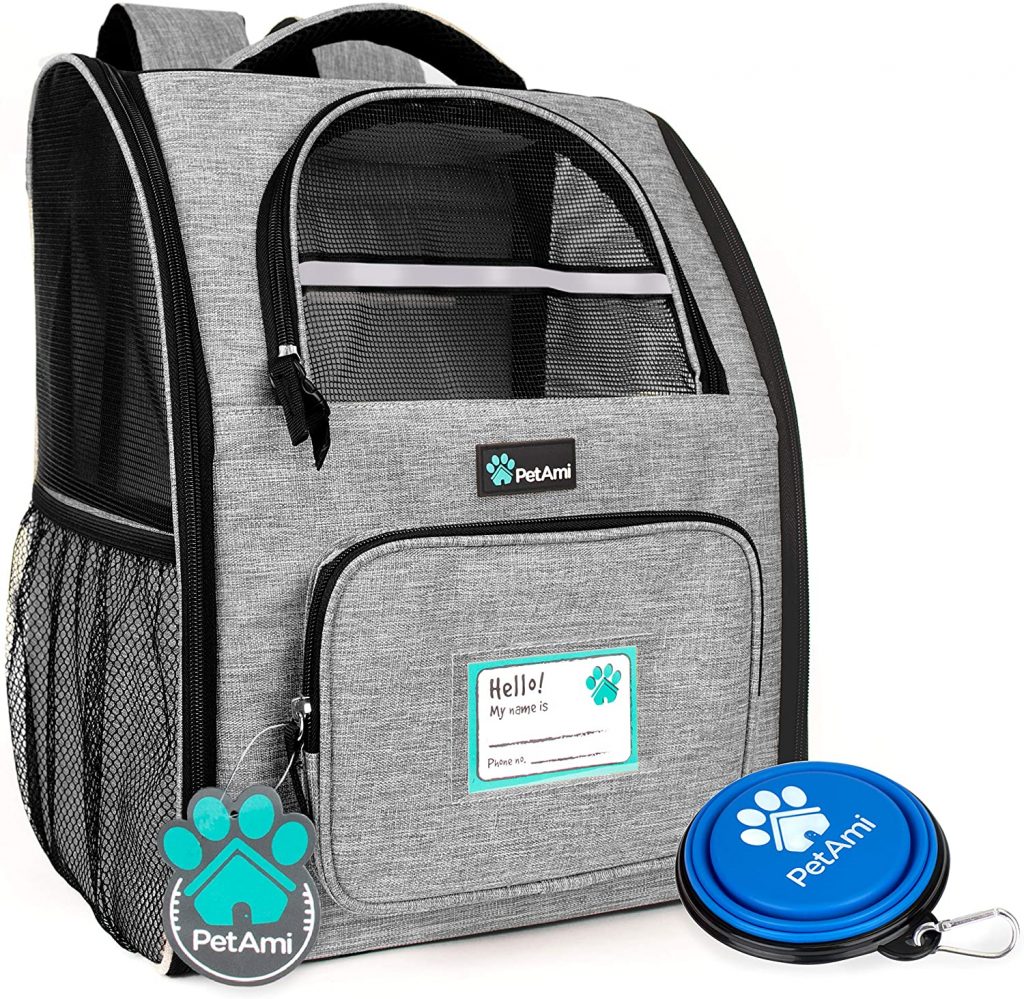 Also great
Sometimes you just want a simple bag to take your dog from here to there.
The PetAmi Deluxe has a luxurious Sherpa lining to keep your dog extra comfortable and warm on cooler hikes. We love the multiple mesh windows of this carrier, giving pups plenty to look out on their adventures. There are 2 entry points, making it easier to get dogs in and out, and a safety buckle. The carrier comes with a leash, name ID tag, and collapsible bowl so you'll be ready to go as soon as your order arrives.
Pros
Lightweight
Spacious for smaller dogs
Extra accessories included
Cons
For smaller dogs
Low-quality zippers
---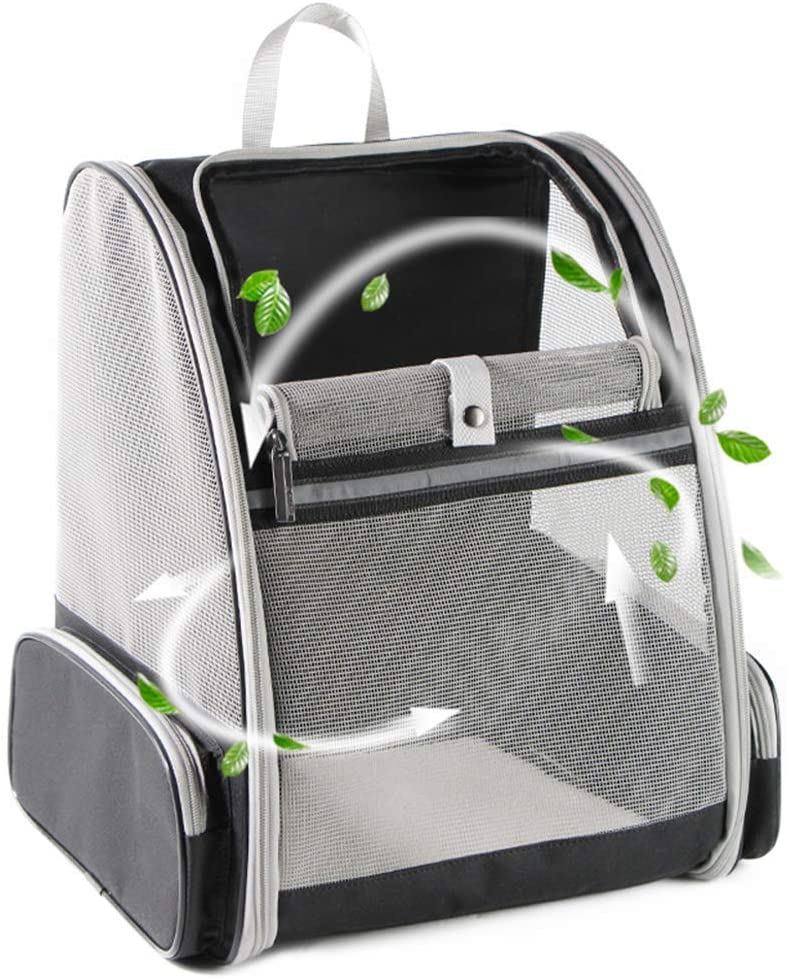 Also great
An almost fully mesh bag that's perfect for warmer months.
While the bottom of the Texsen Pet Backpack Carrier is made from a sturdy, washable pad, it's the mesh walls that got it on our list. The backpack is foldable, has adjustable straps, and a thick, sponge back. But really, the mesh walls keep your dog cool on long walks and also gives a much fuller view. We love that for our dogs.
Pros
3 mesh walls
Sturdy, padded bottom
Folds flat
Cons
Not ideal for long hikes
Mesh can be ripped
---
What to look for in a good backpack carrier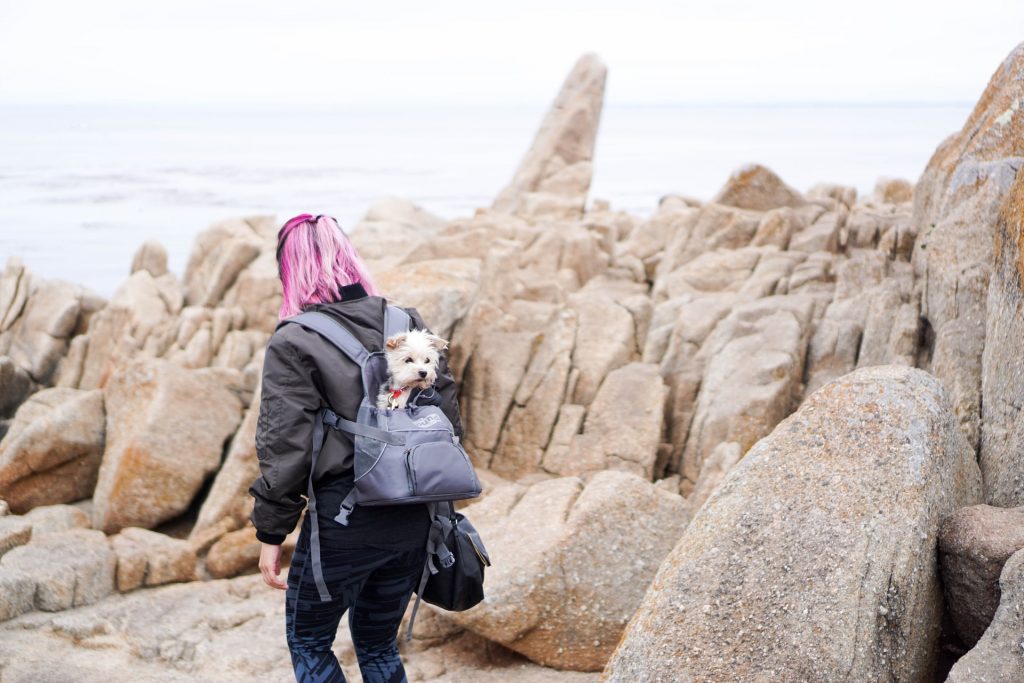 We looked for very specific criteria when searching for the best dog backpack carriers. In order to be as transparent as possible, and to help you in your search, we like give a little insight into the most important features to look for in a backpack carrier.
Material
There are two different materials you want to see when looking for a good dog backpack carrier. The first is a sturdy, heavy-duty material for the straps and actual body of the carrier. You want a material that will keep your dog safe.
The second material you want to see in a dog carrier is a padding. You'll want padding where your dog will sit, but also where the backpack will be carried. We looked for padding where the dogs sit and in the where the carrier connects to your shoulders and back.
Size
A carrier needs to be the right size for the dog it will be carrying. In this case, we're talking about dimensions. You don't want your dog to feel too confined or smooshed, but you also don't want huge amounts of space so your pup is slipping or moving around.
Size is also important in regards to what you can carry. You don't want a backpack carrier that is too bulky for you to carry anywhere.
We looked for carriers with very specific dimensions, so you could find just the right fit for you and your pups.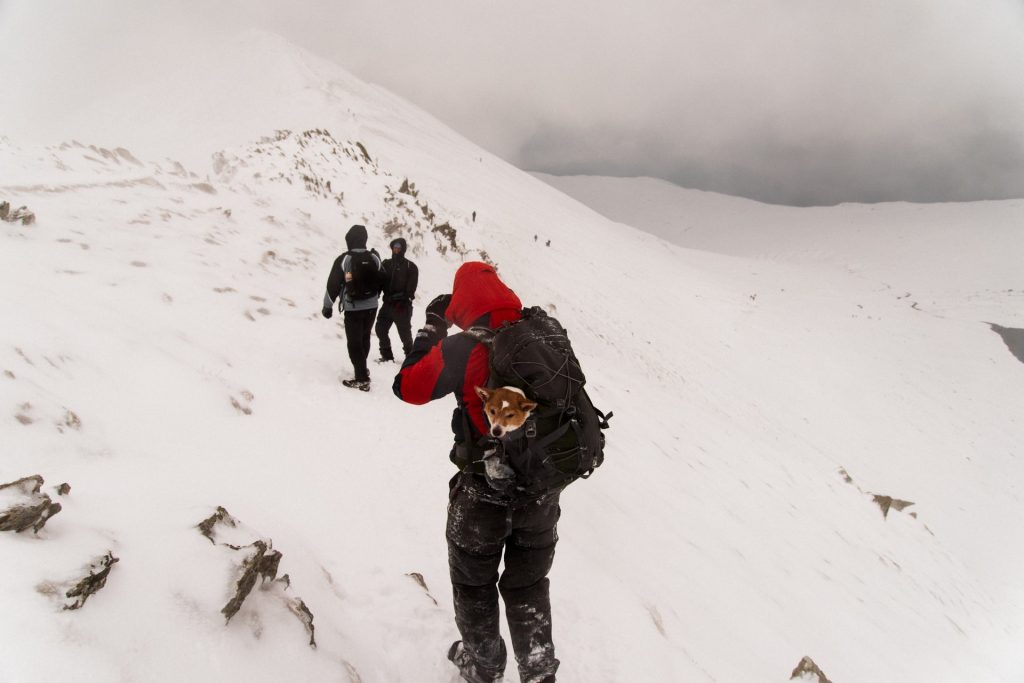 Weight capacity
Going hand-in-hand with size, you want a backpack carrier with very clear weight requirements. While this might mean your dog is too big for some carriers, that's better than having a pack break halfway through a hike.
When putting our list of carriers together, we made sure each one had very specific weight requirements for each size. By following these requirements, you can have peace of mind that your backpack carrier will be secure for your dog.
Ventilation
There are a lot of pet carriers today with little windows, but no ventilation. We wanted all our options to have some sort of mesh ventilation if it didn't have a specific space for a dog to stick out its head. Not only does ventilation give your dog the air needed to breath, it also keeps you and your pup from overheating.
---
Do dogs like being carried in backpacks?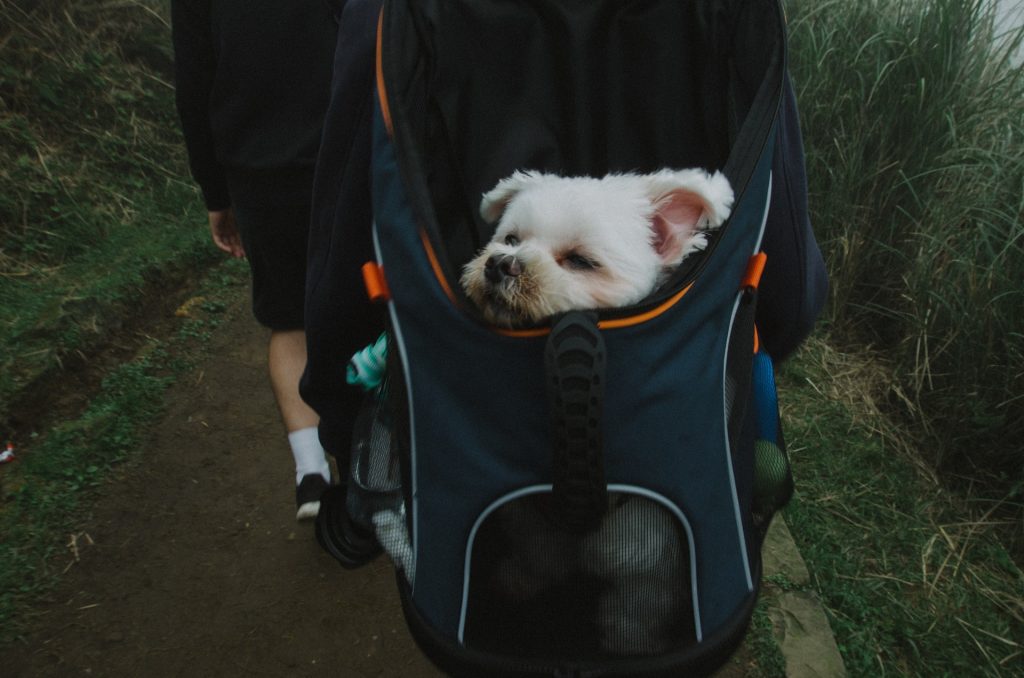 The short answer is: It depends.
All dogs are different and will have different experiences with being placed in an enclosed area. If your dog has had positive experiences with being carried, then that specific dog might love being in a backpack. But it's the same the other way around: If a dog has been traumatized by being carried or enclosed, that specific dog might hate it.
The key is to follow your dog's queues. Give your dog time to smell, explore, and spend time with the backpack carrier. Introduce being carried gradually. If at any time your dog expresses distress, stop. Just remember, every dog is different, so every experience will be different.
---
Different types and styles of dog backpack carriers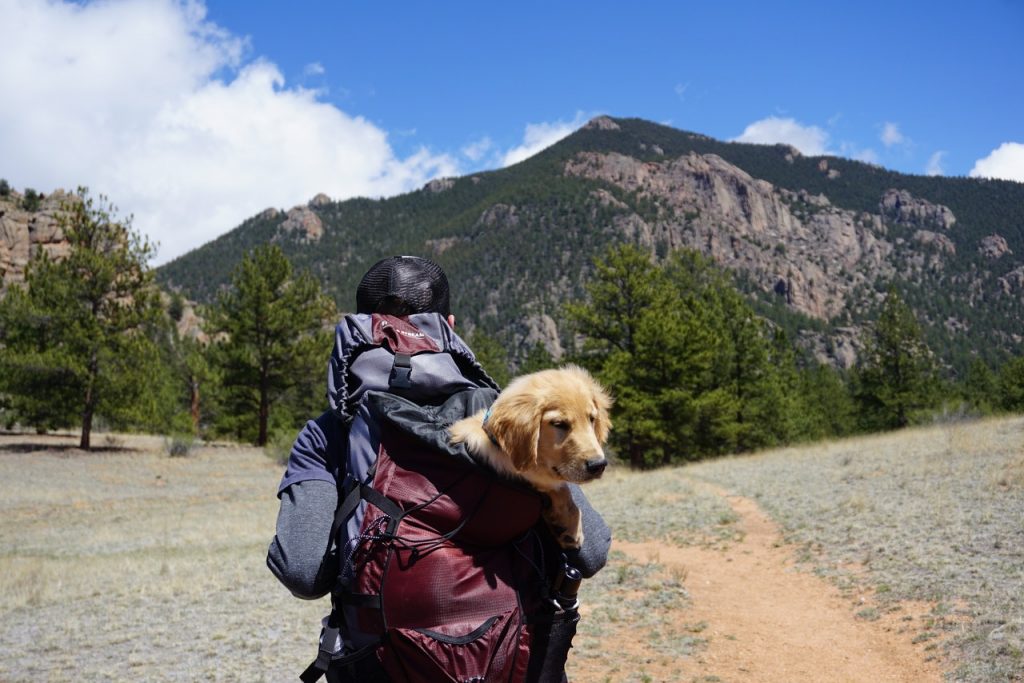 There are so many fantastic types of dog carriers out there. We've focused on backpack carriers for this article, but if you haven't found something that stands out to you, consider a different type of carrier. You can try different carriers to find which one works best with your dog and your specific needs.
Dog backpack carriers
Let's start with the focus of this article.
Dog backpack carriers are designed for adventurous dogs (and owners!) who want to see the world together. Often made with soft bodies, these carriers are great alternatives to dangerous hikes or just a place to give your pup a break.
Dog slings
We snuck a dog sling onto our list, so thought we should see what they're all about. A dog sling is typically used for smaller dogs or puppies, keeping them close to the body. Often used for busy areas, slings are a great way to carry your dog with you for short distances.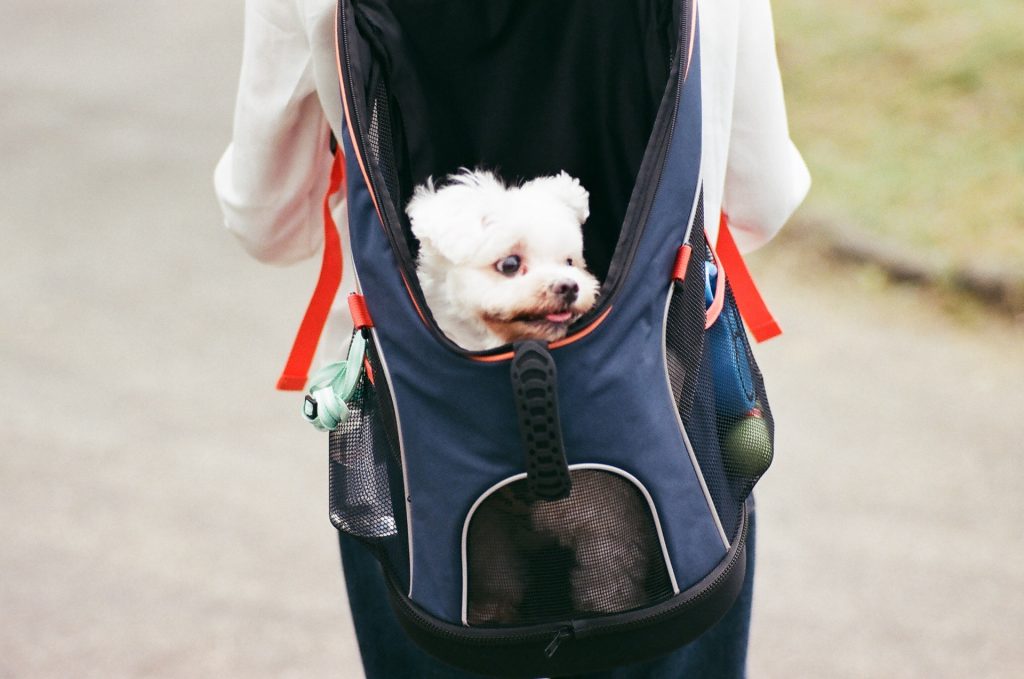 Hard dog carriers
The most common of dog carriers, these pens work for any sized dogs needing to be contained for long periods of time. The offering the best and most thorough protection, hard-sided carriers can be bulky and heavy, so don't make sense to carry long distances.
Wheeled dog carriers
If you don't want to put strain on your back and plan on being in a mostly paved area, a wheeled carrier is a great option. Ideal for flying or getting around a city, wheeled carriers are smoother, so easier on your dog's joints. However, they can get bulky.
Once you know what you want to use your dog carrier for, you can pick out the one that works best for your needs. The important part is being able to take your fur baby with you on your adventures, whether they be out in the mountains or through a busy city.