We've all been there. You're packed up and heading out for the day when your dog gives you that look, the "I'm coming with you, right?" look. Which is easy enough when you're hopping in the car or walking down to the park, but how are you supposed to bring your dog when you're cycling somewhere?
Enter: bike trailers. These multi-function trailers not only give your dog a comfy spot to enjoy the ride but also give you extra room for groceries, gear, and anything else you need to haul. With biking getting more popular than ever, who wouldn't want to bring their four-legged best friend along?
Are bike trailers for your dog safe?
If you've never brought your dog along before, you may be wondering just how safe it is to put your dog in a trailer and tow them around. Many dogs are nervous about zipping around in an enclosed space, particularly if they already have trouble going for a ride in the car. It's also daunting enough to be paying attention to your own safety on a bike, not to mention your pet's.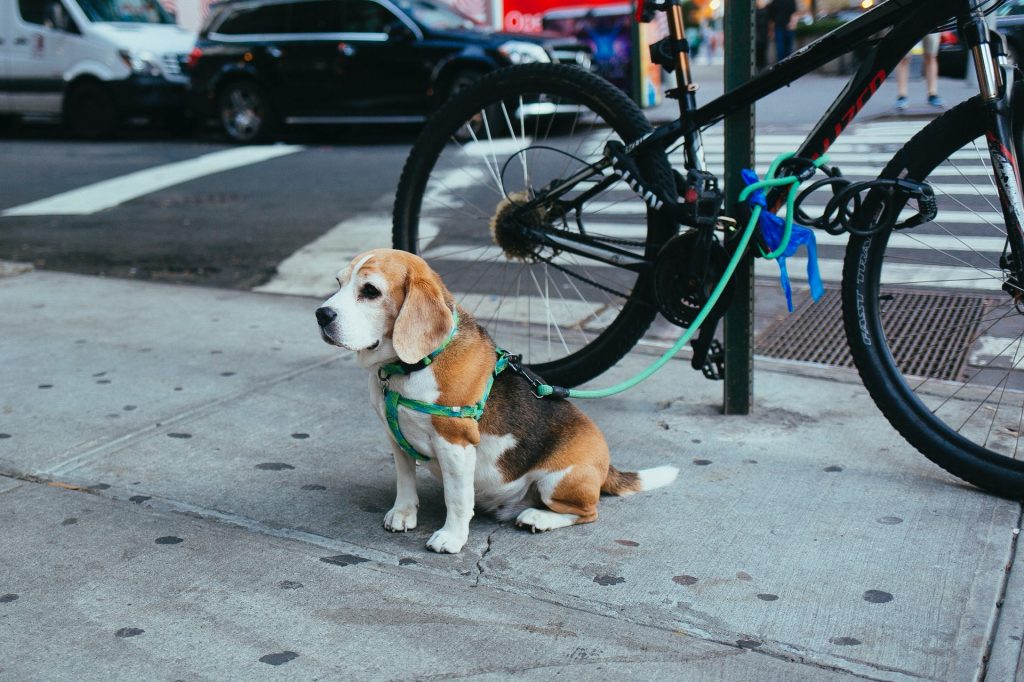 If you need to bring your dog with you on your adventures or just want to have them around, a bike trailer is your best bet. Having your dog run alongside you is great, for a mile or two until they get tired or they throw you off balance darting for a squirrel. Backpacks can also be a handy alternative but they get pretty annoying when your dog weighs more than a few pounds. A basket might work, unless your dog feels like trying to jump out.
Bike trailers offer a safe, enclosed space close to the ground for your dog to lounge in comfortably. Trailers protect your dog from the weather, preventing them from getting wet in the rain or overheating on warmer days. They also have the added bonus of giving you added space to haul your dog's stuff (or yours).
While there are some concerns about weight and handling when pulling a trailer, that's nothing that isn't fixed by biking a bit slower than usual and being a bit more cautious making turns. A bike trailer is the safest option you can chose, and we feel the drawbacks are well worth it when it comes to keeping you and your dog safest on two wheels.
How we picked the best ones
We created a list of available dog bike trailers from Amazon, pet stores, and cycling stores to see which models are popular and recommended. Then we took all the top models and compared user reviews across multiple sites and looked at the quality records of different manufacturers to determine which bike trailers were the safest and most reliable before coming up with our final list of criteria:
Safe and stable construction we would feel comfortable using for our own dogs on our own bikes
Reliable and easy assembly that can be broken down to store in a garage, closet, or car and can attach to most bikes
Moderate weather protection from wind and rain, while offering maximum ventilation on warm days
While the good news is we're seeing more and more options for bike trailers coming to the market, many can be copycat designs that aren't built to last. We've made sure all of our picks are safe and easy to use. See our full review and selection methodology.
Jump to a section
Our top pick
Our upgrade option
How to choose a bike trailer
Training your dog to use a bike trailer
---
Our top picks
Here are the five best bike pet trailers we'd use to take our own pets on rides around town: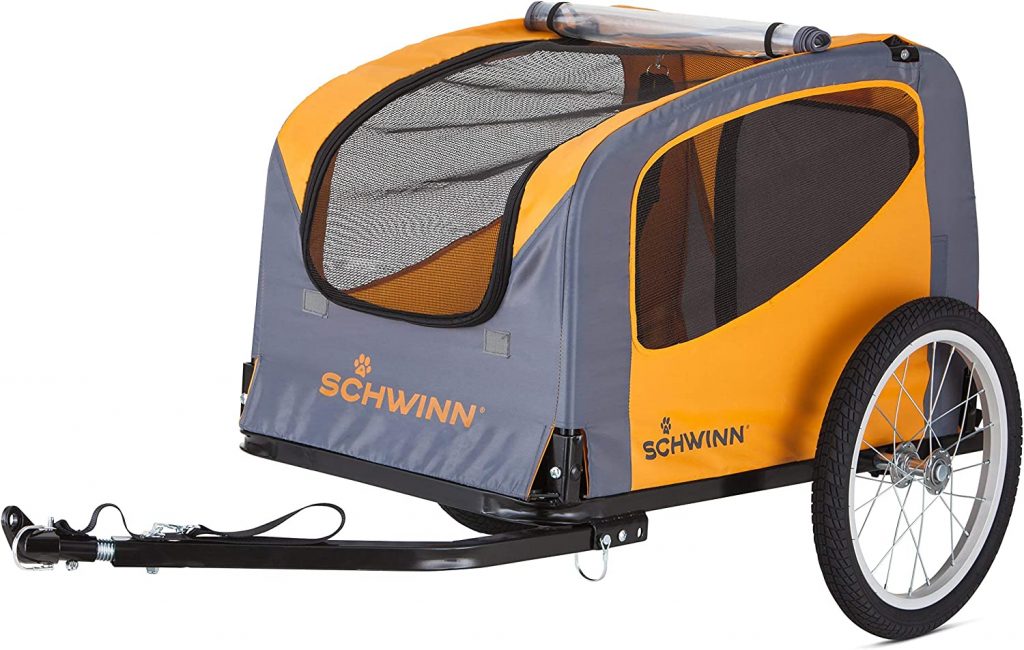 Best Overall
This bike trailer comes in at a great price, packs down small for storage, and comes in different sizes for different pups, but large dogs may find it a bit confining.
The Schwinn Rascal Bike Pet Trailer is a fantastic, entry-level option to the world of cycling with your dog. You get all the must-have features for a low price from one of the biggest names in biking.
What we love most is the trailer frame folds down easily and has quick release wheels that make storing it in a closet or garage easy. This is something you don't always find on more expensive options and if you're just getting a dog trailer for occasional use is a must-have.
The roof and front of the carrier are covered by a weather shield, basically a clear PVC screen, that helps block wind and rain, along with a mesh screen for bugs and to help keep your dog inside. Both the weather and mesh screen zip open to allow well-behaved pets a better view or to make it easier to load up the trailer.
The main entry for pets is at the rear, with a low-entry door that lets your dog step out easily on their own. There's even an interior leash that you can attach to their collar to ensure they stay put after you get them inside.
You also get attachment points on the rear of the trailer for bike lights or reflectors, and a washable liner mat that provides some grip for your dog to stay put. The Schwinn universal coupler that's included fits most bikes, but you may need to mess around with it if you have thru-axles on your bike.
Like most bike trailers, however, the height is a bit low for large dogs. This is largely intentional to help reduce the trailer's center of gravity and increase safety, but we have other picks we recommend that may fit big dogs better. Still, for the price it's hard to find something as easy to assemble and attach to your bike.
Pros
Very affordable
Easy to assemble and attach to your bike
Weather screen protects most of the carrier from rain
Features safety flag and internal leash
Cons
Less-suitable for large breeds
Heavier than higher-tier options
---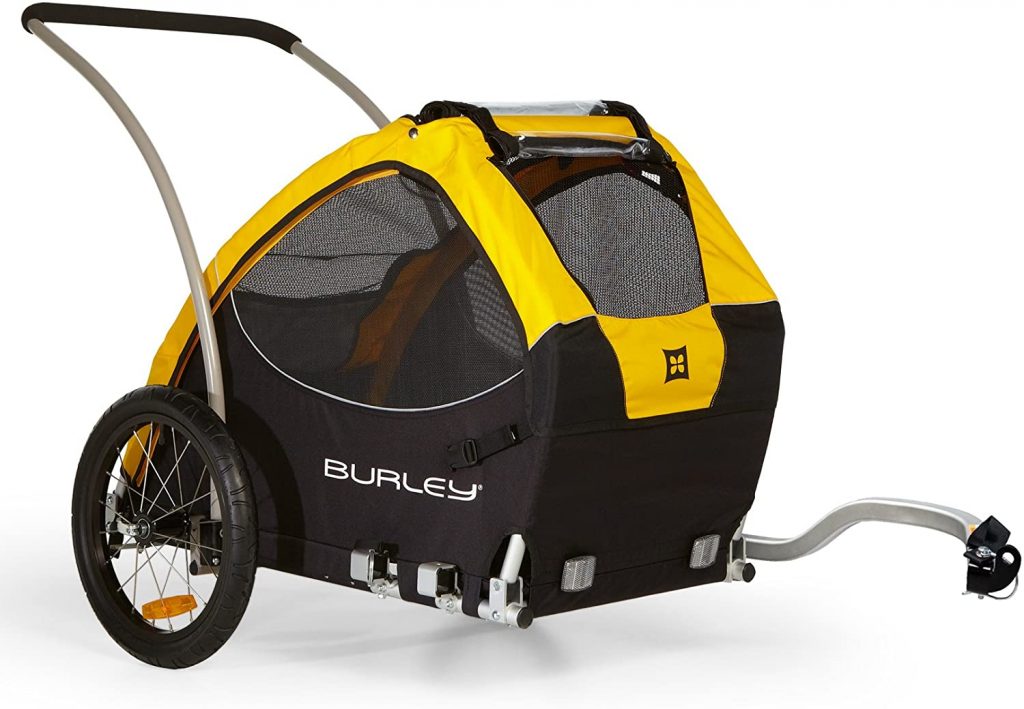 Best upgrade pick
More expensive than our top pick, but packed with even more features. If you plan to bike with your dog a lot, this is the trailer to get.
The Burley Tail Wagon offers the most features, a better design for large dogs, and would be our top pick if not for the price. Still, we do recommend this for folks that expect to bike with their dog a lot or are just looking for the best trailer out there.
The rear door offers quicker access through a loop and buckle system that's secure but easy to use and gives your dog a much better doorway to get in and out. We also liked how easy it was to collapse the trailer, unlike other models that fold up, the Burly Trail Wagon collapses just by releasing red tabs on the top bar, making it easy to load into a car without even having to remove the quick-release wheels.
The wheels are 16″ across, much bigger than most other bike trailers and that lets you bike faster and provides more stability to the trailer (and your dog) over bumps and while turning.
You still get weather screens over the top two mesh screens, an included push handle for moving the trailer around, and we liked the kickstand and handbrake that keep the trailer in one spot when it's off your bike. The Burley Tail Wagon is also designed with off-road use in mind and while we probably wouldn't use it mountain biking, we have no doubt it would hold up to riding on gravel and dirt roads.
Pros
Easy entry/exit and good internal height for larger dogs
Lighter than most options
Beefier tire and frame offer better stability
Interior cargo pockets add storage
Includes parking break and kickstand for extra safety
Cons
Pricey compared to most options
No internal leash (but has attachment loops)
---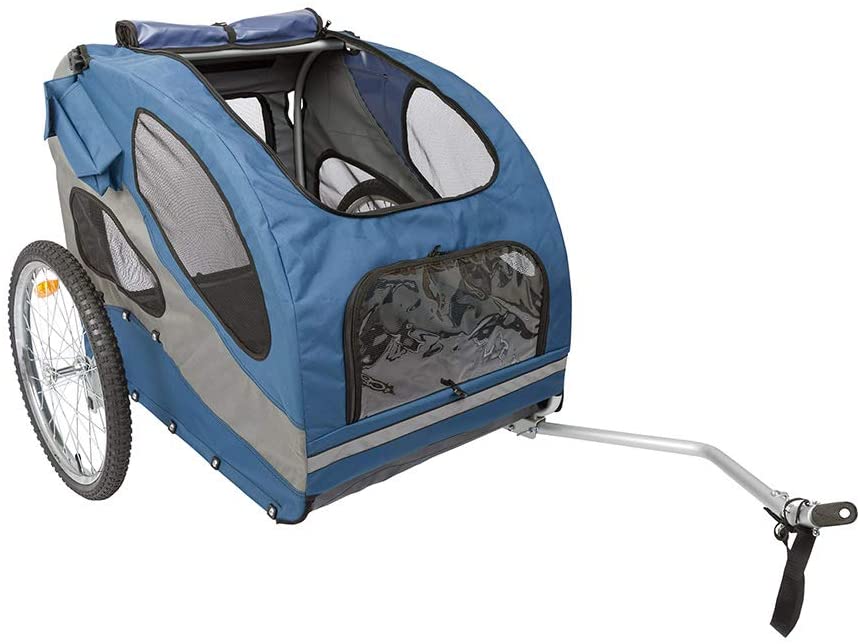 Best for big dogs
Rated to higher weights than other trailers and offering bigger tires, this trailer is great for large breeds, you just may need to leave the sunroof open.
If you've got a bigger dog, the PetSafe Dog Bike Trailer is the best choice out there, just be sure to get the 'large' size. Featuring 20″ wheels, larger than other options, this trailer supports 110 pounds and is comfortably sized for one larger dog or two smaller dogs.
You will run into the same problem with any dog trailer though where you'll need to leave the sunroof open if your dog is taller, but this trailer is safest where it counts: the larger wheels and wider wheelbase make it safer to bike with a big dog. The compatible stroller kit is also extremely useful for moving larger dogs who are having trouble walking.
Pros
High weight capacity
Larger wheels provide more stability
Three external pockets for storage
Cons
No internal grip pad or cushion
Stroller kit is not included
---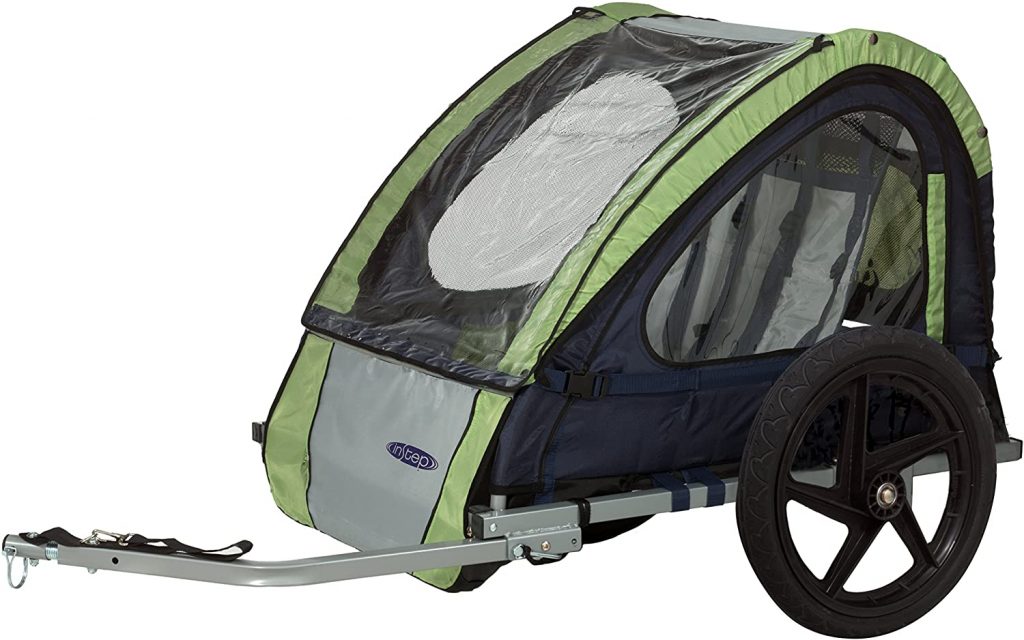 Best for small dogs
Designed for kids, this trailer works great for smaller dogs, is more compact than other dog trailers, and is compact when folded.
The Instep Bike Trailer is actually designed with kids in mind, but we think that it offers all the key features you want in a bike trailer, particularly for smaller dogs. You get a safety flag, weather screens and bug screens, and a compact design that's a bit more size-appropriate for small dogs.
What we liked most is how small the trailer folds up, particularly great if you don't plan to use it often but still want a way to occasionally bring your dog along for rides.
Pros
Toddler seatbelts can hold small dogs in place
Compact design offers a size-appropriate space for smaller dogs
As cheap as our budget pick
Cons
Multi-step process to collapse trailer, but folds smaller
Smaller wheels limit max speed
---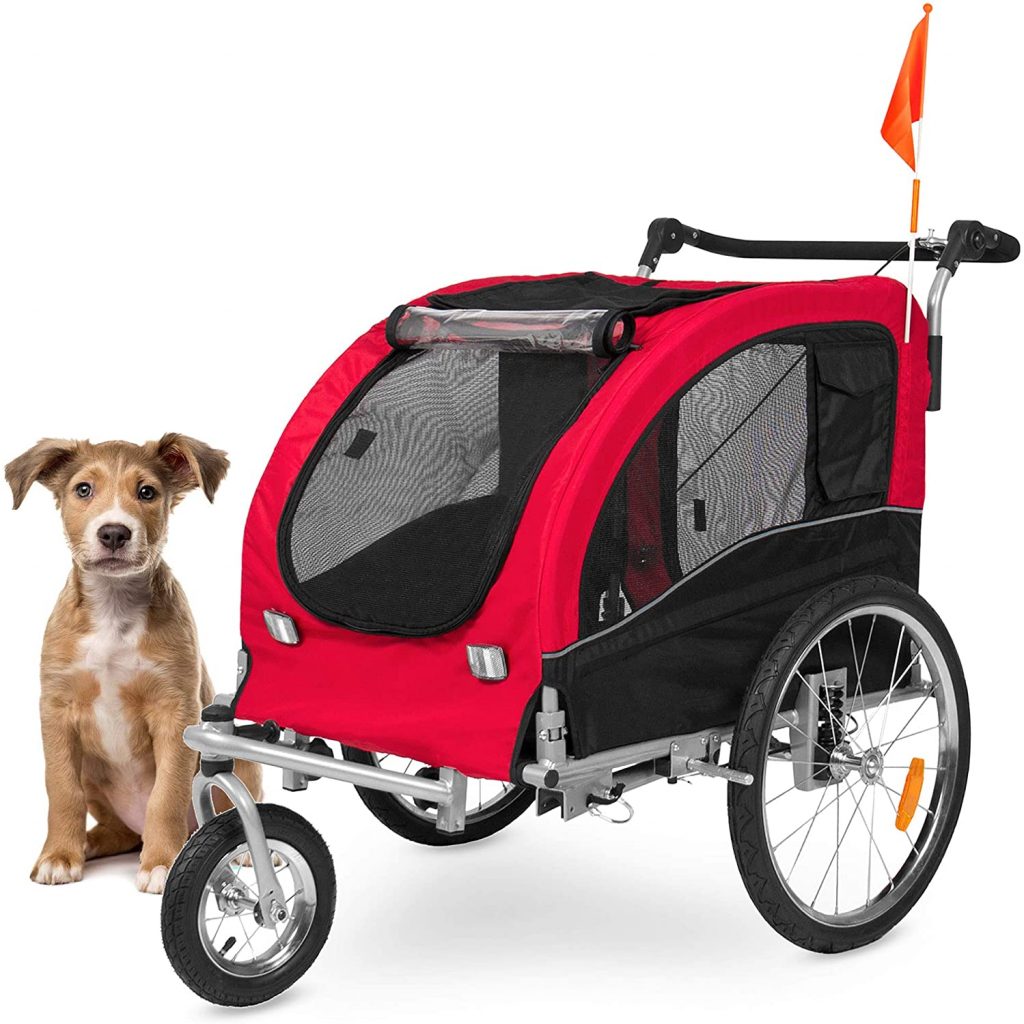 Best 2-in-1 option
If you're looking for a bike trailer that includes all the attachments to use it as a stroller, look no further.
The Best Choice 2-in-1 includes a front stroller wheel and push handle that make it easy to convert from bike trailer to stroller. The tow bar conveniently folds underneath while the front wheel can be stowed on the back of the trailer, making it easy to convert to different modes quickly.
Some other trailers have compatible trailer attachments for sale for roughly the same price, but this is the simplest option if you just want to have everything on day one.
Pros
Reasonably priced
Larger wheels help you bike at higher speeds
Front wheel mounts on the back for storage
Tow bar folds underneath when used as a stroller
Cons
Available in one size only
Narrow wheelbase isn't as stable for taller dogs
---
Choosing the best bike trailer for you
There's a lot to consider when buying a bike trailer: where you'll be going, how large your dog is, what kind of bike you have, and it's important to find a safe option you feel comfortable using on the street. Lucky for you, we've done all the research into what what you should know before picking one out.
Weight and ease of handling on your bike
Perhaps most important before committing to a bike trailer is being prepared for how it will affect the performance and handling of your bike. This affects you and your dog's safety in the real world and it's important to have realistic expectations of what your bike can and can't handle. You'll be towing the weight of your dog plus the trailer behind you and that's going to make things a bit more difficult than usual. Not to mention you'll need to take extra care around turns, as even the best trailer hitches are limited in what they can handle.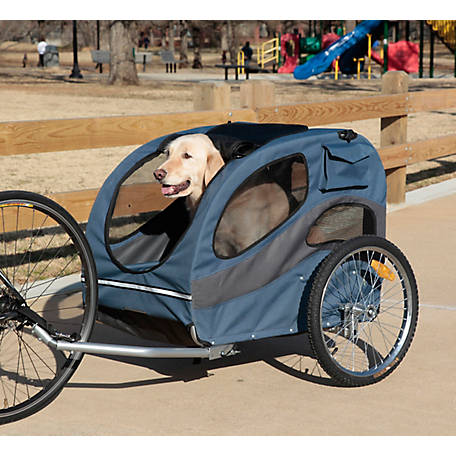 You may have noticed that most bike trailers run off-center from your bike as well. Well-designed models try to reduce how off-center a trailer is but it's done to improve stability. Bike trailers hitch to one side of your bike and the trailer itself has to be roughly aligned with where that hitch is. This helps prevent the trailer from fishtailing, but also makes it easier to make turns made on the opposite side of where the trailer is hitched.
Keep in mind, any time you add extra weight to your bike it's going to make pedaling a bit harder and increase the wind resistance you feel. Now take that weight and add it directly behind your rear tire and things are going to feel different going up and down hills. You'll have to be prepared to move slowly and have safe and sturdy brakes that can gently stop you and your trailer.
Bike trailers also have maximum speeds based on the wheel base, size of the wheels, and the weight they're designed to carry. A safe rule of thumb is that you'll only be able to go 10mph with your dog in most trailers, with high end models letting you reach around 15mph.
It's also important when pulling a bike trailer to be aware of the extra space you need to make turns. You'll lose quite a bit of the mobility that you typically have and will need to turn in slower and wider circles to accommodate that bike trailer hitches have a narrow angle they work in. Too sharp a turn and you run the risk of the trailer detaching or flipping over, particularly if your dog is heavier.
How big of a trailer do you need?
The weight ratings you see for bike trailers typically are the maximum safe limit they can carry, but you're best off adding in an additional safety factor on your own. For instance, if a trailer advertises a weight limit of 50lbs, you realistically don't want to use it to pull your 50lb dog as they'll be one large meal away from that safety limit! Also, manufacturers don't disclose just what parts of a trailer may brake above that maximum weight. The maximum weight could apply to the entire trailer, or may just apply to the tow bar or flooring used.
It's also important to keep the wheelbase, the distance between the two wheels (the width of the trailer), in mind. Wider wheelbases will be more stable carrying heavier loads, but will also have a wider turning radius. For smaller and lighter dogs any stable trailer will do but it's essential when getting a bike trailer for larger dogs that you find one with a wider wheelbase.
We recommend choosing a trailer that can carry 20%-30% over your dog's weight. Not only does this give you peace of mind, it also gives you extra capacity for carrying dog treats, toys, and anything else you want to add in.
You'll also need to get a trailer that is the appropriate height for your dog. While it's safest for your dog to lay down while moving, we all know it's unavoidable they'll want to look around tall dogs will need to rely on the 'sunroof' feature of many trailers.
These sunroofs are a sort of compromise: manufacturers know larger dogs need more space, but there's few practical designs that allow for a high enough ceiling on bike trailers as it raises the center of gravity and makes it more likely the trailer could tip over, so they add in zip-open panels to give your dog space at the owner's discretion.
Ease of use and comfort
Any bike trailer only does you any good if you and your dog use it. To that end it's important to find one that is stable and comfort for your dog while also being easy for you to attach, store, and assemble.
Most bike trailers offer some level of collapsibility for storage and all of our picks feature quick-release wheels to make it easier to pack the trailer away, but we liked models that collapsed with only one or two steps and could fit in a car without taking the wheels off to give you extra portability.
All dog trailers offer a similar level of comfort for your dog but not all of them are the same. Most models have basic cloth flooring to reduce weight while others have rigid bottoms for maximum comfort. If the floor is too soft it can make the ride uncomfortable for your dog and make it too easy to slide around. We liked models where the flooring was durable, but also that had a foam grip pad to help keep your dog's feet planted while moving around.
Mesh windows with clear PVC-like coverings are also the standard when it comes to providing your dog with ventilation and protection from any rain while also keeping them from getting out of their trailer.
We also think it's a good idea to add in a cushion for your dog if you're going on longer rides. No need to bring along their bed from home, just a small foam pad or some blankets will make the ride more comfortable and help your dog feel more secure.
How to get your dog comfortable with their bike trailer
Many dogs will be nervous their first time riding in their trailer, that's totally normal! With just a little patience and training, your dog will come to love riding along with you on your adventures.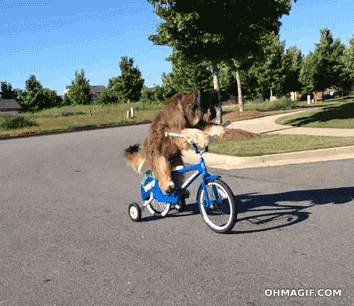 Once you have your dog trailer assembled and ready to go, give your dog time to examine it, climb inside, and just generally get used to being around it. After your dog seems comfortable, you'll want to teach them how to get in and out of the bike trailer, and even move it around with them safely inside.
Finally, you'll want to take your dog on test rides in a quiet area to ensure they're comfortable sitting inside their trailer and to get them used to longer rides.
Safely biking with your dog
It's important to use the included leash or d-ring to secure your dog in their carrier. While these typically aren't used as a seatbelt, they will prevent your dog from suddenly jumping out if they work their way free or if you leave a window open.
Another key to being safe while biking with your dog is using a safety flag attached to your bike trailer. Using a flag and additional reflectors can really help make your trailer more visible to cars, as some drivers may see you but not notice the extra width of your trailer. This flag typically should sit at around 5-6 feet from the ground and be a bright red or orange, preferably with reflective details for low-light biking. Be sure to use reflectors and flashing lights on the rear and sides of your trailer for extra safety.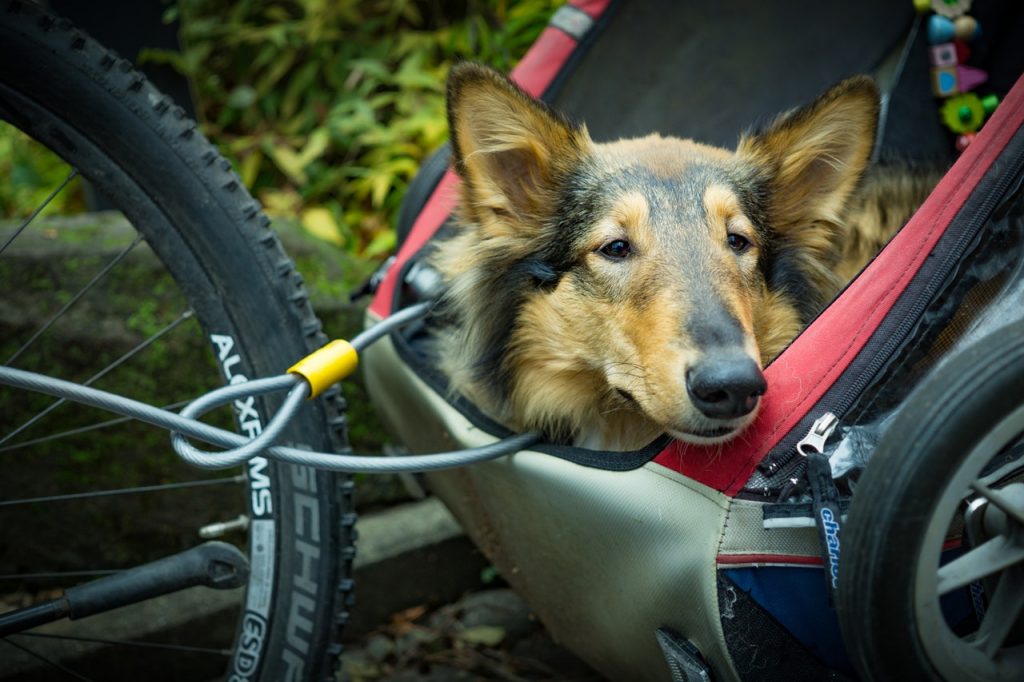 With that in mind, it's important to maintain a slow pace while pulling a bike trailer and to never exceed the manufacturer's maximum safe speed. You'll be less able to maneuver with a trailer and braking suddenly can be difficult. We highly recommend going on practice rides with your bike trailer before using it to carry your dog.
Take your trailer on rides around your neighborhood, to the store, to anywhere you might take your dog. This will help you get used to any adjustments to handling and weight from pulling your dog's bike trailer without having to worry about keeping an eye on your dog. However, as long as you account for the extra length and width of your bike trailer and follow all the rules of the road you'll be just fine!