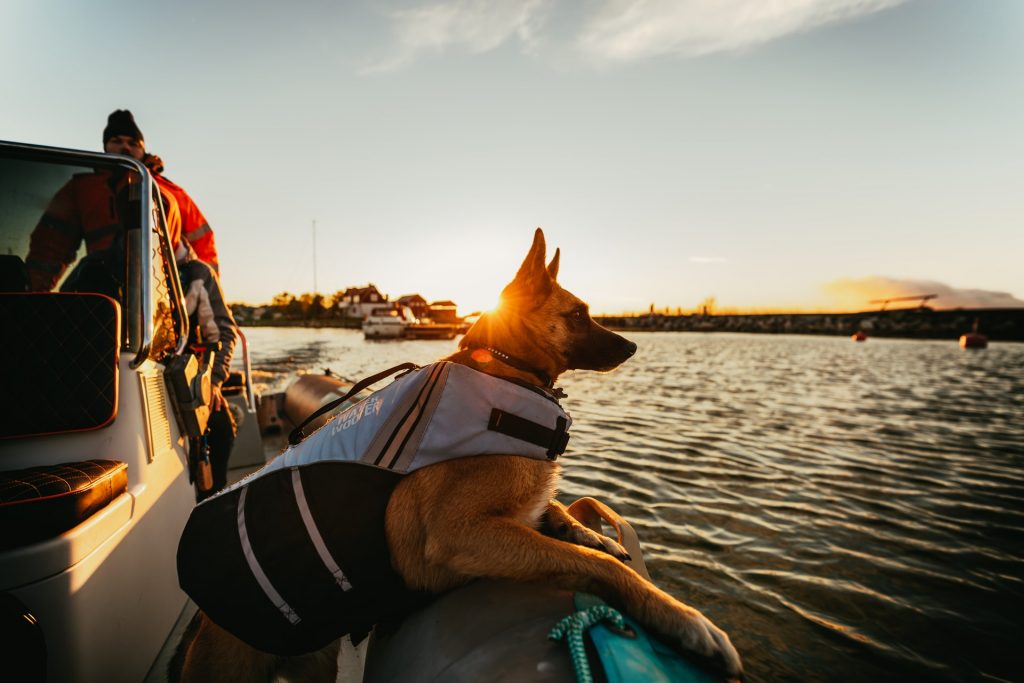 One of the absolute best summer activities is to get out on the water. And the only thing that makes a day on the water better is being able to spend it with your best fur friend.
When it comes to taking dogs onto boats, there are a few things you'll need to take into consideration first. At the forefront is how will your dog get in and out of the boat? To help answer that question, we've put together a comprehensive list of the best boat ramps and ladders for dogs, plus a few other things to keep in mind when loading up the boat this summer.
Why do I need a dog boat ramp?
Not all dogs will need a dog ramp. Depending on the boat and the size or agility of a dog, you might not have an immediate need for a boat ramp. However, there are several reasons proactively getting a dog boat ramp can benefit you and your pups.
Safety
While you will try your best to keep an eye on your dog at all times, there might be times you don't recognize your dog struggling to swim or get back to the boat.
Having a boat ramp for your dog will give a place they know to go for safety. If they are ever tiring, but not showing signs of it, they'll know where to go to rest or get out of the water. And you'll be able to have peace of mind knowing your dog has that added layer of safety.
We also strongly suggest getting your dog a swimming life vest for added protection.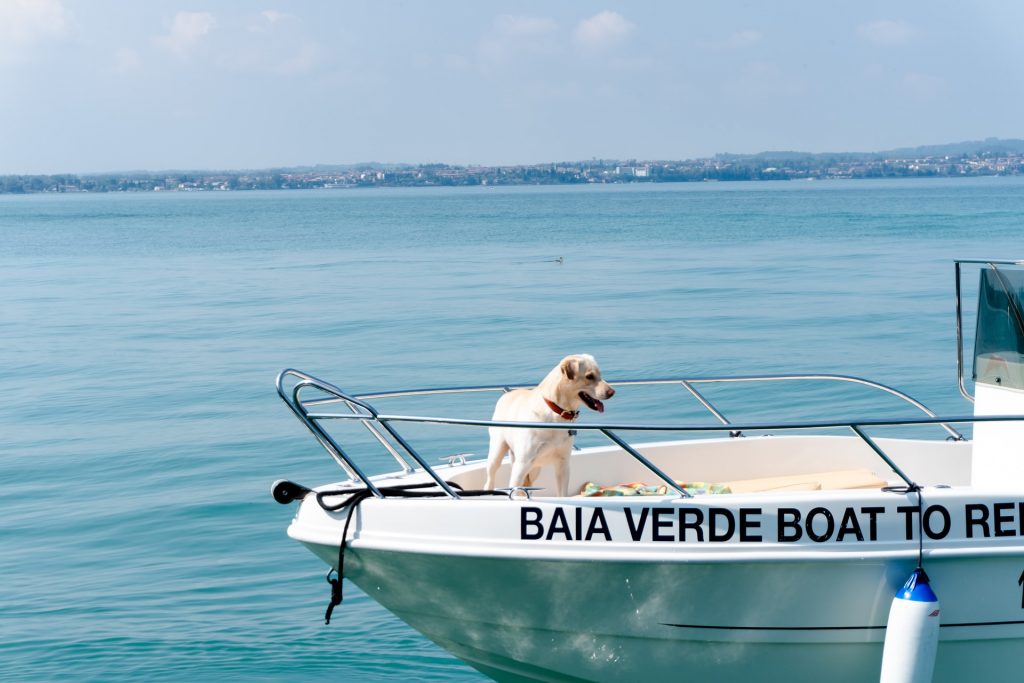 Reduces anxiety
Swimming is amazing exercise for dogs. It's a safe activity for older dogs or those with joint problems and is an exciting experience for pets who spend most their time on land. But as wonderful as swimming can be for dogs, they can have some anxiety about getting back to a place of safety.
Having a dog boat ramp, and teaching your dog how to properly use it, can give dogs the confidence they need to truly enjoy their time in the water.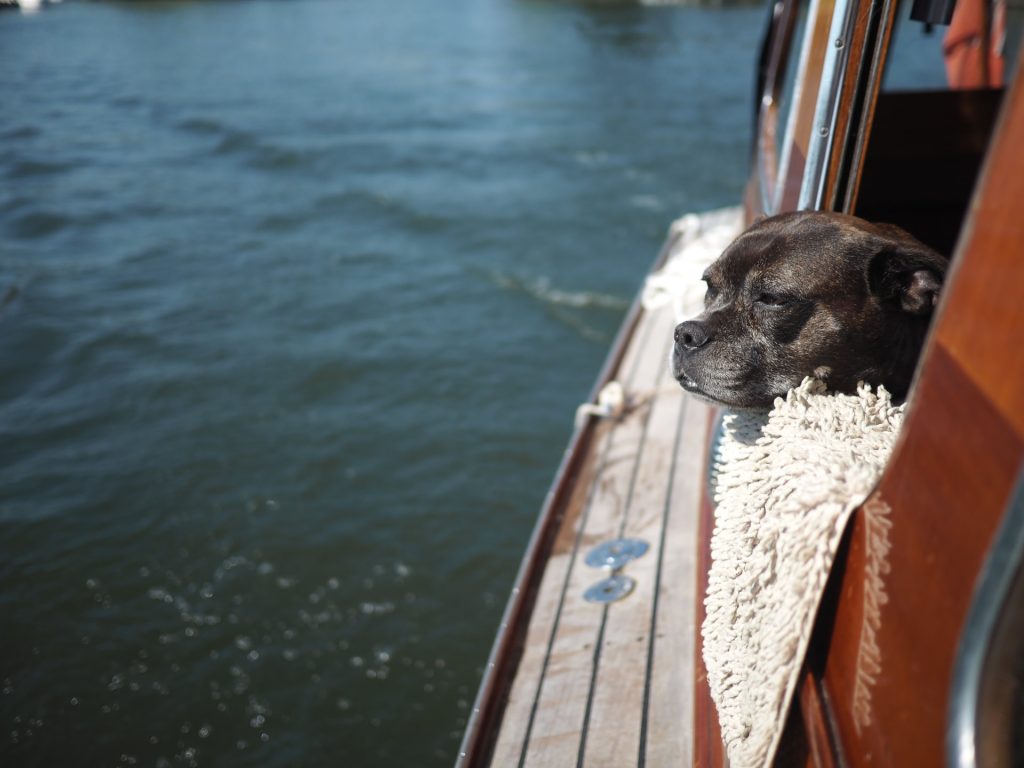 Prevents injuries
Having a boat ramp or ladder for your dog will prevent injuries for you and your canine pals. If you have to kneel down and pull your dog up every time they jump into the water, not only are you risking bruising yourself, but you could be hurting your dog without realizing it. Injuries get even more likely if your dog isn't accustomed to swimming and panics trying to get out of the water. Having a boat ramp and training your dog to use it properly will keep you all safe from possible injuries.
Jump to a section
How can I make sure my dog will be safe using a boat ramp or ladder?
Prepping dogs for being on a boat
---
Our top picks
We've done the research and scoured the internet for some of the best boat ramps and ladders for dogs.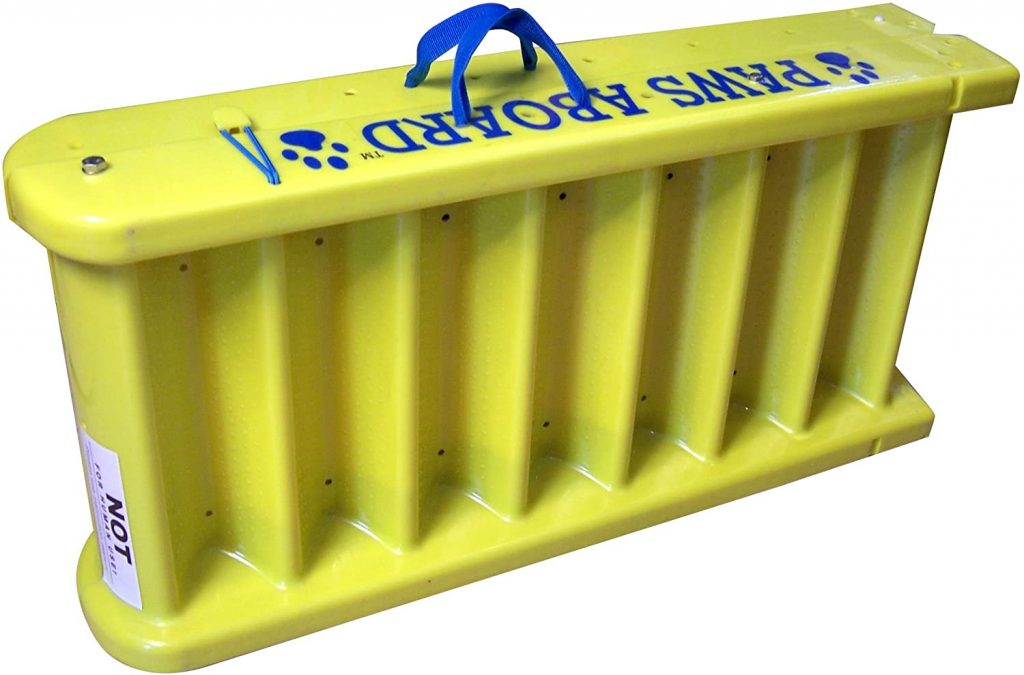 Best Overall
Short on time? Look no further than our top pick!
Our absolute favorite option for a boat dog ramp is the Paws Aboard Doggy Boat Ladder. Made with an extremely durable plastic, the Paws Aboard can connect to your existing boat ladder, making installation and absolute breeze.
Safety is always the most important feature for any product. And Paws Aboard has multiple features that make it safer for your dog to get in and out of the water. For one, because the ladder is made from plastic, its smoothed edges prevent cuts or injuries. And the steps of the ladder have a ribbed designed, ideal for keeping dogs from slipping on the wet surface.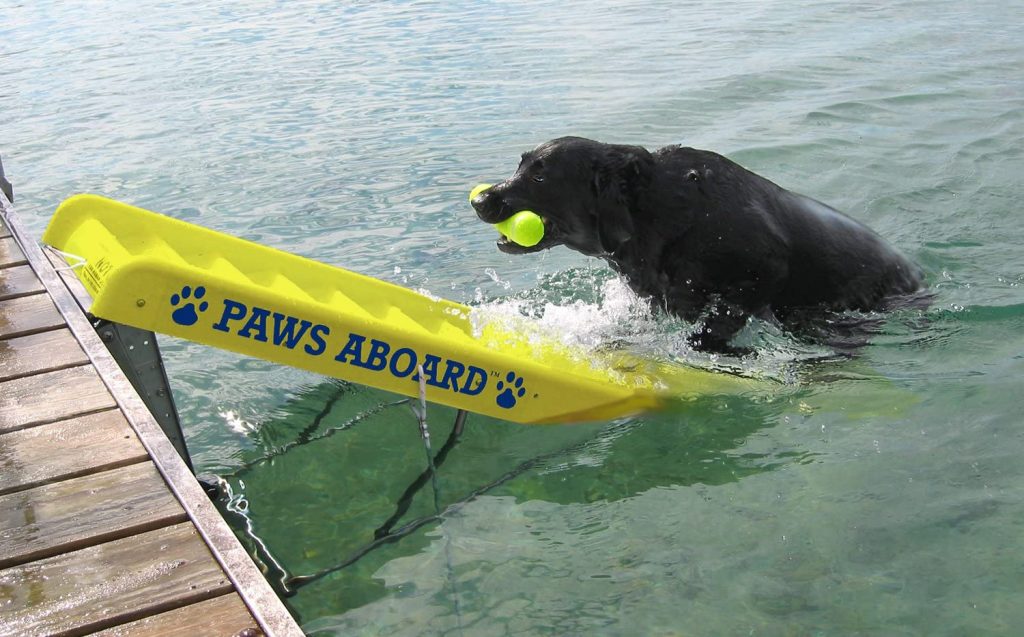 The Paws Aboard ladder is also great for you! The entire ladder is about 12 pounds and folds in half so you can store it away easily. Plus, if you need use of your ladder and need to put the dog ramp away, you can simply detach it and move it aside.
While the Paws Aboard is one of our more expensive options, it's also one of the most durable. You might spend a little extra money getting it now, but with its corrosion and rust-proof design, even in salt water, you know it's an investment that will last.
Pros
Works for medium to large dogs
Lightweight
Corrosion-proof
Takes up to 150lbs
Folds in half for storage
---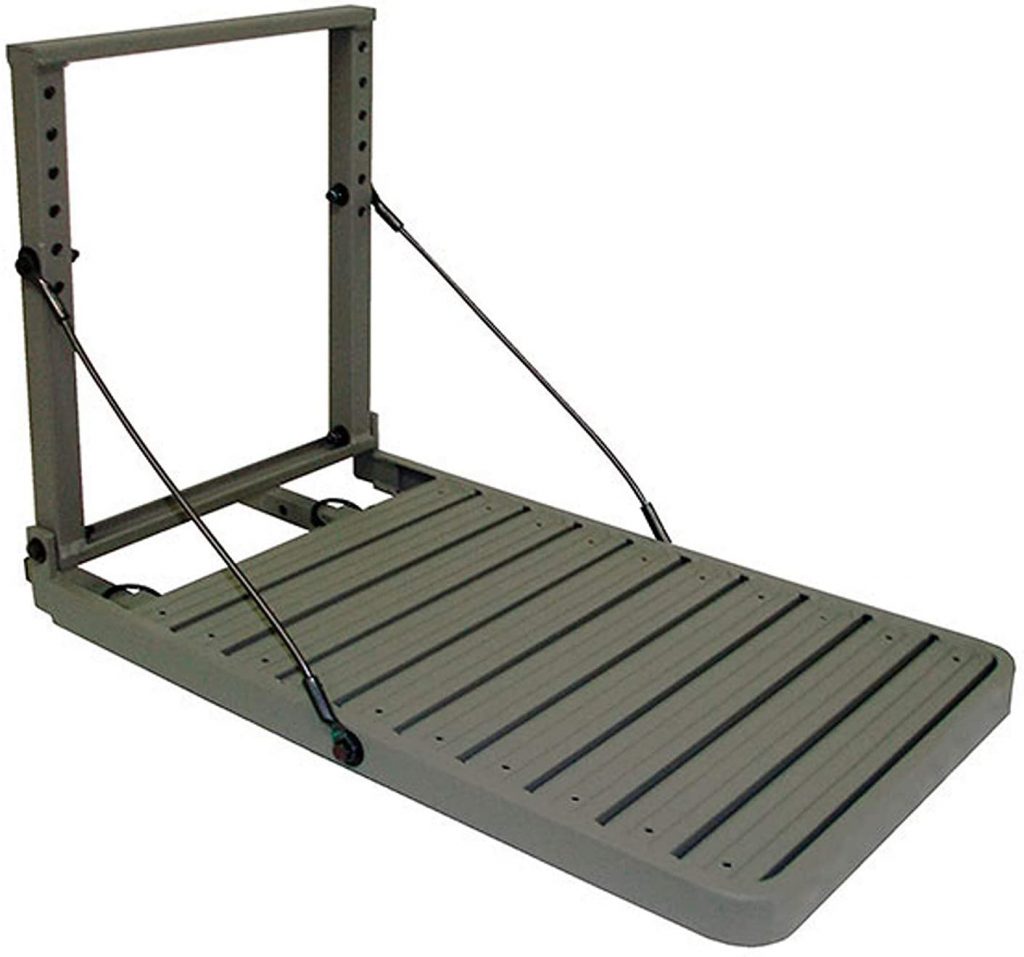 Best for second choice
Our runner up still has fantastic features, but is a bit on the simpler side.
Load-A-Pup keeps things extremely simple. The loading platform allows your dog to join come and go freely from the boat with very little mess or bother. And even though the Load-A-Pup was designed specifically for fishing boats, it makes a great addition to your days out on the water no matter your boat type.
The Load-A-Pup is made from light-weight aluminum, so it's extremely sturdy without being too heavy. This allows you to attach the ramp to your boat with very little hassle. And to make the Load-A-Pup even more convenient, it's adjustable, so you can modify it to meet your exact needs.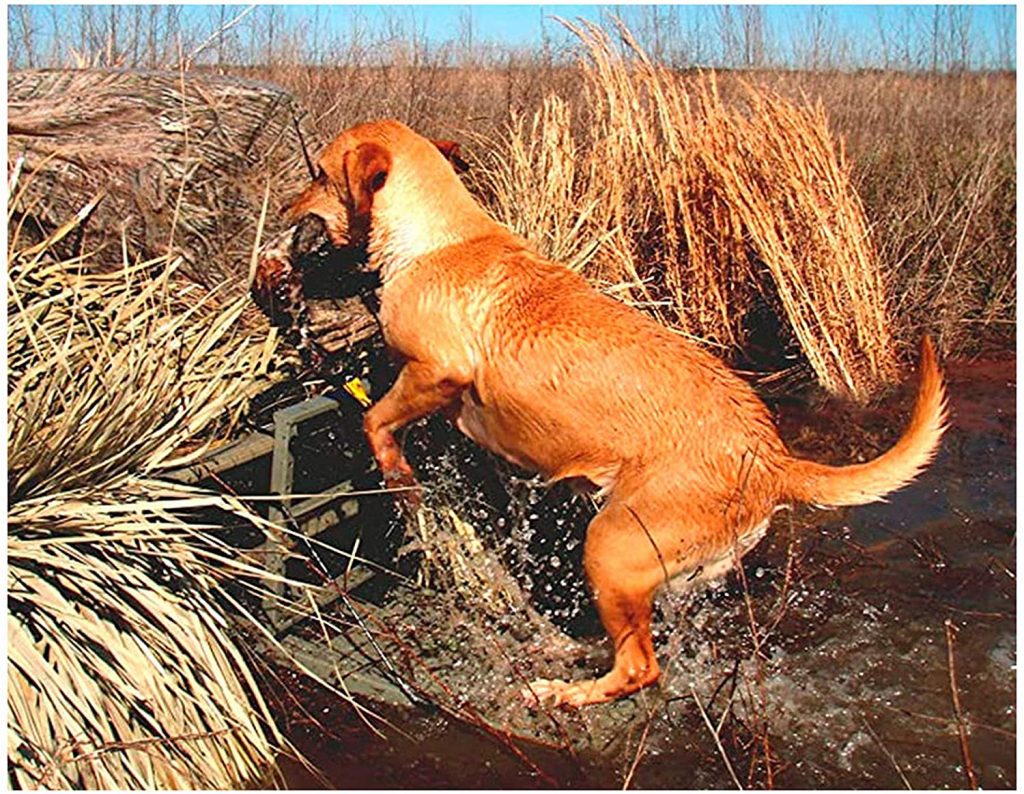 To provide steady footing and to protect your dog's feet, the Load-A-Pup has gripping ridges. The ridges work to add traction without being too rough on sensitive, wet paws. And because Load-A-Pup is made from the strongest material, it can be used by dogs of all sizes.
Finally, the Load-A-Pup is crazy lightweight. That aluminum frame keeps the large platform at only 7 pounds! So you won't have to struggle to adjust or remove the ramp.
Pros
Very lightweight
Adjustable levels
Works for all-sized dogs
Cons
Designed for fishing boats
Might not work for small dogs
---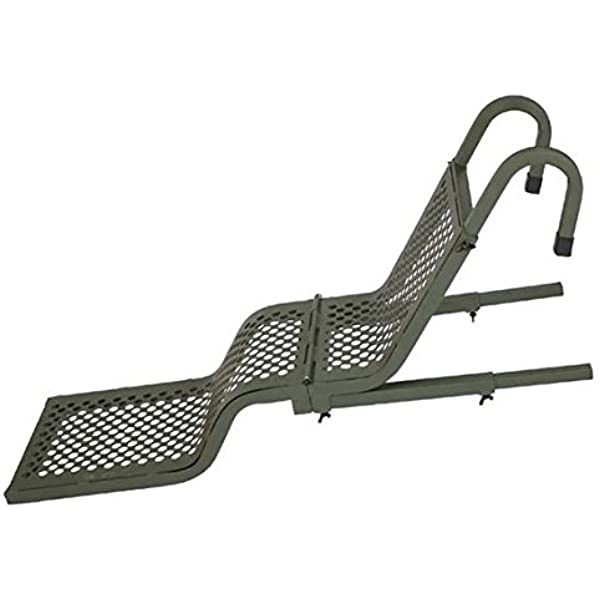 Best cheaper option
A budge friendly option that still does the job
The Beavertail Aluminum Folding Dog Ladder is a very simplified dog boat ramp, but still offers all the features we look for in a ramp. The ramp isn't just straight, but is designed almost in waves, which will allow your dog to ease out of the water without too much strain. The holes in the platform provides easy grip for wet paws.
One of the benefits reviewers really appreciate about the Beavertail ladder is it can be placed right over, or in place of, an existing ladder. Because no one wants to spend hours setting up their dog ramp, being able to slip this into an existing area will have you ready to hit the water quickly.
Pros
Less expensive
Gradual ramp for easy entry and exit
Solid, durable frame
Cons
Works best with medium and large dogs
Some reviewers report missing parts
---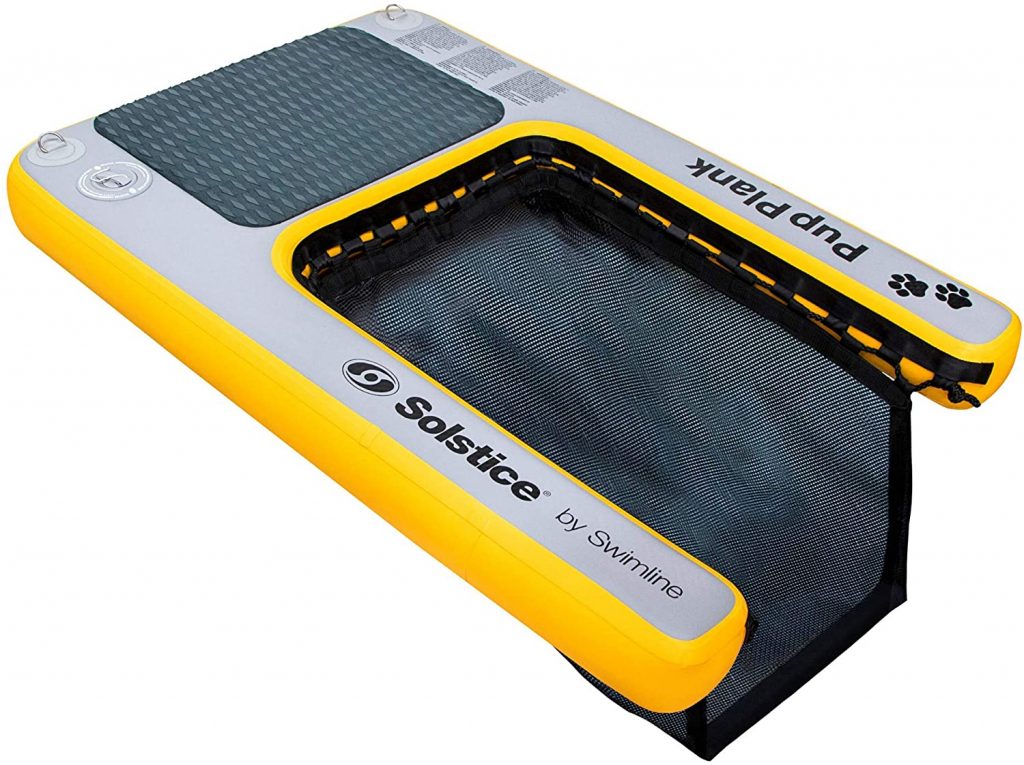 Best for small dogs
A fantastic ramp for smaller dogs
We recommend the Solstice Watersport Pup Plank for small to medium dogs, or dogs who are already used to getting on and off the boat. Instead of having steps or a gradual ramp, the plank has a heavy-duty mesh net that sits just below water level, giving pets the perfect support for getting in and out of the water.
Some of the biggest benefits of the Solstice Plank are in its many accessories and features. The plank is actually inflatable and comes with its own bag. Not only does this make storing the ramp extremely easy, it's also easy to carry. The Solstice Plank is attached to a boat through ropes and D-rings, meaning it can be adjusted quickly and used almost anywhere.
Pros
Inflatable for easy storage
Includes traction pad and mesh
Perfect for small and medium dogs
Cons
More expensive
Larger dogs could tear mesh
Requires a little more assembly
---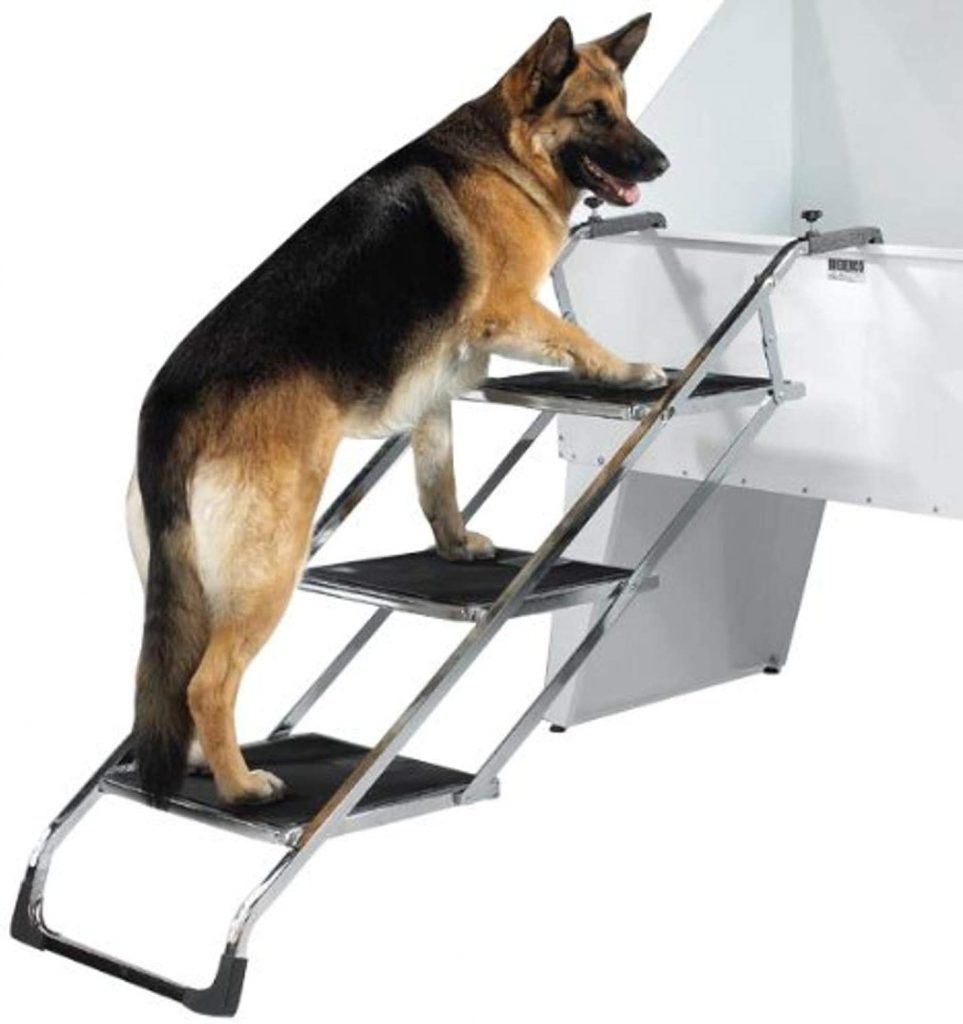 Best for large dogs
The best option for larger dogs
The biggest concern with boat ramps or ladders for larger dogs is stability. You need an option that will take the extra weight, but is still effective. The Master Equipment PetEdge stairs are a perfect balance of durability and ease of use. The stairs are rather compact, but they're made of chrome plated steel, so they can take the weight of bigger dogs.
It's important to point out the PetEdge Stairs are technically tub stairs for grooming stations. However, several reviewers have said they work very well for boats. The tops can be clamped to a boat's edge, giving stability in the water. And because grooming stairs are need to be non-slip, too, the steps are coated in rubber to prevent accidents.
Pros
Made for heavier dogs
Rubber-coated stairs
Easy attachment
Cons
Designed for tubs
Doesn't have railings
---
How can I make sure my dog will be safe using a boat ramp or ladder?
Having a boat ramp or ladder for your dog will definitely keep them safer out on the water. But it's important to make sure you get the right ramp with the correct features.
There are a few specific things you can look for when shopping for a dog boat ramp or ladder that will keep your pet dog safe when on them.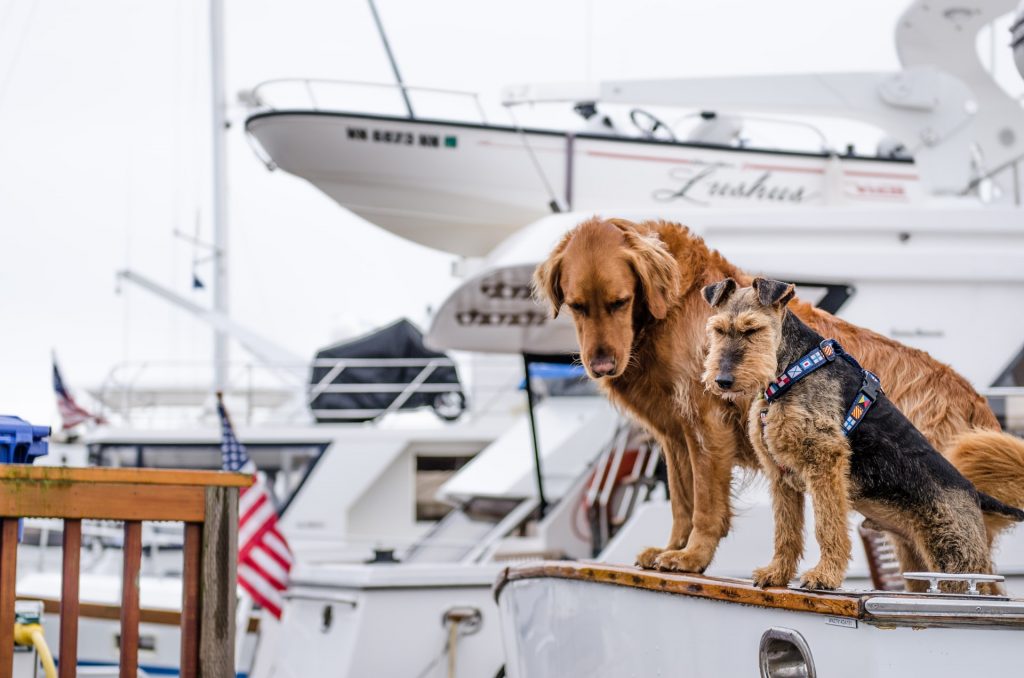 The finish
Because dog boat ramps will spend a lot of time in water, having a waterproof finish is of the upmost importance. Not only will this make your ramp more durable, it will also decrease the likelihood of rust or corrosion. You definitely don't want your dog's paws on that!
Many of the best boat ramps for dogs are made from plastic or aluminum.
The surface
In addition to having a waterproof finish, you want the ramp you chose to have some sort of traction, or the ability to add traction pads. Getting in and out of the water can be a very slippery business and having a ramp with gentle traction will keep your pup safe and prevent injuries.
Some ramps and ladders designed for dogs take traction too seriously and use extremely rough material. Avoid these at all cost! You don't want your dog's paws torn up from rough traction pads.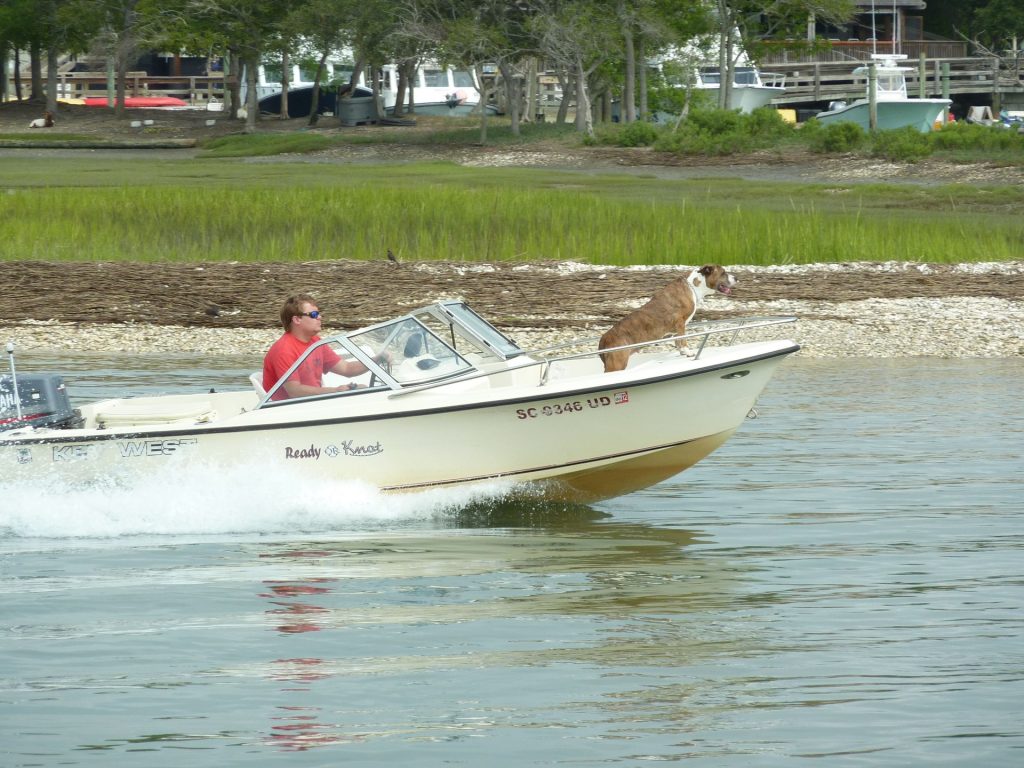 Safety features
Some of the best dog ramps and ladders include railings to prevent falling sideways. With the addition of this seemingly small safety feature, so many accidents can be prevented.
An overlooked but just as important safety feature you should look for in a ramp is rounded, smooth edges. Sharp edges are just another way a dog can get injured moving in and out of the water. If the ramp you purchase doesn't have smooth, rounded, or padded edges, you might want to add your own padding to prevent injury.
Convenience features
Dog ramps aren't all about your dog! They're there to make your life easier, too!
When looking for the best boat ramps and ladders for dogs, we also looked at their convenience for you. The ramps we've picked are easy to install so you can start your day on the water sooner. And they're all on the lighter end, so they're easy to carry to and from the boat.
You can learn more about dog boat ramps and safety at K9 of Mine.
---
Prepping dogs for being on a boat and using a ramp
The best way to make sure there are no accidents on your boating trip is to take the time to prepare your dog beforehand.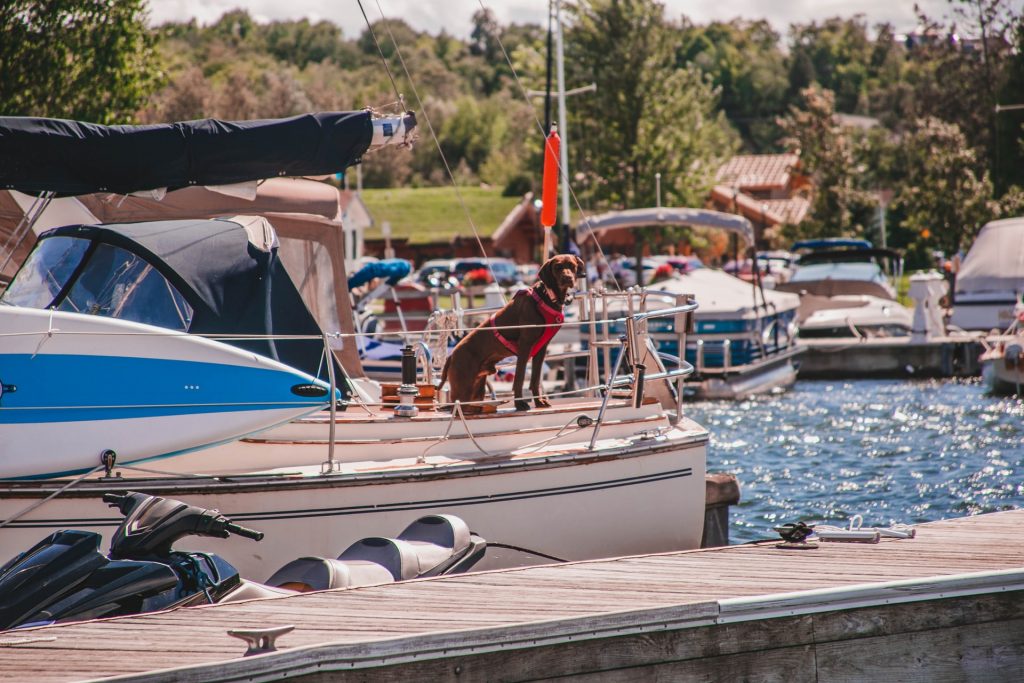 Going on a boat
If you're prepping Fido for their first boat ride, you'll want to introduce them to the idea gradually. And with lots of treats.
While it's not always possible to visit a boat on dry land, Wag Walking recommends taking the time to accustom your dog to being on a dry-docked boat. If you can't, get to your docked boat early and start by allowing your dog to smell, lick, and touch the boat.
After lots of loving and treats, lead your dog onto the boat. Allow a little time for your dog to explore the boat and get used to the gentle rocking onboard.
When it's time to head out, leash your dog and stay beside them. Speak calmly in a comforting voice and give lots of pats and treats. You might need to head back to shore if your dog is too nervous.
After your day on the water, make sure someone on the dock calls to your dog, so they know where they're going and how to leave.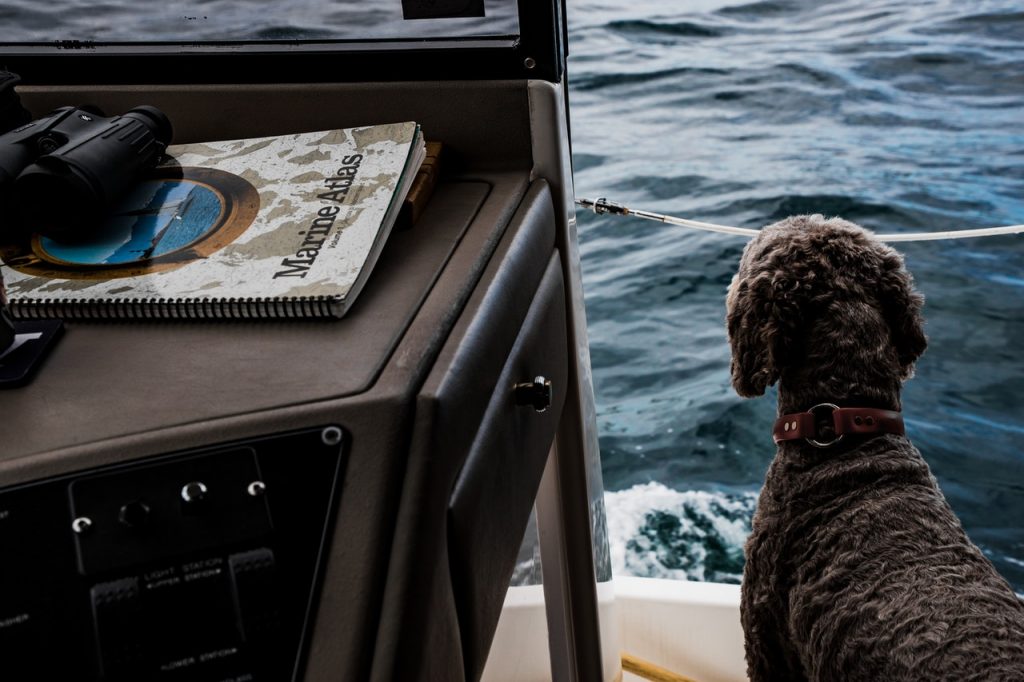 Using a ramp
In the same way you prepare your dog for being on a boat, you also want to prepare her for using a ladder or ramp. Take time on dry land to show them how to use the ramp. Then, if at all possible, place the ramp in shallow water and attach it to a dock. Standing beside your dog and holding their collar, lead them up and down the stairs several times.
Use a calming voice and lots of treats once you're out on the water. Once your dog is in the water, stay by the ladder or ramp and help them use it a few times before letting them go play. But always, always keep an eye on your dog when out on open water.