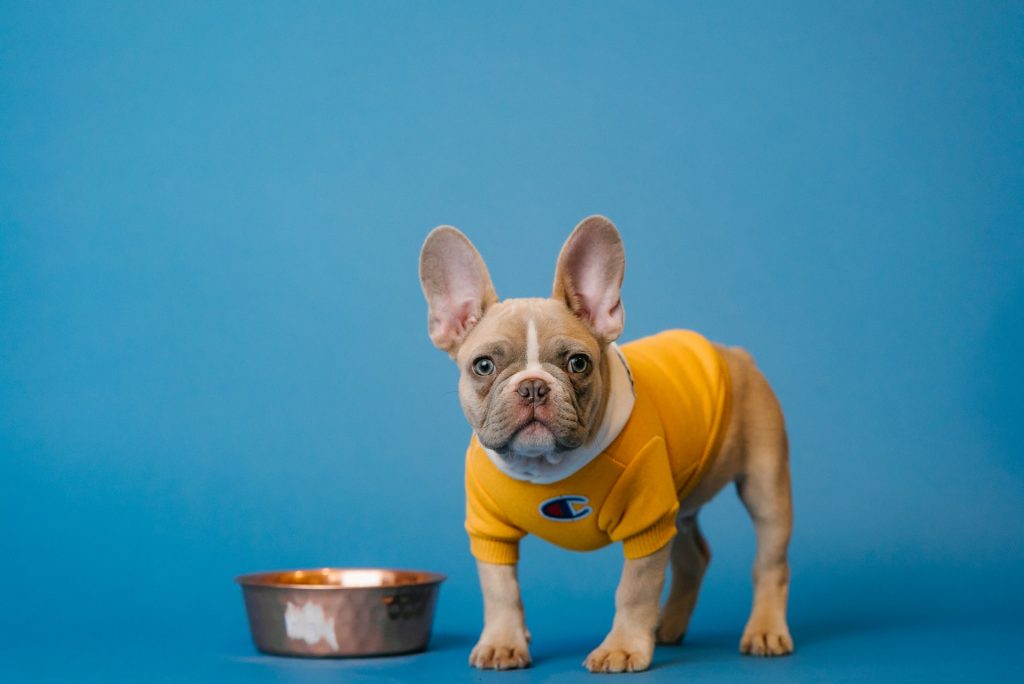 All dogs are different. It's what makes them so wonderfully suited to be our best friends. But those differences also mean each and every dog will require different dog food, to meet their specific nutritional needs.
Today we're starting a series on the best dog foods for specific dog breeds. Our focus in this article will be on the best dog foods to support French bulldog health and nutrition.
Let's dig in to the best ways to keep your Frenchie healthy by picking the best dog food!
French bulldog nutrition for different ages
Just like humans need different foods at different times in their lives, dogs also need varying nutrition in their puppy, adult, and senior stages of life.
As we get into our best dog foods for French bulldogs, keep an eye on the nutrition facts and how they match the age of your dog, whether a puppy, adult, or senior. You'll feel so much better knowing you're meeting the very specific needs of your best fur friend (BFF).
Nutrition for French bulldog puppies
Both the MSD Veterinary Manual and AAFCO agree small breed puppies, like a French bulldog pup, need higher protein content in their dog food. The experts recommend at least 22% protein, combined with at least 8% fat to keep your puppy energized and strong in those crucial months of growth.
Skin sensitivity is quite common in French bulldog puppies, so we also recommend dog food with omega fatty acids. And some DHA and ARA to help brain and eye development.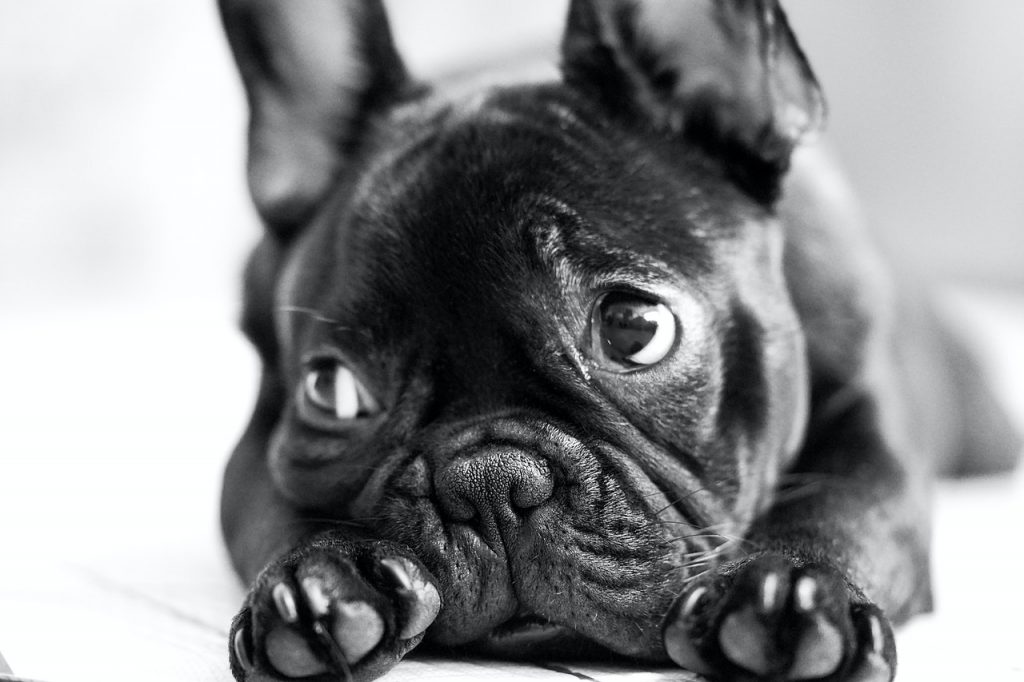 Nutrition for French bulldog adults
Starting at around 12 months, you can start transition your French bulldog to adult food. They grow up so fast!
Adults can decrease the amount of protein consumed, down to 18%, and fat, down to 5%. Omega fatty acids are still going to be important for skin and coat health. At this stage in your French bulldog's diet, you'll also want to add some fiber, since Frenchie's are notorious for gas.
As is the case with any food transition, you'll want to do the change between dog foods slowly. Check below to see our recommend transition method.
Nutrition for French bulldog seniors
Unfortunately, French bulldogs reach senior status quite early, at around 7 years old. As energy levels wane, you'll want to decrease the number of calories your senior dog consumes, so less fat and carbs. You'll also want dog foods rich in minerals and vitamins to support immune health.
Joint health will be very important for your senior French bulldog, so keep an eye on glucosamine and chondroitin levels in your dog food. The more the better!
Jump to a section
Our top picks
Nutrition your French bulldog needs to thrive
How we picked
How much food should French bulldogs eat?
Wet food vs. dry food
FAQs
---
Our top picks
We've spent hours researching ingredients and reading over reviews to narrow our list down to the best 8 dog foods for a French bulldog.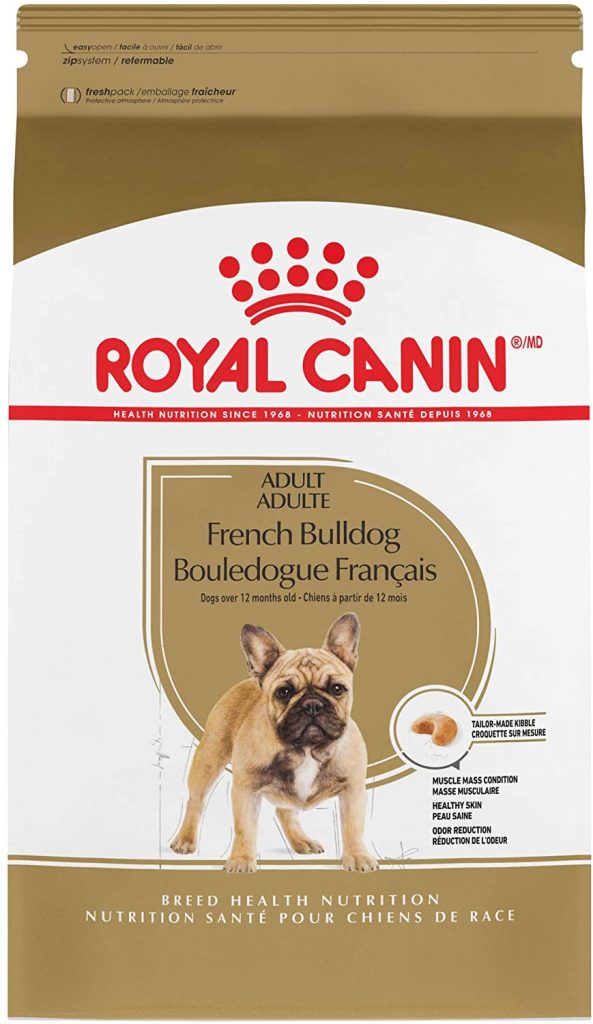 Best Overall
Royal Canin creates custom dog food with breed-specific nutrition. They even take chewing habits and mouth size into consideration!
Our top pick for French bulldog dog food is Royal Canin French Bulldog Breed Specific dog food. The breed-specific nature of Royal Canin's dog foods allows for the perfect balance of nutrition needed by French bulldogs.
The biggest reason Royal Canin is at the top of our list is because it includes ingredients that support 3 main issues faced by Frenchies. The first is muscle support. The small and stocky French bulldog is prone to weight gain, which can strain their small frames. In order to keep their bodies strong, Royal Canin is made with highly digestible proteins and L-carnitine, all to support strong muscle growth.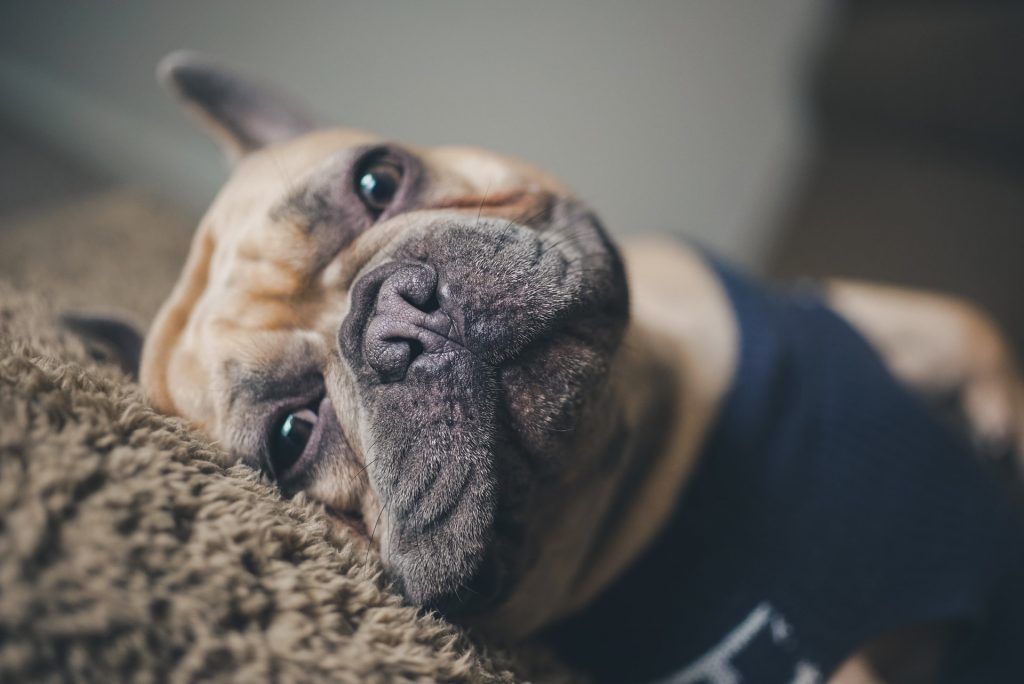 The second issue Royal Canin's nutritional blend combats is digestion. French bulldogs are a bit notorious for their bad gas, which is a struggle for both dog and owner. The French bulldog mix by Royal Canin includes a balanced fiber mix and the highest quality carbohydrates, supporting healthy digestion. As a result, the dog food can decrease all that unpleasant gas.
Finally, due to the small mouths and flat faces of French bulldogs, sometimes picking up food can be a struggle. Royal Canin crafted a smaller, curved kibble biscuit that is much easier for short muzzles and adorable under bites to pick up. Because chewing this expertly customized dog food is much easier, the shape of Royal Canin also decreases instances of choking and improves digestion.
Overall, you can't go wrong with Royal Canin French Bulldog Adult Breed Specific. However, it is designed specifically for adult dogs, not puppies or seniors.
Pros
Breed-specific nutrition
Shaped for Frenchie's easy eating
Meets AAFCO standards
Decreases gas
Cons
Designed for adult dogs, not puppies or seniors
More expensive
---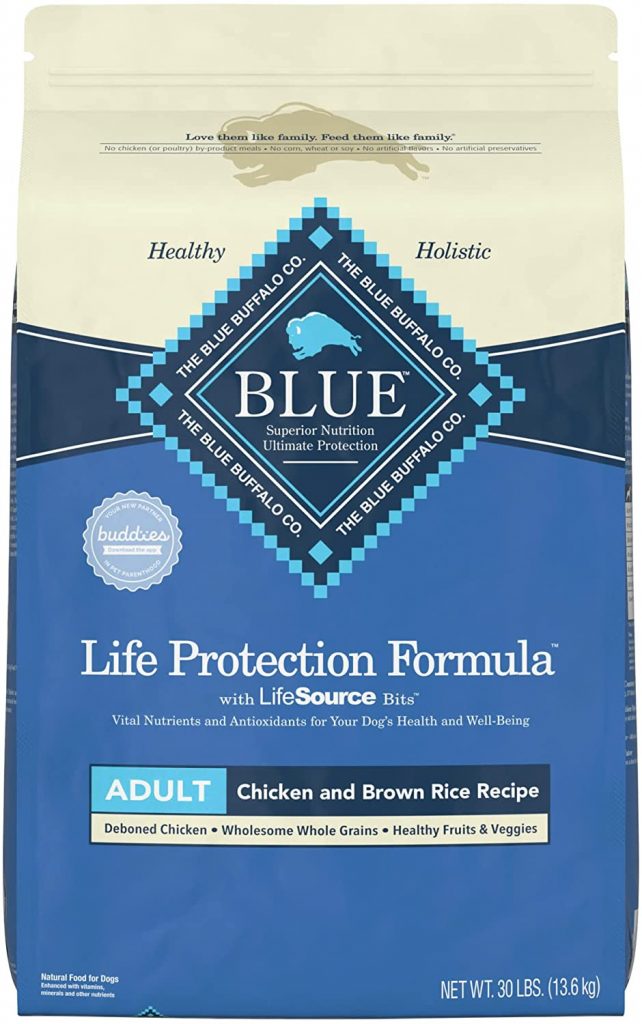 Best for second choice
Our runner up blends high-quality chicken and fiber rich whole grains to create a healthy, nutritious food for sensitive French bulldog tummies.
While there are 6 different flavor options for Blue Buffalo Life Protection Formula, we're focusing our review on the Chicken and Brown Rice flavor. We're also considering the nutritional benefits that specific flavor offers.
Blue Buffalo Life Protection made our list because of the wholesome, high-quality ingredients used in its recipes. The runner up for our choice for French bulldog dog food contains real chicken, a balance of protein and carbs, as well as fatty acids. The combination formula will keep your little Frenchie's muscles strong, stomach soothed, and coat shiny.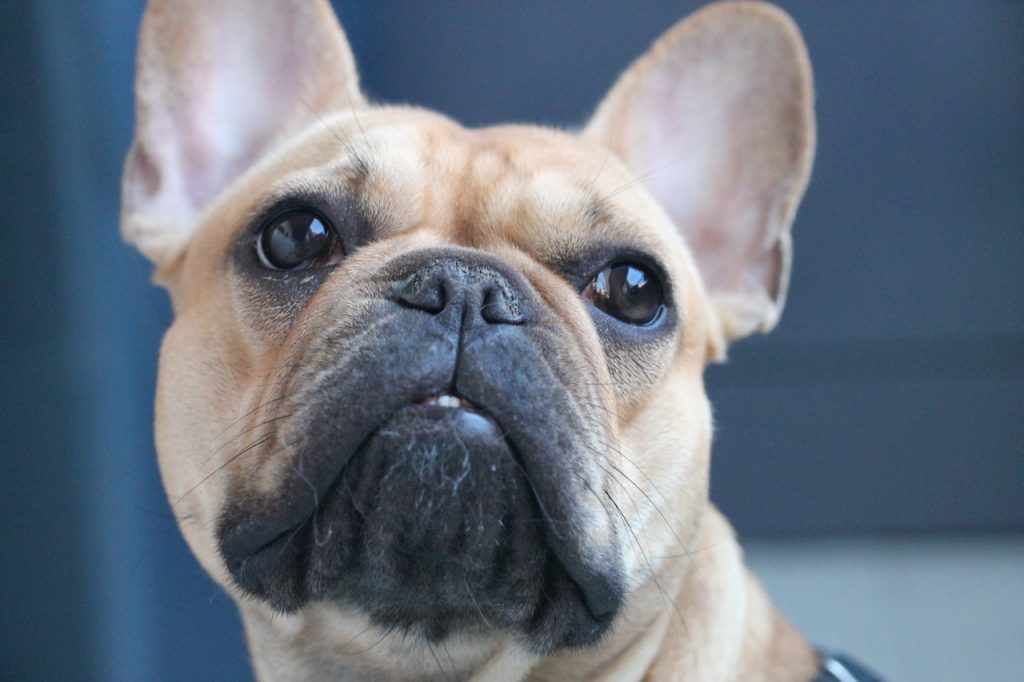 Another reason Blue Buffalo has made it so high on our list is because it contains antioxidants derived from actual blueberries. There aren't a lot of dog foods on the market that include fruit in their recipes. And because the dog food is cold-formed, Blue Buffalo keeps all those nutrients locked in, improving overall potency.
Finally, we also appreciate the varying kibble sizes. The two different sizes make eating easier for French bulldogs and help keep their teeth clean and strong.
Pros
Made with real ingredients
Antioxidants from real fruit
AAFCO approved
Cons
Not designed specifically for French bulldogs
Doesn't include a lot of fiber
---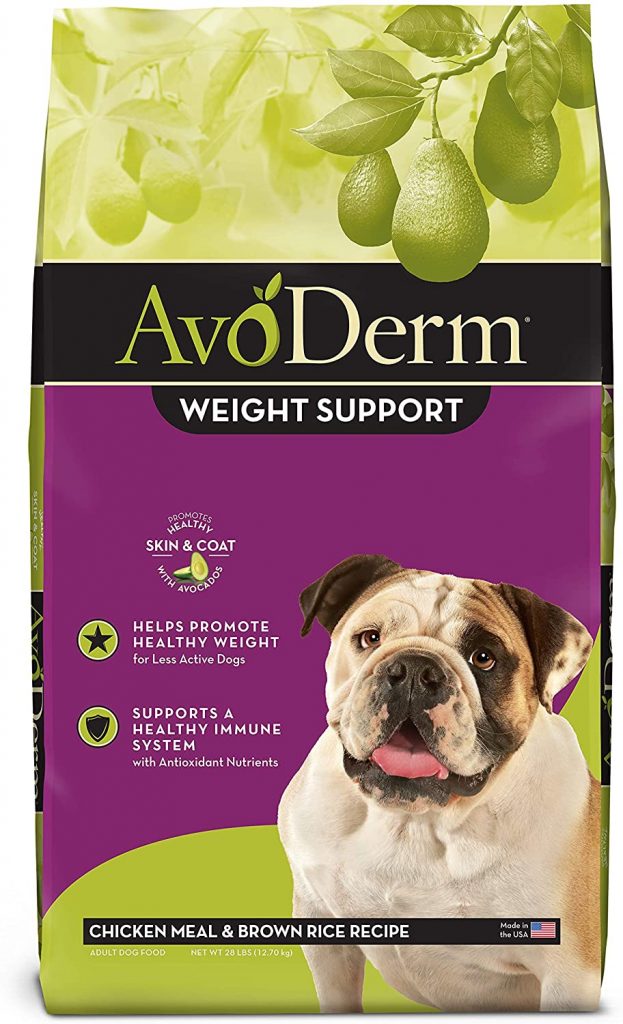 Best on a budget
Because weight gain is such a common struggle with French bulldogs, our budget pick is crafted around ingredients that support weight control.
With French bulldogs, a healthy diet includes foods that will keep them full, but prevent them from gaining too much weight. Because Frenchie's are so short and stocky, they sometimes need just a little extra support in controlling their weight, which is why AvoDerm Weight Support is such a great dog food option.
The key to this nutritious, innovative, and budget-friendly dog food is avocado. The superfood contains nutrient rich fatty acids that support healthy skin and coat, but also decrease the amount of carbs in the food. The balanced recipe, which includes brown rice and chicken, provides all the vitamins and nutrients your dog needs without a dependency on heavy ingredients.
Finally, AvoDerm Natural Weight Control, an AAFCO approved dog food, is made by pressure cooking, keeping all those nutritious ingredients intact.
Pros
Helps dogs control their weight
Inexpensive
High-quality protein and fiber
AAFCO approved
Cons
Lowest AAFCO score of all AvoDerm foods
Mostly sold online – Not in stores
Requires a larger purchase to get lower, budget-friendly price
---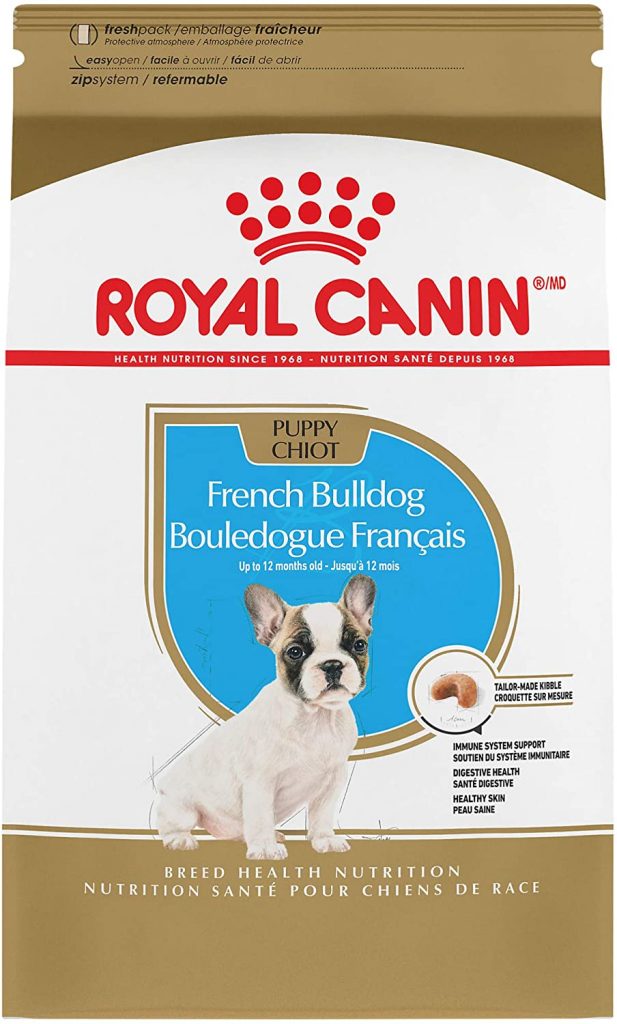 Best for puppies
Royal Canin makes our list again with this puppy formulated recipe – One that meets breed-specific needs.
The health of our puppies is of the upmost importance, so we don't take recommending Royal Canin French Bulldog Puppy Food lightly. Once again, Royal Canin has proved it knows just the right way to research and create a quality dog food.
Like in the food for adult Frenchie's, the puppy recipe includes easy to absorb protein, fiber, and balanced carbohydrates to support healthy muscles and improved digestion. In the puppy formula, there's the added bonus of antioxidants and vitamin E. These extra nutrients support a growing immune system, vital in those first several months of a dog's life.
And, as is the case in the Royal Canin food for adult French bulldogs, the shape and size of the actual kibble is designed with puppies in mind. The smaller size and unique crescent shape make this dog food easier to chew and safer to swallow.
Pros
Nutrients designed specifically for French bulldog puppies
Includes vitamins for immune support
Shaped for easy chewing
Cons
Very expensive
Only recommended for a short window – 2 to 12 months
---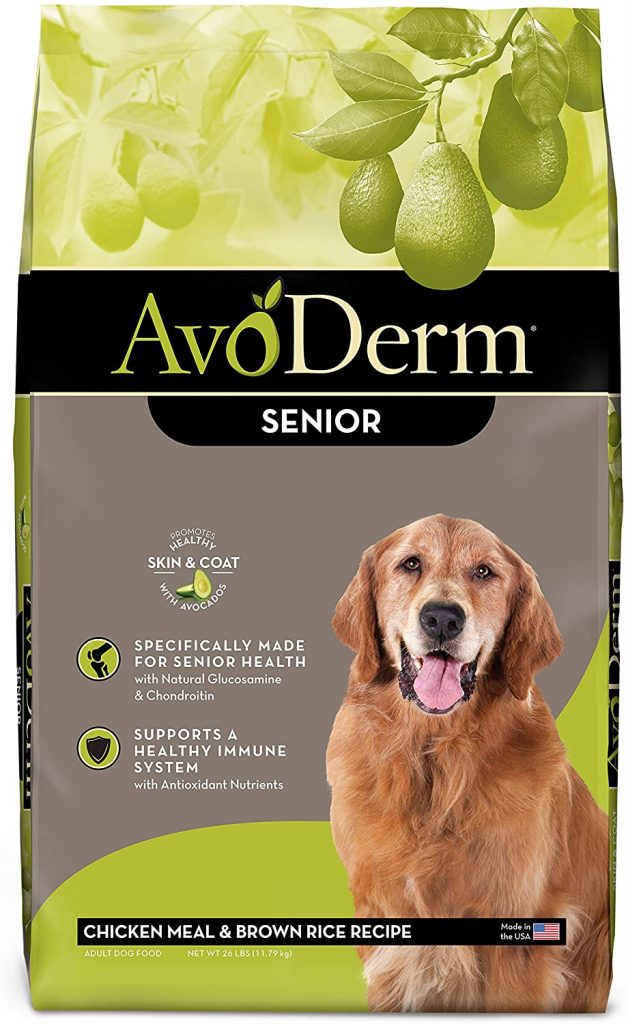 Best for senior dogs
Crafted with nutrients to support joint health and protect skin and coats, your older French bulldog will thrive on this dog food.
We can't say enough about the ingredients included in AvoDerm's Dog Food for Senior Dogs. The all-natural recipe starts with chondroitin sulfate and glucosamine to support joint health. For French bulldogs, having extra joint support is vitally important, especially if they gain weight in their older years.
In addition to fantast joint support, AvoDerm also includes avocados, rich in omegas, support skin, coats, and the immune system. And as is the case with all AvoDerm dog foods, the senior support version is made with all-natural ingredients, easy to digest protein, and is free of wheat, corn, and soy.
Pros
Extra joint support
Plant-based nutrients
Easy to process protein
Cons
Harder to chew for older dogs
Not specifically made for small dogs
---
Best wet dog food
A classic staple in the dog food industry, Cesar hits all the marks for a nutritious and safe wet dog food.
Because of the higher fat and carbohydrate content in many Cesar Wet Dog Foods, we're looking specifically at the Chicken and Turkey flavors for this review.
There's a reason Cesar has been at the forefront of the wet dog food industry since 1936. The wet dog foods were crafted with the nutritional needs of small dogs in mind, making them ideal for French bulldogs.
Due to the wet nature of this dog food, all those important nutrients that keep Frenchie's healthy are sealed into the ingredients. With protein, fiber, and a natural abundance of moisture, these little packs are perfect for French bulldog's struggling to eat hard food. Or mix the wet food with your dry food to give a complete, full meal.
Pros
Nutrient rich
Moisture-filled
Easy to chew
Cons
High in fat
Lower in fiber
---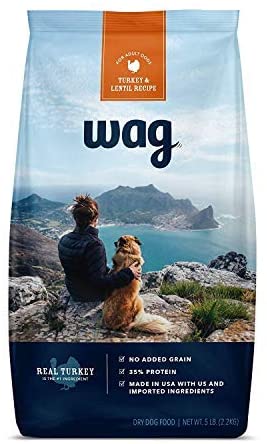 Best dry dog food
Amazon has crafted a high-quality, protein packed dog food that will give French bulldogs that extra oomph to get through their day.
Our review is focusing on the nutritional values of the Wag Turkey and Lentil flavor.
Wag, an Amazon company, has created a series of recipes to meet the protein needs of all dogs. Protein, however, is even more important to our little, chunky French bulldogs. Using turkey as its main ingredient, Wag focuses on powering dogs. With the addition of lentils, for a quality plant protein source, each serving of Wag is 35%, the highest percentage of any food on this list!
We also appreciate Wag dog food doesn't contain grains. While you would need to contact your veterinarian to confirm any allergy fears you have for your French bulldog, grains have been found to increase gas and poor bowel function in dogs.
Pros
Formulated by veterinarians and pet nutritionists
35% protein per serving
Grain-free
Cons
Not created specificially for French bulldogs
Includes some ingredients not recognized as essential by AAFCO
Higher in fat
---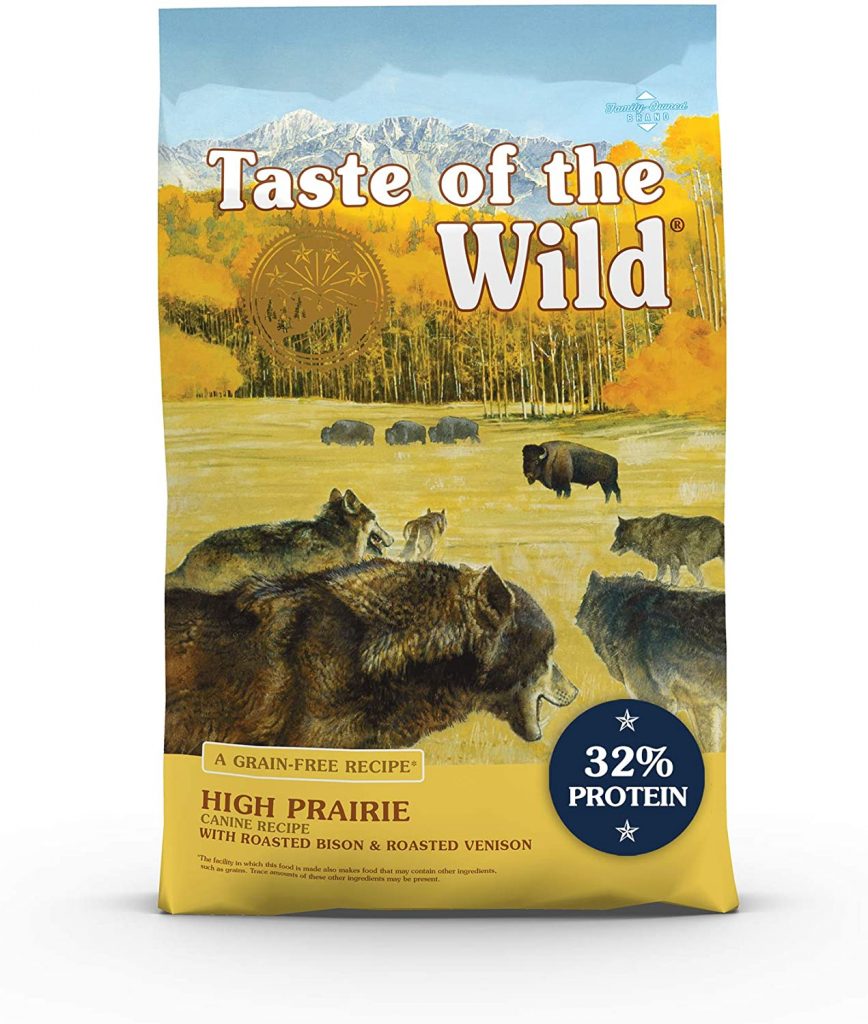 Best grain-free option
If your veterinarian has recommended a grain-free dog food for your French bulldog, Taste of the Wild offers a nutritious, real meat blend.
We only recommend changing to a grain-free dog food if your veterinarian has recommended it for you and your French bulldog.
Taste of the Wild operates on the philosophy a dog's diet should mimic the diet of wolves. As a result, Taste of the Wild creates meat-based recipes that are packed full of natural, easy to digest protein. As we've already talked about, protein is vital for French bulldogs because it's so easy for them to gain weight. A protein-rich diet is optimal for your little Frenchie.
Another reason Taste of the Wild is on our list is because it's one of the only dog foods on this list with a canine-strain of probiotics. The probiotics work to keep naturally gassy French bulldogs more regular and decreases strain on their digestive systems. And the kibble is flat, making it easier for the smaller Frenchie's to pick up and chew.
Pros
Made with easy to digest protein
Grain-free
Includes probiotics
Cons
Kibble size varies
Complaints of causing gas
Complaints of causing itchiness
---
What nutrition your French bulldog needs to thrive
When looking for the best dog food for your French bulldog, you want something that is low in fat, but high in protein and fiber. Of course, over the course of their lives, what specific nutrients your pup needs will vary. But you can get a broad idea of what to look for in your dog food by keeping a few considerations in mind.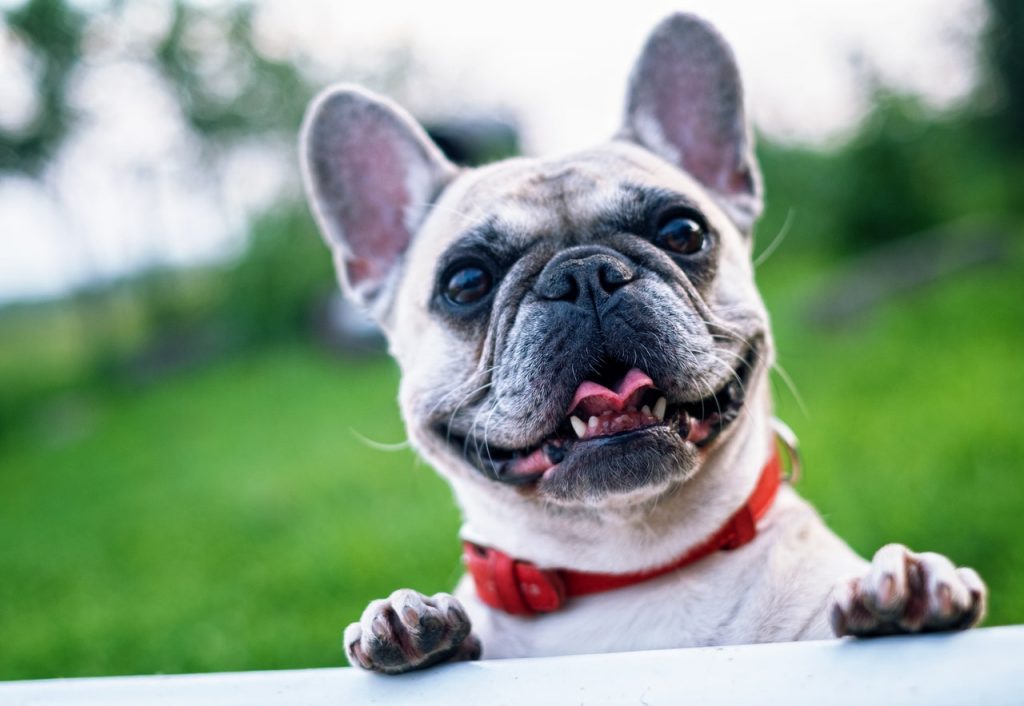 Protein
French bulldogs are stocky and muscular despite their apparent small stature. To feed all those muscles, you'll want to make sure they're getting a moderate amount of animal protein. While plant protein can be an alternative, animal-based protein is easier for their sensitive stomachs to digest.
We use the word 'moderate' here with good reason: Too much protein could cause your Frenchie to have allergies. So everything in moderation.
Look for lean meats like fish, turkey, or chicken in food for your French bulldog.
Vitamins and Minerals
Vital for any living being, vitamins and minerals are key to a healthy French bulldog. However, you want to make sure your French bulldog has a food with 1 specific ingredient: Omega-3 Fatty Acids. Frenchies are prone to skin problems, so you want to make sure their getting this fantastic nutrient to keep their skin and coat healthy.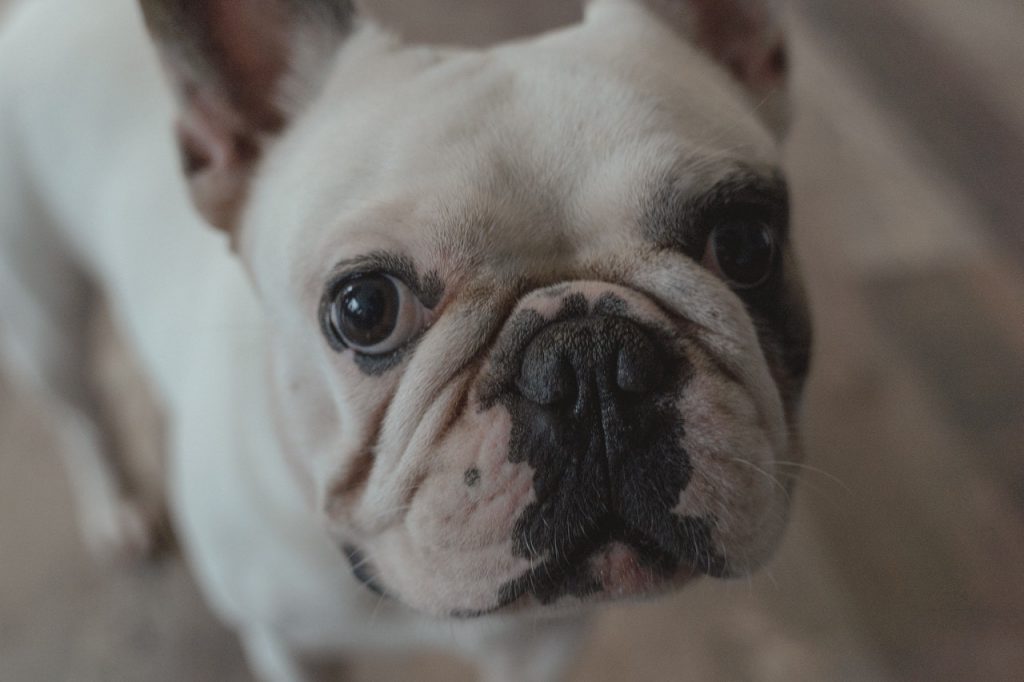 Carbohydrates
French bulldogs are energetic little tykes, so they do need a healthy amount of carbs in their diet. However, to combat their propensity to gain weight, you want to keep an eye on the types of carbs you're feeding your pup.
The general rule is the majority of the carbs in food for French bulldogs should come from dietary fiber. Not only does this provide energy and a feeling of fullness, it also combats those pesky gas issues for which Frenchie's are famous.
Fats
While you want to keep the amount of fat in your French bulldog's food low, they still need enough to stay healthy. Just be aware that French bulldogs are very prone to being overweight, so scale back even healthy fats if you notice weight gain.
Check out this guide by the American Kennel Club to determine if your dog is overweight and might need less fat in their diet. By picking a dog food for your Frenchie rich in lean protein, vitamins, and minerals, and low in carbs and fats, you'll be on the right track to keep your pup healthy and happy!
---
How we picked — About our selection process
It can be a bit scary trying to pick out the best dog food for your dog. We completely understand that fear!
So when we started looking at the best dog foods for French bulldogs, we made a clear set of guidelines to follow to make sure we were making the best choices.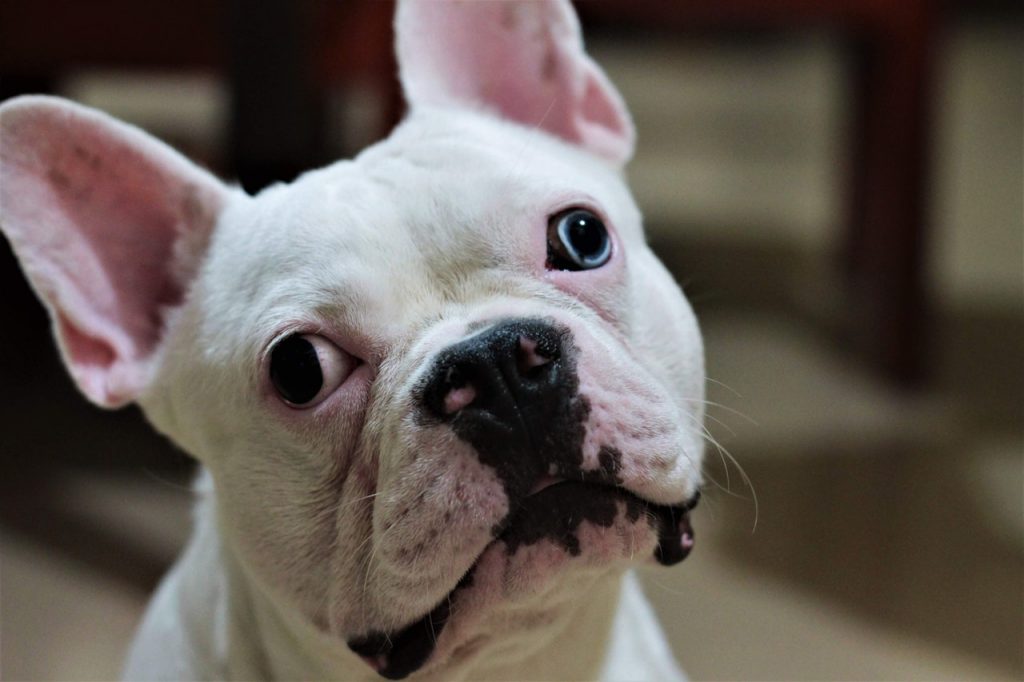 Ingredients
We made sure the dog food ingredients were clearly labeled and served a purpose. So often, dog foods will use fillers that make no nutritional difference or are actually harmful. We wanted clear labels and obvious reasoning for every ingredient included in these dog foods.
AAFCO approval
We could research for years and still not have the level of expertise found at the Association of American Feed Control Officials. AAFCO regulates what goes in dog foods, making sure they meet their requirements. We only included dog foods on our list that were AAFCO approved.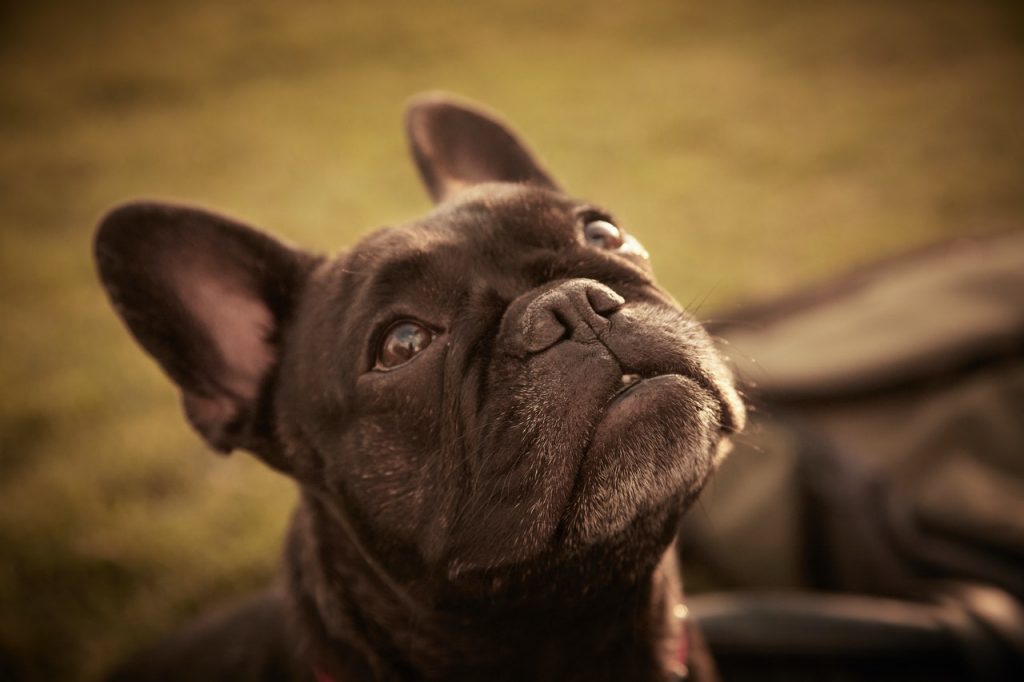 Nutritional value
A dog food can have the best ingredients in the world, but if those ingredients don't meet a French bulldogs nutritional needs, they're useless. We wanted the ingredients included in our dog food pick's to meet the very real nutritional needs of French bulldogs, from their little frames to their gassy little tummies.
Reviews
No one knows their dog's quite like a pet parent. We read through forums and reviews of French bulldog pet parents to see what worked and what didn't work for them and their Frenchie's. We know every dog is different, but their reviews gave us a solid foundation for our choices.
---
How much food should French bulldogs eat?
Don't get mad at us, but the answer to this question requires a bit of math.
Because Frenchie's are so prone to obesity, it's recommended you feed them only about 25-30 calories per pound of their body weight. How much your total is will depend on the type of food you're feeding your Frenchie!
Going hand-in-hand with how much food to feed your French bulldog is how often. Keeping those 25-30 calories in mind, you then need to divide it between the recommended 2-3 meals a day.
If you're not the biggest fan of doing math, you can check out the Merrick Pet Food Calculator, fill in the info, and get an estimate of how much you should be feeding your pup.
---
Wet food vs. dry food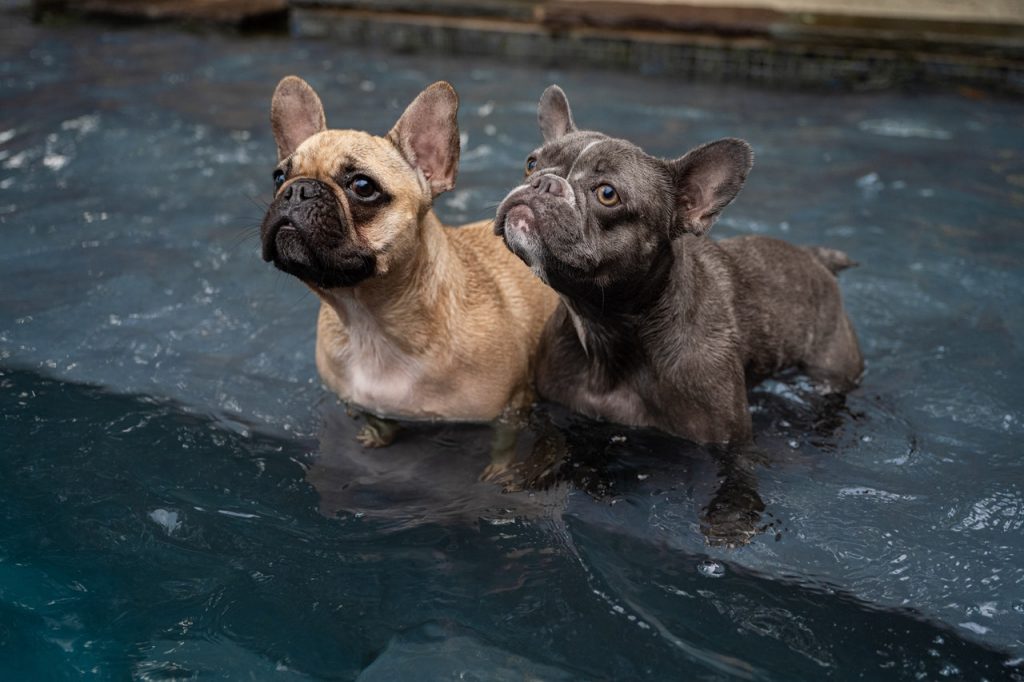 One question we often get from pet parents is if wet food or dry food is better for dogs. Well, the answer isn't exactly straightforward.
Wet food is fantastic because it locks in vitamins and nutrition, giving your Frenchie the nutritional support they need to thrive. Wet dog food is also naturally moister, so it also adds more hydration to your pup's diet. Plus, for little mouths, wet food is just easier to eat.
Dry dog food has its benefits, too! The biggest is the process of chewing dry food breaks down plaque on your French bulldog's teeth, supporting better dental hygiene. Dry dog food is also much more affordable than wet dog food and can provide essential nutrients and vitamins. You'll just need to add more water to your Frenchie's diet. And, let's be honest, it's just a lot easier to store dry dog food.
So, really, either food works and will provide your pup with the health support needed to thrive. If you're unsure which works best, try mixing them! Then you can get the benefits from both!
---
FAQs
Before we wrap up, let's take a look at some of the most frequently asked questions about the best dog foods for French bulldogs.
What's the best way to change from one dog food to another?
The American Kennel Club has a fantastic, research-based method for changing from one dog food to another.
The transition between the 2 dog foods should take about 7 days, with each step changing out 25% of the old food with the new food. So, days 1 and 2 should be 25% new food, 75% old food. Days 3 and 4 should be 50% of each the old and new food. Days 5 and 6 should be 75% new food, 25% old food. And finally, by day 7, you should be at 100% the new dog food.
How often should I feed my French bulldog?
In general, a French bulldog should be fed 2-3 times a day, depending on their activity level. However, as is the case with all health-related questions, we strongly recommend asking your veterinarian for a specific eating schedule for your particular pup.
How can I tell if my French bulldog is overweight?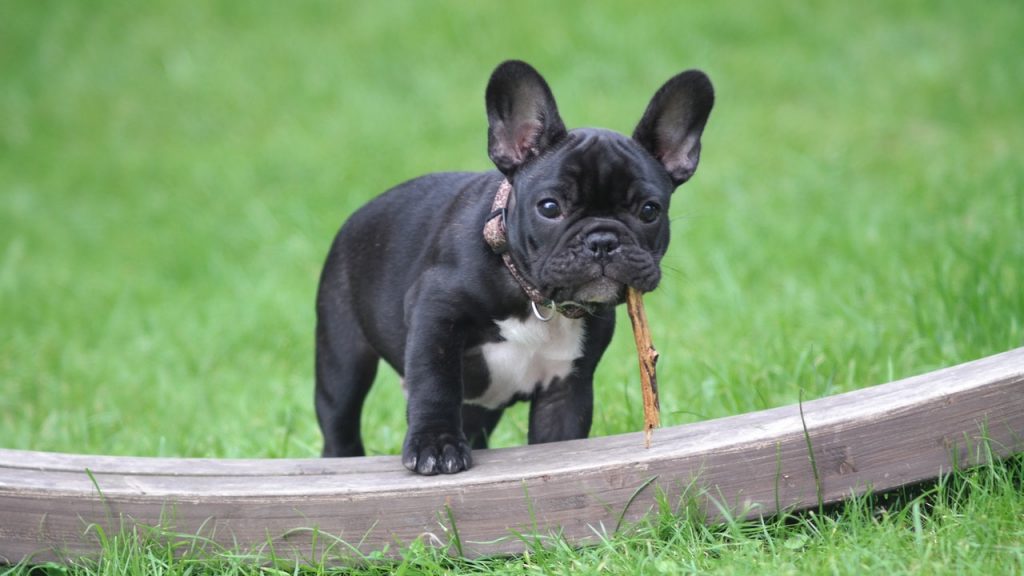 Thankfully, because French bulldogs are so small, you can usually tell your dog is overweight by checking out their shape. If your Frenchie looks rotund from above, your pup might be overweight.
You can also check to feel your dog's ribs, since a fit, healthy dog will have prominent ribs. Check around your French bulldogs hips, as well, since 'fat pads' usually show up between their legs and on top of their ribs. This fat will cause a bit of a waddle when they walk.
To learn more ways to determine if your dog is overweight, check out this comprehensive article by the American Kennel Club.
Should French bulldogs eat grain-based dog foods?
So, Frenchie's have a bit of a reputation for being gassy. And many Frenchie owners have opted to go grain-free in an attempt to combat that gassiness and the resulting smells.
However, just like different humans react to different foods, not all French bulldogs will struggle with grain allergies. Our advice, which is supported by the experts, is to not put your dog on a grain-free diet unless your veterinarian specifically suggests the change.
It all comes down to doing what's best for your unique French bulldog.