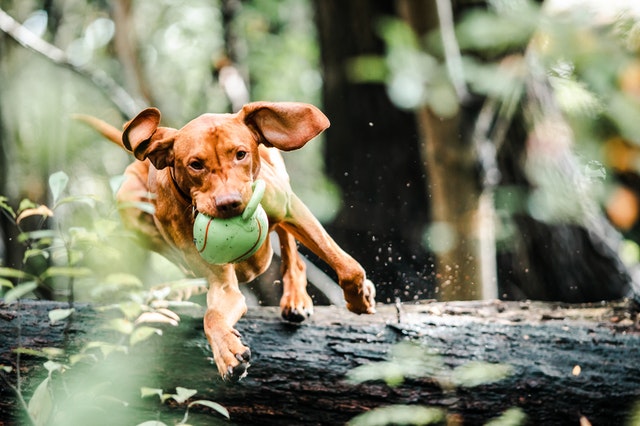 We've all had the experience of walking into our home after a long day at work only to find a path of destroyed furniture and belongings. The dog got bored again.
Instead of worrying about your home all day, take a look at our favorite indestructible dog toys. These safe dog toys will keep your fur baby entertained for hours and keep your things safe from that dreaded destruction.
Is any dog toy indestructible?
No. There are dog toys that are made specifically to be "indestructible". These are usually larger toys, often balls, made with tough, heavy materials. The problem with these indestructible toys is dogs don't like them very much. The heaviness makes them hard to move and their tough exteriors make them impossible to chew.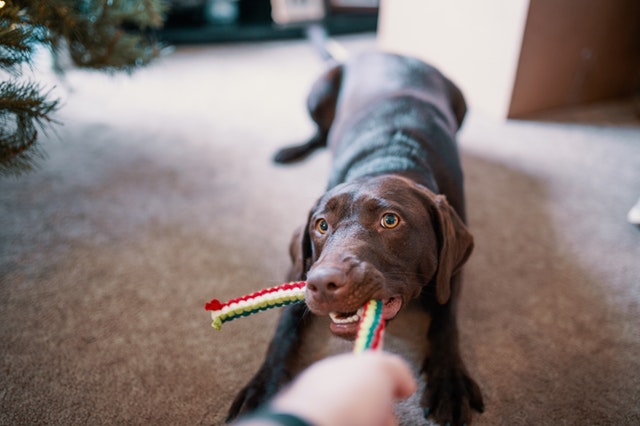 So while there are indestructible dog toys, the question quickly becomes if those toys are worth the purchase if your dog will abandon it after a few minutes.
When we look at indestructible dog toys, we look at toys that will last a long time. However, they are still toys with some give and can be worn down over time. These are toys your dog will enjoy playing with for hours. They are toys that can be gnawed on and tossed around.
They aren't completely indestructible, but they're extremely durable.
You'll see a lot of rubber toys on our list, mostly because natural rubber is a safe material that is also extremely durable. We've found rubber offers the perfect balance between safety, give, and resilience, making these toys as indestructible as they can be while still being fun.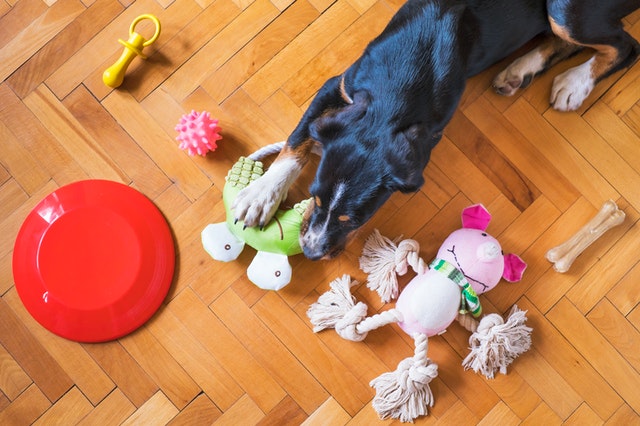 Jump to a section
Our top picks
How we chose our picks
Why your dog needs to chew
What makes a good dog toy?
---
Our top picks
Before we get into more details about the importance of chew toys, let's take a look at our top 9 indestructible dog toys!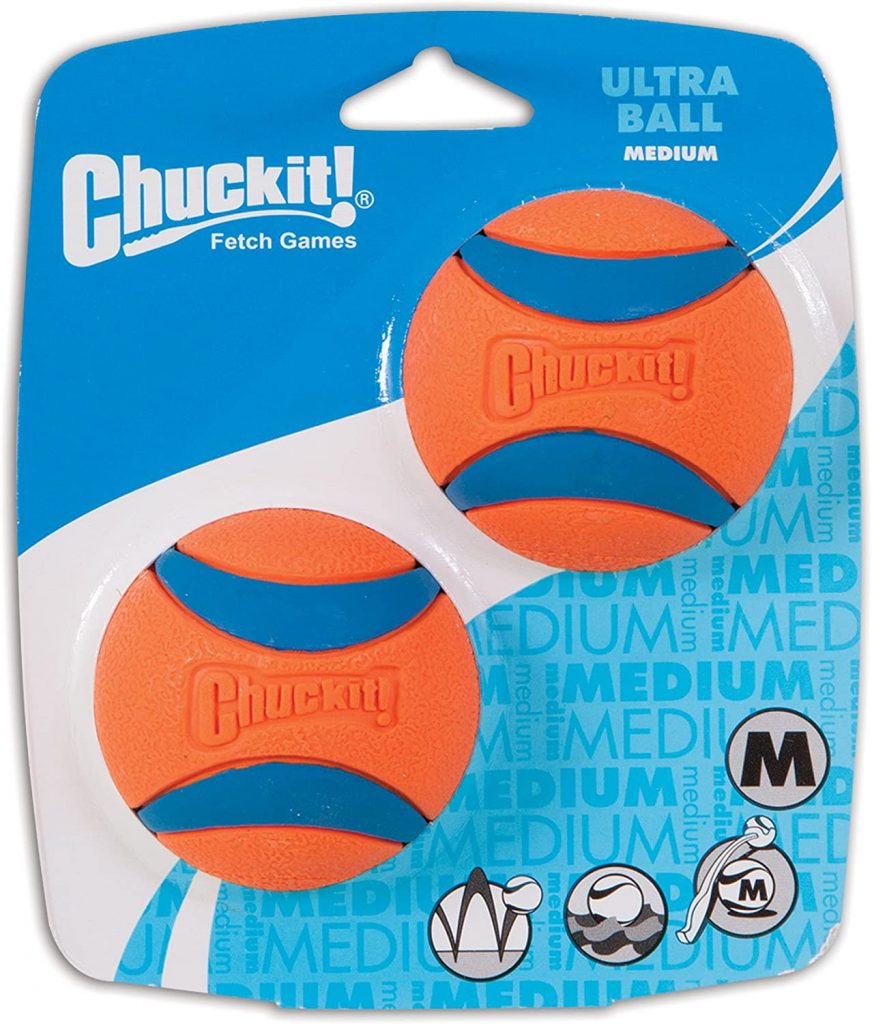 Our favorite
Our number one pick for the best indestructible dog toy is the ChuckIt! Ultra Ball. Take a look at those reviews and you'll see why it soared to the top of our list!
During our research, we found that the preferred material for chew toys, the ones that aren't too hard or too soft, are made from rubber. The ChuckIt! Ultra Ball is made of natural rubber that has a fun bounce for endless games of fetch.
The combination of the hollow center of the ball and textured, thick rubber make ChuckIt! Ultra the perfect toy for playing and chewing. Plus, that hollow center makes the ball float, ideal for playing in the pool.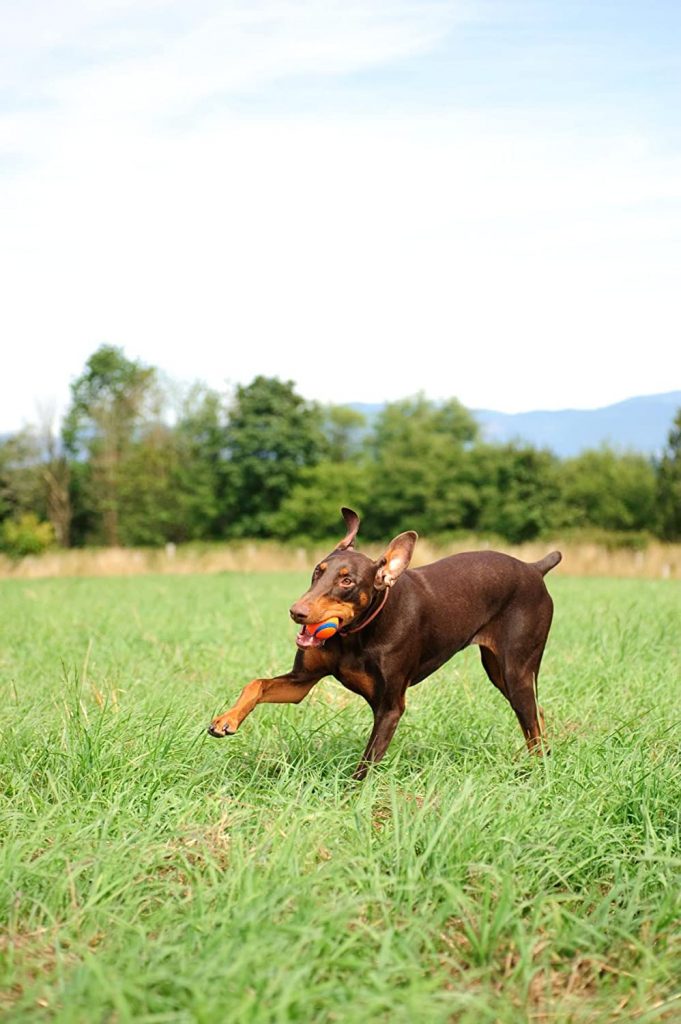 We're also big fans of the variety of sizes available with ChuckIt! Ultra. It's important to find the right size dog toy for your pet. Too big and they won't be interested. Too small and it becomes a choking hazard. With the three size options available with ChuckIt! Ultra, you'll find just the right fit for your doggo.
Our one concern with ChuckIt! Ultra is there have been cases of some balls having a 'plug' that has popped out on occasion. It's such a rare instance, but we want you to be aware and careful.
Pros
Durable, soft rubber
Extra bounce
Textured material
Buoyant
---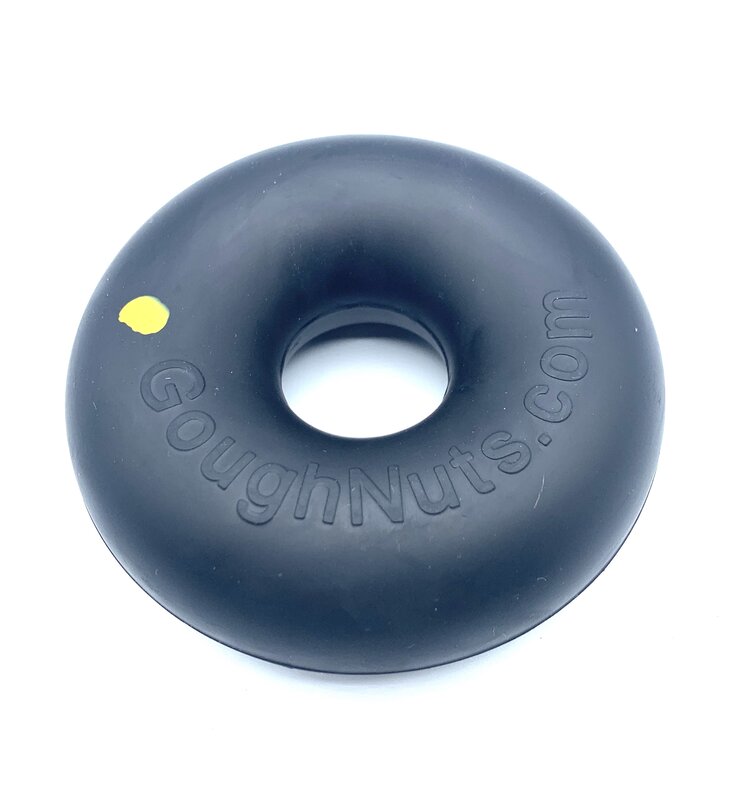 Also Great
Goughnuts, one of the leaders in the dog toy industry, takes safety extremely seriously, making it one of our top choices for indestructible dog toys.
First, all the dog toys made by Goughnuts are made with natural rubber with carbon reinforcement, this means they're super tough, but also easy on the teeth. And, to emphasize safety even more, the Black Ring Pro 50 is black on the outside, but red at the center. The red indicates it's time to take the toy from your dog.
The second thing we adore about Goughnuts Pro is its return policy. These are some of the most expensive toys you'll find on our list, but with good reason. Once your pup hits that red center of the Black Ring Pro 50, all you need to do is send it in to Goughnuts and they'll send you a new one!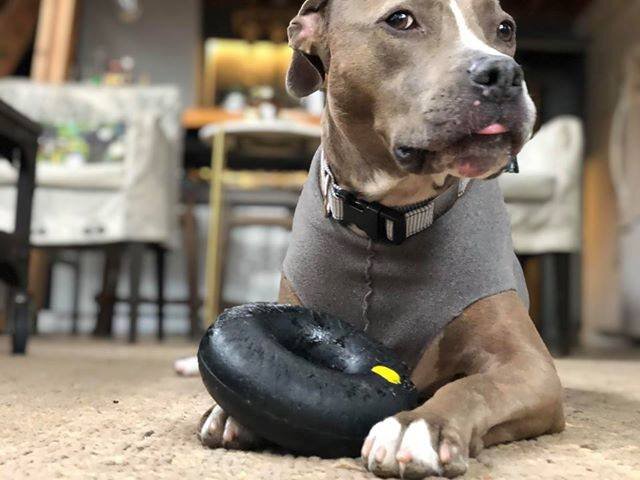 The Goughnut Black Ring Pro 50 has a great bounce that comes with being made from rubber, but in a convenient donut shape, making it perfect for chewing. And, the smooth surface of the Goughnut Pro 50 makes it very easy to clean. With some warm water and a few wipes, you can go from playing fetch outside to chew time indoors.
Pros
Extremely durable
Safety indicator in center
Easy return and replace policy
Cons
More Expensive
Return Process a Bit Long
---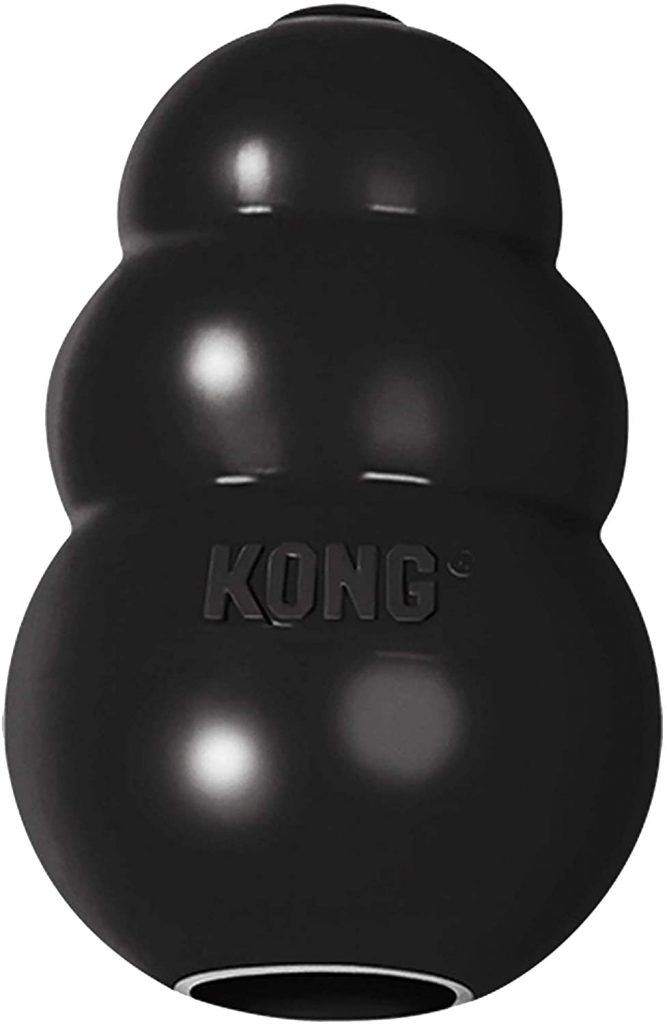 Treat Toy
Kong Extreme is a dog toy offering a combination of all the things your dog wants: A chew toy that bounces and can hold treats inside.
Kong is at the forefront of the dog toy game, so it makes complete sense that one of their toys has made it to the top of our list. Coming in five different sizes and rubber thicknesses, the Kong Extreme is both a toy and a snack deliverer. The hollow, rubber body has space for whole meals or just small snacks.
The Kong Extreme is made from natural rubber, tough enough to handle even the most aggressive chewers, but soft enough to have some give. The funnel shaped indestructible toy also has just a little bit of bounce, making it perfect for playing with in the house.
One of the things we appreciate the most about all Kong toys is they're commitment to truly studying what works best for dogs, whether it's just healthy play or dealing with stress and excessive chewing. Backed by trainers and vets, the Kong Extreme is a dog toy made with such attention to detail and thought for our dogs.
Pros
Easy to stuff
Chewable, tough rubber
Fun, unpredictable bounce
Cons
Possible change in manufacturer
---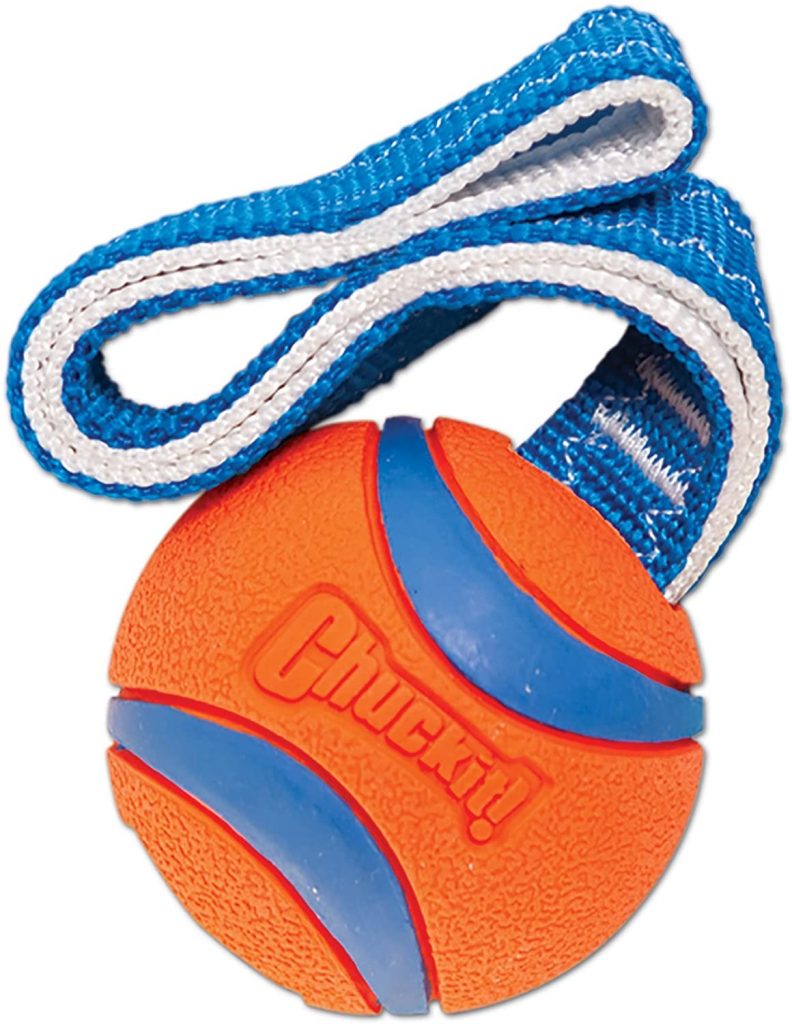 Ball Toy
With its bright, engaging colors and tough band, ChuckIt! Ultra Tug is perfect for games of fetch and tug-of-war.
You already know we're fans of ChuckIt! and the thought they put into designing their toys. The Ultra Tug is just another great example of an indestructible toy made with your dog's needs in mind. The chewable, high bounce ball is made from safe, durable rubber. And with those vibrant colors, you won't have to worry about losing this ball in the grass!
Best of all, while Ultra Tug is perfect on its own, it also has an attached strap for you to engage with your dog in games of tug-of-war. While there have been a few complaints about the length of the strap, we're still big fans. Also, we think you'll appreciate how easy it is to wash this ball, which also comes in three sizes.
Pros
Designed for tugging and throwing
Easy to clean
Bright and easy to see
Cons
Handle too short and tight
Not for aggressive chewers
---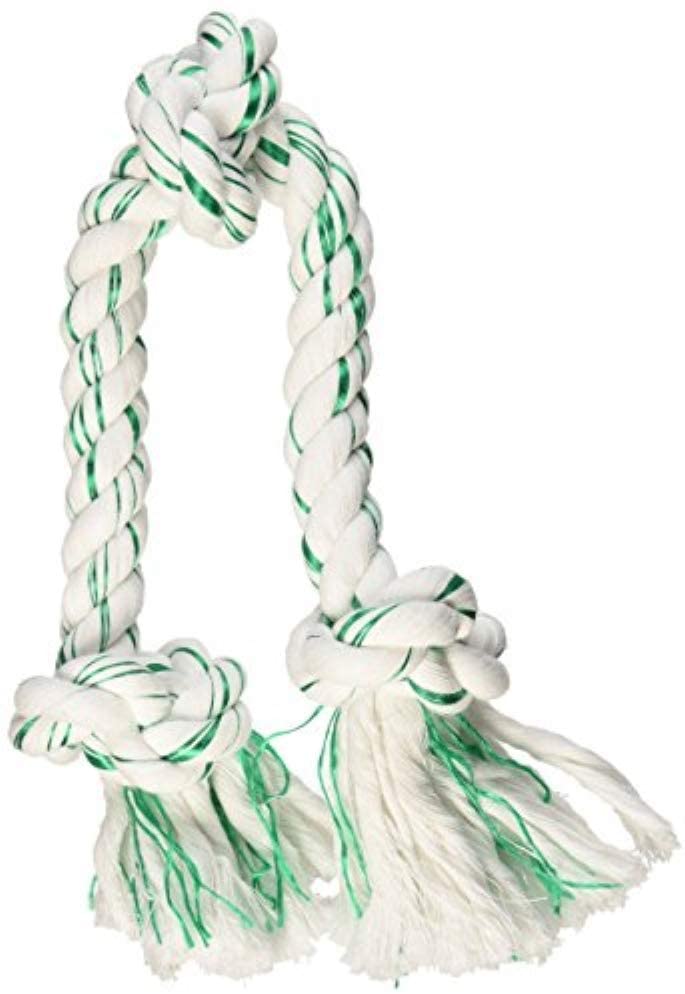 Rope Toy
Get the best of both worlds with a rope toy that is fun to play with, but also flosses your pet dog's teeth.
There are a few tried and true toys that all dogs love. Sticks are one and ropes are the other. Booda Fresh N Floss Tug Rope is a call back to classic dog toys, but uses wax coated nylon to protect your dog's mouth. And more importantly, mixed in with those tough fibers are mint dental ropes that clean teeth and keep doggy breath fresh.
A great aspect of the Booda Fresh N Floss is its three knot grip, which offers versatility in your playing, but also keeps your hands safe and away from unplanned nips and bites. Side note, check to make sure you're buying the right size, because the Booda Fresh N Floss comes in three sizes, making it perfect for all dog types.
Pros
Flosses teeth while playing
Keeps breath minty fresh
Tough, but gentle on mouth
Durable 3 knot grip
Cons
Sizes don't match exactly
More for playing than chewing
---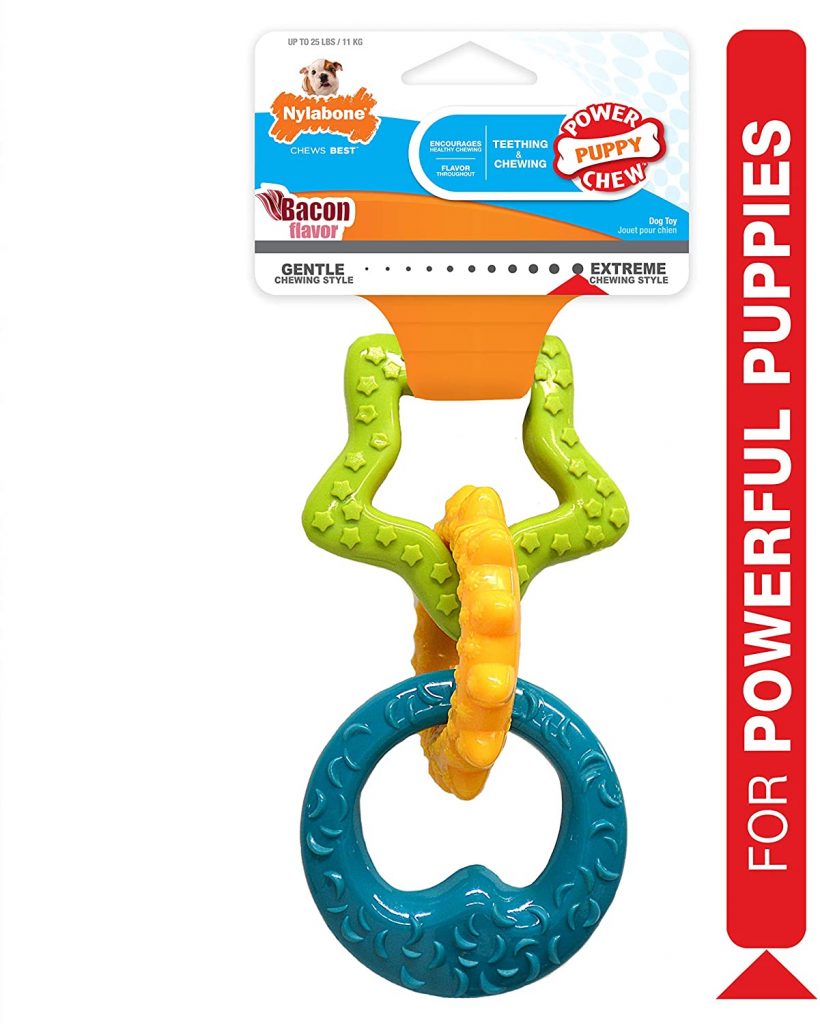 Teething Toy
A great option for teething and playing with your new puppy!
Nylabone created these teething rings to offer a way to bond with new puppies while they deal with teething pains. The adorable rings are just the right size for little doggo mouths, with a texture that soothes pain and helps clean teeth. And they'll love the bacon flavor!
Most importantly, these rings are a safe way to start teaching your puppy how to play and what they are allowed to chew on (toys and not your shoes!). Because this toy is likely one of the first you'll introduce your puppy to, it's important to keep an eye on them at first. Chew toys for puppies are best used under supervision.
Pros
Eases teething pain
Teaches healthy play and chewing habits
Keeps teeth clean
Freshens breath
Cons
Comes in one size
Too hard for some puppies
---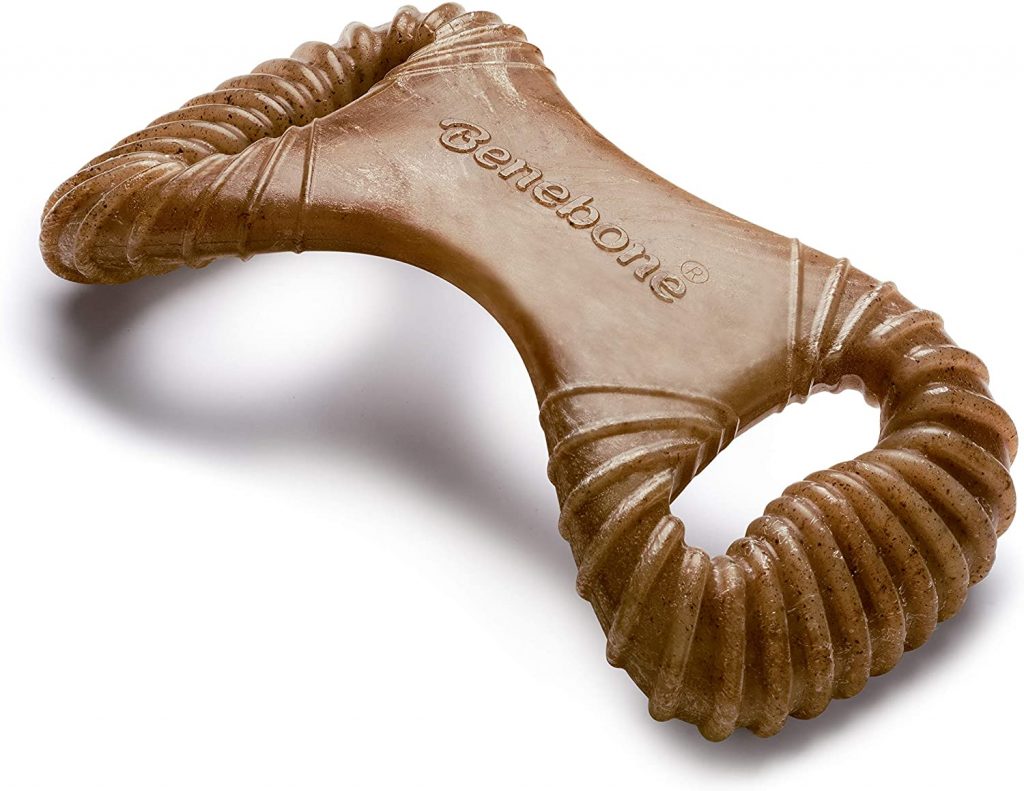 Dental Chew Toy
Benebone offers a sturdy dog toy that also works as a dental chew.
Benebone Dental Dog Chew, which has been updated and improved recently, combines fun with a dental chew toy. Made from safe and durable nylon, the Benebone Dog Chew has deep, curving grooves for a chewable texture. Add that texture to the real bacon flavor, and your dog will have a quick favorite.
While we're all about a good dental dog chew, we also super appreciate that the Benebone Dental Dog Chew can be used as a toy. The handles on either end of the bone are perfect for tug-of-war games between you and your pup. And you'll be able to play knowing you're supporting your best friend's dental hygiene.
Pros
Textured for a good chew
Flavored with real bacon
Promotes healthy teeth and gums
Cons
Nylon could crack
Requires supervised play
---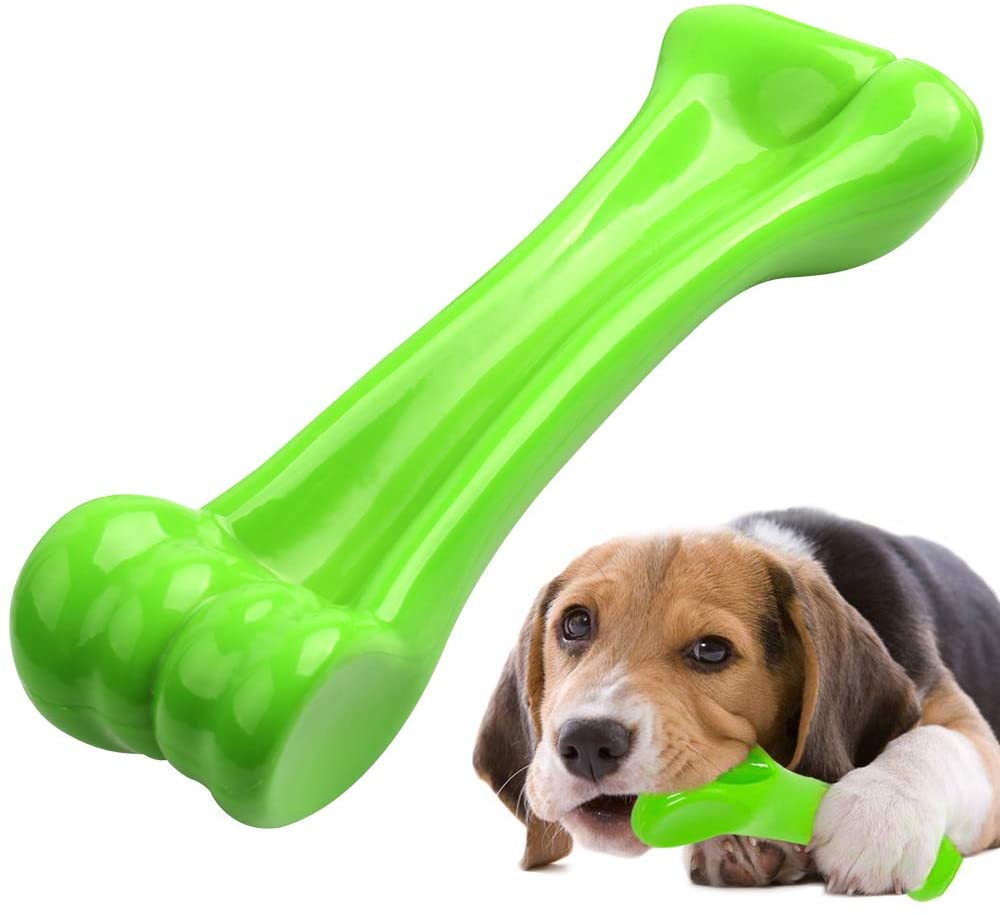 For Aggressive Chewers
Have a super aggressive chewer? Worry less with this indestructible dog toy designed just for them.
Most of the products on this list are made from rubber, because those toys have enough give to make them more fun to chew. However, for the most aggressive chewers out there, you'll need something much sturdier. We're not typically fans of nylon, but for the super-chewers out there, it's the best non-toxic option out there.
While the Oneisall chew toy was created specifically for chewers, it also works as a dental chewing bone. The chewing the Oneisall encourages helps clean teeth, relieve teething pain, and decrease bad breath.
Pros
Durable for aggressive chewers
Comes in three sizes
Cleans teeth
Cons
Nylon can crack
Sized smaller
---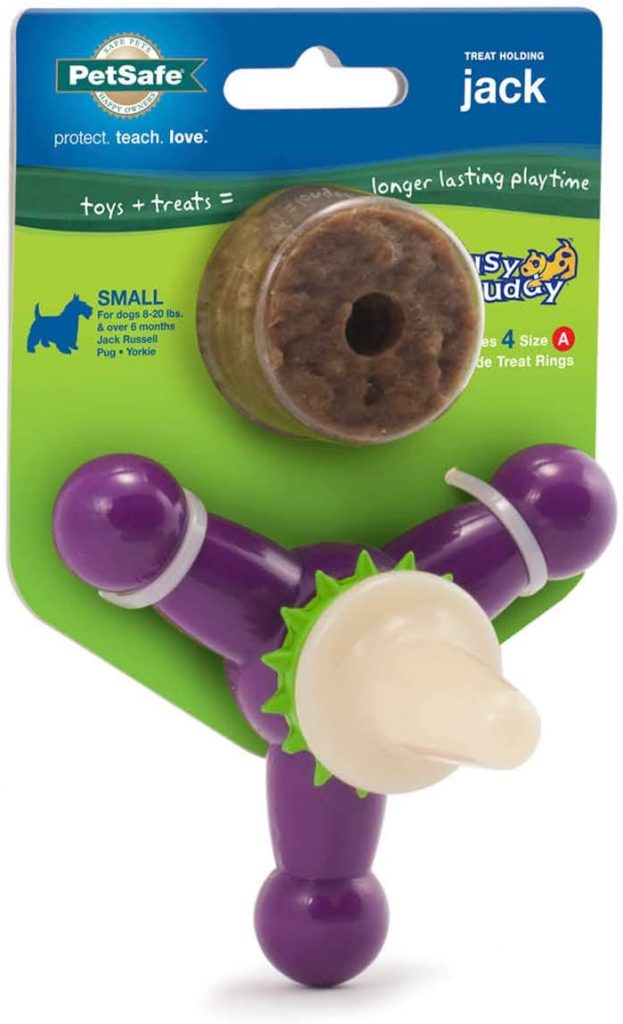 Task Toy
A challenging yet fun dog toy that rewards their hard work with a treat!
We all believe our dogs are the smartest, most special fur babies out there. And the smartest of dogs are often the ones that get bored with chew toys the fastest. The Busy Buddy Jack Treat Dispenser by PetSafe is a chew toy, but also challenges your dog to work for their treats. The combination is a great way to keep our pets entertained.
The Busy Buddy Jack is made from a combination of rubber and nylon, our two favorite materials for chew toys. The hardness of nylon makes this dog toy tough while the rubber has enough give to make it fun to chew. Add the rawhide treat rings that attach to the toy and you'll have a happily distracted dog.
Pros
Combines a toy with a challenge
Comes with rawhide treat rings
Offered in three sizes
Easy to clean
Cons
Wearing on the toy makes replacing treats difficult
Chewed nylon catches on furniture
---
How we chose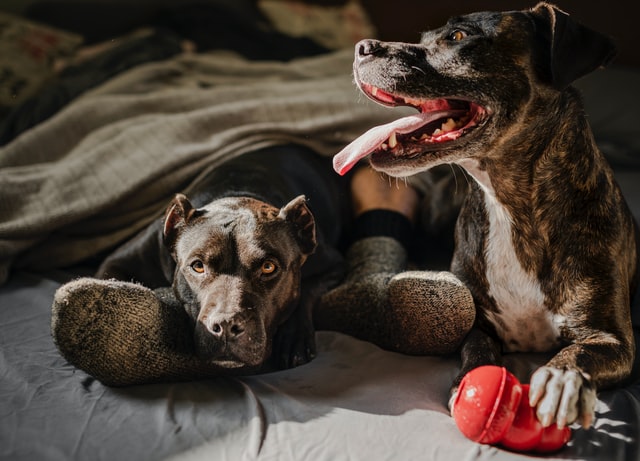 We're always concerned about safety when it comes to the products we use with our pets, but this is especially the case for toys we know are going to be chewed.
To make our choices for the best indestructible toys, we started with looking at the materials. We wanted to make sure the materials in these dog toys were responsibly made and non-toxic. In addition to being safe to be chewed on, we wanted these materials to be very durable. We want toys can withstand even the most persistent chewer. You'll notice many of the chew toys on our list are made with natural rubber or non-toxic nylon, both safe and tough.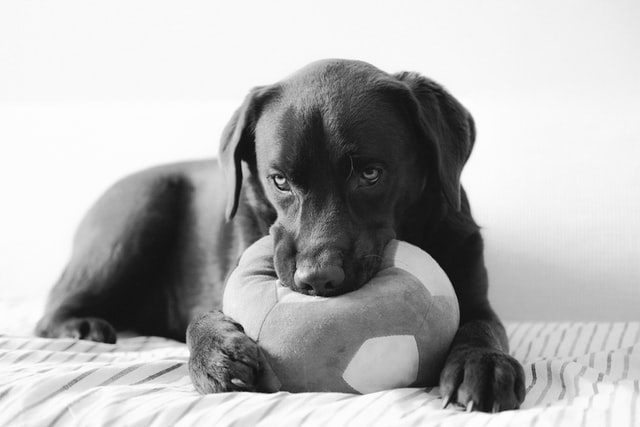 As we mentioned above, many of the truly indestructible toys on the market are too big and heavy for dogs to actually enjoy. Because of this, we also paid close attention to the options on our list. We wanted them to be just the right size. Too small and it becomes a choking hazard. Too big and your dog will abandon it in minutes. We also tried to pick toys that came in multiple sizes, so you could pick the size best for your dog.
Finally, we tried to put a variety of indestructible chew toys together. We didn't want to focus just on balls or just on rope toys. Every dog will be attracted to different types of toys, so we mixed things up. We also tried to keep our choices to simple designs, the ones that have been proven to work for trainers and owners.
And no toys with sounds. No squeaking, ringing, or whistling. We're not saying those toys aren't great, but that's a personal decision.
---
Why your dog needs to chew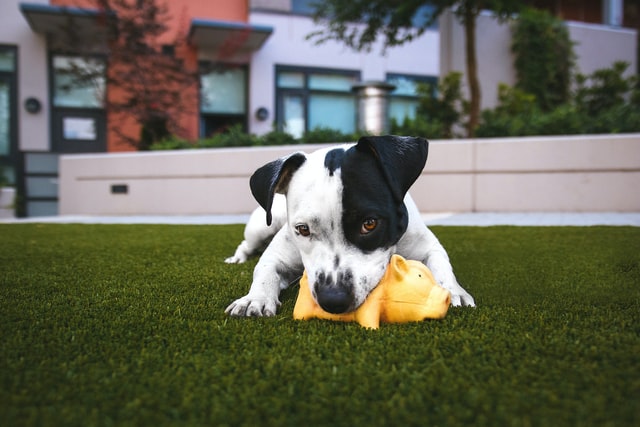 Before we dive too deeply into why your dog needs to chew, the first thing to know is that it is completely normal for dogs to want to chew.
Dogs need to chew.
The act of chewing serves several purposes for our fur babies, both for fun and for their health. To better understand why your dog needs to chew, and the best ways to make sure they chew the right things, let's break it down.
Teething
Dogs come into this world needing to gnaw on something and the reason is the same as why human babies need to chew on things: They're teething. As they begin to lose their puppy teeth and their adult teeth start coming in, the amount they want to chew on things will increase.
To protect your belongings while your puppy is teething, make sure there are a variety of indestructible puppy toys available. Frozen chew toys are ideal at this time too, as it helps to ease pain.
Curiosity
You'll notice curiosity-prone chewing from your pet dog starting in those puppy months. When a dog sees something new, the first instinct they have will be to put it in their mouth. It's hilarious, but also completely normal.
If you have a curious dog chewer on your hands, make sure you have plenty of unique and challenging chew toys to keep them busy. Keep some hidden and switch them out every couple weeks to keep your doggos interested.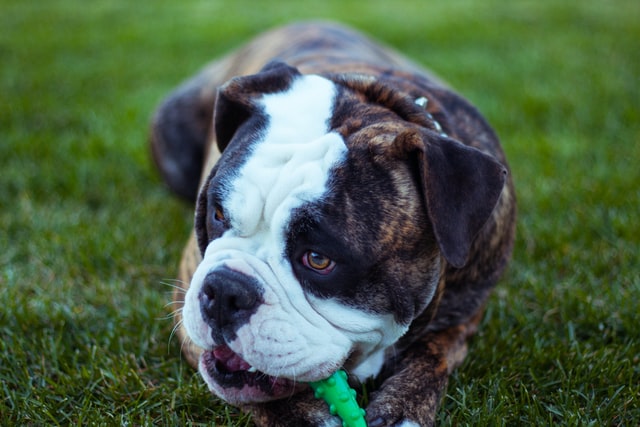 Dental hygiene
A big reason dogs need to chew, and why we need to let them, is because it's important for their dental hygiene. Of course, you'll still need to clean their teeth regularly. But, a good chew toy designed to assist dental hygiene will help dislodge any stubborn food bits still in their mouth.
Jaw strength
When it comes down to it, dog jaws were made to chew through tough meat and bone. Of course, times have changed, but that instinct is still there. Dogs chew because they need to keep their jaws strong, even if it is just for kibble.
Emotional angst
Several emotions can cause dogs to want to chew, too. If your dog is bored or stressed, anxious or frustrated, it could lead them to chew excessively. Again, the key is to keep an eye on your pet dog and see what's causing this angst so you can treat the source. And offer plenty of different indestructible toys so they can work through those emotions.
---
What makes a great dog toy?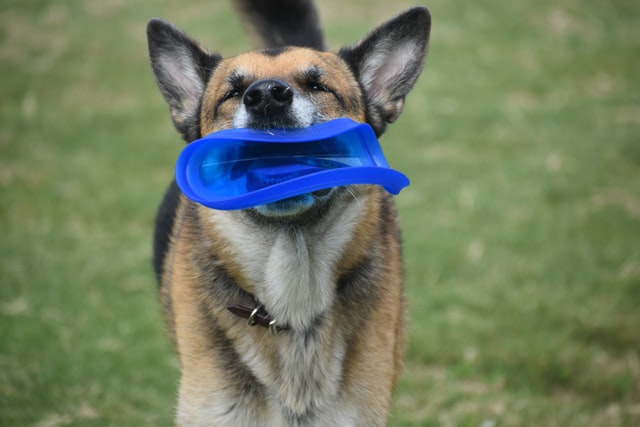 So, what exactly makes a great dog toy? And why buy an indestructible dog toy when you can grab a case of tennis balls for a fraction of the price?
The first key factor in a great dog toy is it should serve multiple purposes. A good toy works when you're outside with your dog playing games and also when your dog is resting inside and just needs something to chew on. A great indestructible dog toy needs to work for both high energy and low energy playtime.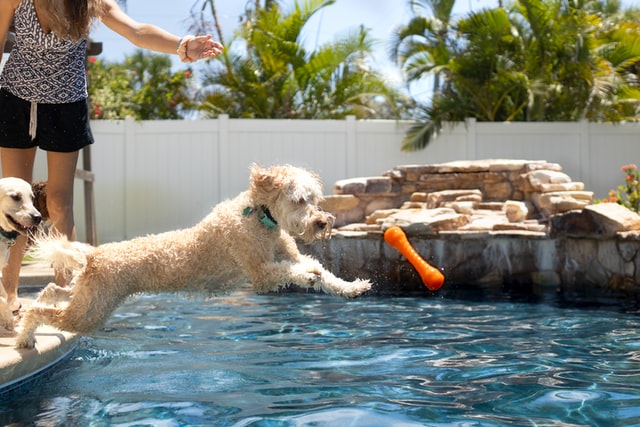 A second thing that makes a great dog toy is it's engaging enough to keep your dog's attention. Of course, this will take a little testing on your part. The key is to find something that is appealing and distracting without being too difficult. Buy a few different types of toys and see which one your dog likes the best!
Finally, a great dog toy should accomplish its #1 goal: Keeping your dog from chewing up your shoes and furniture. We kid! But, seriously, if you find the right toy with a great texture and smell, you could save yourself some heartache down the road. A great dog toy will be so entertaining to your dog, they won't want to chew on anything else.