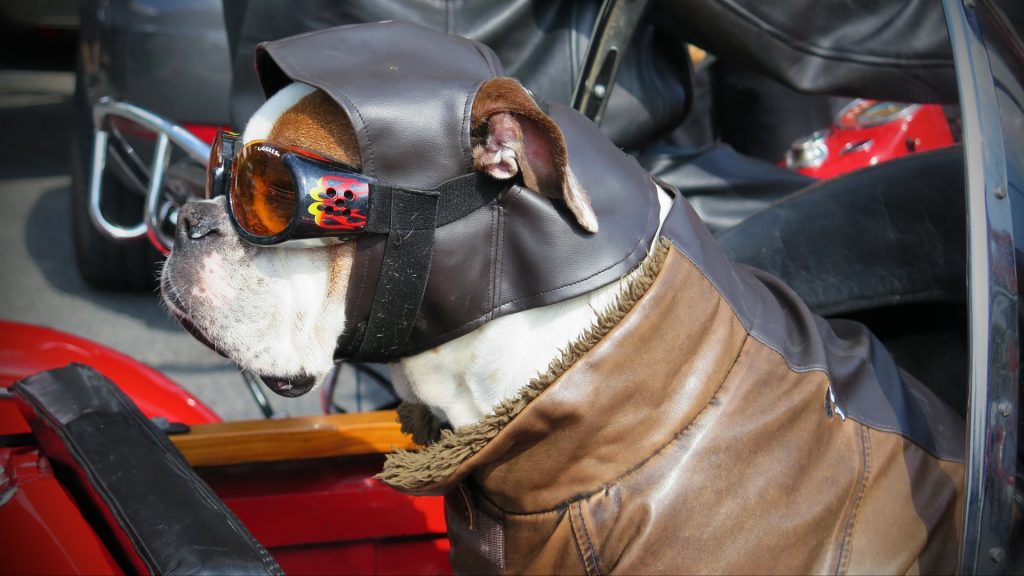 Not all the things we recommend here at The Pets Master are about health and safety. Sometimes, we just want to help you and your dog look ridiculously good. Leather jackets for humans make big fashion statements. Leather jackets for dogs are stylish, but also add another layer of warmth and protection for their bodies. The thicker leather, even when it's faux leather, is just a great way to keep cozy and look fantastic
Do dogs really need jackets?
No, most dogs don't need jackets. However, there are exceptions, and you as the pet parent will know best. In general smaller dogs and short hair breeds can use the extra warmth jackets provide when the weather gets below chilly. If your dog is shivering with tail between legs when you take them for a walk in December, a sweater or coat is a clear and easy solution.
Also, if you plan on going for long adventures outside in cool weather, a jacket adds that little extra reassurance your pup is warm.
It also helps that dogs in jackets, especially leather jackets, are absolutely adorable.
Jump to a section
Our top picks
What makes a good dog leather jacket?
Genuine leather vs. PU leather?
---
Our top picks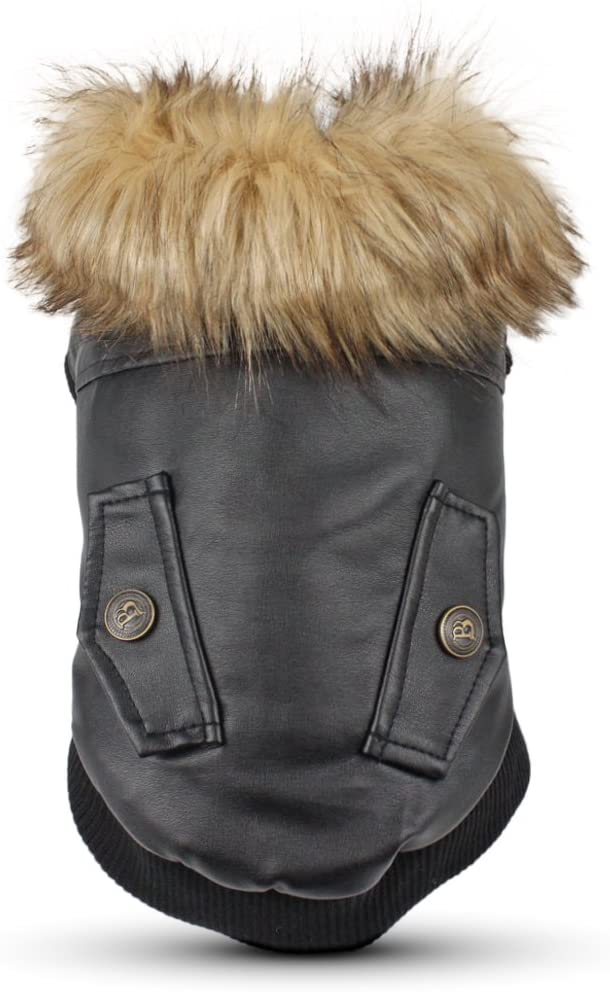 Best Overall
Short on time? Just purchase our favorite pick and have your pup looking stylish in no time.
The Lesypet Leather jacket is our absolute favorite of all the leather jackets. The water resistant coat is made with PU leather, making it extra durable, and includes a warm Berber fleece lining. The details of the Lesypet jacket are enough to blow you away, with a gorgeous fur collar and the most stylish button décor.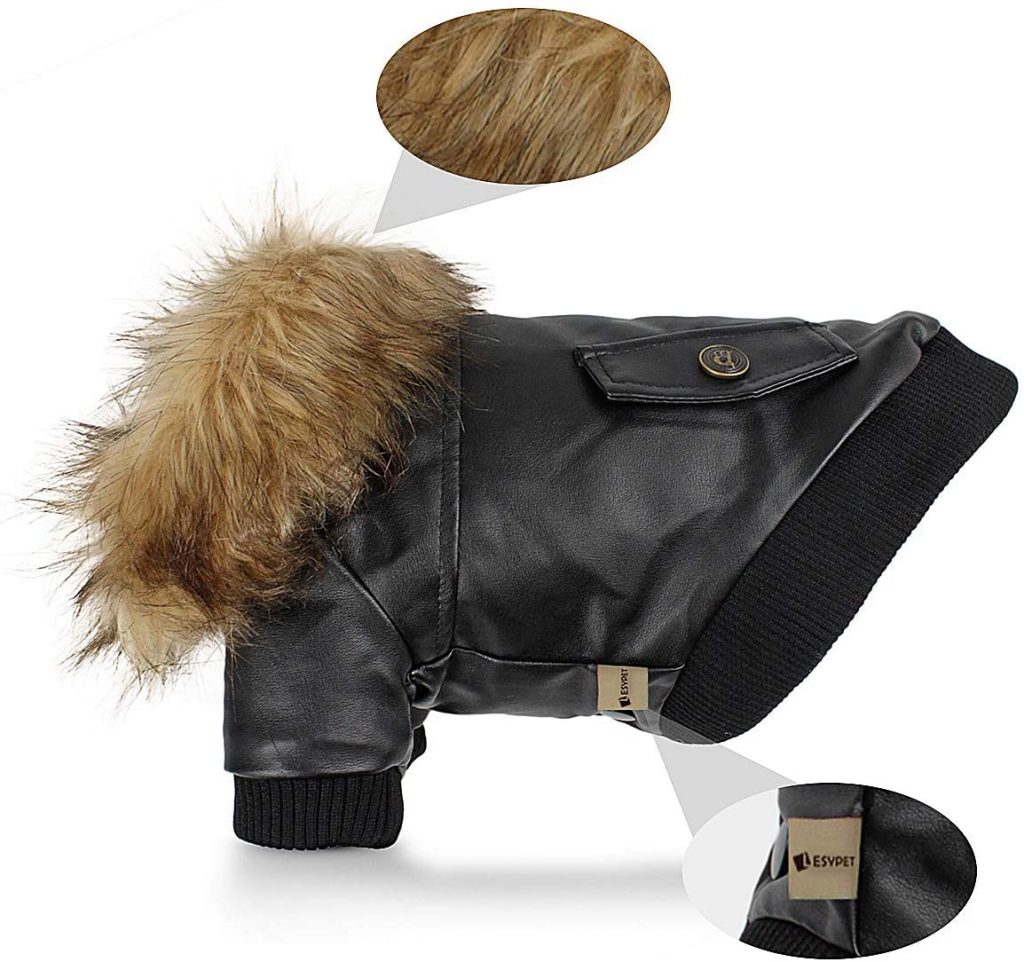 To keep your pup safe and comfortable, the Lesypet jacket has snap buttons, which also makes it easier to take on and off. The jacket was designed for small or medium jobs, so doesn't quite fit larger breeds. However, your pup will never look cuter than in this warm and fitted leather jacket.
Pros
Warm
Machine washable
Comes in 5 sizes
Cons
Designed for small dogs
No hole for leash
---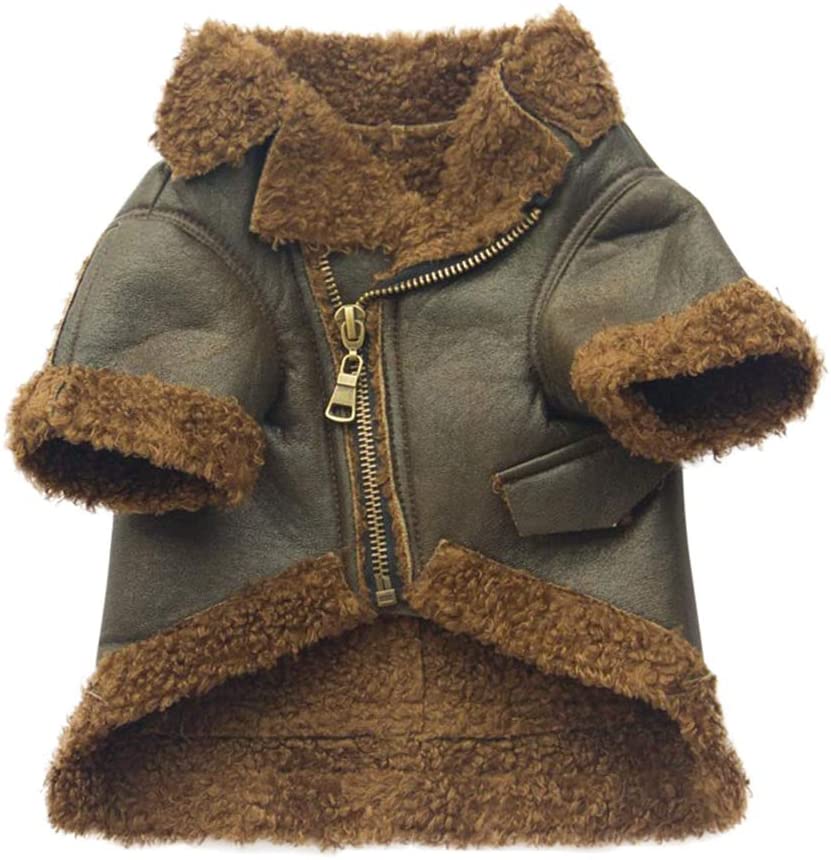 Runner-up
Second on this list, but not in our hearts.
The worn, rugged look of this leather dog jacket is absolutely stunning. The Ropalia has created a warm, breathable jacket that takes your dog's sense of fashion to the next level. The PU leather is lined with soft wool, making this jacket an ideal choice for dogs that tend to get cold.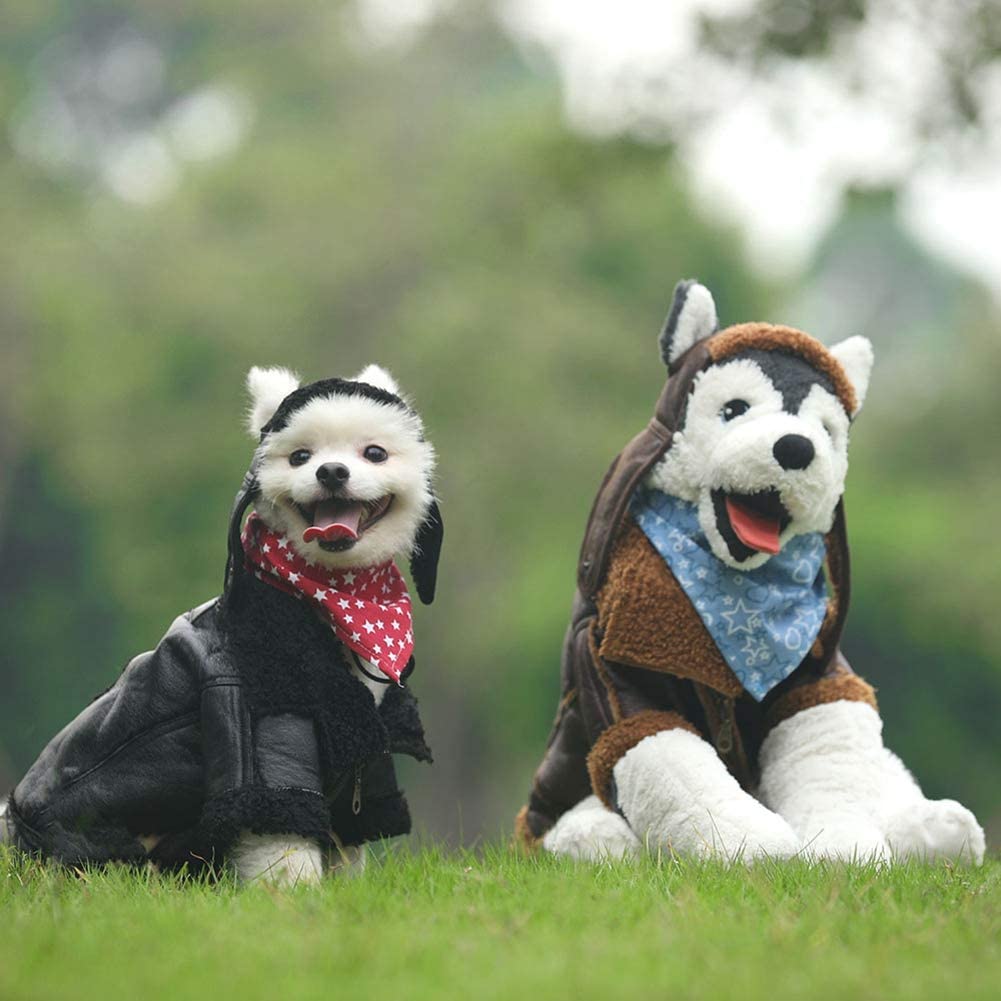 Even though the Ropalia leather jacket looks like real leather, it is machine washable, so you don't have to worry about any mud or dirt on the coat. With an easy-to-use zipper, the jacket comes on and off quickly, without a lot of fuss. The coat comes in 4 different sizes, so make sure to check the measurements before purchasing for your pup.
Pros
Wool-lined for warmth
Machine washable
Cons
Measures small
No hole for leash
---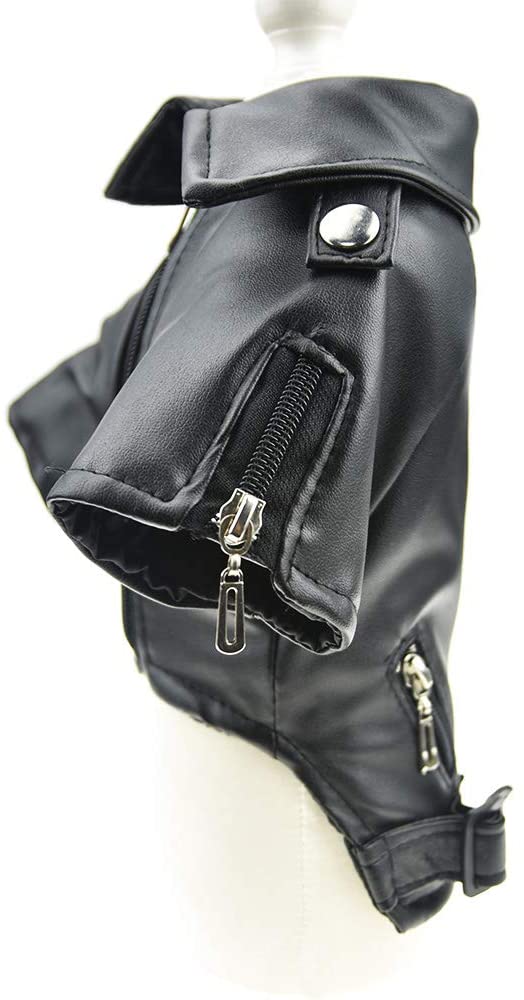 Best for small dogs
Made for the coolest dog you know and perfect for long motorcycle rides.
The FLAdorepet leather jacket is made with 3 layers for extra warmth for your pet. The cotton and nylon layers keep your dog warm, while the PU leather keeps off rain. And of course, with the added zippers and buckles, your pup will look cooler than ever.
While the FLAdorepet jacket does come in 6 different sizes, it works best for smaller dogs. Follow the measuring instructions on the purchase pay to get the best sizing results.
Pros
Easy to zip on and off
Durable PU leather
Cons
Handwashing preferred method to clean
Runs long
---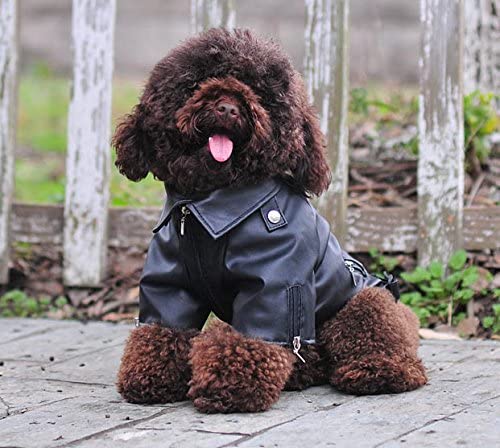 Best for X parameter
Leather jackets aren't just for small dogs. And this stunner proves big dogs can have fun, too!
The Lovelonglong leather jacket for larger breeds is perfect for the bigger dog in your life. The lightweight coat is more stylish than functional, though it does work as a great wind breaker. The jacket is easy to get on and off, with snap buttons. Most importantly, the jacket comes with a money back guarantee.
Pros
Snap buttons
Designed for larger dogs
---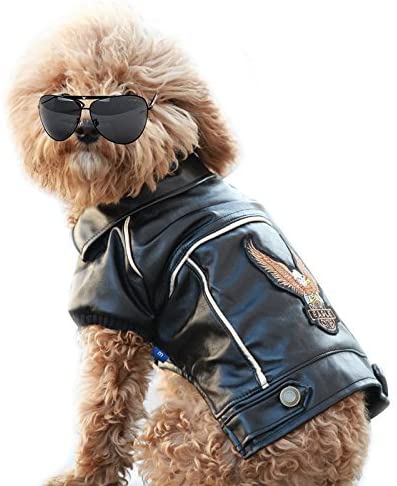 Also great
Your dog will be ready to hit the highway on the back of a hog with this motorcycle jacket.
Made with PU leather for extra durability and support, the Cuteboom motorcycle jacket is stylish and warm. The jacket is waterproof and windproof, giving your pup the support needed on long rides or cold winter walks. Because the back of this jacket is quite long, it's important to measure everything correctly, following the instructions on the purchase page.
Pros
Windproof
Waterproof
Comes in 7 sizes
---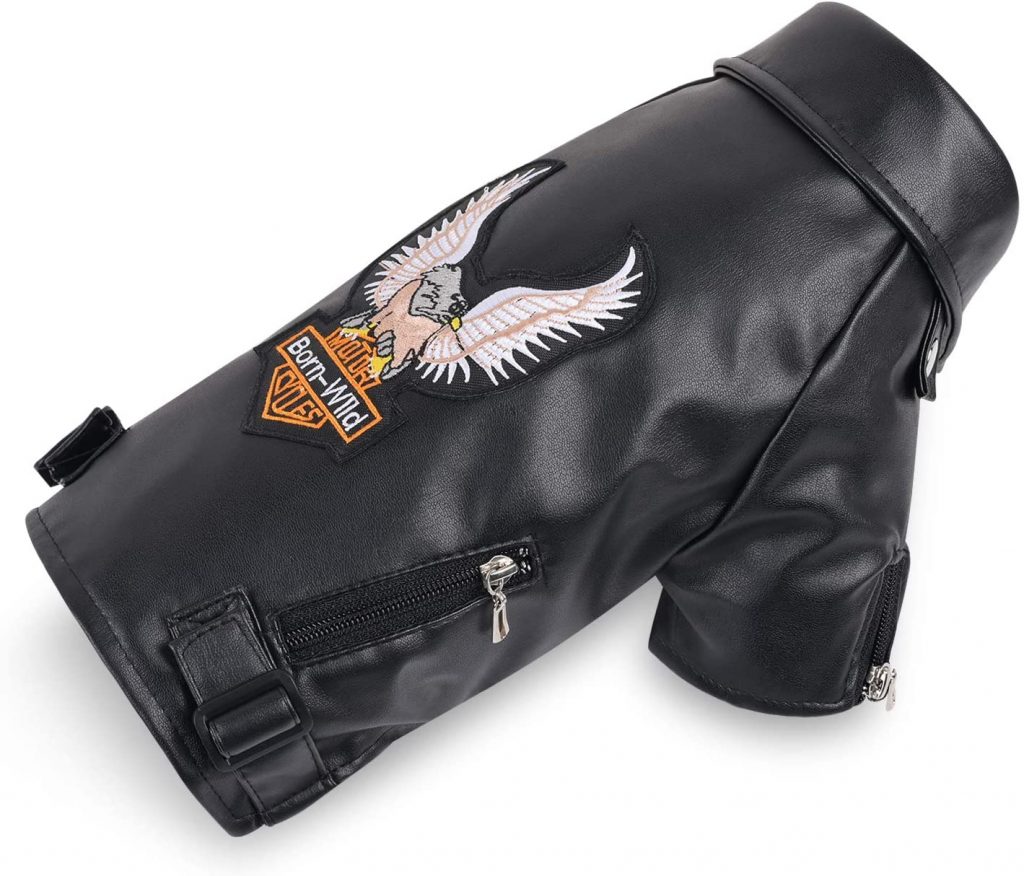 Also great
A fantastic leather jacket to keep your dog safe from with wind and rain on your next adventure.
The PetOne is a stylish PU leather jacket with an embroidered patch, perfect for making a big statement. The jacket comes on and off easily with the use of a zipper. To keep your dog warm during the cooler months, the jacket is layered with cotton and is waterproof. You can machine wash the jacket, though it needs to be hung to dry.
Cons
Only 4 sizes
Some complain it's ill-fitting
---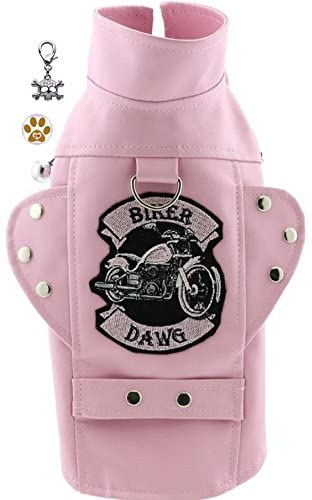 Also great
This vibrant doggie jacket includes buttons and a skull charm for even more authenticity.
While definitely more of a vest than a jacket, the Doggie Design leather jacket is extremely well-tailored. The vegan leather comes with an intricate embroidered patch on the back and fun studs. Even better, the vest includes a biker skull charm for a collar and a button pin for a leash or the jacket. Plus, the Doggie Design jacket comes in 10 sizes, giving you plenty of options to find just the right fit for your pup.
Pros
Comes with accessories
Varying sizes
Cons
More of a vest than a jacket
Runs tight around the neck
---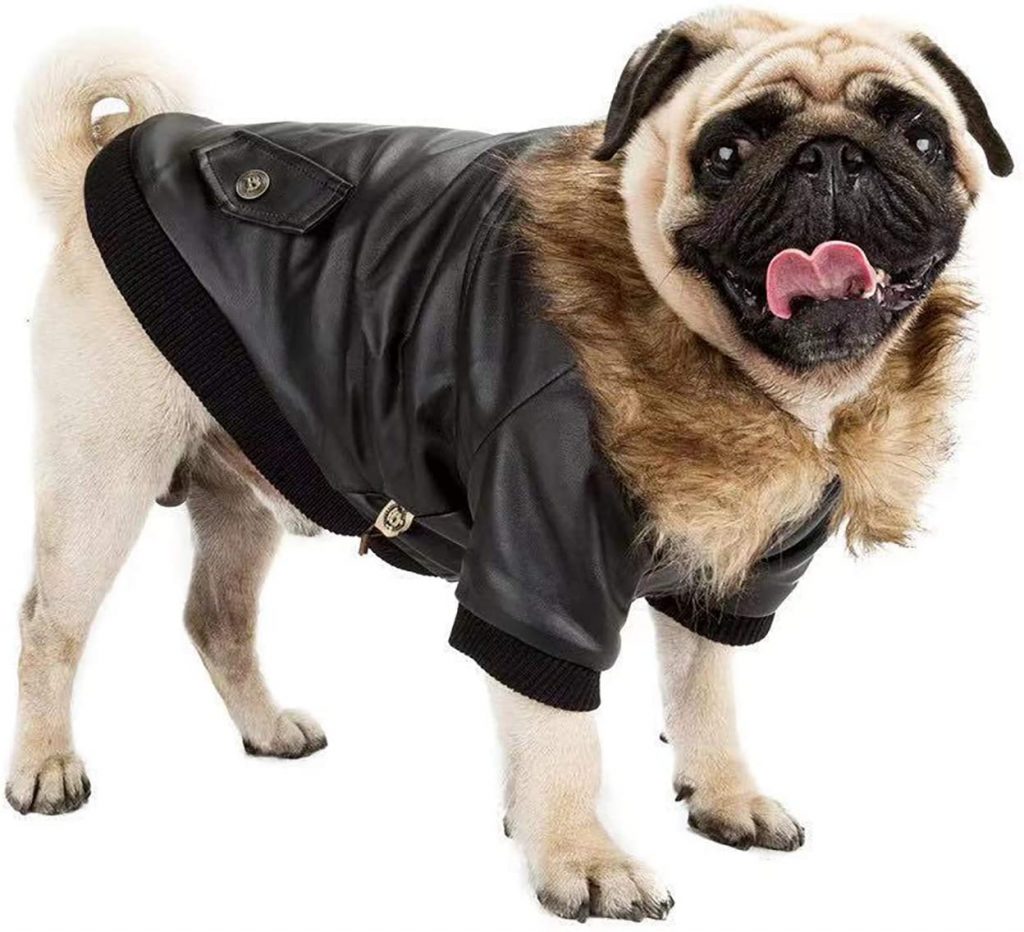 Also great
Your small dog will be ready for a night on the town with this stylish and comfortable leather jacket.
With a wild fur collar, the GabeFish leather jacket is all about making a statement. Designed for smaller breeds, the dog leather coat is lined with a soft fur, adding extra warmth to the PU leather jacket. Unfortunately, measuring for this dog leather jacket can be tricky, so you'll want to follow the very detailed instructions.
---
Also great
A vintage jacket just for your pup.
Coming in six different sizes so all pups can try it out, this vintage, classic jacket makes a huge impression. The snug jacket includes a warm lining and collar, as well as several patches. We had to include this jacket on our list because it comes with so many wonderful extras, like a leash ring and reinforced stitching.
Pros
Includes leash ring
Faux fur for warmth
Cons
Runs small
Newer product with fewer reviews
---
What makes a good dog leather jacket?
We looked at a lot of different leather dog jackets to make our picks. We also want to be as transparent as possible about our selection process. So, to keep things clear, here's what we looked for in our leather jacket choices.
Material
While real leather works for human clothes, it can be a real pain to maintain and clean. So, for our dog leather jackets, we looked for fake leather, or PU leather, options. Not only is PU leather more durable, it's also easy to clean.
Lining
Going hand-in-hand with material, we checked the lining of the leather jackets for dogs. There are some dog jackets that are purely for fashion, but if your dog needs to stay warm, you'll want that extra layer. We made sure to add plenty of options with a warm material interior.
Size options
We want our dogs to be comfortable in their leather jackets, which is why having multiple size options is so important. In order to get the best fit for your dog, you need clear measurements and varying sizes.
Additional features
We also looked at leather jackets that had a little extra something. Many of our choices include badges, leash pins, or even matching leashes!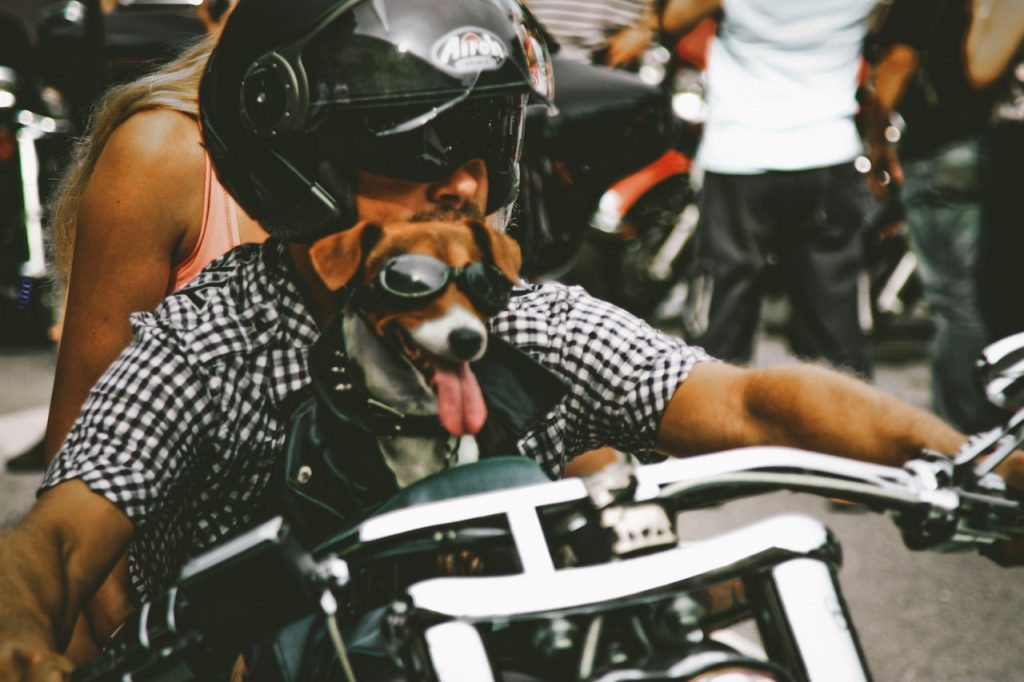 ---
Genuine leather or PU leather?
We usually prefer to keep things real here at The Pets Master. However, when it comes to dog leather jackets, PU leather actually works better.
Genuine leather feels amazing and might even last longer if handled carefully. However, real leather needs to be meticulously maintained and can't be exposed to rain or mud too much.
We opted for PU leather for our dog leather jackets because it's a much more durable material. You don't have to worry about your pup rolling in the mud or playing in the rain with a PU leather jacket.
Real leather is also much more expensive. We understand buying yourself an expensive leather jacket, but dogs have the tendency to ruin their clothes. It's more cost effective to purchase PU leather jackets for your dog.