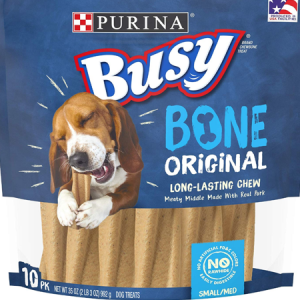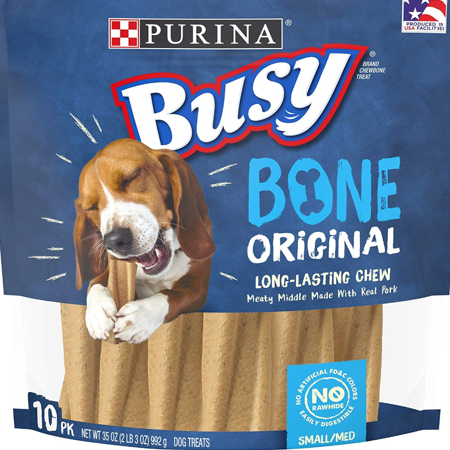 Dogs are man's best friends no doubt and as such we must do all in our power to keep them satisfied and happy. One of the ways of doing so is by giving them treats and meals that are guaranteed to have them wagging their tails and licking their lips in excitement.
Purina Busy Bone features long-lasting bones as well as chew treats. They are available in various sizes, shapes, and textures. They are a simple and healthy way to delight your dog. This article reviews the product.

Tips for getting the most out of a dog chew
Before we talk about Purina Busy Bone, it is important to know a bit about busy bones in general.
Busy bones are simply bones that are chewable and keep your dog busy and happy for a long time. They could come in various forms such as bulky sticks, beef kneecaps, lamb horns, elk antlers, raw bones, beef ribs, beef horns, rubber chews, nylon chews, yak cheese (also called Himalayan dog chews), rope chews, rawhide and so on.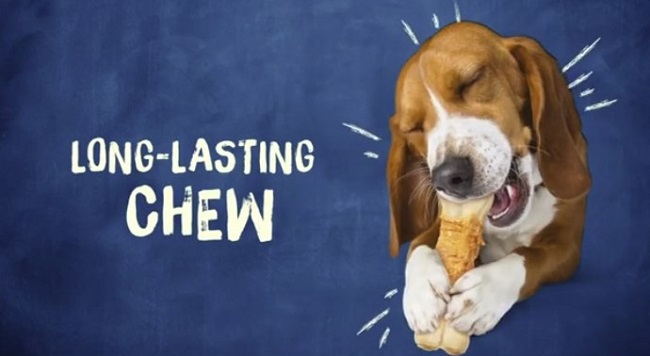 While they are all creative ways of keeping your dog busy, it's not enough to just give your dog just anything to munch on as it can affect your dog's health.
Below are tips to follow to get the most out of busy bones and other dog chews:
Duration: Do not allow your dog to chew on one type of busy bone for too long. This is because the chew tends to soften with time and won't last long that way
Purchase Quality Chews: Purchase dog chews with high quality. This cannot be determined by merely looking at the product but considering other factors such as ingredients, packaging, and the price too (the higher the price, the higher the quality)
Change Your Dog's Chew Occasionally: Do not make the chews easily available to your dog all the time, especially when you are unavailable to supervise. By changing the chews occasionally, you excite your dog and make him happier.
Appropriate Timing: Chews can serve as a dog sitter when you need to get other things done, however, you mustn't overdo it. When these chews are given occasionally rather than frequently, dogs tend to take it more seriously and be more focused, thereby giving you all the time you need to do other things.
Incentive: If your dog isn't warming up to the chew, you could entice him with incentives such as soaking a rawhide in meat broths.
Select The Right Size Of Chew: Selecting the right size of chew to feed your dog is important for his safety and well-being. Most often, busy bones and other chews come with recommended sizes that should be adhered to.
Features of Purina Busy Bone
Purina Busy Bone enables you to provide chew-rific fun to your dog. It is made of long-lasting bones and chewable treats. Each of the pack features a simple way of delighting your dog.
You can select from the chews which are made from beef-hide with no rawhide. This beef-hide is gotten from farm-bred cattle or other easily digestible rawhide options. It is designed to last very long thereby ensuring there is a constant source of fun for your dog.

This product, which is a playful chew time challenge, gets your dog wagging his tail and keeps him blissfully busy all day long. There are various forms of Purina Busy Bone. There's the long-lasting beef-hide chew bone, which is usually wrapped with chicken jerky for ease of digestion, and other options that will be outlined later.
So, whether your dog likes a classic chew bone with savory centers such as red meat, or perhaps durable Chewnolas that are coated with brown rice and oats, or beef-hide chews coated with real chicken jerky or just Twist'd with Beggin', there is sure to be something he will like.
Purina Busy Bone is not made with rawhide rather with high-quality ingredients and has no FD&C colors thereby making it a very healthy treat for dogs.
For each product, you get the value of ten chew bones which can also be resealed (in case your dog doesn't finish it all at once). It has a fun twisted shape with a meaty center. It's not heavy as it only weighs 35 ounces.

Ingredients
Ingredients used in its production include:
Citric acid, calcium carbonate, Yellow 6, Blue 1, BHA, BHT, Yellow 5, Red 40, natural and artificial flavors, gelatin, sorbic acid, added color, salt, phosphoric acid, rice, wheat gluten, wheat flour, hydrogenated vegetable oil, pork, corn germ meal, animal fat preserved with mixed-tocopherols, sugar, hydrogenated corn syrup, water, brewers dried yeast, poultry by-product meal.

Direction for Use
Purina Busy Bone should be fed to dogs as treats and not as a main meal. The caloric intake from this treatment is not to exceed 10% of your dog's total caloric requirement. However, if the treat is given, then the amount of main meal should be reduced accordingly. It's important to monitor your dog to ensure the treat is well-chewed.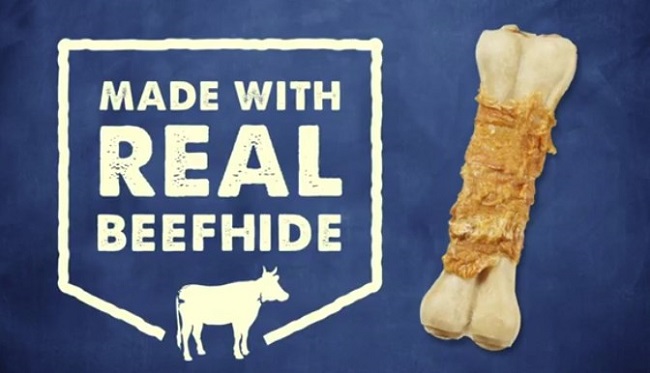 It should be noted that this treat is not suitable for puppies that are under the age of one or an adult dog weighing less than 13 pounds. Also, ensure the treat is placed on a clean plate. There is also the need to provide clean, potable water alongside the treat.

Varieties Available
It is available in varieties. These include:
Busy Rib-hide
Busy Chewnola
Busy Jerky Twists
Busy Jerky Wraps
Busy Roll hide
Busy Bone Original
Busy Beggin' Twisted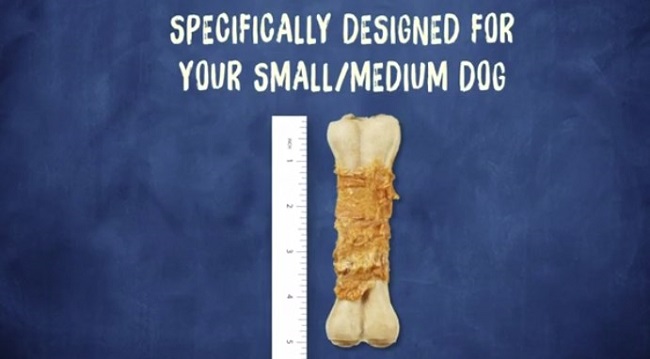 Size Available
It also comes in various sizes such as:
Toy Breed
Small Breed
Medium Breed
Pros
It is easy to digest
It is free from rawhide
It is produced in Purina-owned facility located in the U.S.A
It gives a long-lasting chew
Has no artificial FD&C colors
Helps in cleaning your dog's teeth
It is made with real beef-hide gotten from farm-raised cattle
Cons
Cannot be served as a main meal
May be too big for some dogs
Requires human supervision
Conclusion
Not only do Busy bones and other chewable treats keep your dog busy; they also make them extremely delighted while at it. We particularly like that Purina Busy Bones are made from high-quality materials and that they are long-lasting. However, as earlier stated this should not replace main meals. So, go ahead and treat your dogs to chews, this makes a happy dog and by extension, a happy you.