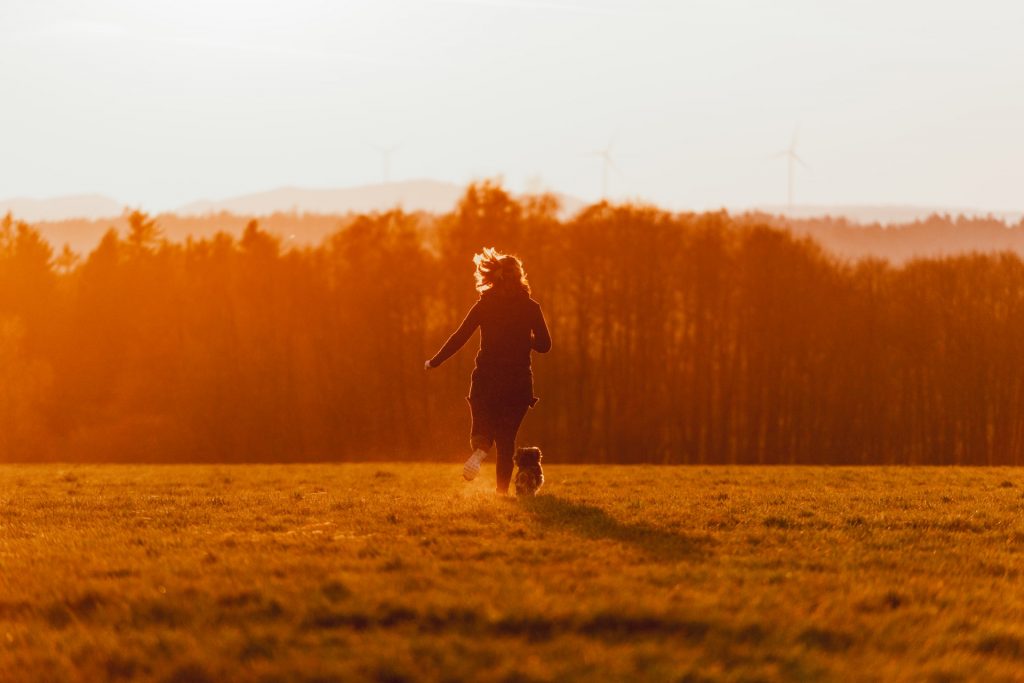 We love happy, healthy dogs here at The Pets Master. And recently we learned about the benefits of dog treadmills.
Dogs can improve their stamina and muscle strength by spending time on a treadmill. Exercising on a treadmill can also support healthy weight loss, preventing obesity, and give your dog a little extra mental stimulation.
There are so many reasons to try out a dog treadmill, we decided to do a deep dive and research the best options available.
Can a dog treadmill really help me and my dog?
Yes!
A dog treadmill really can help your dog. There are so many reasons why supplemental exercise on a treadmill can improve the mental and physical health of your dog. The added exercise keeps dogs fit and healthy. Plus, the focus required to walk in rhythm on a moving treadmill keeps your dog mentally engaged.
A dog treadmill is a great way to help your dog stay mentally and physically fit.
Jump to a section
Our top picks
The selection process
Types of dog treadmills
How to train your dog for a treadmill
How will a treadmill help your dog
Can dogs use human treadmills?
Are dog treadmills good or bad for dogs?
At what speed should my dog be on a treadmill?
---
Our top picks
We've put together a list of some of the best dog treadmills to keep your dog happy and healthy.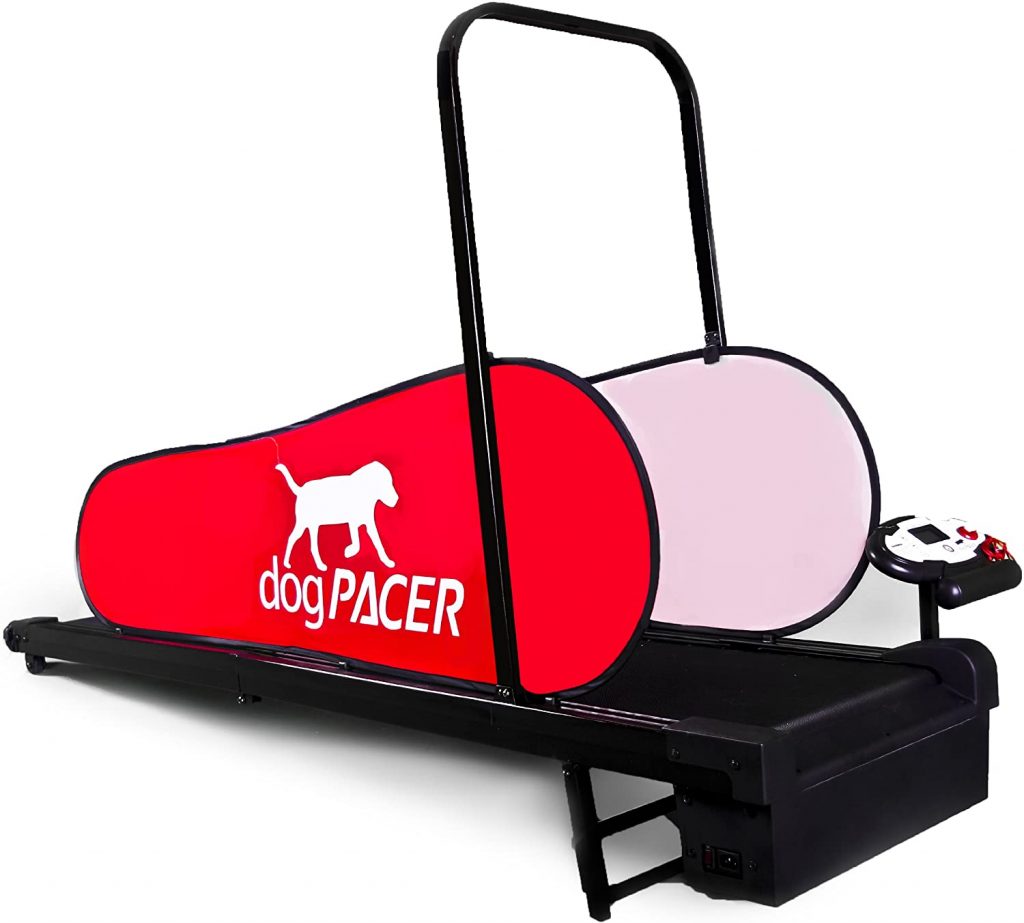 Best Overall
Save time and get the best dog treadmill on the market
Our absolute favorite dog treadmill is the dogPacer 3.1. This fantastic machine was created to keep your dog healthy. And it really has the features to do the job well.
One of the things we love about the dogPacer LF 3.1 is its versatility. The treadmill can be used with dogs up to 179 pounds, making it one of the options on this list for bigger dogs. To match this weight class, the treadmill is slightly longer in dimension, meaning it is ideal for medium to large dogs.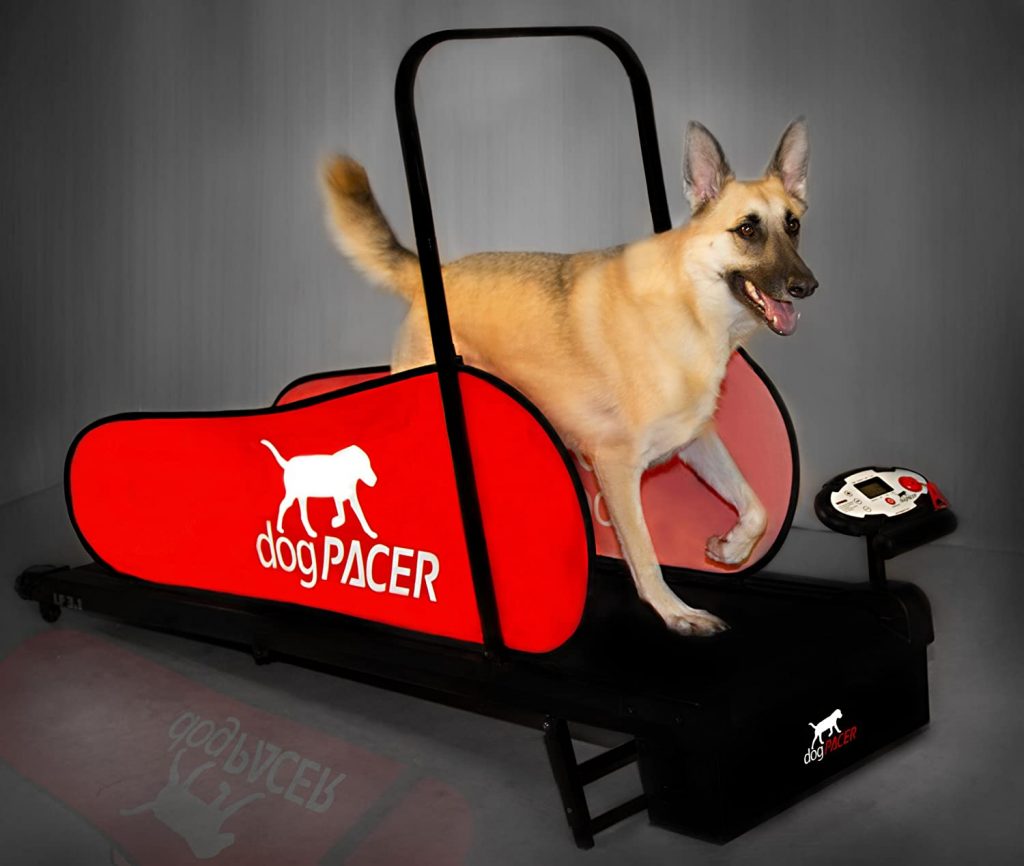 Safety is a huge concern for us at The Pets Master and dogPacer really does rise to the occasion. The dog treadmill includes safety screens, which have been shown to help with focus for dogs new to this type of exercise. The safety cord also stops the treadmill quickly in case of emergency.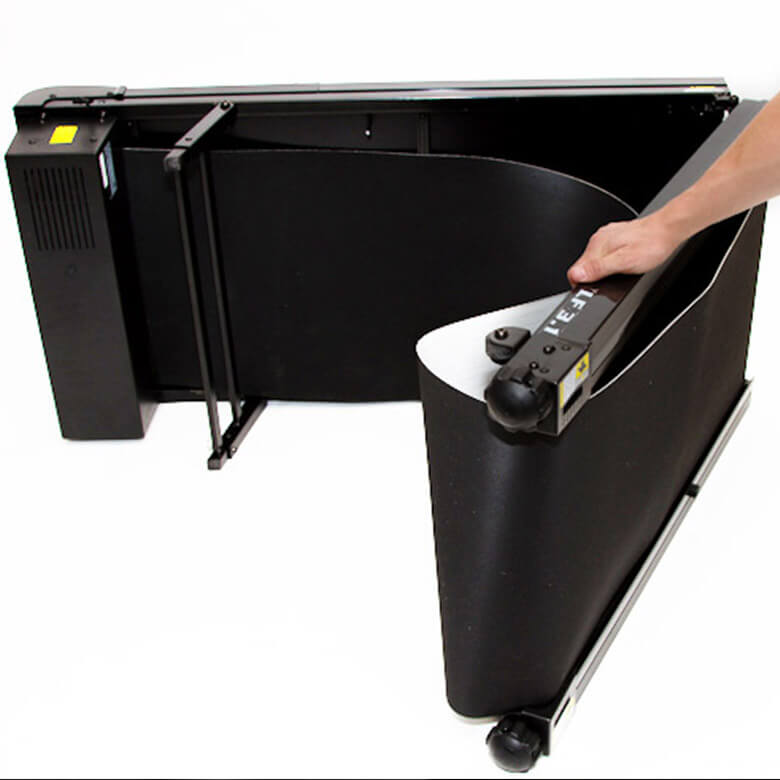 The dogPacer has a wide range of speeds, making it perfect for walking, trotting, or running dogs. The 20 amp motor powers speeds of 0.5 to 7.5mph, going up in slight increments of 0.1mph. For smaller dogs and those starting out on a dog treadmill, this range of speed is a great way to prevent injury.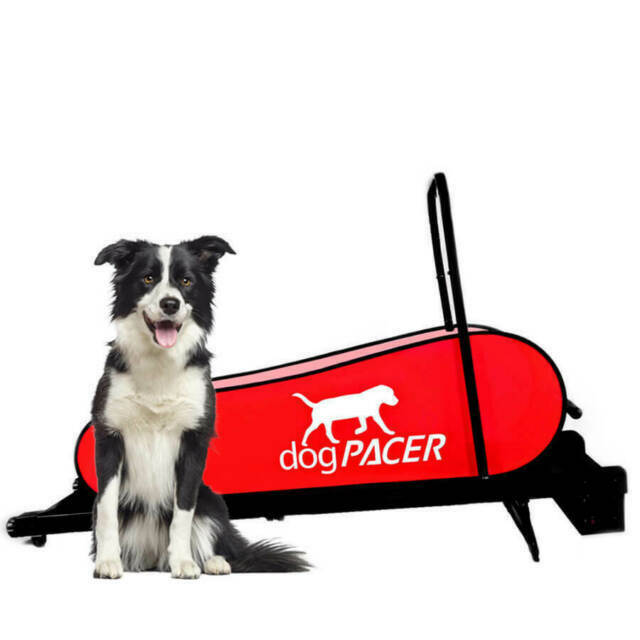 We're also huge fans of the extra features that come with the dogPacer LF 3.1. The treadmill has several different incline angles for additional difficulty. And the exercise machine comes with pre-programed exercise programs, though you're always welcome to create your own. And pet parents can't stop raving about how quiet the dogPacer runs, another benefit!
Pros
Speed and incline range
Great for most dog sizes
Folds for easy storage
Spacious running area
Multiple safety features
Cons
Quite heavy – 84lbs
Motor gets louder at faster speeds
---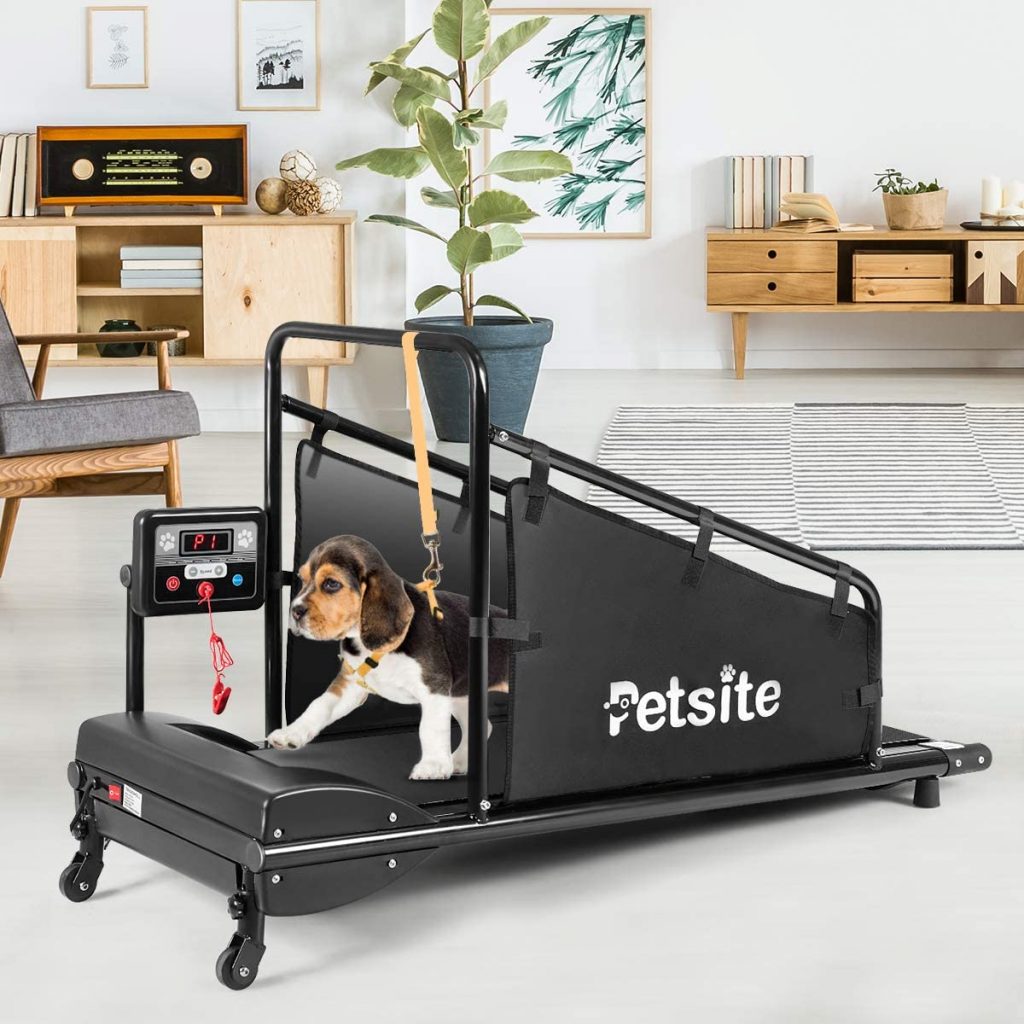 Best for second choice
An incredible pet treadmill for small to medium-sized dogs
There are so many bonus tech features in the Petsite Dog Treadmill. The durable exercise machine comes with a remote control, so you can oversee your dog's exercise from across the room. The LCD display allows you to keep track of the speed, calories burnt, and distance from each exercise session. You can also set a specific length of time for your pup's workout.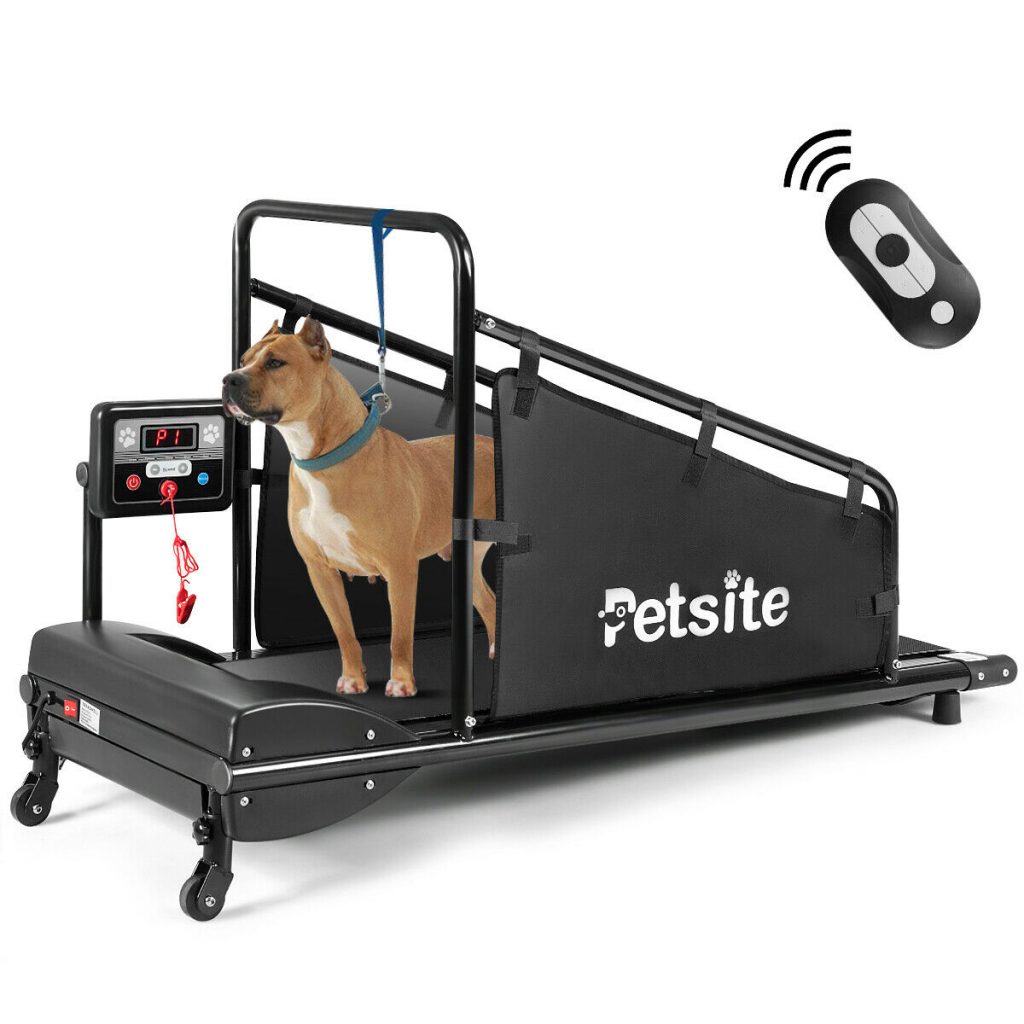 The Petsite treadmill is technically for small to medium dogs, but also has a weight capacity of 200 pounds. If you have a heavier dog with a shorter stride, the Petsite will definitely meet their exercise needs. The dog treadmill also has 3 training modes, 12 preset exercise programs, adjusts in height, and reaches 7.5mph.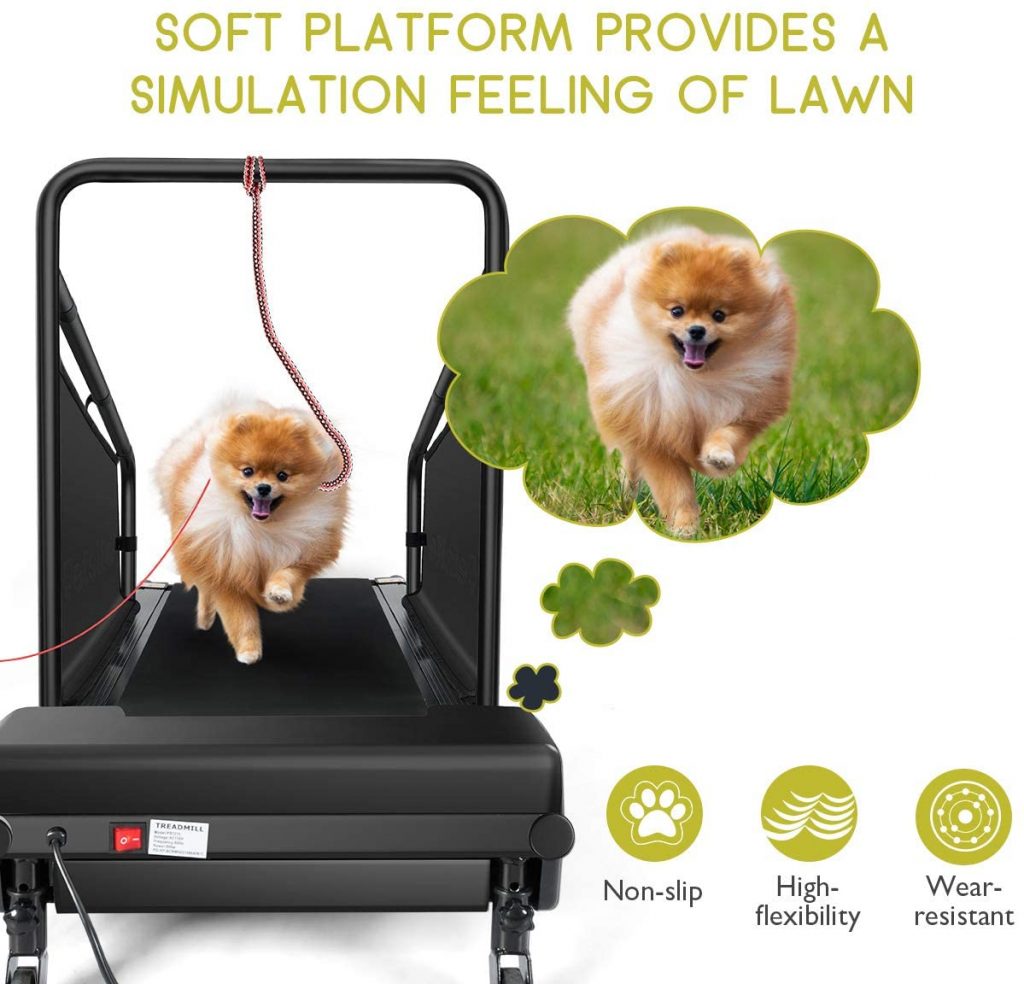 In terms of safety, the Petsite also excels. The pet treadmill includes safety screens, as well as a safety key to quickly stop the running belt. The included top crossbar provides an anchor for a leash and dog harness, though we recommend staying in the room whenever your dog is on the treadmill.
Pros
Lightweight – 47.5lbs
LCD information display
Includes preset exercise programs
High weight capacity
Cons
Doesn't fold for storage
Shorter running area
Difficult to assemble
---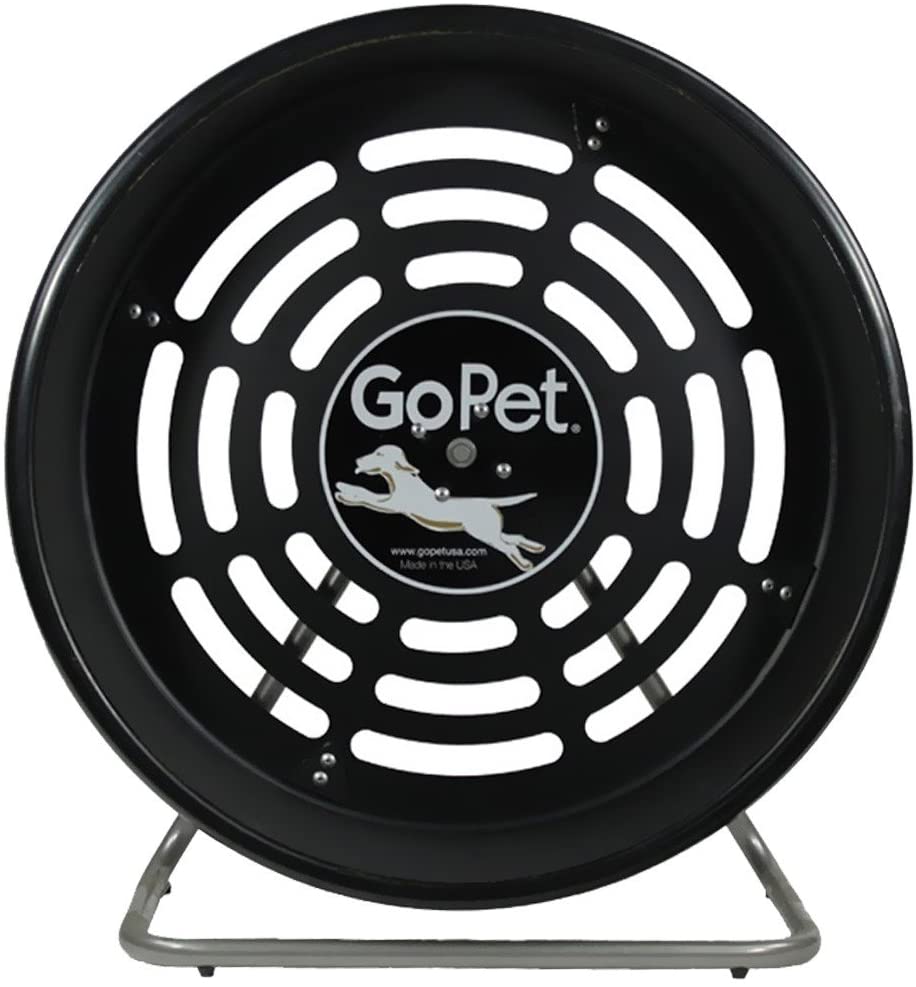 Best self-propelled dog treadmill
It's a hamster wheel… For dogs!
While definitely different from our other powered options on this list, we wanted to include a simpler, manually run dog treadmill. One of the biggest benefits of a self-propelled dog treadmill, specifically the GoPet Treadwheel, is it allows your dog to set the pace for their exercise.
The GoPet Treadwheel comes with a cushioned, durable matted surface, which is easy on the paws. With its softer surface and pet-powered capabilities, the GoPet really is a wonderful choice for smaller dogs who struggle with their health or weight.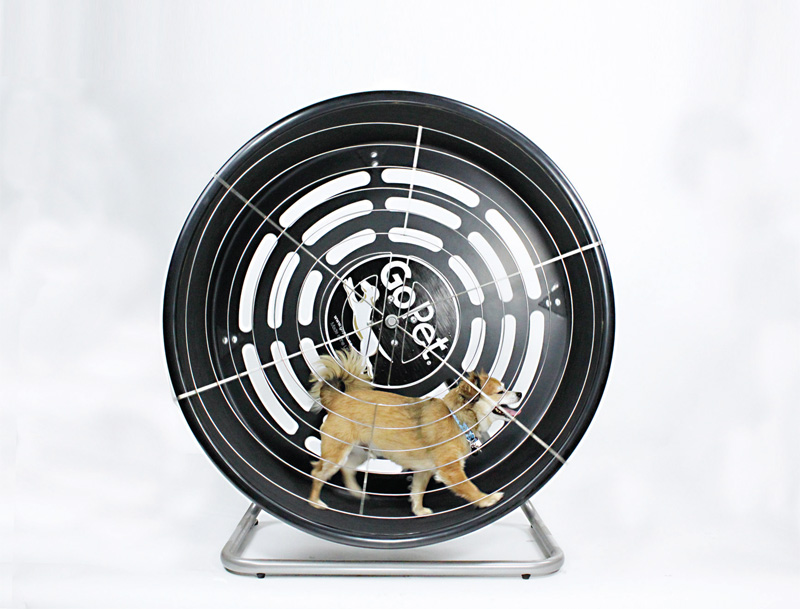 The GoPet Treadwheel includes a training door for when your dog is getting used to the wheel. Once your dog understands how to get in and how to use it, you don't even need the door! However, the smaller wheel only holds dogs up to 25lbs and has a smaller dimension than every other option on this list.
Pros
Self-propelled
Padded wheel for comfort
Allows for a natural pace
Cons
Only works for small dogs
Might require more training and persuading
More expensive
---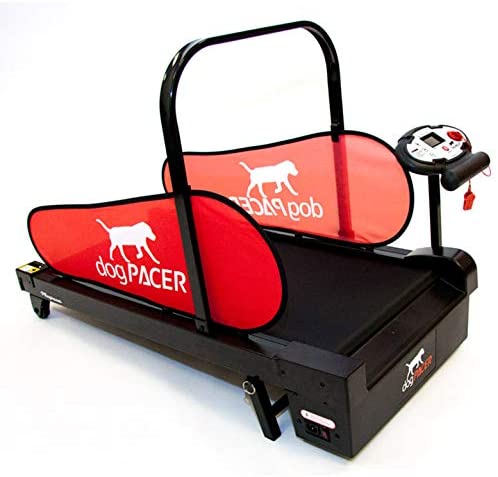 Best for small dogs
The absolute best treadmill for your littles of fur babies
No, you're not seeing double.
We've put another dogPacer treadmill on this list because they really do create some of the best dog treadmills on the market.
The dogPacer MiniPacer is a pet treadmill crafted specifically for smaller dogs, though it also works for medium pups. And every detail of the MiniPacer shows it was made for smaller breeds, which is something we love and appreciate.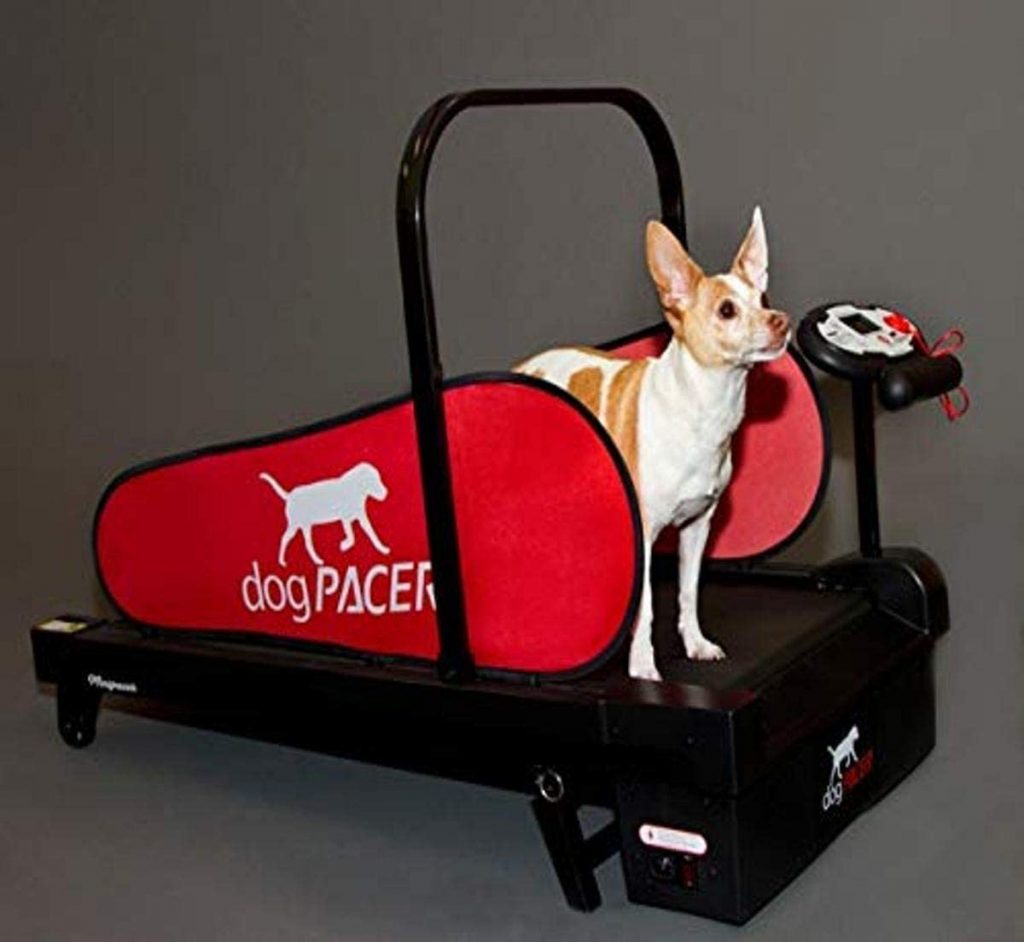 The MiniPacer has a weight capacity of 55lbs and comes with a track designed for smaller strides. Like all dogPacer treadmills, the MiniPacer starts at 0.5mph and goes up to 7.5mph in 0.1mph increments, giving you so much control over the pace you set for your dog. And the safety features are some of our favorites, too, with the usual safety fences and safety key.
The features of the MiniPacer really set it apart from the competition. First, it's extremely quiet despite having a powerful motor. And the included screen comes with several pre-set fitness programs. The treadmill folds up and can be packed away easily, especially since it's so light at only 47.6lbs.
Pros
Lightweight
Designed for small dogs
Pre-set fitness programs
Quiet motor
Cons
55lb weight limit
Smaller running area
Issues with attaching the safety screens
---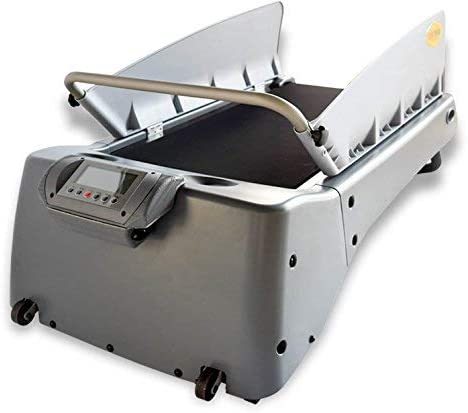 Best compact dog treadmill
A small dog treadmill for small dogs
With its convenient LCD screen and an ingenious treat holder, the DogTread premium small dog treadmill is small, but mighty. The running platform is quite short, making it ideal for the stride of smaller dogs. The weight limit on DogTread is only 30lbs, so it was specifically designed with smaller breeds in mind.
We're big fans of keeping track of your dog's exercise, which makes the LED screen so convenient. The screen allows you to track time, distance, and the speed of your pet's exercise sessions. The treadmill is compact and light, plus it can be rolled and easily stored away.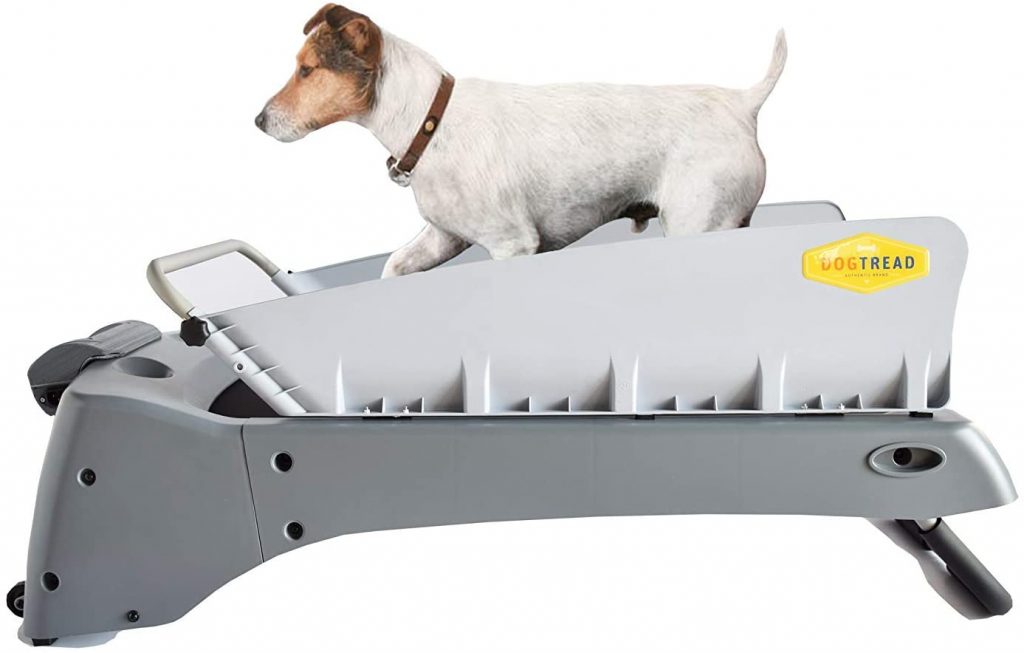 The safety shields included with the treadmill work to keep your dog focused on exercise, while the start countdown helps prep your pet to begin. The treadmill comes with a remote you can use to adjust the speed. The DogTread Premium Small Dog Treadmill does have incline options, but you need to adjust it manually.
Pros
Compact and small
Lightweight
Recessed treat holder
Cons
For small dogs only
Incline is manual
Complaints about assembly instructions
---
Our full and careful selection process
We take our recommendations very seriously, which is why we have a specific selection process. The treadmills we recommend for your pets were reviewed and carefully selected based on a few key factors.
Safety features – At The Pets Master, we do not recommend products we wouldn't use ourselves, making safety features one of the most important aspects of these reviews. We made sure our choices had features like protective sides and safety cords.
Speed – We examined the speed options of each treadmill to make sure they were in the ranges recommended by pet experts. Too slow and your dog will get bored. Too fast and your dog could get hurt. We made sure the treadmills on our list had specific speed ranges that increased in safe increments.
Weight specifications – In order for a dog treadmill to work, it needs to fit your specific dog. We paid close attention to size and weight specifications, making sure there were ranges listed for each machine.
Bonus features – We also paid attention to the bonus features that came with these dog treadmills, like whether they could be folded and put away. Or if they had an incline. We wanted to make sure you got the most features for your money.
---
Types of dog treadmills
There are generally 3 types of dog treadmills. Each one has its benefits and knowing your options will help you pick the treadmill that will work best for you and your dog.
Powered treadmills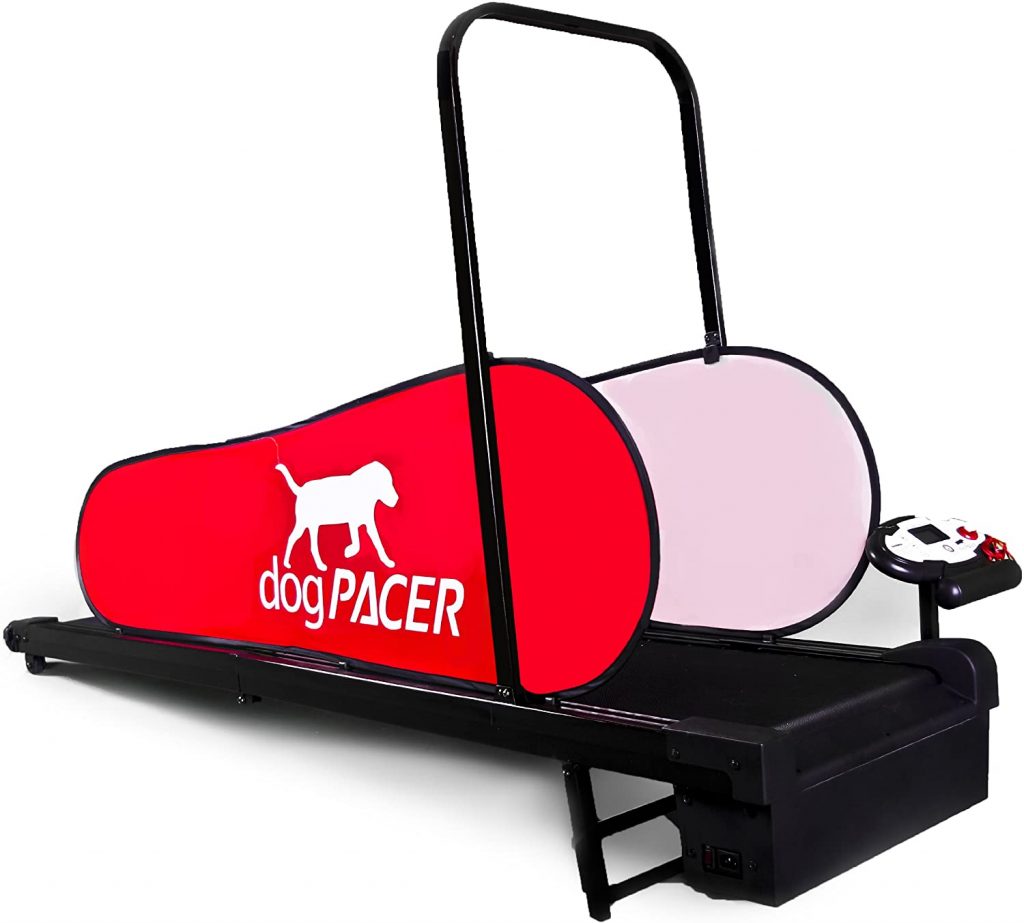 Considered the most reliable of dog treadmill types, powered treadmills run with a small motor. Like treadmills for humans, these machines have helpful features, like speed options, inclines, or even trackers.
While powered treadmills can be louder, they are considered extremely safe if used as directed.
Self-propelled treadmills
As the name suggests, self-propelled treadmills are those that don't have a motor. There are several manual treadmill options available, from slat mills to carpet mills. While these treadmills allow dogs to set their own pace, they are much harder to get moving. They can also be very heavy and quite loud.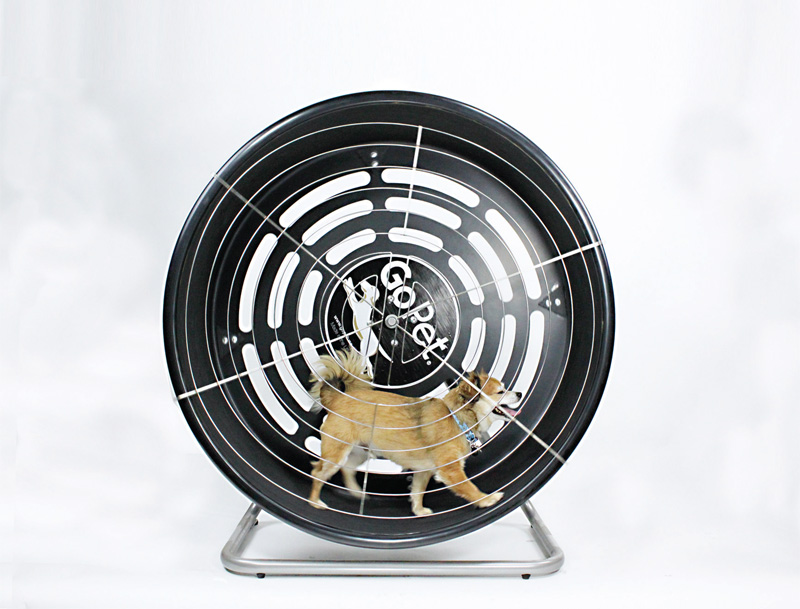 Hydrotherapy treadmills
Water treadmills, or hydrotherapy treadmills, are motorized treadmills within a tank of water. They are typically used for specific training purposes or for rehab. While these treadmills are low-impact and perfect for customizing your dog's exercise, they are also very expensive. Hydrotherapy treadmills are too expensive for typical home use and require a lot of upkeep.
---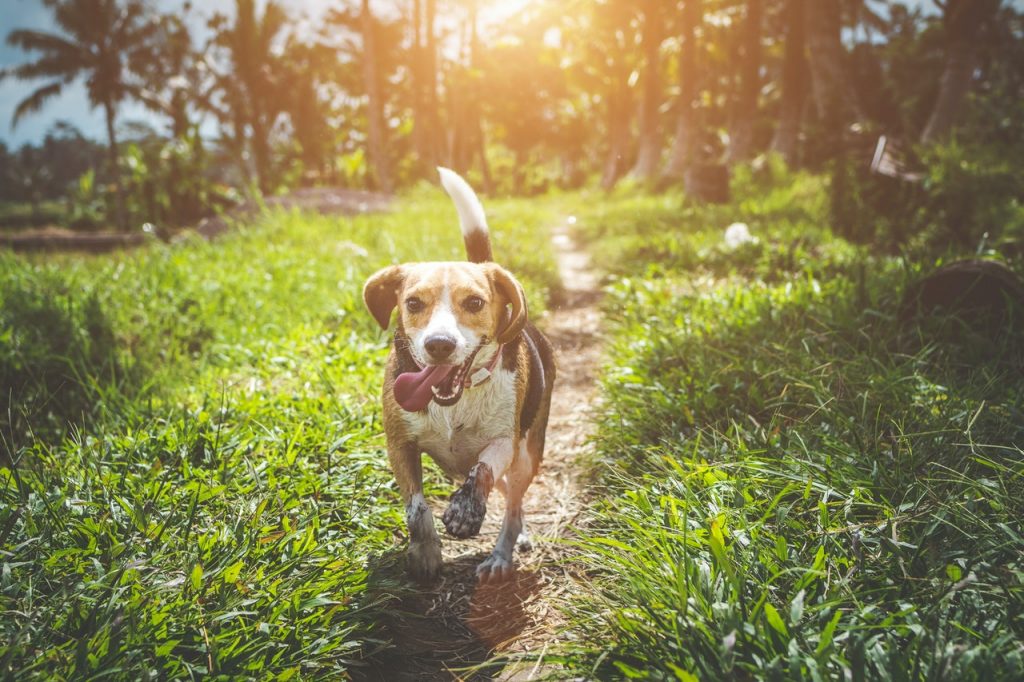 How to train your dog for a treadmill
Before you start using a dog treadmill, you'll want to make sure your pup feels safe around the machine. We recommend the following steps to get your pet treadmill-ready.
And remember: Lots of treats!
Introduce the treadmill
The first thing you want to do when getting your dog ready for training is to introduce the treadmill. It's a brand new, slightly weird machine, so give your dog plenty of time to sniff and figure out the treadmill.
You can encourage this process by placing treats on and around the unplugged treadmill.
Get on the treadmill
Keeping the treadmill off, work to get your dog comfortable stepping on and off the treadmill track. Make sure your dog is facing the right way from the beginning, to prevent confusion in the following steps.
Start walking
Once your dog is comfortable getting on and off the treadmill, start the track at the lowest speed. However, turn the speed up to a comfortable walking pace once your dog understands the track is moving. This will prevent confusion and an uneven gait.
Walk for several minutes (3-10) and repeat every day.
Increase the speed
Now that your dog knows how the treadmill works, you can increase the speed in small intervals to discover what speeds your dog most enjoys.
Never leave your dog alone on the treadmill and always watch for early signs of fatigue.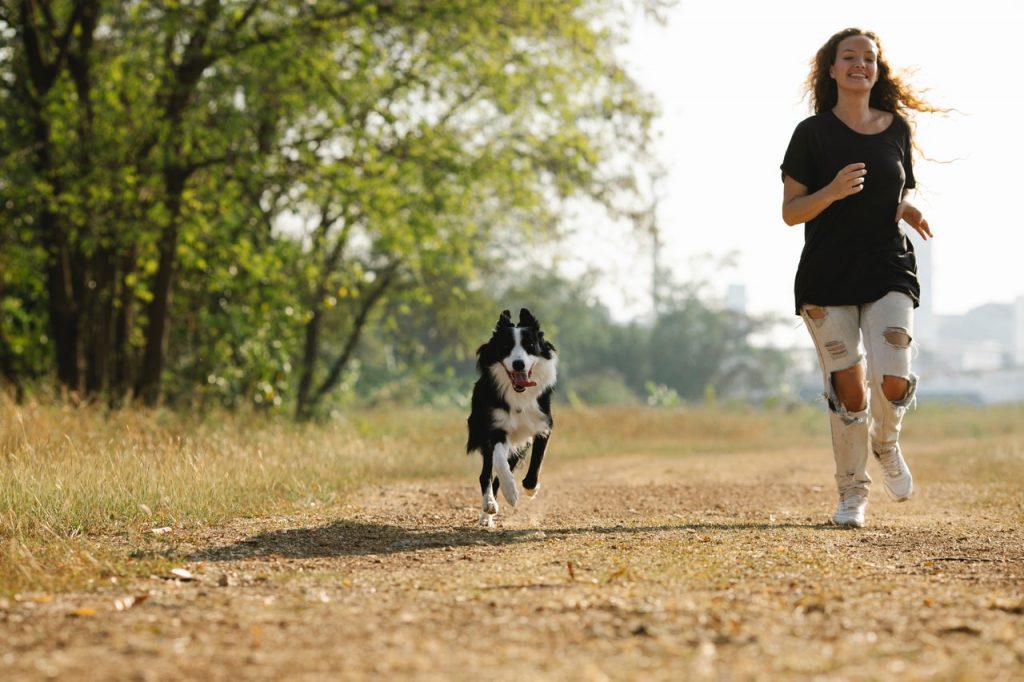 ---
How will a treadmill help your dog?
While it may seem a bit unorthodox to get your dog a treadmill, there are actually so many ways a treadmill can help your dog.
Just like humans use treadmills to stay in shape, dog treadmills can be used to help dogs stay or get into shape. Regular use on a treadmill helps dogs build up muscle mass, lose weight, and increase stamina. While regular walks are still a must, a few extra sessions on a treadmill can help keep your dog in fighting shape or help drop those pounds. And with more than half of American dogs being overweight, every little bit helps.
Dog treadmills are also a fantastic way to help overactive dogs or puppies burn off extra energy. As we've said over and over, using a treadmill should never be a complete replacement for walks outdoors. However, if you have an extra active puppy or high-energy dog, supplementing your walks with time on the treadmill can burn off that energy.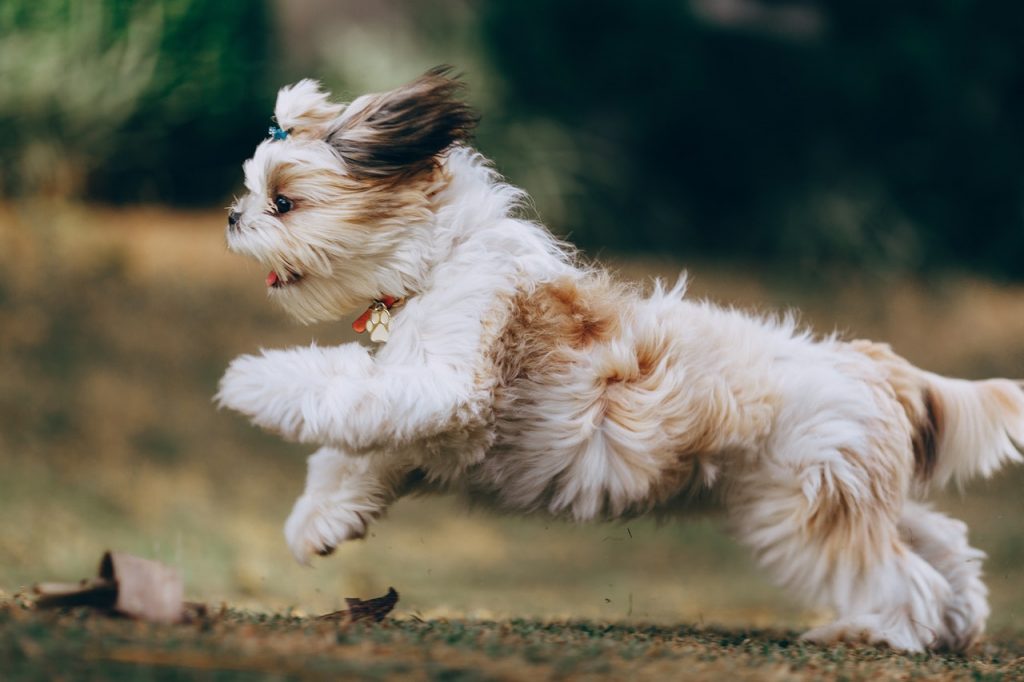 If your dog struggles with behavioral problems or interacting with other dogs, time on a treadmill might help. For dogs struggling with boredom or socializing with other dogs, extra exercise is a great solution. Adding between 15 and 30 minutes on a treadmill can curb boredom, and the behavioral issues that come with it. And more exercise can also decrease hyperactivity, allowing your pup to get along with other dogs better.
---
Can dogs use human treadmills?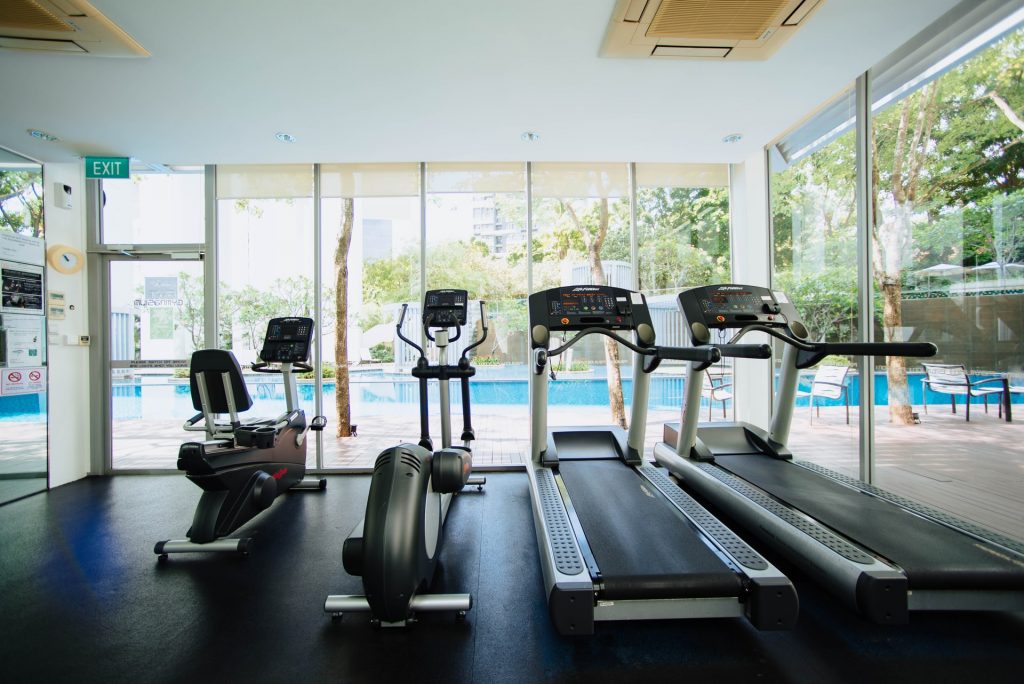 According to Pamela Johnson, CPDT-KA, most dogs can use human treadmills, except in the case of larger breeds. However, there are some precautions you'll want to take when walking your dog on a human treadmill.
First, you should never force your dog on a treadmill. You want your pups to view walking on the treadmill as a fun experience. So take the time to introduce your dog to the machine and give lots of treats to reinforce the positive.
Secondly, you'll want to start the treadmill at its slowest speed to give your dog time to get used to the pace. Make sure you hang on to the safety cord whenever the treadmill is going. And don't increase the speed until your dog feels confident at the current pace.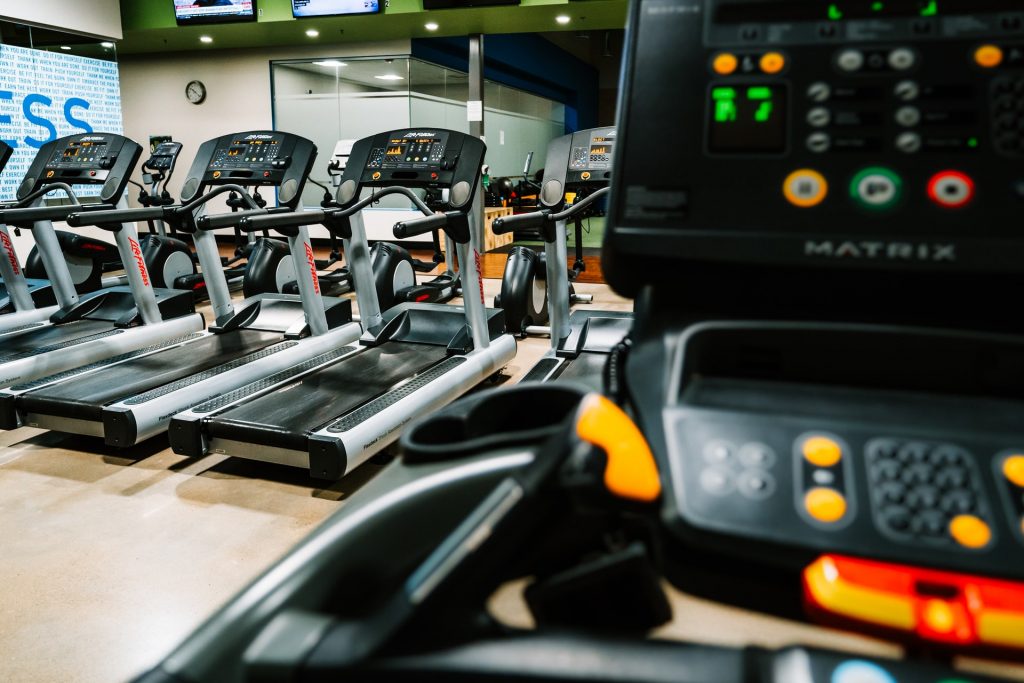 Finally, keep walks with your dog on a human treadmill short. It's better to do multiple short walks than one long session. Treadmills are great for exercise, but don't have all the adventures, smells, and stimulations as a walk outdoors. So, keep the sessions shorter and still try to spend time outdoors.
It's important to remember that while you can use a human treadmill for your puppers, dog treadmills are designed with additional safety features. Dog treadmills will have specific speeds and protective measures for pets that human treadmills lack.
---
Are dog treadmills good or bad for dogs?
Dog treadmills are great for dogs when used properly.
Mindy Tusko, an American Kennel Club certified dog trainer, says treadmills are great for supplemental exercise, but don't replace exercising outside.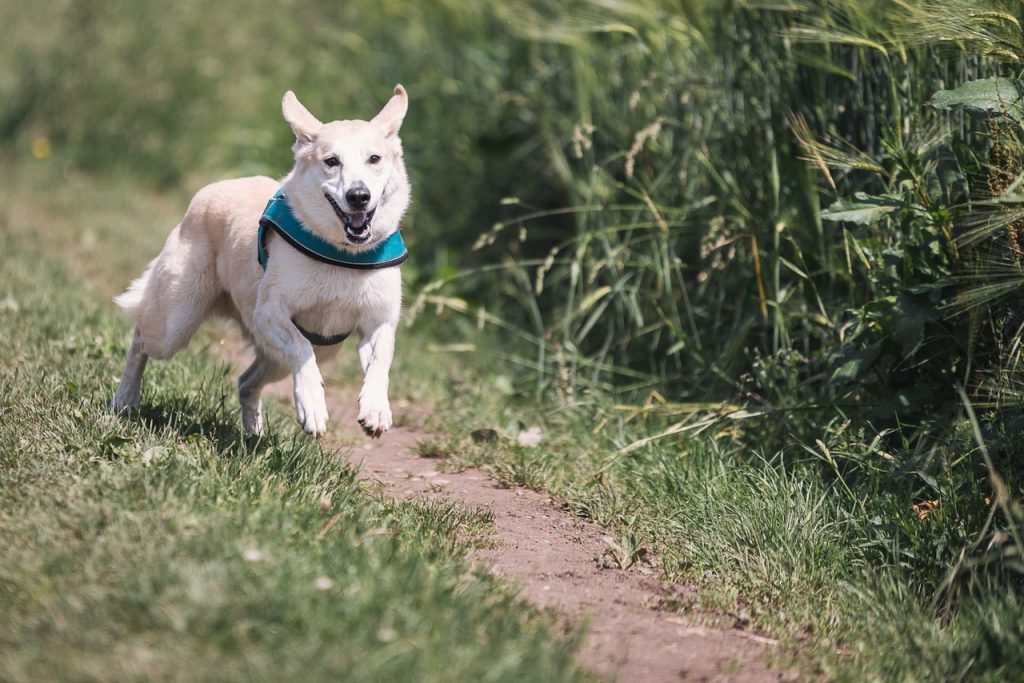 Treadmills are wonderful options for dogs who have to be in the house for extended periods of times, like during extreme weather. Treadmills are also great if you have a dog with a lot of energy that isn't quite satisfied with just walking outdoors.
Also, if you have an overweight dog or a dog recovering from an injury, learning to walk on a treadmill can be very beneficial.
---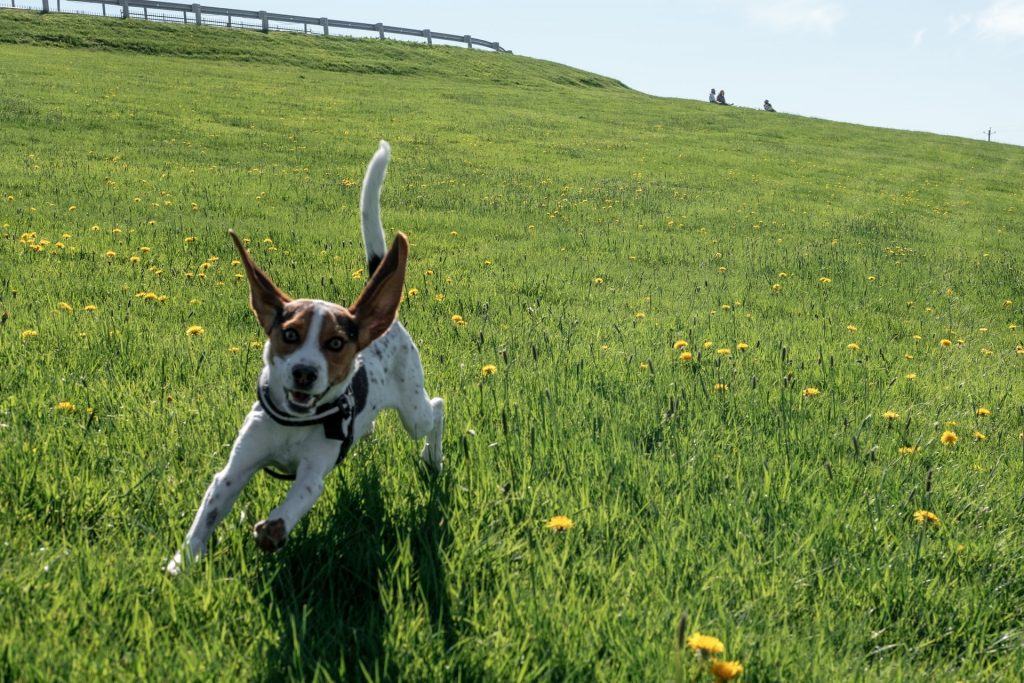 At what speed should my dog be on a treadmill?
As your beginning to train your dog to walk on a treadmill, you'll want to start out slow. Experts believe the starting speed of a treadmill should be about 2-2.5mph to begin.
If your dog is more accustomed to being on a treadmill, you can increase the speed gradually. However, the moment your dog looks uncomfortable or overly tired, decrease the speed or stop the treadmill completely.
The size of your dog will determine how fast your dog can comfortably go on a dog treadmill. However, the speed should never surpass 5mph at a jog or 6.5mph at a run.