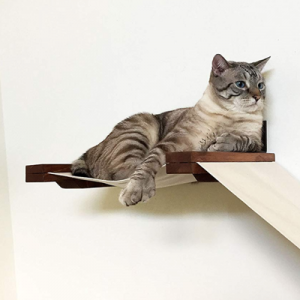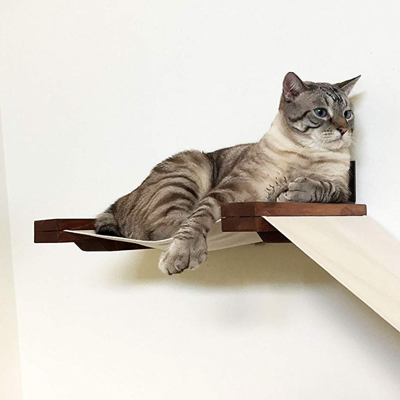 Cat owners understand how important it is for their kitties to have a soft and safe sleeping area. Since our domesticated felines are related to lions and cheetahs that love to lounge high up in the canopy of trees, house cats also love to perch up high and survey their surroundings.
Selecting a cat hammock for your fluffy friend to sleep in is an excellent substitution for a canopy-like nap.
There are thousands of cat hammocks available. With so many options available, finding the best cat hammock for you and your pretty kitty's needs may seem like a nightmare.
Luckily, we tasked our testing team members with trying out the top ten cat hammocks. We have also crafted a buyer's guide to help you understand which features are the cat's meow and which ones you can do without. Let's get started!
BEST CHOICE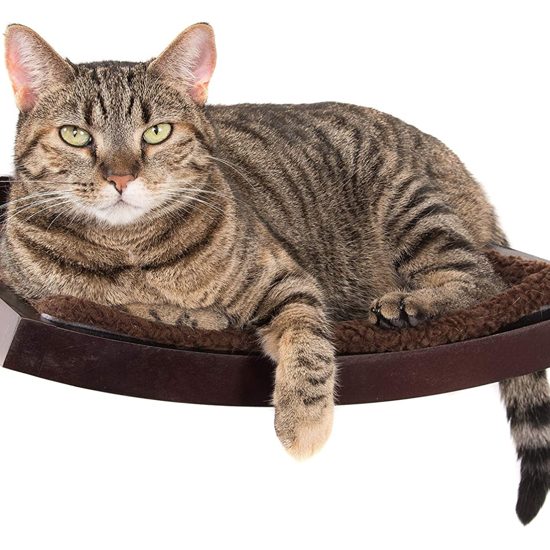 Art of Paws Cat Shelf
Best Cat Hammock in Our Rating
Unusual design suitable for any interior
Cat repeating shape
Reliable fastenings supporting any weight of the pet
E-book teacher for cats as a gift
Selecting the Best Cat Hammocks in May, 2023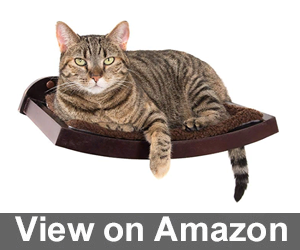 The Art of Paws Cat Shelf is a lovely and elegant option. The shelf has a curved wooden shelf with an elevated bed to keep your kitty perched up high.
Our testing team members loved having an option that let their kittens be able to sit up high and survey their surroundings safely and comfortably.
The Art of Paws Cat Shelf contains two different covers to allow you to personalize the shelf. Included are a fiber cover for cats that like scratching and a soft wool cover for those that prefer cozy lounging. This option is straightforward to put together and only took us about 5 minutes to set up.
Pros
Wooden shelf and bed system
Two different coverings
Easy to set up in less than 5 minutes
Great for apartments and condos
Cons
Not as well suited to larger cats who might slip off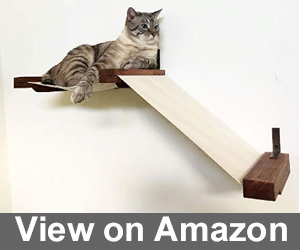 The CatastrophiCreations Fabric Raceway Hammock is a fun option for cat moms and dads with a creative streak. The pieces can be installed easily onto the walls.
You can set them up in so many creative and fun ways to entertain both the cats and your family.
The CatastrophiCreations Fabric Raceway Hammock system can be used as a bed or as a pathway.
Your cat can use the hammock to rest or they can easily leap on and off to their heart's content. Our testing team had a lot of fun designing paths and play areas using this hammock system.
Pros
Very durable and well-made
Pinewood and cotton materials to provide comfort and warmth
Can be used alone or with other wall and home cat furniture pieces
Fun to set up and watch cats use
Cons
Not as sturdy for very heavy cats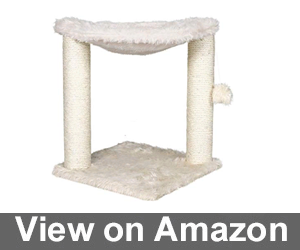 The Trixie Pet Products Baza Cat Tree System offers plenty of places for felines to play and perch making it an excellent selection for pet parents just starting out buying cat furniture. The set includes two scratching posts to tickle your feline friend's fancy.
Our testing team really appreciates the strength of the sisal scratching posts which hold up well even to heavy scratching.
The Trixie Pet Products Baza Cat Tree System also features a cozy hammock. The hammock is crafted from a plush material to keep your kitty sitting pretty. The system also has dangling toys to allow cats to play and explore.
Pros
Includes scratching posts
Ultra plush hammock
Includes dangling toy
Easy to set up
Cons
A tad bit difficult to keep clean since it is such a light color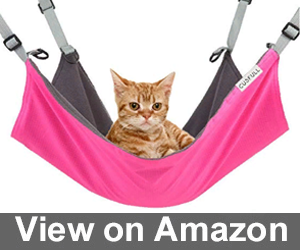 The CUSFULL Cat Hammock Bed is a very cute option for cats. The hammock is dual-sided with one cozy side for colder weather and a waterproof side for warmer weather. It is also available in several different colors to match any decorating scheme.
The CUSFULL Cat Hammock Bed is low on price but not on style and comfort. It's available in several colors and is easy to hang. It can be washed in the machine or by hand to make clean up a breeze.
You can attach the hammock to a cage, kennel, chairs, or many other spots making it a very smart purchase especially for cats that travel.
Pros
Adjustable and able to be utilized in many spaces
Easy to care for and clean
Dual-sided to provide comfort all year long
Well-made and inexpensive
Cons
We loved this choice and think you will too
5. UsefulThingy Cat Hammock: Wonderful and Inexpensive Hammock for Cats with Cages or Kennels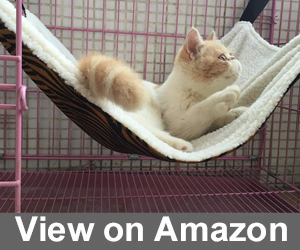 The UsefulThingy Cat Hammock is a wonderfully priced option. The hammock offers a cozy bed for kitties to relax and lounge in.
It made from soft fleece to provide warmth and comfort to your furry friend.
The UsefulThingy Cat Hammock attaches quickly to crates or cages.
The hammock has very strong clips, so it works well even for fluffier cats. It's also easy to wash and care for.
Pros
Inexpensive price
Easy to use and clean
Stays in place with strong clips
Dual sided
Cons
We enjoyed using this hammock and think you will too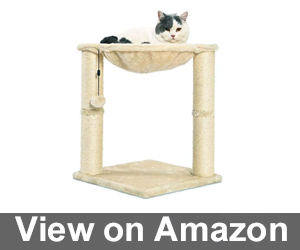 The AmazonBasics Cat Scratching Post and Hammock features two scratching pillars to allow cats to scratch and stretch. The hammock offers a nicely elevated spot for your little lion to survey their kingdom.
Our testing team was appreciative of finding a lovely option that also lets cats scratch so they won't tear up carpets or couches.
The AmazonBasics Cat Scratching Post and Hammock includes a dangling toy to entertain and delight.
The kitty furniture is crafted in a neutral tone that matches any decor. It is also priced extremely reasonably making it an excellent choice for new pet parents and those that are on a budget.
Pros
Terrific pricing point
Neutral color fits into any decor
Easy to set up and very durable
Dangling toy, scratching pillars, and a hammock all in one
Cons
An excellent option that we love and hope you will too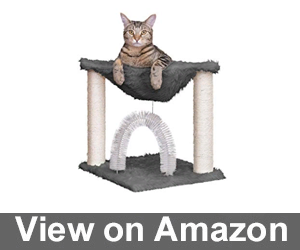 The Furhaven Pet Cat Tree offers a bargain-priced option with lots of extras. The cat tree has two sisal wrapped posts for scratching and playing.
The tree also includes a grooming brush that is placed in an arch and allows cats to groom and scratch any itches.
The Furhaven Pet Cat Tree also has a hanging toy.
The toy is a cute little puff that your kitty is sure to love to bat around. The tree's bed is very comfy and will keep your pet happy while napping.
Pros
Easy to set up and durable
Several different color options
Perfect for helping cats groom themselves
Wonderful price point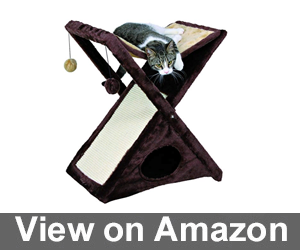 The TRIXIE Pet Products Miguel Fold and Store Cat Tower offers a lovely choice for cat parents that are short on space. The tower quickly folds up for easy storage when not in use or perhaps for when company is coming over.
Our testing team members were surprised by how easy it is to fold up the tower and set it up.
The TRIXIE Pet Products Miguel Fold and Store Cat Tower offers a spot for cats to scratch on its sisal covered surface. There is a soft and cozy hammock at the top for kitties to perch and rest. There are also plenty of spots to hide and play to keep your fluffy friend happy as can be.
Pros
Perfect for families that are short on space
Excellent price point
Sisal scratching surface
Durable and well-crafted
Cons
We liked this option with no bad qualities to mention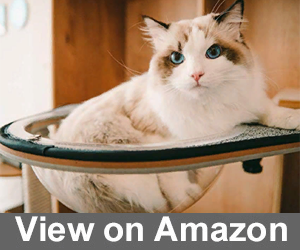 The CatKick Future of Cat's Playground offers a futuristic option for curious cats. The result is a shelf with a clear bubble that mounts onto desks, shelves, and more.
There are no holes and no damage when using this option. The CatKick Future of Cat's Playground is very easy to clean and maintain.
There are different sizes available to ensure that your precious pal fits perfectly. We do caution that you double check the stability of the shelf to ensure your pet doesn't slip or fall.
Pros
Perfect for replacing large, bulky cat towers
Cute design• Easy to use and clean
Durable and well-made
Cons
It needs to be installed correctly and double checked for stability so that cats don't fall or get hurt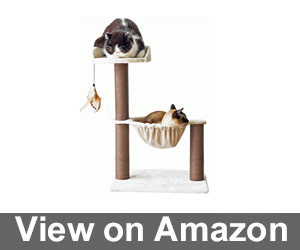 The Catry Cat Tree Hammock Bed is a stable and sound choice. It works wonderfully for cats weighing ten pounds or less.
Our testing team was very happy with how easy it is to both set up and maintain. Tool needed for assembly are included to make the process a snap.
The Catry Cat Tree Hammock Bed has two scratching posts to keep kitties happy. There are two separate sleeping spots making this a terrific choice for multiple cat homes. There is also a dangling feather toy to keep cats entertained.
Pros
Terrific for multiple cat homes
A steady and durable option
Scratching posts, two beds, and a dangling feather toy included
Well-made
Cons
Our cats and our testers really enjoyed using this cat tree with no downsides to mention
The Best Cat Hammock – Buyer's Guide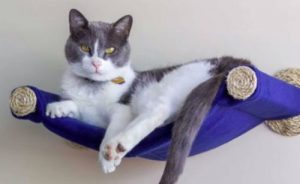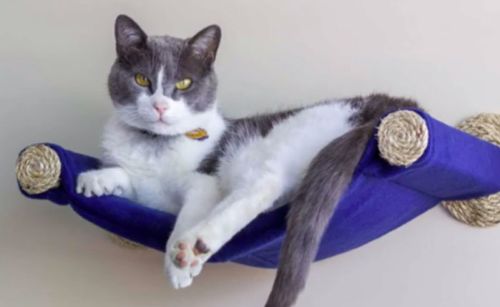 Finding the perfect cat hammock for your favorite feline might be overwhelming. There are tons of models each with different features and specifications. It can be confusing to read through the features and know what your pet actually needs.
We learned so many new things while testing out the top ten cat hammocks without pets. We put together this guide to explain what you need in a cat hammock and what you don't. Let's get started!
Do I Really Need a Cat Hammock?
Let's get a better understanding of the benefits of using a cat hammock:
Comfier Cats: A new cat hammock provides your pet with a pace to sleep and relax. Tabes, chairs, or the floor can be cold and hard so they aren't very enticing to your cat. A soft and cozy hammock lets them relax and sleep while feeling safe and warm.
Safety: Maybe your family has a dog or a child. A cat hammock placed up higher lets the kitty get a break from other pets or kids. This will allow the cat time to regroup and relax, helping to keep them safer and happier.
Space Saving: A cat hammock can take the place of a larger bed so you will have more floor space. This is especially important for cat parents living in smaller spaces such as an apartment or dorm.
Protect Your Funiture: Cats are notorious for scratching up furniture. Many cat hammocks come as a system. The systems also have sisal scratching surfaces to keep cats entertained and happy. Happy cats won't destroy your couch while you are at work.
Key Considerations for Purchasing the Best Cat Hammock:
Sizing: Getting the cat hammock in the correct size is paramount to your pet liking it. If it's too small, they could fall out and get hurt. If it is too big, your cat may not feel safe or secure. Always check weight limits to be sure your kitty will fit purrrrrrfectly.
Material Matters: Many different materials are utilized in the production of a cat hammock. It might be made from cotton, nylon, plush, fleece, or even faux leather. We highly suggest picking something easy to clean and machine washable to make life easier.
Mounting: Understanding how the hammock attaches is also crucial. Do you want an entire system complete with scratching posts and toys? Maybe you just need a hammock bed to snap into your cat's kennel or perch. Understanding what you need ill make the shopping process faster and simpler.
Assembly: Some folks like putting things together while others do not. Keep your comfort level of DIYing in mind so that you won't be stuck building a cat castle for five hours.
Style: Cat hammock are made in a plethora of styles, colors, and fabrics. Finding one that blends in or complements your interior design scheme is easier than ever.
The Different Types of Cat Hammocks
Let's take a closer look at the various kinds of cat hammocks you can choose from.
Freestanding Cat Hammocks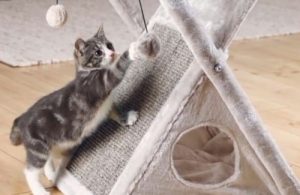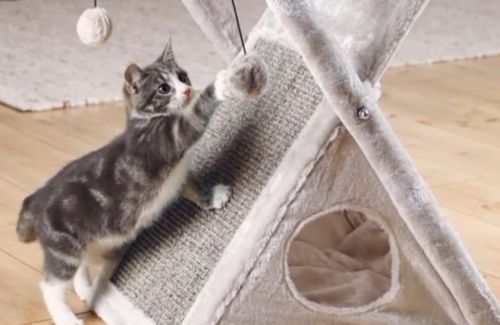 This version consists of a frame made from metal, plastic, or wood. The frame offers support and stability for the hammock so it does not need to be supported by a different surface such as a kennel or shelf. These systems are often perfect for people new to owning cats and pets that weigh more.
Wall-Mounted Cat Hammocks
Cat hammocks that are wall-mounted are attached directly to the wall using brackets and screws. This version is great for smaller homes as it utilizes wall space rather than floor space. Heavier kitties may not be as well suited to this version.
Suspended Cat Hammocks
Suspended cat hammocks have a fabric hammock bed with straps and clips on each corner. It attaches to other objects such as a kennel. This is another terrific option for smaller homes and spaces. Again, it may not be as well suited to heavier cats.
How Do I Mount a Cat Hammock on my Wall?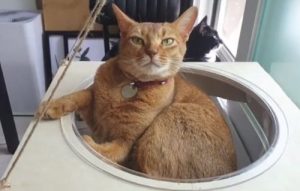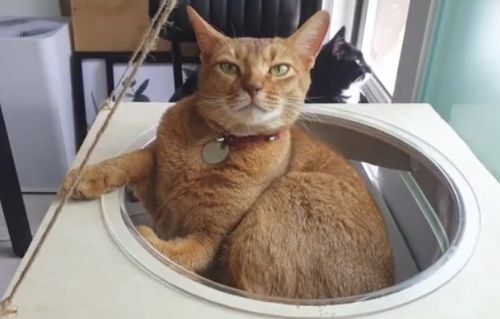 If you decide to purchase a wall-mounted system you may be slightly confused or intimidated by the process of hanging it on the wall. Let's take a peek at some handy tips that make wall installation a breeze.
Select the area where you want to mount to the cat hammock system. You will need to use a stud finder to locate wall studs as the hammock must be installed into one for stability and safety. Drill into the stud with a screw. You may need to use a drywall toggle or anchor to hold the bracket securely if there is not a wall stud available.
The cat hammock should include detailed instructions to ensure it is mounted properly as well. Always test the wall-mounted hammock out first before allowing cats near it to prevent accidental falls or injuries.
Maintaining Your New Cat Hammock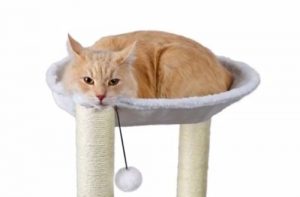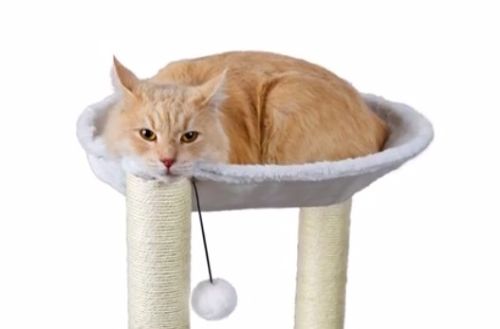 The proper care and maintenance of your new cat hammock will extend its life and keep your cat healthy and happy. Follow the manufacturer's direction regarding cleaning and care. Many versions can be machine washed to ensure it is clean and germ-free. You may also need to wipe other parts down to remove debris and cat hair.
Finding the best cat hammock for your favorite feline friend doesn't need to be a terrible or thankless chore. Understanding the features of the cat hammocks and keeping details such as your cat's weight and size in mind will make the process painless. Don't forget to measure the area where you intend to set the hammock up to be sure of a perfect fit.
We hope you enjoyed our top ten cat hammock reviews and that our cat hammock buyer's guide was helpful. We love to hear from our readers and it always brings a smile to our faces. Please leave us a comment below with your favorite cat hammock models.