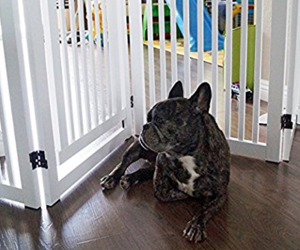 Pets bring us love and joy each and every day. Keeping them safe is an essential task. This is especially true for pet parents that work outside the home.
The purchase and use of a new dog gate system can keep your pet safely in appropriate areas while keeping them away from dangers such as the kitchen stove or from chewing up your toddler's toys.
Finding the best dog gate system may seem like a thankless chore. There are hundreds of pet gate systems available for purchase, each with excellent qualities and helpful features.
We have tested and reviewed the top ten
dog
gates, and we've also included a
helpful guide
to help you understand what's important and what's overkill. Let's get started!
BEST CHOICE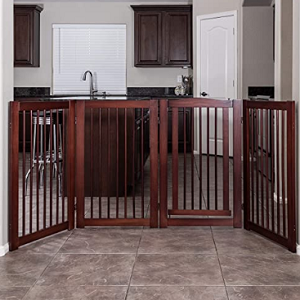 PRIMETIME PETZ 360˚ Configurable
Best Dog Gate in Our Rating
Different sizes for different growth of your pets
Classic design for any interior
Rubber pads protect the gate from slipping
Easy to install and does not require a lot of storage space
Selecting the Best Dog Gates in November, 2023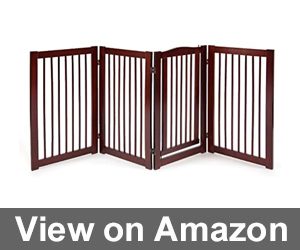 The Primetime Petz 360 Configurable Dog Gate earned high marks from our testing team members thanks to some terrific design attributes. The gate consists of four wood panels that have been finished with a lovely and rich walnut shade.
We also loved having a two-way swinging door which provides fast and easy access to our pets without having to do the awkward leg swing over the gate.
The Primetime Petz 360 Configurable Dog Gate includes rubber pads that ensure your new gate will not slip or scratch up floors.
The gate is lightweight and easy to move as needed. The 360º hinges allow you to create unlimited configurations while also folding up neatly for storage.
Pros
Beautiful walnut wood finish
Can be placed in many areas and is simple to customize and configure
Very lightweight and durable
The swinging door allows you to move easily through the gate
Cons
Somewhat expensive but well worth the cost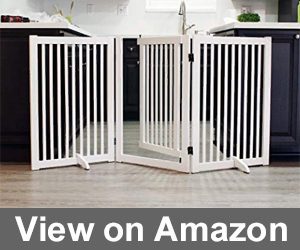 The Welland Freestanding Wood Pet Gate is a beautiful choice. The system is crafted from wood and is a gorgeous white color that blends into kitchens and any other room seamlessly.
This gate system consists of three panels and has a walk-through door to allow you to easily move from one area to another without the need to hop over the gate.
The Welland Freestanding Wood Pet Gate is 32 inches in height when assembled and can stretch out to 66 inches.
This system would be wonderful for keeping pets out of the kitchen while cooking up a family dinner. It also includes feet that keep pets from being able to push the gate or scratch up your wooden floors.
Pros
Beautiful white wooden option
Perfect for use in kitchens
Walk-through door for easy access
Includes two feet to prevent movement or scratching
Cons
This option may not work as well for very large breeds as they may be able to over power it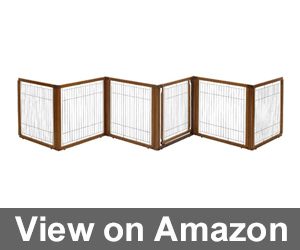 The Richell Three in One Convertible Elite Pet Gate is like having three separate dog gate systems all rolled into one! The system can be used as a free-standing enclosure, a mounted gate system, or a pet pen.
This system earned high marks from our testing team thanks to its versatility and terrific performance.
The Richell Three in One Convertible Elite Pet Gate can be folded down when not in use for simplified and space saving storage.
The gate also has cap lock panels that have been meticulously designed to allow you to fold the panels and lock them into place at 180- or 90-degree angles. We loved this feature as it made fitting the system into awkward areas so much simpler, which was also helpful when using while on trips.
Pros
Extremely well-made and durable
Cap locks allow you to customize the angle at which the panels are placed
Very versatile
Awesome for folks that travel with their pets often
Cons
This pet gate system is expensive, but well worth the monetary investment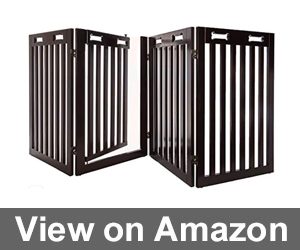 The Arf Pets Free Standing Wood Dog Gate puts in double duty as it works as both a freestanding gate and a puppy playpen. Our testing team loved the cute bone cut out detailing along the top of the gate system.
This option would be perfect for a pet lover or a pet-centered business such as a groomer or pet store.
The Arf Pets Free Standing Wood Dog Gate is very durable and strong. It held up extremely well when used with larger breeds including Rottweilers and Malamutes.
The gate is constructed from wood and has a gorgeous deep shade that looks classy in any home or business.
Pros
The versatile system works as a freestanding gate or pen enclosure
Very durable and strong
Terrific price point
Beautiful wood with cute bone cut-out detailing
Cons
We loved using this system so much that we did not observe any negative aspects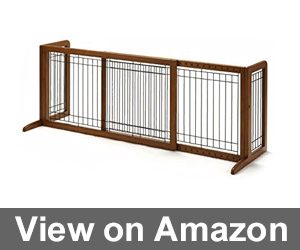 The Richell Wood Freestanding Pet Gate is a freestanding gate system that has side panels that help to confine pets to specific areas.
Our testing team loved that they did not need to stress over installation or difficult assembly steps. This offering works best for pets that less than 18 pounds.
The Richell Wood Freestanding Pet Gate does not completely prevent pets from leaving their sequestered area.
For this reason, we recommend it for less active or older pets. Larger, more curious pets will push through the gate. It works best for smaller pets that won't try to rush past it.
Pros
No installation
Easy to assemble and use
Great for apartments or hotels
Moderate price point
Cons
If you have a larger dog, they might be apt to simply push through it
Does not attach to frames or walls and only has one side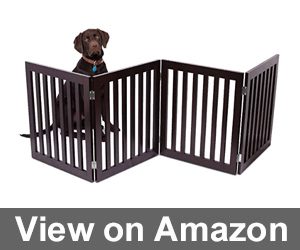 The Internet's Best Traditional Dog Gate offers a lovely choice for individuals with both upstairs and downstairs areas in their home or business. This system works perfectly to block stairs from curious pups or kitties.
Our testing team loved the beautiful panels that are composed of wood and is available in several finishes.
The Internet's Best Traditional Dog Gate arrives with four panels that are secured with wire hinges.
The gate can fold out or be placed in a zigzag shape. This system can be used by the stairs, doorways, kitchens, living rooms, and more. It also collapses down slimly to take less storage space when not in use.
Pros
Perfect for deterring pets from stairs
Gorgeous wooden panels
Collapses down for easy storage
Easy to clean and maintain
Cons
Bigger breeds can push past it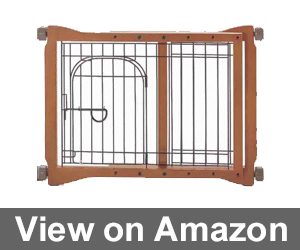 The Richell Pet Sitter Gate is an easily adjusted pet gate system. The system fits into doorways to safely confine your furry friends. It fits doorways from 28 to 41 inches in width.
Our testing team was surprised at how simple this option is to assemble and install.
The Richell Pet Sitter Gate has a cute, little door that lets pets pass through as needed.
Our team members with cats mentioned that it is a wonderful choice for families with both cats and dogs. The gate opens in both directions which is another helpful feature.
Pros
Great price
Easy to install and assemble
Rubber bottom prevents slipping
Little pet door to allow pets to move in and out if needed
Cons
Smaller pets can squeeze through the gate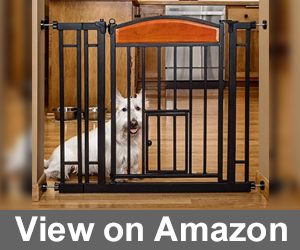 The Carlson Pet Products Design Studio Walk Through Pet Gate is one of the easiest gate systems to assemble and install. This is a wonderful feature for individuals with arthritis or mobility concerns.
The gate system is also as easy on the eyes as it is on your wallet, which is a definite plus. The gate expands to fit doorways from 30 to 37 inches as needed.
The Carlson Pet Products Design Studio Walk Through Pet Gate was also a favorite among our pets. We love it for pets that can't decide if they want in or out thanks to a dedicated pet door.
The door can be latched to prevent your pet from exploring as well. The all-steel design is both attractive and durable making this a wonderful budget priced pick for any home.
Pros
Extremely easy to set up
Small door for indecisive pets
Terrific price point
Attaches to doorways
Durable and attractive
Cons
We liked this option so much that we were hard pressed to find any negative qualities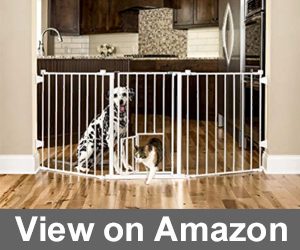 The Carlson 76 Inch Wide Flexi Configurable Pet Gate System consists of three panels. The panels are easily adjusted to fit in areas up to 76 inches in width. The gate reaches up to 30.5 inches in height, making it an excellent option for larger breeds.
Our testing team loved that this gate system includes a walk-through door with a safety locking feature, so it works well with both pets and children.
The Carlson 76 Inch Wide Flexi Configurable Pet Gate System folds up fast for storage when not in use.
We also loved the patented small animal door that allows smaller pets an easy way to move through the system. The gate can be wall mounted and is extremely sturdy and durable.
Pros
Terrific price point
Wall mounted system that actually includes the needed mounting hardware
A very pretty gate system
Easy to clean and care for
Cons
Some team members had difficulty with latching and unlatching the safety gate feature to walk through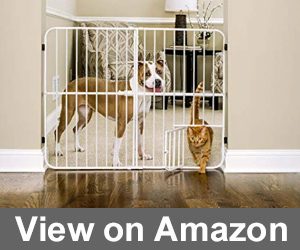 The Carlson Extra Tall Metal Expandable Pet Gate has an amazing price point. But do not let its budget status deter you, as this gate is very well made and extremely durable.
Our testing team loved using this option to keep pets away from stairs as well as for use in bedroom doorways.
The Carlson Extra Tall Metal Expandable Pet Gate expands from26 inches to 42 inches.
There is also a small pet door included for little pets. This system is also super easy to place in doorways and remove to store or use somewhere else.
Pros
Terrific price point
Perfect for smaller homes
Durable
Small pet door for little pets to move around
Easy to clean and maintain
Cons
This gate may not be appropriate for individuals with mobility issues as you will need to swing a leg over to get through it as there is no swinging door
The Best Dog Gate – Buyer's Guide
Finding the best dog gate for you and your pet's needs can seem overwhelming. With so many options available that each boasts new features and specs, finding the right gate system is frustrating. You may wonder if you can just measure the predetermined area and buy one that fits.  Unfortunately, listings and product info can be misleading, and you might wind up with a completely useless gate for your space.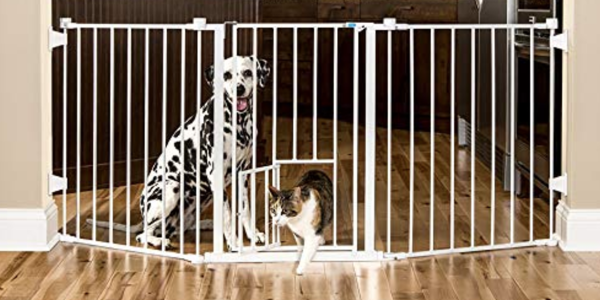 While testing the top ten pet gate systems, we gained a ton of new knowledge. We now want to pass that information on to you so that you can make an informed decision. Let's get started!
Do I Really Need a Dog Gate System?
When I first tried to find a gate for my dog back when I was in college, I could only find baby gates meant for small children. The gates did not fit well and fell down constantly leaving my frustrated while my dog enjoyed knocking it down and eating my houseplants. She even learned how to climb the gate and escape.
As technology advanced, new strides were made towards creating gate systems that are safer for pets and people too. If you are concerned about a pet getting into things or making messes, a pet gate system is a terrific solution. Many have special features that make them easier to set up and use. At the end of the day, keeping our pets and our family safe is always our top priority, making pet gates a must-have for animal owners and lovers.
Key Considerations for Purchasing a New Dog Gate System
Let's take a closer look at some imperative points to ponder when considering which dog gate system to purchase.
Sizing: It is extremely helpful to think about the area where you want to place the gate system. You will also need to consider the size of your pets. Are they smaller dogs? Larger breeds? The gate needs to be tall enough to keep pets in, while keeping toddlers or kids out if needed.
The Houdini Effect: Do you have an especially smart dog? One testing team member has an older pet Pomeranian that is almost as talented at escapes as Houdini himself. If your four-legged friend is intelligent and motivated to escape, you will need to buy a gate system that has added security measures.
Own or Rent: Do you live in an apartment you rent or your own place? If you live in an apartment temporarily, you will want to choose a pet gate system that is easily moved. If you own your home, you can select a more permanent gate system solution.
Aesthetics: No one wants to stare at an ugly gate system. Select one that blends in or compliments your current home decor scheme to prevent any eyesores.
What are the Different Types of Dog Gate Systems?
There are thousands of versions f pet gate systems currently available on the market. There are several distinct categories they fit into. Let's examine the different types of pet gates and their unique attributes.
Pressure Mounted Pet Gate Systems:
Pressure mounted dog gate systems allow you to place the gate in between two walls or within a door frame. The gate stays in place thanks to a pressure system. There are small coils inside that create tension to hold it in place.
This is one of the easier systems to install and will not require you to drill or disturb any walls or surfaces permanently. This version is also easier to move, making it perfect for renters of apartments or condos, for example. On the downside, if you have a pet that is highly active or motivated to escape, it is somewhat easy to knock the gate over.
Hard Mounted Pet Gate Systems:
Hard mounted dog gate systems are "permanently" attached to your walls or door frame. They can be uninstalled and moved if needed but may leave holes behind that will need to be filled with putty and painted over. You will need to use a stud finder to ensure that you attach it properly to avoid accidents or injuries.
Hard mounted gates tend to get a bad reputation due to the fact that they are not as easily moved or mobile as their tension mounted counterpart. If you have very active dogs, this is your best option. This option also costs more than tension mounted gates but are also more durable and sturdier, making them a smart choice for larger, stronger breeds like Boxers or Pit Bulls. They also work wonderfully for children as well.
Free Standing Pet Gate Systems:
Free standing dog gate systems are another popular option for keeping pets safe. This type of gate has at least four sides or gates that attach to one another. Your pups can play safely inside, and you can move the system easily. Freestanding pet gate systems are perfect for taking puppies outside to play or for bringing along on vacation. We have used our several times on family trips.
A freestanding systems stands up alone but can be placed next to a wall for added support and safety. They are less secure than the other versions though. Larger dogs can push it around quite easily and may even knock it over completely.
Material Matters
It is also important to consider the material that your new dog gate system is composed of. Here is a closer examination of the good and bad qualities of the most commonly used materials in making pet gate systems.
Wooden Pet Gate Systems:
Wooden gates have surged in popularity in recent years, perhaps thanks to the recent boom in farmhouse and vintage décor styles. Wooden gates are sturdy and are far more beautiful to look at that plastic or metal. This material is also long lasting and very durable. Wooden gates can be a tad problematic if you have a male dog that likes to mark his territory as wood that hasn't been properly finished or varnished is quite porous, and urine could seep in.
Metal Pet Gate Systems:
Dog gate systems that are crafted from metal are usually made from iron, steel, or wrought iron. These gates usually have long vertical metal poles or slats attached to a top and bottom frame. The metal bars are typically slender in diameter and have little gaps in between.
If you have smaller breeds like Pomeranians, Yorkies, or Chihuahuas, this may not be the best solution. Smaller dogs can easily slide through the spaces in between the metal rods. These gates are also easier for children to climb over.
Plastic Pet Gate Systems:
There are many options available that have been created from plastic materials. Plastic is lightweight and easier to clean, making this a good choice for puppies and dogs that like to pee to mark their territory. Plastic is also easier to move than wooden or metal gate systems. It's also easier for teething puppies to gnaw on which can lead to issues.
Finding the best dog gate system for you and your furry friends can seem like an arduous chore. With hundreds of options, finding the best pet gate takes time and research. Keeping your pets needs, your budget, and the predetermined area for placement in mind will make shopping for a new gate much more straightforward.
We hope that our top ten dog gate reviews and our buyer's guide were helpful to you today. Hearing from our readers always brings us a smile. Please leave us a comment down below with your favorite gates and any installation tips that you would like to share with us.