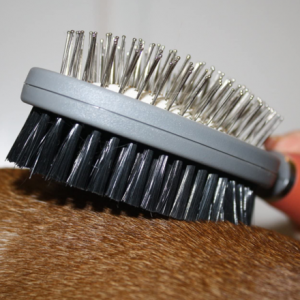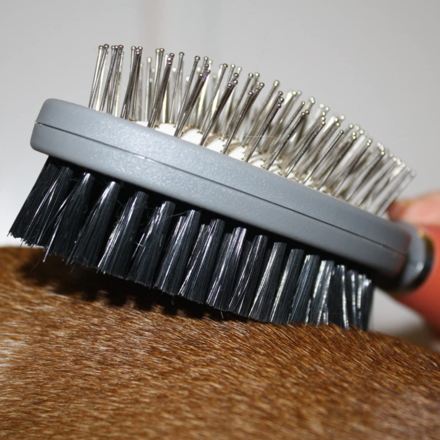 Pitbull terriers have a checkered history. The species began as a cross between bulldog and terrier and the originals were bred as fighting dogs, thereby assigning them a reputation which has been difficult to shake off. Look beyond that combination of strength, agility and tenaciousness and you'll find a dog which is a perfect family pet with a special affiliation towards children and an endearingly sweet nature.
Pitbulls are low maintenance by comparison with some breeds but the bond between owner and dog is enhanced by lavishing attention on them.
Of course, the pitbull's health and well-being is of crucial importance and selective grooming can make the difference between a happy healthy dog and an animal who feels neglected with the potential for consequent behavioral problems.
Unsurprisingly, a vast array of brushes and
grooming
sets exist so, based on users' experiences and, through specific criteria application, we decided upon ten. We welcome feedback to create an even more relevant guide.
BEST CHOICE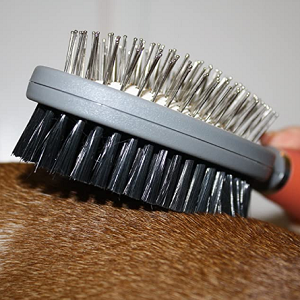 GoPets Professional Double Sided
Best Brushes for Pitbull in Our Rating
Double brush for multi-use
Convenient handle, does not slip during operation
Fine teeth penetrate even the longest hair
Safe materials
Selecting the Best Brushes for Pitbulls September, 2023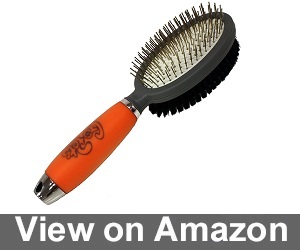 One of the bones (sorry!) of contention among pitbull owners is whether to use a pin or bristle brush. GoPets provide the solution with their ground-breaking double-sider combining both!
The combi brush features a pin side for more hirsute animals and, pertinently for pitbulls, a bristle side. It's a godsend to those who have another breed besides their pitbull.
The gel-filled handle is contoured to fit snugly in the hand and has the dog's comfort firmly in mind as the pin side features molded rounded ends rather than plastic tips.
Plastic tips have been known to drop off leaving the dog at the mercy of steel pins dragging across their skin. That said, the bristle side will probably be more used by pitbull owners but the option remains.
Special Features
Choice of method
Can accommodate a long-haired breed
Makers pledge 10% of profits to animal charities
Guaranteed refund if not satisfied
Be Aware
Gel-filled handle has been found to leak
Synthetic bristles can be less pleasant for dog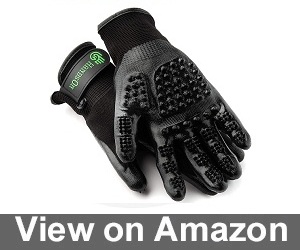 The HandsOn Grooming Glove breaks away from the traditional idea of brushes opting for a glove composed of nitrile, PVC and nylon.
The composite materials give it a slightly sinister appearance but the palm side of the gloves has a series of small non-abrasive rubber nodules and rounded tips which remove excessive hair or fur. The gloves are secured by a velcro fastener to avoid slipping off.
These ingenious gloves combine tactile stroking and efficient hair removal with the added benefit of keeping the human's hands clean. Pitbulls adore receiving their owners' affection making this grooming ritual a pleasant event.
These are five-fingered gloves rather than mitts facilitating greater dexterity for the groomer. Available in five sizes including junior allowing younger folks to get involved thereby establishing a bond from an early age.
Special Features
Tactile
Available in five sizes
Easily washable
Can be used on horses and cats
Adaptable to coats of any density
No latex rubber included
Be Aware
Important to get the correct size or gloves may disintegrate during removal
Can cause static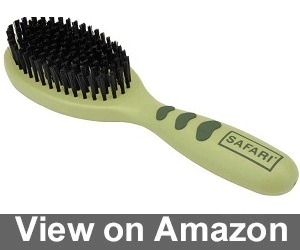 By common consent, the bristle brush is the one which pitbulls are most receptive to and the Safari Bristle Brush ticks all boxes for animal and human. Possessing an ergonomic plastic handle which alleviates any possibility of repetitive strain injury during elongated brushing, the Safari is also easy to grip.
This model retails in two sizes – Small and Large – with the large version most conducive for pitbulls.
The bristles in this brush are fashioned from boar hair unlike many dog brushes which use synthetic bristles.
The ensuing pliancy guarantees that your dog will not suffer any scratches or discomfort while being brushed. Younger pitbulls will favour the Safari model: their skin being that bit more delicate than their seniors.
Special Features
Ergonomic design
Inexpensive
Easy maintenance
Ensures natural oils are released into dog's coat
Be Aware
Some users report bristles to be too soft
May work better in tandem with a shedding device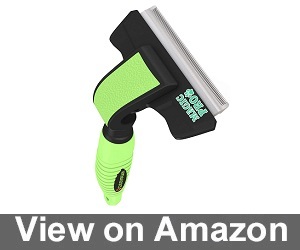 A widely-held belief is that pitbulls do not shed quantities of hair like other breeds since they are short-haired but many owners who accepted this theory have been surprised.
Pitbulls, like any dog, shed and it's no extravagance to have a deshedding tool at hand. Shedding occurs seasonally but stress or a change in diet can also lead to impromptu outbreaks of molting.
For such occurrences, the MagicPro Deshedding Tool is invaluable. With an ergonomic handle and a robust design, this device has been known to reduce shed hair by 95% in minutes.
Pitbulls will benefit from a decluttering although the discarded hair will not amount to a significant quantity. The shedding blades are easily removed for cleaning and healthy fur will not be extracted.
Special Features
Ergonomic, robust, easy-to-use
Extracts shed fur rapidly and efficiently
Easy-to-remove blades
10 year guarantee
Comes with free grooming e-book
Be Aware
Some users found it trimmed hair too eagerly
Reports of device disintegrating after vigorous use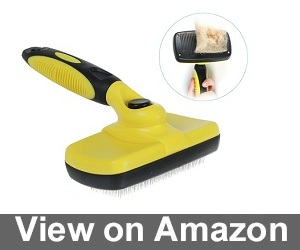 Although slicker brushes aren't entirely compatible with pitbulls short-haired coats, there exist pitbulls with thicker coats or parts of their coat with a denser growth.
Factor in crossbreeds and suddenly, slicker brushes aren't devoid of use for pitbulls. The Smartelf Self Cleaning Slicker Brush has the added advantage of being low maintenance personified.
With an ergonomic design and easy-to-grip handle, the smartelf's stainless steel bristles thoroughly remove matted hair leaving the dog's coat gleaming.
What differentiates it from rivals is a clever mechanism: click a button on the handle and the bristles retract facilitating easy collection of discarded hair/fur. Click again and, hey presto, the bristles return.
Special Features
Easy to clean
Ergonomic design
Inexpensive
Can be used on other breeds
Be Aware
Bristles can be sharp
Designed with undercoat grooming in mind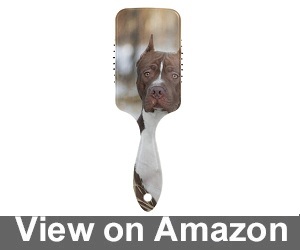 The Bamboo Groom Palm-Held Brush is a brush with a conscience. Ok, let's qualify that: it's a palm-held brush where the handle is fashioned from 100% natural and biodegradable bamboo.
Since bamboo is a renewable resource, the winners here are: your conscience, the planet and, crucially, your dog. There are two types – bristle or curry brush.
The bristles on the former are boar hair; those on the latter from rubber.
The curry brush is probably best for a pitbull since it digs a little deeper – albeit gently – to cleanse the pitbull's coat and coax out a glisten to match the smooth bamboo handle itself…a handle with an elasticated band to ensure a comfortable grip.
Special Features
Eco-friendly and uses renewable resources
Tactile – combines brushing with patting
Very inexpensive
Choice of bristle or curry
Handcrafted
Be Aware
Boar hair bristles on the soft side for some pitbulls
Can be onerous to collect discarded hair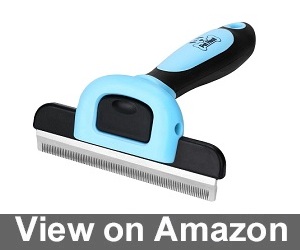 The Pet Neat Grooming Brush has an enthusiastic fan base on-line and it does tick a lot of boxes: uncomplicated, robust and an effective deshedder.
Resembling a brightly-coloured safety razor, its stainless steel comb boasts the means to remove 95% of shedded hair in minutes. Incorporated in the design is the capacity to instantly unhitch the comb for cleaning.
As well as being a highly effective deshedder, humans figure prominently among the plus-points of the Pet Neat brush. It has an eyelet in the handle to facilitate storage on a hook and the package includes four e-books on dog care. What's not to like?
Special Features
Easy to maintain and store
Ergonomic design
Stainless steel comb ensures longevity
Lifetime guarantee
Inexpensive
Be Aware
Plastic handle, although robust, not universally liked
Will probably suit other breeds more so than pitbulls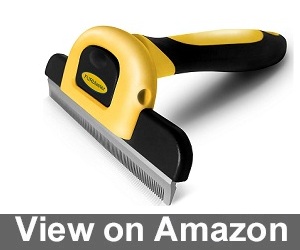 DakPets Deshedding & Light Trimming Tool (known more snappily as Furblaster) is a deshedding tool with an appreciative audience among pitbull owners.
Embracing a stainless steel blade which can be pried away from the rubber frame by a quick-release button, it is comfortable to hold and tackles hair of all lengths.
Shedding brushes seem to lend themselves to bright pastel colors and the Furblaster (let's stick with this funkier name) doesn't disappoint blue, yellow and hot pink are the choices.
It works particularly well in enhancing the after-bath groom (ensure the dog is dry first!); a routine leading to a sleek pitbull.
Special Features
Easy maintenance
No questions asked 60-day replacement guarantee if not satisfied
Quick release blade facility
Can be used for other breeds (and cats)
Makers continuously upgrading the model
Be Aware
Edges can feel sharp to some dogs
Blade holder reported by some as "delicate"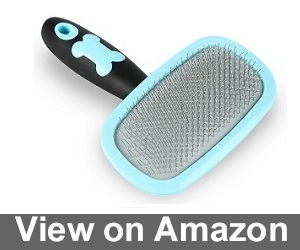 If your dog is a bit taller than most, the Glendan Slicker Pet Grooming Brush is the slicker brush you have waited for. Comfortable to grasp, the brush can reach beneath and around the dog courtesy of its rotatable head. This will take time off your pitbull-grooming and relax the dog.
The stainless steel bristles have plastic tips which provide balm to your dog during brushing whereas some bristles can be uncomfortable.
This model is available in either a small or large size allowing the owner to make the brush more bespoke for their dog.
Special Features
360° rotatable head
Small or Large size
Comfortable to hold
Anti-slip handle
Inexpensive
Be Aware
Relatively short-term warranty (1 year guarantee)
Some reports of plastic tips dropping off bristles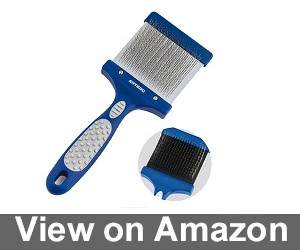 The Artero Double Flexible Slicker is a variation on the usual combination brush. Normally a duo of slicker/bristle, the Artero model can be considered a two-speed slicker.
One side with bristles (stiff but not overly-so) will take care of de-matting; flip it around and you have a brush which gently caresses the dog's coat.
Easy-to-hold and providing dexterity (rare for dog brushes), the Artero is a more pitbull-friendly brush than most slickers.
In general, professional groomers have provided a thumbs-up for its massage prowess although it remains more suitable for longer-haired dogs.
Special Features
Double-sided function provides balanced grooming
Comfortable to hold
Allows flexibility in grooming different breeds
Inexpensive
Be Aware
The pins are untipped so can be uncomfortable
Not all professional groomers report favorable
Guide to Brushes for Pitbull Terriers
Caring for their coats is an obvious way to ensure the pitbull looks and feels well but there are also health benefits which are not immediately evident. Even though pitbulls have short-haired sleek coats, they shed them seasonally and it is vital that this discarded hair is brushed away (de-shedding).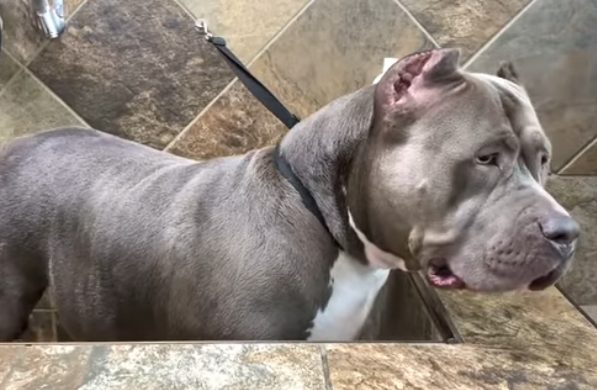 Because their hair is short and close to the skin, they must be brushed with sensitivity. Regular brushing will also help to identify any scratches or skin problems requiring medical attention and ensure your house is free from clumps of dog hair.
Pitbulls do not need bathing as frequently as some other dogs but given their tactile and affectionate nature, they enjoy the experience and the ensuing grooming. From the range of dog brushes available, select one which best meets your dog's temperament and physique. Let us take a look at the types of dog brush and their characteristics with an eye on the requirements of a pitbull.
Types of Dog Brush
Bristle: Bristle brushes are adaptable and versatile. The bristles, stiff yet pliable, are designed to untangle rough or coarse hair and then remove any accumulations in addition to stimulating the dog's skin to release natural oils. This brush is ideal for short-haired dogs making it an apt choice for a pitbull.
Slicker: Slicker brushes – typically wooden-handled – have thin, tightly-spaced wire bristles angled to avoid snagging the animal's skin. They penetrate deeply into a dog's undercoat and are mostly used for longer hair or a thicker coat.
Pin: A pin brush – usually wooden-handled – consists of round-headed pins housed in a rubber bed with the pins spaced further apart than in the slicker brush. The pins are gentle and, with normal application, will not damage the animal's skin. Tends to be used on medium to long-haired dogs.
Grooming Glove (or mitt): The grooming glove resembles a gardening glove but with ridges or bobbles on the palm side. The wearer simply strokes the dog and massages its coat with the palm side which is particularly adept at removing unwanted hair or dead skin. The worthiness of this type of brush goes beyond the mere mechanics as pitbulls are affectionate dogs who appreciate the tactility involved.
Rake: A rake looks a bit like a safety razor but with teeth which pull out matted hair and can reach through to a dog's undercoat. They are not a good fit for pitbulls.
Curry: A curry brush is a small rubber or plastic grooming brush with short teeth. The name derives from the process of rubbing (or currying) the dog's coat to loosen and then remove hair and dirt and to stimulate the animal's skin releasing natural oils. It is a viable option for pitbulls.
Deshedding Tool: Much like a rake with once crucial difference: deshedding tools do not probe for an undercoat, thus can be used on pitbulls…albeit sparingly.
Double Sided: The double sided (aka combination or combi) brush combines the features of the bristle and slicker into one grooming device allowing the user to select the appropriate action. It will be of use to pitbulls.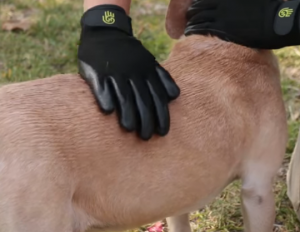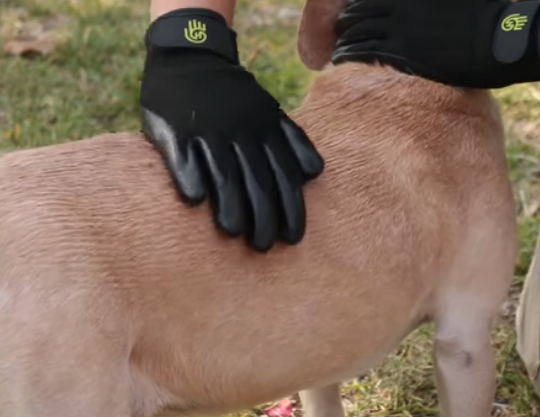 Grooming brushes can be used on cats or even other animals although the advice is to choose one designed with a dog's physical characteristics and temperament in mind.
Dogs have an acute sense of smell and may not appreciate sharing something as precious as their own grooming brush!
More about Pitbulls
On the face of it, choosing a grooming device/brush for a pitbull terrier is straightforward. There are four officially recognized categories of the species, but we will use the term interchangeably unless there is something unique about a specific breed which merits inclusion in our consideration. For the record, the four categories are:
American Pitbull Terrier
American Staffordshire Terrier
Staffordshire Bull Terrier
American Bully
All are similar in size, weights vary from 31lbs (SBT) to 55lbs (AST). For this article, let's deem the breed pitbull as generic.
Frequently Asked Questions
How frequently do pitbulls require brushing/grooming?
Strictly speaking, not as regularly as other breeds. Pitbulls are proficient at self-maintenance and, being short-haired, are not prone to matted or tangled hair. However, any proud owner will be cognizant of the bonding opportunities provided as well as acting as an early warning system for any health concerns and it is recommended that brushing occurs every few days.
How about bathing?
Pitbulls are low maintenance when it comes to bathing; once a month should suffice; especially so if the dog is brushed regularly.
How sensitive is their skin?
Pitbulls have impressive coats and look glossy and sleek with their close short hair. Their skin is tough and can withstand vigorous brushing. Affectionate and lovable as they are, they will advise if your brushing transcends what they deem acceptable!
Apart from maintaining appearance, why brush pitbulls?
Pitbulls, as befits short-haired dogs, release oils which keep a gloss and sheen to their coat when brushed. They shed hair seasonally and brushing is the effective method of removing unwanted hair.
Conclusion
We hope the task of selecting a dog brush for your pitbull has been eased by our assessments and testimonials, all based on independent evaluations.