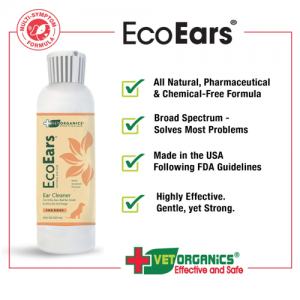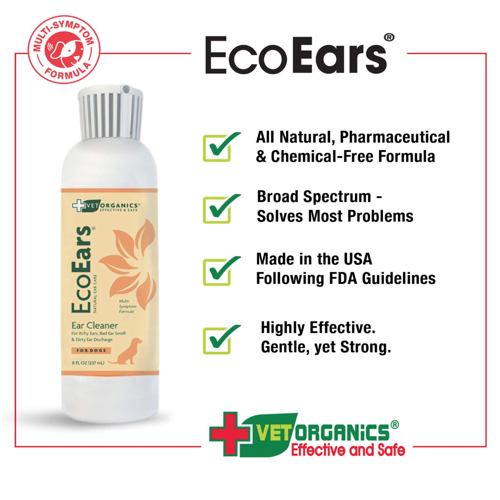 Ear infections are very painful especially when they occur with dogs. They whine, bark and are usually very aggressive but who would blame them? They experience such acute pain that they try to express it in every possible way seeking help. Therefore, it is vital that when an ear infection is detected in dogs, they are treated as soon as possible.
EcoEars Dog Ear Cleaner is a natural Dog Ear Cleaner that has been formulated to combat and effectively treat ear infections in dogs and this article takes a critical look at the product.

Description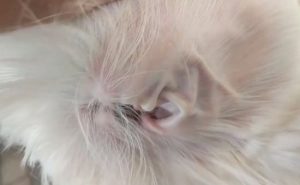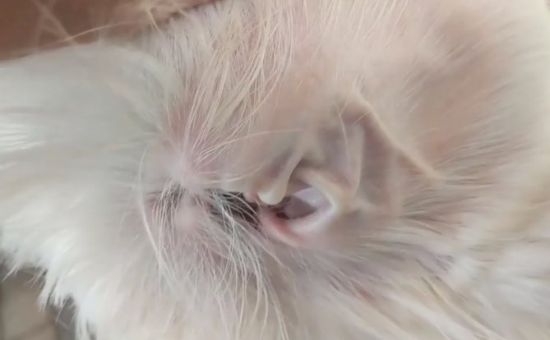 EcoEars is a naturally developed eye cleaner that's suitable for pooches with ear ailments such as itching, ear infection, smelly ears and discharge. The product, which is developed and marketed by Vet organics, brings fast, soothing relief to itchy and painful ears. It's been tested on over 1lac pooches and was found to provide them with relief for both one-time and chronic ear problems.
With the advancement in science and technology, it has become possible to do many things including making drugs with natural products. This ear cleaner is made using selected essential oils and herbs to enhance its quality and efficiency.
Features & Details
The features of EcoEars Natural Dog Ear Cleaner include the following:

Ability to Handle Multiple Ear-Related Problems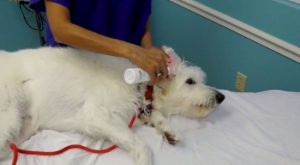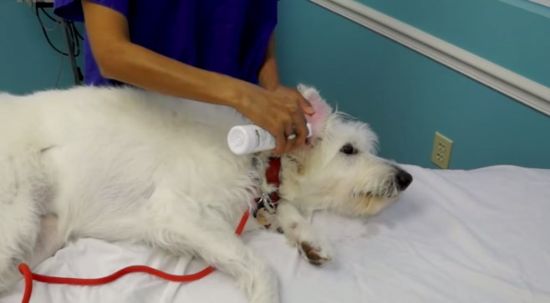 Most often, pet owners want multi-functional products for this saves money as well as time. EcoEars Natural Dog Ear cleaner can be used for a variety of ear-related issues. It eases ear itching and removes foul smell. It can also be used to remove dirt collected in the inner ears of dogs over time leaving your dog's ears clean, fresh and sweet-smelling.
Ear discharge from dogs can also be removed using this same product. It also controls the shaking of the dog's head which is often caused as a result of discomfort and ear issues.
Deodorizes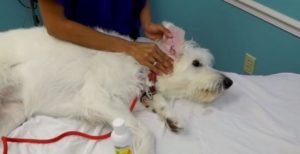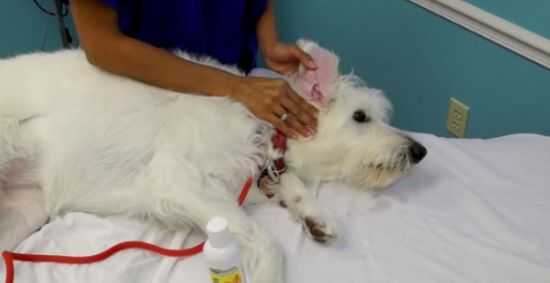 Most often, dogs have smelly ears as a result of bacteria or fungal infections. Therefore, it's not enough to have something that only removes the smell but that takes care of the infection as well. This product battles the infections and also deodorizes your dog's ears at the same time. What's left is a dirt-free and infection-free dog ears that won't have you cringing when you get close to your dog.
Naturally Formulated
The product was produced without chemicals or pharmaceutical elements. It has no traces of antibiotics, solvents, steroids or any other synthetically stimulated material. This makes it a naturally formulated ear cleaner that can be used on all types of dogs without worry.
Action Point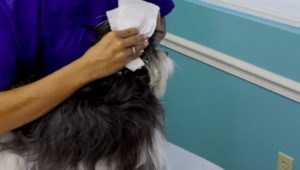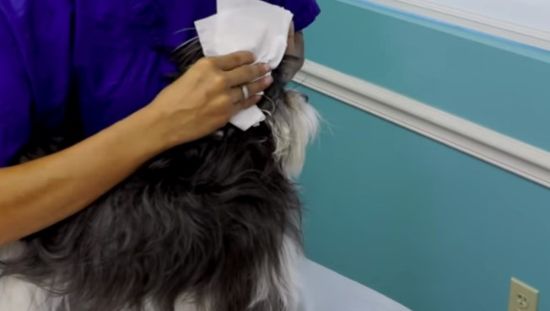 EcoEars Natural Dog Ear Cleaner fights off all kinds of infections from a dog's ears. It removes mites, yeast, bacteria, and fungus and prevents them from residing again in your dog's ears. They can also be used to remove inflammation, wax buildup and redness of the skin in and around the ear.
Warranty
If after the purchase of the product, it's defective you can always return it and get your money back as it comes with a one-year warranty.

Product Composition
EcoEars Dog Ear Cleaner is made with a variety of ingredients and materials. They include:
Denatured Alcohol: The product is made with an iota of alcohol. Alcohol helps to dry the moist part of the ear canal
Ionic Silver: It is safe for use by humans and animals alike. It features anti-bacterial and anti-fungal elements that keep parasite infections away
Witch Hazel Extract: It is effective against skin irritation. It is usually made with other ingredients and is used to remove excess pus and oil from dog's ears
Rosemary Extract: This reduces ear inflammation
Boric Acid: Boric acid is only added in a minute amount. It is helpful against conditions such as otitis externa. What it does is to make it difficult for bacteria to reside inside the ear, thereby curing the infection
Vegetable Glycerin: This is a hydrating agent that serves as a coolant to soothe your pet's irritated skin.
Polysorbate 20 (Food-Grade): It is a binding agent that enables all the ingredients to blend. It also gives a soothing and lubricating feel when used
Fingerroot Extract: It's a herb that has anti-fungal, anti-bacterial, and anti-inflammatory properties
Tea Tree Oil: It helps wounds heal faster
Mullein Leaf Extract: This helps to reduce pain. It also speeds up the recovery process
Application of EcoEars Natural Dog Ear Cleaner
Applying EcoEars cleaner is not as difficult as perceived. However, to make the whole process a lot easier, it's best to have a good understanding of your pooch.
To apply EcoEars, follow the steps outlined below:
Settle your dog comfortably on a table or floor or wherever else it finds more convenient
Gently rub the neck area to make your dog more comfortable. Slowly extend your massage to the ear area
Gently lift the ear flap and hold it upright. Ensure the ear canal is wide open as this will enable the solution to get to the ear canal
Uncap the medicine and pour it into the ear. Ensure it gets to all parts of the ear before you stop. After this, wait for about 90 seconds (this will dissolve the dirt and make it easy to wipe off)
Gently insert a cotton pad or ball into the ear portion, taking out the ear wax and dirt (you will need to be very careful and gentle during this part)
Once done, allow your dog to shake his/her head vigorously. Doing this will bring out the excess solution from the ear. Clean the ears afterward.
Repeat the same process for the other ear.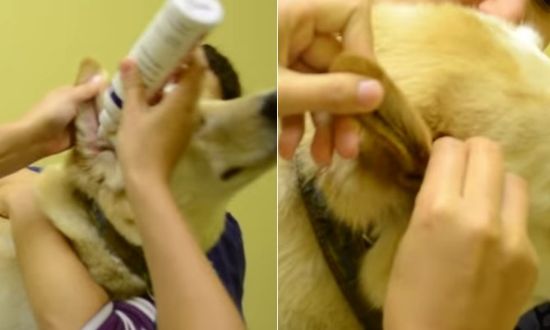 This process should be done twice a day and for the next ten days, after which your dog's ears should be rid of all forms of ear infection and irritation.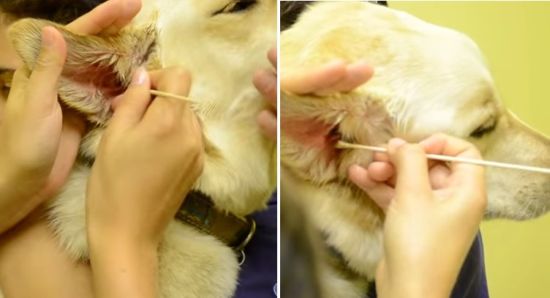 Pros
It is a multi-symptom ear dog ear cleaner
It is made with natural products
Offers one-year hassle-free money-back warranty
It removes irritation, infections, and odor
Cons
Not suitable for advanced ear infections