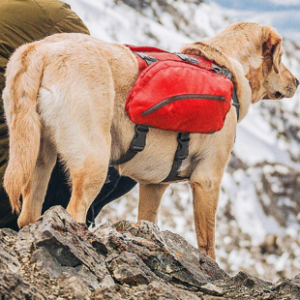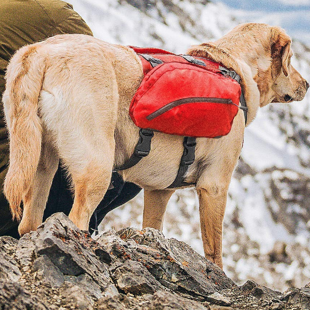 Taking our pets on hiking and camping trips or even just bringing them along as we run errands are a few of our favorite ways to bond with our canine companions.
Keeping our pets comfortable and safe is always our top priority. As a result, we wanted to find the best dog backpacks to assist in these goals.
Picking the best dog backpack for you and your fuzzy best friend's needs may seem difficult. There are thousands of versions each with entirely different features and specs.
We searched high and low to test out and review the top ten dog backpacks. We have also hand crafted a helpful shopping guide to explain what features you need, and which are overkill. Let's get started!
BEST CHOICE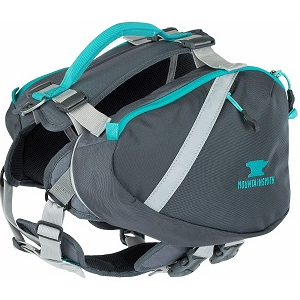 Mountainsmith K-9 Dog Pack
Best Dog Backpack in Our Rating
Comfortable belts that won't rub your pet's skin
Roomy pockets so your pet can carry its accessories on long trips
Robust closure system that won't open even during intense workouts
Waterproof material
Selecting the Best Dog Backpacks in May, 2023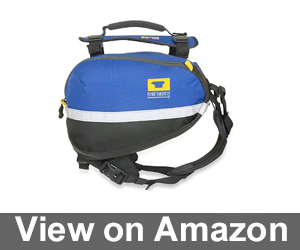 The Mountainsmith K-9 Dog Pack is made from ultra-strong 420 denier HD Nylon Rip-Stop PU Carbonate. The result is an extremely durable backpack that is perfect for hiking.
The Backpack secures with a four-point chest harness that is adjustable. Our testing team members were pleased with how easy the backpack is to put on and take off.
The Mountainsmith K-9 Dog Pack has a padded sternum area to ensure that your playful pup stays comfortable at all times.
The pack has two roomy compartments to stash snacks and toys. The back harness is also adjustable to provide a perfect fit.
Pros
Extremely durable
Two separate areas to pack belongings
Easy to put on and adjust for a perfect fit
Great for hiking and adventures
Cons
Somewhat pricey but worth every penny for serious outdoor lovers and their pets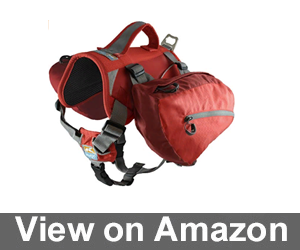 The Kurgo Dog Saddlebag Backpack is a lightweight option in a saddlebag style. The two-sided pack offers spaces for water bowls, snacks, toys, and more. Our testing team members loved all pf the space provided by this roomy selection.
The Kurgo Dog Saddlebag Backpack is a harness and backpack in one. It also includes a reflective and padded handle for safety and comfort.
The pack is available in two sizes, the Baxter fits pups weighing 30 to 85 pounds while the Big Baxter fits pets weighing 50 to 110 pounds.
Pros
Very durable and well-made
Lightweight saddlebag style
Can be used as a pack or as a harness
Holds way more items than other dog backpacks
Cons
Not for smaller breeds weighing under 30 pounds
The RUFFWEAR Approach Pack is the perfect choice for pets and owners that love to seek out new adventures. The pack is lightweight and comfy for dogs to carry. It's available in several sizes and two colors, orange and green.
The RUFFWEAR Approach Pack has been crafted with two points to attach leashes. The handle is padded, and the pack attaches with a five-point harness that easily adjusts for a comfy fit.
Our testing team was thrilled with the pockets and gear loops that allow pets to carry items without bogging them down.
Pros
Well-made and durable
Available in orange or green
 Four sizes to fit dogs with rub cages measuring from 17 to 42 inches
Easy to put on and take off
Cons
A tad bit difficult to keep clean since it is such a light color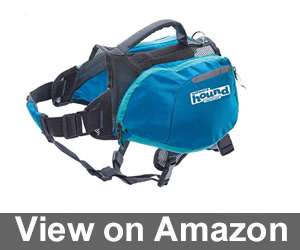 The Daypak Dog Backpack Hiking Gear For Dogs by Outward Hound incorporates a cooling mesh into each and every dog pack.
The mesh provides a breathable layer that allows airflow to keep your pup feeling cool on the hottest of days. Our testing team members appreciate having an option that keeps pups safe and cool during warm-weather activities.
The Daypak Dog Backpack Hiking Gear For Dogs by Outward Hound has reflective strips to increase visibility.
The pack features adjustable straps for a lovely fit. There are also expandable pockets to store essentials like your id or Fido's favorite tennis ball.
Pros
Three sizes to fit dogs with ribcages measuring from 16 to 32 inches in circumference
Easy to care for and clean
Reflective strips
The super cooling mesh works great
Cons
We loved this choice and think you will too especially if you live in a warmer area such as Phoenix or Orlando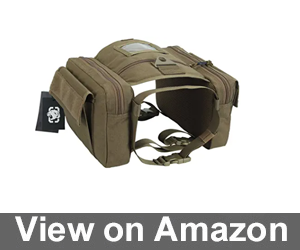 The OneTigris Dog Pack Hound Travel Camping Hiking Backpack Saddle offers a professional look that is appropriate for service dogs, therapy pets, or any dog that likes to travel places with their favorite human.
The backpack is a saddle bag style that has been crafted from a very strong 1000 denier nylon rip stop fabric. Our testing team loved how professional the bag looks in addition to how well t works.
The OneTigris Dog Pack Hound Travel Camping Hiking Backpack Saddle is water-resistant, making it terrific for hikes along the river or creek.
There are two main compartments that close by zipper. There is plenty of space for toys or snacks and there is a special compartment for doggy waste bags.
Pros
Inexpensive price
Easy to use and clean
Neutral color
Professional appearance
Cons
We enjoyed using this hammock and think you will too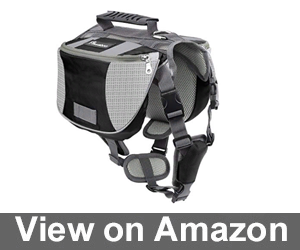 The PAWABOO Dog Adjustable Saddle Bag Harness Carrier Backpack understands that you don't need to break the bank to supply your fuzzy friend with a great doggy backpack.
The pockets are expandable to allow plenty of space. Our testing team was shocked to find such a great dog pack at such a small cost.
The PAWABOO Dog Adjustable Saddle Bag Harness Carrier Backpack is made from a 600 denier Oxford Cloth to maximize its life span.
It's easy to put on and off your pup as well. The pack fits medium-sized breeds with rib cages measuring from 27 inches to 32 inches.
Pros
Terrific pricing point
Red and grey color
Easy to put on the dog and very durable
Easy to clean
Cons
An excellent option that we love and hope you will too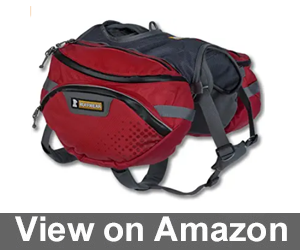 The Ruffwear Palisades Multi-Day Backcountry Pack for Dogs includes a water bottle to keep you and your pet hydrated.
The pack is perfect for trips lasting longer than one day and features a modified four-point harness. Our testing team was thrilled to find an option for longer camping trips.
The Ruffwear Palisades Multi-Day Backcountry Pack for Dogs has saddlebag style packs that are removable. This makes taking a rest break or passing through a river bed much simpler.
The pack has been specially designed to make carrying the pack comfortable for your pup without causing back pain.
Pros
Easy to use and maintain
Removable saddlebag compartments
Perfect for longer hiking and camping trips
Includes water bottles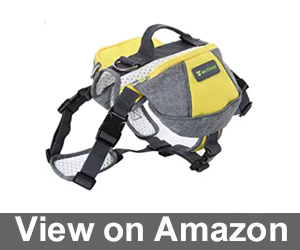 The Wellver Dog Backpack Saddle Bag Travel Packs for Hiking, Walking, and Camping is a lovely lightweight selection that is sure to be comfy when worn.
It is offered in four different color options including a yellow that is perfect for keeping your pet easily seen to avoid accidents while hiking. Our testing team really like the soft mesh lining that kept even our fluffiest dogs cool and calm.
The Wellver Dog Backpack Saddle Bag Travel Packs for Hiking, Walking, and Camping has three sizes to fit puppies with rib cages measuring 20 inches up to 37.5 inches.
It has fully adjustable straps to guarantee a perfect fit. There are two very roomy pockets to stash you and your dog's important items.
Pros
Easily visible colors protect pets in hunting season
Excellent price point
Comfy mesh layers are perfect for fluffier breeds
Durable and well-crafted
Cons
We liked this option with no bad qualities to mention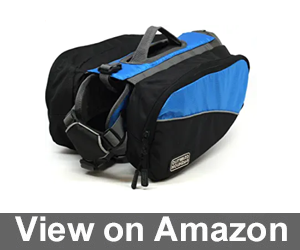 The Outward Hound Kyjen Dog Backpack earned high marks from our testing team members this week. We absolutely love the reflective accents on the pack that keep our beloved family members visible to hunters or traffic.
The pack even has water bottles to keep you and your pooch from becoming parched.
The Outward Hound Kyjen Dog Backpack features pockets perfect for transporting snacks, keys, poop bags, and more.
With interior mesh pockets, your fluffy friend will stay nice and cool. The pack is easily removed for rest breaks and snuggle sessions.
Pros
Perfect for hiking, camping, and more
Available in blue, red, or yellow colorways
Easy to use and clean
Durable and well-made
Cons
This dog pack was our top choice with no downsides to mention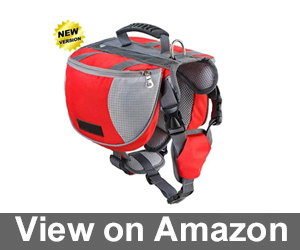 The Lifeunion Adjustable Service Dog Supply Backpack has been created from 600-denier double polyester. The backpack is waterproof, so it is wonderful for rainy days or hikes along the river.
Our testing team members loved all the different color options and how straightforward it is to put on the dog.
The Lifeunion Adjustable Service Dog Supply Backpack has fully adjustable straps to provide a comfy fit.
The backpack stores essentials and has a built-in rubber handle. We love this option for working dogs such as service dogs or therapy dogs.
Pros
600-denier fabric
A sturdy and durable option
Different colors and fits pets with chests from 21 to 32 inches
A great option for working dogs
Cons
Our dogs and our testers really enjoyed using this pet backpack with no downsides to mention
The Best Dog Backpack – Buyer's Guide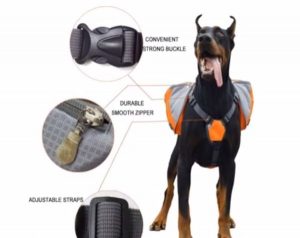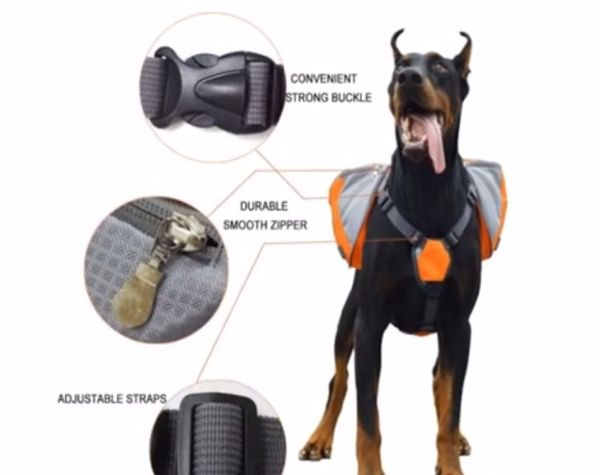 Whether you are off to go hiking or just running a few errands, a dog backpack can make the trip easier for you and your dog. Finding the perfect doggy backpack for your fluffy friend might seem like a thankless task. There are so many different versions each claiming to be the best.
To help in demystifying the process, we have developed this buyer's guide. We will explain the most important features and those that you don't truly need. Let's get started!
Do I Really Need to Get a Dog Backpack?
Understanding if your dog will like to use the backpack is paramount to purchasing a dog backpack. A few items to ponder:
Is your dog physically ready to carry a backpack? Do they have back problems or hip dysplasia or perhaps arthritis that could make using the pack painful? If they do, then a backpack may not be the best idea.
Where are we going? Will the backpack be used when hiking or more for around-the-town use? If it will be used near water or in rain, go with a water-resistant version.
Is my dog's personality congruent with dog backpack use? If your pet has anxiety or is difficult to train you may not be able to use the pack.
Positive Reasons for Using a Dog Backpack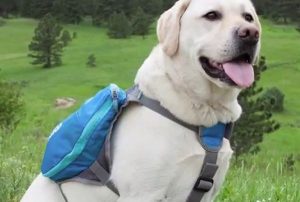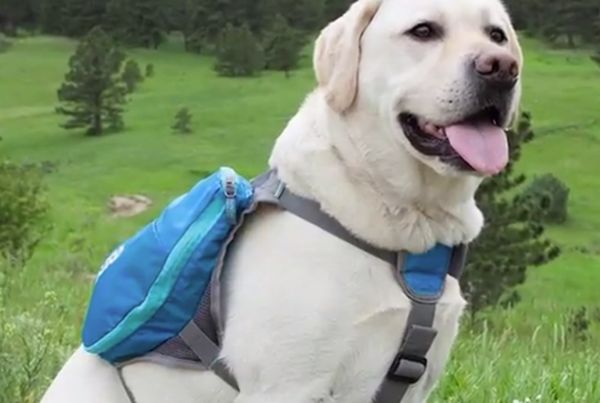 A dog backpack is a great way to help your pet build up strength and endurance to help them lead a long and healthy life. It also gives them a sense of pride and responsibility since they are helping you carry things. A dog pack can also allow your canine companion to be easier to see while out on trails or in heavily wooded areas. Reflective parts can be the difference between a lovely day and a horrible one.
Our pets love to spend time with us and time outdoors. A pet backpack makes taking them on trips easier and safer. It also makes your carrying load lighter since you can place things in their pack too.
Key Factors for Selecting the Best Dog Backpack
Let's take a peek at the crucial considerations to consider while shopping for a dog backpack.
Sizing:
Sizing is one of the most important points to ponder, since if it does not fit correctly it will not work correctly. The backpack cannot be too tight or too loose. Most manufacturer's base sizing on ribcage circumference or weight. We will discuss the best methods to measure your pet in a few minutes.
Longevity: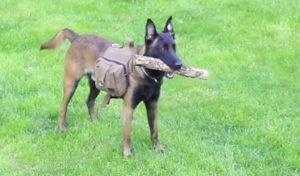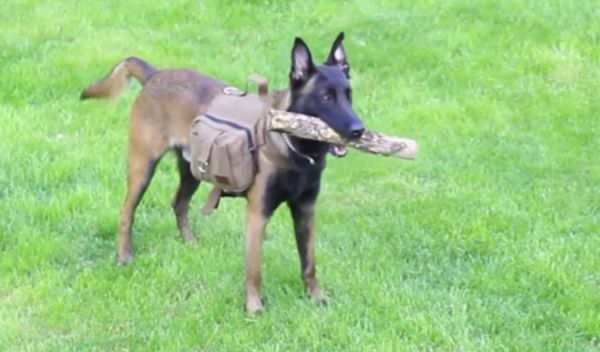 If you are spending money on a product you want it to last. Selecting a dog backpack made from durable material will increase its longevity. You also want to think about the straps, clasps, and zippers to also be certain they are well-made and durable.
Budget:
As always, keep your budget in the forefront of your mind. You may be tempted to pick the least expensive option, but it's crucial to look at materials used and specifications to ensure it will last instead of quickly falling apart.
Weight:
If you have a very large dog then you can select a dog backpack that holds more weight. Smaller dogs will not be able to carry backpacks that are as large. Keep your pets size and abilities in mind when thinking about how much you intend to place in their pack.
Measuring Your Pet for a Dog Backpack
Since it imperative to correctly measure your pet for their new pack, we want to cover the best ways to measure them. Let's take a closer look.
Measuring Chest Girth or Rib Cage Circumference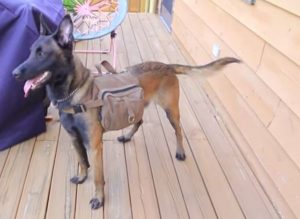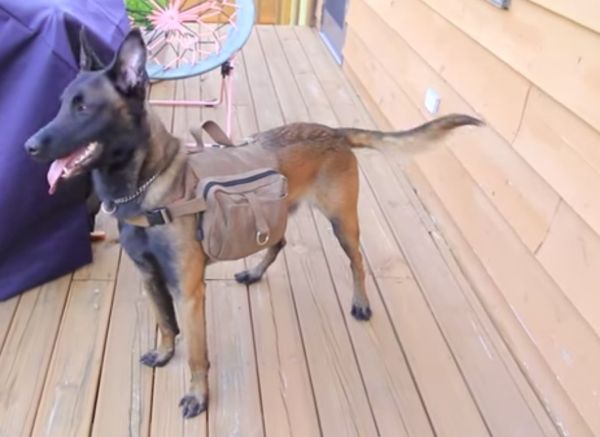 The chest girth or rib cage circumference is one of the most commonly used measurements in sizing a dog backpack. The measurement is the largest part of your pup's rib cage, usually located just behind their front legs.
To find the chest girth of your dog, wrap a flexible tape measure around your pet's chest. Make sure it is snug, but not digging into your dog by slipping two fingers in between your dog's skin and the tape measurer.
You will need to measure all the way around your pet's chest while they are standing upright. Use the two-finger rule to prevent a too-tight fit. If your playful pooch is in between two sizes, select the larger size.
How Do I Teach My Dog to Wear a Backpack?
Let you dog smell and examine the pack before trying it on. Place it on your pup while reassuring them. Once they are comfortable, fasten it. Let them walk around for a few minutes and then take it off. Repeat the process until they are comfortable with it on.
Attach their leach and walk them around in your yard until they seem happy and comfortable. We recommend taking shorter hikes until your pet in entirely comfortable in wearing the backpack before trying longer sessions.
Dog Backpack Safety Tips
Keeping our dogs safe is our top priority. Here are some helpful safety tips.
Remove the backpack's bags when crossing water such as a stream or river.
Dogs can become overheated quickly when wearing a backpack so make sure they are hydrated and take rest breaks.
Check your pup's feet pads often so they stay comfy.
Check straps for chafing on your dog's sensitive skin.
Purchasing a new dog backpack for your fuzzy best friend doesn't have to be a nightmare. Keeping your pet's size and abilities in mind while also considering where you will be using it will make the process completely painless.
We hope that you enjoyed reading our reviews of the top ten dog backpacks and that you learned something new today from our best dog backpacks buyer's guide! Hearing from our loyal reader family always brightens our day. Leave us a comment below with your dog backpack tips and tricks.