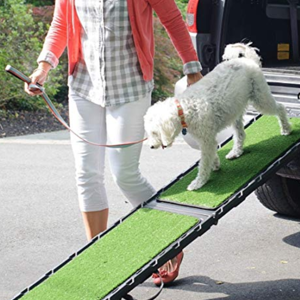 If you are anything like us, you understand that your dog is a full-fledged member of the family. Just like aging humans, elderly canines may need a bit of help getting in and out of the car or into bed.
A dog ramp can assist you in caring for your pampered pup while keeping them safe. Finding the perfect dog ramp to suit your furry best friend may not seem like a walk in the park.
There are hundreds of models available with a vast variety of specifications making wading through each one a frustrating task. No worries, we've got your back!
We tasked our testing team with trying the top ten
dog
ramps. We have also crafted a handy guide to explain everything you need to know to make an informed purchase. Let's get started!
BEST CHOICE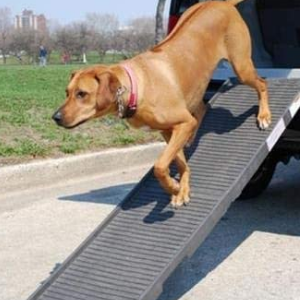 PetSTEP Original Folding Pet Ramp
Best Dog Ramp in Our Rating
Unique non-slip rubber surface
Robust design, stable on any surface
Easy to fold and transport in a car
Easy to clean, resistant to rust and other problems
Selecting the Best Dog Ramps in November, 2023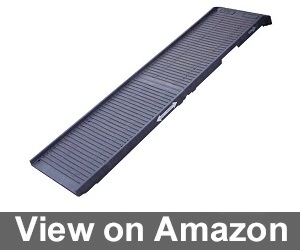 The PetSTEP Original Folding Pet Ramp is created with a special walking surface. The ramp's non-slip rubberized surface makes walking easy. It can be used in both wet and dry conditions.
The PetSTEP Original Folding Pet Ramp fits any vehicle edges and is straightforward to use. The dog ramp easily accommodates up to 500 pounds.
It's super simple to clean and is anti-corrosive so it will last for many years to come.
Pros
Terrific non-slip surface works in rain and snow
Fits any vehicle
Easy to clean
Extremely well-made and durable
Cons
We loved using this all-weather dog ramp and believe you will too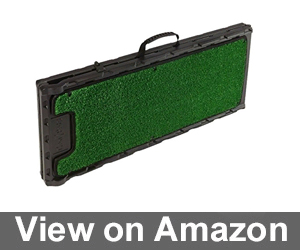 The Gen7Pets Natural Step Ramp for Pets understands that some pets do not like to try new things. This ramp has been fitted with a faux grass cover that lets pets feel like they are walking on the ground. The grass is easy to clean and very durable.
The Gen7Pets Natural Step Ramp for Pets is also a lightweight option that is easy to store in between uses. It will not scratch or scuff your vehicle's interior.
Our testing team was impressed with this option that fits into SUVs and with its durability.
Pros
Very durable and well-made
Faux grass material
Fits into SUVs and is easy to store
Won't scuff or scratch up interiors
Cons
Not as sturdy for very heavy pets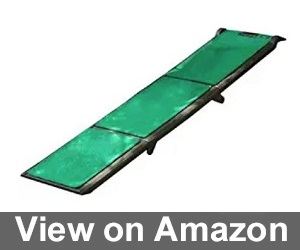 The Pet Gear Travel Lite Ramp features a SupertraX Mat. The mat protects your puppy's paws and your vehicle's interior, keeping it free of scuffs and scratches. Our testing team members with older dogs loved how secure the ramp is.
The Pet Gear Travel Lite Ramp includes rubber grips for proper placement that actually stays put. Pet's up to 200 pounds will be able to enter and exit vehicles with ease.
The ramp folds up and stores easily without taking up a ton of storage space.
Pros
Terrific for older dogs
A steady and durable option
SupertraX Mat is soft on paws
Well-made and folds up for storage
Cons
There is a huge disparity in price among the smaller and larger ramps which seems unnecessary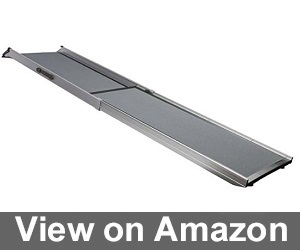 The PetSafe Happy Ride Extra Long Telescoping Dog Ramp earned high marks from our testing team thanks to its wider ramp. Larger pets can sometimes have a rough time with the narrower options. We successfully used this doggy ramp with a Saint Bernard who usually refuses to walk on them.
The PetSafe Happy Ride Extra Long Telescoping Dog Ramp weighs in at a mere 18 pounds making it easy to tote around and use.
It slides inwardly and locks up safely to make storage a breeze. The ramp also utilizes a high-traction surface to keep paws in place.
Pros
Very lightweight and easy to set up
High-traction surface
Extra wide ramp
Stores easily and includes a safety lock to keep it in place
Cons
A tad bit pricey but well worth the extra money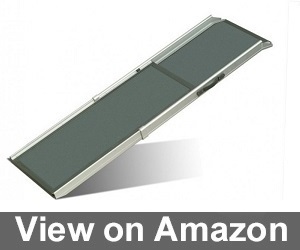 The PetSafe Solvit Deluxe Telescoping Dog Ramp is fully adjustable to compliment any size pooch. The ramp also works well in both smaller cars as well as trucks or SUVs. Our testing team loved being able to adjust the ramp to the perfect size for our vehicles and pets.
The PetSafe Solvit Deluxe Telescoping Dog Ramp slides inward and locks in place for fast storing. Pets remain safe thanks to sidebars and a high-traction surface that keeps dog feet in place.
The ramp weighs just 13 pounds but is steady enough to support pets weighing up to 200 pounds.
Pros
Adjustable for any size pet making it a great choice for multiple pet families
Extremely versatile
Easy to use and store in between uses
Well-made and durable
Cons
We loved this choice and think you will too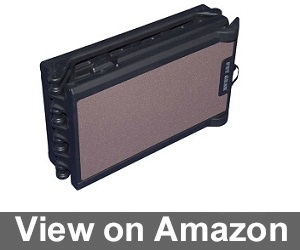 The Pet Gear Full Length Ramp offers a great ramp at a wonderful price. This doggy ramp includes a tri-fold system that makes folding up and storing the ramp a breeze. Our testing team members were thrilled to find a ramp that is steady at such an economical price point.
The Pet Gear Full Length Ramp supports a maximum weight of 200 pounds making it a sound choice for many different sizes and breeds. The ramp also has reflective tape to alert any oncoming traffic.
Rubber grippers keep the ramp securely in spot to keep pets safe and sound.
Pros
Inexpensive price
Easy to use, fold, and store
Stays in place with rubber grippers
Reflective tape
Cons
We enjoyed using this pet ramp and think you will too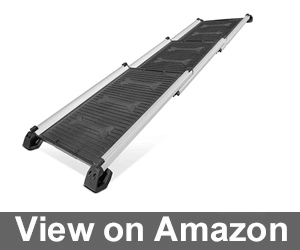 The Titan 28 – 61 Telescoping Collapsible Pet Ramp is fitted with rubber grippers that help the ramp stay firmly in place. Our testing team and their pets loved the slip-resistant surface that is as cute as it is effective. We used the ramp successfully with both smaller and larger dogs.
The Titan 28 – 61 Telescoping Collapsible Pet Ramp folds up quickly and is easy to store. The ramp also includes a built-in molded handle so it's a snap to take on errands or road trips.
We also used this dog ramp with both cars and trucks with it fitting fine in either.
Pros
Moderate pricing point
Fits many different vehicles and holds up to 200 pounds
Easy to use and very durable
Stays in place in use
Cons
We wish it came in different color options rather than just black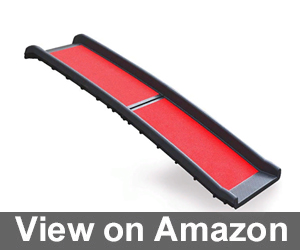 The Kurgo Wander Collapsible Bi-Fold Dog Ramp aims to provide a lower stress way for pets to enter and exit the car or bed, for example.
The ramp was specifically designed and crafted with aging dogs with hip dysplasia or arthritis. The incline is less steep than other versions earning it high marks from our testing team members and their senior pets.
The Kurgo Wander Collapsible Bi-Fold Dog Ramp is extremely light and weighs in at a mere ten pounds. The ramp was easy to use for our team members with limited mobility. It's simple to set up and use making it our top pick!
Pros
Weighs just ten pounds and easy to use
Less steep incline is easier for dogs to navigate
Perfect for both use in vehicles or helpings pets onto the bed or couch
Folds up for fast storage
Cons
This was our favorite option this week with no bad qualities to mention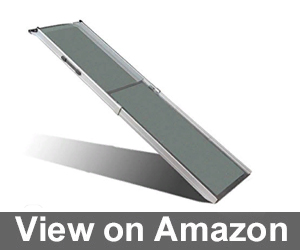 The PetSafe Solvit Deluxe Telescoping Dog Ramp relies on a telescoping system to collapse down for easier storage and use. Our testing team members were excited to find an adjustable telescoping option. We were able to use the ramp for every size and shape of dog that we tried and it holds a whopping 400 pounds making it a great selection for multiple pet families.
The PetSafe Solvit Deluxe Telescoping Dog Ramp is just 13 pounds making it is very easy to work with. Our pets did great walking on the high-traction surface with no slips or stumbles.
Some of the puppies were a bit scared, but we have some excellent tips to help you get your pet used to using a ramp in our guide below.
Pros
Perfect for families with pets of multiple sizes
Excellent price point
Terrific surface
Durable and well-crafted
Cons
We liked this option with no bad qualities to mention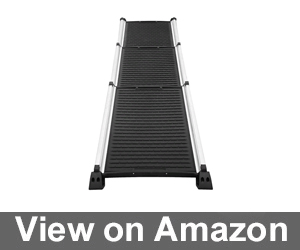 The Pet Trex Titan Telescoping Aluminum Pet Ramp features an unfolded length of 62 inches. The extra long length makes this our testing team members' favorite telescoping option this week. The ramp easily reached up into our F150s, Suburbans, and vans are easily as it did into cars.
The Pet Trex Titan Telescoping Aluminum Pet Ramp is super light thanks to being crafted from aluminum. It holds up to 220 pounds and worked well with a Bernese Mountain Dog.
The ramp has three sections which slide into one another and feels extremely steady when locked into place for use.
Pros
Perfect for taller trucks, SUVs, and vans
Great pricing point
Easy to use and is very light
Durable and well-made
Cons
We wish it held a tad bit more weight
The Best Dog Ramp – Buyer's Guide
Dog ramps have become more common and more affordable in recent years. The market has become inundated with thousands of versions. Finding the perfect dog ramp for you and your fuzzy friend can quickly become a headache.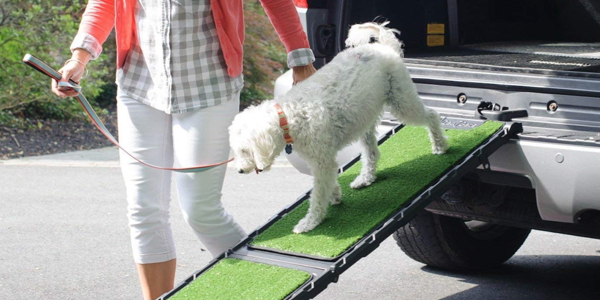 While we tested and researched the top ten dog ramps we learned tons of helpful information. Now, we want to pass that knowledge onto you, our readers. Let's get started!
What is a Dog Ramp?
A dog ramp is a piece of therapeutic equipment for your favorite canine friend. The ramp can be used to help your pet enter and exit your vehicle or perhaps to assist them in getting on and off a bed. Just like a human being, pets also experience the signs and symptoms of aging which can make jumping painful and difficult.
Do I Really Need a Dog Ramp?
If you have a larger dog or one that has joint pain, a dog ramp can be a wonderful tool to invest in. The pain caused by aging joints or arthritis can severely limit your dog's ability to jump in and out of a vehicle. This is especially true for tall trucks and SUVs. The ramps can also be used to help pets on and off the bed or couch.
Stopping Slippery Surfaces
One huge takeaway to learn today is that the surface of the ramp matters. We highly recommend selecting a ramp with a surface that allows your pets' paws to grip the surface. Steer clear of metal versions that lack any type of surface treatment. Slick surfaces most likely will result in slips that could cause severe injuries so always put your pooch's safety first.
There are many surfaces used to create a surface with traction. Some pets really like to use non-stick rubber since it's easy for their paws to grip. We also have found that some dogs like ramps with faux grass best. Select a ramp surface traction material that your pet will be willing to walk on to make life easier for both of you.
Key Considerations for Dog Ramps
Here are a few other crucial points to consider when purchasing the perfect puppy ramp. Let's take a closer peek.
Material Matters: The material used in the construction of a pet ramp has a direct effect on its performance. Lightweight options like aluminum are perfect for folks with arthritis or limited mobility. They may not fair as well in very rainy or snowy areas, so take extra precautions in adverse weather. If you have a very large breed you want to select materials that are sturdy and well-made to avoid accidents.
Collapsible Design: Selecting a doggy ramp for Fido that is telescopic or easily folds down is key. The ramp needs to fold or collapse to store while driving or when not in use. Make sure it locks into place fully when in use.
Safety First: We like ramps that keep us and our pets safe. Look for safety measures such as safety rails, reflective tape surfaces (you can always add some later on), traction, and locking into place when your dog is using it. We also suggest finding a dog ramp option with rubber foot grippers. The rubber foot grippers help to keep the ramp perfectly stable.
How Do I Teach My Dog to Use a Pet Ramp?
Some pups will be fine using a pet ramp right away while some others may have a harder time getting used to it. Here are some helpful hints and tips to help your furry best friend learn to use the ramp with ease.
Place your dog on their leash and grab some small treats.
Place the dog ramp on the floor, stretched out to the length it will be when used.
Walk your dog to the ramp and then encourage them to walk across. Give them a treat when they walk across the ramp.
Repeat the process until your dog is comfortable walking across the ramp.
Set the ramp up next to a couch or place it into your vehicle following all manufacturer instructions. Double-check that the ramp is engaged and fully locked into place. Let your dog practice using the ramp to get up and down and remember to give them a treat when they use the ramp correctly.
Be patient. Some pets will take to using the ramp with ease immediately. Some dogs may never grow completely comfortable with using it.
Larger or elderly pets may require the help of a second person. One individual can lure the dog with a treat while the other stays next to the dog holding their leash to keep them safe. It's usually easier for them to go down the ramp rather than up the ramp, so teaching them to go up first is often the easiest method.
Purchasing the best dog ramp for you and your pooch's needs doesn't need to be a nightmare. Keeping important considerations such as surface traction and design in mind will make shopping a breeze. Training your dog to use the ramp will make it a smooth transition that is easier on your pup's joints and arthritis.
We hope that you enjoyed reading through our reviews of the top ten dog ramps and that you learned something helpful from our best dog ramps buyer's guide. Hearing back from our loyal readers is always the highlight of our day. Don't forget to drop us a fast note down below with your best dog ramp training tips.