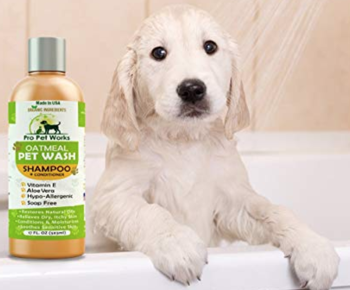 With the dog days of summer quickly approaching, spending time with family and pets is one of our favorite ways to pass the time. Playing outside or in the hot weather can make even the cleanest pooches start to become a bit stinky.
Giving your dog a good scrub down with a specifically made for animal shampoo can help keep Fido smelling as fresh as a daisy.
With so many different dog shampoos on the market it can be difficult finding the best option. We tested and reviewed the top ten dog shampoos to find out which versions are effective and which options should just be poured down the drain.
While testing out the shampoos, we also learned a ton of helpful information which we have compiled into a helpful shopping guide to assist you in demystifying the process. Let's get started!
BEST CHOICE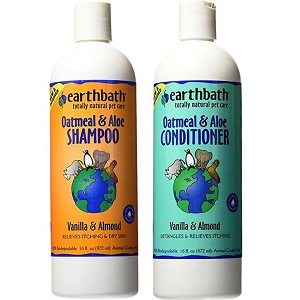 Earthbath Oatmeal & Aloe Shampoo
Best Dog Shampoo in Our Rating
Absolutely eco-friendly composition, hypoallergenic for pets
Low consumption, enough for many months
Suitable for both cats and dogs
Convenient dispenser button
Selecting the Best Dog Shampoos in September, 2023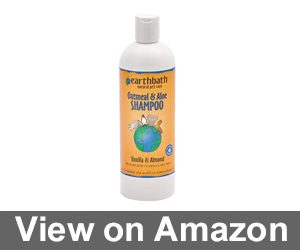 The Earthbath All Natural Pet Shampoo was a hit among our testing team members with pets that have allergies.
The shampoo is made from natural ingredients that will not irritate your pet's skin.
The shampoo is soap-free relying instead on coconut-based cleansing, which will leave your pet's coat shiny and fresh while comforting sensitive skin.
The Earthbath All Natural Pet Shampoo is completely biodegradable. Using a safe product like Earthbath allows us to care for our dogs while also ensuring that we protect the Earth at the same time. We also love the scent of the shampoo since it has a lovely vanilla smell that is never overpowering.
Pros
All natural and safe ingredients
Soap-free shampoo that uses coconut cleansers
Great for allergies or sensitive skin
Amazing smell
Cons
The Earthbath All Natural Pet Shampoo was one of our favorite choices this week with no downsides worth mentioning
The Miracle Coat Dog Shampoo offers a solution for busy pet parents that don't have a lot of time. Washing the dog can be time-consuming and difficult, especially for very large breeds.
This option is delivered as a rinse-less solution that is simply sprayed on.
The Miracle Coat Dog Shampoo does not need to be rinsed off. Just spray onto your pet then massage the shampoo into a lather.
Next, you will towel dry your dog before brushing their fur. The result is a nicely freshened pet with a soft and shiny coat.
Pros
Spray on shampoo
No need to rinse just massage in and towel dry before brushing
Smells lovely
Less traumatic for pets that hate baths and cats
Cons
A tad bit costly, but worth the price tag in our opinion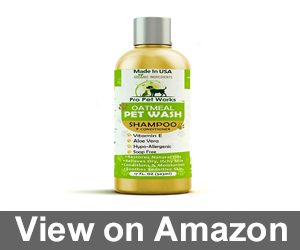 The Pro Pet Works All-Natural Oatmeal Dog Shampoo is a wonderful option for dogs, rabbits, cats, and ferrets. The shampoo has been PH balanced to soothe and protect your pet's sensitive and delicate skin.
Our testing team was thrilled by the performance of this option as it kept our pet's coats fresh while also moisturizing their skin.
The Pro Pet Works All-Natural Oatmeal Dog Shampoo is specifically formulated to work well for pets that have sensitivities or allergies to food, grass, and flea bites. The shampoo will not hurt your pet's eyes, ears, or nose. It is scented with a lovely cherry almond fragrance created from natural ingredients.
Pros
Smells amazing
Gentle on skin, eyes, ears, noses
Aloe enriched
Effective
Moderate price point
Cons
We love using the Pro Pet Works All-Natural Oatmeal Dog Shampoo with no bad qualities to speak of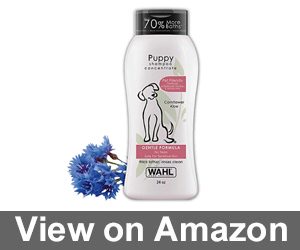 The Wahl Dog & Pet Gentle Puppy Shampoo is a wonderful option for puppies. The shampoo is a tear-free option which will prevent any painful contact with your new pet's sensitive eyes.
Our testing team was thrilled to find a shampoo that not only works well, but that is super gentle on young pup's coats, skin, and eyes.
The Wahl Dog & Pet Gentle Puppy Shampoo lathers quickly and rinses away easily. The scent is a lovely light and fresh smell that complements any dapper dog.
We also love that Wahl uses many natural ingredients, including allow to moisturize your dog's hair and skin while leaving them delightfully clean and smelling amazing.
Pros
Tear-free formula
Great lather
Washes off easily
Lovely scent
Cons
We love everything about this option from Wahl with no downsides to mention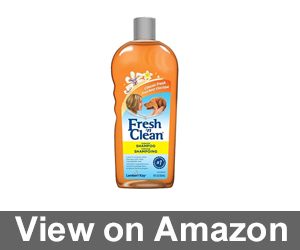 The Fresh 'n Clean Lambert Kay Scented Dog Shampoo understands that dog shampoo does not need to be overly expensive to be effective.
This budget-priced selection was a hit among both our testing team members and our canine companions thanks to its long-lasting scent. The shampoo smells amazing and will keep Fido feeling fresh for weeks.
The Fresh 'n Clean Lambert Kay Scented Dog Shampoo earned high marks from our testing team members thanks to its formula.
The shampoo has been formulated with anti-static agents. As you use it to wash your pet, it also works toward removing mats and tangles due to the anti-static additives making it a smart choice for dog's that shed a lot.
Pros
Perfect for dogs that shed lots of fur
Wonderful scent
Anti-static agents help to remove tangles and mats
Wipe your dog with a moist towel to reactivate the fresh scent
Cons
We were thrilled with this shampooing option, and we think you and your favorite canine will as well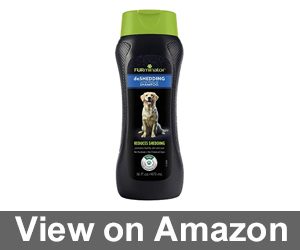 The FURminator deShedding Ultra Premium Dog Shampoo is the perfect solution to cleaning dogs that shed lots of hair.
Some breeds like Huskies or Pomeranians can lose copious amounts of the hair once or twice a year.
Getting the hair out properly to prevent mats, tangling, and huge fur piles on your floors is of the utmost importance.
Packaging may vary. Furminator deShedding Ultra Premium Shampoo
Works to reduce shedding
Promotes healthy skin and coat
Enriched with Omega 3 and 6 Fatty Acids, Calendula Extract, and Papaya Leaf Extract
Use monthly as part of the Furminator at-home professional grooming regiment
The FURminator deShedding Ultra Premium Dog Shampoo works to reduce shedding. This option promotes a healthy coat and moisturized skin thanks to being enriched with Omega 3 and Omega 6 fatty acids. Our testing team members noticed a drastic improvement in the severity of shedding while loosening and removing our pet's undercoats was a breeze after washing with the FURminator Shampoo.
Pros
Formulated to reduce shedding
Fewer tangles and mats
Great for heavily shedding breeds like Pomeranians
Smells wonderful
Cons
We really love using this offering from FURminator and believe you will too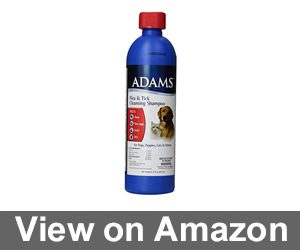 The Adams Flea and Tick Cleansing Shampoo is a terrific option for families that live in areas where ticks are common.
Fleas can be a problem in almost any area, making this shampoo a smart purchase for pets in any geographic locale. Our testing team members were thrilled at the ability of the shampoo to clean and protect pets.
The Adams Flea and Tick Cleansing Shampoo helps you break the life cycle of fleas. The shampoo is effective against fleas, flea eggs, lice, and ticks. It also is terrific for deodorizing a stinky pooch after a hot summer day outside playing with the kids.
Pros
Moderate pricing point
Kills fleas, flea eggs, ticks, and lice
Smells really nice
Deodorizes puppies, dogs, and even kittens or cats
Cons
This option is not the most moisturizing formula, so we suggest using a pet conditioner or conditioning spray afterwards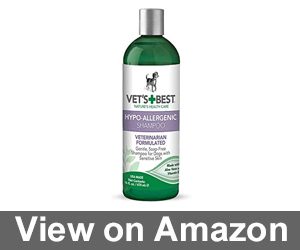 The Vet's Best Hypoallergenic is a terrific option for pets with super sensitive skin.
The shampoo has been specifically formulated to nourish and moisturize your dog's skin without stripping away natural oils. It is also hypoallergenic and soap-free.
The Vet's Best Hypoallergenic will not wash away flea or tick treatments. The shampoo carefully removes allergens that can cause itching, which leads to constant scratching and licking on your pet's part. Our testing team members also thought the scent was great.
Pros
Perfect for pets with sensitive, itchy skin
Hypoallergenic
Smells lovely
Excellent price point
Cons
The shampoo did not work well for one team member's dog with severe skin irritation and seemed to make them feel itchier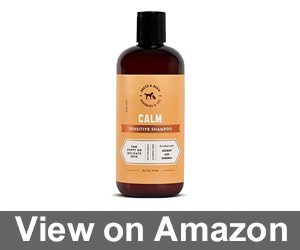 The Rocco & Roxie Dog Shampoo for All Dogs is crafted with natural ingredients to pamper your pooch.
The shampoo includes aloe vera extract, chamomile, and rosemary, among other items blended with cleaning your pup's skin and coat without stripping away natural oils.
Our testing team members were thrilled at the performance of Rocco & Roxie and how well it works. The Rocco & Roxie Dog Shampoo for All Dogs is free of harmful substances such as dyes or drying alcohols.
The shampoo soothes skin while also smoothing out hair cuticles to give your pet their freshest and silkiest coat ever. The rosemary also helps to stimulate hair growth for fuller and fluffier coats.
Pros
Made with natural ingredients
Smoothing and soothing
Smells wonderful
Lathers and rinses well
Cons
A bit expensive but works amazingly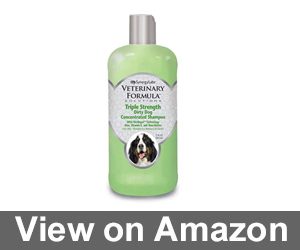 The Veterinary Formula Solutions Triple Strength Dirty Dog Concentrated Shampoo understands that most dogs love to get dirty. The shampoo has been meticulously formulated to deliver powerful results in a gentle manner.
Our testing team was shocked to find that this shampoo delivers on its dirt repelling promise as it really keeps our pets cleaner for longer time spans.
The Veterinary Formula Solutions Triple Strength Dirty Dog Concentrated Shampoo smells amazing and will get and keep your dog smelling beautifully for longer.
The shampoo is extremely moisturizing and includes shea and vitamin E. We loved this option and picked it as our top choice this week for its uncanny ability to repel dirt from pet hair after use, keeping your pooch fresh and clean for longer.
Pros
Cleans and moisturizes
Repels dirt to keep your pet clean
Lovely scent
Great for stinky pets
Cons
This was our number one pick this week with no downsides to mention
The Best Dog Shampoo – Buyer's Guide
There are thousands of pet shampoos on the market. Each shampoo claims to be the best which can make picking the best dog shampoo for your pet a difficult process. While reviewing our top ten dog shampoos, we learned a ton of helpful information which we want to pass on to you. Let's get started!
What Are the Benefits of Purchasing and Using a Dog Shampoo?
Your dog has sensitive skin and a coat with special needs. Even the bravest and largest dogs need pampering now and then. Finding the right shampoo will protect their skin and hair while keeping them smelling fresh.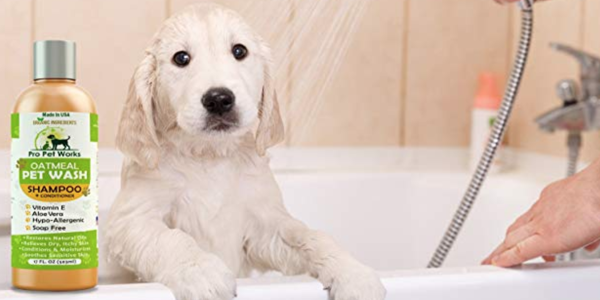 Some dogs may be predisposed to looking dirty. Silkie coated breeds can start looking dirty and oily quick. Light and white coated dogs are also harder to keep looking clean and pristine. Eye tear stains can also be an unsightly and uncomfortable issue that requires washing as well.
What Are the Different Types of Canine Coats?
Understanding the different types of hair or fur that your pet has is important. Once we know what type of coat a pet has, we can understand how best to care for it. Let's take a closer look at the different types of coats found on dogs.
Long Coat: Long coated pets grow out and will need to be groomed periodically. The hair needs to be moisturized to stay soft and shiny. Examples include Afghan Hounds or English Sheepdogs.
Short Coat: Short coated pets have hair that lies closely to the skin. The hair may get oily or dirty faster. Dobermans are an example of a short coat dog breed.
Double Coat: Double coated pets have longer, silkier hair in addition to an undercoat filled with thicker, more dense hair. An example of a double coated pet would be the Pomeranian.
Curly Coat: Dogs with curly coats include the Poodle and Bichon Frise. Their hair is curly and therefore may be predisposed to becoming tangled and matted.
Hairless Dogs: Some dogs are classified as hairless. Their skin can be extremely sensitive and requires moisturizing care. Examples include the Chinese Crested and the Mexican Hairless Dog.
This list is not exhaustive, so your pet may have different needs. Always explore your pet's specific breed or observe their coat closely. A little research and planning will make cleaning your dog's hair much easier and far more effective.
Key Considerations for Selecting the Best Dog Shampoo
Let's examine the crucial points to consider when shopping for pet shampoo.
Differences in pH
Pets have a different pH balance than humans. For this reasoning, you shouldn't use your own shampoo on your pet. A dog has skin that is more acidic at a pH range of 6.2 and 7.5 while human skin is at a pH level of 5.5.
Pest Problems
If your pet is exposed to the great outdoors, then they are also exposed to insects. Some pests such as fleas and lice love to burrow into a dog's hair and skin. Ticks can cause Lyme disease, thus bringing on a plethora of health problems. Using a dog shampoo that has been specifically formulated to deal with fleas, lice, and ticks can make your pet healthier and happier.
Itchy Skin
Just like us, pets can have itchy skin, dandruff, and allergies. Allergies to food, dander, or other elements like grass or pollen can cause your pooch to feel very uncomfortable. This situation can lead to flaking and scratching. A formulated dog shampoo can moisturize your pet's sensitive skin and clean away allergens while protecting their coat.
Different Versions of Dog Shampoo
Puppy Shampoo: A gentle formula that won't irritate sensitive skin and eyes.
White Coat: A brightening shampoo that takes extra care to gently brighten and clean white and light coats.
Medicated: Includes ingredients to combat fleas, ticks, lice, or other pests.
Conditioning: Great for keeping longer coats smooth and free of tangles or mats.
Deodorizing: Keeps pets smelling fresher and can help when a pet gets sprayed by a skunk or into something stinky.
Bath Time Tips
Here are a few tips and tricks to make bathing Fido easier than ever.
Most dogs need a bath around once a month.
Dogs with oily hair and skin, such as Basset Hounds, could need a good scrubbing once a week.
Some breeds like the Basenji bathe themselves and rarely if ever, need a bath from their human owners.
Brush your dog before their bath. This is especially helpful for double coated breeds like the Pomeranian or Husky.
Use lukewarm water to avoid burns.
Talk in a calming voice to reassure your pup.
Wash them twice. The first wash is a quick one, and you don't have to rinse completely. The second wash is much more thorough, working the lather into the coat and skin fully.
Rinse the shampoo out of the coat for twice as long as you think you need to. This will ensure the shampoo is totally rinsed away.
Do NOT use your hairdryer on your pet. Towel dry, then let your pet shake off excess water and air dry. You can also buy a pet hair blow dryer that is made just for pets.
Give your dog a treat afterward for being so well behaved while getting cleaned up.
Just like us, your dog has skin and hair that must be cleaned and cared for. Shampooing your dog doesn't have to be a huge headache of a chore. Understanding the needs of your pet's skin and hair will make selecting the right dog shampoo a breeze.
We hope you had fun exploring the top ten dog shampoos and learning about dog shampoo in our buyer's guide. Hearing back from our loyal readers always brightens our day. Drop us a quick note below with your favorite dog shampoo and any helpful pet bathtime tips you have.