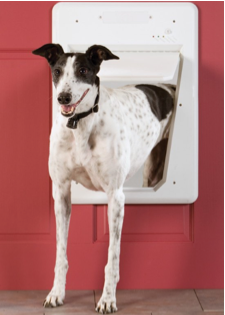 Dogs love going in and out of the house over and over. Letting them out at their every whim can be difficult, annoying, or just downright impossible when you are at work.
Dog doors have traditionally been one way to help alleviate this problem, and now that electronic dog doors are here, there has never been a better time to buy one for your pampered pooch.
Electronic dog doors can be confusing to purchase. To help you with it, we tested the top ten electronic dog doors currently available for purchase.
Our testing team members also learned a ton of helpful information that we will now pass on to you in our shopping guide. Let's get started!
BEST CHOICE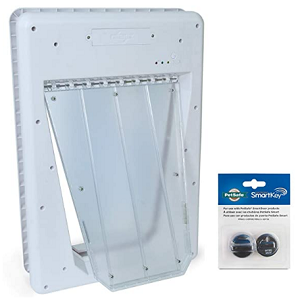 PetSafe Electronic SmartDoor
Best Electronic Dog Door in Our Rating
Two sizes to choose from for big and small pets
Special protection against other people's pets: only yours will enter the door
Great modern design, suitable for any interior
Product support and service from the manufacturer are guaranteed
Selecting the Best Electronic Dog Doors in September, 2023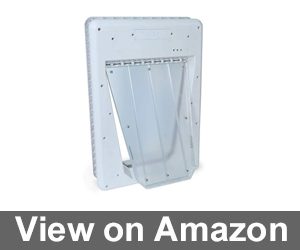 The PetSafe Electronic SmartDoor is a lovely option to allow pets to safely move in and out of your home at their leisure. The SmartDoor is battery operated and will require four D-Cell sized batteries.
The SmartDoor offers several programmable safety options, including selective entry, auto-locking, and exit options.
The PetSafe Electronic SmartDoor works with a SmartKey. The SmartKey is worn on your pet's collar and signals to the door to allow your pet access to it.
It is small and not cumbersome, so it shouldn't irritate your pet. It's also great for homes with multiple pets and can accommodate up to 5 separate animals.
Pros
Customized access for up to five pets
Battery operated by D-Cell batteries
United States-based customer service
Easy to program
Cons
The batteries tend to be used up somewhat quickly, which can get rather expensive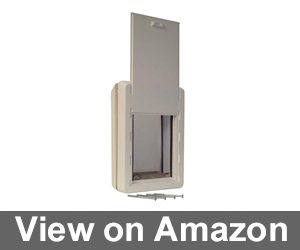 The Perfect Pet All-Weather Energy Efficient Dog Door is a terrific option for folks living in areas with winter weather conditions during the cooler months.
The door is crafted from energy-efficient structural foam molded plastic to ensure that your pet doesn't bring the cold weather inside with him.
The door also features a double vinyl flap design, which keeps our testing team members' homes nice and toasty even during snow and allows the home to remain cool when Fido wants to go out during the sweltering summer days as well.
The Perfect Pet All-Weather Energy Efficient Dog Door has an adjustable telescoping frame. The frame can be used with door thicknesses ranging from ¾ of one inch to 1 and ¾ inches. Our testing team members noted that the frame and the double vinyl flap both helped to keep the area near the door at a more constant temperature than cheaper versions.
Pros
Great for keeping warm air in and out depending upon the season
Telescoping frame to suit a wide variety of door thicknesses
Easy for pets to learn to use
Durable and well-made
Cons
A tad bit on the expensive side but well worth the price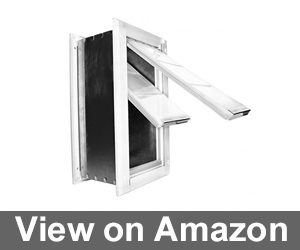 The Endura Flap Double Flap Wall Mount Pet Door offers an award-winning design that keeps your home at an optimum energy level.
The door is a single flap that has been meticulously crafted to ensure that your home stays at the right temperature.
The electronic door is installed with the use of three industrial magnets designed to stay closed during inclement weather.
The Endura Flap Double Flap Wall Mount Pet Door doesn't rely on flexing plastics or screws that will snap off. A clip lock keeps the flap in place so your pet can enter the aluminum tunnel when appropriate or stop them when it's time to stay inside the home. Our testing team noted that the door stayed shut even during wind speeds of around 50 miles per hour, making it an excellent choice for families in areas with lots of stormy weather.
Pros
Magnet locking system
Perfect for rainy and stormy areas
Secure locking cover
Sturdy and durable
Easy to install and installs flush against the wall to prevent wasting energy
Cons
Very expensive compared to similar versions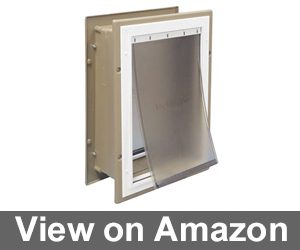 The PetSafe Wall Entry Pet Door with Telescoping Tunnel offers a solution for pet parents with thicker doors and walls that normally may not be as well suited to a doggy door.
This option features a telescoping tunnel created from strong and sturdy aluminum. The door is made from heavy extruded metal, lending extra support and durability.
The PetSafe Wall Entry Pet Door with Telescoping Tunnel is one of the easiest models to install, which made our testing team extremely happy.
You can purchase a separate kit to aid in installation as well. The door has a flap that stays closed with magnetic closures, which helped keep our homes at a steady temp despite our pets going in and out.
Pros
Doggy door that is perfect for thick doors
Easy to install
Magnetic closures on flap
Sturdy and durable
Cons
The flap door can get a bit difficult to maneuver in colder weather for smaller pets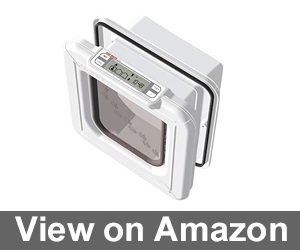 The Pet Mate Cat Mate Elite Chip and Disc Superselective Cat Flap is an awesome option for homes with kitties. The door is easy to install, which is a very important consideration for our testing team members.
The door includes a liner that lines up to 4 inches, making it terrific for thinner walls or doors.
The Pet Mate Cat Mate Elite Chip and Disc Superselective Cat Flap works with an LCD display that is easy to see and read.
The door relies on a chip system to recognize up to 3 cats to allow them to enter and exit as needed. The door flap is both weatherproof brush sealed and fully draft-proof as well.
Pros
Great for families with up to 3 pet cats
Easy-to-see LCD display
Runs on four AA batteries, which last around 9 to 12 months
Weatherproof and draft-proof
Cons
The door was pried open by a raccoon from the outside of one tester's home, so be aware if you have raccoons in your area that you may need to take separate precautions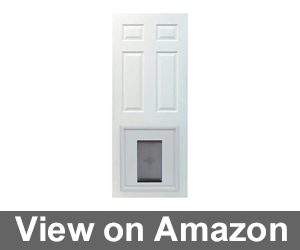 The PetSafe Panel Pet Door has been specifically designed and created to work with paneled doors. Our testing team was thrilled to find a selection that did not take away from the beauty of their panel doors.
The door gives a professional appearance in addition to working wonderfully. The PetSafe Panel Pet Door incorporates a butyl sealant which provides a watertight seal.
This fact is great news for pet families in rainy weather locales. The door also uses a two-flap system which keeps dirt, drafts, and weather outside where they belong.
Pros
Watertight seal
Easy to install
Looks beautiful on panel doors
Paintable frame allows for perfect matching
Cons
The door is not as wide as some other options so it may not fit larger pets as well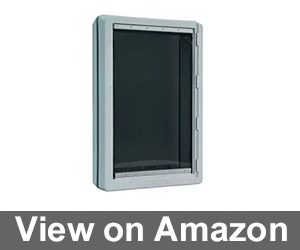 The Ideal Pet Products Designer Series Ruff-Weather Pet Door with Telescoping Frame understands that not all pets wanting to go outside are small.
The door accommodates big breeds up to around 120 pounds in weight. The doggy door is durable thanks to structural foam molded plastic.
The Ideal Pet Products Designer Series Ruff-Weather Pet Door with Telescoping Frame is easily installed which is always a plus.
You can also purchase a separate installation kit if you have any concerns over the process. Our testing team members appreciated the addition of an extra flap to keep homes safe and secure from weather or predators.
Pros
Terrific pricing point
Great for larger breed
Easy installation
Telescoping frame
Durable and sturdy
Cons
This door was one of our favorite options this week with no negatives worth mentioning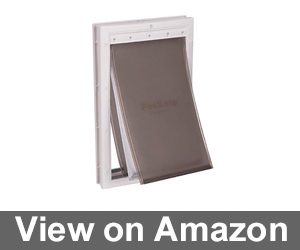 The PetSafe Extreme Weather Energy Efficient Pet Door is an energy-efficient option thanks to a three-flap system.
The addition of two flaps increases energy efficiency by up to 3.5 times that of a single flap system. The center flap is insulated to work for both hotter and cooler climates.
The PetSafe Extreme Weather Energy Efficient Pet Door has controlled access through a snap-on closing flap that can be secured when it's time for pets to stay inside.
Our testing team loved how easy it is to install the system. Best of all, our pets loved the door and started using it right away.
Pros
Snap-on closable flap for security when door does not need to be in use
Perfect for puppies or kitties learning to use the door
Energy efficient
Excellent price point
Cons
Our testing team members loved this option with no downsides to mention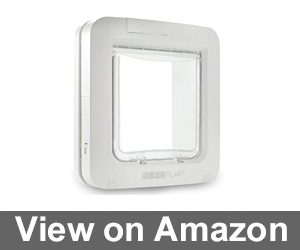 The SureFlap Microchip Pet Door uses an RFID system to read your pet's implanted ID microchip. The system allows only approved microchipped pets to move both in and out of your home. This system offers a layer of security not seen in other versions allowing pet parents to feel safer.
The SureFlap Microchip Pet Door runs of four C size batteries with an estimated battery life of one year. The door accommodates smaller breeds and cats.
It can be installed into doors, walls, or even in windows. Our testing team loved having such a secure option for previously microchipped pets.
Pros
Most secure option
RFID system allows approved microchipped pets only
Great for smaller breeds and cats
Versatile and well-made
Cons
Your pet or pets need to be microchipped for the door to recognize them, but you can get them chipped inexpensively at your local humane society or veterinary office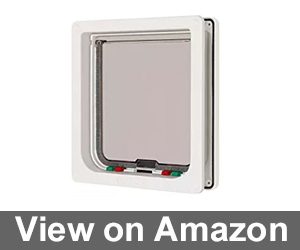 The Cat Mate Large Cat Door in White is a wonderful option for homes with cats. The door is specifically designed to accommodate felines as well as small dog breeds such as Yorkies or Dachsunds. The max shoulder height for pets using the door is 14 inches.
The Cat Mate Large Cat Door in White features a four-way lock adding to its security. Our testing team members noted that it is easy to install. Some of our cats absolutely refused to use the door, but the cats that did use it really liked it.
Pros
Perfect for cats or tiny pups
Flap system with secure 4-way lock
Easy to install
Great for thin walls or doors
Cons
Some cats would not even go near the door or through it
The Best Electronic Dog Door – Buyer's Guide
Finding the perfect electronic doggy door for your pet and home can be a frustrating task. There are thousands of versions available each touting to be the best. In order to find the right electric dog door for your needs, it's important to familiarize yourself with the product.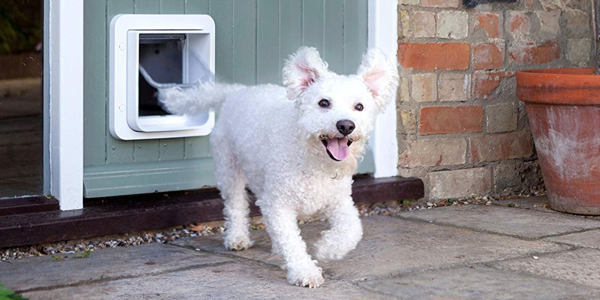 While researching and reviewing the top ten electronic dog doors we learned so many helpful tips and tricks. We want to hand that valuable knowledge on to you, our awesome readers, to assist you in making the best choice. Let's get started!
Do I Really Need an Electronic Dog Door?
Dogs love to be outside. Whether it's to exercise, use the bathroom, socialize, sunbathe, or just get some fresh air. Constantly letting your pet in and out to their satisfaction can get old and tiring rather quickly. It can also be impossible to let them out during the day while you are at work, school, or running errands.
The purchase, installation, and use of an electronic dog door will allow your furry best friend to head outside and enter the home again a breeze. An electronic version of a doggy door cuts back on some issues with the traditional nonelectronic version. This option is often programmable for several pets, can be easily monitored, and can make bathroom trips much easier during inclement weather or while you are out and about.
Key Considerations When Buying an Electronic Dog Door
Let's take a closer look at some of the most important points to consider when shopping for a new electronic doggy door.
Size
Choosing the properly sized dog door is paramount to its success. Dogs can gain or lose weight just like a human. The door must be large enough for your dog to enter and exit while allowing for a little growing room just in case hey gain a bit of weight.
Safety Concerns
Keeping your pets, family, and home safe are your top priorities, just like us. The challenge facing a new pet door is often involved in the worry that stray pets, wild animals, or even a would-be-thief could potentially gain entry into your home through the doggy door.
Our team members have some pretty crazy stories regarding the issue. One member of our team woke up to a fox in her kitchen one wintry morning after it had managed to get in through her dog's door. While she got the cute little critter out safely, it did tip over and go through her trash first. An electronic door can help prevent these issues over the use of a standard nonelectronic version.
Efficient
Letting cats and dogs in and out of the house at all hours can get annoying. A dog door allows pets to take a quick midnight potty break if needed. You won't have to get up, get dressed, or even worry about your pet since the electronic door takes extra safety measures.
Energy Efficiency
In the balmy summer months, keeping your home cool and comfortable is a top concern. Similarly, in the winter you do not want to let cold or snowy air in. An electronic dog door takes extra measures to ensure the door is open only long enough for pets to move through so that your house stays at the optimal temperature.
Energy efficiency is also a key component in your monthly bills. Every time you open the door to let the dog in or out, warm or cold air infiltrates your home. This action sends your heating or cooling system into overdrive to compensate, which drives energy heating and cooling costs soaring. The installation and use of a pet door will assist you in cutting back costs and saving money.
Purchasing a new electronic dog door is a wonderful way to ensure pets are happy and get out when they need to. Doggy doors can also help you save money on both heating and cooling costs. While there are many options available, finding the best electronic dog door for you and your family's needs is easy when you understand the basics and have a clear idea of your needs.
We hope you enjoyed reading our reviews of the top ten electronic dog door systems and that you learned something new and helpful from our shopping guide. Hearing from our loyal readers is always the highlight of our work week. Leave us a quick comment below with your favorite pet door tips and tricks!