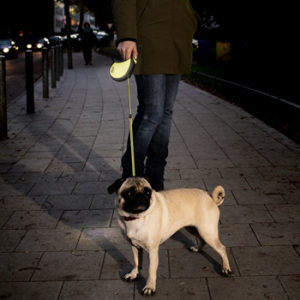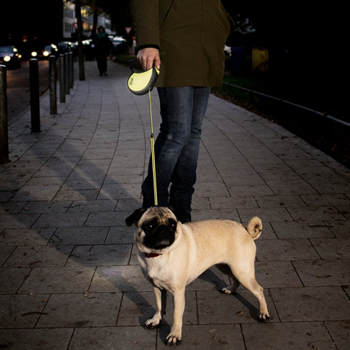 Taking your furry best friend on a long and leisurely stroll is one of our favorite parts of being a pet parent.
Keeping our dogs safe while walking is extremely important to us. The purchase and use of a retractable dog leash can take the stress out f walking safely with your pooch.
There are currently hundreds of models of retractable dog leashes. In order to find the very best retractable leash, we tasked our testing team with trying and reviewing the top ten dog retractable leashes. We have also created a helpful buyer's guide to demystify the process. Let's get started!
BEST CHOICE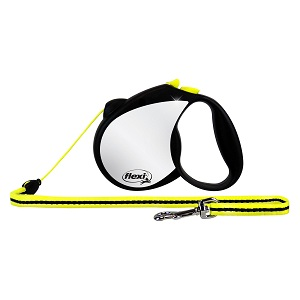 Flexi Neon Leash 16ft Small-Large
Best Retractable Dog Leash in Our Rating
Reflective fabric to keep your pet safe in the dark
Comfortable handle that even a child can handle
Robust hooks
German quality
Selecting the Best Retractable Dog Leashes in November, 2023
1. Flexi Neon 16-Foot Leash : Best Retractable Leash for use in Early Mornings or Evenings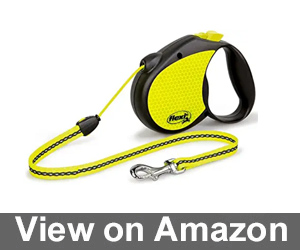 The Flexi Neon 16-Foot Leash is reflective. Reflective leashes put you and your precious pooch's safety first as they are highly visible to passing motorists. Our testing team was thrilled to find this extra safe option for night walks listed at a terrific pricing point.
Reflective 16 ft cord leash that helps increase safety for dogs and their owners – for dogs weighing up to 44 lbs
Reflective stickers and neon-colored components for better visibility
Convenient handling thanks to single-handed use of the brake button and permanent stop feature
16 ft neon-colored cord offers plenty of freedom of movement
Lightweight, compact leash for dogs up to 44 lbs
Made in Germany
The Flexi Neon 16-Foot Leash features a single-handed use for the brake, which stops anymore of the leash from retracting. The leash system is also lightweight and easy to hold. The leash is offered in three sizes perfect for pups up to 110 pounds.
Pros
Lightweight
Very well made and excellent price point
Great for pets and parents that prefer moonlit walks
Easy to use with one hand
Cons
We loved using this retractable leash system and think you will too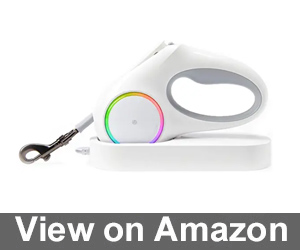 The PETKIT Retractable Dog Leash is the most exciting and fun option we tested and reviewed this week!
The leash dazzles doggies and humans alike with a dazzling light show. The lights illuminate you are your pet's way, up to 5 meters.
The PETKIT Retractable Dog Leash features an ergonomic non-slip handle. The leash system reaches up to 10 feet in length and has an easy to use brake system. It arrives with a USB charger and a magnetic charging dock.
Pros
Very durable and well-made
Lightweight option that lights up the ground to illuminate your path
Includes USB and magnetic charging dock
Moderate pricing point
Cons
We absolutely loved using this leash and think you will as well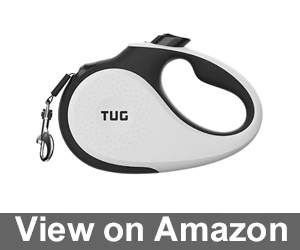 The TUG Patented 360° Tangle-Free, Heavy Duty Retractable Dog Leash is available in several sizes. The small leash is perfect for pups weighing up to 35 pounds, the medium is for dogs up to 55 pounds, and the large leash accommodates bigger breeds up to 110 pounds.
Our testing team members were happy to find an option that can work for such a wide range of sizes. The TUG Patented 360° Tangle-Free, Heavy Duty Retractable Dog Leash has a 16-foot tape leash.
The leash is very straight forward to brake thanks to its Easy-Adjust Retraction system. The leash is tangle-free with 360-degree motion ability so even the highest strung, hyper pooches will be safe and untangled.
Pros
Well-made and durable
Available in three different sizes to accommodate almost any pup
Easy-Adjust Retraction system
Easy to use and brake
Cons
Very strong dogs may pull too hard and could cause the leash to break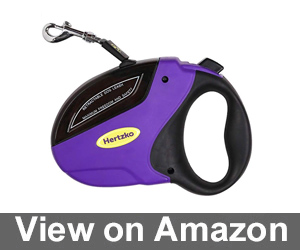 The Hertzko Heavy Duty Retractable Dog Leash features a very secure locking mechanism that lets users adapt the leash quickly and safely to an appropriate distance. The leash stretches out to a respectable length of 16 feet.
Our testing team members were happy to find such a durable leash crafted from nylon ribbon, a far more durable material than other versions.
The Hertzko Heavy Duty Retractable Dog Leash includes an easy to use brake and lock system that is both smooth and sturdy.
The leash works beautifully for furry friends weighing up to 110 pounds so it's great for bigger breeds as well as smaller. The ergonomic handle has a comfort grip to make using it easier as well as an anti-slip detailing to keep the leash safely in your hand.
Pros
Anti-slip and ergonomic handle
16-foot leash crafted from nylon ribbon
For dogs up to 110 pounds
Durable and tangle resistant
Cons
The brake button has to be continually pressed in to stop the leash which can be a tad annoying on long walks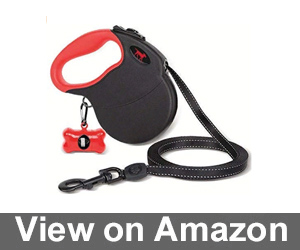 The Tuff Pupper Heavy Duty Retractable Dog Leash System handles dogs weighing up to 120 pounds, making it perfect for big breeds.
The leash consists of 16 feet of durable, high-quality nylon. The system has been crafted from super strong ABS for the housing to ensure the leash lasts for years to come.
The Tuff Pupper Heavy Duty Retractable Dog Leash System includes a dog waste baggie holder that is color-coordinated and clips onto the system. This addition makes cleaning up your pup's poop a breeze!
Our testing team members appreciate the stunning attention to detail including double stitching, Reflective #M stitching, and a steel hook clip rated for thousands of uses. This system would be the perfect gift for new doggie parents.
Pros
Amazing pricing point
Heavy-duty and crafted from high-quality materials meant to last and last
Includes a color matching pet waste bag holder
Ergonomic and strong handle
Cons
This was one of our favorite selections this week with no downsides to mention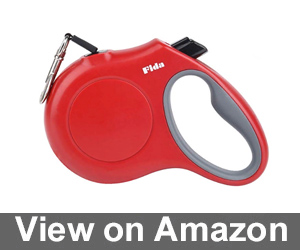 The Fida Retractable Dog Leash System is a lovely option for areas with lots of rain or snow. The leash includes a rustproof swivel hook that keeps the system's impact-resistant nylon leash safely attached.
Our testing team was excited to find a version that won't rust even when used in the wettest of weather.The Fida Retractable Dog Leash System is offered in four sizes that accommodate pet's weighing up to 110 pounds.
The handle has an ergonomic design that is both soft and anti-slip. The leash has reflective stitching to keep you and your furry best friend easily visible to oncoming traffic.
Pros
Terrific pricing point
A 16-foot length of reflective nylon tape leash
Very durable and resistant to rust making it great for rainy or snowy days
360-degree tangle-free design
Cons
The leash did get tangled up when used with very hyper dogs but was easy to untangle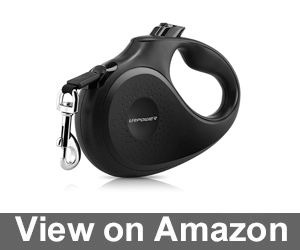 The URPOWER Upgraded Retractable Nylon Dog Leash System is offered in two separate sizes. The medium size accommodates pups weighing up to 55 pounds while the large size secures pets weighing up to 110 pounds.
The leash system has been upgraded with a new button design with a pause function.
The URPOWER Upgraded Retractable Nylon Dog Leash System's pause button allows users to adjust your dog's distance from you at any moment.
This feature is wonderful especially if your pet seems to be in any danger or is just a bit too far away. The leash measures out to 16 feet and has a tangle-free nylon tape leash that will last and last.
Pros
Terrific pricing point
16 feet of nylon tape leash
Very durable
Pause function keeps pets and owners safer
Cons
This leash wore out somewhat faster than other versions when used with dogs that like to pull hard on leashes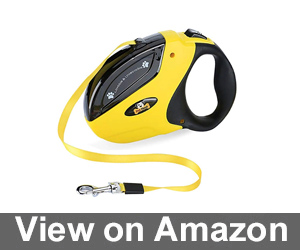 The Pet Neat Retractable Dog Leash with Break and Lock Button offers an option for smaller pups weighing in at up to 44 pounds. It's also priced wonderfully making it one of our favorite selections this week.
Our testing team members really felt comfortable thanks to the handle which is crafted from ABS with an ergonomic design and anti-slip handle.
The Pet Neat Retractable Dog Leash with Break and Lock Button includes a very thick and durable nylon leash.
The internal spring system holds up beautifully even with heavy use. The leash works wonderfully and has a brake button along with a lock button to keep your dog safe.
Pros
Ergonomic handle
Excellent price point
Perfect for smaller pups
Durable and well-made
Cons
We wish the handle were a bit longer for taller folks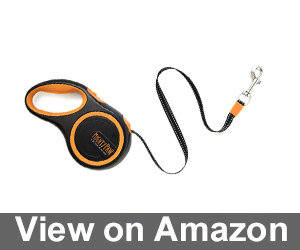 The Mighty Paw Retractable Dog Leash is a durable option at a bargain price. The leash system is offered in lite and standard sizing.
The lite size covers dogs weighing up to 40 pounds while the standard is perfect for pooches weighing up to 110 pounds.
The Mighty Paw Retractable Dog Leash is reflective to keep both you and your furry best friend safe while strolling in the early morning or late evening hours.
The rubber handle is one of the comfiest we found. The leash measures out to 16 feet and easily locks or unlocks with a quick press of a button.
Pros
Sizes for up to 40 pounds and up to 110 pounds
Comfy handle design and exceptional pricing point
Easy to use and push buttons for locking and unlocking
Orange or green colorways
Cons
This leash system is somewhat less durable than more expensive versions but at this price, it's a steal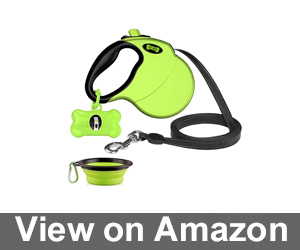 The Ruff 'n Ruffus Retractable Dog Leash earned top marks from our testing team members this week. The leash system is extra tough and features a nylon ribbon leash and chrome-plated snap hook.
Our testing team members were astounded at how tough and well made this option is especially when used with larger dogs that like to pull on the leads.
The Ruff 'n Ruffus Retractable Dog Leash is rated for dogs weighing up to 110 pounds. The retractable leash relies on a brake and lock system to allow your doggy room to explore while you are still in control of the situation.
We also appreciate the anti-slip design which keeps the leash from slipping off your hand so you and your pet will be able to enjoy your walks to the fullest.
Pros
Anti-slip
Perfect for pets up to 110 pounds
16-foot leash
A great option for larger breeds
Cons
We enjoyed using this leash and found no downsides to mention
The Best Dog Retractable Leashes – Buyer's Guide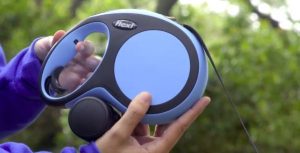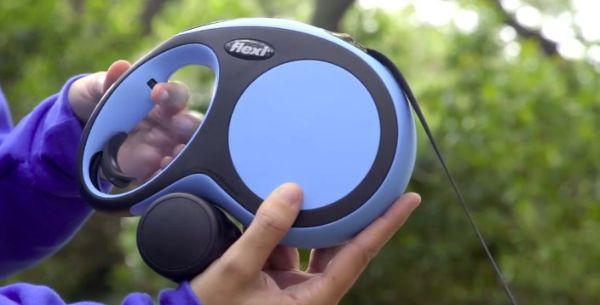 Retractable leashes can make walking the dog an easier and safer process. They also are made in different forms and models with separate specifications. Knowing which features you actually need, and which are overkill is helpful when navigating reviews and product descriptions.
While testing the top ten dog retractable leashes we learned a lot of new and helpful information. We now wish to pass that knowledge on to you, our loyal readers. Once you are armed with a better understanding of retractable leashes, purchasing the best one for you and your precious pup's needs will be a breeze. Let's get started!
Do I really Need a Retractable Dog Leash?
Whether you are a new pet parent or simply used to using the traditional dog leashes, wondering whether you really need to buy a retractable dog leash is a completely valid question. Let's get a better understanding of who can benefit from purchasing a new retractable leash for their dog.
You have a new puppy: If you are training your new puppy to walk on a leash, a retractable version is an excellent choice. Puppies love to pull on leashes and they love to explore. Retractable leashes allow you to shorten the lead, keeping the puppy closer to you and preventing them from dragging you or getting into things they shouldn't be.
Your pet is a chewer: I once had a dog that chewed up every single leash I purchased. It was annoying and expensive until I discovered retractable leashes. Once I began using this type of leash, I never again came home to another chewed up rope lead.
You have more than one dog: Walking more than one dog at a time can quickly become a tangled mess. Retractable leashes allow your pets to explore without being pulled in every direction or stopping to untangle a mess of leads.
How Much Exercise Does My Dog Need?
The amount of time you need to spend walking with your pet is dependent on several factors. The breed and size of your dog are important considerations. You should also think about your pup's age.
Puppies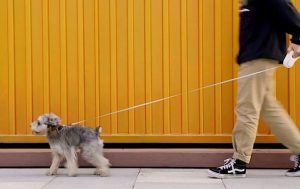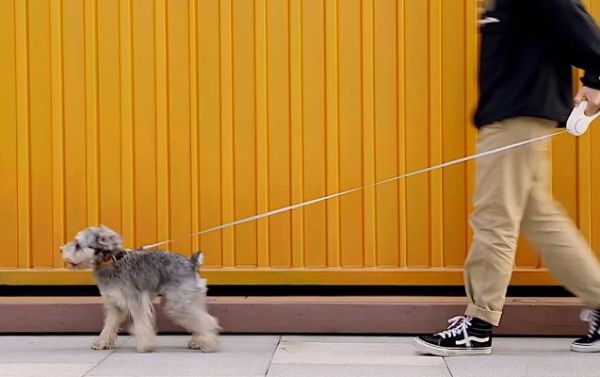 Puppies need around five minutes of daily exercise for each month they have been alive. So, a 2-month old puppy needs about ten minutes of exercise, two times per day. Smaller breed puppies will need less walking time than bigger breeds.
Adults
On average, a 30-minute walk is perfect for most adult dogs. As always, take their size and breed into consideration. Some dogs may need up to 2 hours of activity daily. Remember that each pet is an individual and some dogs may love going for walks while others aren't big fans.
Seniors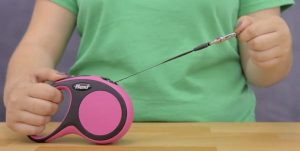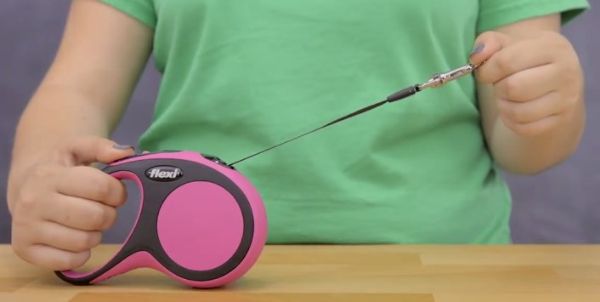 As your dog gets older, they may start to slow down a bit, just like humans. Walking and playing are still important but should be at a slower pace. Take care to ensure their joints are cared for and you don't overdo it.
Retractable leashes make taking walks easier and safer. Find the perfect dog retractable leash doesn't need to be a difficult task. Understanding the basic ins and out of retractable leashes while considering your budget and pet's specific needs will make the process a snap.
We hope you liked our top ten dog retractable leash reviews and that our buyer's guide was helpful. We love to hear from our readers! Please send us a quick comment below with your retractable leash training tips.
Key Considerations for Retractable Leashes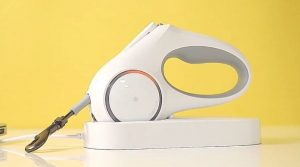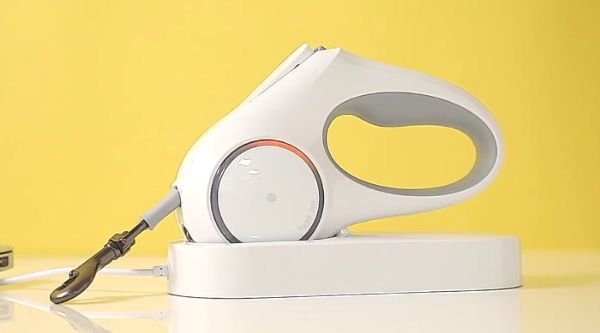 Let's take a closer look at the most crucial points to ponder when shopping for a new retractable dog leash.
Sizing
The length of leash you will need is directly related to your dog's size. Your pup's weight is the most commonly used measurement to determine the correct leash size. If your dog is smaller, you will need a shorter or lite version while big breeds need a longer and more sturdy version.
Durability
As with any purchase, you want to get the most out of your money. Selecting a durable retractable leash that will last for a longtime is key. Go with an option that is made with sturdy and long-lasting materials that is well-made to avoid it breaking or failing to work correctly.
Material Matters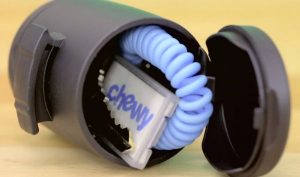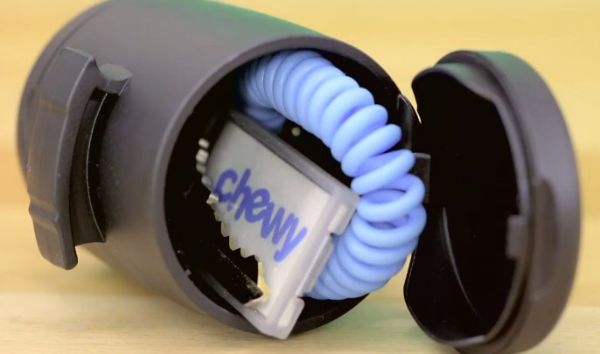 Nylon is a popular material for leashes since it is strong yet not overly expensive. We like ABS plastic handles or those that are resistant to wear and tear. Also check that springs and buttons are crafted well from quality materials.
Reflective Leash
Even if you and your pup are not early risers or night owls, selecting a reflective leash is important. Reflective materials still catch and reflect light during daylight. A reflective leash keeps you and your pet safer and more visible to on coming and passing traffic.
If you and Fido do your best walking in the dark, there are plenty of awesome options for you. Some retractable leashes now include LED lights to brighten walkways. They can also help ladies to feel safer when walking their pooch at night and again signals drivers and pedestrians to your presence, keeping you both safe.