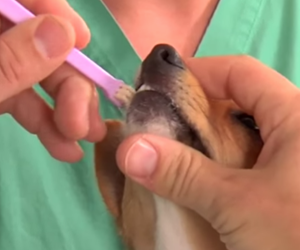 After a hard day at work, you want to come home and cuddle with your dog, but when your dog rushes to greet you with happy barks, all you can perceive is the bad doggy breath oozing from its mouth. Irritating right? I bet it is.
This could be a result of periodontal disease, and just like humans, bad breath in dogs could mean that your dog's dental health isn't as it should be.
However, you can avoid this from being the case by learning How to Brush a Dog's Teeth, and if you are wondering how this is to be done effectively and with little effort, you have come to the right place.

Is There Need to Brush Your Dog's Teeth?
You may want to ask if there is a need to brush your dog's teeth. "Can't I just give her a dental chew or rawhide? While a dental chew is not a bad idea if given responsibly, it's not nearly as good as brushing your dog's teeth, and it still won't prevent them from being prone to periodontal diseases. This brings us to the question:
What Is Periodontal Disease?
Humans can develop dental problems when food particles are stuck in between their teeth, and it's the same for dogs, too. These food particles alongside bacteria can lead to plaque, and this plaque, in its turn, results in the deposit of tartar on the teeth gum-line.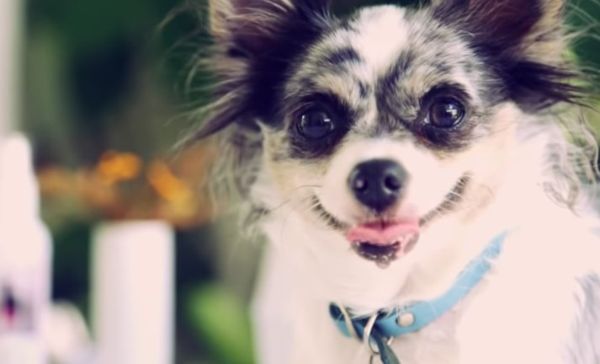 When not removed, this tartar will not only irritate the dog's gum but also cause inflammation of the gum, which after a prolonged time, leads to separation of the gum from the teeth. This separation then becomes a breeding site for bacteria, thereby leading to periodontal diseases.
Periodontal disease causes your dog to be in intense pain; it can also cause tooth loss, abscesses in the mouth, and bacterial infection, which can further affect the dog's vital organs such as kidney, liver, brain, and heart. The unfortunate thing is that periodontal disease is irreversible and cannot be cured, but it can be prevented by ensuring proper and regular brushing of your dog's teeth.

How to Brush a Dog's Teeth
The dental health of your dog starts with regular brushing of her teeth; you can start today as it's never too late. Though it may seem difficult at first (especially if you didn't start that way with your dog) but with plenty of treats, praises, and lots of patience it can be done.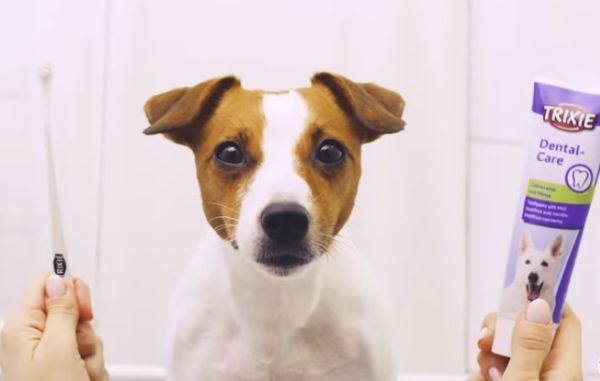 Before you can begin brushing your dog's teeth, you must teach her that having your hands in her mouth can be fun. To do this, dip your hands in something you know she loves, for example, peanut butter, and then allow her to lick it off your finger. As this is being done, slowly and gently rub your finger along the dog's teeth and gums.
After days of practicing this, when you are satisfied with the result, you can then teach her to open her mouth; it's easier when you have lots of treats at hand, as this will serve as positive reinforcement. In all you do, ensure you go slow but steady and gently too. However, to effectively brush your dog's teeth, you must start first with the right tools.

Purchase the Right Toothbrush
If you desire a dog whose breath is fresh and has good dental health, then you must first select the right toothbrush for her. There is no much difference between a dog's toothbrush and that of humans; however, dog toothbrushes are much smaller and have softer bristles, and you can also decide to make use of a baby toothbrush in a pinch.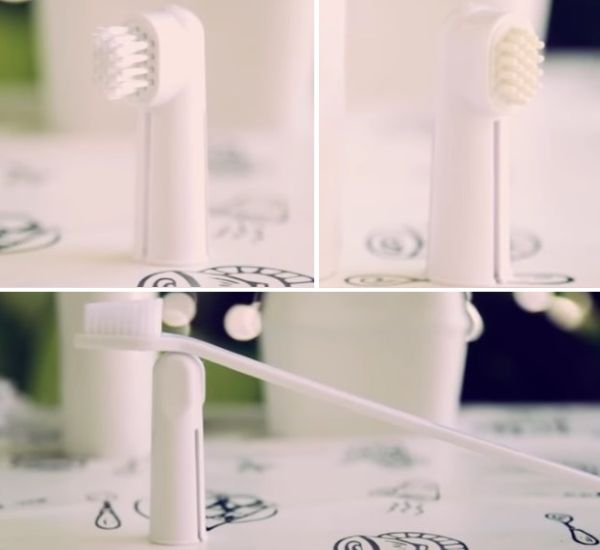 Also, you could opt for a finger toothbrush; this fits perfectly into your fingers and enables you to clean the hard-to-reach parts of your dog's mouth effectively. The use of a washcloth or a clean scrap of the gauge is also an excellent option to consider if you are in a bind.

Purchase the Right Toothpaste
While purchasing your dog's toothpaste, you must purchase the one that is well suited for them and not human toothpaste as they contain fluoride, which is toxic to the dog and can even be fatal if used in large quantities.
Hence, ensure you purchase dog-friendly toothpaste, which comes in fun flavors such as beef and poultry, or you could go the old fashioned way and produce a paste with just a tablespoon of baking soda and one teaspoon of water, it serves the same purpose.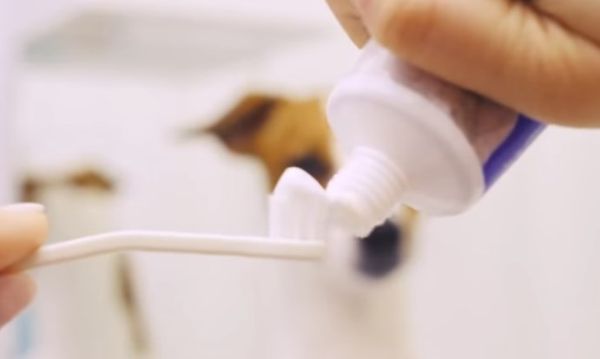 Step-By-Step Guide on Brushing Your Dog's Teeth
When asked the right time to start brushing a dog's teeth, Dr. Gary Ritcher, DVM who is a pet lover and the author of Ultimate Pet Guide says: "It's best to begin when a puppy is between 8 and 12 weeks of age; however, it's never too late."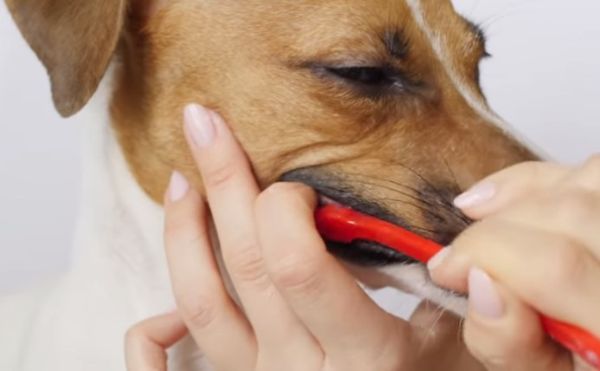 To brush your dog's teeth, follow the steps outlined below:
Step 1: Pet your dog gently and scratch her muzzle while also lifting her lip, do this for about 30 seconds. You can reward her with treats and gifts at the end of the session.
Step 2: Repeat step 1 above, except this time, gently run your fingers through your dog's teeth for about 20 to 30 seconds. Just like earlier, also reward her with treats and gifts at the end of the session.
Step 3: Put a small amount of a dog-friendly toothpaste on a suitable toothbrush allowing your pet to lick the paste (do not begin to brush just yet). The idea of this is to allow your dog to get used to the taste; she should enjoy it, but if she doesn't, try a different flavor.
Step 4: If all goes well, then you can start brushing her teeth. While brushing, it's important to remember that the outer surface of the dog's teeth is the most important, and this should have your utmost attention, brush each side for about 20 to 30 seconds.
Since she's lovable your pet and a family member, you might be able to predict how she is likely to react. With that knowledge, you can accelerate the brushing process or take it slow and steady; whatever works best for her should be adopted. If at any point, your dog becomes resistant, stop and instead try some other day again. Do not force your dog but take it slow as some dogs may take a few weeks to get used to the new habit.
More Tips on Brushing a Dog's Teeth
While brushing your dog's teeth, it's best to consider the tips outlined below as they are sure to come in handy. They include:
It's best to brush your pet's teeth when she's tired after playtime or after a lengthy walk.
If a toothbrush isn't yielding desirable result, then you should consider using dental wipes.
If at any point your dog should show any sign of aggression, stop brushing immediately.
You don't need to wipe off toothpaste from your dog's teeth.
You need not pay so much attention to the lower teeth as you would to the upper teeth.
How Often Should a Dog's Teeth Be Brushed?
As humans, we brush our teeth after every meal, and this should be the same with dogs, too, although, in reality, many of us do not have time for this. Hence, it is recommended that you brush your dog's teeth at least once a day but if you have a very tight schedule, then you can have it brushed several times a week.
Note that for puppies and smaller dogs with flat or short broad snouts (an example of which includes bulldogs, pugs, and so on), it is recommended you brush their teeth more frequently. Since their mouth is small, their teeth are usually more crowded and hence are more prone to periodontal diseases.
Symptoms of Dental Problems in Dogs
While brushing your dog's teeth, you may feel concerned about your dog's dental health, and that's perfectly normal. If at any point you are concerned about your dog's dental health, then you should consult a vet doctor to take a look at it.
Some of the symptoms of dental problems in dogs include the following:
When there are tumors or cysts in your pet's mouth;
Loose or missing teeth;
Swollen or bleeding gums;
Excessive drooling of your dog;
Bad breathe.
If you notice any of these signs, then it's an indication that you need to pay a visit to the vet. There, the doctor will be in the best position to point you in the right direction to follow and will tell if your dog will only be needing a routine cleaning or a more thorough examination.
Conclusion
Most dogs only require regular brushing of teeth, lots of fresh water and an occasional dental chew. This in addition to the information you have gotten from this article on How To Brush A Dog's Teeth should be enough to ensure a healthy set of teeth for many years to come.