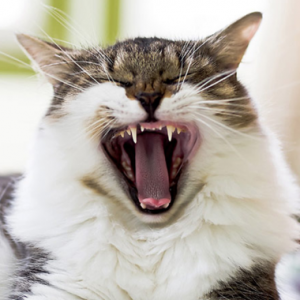 If you own a cat, then the chances are you occasionally feel your cat's smelly breath wondering if something can be done about it. The bad breath you perceive could be a sign of periodontitis or dental disease.
The bacterium which causes dental disease is the same bacteria that cause heart, lung and kidney diseases so the last thing you want to do is let these bacteria make your feline friend suffer.
To avoid this from being the case, it is advised that you keep your cat's mouth clean and healthy and this can be done by simply brushing your cat's teeth.
Impossible, you say? Well, in this article we will show you it's not only possible but easy. Come along as we discover together How to Brush a Cat's Teeth.
Brushing a Cat's Teeth
To brush your cat's teeth, you need first to get the right materials for the job. One of these is a cat-sized dental brush from a veterinary clinic or a pet store. They are also available online. This toothbrush is usually small, soft and flexible, much more than that of a dog's. It is ideal to use a soft, rubber brush which adapts to your first finger so that you feel comfortable with it.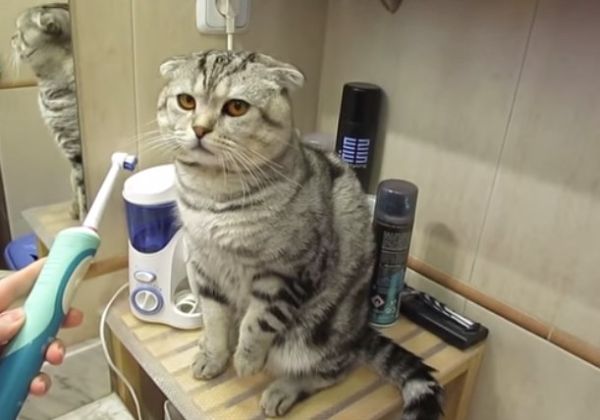 Asides from the toothbrush, you will also need to get feline toothpaste. Most of them are fish or chicken flavored. They are produced this way because most manufacturers know that cats love them. Therefore it makes it more palatable to your cat thereby making it easier to brush her teeth.
Note: Never use human toothpaste for a cat, as human toothpaste contains some chemicals that are harmful to a cat's digestive system.
How to Brush a Cat's Teeth
To brush your cat's teeth effectively, follow the outlined steps below:
Gently place your cat on your lap and let her settle in
Start by gently touching or manipulating your cat's mouth. If the cat is quiet, allowing you to manipulate her mouth while also responding to requests, then you should reward her by giving her treats. If she refuses or resists, stop immediately and try again another time.
If she is receptive of your actions, slowly graduate from rubbing your hands across her mouth to her gums and teeth. Wait for her reaction, if she resists, stop your actions and try again some other time. If not, try moving a soft, moist sponge across her teeth.
Once you are sure she is comfortable with the soft sponge, move on to the next course of action, which is to introduce the toothpaste or gel to the sponge. Keep encouraging and praising your cat as you go along.
Now it's time to bring in the toothbrush into the picture. Touch her face with it and then gently raise her lips on one side of the mouth. Begin to brush the outer part of the teeth ensuring
that while brushing, you take it downwards and away from her gum line. By brushing this way you let loose any embedded food particles and so can effectively brush them out of her mouth.
When you get to the bottom jaw, ensure you brush upwards away from the gum line. If she refuses to open her mouth, gently pinch both cheeks between two fingers. However, you may not need to do this as cats generally will open their mouth once they perceive the fish or chicken flavored toothpaste.
Continue to work your way around the outside of her teeth, do so on both sides until you have brushed her entire mouth.
At this point, you don't need to rinse her mouth with water since the toothpaste is edible and free from dangerous chemicals that can hurt her. Only allow her to have access to a bowl of drinking water once you are done with the whole brushing process.
When Is The Right Time To Brush?
To ensure that your cat's mouth stays clean, odor and disease-free, it's best to brush her teeth daily. But we also realize this may not be possible due to work schedule and a lot of other factors, in that case, you can brush her teeth several times a week. This also cuts down on the buildup of harmful bacteria in her mouth.
If you have a kitten, then you should begin the moment she comes into your household. This will not only help her get used to it from a tender age, but it also prevents dental problems.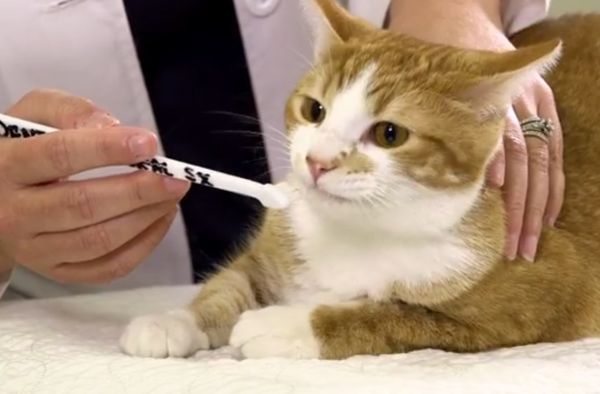 What do you do when a Cat Resists?
There is the possibility that your cat will not sit still enough to have her teeth brushed, if this occurs, you may be left with no choice than to wrap her in a towel just like a burrito. However, this action is not advisable for an older cat. It is also not advisable for cats with health issues as it may overstress the cat.
If you rule out the option of wrapping her in a towel, then the only other way is to go slow but steady. If two teeth are all you can get to brush at one sitting, then that's fine, wait till some other time before trying again. Keep doing this until all the teeth are brushed, it could take days to get this done so you must be patient.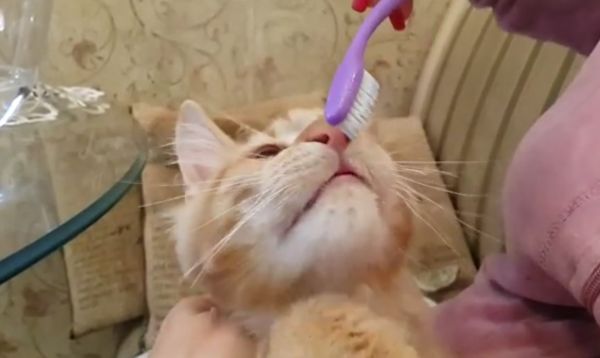 Training Your Cat to Adapt to Brushing
It's ok if your cat doesn't warm up to the idea of having her teeth brushed, especially if you are just introducing it. It may take several weeks or even months for her to be comfortable and well adapted to the idea. Thus, you must remain consistent with your routine and keep at it until she gets used to it.  By taking the following actions, your cat will be more receptive to having her teeth brushed:
Select The Ideal Time: Cats are routine pets. Hence, it is essential that you have a routine and you stick to it, this will help her adapt to the teeth brushing exercise. Select a time of day that is quiet, it's also best to brush your cat's teeth when she is hungry as she will respond enthusiastically. Do not choose a time when you are tired or when your cat is antsy.
Give Treats And Rewards: This also helps your cat to respond positively to having her teeth brushed. Get her a type of food she loves, and you will see her responding to you the way you want. You could also do something else she likes such as brushing her fur, petting, playing with her and so on. If you are going to be giving her food, ensure it's broken into tiny bits, this makes it easy.
Keep a Positive Environment: There is a need for positive energy around the whole environment as this will help the whole process go seamlessly. To do this:
Have your cat placed next to you while you are sitting on a large couch or chair.
Always use a calm and gentle tone with your cat and also ensure you have a positive demeanor. Cats are sensitive pets and so will respond to any anxiety you show.
Remember to remain persistent while havings reasonable expectations. It may not go as fast as you hope.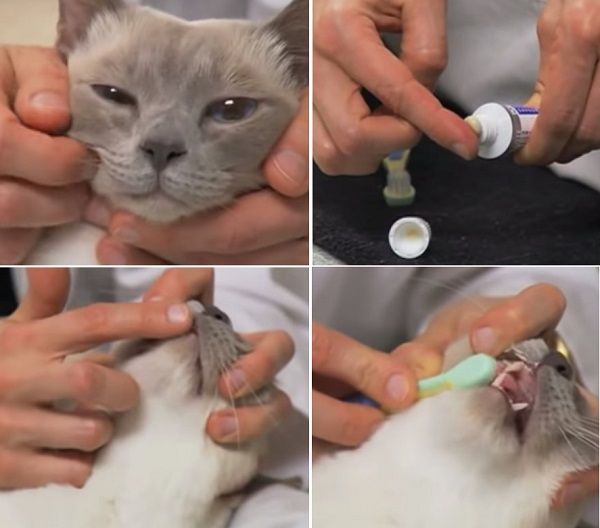 Things to Know About the Dental Care of Your Cat
Without proper dental care (in this case, regular teeth brushing) your cat may develop gingivitis, a condition that can degenerate to periodontal disease and eventually affects the organs. Although a slow process, it's deadly enough to affect the cat's entire well-being and can even lead to death if not properly taken care of.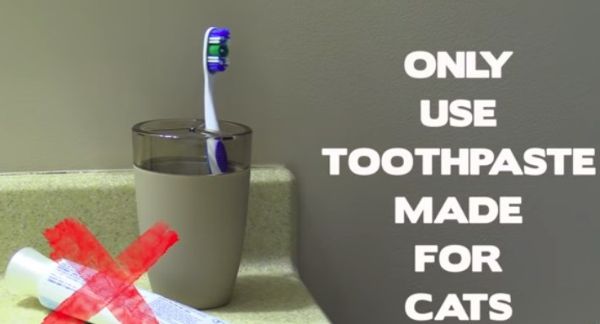 How to Properly Care for Your Cat's Teeth
Apart from regular brushing of your cat's teeth, there are other ways you can take care of your cat's teeth. Some of these include:
Proper nutrition
Establishing teeth brushing practice from an early age
Scheduling a bi-annual medical examination for your cat
Watching out for subtle signs such as bad breath
Prompt communication of any strange behavior or symptoms you notice in your cat to your veterinary doctor.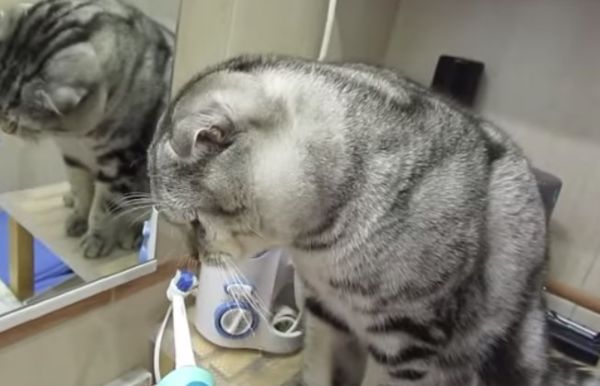 How to Detect a Dental Problem
When your cat starts exhibiting any of these signs, then there is a possibility that she has some dental issues. These include:
Drooling
Inability to eat (loss of appetite)
Swollen, red and bleeding gum
Lesions in her mouth
Blood in her nasal discharge or saliva
Pawing at the mouth
Broken, loose or missing teeth
At this stage, it's best to have your veterinary doctor examine her so that a prompt solution can be preferred.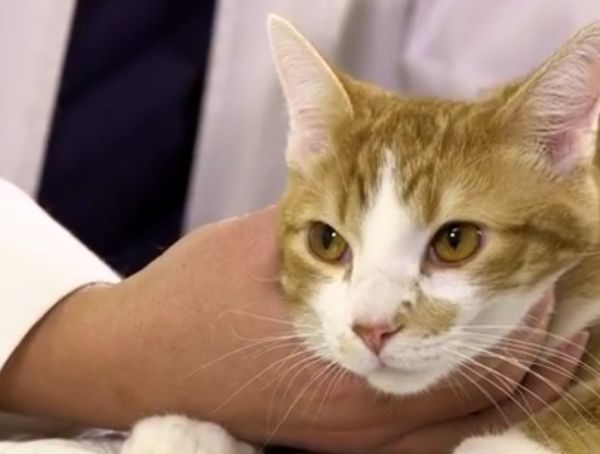 Conclusion
Your cat is not just a pet to you, she is also a friend and companion and as such you must care about her dental health. Before now, we could excuse the fact that you didn't know How to Brush a Cat's Teeth, but not anymore. With the information gained from this article, you can now cuddle and play with your cat to your heart's content without cringing every time she's close enough to breathe on you.