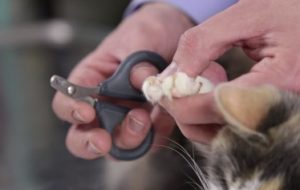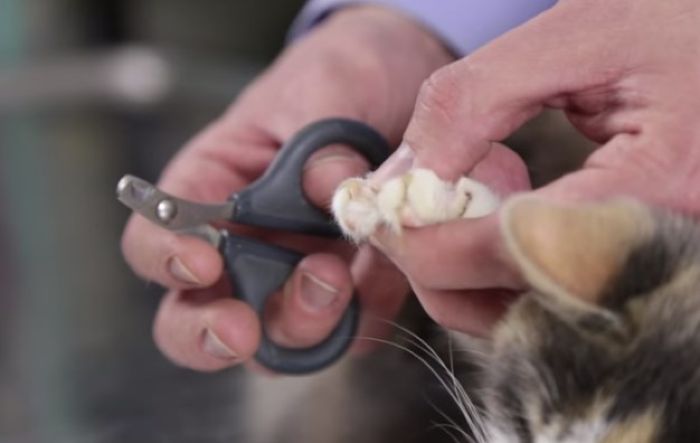 Like good patients, some cats sit still during a nail cutting session, while some will make a fuss and ruin the whole process. And there's you, too, who either trims the nails calmly or get in a sweat alongside your cat because you can't bear seeing her suffer. However, it doesn't have to be painful and fussy; it can all go seamlessly if you both do the right thing.
By learning How to Trim a Cat's Nails, you will stop your cat from scratching furniture and also prevent the nails from getting infected. With that being said, let's get started already.

Why You Should Trim Your Cat's Nails
Generally, no rule says you must cut your cat's nails, but then it also depends on the lifestyle of the cat. If it's an outdoor cat, you may not need to cut her nails as they serve as a defense mechanism, she needs it also to hunt and climb. But if it's an indoor cat, it will be in your best interest (if you care for your cushions and other furniture) to have her nails trimmed.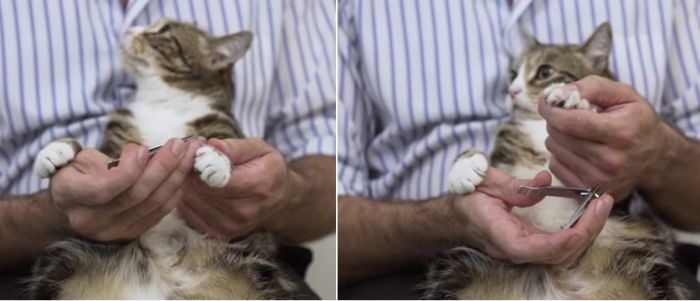 As cats get older, they naturally become less active and at this stage, the nails will also naturally become longer, curvier, and tend to penetrate the pad. They're more prone to infection at this stage; hence, there is a need to cut the nails to prevent that from happening. Also, check out the dewclaws of a cat's front nails; if the declaws are not likely to reach the ground, then they will wear off quickly, hence you also need to trim her nails for this reason.

How to Trim a Cat's Nails
To ensure your cat sits still and that the process goes well, there is a need to be well prepared.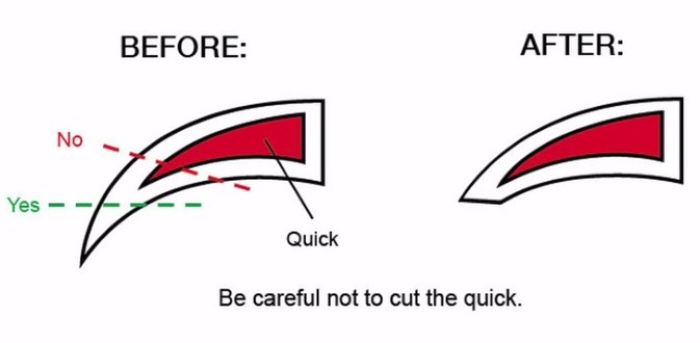 Preparing Your Cat for a Nail Trim
To get your cat to cooperate with you, especially if it's a fussy one, you must take steps to calm her down and make her feel comfortable. They include:
Pet Her Paws: Most cats do not want you or anyone else to touch their paws, and since it's where the nails are located, you should start with helping her get accustomed to your hands being there. To do this:
Target a time when your cat is lounging in a relaxed mood
Start by petting the paws gently while also petting her favorite spots (it could be the back of her neck, under her chin, where her back meets the tail, her belly and so on)
Continue the process for each of the paws you want to trim
If your cat rejects your kind ministration, pulls back or walks away, then let her go. It's a gradual process, and there is nothing to be gained by forcing her, keep repeating the process at any opportunity you get
Reward her with treats and praises as this is more likely to yield positive results than merely petting
Hold Her Paws: Now that she is comfortable with having you pet her paws, you can proceed to hold her paws in your hands.
Place your hands over her paws, then turn your hands around so that the bottoms of her paws are positioned on your open palm
Repeat this process. Do not stop petting, giving treats and showering her with praises
Massage Her Paws: Hold her paws and massage with your fingers.
To massage your cat's nails, gently knead the bottom and tops of the paws that you plan on trimming
Reward her with treats and praises
Take a Close Look at The Paws: At this stage, your cat should be comfortable enough to allow you squeeze her paws (gently, of course, applying most of the pressure on her pads); this pushes out each claw without having to upset your cat.
Once the claws have been pushed out, you will notice a very thick and dark-colored part of the nails and also a pinkish part towards the toe; this pinkish part is called the "quick"
You must avoid cutting your cat's nails to the quick as this is a living part that contains blood vessels and nerve endings. Keep your aim to the thick part and not the quick
Look at the claws carefully; locate the position and size of the quick. If you look through the clear nail, you will discover it looks like a small triangle with a pink color. Use one as a guide for the others as they are all similar.
Get Her In A Comfortable Position For Trimming: It's essential that you get your cat to sit comfortably in a nail trimming position as this will make the process less of a stress.
If it's a solo operation, the cat needs to sit with her rear on your lap, with her front facing forward. Hold her paws in one hand, and when the time is right, take the clippers in the other hand.
Practise this sitting position over and over while pushing each nail forward. Remember to reward her with treats and praises
If you are going to have someone help you, he or she can hold the cat with her front-facing you or cradle the cat while you hold on to the paws with one hand and the clippers in the other one
Again, practice this over and over again until your cat is comfortable and accustomed to it. Reward her with praises and treats
Now that your cat is in the right mood to have her nails trimmed, it's time to get down to business. To cut your cat's nails, take the following steps:
Wait for An Appropriate Time: Trimming your cat's nails should not be at your convenience but rather at your cat's. Wait for a time when she is feeling relaxed and nice. This could be just after or before taking a nap as well as just lounging on her favorite surface. It could also be when she has eaten.
Avoid trimming your cat's nails just after her playtime, when she's hungry, restless or antsy as she will not be receptive to your ministrations no matter how gentle they may seem
Avoid the temptation of quickly cutting off broken or split nails. Instead, take note of it and wait for the right opportunity, else you may damage the nails further.
Ensure You Are Using The Right Tools: Only using the relevant tools could ensure the process The best one to use is a pair of nail clippers, which are specifically designed to clip a cat's claws and also a styptic pencil.
Nail clippers come in different styles, but they mainly serve the same purpose. Ensure that the tool to be used is sharp and will cut right through the claw at one go. Avoid using a dull clipper as they will make the job more tedious and more time consuming and hey can also hurt the cat.
Nail clippers come in two different styles, scissor clippers, and guillotine clippers. Scissors clippers are better suited for just nipping the tip of your cat's nails, while the larger scissors clippers are ideal for tough and old nails. On the other hand, guillotine clippers are suitable for cutting nails that are long and thick.
Styptic pencil, on the other hand, comes in handy when you cut your cat's nails to the quick. Their purpose is to cauterize the cat's blood vessels and aid in the prevention of bleeding. Just use it for about one to two minutes (in cases when you cut to the quick). They can be bought from any pharmacy around you.
Cut the Nails: Now have the cat sitting on your laps, and then hold her paws in one hand while holding the clippers in the other hand. Then, gently squeeze the top and bottom of the cat's paws to expose the claw. Ensure you know where the nail finishes and where the quick begins before attempting to cut the nails.
While cutting, start with the tip of the nails and then proceed gently towards the quick. Cut the nails one after the other with the trimmers positioned halfway between the claw and the end of the quick. Also, try to orient the clippers as this will ensure it cuts from top to bottom rather than splits.
Also, bear in mind that you may only be able to cut one nail at a time, and this is fine. Once your cat begins to make a fuss, let her go and try some other time. By following the steps outlined, you will be able to trim your cat's nails effectively.
Conclusion
What greater love could there be than the love of a cat for her master? And what greater love has a master than the love for her cat. This love is, however, is made complete when you have a cat whose nails are well-trimmed, as no one expects you to snuggle and smile when your furniture is all torn apart by her claws.
Hence, learning How to Trim a Cat's Nail has never come in handier than it did at this time. After all, a happy cat makes a happy you and a happy home.