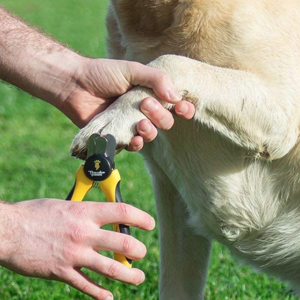 A dog is the only thing on earth that loves you more than he loves himself or so the saying goes. He welcomes you with enthusiasm, jumping and barking happily, it's fun and brings happy tears to one's eyes, but the fun stops when he scratches you with his sharp nails, unintentionally of course.
While you may not want to cut your dog's nails for fear of upsetting him or getting bitten, it is essential as it keeps the dog in good health. If your dog gets regular exercises and walks, then there may be no need to cut the nails as the high mileage wears them down as time goes on, but if your dog rarely gets to take walks, then there is a need to learn How To Cut Dog's Nails as you will need the knowledge.

Disadvantages of Long Toenails
If rather than cut your dog's toenails you decide to leave them as they are, then you are doing your dog no good as there are consequences to having a long toenail.
One of such consequences is painful paws. Upon contact with the ground and hard surfaces such as sidewalks, kitchen floors, and so on it will push the nail back into the nail bed. This in its turn either forces the dog's toe to twist to the side or puts pressure on all the joints in the toe.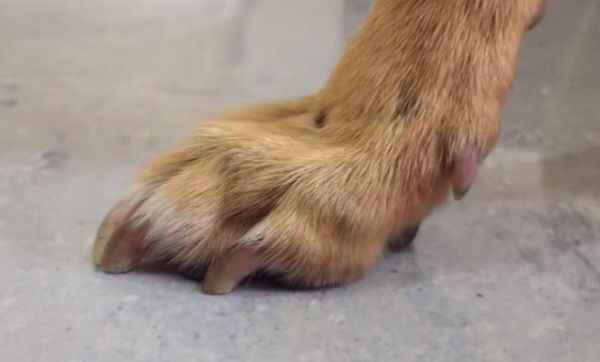 Either of these results in the toe becoming sore or even arthritic with time. If at the slightest touch to your dog's toe, he yelps, then be sure that he will make a fuss when it's time to cut his nails.
Another consequence of long nails is even more severe. In case you aren't aware, animals depend on the information gotten from the nerves on their feet to move around and be able to process gravity accurately. If your dog is used to running or walking long distances, then there is a tendency that his hind legs can become weak, painful and over-used, so cutting his toenails helps to prevent this.
To ensure a smooth nail cutting process, the following should be kept in mind:
Procure the tools.
Cut the nails.
Safety Procedure.
Black nail and hair.
What to do when bleeding occurs.
Get the Tools
Of course, to trim dog's nails, you will need some tools, one of which is a pair of nail clippers. There are lots of clippers available on the market, but your choice should depend on the breed of the dog. For example, guillotine-style clippers are ideal for small breeds as they are easy to use, plier-style clippers are suitable for giant breeds, and then the scissor-like clipper can be used for both small and giant kinds.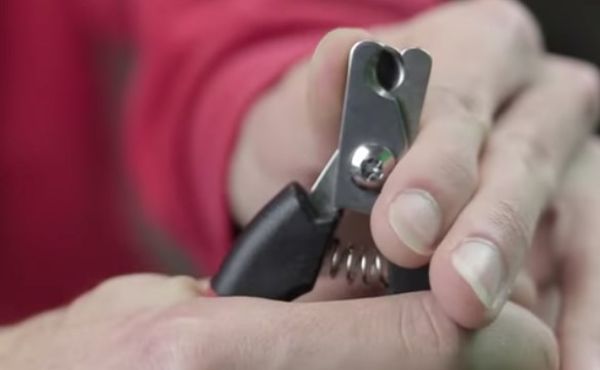 You will also need to have treats close by to entice your dog with as this will keep them calm and happy as you trim away. Treats such as peanut butter will do just fine. Lastly, you will also need to purchase a styptic powder or a clotting powder.
You need to be prepared for the worst-case scenario, which could result from cutting the nail too short, thereby leading to bleeding of your dog's paws. Hence, the reason powder is necessary. You could also opt for cornstarch, baking soda, and baking flour if styptic or clotting powder is unavailable.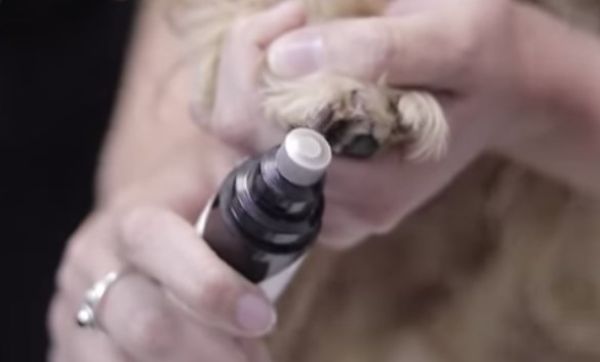 How to Trim Dog's Nails
A nail clipper is usually seen as something terribly intimidating by dogs. Hence, it is important to always test your nail clippers before using them. Regardless of the type of nail clipper, you settle for, ensure you have a firm grip of the clipper and that you use your hands to separate your dog's toes. This ensures that the whole process is much easier and stress-free.
There is a silent rule to the use of nail clippers, and it's that your dog should be acquainted with the clipper before you start clipping. How can that be done? Well…by simply putting the nail clippers close to the dog's paws and nails while at the same time giving the dog a treat and praising him. Keep this up for about 10 to 15 minutes.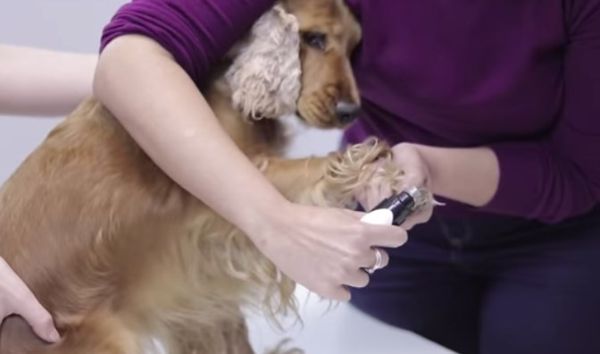 Repeat the same process the next day; this time, push down the nail clippers, so they make noise. Don't forget to heap praises on your dog and also give him treats, do this for 15 minutes. After that, you can now actually get down to trimming your dog's nail (not the same day of course). By this time, he is already used to the noise as well as the motion of the clipper.
Below is a summary of how best to trim your dog's nails:
Hold the dog's paw gently but steady
Trim off small parts of the nail at the end of each toenail: If while cutting you notice the nail feels a bit spongy then quit cutting the nails immediately!
Stop any bleeding once noticed
Safety Procedure
For safety purpose, it's best to have a veterinary technician, a professional dog groomer or a veterinary doctor give you a hands-on demonstration on how to trim your dog's nails the right way. Once you can understand the fundamental principles, then you can carry on your own.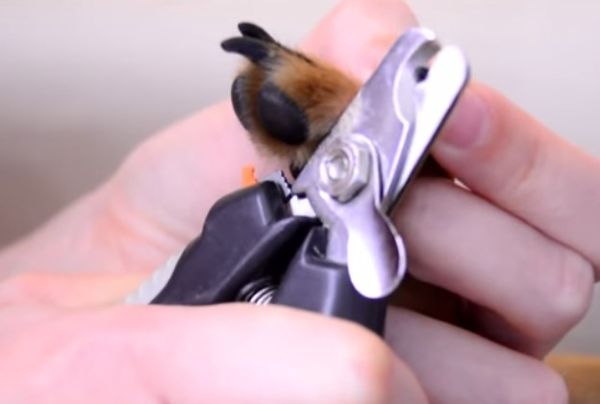 If your dog is a puppy and a nervous one at that, then it's advisable to cut the nails over time, there's no law stating that after cutting one nail, you have to cut them all. As earlier stated, not all dogs require their nails being cut. Many dogs living outside the suburbs or cities wear their nails down resulting in the flaking out of the dry end over time, but there are dogs that require assistance in grooming their nails, examples of such dogs are the Bassets and the Dachshunds.

Black Nails and Hair
It is more difficult to trim a dog's nail if it has black hair and nails. For the black hair, if there's no pink flesh around the nail, it's challenging to determine where the live part of the nail starts from.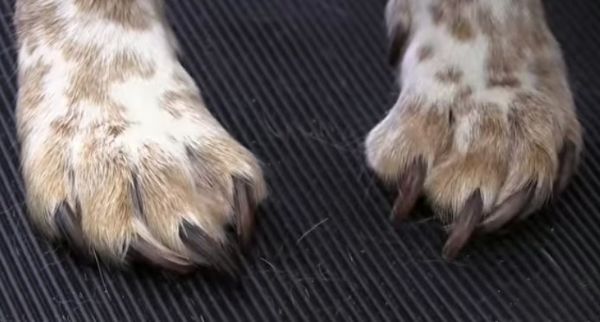 However, try checking the end of the dog's nail, the white part indicates the dead part; as you begin trimming more in-depth into the nail's end, then you will see the dark part. The shaded part of the dog's nail indicates the beginning of the live area.
What to Do When Bleeding Occurs
There's a high chance that during one of the nail cutting sessions, you are going to cut the nails too short and your dog is likely to bleed. When this occurs, how best do you take care of it?
I tell you how. Place a piece of paper against the dog's nail end, and after that hold it close for some minutes. Pour a little clotting powder on the bleeding at the nail's end after which you should cup your hands and pour the substance into the hollow. This should stop the bleeding.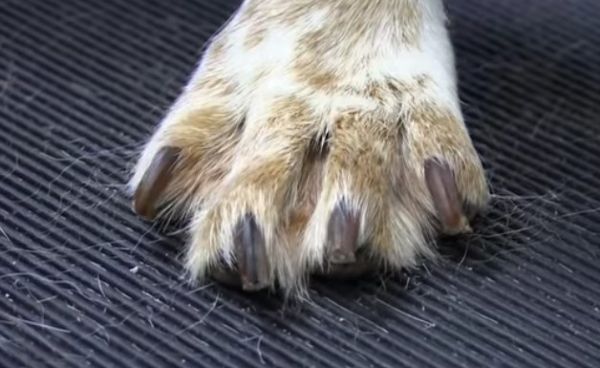 If the bleeding doesn't stop immediately, then give it about five to seven minutes, it will cease. If after seven minutes, it fails to halt, then contact your veterinary doctor immediately.
You can also decide to trim your dog's nails using a nail grinder rather than a clipper. If you prefer this, follow the same process; hold the dog's paw, after that turn on the grinder and then proceed to grind off the nail a little at a time.

How to Trim Off Deformed Nails
Your dog's nail may be deformed, and this could be as a result of a trauma or an old injury that affects the nail bed. Trimming off this kind of nail may be a bit difficult as extreme care is needed.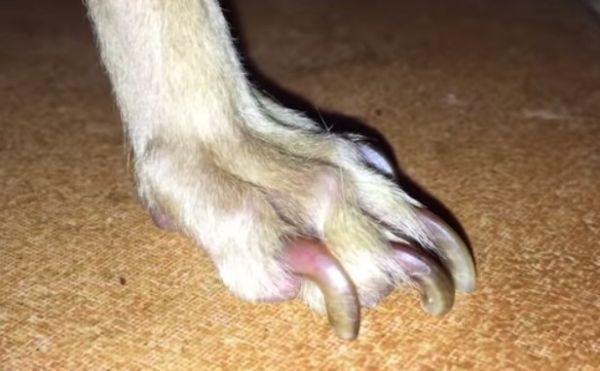 To effectively trim off a deformed or hardened nail, ensure you clip off the nail after bathing the dog, as the nail is softer at this stage. You can also try cutting the nails a little at a time while being careful not to cut off the fleshy part. While cutting, ensure it's not cut too short or left too long to avoid the nail from getting caught in things that could hurt the dog further.
Conclusion
Coming home to the welcoming embrace of your dog is something you should look forward to without fear of being scratched. Your dog, too, should be able to prance about happy and content rather than in pain. All this can be made possible if you only learn How to Trim a Dog's Nail and then regularly follow these easy steps.
Yes, dogs are not our whole lives, but they play a massive part in making our lives whole. Hence we should care for them like the best friends they are.