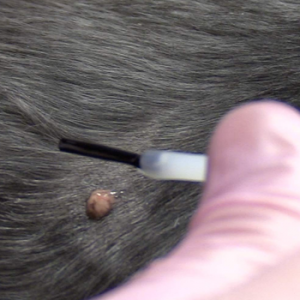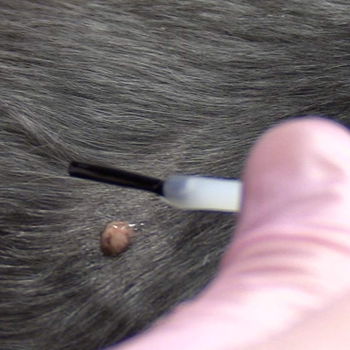 Dogs are our best friends no doubt but how do you feel when you notice your best buddy has some pink nodules sprouting out of his face, mouth or eyes?
Does it leave you confused or horrified? I'm sure it does, but you shouldn't be as we are here for you, to teach you How to Remove Warts on Dogs and give valuable information that will help keep your dog healthy and safe.

Causes of Warts on Dogs
Warts can be caused by several viruses some of which include:
Viral Papillomatosis
This is the most common cause of warts on dogs and is usually caused by the canine papilloma virus-1 (CPV-1). Dogs that are under the age of two years are more prone to contract this disease than older dogs. They tend to develop rough nodules on their lips, mouths and sometimes on some parts of their faces such as their eyelids. This condition is called viral papillomatosis.

Most of these warts are very small, (measuring less than 0.5 inches in diameter) and have a rough surface. Sometimes, these warts are elongated with a narrow base of attachment. Often, most dogs that have warts do not show the symptom on one part of their body only. Hence, it is important to carefully examine your dog to identify other places as well.

CPV-1 is commonly spread when healthy dogs come in contact with an infected dog or an object touched by such an infected dog. To become infectious, the virus must first come in contact with an abnormal/traumatized skin. The incubation period, within which the symptoms appear, is usually within one to two months.
Most dogs do not have problems with warts as it's generally not harmful. However, some warts prevent dogs from swallowing or chewing properly. Besides, they are not appealing to look at and therefore should be removed.
Sebaceous Glands
Many dog owners often refer to sebaceous glands as wart without realizing they are different. Sebaceous glands should not be confused with warts. Dogs that are five years and above are prone to developing a wart-like skin with a size ranging from 0.25 inches to 1-inch, this wart-like appearance can sprout up in any part of the body and is often referred to as "old dog's wart". But as earlier stated, they are not warts but rather benign (non-cancerous) tumors found on the oil glands of the dog's skin. The term for this is sebaceous gland adenoma.

For a non-professional, these benign tumors often appear like warts only not as rough as real warts. However, a veterinary doctor can help you identify if what you see is viral papillomas (warts) or just sebaceous gland adenoma.

How to Remove Warts on Dogs
Now that we are aware of the causes of these warts, we can now proceed to learn how to remove them on dogs.
There are no extensive treatment options for warts as they often disappear on their own within one month to three months of appearance without the need for treatment.

However, if warts persist beyond three months, then such a dog should be taken to a veterinary clinic where he would be treated. This treatment will be effective if the dog is placed on immunosuppressive drugs or if the dog has an untreatable immunosuppressive disease.
Veterinary doctors can also consider other options some of which include:
Interferon Alpha: This is a drug which contains a chemical derived from white blood cells. It stimulates a dog's body system and may help to overcome viral warts.
Imiquimod: It is an immune response modifier which speeds up the regression of some viral warts.
Azithromycin: The effect of antibiotics has been tested in treating papillomatosis. From the results gotten from the various tests carried out, it has not been an effective treatment method.
Cimetidine: It is an antacid which is more common in treating warts in humans. So far, there has been no study to show its effect on treating viral papillomas in dogs.
Laser Treatment, Cryotherapy and Surgical Removal: If after three months, warts on your dog's skin do not regress, then you may need to consider laser treatment, cryotherapy or surgical removal.
Crushing or Autogenous Vaccination: This is the process of giving your dog a vaccine made of the dog's warts. Sometimes, veterinary doctors deliberately introduce viral warts into a dog's immune system to enable it to fight the virus. However, this should not be done at home as it may be risky for the dog.
Reduction of Immunosuppressant: As a last resort, there may be the need to discontinue or at best reduce the dosage of the immunosuppressant drugs administered to an infected dog. After this, treatment of any disease which is found to hurt the dog's immune system may start.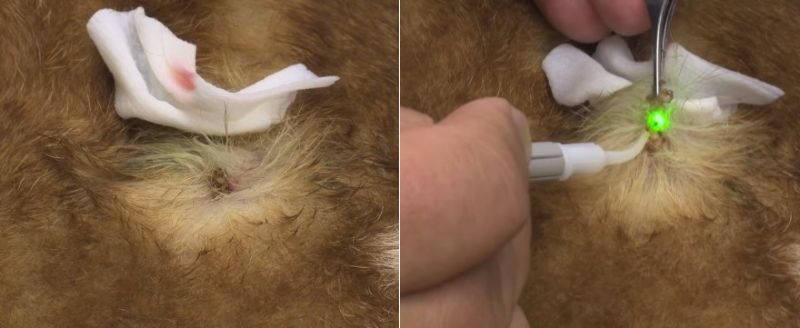 Home Remedies
If you would prefer to treat your dog yourself rather than take him to the hospital and are looking for an effective means of removing warts from your dog's body, you can apply some of the immune-support measures outlined below; they are safe and will help you get rid of warts faster and more efficiently.
Cell Advance: This is an antioxidant supplement. It reduces the burden of your dog's immune system thereby leaving it with enough capacity to fight the viral papillomas.
CAS Options: This is another supplement for dogs but this time of a mushroom nature. This type of supplement contains beta-glucans which contain anti-inflammatory and anti-tumor activity. This product is effective enough to stimulate your dog's immune system and help it fight against the wart causing virus.
Boost the Dog's Immune System with Vitamins: Sometimes, warts are a result of a weak immune system. Therefore, it is likely to disappear once you boost the dog's immune system. This can be done by administering vitamins or supplements. Immunosupport is a supplement containing several immune-boosting ingredients such as lutein, arabinogalactans, and shitake mushrooms.
L-Lysine: It is available in pill form and should be taken twice a day. This 500mg drugs should be given until warts disappear.
Application of Vitamin E: With the use of a sterilized needle or knife, puncture a vitamin E capsule and then apply the vitamin E directly on the wart. This should be done using a cotton swab or clean fingers; repeat the process several times a day continuously for about two to three weeks until an improvement is seen.
Apply Castor Oil: It can be purchased from a local drug store close to you. When applied directly on a wart, it can soften it and even the irritation which prevents your dog from scratching the wart open. To apply castor oil, use a cotton swab or a clean finger, this treatment should be applied once a day, once in two days or as often as is needed until the wart disappears.
Thuja: This is a homeopathic treatment that is developed from a certain type of tree which is considered safe for dogs. Thuja is available in liquid and pallet forms and should be taken orally.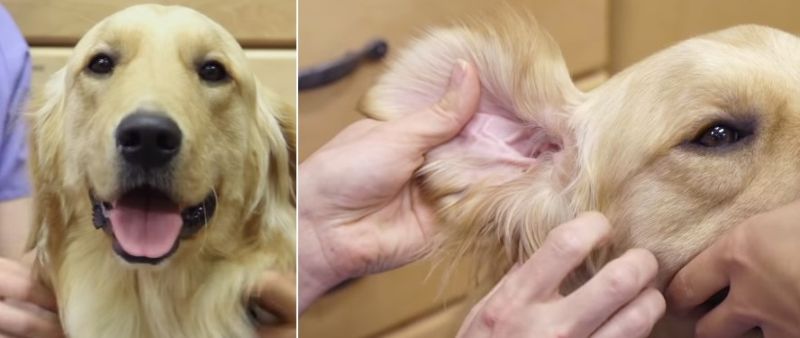 Note: Thuja should only be given to your dog once but if after two weeks there is no visible change, then you may give a second dose. Do not give this drug to a pregnant dog as it causes abortion.
How to Prevent the Spread of a Dog's Wart
Few things can be done to prevent warts from spreading or developing the virus. One of such is to keep your dog away from playing with or contacting other wart infected dogs.
Once the protective layer of your dog's skin has been compromised (maybe due to wounds, cuts, rashes, and bruises and so on) or perhaps his immune system is not functioning as it should, then it's important to not take such dogs to places such as parks, kennels, doggy daycare or other places where other dogs are gathered.
If after all your effort, your dog does contact warts then he will have to be isolated from other dogs until he is completely free of warts. This is done to prevent him from transferring the virus to other uninfected dogs.
Conclusion
If you notice a pink nodule in your dog's eyes, nose or mouth or any other parts of the dog's body, there is no need to panic. This is because most warts heal on their own without the need for treatment. All you need to do is ensure your dog is kept isolated to avoid infecting other dogs.
If the dog experiences difficulties in swallowing or chewing, then you should visit a veterinary. The vet doctor is in the best position to help you treat your dog if the warts aren't gone in three months.
Now that you have discovered How to Remove Warts on Dogs, we hope that this information will help you keep your dog healthy and happy. Remember, a happy dog makes a happy you.