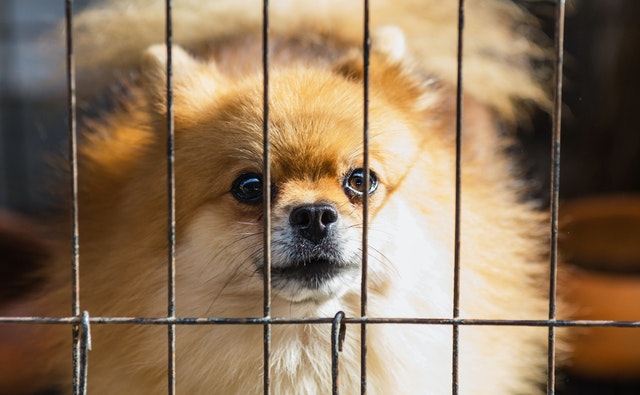 If your dog has destroyed traditional wire crates or slipped through the bars of every crate you have bought them, you've come to the right place. We have done a deep dive on all of the escape-proof crates on the internet and picked our top five so that you don't have to. Whether your dog has separation anxiety or just really wants to watch the birds outside your window, these crates will help keep your pup where you want them while you're out of the house.
How we picked the best ones
We combed through the internet to find in depth reviews of each of the escape proof crates written by the best in the business, read customer reviews on amazon, and found the crates that hit all of our must-haves for you to browse through. The factors that we took into consideration were:
Materials used in construction
Durability over long periods of use
How easily the latches can be opened
Ventilation
Safety
Are there really crates that are "escape-proof"?
Companies like to boast about how difficult their crates are to get out of, but is there really such a thing as escape-proof? Yes — there are crates that will keep your dog from getting out (but there's no crate that will keep every dog from escaping). It's just a matter of finding the right crate for you. Dogs have different strengths. Some chew through bars, some wiggle through openings, some use their tongue to undo latches, and some seem to simply teleport out of their crates. In order to find the best crates for this list, we looked for strong frames that would be difficult for any dog to get out of, regardless of what kind of escape artist they are.
Escape-proof crates are an investment and you get what you pay for. Unfortunately, they don't often come with guarantees. If you know how your pup tends to escape, look for crates that address that specific issue. f you have a lot of information to cover here, again link below. Like "Learn more about how to take the right safety precautions."
Jump to a section
Our Top Pick – ProSelect Empire
Runner Up – LuckUp Heavy Duty
Best for small dogs – SmithBuilt Heavy Duty
Other good choices
What to look for in a crate
---
Our top picks
Here are our recommendations for your little Houdini. There is no magic crate that will work for every dog, but these are pretty close.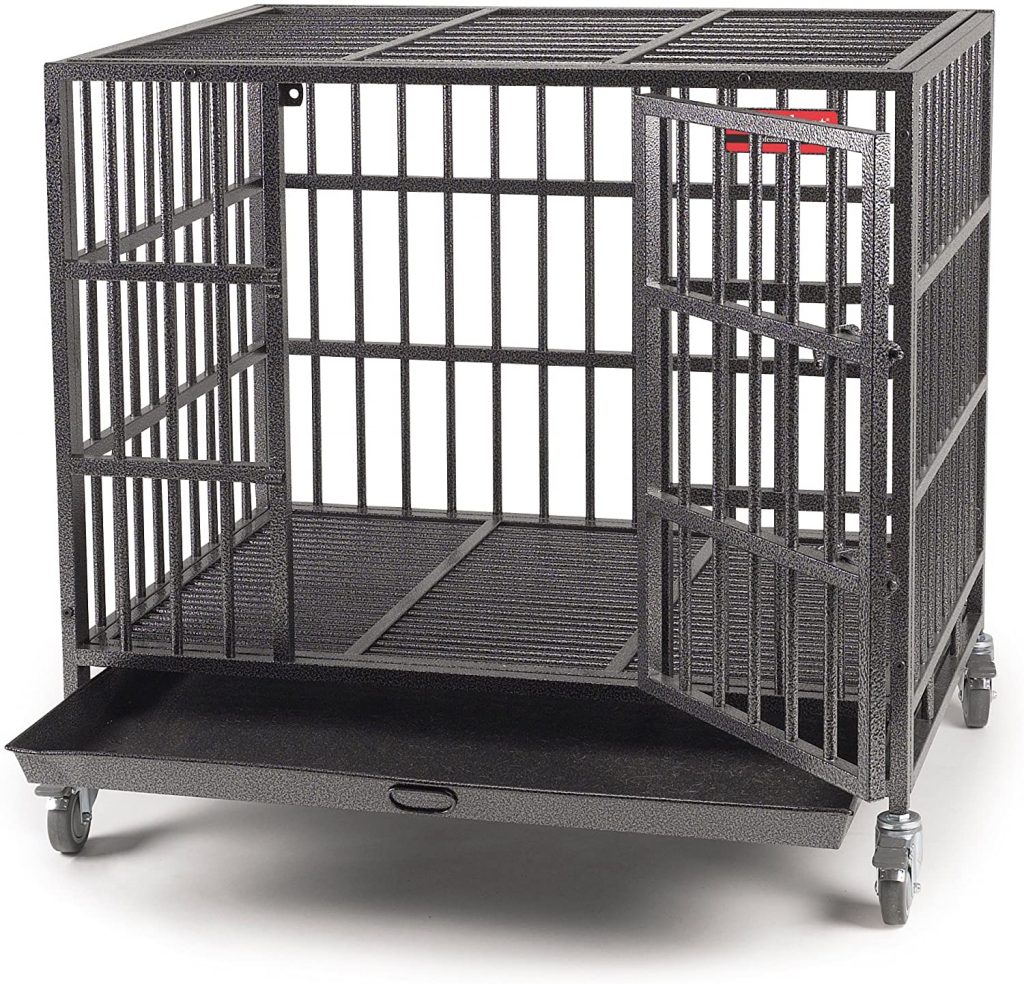 Best Overall
This dog crate is a solid piece of construction that reviewers are raving about. It is sturdy and will keep your pup safely inside so you can breathe easier.
You will find the ProSelect Empire near the top of just about every reviewer's list because it is strong, dependable, and well loved. This crate has been around for quite some time and the newer crate designs haven't been able to top it. The Empire comes in large and medium sizes and is definitely recommended for large, strong dogs who consistently chew through or break wire crates. The frame is made of solid steel built to stand up to the strongest set of jaws.
We do not recommend this for smaller dogs unless you plan to place a bed in the crate as the gaps in the floor are wide enough for little paws to slip through. If you do plan on keeping your dog in this crate without a bed, however, you can take advantage of the removable pan that sits just below the floor. This allows for easy clean up for any anxiety pee and also catches shed so that you don't have to worry about the dreaded under-the-crate vacuuming.
The ProSelect Empire also comes with removeable wheels that lock in place easily so you can move the crate around as needed. One thing that costumers noted with just about every product on this list is that smart dogs are able to find ways to open latches. You might want to invest in a padlock, zip ties, or a dog leash clip to keep pups from figuring out how to open the door with their brains instead of their brawn.
Don't want to take our word for it? Check out the 1500 reviewers on Amazon raving about this product. This has by far the most online fans of any other escape-proof crate.
The ProSelect Empire dog crate is a great choice if you have a large dog with anxiety who needs a strong, sturdy crate.
Pros
Solid steel construction
Widespread costumer satisfaction
Pan below the crate is removable for easy cleaning
Cons
Not for smaller dogs because the floor has wide gaps
May need to use padlock, zip-tie, or other fastener in addition to locks
Some people have reported failing welds after several years
---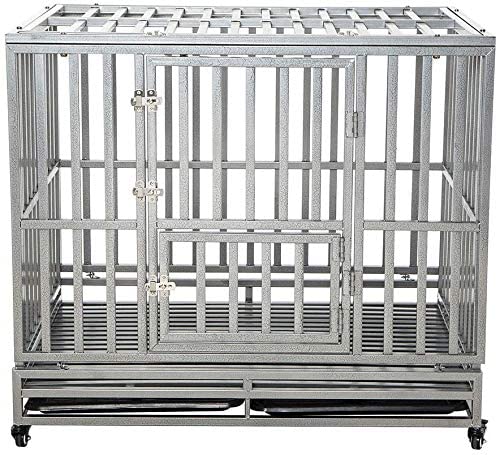 Best for second choice
This crate is has a steel frame, but you wouldn't know it with how easy it is to assemble. Your dog will feel secure inside of this highly rated, anti-rust crate.
The LUCKUP crate's shiny finish might be just what you're looking for in your home. It has removeable pans to make cleaning up a breeze and it's heavy duty steel construction will keep the strongest dogs inside. This crate has two doors which allows you to interact with your pup while they are safely locked inside. Just pop open the top and reach in for some good belly rubs!
The biggest complaint that costumers seem to have about this product is the simple latches that mean that a determined dog can flip them open. That is easily fixed by supplementing with other fastener types.
Overall, reviewers are pleased with how well this crate keeps their pup safe and secure inside.
Pros
Steel frame
Multiple doors
Removeable pans
Easy assembly
Highly rated
Cons
Smart dogs can figure out the latches
---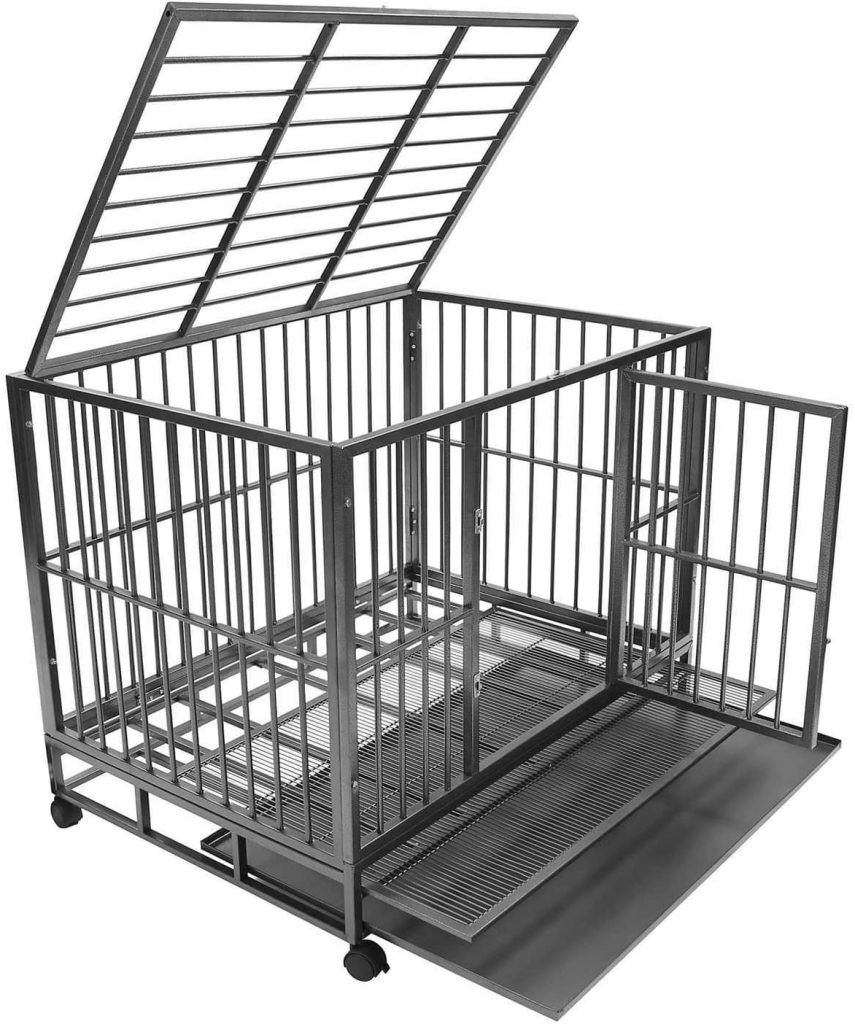 Best for small dogs
This crate is highly rated, strong, and accessible for you and your pup! With a mesh floor panel, your dog won't be able to slip through the cracks and will stay safely inside.
The SmithBuilt crate is perfect for the little dog in your life. We love the two-door design that allows you to reach in to access your pup without having to open the main door. The mesh floor insert also protects those little paws from getting stuck in between the bars like some of the other crates on this list. Finding a crate that's safe for the small but mighty dogs can be difficult as many escape-proof crates are designed with big dogs in mind, but the SmithBuilt crate works for small, medium, and large dogs.
With a solid steel frame, it doesn't sacrifice strength for safety. As with all of the other crates on this list, however, if your dog is more brains than brawn, you might want to use another kind of fastener in addition to these latches.
The removable pan makes for easy cleanup.
Pros
Safe for small dogs
Removeable pan for cleanup
Two doors for easy access
Steel frame
Cons
Larger dogs have been known to bend the bars
May need another type of fastener in addition to the locks
---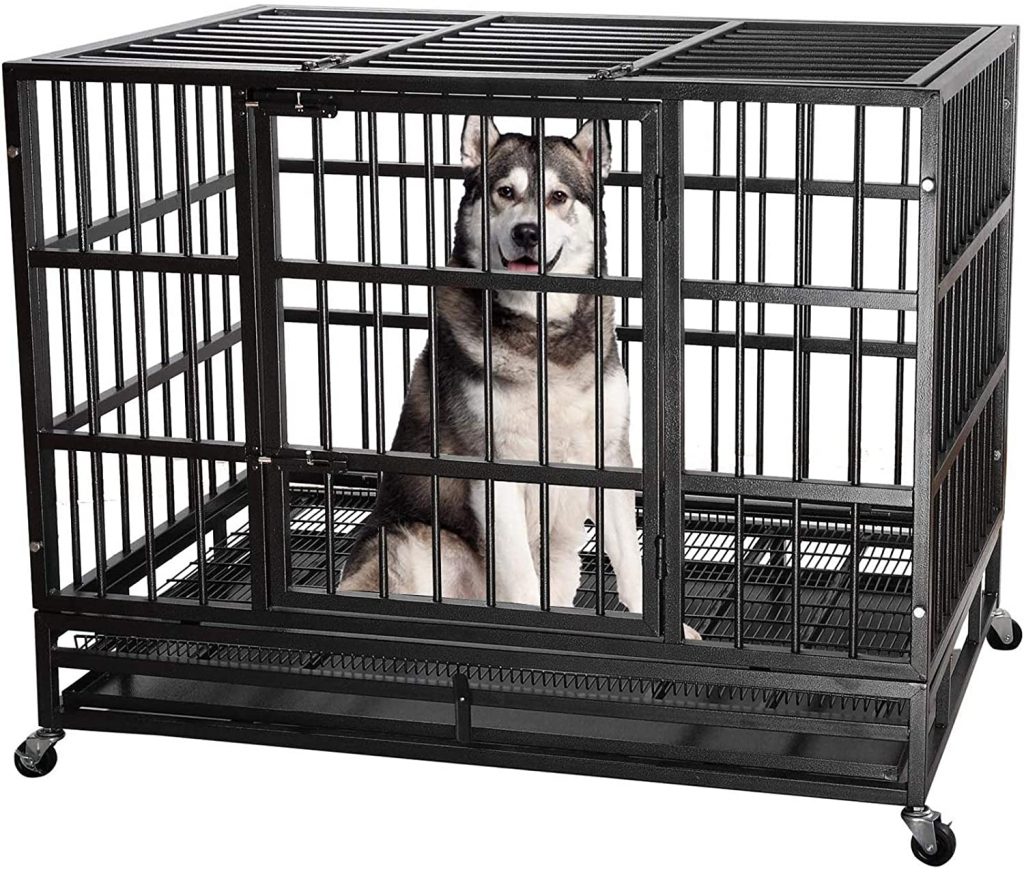 The ITORI is strong, but has a few manufacturing quirks. With these fixed, you and your pup will be surprised by how well this crate works.
Like many other products on this list, the ITORI comes with a removable pan. Unlike some others, however, this pan can be easily swapped with the floor of the crate so that your pup isn't sitting on the uncomfortable grating. Four wheels and a steel frame gives this crate similar strength ratings as crates that are higher ranked on this list, but there are some reports of injuries on the ends of bolts in this crate. Make sure to flip the bolts so the ends face outside of the crate to avoid this issue!
Pros
Steel frame
Lockable wheels
Removable pan can be switched with grate
Cons
Some safety issues with bolts
Some dogs were able to escape
---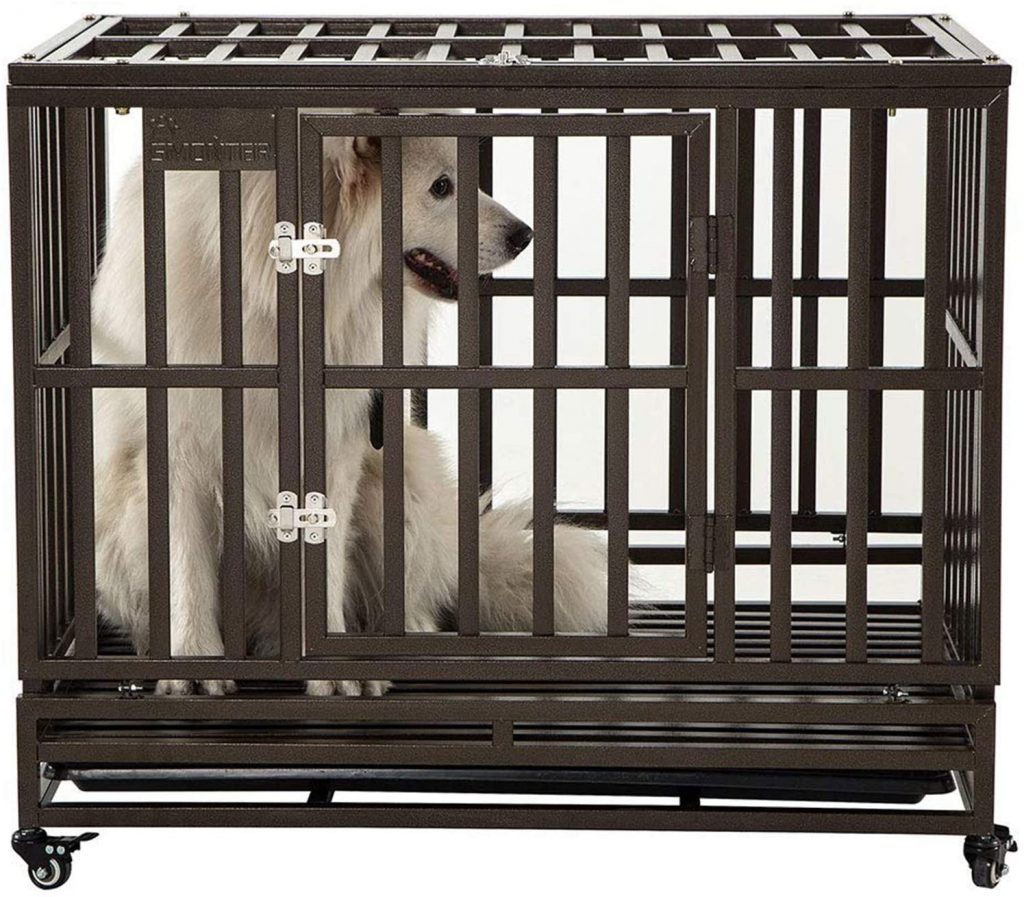 This crate's locking wheels and strong frame is a good choice for your dog. Some reviewers report that their pets were able to bust their way out, but if your pup isn't super determined, this is a good choice.
This crate has been chosen by many costumers as a cheaper alternative to more expensive escape-proof crates. However, this crate has the highest rate of break-outs of any of the products on this list. It is made of steel and has many of the same features, but the quality appears to be slightly lower. The customer service appears to be very responsive to Amazon reviews, however, which is a huge plus.
Pros
Removable pan
Steel frame
Multiple doors for easy access
---
What to look for in a good crate
Shopping for a good crate, especially if you need to invest in an "escape-proof one, can be intimidating. There are all sorts of different specs that crate companies want to show off. Here I will run down some of the most common features to look out for.
Steel is the strongest material
If your pup has a history of chewing through, bending, or digging out of crates in order to escape, you should pay close attention to the material that your new crate is made of. We've found that steel is the strongest material and the most likely to keep your dog inside. Some customers who want their crate to fit into the décor swear by wooden crates, but wood is softer and more easily chewed through if your dog is determined.
Wheels have pros and cons — what to know
If you want your pup to be crated in the middle of a room, but need to stow it when it's not in use, wheels are a must have. If your new crate is made of steel, it's going to be heavy. Wheels gives you the freedom of redecoration.
However, some people opt out of the wheels because it gives one more point of possible failure as your pup might be able to rock the crate. Luckily, most crates that come with wheels can be used without them just as easily.
Make sure the crate has removable pans for easy clean up
Almost every crate nowadays comes with removable pans to help clean up easily, especially if the crate is specifically for dogs with anxiety. However, many people choose to put down bedding to make the crate more comfortable which does defeat the purpose of the pan. If your dog isn't too messy, bedding is nice for them to have, so this is up to your discretion and your dog.
Consider a roof door if you want to interact and feed your dog in the crate
If you don't want to have to go through the process of re-crating your pup, but want to feed or pet them, having a second point of access from above can be critical. It also provides an additional avenue for escape, so if your dog is particularly determined, this might not be a feature you want.
To be safe, get a crate with good ventilation and properly-spaced bars
Some escape-proof crates have solid wall construction which does not provide proper ventilation for pups. We recommend crates with bars which allow easy air flow.
Keep your dog's size in mind when looking at the spacing of the bars, however. You don't want your pup to get a limb, their jaw, or their head stuck between any bars.
Make sure your dog can't reach the locks
If you have a smart dog, they are going to figure out how to open the latches on their crate. Whether it's with their paw or their tongue, dogs are resourceful. You want to look for a crate that has latches that are inaccessible to the inside. You can also use a zip tie, padlock, or the clasping end of an old leash to keep the latches firmly closed if you have a smart dog.