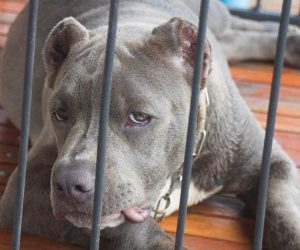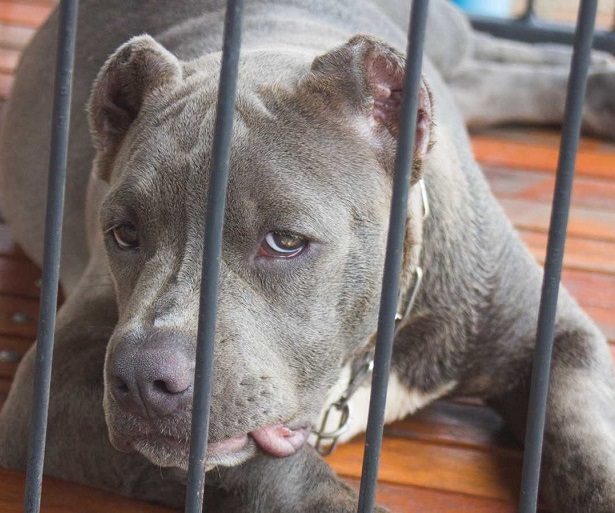 Whilst every dog is different: be it their preferred food or walk or bed or daily routine but most domesticated dogs like to have structure to their day. They may display anxiety if the routine is varied and pitbull terriers are no exception.
The pitbull has suffered from a maligned reputation much of which stems from their original designation as fighting dogs. Pitbulls' strength, tenacity and agility can be intimidating but they are sweet, affectionate and loyal companions.
All dogs should feel secure and comfortable whether they live in a small apartment or a large house; their owners have to gauge how best to reach that happy arrangement. Dog cages can play an important part in this process.
There are myriad brands of dog cages, most of which offer a range of sizes. Prices vary enormously so careful consideration should be given before spending what could be a significant amount. We have taken into account the specific requirements based on reviews and tests, compiled a list of ten cages which meet different criteria. Inclusion of a tray beneath the cage and wheels on the chassis is taken as given and only commented upon if not the case. We welcome feedback to make this guide ever more relevant.
BEST CHOICE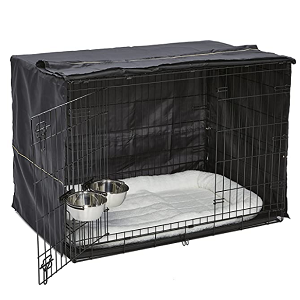 MidWest iCrate Starter Kit
Best Dog Cage for Pitbull in Our Rating
Different sizes for different breeds of pets
Secure locks for safe transport
A soft rug from the manufacturer will appeal to any shaggy friend
Two metal cups to feed your pet on the go
Selecting the Best Dog Cage for Pitbull November, 2023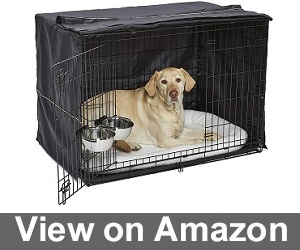 Because dog cages vary so much in terms of price and modus operandi, some pitbull owners may wish to test the water and opt for a model which is pitched at first-time buyers.
If that's you, the MidWest iCrate Starter Kit is ideal. Made from wire, the cage is easily assembled and will serve as the means to acclimatize your pitbull to the concept.
The iCrate kit is more than just a cage as it includes a cover (perfect for those occasions dogs need some me time), a bed and two food (or water) bowls. The bed and cover are machine-washable and the cage is easily assembled.
Pros
Easy to assemble
Inexpensive
Includes bed, cover and food bowls
Quite robust for its type
Six sizes available
Cons
Some owners report this brand as flimsy
Not completely escape-proof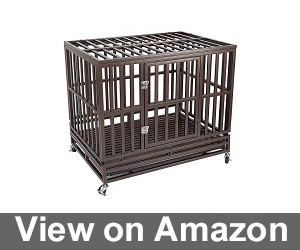 The Geolinzon Heavy Duty Dog Cage certainly lives up to its name. One of the more formidable models on the market, it evokes security and will withstand just about any attempt by a pitbull to escape. But don't just see it as a place of incarceration, the Geolinzon provides comfort.
A spacious steel cage, it allows your dog to move around while being housed within and comes with a "chew-through" money back guarantee as a testimony to its resilience. The three sizes available are all on the large size and we recommend the 42" as the one most suitable for a pit bull.
Pros
Alcatraz-like fortress
3 year warranty
Collapsible, hence portable
Comes part assembled
Money back guarantee is testimony to its strength
Cons
No top door access
Some users report that it contains weak door latches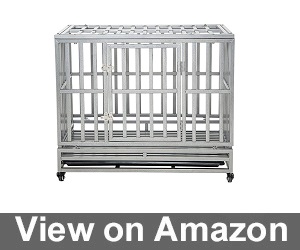 The LUCKUP Heavy Duty Dog Crate is another big beast often regarded as much a kennel as a cage. It provides the homeliness and comfort synonymous with a kennel and the reassurance that your pitbull should be safely housed within.
Made from corrosion-proof steel, the LUCKUP model has two doors, one of which is on top allowing interaction with the dog.
For all its solidity, the cage is collapsible which facilitates portability although it is not the work of just a few minutes to reassemble. Available in four sizes, the 38" model is the best for a pitbull although should your dog be particularly tall, larger size LUCKUP cages have a sloping extended roof for added comfort.
Pros
Very heavy duty
Spacious
Top door access allows interaction with dog
3 year warranty
Corrosion-proof claim from manufacturers although…..
Cons
A few reports of rust developing
Also a few problems with the locks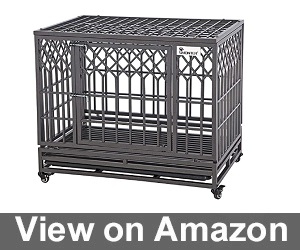 The SMONTER Heavy Duty Dog Crate continues the theme of solidity with this steel construct boasting a record of being particularly difficult to escape from. Its bars contain a Y-shaped pattern to enhance that impregnability making it difficult for the resident dog to poke his nose through.
The SMONTER is available in five sizes and the 38" version is our recommendation for a pitbull. It offers security and also allows access to the dog through a top door. If the pitbull has a history of escapology, there is a strengthened version which is close to escape-proof.
Pros
Comes part assembled
Double doors
Solid steel composition
Non-toxic paint
Impregnable
Cons
A few reports of problem with closing latches
Not carry-friendly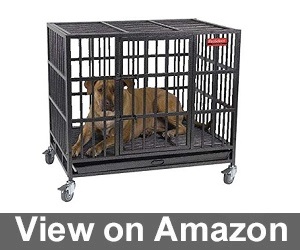 The ProSelect Empire Dog Cage does not come cheap, but owners profess that the extra expenditure is recouped by its longevity. Available in Medium or Large size, we recommend the Medium as the one most suitable for a pitbull who will enjoy the spaciousness provided even for the bigger breeds.
This model is bolted together for added security and its reinforced steel tubes should resist any attempt by its occupant to escape. With a pleasantly tactile Hammertone paint finish, the cage exudes elegant comfort for dogs of all sizes although it may be overpowering for smaller pitbulls.
Pros
Bolted together for extra security
Hammertone finish – looks good and enjoyed by dogs
Easily assembled although not a one-person task
Longevity
Will withstand almost any attempt to escape
Cons
Expensive
Very heavy, lacks portability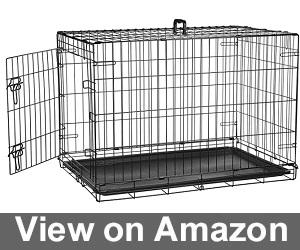 Coming from the Amazon Basics range, this cage offers quality way beyond what can be expected for such a small outlay. An easily-folded, metal wire cage available in six sizes ranging from puppy to enormous, the Amazon Basics model is excellent as an introduction to the idea of dog cages for a pitbull, especially pups.
Our choice for a pitbull would be the 36" version which provides the space to put a dog at ease. It gives them light and air and is easily collapsed should it be required for a stay away from home. Single and double-door options are on offer and the cage comes with a divider panel; very useful for a growing pup.
Pros
Easily foldable
Very affordable
Excellent choice for pitbull pups
Perennially a best-seller
Divider panel included
Cons
The wire has been reported to become exposed
Not suited to pitbulls with a penchant for escape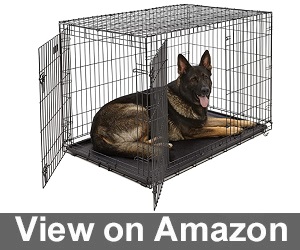 This is essentially the MidWest iCrate model featured above as our choice of introductory dog cage without accessories such as bedding, cover or bowls. A wire cage which comes in seven sizes catering for every breed of dog imaginable, the MidWest iCrate is highly portable and can be re-assembled in minutes.
For a pitbull, we recommend the 36" version which comes with a divider panel – useful to customize the cage to your dog – and the option of a single door or doors to the front and side of the cage. It also features patented side clips which make the cage edges rounded eliminating the chance of injuries from sharp wire.
Pros
Roller feet attached for floor protection
Inexpensive
Easy to collapse and reassemble
Wide choice of door/size combinations
Cons
Chart included suggests 30" size for a pitbull; we think this is on the small side
Less escape-proof than other models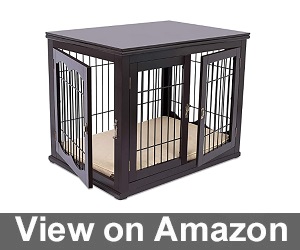 Few people will purchase a dog cage for its aesthetic qualities, but this is an option for pitbull owners who prefer their dog's indoor haven to be in harmony with their interior furnishings. The Internet's Best Dog Kennel is a decorative wooden cage with wire side panels allowing the resident dog to view their surroundings.
It also doubles as a useful piece of house furniture suitable for potted plants, lamps, etc. although we hasten to add that anything fragile or susceptible to gravity's pull should be removed while a pitbull is inside. The cage comes in one size which would be restrictive for a larger pitbull.
Pros
Doubles as a decorative and practical piece of furniture
Padded, removable bed included for added comfort
Easy to assemble
Choice of colors: espresso or white
Cons
Has a "not chew-proof" disclaimer from makers
Tray not included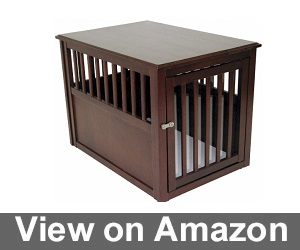 The Crown Dog Crate is another contender from the dog-cage-as-furniture field. Available in Medium or Large size (Large strikes us as the better pitbull choice), it is tailored more to our four-legged friend's needs than as a pitch for inclusion in a style magazine.
It contains some clever design features such as a door which swings inwards thereby avoiding adjacent furniture and a removable security panel inside the door to protect the wood.
Made from rubberwood – an environmentally friendly wood – for longevity, it is waterproof with solid panels occupying half of the space on three sides. This can further the feeling of being a home rather than a place of confinement.
Pros
Durable hardwood construction
Stylish addition to the house with practical use
Swing-through door
Comfortable bed included
Homely environment
Cons
Side panels may restrict light
Some owners found the door latch to be lightweight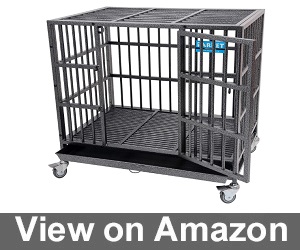 The PARPET Empire Dog Crate has been described by some pitbull owners as "indestructible" and there can be few finer testaments to its strength and durability.
Available in two sizes with the 37" the best option for our breed, it is cast from steel and its Hammertone finish reinforces that feeling of solidity.
One of the more expensive cages, the PARPET will present an insurmountable challenge to even the most experienced escapologist canine. Our testers have reported that the three-year warranty borders on the superfluous, so seldom is it exercised. This cage may prove overwhelming for small dogs.
Pros
Bordering on escape-proof
Hammertone finish is a winner with dogs
Reported as having a soothing effect on some aggressive dogs
Top quality material
Cons
Expensive
The two trays beneath the cage leave a small gap between them
Buyer's Guide to Dog Cages for Pitbull Terriers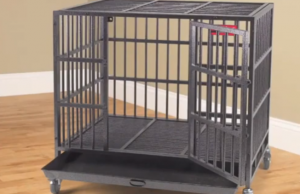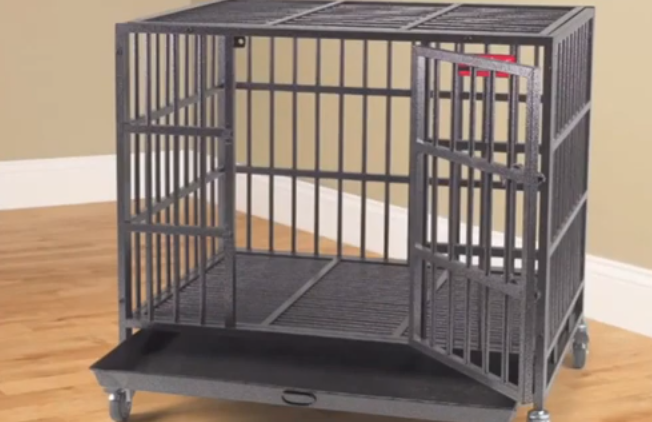 First, let us address one contentious issue about dog cages. They are tainted with a stigma since some people perceive them as cruel, a place of confinement. As long as the dog is not interred for extended periods with no means of exit, this need not be the case. Let us examine the main reasons for using dog cages with particular reference to pitbull terriers.
Note that this article will refer to dog cages. They are also known as dog crates and some feel more comfortable with this word but, without getting into the semantics of either term, we will use cage for the sake of consistency.
Reasons for Dog Cages
A cage can act for a dog as a bedroom or den does for a human: their place of retreat, a safe haven. Life can become too frantic for a dog at times and all they want is to take refuge somewhere they feel safe and comfortable in a place which is theirs and theirs alone. Pitbull terriers can be sensitive animals who value their safe haven more than most. If they seem nervous even within their den, a cover can be loosely placed over it to enhance the sense of privacy and security.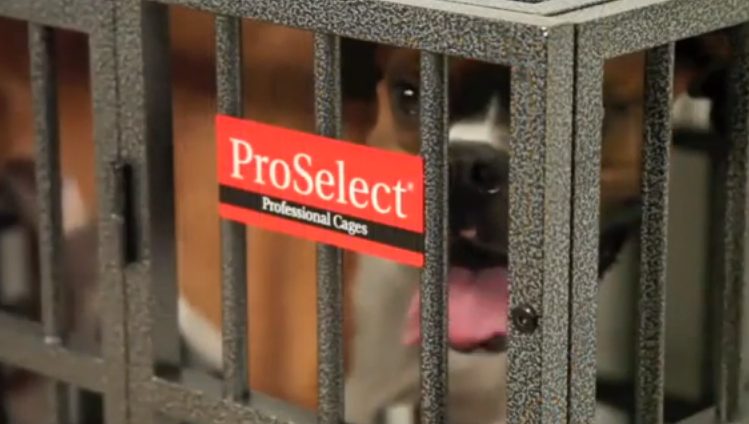 Cages are a useful device to introduce dogs to the idea of being left on their own. Dogs can be needy creatures failing to comprehend why their human companion(s) are not with them all the time. In such instances, a cage familiarizes the dog to periods of separation and instils in them a coping mechanism. This is especially true of puppies.
Toilet-training is a hugely important discipline to teach to dogs and since they will rarely soil their own beds, a short period in their cage when left alone will ensure that they do not go to the lavatory within your house. It is crucial that it is a short period only as the dog should not be deprived of a toilet when needed.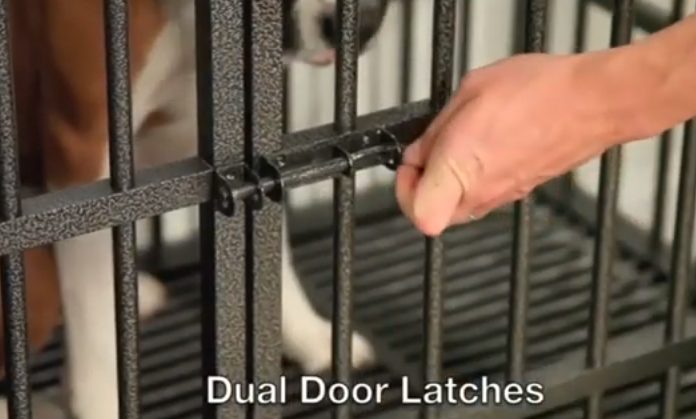 There are times when a dog needs treatment or surgery for an illness or injury and a period of recuperation is recommended by their veterinarian. Pitbull terriers are lively, active dogs not always at home with the concept of down time so that aspect of convalescence may be difficult so a cage will prove invaluable if it already has a positive association for the dog.
Dog cages are also used for transportation whether moving home or going on a break or to dog shows or any of the myriad number of reasons for travelling with dogs. If a triangular bond exists between owner, pitbull and cage, it will be the natural place to be during any such journeys.
Types of Dog Cages
When buying a cage for a pitbull, factors to be considered include the cage dimensions and materials used. Once the purchase has been made, a location has to be chosen but that is a concern best addressed in-house (as it were) and with the dog an active participant.
Dimensions: There are four officially recognized categories of pitbull terriers with the following ranges of height and weight.
| | Weight | | Height | |
| --- | --- | --- | --- | --- |
| | Lbs | kg | inches | cm |
| American Pitbull Terrier | 30–60 | 14–27 | 17-21 | 43-53 |
| American Staffordshire Terrier | 24–38 | 11-17 | 14-16 | 36-41 |
| Staffordshire Bull Terrier | 30-55 | 14-25 | 16-20 | 41-51 |
| American Bully | 40-70 | 18-32 | 17-19 | 43-48 |
So, they are pretty similar in height with variations in weight. Most cage brands are available in a variety of sizes and it should be possible to choose one which is almost bespoke. If the pitbull is at the puppy stage, the cage should be bought knowing that he or she will quickly outgrow their current size.
Dog cages have either precise measurements or a generic size e.g. Small/Medium/Large. The cage should not be too much bigger than the animal but enough to ensure they have room to move around. It is advisable not to have too much extra space lest the pitbull use this space as a toilet.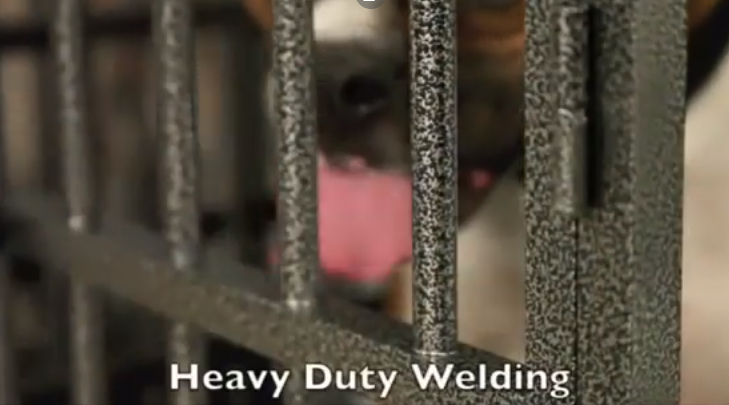 Since a cage for a pitbull pup should be chosen mindful of their future size, part of the cage can be cordoned off until the pup is ready to utilize the full space.
The optimum size cage for a pitbull would be either Medium or Large. The dimensions of these two sizes tend towards:
| | Length  | Width                          | Height |
| --- | --- | --- | --- |
| Medium                       | 30ins (76cm)               | 20ins (51cm)               | 23ins (58cm) |
| Large | 36ins (91cm)               | 24ins (61cm)               | 26ins (66cm) |
Anything smaller or larger than these two sizes will either be too constricting or excessive. The listed dimensions should be studied for actual cage size e.g. manufacturers may say that a cage is 28 inches in height, but this includes the wheels. The precise internal details will also be provided.
Composition of Dog Cages
Although not the biggest, pitbull terriers are incredibly strong dogs and this should be foremost in the mind of purchasers. If a pitbull decides that he wants to escape from his cage, it will require something substantial to thwart them. Dog cages are made from one of five materials, two of which need not detain us:
Wire produces sturdy cages although they will not withstand a sustained onslaught from a dog who wants out. They work well for dogs adverse to confinement as the thin wire allows light and air to flood in. Wire cages are also portable and easily collapsible: a definite attraction when going away or if space is needed when the cage is not in use. Wire models are suitable for pitbulls.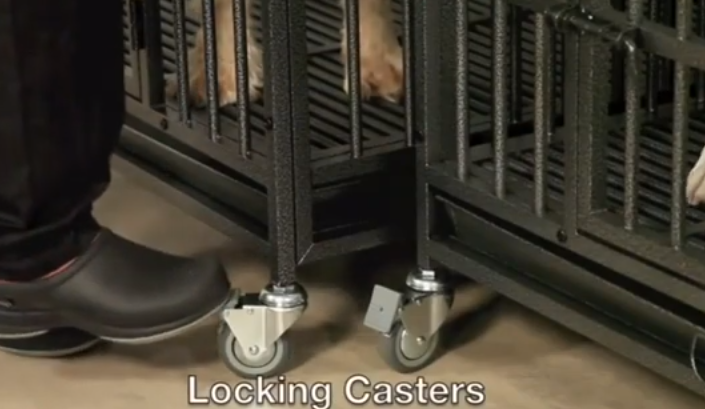 Metal represents the most robust material for dog cages and are particularly popular for larger dogs or restless dogs with a penchant for escaping. They are also long-lasting and, despite their strength, the metal can be relatively lightweight e.g. aluminum. Metal cages are a very good option for pitbulls.
Wooden crates have the benefit of being more homely for dogs – wood being more tactile than metal or wire. They are also a good fit with house interiors as they blend in with home furnishings. Crates fashioned from wood may, however, encourage a dog to chew the bars and the design may make them darker inside.
Fabric is an eco-friendly choice but entirely impractical for pitbull terriers.
Plastic is a slightly better choice but does not compete with wire, metal or wooden for this breed.
Conclusion
We hope selecting a cage for your pitbull has been rendered easier having read our assessments and testimonials, all based on independent evaluations.
Frequently Asked Questions
Given that the pitbulls are affectionate, will they suffer anxiety in a cage?
Cages can be personalized for a pitbull by adding a favorite blanket or toy or positioning them in a familiar location. Well-documented protocols exist on training a dog to use a cage. If followed carefully and crucially, the pitbull is not confined for extended periods, anxiety will be minimal.
What is the maximum amount of time a pitbull should spend in a cage?
This will differ from dog to dog but the reason for the dog being in a cage is usually to allow their owner to work without apprehension as to what the dog may be doing. Pitbulls can spend long periods in a cage but it should not be an everyday occurrence. Four hours is the recommendation from the Humane Society.