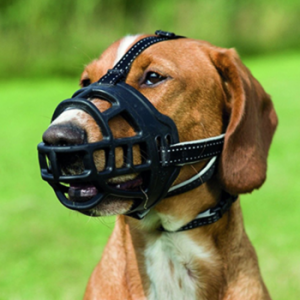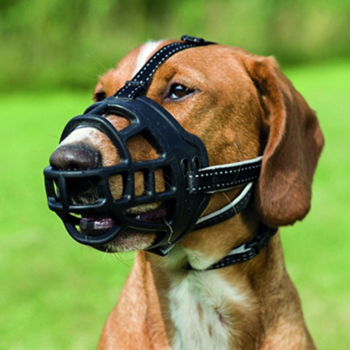 There could be a variety of reasons for a pet owner to buy a dog muzzle, and aggressiveness has to be the last on the list (or not at all perhaps). Often viewed in a bad light in the past, people have now come to realize their importance, benefits, and several uses cases.
Now, if you are a new or first-time pet parent, you must know that a muzzle isn't specific to a particular dog breed. In fact, your choice of the muzzle should depend on your objective i.e. stopping the dog from barking, biting, or eating harmful stuff.
They come in all sizes, and yes, you can now have one for your little puppies as well, mainly for grooming. Luckily, you now have dozens of different brands that make this harmless product, but you have to be sure to pick one that meets your specific requirements.
What good is a muzzle that does not serve its intended purpose? In other words, you have to look for durable materials, enough breathing space, and other important factors while picking a muzzle for your pup. You can view those details in the buying guide.
Unsurprisingly, a vast array of muzzles exists so, based on users' experiences and, through specific criteria application, we decided upon ten. We welcome feedback to create an even more relevant guide.
BEST CHOICE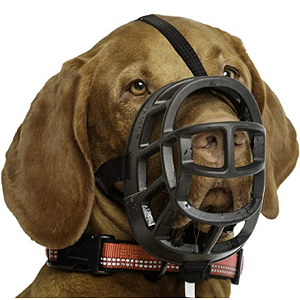 Baskerville Ultra Muzzle
Best Dog Muzzle in Our Rating
Different sizes for different breeds of pets
Convenient fasteners providing comfortable movement
Hypoallergenic materials
Two colors to choose from
Selecting the Best Dog Muzzles September, 2023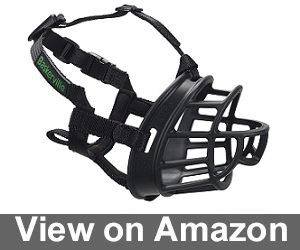 You may call it the most versatile option based on its many features and adjustability options. It has enough space in it to allow your canine to pant. Moreover, your dog can still eat and drink with this muzzle on.
The brand chose thermoplastic rubber to make it sturdy and durable. So, you can trust this product for a dog that is strong and reactive to things. Of course, the best test of the product can only be done when you buy and try it.
There is extra protection in the form of overhead strap, so securing the muzzle on the face of your dog should not be a problem. You can opt for it for a variety of dog breeds due to the many sizes the muzzle is available in.
Pros
Made with strong TPR material
Adjustable for different mouth shapes through heat treatment
Allows canines to enjoy treats, drink water, etc. while on
Extra protection strap (optional)
Usable for a variety of breeds
Cons
Not the best-looking option
Available only in two colors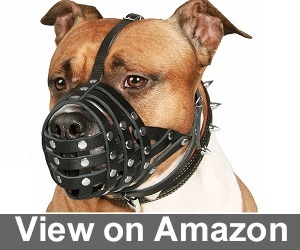 You do not get a handmade muzzle like this one every day. What makes this one even more special is the looks. You might not find a mouth guard that looks as good as this one.
Right from the looks of it and based on the fact that its makers have made it with real leather, you can tell that it will be a comfortable fit for your pet. As the name suggests, you are highly recommended to get this one if you have a pitbull.
You might want to keep your hands off this one if you are vegan or anyone who believes in the idea of not using any animal products in any form.
At the same time, pay attention to the studs on the muzzle if you have kids and other pets in the house. Someone can pluck and swallow a loose one without you noticing.
Pros
Shaped perfectly for pitbulls
Made out of real leather
Easy to buckle and unbuckle
Looks fantastic because it is handmade
Cons
Only limited for pitbulls
Loose studs can be a problem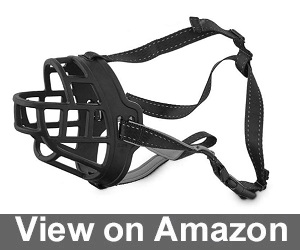 One of the challenges with dog muzzles is when they keep falling off because of insecure and flimsy straps and attachments. That is the last thing you want if your dog is impulsive in certain situations.
Right off the bat, you will notice that this muzzle has been designed to be secure. The strap attachments are very sturdy, and there is one on top of the head of your dog.
You will notice that there is enough room in the muzzle for your dog's nose to fit in, allowing for easy breathing.
Based on the design, it should be good not only in keeping your dog from barking, but also from swallowing big chunks of food off the ground.
Pros
Very sturdy with multiple strap attachments
Inner lining with cotton for your dog's comfort
Enough space at the front for treats and drinking fluids
Special stripes for luminescence at night
Works for many breeds
Cons
Color choices are very limited
The reflective ability of the stripes could have been better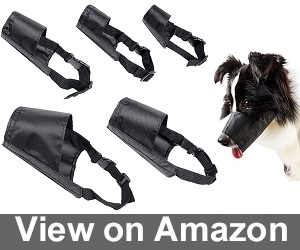 So, you do not have a dog, you have a dog family in your house. And if that is the case, there is no way you can make do with a single muzzle.
This pack of muzzles is for pet parents who have a large family of dogs in their homes. While most other muzzles are meant to keep your canines from biting and eating, this one is just as good to stop them from barking.
So, if you have a few noisy fellows in your pet family, pick this set of five. It may not seem like it at first glance, but the company claims its muzzle material is breathable.
Pros
Very simple design
Easy to put on and take off
One of the affordable options
Suitable for large pet family or a growing pet
Sturdy nylon attachments
Cons
May seem a bit too tight on the snout
Securing attachments do not seem promising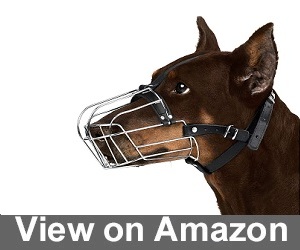 Despite the great claims that come from the makers, most dog muzzles look discomforting from the way they are constructed. This one, on the other hand, is the most breathable option you can find on the market today.
You see no bells and whistles on this one. It is a basket shape made out of metal wires with leather attachments and protection. There is a leather attachment right where the snout of the dog starts to protect the metal wires from hurting the dog.
The steel framing makes the muzzle look sturdy. But does it get too hot during summers or too cold during winters? That is a point of concern.
Pros
4-point strap attachment for secure fit
Conveniently breathable
Sturdy steel construction
Soft cushioning for pet's comfort
Cons
Steel might get too hot or too cold depending on the season
The joints in the steel framing might have pointy edges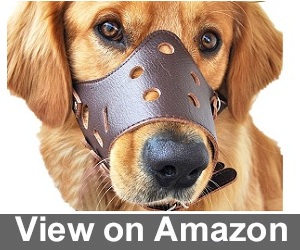 For some reason, leather muzzles seem uncomfortable on dogs. You can hardly believe that they let any air pass through for the pet's comfort. But this one is different.
The primary material used in the making is leather, but the big holes inside the material make it conveniently breathable.
The dog's nose is always out of the shell. Since the straps have adjustment options, you can always make it more comfortable based on the size of your dog's snout.
Pros
Holed design enhances breathability
Strong construction with near-premium leather
Extra light for easy carrying
Cons
Mostly suitable only for large dogs
Not as secure as many other straps on the market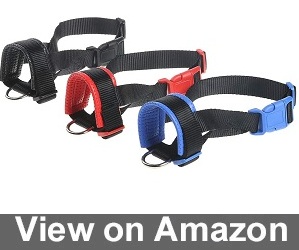 You might not notice too much when you see this muzzle at first. For the most part, it seems nothing more than a few straps sewn together.
It is all nylon with cushioning on the inside to eliminate scrubbing damage to your canine's skin. The straps on this muzzle are quite sturdy – you can tell that from their widths.
Ideally, this guard should work for any dog because you can adjust the snout hole on it. You can be in control of things with the d-ring attachment.
Pros
Simple and minimal design
Cushioning inside the snout hole
Adjustable opening for dogs of different sizes
Available in blue, red, and black
Cons
Plastic attachments can be questionable
Might leave enough room for some barking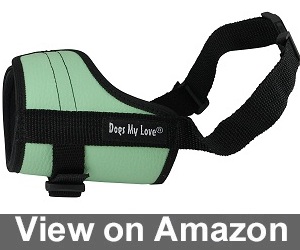 If you do not want to take any chances in terms of the comfort of your dog, this muzzle might be the perfect pick for you. The makers have chosen soft materials in its construction, and even the inside has a spongy material for added comfort.
At the bottom of the muzzle, you will notice an extra buckle attachment to secure the guard on your dog's snout as per veterinarian guidelines.
The design is quite simple and straightforward. With just one buckle attachment in the back, you can easily open and close the muzzle within seconds.
Pros
Simple design
Soft padded material to line the inside for maximum comfort
Snout buckle for added security
Cons
A single strap for security does not seem too promising
The material might trap odors too quickly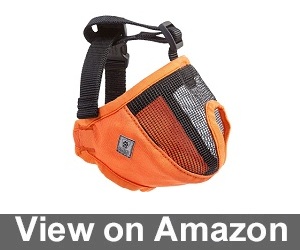 If your dog has a long snout, you should avoid this one. As the name suggests, it only suits dogs with a short snout.
It has a netting cover that will cover your canine's entire face. A small opening at the front should allow some eating, drinking, and breathability.
It has proper buckle and strap placements to ensure the muzzle remains in place. It is a nylon muzzle with proper stitching, making it very sturdy and durable.
Pros
Very sturdily built
Meshing for breathability
Opening for sipping and treats
Slider with adjustment for different head sizes
Cushioning on top to prevent the mesh from rubbing against the skin
Cons
Might seem too restraining
Thick meshing may affect visibility
Very small front opening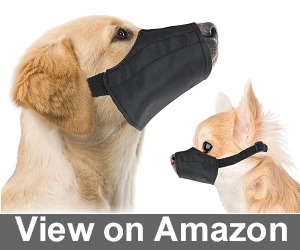 It is simple and it is cute. The minimal attachments and accessories on the muzzle make it easy for pet owners to put it on and take it off their dogs.
While your dog's nose will be out of the muzzle from the front end, the breathability of the material might be a bit questionable.
The inside of the guard has cotton padding, which should keep nylon and stitched ends of the muzzle from rubbing against your dog's snout.
Pros
Simple, minimal, and quick-to-handle design
Inner padding with cotton for maximum comfort
Adjustable straps so size should not be an issue
Cons
Minimum security with straps only on the back
Absence of the snout buckle to change the size of the opening
Buying a Muzzle – The Simple Buying Guide
You can find numerous types of muzzles on the market that serve different purposes. You must understand the needs you have and pick a type that meets them. If your dog scratches its face a lot, you need a product that covers the entire face of the pet. If your dog is into eating stuff off the ground, you can pick one that curbs this particular habit.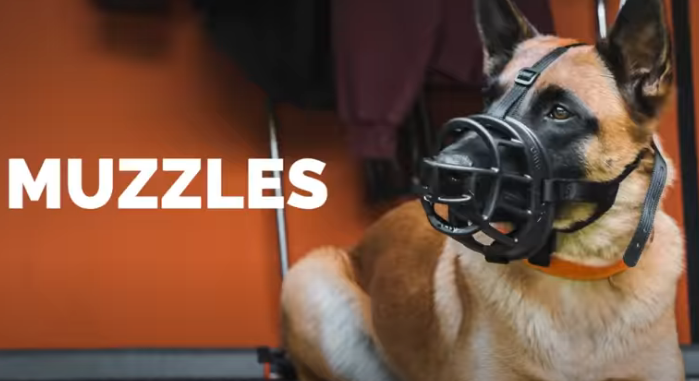 Moreover, some muzzles are meant for small snouts. Use it for a pet that boasts a tube-like snout, and you will see the dog chewing it within the next five minutes.
The Snout Adjustment Option
Is your dog little but growing fast? For a dog approaching youth, you should buy a muzzle that sports adjustments options on the snout opening. When you feel the muzzle is pressing too hard on your dog's mouth, you can readjust the opening for increased comfort.
You might have to spend a few extra bucks to get this option, but the difference is never too noticeable from those that do not have the adjustment option.
The Strap Protection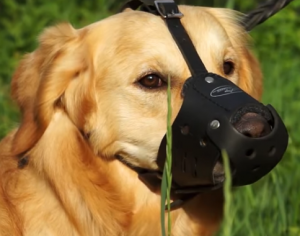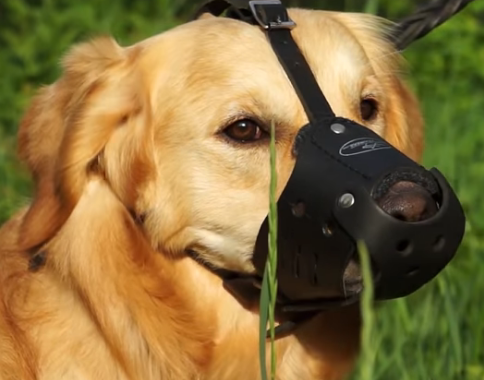 If your dog is clever or difficult to handle during a fit of anxiety, maximum security is what you need. Some muzzles come with two-strap closing while some may have up to four straps in different locations. The added straps enhance the fitment of the guard for dogs that try to get it off.
You must not forget that pets usually do not like muzzles and may even try to use their paws to get one off. A muzzle with four straps is a blessing for pet owners.
The Material of Construction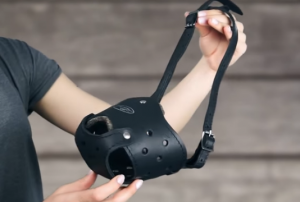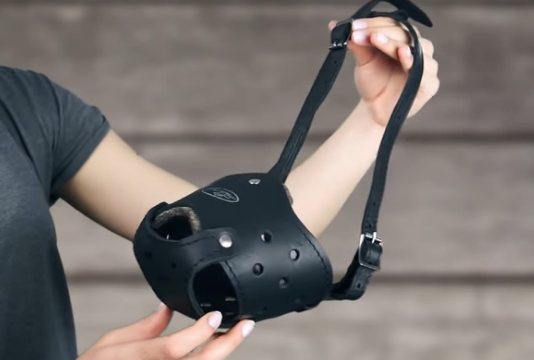 Undoubtedly, what makes up the muzzle matters because it can improve or ruin the comfort of your dog. How does the idea of wearing a helmet made out of iron and weighing 10kgs on your head sound? So, prior to picking a dog muzzle for lovely pet, you must proper know-how of a few things associated with the material.
First, it should be breathable at all costs. Secondly, it should remain tolerable irrespective of the hotness and coldness of the weather. Last but not least, the durability of the muzzle also depends on the material it is made of.
The Cushioning
Muzzles secure the snout of your dog, and occasionally, the face as a whole inside them. Almost every muzzle rubs against the skin of the dog, and so you have to buy one that has some cushioning and padding on the inside. A tight muzzle with no padding can cause bruises and wounds on the skin of your dog.
The Size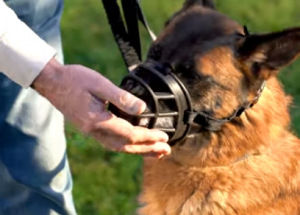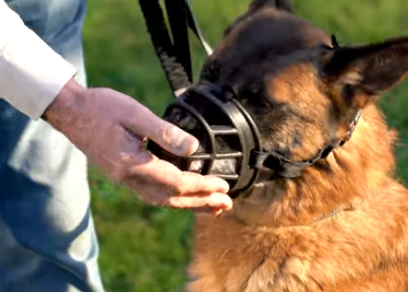 It is the last option on the list, but probably the most important one. A mistake people commit frequently while buying muzzles is picking the wrong size.
Pick up a measuring tape to know how big your dog's snout and head are before making your final purchase.
Frequently Asked Questions
What is the most comfortable muzzle for a dog?
All of the options mentioned above have their pros and cons, but the top pick i.e. Ultra Muzzle from Baskerville, checks the most boxes. It is durable, secure, multi-purpose, adjustable, and works for huge, small, young and old dogs.
Do muzzles only serve to control aggressive dogs?
Some dog owners mistakenly believe that wearing a muzzle is just the thing for biting pets. There is a number of reasons why a dog must wear a muzzle aside from preventing aggression. If your canine scratches his face severely, you definitely need a product that covers the face of the pet. If your dog is fond of food from the ground, you can choose one that curbs this particular habit. From the range of dog muzzles available, select one which best meets your dog's temperament and physique.
Conclusion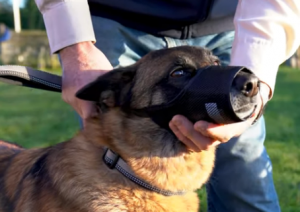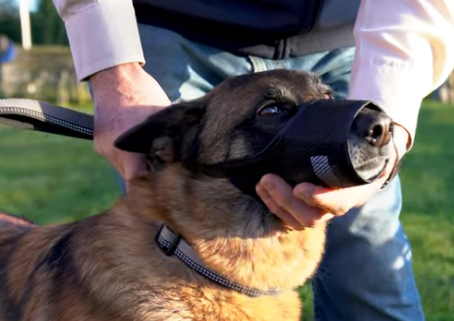 However, buying an excellent fit without the knowledge of your requirements is impossible. Buy the one that meets your requirements the best, but you have to dedicate some time to training beforehand. And when using the muzzle, be sure you do not go too far and leave the dog without supervision. So, you know at this point that buying a muzzle does not mean you are an aggressive dog owner.
We have taken account of variables such as durability, adjustability, security and your dog's temperament, etc. These criteria allied to reviews and tests have allowed us to provide a balanced guide to buying a canine muzzle. All feedback is welcome and will be added to the observations arrived at through personal experience or those of other correspondents.